Beginner's Guide to Travel Hacking: How to Get Started with Miles & Points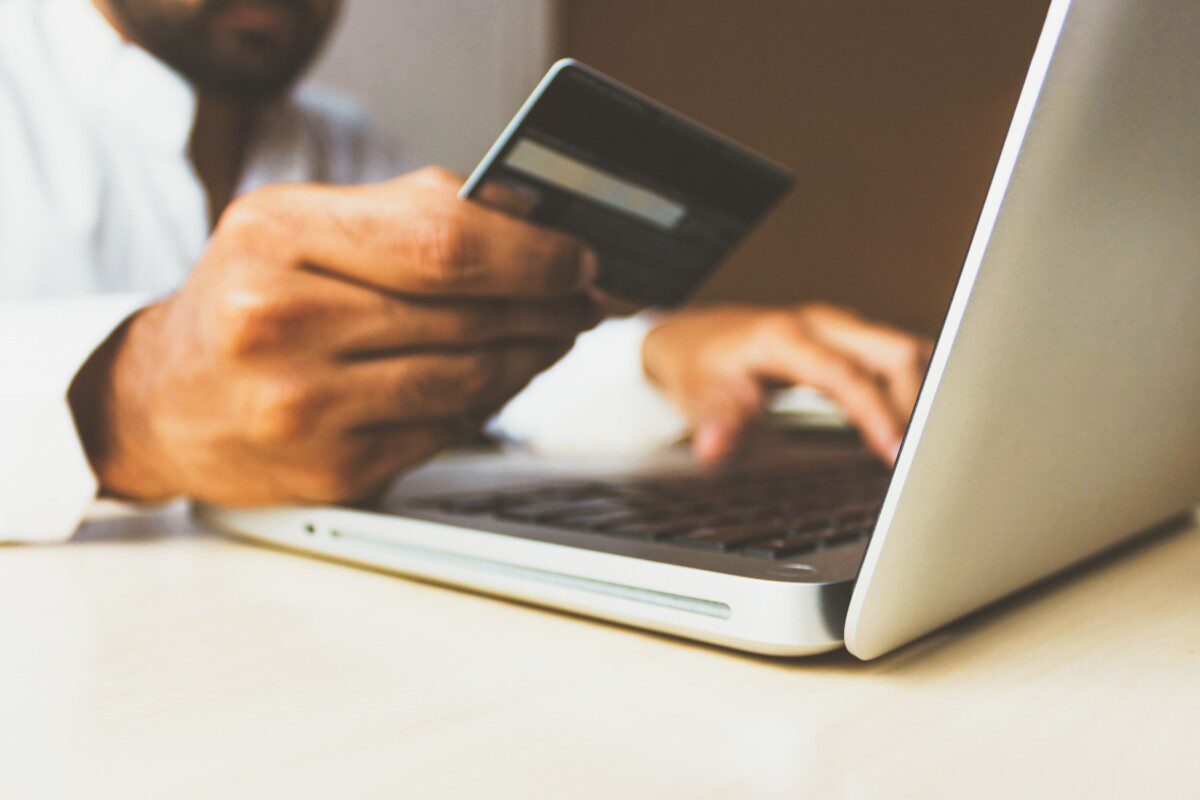 Travel hacking is a great way to save money on your trips, and it's easier than you might think. The goal of travel hacking is to essentially maximize rewards and minimize expenses, so that you can save money on flights, hotels, and other travel-related expenses.
Travel hacking requires careful planning, research, and management of rewards programs and credit cards, but the potential savings can make it a valuable investment of time and effort for frequent travelers.
We've been travel hacking for the past two years, are using it to honeymoon & a dream trip to Patagonia for practically free, and have gathered some essential tips on how to get started travel hacking as a beginner.
How to Get Started Travel Hacking
What is Travel Hacking?
The strategy behind travel hacking is essentially using loyalty programs and travel credit cards to earn rewards, which subsequently can be exchanged for free travel experiences. This is achieved by earning and redeeming frequent flyer miles, credit card points, and hotel loyalty points, which can be transferred to partnering airlines, hotels, and experiences for free or discounted travel.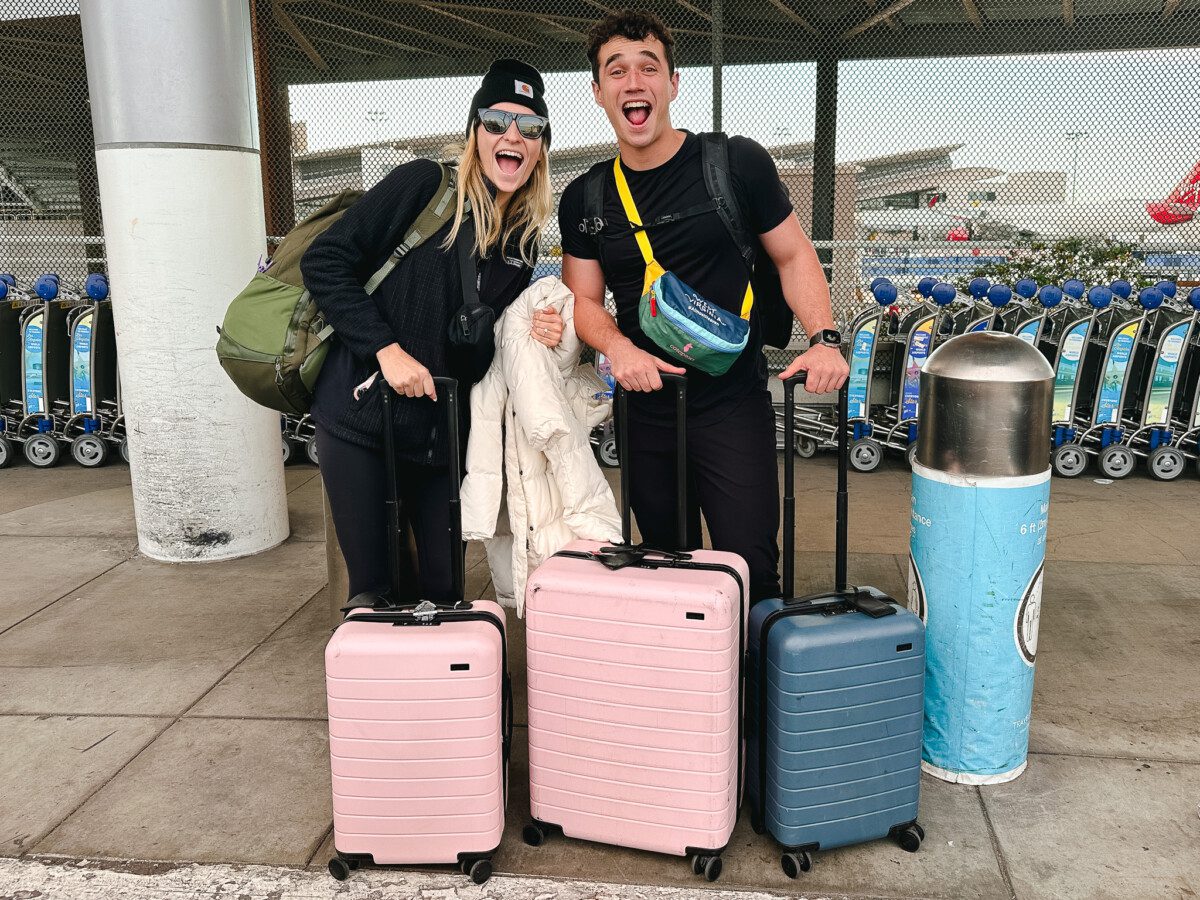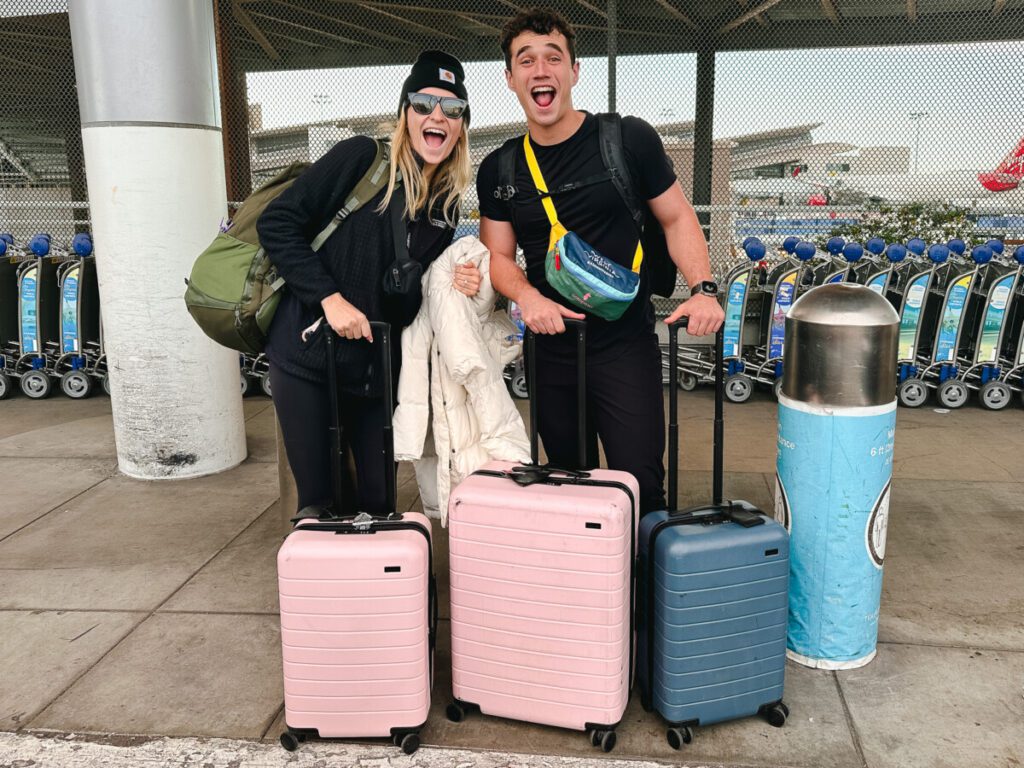 Is Travel Hacking for You?
Travel hacking is a strategy for smart travel planning, where travelers can earn and redeem rewards to save money and enjoy better travel experiences. That said, travel hacking is not for everybody. This blog is for those that meet the criteria below:
USA Residents: The travel hacking strategies we discuss here are mainly applicable for United States residents. The cards we'll be discussing apply to benefits for those exclusively living in the USA.
Good Credit Score: This process is typically for those with credit scores of over 700 with good credit. Typically, travel hacking involves opening several credit cards. If you are not in the financial place to start travel hacking – you might want to postpone signing up for travel credit cards until you have enough to pay down your debt in its entirety each month. The APR isn't worth it if you intend to keep a balance on the cards.
Organized: You need to be organized for travel hacking. Keep track of deadlines, points redemption bonus dates, and travel plans requires an attention to detail!
Debt Free: We wouldn't recommend travel hacking as a strategy for those trying to get out of a lot of debt. We do not advocate spending more money than you have to get points and miles. We only recommend using these strategies if you are in the position to pay off your cards before the statements are due each month.
Minimize Using Debit Cards
We basically never use a debit card anymore and here's why – debit cards don't get you valuable rewards points or miles. We also only use travel credit cards knowing that we can pay them off at the end of each statement period so they essentially work like debit cards for us.
Travel credit cards also give you additional protections that most debit cards do not offer. These range from lost baggage insurance, delayed travel insurance, trip cancellation insurance and more. So, we'd recommend to stop using debit cards when possible and switch to a travel credit card that will reward you with more value via points, miles, and travel insurance for your money spent.
Sign up for Airline & Hotel Loyalty Programs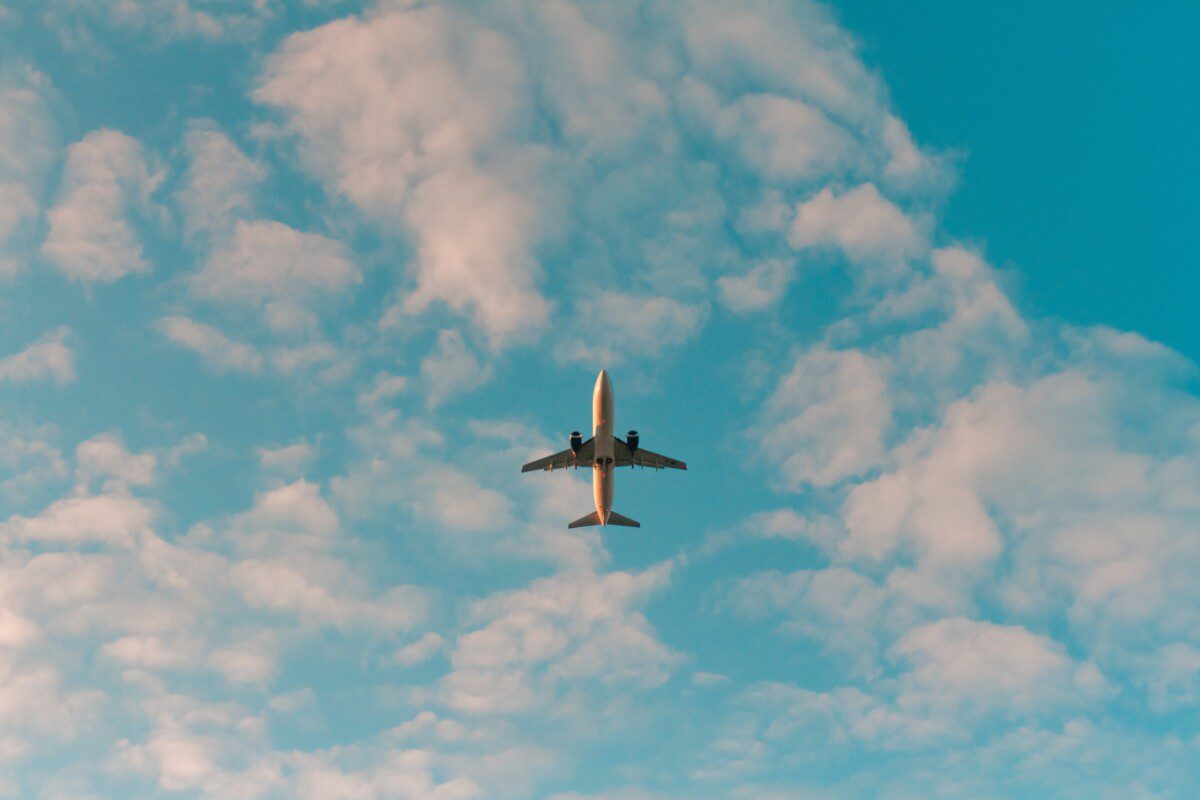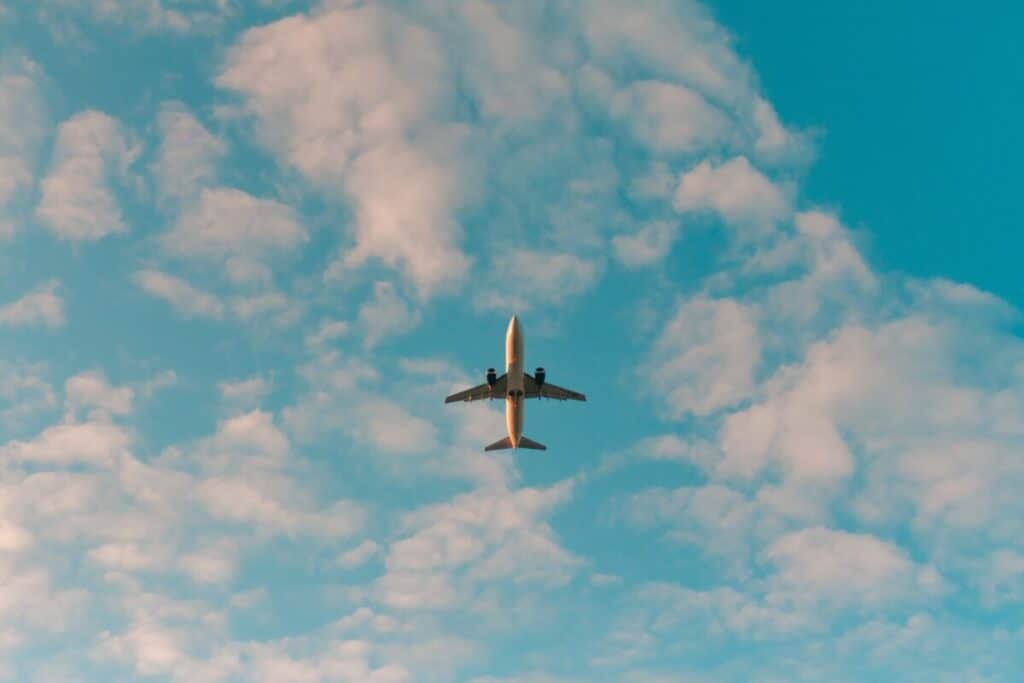 The first step to travel hacking is to sign up for rewards programs offered by airlines, hotels, and credit card companies. This way, you can earn points or miles every time you travel and use them to book future trips for free or at a discounted rate. Any time we fly an airline, we make sure to sign up with their individual program. This also helps with gaining status on each airline or hotel for future benefits.
We keep a running spreadsheet of all of our different loyalty program numbers & sign ins to keep organized. When you book flights or hotels, simply insert your loyalty number when checking out to gain automatic rewards points that you can accumulate over time to cash out for free future experiences.
Utilize Airline Price Drop Softwares
We personally use Thrifty Traveler Premium and Fare Drop to get daily notifications of amazing flight deals or miles redemptions in our email everyday. If you'd like to sign up for Thrifty Traveler Premium, use our code PASSPORT10 to get $10 off your subscription! We personally think it's 100% worth the price as their deals have saved us thousands in flights.
Use Credit Card Rewards
Many credit cards offer rewards for spending, such as miles, points or cash back. Choose a card that offers rewards that you can redeem for travel, like flights or hotel stays. We recommend NOT signing up for store credit cards or generic bank cards that only offer cash back.
We utilize a mix of personal and business credit cards. For those that are self employed or freelancers, taking advantage of both can be super lucrative with points and status. However, in order to qualify for business credit cards, you'll need to make sure you have a business structure in place with a valid EIN number.
Book Travel During Off-Peak Times
Booking your trips during off-peak times can result in lower prices, so try to plan your trips for midweek and during the shoulder season (the time between peak and off-peak seasons).
Look For Deals and Discounts
Keep an eye out for deals and discounts via email newsletters from airlines, hotels and travel companies to receive notifications of special deals and promotions.
Use Budget-Friendly Accommodations:
Travel hacking isn't just about points and miles to save money. You can also save money by being flexible with your choice of accommodations. Instead of staying in expensive hotels, consider staying in budget-friendly options such as hostels, home stays, or vacation rentals.
Be Flexible With Your Itinerary
Flexibility can save you money on your trips. Be open to making changes to your itinerary if you find a better deal or if your plans change. Most of the time, if you travel during weekdays over weekends you'll be able to save some money. Additionally, by not selecting certain dates and rather looking at full months to book flights, you'll be able to take advantage of more flight deals.
We always recommend making a list of bucket list locations you want to visit. From there, keep track of flight fare drops and points redemption deals for those locations.
Travel Off The Beaten Path
Popular tourist destinations can be expensive, so consider traveling to less touristy places for a more authentic and budget-friendly experience to save money.
The Best Travel Hacking Credit Cards
Using a travel rewards credit card is one of the easiest ways to earn points and miles for travel. Now, it should be mentioned that you don't have to focus on spending a ton of money to get points; rather, focus on maximizing your everyday purchases by strategically using credit cards with rewards points to pay for your pre-existing expenses to eventually offset the cost of future travel. Just make sure to choose a card that offers rewards for the type of travel you prefer.
Note: For the cards we personally use below, you may get an extra high bonus offer for using our referral link! 🙂
Our Top Recommendations for All Around Travel Credit Cards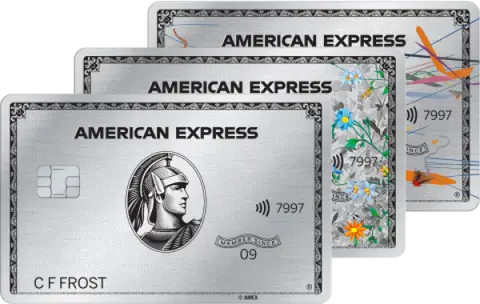 Platinum Card from American Express:
This premium travel card offers a wide range of benefits and rewards, including access to airport lounges, hotel upgrades, and a high annual fee. This card is primarily for those that travel A LOT, whether for personal or business use. We love this card since it comes with Centurion Airport Lounge Access, Priority Pass Lounge Access, Credits for TSA Precheck, Global Entry, and CLEAR, and more! Sign up for this card using our referral here. Note that we have the Business version of the card; however, if you click on the "View all Cards with a Referral Offer" button, it will take you to the area to switch to a Personal Card or variations of the card if you'd like.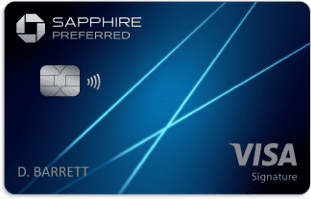 Chase Sapphire Preferred:
This card offers a generous sign-up bonus and rewards for travel and dining expenses, as well as the ability to transfer points to a variety of travel partners. We'd recommend this card for someone who is a beginner or intermediate level with travel hacking. If you're looking for something like a hybrid between this card and the AMEX Platinum, then upgrading to the Chase Sapphire Reserve card may be right for you!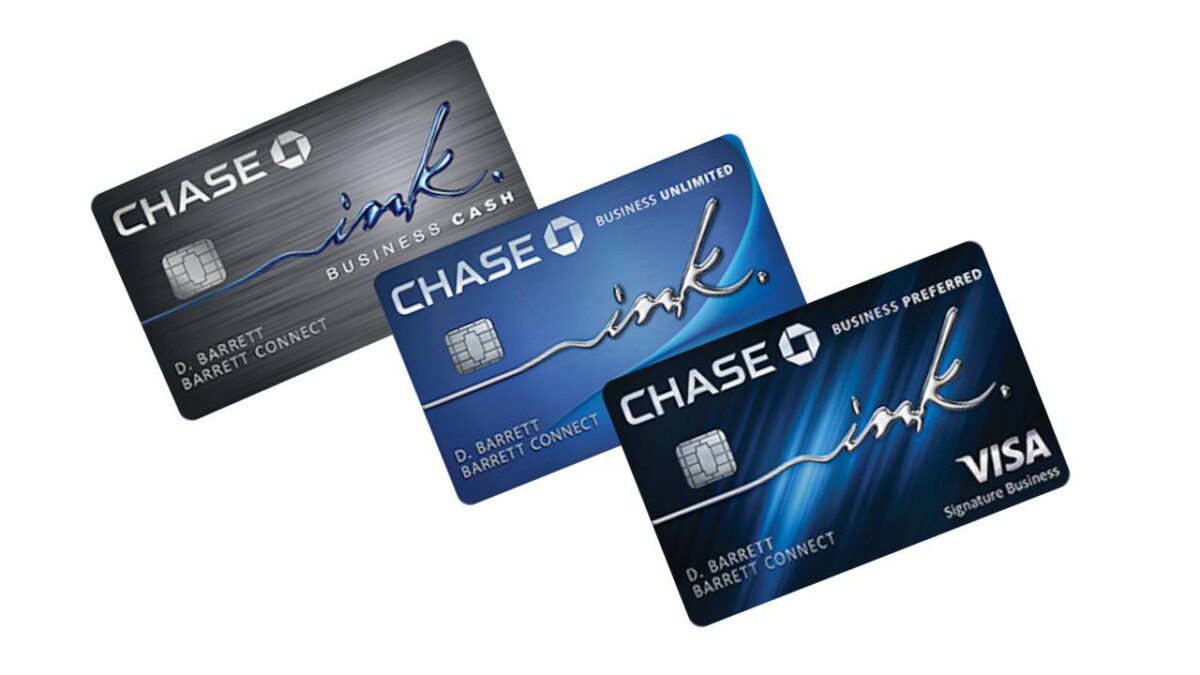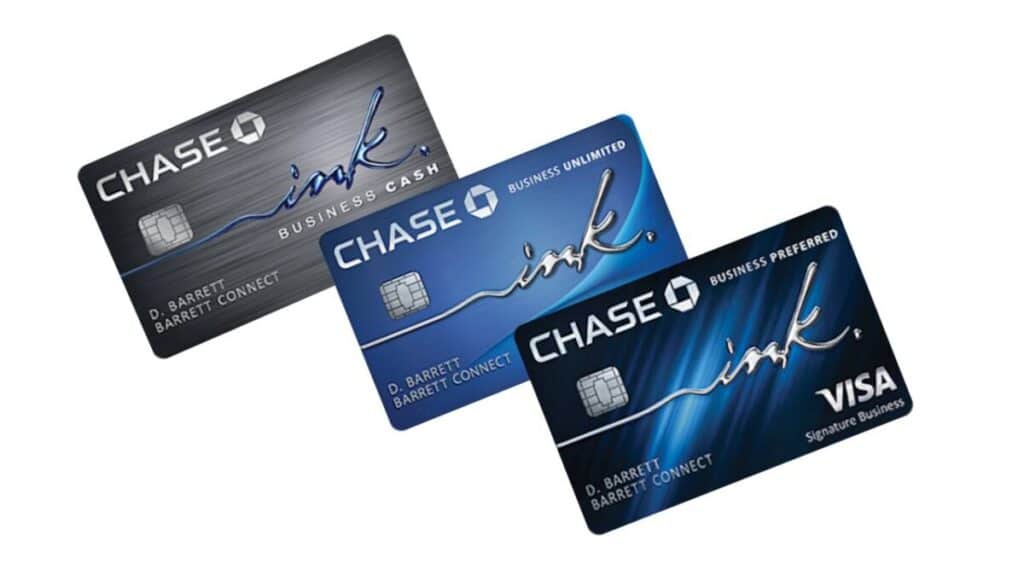 Chase Ink Business Card:
This card is great for those starting out with travel hacking that haven't figured out their top spending categories yet. You'll get 1.5% points on all purchases. This was our first credit card we had for our business. Chase is great because it's a transfer partner for most Airlines and Hotels. Sign up for it here!
Our Top Recommendations for Loyalty Based Travel Credit Cards
We recommend choosing to be loyal to one to a few different airlines or hotel chains once you start traveling more. This will make your future travel hacking benefits so much more lucrative than if you were to continuously fly different airlines all of the time. Our personal favorites are the following: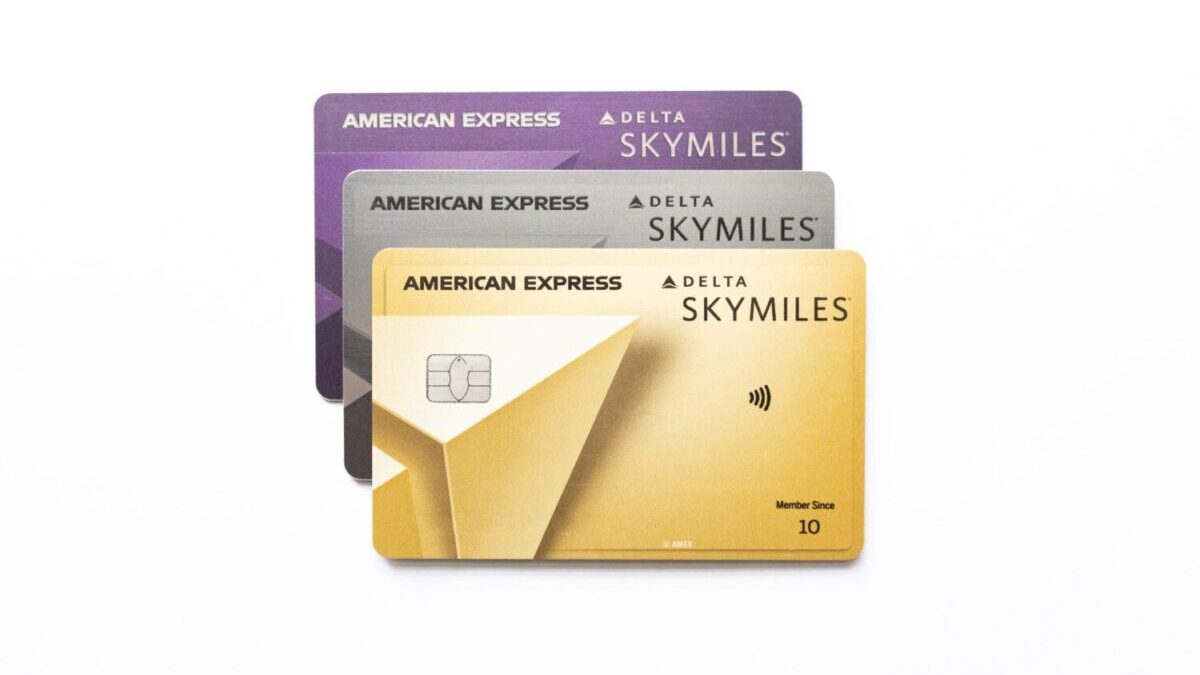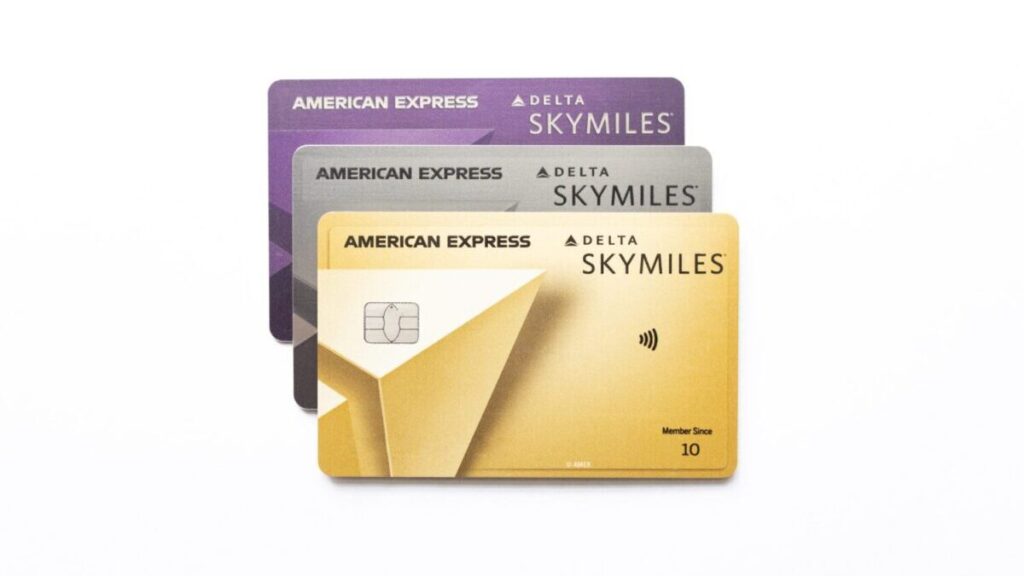 AMEX Delta Skymiles Credit Card:
We've flown a lot of airlines in the past few years and have definitely noticed that Delta offers the most premium service when compared to other airlines. To see all of the benefits and even get an extra sign up bonus, you can check out this card using our referral link here. Note that we have the Business version of the card; however, if you click on the "View all Cards with a Referral Offer" button, it will take you to the area to switch to a Personal Card or variations of the card if you'd like.
Citi American Airlines AAdvantage Card:
Although American Airlines is more of a mid-tier airline, they fly to a lot of smaller airports around the USA so we find ourselves flying them often for domestic travel! Having their credit card gets us a free checked bag, a higher airline loyalty status, and allows us to earn extra points on money spent with American Airlines.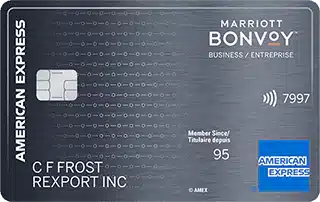 Chase Marriott Bonvoy Boundless & Business Cards:
We are big fans of Marriott properties so having a Bonvoy Business and a Bonvoy personal card just made sense for us. We have racked up an insane amount of points because you can earn 6-8x points on dollars spent at their properties just by having one or both of their loyalty credit cards. Sign up using our referral link here for the personal card or here for the business card.
Easy Ways to Earn Points and Miles for Travel Hacking
Now that you know which travel credit cards to use, we can get into the best ways to earn points and miles for travel hacking.
Take Advantage of Bonus Offers
When signing up for travel credit cards, look for bonus offers from travel rewards programs and credit card companies. For example, you may be able to earn extra points or miles by making a certain amount of purchases within a specified time frame. Typically, we try to sign up for certain ideal travel hacking credit cards when there is a sign on bonus of 80,000 points or higher.
Utilize Rewards Portals
When you book travel through rewards portals, you typically earn even more points than on everyday purchases. Many airlines, hotels, and travel companies offer rewards portals where you can book travel and earn bonus points or miles. For example, if you book through the AMEX Travel Portal, you can get 5x the amount of points on flights or hotels that you'd normally get if you were to book the same flight not in their portal.
Travel portals like this are also where you can redeem points for "free" flights if you'd rather pay for them in miles or points than cash. As shown in the image below, you can typically select which option at checkout you would like to use.


Be Strategic with Everyday Purchases
Many travel rewards programs allow you to earn points or miles for everyday purchases, such as groceries, gas, and online shopping. We typically make a chart detailing which travel credit cards are the best for each spending category. That way, we can maximize each card for the most amount of points and miles possible.
If you are about to have some bigger upcoming purchases and want to cash out on points and miles, we'd highly recommend opening a new credit card with a hefty sign up bonus. This way, you can get rack up a ton of points and/or miles with just a handful of purchases.
For example, as we've been wedding planning, we opened up a new travel credit card and have been putting all expenses on that so we can hit the 3 month sign up bonus and continue to get points on expenses as we spend for that particular event. From all the points and miles we are getting from just putting those purchases on a new credit card, we'll be able to travel hack our way to an almost free honeymoon.
Using Alliances in Travel Hacking
There are various different alliances of corporations that have teamed up so that you can earn and utilize points across their alliance members. You'll want to get familiar with these as you get into travel hacking.
For example, let's say I'm flying from Los Angeles to Doha via Qatar Airways. Qatar Airways has many alliance members in the One World Alliance including American Airlines. If I'm flying a route to Qatar with Qatar Airways, since I am a American Airlines Aadvantage member, I can actually choose to earn Aadvantage points instead of Qatar Airway's points to help increase my status at American as they are in the same alliance. Likewise, I can transfer my American miles to Qatar Avios for an awards seat redemption if I wanted.
We've listed out the most common alliances used in travel hacking below:
Star Alliance:
Aegean Airlines
Air Canada
Air China
Air India
Air New Zealand
All Nippon Airways (ANA)
Asiana
Austrian Airlines
Avianca
Brussels Airlines
Copa Airlines
Croatia Airlines
EgyptAir
Ethiopian Airlines
EVA Air
LOT Polish Airlines
Lufthansa
Scandinavian Airlines (SAS)
Shenzhen Airlines
Singapore Airlines
South African Airways
Swiss Airlines
TAP Portugal
Thai Airways
Turkish Airlines
United Airlines
One World Alliance:
Alaska Airlines
American Airlines
British Airways
Cathay Pacific
Finnair
Iberia
Japan Airlines
Malaysia Airlines
Qantas
Qatar
Royal Air Maroc
Royal Jordanian
S7 Airlines
SriLankan
SkyTeam Alliance:
Aeroflot
Aerolíneas Argentinas
Aeromexico
AirEuropa
Air France
Alitalia
China Airlines
China Eastern
Czech Airlines
Delta
Garuda Indonesia
ITA Airways
Kenya Airways
KLM
Korean Air
MEA
Saudia
Tarom
Vietnam Airlines
Virgin Atlantic (joining early 2023)
XiamenAir
Transfer Points and Miles
Similar to transferring points between alliances, some travel rewards programs allow you to transfer points and miles to other programs. Keep in mind, you can only book through either a portal or a transfer partner when redeeming points.
The nice thing about gaining points over miles is that you have much more flexibility when it comes to your transfer partners and where you can use your points. Whereas with miles, you can only typically use them to book flights. When transferring from a portal to an airline, don't forget that you are stuck using those points with ONLY that airline after the transfer is over. Subsequently, make sure to be 100% positive that you want to book a flight or hotel and it's indeed available before you transfer your points over.
Additionally, some points may lose or gain value depending on who you were to transfer them to. Partners like Marriott Bonvoy often use a 3:1 transfer ratio to its partners so every 3 Marriott points is only 1 point of a Chase point, for example. Sometimes, partners will run promotions to encourage you to book flights on partner airlines though, where your points will actually be more valuable than before. Always make sure to check your transfer ratio before you move points or miles around.
For a list of common transfer partners, check the list below: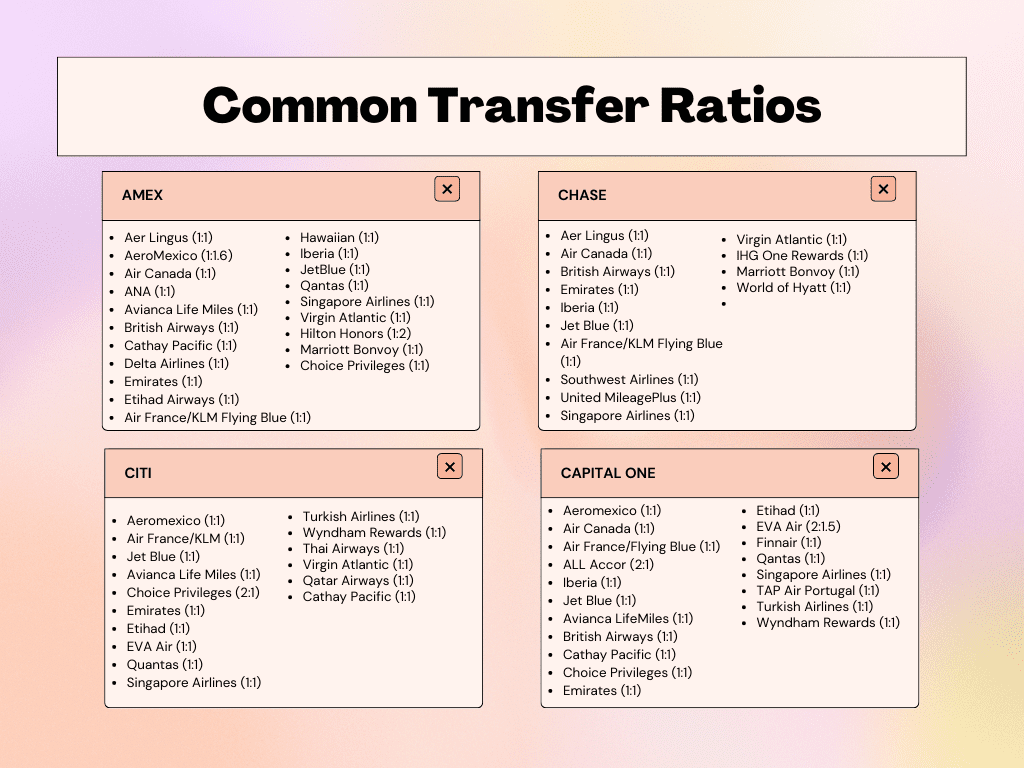 Common Chase Transfer Partners:
AIRLINES PARTNERS
Aer Lingus AerClub
Air Canada Aeroplan
Air France-KLM Flying Blue
British Airways Executive Club
Emirates Skywards
Iberia Plus
JetBlue TrueBlue
Singapore Airlines KrisFlyer
Southwest Airlines Rapid Rewards
United MileagePlus
Virgin Atlantic Flying Club
HOTEL PARTNERS
IHG Rewards Club
Marriott Bonvoy
World of Hyatt
Common AMEX Transfer Partners:
AIRLINE PARTNERS
AeroMexico
Aer Lingus
Air Canada
Alitalia
ANA
Cathay Pacific (Asia Miles)
Avianca
British Airways
Delta
Emirates
Etihad
Flying Blue (Air France / KLM)
Iberia
Hawaiian Airlines
JetBlue
Qantas
Singapore Airlines
Virgin Atlantic
HOTEL PARTNERS
Choice Hotels
Hilton
Marriott
Common Citi Transfer Partners:
AIRLINE PARTNERS
Aeromexico Club Premier
Air France-KLM Flying Blue
Avianca LifeMiles
Cathay Pacific Asia Miles
Emirates Skywards
Etihad Guest
EVA Air Infinity MileageLands
JetBlue TrueBlue
Malaysia Airlines Enrich
Qantas Frequent Flyer
Qatar Airways Privilege Club
Singapore Airlines KrisFlyer
Thai Airways Royal Orchid Plus
Turkish Airlines Miles&Smiles
Virgin Atlantic Flying Club
Participate in Promotions
Keep an eye out for special promotions and offers from travel rewards programs and credit card companies, as these can be a great way to earn extra points and miles.
By taking advantage of these opportunities, you can earn more points and miles and save money on your trips. Just make sure to carefully read the terms and conditions of each program to ensure you are getting the best value for your rewards.
Looking for more info on how we are able to travel so much around the world? Check out our guide to making money as a travel content creator next!