Travel Photography Ultimate Gear Guide 2023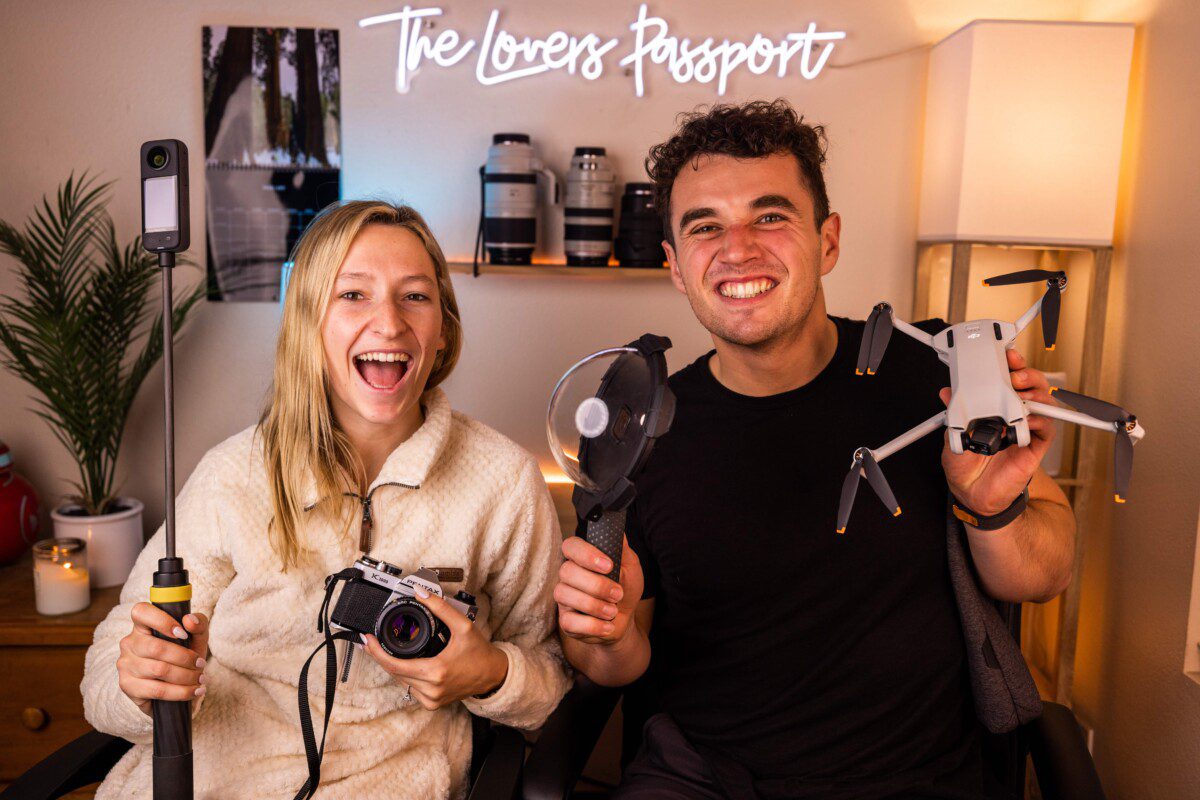 Our most asked question as professional travel photographers is "what's in your camera bag?" when referencing our adventure photography. In reality, there are a lot of factors including weather, timing, creativity, composition, and editing, on top of the pieces of photography gear that go into making a beautiful photo.
However, in this travel photography gear guide, we are focusing on all of our top favorite Canon lenses and camera bodies, best tripods for travel photography, all of our camera accessories, action cameras, and more that we use to capture our photos. We'll also dive into our editing softwares and organizational workflow supplies that are essential for maintaining our portfolio.
In this guide, we're going over exactly what's in our camera bag in 2023 as well as other recommendations from previous experience the past 3 years in this career.
What's in Our Camera Bag in 2023?
Our Favorite Camera Bodies for Travel Photography
Canon R5: Best Mirrorless Camera for Travel
We have been using the Canon R5 as our go-to camera body for the past year and a half and absolutely love it. It's lightweight, incredibly versatile for both photo and video. In our opinion, it is the best compact mirrorless camera for travel.
The Canon R5 has a 45 megapixel has a Full-Frame CMOS Sensor, which basically means that you can blow your photos up on billboards or crop in a ton in post-production and still have amazing quality. If you do not need the crazy megapixel count and are shopping on a budget, then we recommend the Canon R6.
The Canon R5 is a photo first camera, but it also has insane video specs. The mirrorless camera can shoot up to 8k RAW, and up to 120 fps in 4k. The IBIS (in body image stabilization) is also incredible when paired with a Canon RF lens. We never have to use a gimbal and can handhold most of our shots because of how good the stabilization is!
The last feature that we love about the Canon R5 is the movable LCD screen. Since there are 2 of us, we can easily vlog and capture unique photography angles without sacrificing accuracy. This has been our all around work horse for the past 2 years and has performed for every project we have used it for. This is a professional level camera, so if you are looking for a beginner or entry level camera, we recommend checking out the cameras down below.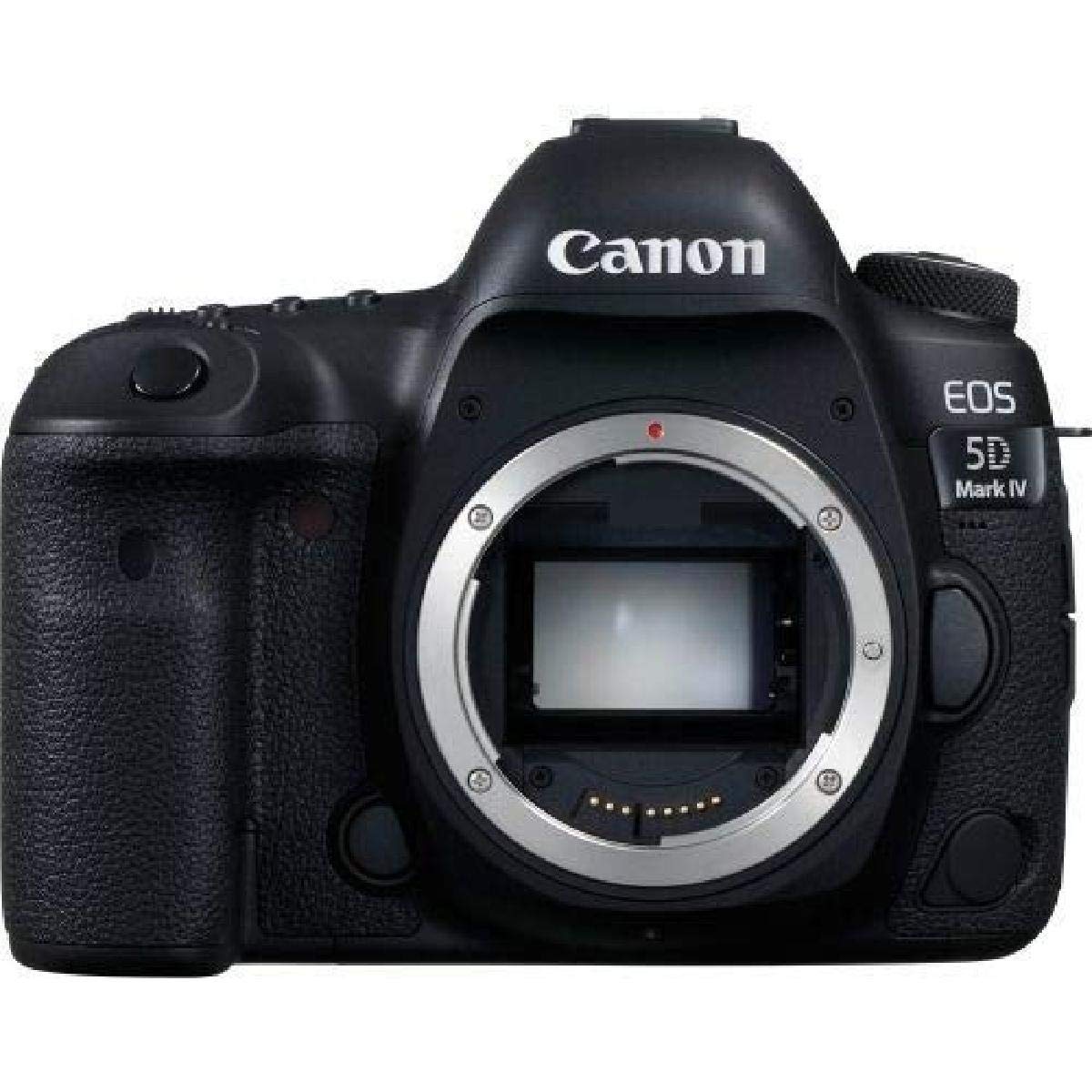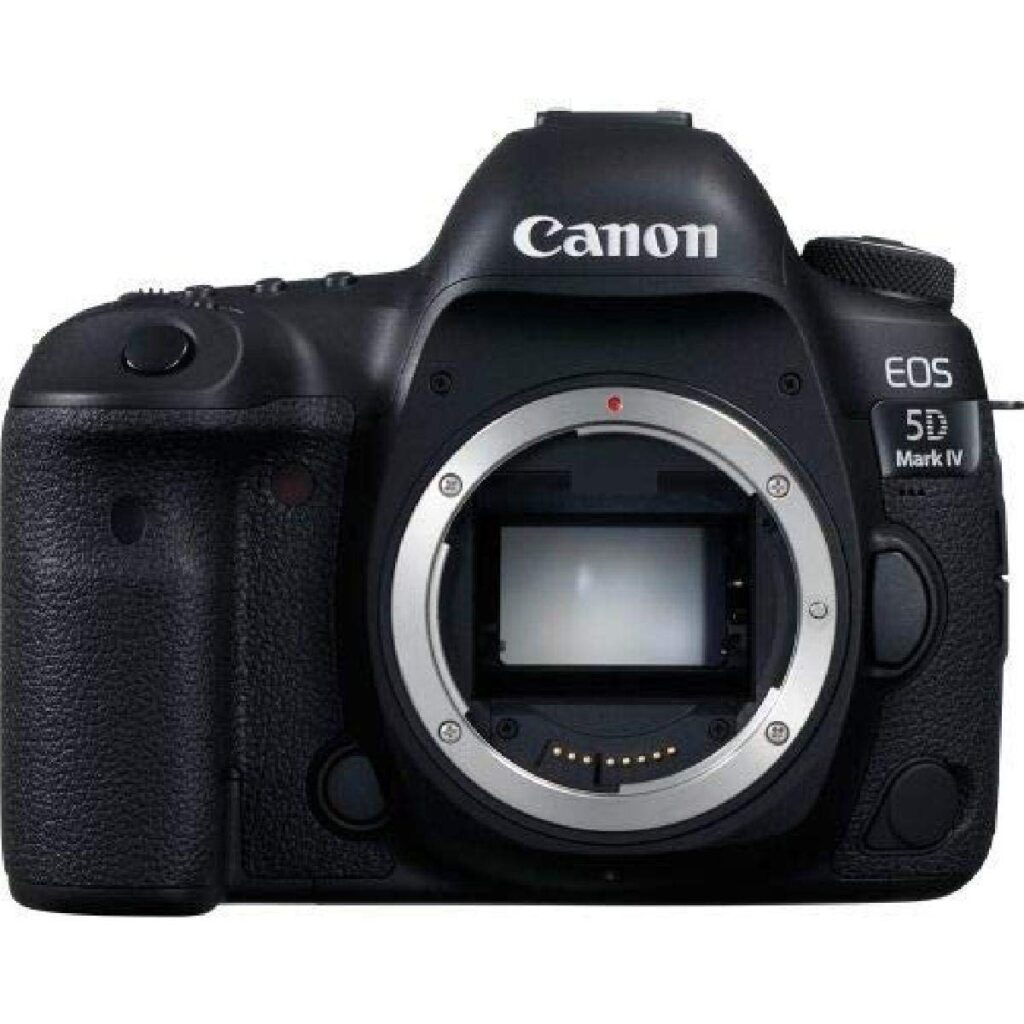 Previous Camera Bodies:
Canon 5D Mark IV: Best DSLR Camera for Travel Photography
This is a great professional camera for someone wanting to stay in the DSLR realm or for those wanting an incredible Canon camera on more of a budget as mirrorless cameras are typically more pricey. The Canon 5D Mark IV is the DSLR version of the Canon R5 (our current camera) so we would highly recommend this if you are looking for a camera setup on a budget. This is a full-frame camera, so it will give you very high resolution images as well as taking great video footage. The only downside, is it does not have a digital viewfinder, so it is a little more difficult to set up manual photos.
Canon 80D: Best DSLR Camera for Beginners
Although the Canon 80D is a crop sensor camera, meaning it does not have a full frame sensor, it packs a punch! If you are brand new to photography, this is a great, more affordable camera to learn manual photography on. You don't need the higher grade cameras when you are first learning as it would be overkill and much harder for anyone on a budget.
Once you master, manual, then upgrading to either of the former cameras is a great option if you want to stick to Canon. To check out our top choices for Canon 80D Best Lenses, check out our previous camera gear guide. If you're looking to learn manual photography, try out our photography e-book!
Best Film Camera Bodies for Travel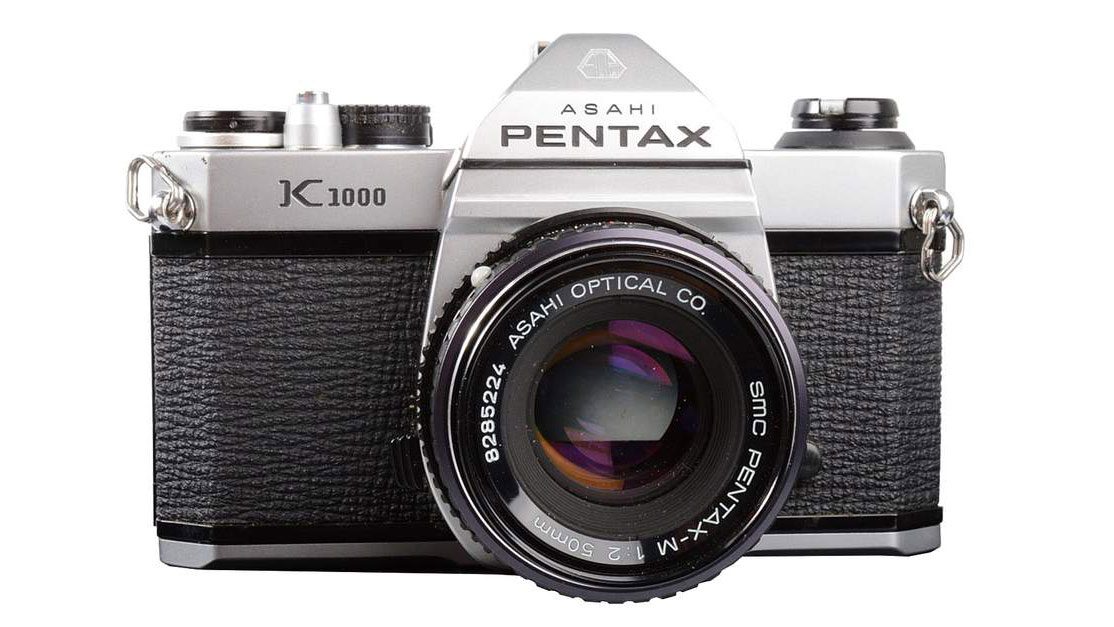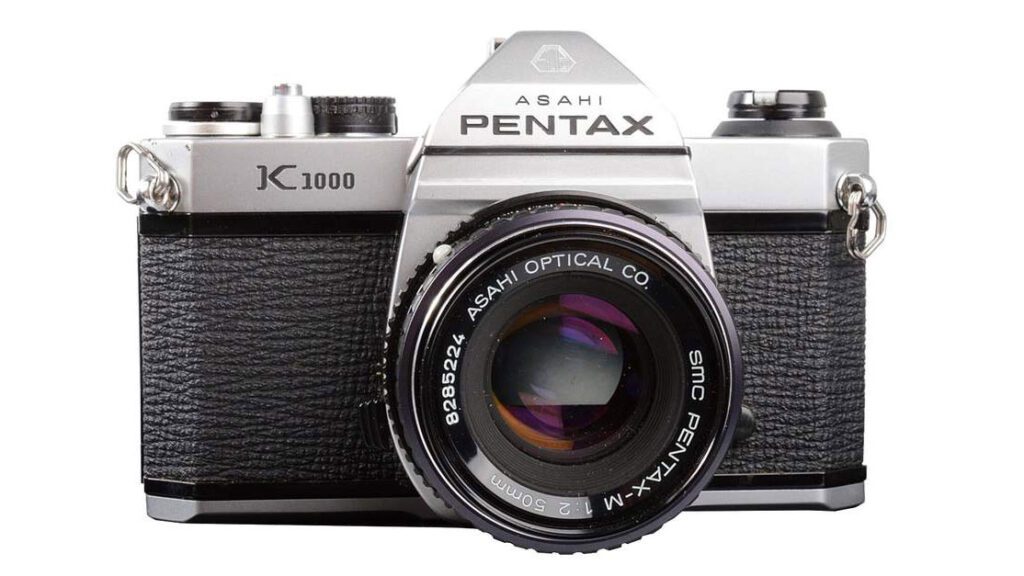 We love bringing film camera bodies with us when we travel. Capturing our adventures on film just offers an extra sense of nostalgia and fun that digital cameras can't replicate. We have brought both the Pentax K1000 and the Canon AE-1 with us. These are both great starter, all around film cameras. Keep in mind, the manufacturers don't make them anymore so you are likely to only find them available in camera stores or refurbished on sites like E-Bay or Amazon.
Keep in mind that if you do bring a film camera when you travel that certain films with a high ISO are sensitive to security machines when going through airports or anywhere else where you may have to submit your personal items for screenings. Always make sure to have your film camera & film out and ask for a hand check to prevent he machines from wiping your film if that is the case.
Best Lenses for the Canon R5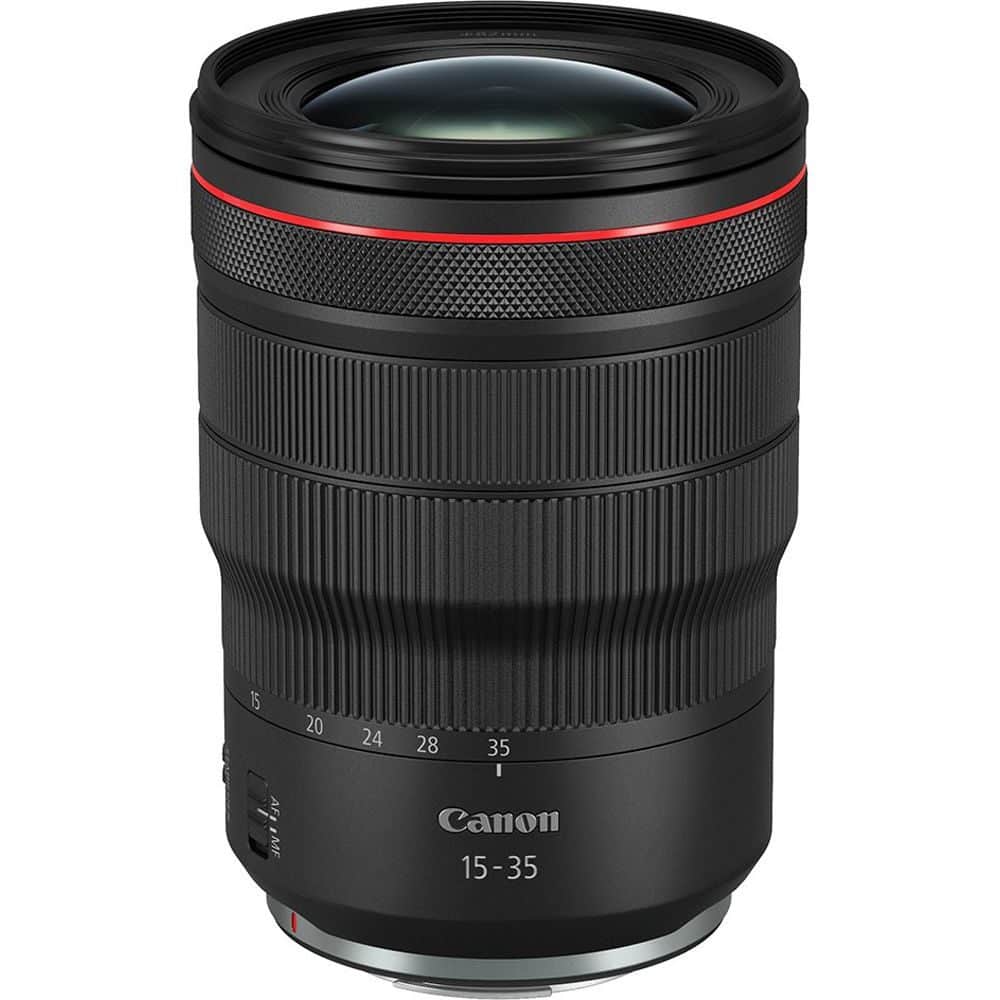 Canon RF 15-35mm F2.8 L IS USM:
If you are looking for a fantastic wide lens perfect for vlogging as well as landscape photography, the Canon RF 15-35mm f/2.8 lens is perfect for you. Not only that, it's great for portrait sessions and weddings, as well as product focused shoots due to its f/2.8 aperture. The Canon RF 15-35mm f/2.8 is our go-to astrophotography lens, because it allows us to capture the full night sky. If you are looking to get a wide lens on a budget, look at the Canon RF 14-35 f/4
Canon RF 24-70mm F2.8 L IS USM:
The Canon RF 24-70mm f/2.8 lens is the most versatile of our three lenses. If we could only choose one lens to bring with us 24/7, it would probably be this one. This is the best zoom lens for travel photography, since it offers a nice balance of close-ups and far away capture abilities. The Canon RF 24-70 f/2.8 is the most commonly used focal length, because 24 mm can capture extremely wide landscapes, 35 mm is what most movies use to get a natural feel, 50 mm is great for product photography and cityscapes, and 70 mm gives you a lot of compression.
Canon RF 100-500mm F4.5-7.1 L is USM Super-Telephoto Lens:
When we purchased this lens, we weren't sure if we'd use it a lot – spoiler alert: we use it quite often. The magnitude of this Canon telephoto lens is insane and offers the perfect amount of compression for massive landscapes. We love using this for shooting in the mountains, as well as when we're shooting wildlife photography. This newer lens particularly is so much lighter than it's EF predecessor and has much better image stability when recording video.
Our Essential Canon Lens Accessories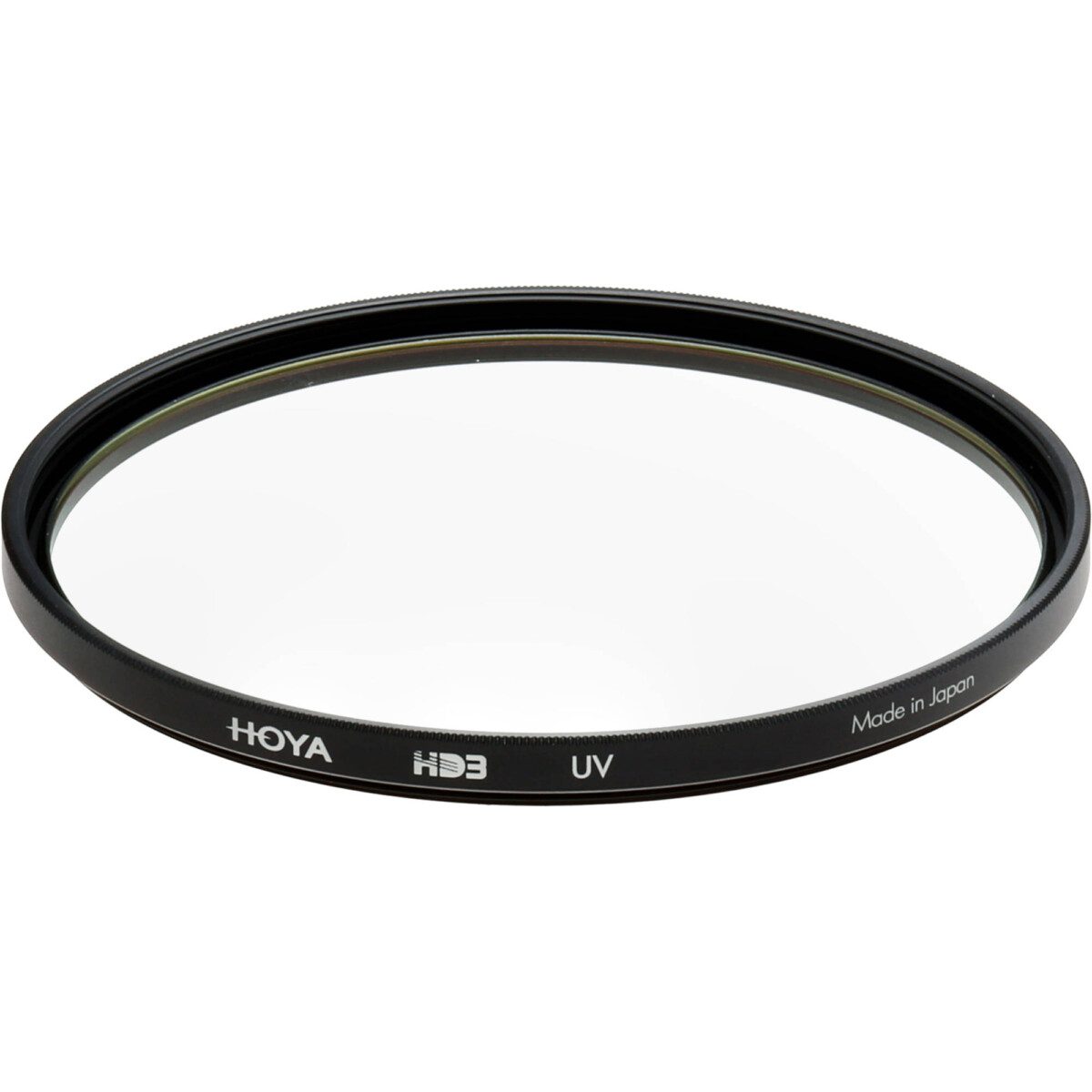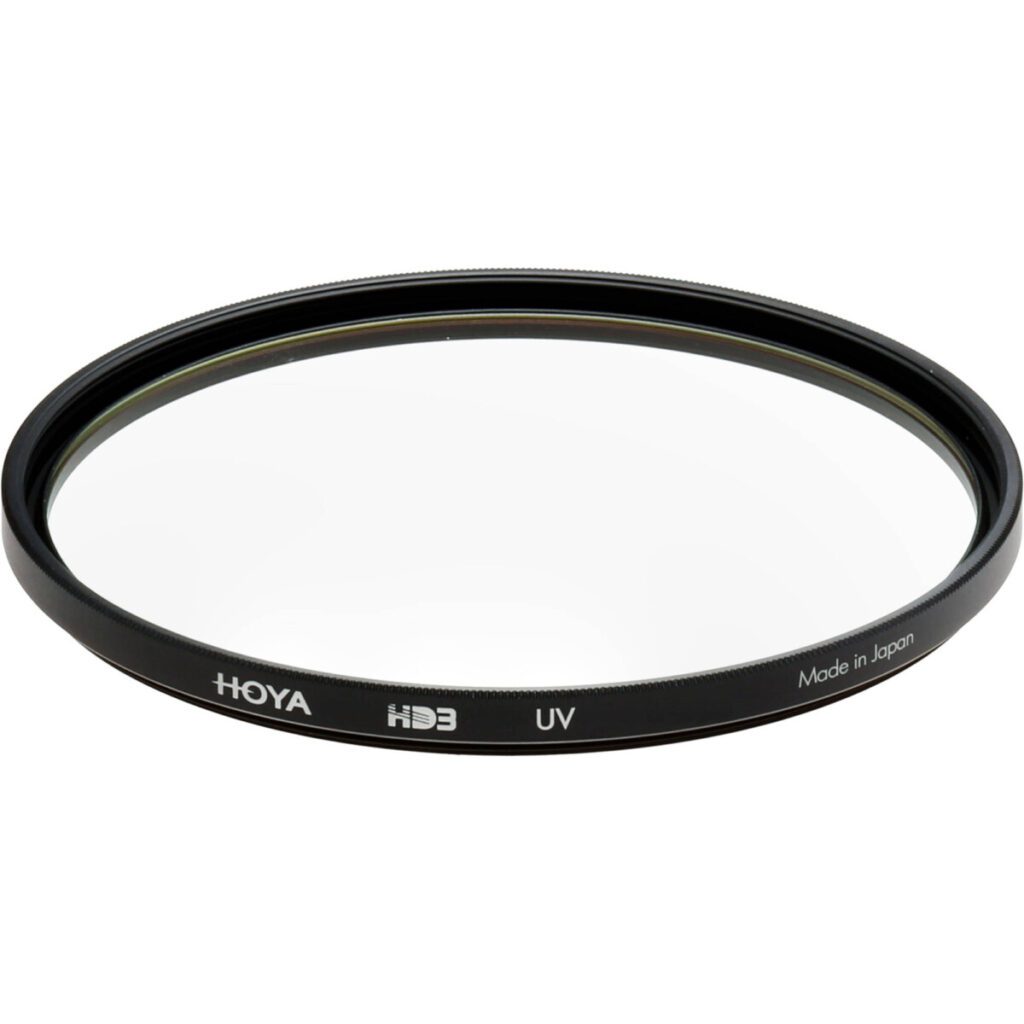 UV Filters
We always have UV filters on our camera lenses to protect them from dust, sand, weather, and potential scratches. For us, it primarily acts as an additional layer of protection against your expensive lenses for a super affordable cost.
In our experience, the UV Filter does not take away any detail or quality of the image, so in our opinion it is the best way to elongate the life of a lens. Stephen once bought a lens from a National Geographic Photographer, and he was the first person that recommended it to us, so we have been using them ever since!
Neutral Density Filters
ND Filters, also known as Neutral Density Filters, are what we like to call sunglasses for your lenses. ND Filters basically lower the amount of light that enters the sensor. The PM Variable 2-5 Stop ND Filter is our favorite because it can lower our settings by up to 5 stops. This means if we wanted to record video at 24 fps (the recommended frames per second when shooting video content), we can lower our f-stop down to aperture 2.8 on a bright summer day and not have our video be over exposed because the ND filter blocks light coming into the sensor. The lower aperture setting make your footage look more cinematic and give that blurred background look.
We also use ND filters for long exposure photography during the day. Have you ever seen the smooth look on a waterfall and wondered how they took that picture? Putting on an ND Filter allows your shutter speed to get down to 1/3 of a second, which is the recommended shooting speed for taking long exposures of waterfalls.
In short, ND Filters give you a lot of creative freedom, and we highly recommend getting one to push your creativity and open up more photography capabilities. We have used dozens of Variable ND Filters, but our go to is the Polar Pro PM 2-5 Stop Variable ND Filter.
The Best Travel Tripods on the Market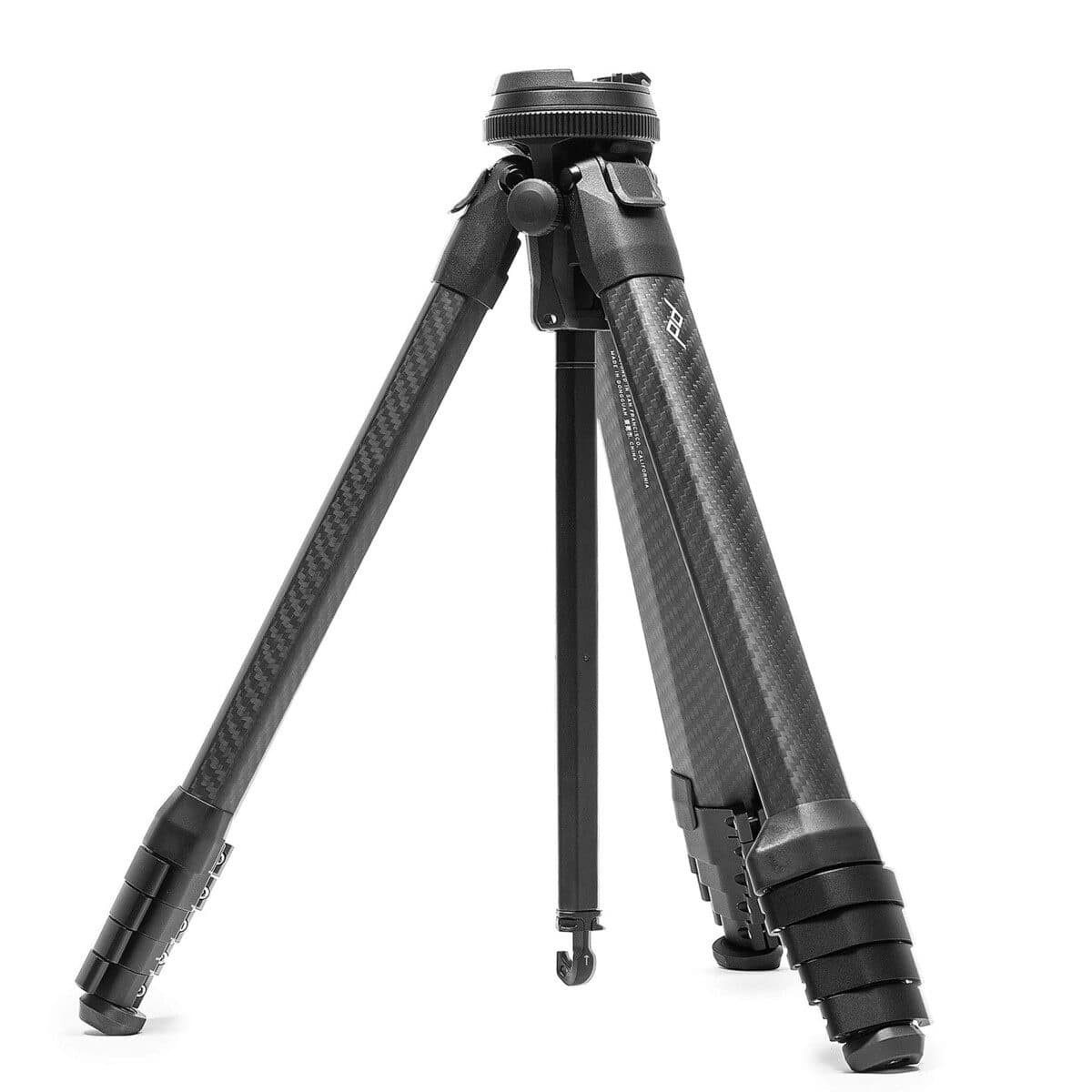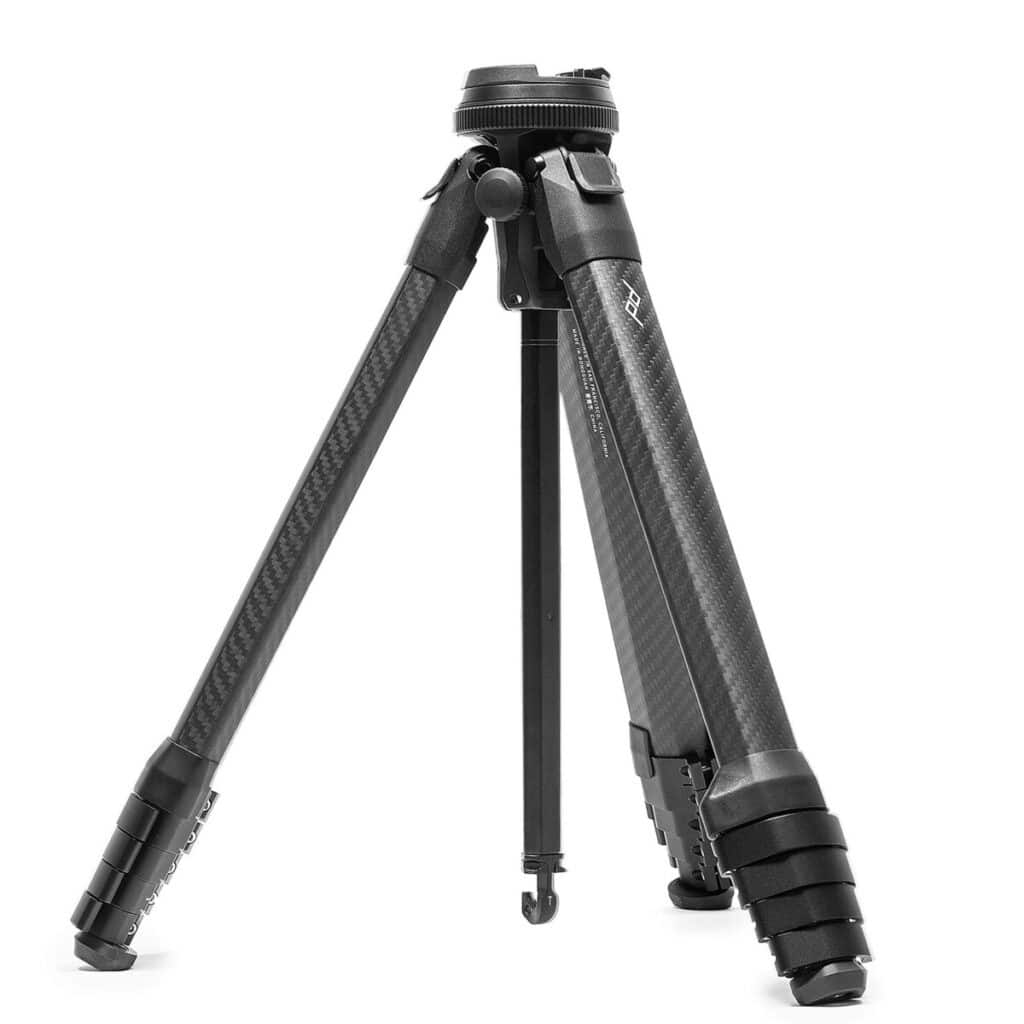 Peak Design's Travel Tripod in Carbon Fiber is the best tripod for landscape photography. It's so incredibly durable – we've stuck this thing in rivers, oceans, on cliffs, in snow, and it has performed exceedingly well. This is another piece of gear that is a more on the pricey end, however, it does have a lifetime warranty so you will literally never need another tripod again even if something happens to it.
If you're looking for a smaller travel vlogging tripod and need to stick to more of a budget, we'd recommend using the Jobi Gorilla Pod. However, for photos, we still would recommend the Peak Design Travel Tripod as the Gorilla Pod isn't really ideal if there's nothing tall to set it up on near you.
Our Go-To Camera Backpack for Travel
We have been using the Peter McKinnon Nomatic Backpack to hold our camera gear since 2020 when we first started photography. We can confidently say it is the best camera backpack for travel and hiking. Stephen has not used another bag in three years – not only does it have a lifetime warranty, but it's incredibly durable, comfortable, and spacious.
We can hold our Canon R5, three lenses, our drone, our tripod, and all of our camera accessories as well as jackets and a laptop in one travel camera backpack with no problem.
If I'm taking the camera equipment and don't need a ton of our gear with us for a portrait shoot, I'll typically store everything in a smaller camera bag like the Peak Design 20L Backpack.
Camera Backpack Accessories
The Peak Design Capture Clip is the best accessory for attaching your camera setup to your backpack. It allows you to have your hands free while making sure your camera is secured without flailing around on a strap. If you are a hiker or do not like wearing a camera strap around your neck, we highly recommend investing in this. It is the biggest game changer when it came to flexibility and speed of use.
Wireless Bluetooth Remotes: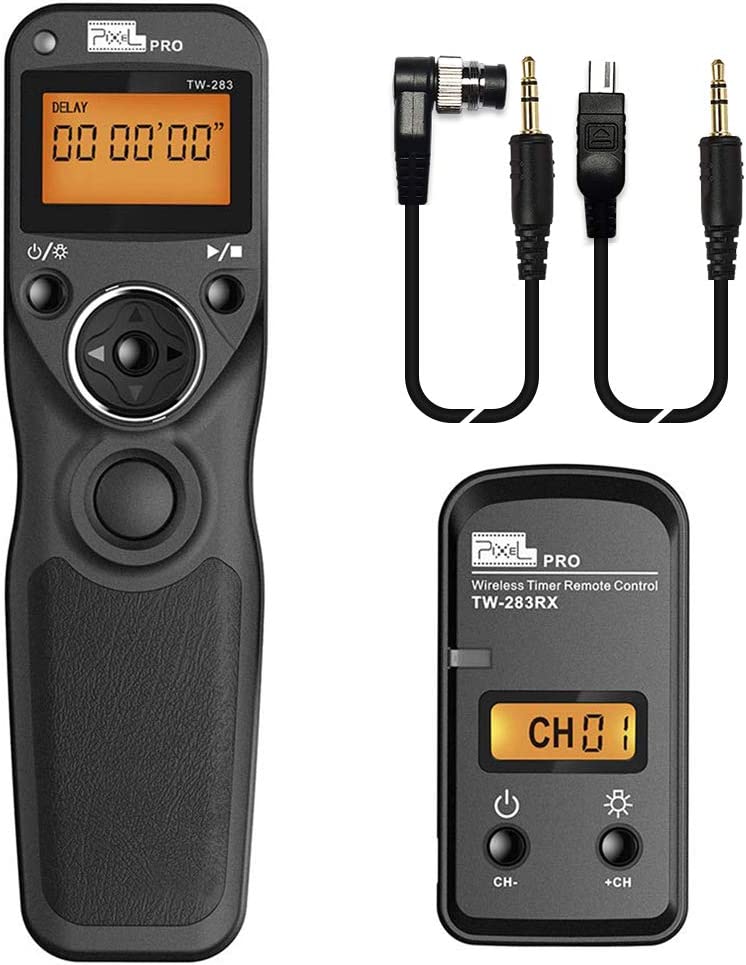 Without wireless bluetooth remotes, we wouldn't be able to do what we do. They are our holy grail to getting epic self portraits out in nature while being a couple hundred feet away. It's important to look at the technical specs of any bluetooth remote you are looking at potentially purchasing to see how far away they reach and to make sure they are compatible with your camera body.
Pixel Pro
The Pixel Pro is our most used bluetooth remote in our arsenal. It's more of a professional and advanced remote than our other ones as it also includes intervalometer options. If your camera doesn't have an intervalometer mode that is a really nice feature to have, especially when it comes to taking self portraits and long exposures.
Aodelan Pebble
The Pebble remote is perfect for beginners just getting into travel photography and taking their own photos. It only has a shutter button, so it's super easy to use and beginner friendly. This is always our back up remote if our Pixel Pro stops working and we used this remote for years before upgrading with no issues! Keep in mind, these are not weatherproof, so make sure to keep them protected if using them in rain or snow.
Best Action Cameras for Travel Photography
Go Pro Hero 10:
The Go Pro Hero 10 is a great action camera for travel photographers and videographers. It has been our go to camera for activities where we can't bring any cameras or phones with us when we need to be hands free such as zip lining, snorkeling, and skydiving. We highly recommend adding on a chest mount or head mount so you'll have more versatility with the camera when out adventuring.
Insta 360 X3: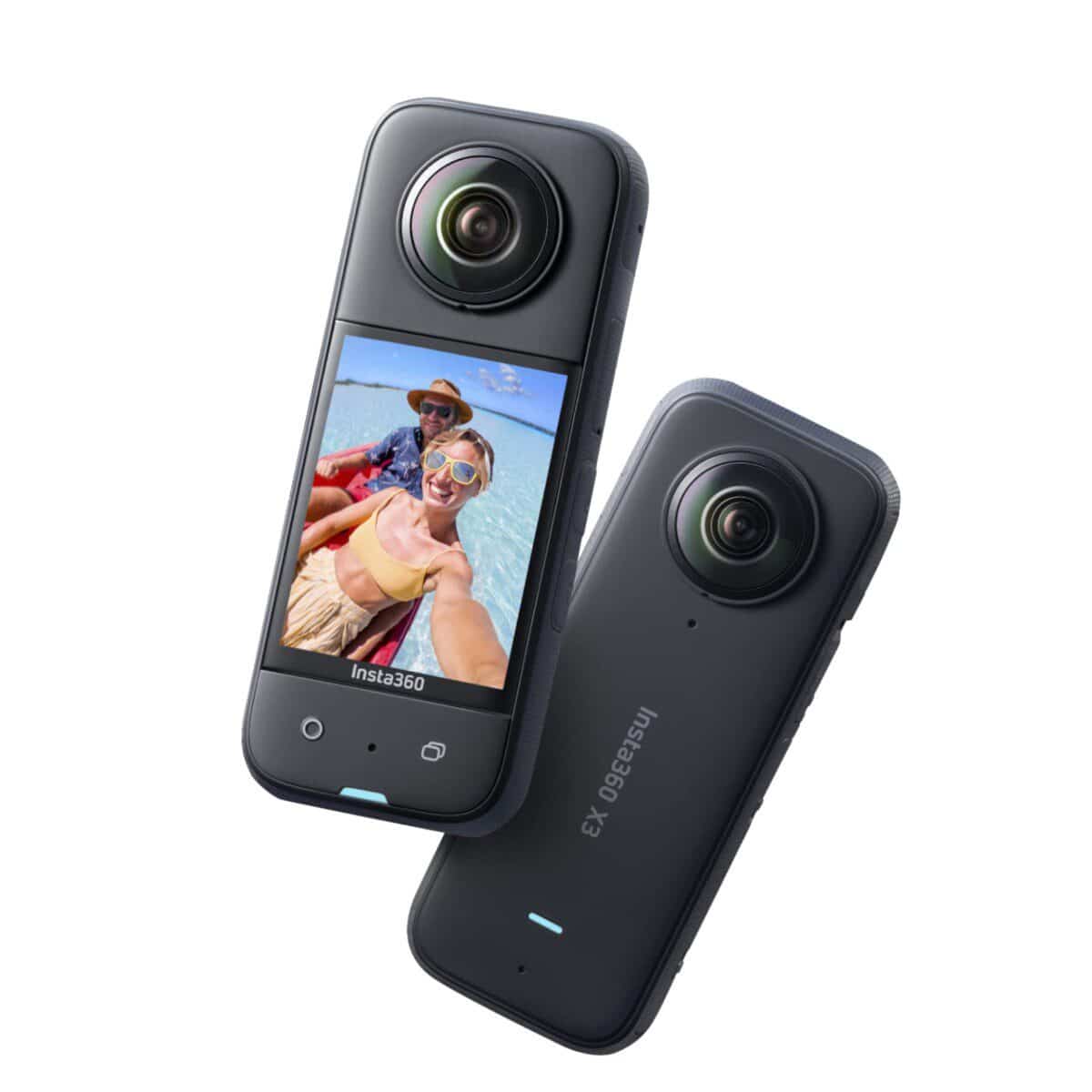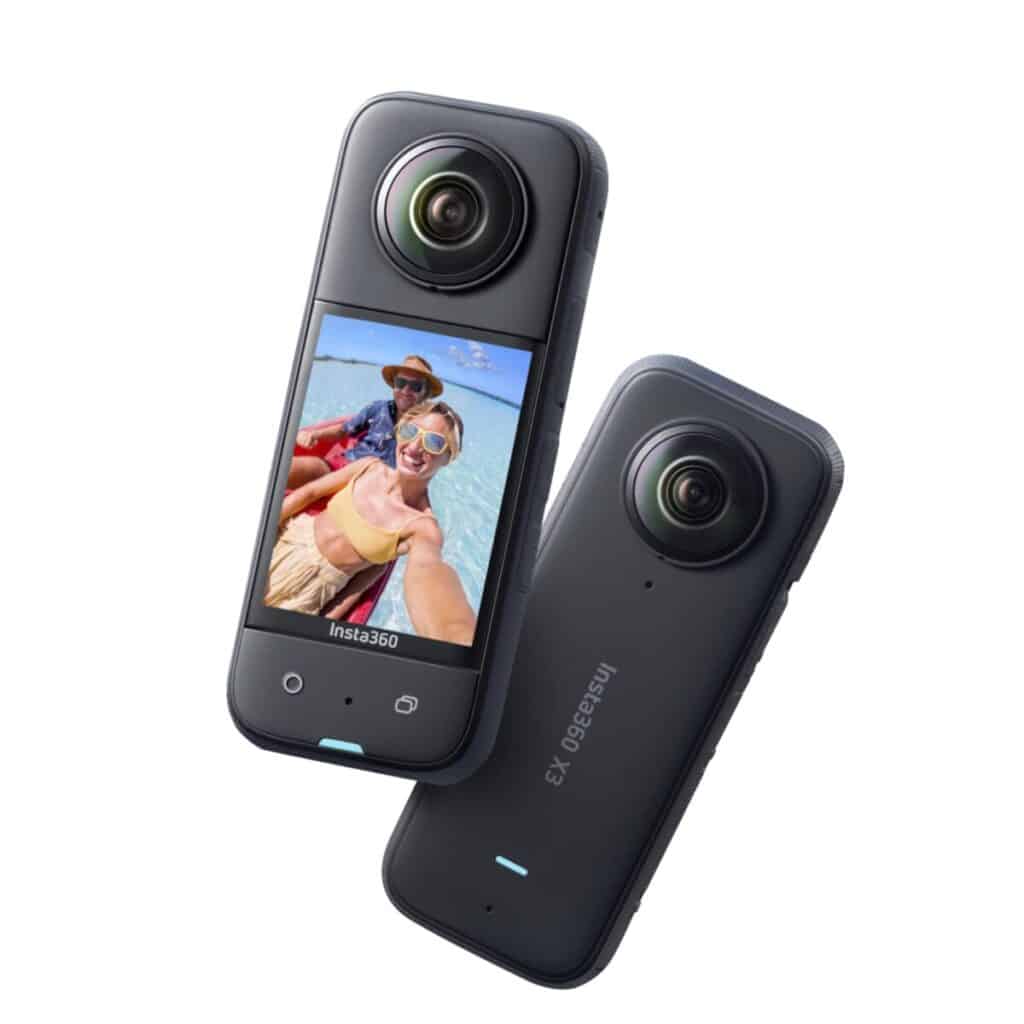 This is by far the best 360 camera for travel. We love having this in our camera bag because if we are traveling to a place with drone restrictions, the Insta 360 X3 and it's pole accessory can still capture the scene from an aerial like perspective. Make sure to get the extendable pole for it as well. It's also waterproof and super versatile in capturing content from all angles at once; making a videographers life so much easier.
DJI Mini 3 Pro: Our Go To Drone for Travel Photography
Since DJI has released the Mini 3 Pro, our older drones have basically become obsolete. We love how this drone shoots in vertical and horizontal modes so that we can film for multiple social media platforms at once without needing to crop in and compromise image and video quality. We also use the DJI Mini 3 ND Filters for when we film during the middle of the day.
If you are looking to make money while using your drone, we highly recommend getting your Part 107 Drone License. It is something that we recommend to everyone flying a drone in the industry and adds a layer of protection on top of useful knowledge.
Microphones for Travel Vlogging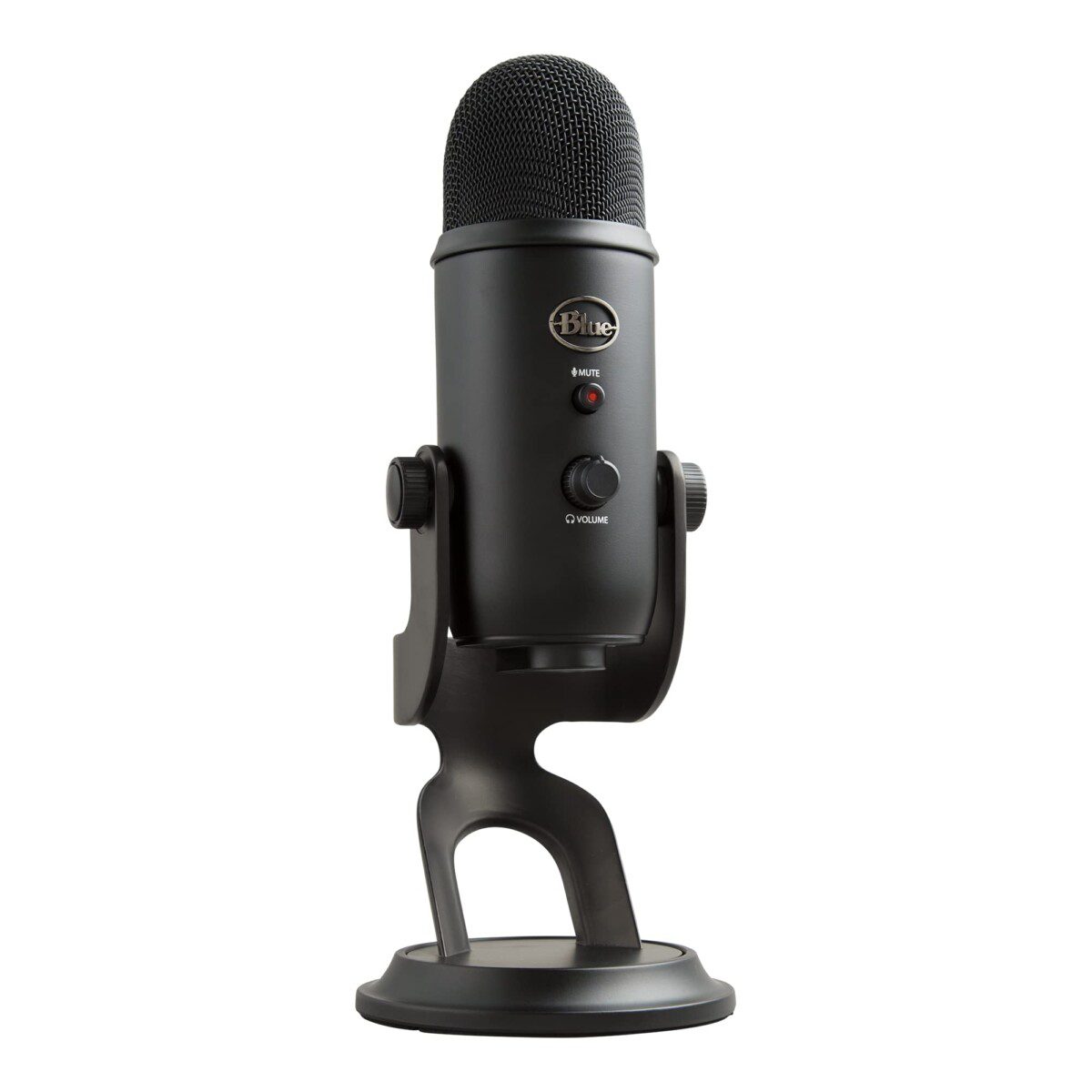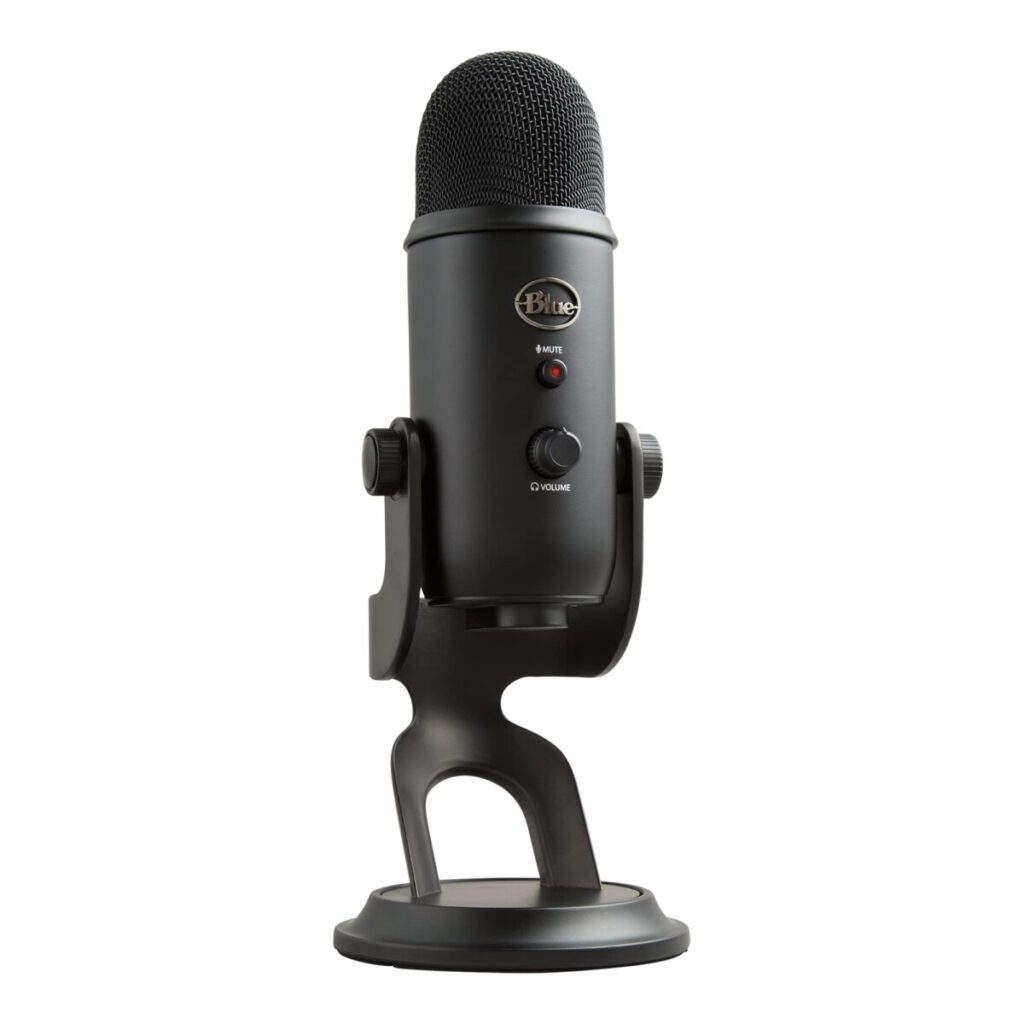 Blue Yeti Microphone
We use the Blue Yeti microphone for recording all of our voiceovers for Instagram, TikTok, and Youtube. We also use it to record our podcast, Unfiltered Adventures. It's nice because it's an affordable, quality microphone and it's actually surprisingly easy to travel with as well.
Rode Wireless Microphones
The Rode Wireless microphones are the best for vlogging in real time. These are lapel microphones, so it's much easier to pick up audio without being tied to a more typical boom microphone that is attached to a camera (which is what we've used in the past). Their battery life lasts us basically a full day of filming from sunrise to sunset without needing to be charged, which is awesome.
They're also nice microphones for travel vlogging because they give you so much flexibility to have multiple people talking regardless of which side of the camera they are on or how far away you are from other people talking.
Camera Cleaning & Care Accessories
Waterproof SD Card Holder: This case is a game changer if you are ever transporting your camera bag around water. In the event that your bag gets submerged, your SD cards and all of your precious data will be protected.
Air Blower: This air blower is the perfect accessory for getting dust and sand out of your lenses and camera sensors without scratching the glass or interfering with the inside of your camera.
Microfiber Cloths: These are the only things we use to clean our camera lenses. They are perfect for cleaning lenses without smearing or being too abrasive. We always make sure to have at least 3-5 with us at all times. And, as a reminder, NEVER use your shirt to clean your lenses!
Post Production Editing Gear & Services
Alright, technically these aren't in our camera bag – BUT they are equally as important as everything in there.
SSDS & Hard Drives
Our go to SSD is the SanDisk Extreme Pro. These are by far the fastest SSDs we've used on the market; they transfer files so much faster than a typical hard drive would. They are also much less likely to get corrupted in our experience. We've had quite a few hard drives get corrupted and needing data recovery whereas we haven't had any issues with any of our Extreme Pros in the several years we've had them.
Editing Softwares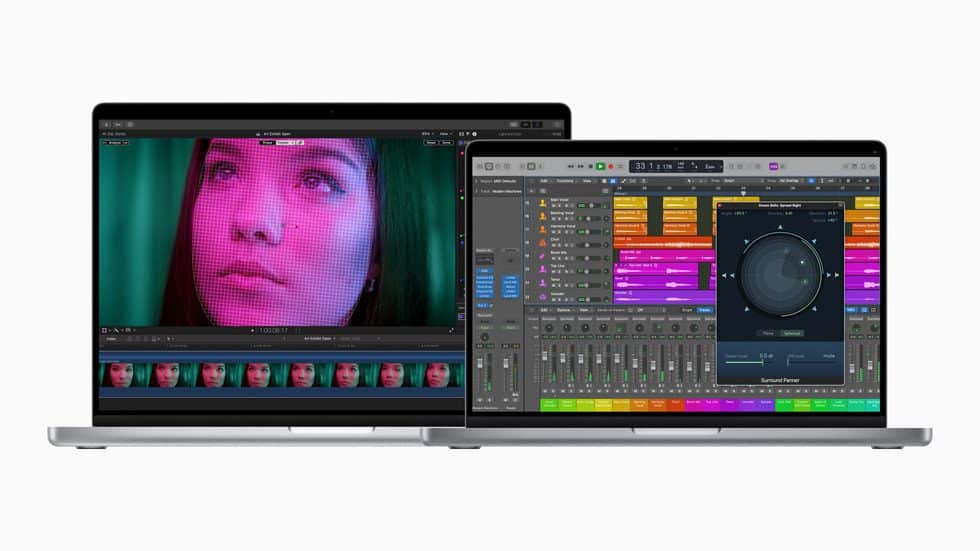 We use Final Cut Pro to edit all of our Youtube videos, Instagram Reels, and Tik Toks. We think it's the best video editing software for social media because you can export videos and repurpose them on multiple platforms without having to worry about a watermark ruining the video quality. Additionally, it just makes our workflow faster editing on the computer, especially if we are doing a photography based reel where we are using our photos in a video format.
If we are mobile editing, we'll typically use editors like CapCut or InShot; however, CapCut is definitely our favorite of the two. It's more advanced in its capabilities and offers more variety in effects.
Best Camera Insurance
In the field of adventure photography, you never know what's going to happen with your camera equipment. Knowing that we have camera insurance on our photography gear gives a bit more piece of mind when we are traveling with all of our gear and using it pretty hard in the outdoors. We not only have business insurance that covers our cameras and drones, but we also have an additional policy through Mercer since we do have a lot of equipment.
Ready to jump into Travel Photography in 2023?
We hope this photography gear guide has helped you prep for a year of honing your travel photography! For more on how we take our own travel photos and our photography workflow, checkout our creative process from start to finish!