If you're ready to level up your travel photography skills, it's time to...
Stop Taking Photos on Auto Mode
Gain the confidence and knowledge to take full control of your photography.
Learn the Basics of Lightroom & Photoshop
Learn how to remove people and unwanted objects from your photos, make selective edits using gradients, change the color of objects, and more.
Level up your phone photography skills
Utilize your phone's abilities to take epic RAW images with thought out elements of composition.
Learn the basics of shooting in manual
Delve into learning how to set exposures for your photos. From ISO, aperture, and shutter speed to optimizing your camera's settings for your style of shooting.
Discover the differences in lenses & camera gear
Learn the difference between DSLRs, Mirrorless, and Crop Sensor cameras. Find out the best kinds of lenses for each photography niche, how to take care of your equipment, and what to look for when investing in a new lens.
Capture epic self-portraits while traveling
Take your own epic self-portraits while traveling using the skills we go over in this e-book whether it's for memories, for social media, or for your business.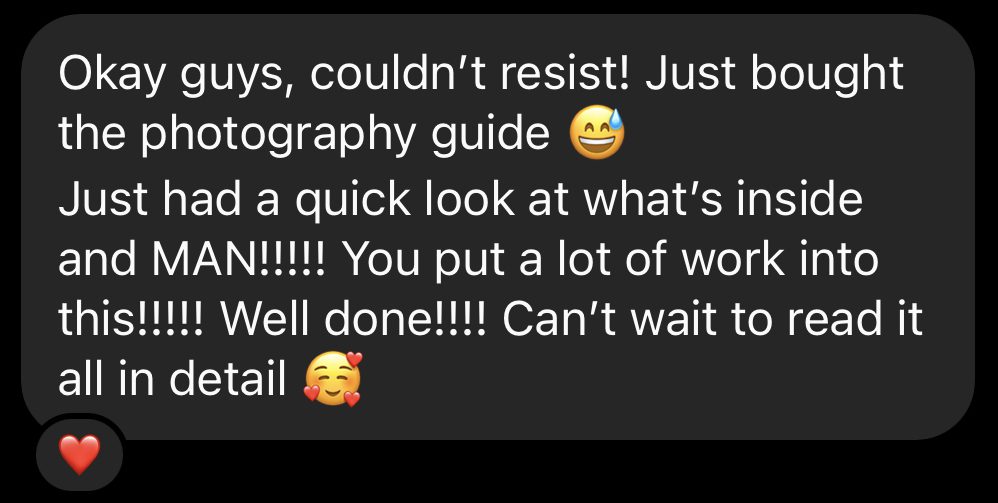 What's included in the travel photography guide e-book?
This 47-page Travel Photography Guide will teach you everything you need the know about the world of photography and content creation of self-portraits while you travel.
If you are a beginner wanting to improve your photos and learn everything we know about photography, this e-book is for you.
We'll dive deeper into aspects like:
Want an intro to what we teach in the guide?
Consider these photography tutorials on the house.
Questions about our Travel Photography E-Book?
Frequently Asked Questions
Ready to improve your photos and learn everything we know about travel photography?
This is your sign to level up your travel photography skills with our e-book!