The Ultimate 9 Day Mexican Riviera Itinerary: Cancun to Tulum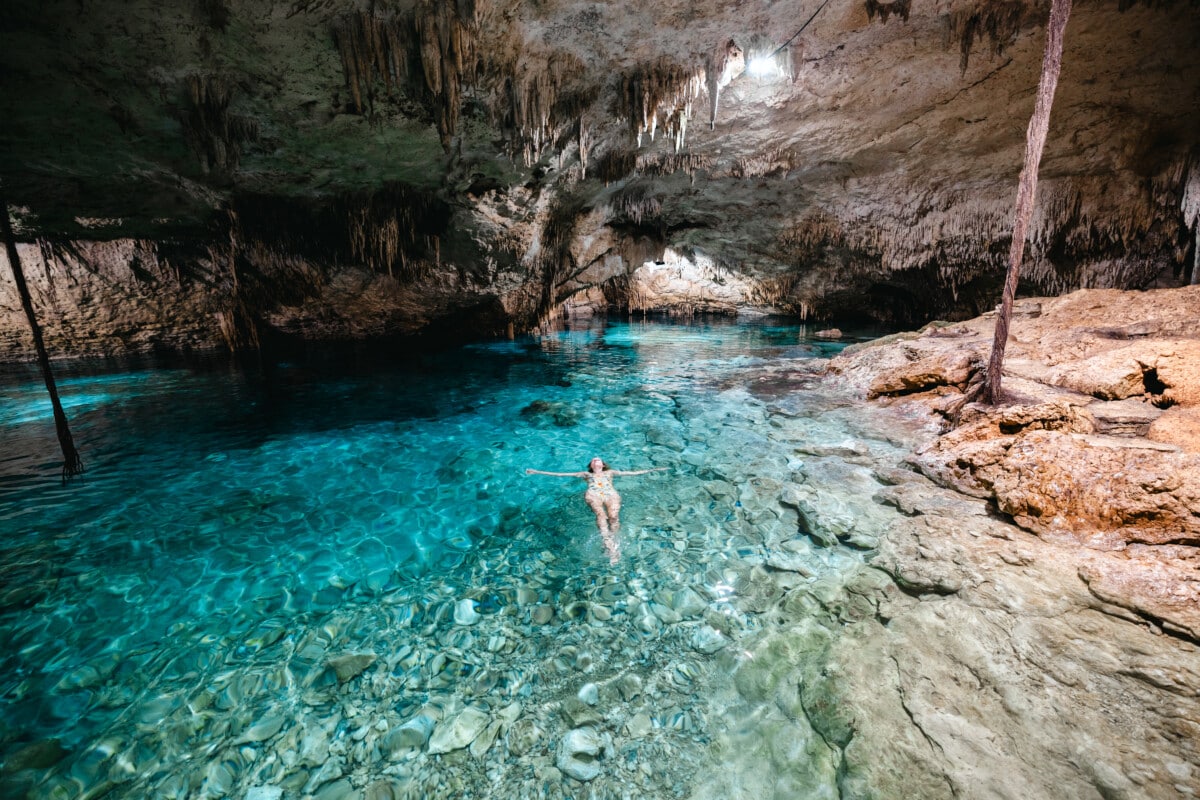 The Yucatan Peninsula along the Mexican Caribbean is one of the most beautiful destinations in the world. This region of Mexico offers a perfect blend of romance, adventure, and relaxation. That is exactly why Stephen planned a surprise honeymoon trip to Cancun, Playa del Carmen, and Tulum earlier this year, and why we want to help you plan the perfect trip around this stunning region of the Mexican Riviera!
This 9-day Mexican Riviera itinerary takes you from the vibrant turquoise beaches of Cancun to the charming streets of Playa del Carmen, and finally, to the bohemian beauty of Tulum. If you're looking for a mix of adventure, relaxation, amazing food, stunning beaches and lots of history, then this vacation itinerary and guide is for you!
Things to Know Before Visiting Mexico
Best Time of Year to Visit the Mexican Riviera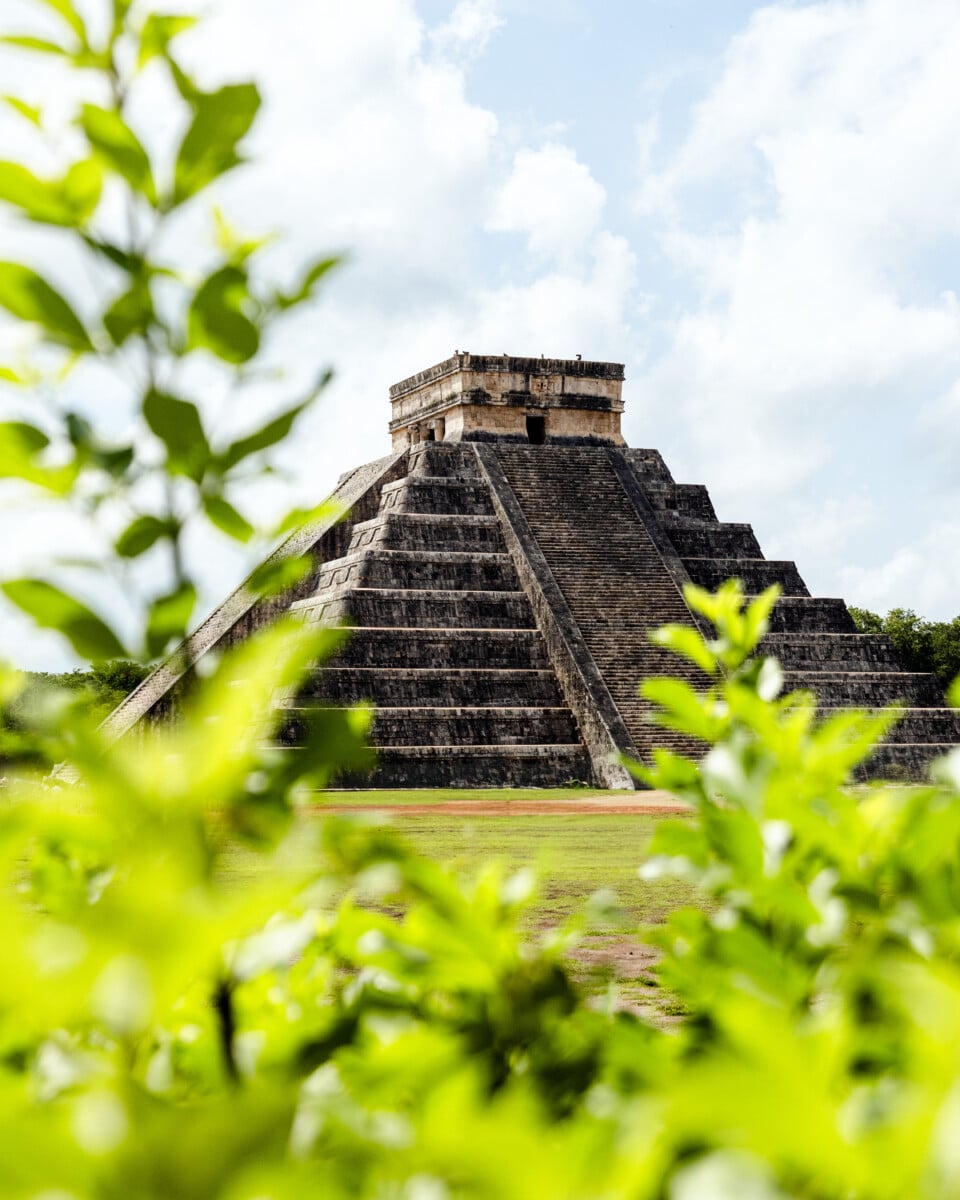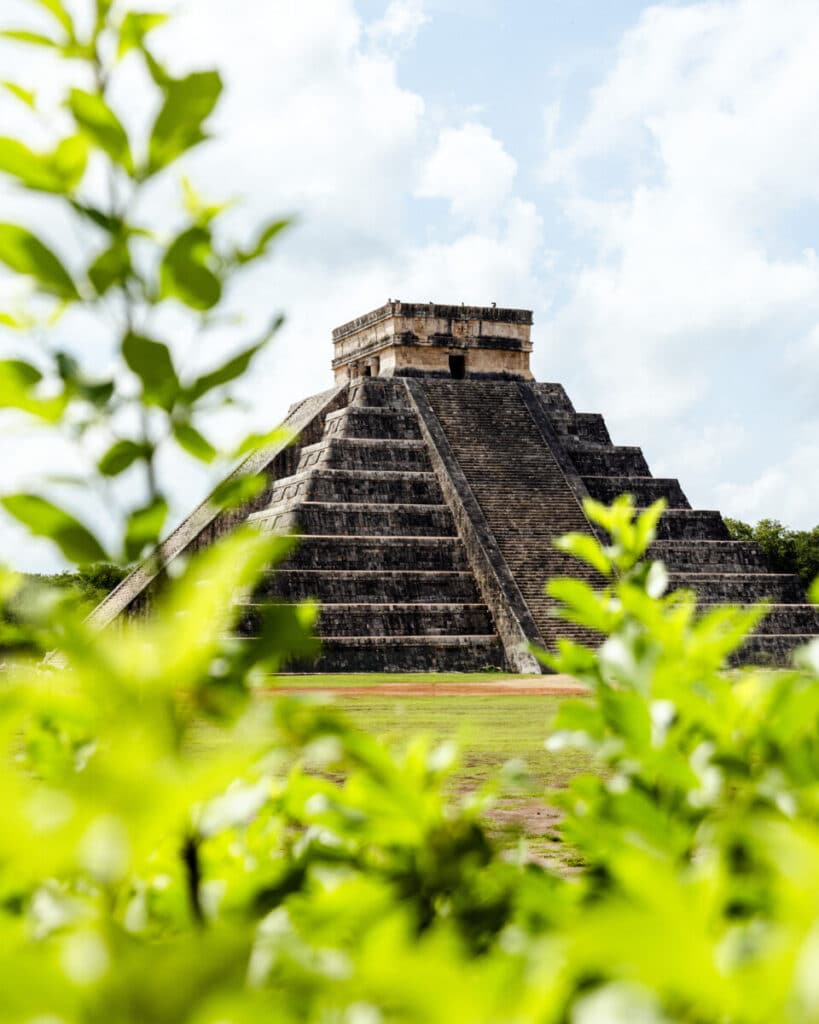 Weather
The best time to visit the Mexican Riviera, which includes Cancun, Playa del Carmen, and Tulum, is generally during the dry season, which runs from late November to April. This period offers pleasant weather with warm temperatures and minimal rainfall. It's ideal for outdoor activities, beach days, and exploring the Mayan ruins.
However, keep in mind that this is also the peak tourist season, so accommodations and popular attractions may be more crowded, and prices may be higher. If you prefer a quieter experience and don't mind a bit of rain, the shoulder seasons of late spring and early fall can also be good options.
Sargassum Season
Something that we had never heard of before visiting this area was Sargassum season. Essentially, sargassum is a type of seaweed that can wash up on the beaches in large quantities, impacting the pristine turquoise blue water experience, particularly in Cancun. Swimming and beach activities may be slightly less enjoyable during sargassum season.
Typically, this phenomenon is more prevalent during the warmer months, from late spring to early fall, with the highest concentrations occurring during the summer months. Although many of the 5 star resorts in Cancun try to clean it up to the best of their abilities, during certain parts of the year, it's inevitable to avoid this seaweed on the beach.
This is another reason why visiting in the peak season may be more ideal for you if you are wanting to avoid a ton of seaweed on the beautiful beaches. Having said that, we did this exact itinerary in July during the seaweed season and it honestly wasn't too bad. It was definititely worse in the afternoon, but in the morning it looked pretty similar to amounts of seaweed we get here in California.
It's important to note that while sargassum can be a temporary inconvenience, it doesn't affect all beaches in the region equally, and some areas may be less impacted than others. If you're concerned about sargassum during your visit, you can consider checking with your chosen accommodations and local authorities for the latest updates and advice on beach conditions.
Is Visiting Mexico Safe?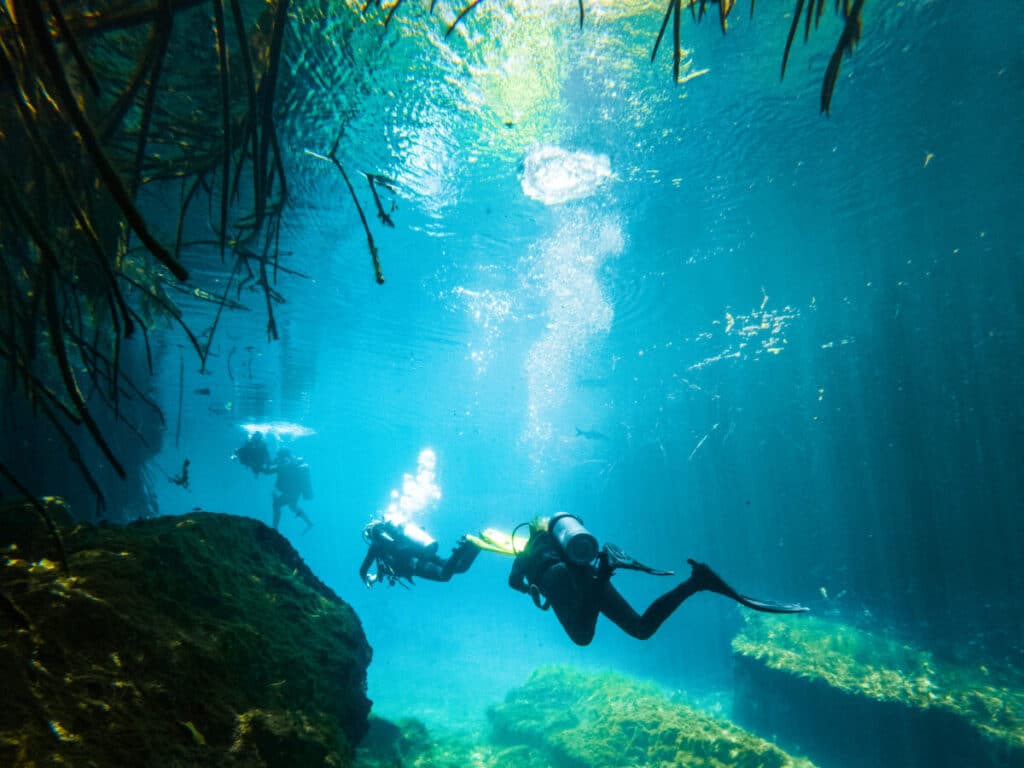 Mexico, like many countries, has regions with varying levels of safety, and it's essential to stay informed and exercise caution while traveling. In our several trips to Mexico, we've never actually run into any scams or felt unsafe. However, like any tourist hotspot, it's essential to be aware of common scams that can occur.
Common Scams You May Run Into in Mexico:
Timeshare Scams: In popular tourist areas, and especially at the airport, you might be approached by individuals offering free activities or gifts in exchange for attending a timeshare presentation. Be cautious, as these presentations can be high-pressure sales tactics. You do NOT need to say yes to these folks if you don't want a time share – I promise you won't hurt their feelings.
ATM Skimming: Criminals may tamper with ATMs to steal card information. Use ATMs located in well-lit, secure and reputable areas, and cover your PIN while entering it.
Rental Car Damage Scams: When renting a car, inspect it thoroughly and take photos before accepting it. Some rental companies may claim damage you didn't cause when returning the vehicle.
Restaurant and Bar Scams: Be cautious of "specials" or "discounted" menu items that might be overpriced or not as advertised. If you are eating on the main tourist areas, you're probably going to find very pricey restaurants for average food. Also, check your bill carefully when dining out, as some establishments may overcharge or add unexplained fees.
Fake Police Officers: Be wary of anyone claiming to be a police officer who doesn't have proper identification. If you're unsure, request identification and contact the local police station to verify their identity.
Petty Theft: Keep an eye on your belongings, especially in crowded areas. Petty theft, such as pickpocketing, can occur in tourist hotspots.
Gas Station: When filling up your gas tank in the region of Mexico, most only take cash. Make sure to count your bills out loud as you pay so that they don't scam you into paying more claiming you owe more when you already paid the full amount.
Is Staying at All Inclusive Resorts in Mexico worth it?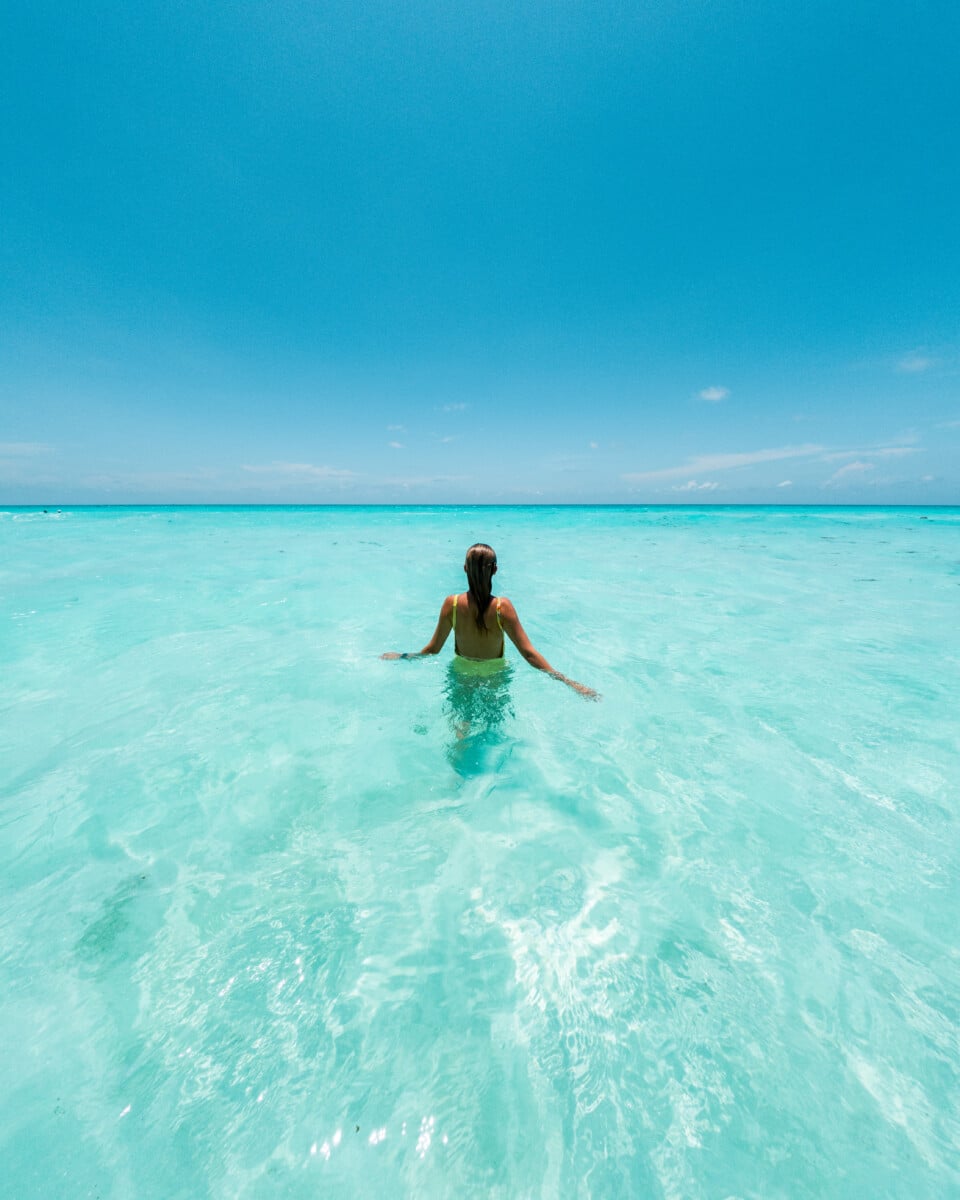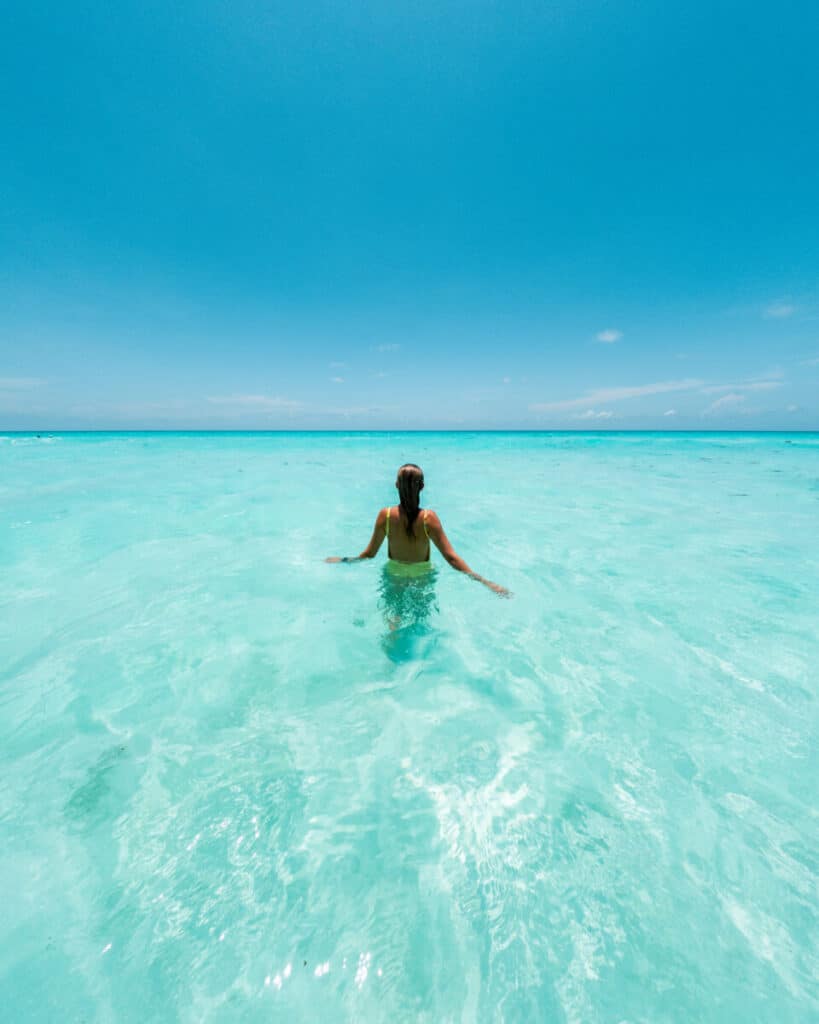 Staying at all-inclusive resorts in Mexico can be a fantastic option, but whether it's worth it depends on your preferences and travel goals.
Things to Know About All Inclusive Resorts in Mexico: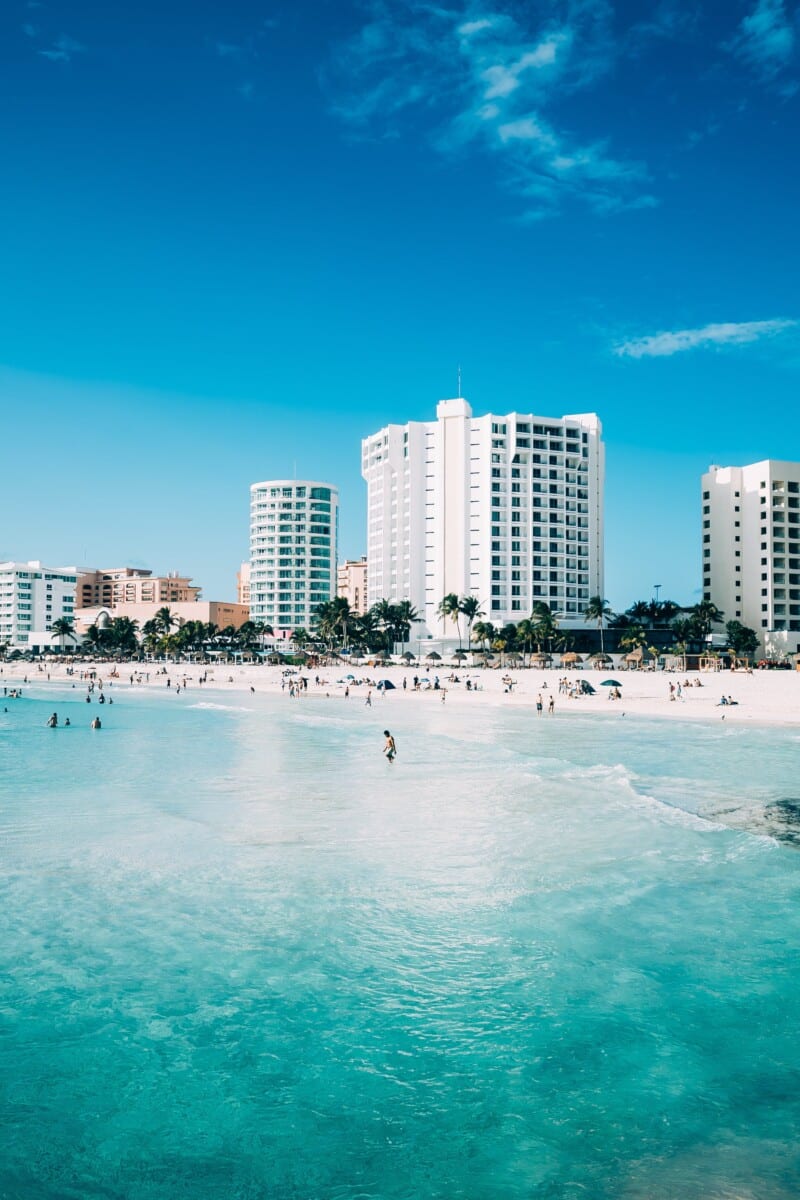 As people who don't typically stay in all inclusives when we travel, there were definitely a few things we learned on this trip:
Make your dinner reservations in advance. There are many people that had a hard time getting into the all inclusive restaurants they wanted because the reservations filled up immediately. You can even make reservations before you arrive on property if you email your concierge in advance.
Utilize the hotel's app or website to navigate around the property. Usually, they will have everything you need to know, schedules of activities, maps, and more.
If you want to keep your drinks cold, a lot of people brought ventilated cups with them like a Stanley. This way your drink won't get super watered down in the tropical climate.
If ordering cocktails, know that they likely won't be super strong. Many people will buy alcohol from duty free at the airport and add additional to their drinks.
Pros of Mexican All-Inclusive Resorts:
Convenience: All meals, drinks, and often activities are included, making it easy to budget and plan.
Amenities: Many resorts offer luxurious amenities like spa services, water sports, and entertainment.
Safety: Resorts often have security measures in place, adding an extra layer of safety.
Cons of Mexican All-Inclusive Resorts:
Limited Local Experience: Staying at a resort can isolate you from the local culture and authentic experiences.
Crowds: Depending on the resort's size, it can be crowded, especially during peak seasons.
Cost: While all-inclusive packages can provide value, they may not be the most budget-friendly option.
If you prioritize relaxation, convenience, and a stress-free environment, all-inclusive resorts can be worth it. However, if you want to immerse yourself in the local culture, explore independently, and have a more adventurous experience, you may prefer to stay at boutique hotels or vacation rentals and dine at local restaurants. Ultimately, the choice depends on your travel style and preferences.
How to Get Around the Mexican Riviera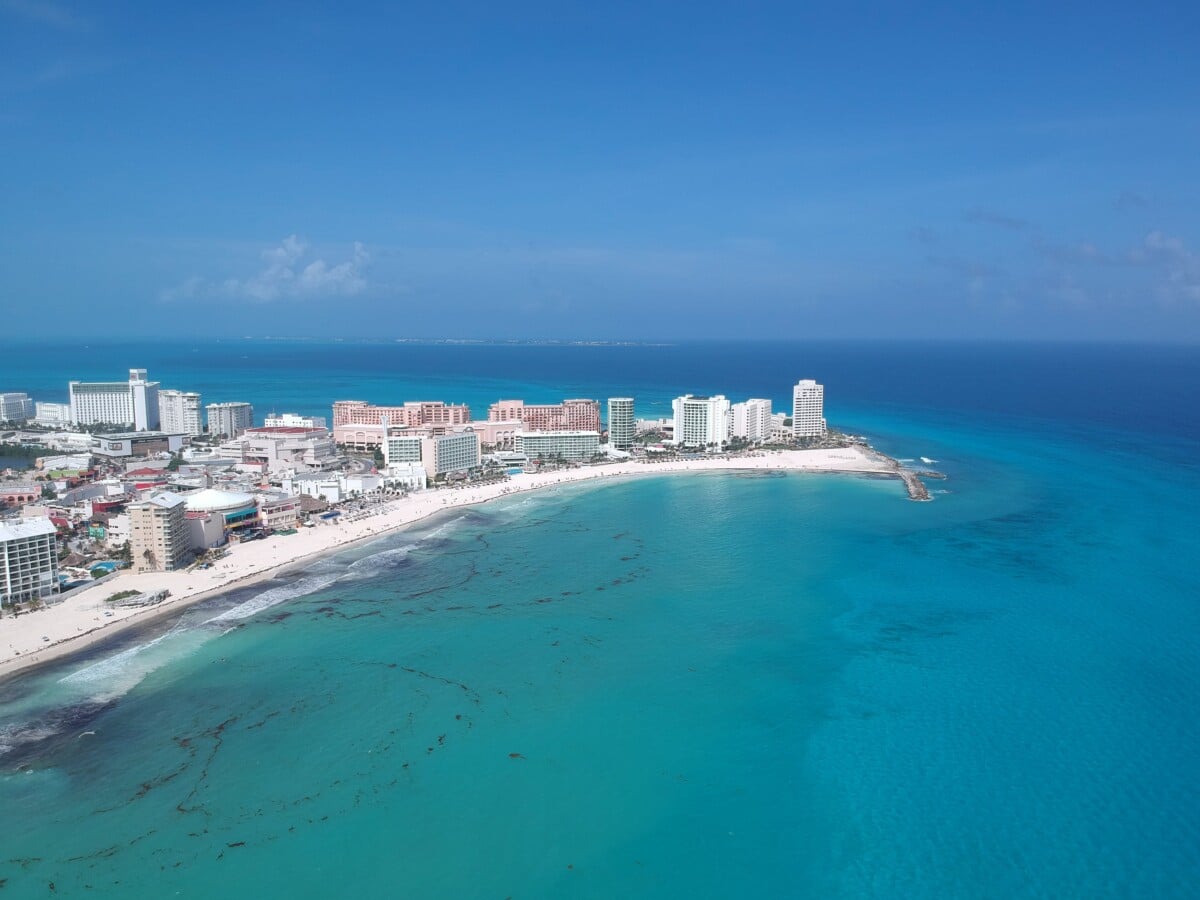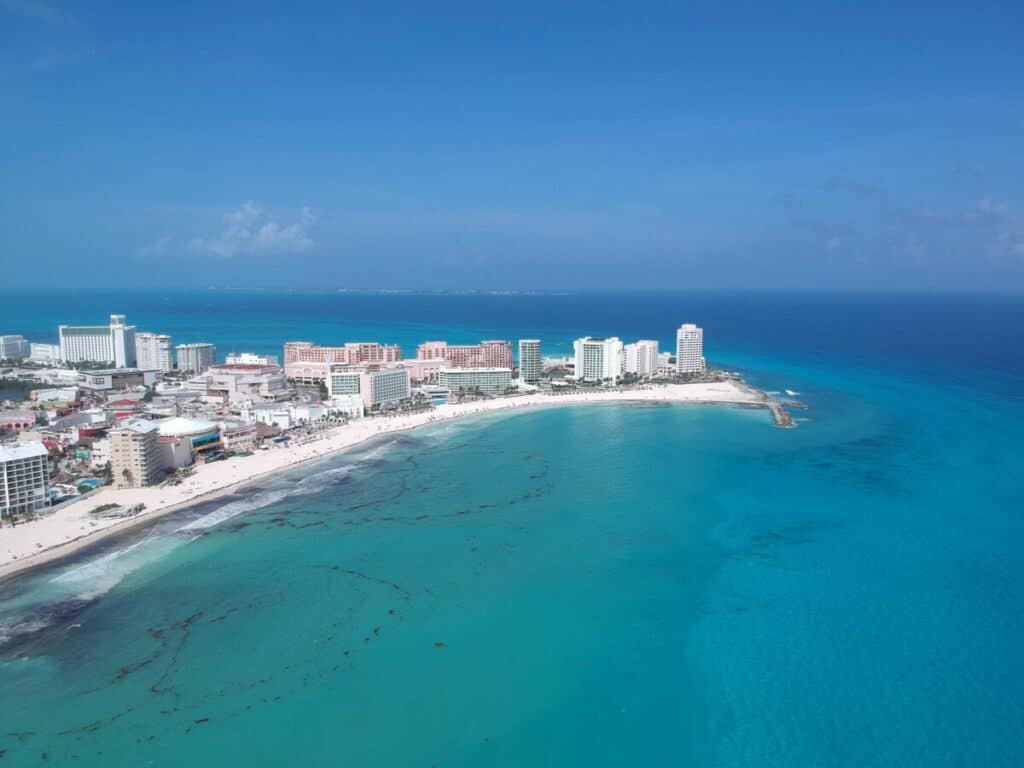 There are several ways to get around the Yucatan region of Mexico. Most travelers to the Mexican Riviera arrive at Cancun International Airport (CUN). From there, you have several transportation choices to reach your destination:
Airport Shuttle: Many hotels and resorts offer airport shuttle services. You can arrange for a shuttle in advance or upon arrival at the airport.
Taxis: Licensed taxis are available at the airport, and there is a designated taxi stand. Confirm the fare with the driver before starting your journey.
Rental Cars: Rental car agencies operate at the airport, and you can rent a car if you prefer to explore independently. Make sure to have insurance and proper documentation.
Public Transportation: You can also take public buses from the airport to various destinations. The ADO bus company operates services to Cancun, Playa del Carmen, and Tulum.
Renting a Car in Cancun
We personally opted to rent a car. Now, in doing so, you'll want to make sure you know the following about driving from Cancun to Tulum.
Car Insurance: For some reason, this region in Mexico isn't covered by travel credit card insurance or USA insurance. If you are caught in an accident and don't have Mexican issued car insurance you can get into a ton of issues.
Gas: As mentioned earlier, most gas stations in this region will only take cash. We advise you to absolutely take out cash during this trip as ATMs are a little hard to find the further you get away from Cancun.
Chaotic Driving: Driving in Mexico can be more aggressive than people from the USA may be used to. Make sure to exercise caution while driving and remain focused behind the wheel for people cutting you off, merging suddenly, etc.
Follow the Laws: This one goes without saying, but do NOT speed in this region. You do not want an encounter with the police in a foreign country.
Note: As of April 2024, you should be able to fly directly into the brand new airport in Tulum as well! So feel free to adapt this itinerary in reverse or one way so you don't have to do as much driving.
Do you need to know Spanish to visit Mexico?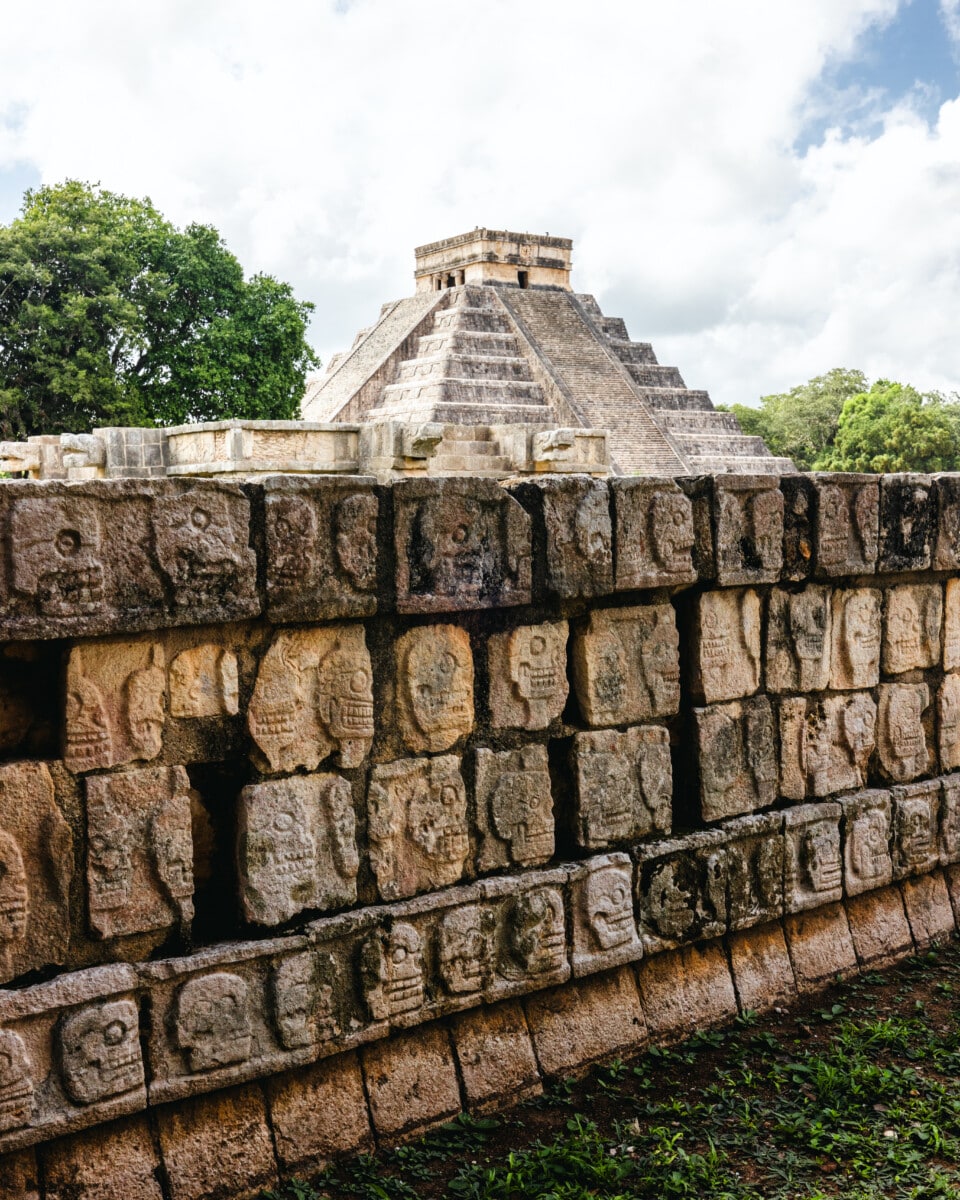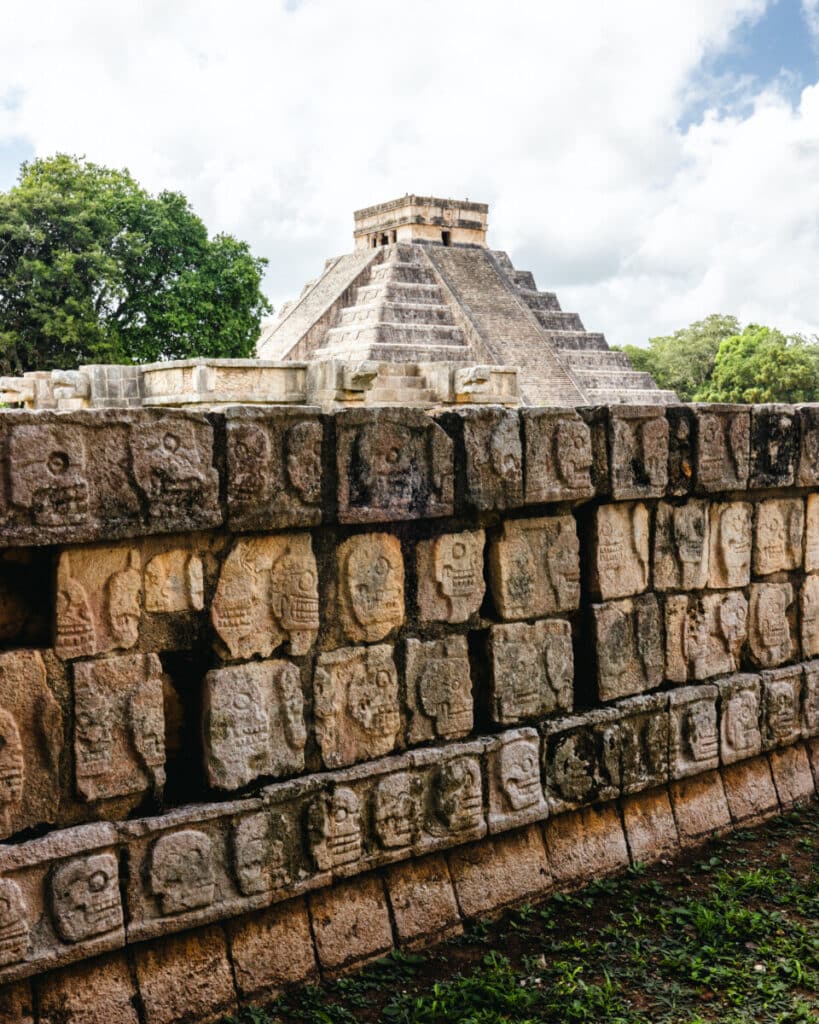 While it's not an absolute requirement to know Spanish to visit this part of Mexico, having some knowledge of the language can greatly enhance your travel experience and make your trip more enjoyable and convenient.
We personally don't know Spanish fluently, however, we do know elementary levels of Spanish and that does help with everyday conversation. Our biggest piece of advice would be to download Google Translate in Spanish before you arrive in Mexico. That way, even if you don't have service, you can still translate signs, menus, and conversations without any issues.
That being said, most Mexicans in popular tourist destinations, especially in hotels, restaurants, and tourist areas, do speak at least some English. However, English proficiency can vary, and in more remote or less touristy areas, you may find fewer people who can communicate in English. Knowing basic Spanish phrases can help you ask for directions, order food, and interact with locals more easily.
What to Pack for Visiting the Yucatan Peninsula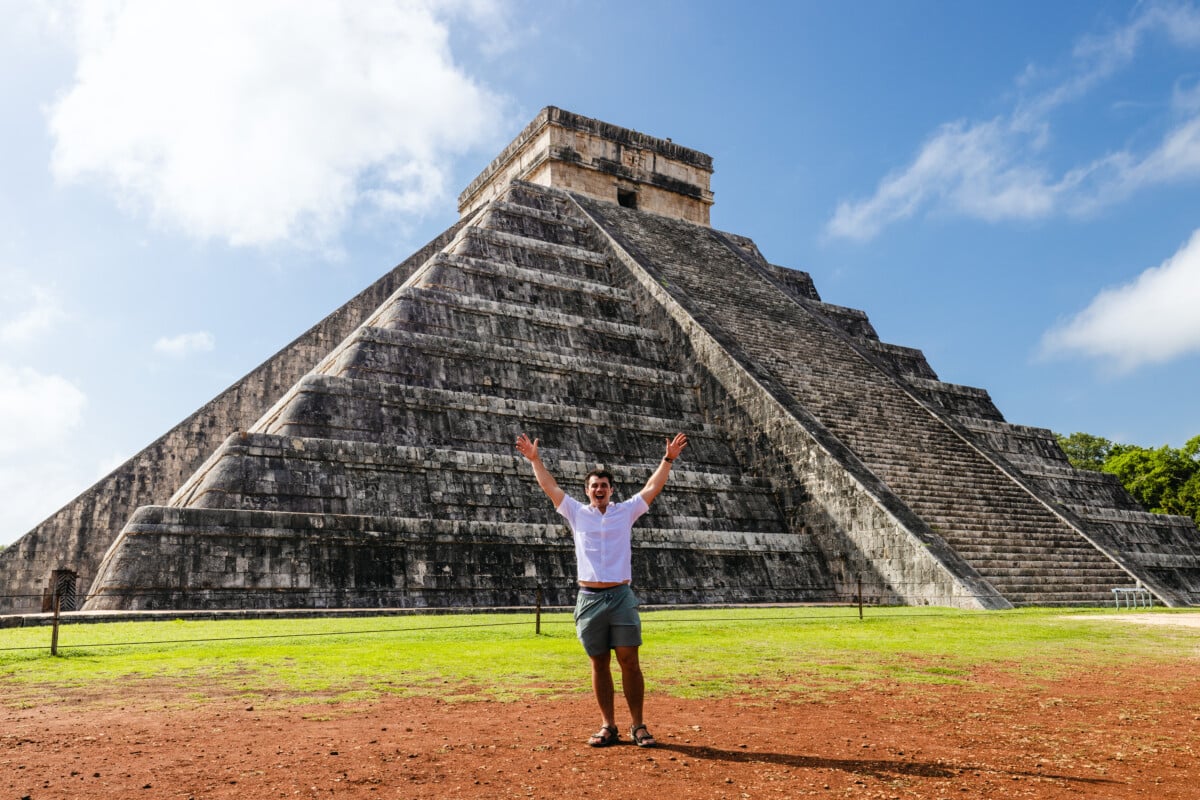 When packing for your trip to this region in Mexico, think tropical paradise! The weather is warm and humid pretty much year round, so you won't need too much in terms of clothing.
Lightweight, breathable clothing: Pack comfortable clothes suitable for tropical weather. Cotton and linen fabrics are ideal.
Swimwear: Bring swimsuits, as you'll likely spend time at the beach, cenotes, and pools.
Sun protection: Don't forget wide-brimmed hats, sunglasses, and reef safe sunscreen with a high SPF rating. Our favorite for water activities is this one from SunBum.
Footwear: Comfortable walking shoes or sandals for exploring archaeological sites, and flip-flops or water shoes for the beach and cenotes.
Light rain jacket or umbrella: Sudden showers can occur, especially during the rainy season.
Casual evening wear: Pack some casual, slightly dressier outfits for dining out or enjoying nightlife in towns like Playa del Carmen or Tulum. Men should make sure to pack a collared shirt and a pair of long pants if wanting to dine out at finer restaurants.
Lightweight Towel: Although some resorts may provide you with towels, it's always a good idea to bring your own for excursions as well!
Insect repellent: Protect against mosquitoes, especially in jungle areas.
Reusable water bottle: Stay hydrated and reduce plastic waste.
Snorkeling gear: If you plan to snorkel in cenotes or at the coast, consider bringing your own mask, snorkel, and fins.
Daypack: A small backpack or beach bag is handy for day trips and excursions.
Camera: Make sure to pack an underwater camera like a Go Pro to capture your memories in the beautiful water! We linked all of our favorite travel camera gear here.
The Ultimate Mexican Riviera Itinerary
Day 1: Fly into Cancun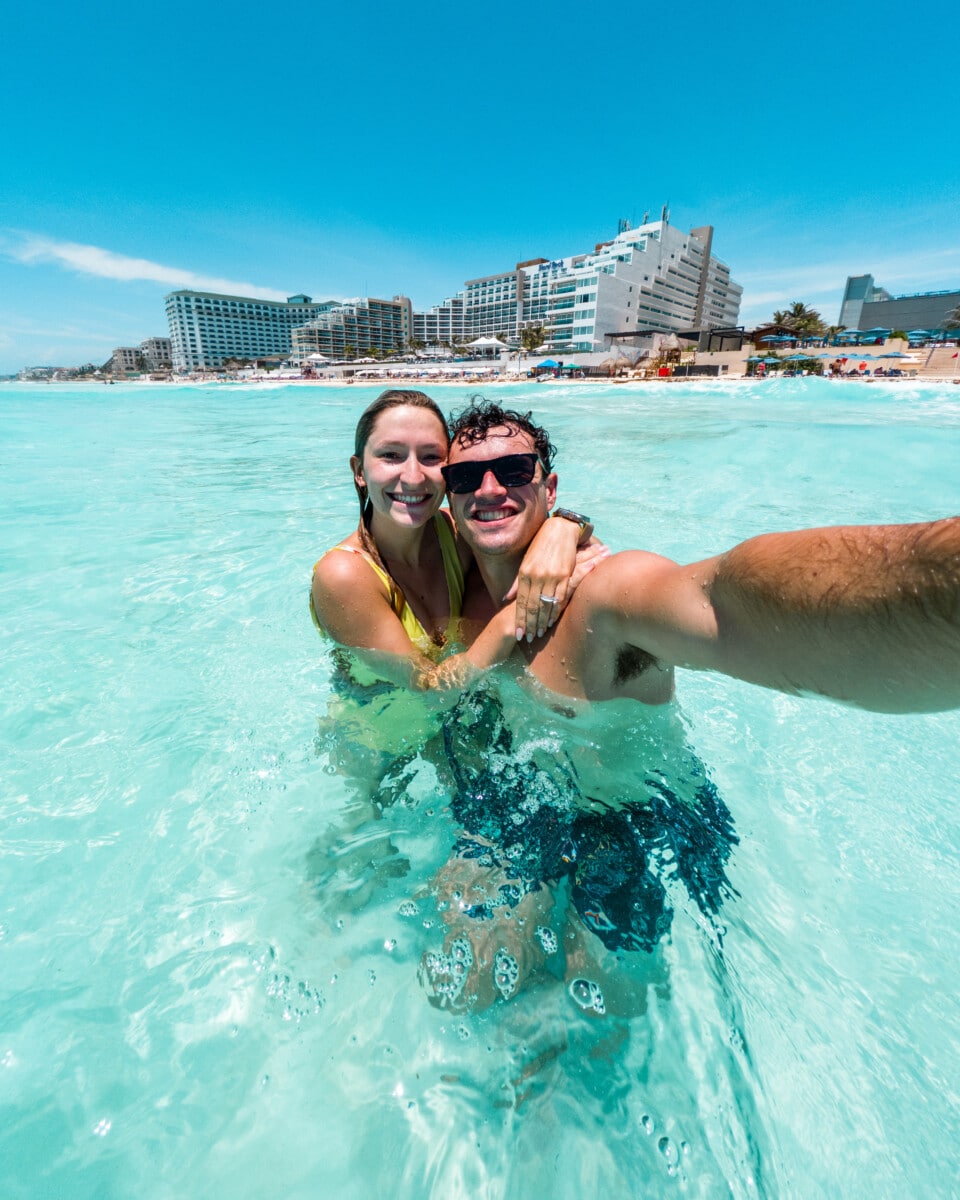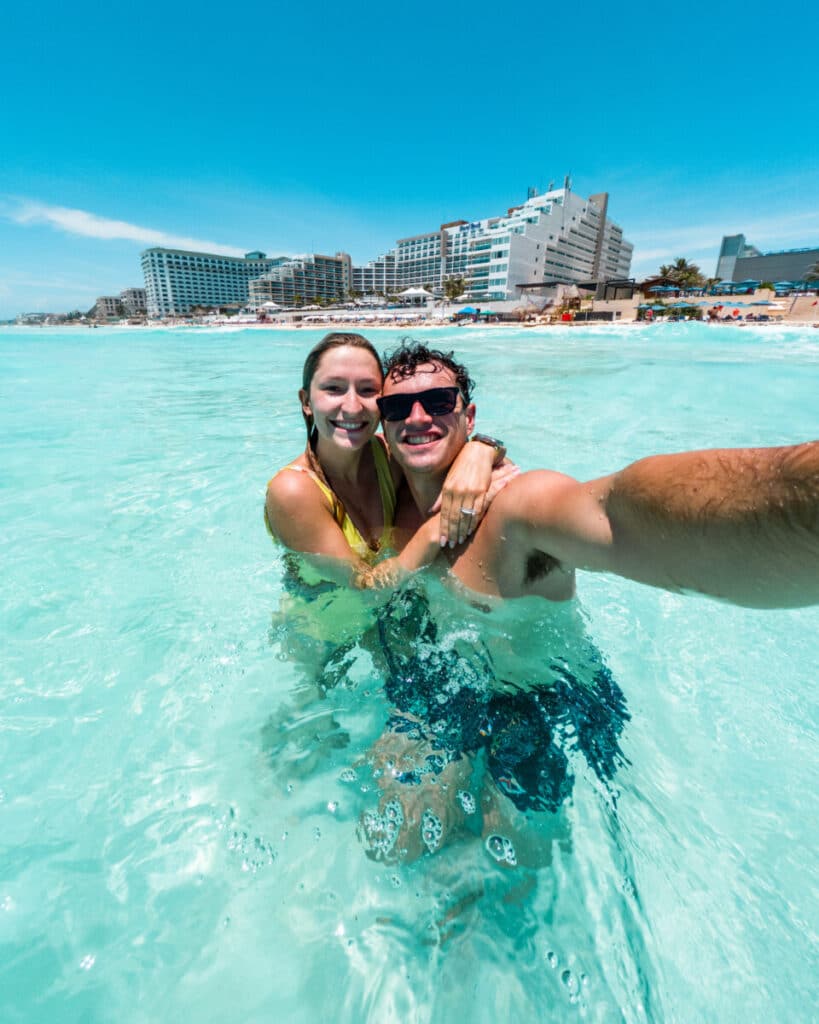 Since you're starting in Cancun, you'll be flying into Cancun International Airport (CUN). Customs typically goes fairly quickly. Just note, the second you clear them, you'll likely get bombarded with timeshare presentation sellers. Keep walking until you find your rental car, shuttle, or bus to your accommodations in Cancun.
We stayed at the luxury Secrets the Vine Resort and loved our stay! It was by far the best service we received on this entire itinerary, and it's an adults only hotel. If you are celebrating something special, we highly recommend upgrading to the VIP package so you have access to more restaurants, the VIP club, and special activities.
Spend the day settling in and relaxing along the breathtaking water. Spend a few hours relaxing on the beach, swimming, or sunbathing. You can also rent water sports equipment like paddleboards or jet skis if you're feeling adventurous.
Dine at a downtown restaurant or return to your hotel for dinner. Consider watching the sunset at a beachside bar for a memorable evening view.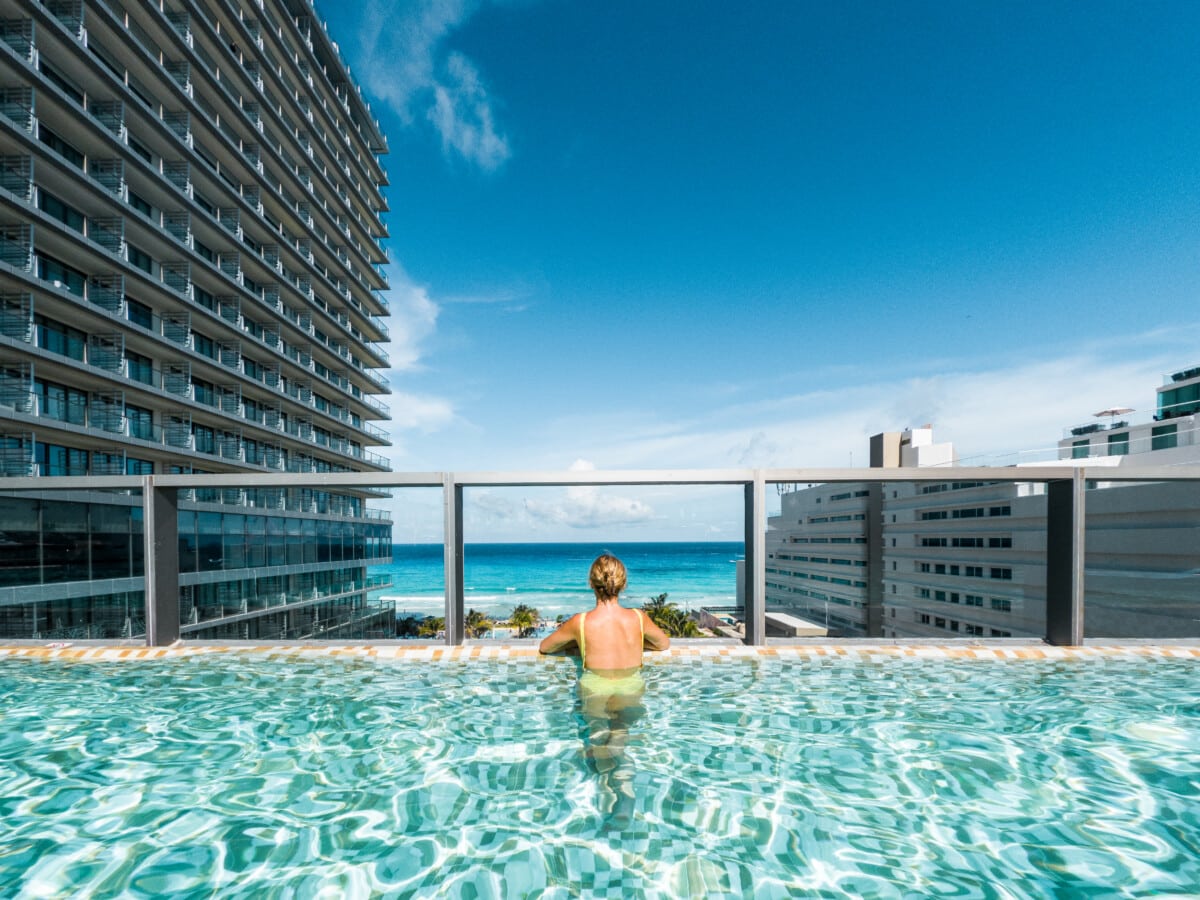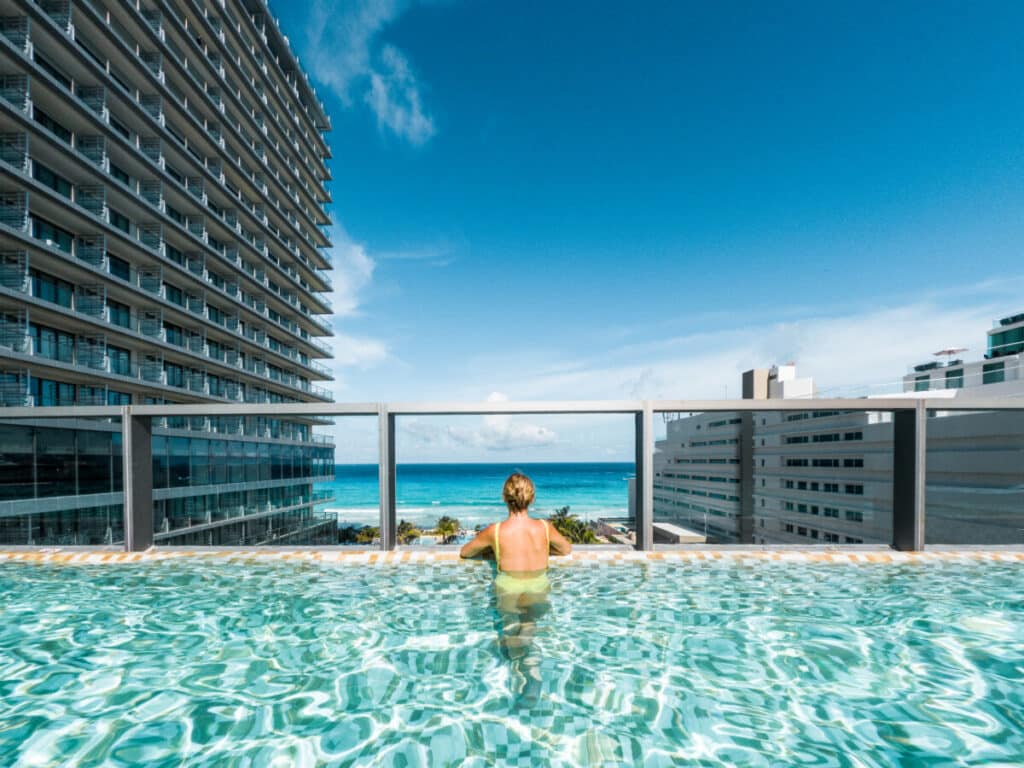 Day 2: Explore Isla Mujeres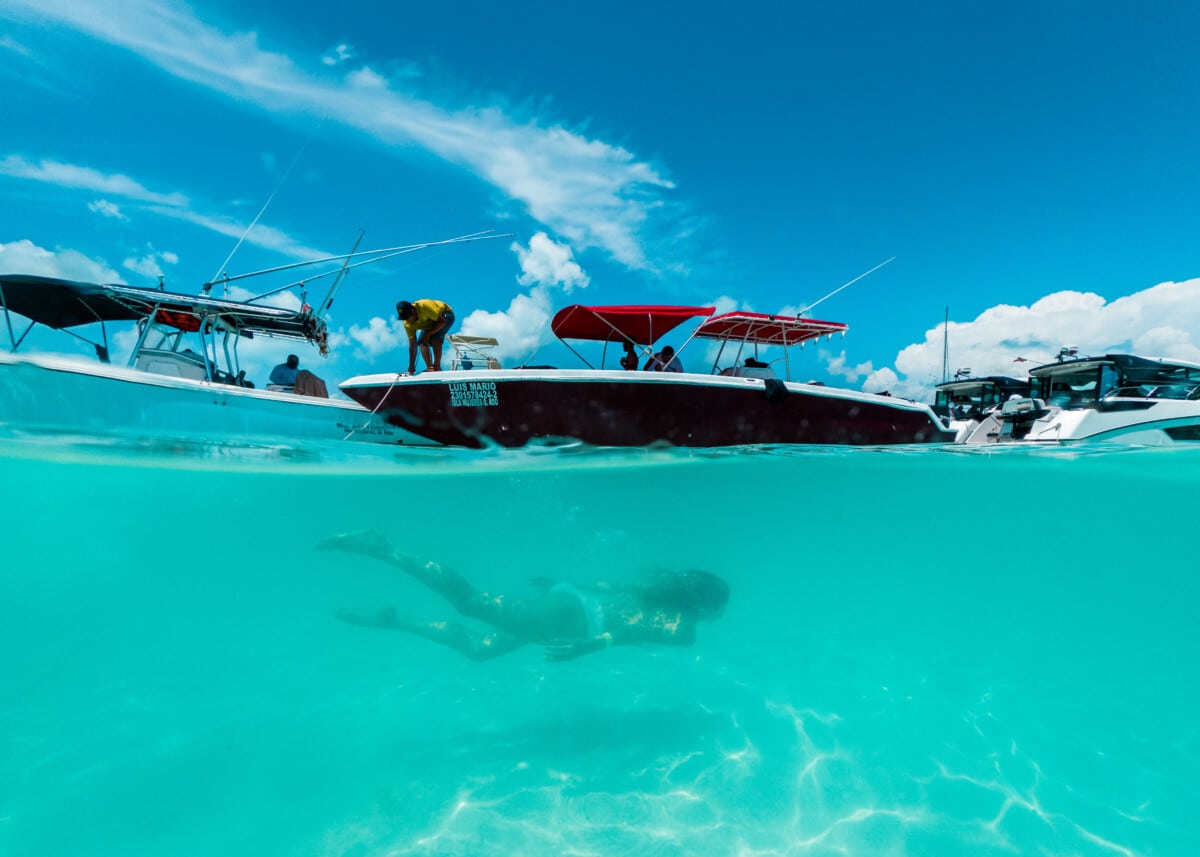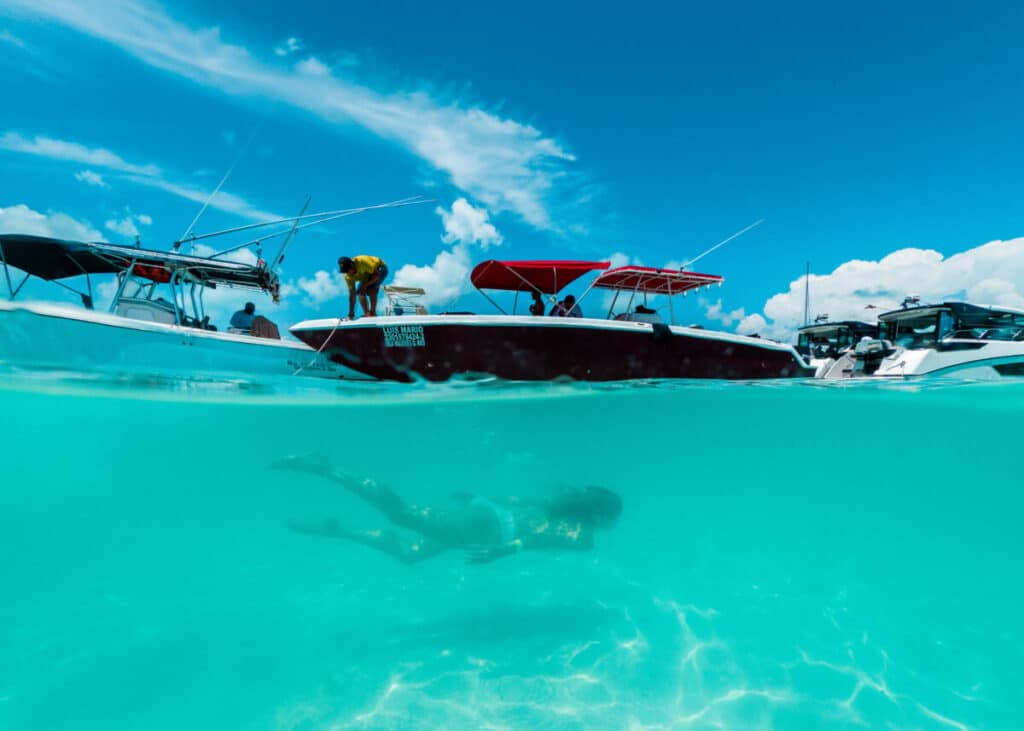 Take a ferry from Cancun to Isla Mujeres, a charming island known for its beautiful beaches, clear waters, and relaxed atmosphere. Explore the island by renting a golf cart or bicycle, visit Punta Sur for breathtaking views, and enjoy the pristine Playa Norte.
Savor a seafood lunch on Isla Mujeres. Try the local specialty, "tikin xic" fish, or enjoy fresh ceviche.
Day 3: Head Out on a Snorkeling Tour or Whale Shark Tour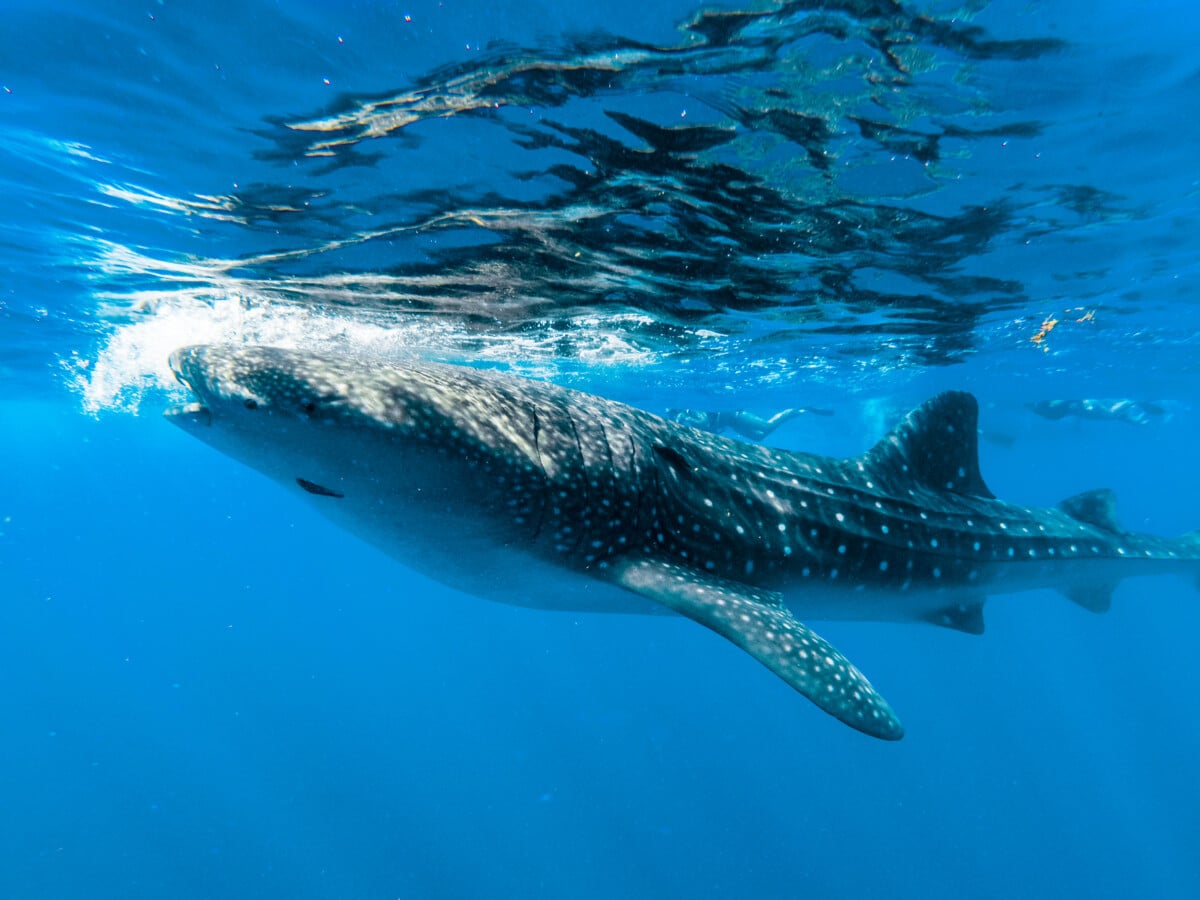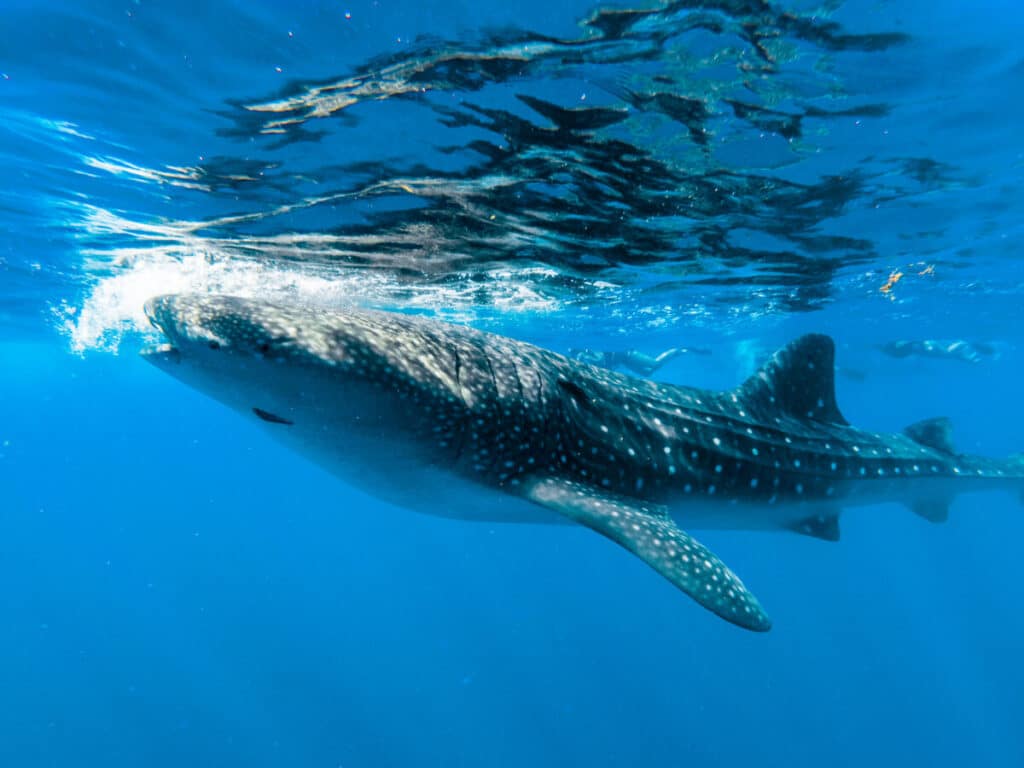 Depending on the time of year you visit, we'd recommend heading out on either a snorkeling tour or a whale shark specific snorkeling tour!
This whale shark season usually runs from late May to mid-September. The exact timing can vary slightly from year to year, but the peak months for whale shark sightings in the Cancun area are typically June, July, and August. During this period, these gentle giants migrate to the warm waters of the Yucatan Peninsula, including the waters around Cancun, to feed on plankton and other small marine organisms.
If you're interested in swimming with whale sharks in Cancun, it's essential to plan your trip during the peak season for the best chance of encountering them. Be sure to book a tour with a reputable operator that follows responsible and sustainable practices to ensure the safety and protection of both the whale sharks and the marine environment.
We booked this exact tour and had a fantastic experience. Note, it can be a bit chaotic as only 2 people per boat are allowed to snorkel at one time to respect the whale shark. This means that everyone has to rotate in order to get their time in the water. In total, you might have 5-10 minutes in the water swimming with them.
Once you are finished with your tour, return to Cancun in the afternoon and spend your last hours in Cancun by relaxing at your hotel's beach or pool.
Day 4: Head to Playa Del Carmen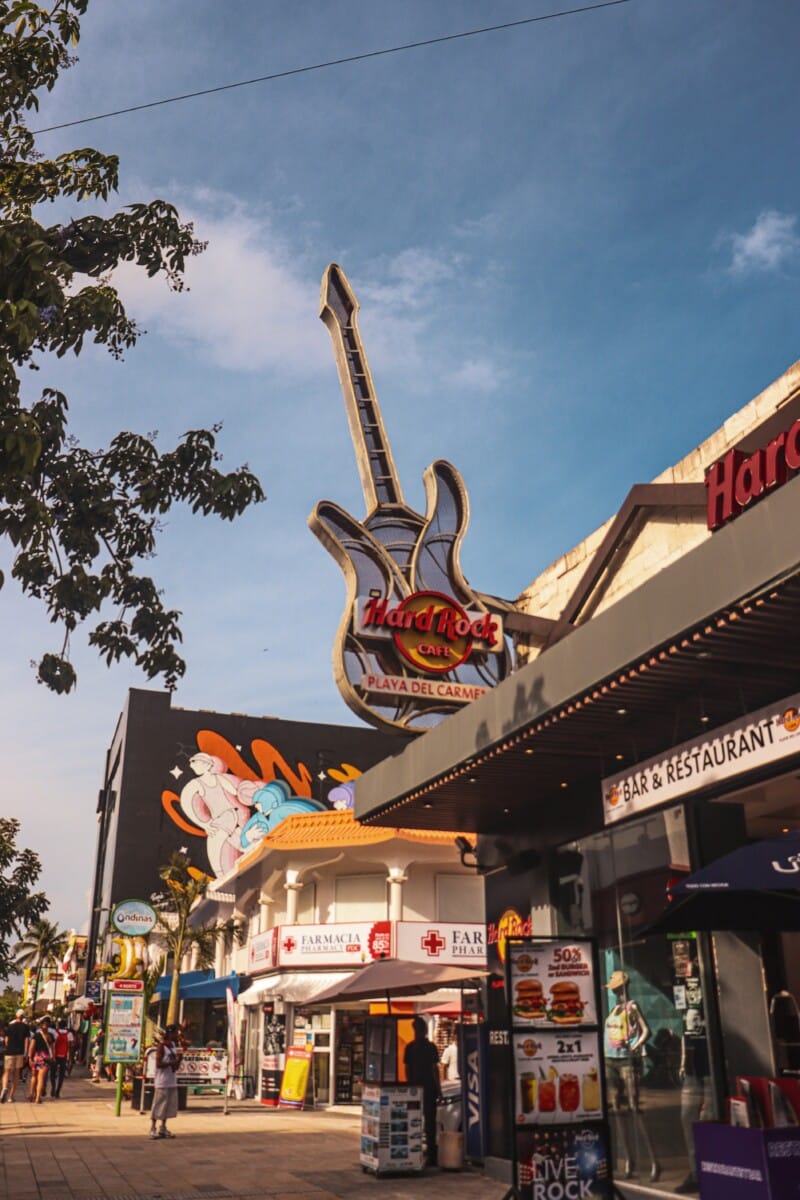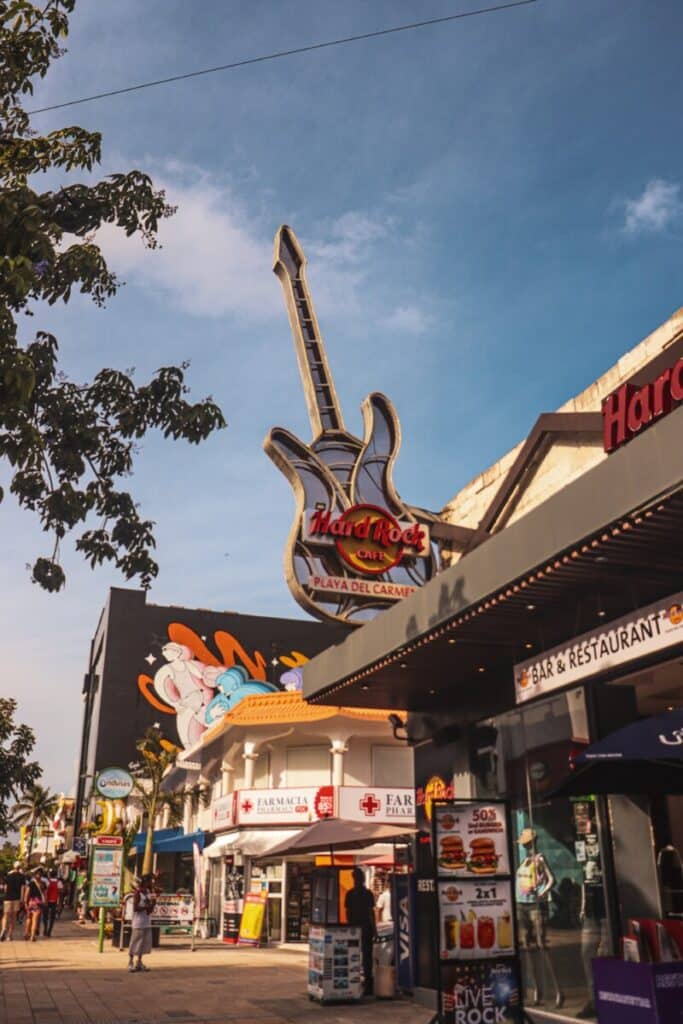 Check out of your Cancun accommodation and travel to Playa del Carmen. If using a rental car, the drive should take about 1 hour and 15 minutes. We stayed at the Hilton in Playa Del Carmen, but there are plenty of other non-all inclusive options available too!
Once you're all settled in at your hotel, head on down to the public beach to take in the beautiful views of the water at Playa del Carmen Beach. Spend your morning lounging on the sandy shores, swimming in the clear turquoise waters, and soaking up the sun.
Next up, it's time to visit the iconic Fifth Avenue (Quinta Avenida). Fifth Avenue is a pedestrian-only street filled with shops, boutiques, restaurants, bars, and street performers. It's a hub for shopping, dining, and people-watching. It's super lively and fun to explore during the afternoon or at night.
Grab dinner at one of the restaurants here, or head back to your all inclusive resort! We ate at Harry's Steakhouse since we were celebrating our mini-moon, and can say it was one of the best restaurants we ate at during our trip. However, it is quite pricey, so we would only recommend for a fancy date night or special ocassion if you are trying to eat out on a particular budget.
Day 5: Day Trip to Cozumel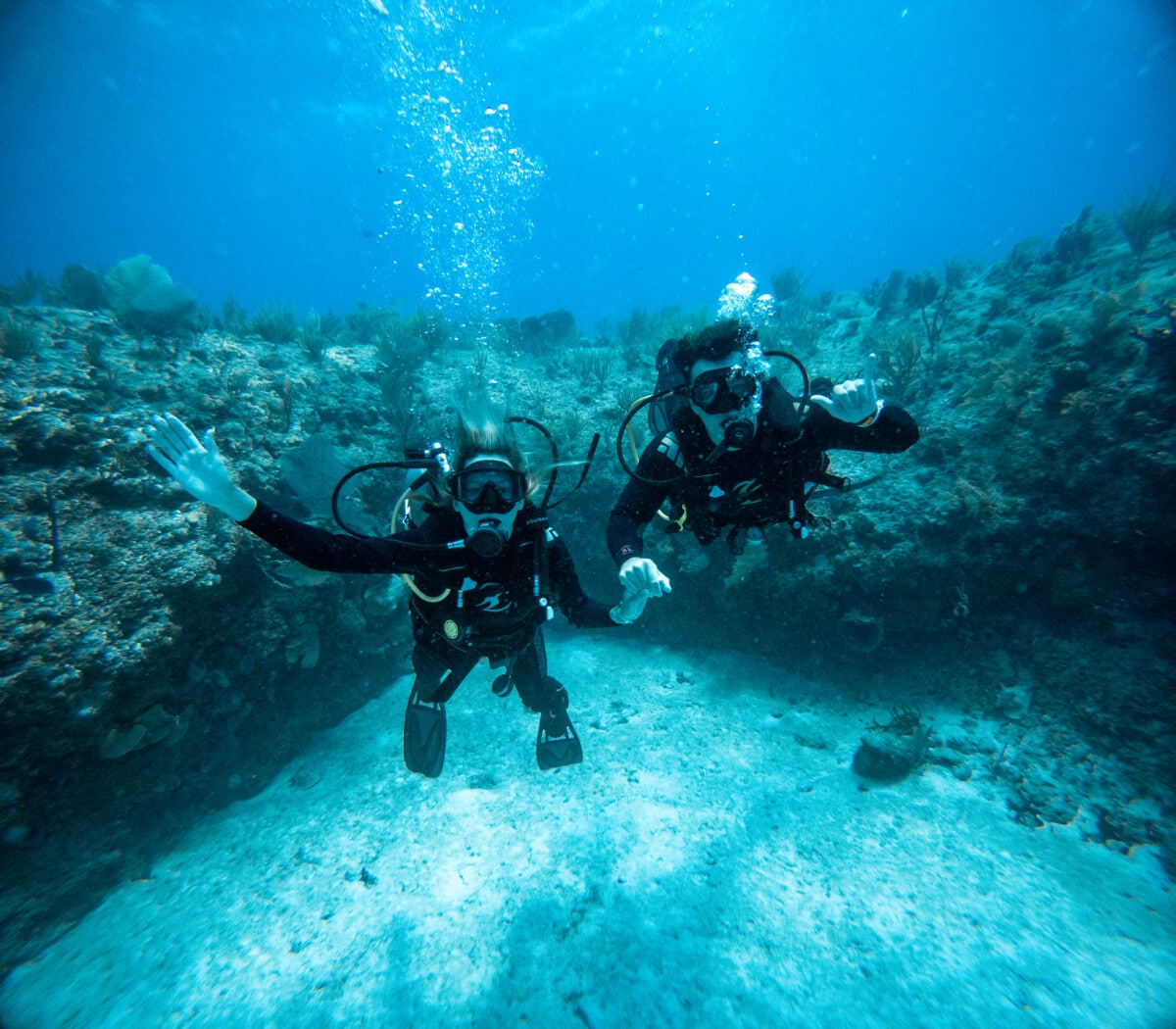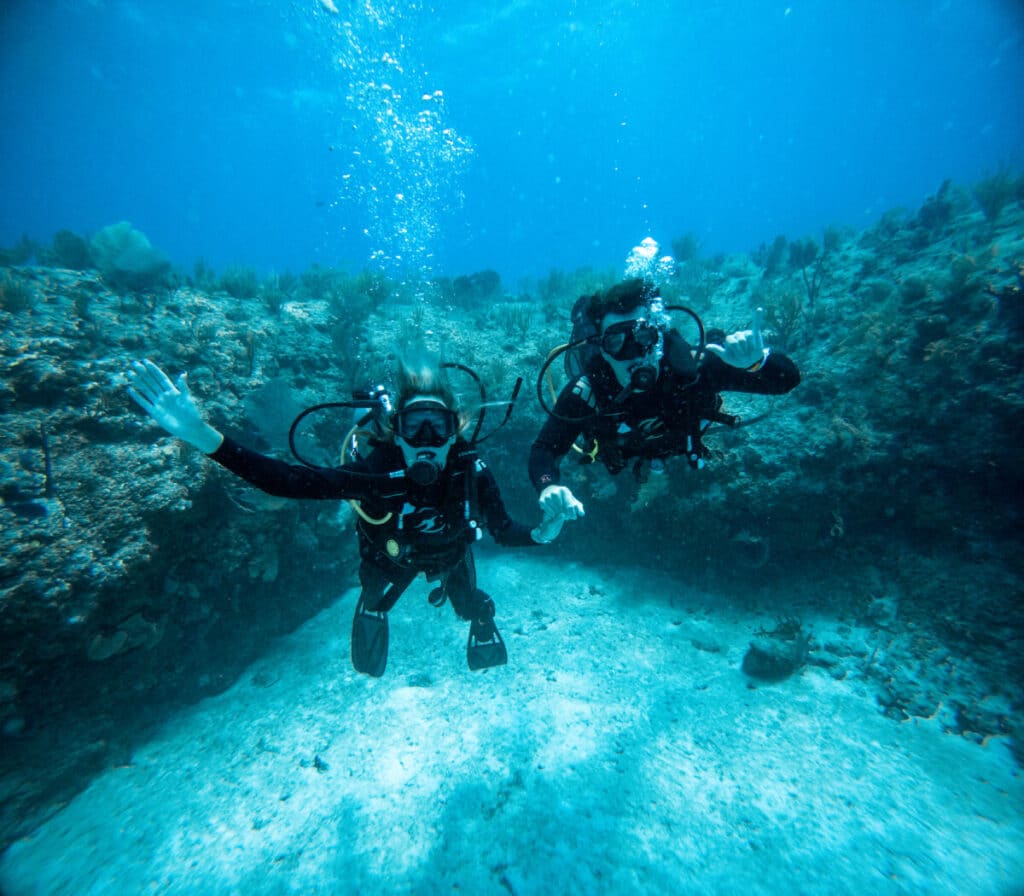 A day trip to Cozumel from Playa del Carmen is a must if you are visiting the region. Cozumel is known for its clear waters, excellent snorkeling, and vibrant marine life, and it's only a 30 minute ferry ride away!
You can purchase round-trip ferry tickets from Playa del Carmen to Cozumel. Two popular ferry companies that operate this route are Ultramar and Winjet. You can buy tickets at the ferry terminal or online in advance. Arrive at the ferry terminal at least 30 minutes before your chosen departure time, as ferries can fill up quickly, especially during peak tourist seasons.
If you plan to snorkel, consider bringing your snorkeling gear (mask, snorkel, fins) or rent it on the island. Cozumel is renowned for its incredible underwater life. Upon arrival in Cozumel, you'll disembark at the main ferry terminal in San Miguel, the island's largest town.
Cozumel offers a range of activities, including snorkeling, scuba diving, visiting beaches, exploring Mayan ruins, and shopping for souvenirs. You can tailor your day to your interests, and simply take the ferry back to the mainland at your lesiure.
Once you're back, grab dinner at the restaurant Alux, where you can dine in the middle of a cenote cave! It was such a cool experience. You definitely want to make reservations in advance. Also, we would recommend taking a taxi over here as it's a far walk from the ferry terminal and most resorts.
Day 6: Go Scuba Diving or Snorkeling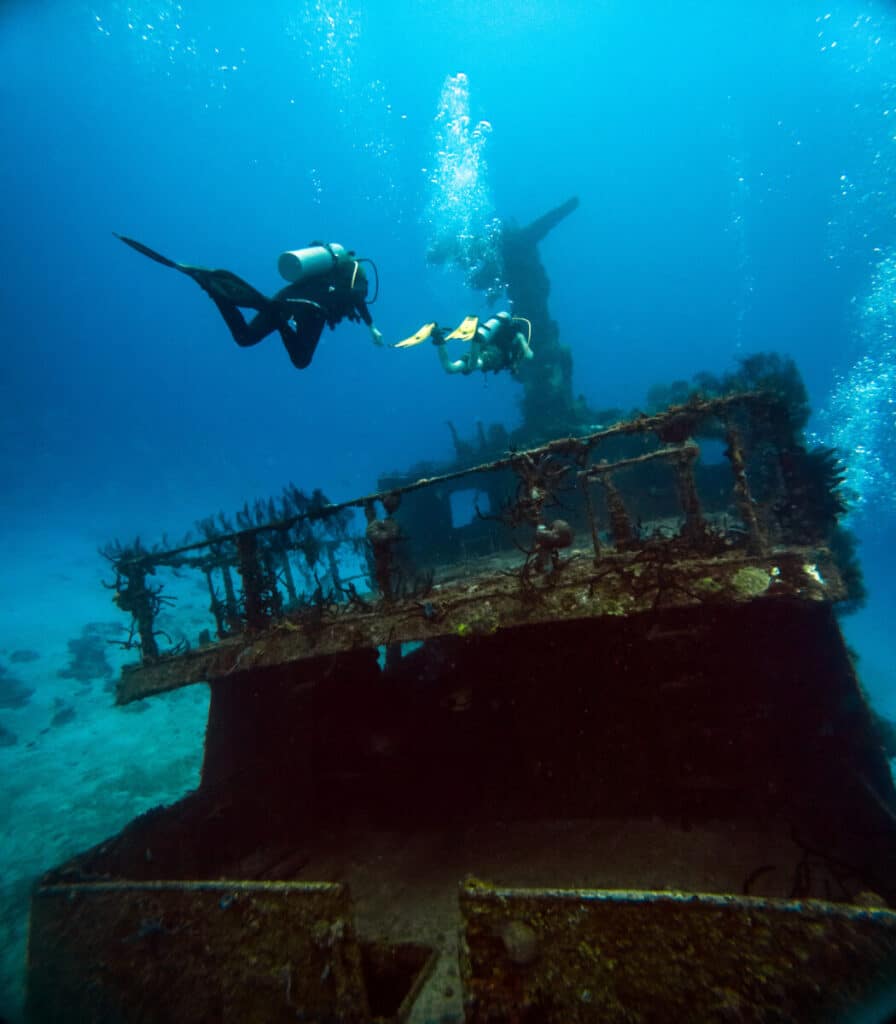 As avid scuba divers, we knew we had to dive in the water around Playa del Carmen. We actually did our advanced PADI certification here, and we LOVED it! We booked our dives through Koox Diving and it was a great intimate diving experience.
Playa del Carmen has some of the most beautiful reefs and diverse dives from reef drift dives, to shipwrecks, to diving in some of the nearby cenotes.
If you aren't a big scuba fan, there are tons of great areas to go snorkeling as well! We'll link a few tours we'd recommend down below.
Finish off the day with your last dinner in the area. If you're looking for a more local authentic dining experience, we loved the food at El Fogón.
Day 7: Head to Tulum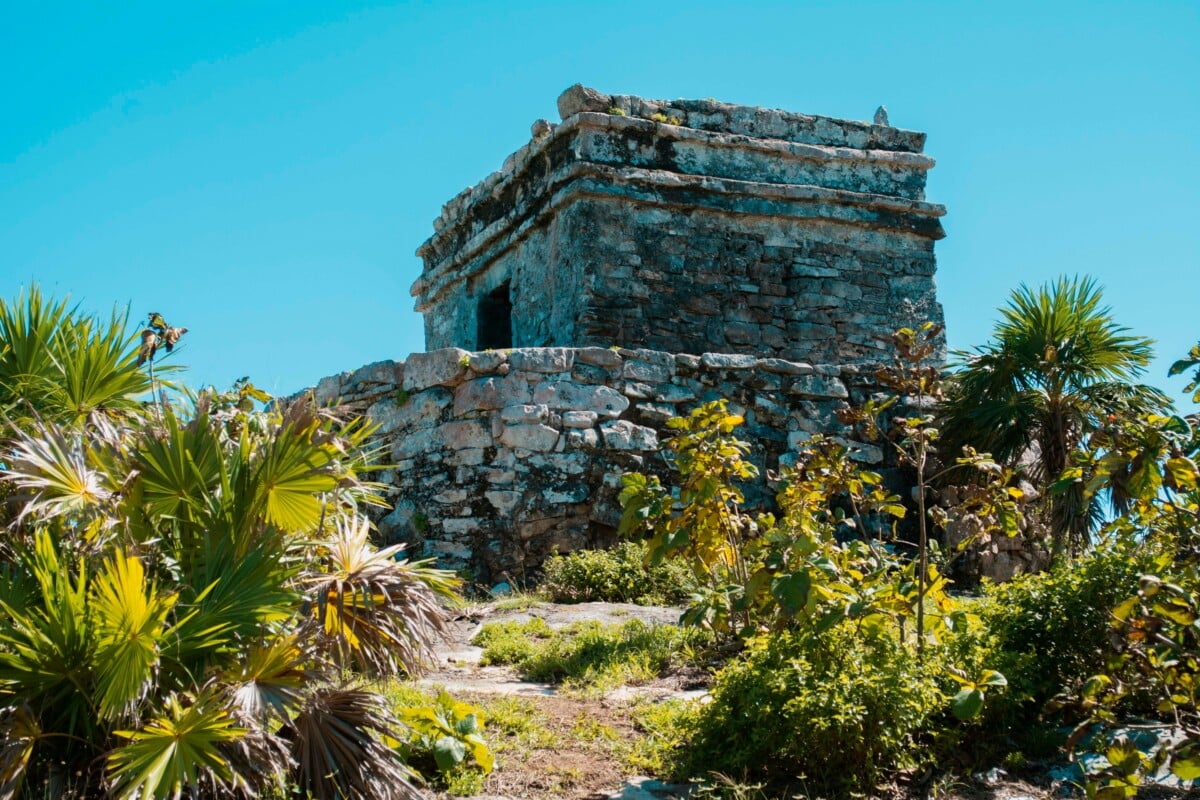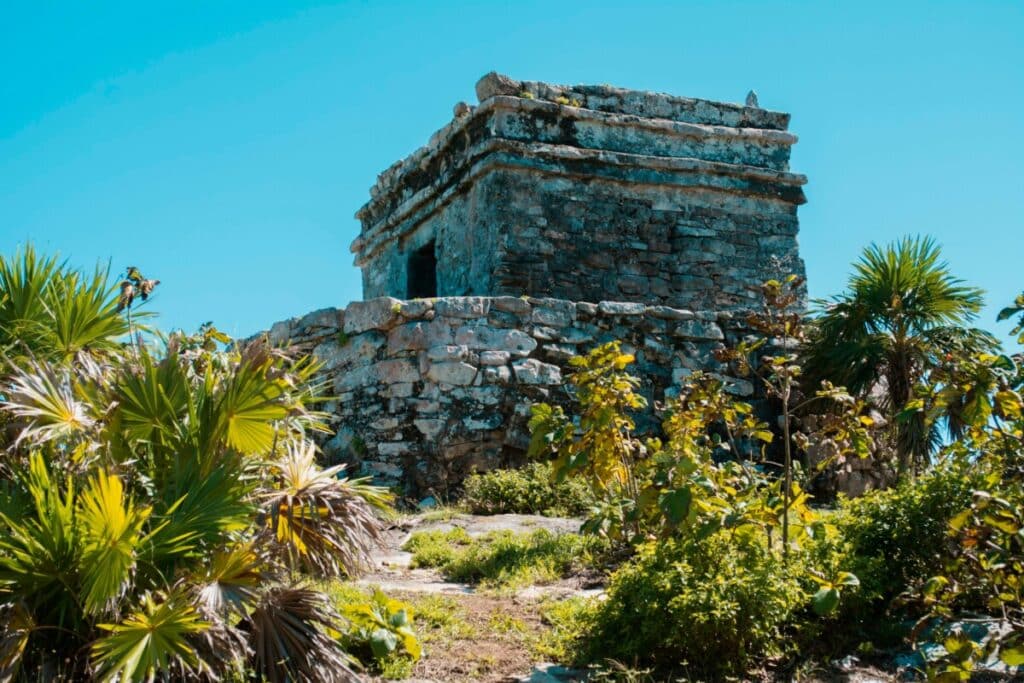 Start your morning grabbing breakfast at your accommodations or a nearby cafe! Then, it's time to make the drive from Playa del Carmen to Tulum. This is going to take about 1 hour depending on traffic. Check into your hotel and get settled in. We stayed at the Mi Amor Hotel which is a gorgeous small boutique hotel next to the famous Tulum Ruins.
Naturally, we'd recommend checking out the neighboring Tulum Ruins, one of the most iconic archaeological sites in Mexico. These ancient Mayan ruins are perched on a cliff overlooking the Caribbean Sea and are located to many hotels in the area. Take your time to explore the ruins, learn about their history, and capture breathtaking photos. Although Chichen Itza usually is the talk of the town, it's definitley still worth it to check out the Tulum Ruins.
Day 8: Chichén Itzá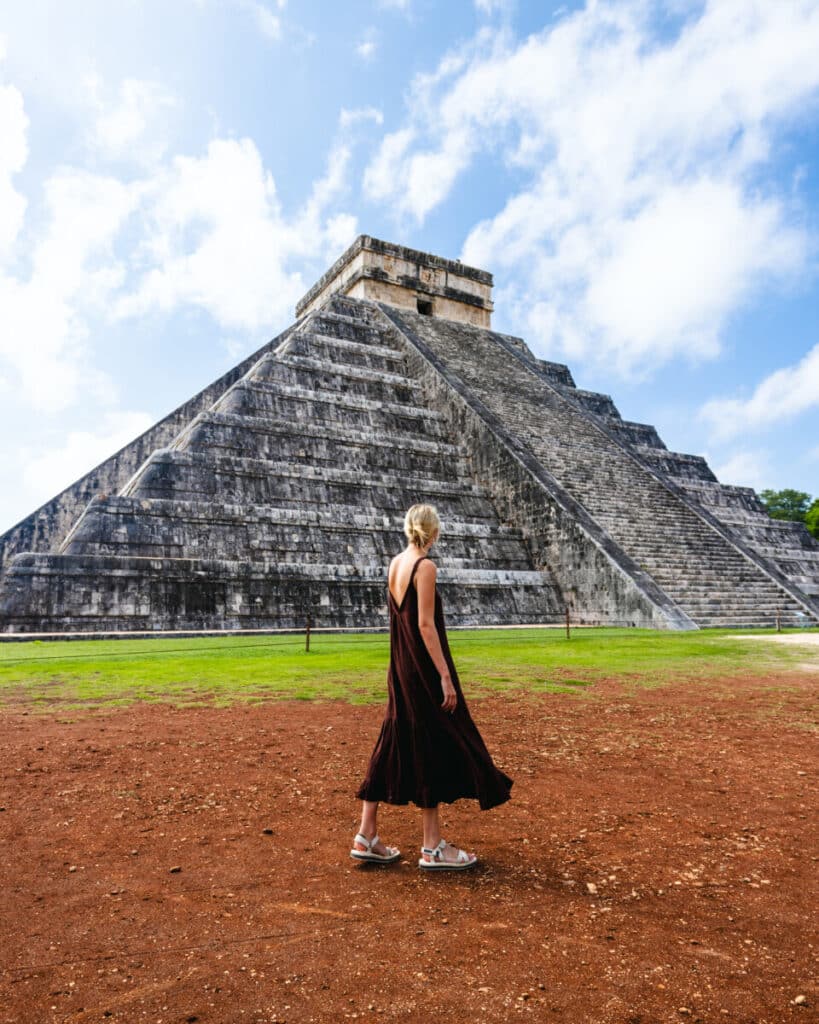 To start your morning, grab some breakfast at Raw Love Cafe and then start the 2.5 hour drive over to the famous Chichen Itza!
When it comes to awe-inspiring archaeological sites, Chichén Itzá stands as a testament to the remarkable achievements of the ancient Maya civilization. Located in the Yucatan Peninsula of Mexico, Chichén Itzá is a UNESCO World Heritage Site and one of the New Seven Wonders of the World.
Its iconic step pyramid, El Castillo, dominates the landscape and serves as a striking reminder of the Maya's astronomical and architectural prowess. As you explore Chichén Itzá, you'll encounter not only El Castillo but also the Great Ball Court, the Temple of the Warriors, and the sacred cenote, each steeped in history and mystery. Chichén Itzá is a journey back in time, offering a glimpse into the rich cultural heritage of Mexico and the ancient Maya. Don't miss the opportunity to uncover the secrets of this remarkable site and immerse yourself in its fascinating history.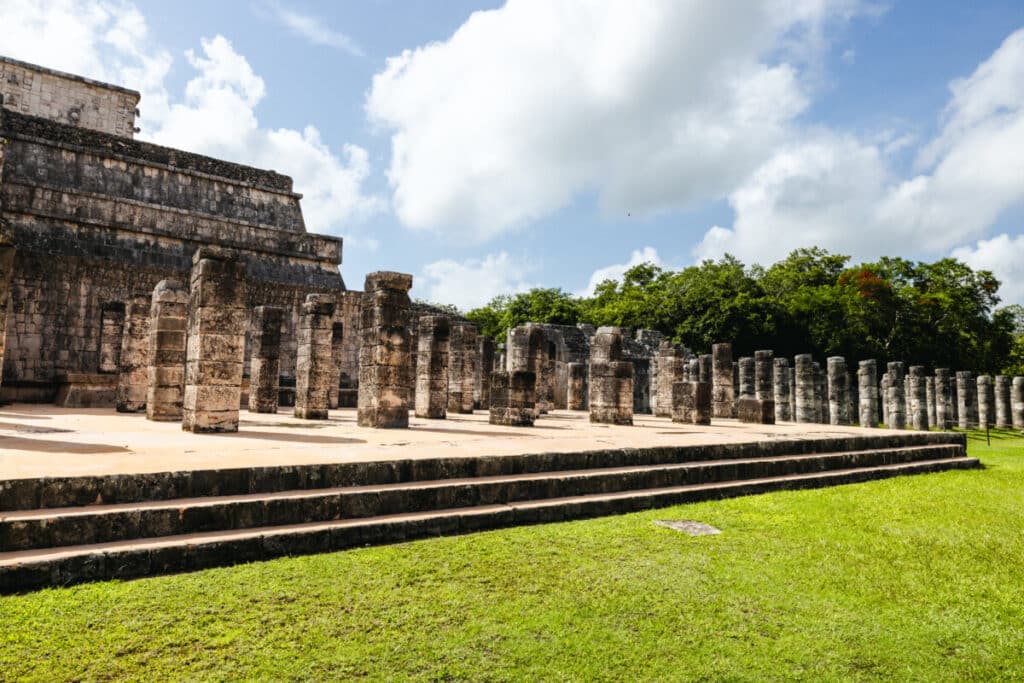 You will probably want to allot a half day to a full day here in order to see everything in the park! In order to visit, you'll have to buy 2 tickets at the entrance. They do accept credit cards. You can also hire an official guide on site to learn more in depth about the area.
There is also an ATM available if you need one! We found this helpful when we ran out of cash and wanted to see some of the cash only cenotes nearby Chichén Itzá.
Pro Travel Tip: If you love your visit here, you'll definitely want to add Guatemala's Tikal National Park to your bucket list as well.
Day 9: Cenote Hopping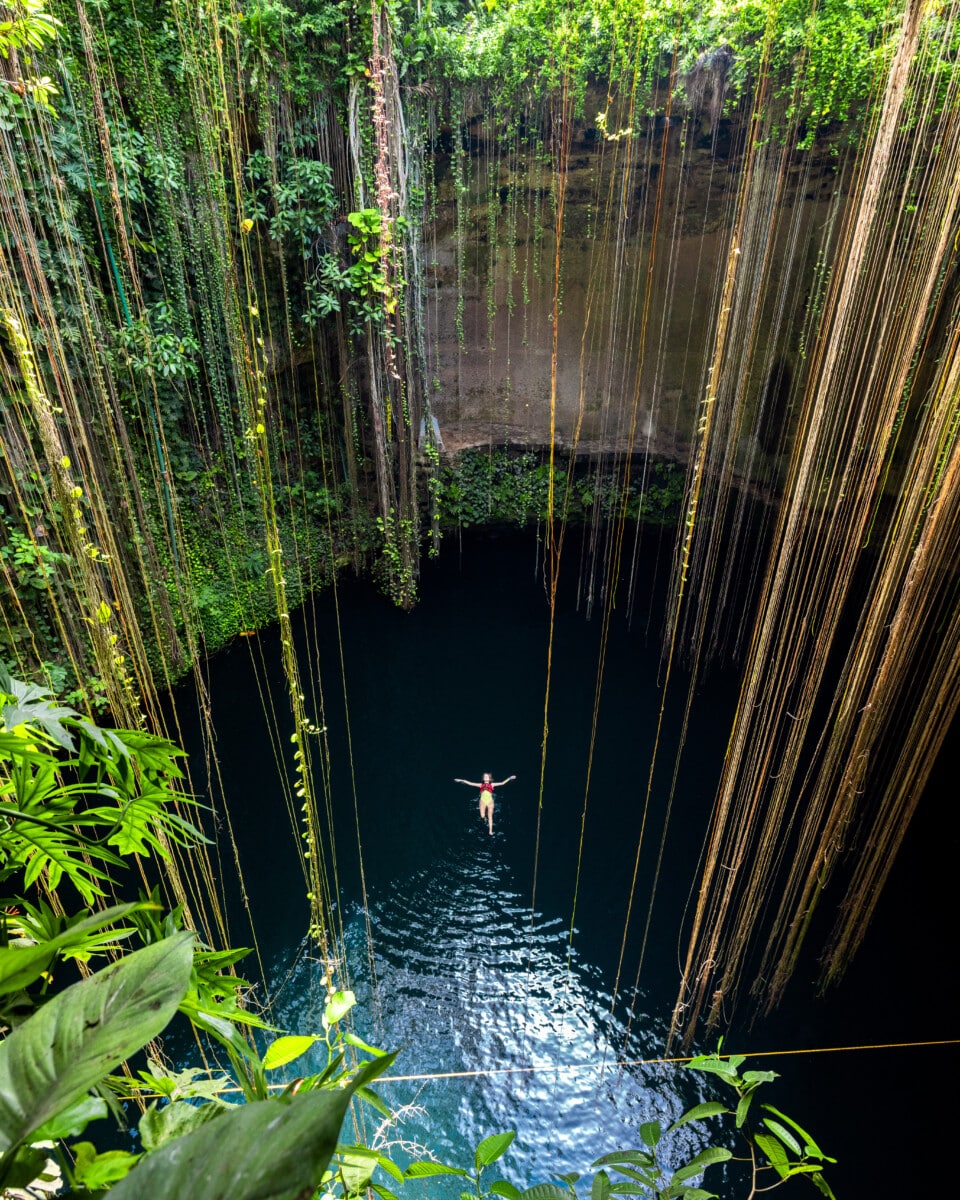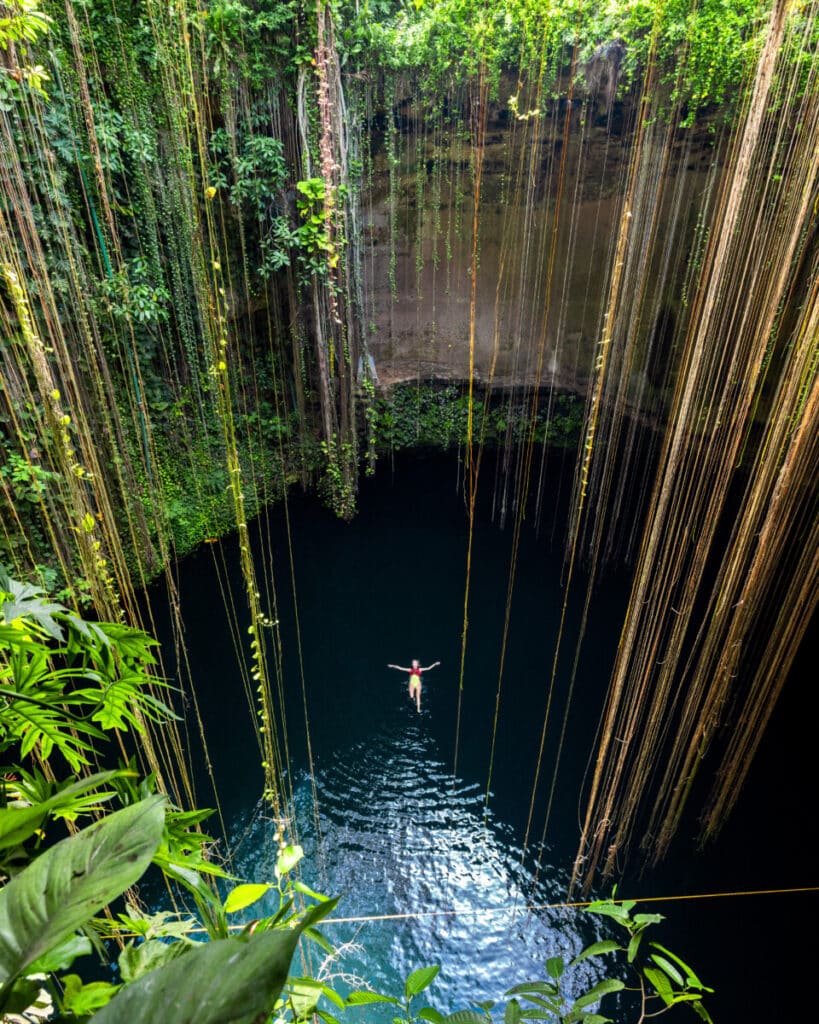 It's time to head out in search of the most magical cenotes in the Mexican Riviera! Visiting cenotes around the Yucatan Peninsula can be a memorable and unique experience. Cenotes are natural sinkholes or freshwater caves that offer opportunities for swimming, snorkeling, and diving. Before you embark on your cenote adventure, here are some important things to know:
Most cenotes are CASH ONLY. Make sure to have cash on hand before heading out.
Many cenotes will charge for bringing in your own camera gear like a Go Pro, Professional Mirrorless/DSLR camera, or drone. You'll need to bring even more cash for these if you want to take photos.
Cenotes were sacred to the ancient Maya civilization and were often used for rituals and ceremonies. Respect the cultural and historical significance of cenotes when visiting them.
If you are trying to go scuba diving in cenotes around this region, most require you to have your advanced certification as they are deeper and more intricate to dive in.
The cenotes are extremely popular. The closer to the opening/closing times of the Cenote, the better chance you'll encounter fewer crowds.
You will have to shower before entering each cenote at the facilities provided. This is to ensure sunscreen, repellent, etc. doesn't damage the water.
Cenote Itinerary:
Today is the day to explore some of the best cenotes in the Yucatan Peninsula! If you opted for a rental car, then you will have a lot of flexibility to visit as many cenotes in the area as you want! If you didn't, you can book a tour that will take you to multiple cenotes for the day! Here were some of our favorites that we visited during our time in Tulum.
Cenote Ik Kil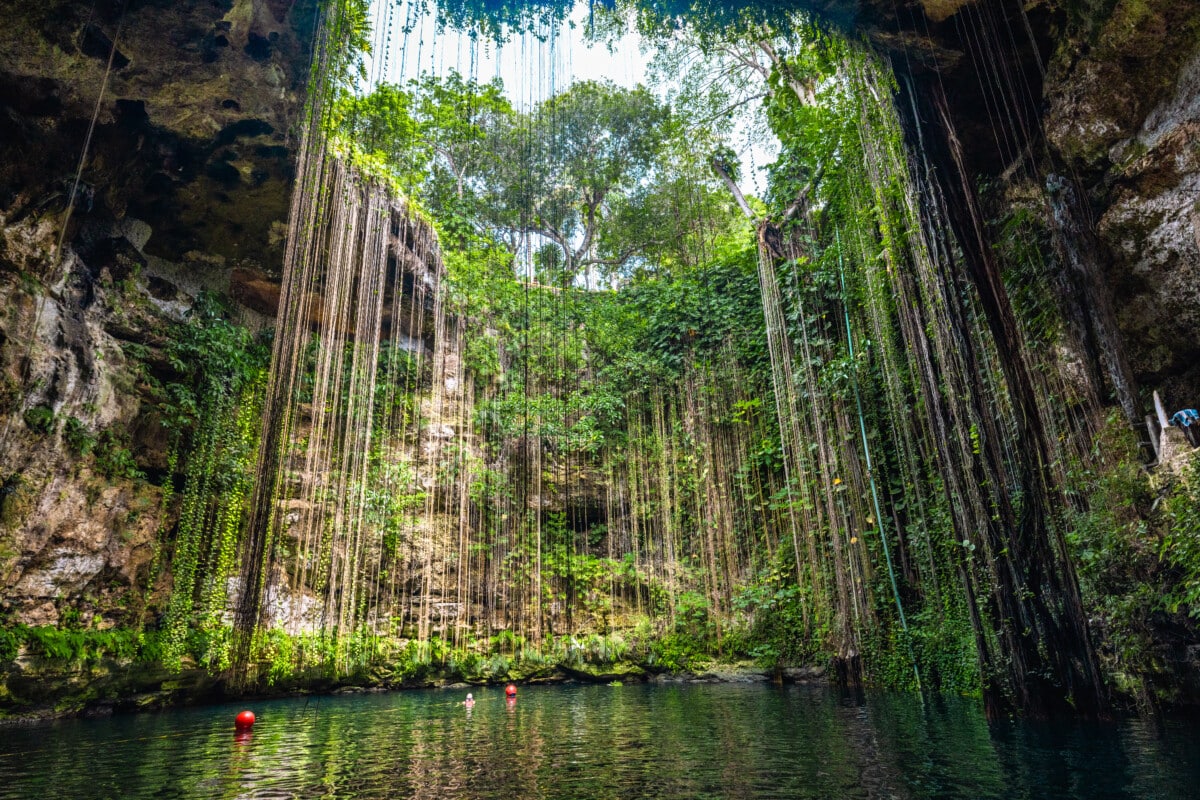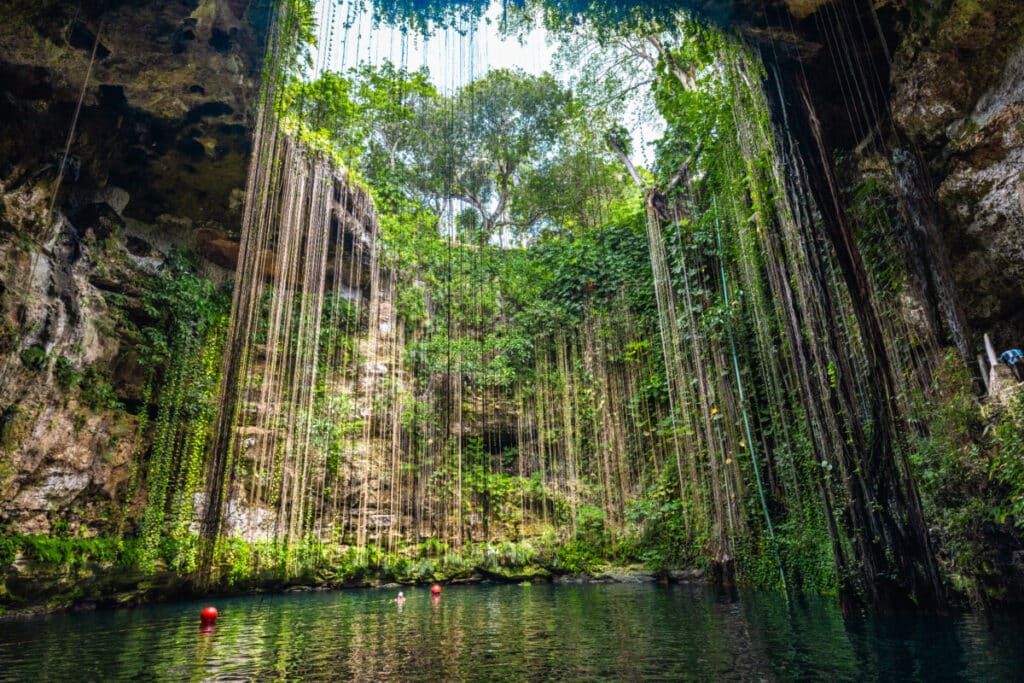 Immerse yourself in the beauty of Ik Kil, a cenote like no other. This open-air sinkhole boasts lush jungle surroundings, mesmerizing turquoise waters, and hanging vines that create a magical atmosphere. Dive into the refreshing cenote pool and experience its rich Mayan history and charm.
Hours: 9am-5pm
Entrance Fee: 180 pesos per person
Cenote Suytan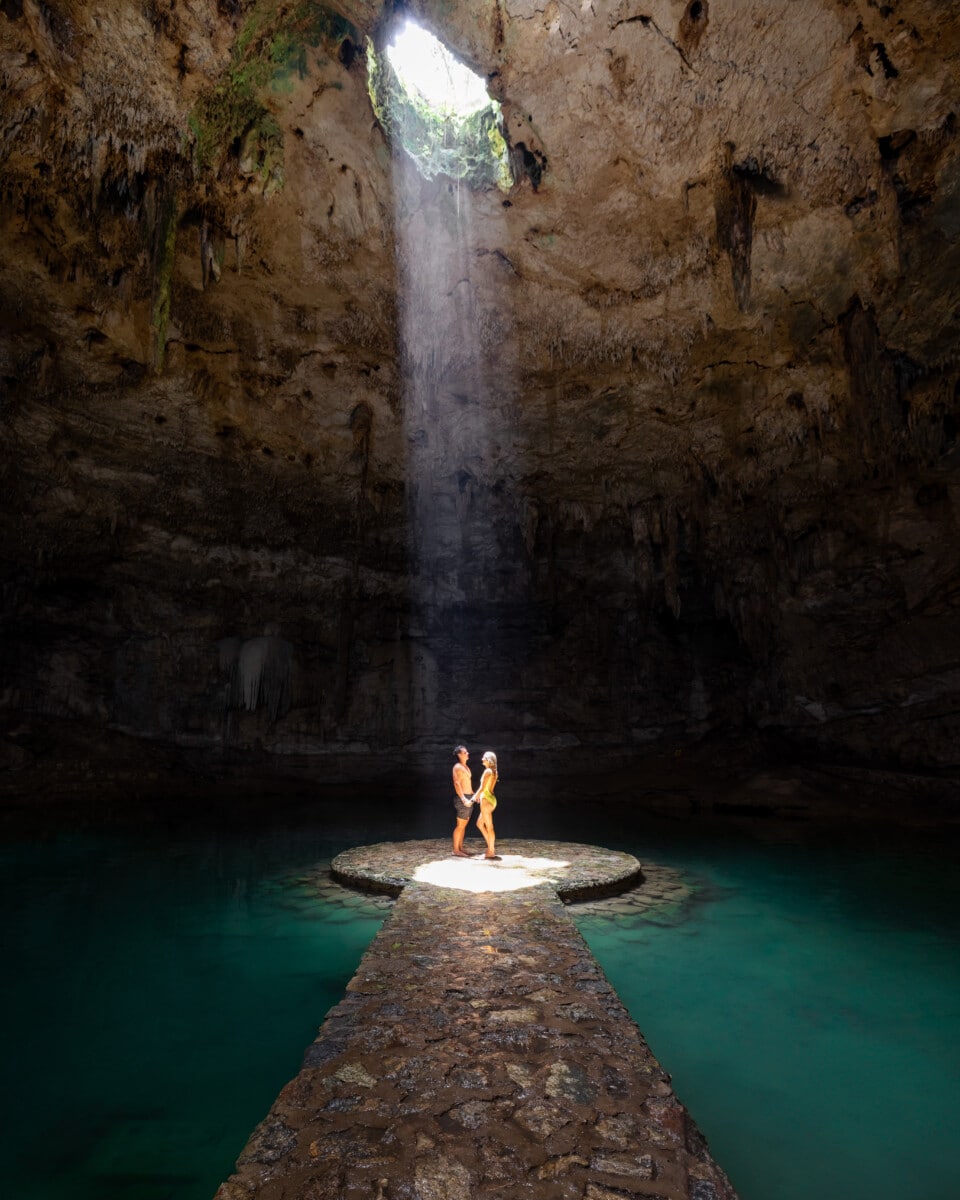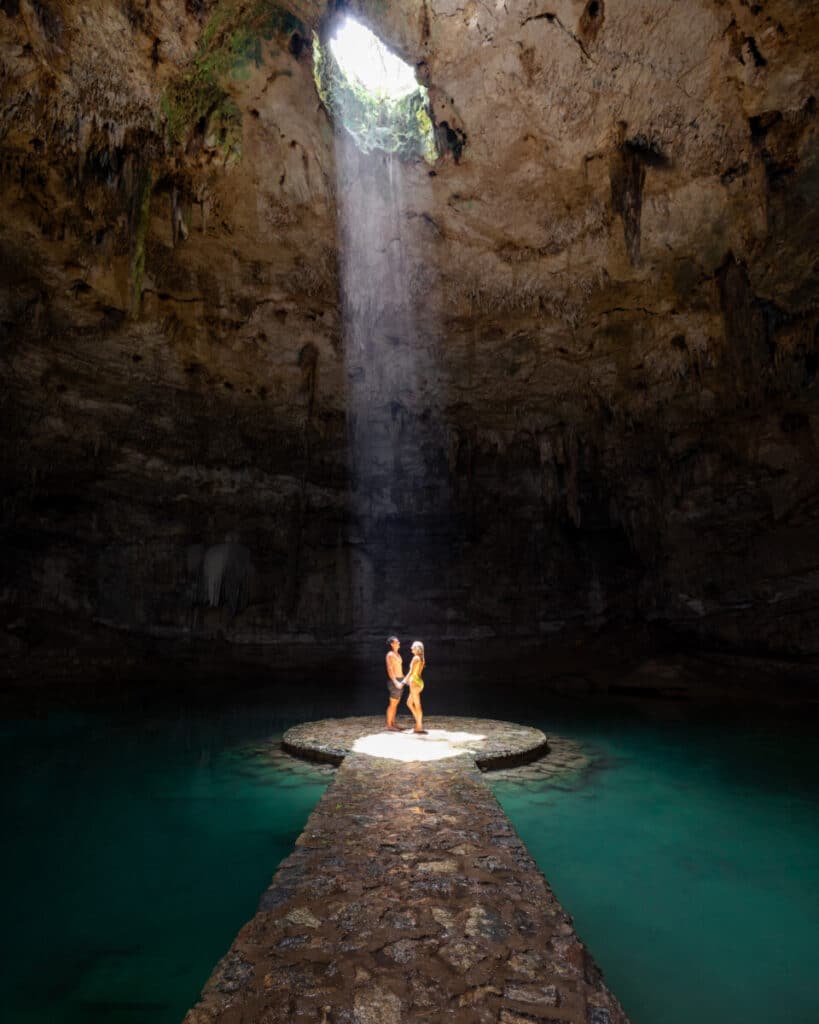 Witness the surreal play of light and shadow as it filters through the opening of this stunning cenote, casting a magical beam on the cenote's underground platform. Explore this unique cenote for a one-of-a-kind adventure. If you're hoping to time the beam of light just right, we'd definitely recommend visiting this cenote in the afternoon around 12pm-1pm when the sun is directly above.
Hours: 9am-4:30pm
Entrance Fee: 150 pesos per person
Taak Bi Ha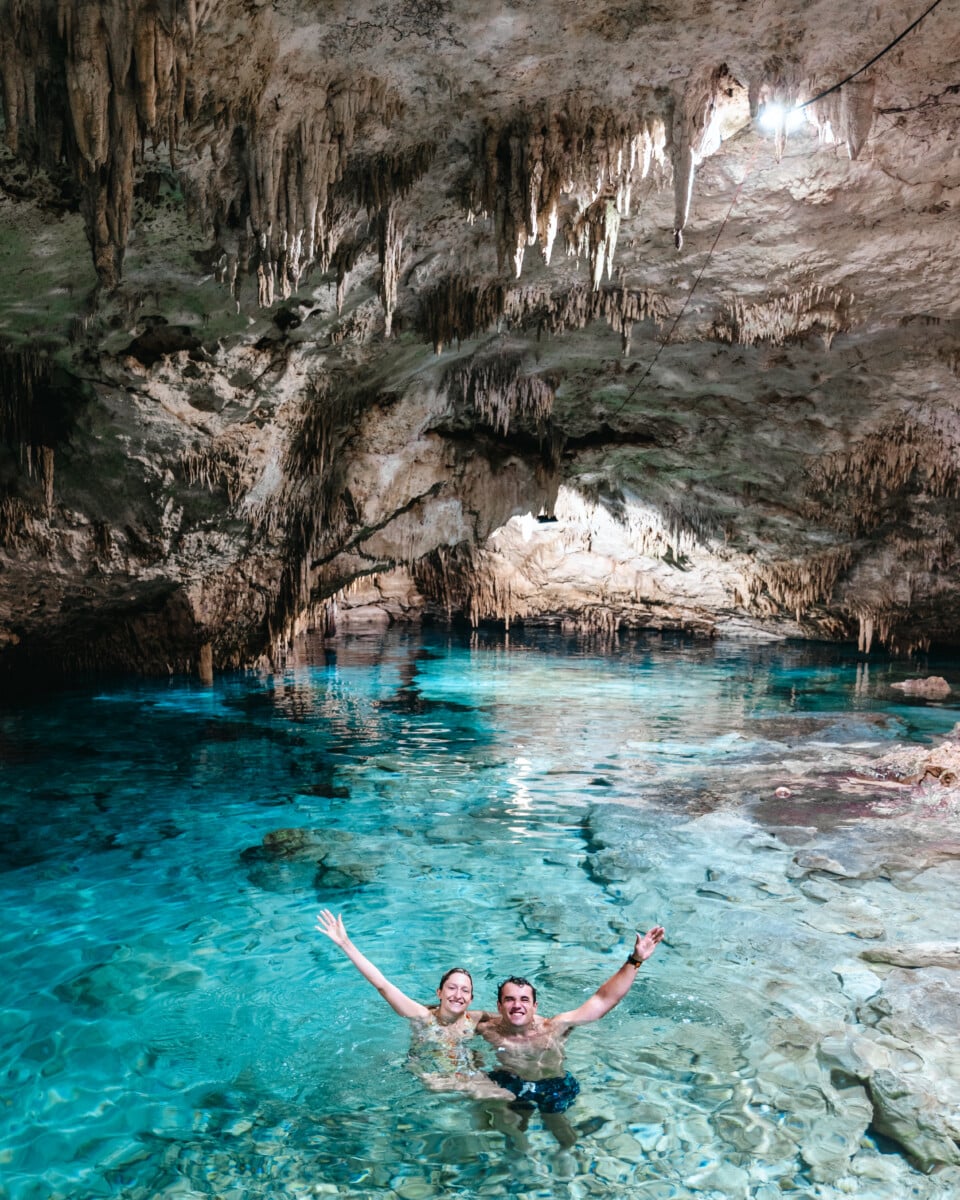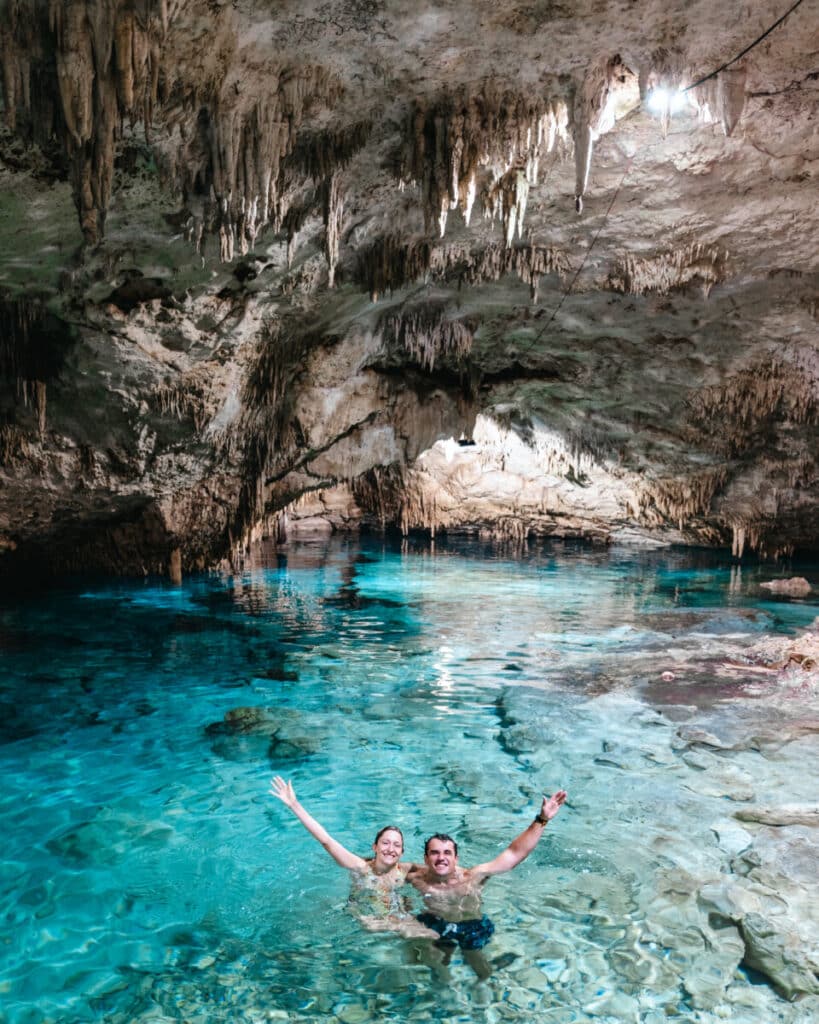 Taak Bi Ha, a hidden gem in the Yucatan, invites you to discover its serene beauty. This closed cenote offers a tranquil oasis for swimming and relaxation. Immerse yourself in the calm, clear waters and enjoy the natural wonders of Taak Bi Ha.
Hours: 9am-4:30pm
Entrance Fee: 350 pesos per person
Dos Ojos (Two Eyes)
Dive into the crystal-clear waters of Two Eyes Cenote, a captivating double cenote that is right next door to Taak Bi Ha. Connected by a cavern system, these cenotes offer an unparalleled snorkeling and diving experience. Most people say that the second eye is much more beautiful, so plan on spending some extra time swimming, snorkeling, or diving in the latter one!
Hours: 9am-5pm
Entrance Fee: 400 pesos per person
Camera Charge: There is an extra charge for bringing your own camera
Casa Cenote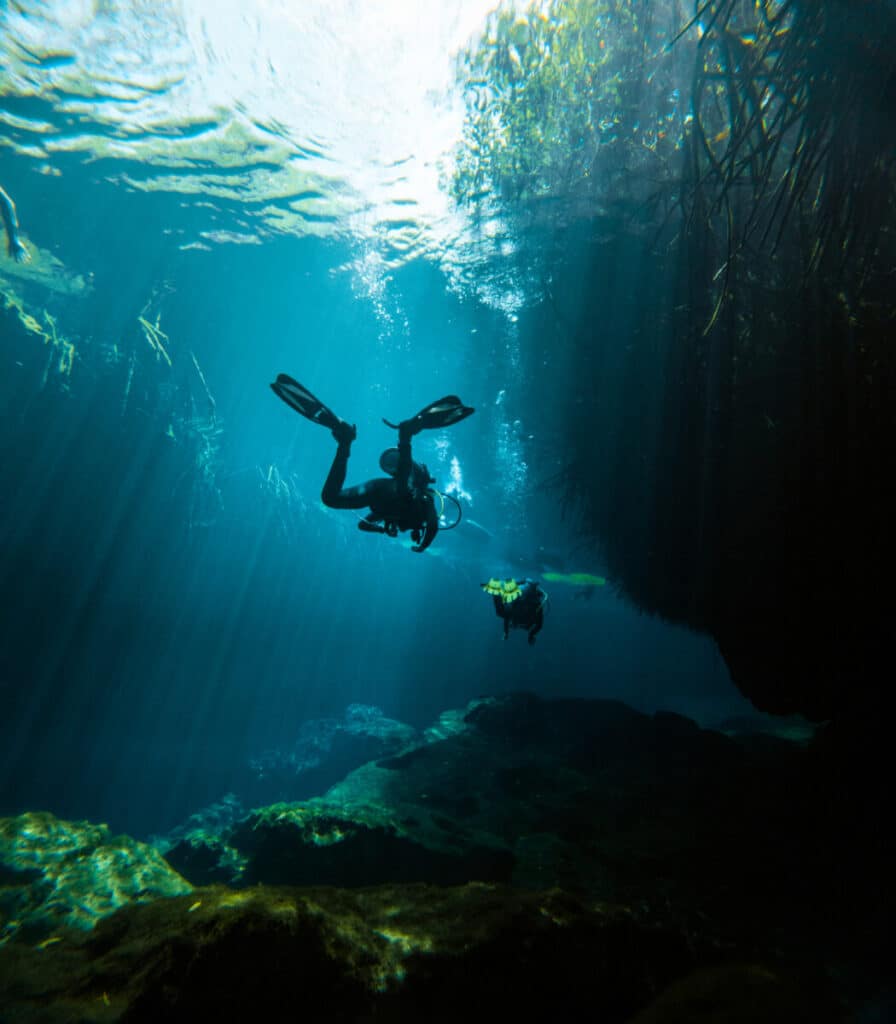 This gorgeous cenote combines the beauty of the jungle with a mangrove setting. As you swim in its clear waters, observe the fascinating transition from freshwater to saltwater. Explore the unique ecosystem, paddle through mangrove tunnels, and appreciate the natural wonders of Casa Cenote. If you're lucky, you might even encounter its famous resident crocodile.
Hours: 9am-5pm
Entrance Fee: 150 pesos per person
Camera Charge: There is an extra charge for bringing your own camera
Once you're done with your day of exploring the Yucatan's best cenotes, it's unfortunately time to head home! You can either make the drive back to Cancun's airport, or fly out of Tulum's brand new airport in April 2024!
We hope you enjoy this Mexican Riviera itinerary from Cancun to Tulum! Let us know if you have any questions about planning your perfect road trip through this gorgeous region of Mexico!
Ready to Explore More of Mexico?
Looking for more inspiration on gorgeous destinations in Mexico? Check out our trip planning guide to visiting Puerto Vallarta. Or perhaps, check out our experience on one of the best taco tours in all of Mexico.