How to Explore Oia, Santorini from a Cruise Ship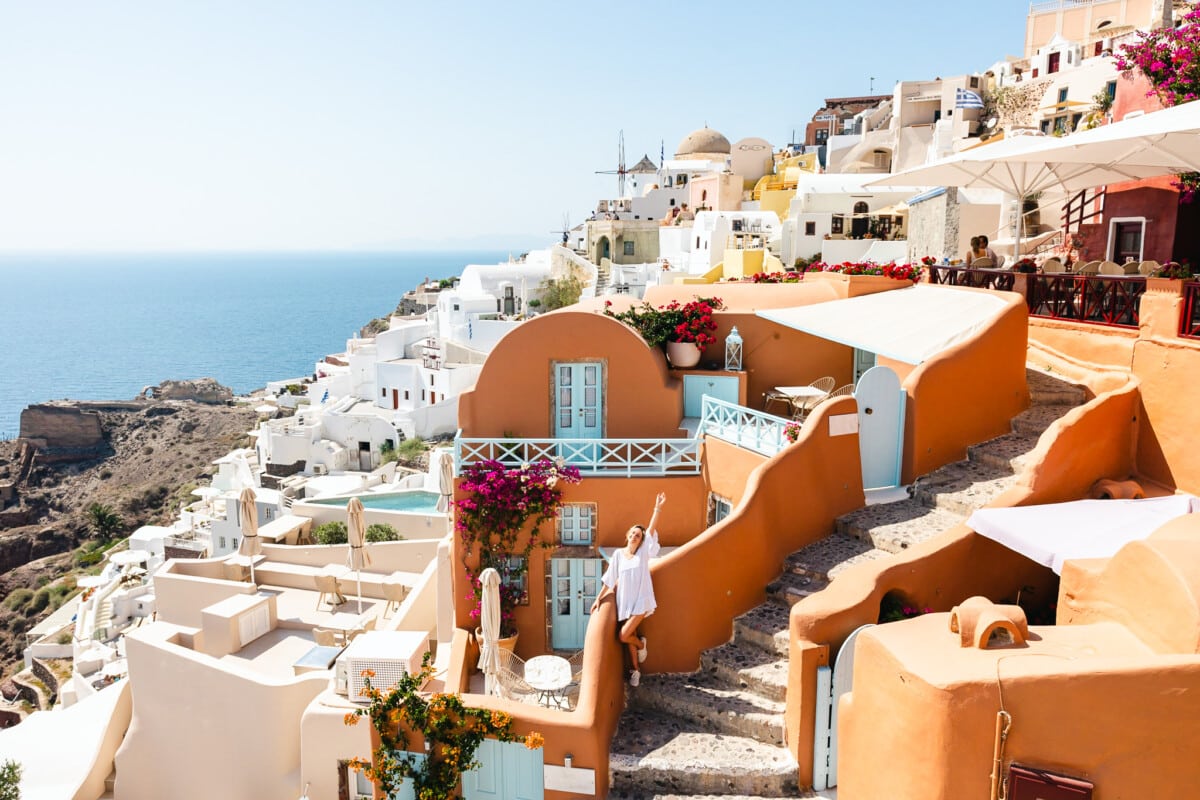 Santorini is an absolute dream of a summer destination. If you're visiting the beautiful Greek Island of Santorini by cruise ship, it can be overwhelming to figure out how to see all of the highlights of Oia on your first visit, especially if you only have one day! This was the case for us, as we visited Santorini for the first time on a port day on our NCL Mediterranean Cruise. We only had 8-9 hours and we wanted to maximize our time exploring the gorgeous village of Oia!
This guide to exploring Oia, Santorini from a cruise ship will help you take advantage of your short time on the island by going over the best forms of transportation and logistics to hit Oia during your Santorini day trip.
Know Before You Go to Oia Village, Santorini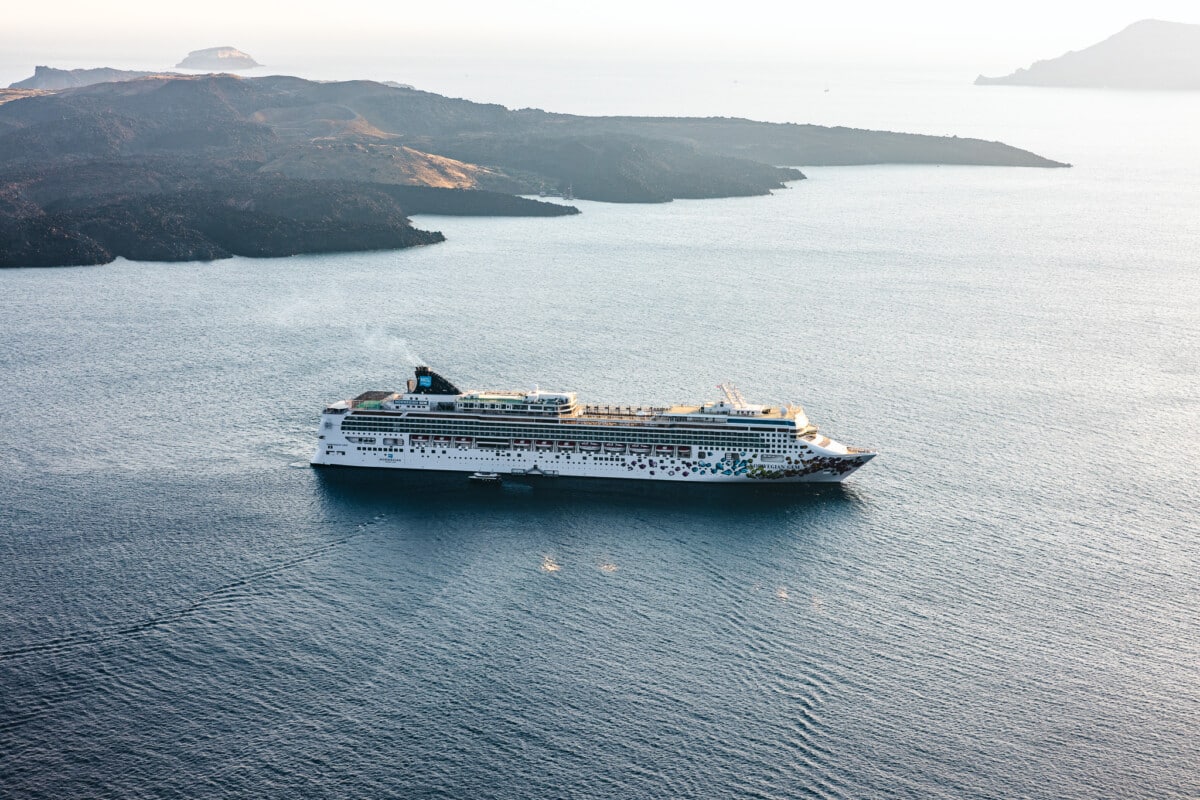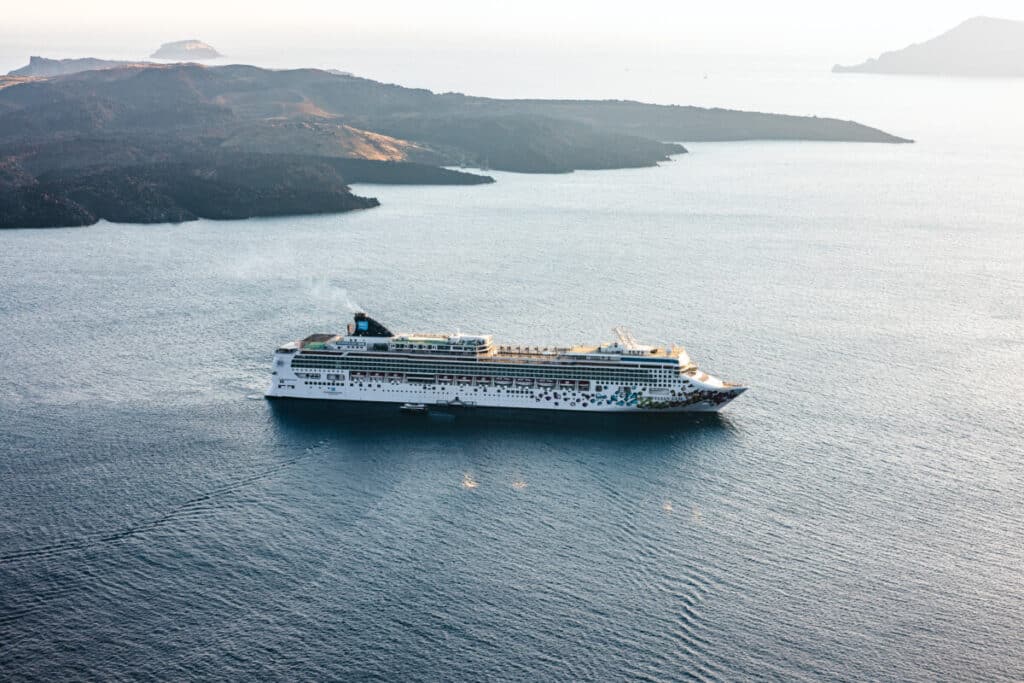 About the Santorini Cruise Port
The cruise port of Santorini also goes by the Old Port, or the port of Skala. The cruise port is located beneath Fira, one of the largest villages of Thira and the capital of the island. It's important to note that due to the small size of the port, your cruise ship will likely be docking away from Santorini, and you will have to tender to get to the island.
There are also typically several cruise ships docking outside the Old Port below Fira all at once. While we were in Santorini, we counted a total of 5 cruise ships all docked near the port.
Note, this port often has pretty extreme wind. Consequently, your arrival time on the island may be postponed a little bit based on the weather and water conditions. We lost one hour because it was too windy to disembark when we first anchored outside of Santorini.
Tendering Strategy for Santorini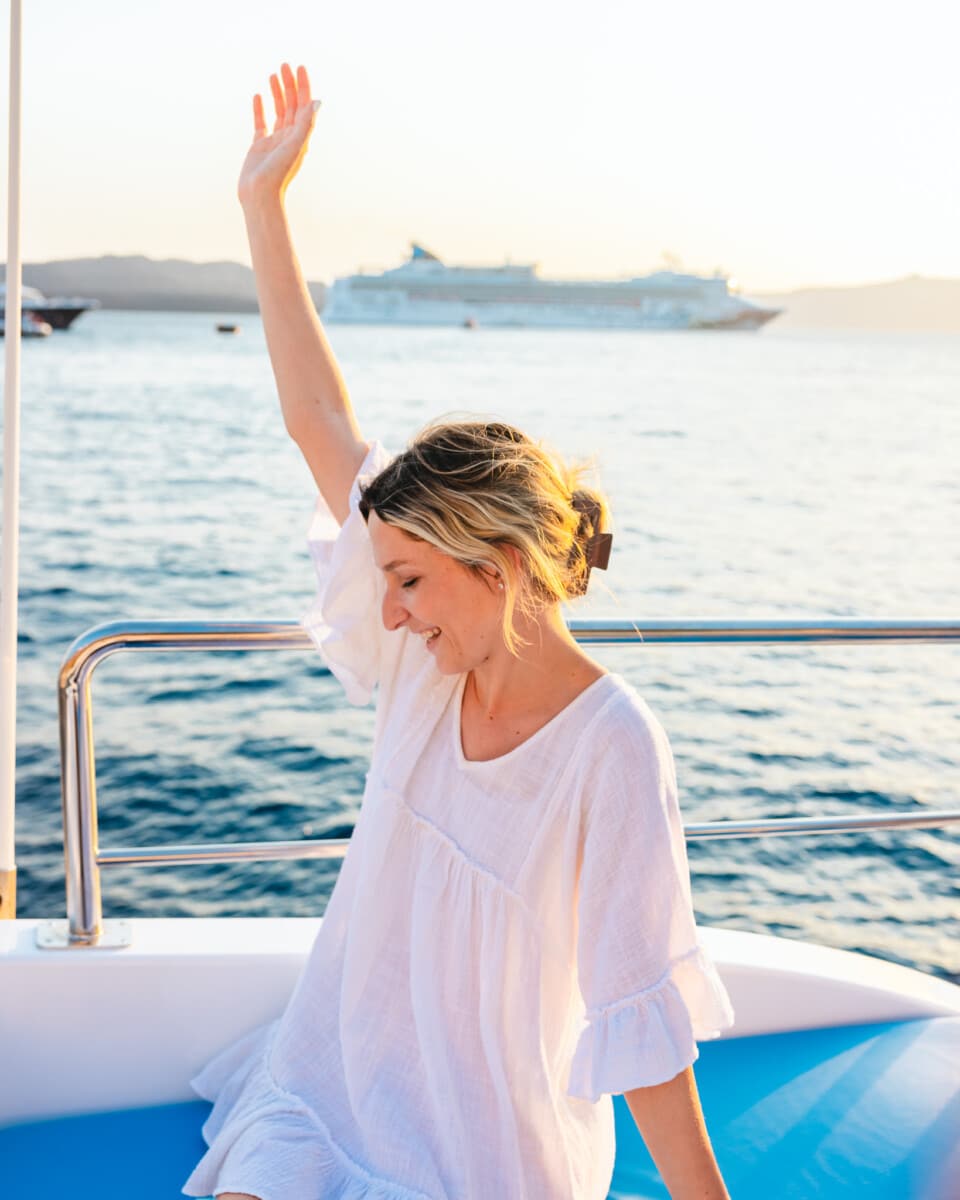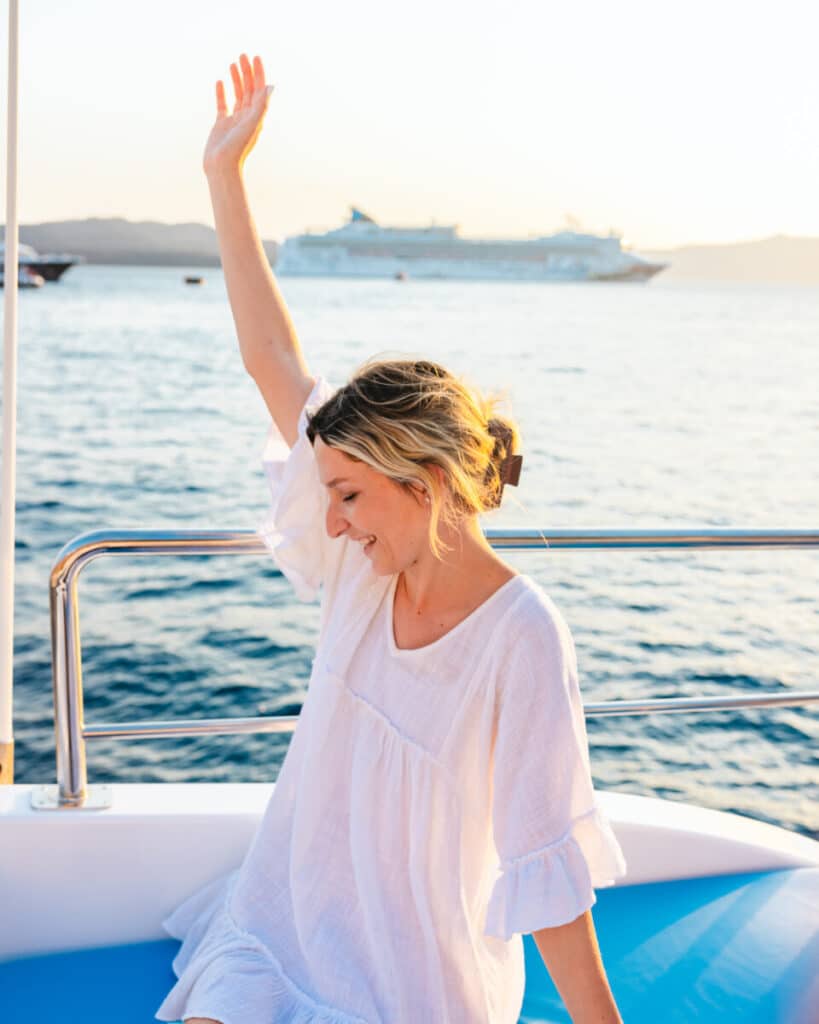 Depending how long you are in the port for, we'd HIGHLY recommend trying to be on one of your ship's first tenders over to the island. This is going to save you a serious headache fighting crowds on your way up from the tendering area.
Due to Santorini being a famously beautiful destination, there is an absurdly high disembarkation rate on every cruise line for the port of Santorini. Whereas most ports on our NCL Cruise, for example, had about 40-50% people getting off the ship to explore on other Mediterranean ports; in Santorini, it was more like 90-95% of people wanting to explore. If you have priority disembarkation, this will definitely come in handy on this port day to beat the crowds. 
How to Get Up to Fira, Santorini from a Cruise Ship
There are two main ways to get from the Old Port of Santorini into the village of Fira, before you can get to Oia.
Option #1: Take the Cable Car to Fira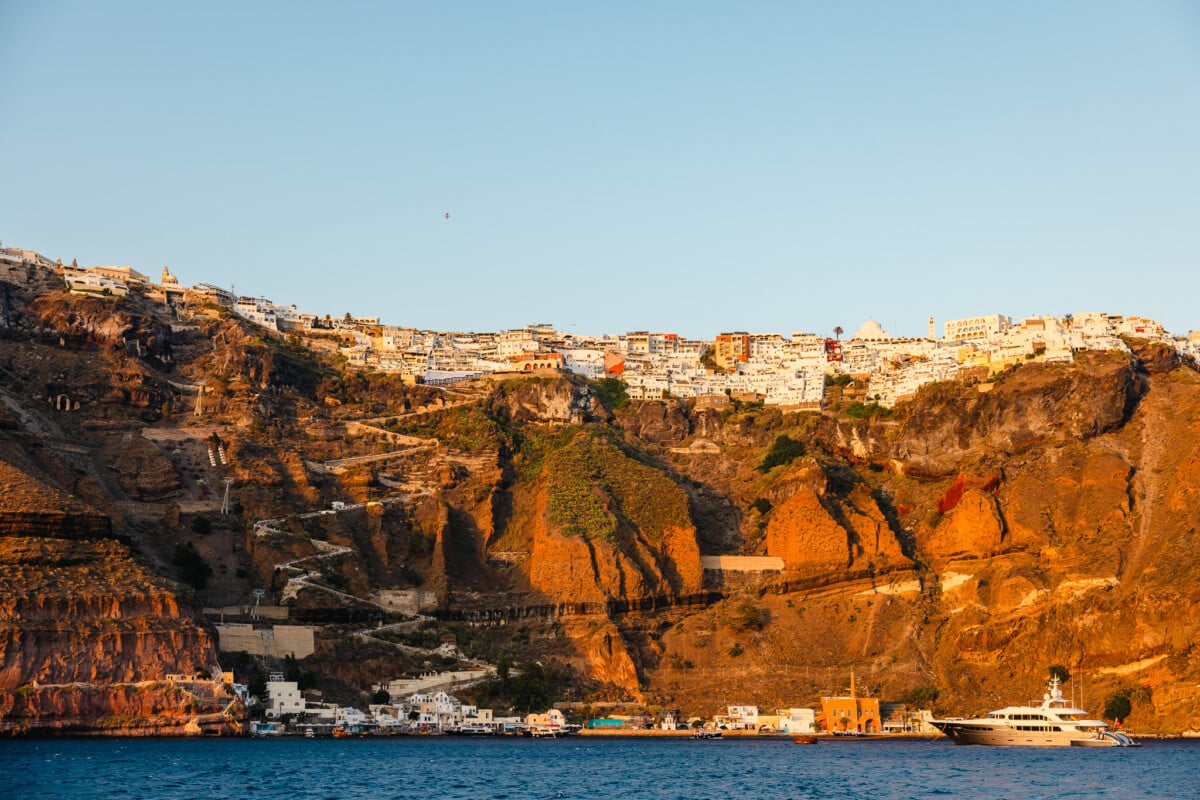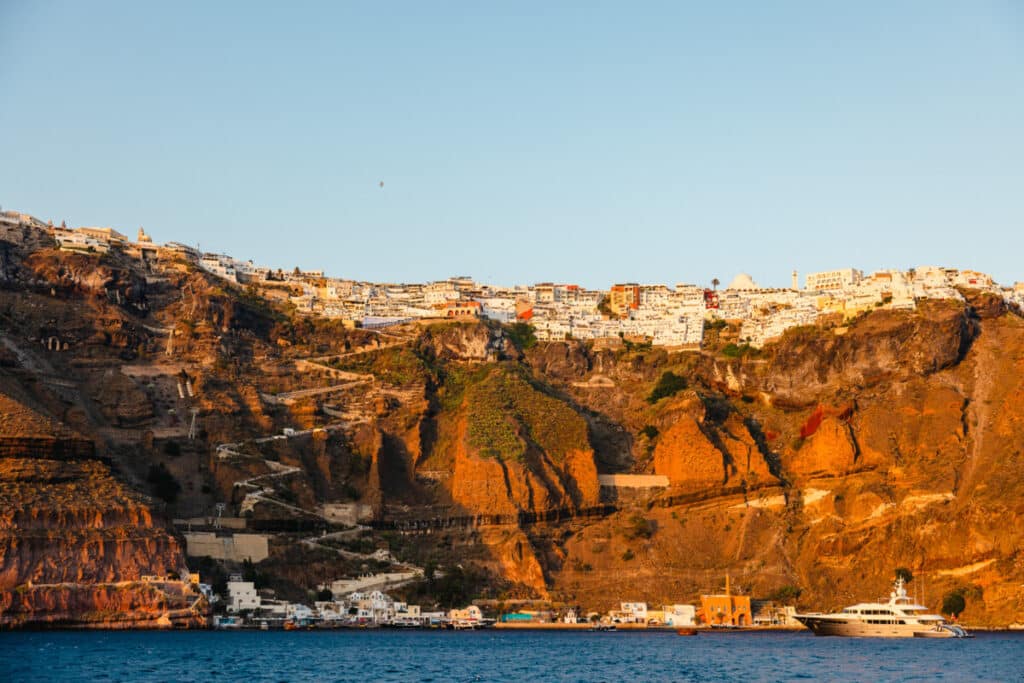 The entrance to the Cable Car is a short walk away from where you will tender in from your cruise ship. There really is no need to pre-book these tickets in advance. You can buy them when you walk up using cash or credit card. However, you can only buy one way tickets. So, keep in mind you will have to wait in the ticket line on the way down as well.
We were lucky enough to be on the first tender and only had to wait about 5 minutes in line for the cable car, whereas we met those on the 20th tender and they ended up walking up the hill instead because the lines for the car were ridiculously long and digging into their exploration time.
This is definitely our recommended option if you don't mind waiting in lines with the crowds. When coming back down on the cable car, if you can beat the shore excursions back, you'll likely have a much shorter wait. Just make sure to give yourself enough time to wait in line and get back to the cruise ship on time.
Option #2: Hike the Switchbacks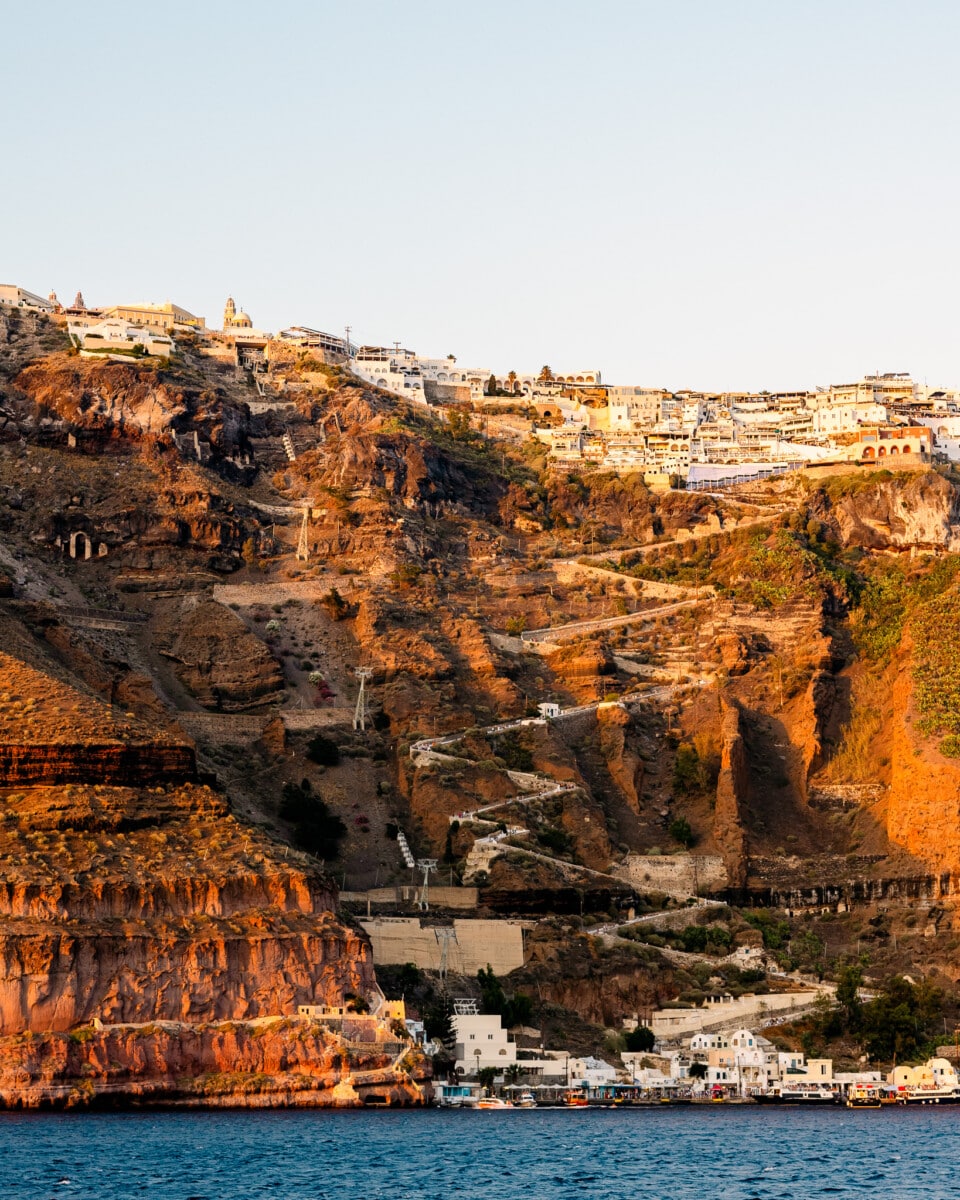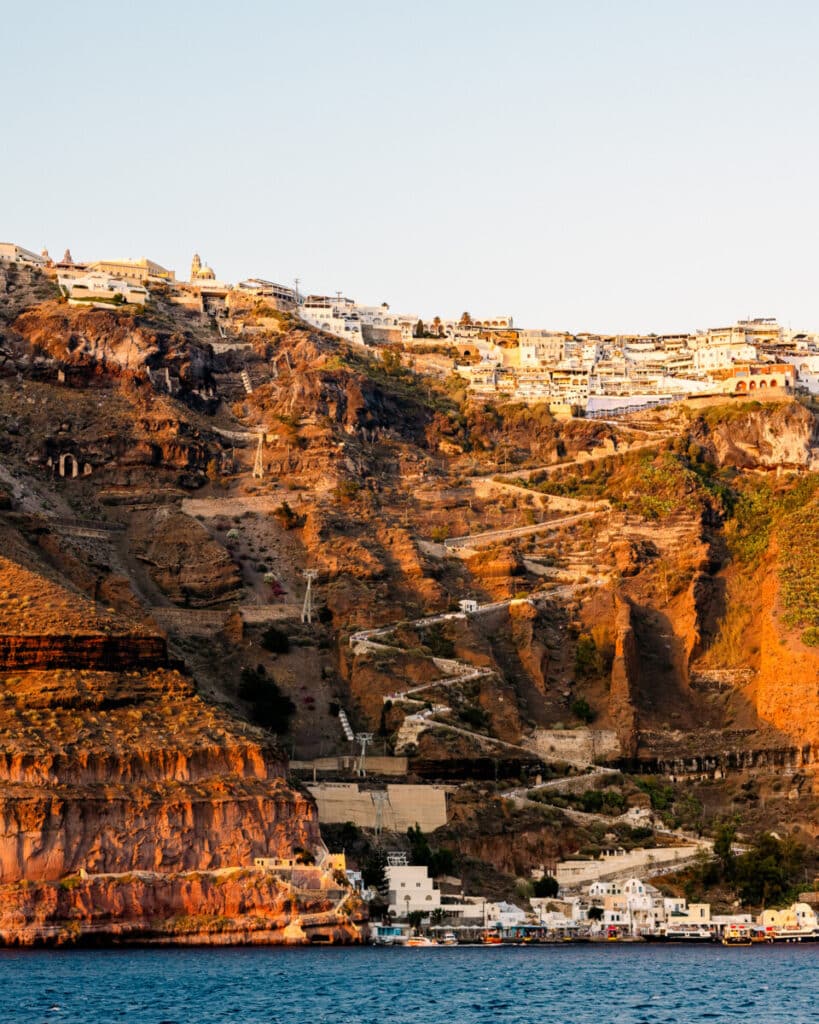 This is not our recommended option for going uphill, however, if the lines are too long for the cable car and you're looking to maximize time, this option could be for you.
There are a few things to note about this option. If considering this option, make sure you are in fairly good shape and health. If you are visiting in the summer time, Santorini can be incredibly hot. The hike up to the top has little to no shade. Make sure to bring lots of water, wear sunscreen and wear UPF protection to avoid getting sunburned. You will also want to make sure you wear shoes with good tread because the cobblestone can get quite slippery! You will also want to make sure you keep an eye out for the mule poop along the way to avoid stepping in it.
If you are in shape and fairly active, give yourself about 45 minutes to head up the hill and 30 minutes to get down the switchbacks if you decide to go this route. If you want to air on the side of caution allot 1 hour.
Note: Technically, you can also take the mules up and down the switchbacks. However, we do not recommend this option at all. The mules don't get treated ethically and are subjected to abuse.
How to Get From Fira to Oia
Hire a Water Taxi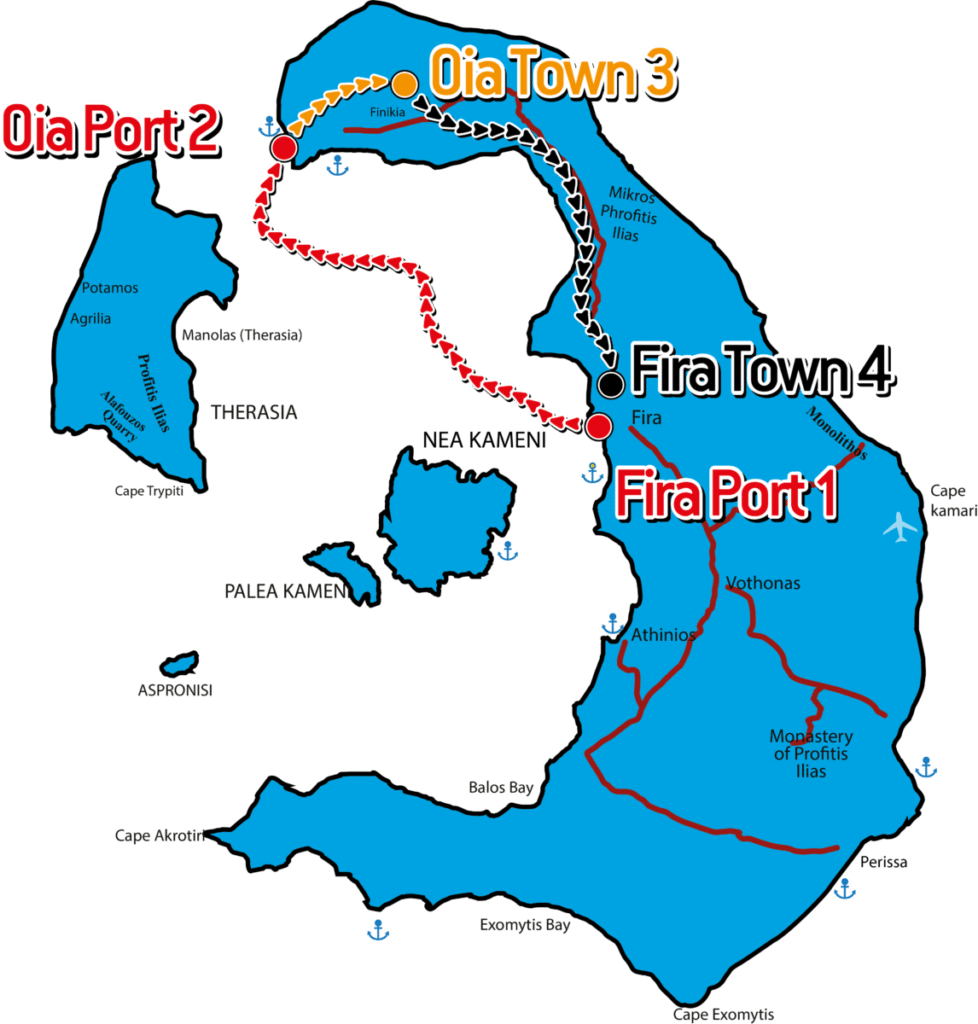 This is going to be your most hassle free option to get to Oia, however, it will cost you a bit more than your other choices. If budget is not an issue for you, then you can definitely maximize your time on land here by taking a water taxi over to Ammoudi Bay from the cruise port.
For this option, you will not need to take the cable car or switchbacks to the top of Fira, rather you will leave Fira from the dock where you get off your tender boat.
You can either hire a completely private water taxi (most expensive option) or there's a public water taxi for around 30 Euros. The caveat here is that you'll have to wait until it's entirely full for it to leave the port. This can take up 20-45 minutes so it can be a gamble on your valuable time. Keep in mind, these water taxis are typically only one way and you will return to the port via another mode of transport.
The water taxi itself will take about 20 minutes to get you from the cruise port over to the bottom of Ammoudi Bay.
Depending on which option of water taxi you book, you will either have a bus waiting for you to take you to the top of Oia village, or you will have to walk up the hill from Ammoudi Bay to the top of Oia Castle if you plan to get into downtown Oia. This also consists of a steep switchback filled walk. Prepare yourself for a 15-20 minute hike upwards at a minimum. It's not nearly as bad as the switchbacks over by the cruise port, however.
Water Taxi Options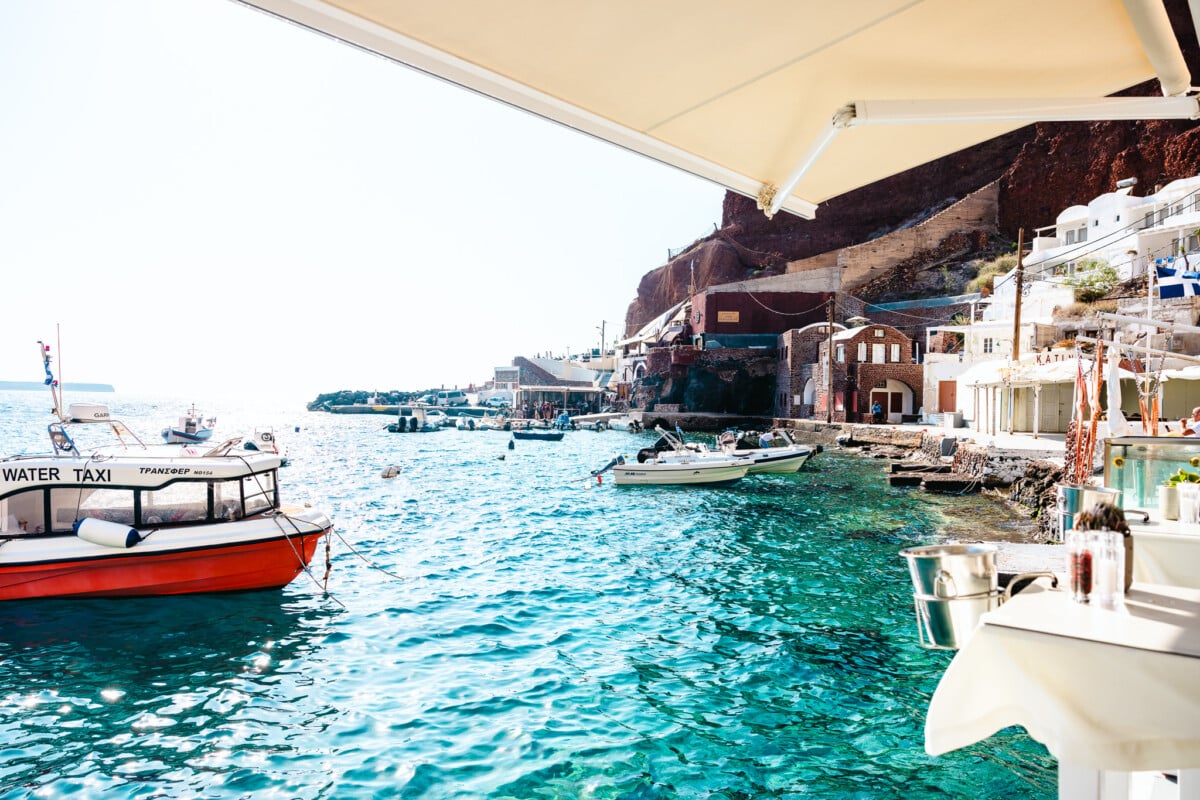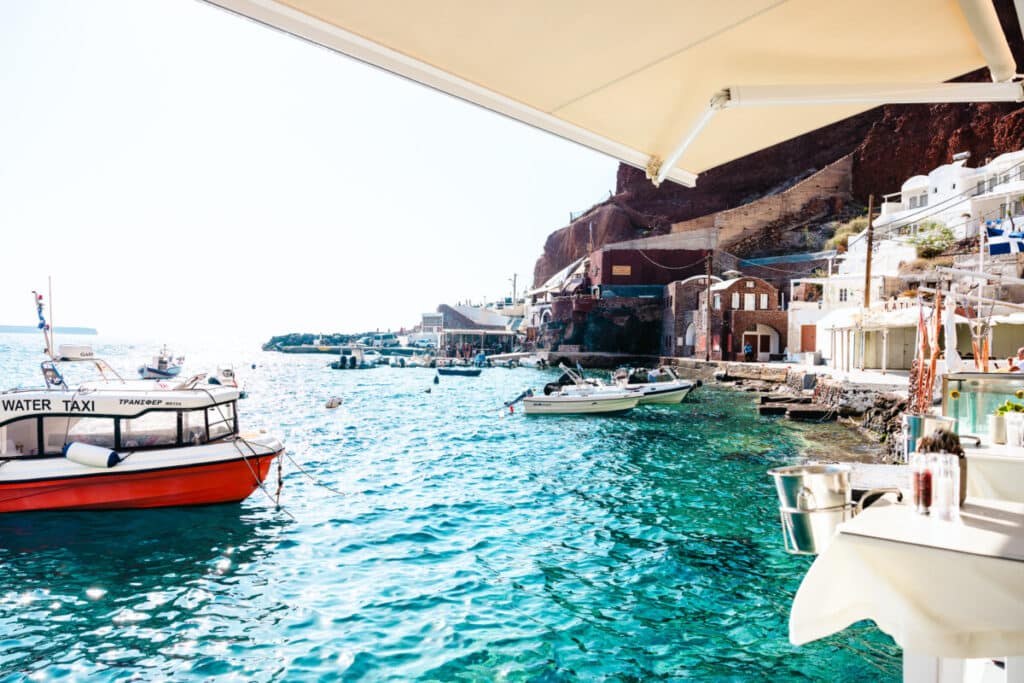 This private speedboat water taxi seems to offer round trip transport from the cruise port of Fira by speedboat to Ammoudi, with a shuttle bus up to Oia Village, and bus transport back to the cable cars above Fira. This option does not include the cost of a cable car on the way down from Fira to the cruise ship tenders. For more information, you can check them out here. You can find another option for a private tour here, although keep in mind it is 220 Euros per way for a private group.
Taking a Bus from Fira to Oia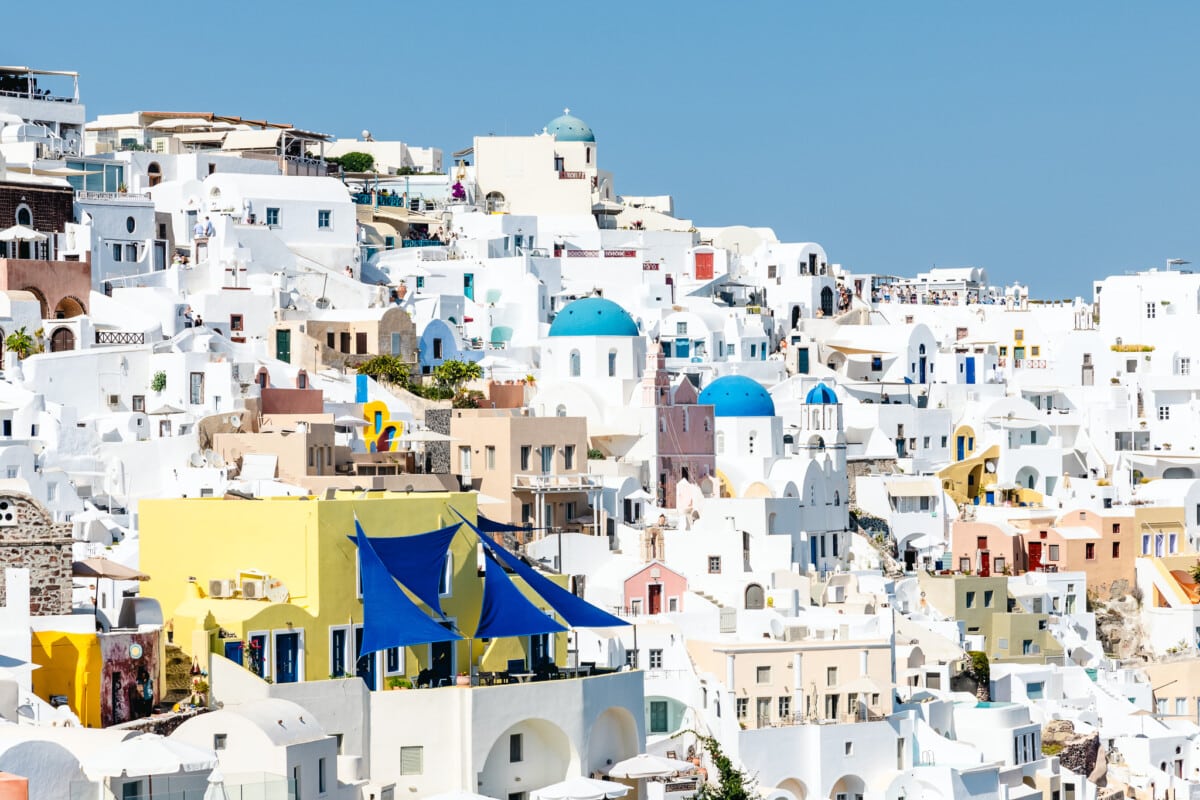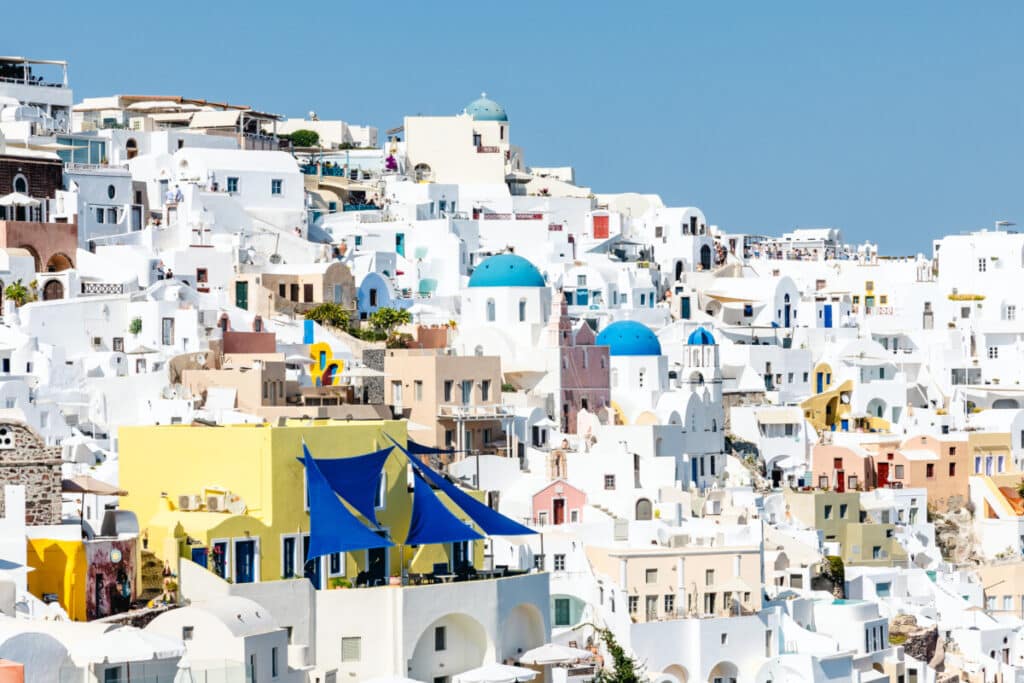 Once you get to the top of the switchbacks or cable car, you can walk about 10 minutes down the street to the local bus station and hop on a 20-30 minute bus ride over to Oia. The bus will depart from the Imerovigli bus stop, and it runs from Fira to Oia typically between 7am-11pm. The return bus from Oia to Fira runs between 7:20am-11:20pm. This will cost about €1.60 per person per way and you need to have cash, preferably the exact amount. For the full timetable of when buses leave, click here.
Keep in mind, there will likely be lines for the busses as well, so you might have to wait for 2-3 to get on one that has space. We got very lucky and got on the first one there and back when we disembarked, but our friends had to wait for 3-4 buses coming back from Oia.
Taking a Taxi from Fira to Oia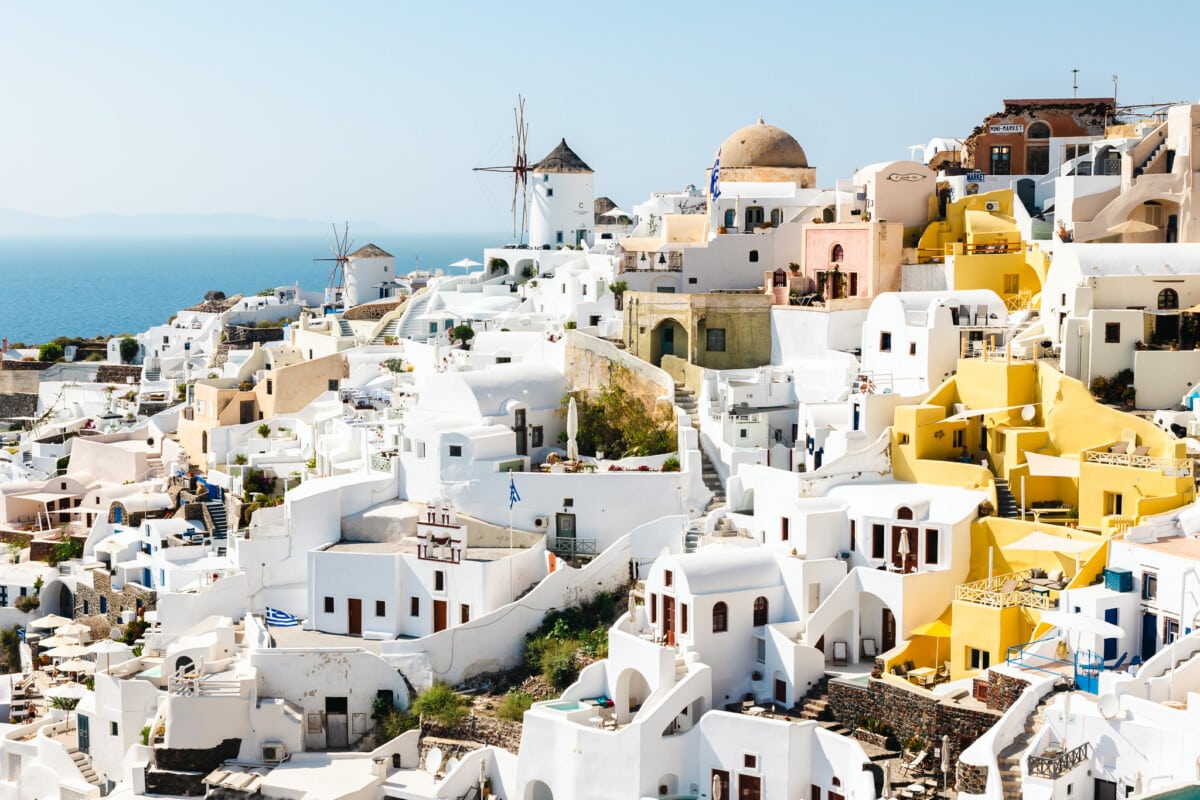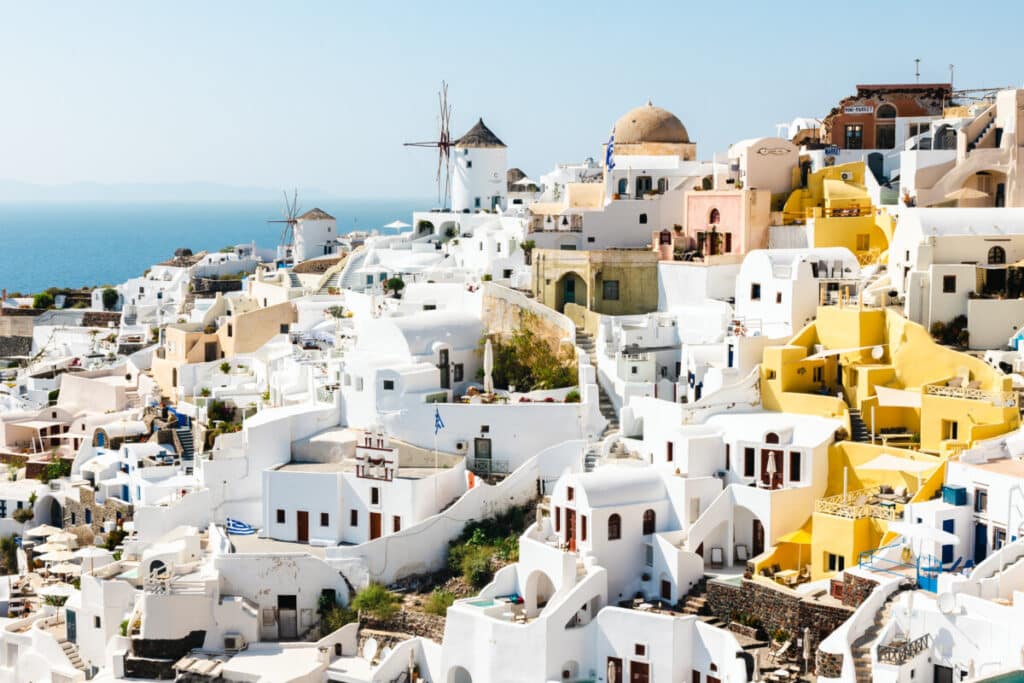 If you don't want to be limited to the bus schedule, you can hire a taxi or private tour to come and take you around to the village. This is definitely the more expensive option and you will need cash for a taxi as most don't take credit card. If you don't have Euros on you, don't fret, there are ATMs walking distance around the village to withdraw some cash if needed. Expect to spend around €30-40 each way.
If you hire a taxi (or want to have one on call just in case), make sure to get their phone number for a return service as there's not as many options coming back from Oia as there are going out there from the cruise port and you don't want to get stranded. You can also pre-book a taxi in advance. Keep in mind, once you get back to Fira, you will still have to either take the cable car or hike down the hill to get back to the cruise ship regardless if you do a tour/excursion or not. 
Travel Time from Oia to Fira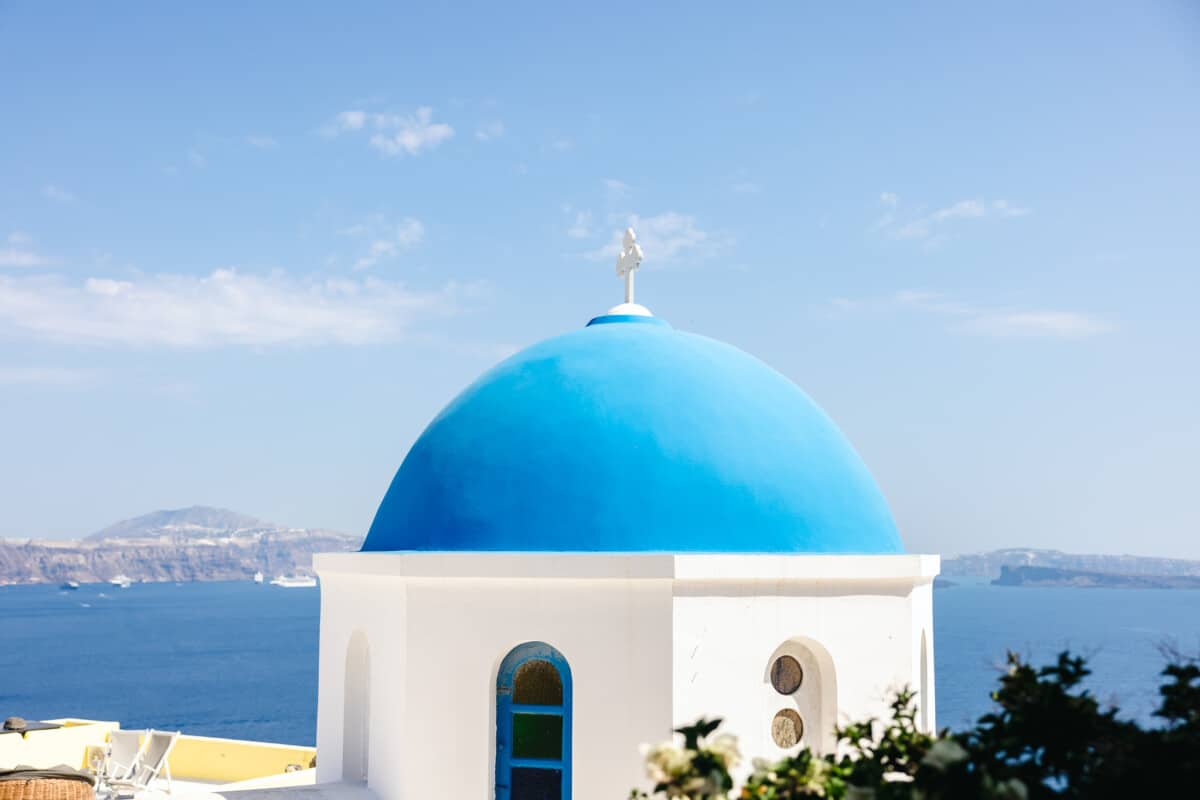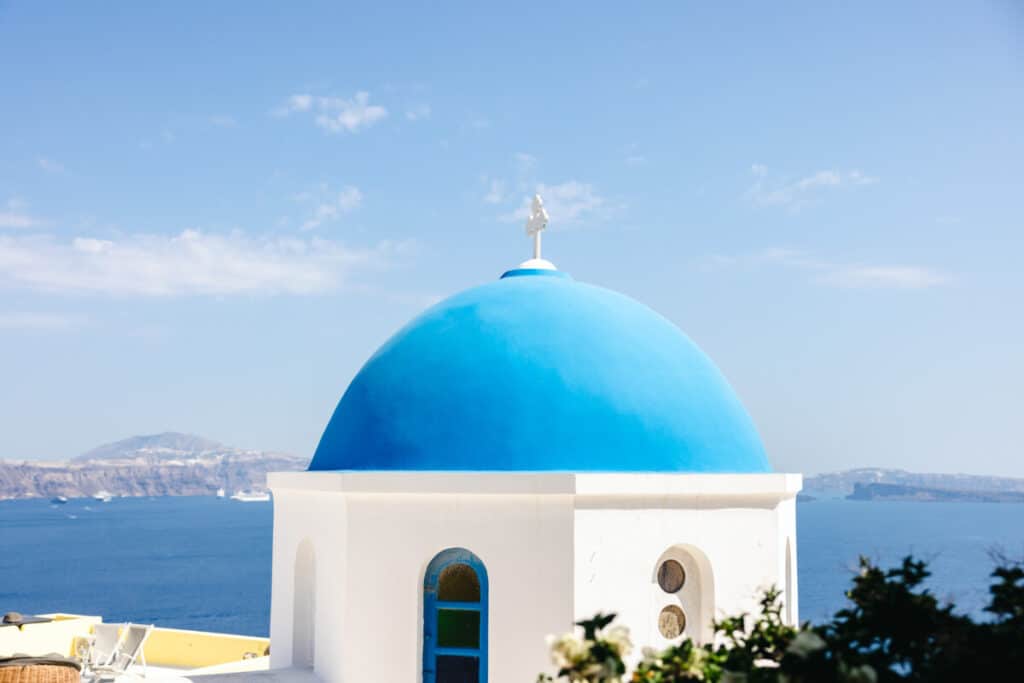 It is vital that you give yourself enough time to get back down to the cruise ship! We repeat – don't get caught up in the magic of Oia and miss your ship's all aboard time. The lines for the cable car get pretty crazy, especially if there are multiple cruise ships in port at once. Don't take the risk of cutting it close and getting left behind! If that is a big concern for you, you may want to book an NCL shore excursion for the additional protection of not getting left behind if your tour runs late.
Although we got lucky and only had to wait for about 15-20 minutes for the cable car, we've heard from many people that they waited over an hour to take it down. So, if there's anything you take away from this blog, it's to give yourself extra time to get back down to the ship!!! Wear comfy shoes in the event that you need to book it down the switchbacks.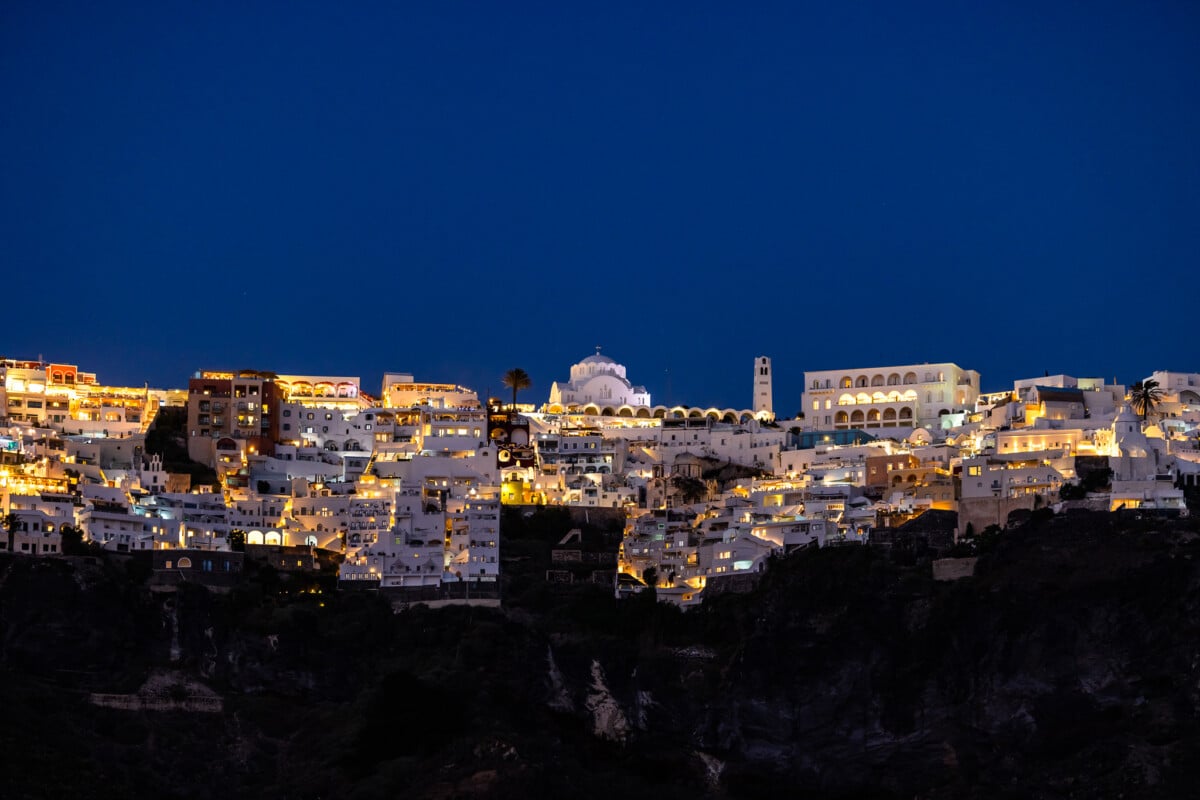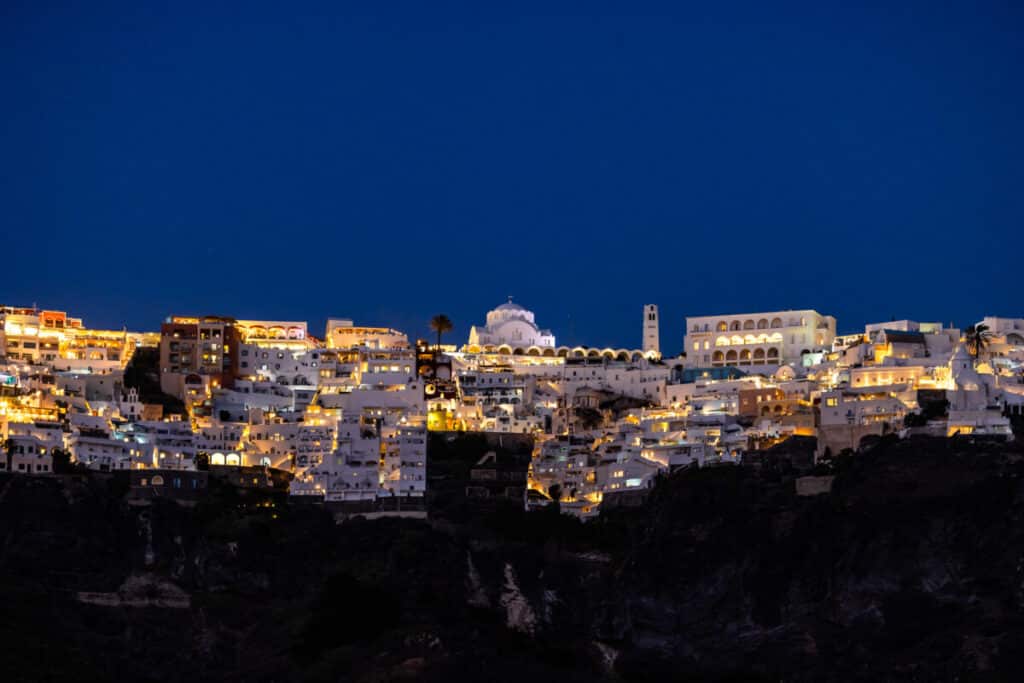 In total, it took us 20 minutes to bus back from Oia to Fira, 10 minutes to walk back to the cable car, 15 minutes in line for tickets, and an additional 5 minutes to head down to the tender. So, in total, it took us about 40-45 minutes from Oia to Fira. However, we got lucky with the bus schedule and queue for the cable car, so let this be the minimum amount of time you give yourself when planning.
We hope this guide to exploring Oia, Santorini from a cruise ship helps you plan your time adventuring better!
Most Common Questions About Visiting Oia & Santorini from a Cruise Ship: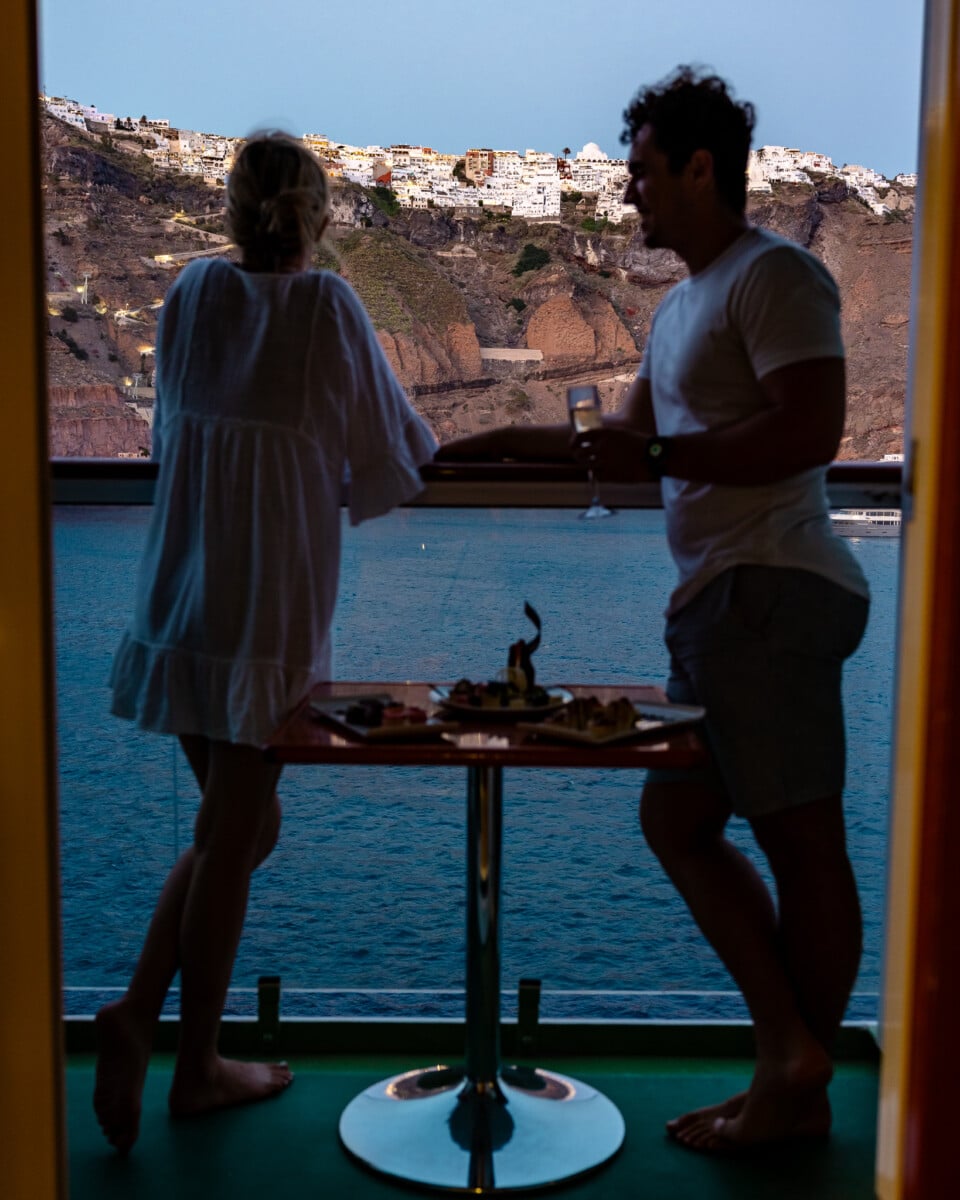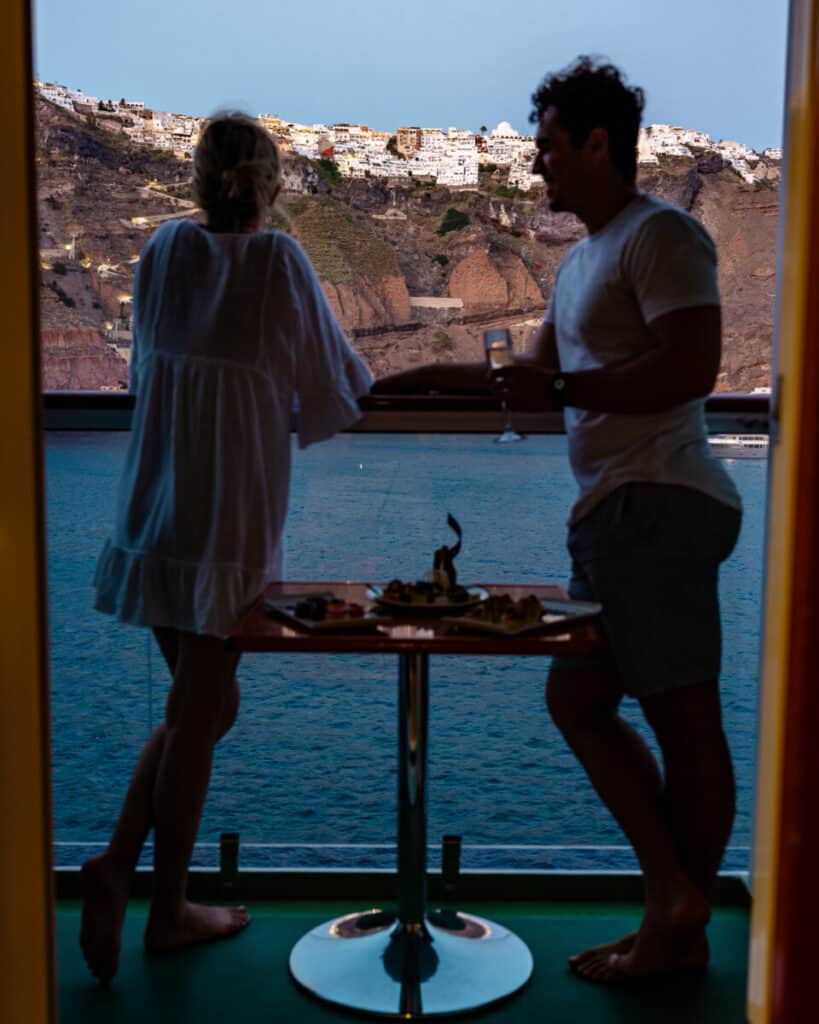 Should I rent a car on Santorini? No, we would not recommend renting a car on Santorini. The public transport system is very good. Additionally, the streets are very crowded and narrow; so, it's probably best you don't drive around.
Can I watch the sunset in Oia and make it back to the cruise ship? As avid photographers, you know we want to say yes – HOWEVER, we would advise against this, depending on what time sunset and your all aboard time is. Although it's a bummer, you can still see an incredible sunset on your way back to the ship in Fira. If sunset is earlier in the year and you have a solid amount of time to get back to the port, go for it.
Should you tip taxi drivers in Oia, Santorini? Typically, taxi drivers do not expect a tip in Greece. However, they do expect you to round to the nearest Euro, so you often won't get change back. Rounding up your bill, rather than leaving a percentage based tip, is completely acceptable. If you've experienced outstanding service, some people leave an optional tip of 10%, but it's absolutely not necessary.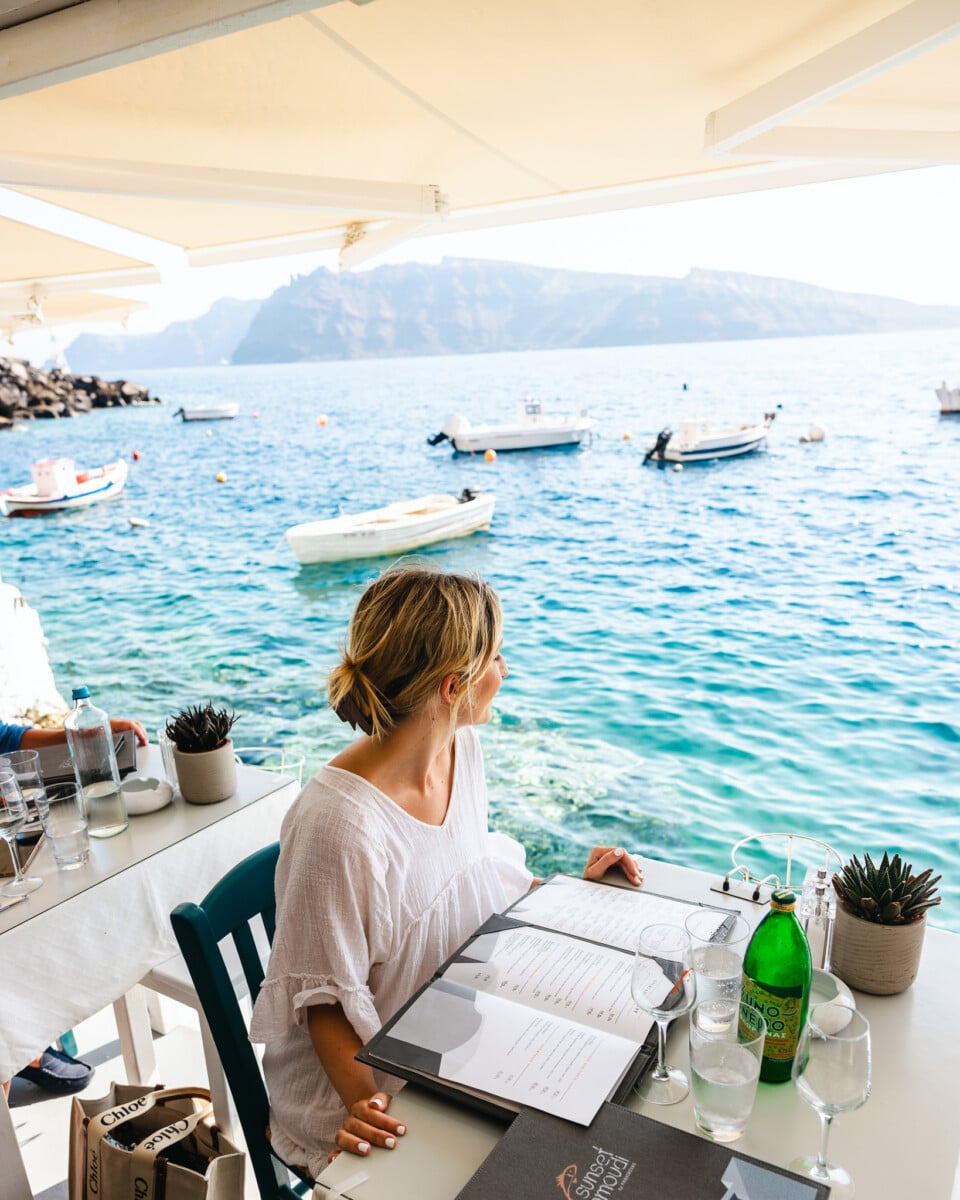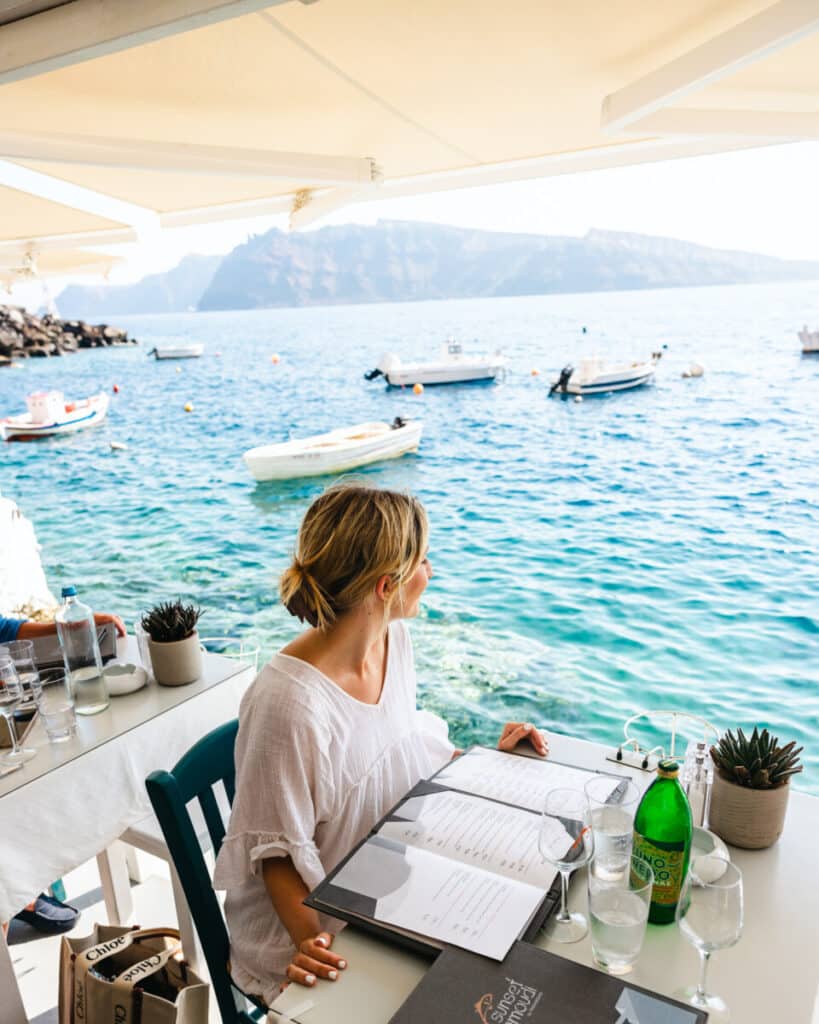 Overall, we hope you have the best trip to Santorini. As long as you are prepared, plan your transport in advanced, and pack a lot of patience for the crowds, you will have an amazing time in Oia.
Looking for more cruise content? Check out our guide to visiting the Caribbean from our time on NCL's newest ship, the Prima.