The Best of the Whitsundays: Hamilton Island Guide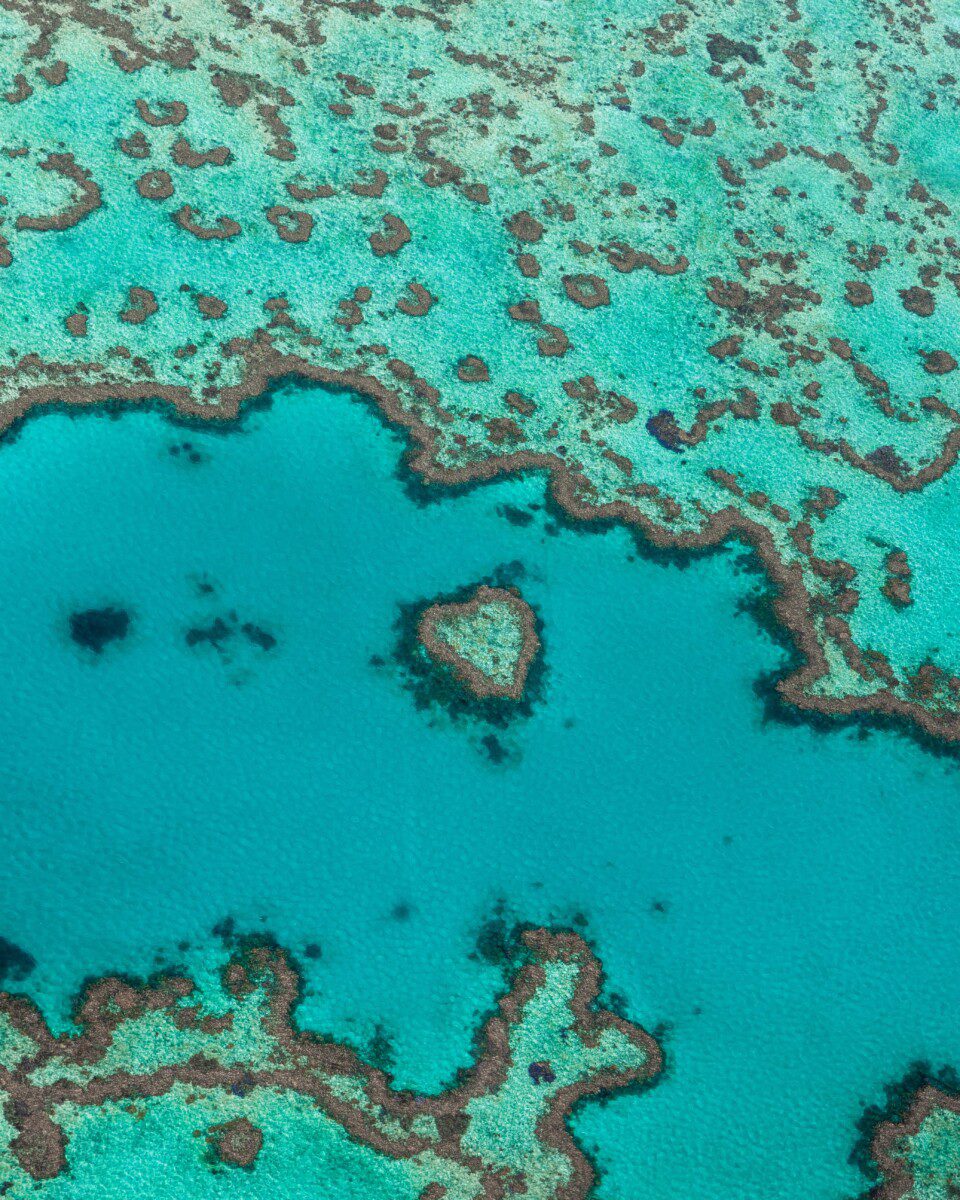 If you're looking for a tropical getaway, Hamilton Island in the Whitsundays is the perfect destination. This beautiful Island is located in the heart of the Great Barrier Reef, one of the most beautiful natural wonders in the world. With its breathtaking natural beauty, crystal clear waters, and abundance of outdoor activities, it's no wonder why so many people flock to Hamilton Island each year.
In this guide, we'll take a closer look at how to spend one week on Hamilton Island and make the most of your time there. From the best things to see and do, to where to stay and dine, we've got you covered with everything you need to know about visiting Hamilton Island.
Where is Hamilton Island?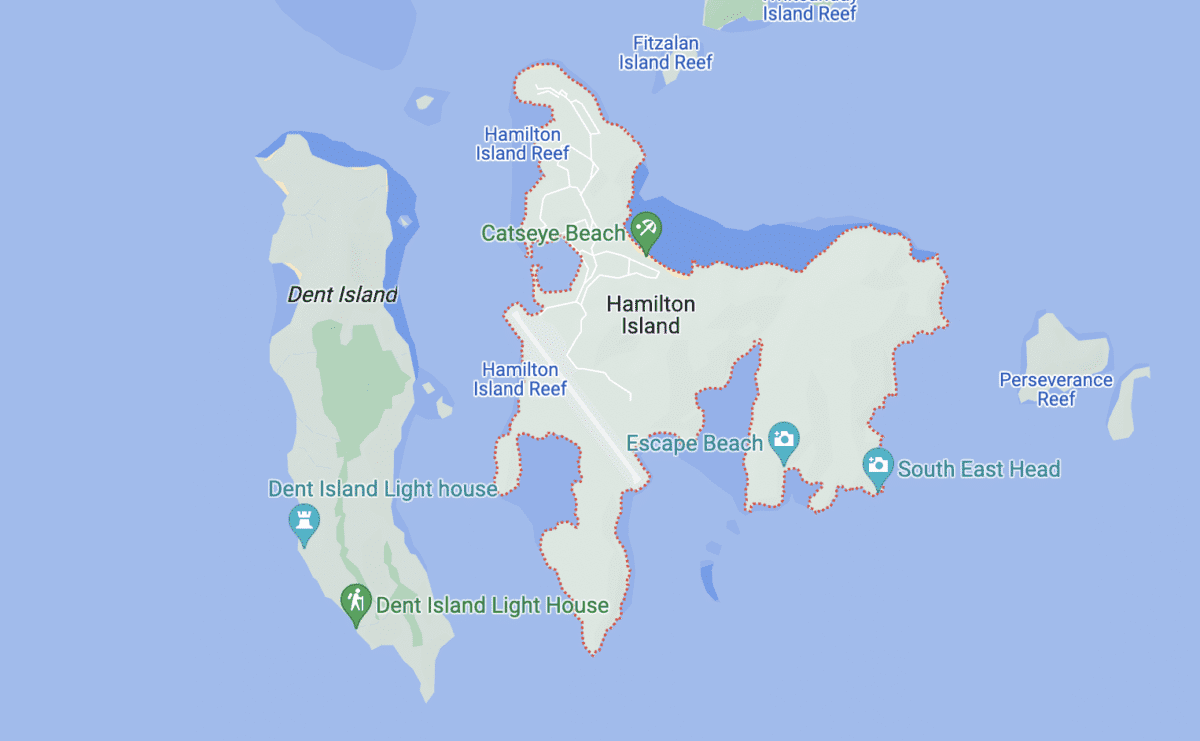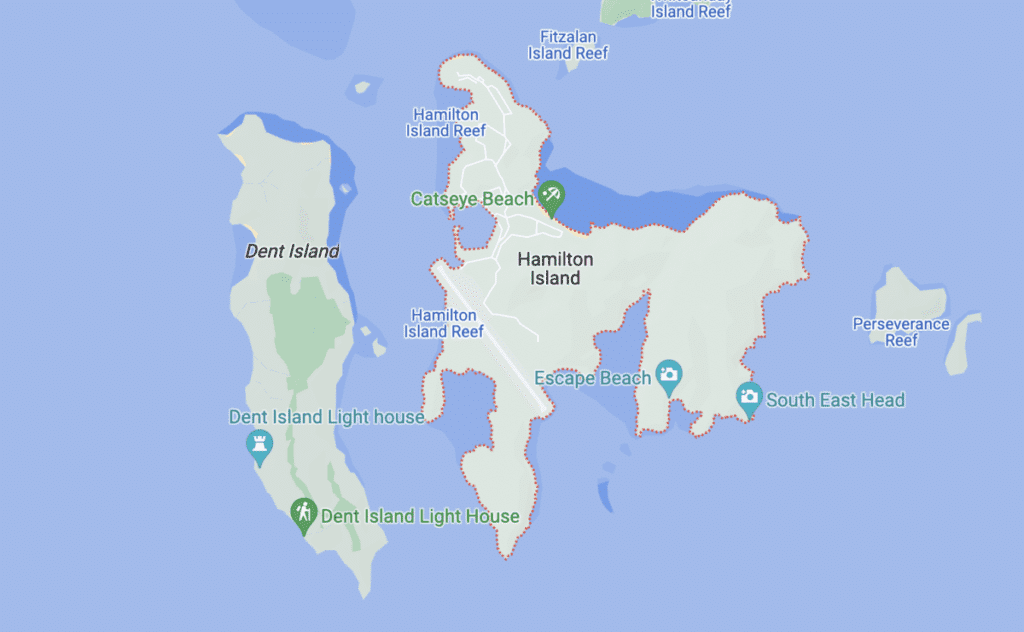 Hamilton Island is a popular tourist destination located in the heart of the Whitsunday Islands, off the coast of Queensland, Australia. The island covers an area of approximately 5 square kilometers and is home to a variety of resorts, restaurants, and recreational activities.
It's the most populated and accessible island in the Whitsundays, which is made up of 74 island in the area.
How to Get to Hamilton Island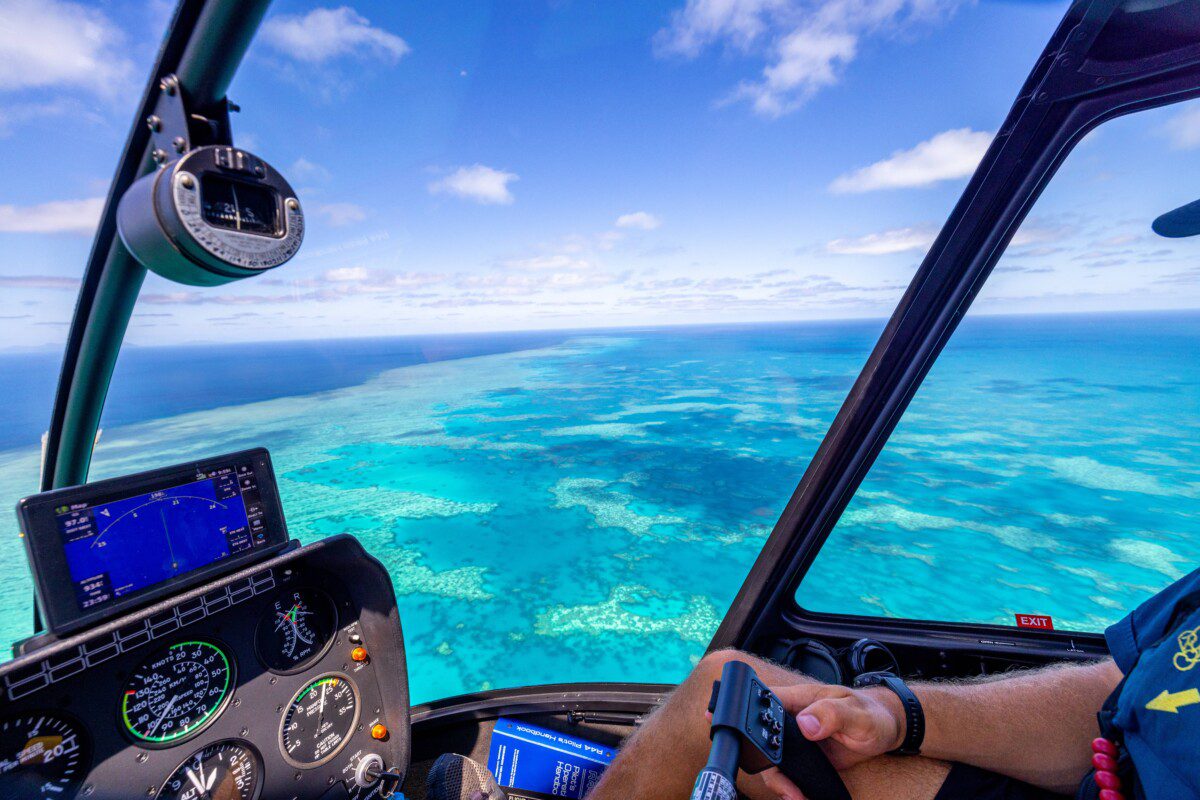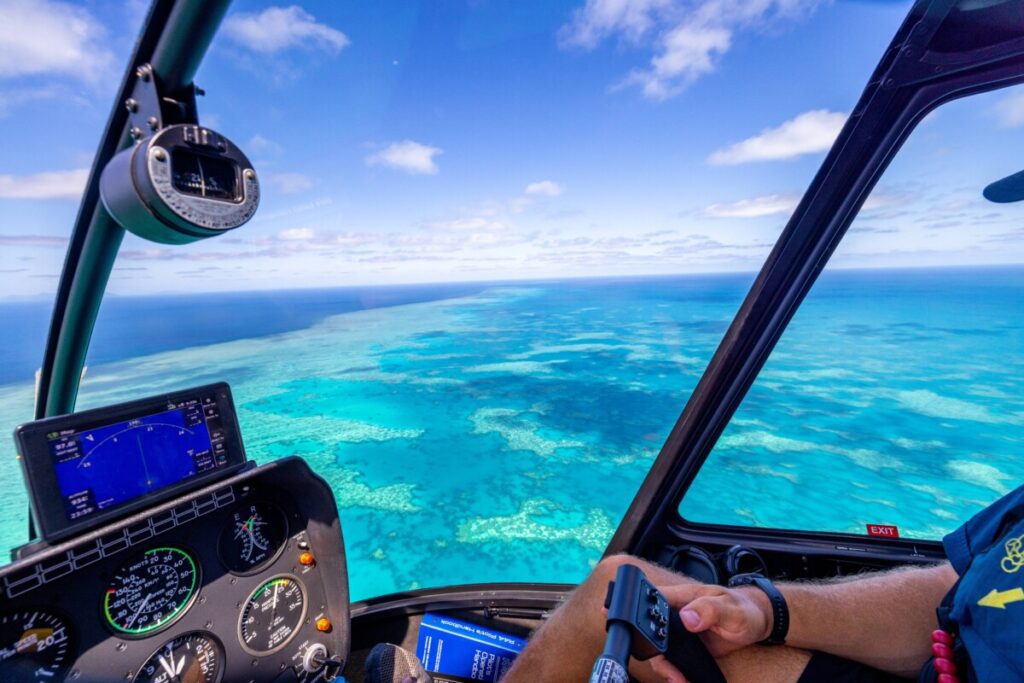 Here are a few ways to get to Hamilton Island, depending on where you're traveling from:
Fly: Hamilton Island has its airport, the Great Barrier Reef Airport, which is serviced by direct flights from major Australian cities such as Sydney, Melbourne, Brisbane, and Cairns. Some of the airlines that operate direct flights to Hamilton Island include Jetstar, Virgin Australia, and Qantas. We flew from Sydney to Hamilton Island directly and it's a quick 2 hour flight.
Ferry: You can also get to Hamilton Island by taking a ferry from Airlie Beach on the mainland. There are several ferry services that operate between Airlie Beach and Hamilton Island, mainly including Cruise Whitsundays. To see the ferry schedule, click here.
Private Boat: If you have access to a private boat, you can sail to Hamilton Island and moor your boat at the marina.
Best Time to Visit the Whitsundays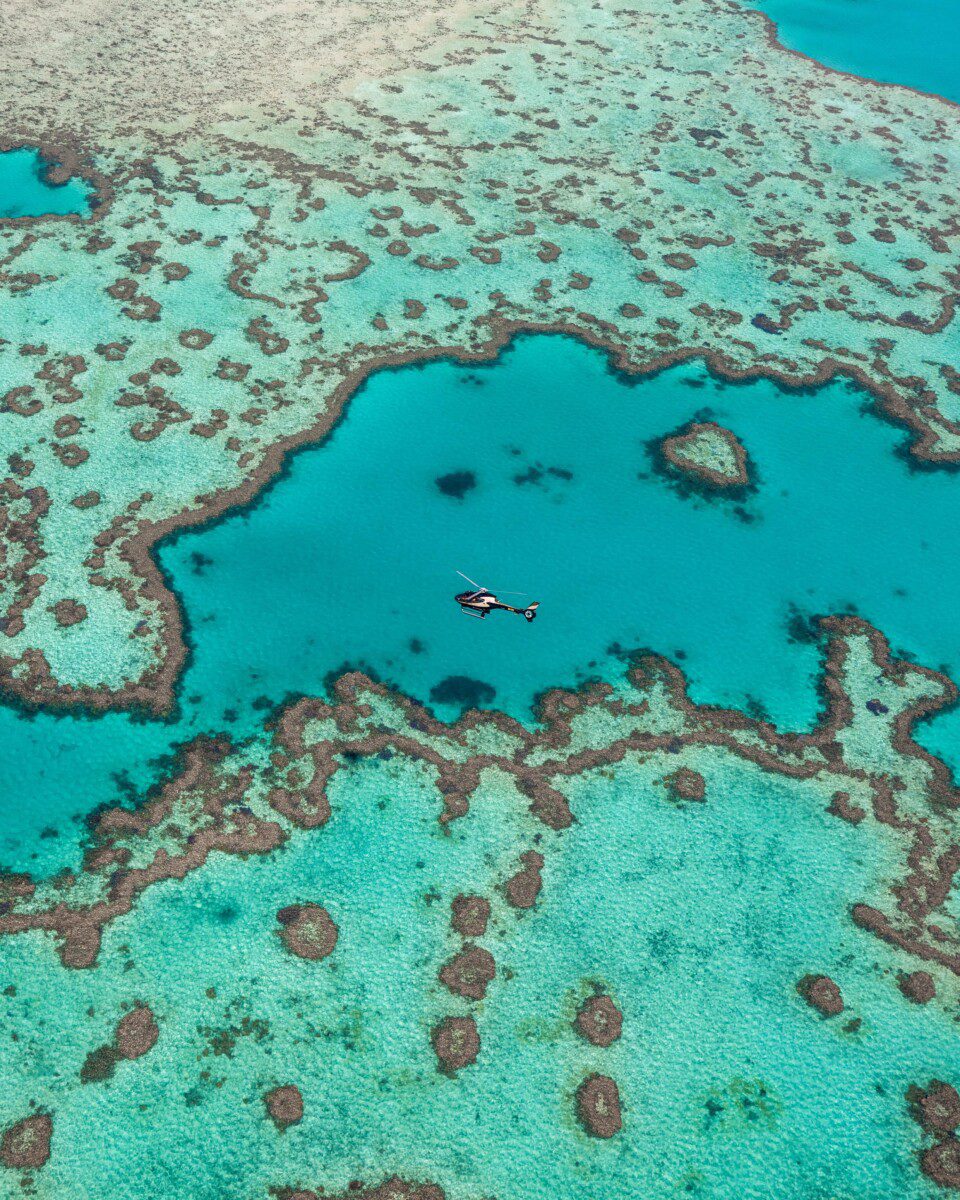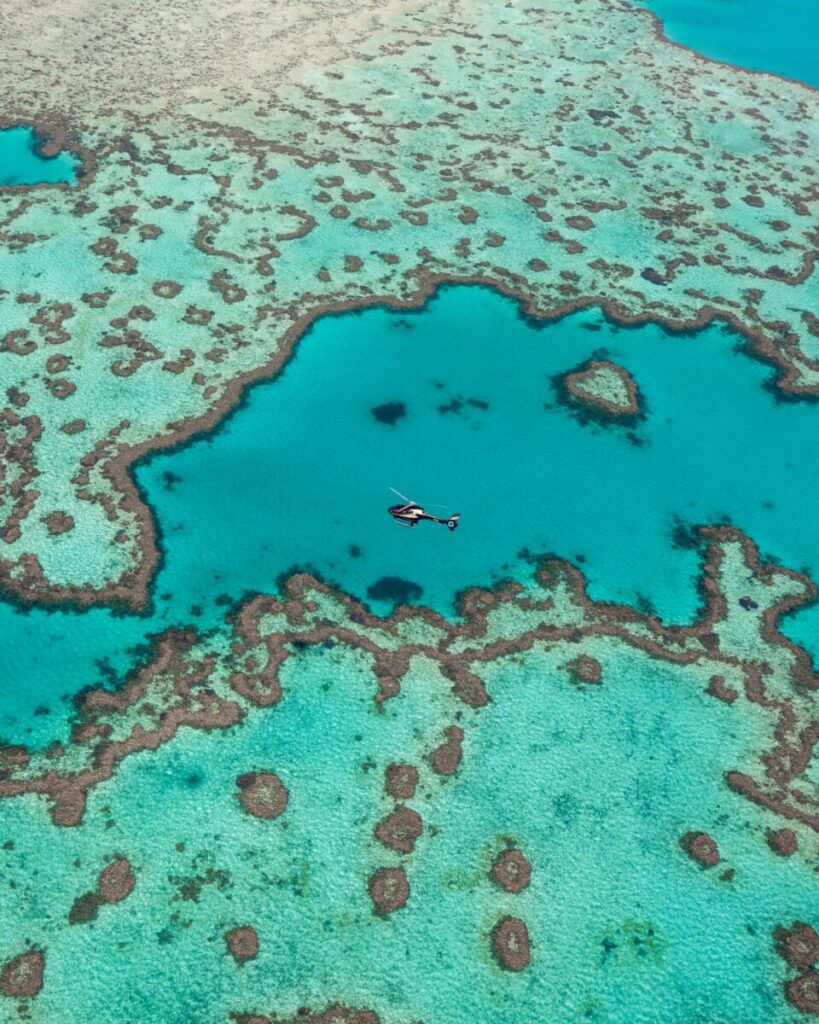 Peak Season
The Whitsunday Islands, including Hamilton Island, have a warm and tropical climate year-round, making it a popular destination for visitors at any time of the year. However, there are some variations in weather patterns and tourist traffic that may impact your experience depending on when you plan to visit.
The peak season in the Whitsundays generally runs from June to August, when the weather is cooler and drier, and there are school holidays in Australia. This is Australia's winter and dry season. Typically, this time period sees the highest influx of tourists, and prices for accommodation and tours may be higher.
Off Season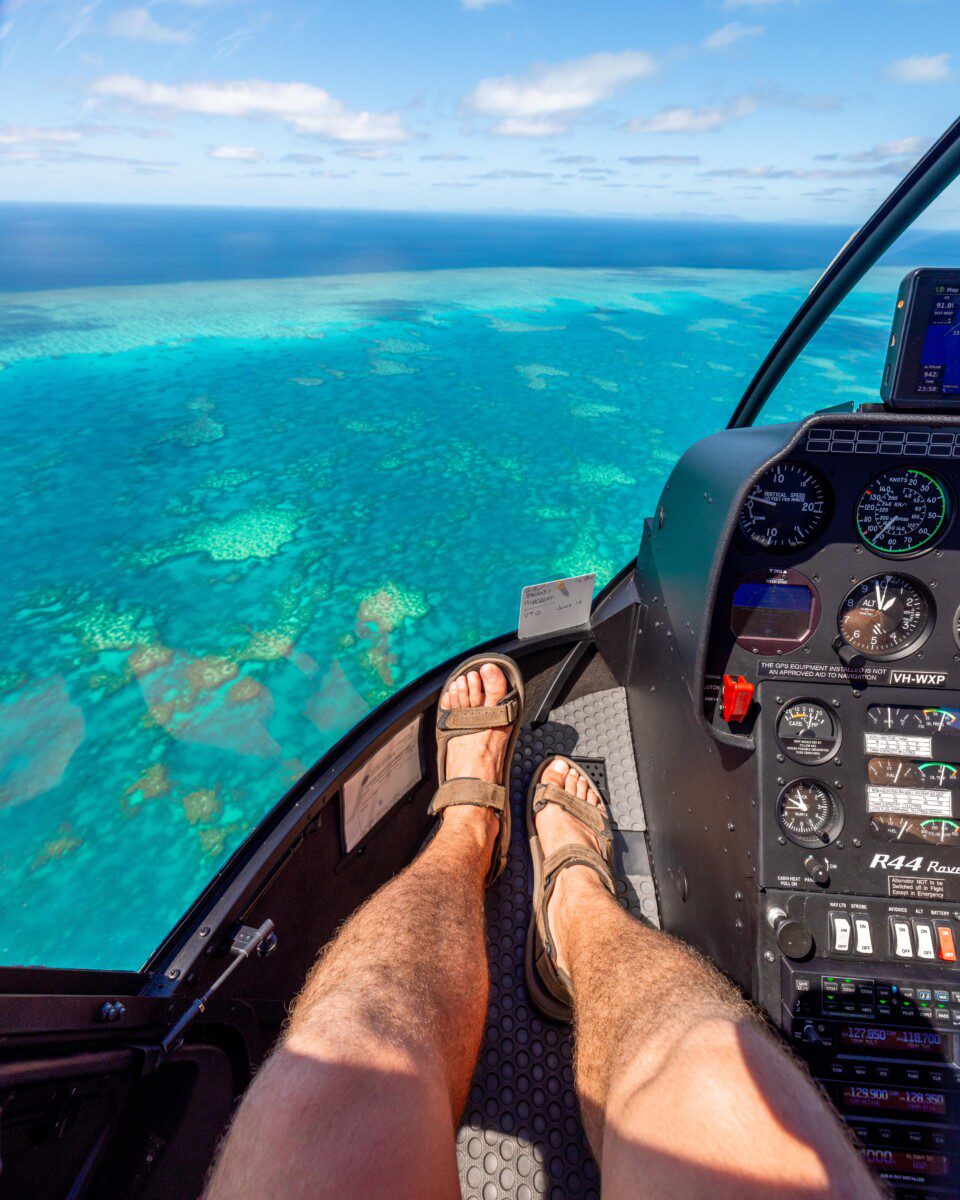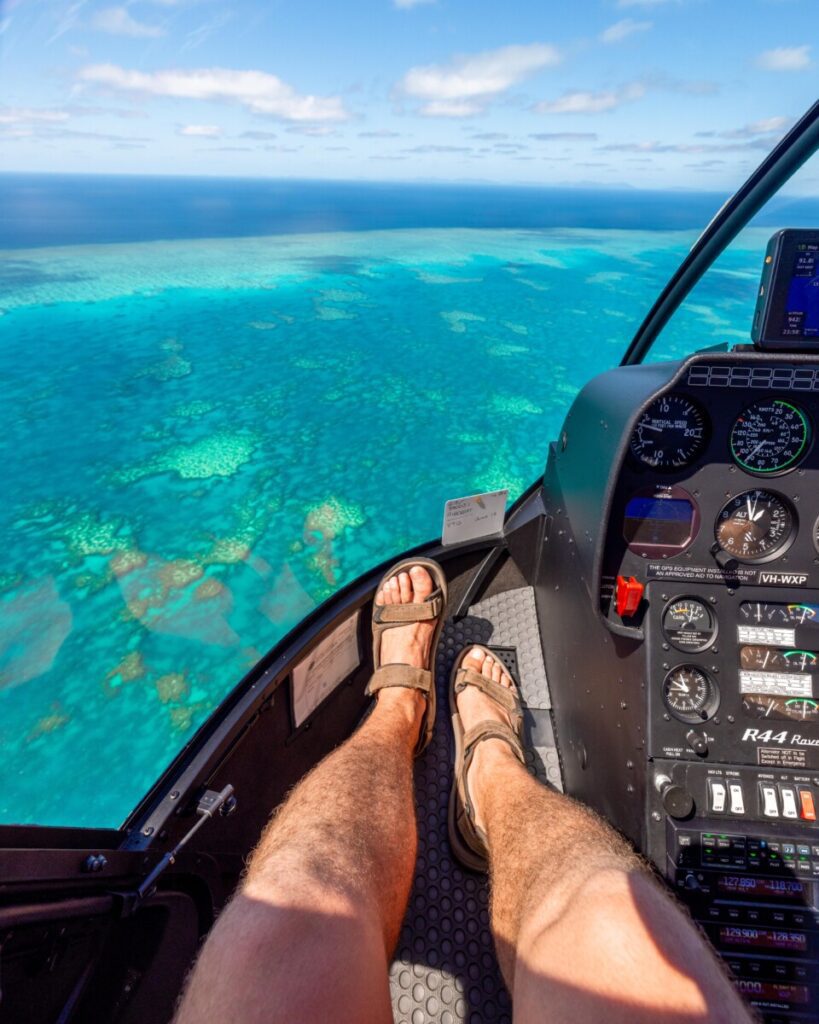 The shoulder seasons of April to May and September to November are good times to visit if you want to avoid the crowds and high prices while still enjoying warm temperatures and comfortable weather. These seasons offer a good balance between dry weather, fewer crowds, and slightly lower prices.
Alternatively, the summer months from December to February are the wettest and hottest time of the year, with increased humidity and occasional rainfall. However, this season can be a good option for those looking for a budget-friendly trip, as prices for accommodation and tours may be lower.
Keep in mind, the summer months typically come with cyclones and Irukandji Jellyfish. These are small and transparent jellyfish that can be present in the waters of the Whitsunday Islands. You'll have to wear a stinger suit during these months to protect yourself against there stings – as they can put you in the hospital.
Overall, the best time to visit the Whitsundays depends on your personal preferences and priorities. For those looking for good weather and fewer crowds, the shoulder seasons of April to May and September to November may be the ideal times to visit. However, if you don't mind the heat or occasional rain, visiting in the summer months could save you some money while still enjoying the beautiful tropical scenery.
Getting Around & Transportation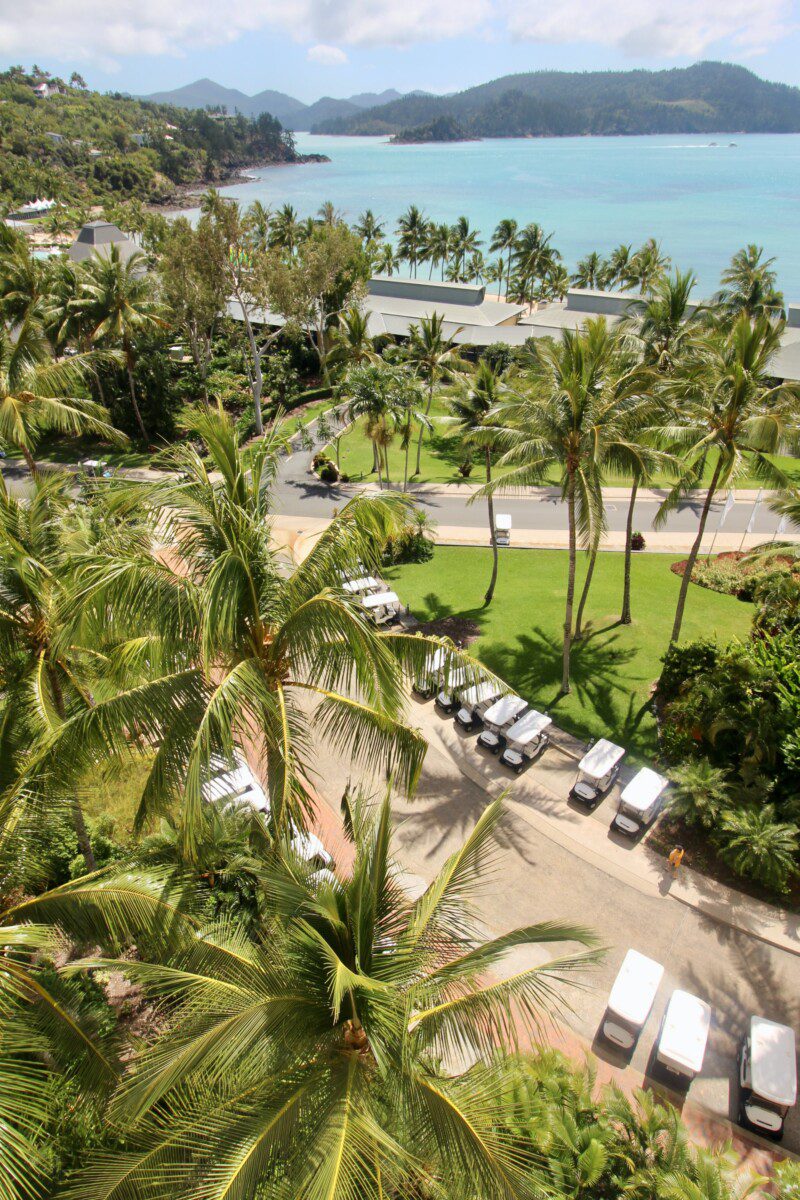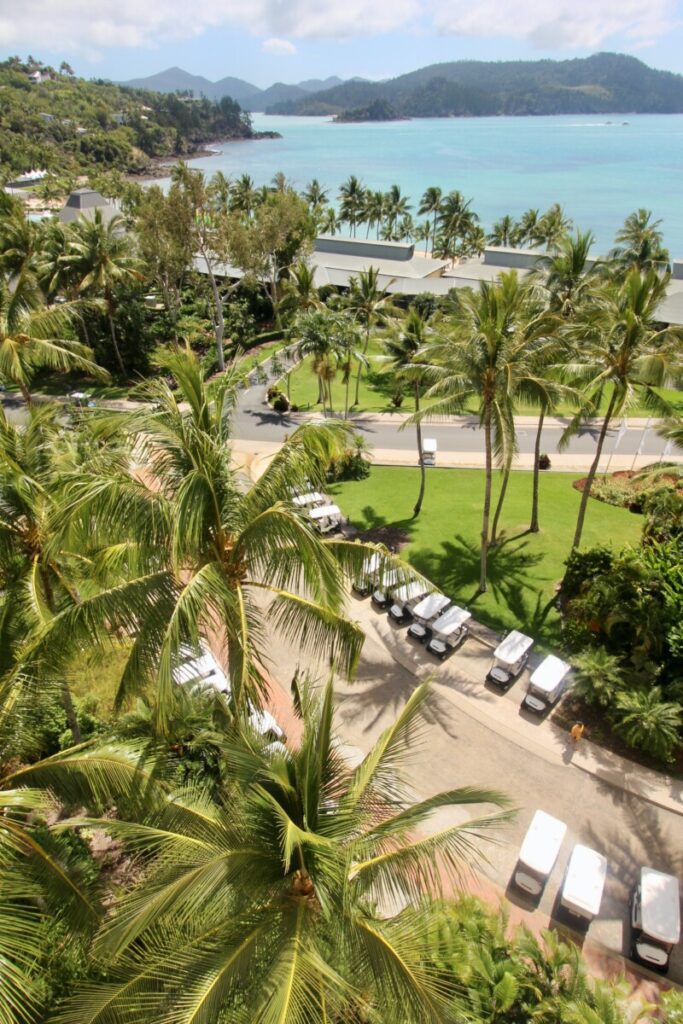 Hamilton Island is a car-free island, which means there are no private cars on the island. Visitors can get around the island by walking, cycling, or using the island's shuttle service.
Walking: Many of the island's attractions, restaurants, and shops are within walking distance, so walking is a popular way to get around the island. We walked almost every
Cycling: You can rent a bicycle from one of the island's rental shops and explore the island's roads and trails. Cycling is an excellent way to see the island at your own pace.
Shuttle Service: The island offers a complimentary shuttle service that operates between the resort areas, the marina, and the airport. The shuttle runs on a regular schedule, so it's a convenient way to get around the island. There's a green shuttle that strictly runs between the resort area and Front Street. The blue shuttle, on the other hand, gets you all over the island.
Golf Cart: Visitors can also rent a golf cart to get around the island. Golf carts are a fun way to explore the island and provide more flexibility than the shuttle service. However, they are a little pricey and do need to typically be reserved in advance due to limited availability.
Regardless of how you choose to get around, Hamilton Island is a relatively small island, and it's easy to navigate your way around the island.
How Long to Stay in the Whitsundays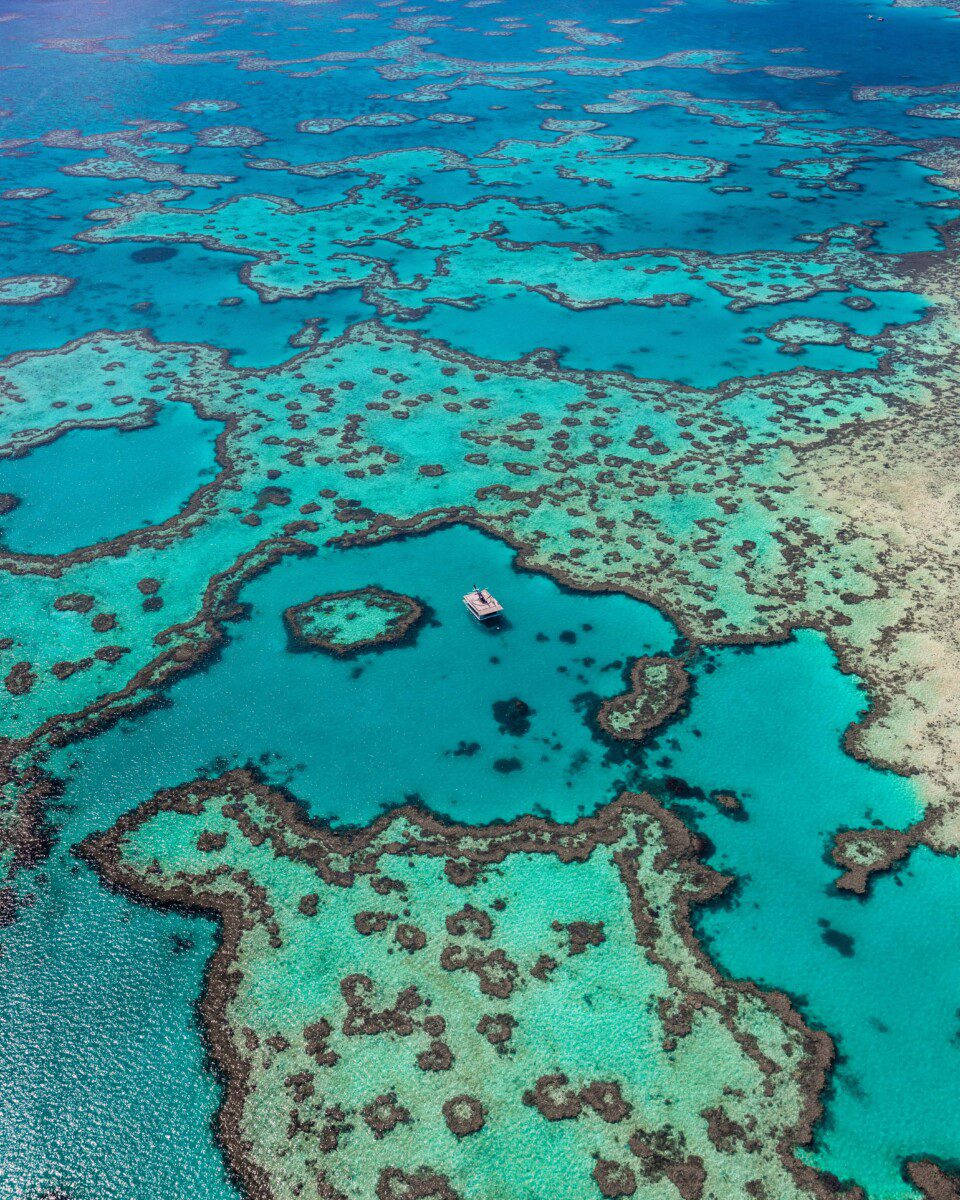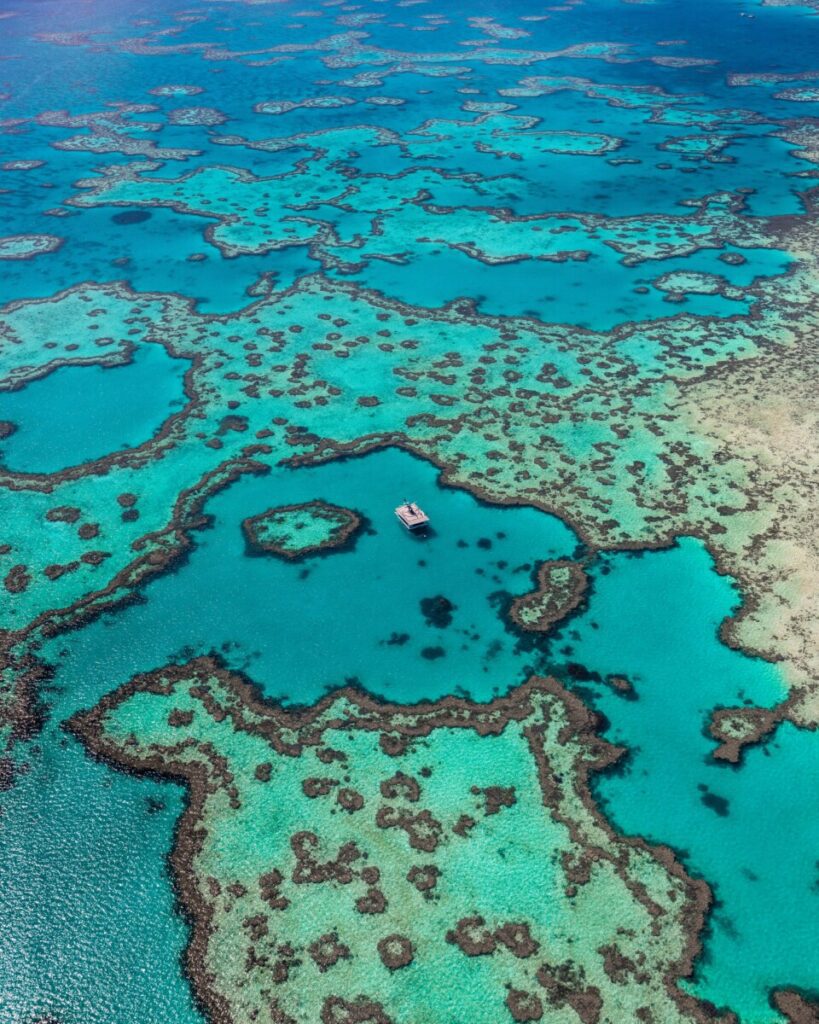 The length of time you should spend on Hamilton Island really depends on what you want to do and see while you're there. If you're just looking to relax on the beach and enjoy the island's laid-back vibe, then a few days may be enough. However, if you want to explore the Whitsunday Islands and take part in outdoor activities such as snorkeling, sailing, or hiking, then you may want to spend at least a week on the island.
We stayed for 7 days and thought that was the perfect amount of time to squeeze in every adventure in the area that we wanted to do on top of getting scuba certified over the course of 3 days.
In general, we would recommend spending at least three to four days on Hamilton Island to get a good feel for the island and take part in some of the activities it has to offer. If you have the time and budget, spending a week or more on the island would allow you to see and do more, and really soak up the island's natural beauty and relaxed vibe.
Accommodation Options on Hamilton Island
Hamilton Island offers a range of accommodation options to suit all budgets, from luxury resorts to holiday homes and apartments. The most popular resorts on the island are the Reef View Hotel, the Beach Club, and the Qualia Resort, all of which offer stunning ocean views and world-class amenities. The most popular AirBnB options are located in the Whitsunday Apartments and are typically more affordable than staying in a hotel on the island.
We opted to stay in AirBnB and had a great experience that felt more like the local experience. We linked it here if you wanted to check if it was available during your intended stay.
Dining & Shopping on Hamilton Island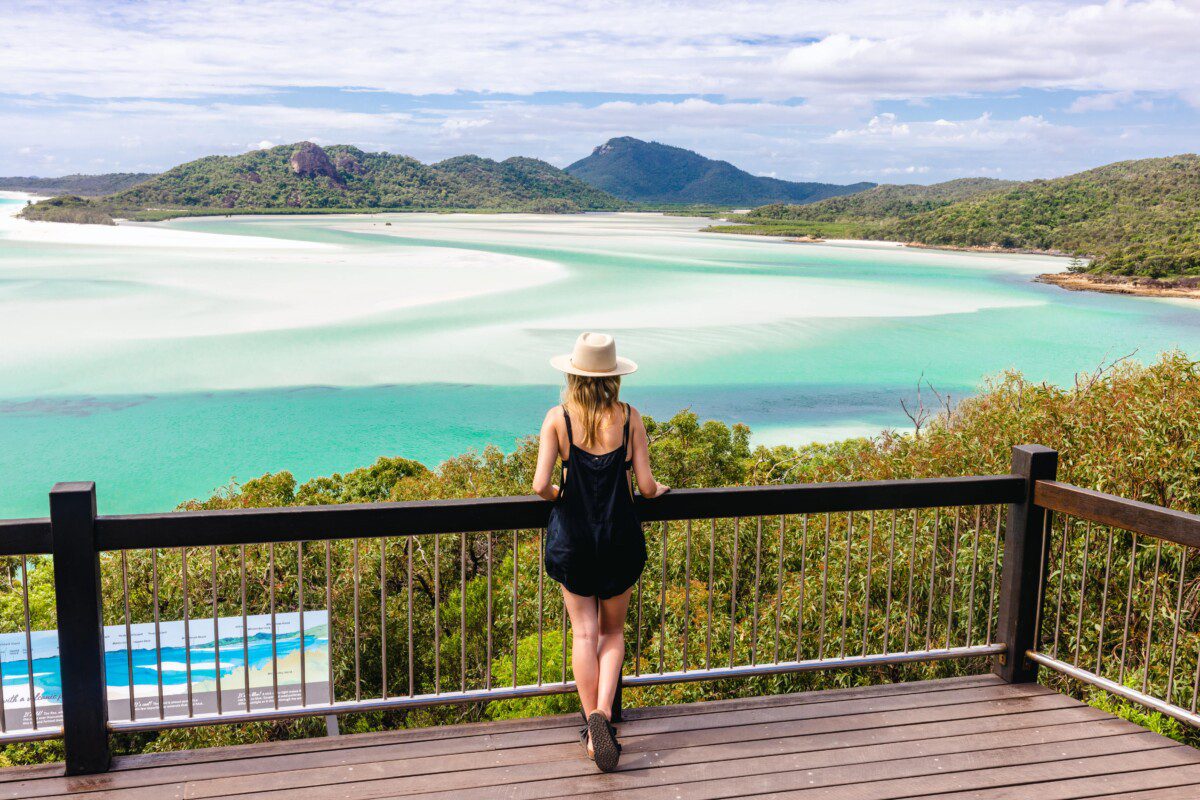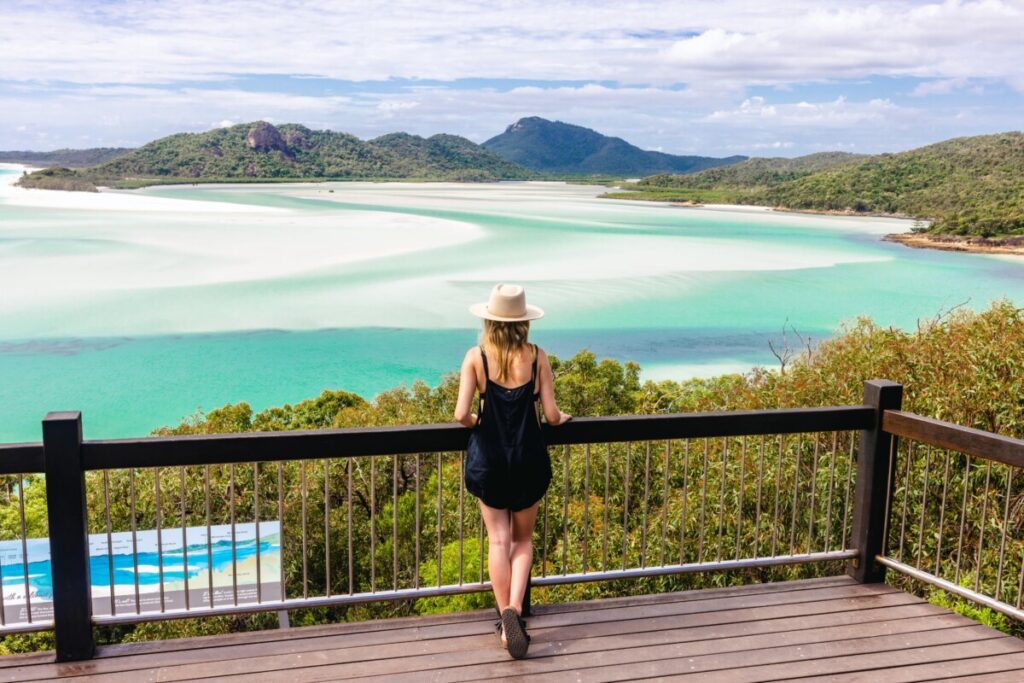 There are several dining options available on the island, including gourmet restaurants and casual cafes, serving a variety of cuisines. Keep in mind, dining out on the island is pretty expensive and you'll have to make reservations in advance at most restaurants. Our favorite restaurant on the island was Coca Chu. Other popular restaurants include Bommie and Manta Ray.
Hamilton Island also has a small commercial centre known as Front Street, which offers a range of more casual dining, boutique shops, and souvenir stores. There is also a marina where visitors can hire boats or book a tour to explore the Great Barrier Reef and nearby islands.
Front Street is also home to Hamilton Island's only supermarket. We opted to shop here most days to keep our costs of food down and rather, cook at our AirBnB. Make sure to bring your own reusable bags, or you can purchase them here as well.
WiFi & The Hamilton Island App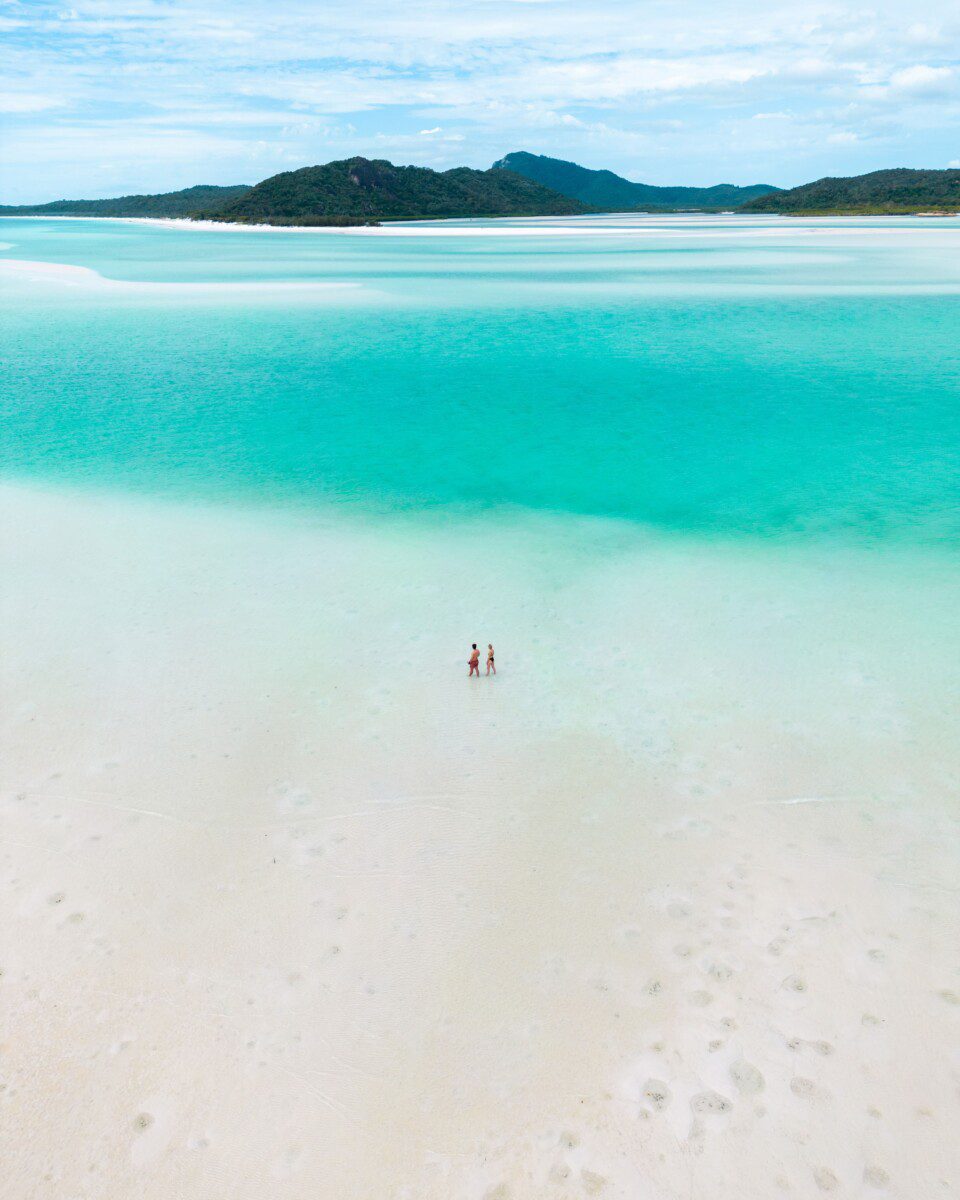 The island itself has its own WiFi network. However, you have to be staying in one of the hotels or resorts to get codes to access it. Since we stayed in an AirBnB, we only had access to our host's private network. So keep that in mind that it varies based on your accommodation that you select! We always recommend getting an E-Sim Card if your mobile carrier is expensive abroad.
Additionally, you'll want to download the Hamilton Island App before you arrive on the island. This is the best way to make dinner reservations, figure out things to do, and check the shuttle schedules in real time.
Best Things to Do Near Hamilton Island
Head Out to the Great Barrier Reef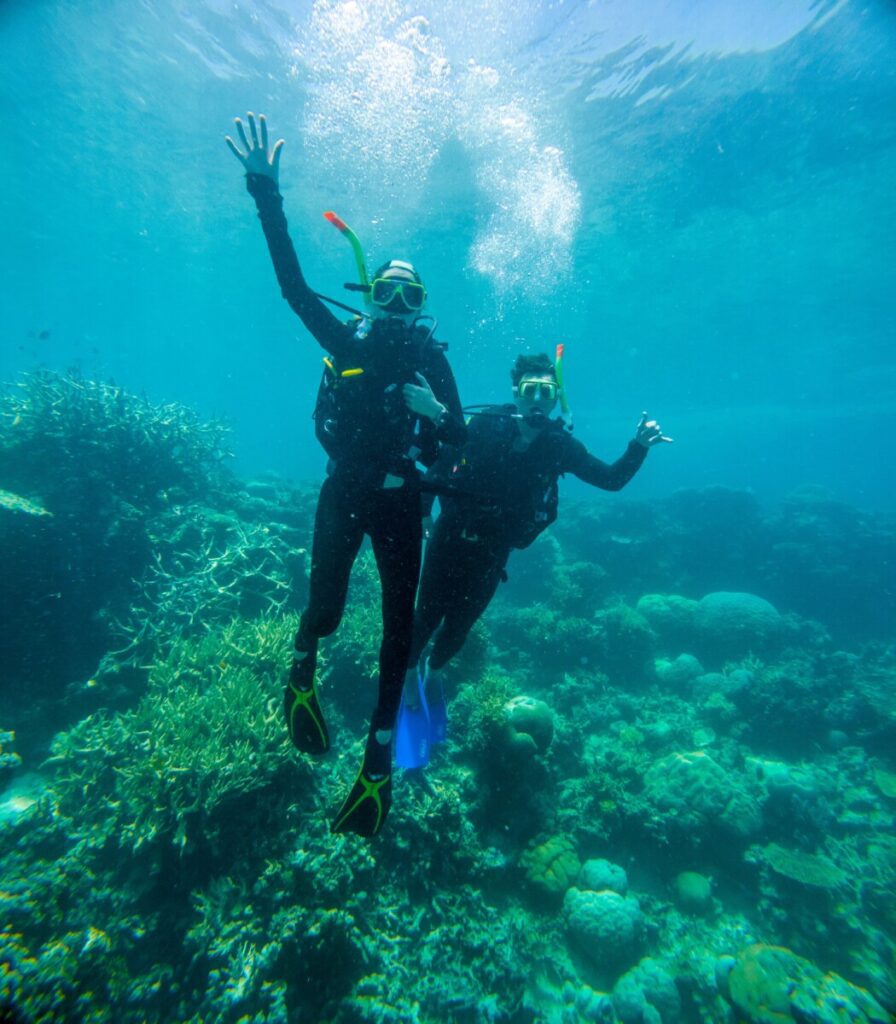 The Great Barrier Reef is one of the world's most famous natural attractions and is located right off the coast of Hamilton Island. Visitors can take a day trip to explore the reef, which includes activities like snorkeling, diving, and scenic flights. The Great Barrier Reef in the Whitsundays is known for its clear turquoise waters and stunning healthy reefs. The reefs are made up of a variety of coral types, including hard and soft corals, as well as colorful fish, rays, turtles, and other marine life.
There are several reef tours that depart from Hamilton Island and offer a range of tour options. Check out either Explore or Cruise Whitsundays to book a half day or full day trip. We'd highly recommend going with the full day tour to do the reef justice if you have time; however, if you're limited on time the half day tour is still a great option.
We decided to get our PADI Open Water Certification while we were visiting Hamilton Island. For the weekend of our training, we were able to dive 4 times out on Little Blacks Reef and Baits Reef. This was truly a bucket list experience of ours and we'd highly recommend to anyone thinking of doing their scuba training to do it with Explore on Hamilton Island.
Another popular destination along the Great Barrier Reef nearby is the Heart Reef, which is a naturally occurring coral formation in the shape of a heart. This unique and stunning reef can be viewed from the air on a scenic flight or helicopter tour. We had the best experience doing the Whitehaven Beach and Heart Reef Flyover Flight with Hamilton Island Air.
Visit Hill Inlet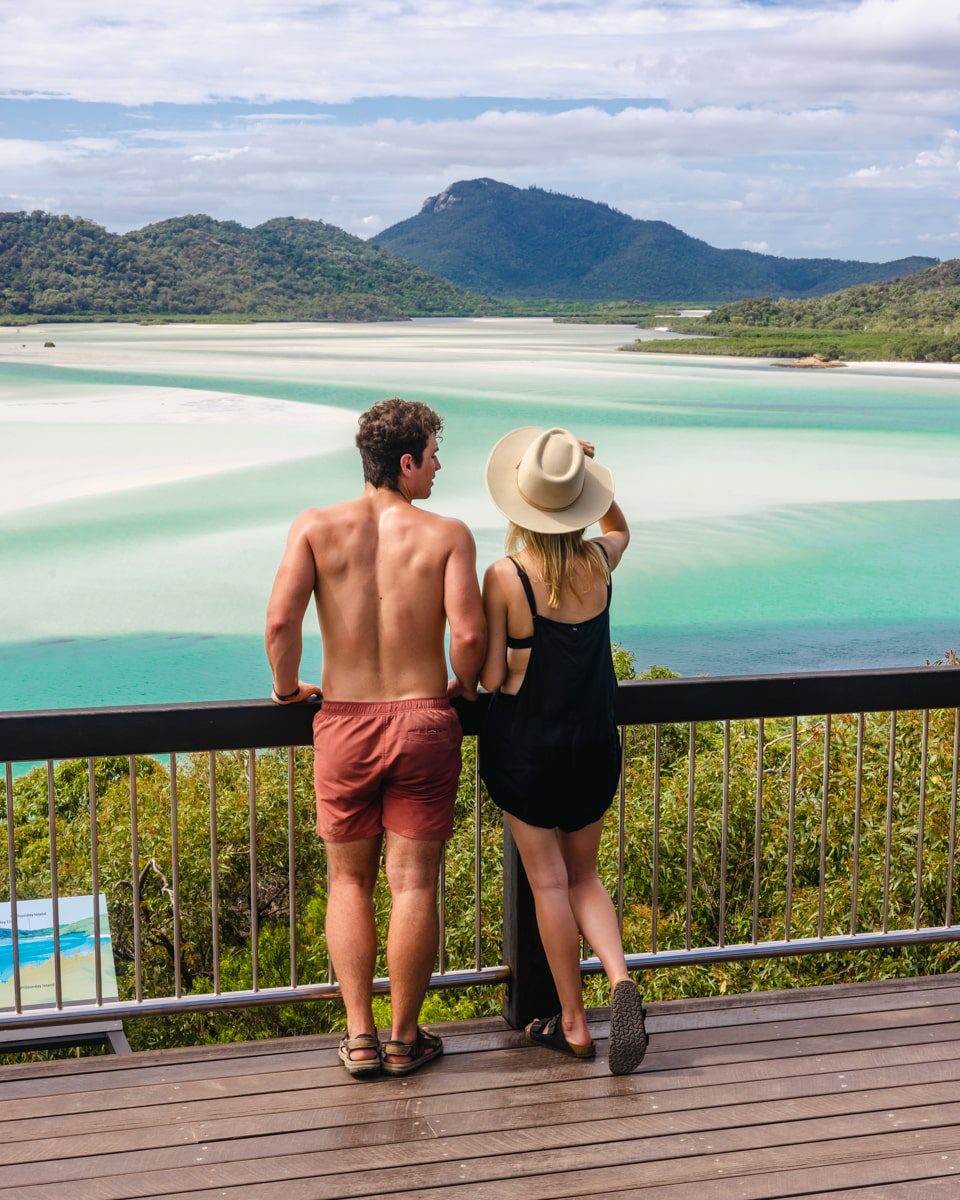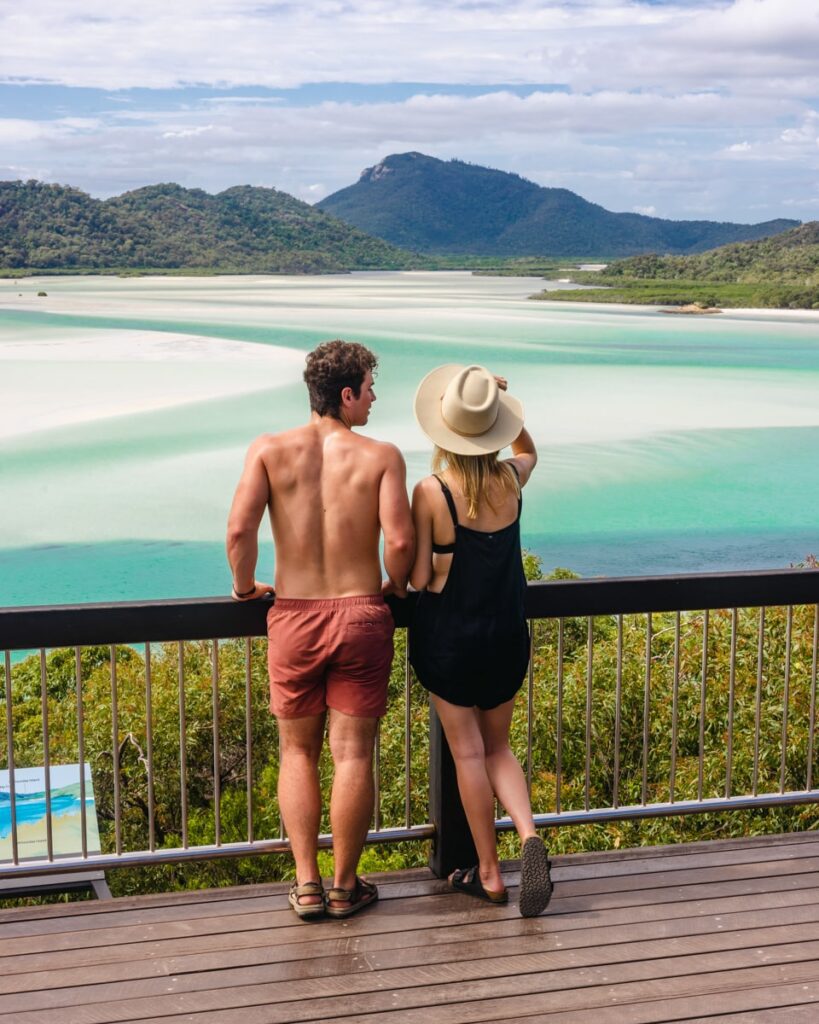 Hill Inlet is a breathtaking natural attraction located on the northern end of Whitsunday Island. The inlet is accessible via boat and is a popular spot for sightseeing and photography. It is famous for its swirling sands, which create a stunning visual effect as they shift with the tide.
Visitors can take a guided tour to explore the inlet and learn about its geology and history. The tour includes a walk to the Hill Inlet Lookout, which provides a panoramic view of the swirling sands and the surrounding islands.
Make sure to visit all 3 lookouts first before heading down to the stunning beach as this area provides the best photo opportunities. In our opinion, the last two lookouts were the best. Undoubtedly, it might be busy, but everyone takes photos fairly quickly. We spent about 1 hour hiking through the forest and on the boardwalks.
Pro Tip: We highly recommend visiting this area during a morning tour rather than an afternoon tour! We went with Explore Hamilton Island's morning tour and practically had the lookouts all to ourselves. However, when we were leaving, there were hundreds of people coming up for the afternoon.
Whitehaven Beach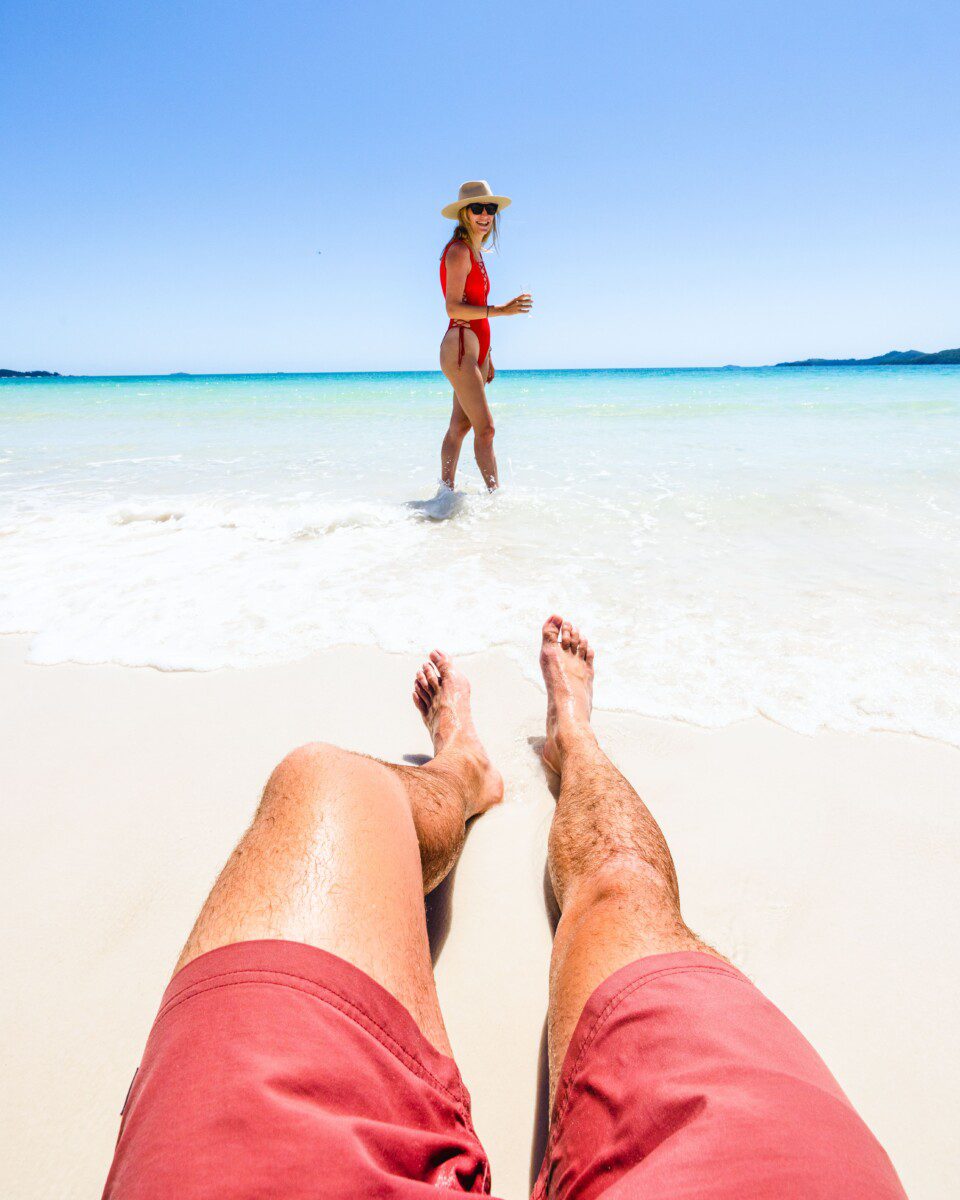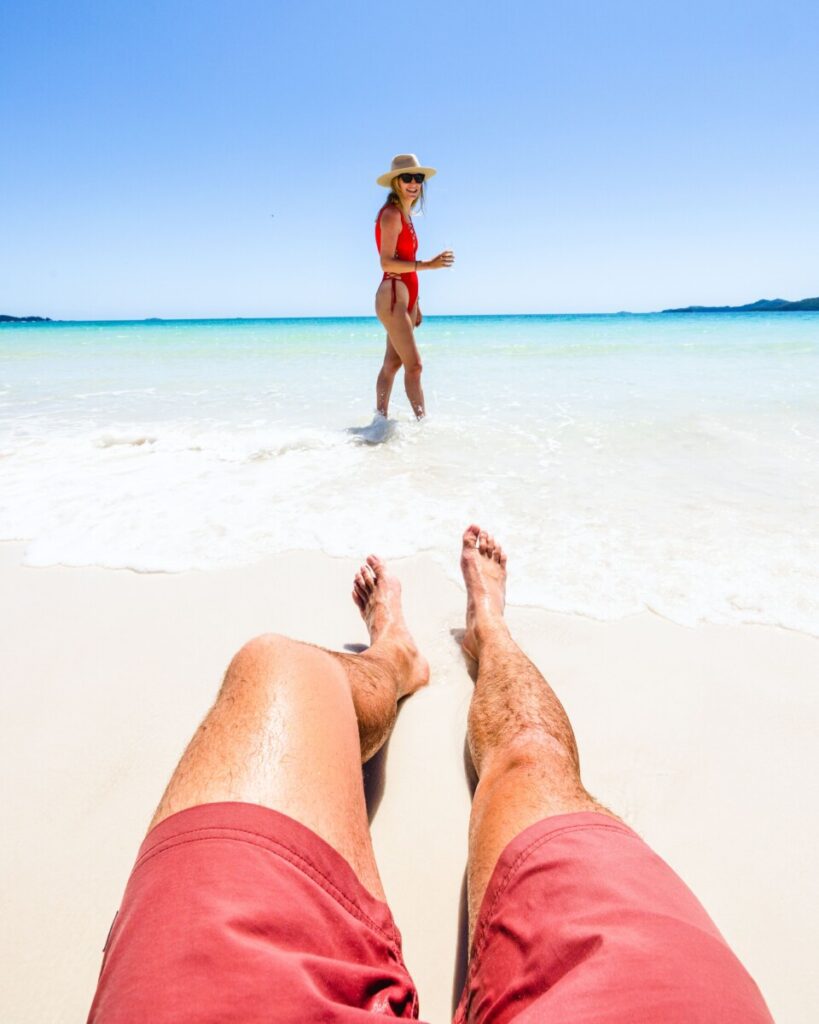 Whitehaven Beach is a world-renowned beach located on Whitsunday Island, accessible from Hamilton Island via a day trip or private yacht charter. This 7-kilometer-long stretch of white sand is fringed by crystal-clear turquoise waters and is known for its stunning views and postcard-perfect scenery. In fact, the sand here is so famous that it's actually illegal to take with you in any way.
The beach is accessible via boat and is a popular spot for swimming, snorkeling, and relaxing in the sun. If you opt to do the Helicopter landing tour on Whitehaven Beach, you'll get private access to the beach. Additionally, you'll get treated to a bottle of champagne and a full picnic setup on the beautiful oasis.
Hike Passage Peak for Sunrise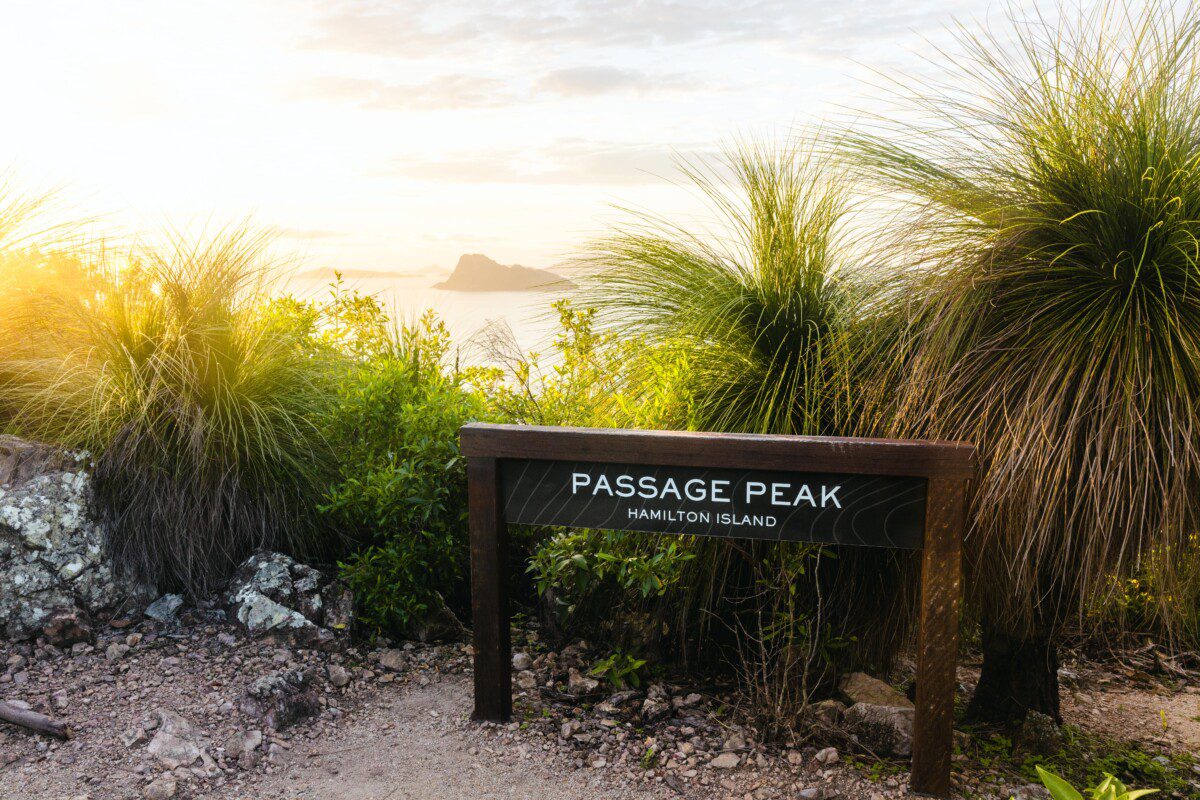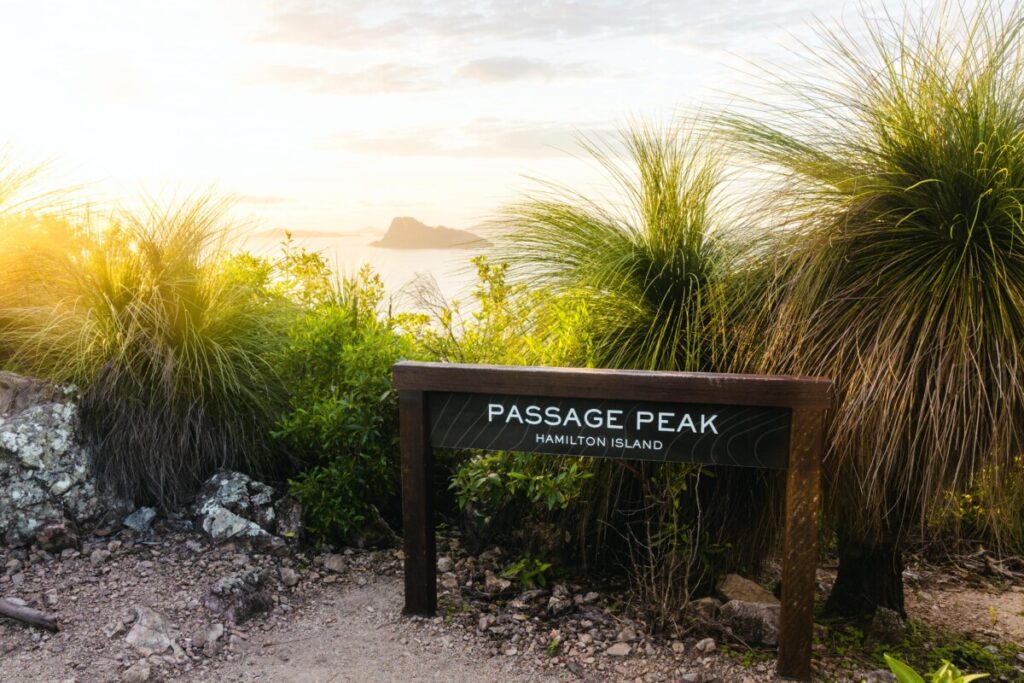 The Passage Peak hike on Hamilton Island is one of the island's most popular hiking trails and provides spectacular views of the surrounding Whitsunday Islands and the Great Barrier Reef. The hike is approximately 2.4 kilometers long and takes about 2 hours to complete, depending on your pace.
The Passage Peak trail starts at the top of Resort Drive and follows a series of well-maintained gravel paths, boardwalks, and staircases. As you ascend, you'll pass through lush vegetation and enjoy stunning views of the surrounding islands and ocean. Of course, there are several rest stops along the way where you can catch your breath and take in the beautiful scenery.
The trail becomes steeper as you near the summit, and you'll need to scramble up some rocky sections. Nevertheless, the views from the top are well worth the effort. From the summit, you can see the vast expanse of the Coral Sea and the stunning turquoise waters of the Whitsunday Islands. Generally on clear days, you can even see as far as the mainland.
The Passage Peak hike is rated as a moderate to challenging hike due to its steep incline and rocky terrain. However, the trail is well-maintained and has plenty of resting spots along the way. Hikers should wear comfortable and sturdy shoes and to bring plenty of water and sunscreen.
Catseye Beach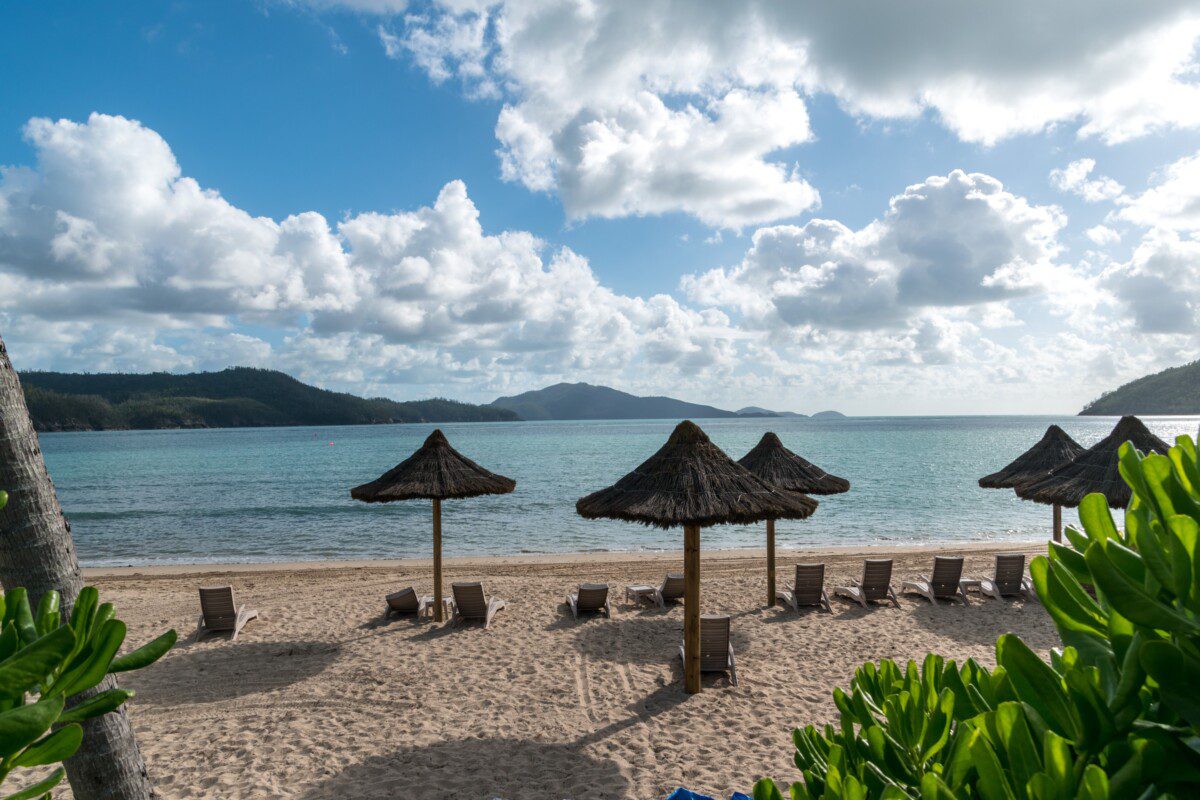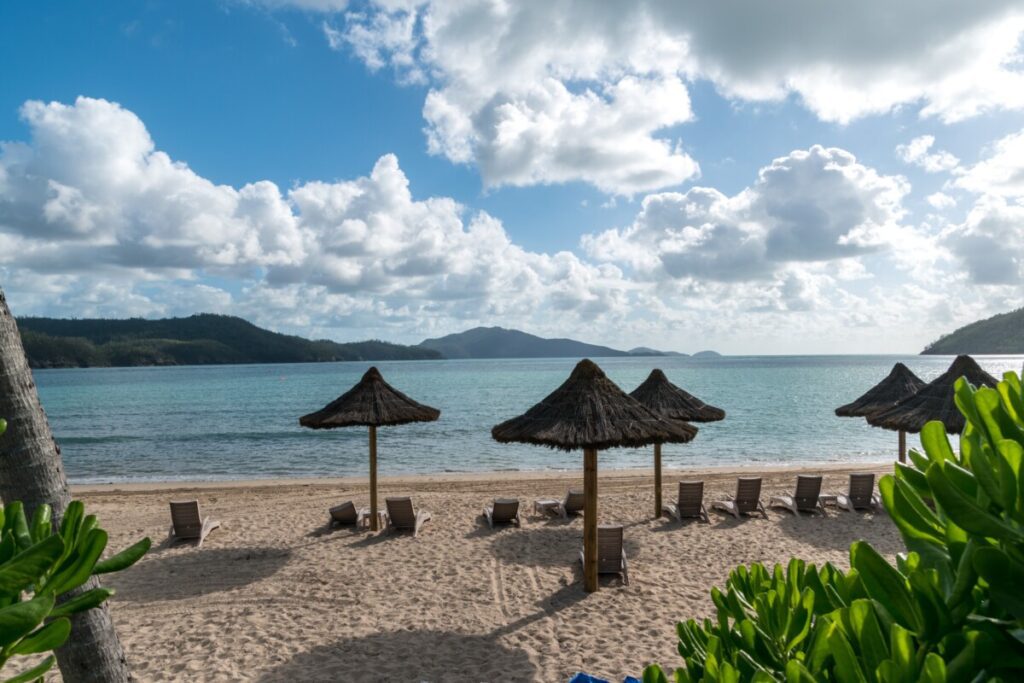 Hamilton Island is known for its beautiful beaches. Catseye is located right in the heart of the resorts area of the island and is surrounded by stunning blue water. You can rent paddle boards, kayaks, and mini catamarans on the beach to get out on the water as well. Although Catseye Beach is the most popular beach on the island, there are many other beaches to explore as well.
Visit One Tree Hill for Sunset
One Tree Hill is a popular sunset spot on Hamilton Island, with panoramic views of the Whitsunday Islands and the Coral Sea. There's a bar at the top of the hill, which makes it an excellent spot to enjoy a drink while watching the sunset. Furthermore, make sure to get there early to secure a spot as it gets pretty busy.
Ready to visit the Whitsundays?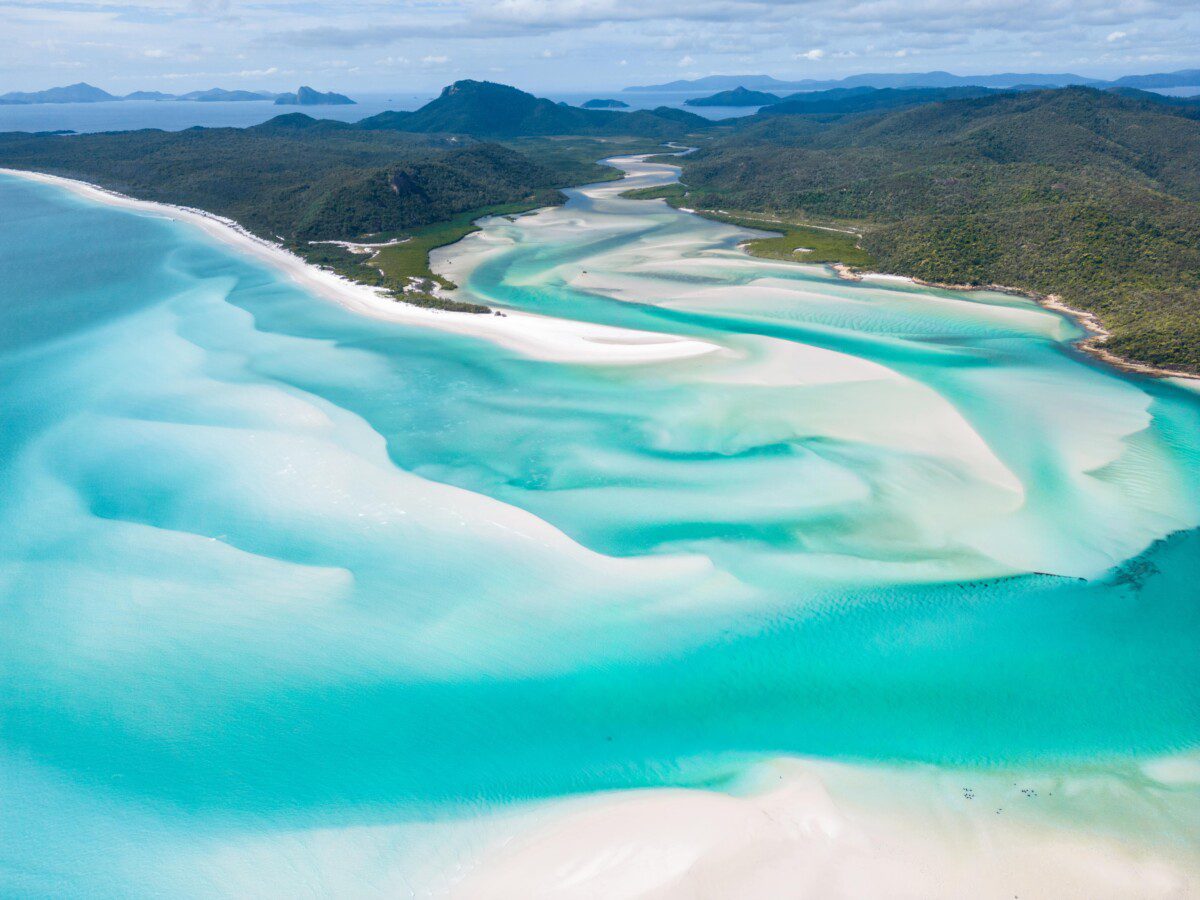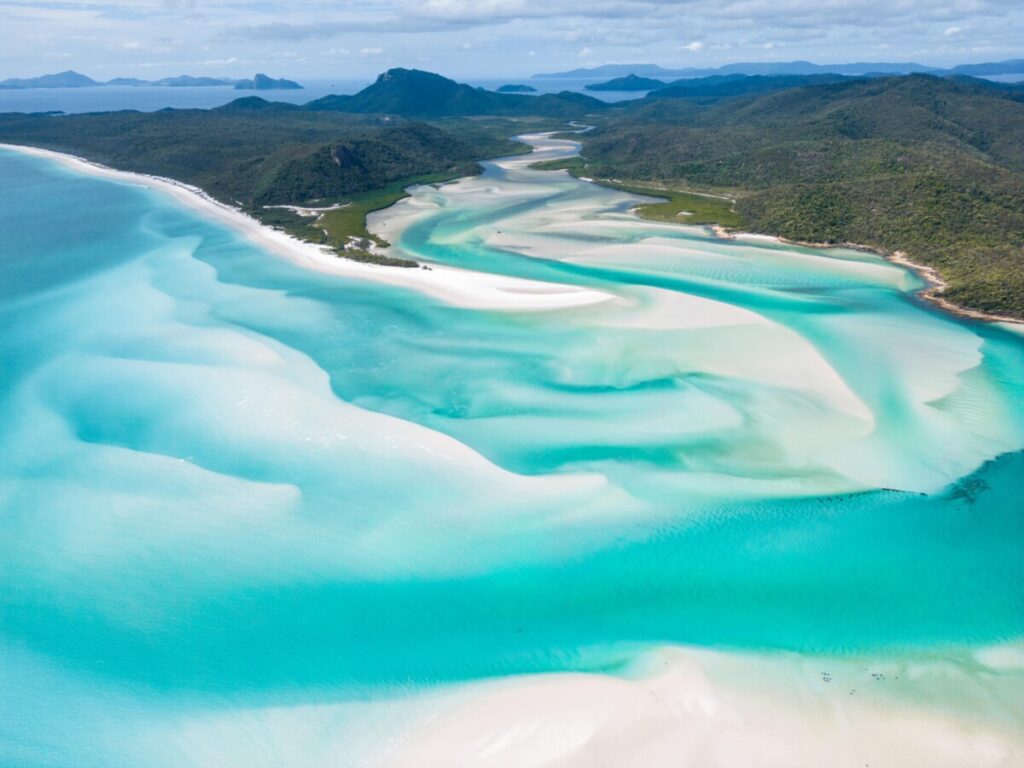 Hamilton Island and the Whitsunday Islands are truly some of the most beautiful places in the world. With their stunning natural beauty, crystal clear waters, and abundance of outdoor activities, they are a must-visit destination for any adventure traveler. Whether you're looking to snorkel on the Great Barrier Reef, hike through the rainforest, or simply relax on the beach, Hamilton Island and the rest of the Whitsundays offer something for everyone.
Plan your itinerary ahead of time, and make sure to book tours and activities in advance to avoid disappointment. With its stunning scenery and endless opportunities for adventure, Hamilton Island is the perfect destination for your next tropical getaway.