Ultimate Guide to a Caribbean Cruise with NCL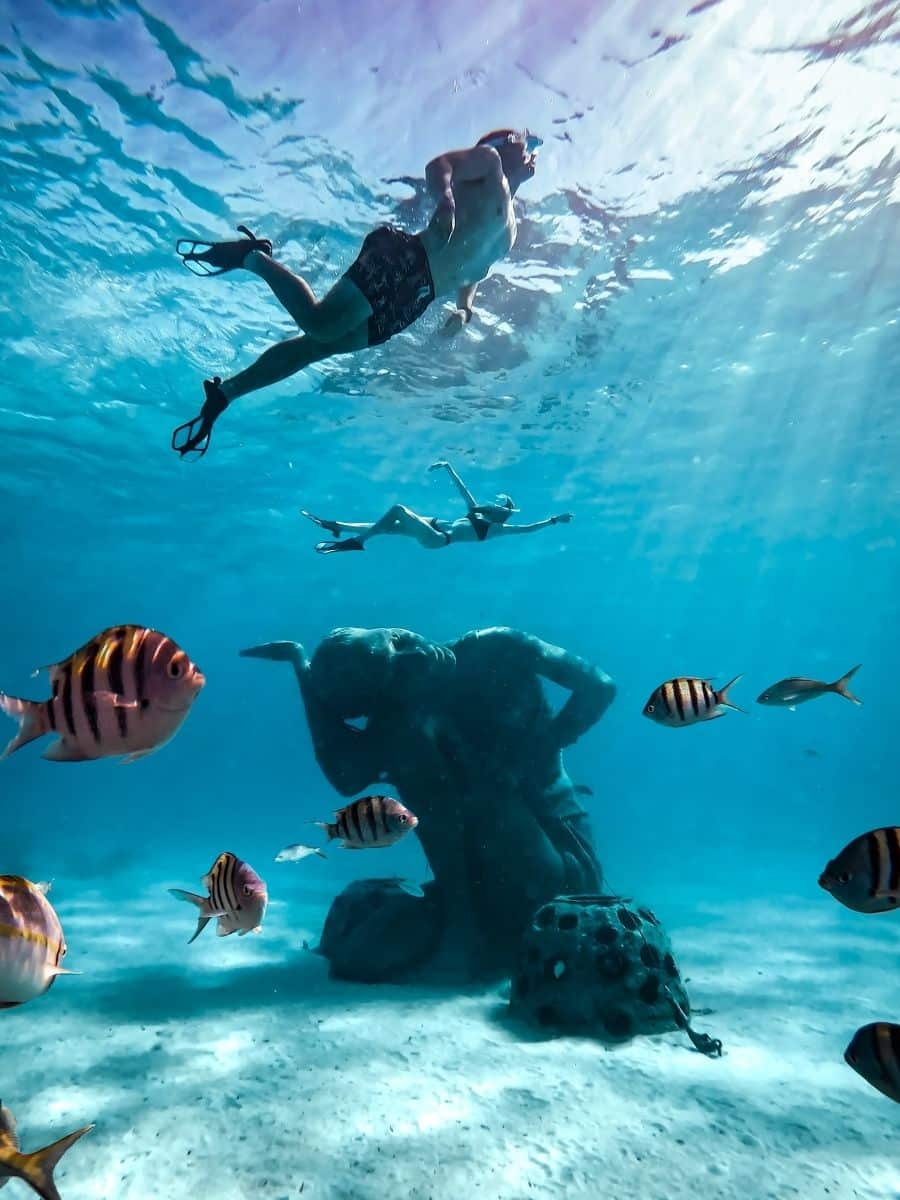 Whether you're a tropical destination lover, or you're just trying to escape the winter snow, a Caribbean cruise should be added to you adventure bucket list. We had both never been on a cruise together, and never really considered ourselves avid cruise fans, but after this week on the Norwegian Cruise Line's Encore, we definitely agree that cruising is an awesome way to go about adventure travel.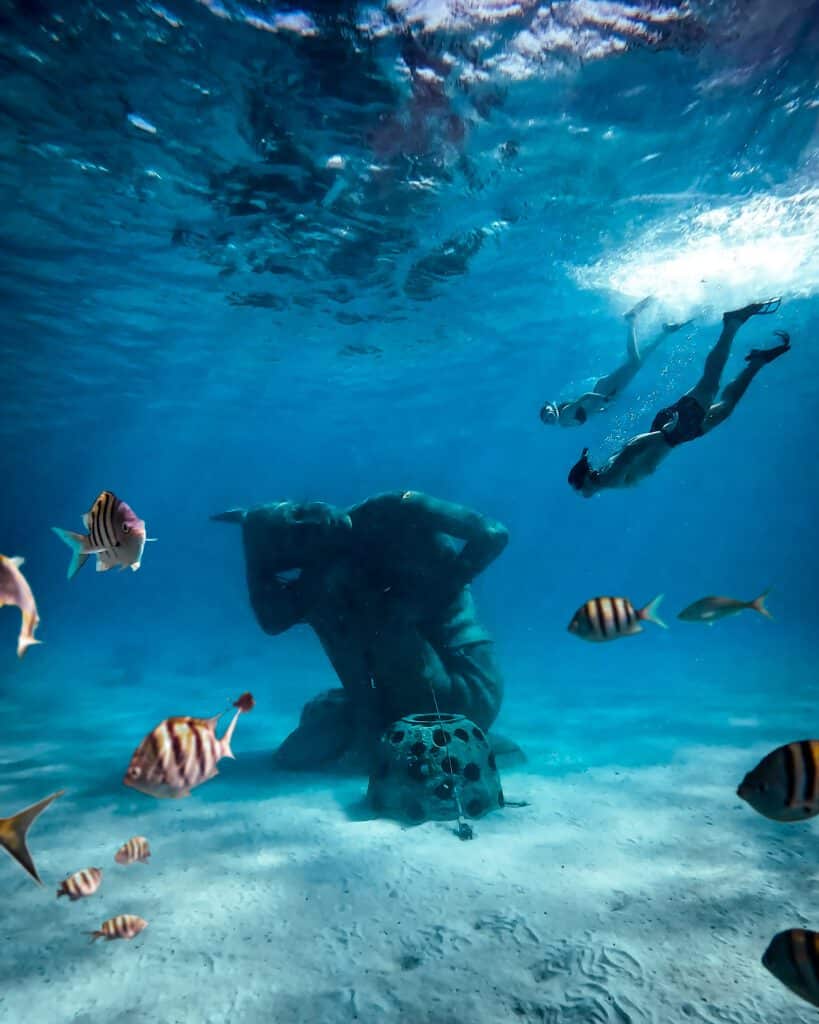 Getting on the Ship from Miami
Covid Testing & Cruising Requirements
It's important to note, every cruise line and every port of call is handling embarkation procedures with the pandemic differently and requirements are constantly changing. Make sure to keep your eyes on the updated regulations as your cruise dates near. As of our Caribbean cruise dates back in early December 2021, everyone on board the ship was required to be vaccinated.
Norwegian Cruise Line had partnered with CVS at the Miami port as well where everyone received a rapid COVID-19 Test before embarking. We didn't have to wear masks as the whole cruise was vaccinated, however, requirements are changing in 2022 where you will have to wear a mask indoors regardless of vaccination status in January.
You simply fill out the paperwork when completing your e-documents once you purchase your cruise to schedule your on port appointment. Once you take your test, you wait for about 10-15 minutes for your results and then you finish up the embarkation process. It was super easy and seamless!
Sailing on the Norwegian Encore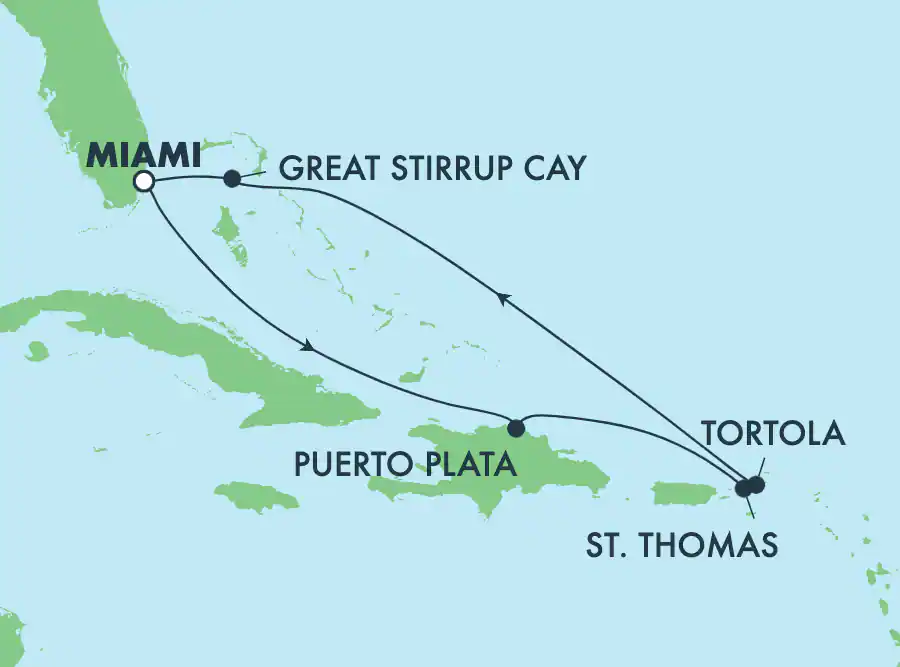 Our Favorite Caribbean Cruise Shore Excursions & Activities
For our exact cruise itinerary, check out NCL's website. They have an incredible array of options available in the Caribbean alone, let alone other destinations. We did the 7 Day Caribbean: Great Stirrup Cay & Tortola Sailing from Miami along the Norwegian Encore, the newest ship in their fleet. Check out the full list of available shore excursions for this cruise itinerary here.
Day #1: Embarkation in Miami (Half Day)
We highly recommend booking your Caribbean cruise shore excursions as the first thing you do once you get on the ship if you didn't do so already! They fill up really quickly. Then, once you get all your bags to your rooms, we'd highly suggest walking around the whole ship and getting yourself acquainted with the layout of everything. Make sure to head up to the pool deck areas for Sail Away!
Day #2: Nassau, Bahamas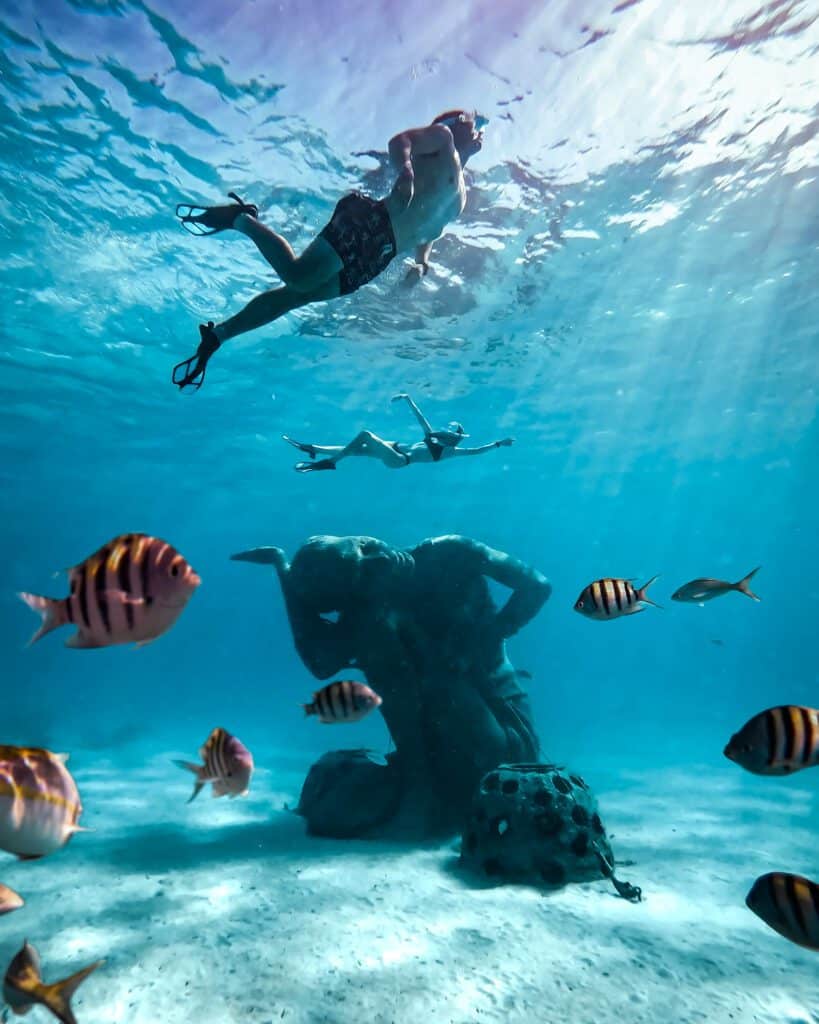 We opted to take our own adventure for our first day at port from Nassau, Bahamas, Right next to the cruise ship, there are tons of options for transportation via taxi, scooter, etc. but we decided to rent a car from Budget Car Rental and drive to the other side of the island to Clifton Heritage National Park. If you make the trek over to this side of the island, make sure to allot yourself about 30-45 minutes of driving time each way. We decided to split a rental car so we knew we could get back to the cruise port with no problems, and it actually was cheaper than taking a taxi between four of us.
Most Caribbean cruises stopped offering this area as a shore excursion a few years ago due to an oil spill in the area, but the park is back and better than ever. It even has new conservation efforts in place to help save the remaining coral reefs and bringing about new ones through sinking sculptures. Although there's no official excursion, it's definitely easy to get over to the national park yourself!
Clifton Heritage National Park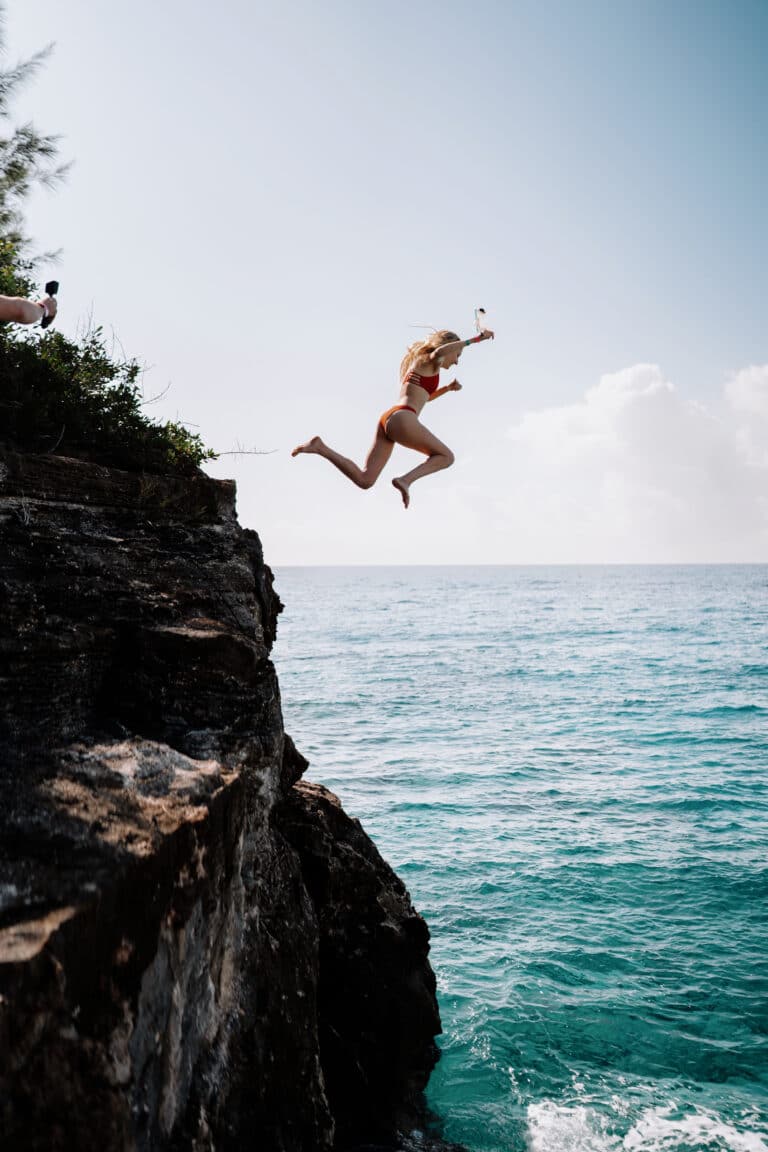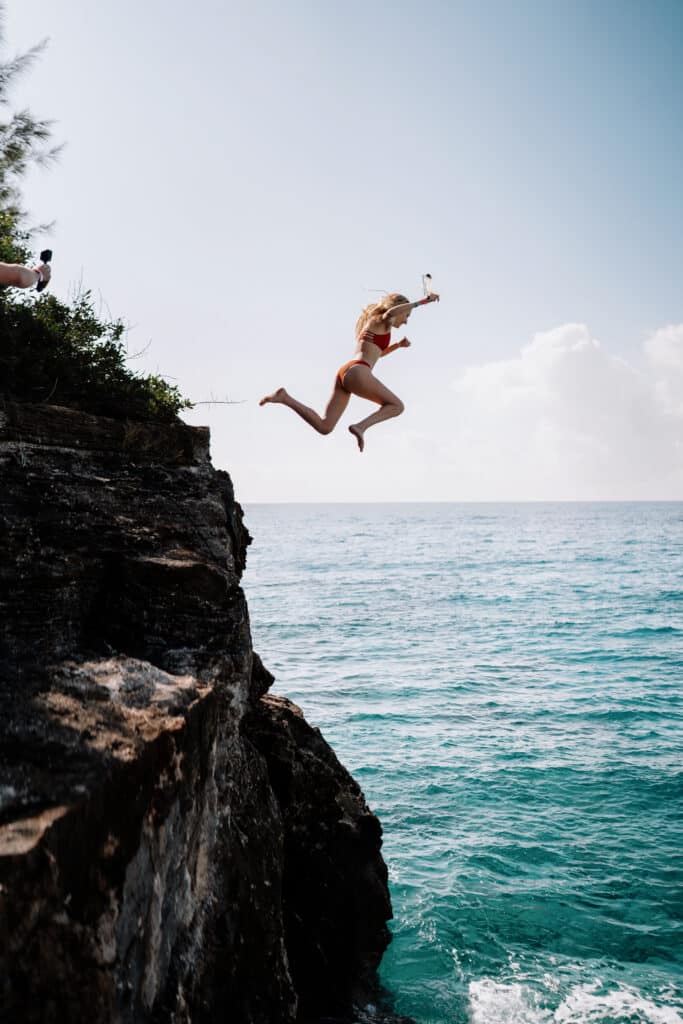 Clifton Heritage National Park is home to the largest underwater sculpture in the world. It also has some incredible cliff jumping, pristine beaches, and some of the bluest water in the world for snorkeling and swimming. We absolutely loved the staff at Clifton Heritage National Park, the guides there were a highlight of our visit. This was probably our favorite shore adventure throughout our whole cruise. If you get the chance, we'd definitely recommend checking out this National Park.
There is an entrance fee to enter and park. If you want to snorkel at the underwater sculpture park, you will have to pay an additional fee to go out there with a guide. You are no longer allowed to bring your own snorkel equipment and take off from their beach for a self guided tour since the water conditions can be dangerous. Even if you bring your own gear, you will have to pay the full snorkel tour fee, and you will be required to have a life safety device with you. You definitely need to be a strong swimmer to be able to be wading out in the ocean for an hour and for the 5-10 minute swims in and out from the beach.
Make sure to bring lots of sunscreen, a towel, water, swimsuits, and if you are wanting photos in the underwater sculpture garden, bring a GoPro or a waterproof phone case!
For all of our camera gear we brought with us on this trip, check out our camera gear blog.
Day 3 & 6 – Best Things to Do On Your Caribbean Cruise Sea Days
If you ever get the chance to take a trip along the Norwegian Encore for your Caribbean cruise, you are in for a special treat. The ship is the newest from NCL and has such a variety of activities on board that you almost forget you're on a ship moving in the middle of the ocean on your sea days. On top of all the amazing Cruise Director led activities throughout everyday, we loved the specialty activities all throughout the ship.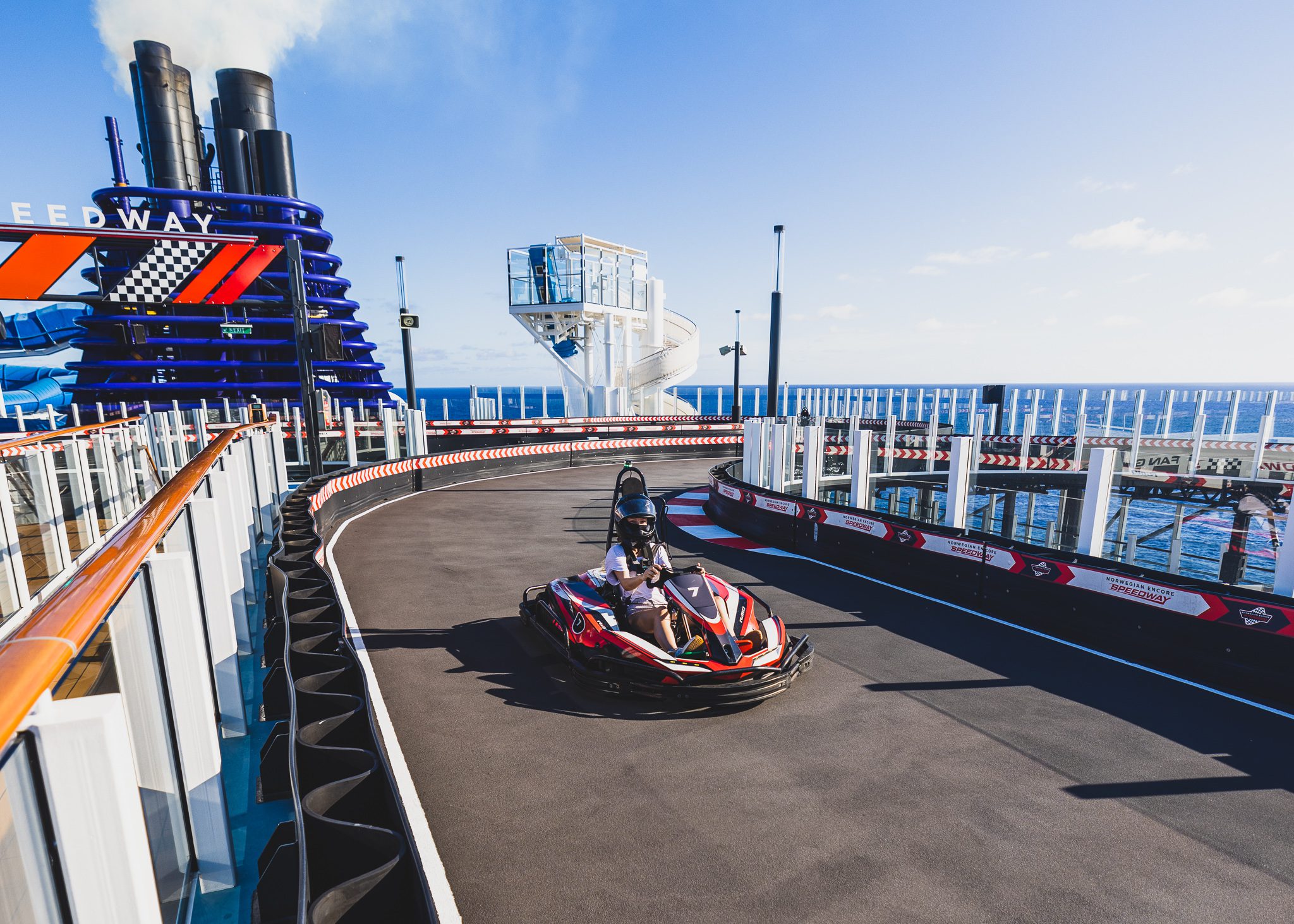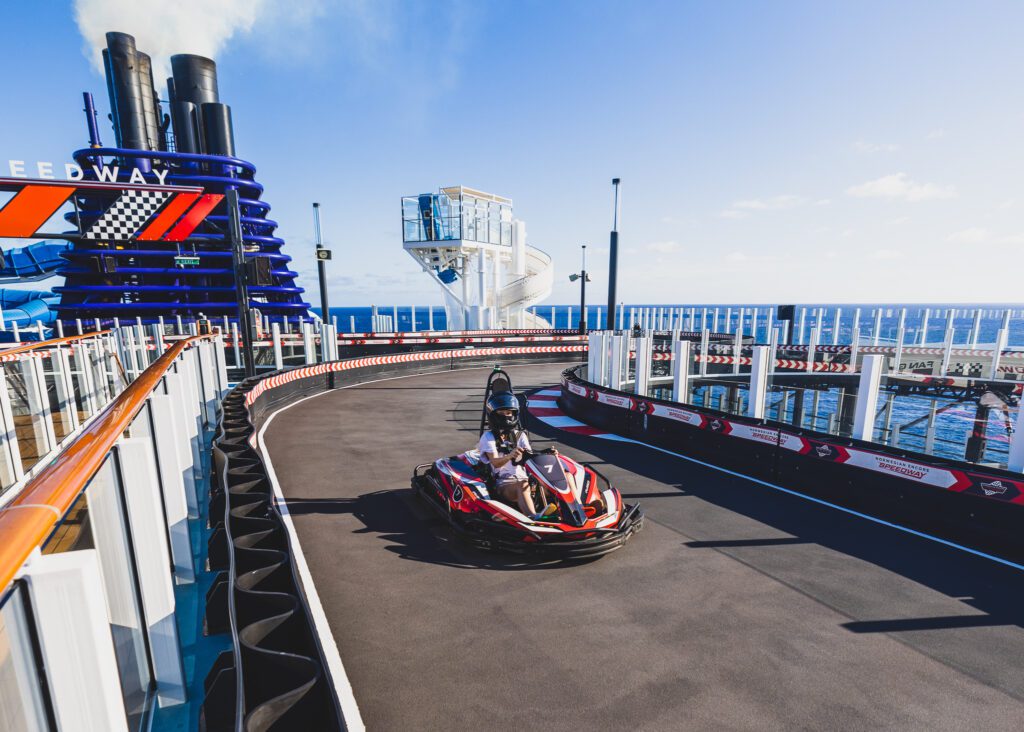 Go-Karting
The Go-Karting on board was honestly so cool. It's pretty crazy to think you can just go go-kart racing in the middle of the ocean. We did about 3 rounds together around the race track and it was so much fun. You can watch from above on the Observation Deck even if you aren't racing and shoot lasers at the karts to slow them down as they go by too.
Laser Tag
Speaking of lasers, our favorite specialty activity they had on board hands down was Laser Tag. The NCL Encore has an outdoor Laser Tag arena that's fairly large in size with a ton of cool areas to hide and sneak around. We opted to make our reservations at sunset which was so cool to watch the clouds light up while out playing laser tag with all of our new friends on board.
Visit the Spa for a Massage
Stephen and I opted to get a Couple's Hot Rock Massage while on board and it was magical. We'd definitely recommend checking out the spa. But, beware, as the staff will try to hard sell you on things after you are all done.
Check out the Thermal Spa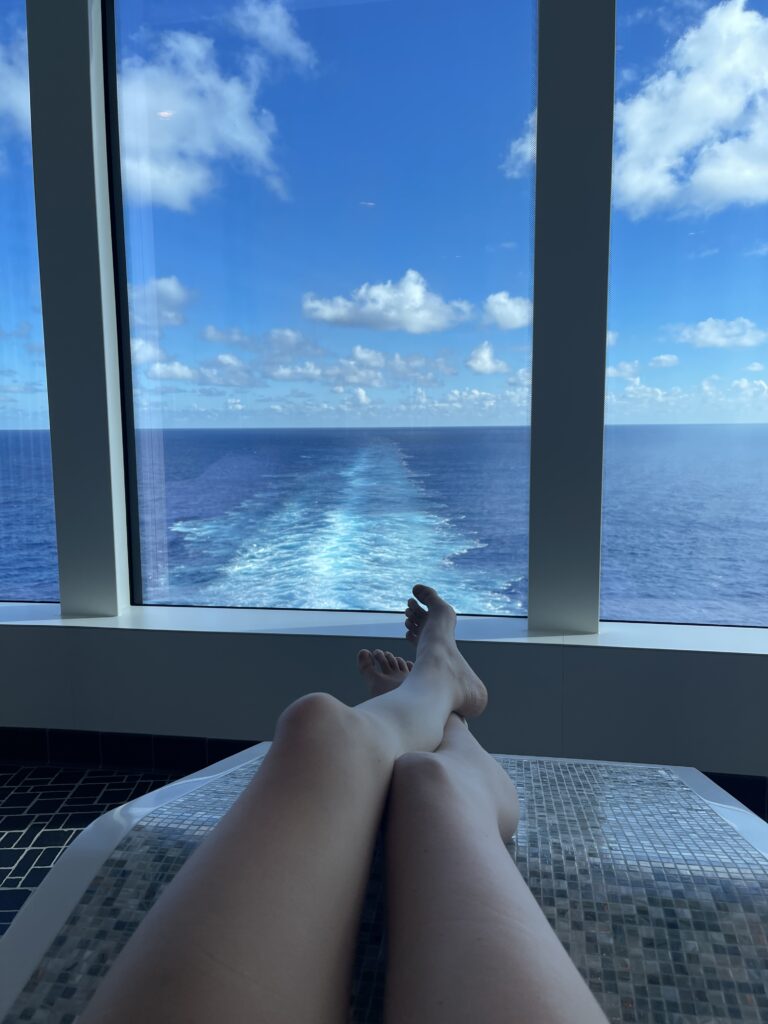 The Thermal Spa reminded us so much of the Sky Lagoon in Iceland. It features jacuzzis, hot chairs to relax, two different saunas, a steam room, a salt room, and a snow room. It's almost impossible to not feel relaxed in the Thermal Spa on the Encore.
Ride the Waterslides (*Free)
The waterslides are not only for the kids! The NCL Encore has two on board, one that is more for those that like thrills, and one that is a relaxing tube slide. Giselle got stuck on the extreme one, but they do have an emergency door if for some reason you get stuck on the slide (aka you don't have enough momentum going into the turns). Overall, Stephen rode these things like 10 times and loved every time.
Participate in a Game Show (*Free)
Although we didn't get selected for the couples game show on board, we were drawn to participate in a Trivia Game Show in the ship's Atrium. Every night, they always have some sort of game show or quiz/trivia activity in the main gathering area.
Our Favorite Restaurants & Bars On Board the Ship
When dining on board a cruise ship, the nice thing is that it's an all inclusive dining package for the most basic buffet (which includes A LOT of really great food!). The one thing we loved about NCL was how amazing the food and drinks were consistently. We would highly recommend investing in the Premium Plus Beverage Package because you can really get a bang for your buck on a 7 day cruise. We also bought the 7 day specialty dining package, so we could try 1 specialty restaurant on board per day. Here were our favorites!
Teppanyaki Grill
This was by far our favorite restaurant on board. The energy of the chefs was contagious and the food was so delicious. Come hungry, you'll get a ton of food!
Food Republic
This is the Norwegian Encore's sushi restaurant on board and it did not disappoint. The dishes are served tapas style so you will not have a shortage of food to choose from. You get 5 items included in your Specialty Dining package if you choose to buy one, and there's a range of selections from edamame, rolls, teriyaki chicken, and more.
French Restaurant
This restaurant is a little bit fancier than the other specialty restaurants, so it makes for a nice date night dinner. I had the French Onion Soup and the Chicken and Stephen had the Escargot and Veal and it was all amazing. We would recommend going here over the Steakhouse on Board if you're looking for delicious, flavorful meat that melts in your mouth.
Mojito Bar
The Mojito Bar was probably our favorite bar on board. They have a variety of flavor options and everyone we tried was fantastic. We highly recommend trying the Jalapeno Cucumber, Pineapple, and/or the Classic Mojito.
Starbucks
Although Starbucks is available on land, it was so nice to have on board. The best part was if you have the Premium Plus Beverage Package, you can get as many Starbucks drinks as you want on board the ship without any additional cost. This was the most fun way to be able to try a ton of different new drinks without having to feel bad about paying the extra penny each time you get a coffee.
Day #4: St. Thomas
St. Thomas is a gem of the Caribbean. It's definitely our favorite island in terms of things to do along our Caribbean cruise itinerary. We'd highly recommend checking out a snorkel, Discovery Scuba, or SNUBA shore excursion with NCL on this island. St. Thomas has some of the bluest and warmest water in the world so it's the perfect spot to jump in the water.
Checkout NCL's St. Thomas Shore Excursions Here
If you are looking for more of a day of relaxing, St. Thomas has a plethora of incredible beaches for you.
Top Beaches in St. Thomas
Magens Bay
Magens Bay was probably our favorite beach to snorkel around St. Thomas. There were tons of people there since it's a very popular beach, but if you walk all the way down to the end of the beach, you will basically have it all to yourself! You can either visit through one of Norweigian's Shore Excursions, or, you can rent a car and drive over to the beach by yourself.
Coki Beach
Coki Beach definitely had the most beautiful water on the whole island that we encountered, BUT it was also the most busy beach we went to. Make sure to get there right away when you disembark if you want to find a spot to chill out and lounge all day. We arrived after we checked out Magen's Bay and it was really packed. The water is to die for though. The clarity is truly something else and it's so warm for swimming and snorkeling around. They offer tons of activities off of this beach like snorkeling and scuba diving.
Sapphire Beach
Sapphire Beach was really nice for snorkeling as well. It was much less busy than Coki Beach and Magen's Bay when we visited too.
Or, if you have hitting the beautiful beaches of U.S. Virgin Islands National Park on your bucket list, you can take a short ferry over to the neighboring island of St. John to go explore over there!
Other Things To Do in St. Thomas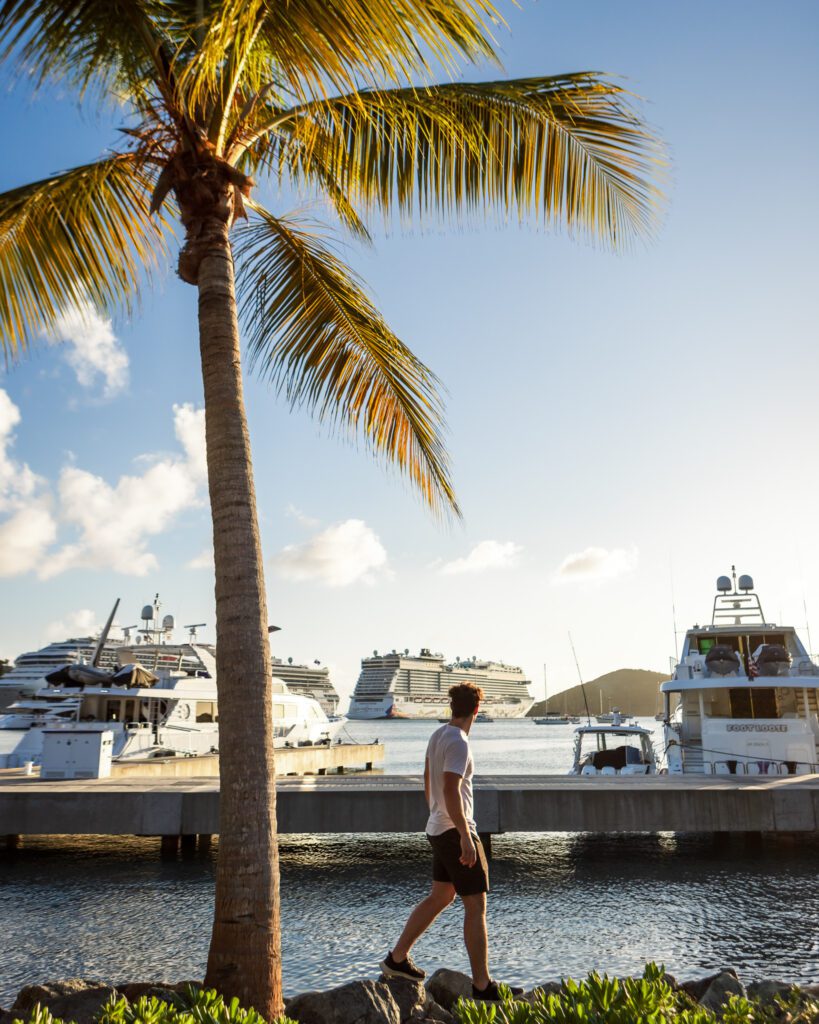 Take A Ride Up The Sky Tram
If you want great views without the extra effort of a hike or drive around the island, check out the St. Thomas Sky Tram! It provides incredible panoramic views of the whole island, especially for sunset.
Enjoy the Views at Drake's Seat
Drake's Seat is one of the tallest points on the island and also makes for a great overlook for sunset and photos. You can either rent a car or get a taxi up here.
Day #5: Tortola, British Virgin Islands
Top 2 Things to do in Tortola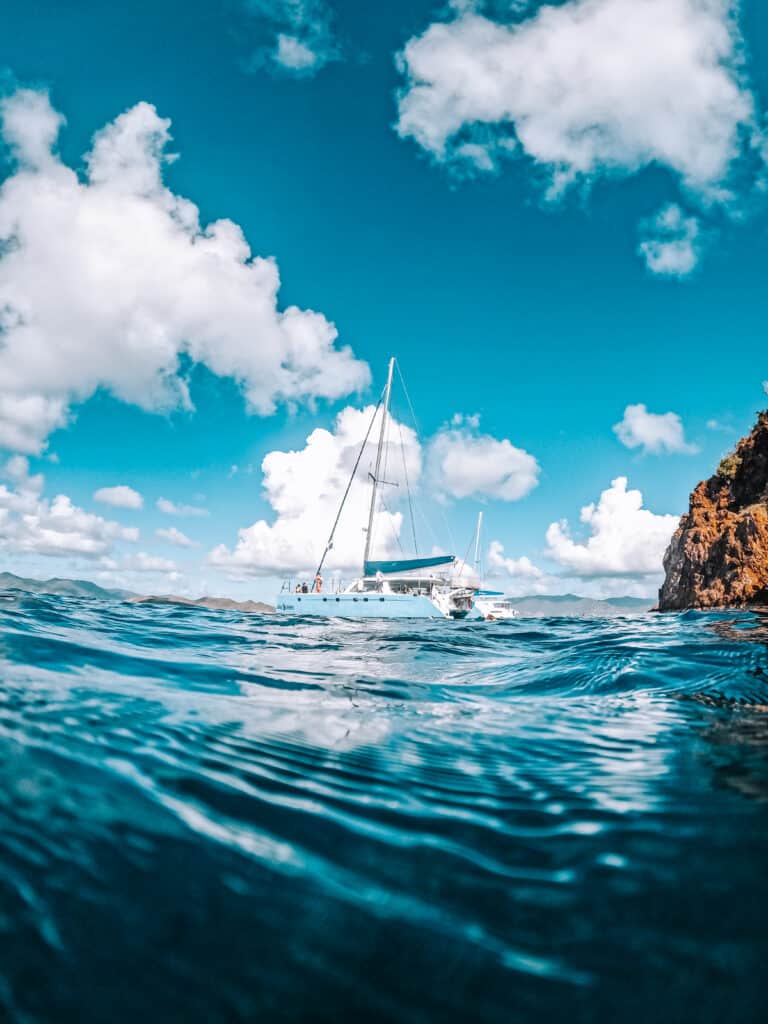 Check out the Virgin Gorda Baths
We didn't get the chance to make it out to Virgin Gorda Baths because the Shore Excursion was so popular it was booked before we could do so. However, it's an incredible national park area with stunning water and cool rock formations.
Sail out to Treasure Island (aka Norman Island) & Snorkel
We had a great time on our Sail & Snorkel Excursion at Tortola. As we were sailing, we booked this one through the Shore Excursion Desk last minute and were really happy we ended up going! It took about an hour to sail out to Treasure Island, but it was beautiful sunny weather all the way out there. We got to snorkel in about 3 caves and then made a second stop at a private cove where we snorkeled with turtles and stingrays!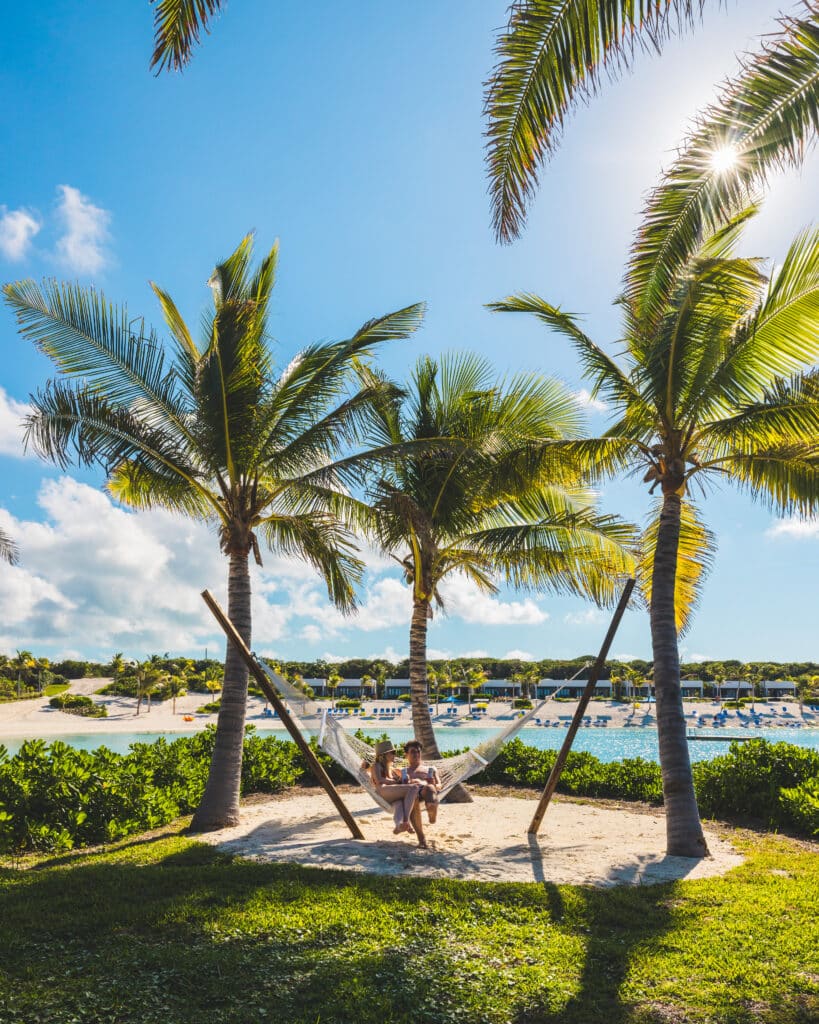 Day 7: Great Stirrup Cay, Norwegian's Private Island
Snorkel out to NCL's own Underwater Sculpture Garden
Similar to the underwater sculpture garden in Nassau, NCL has their very own one right in the island's backyard! It's about a 5 minute snorkel from the shore to get out to the garden. If you don't bring your own snorkel equipment (which we highly recommend you do, it saves you a ton of money throughout your cruise), you can rent some from the shore excursions desk on land! We highly recommend doing this and there's no additional fee, plus, you can see tons of fish and even stingrays.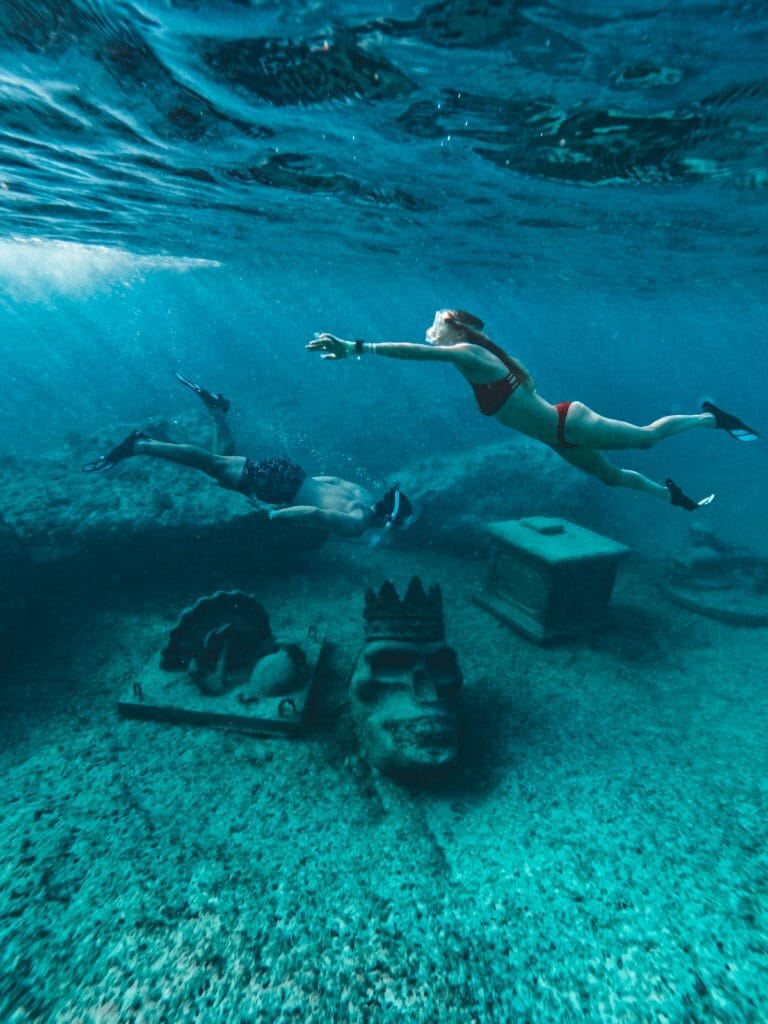 SUP & Kayak Around the Cay
For those that aren't as keen on snorkeling and swimming, NCL offers SUP and Kayak rentals as well! Enjoy the pristine turquoise waters of the island via paddling around!
Go Swimming with the Pigs
This was a super fun, family-friendly experience on Norwegian's Private Island. You take a short little water taxi from Great Stirrup Cay to the other side of the island where there is a pig sanctuary. You can feed them apples and swim around with them for about an hour! It was honestly pretty crowded and there were only 9-10 pigs, but we still had a great time and if you love animals, you'd have a lot of fun on this shore excursion.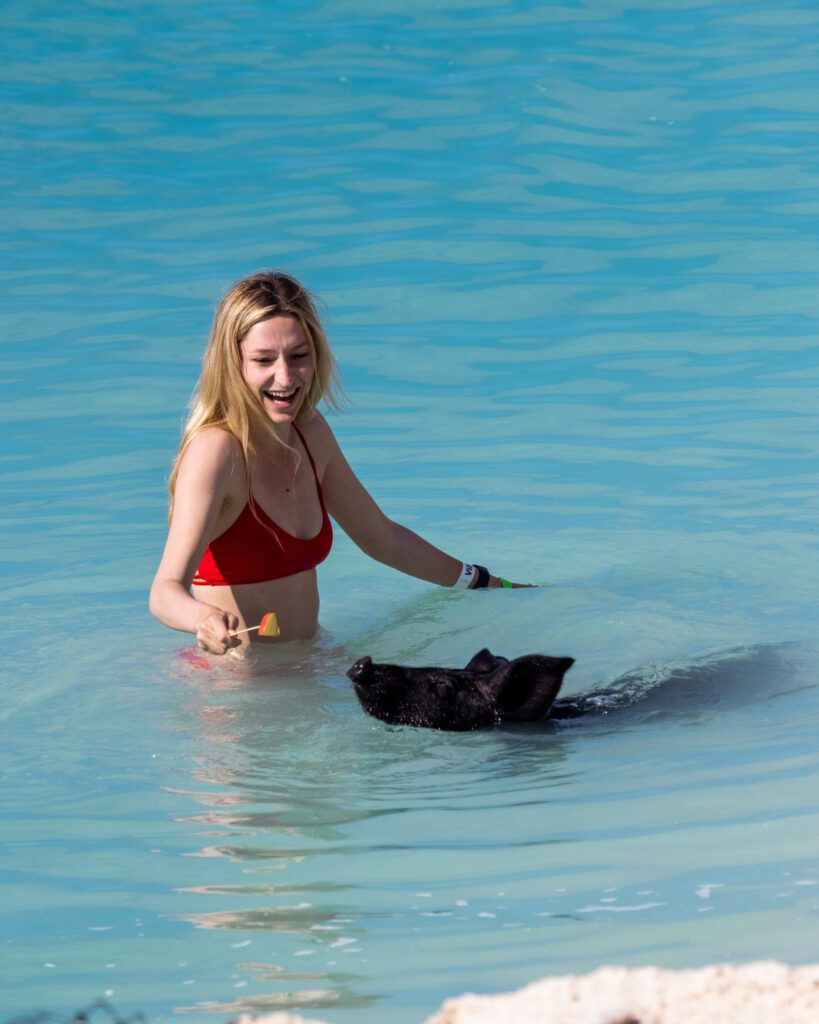 Rent a Cabana or Villa
Chill out in luxury with one of the private Cabanas or Villas on the island. There are tons of chairs on the public beaches as well, but you will have more access to the other lagoons on the island with a cabana rental.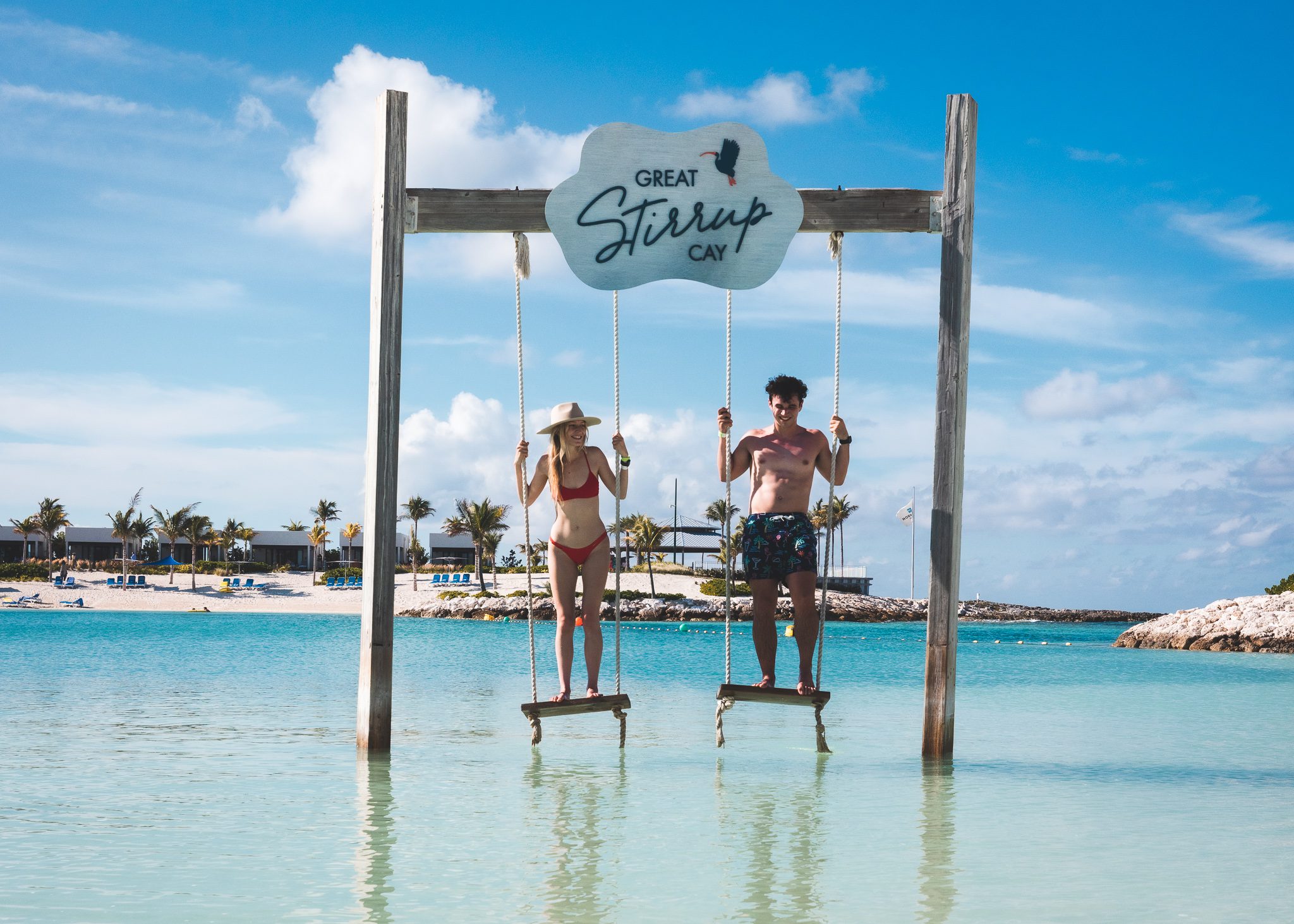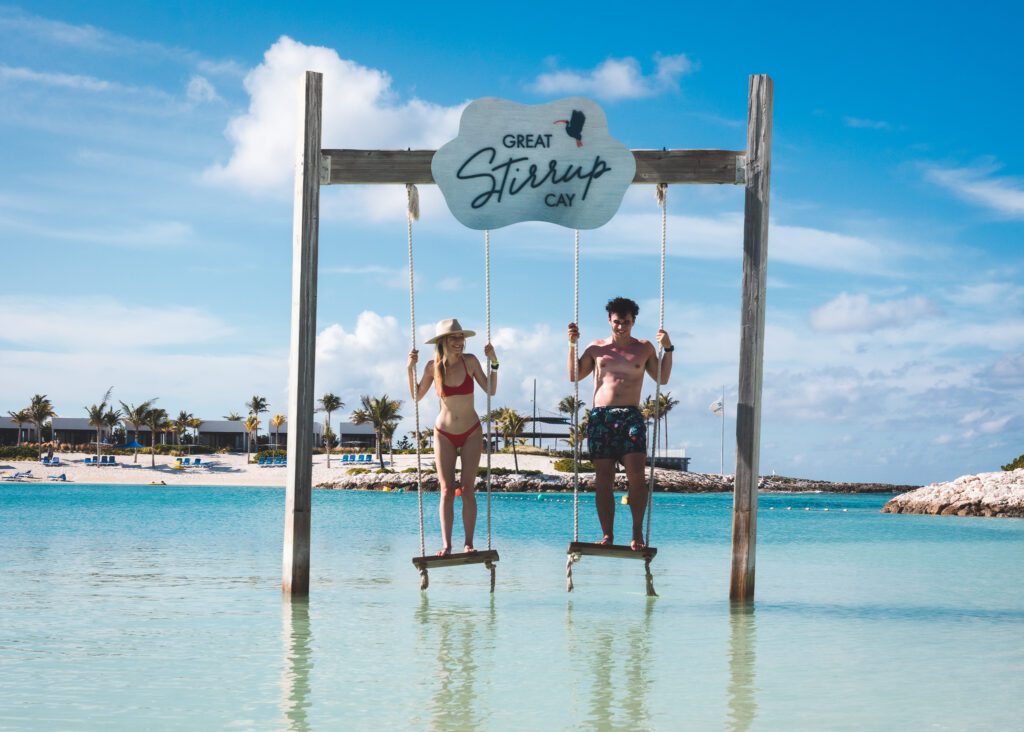 Check out the Moet & Chandon Bar
For a range of delicious cocktails and ultimate relaxation, order a drink from the Moet & Chandon Bar!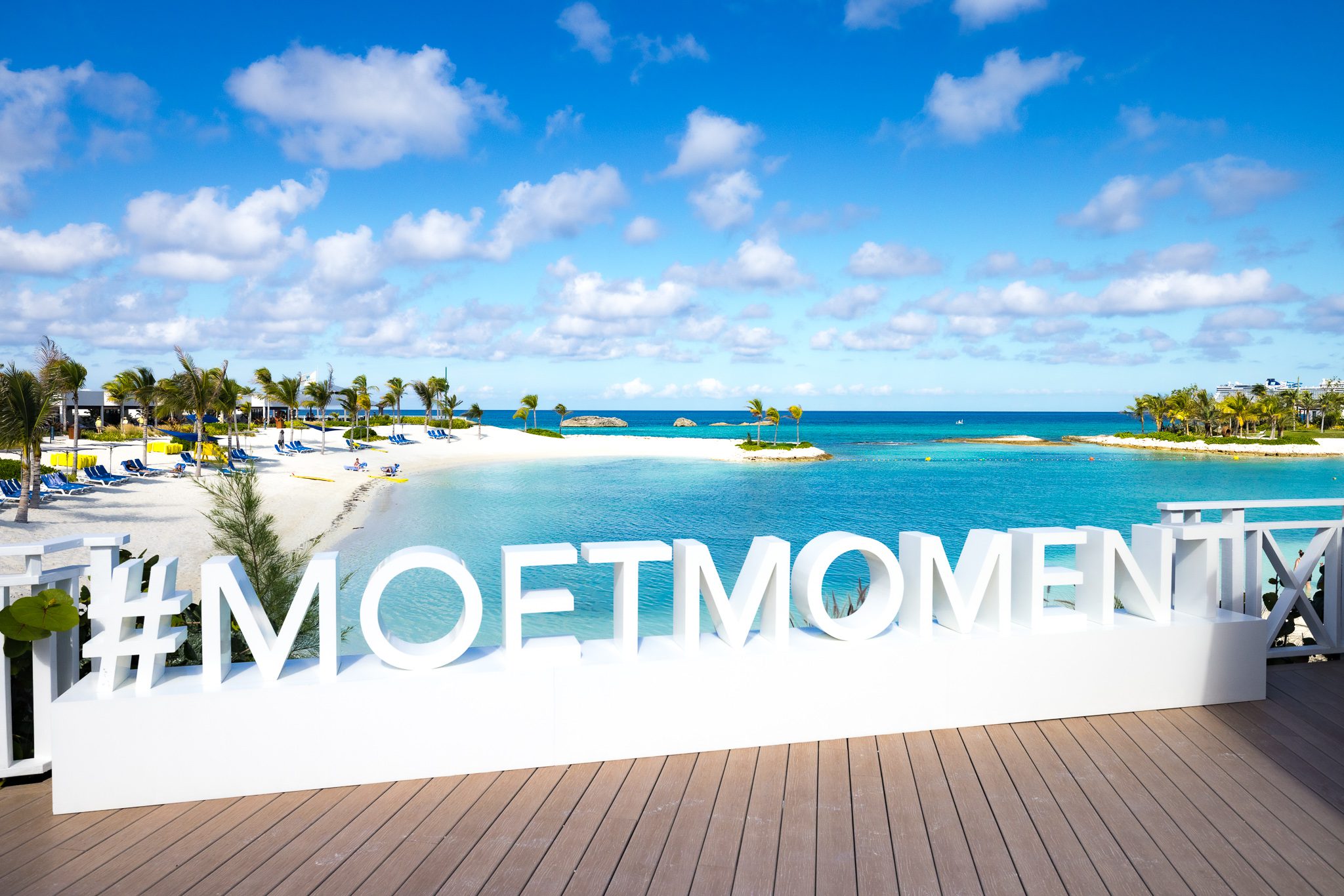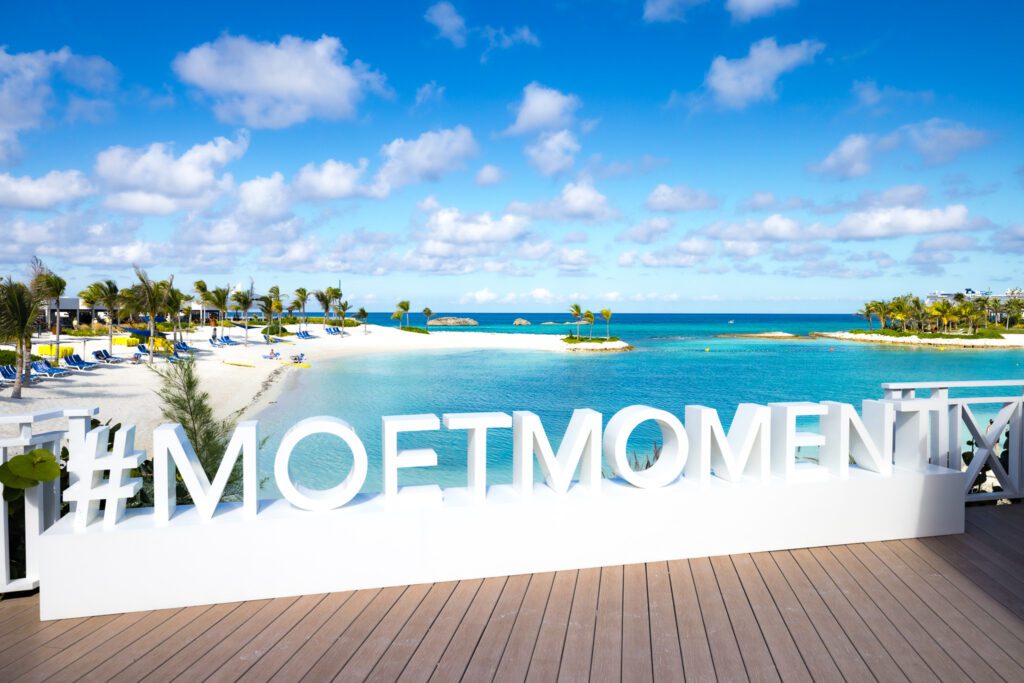 Disembarkation in Miami
Disembarkation of our Caribbean Cruise was super smooth. Everyone gets off the ship based on luggage tag colors and the process was really seamless. We had our last breakfast on board the ship and said goodbye to a wonderful week at sea.
Overall, we had an amazing experience on our 7 Day Miami to Caribbean Cruise and would absolutely recommend anyone who is looking to explore the Caribbean islands to book a cruise with NCL for a guaranteed fun time.