The Best of Each Hawaiian Island: Top Hawaii Highlights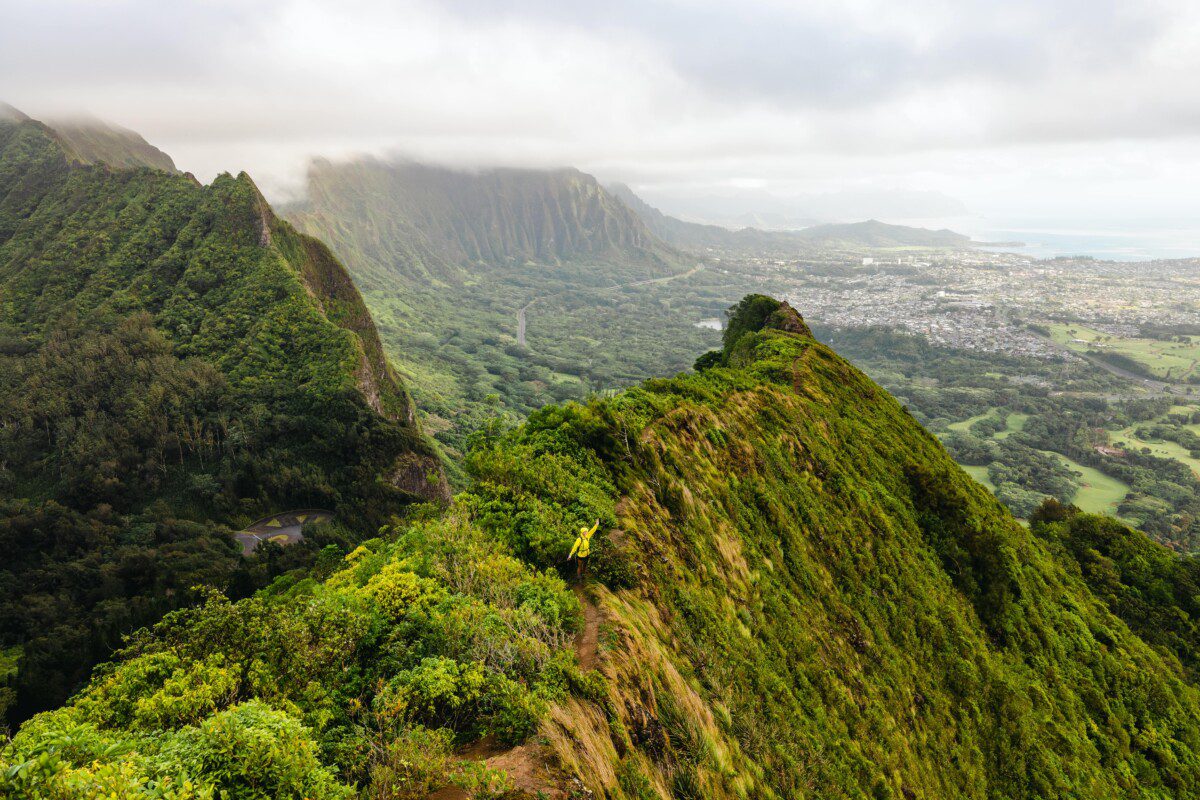 Hawaii is one of the most popular tourist destinations in the world, known for its breathtaking natural beauty, rich culture, and thrilling outdoor activities. The Hawaiian Islands are a group of eight islands in the Pacific Ocean, each with its own unique charm and attractions. Whether you're a beach lover, a nature enthusiast, or an adventure seeker, there's something for everyone in Hawaii.
Trying to decide what to do on each island during your visit to Hawaii? We've been to each major island including Oahu, Maui, Kauai, and the Big Island, and have compiled a list of our top things we'd recommend for first timers visiting Hawaii. This comprehensive guide goes over all of the top highlights and best things to do on each Hawaiian island!
Things To Know Before Visiting the Hawaiian Islands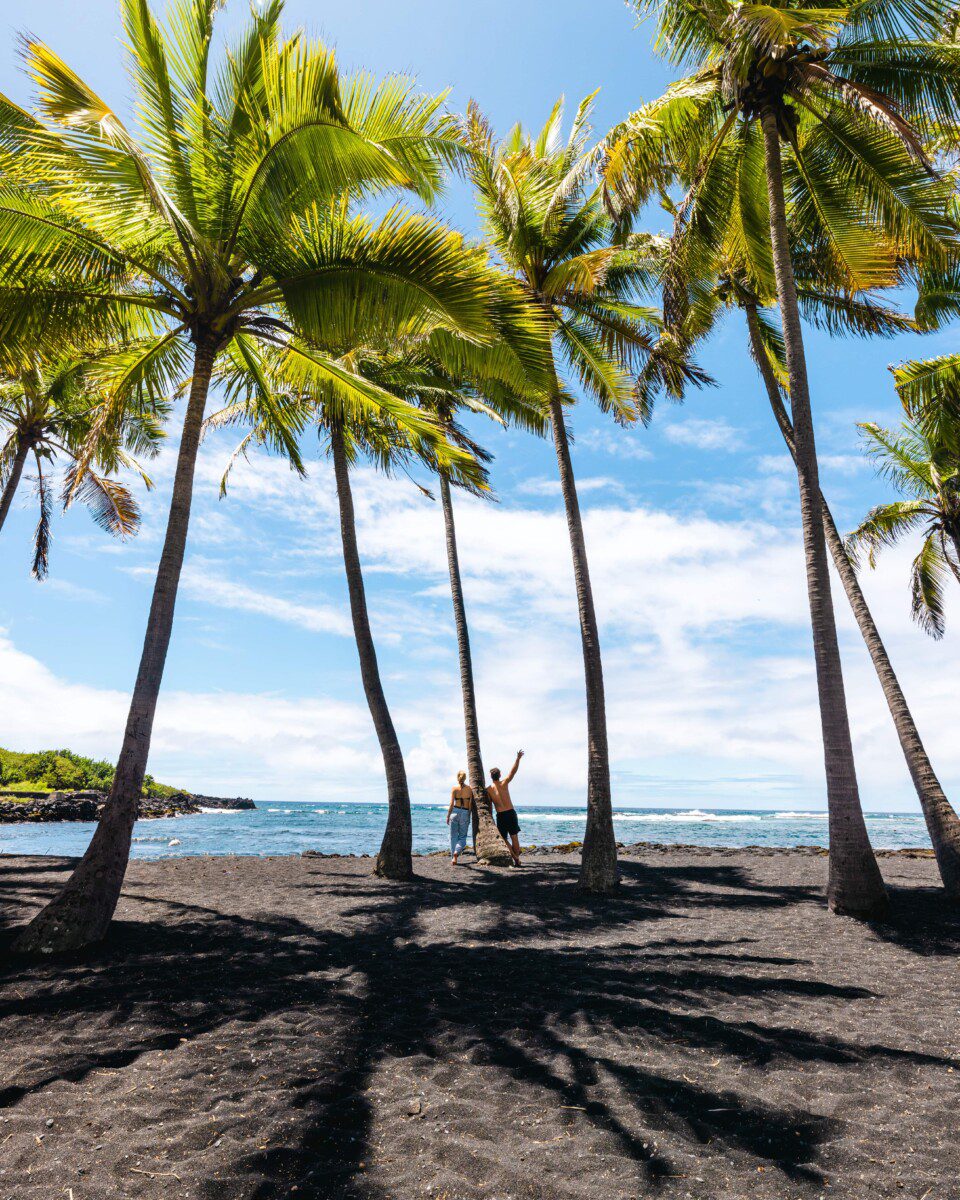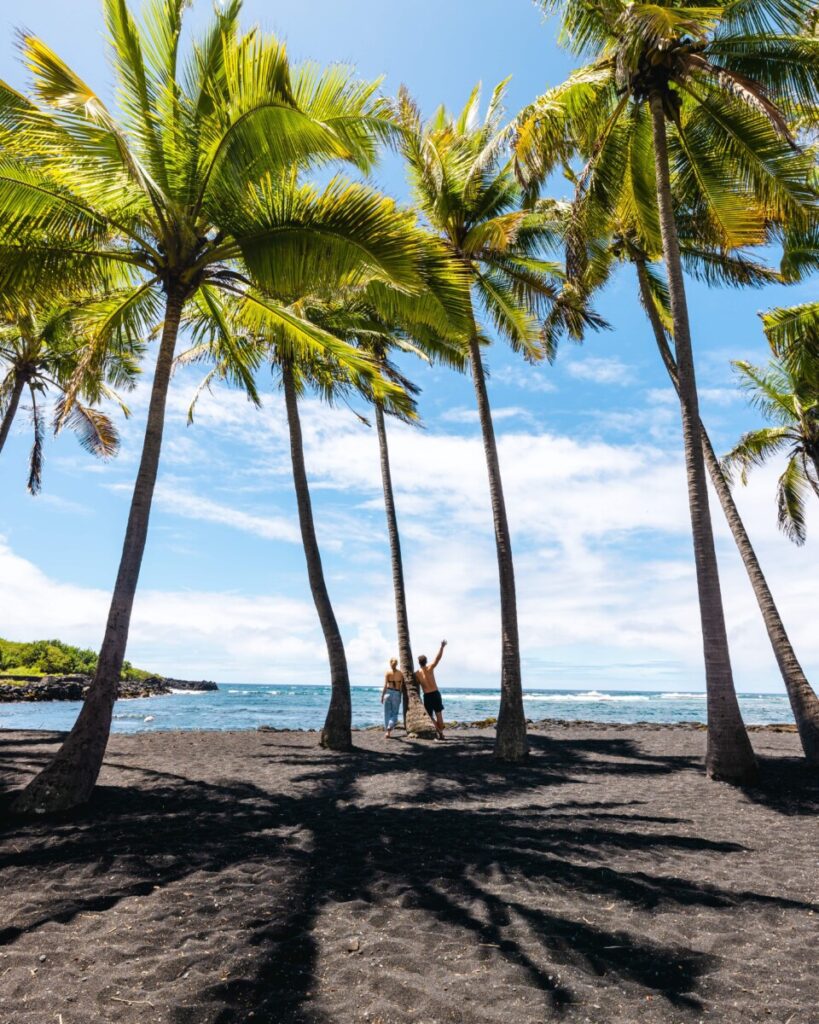 Best Time to Visit Hawaii
The best time to visit the Hawaiian Islands depends on what you're looking for and your personal preferences. Hawaii enjoys warm and pleasant weather throughout the year, with temperatures typically ranging from 75°F to 85°F (24°C to 29°C) during the day. However, there are a few things to consider when deciding on the best time to visit Hawaii.
High season and peak travel times: The busiest and most expensive times to visit Hawaii are during the winter months (mid-December to mid-April) and during summer vacation (mid-June to late August). During these peak travel times, you can expect larger crowds and higher prices for accommodations and activities.
Weather: Hawaii has two main seasons: summer (May to October) and winter (November to April). During the summer, the weather is generally warm and dry, with less rainfall and more sunshine. Winter brings more rainfall, particularly on the windward (east) sides of the islands, but also means greener landscapes and better surf conditions.
Activities: The best time to visit Hawaii for certain activities varies. For example, the winter months are best for surfing on the North Shore of Oahu, while the summer months are best for snorkeling and diving.
Budget: Travel costs to Hawaii can vary throughout the year. High season and peak travel times are usually the most expensive times to visit, while you may find better deals during the shoulder seasons of spring (April to May) and fall (September to November).
How to Travel Pono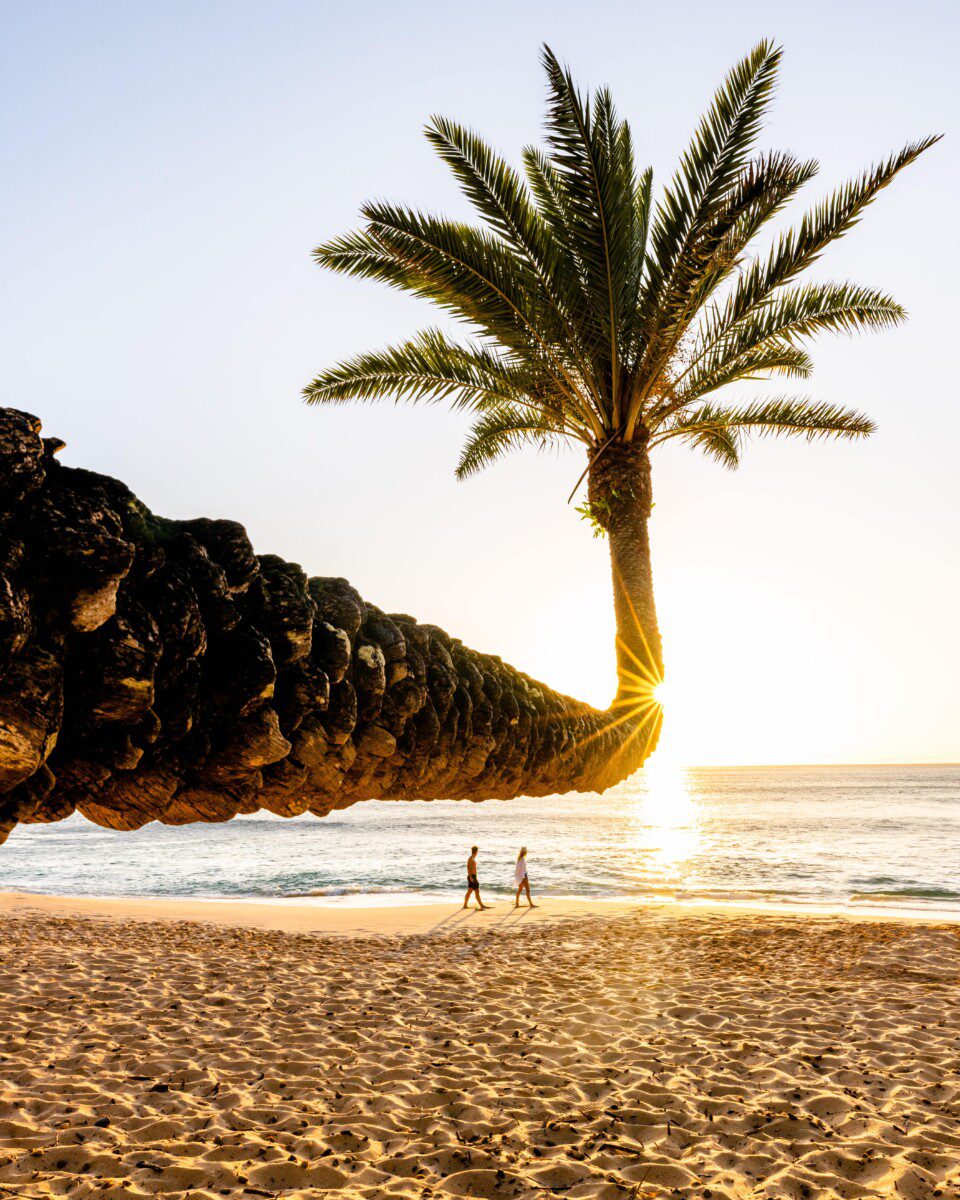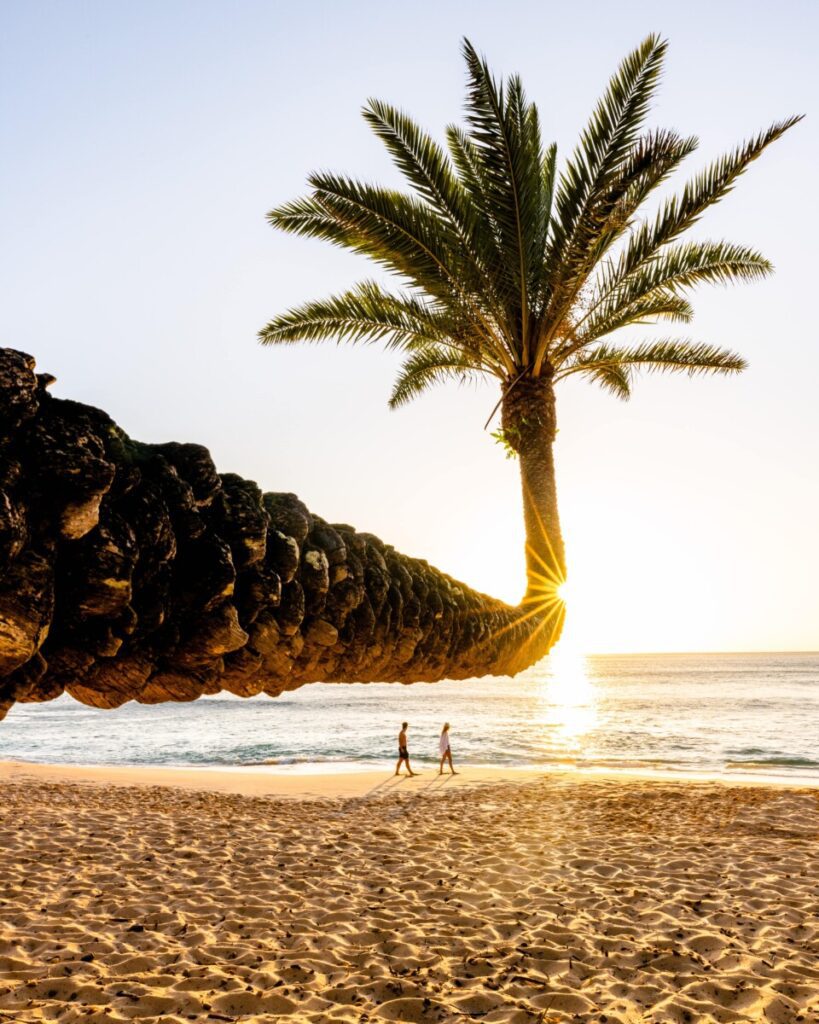 "Traveling Pono" is a concept that comes from the Hawaiian language and culture, which means traveling with respect and care for the land, people, and culture. It is about being mindful of your impact as a visitor and treating the environment and communities with respect.
Respect the Culture:
Learn about Hawaiian history and culture before you arrive and be respectful of cultural practices and customs. Observe and follow signs that indicate sacred sites and be mindful of cultural protocols.
Be Environmentally Responsible:
Hawaii has fragile ecosystems that are easily disrupted. Practice responsible tourism by disposing of waste properly, avoiding damaging natural areas, and supporting eco-friendly tours and activities.
Be Mindful of Local Communities:
Hawaii is home to a diverse population, and it's important to be respectful of local communities. This includes being mindful of noise levels, avoiding trespassing on private property, and being courteous to locals.
Support Local Businesses:
When traveling in Hawaii, support local businesses by choosing locally-owned restaurants, shops, and tours. This helps to support the local economy and preserves the unique character of the islands.
By practicing these principles, you can help preserve Hawaii's natural beauty and rich culture for future generations to enjoy. Remember, the concept of "Traveling Pono" is not only relevant to Hawaii but can be applied to any destination you visit, and it is essential to practice responsible and sustainable tourism wherever you go.
Inter Island Travel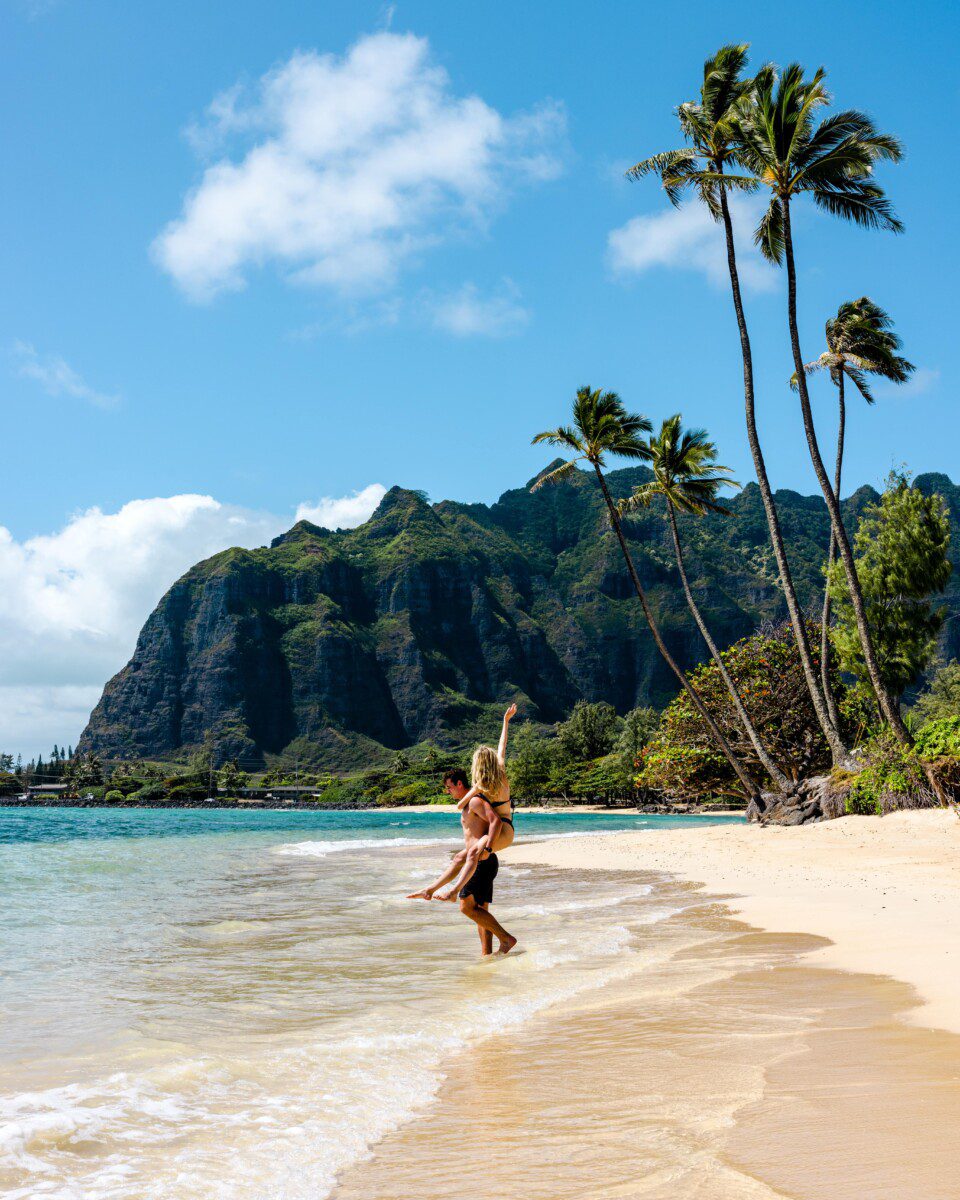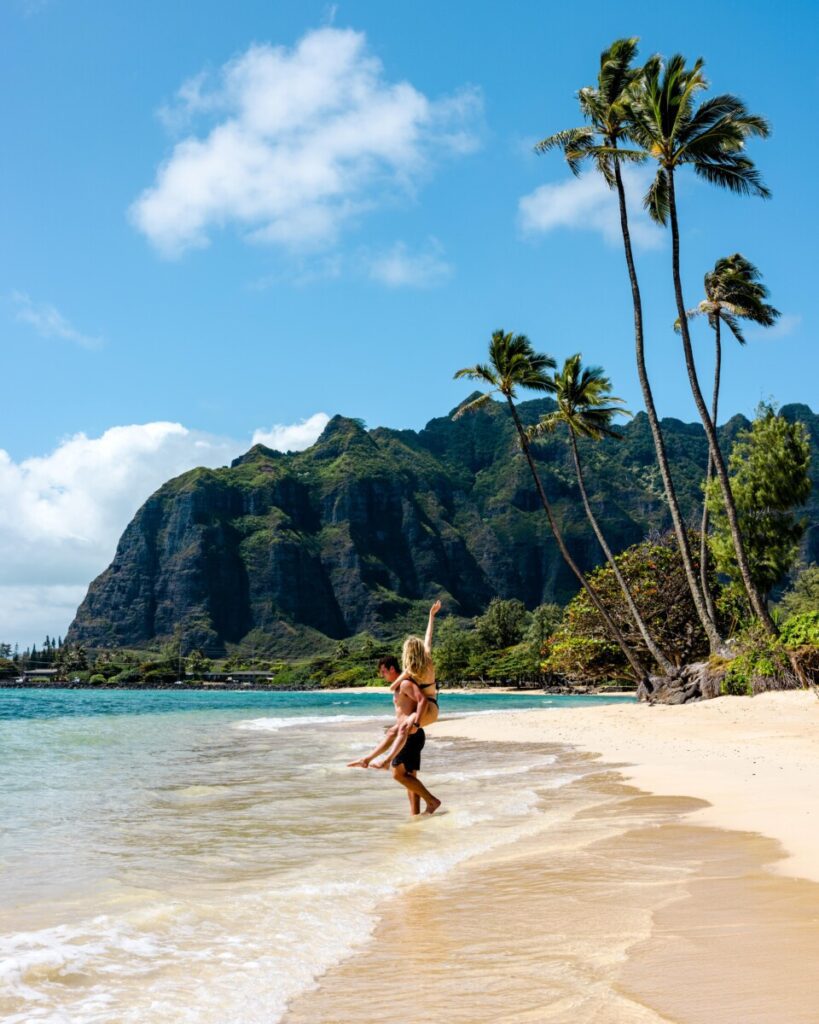 The most popular and convenient way to travel between the Hawaiian Islands is by air. There are several airlines that offer frequent flights between the islands, including Hawaiian Airlines, Mokulele Airlines, and Southwest Airlines. Flights are relatively short, typically taking between 20 minutes to an hour. If you book in advance, you can often find affordable airfare.
Another option for inter-island travel is the Hawaii Superferry. The ferry service connects Maui and Oahu and provides a unique experience of seeing the islands from the sea. However, the ferry service is not always reliable, and schedules can change frequently. The cost of the ferry service is also typically more expensive than flying.
Lastly, you could consider cruising between all of the Hawaiian Islands! A Hawaiian cruise is another option to consider if you have more time and want to explore multiple islands in a single trip. Many cruise lines offer Hawaiian itineraries that include stops at several islands, such as Oahu, Maui, Kauai, and the Big Island. While this can be a great way to see a lot of the Hawaiian Islands, it can also be more expensive than other options. We did the NCL Pride of America Hawaii Sailing and would highly recommend it to anyone who wants a little taste of each Hawaiian Island in one week.
Hiking in Hawaii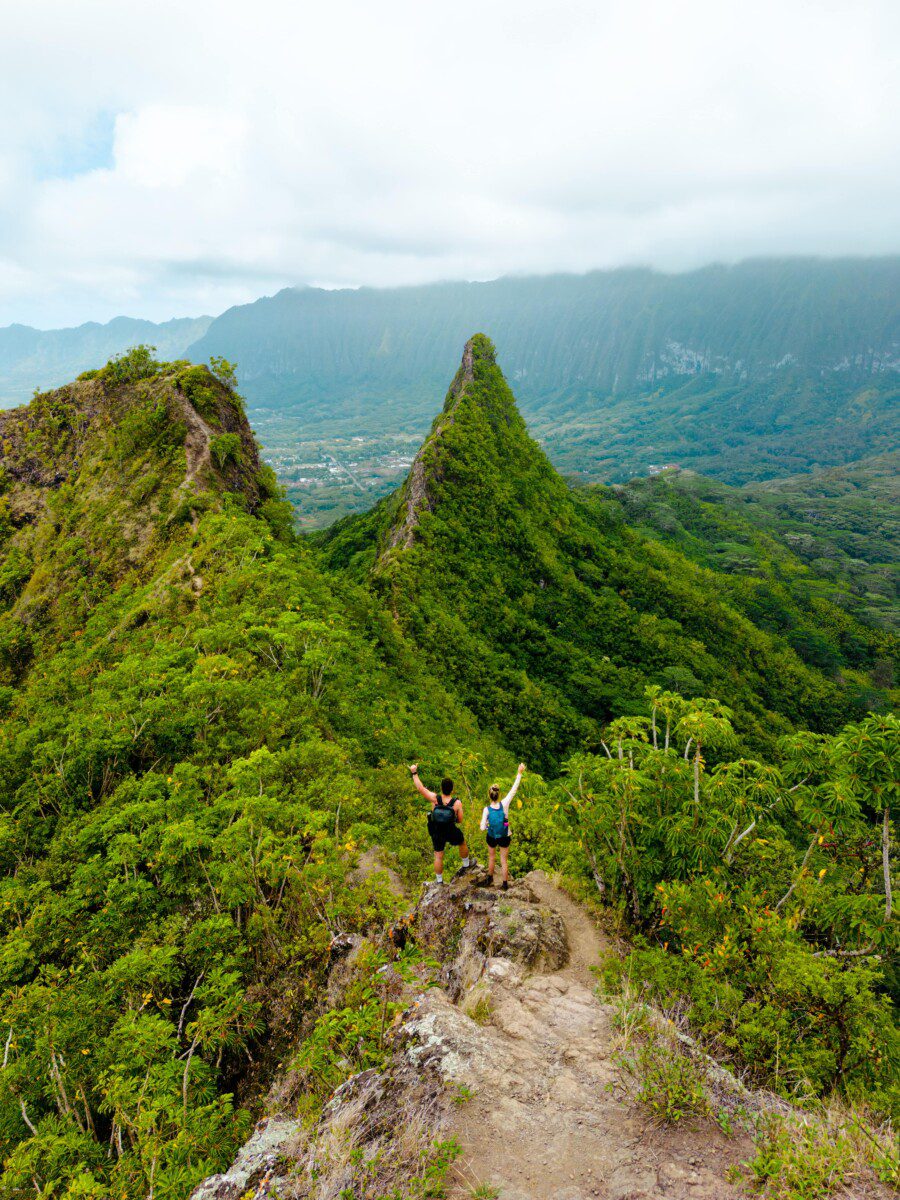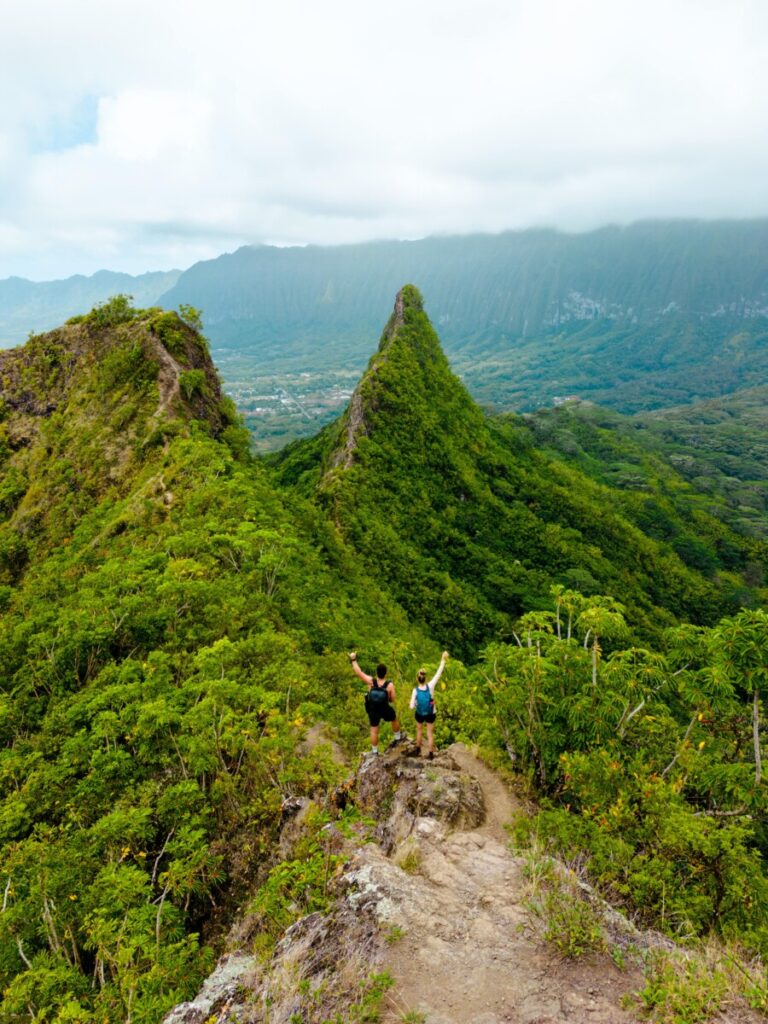 Hawaiian Hiking Trails
Hiking in Hawaii can be a thrilling and unforgettable experience, but it's important to be prepared and informed before hitting the trails. Hawaiian hikes are often more extreme and risky than in other states around the USA. Here are some tips to follow when hiking around each island:
Choose the right trail: Hawaii offers a variety of hiking trails, ranging from easy walks to strenuous climbs. Be sure to choose a trail that matches your skill level and fitness level. Also, consider the weather conditions and time of day when selecting a trail.
Be prepared: Always bring plenty of water, sunscreen, and insect repellent, as well as a map and a fully charged phone. Wear sturdy hiking shoes, bring water resistant layers, and bring a hat and sunglasses for protection against the sun.
Respect the environment: Hawaii is home to unique and fragile ecosystems that should be respected and protected. Stay on designated trails to avoid damaging plants and wildlife, and be sure to pack out all trash and waste.
Be aware of hazards: Hawaii's natural beauty can also be hazardous. Be aware of potential hazards such as steep cliffs, slippery mud and rocks, and strong currents. Also, be prepared for sudden weather changes and know how to react in case of an emergency.
Best Time to Hike in the Hawaiian Islands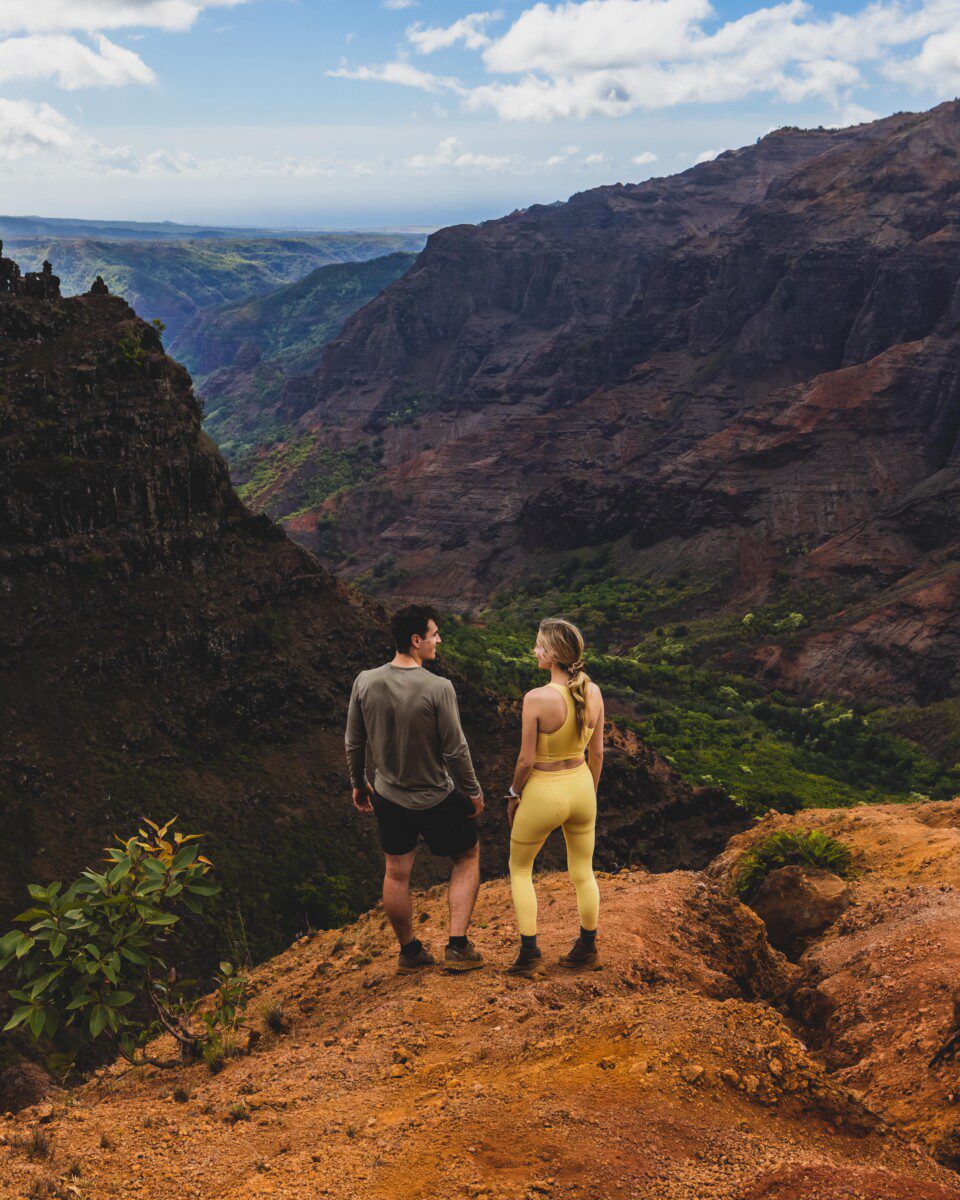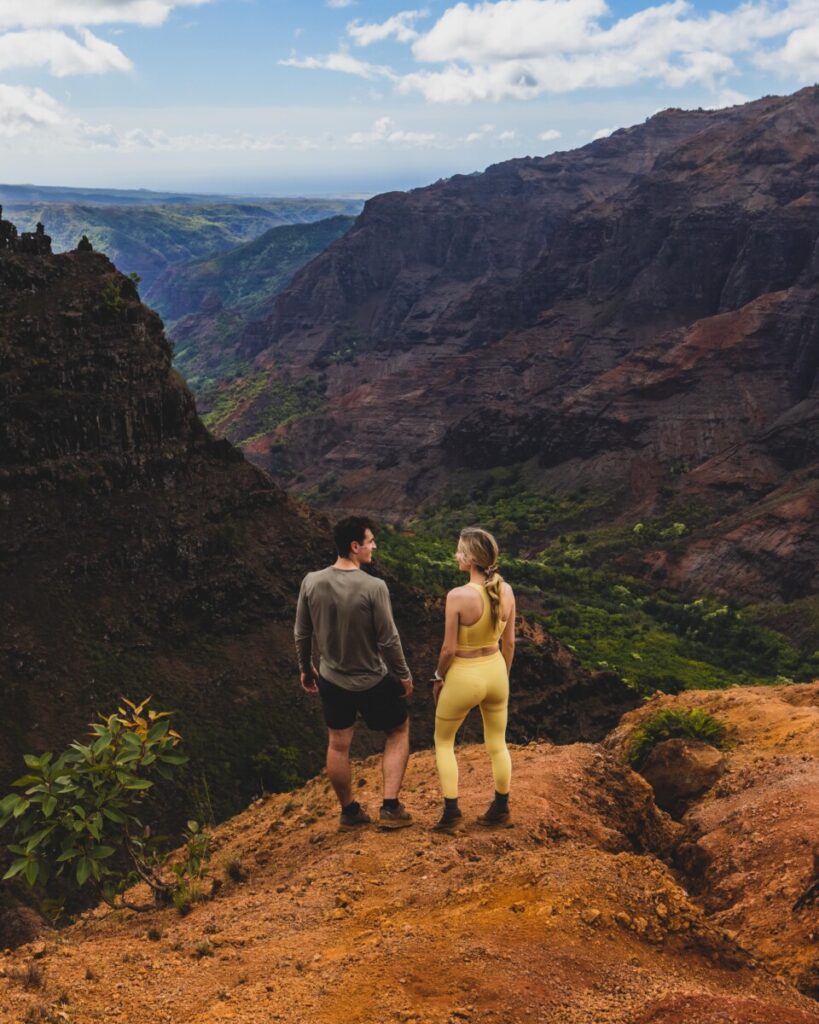 In general, the best time to hike in Hawaii is during the drier months, which are typically from April to October. During these months, the weather is generally more predictable, with less rainfall and clearer skies. This makes for better visibility and more comfortable hiking conditions.
That being said, some of the most beautiful hikes in Hawaii are in areas that receive higher rainfall, such as on the windward (east) sides of the islands. If you're interested in hiking in these areas, the winter months from November to March can be a good time to visit as the rainfall can make the waterfalls and lush vegetation even more spectacular.
It's also important to note that Hawaii is a popular tourist destination, and peak travel times can be busier on the hiking trails. If you're looking to avoid crowds, visiting during the shoulder seasons of April to May or September to October may be a good option.
Overall, the best time to visit Hawaii for hiking depends on your preferences and the specific hikes you're interested in. Regardless of when you go, be sure to bring plenty of water, sunscreen, and appropriate hiking gear to ensure a safe and enjoyable experience.
Highlights of Each Hawaiian Island
Oahu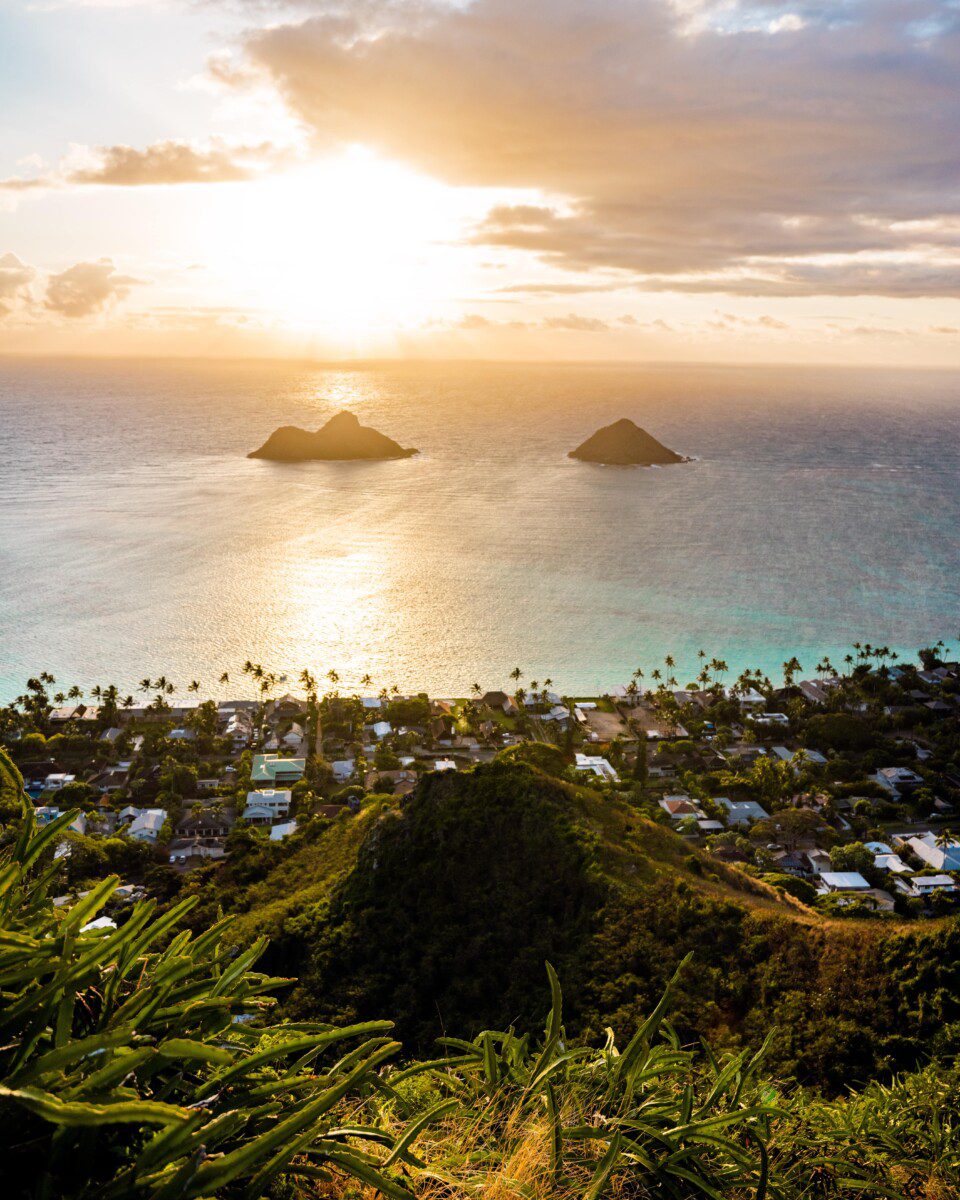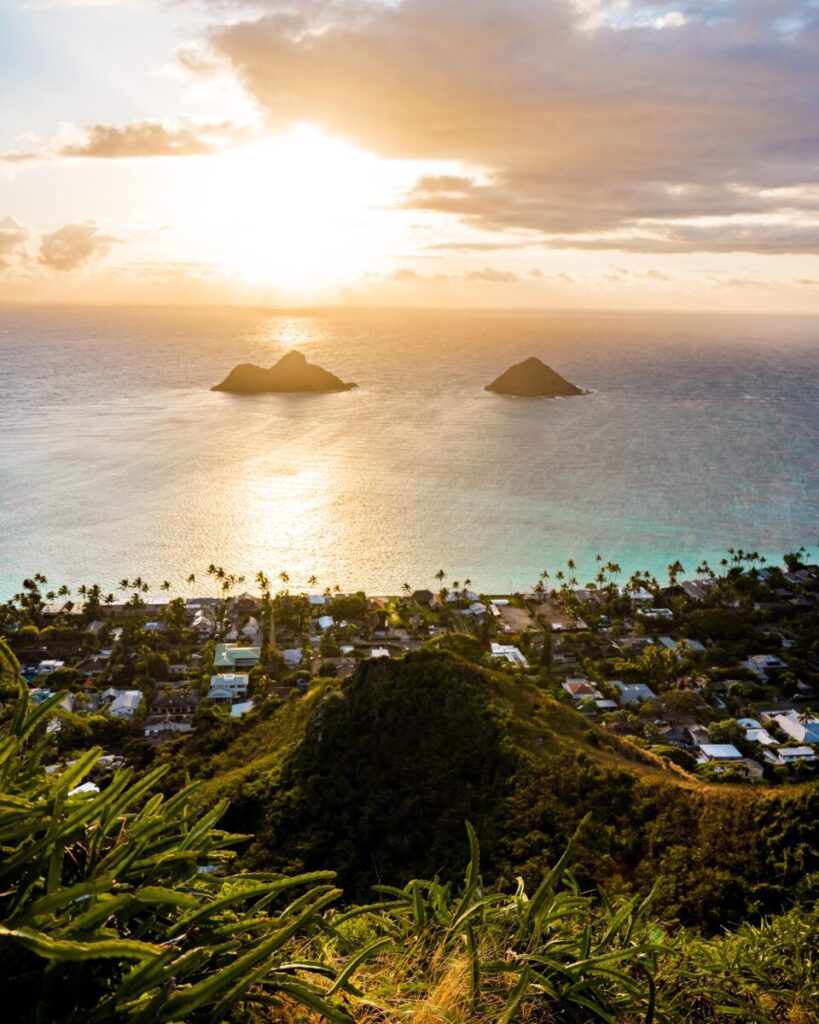 Oahu is the most populous island in Hawaii, home to the capital city of Honolulu. It's a vibrant and diverse island with a mix of urban and natural attractions. Some of the must-visit places on Oahu include:
Waikiki Beach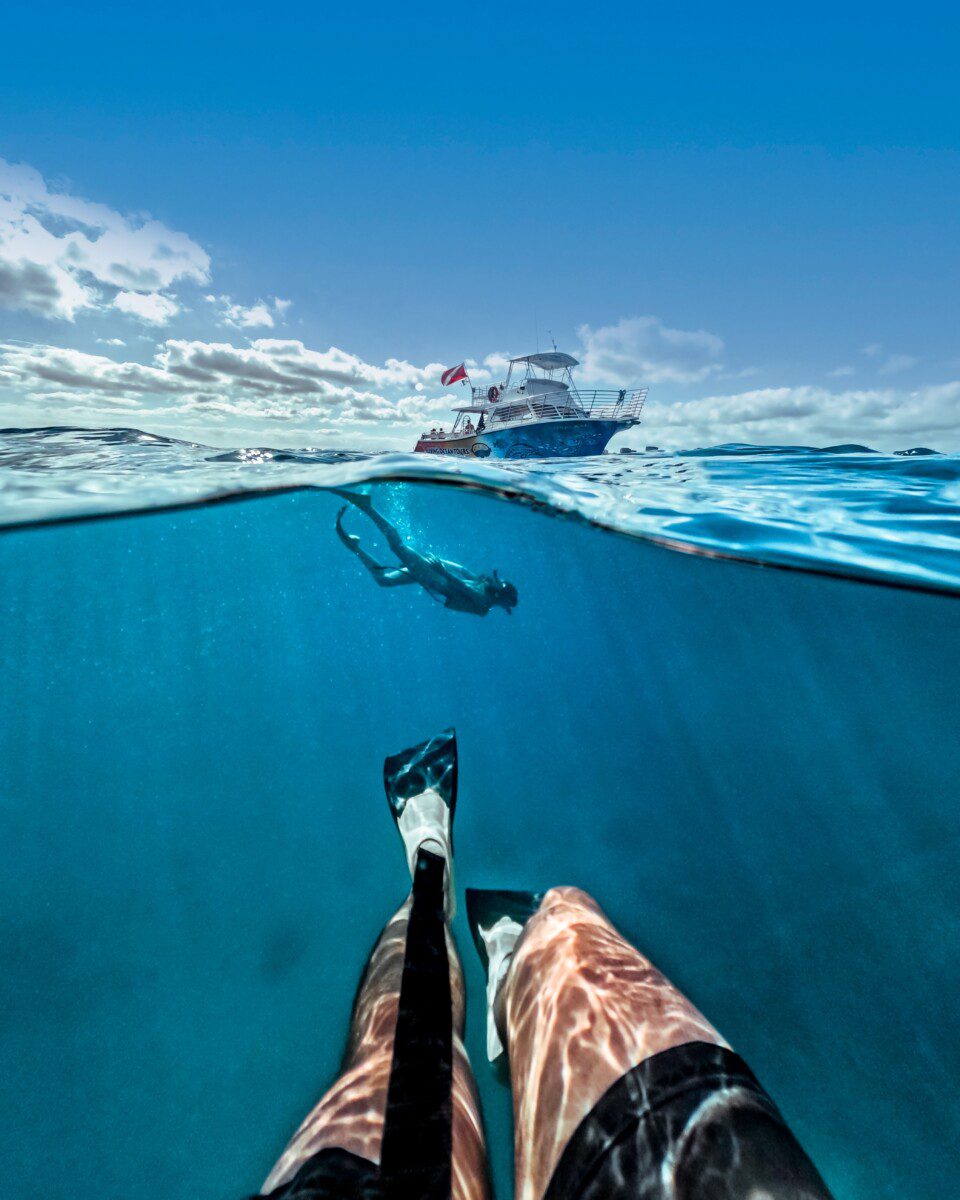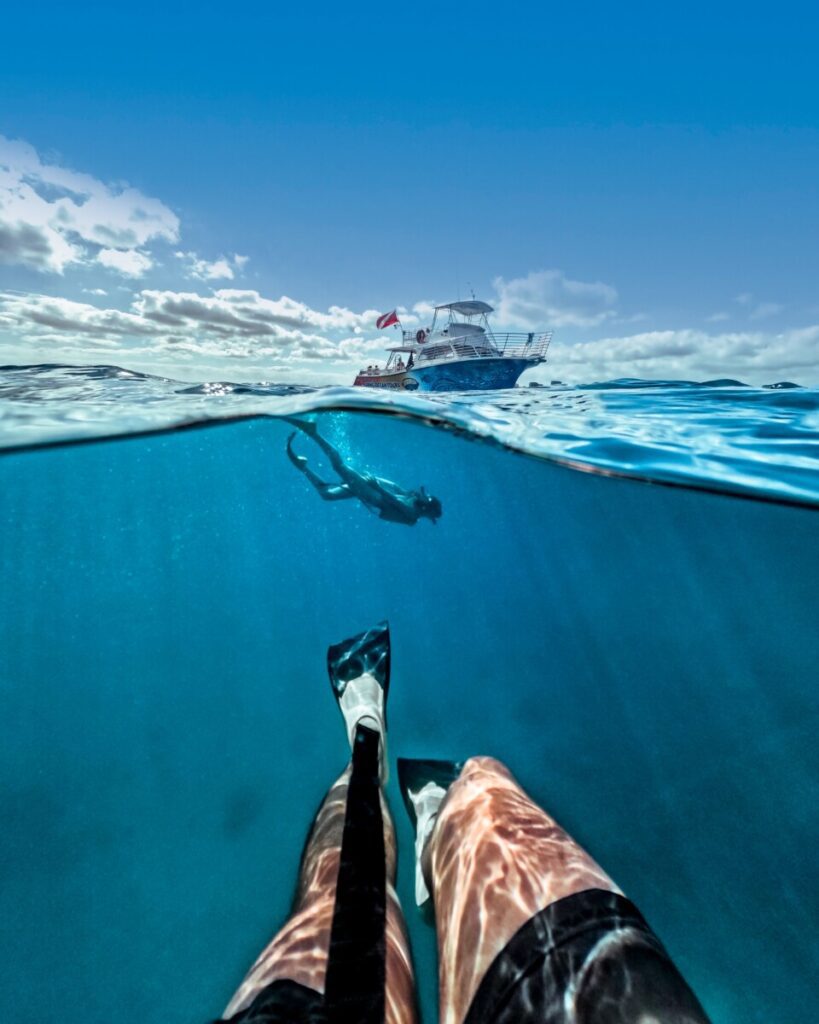 One of the most famous beaches in the world, Waikiki Beach is a perfect place to relax, surf, or people watch. Waikiki Beach typically has gentle waves, making it a great spot for beginners to try surfing. You can rent a board and take a lesson from one of the many surf schools located along the beach. The warm waters of Waikiki Beach are perfect for swimming, and the beach is patrolled by lifeguards to ensure safety. There are also plenty of areas designated for snorkeling and diving.
Diamond Head State Monument
Diamond Head State Monument offers a hiking trail that leads to the top of the crater, which offers breathtaking views of the island. The hike is moderately challenging, but the reward is well worth it. You now have to reserve permits in advance to be able to hike here.
Hanauma Bay Nature Preserve
The bay is filled with gorgeous clear blue waters, colorful marine life, and abundant coral reef ecosystem. Visitors can snorkel, swim, or simply relax on the beach. You also have to make reservations in advance to visit the beach, which you can make here.
North Shore:
Oahu's North Shore is a world-renowned surf spot with big waves in the winter and calm waters in the summer. You can go snorkeling, surfing, or even swim with sharks!
Pearl Harbor:
Pearl Harbor is the A historic site that honors the lives lost in the surprise attack by the Japanese on December 7, 1941. Here are some of the iconic landmarks to check out during your visit to Pearl Harbor:
USS Arizona Memorial: The USS Arizona Memorial is the most popular attraction at Pearl Harbor. You can take a boat tour to the memorial and learn about the history of the attack on Pearl Harbor on December 7, 1941, which brought the United States into World War II.
Battleship Missouri Memorial: The Battleship Missouri Memorial is a living museum that allows visitors to experience life aboard one of the most famous battleships in history. You can take a guided tour and learn about the ship's history and its role in World War II.
Pacific Aviation Museum: The Pacific Aviation Museum is located on Ford Island, which was one of the primary targets of the Japanese attack. The museum features exhibits on the history of aviation in the Pacific and includes aircraft from World War II and the Cold War.
USS Bowfin Submarine Museum & Park: The USS Bowfin is a submarine that played an important role in World War II. The museum allows visitors to explore the submarine and learn about its history and the experiences of its crew.
Pearl Harbor Visitor Center: The Pearl Harbor Visitor Center features exhibits and displays that provide an overview of the attack and its aftermath. You can watch a film about the attack and explore the various exhibits that showcase artifacts and historical items related to the event.
Kualoa Ranch:
The ranch is known for its stunning natural beauty, with views of lush valleys, towering mountains, and pristine oceanfront. It is often used as a filming location for many movies and TV shows, including Jurassic Park, Lost, and Godzilla. Visitors to Kualoa Ranch can take guided tours of the property by ATV, horseback, or zipline, as well as learn about Hawaiian culture and history.
Maui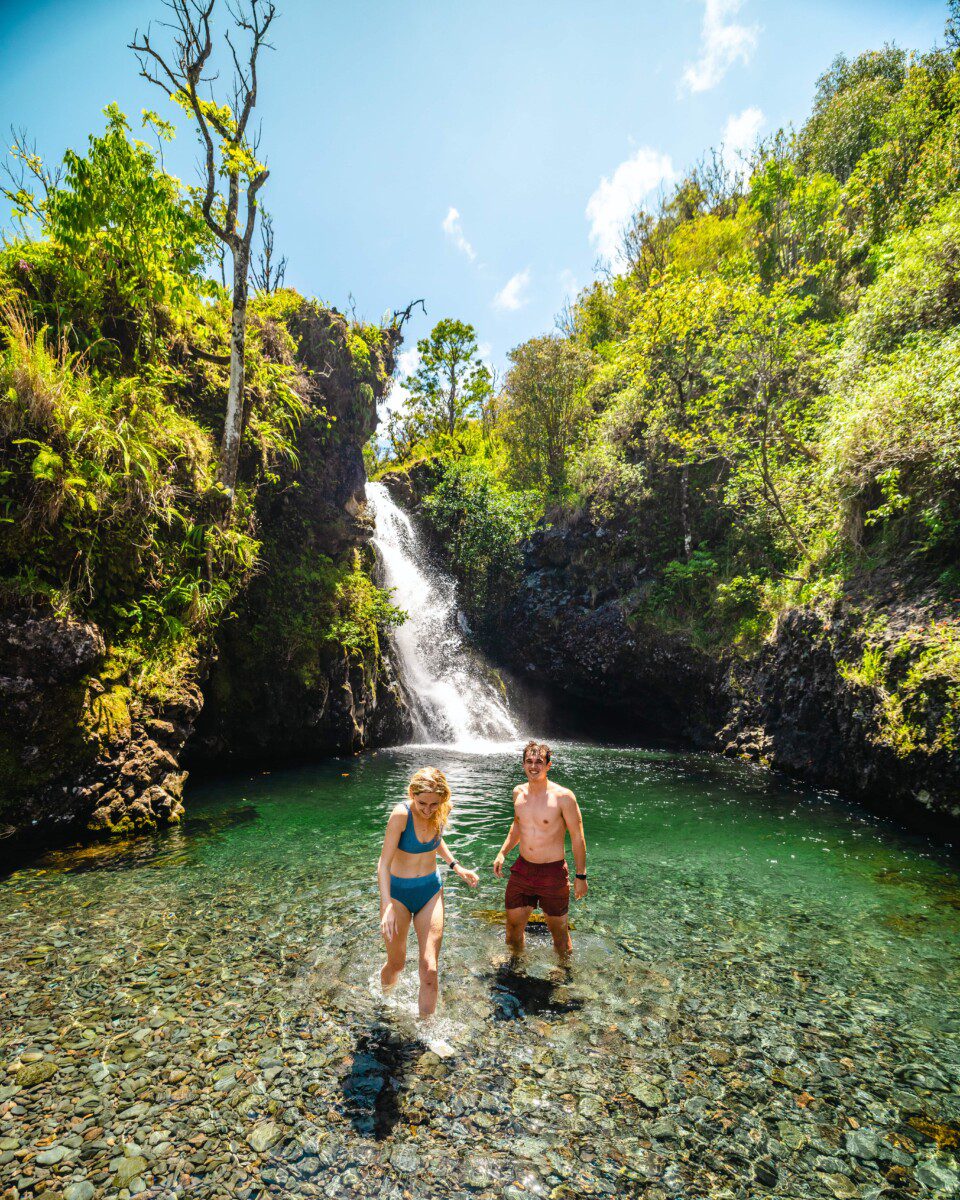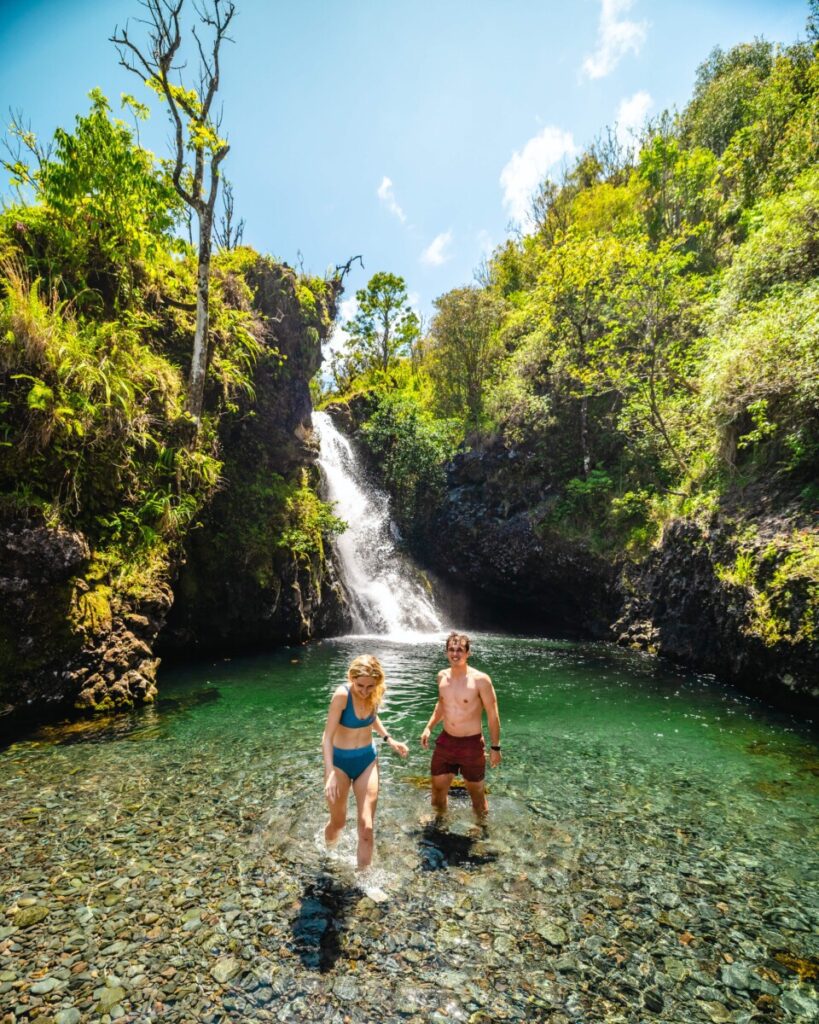 Maui is the second-largest island in Hawaii and is often called the "Valley Isle" due to its verdant valleys and lush greenery. This island is perfect for those looking for romance, relaxation, and natural beauty. Some of the top things to do on Maui include:
Road to Hana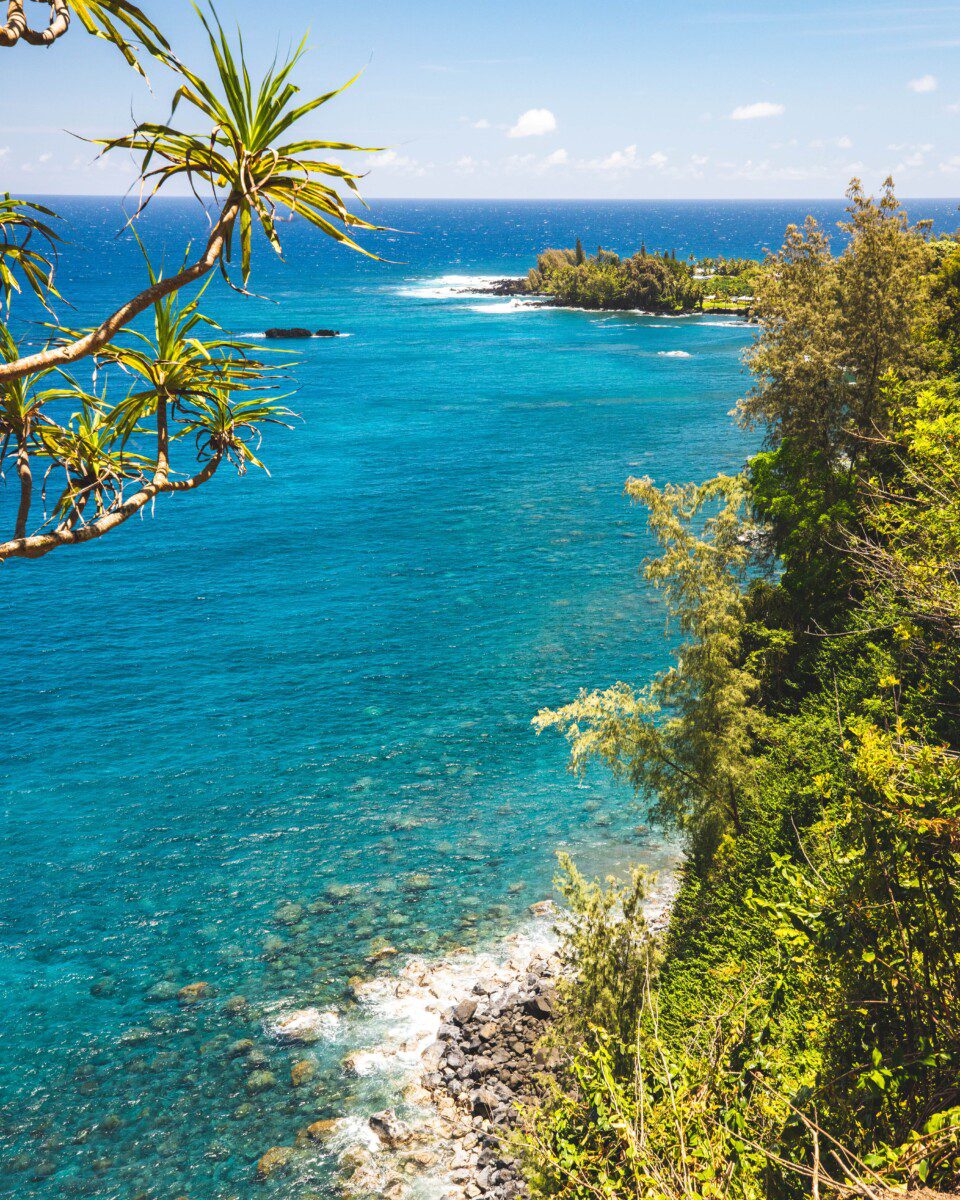 This is a beautiful scenic drive that takes you through rainforests, waterfalls, and stunning coastline. Make sure to stop and get some of the famous Banana Bread along the way! We'd allot at least one full day to do the full road trip to Hana and back.
Iao Valley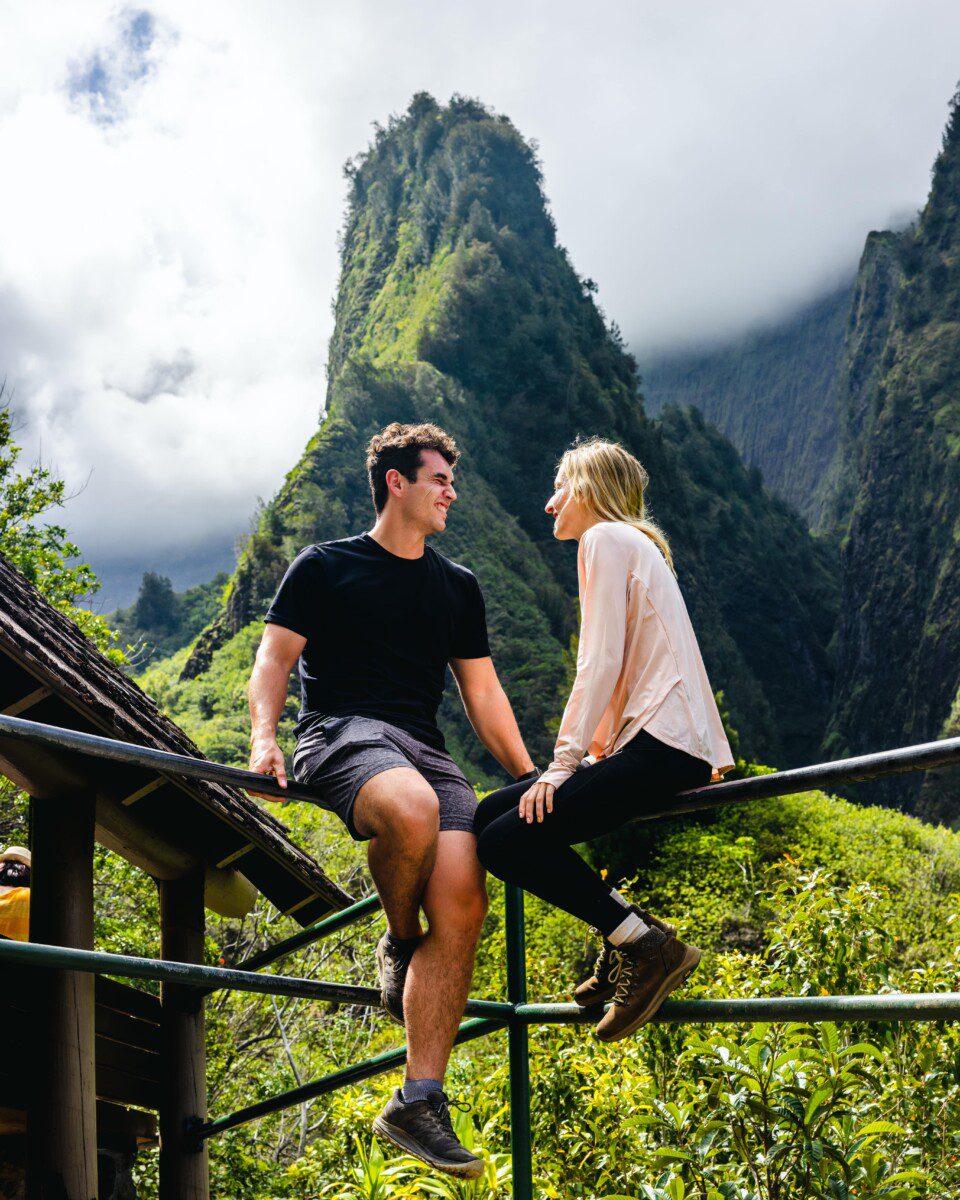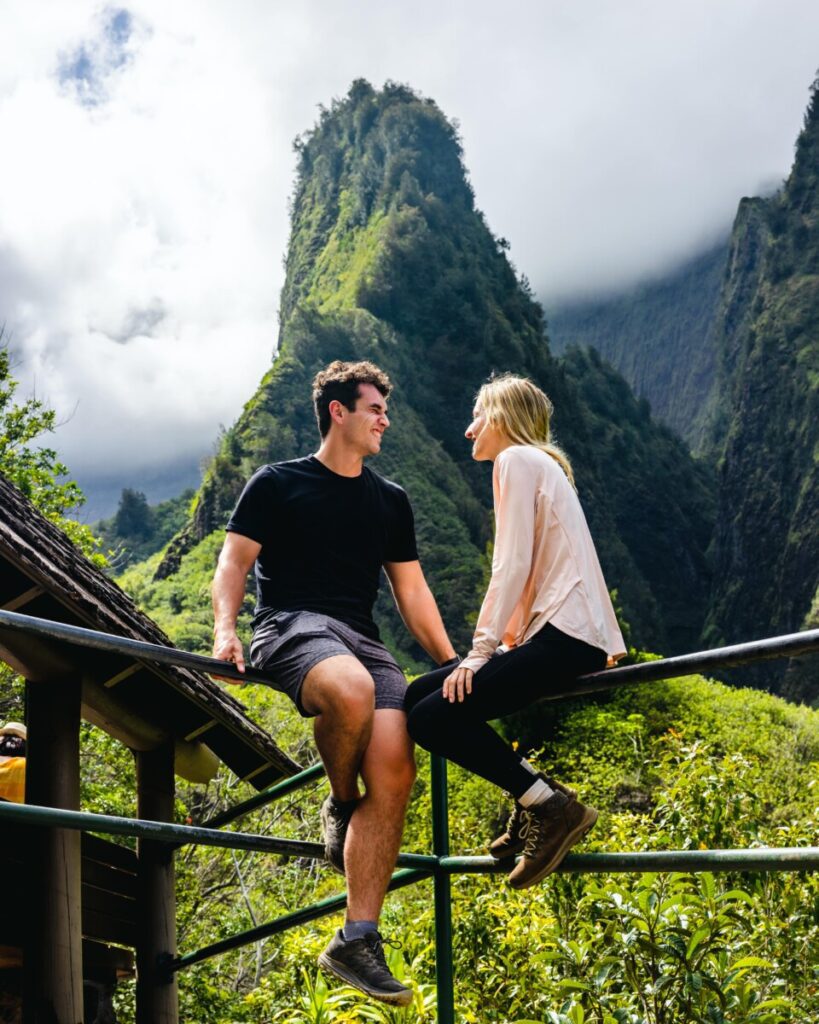 The Iao Valley is a beautiful and historic destination known for its lush greenery, iconic Iao Needle rock formation, and important role in Hawaiian culture. Visitors can enjoy hiking trails, scenic viewpoints, and learn about the valley's rich history at the Hawaii Nature Center.
Haleakala National Park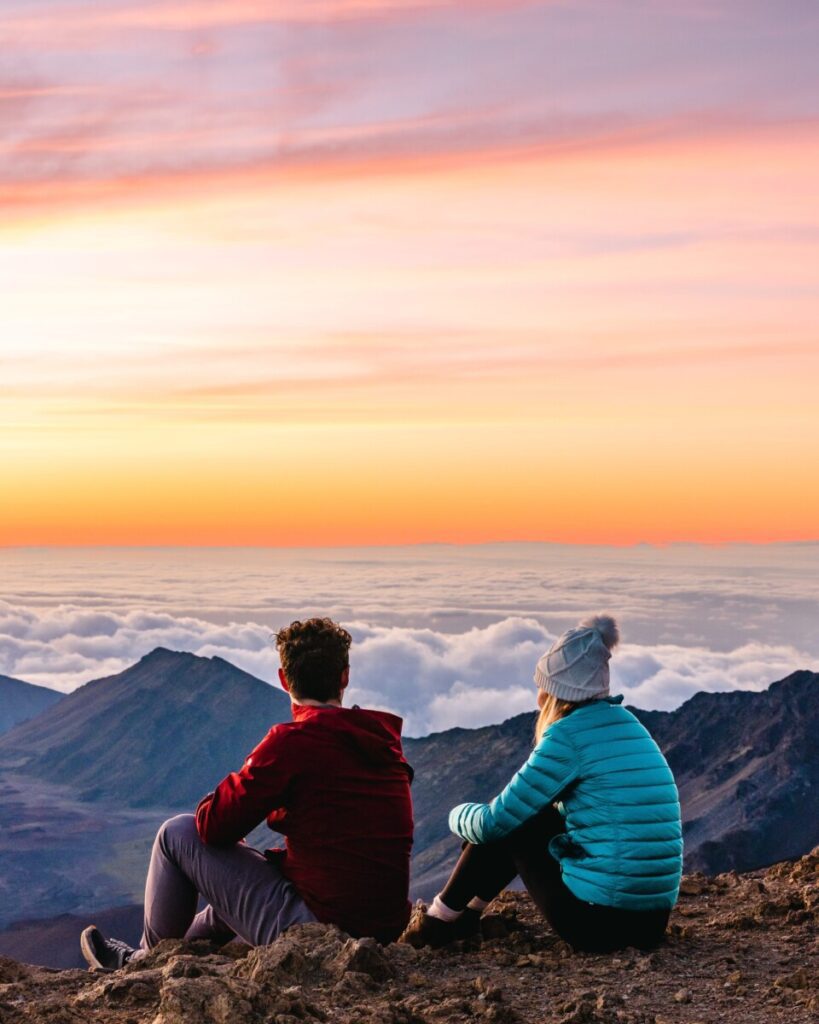 This is the beautiful other-worldly national park that is home to the Haleakala Volcano and the famous sunrise hike that offers panoramic views of the island. In order to experience the Haleakala Crater sunrise, you do have to get permits in advance on recreation.gov.
Kaanapali Beach
Kaanapali Beach, located on the west coast of Maui, is a world-renowned destination for its white sand beaches, crystal clear waters, and stunning sunsets. It offers a wide range of activities, including snorkeling, surfing, paddleboarding, and whale watching. Visitors can also enjoy luxury resorts, restaurants, and shopping at the nearby Whalers Village.
Kauai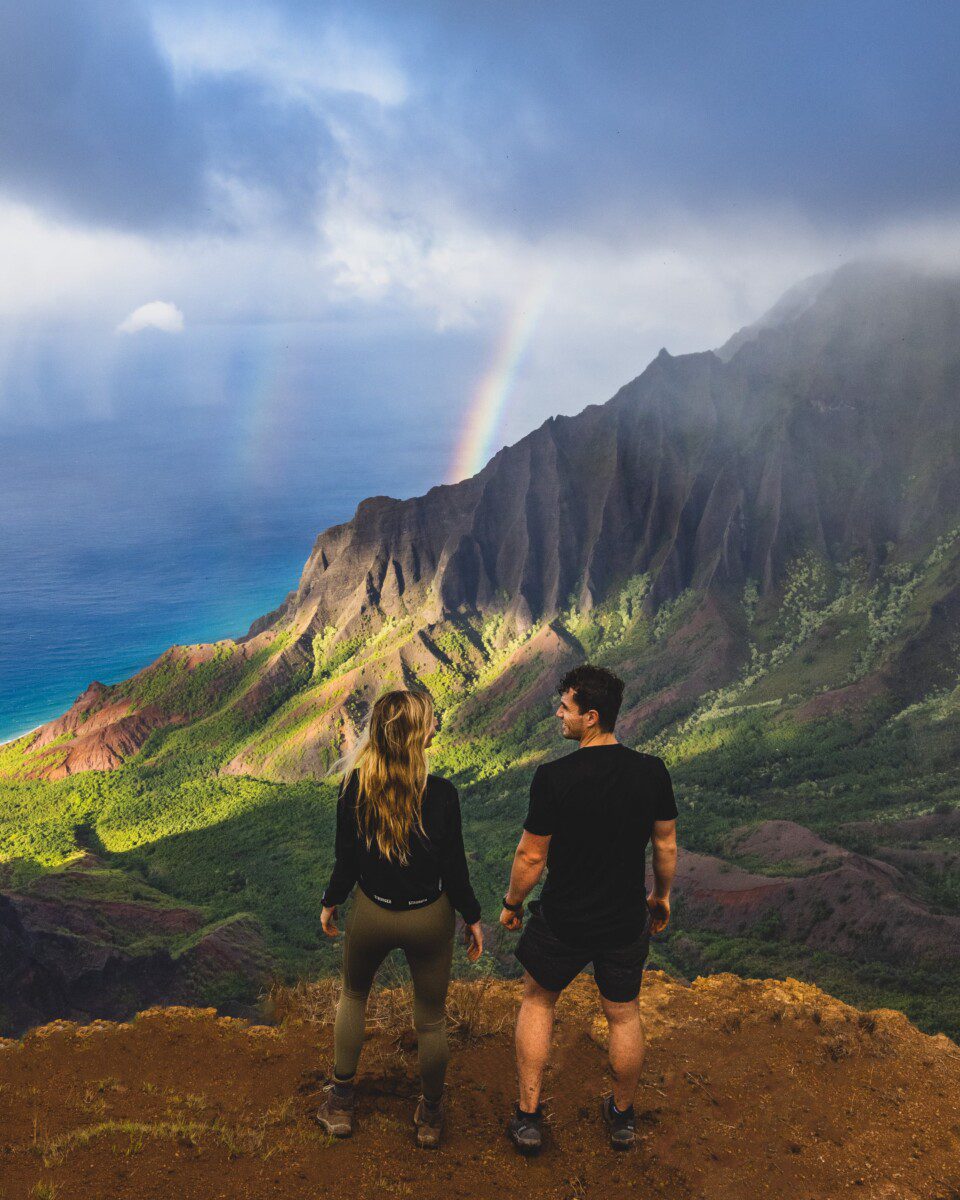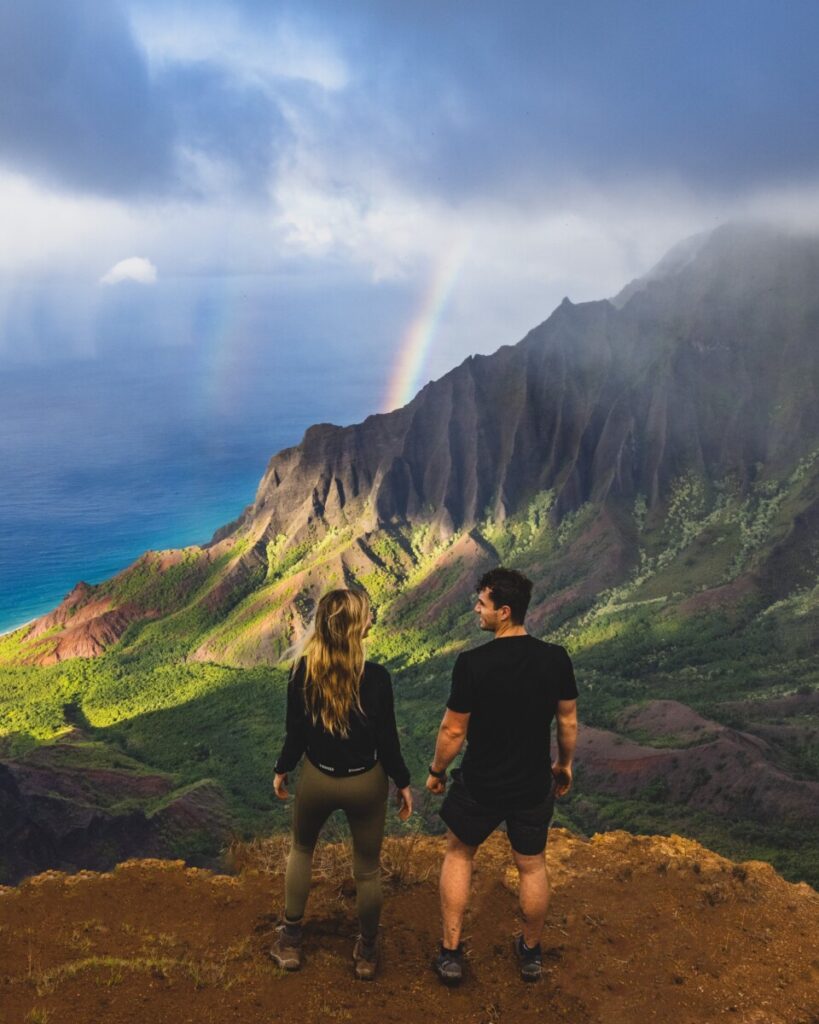 Kauai is known as the "Garden Isle" due to its lush tropical rainforests and vibrant flora. It's the perfect island for nature lovers, with plenty of hiking trails, waterfalls, and secluded beaches. Some of the top attractions on Kauai include:
Napali Coast: A stunning dramatic coastline that can only be accessed by boat, helicopter, or a strenuous hike.
Waimea Canyon: Known as the "Grand Canyon of the Pacific," Waimea Canyon offers breathtaking views of the island.
Hanalei Bay: A picturesque bay with a small town that offers stunning sunsets, water activities, and a relaxed vibe.
Tunnels Beach: Located on the north shore of Kauai, Tunnels Beach is a popular spot for snorkeling and swimming. Parking at Tunnels Beach can be difficult, especially during peak season. There is a small parking lot near the beach, but it fills up quickly. You may need to park further away and walk to the beach.
Kilauea Lighthouse: A historic lighthouse that offers panoramic views of the ocean and the coast.
For our full recommendations on visiting Kauai, check out our ultimate adventure guide to Kauai.
Hawaii (The Big Island)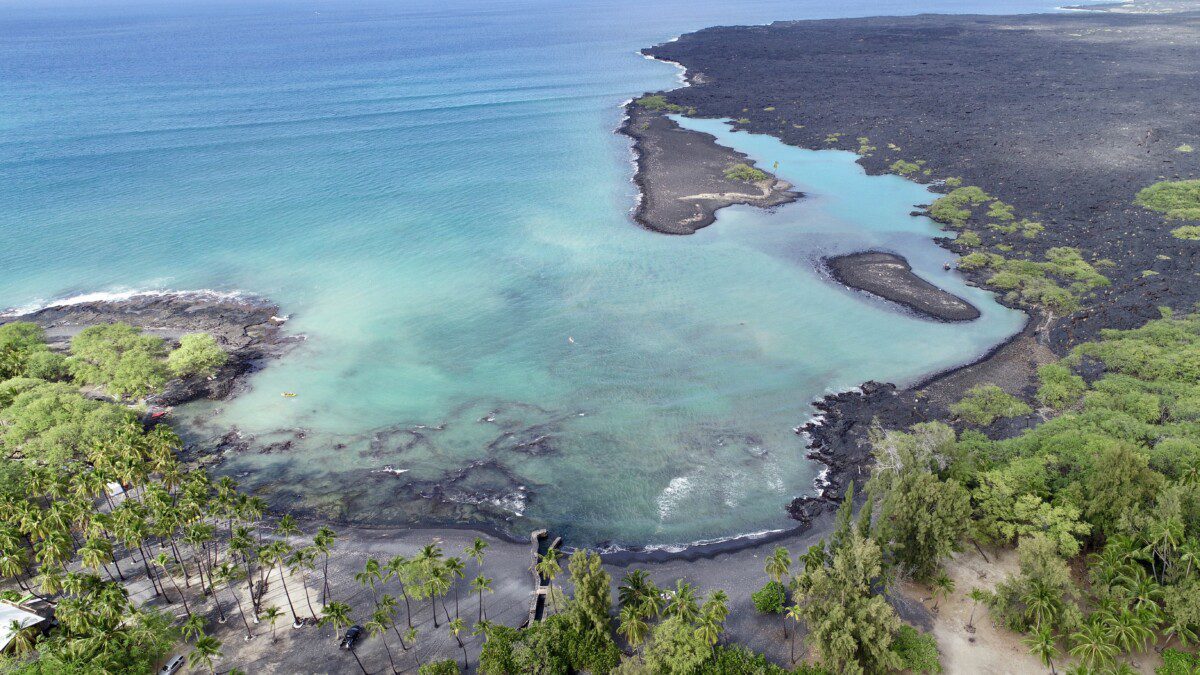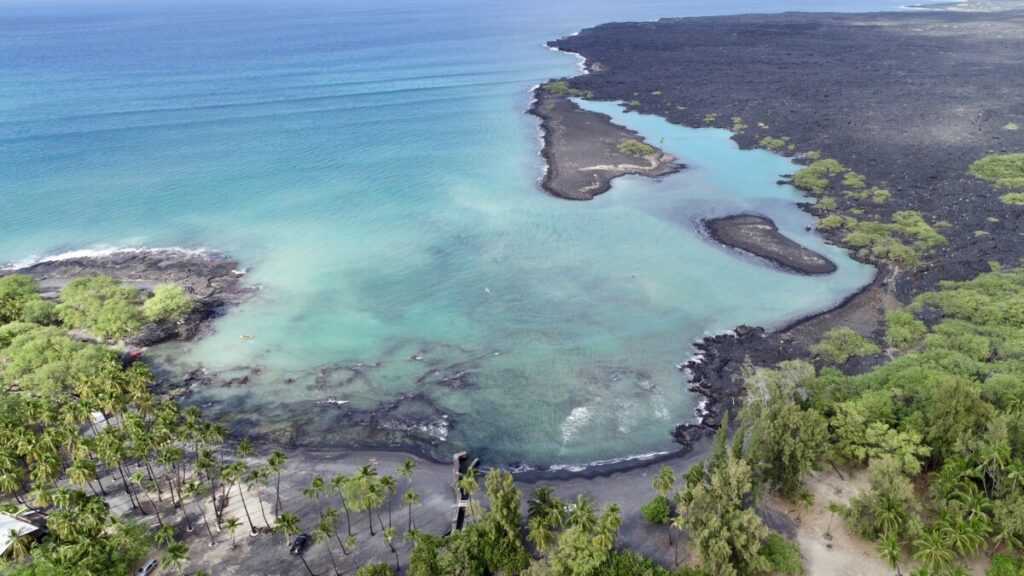 The Big Island is the largest island in Hawaii, with a diverse range of landscapes, from volcanic deserts to lush rainforests. The island is perfect for adventure seekers, with plenty of outdoor activities like hiking, snorkeling, and surfing. It's home to Kilauea, one of the most active volcanoes in the world, and the Hawaii Volcanoes National Park.
Hawaii Volcanoes National Park
Home to two of the world's most active volcanoes, Kilauea and Mauna Loa, with hiking trails, lava fields, and stunning views.
Mauna Kea
This beautiful dormant volcano is the highest peak in the state, standing at 13,803 feet. Mona Kea is a popular destination for stargazing, as it is home to some of the world's most advanced telescopes and offers unparalleled views of the night sky. Visitors can also enjoy hiking and exploring the mountain's unique landscape, which features lava fields, alpine tundra, and endemic plant and animal species.
Kilauea
Whereas Mauna Kea is dormant, Kilauea is one of the world's most active and accessible volcanoes. It is part of Hawaii Volcanoes National Park and offers visitors the opportunity to witness the raw power of nature, with eruptions and lava flows that have shaped the island's landscape for centuries.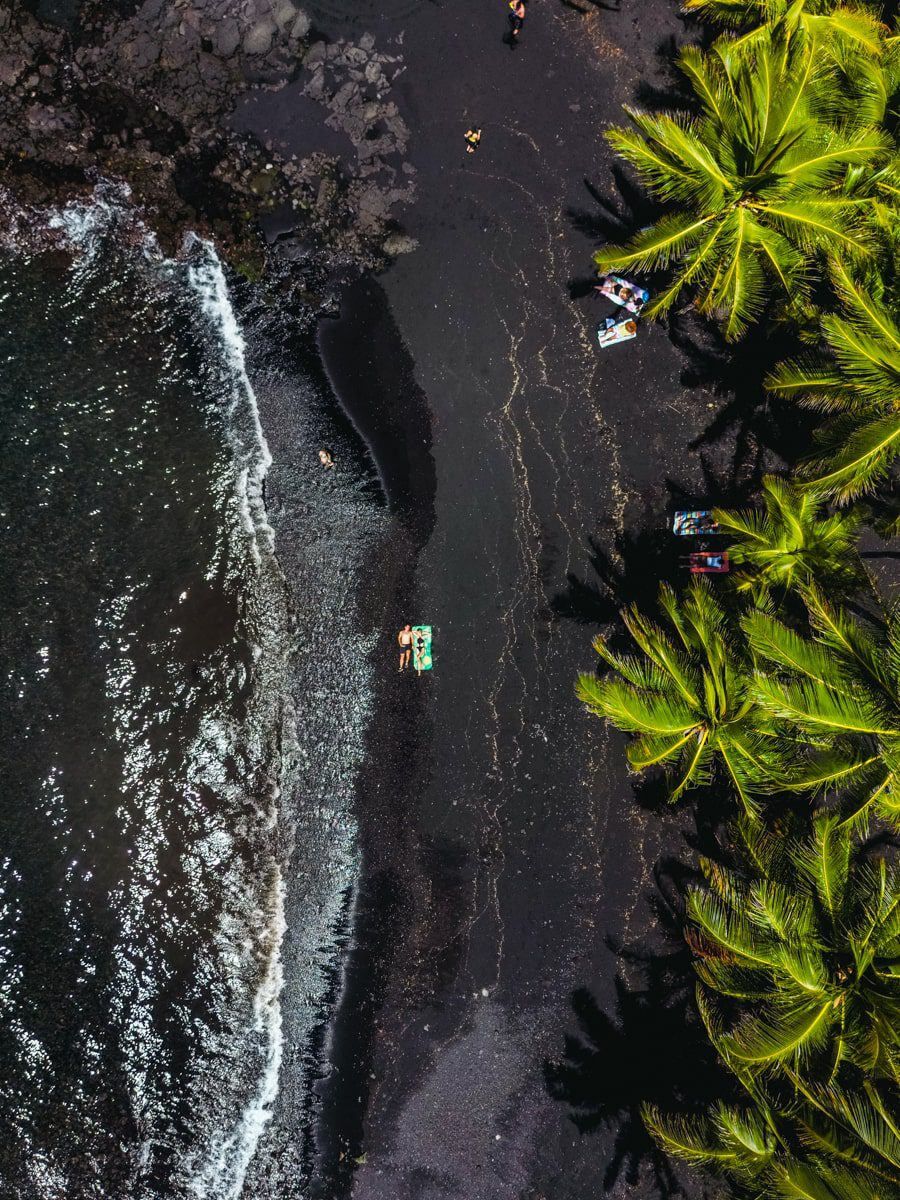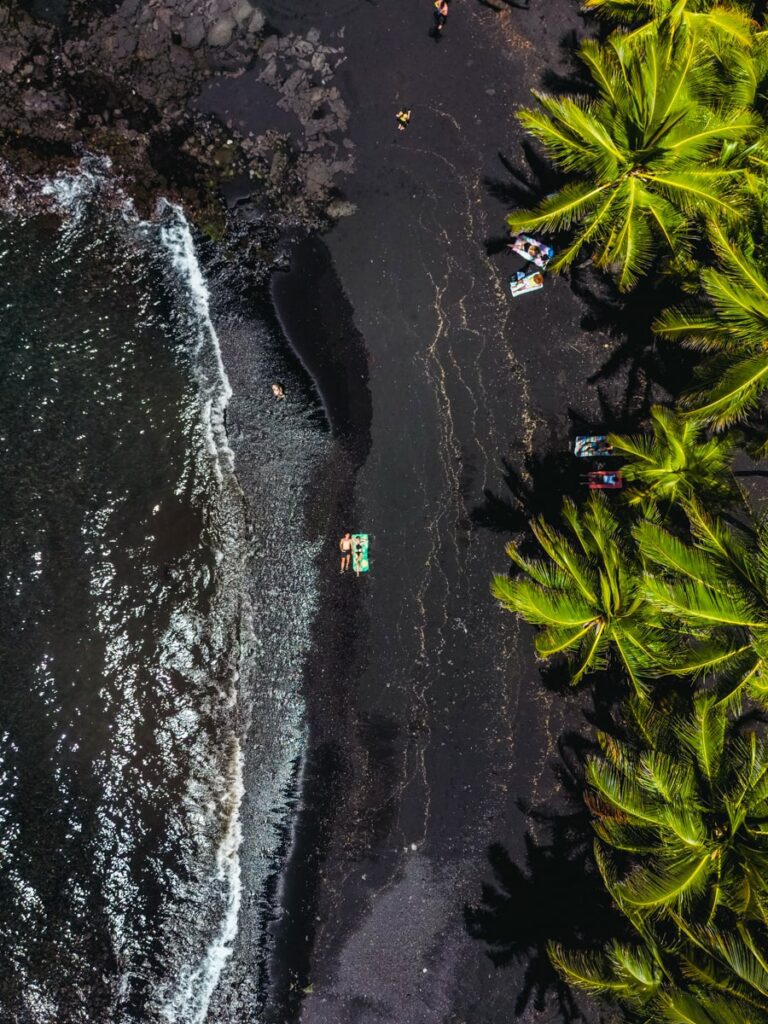 Punaluu Black Sand Beach
Located on the southeastern coast of the Big Island, Punaluu Black Sand Beach is a unique and stunning destination known for its jet black sand and turquoise waters. The beach is home to a variety of marine life, including sea turtles and tropical fish, and offers visitors the opportunity to relax, swim, and snorkel.
Waipio Valley
Waipio Valley is a beautiful and secluded destination known for its verdant landscape, towering cliffs, and black sand beach. The valley is accessible only by foot or 4×4 vehicle and offers a range of activities, including hiking, horseback riding, and swimming in the ocean.
Akaka Falls State Park
This park boasts two stunning waterfalls, the 100-foot Akaka Falls and the 442-foot Kahuna Falls, which can be viewed from well-maintained hiking trails that wind through the tropical vegetation. Visitors can also enjoy picnicking, birdwatching, and learning about the area's unique plant and animal life at the park's visitor center. With its natural beauty and easy accessibility, Akaka Falls State Park is a must-visit destination for anyone traveling to the Big Island.
Ready to start your travel planning to Hawaii?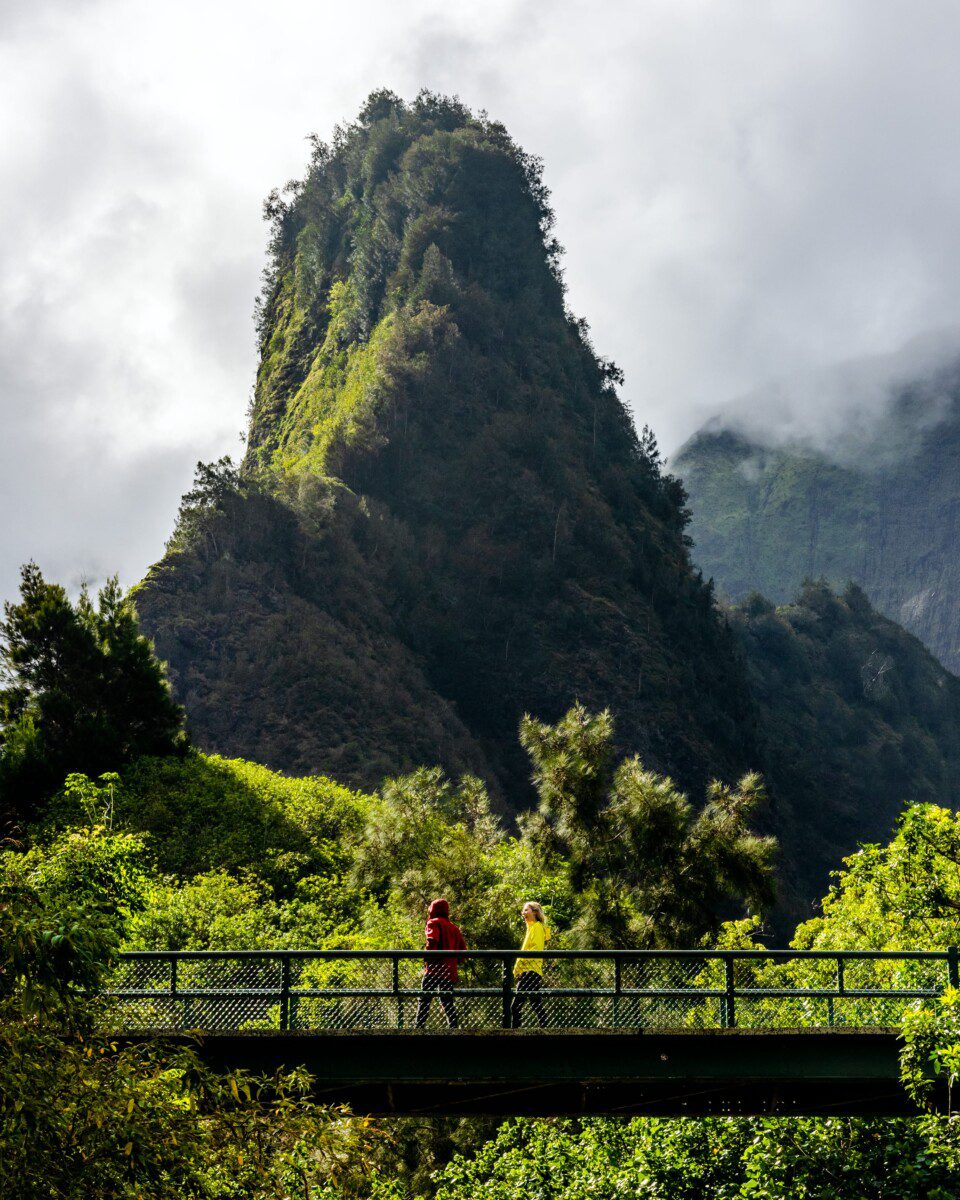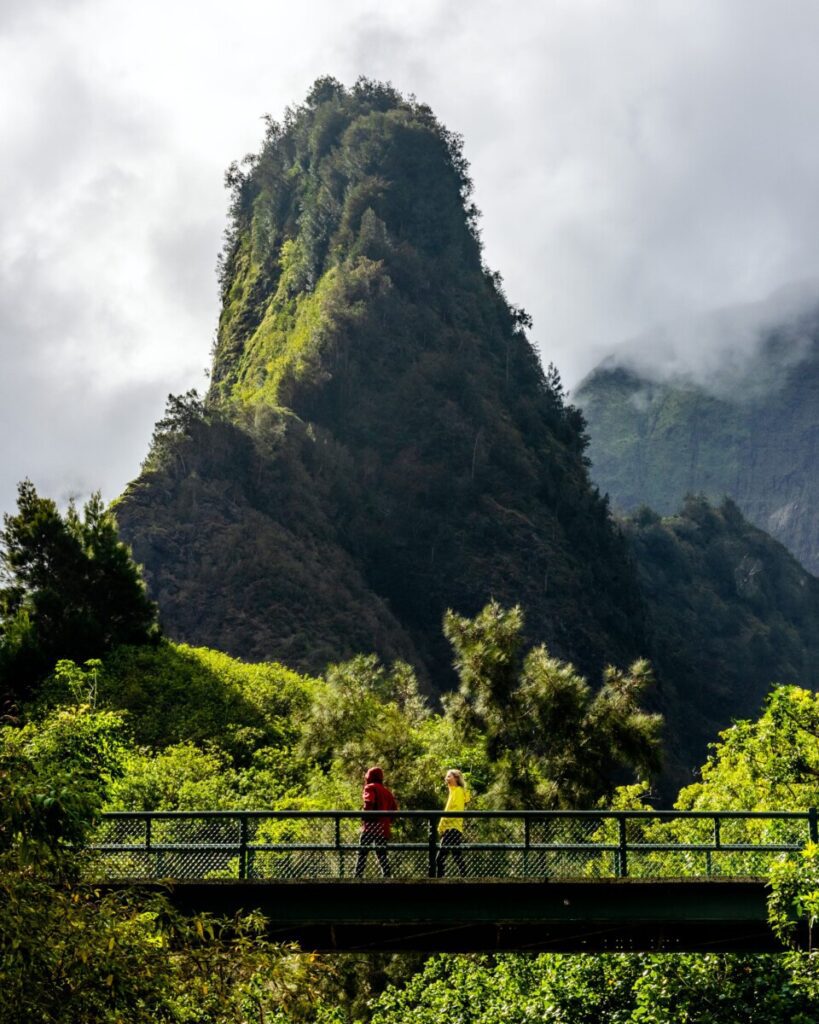 Overall, you can't go wrong with whichever Hawaiian Island you end up visiting. This list is just covering the basics and the highlights of each island. There is so much more to explore and many hidden gems on each Hawaiian island!
Ultimately, the best island for you depends on your interests and what you're looking for in a vacation. Each island offers its own unique experiences and adventures, so it's worth considering visiting more than one during your trip to Hawaii.