Ultimate New Hampshire Fall Foliage Road Trip Guide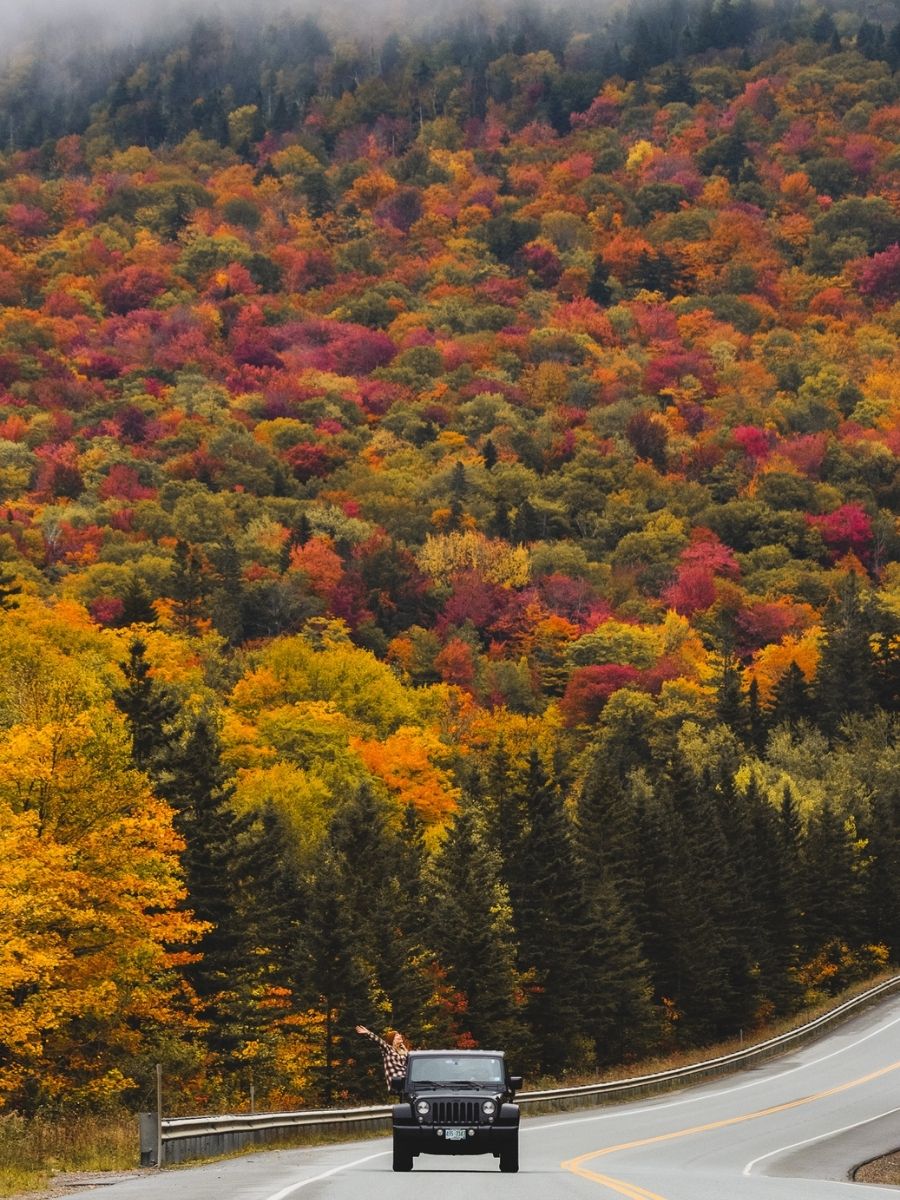 Want to know the best spots to add to your New Hampshire Fall Foliage Road Trip? New Hampshire is famous for its fall foliage, and so we're sharing our favorite leaf peeping hikes, fall foliage viewpoints, scenic highways, and accommodations & restaurant recommendations around Central and Northern New Hampshire's White Mountains in this ultimate guide to New Hampshire in the fall.
Disclaimer: This blog post is in collaboration with Visit New Hampshire. Some parts of the article also feature affiliate links, which means we get a small commission if you make a purchase (at no extra cost to you). It's one of the ways we can keep producing free guides and resources for our readers. Thank you for the support!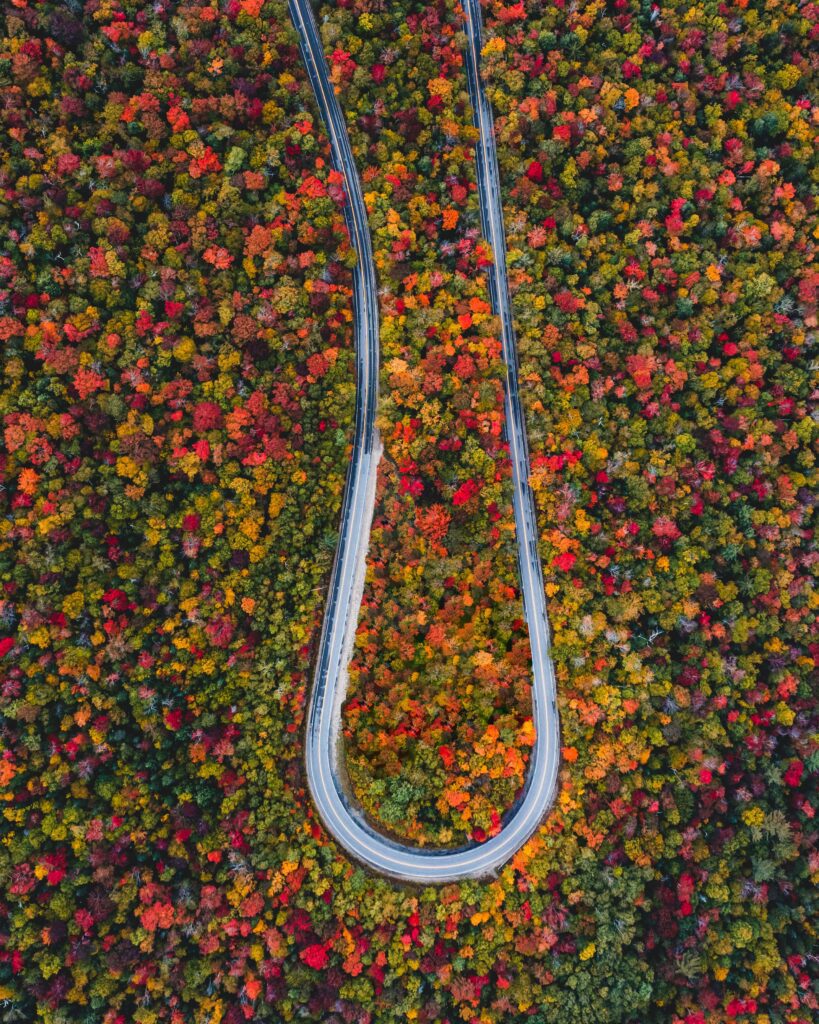 Before getting into everything, when heading to explore New Hampshire, please make sure to follow all the Leave No Trace principles to keep New Hampshire beautiful! Stick to the trails, take your trash, keep wildlife wild, be fire aware, and share the outdoors respectfully! Especially during peak foliage season, New Hampshire sees a lot of foot and vehicle traffic, so we can all do our part to keep the state as clean and preserved as possible for others to enjoy in the future.
Top Tips for Chasing the Fall Foliage in New Hampshire
We were absolutely blown away with how much there is to do in New Hampshire, especially during the fall! It's the perfect destination for those looking for beautiful hikes and viewpoints, plentiful waterfalls and stunning scenic byways all in one area! Here are our top tips for setting yourself up for success when embarking on a fall foliage road trip around the gorgeous state.
Utilize Fall Foliage Trackers
New Hampshire's website has a perfect tool for tracking fall color change weekly across different regions. Every week, it is updated with current conditions so you know which regions are nearing their peak and which ones still have some time to change.
Plan Your Fall Road Trip from North to South
The colors change earlier in the north and slowly trickle down to the southern part of the state. If you are visiting New Hampshire earlier in the season, we would recommend starting your road trip off in the Dixville Notch area near the Canadian border. This area sees the leaves change first, so it's your best bet to get the first glimpses of fall color here.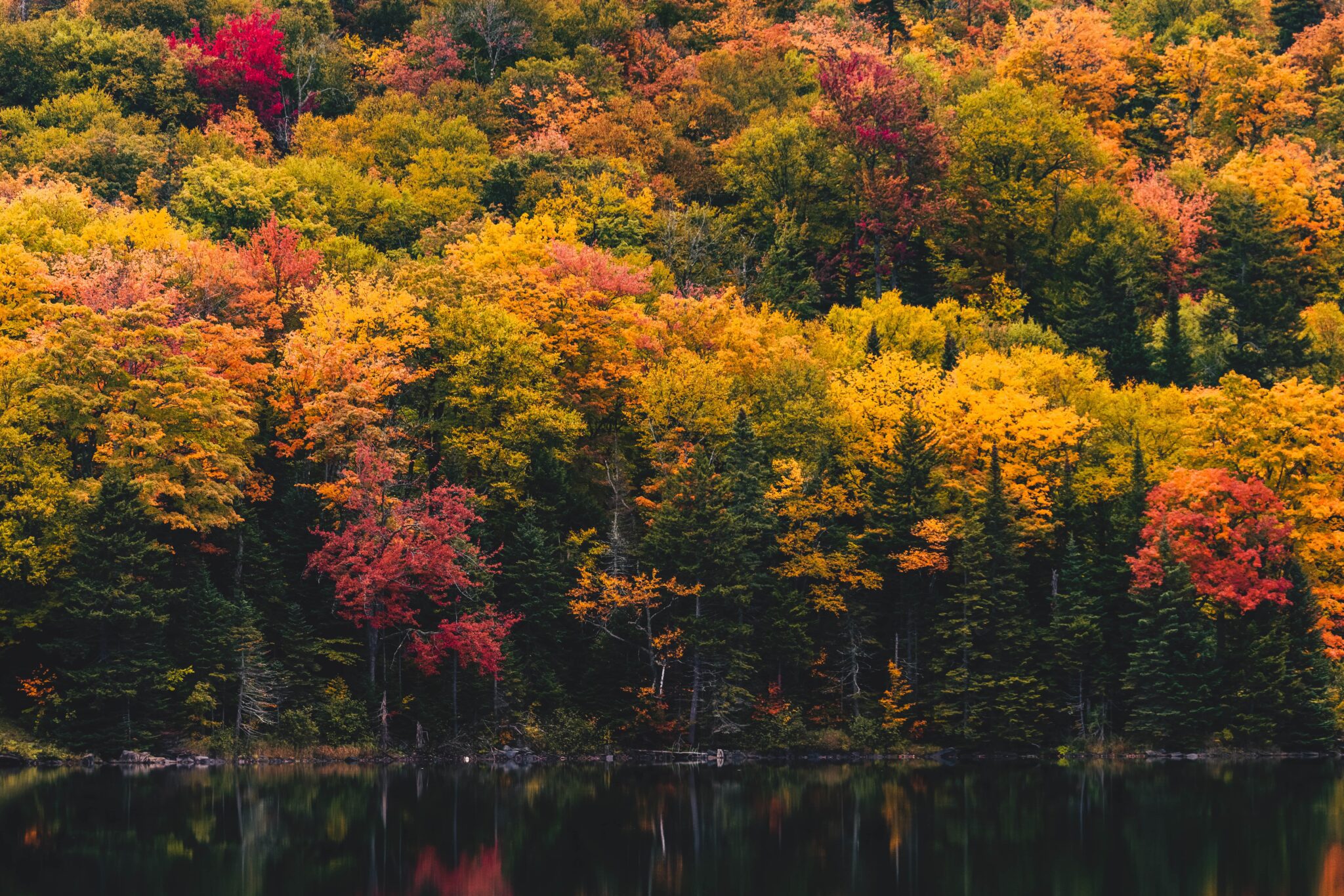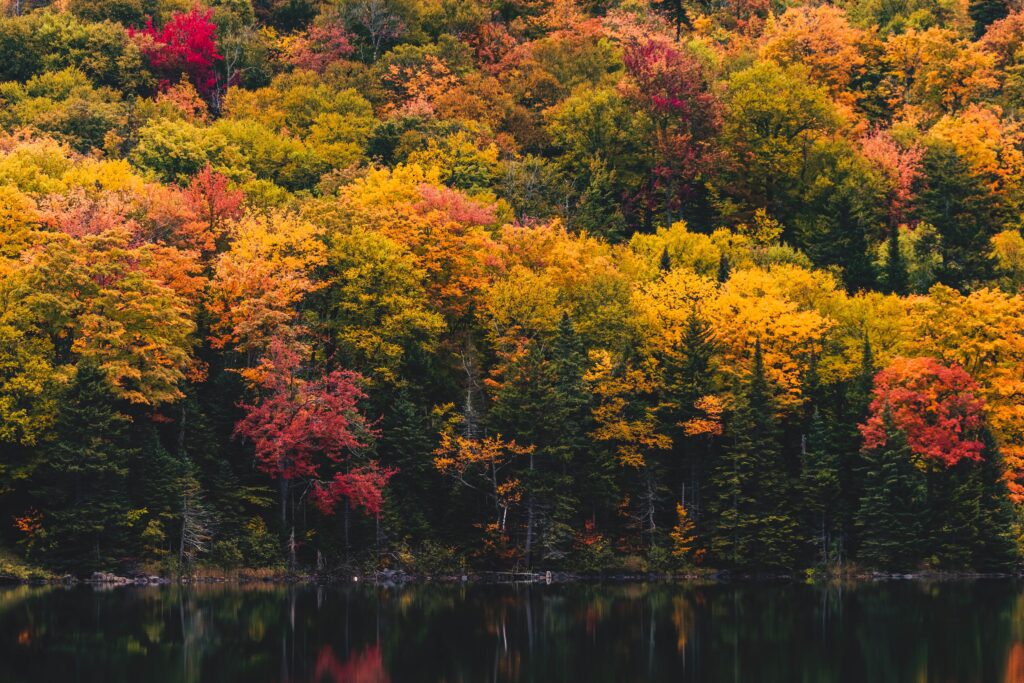 Plan for Inconsistent Weather
Check the weather frequently when planning out your New Hampshire itinerary. You will want to make sure to do your research before you embark on your leaf peeping stops around New Hampshire since the weather can change in a flash. Bring lots of layers in the event of rain, wind, and fog and make sure you're prepared with the proper 10 essentials while out hiking.
Have a Flexible Fall Foliage Itinerary
Sometimes peak foliage isn't where you think it is or the weather may impact where you wanted to head. We ended up being super flexible with our plans and switched things up based on current conditions during our trip! We'd recommend just making a list of places you want to go and then having a backup plan if it's too busy or non-ideal conditions.
Also, be mentally prepared that peak season for New Hampshire is fall, and with that comes crowds. You may arrive to a spot on your fall foliage itinerary only to be unable to find parking. It's best to plan ahead with a Plan B & C. We'd recommend getting your most desired spots done in the morning or late afternoon so you can avoid the crowds to the best of your ability.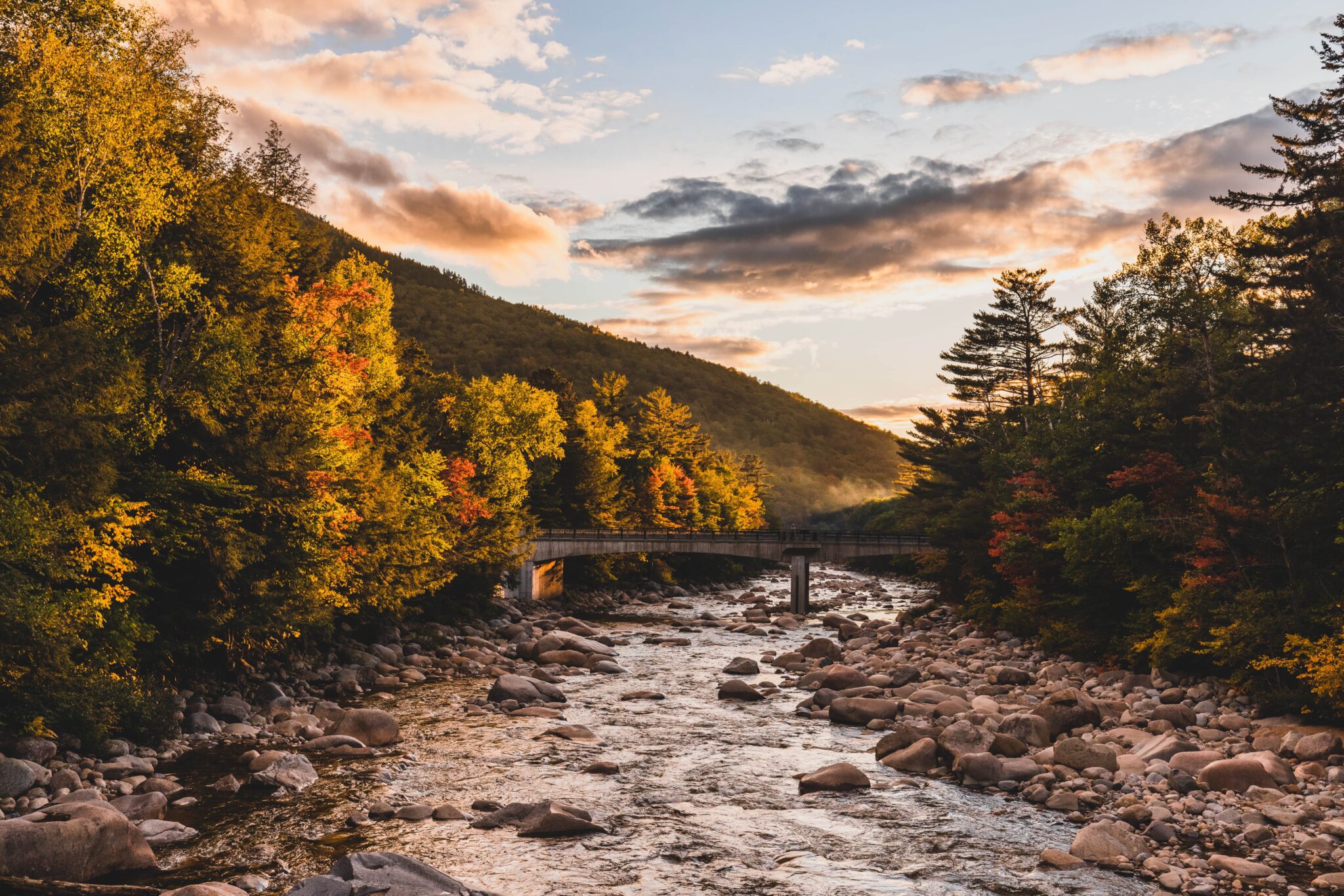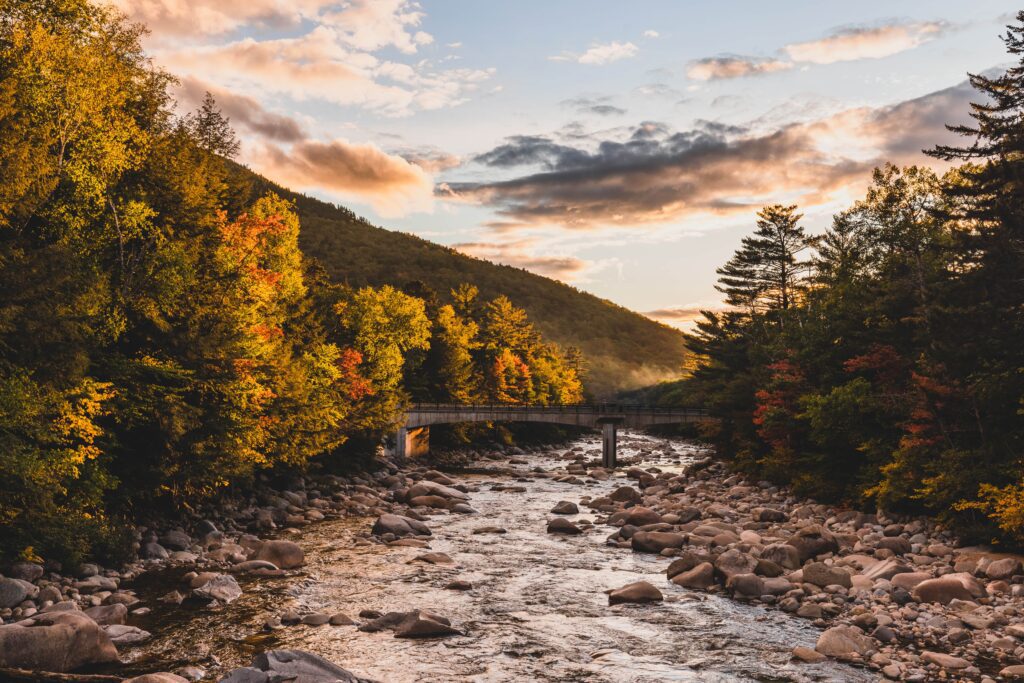 Make Time For Spontaneous Stops at Pull Outs
There were so many places that we just decided to spontaneously explore that were beautiful destinations right off the side of the scenic highways. Make sure not to park on the side of the road though as it's illegal and dangerous!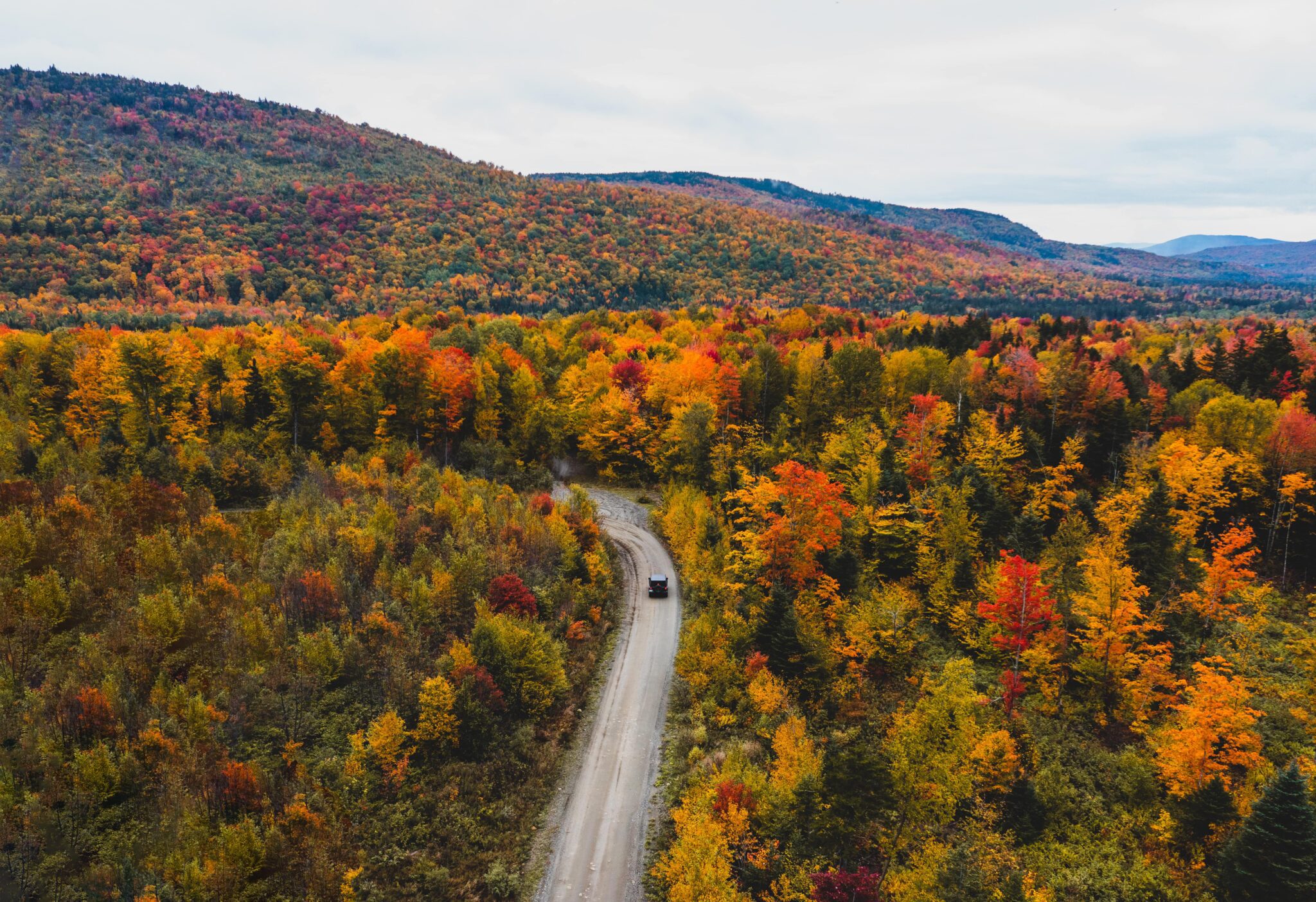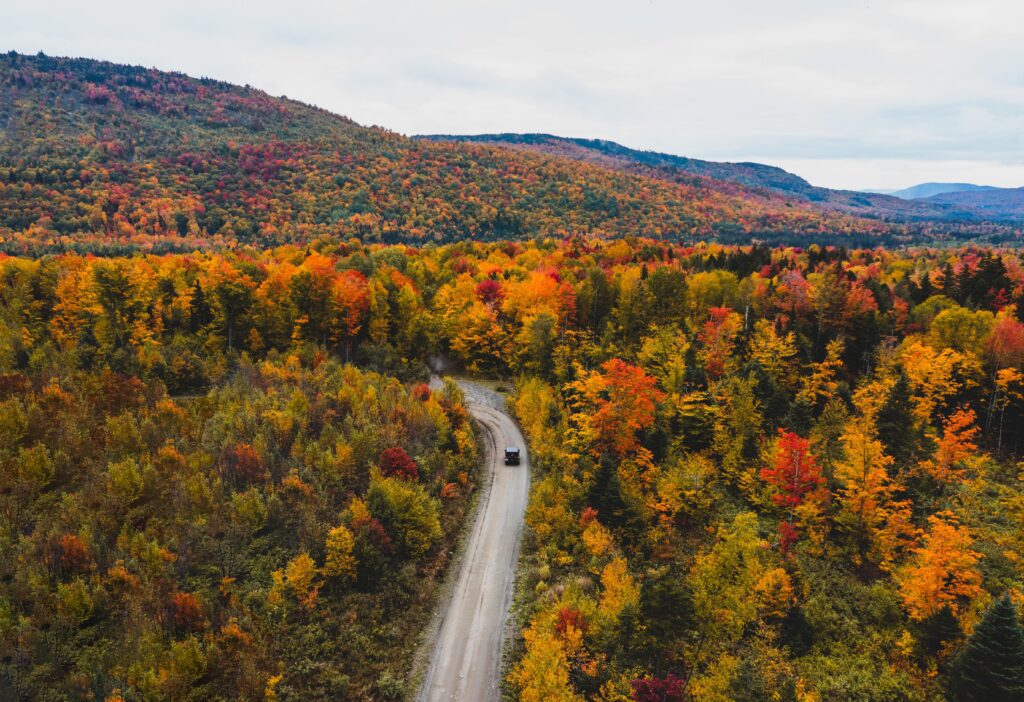 Rent a Car
Unless you are local to the area, if you are flying into New Hampshire, renting a car to chase the fall foliage is a must. We opted to use Turo, and we rented a photogenic Jeep that was perfect for exploring off the beaten paths. Make sure to book this as far in advance as possible because optimal leaf peeping season will likely have limited car rentals available that are a decent price if booking at the last minute.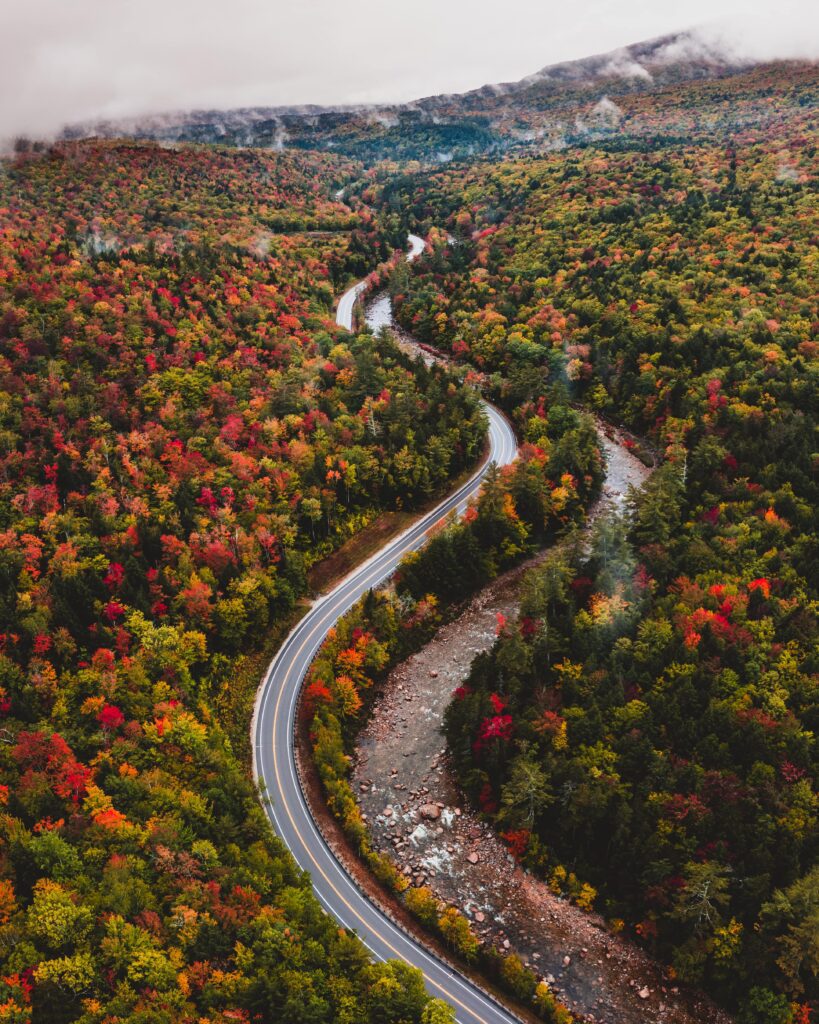 When To Visit New Hampshire for Fall Foliage
Typically, peak season lies around the first week of October to the third week of October before the leaves completely change. Obviously, weather and external circumstances can play a role in the exact timing each year. In 2021, peak foliage hit most of New Hampshire the week of Columbus Day. However, if you plan to visit during this weekend, expect heavy traffic and lots of crowds. We planned our visit the first week of October and had great color in the northern side of the state, with the more central areas turning our last day or two. However, we had nearly no crowds to fight with for the best viewing spots of the leaves.
How To Get to the White Mountains Region of New Hampshire
We decided to fly into Manchester-Boston Regional Airport, rather than flying into Boston International itself. The main reason for this was we were hoping to see some southern fall foliage around Lake Sunapee or Lake Winnipesaukee on our way to and from the airport!
Best Scenic Drives & Hikes to Add to Your Fall Foliage Route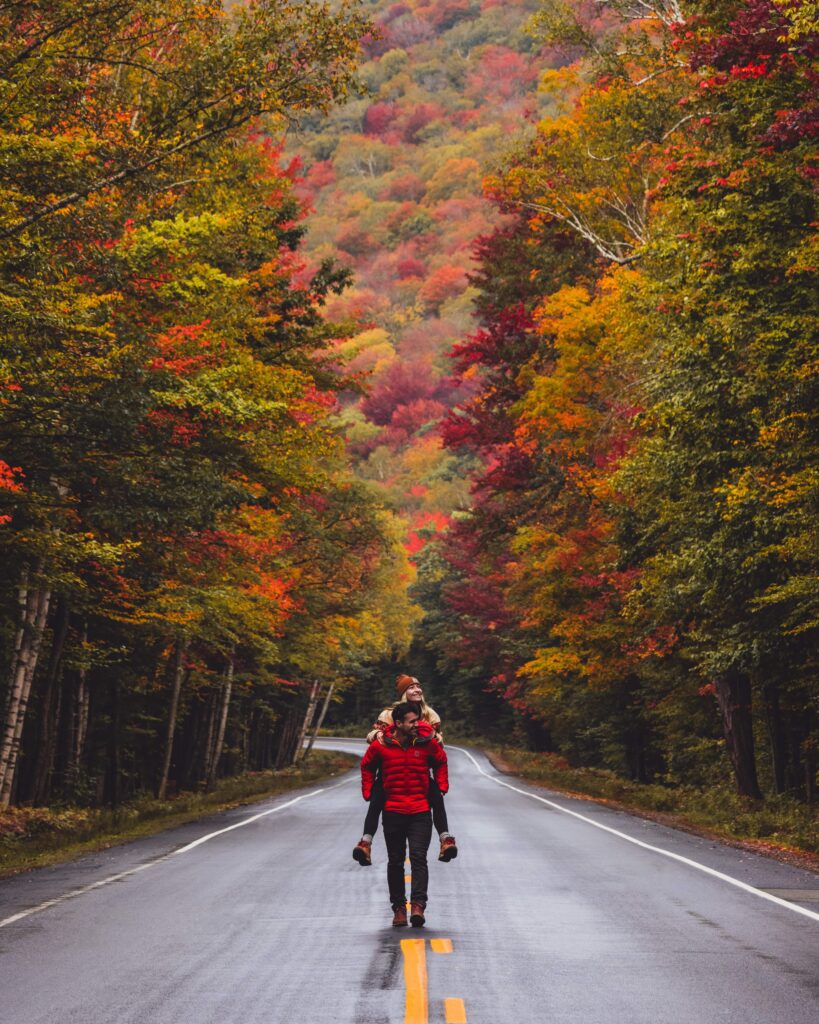 Drive Along the Kancamagus Highway
The Kancamagus Highway is hands down one of the best scenic roads to drive for chasing the fall colors. The drive itself is about a 45 minute drive across with no traffic, although during peak season, it can take up to 2-3 hours with traffic one way. There are also no gas stations along the 34.5 mile stretch of highway, so make sure to fill up your gas in either Conway or Lincoln before embarking on your drive. There's also minimal to no cell service, so plan ahead and download your maps or whatever data you may need ahead of time.
There are several stops along the way that do require an entrance fee, although this can be waived if you have a qualifying pass. For example, we brought our America the Beautiful Pass, which covered all entry fees throughout the White Mountains National Forest area while we were exploring.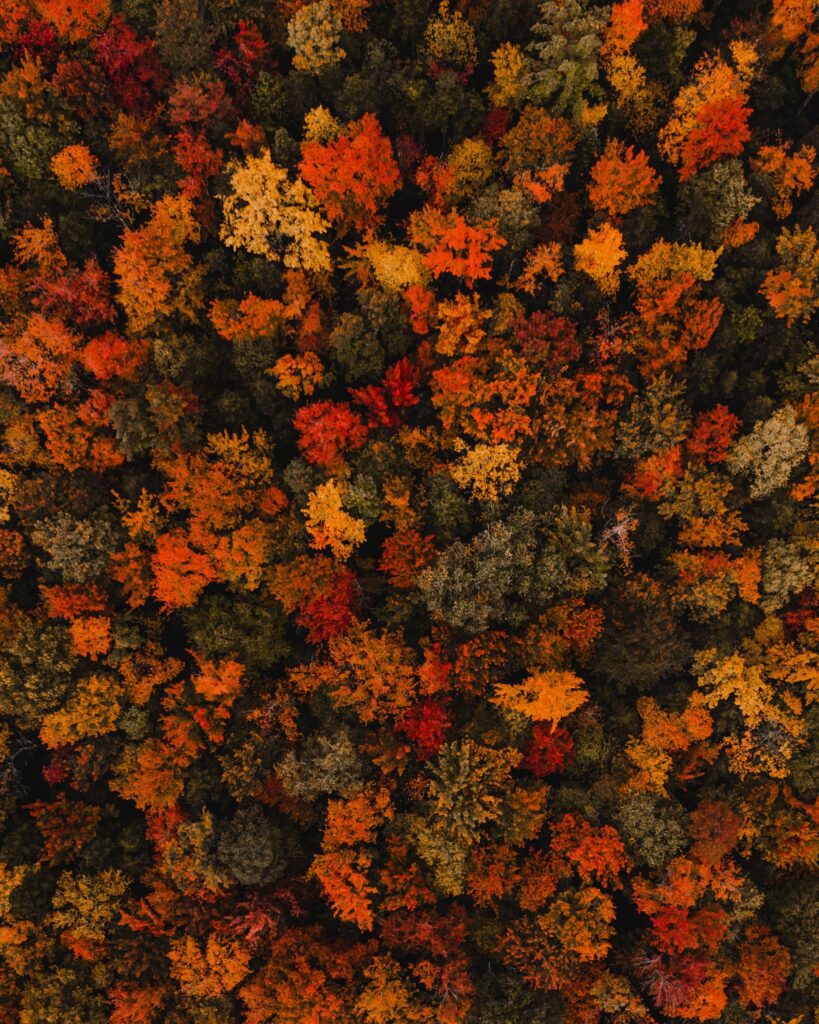 If you are looking to do some camping for your fall foliage road trip rather than staying in hotels, inns, or B&Bs, check out the abundant campsites along the Kancamagus Highway! There are plenty of beautiful options to choose from, but make sure to reserve the campsites in advance unless you are dispersed camping along designated forest service roads.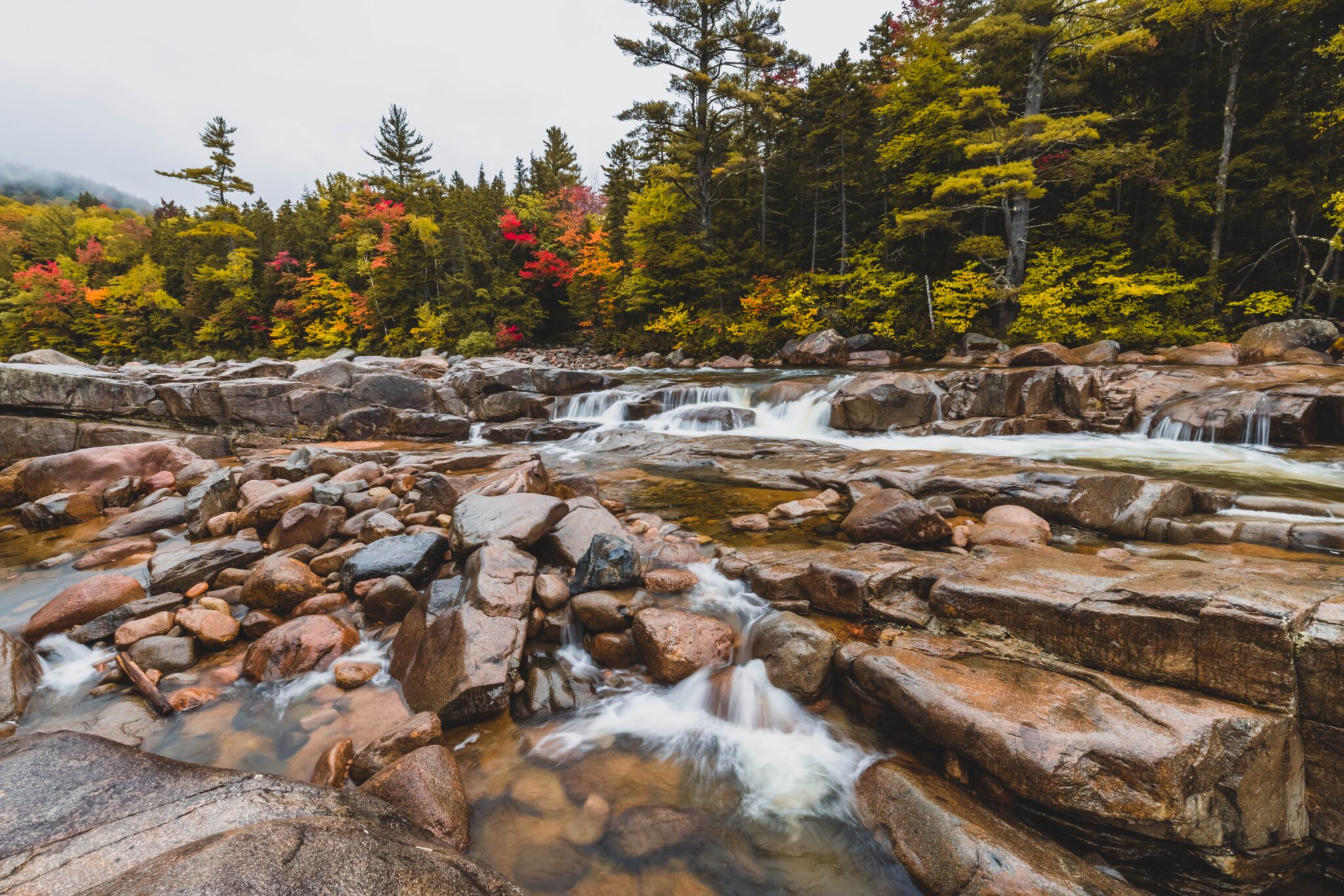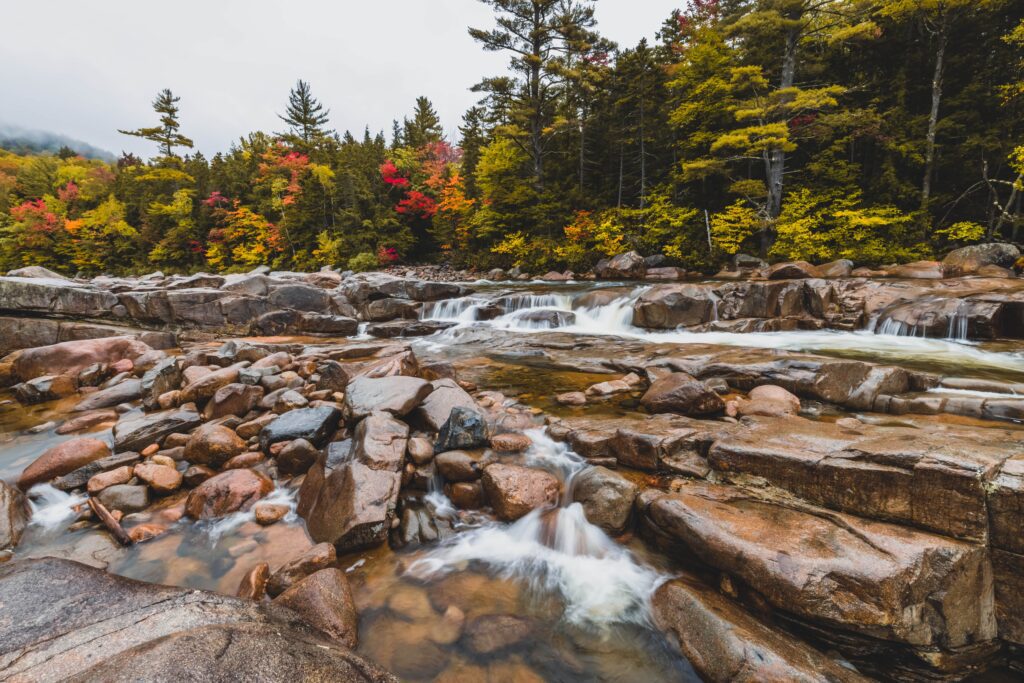 Lower Falls
This is one of the first stops along the highway that we'd recommend pulling off at. A short walk from the parking lot, and you are greeted to a gorgeous little cascade surrounded by vibrant colors. This is a great family friendly stop along the Kancamagus. Although, it can be slippery if you head out onto the rocks, so make sure to wear grippy hiking shoes when exploring.
Rocky Gorge Scenic Area
Rocky Gorge has a classic wooden bridge to walk across and take in another scenic view of the fall foliage surrounded by waterfalls. This whole area was affected by glaciers and it's fascinating to learn about the history via the signs around the trail. Rocky Gorge is a great spot to visit for sunset and watch the fall foliage during golden hour.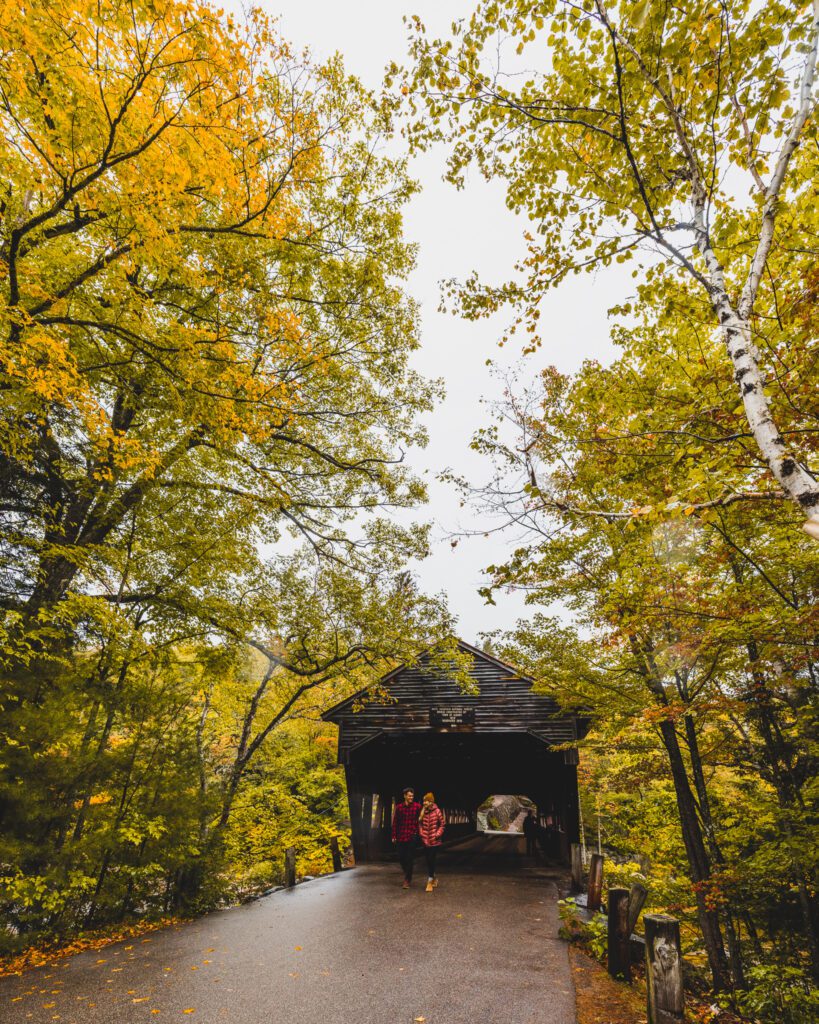 Albany Covered Bridge
Did you know New Hampshire actually has 54 covered bridges throughout the state? This is a nice spot to stretch the legs and take a short stroll down to the river's edge.
Sabbaday Falls
Sabbaday Falls is a popular short hike along the Kancamagus Highway. It is just a mere 10 minute walk up a wide gravel path that spits you out with a gorgeous view of waterfalls. Beware, the parking lot here gets pretty packed by the afternoon.
Sugar Hill Scenic Overlook
This is a great quick stop for a beautiful scenic view of the valley of trees. Parking can potentially be a nightmare if the tour buses arrive as the same time as you. However, just wait a few minutes and you should be able to find a spot. People pop in and out of this viewpoint pretty quickly.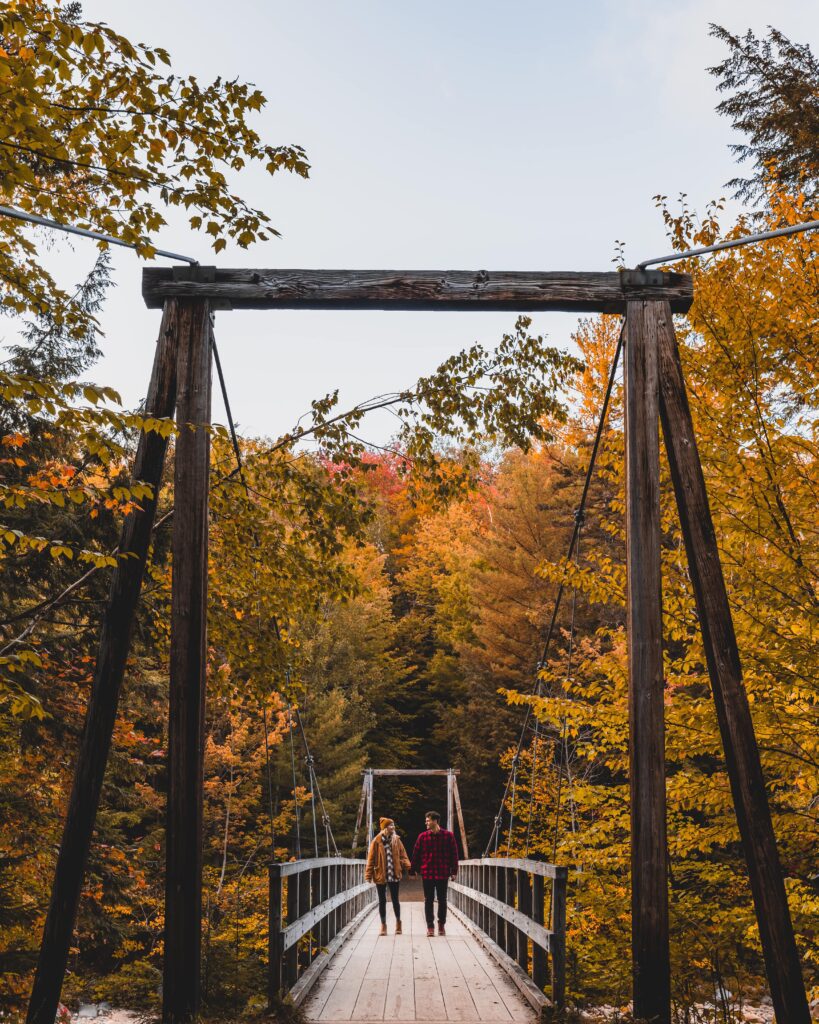 Lincoln Woods Trail
Whether you decide to do the full trail, or just the beginning portion of it, the Lincoln Woods Trail should definitely be on your fall foliage itinerary. There is a gorgeous wooden footbridge that overlooks the water, as well as a cool tree tunnel in the beginning of the trail that makes for great fall colors pictures. We'd recommend doing this around sunrise or sunset to avoid the crowds that accumulate throughout the day.
Check Out These Guided Experiences Along the Kancamagus Highway: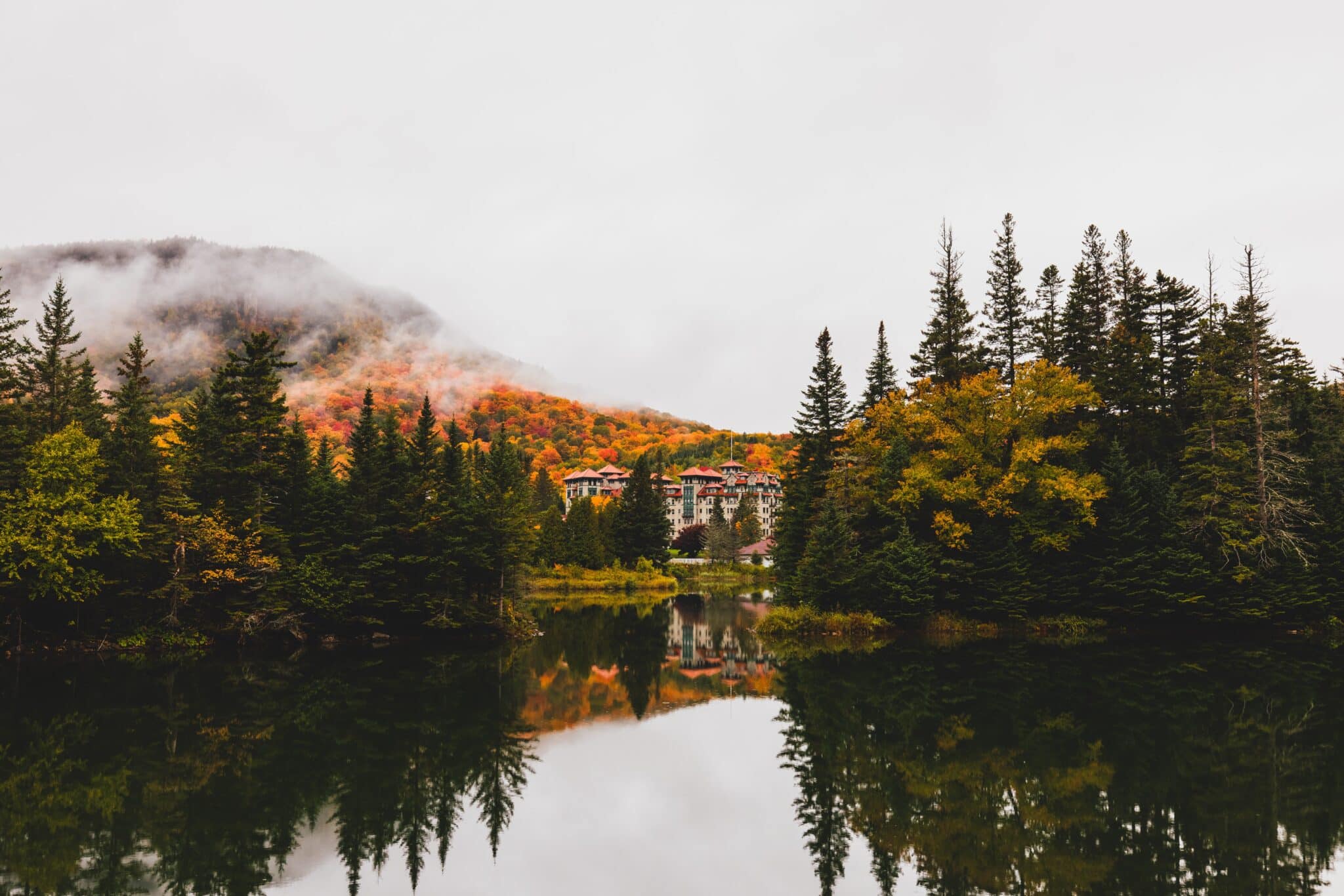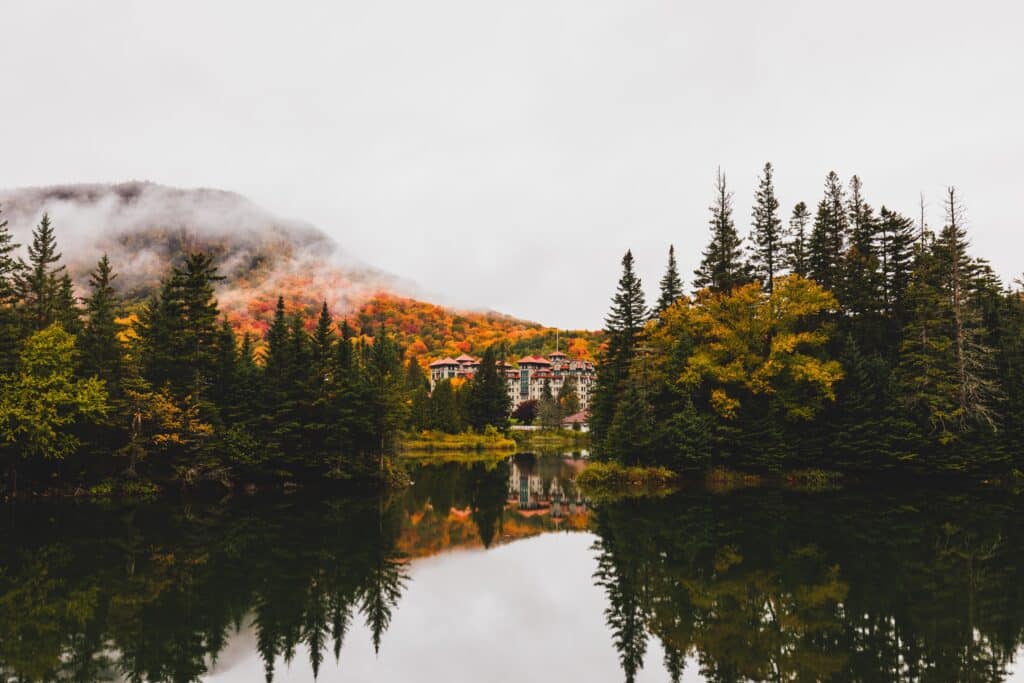 Dixville Notch State Park
If you are chasing the fall colors from North to South, Dixville Notch State Park is a great first stop on your New Hampshire fall foliage road trip. The colors turned here first during our trip and we drove up several times since it was so beautiful.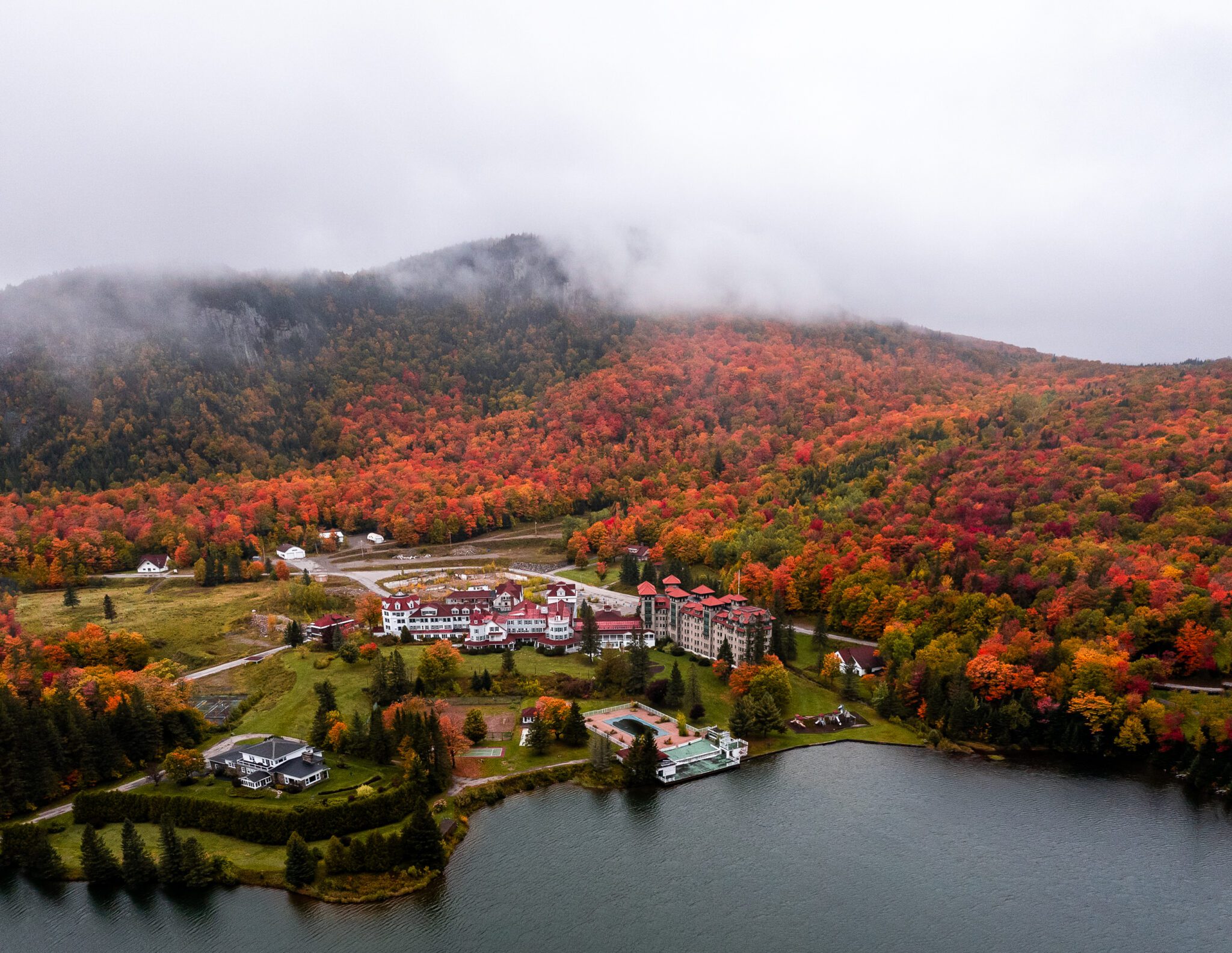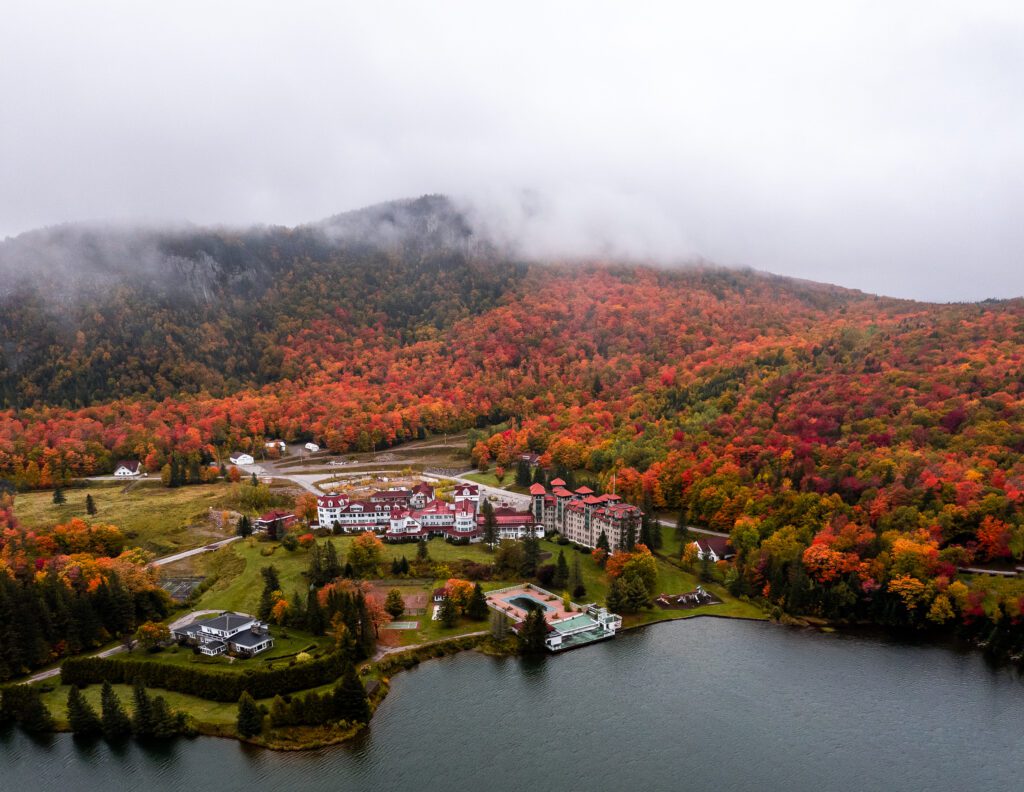 Table Rock Trail
The Table Rock trail is located in the heart of Dixville Notch and offers gorgeous views of the foliage and surrounding lakes from above. The Table Rock Trail is a 1.5 Mile hike with 751 ft of elevation gain. It can be pretty muddy after it rains, so make sure to wear proper hiking shoes. We did this hike for sunrise, and the potential views up here are incredible. We loved bringing some Kuju Coffee along and enjoy the views at the top.
Accommodations Near Dixville Notch State Park That May Interest You: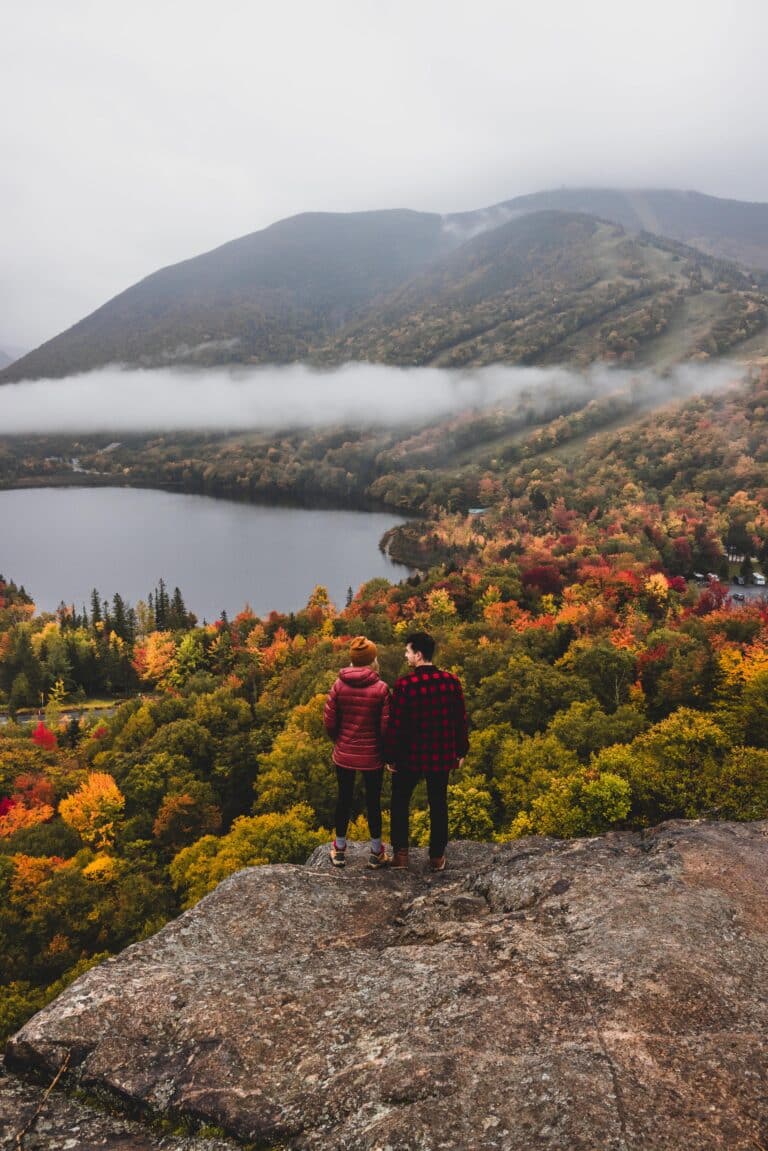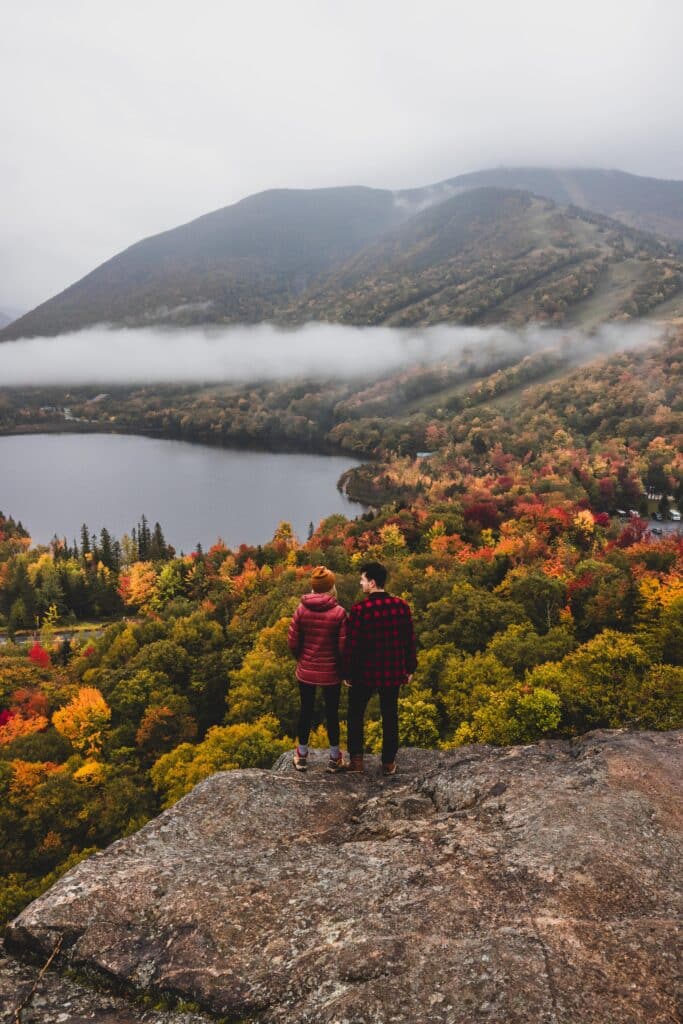 Artist Bluff Trail
The Artist Bluff Trail is quite possibly one of the most famous trails for fall foliage in New Hampshire, and for good reason. For a minimal hike, it offers stunning views overlooking Echo Lake. There are two different ways to do this hike. You can do the full loop to Artists Bluff with Bald Mountain, or you can just hike to the bluff itself. We would recommend if you are only looking to photograph the bluff, that you cut out Bald Mountain.
Park in the Echo Lake parking lot and walk across the street to find the smaller trailhead specifically for Artist Bluff. This makes the hike only about a half of a mile. There is a separate parking lot further up the street if you are looking to do the full loop, which is closer to 1.5 miles. If you are a photographer, make sure to get there early since it gets insanely busy during peak foliage. Be prepared for potential fog, however, as we got fogged out twice here in the morning. We'd recommend doing this hike in the afternoon or for sunset so that the morning fog clears by then.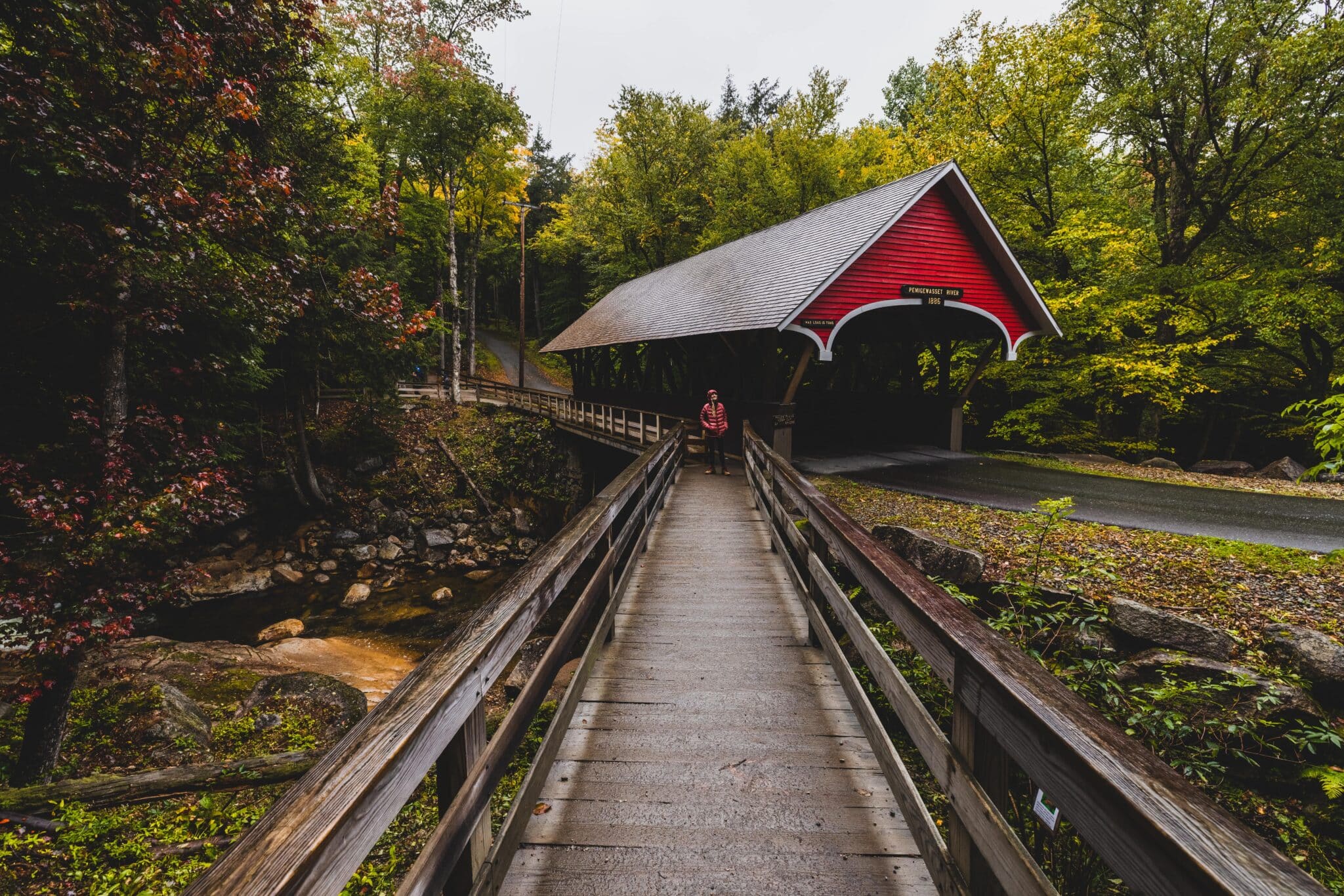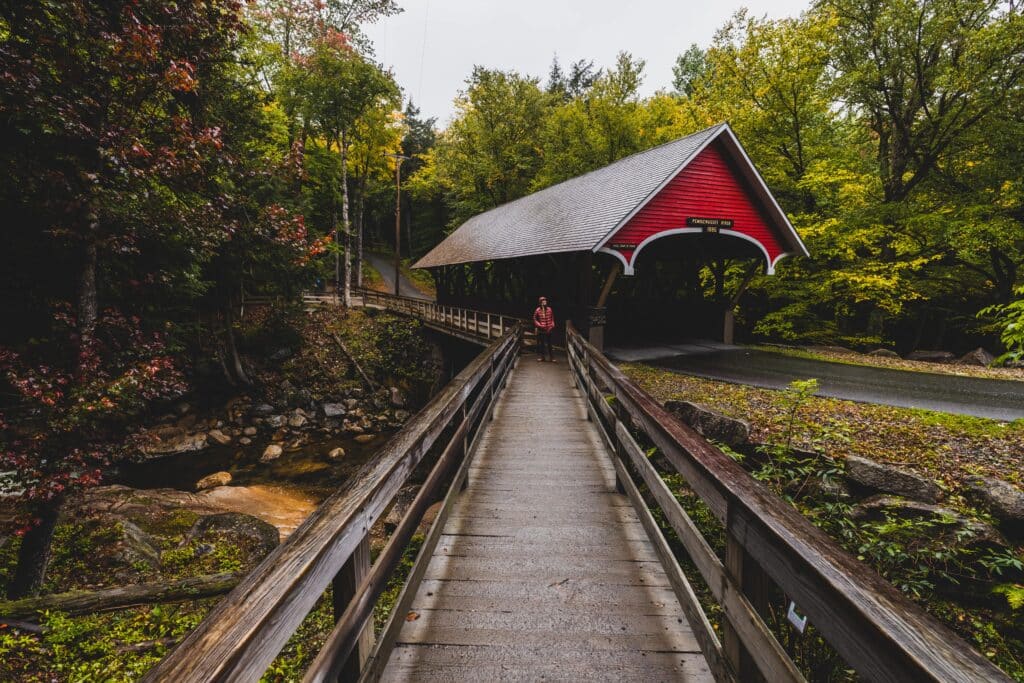 Flume Gorge
If there was one spot every local recommended us to check out on our stay in New Hampshire, it was the Flume Gorge. There is ample parking and a small fee to get into the Flume Gorge itself, where you can do the Flume Trail Loop. This is a very family friendly 2.2 mile hike and has great views of Avalanche Falls. If you can make it here during peak season, we'd recommend doing that, as we came a little bit too early. However, the falls are still beautiful even without the fall foliage. Make sure to reserve your tickets ahead of time, otherwise you are not guaranteed entry into the gorge area. The area gets especially busy the second and third weeks of October.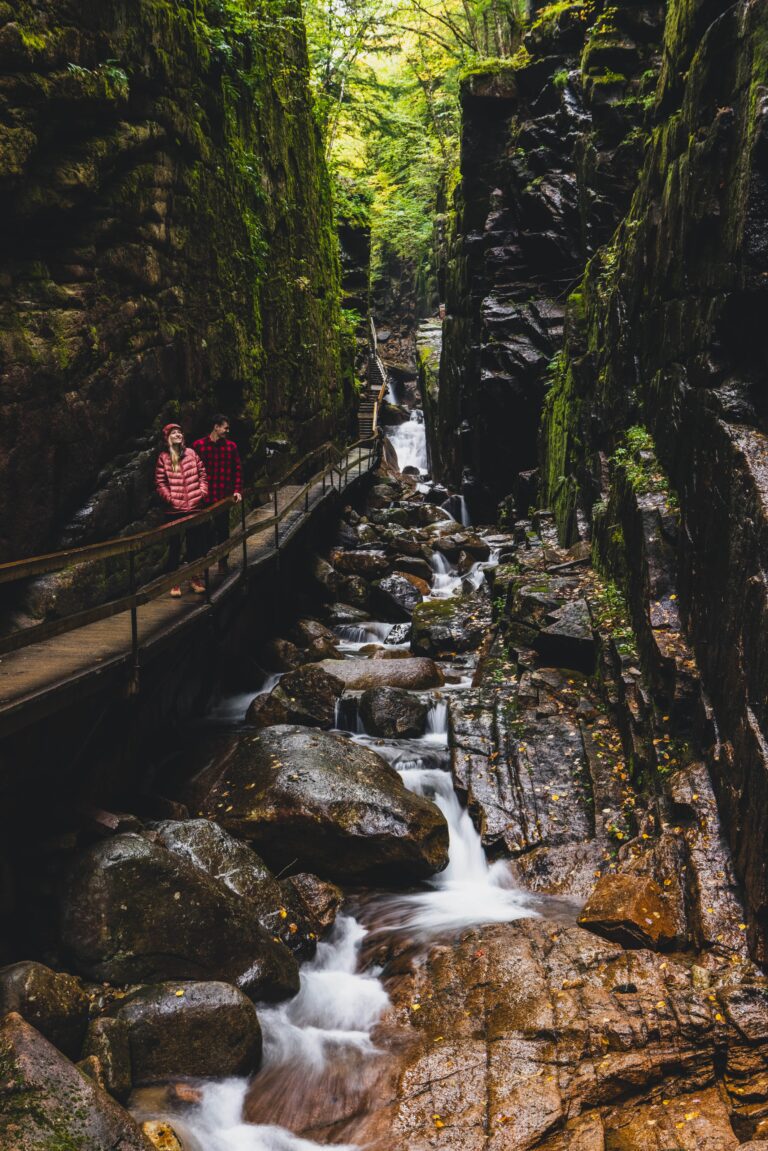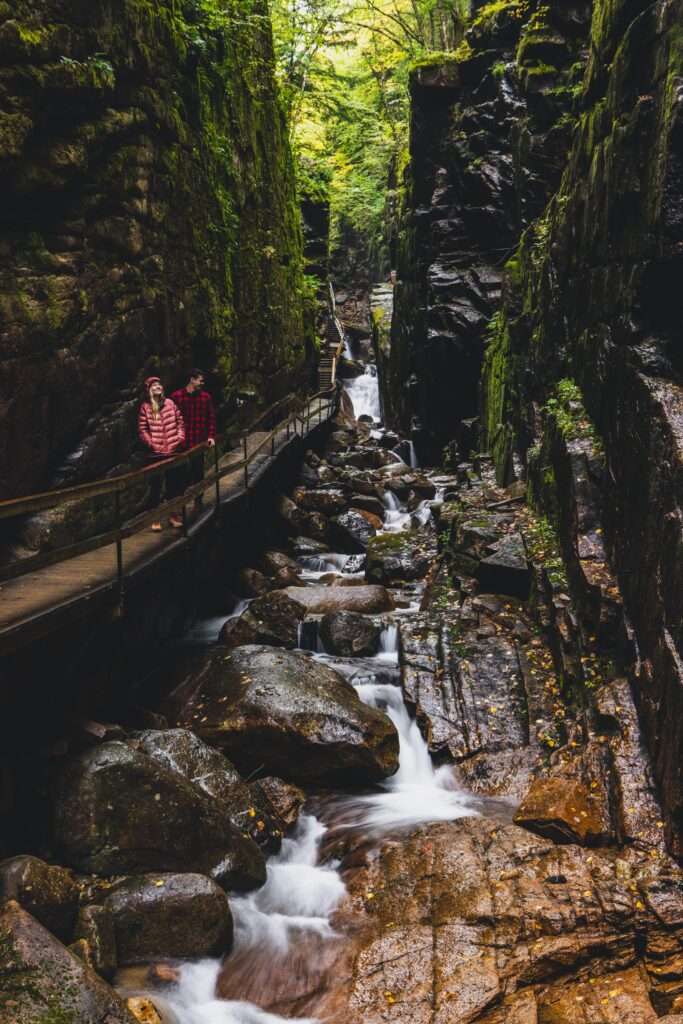 Accommodations Near Franconia Notch State Park:
Crawford Notch State Park
Hanging out around Crawford Notch was one of our favorite parts of our trips. There is so much to do in such a small area. We had little to no cell service throughout this area, though, so make sure to download maps ahead of time so you know where you are going.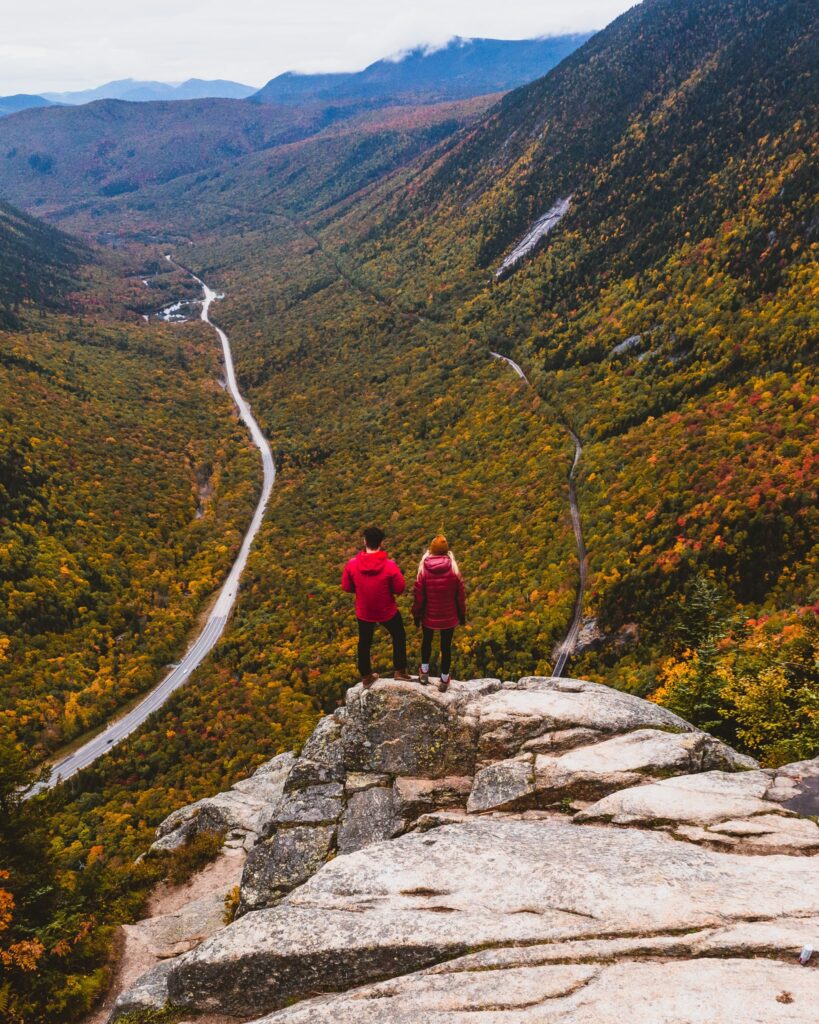 Mt. Willard Trail
This was one of our favorite hikes while chasing the fall colors. Mt. Willard itself is a pretty gradual hike uphill, featuring some waterfalls and streams along the way up. Once you get to the top, you get an incredible view of the Conway Scenic Railroad, as well as the rest of Crawford Notch State Park.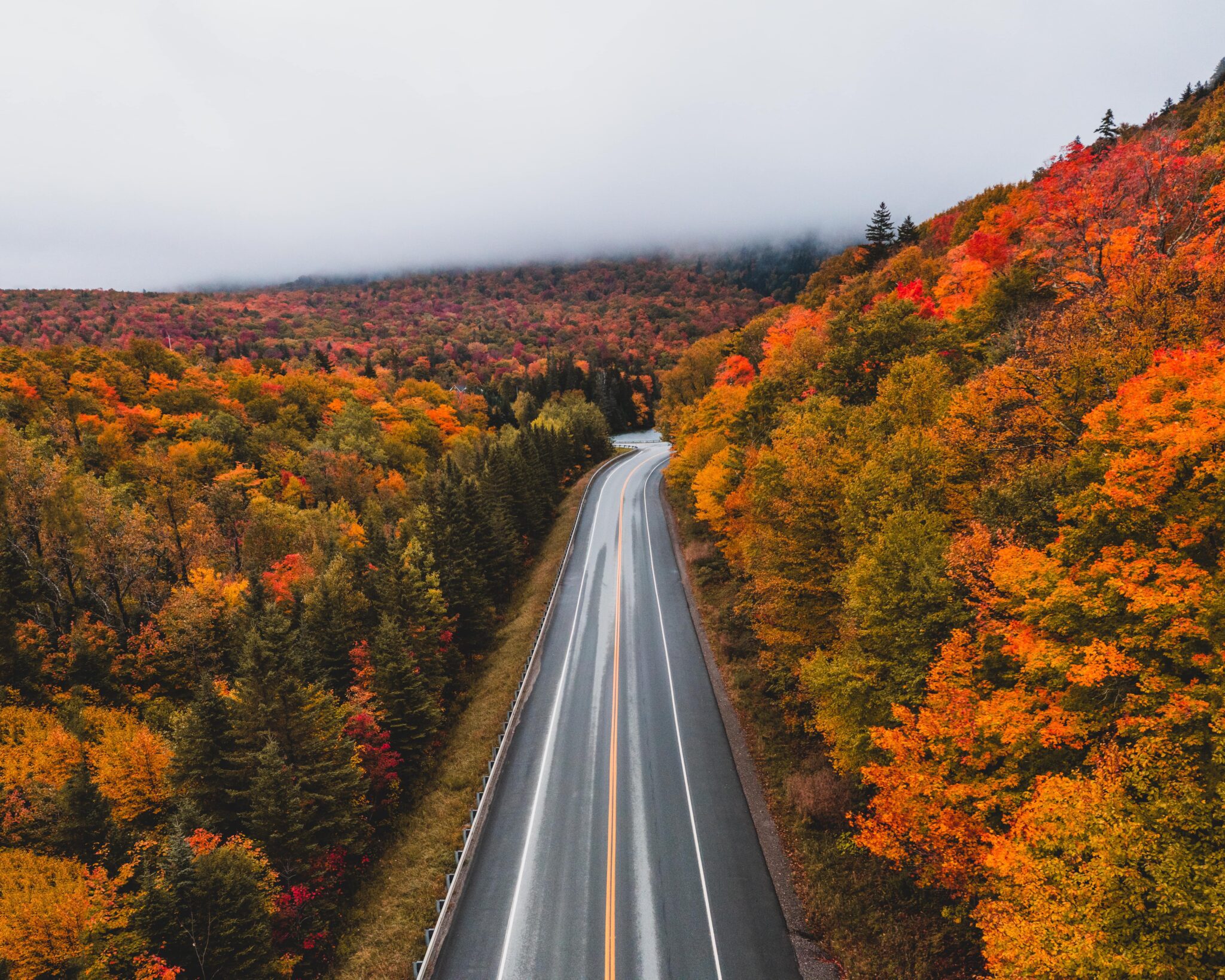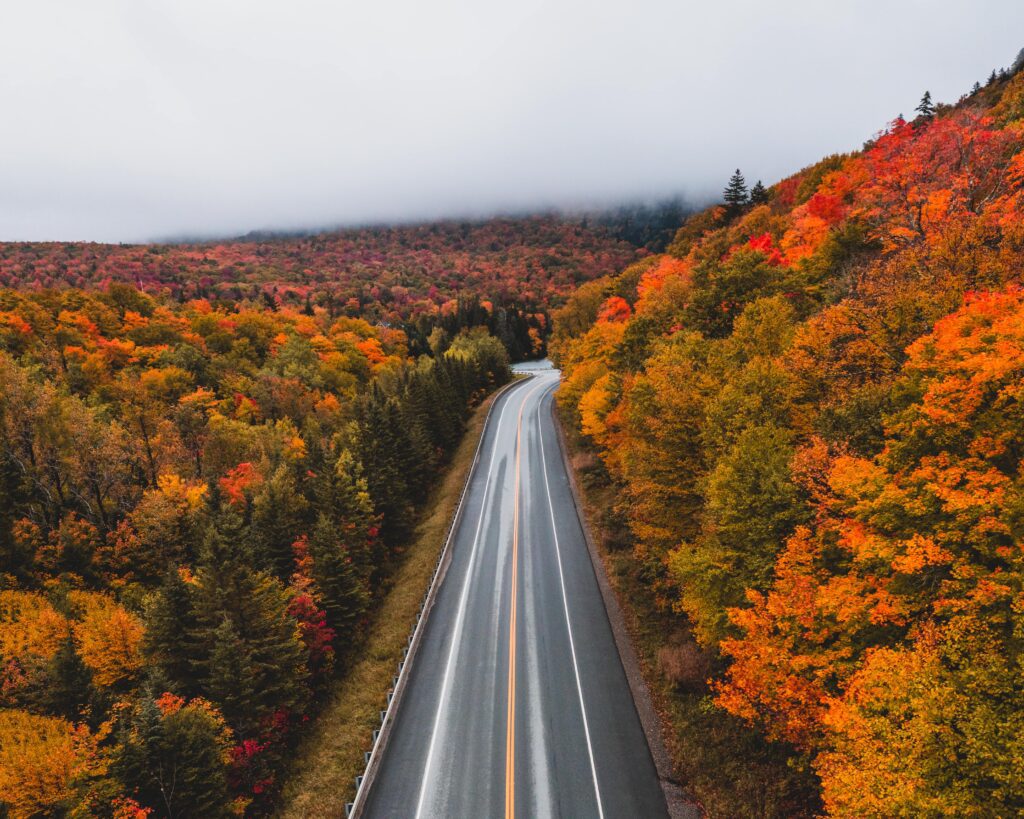 Route 302
Along Route 302, You'll come across gorgeous stretches of roads, many options for dispersed camping, and beautiful road side waterfalls. We highly recommend pulling off to see the Flume Cascade and the Silver Cascade which are a short drive from the Mt. Willard Trail area.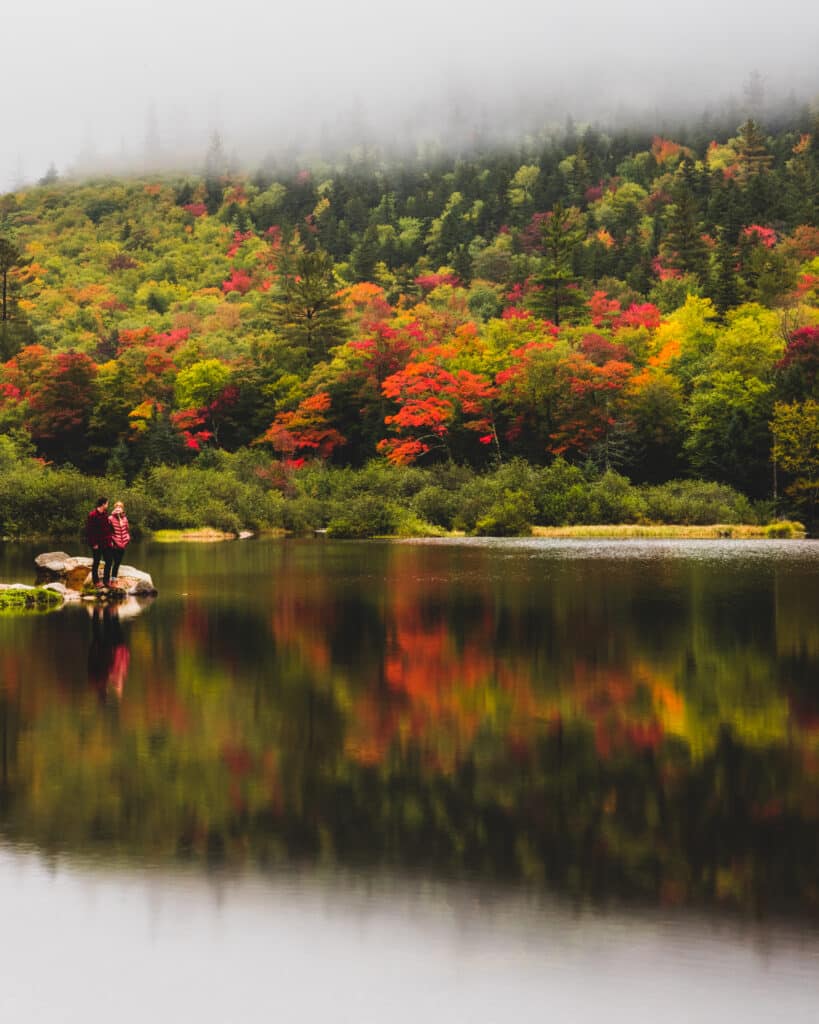 Willy House
This is a nice spot to grab some snacks, or pick up some famous New England Maple Syrup and other souvenirs.
Other Adventurous Things to Do in the White Mountains Region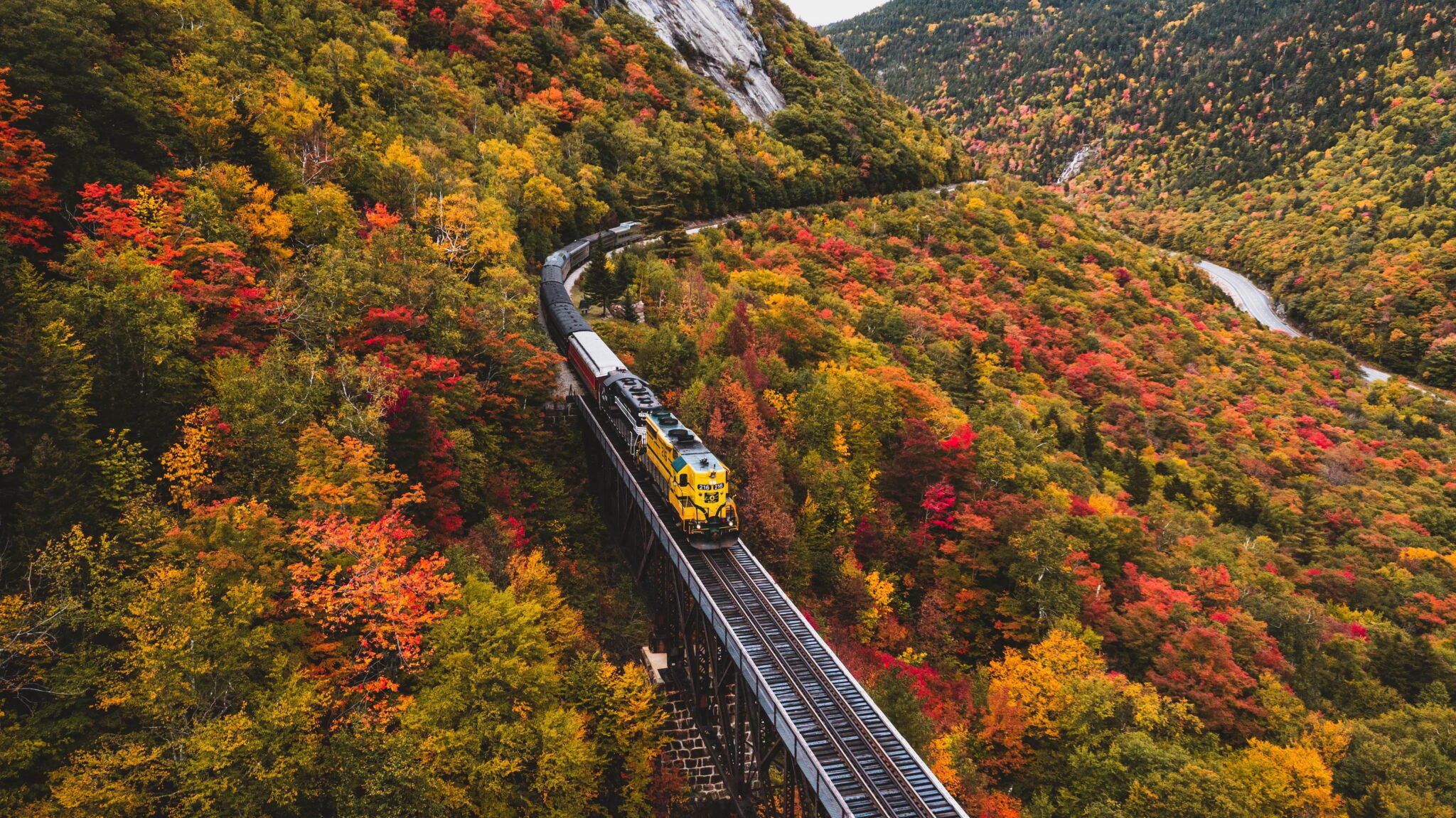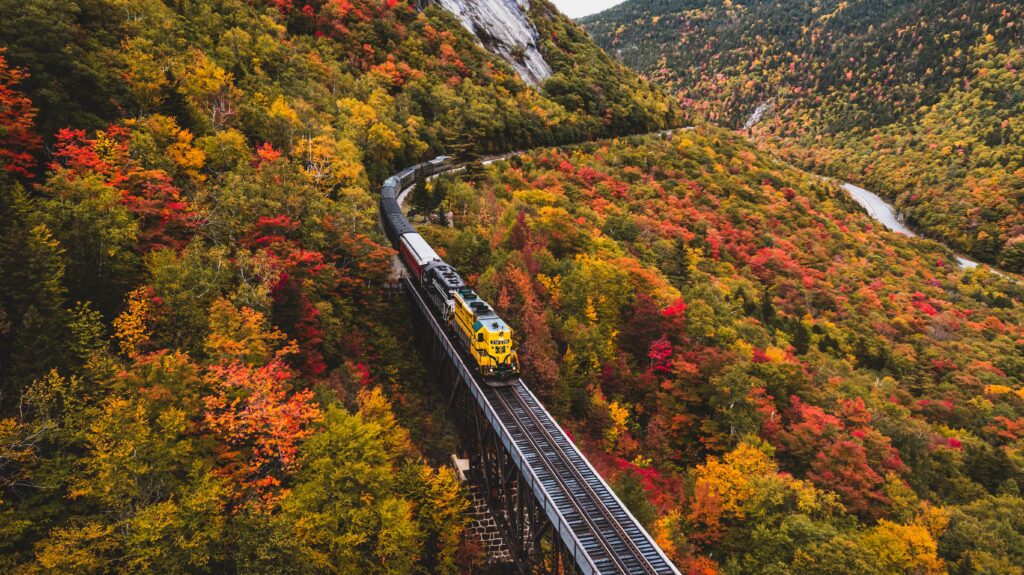 Take a ride on the iconic Conway Scenic Railroad
Rent a Kayak or Canoe and enjoy the foliage from the water
Ride a zip line or rent some ATVs to add some adrenaline to your leaf peeping
Check out one of the 54 Covered Bridges throughout the state
Try some apple cider or go apple picking!
Where To Stay During Your New Hampshire Fall Adventure
New Hampshire has an abundant amount of adorable Bed & Breakfasts and Inns if you want a classic New England accommodation experience. We stayed in an adorable B&B in Conway, the Merrill Farm Inn, which we found to be a fantastic central home base for the days we were in New Hampshire exploring. It was no more than 1-2 hours away from everything we wanted to do since we were mainly focusing on Northern NH near the White Mountains. Of course, there are also several chain hotels available. Click here to book a stay at the Merrill Farm Inn.
There's also lots of dispersed camping that we drove past as well as several established campgrounds right along the Kancamagus Highway.
Regardless of which accommodation you choose, you will want to make sure to make room reservations for peak fall foliage far in advance as room availability is super limited later on.
Other Accommodations that might interest you in the Conway area: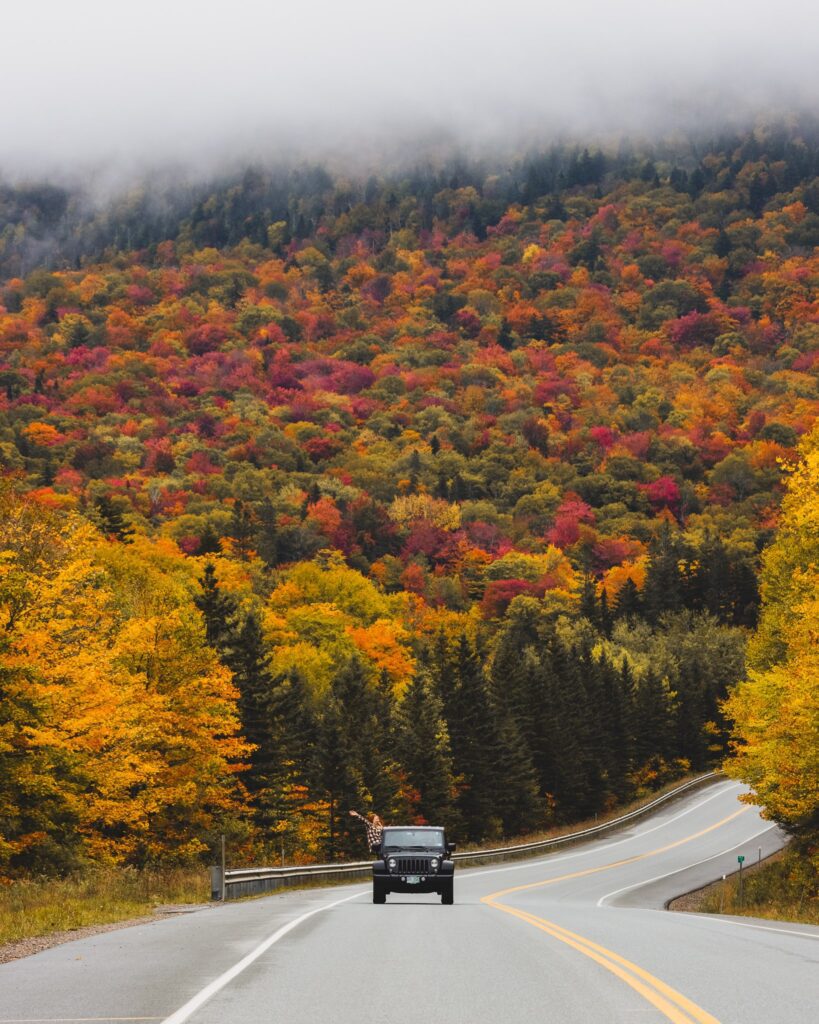 Dining & Restaurants Near the White Mountains
Since we based ourselves around the White Mountains, we checked out several restaurants in the North Conway area.
Barley and Salt
This was our favorite meal of the whole trip. The atmosphere, the food, the beer, and the service were all phenomenal. It was definitely a more modern spot compared to the rest, but it was a great highlight of the trip. We'd recommend trying a ton of their starters like their Bavarian Pretzel or Truffle Fries. The Meat Loaf was also delicious and the beer selection on tap was impressive.
Moat Mountain
We loved the sliders and beer from Moat Mountain. The menu has a ton of options for all kinds of appetites, and our waitress was fantastic! It's also a nice short drive away from other activities like the Diana's Bath hike so it's the perfect post adventure restaurant. We went for lunch and it wasn't too crowded and there was a lot of parking available.
Horsefeathers
The menu at Horsefeathers is exactly what we expected a typical New Hampshire restaurant would serve. The soups, especially the Onion & New England Clam Chowder were delicious, and the fettuccini dish was a crowd favorite. Expect to have a wait here if you're going for dinner because it's a popular spot located in the heart of downtown North Conway.
Muddy Moose
Muddy Moose is known for its delicious ribs! We also enjoyed the Nachos and Fish & Chips quite a bit. The portion sizes are super generous and you will definitely be leaving here full. If you're looking to watch a football game and enjoy some traditional American food, this is a spot for you.
Polly's Pancake Parlor
If you are looking for a great breakfast in the Franconia Notch area, look no further! This is a classic New England spot for tasty pancakes.
Half Baked & Fully Brewed
This is the perfect pitstop if you are driving the Kancamagus Highway from Conway to Lincoln. It has the most delicious sweet treats. We got a chocolate cream pie and a cinnamon roll and they were both to die for. Their coffee selection is also large and their Hot Chocolate was perfect for staying warm on a cold autumn day. We would highly recommend adding this on for a coffee break while out exploring the fall foliage.
Trick or Treats
If you are into boujee ice cream and milkshakes, you will love Trick or Treats. They have custom fancy milkshakes that are tasty and filling. They also have a fun atmosphere inside where you can take a look around at tons of knick knacks, costumes, candy, and more.
Overall, you should definitely add a New Hampshire Fall Foliage Road Trip to your bucket list. There is so much to see in such a small area, and we've never seen anything quite like the colors changing there. For more information on planning your fall colors activities, check out New Hampshire's website for more resources.