Ultimate Adventure Guide to Kauai
Published on October 26, 2021
|
Hiking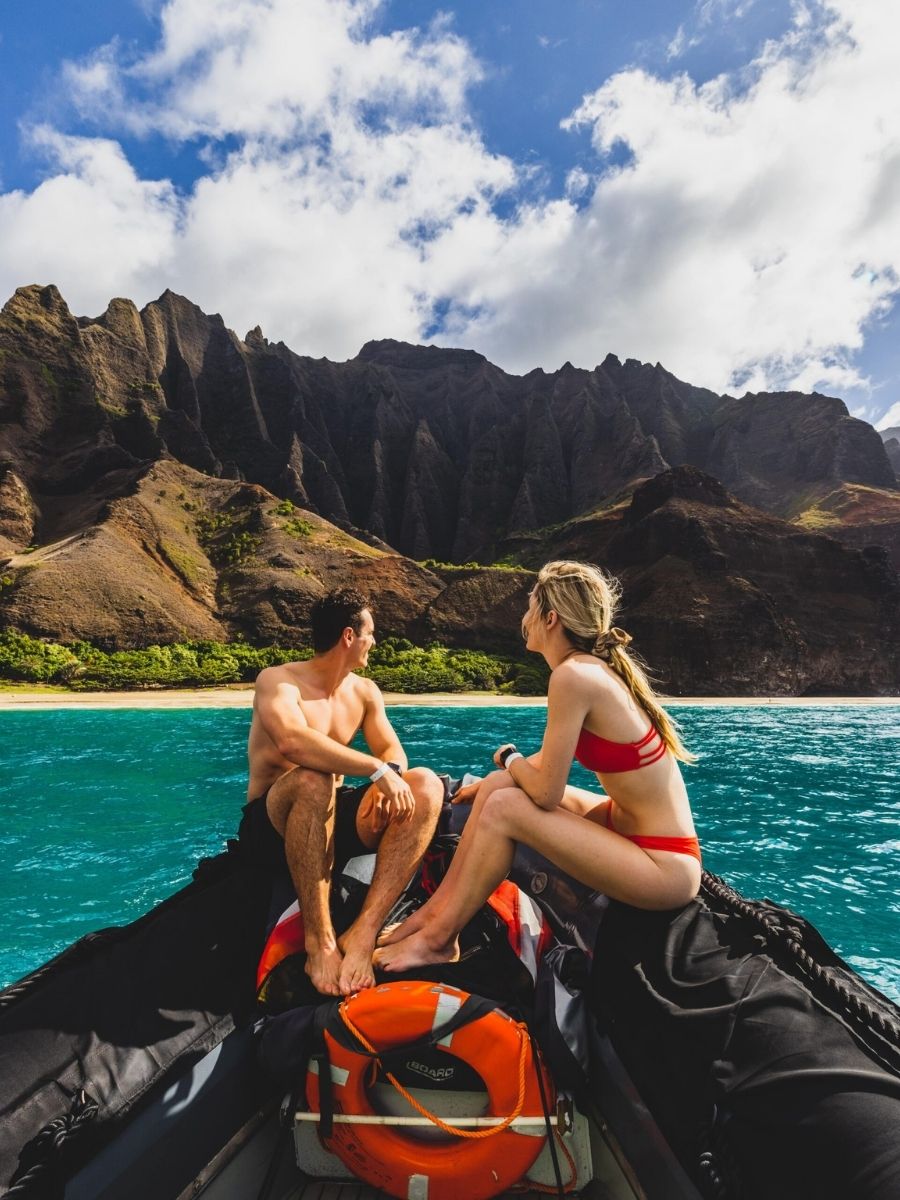 Kauai – The Adventure Lover's Paradise
Although all of the Hawaiian islands are absolutely stunning, Kauai is definitely the island for those that are seeking outdoor adventure. In this Ultimate Adventure Guide to Kauai, we'll be going over all the top things to do outdoors. The Garden Isle is known for its natural beauty, as it's much less inhabited and touristy than the other islands and contains so many microclimates in one island. From insane ridges and coastline on the Napali Coast to the vast canyons in Waimea, to flowing waterfalls, it has gorgeous views from all across the island. It truly is the adventure lover's paradise. In this blog, we'll go over our top 6 must do adventures in Kauai, as well as where to stay, restaurants, other hikes, and more!
Disclaimer: This blog post is in collaboration with The Sheraton Kauai Coconut Beach Resort. Some parts of the article also feature affiliate links, which means we get a small commission if you make a purchase (at no extra cost to you). It's one of the ways we can keep producing free guides and resources for our readers. Thank you for the support!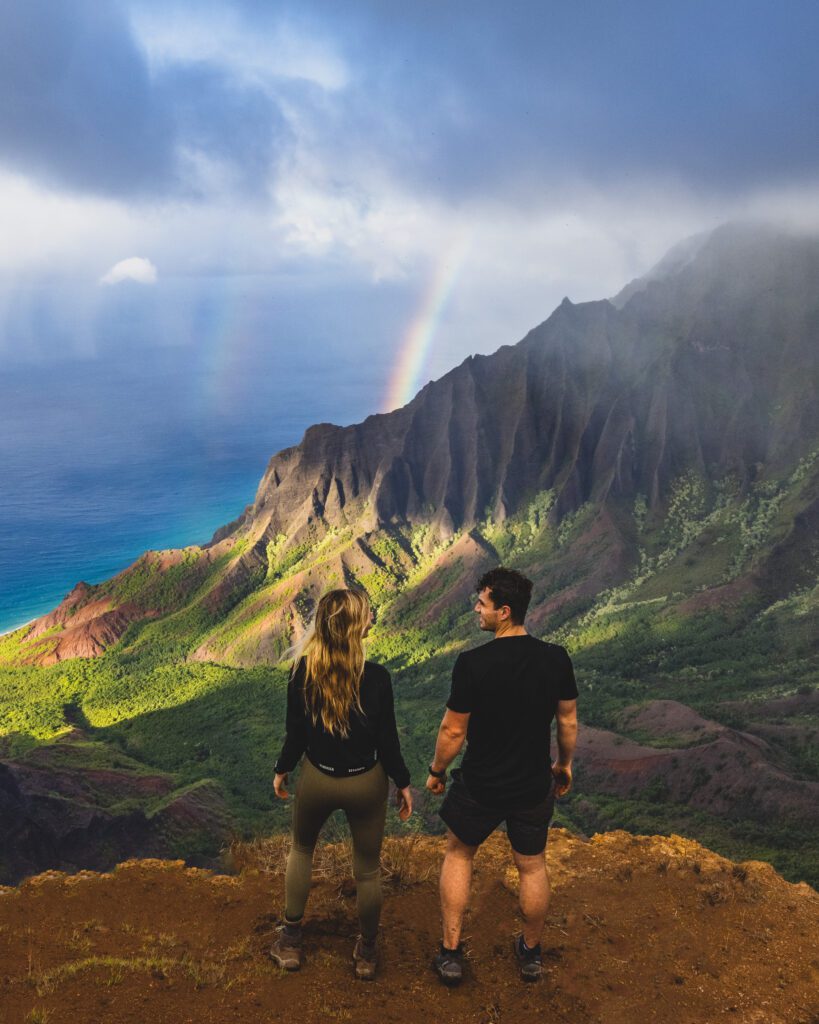 Explore Kauai Responsibly
It's so important to keep Kauai beautiful. Always Leave No Trace when out exploring, respect the land and the people, stay on trails, and avoid geo tagging sensitive areas on social media. Make sure to pack the 10 essentials, a reusable water bottle and avoid the use of single-use plastics while on the island. It's also a good idea to pack reef-safe sunscreen with you.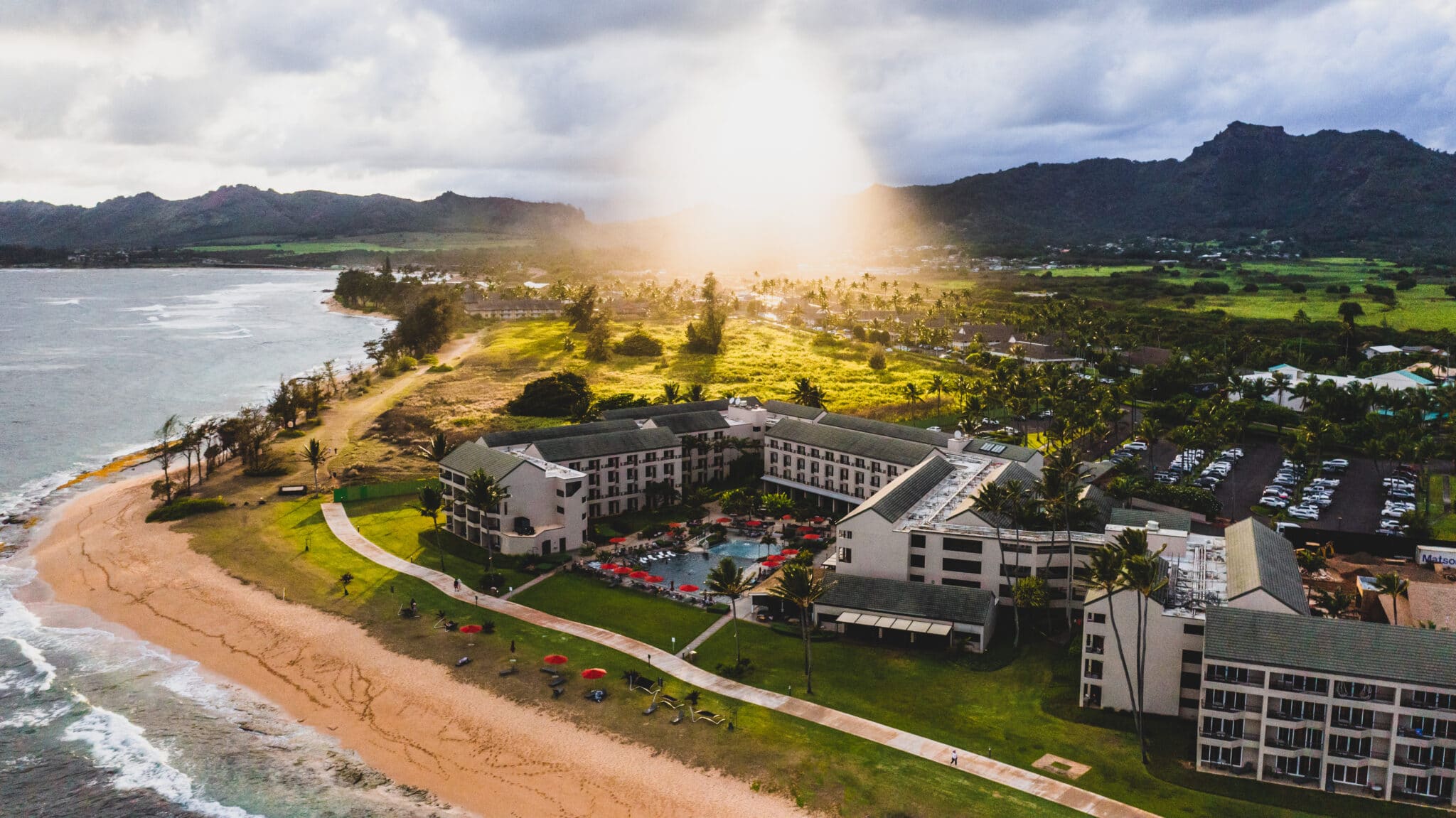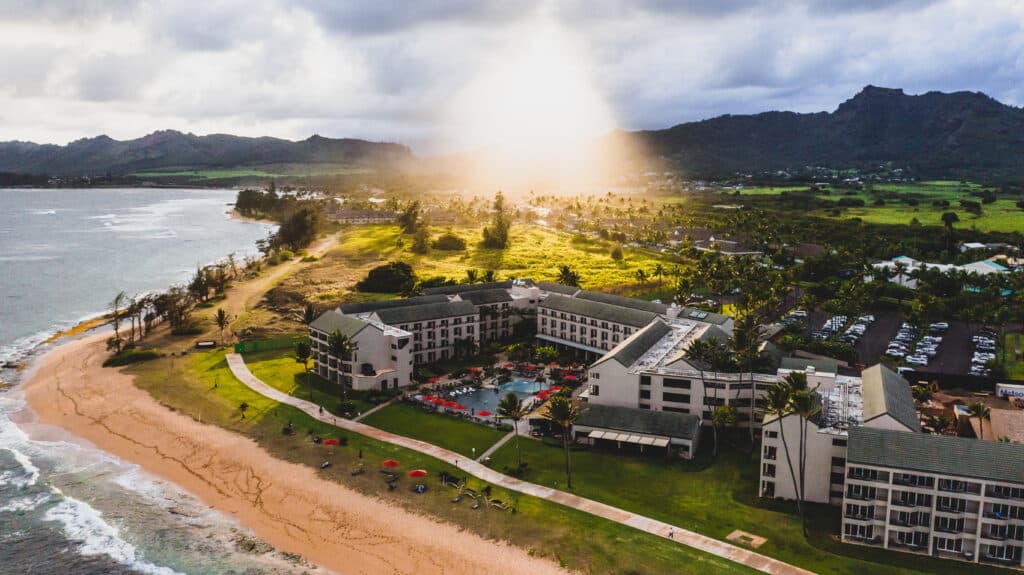 Where To Stay On Kauai
We were graciously hosted at the Sheraton Kauai Coconut Beach Resort and it was the perfect location for our adventure itinerary. Most of the things on our itinerary were located on the opposite ends of the island so having a central location on the eastern side in Coconut Beach was perfect to avoid a ton of unnecessary driving. A majority of resorts are located in Poipu or Princeville, so it was nice having a home base at the Sheraton that was away from the heavily congested touristy areas as well.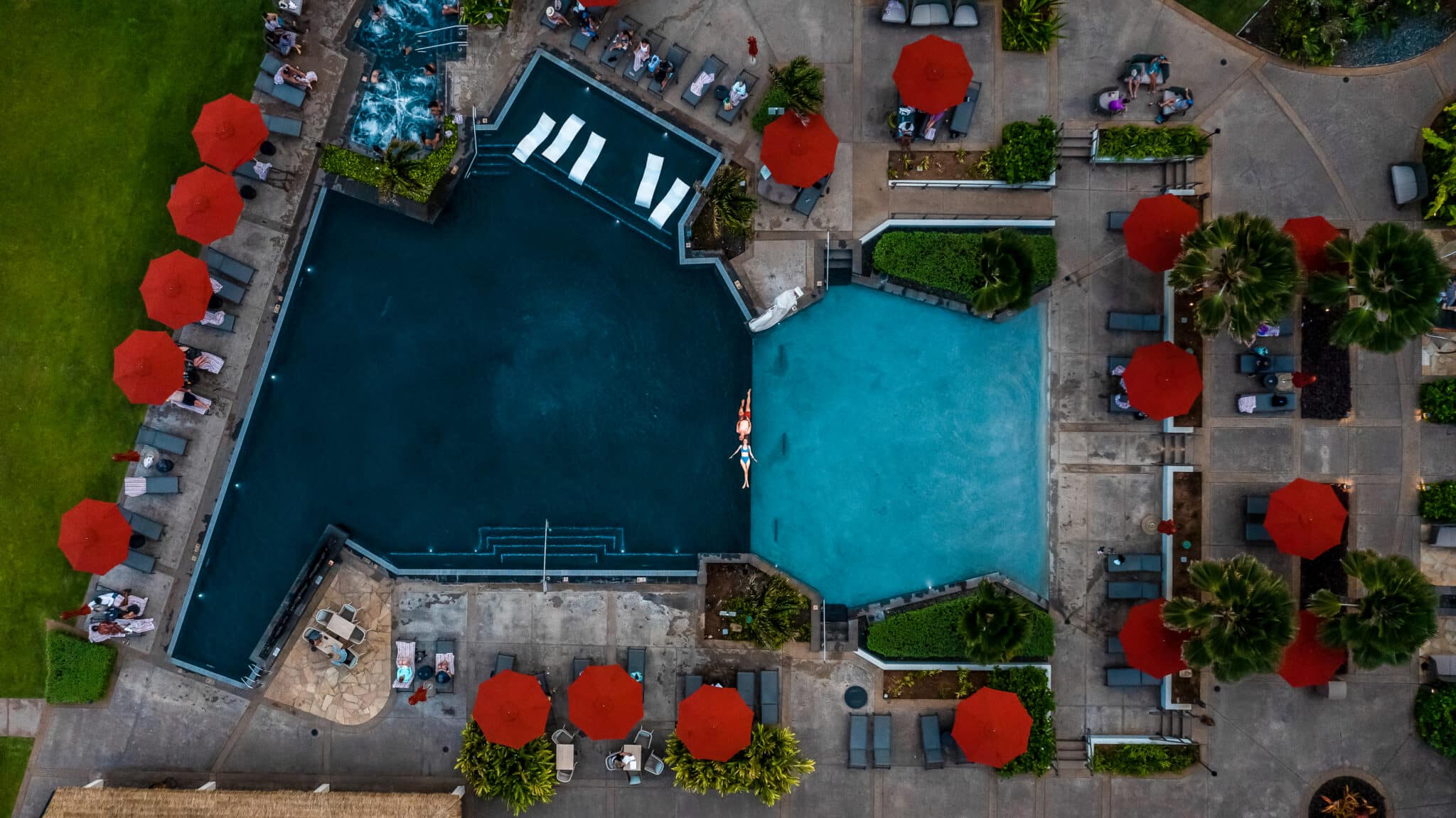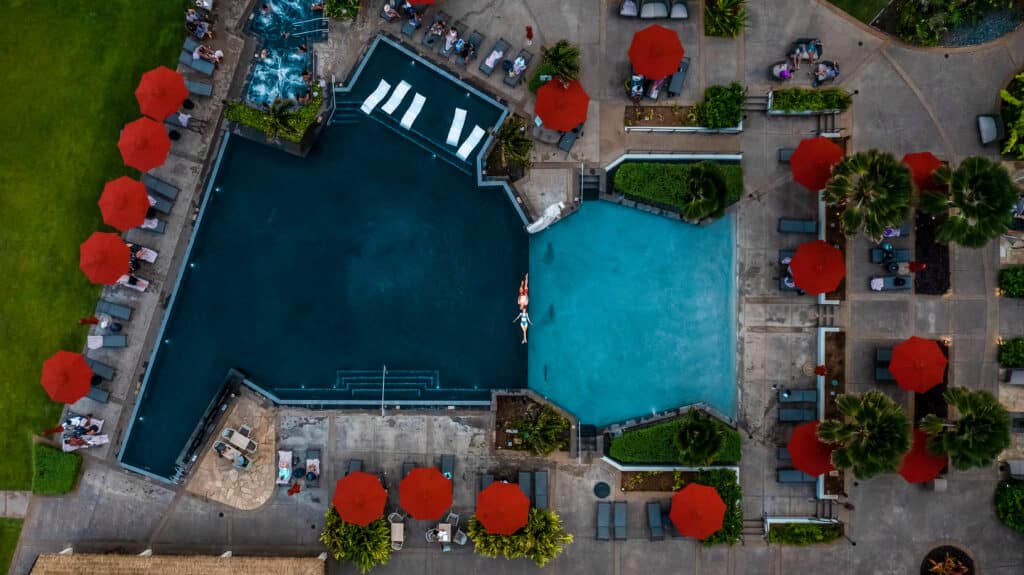 The hotel itself is a stunning property right on the beach. We had a room where we opened our doors and could see gorgeous views of the ocean about 50 feet away from us. The pool area was definitely the highlight with a beautiful infinity pool overlooking the beach. This was where we spent most of our time when we weren't out hiking around the island and was the perfect area to recharge and relax. The staff were incredibly friendly, everything was clean, and most importantly the bed was so comfortable! We loved the Pina Coladas and Fish Tacos from the restaurant at The Crooked Surf as well.
Book your stay at the Sheraton Kauai Coconut Beach here.
Top Things to Add to Your Kauai Itinerary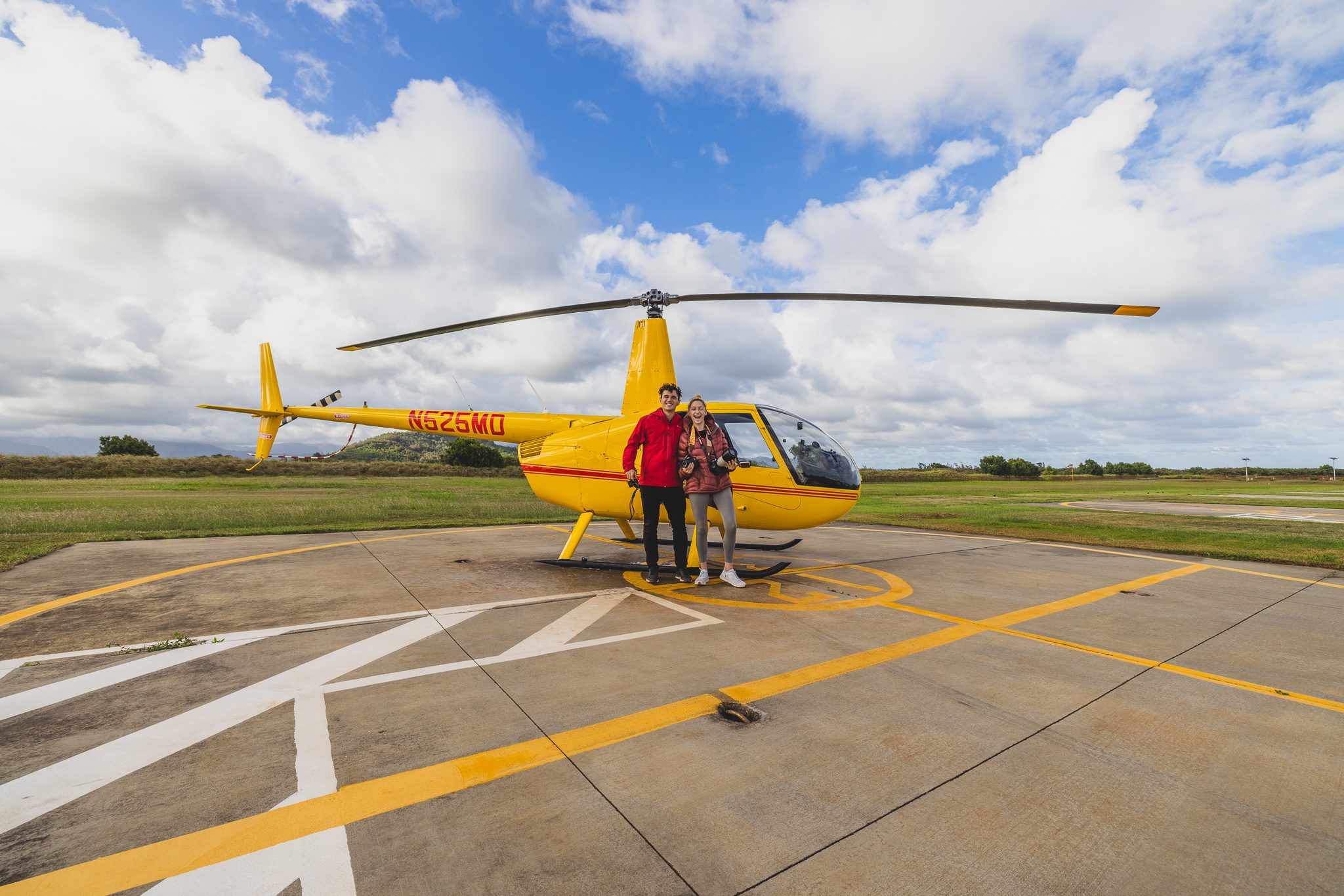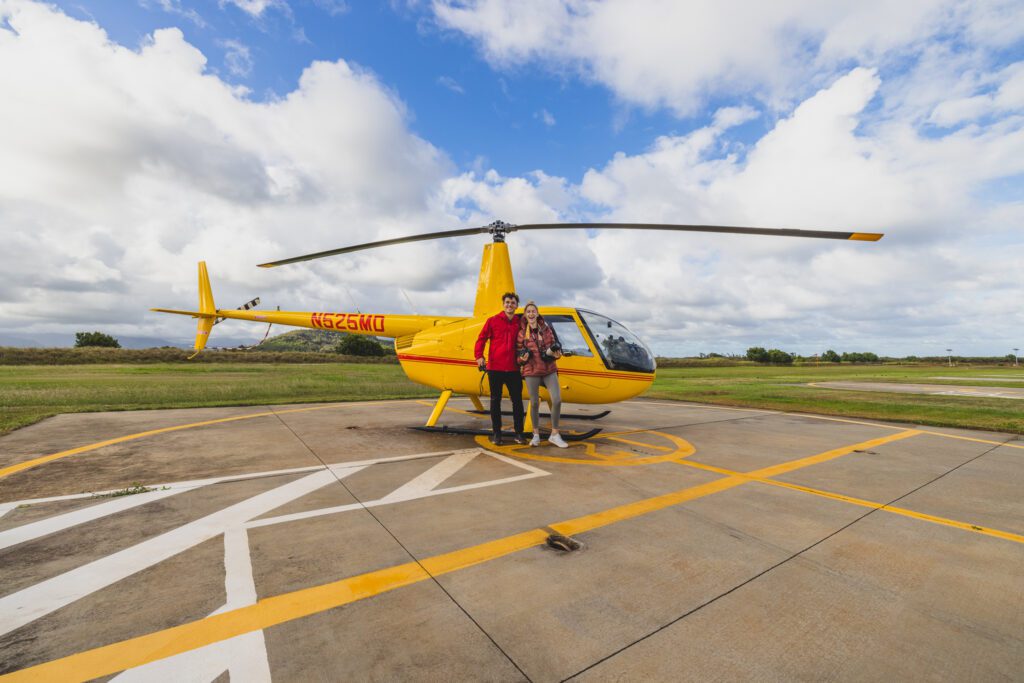 1 – Take a Doors Off Helicopter Tour Around the Na'Pali Coast
The Na'Pali Coast offers absolutely stunning views from its hikes, but the best views of the insane coastline is definitely from above. We booked a doors off helicopter tour with Mauna Loa Helicopters and it was breathtaking! Of course, you can always do the doors on helicopter flight as well, but the doors off made it perfect for photography. We were able to fly over Waimea Canyon, scenic areas used in Jurassic Park, plentiful waterfalls, and, of course, the Napali Coast.
They have a variety of helicopter rentals around the island, but we ultimately chose Mauna Loa Helicopters because they offered doors off and a specialty flight called the Pro Photography Flight which was private and took us to all of the most photogenic locations. This is definitely a more expensive excursion, but if we had to only choose one thing from our Ultimate Adventure Guide to Kauai to do on the island, this would be it if you had the budget available.
Check out all the Helicopter Adventures on Kauai: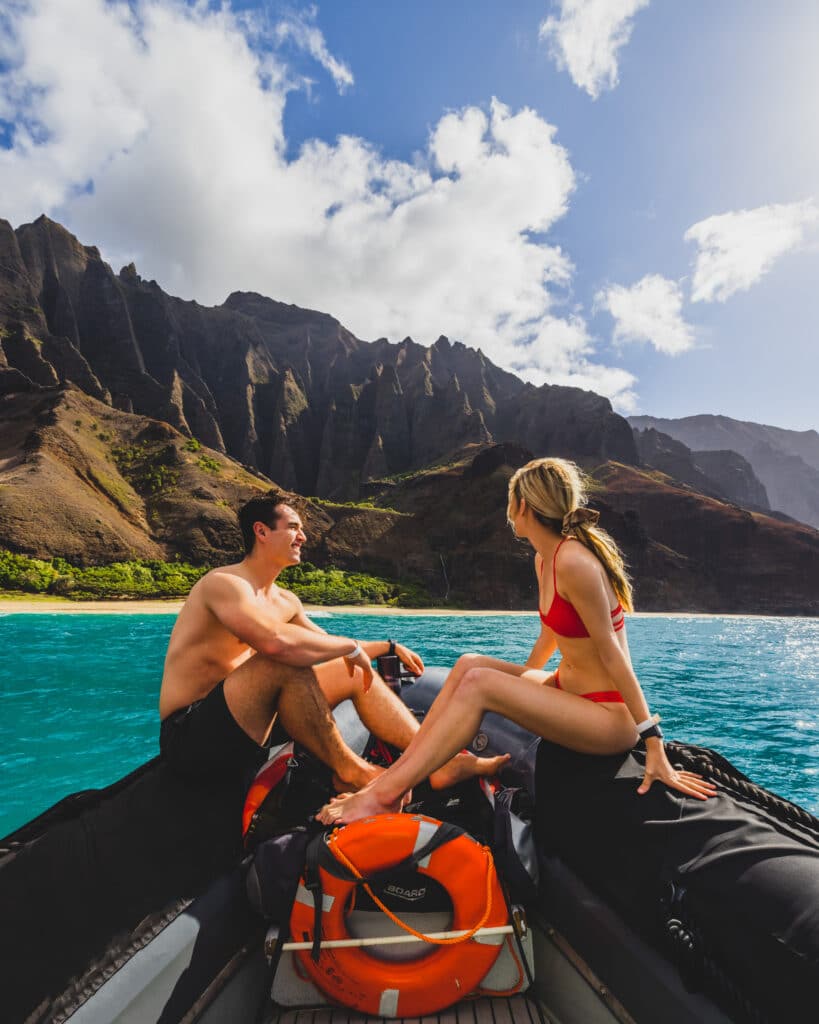 2 – Explore the Island on an Adventure Raft & Snorkel Boat Tour
If you are wanting an incredibly fun experience by sea, this is a must do activity while on Kauai. Contrary to a typical relaxing catamaran tour, this raft tour keeps you exhilarated the whole ride. You get to experience speeding through sea caves and lava tubes, sailing past the gorgeous turquoise waters of the Napali Coast, and even snorkeling with sea turtles if you're lucky!
We booked with Captain Andy's for their afternoon tour and it did not disappoint. We encountered pods of dolphins, rainbows at every corner, and even three turtles while out snorkeling. The guides were so much fun and made the experience a blast. If you can't get up in a helicopter to experience the Na'Pali Coast, then we highly recommend booking yourself an adventure raft and snorkel boat tour during your stay in Kauai.
If the snorkel adventure isn't for you, there's plenty of other options to see the Kauai coast by boat as well! Check out renting a catamaran on Kauai for a sunset dinner sail, picnic sail, and snorkel sail that are more relaxing.
Book a Boat Tour of Kauai's Napali Coast: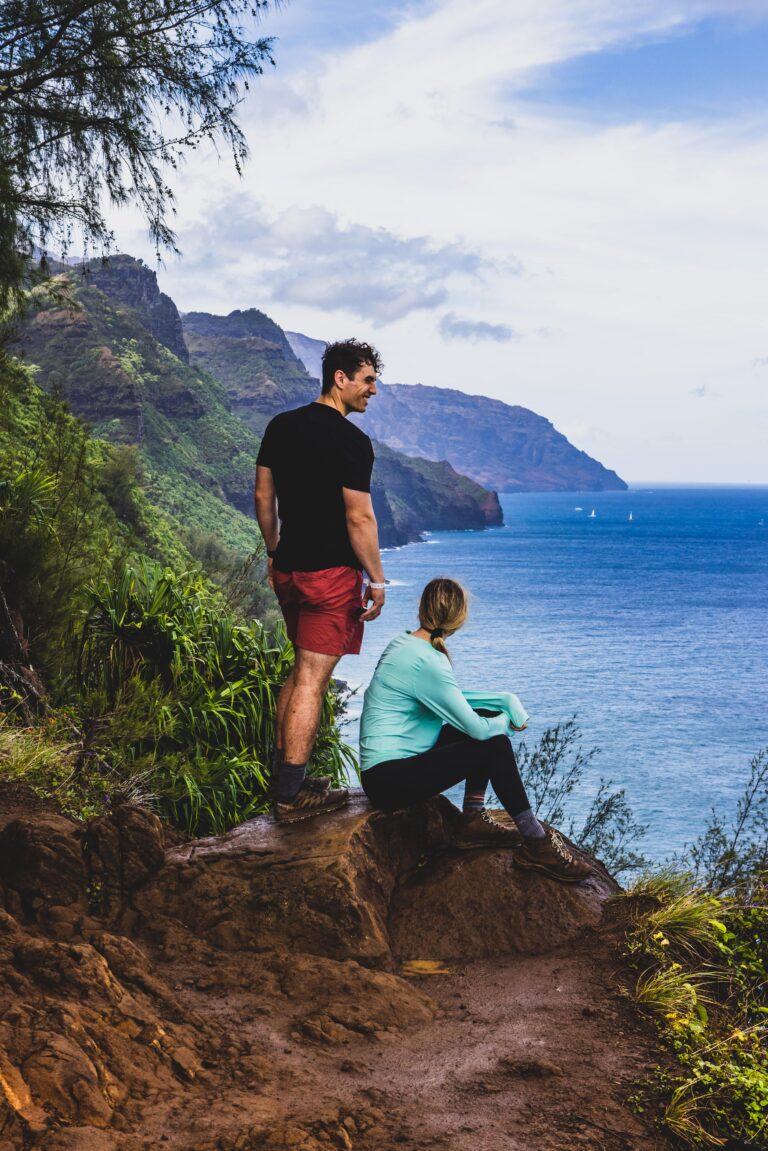 3 – Hike Kauai's Breathtaking Kalalau Trail
The Dangers of Hiking in Kauai, Hawaii
We should preface that before attempting any hike in Hawaii, especially the Kalalau Trail, being prepared is essential. Make sure you have packed your full ten essentials and double checked that you have everything on your hiking gear checklist. Since the weather changes so rapidly in Kauai, you will also want to make sure you pack layers and waterproof jackets to be prepared. The hikes in Kauai are incredibly muddy and slippery, after all it is one of the wettest places on Earth. It's crucial that if you go hiking on the island to make sure you have a really solid, grippy pair of hiking shoes.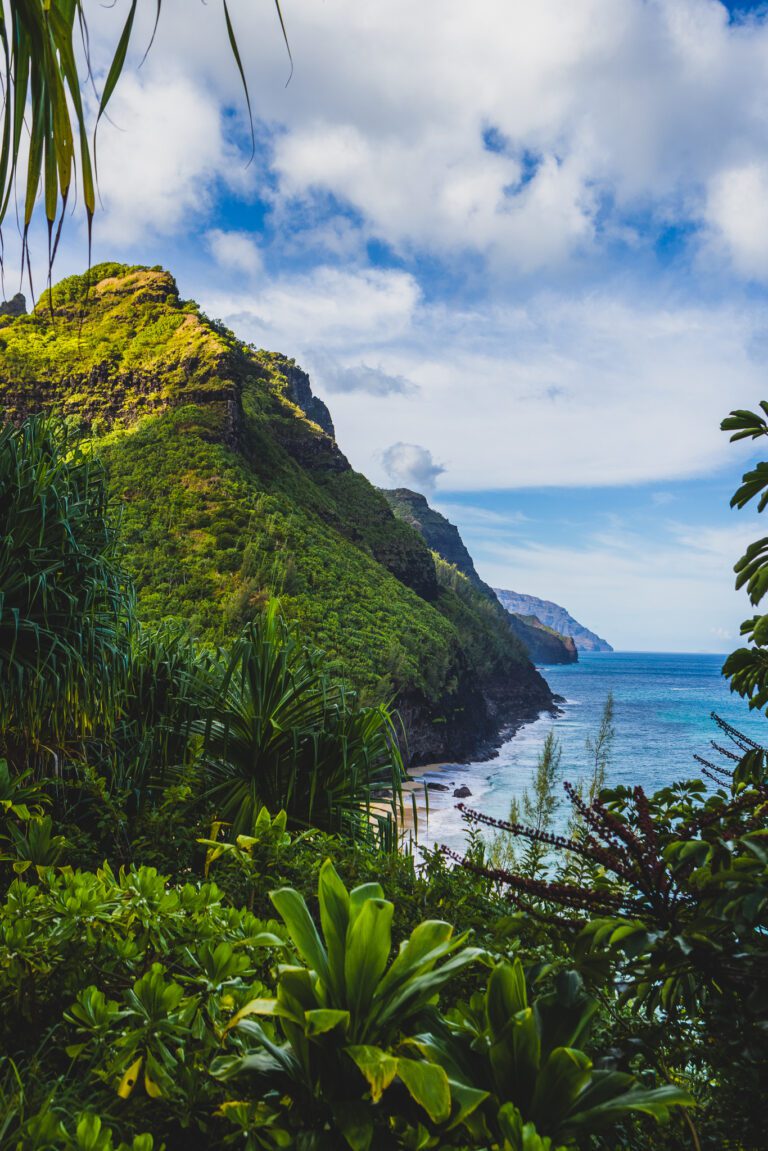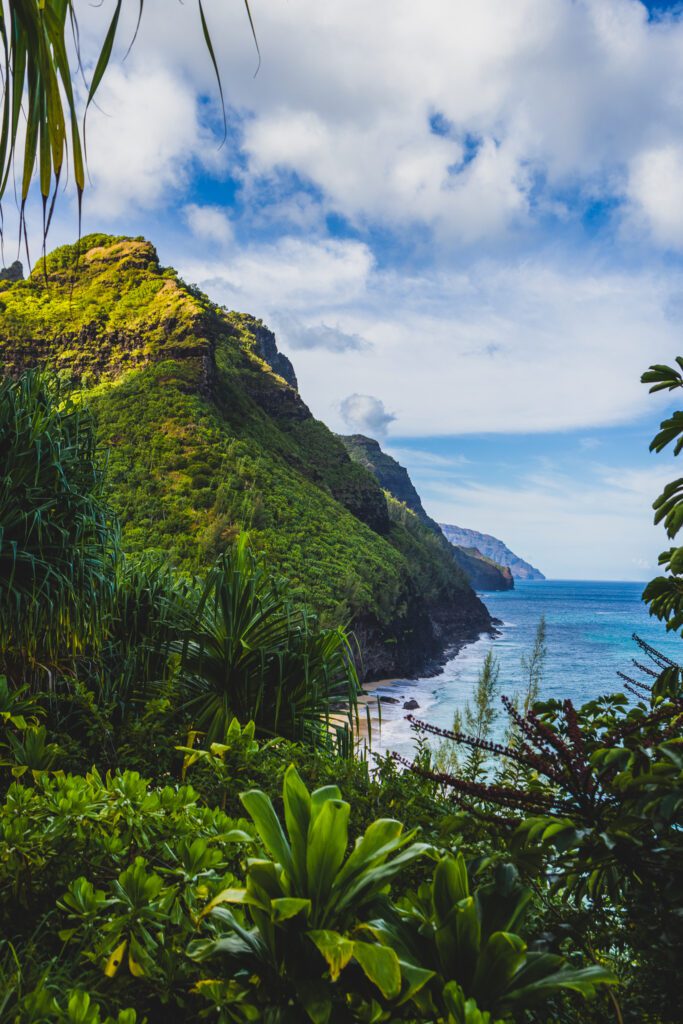 The Kalalau Trail & Permit Process
Since the Kalalau Trail is so well known as a gorgeous destination to hike, there is actually a permit system in place. You can not hike any portion of the trail without having a permit reservation made in advance online. There are permits to do the full 22 mile trail, as well as day use permits. For the Day Use permits, you can complete the first 2 miles of the trail or add on an additional 2 miles each way to visit the gorgeous Hanakapi'ai Falls. We opted to do the 4 mile loop to Hanakapi'ai Beach and back, but if you have the time, we'd definitely recommend adding on the falls to your hike.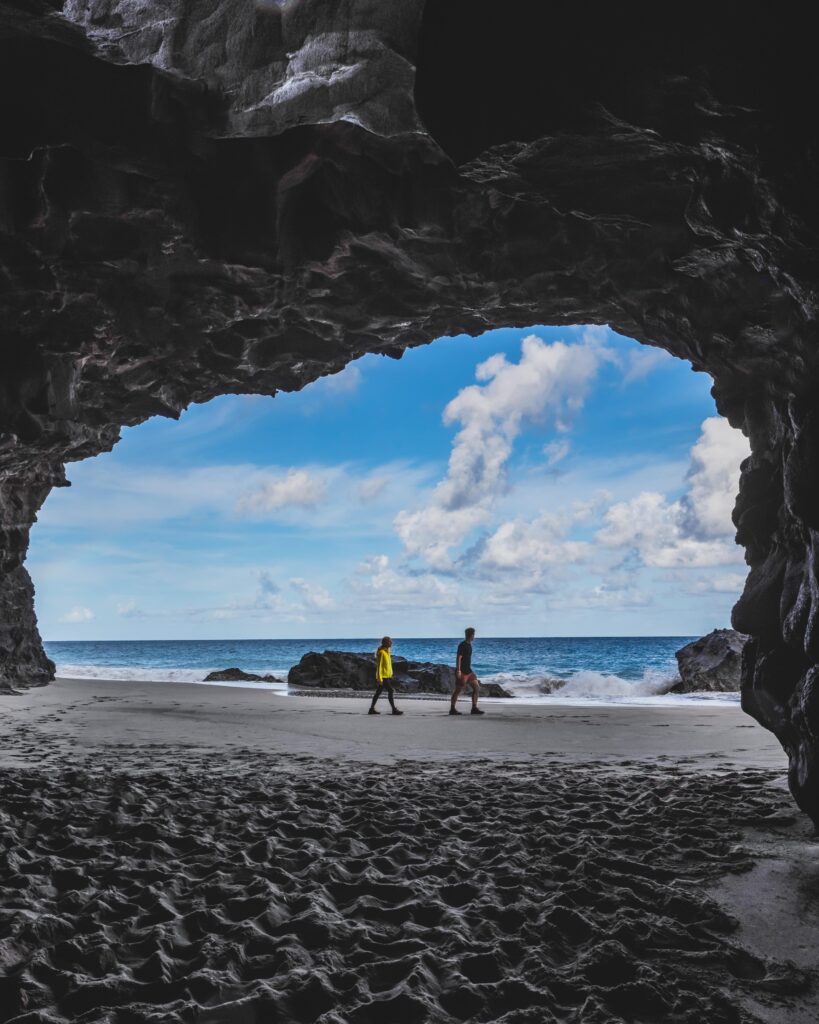 The beach itself is stunning and has some really amazing lava tubes and caves to explore. We'd recommend getting early entry times for your permits if possible so that way you can have the views along the beach to yourself before it gets too busy.
PSA: these permits sell out super far in advance. We had set a reminder right when they came out for the dates that we were visiting Kauai. We were only able to score a park and shuttle permit since the actual parking permits were all sold out within a few hours. Reservations are available 30-days in-advance. When booking day use permits, you'll have to make your reservation for the morning or mid-day as they are currently not issuing permits for times near sunset.
Reserve Your Kalalau Trail Permits Here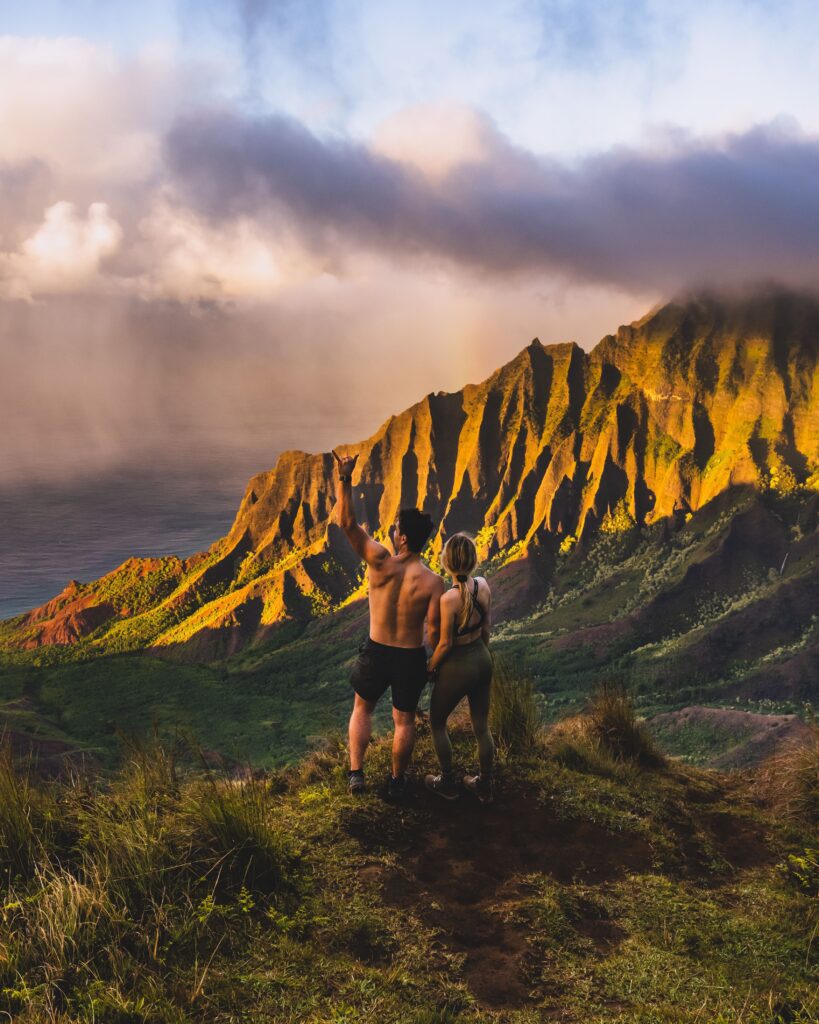 4- Explore Napali Coast Ridgelines
Warning: As mentioned with the Kalalau Trail, please take into consideration your hiking level and experience when hiking in Kauai, because some of the trails are dangerous and unmaintained. Research trail conditions ahead of time, wear proper hiking shoes, and never hike anything you are uncomfortable with as no viewpoint is worth risking your life. Please respect the land and stay on trail. Here are some of the top recommendations for ridge line hikes around Kauai:
Pihea Vista Trail
The Pihea Vista Trail was one of the shorter hiking trails on Kauai that we did, but the views on a clear day are definitely worth it. Located right past the Kalalau Lookout, the hike is a short 2.3 miles and offers classic ridgeline views of the Napali Coast. This is another hike that was incredibly muddy for us, so just make sure you wear legitimate hiking shoes and aren't afraid to get dirty.
Awa'awapuhi Trail
If you have time for alonger ridge hike, every local guide we talked to said that the Awa'awapuhi Trail was one of their favorites. It's a longer and steeper hike, so that usually means fewer crowds. This is definitely not a trail for beginners, but can offer jaw dropping views at the end of the trail.
Honopu Ridge Trail
Another beautiful ridge hike is the Honopu Ridge Trail. As with most of the ridge hikes, this one still has a bit of elevation gain and is for intermediate to more advanced hikers. If you hike this for sunset (which is definitely the best time to do this one), make sure to bring a headlamp for your way back.
Check out All Trails to Explore More Kauai Ridge Hikes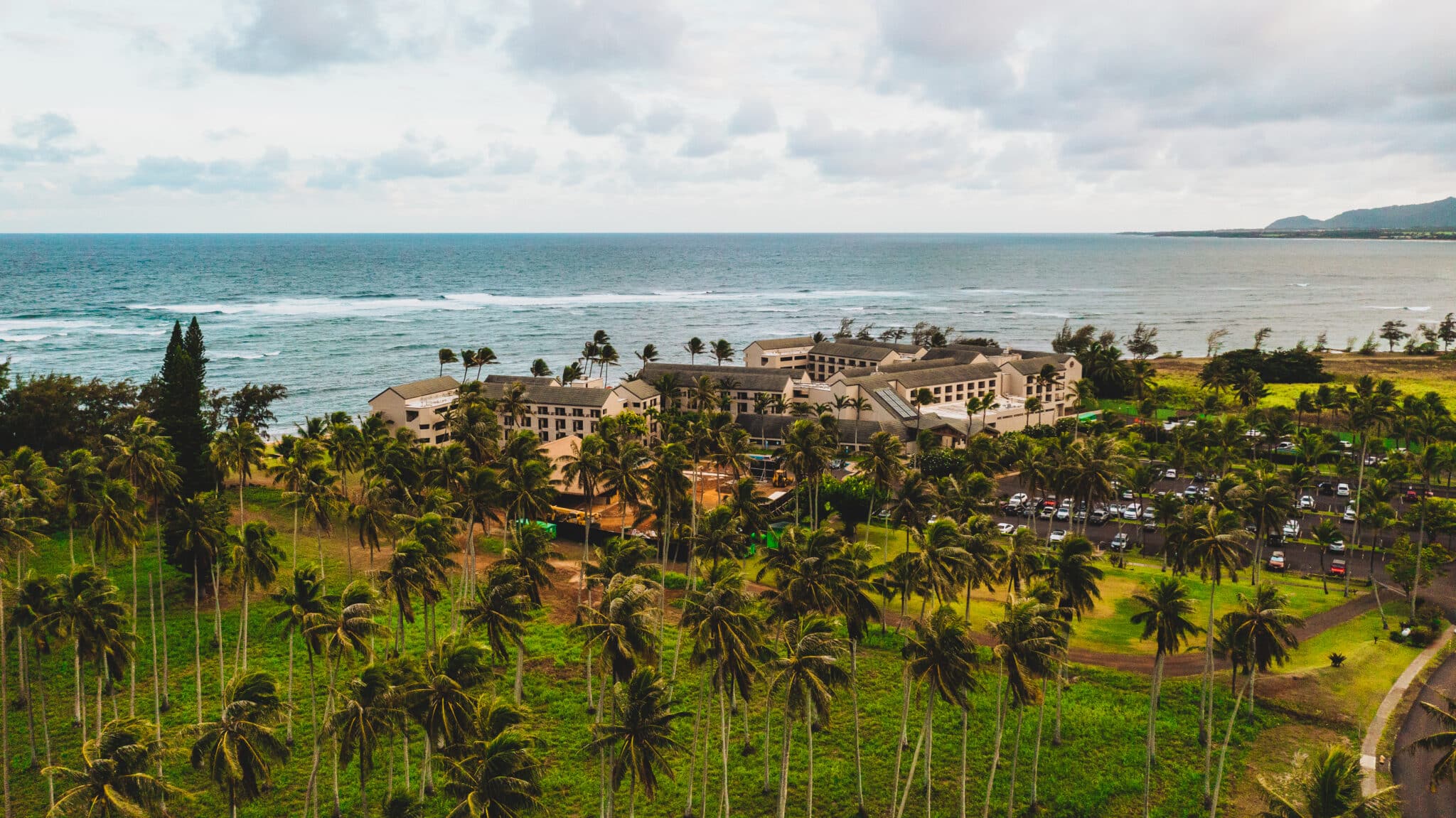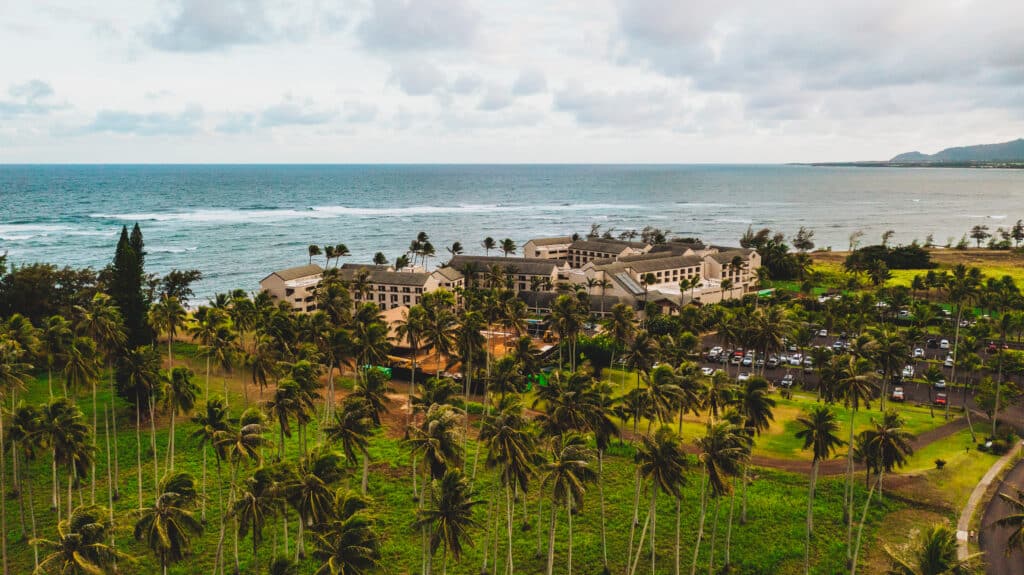 5 – Enjoy a Beach Day on one of Kauai's Pristine Beaches
Tunnels Beach
If you are spending time hiking the Kalalau Trail or anywhere up on the northern side of the island near Princeville, you should add Tunnels Beach to your Kauai adventure itinerary. The water is pristine.
Note: parking is really terrible here. It's recommended that you either park your car and shuttle in or walk/bike from the main towns nearby. If you want to avoid the crowds, arrive early! We hardly saw anyone there in the early morning. However, by 11am, the beach was pretty packed and parking was full. If you are already parked in the area near Tunnels Beach, taking a detour on over to Queens Bath is also a great way to add some adventure to your Kauai itinerary.
Polihale Beach
Our tour guide from Captain Andy's said that Polihale Beach is one of his favorite sunset spots on the island. Once we saw it for ourselves, we understood why. It's Kauai's largest stretch of beach and offers incredible views without the typical crowds at beaches like those surrounding Poipu.
Poipu Beach
Poipu Beach is a popular spot for honeymooners and families alike. It's a gorgeous sunset location. It's a great beach for swimming in Kauai and there are lifeguards on duty too. The beaches in Poipu are especially known for their good surfing and snorkeling among coral reefs.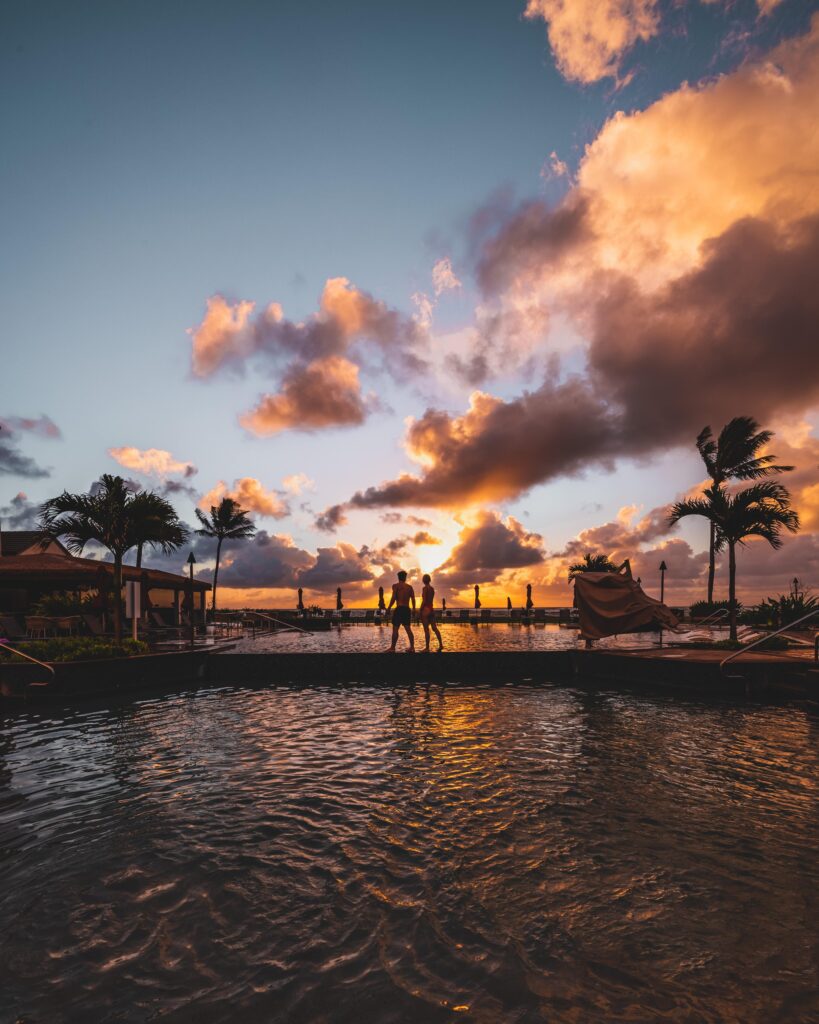 Coconut Beach
Since Coconut Beach is located on the Eastern side of Kauai, it makes for a beautiful sunrise spot. We watched the sunrise a few times from our hotel along the Coconut coast. The clouds and colors over the ocean were so stunning.
Hanakapiai Beach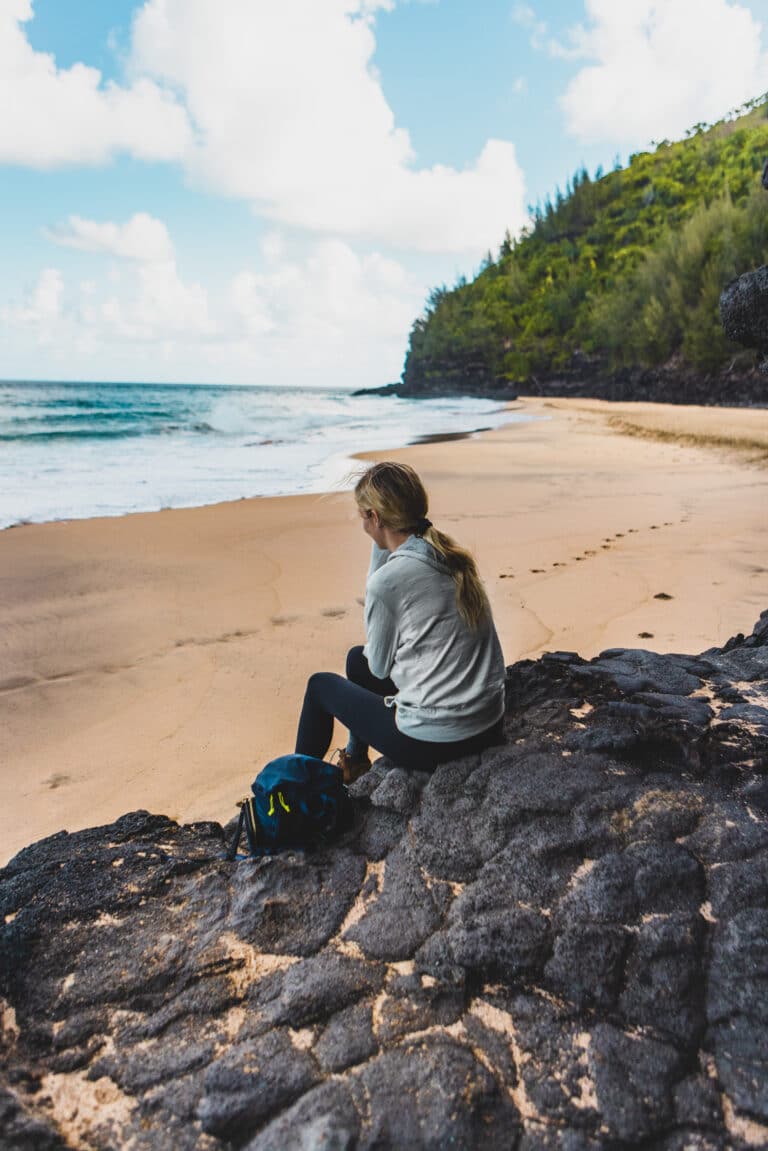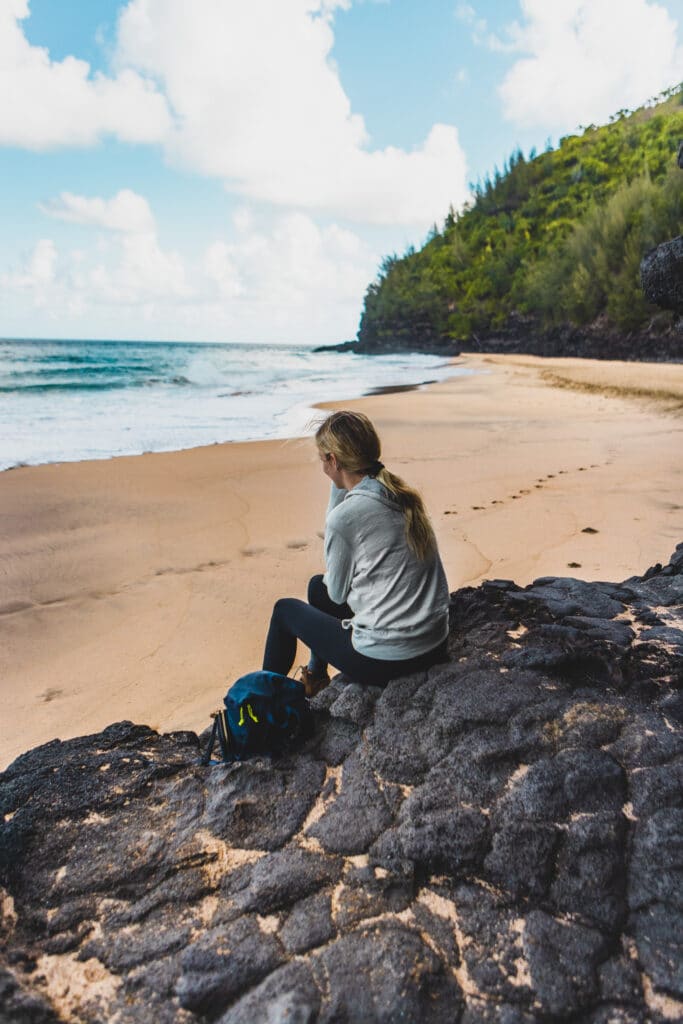 This beach requires permits for the Kalalau Trail, but it is absolutely worth the trek if you manage to score them. We had the beach to ourselves since we took the earliest shuttle into the state park. It was so serene just sitting there and watching the waves crash into the shore. On your way over to the beach, there's tons of wild fruit like guavas, blueberries, and avocados too!
Shipwreck Beach
Shipwreck Beach is a popular photography spot, as well as a favorite location for surfing and body surfing for locals. If Poipu Beach itself is too busy, this is a great alternative to relax on the beach in the surrounding area. It is not recommended for snorkeling or swimming here, though, since the shorebreak is pretty strong.
Shop our Beach Day Favorites: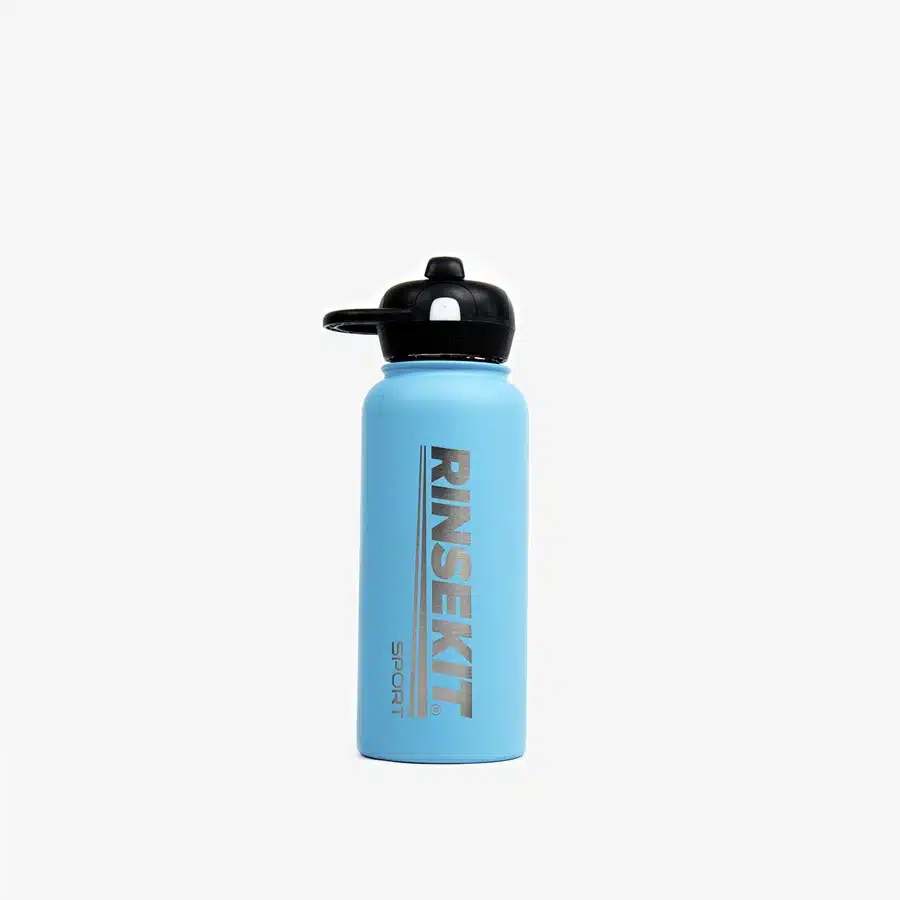 6 – Venture into Waimea Canyon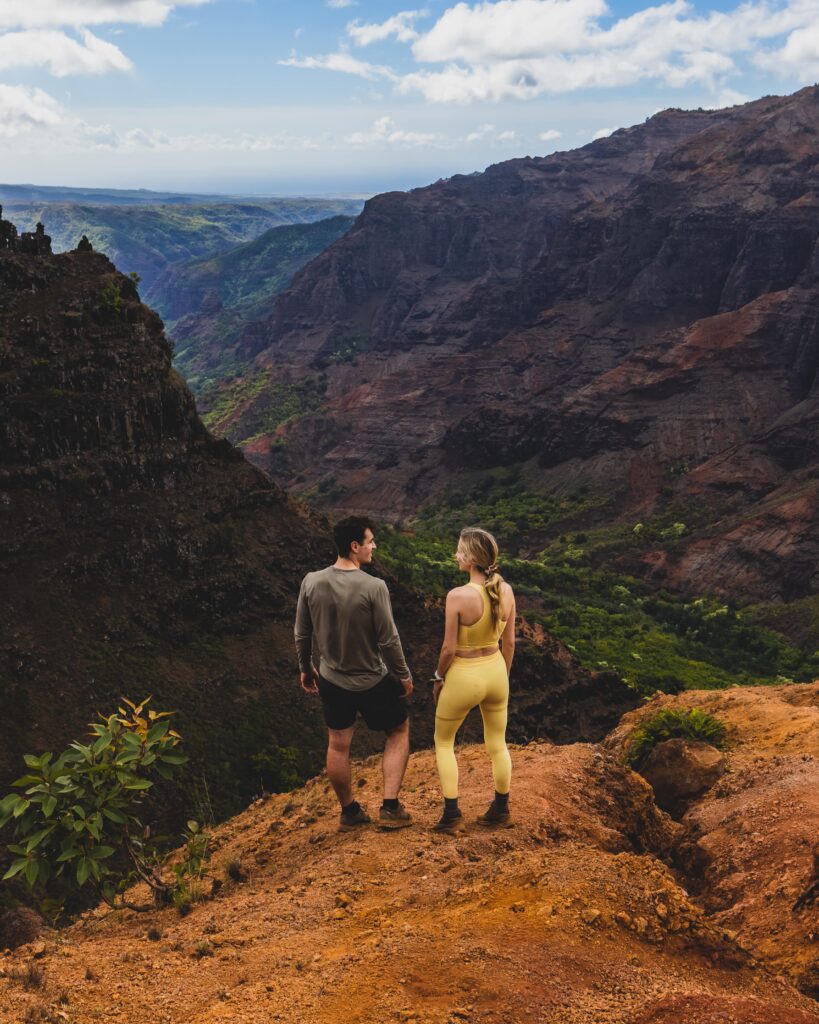 Coined as "The Grand Canyon of the Pacific," Waimea Canyon is a must see on your trip to Kauai. Waimea is actually Hawaiian for "reddish water" which makes sense considering the soil here appears as Mars-like red color. The canyon itself was carved from erosion as well as the collapse of the volcano that actually created the island of Kauai itself. The gem that is Waipoo Falls resides in the canyon, and can often be seen with surrounding rainbows from lookouts along the drive up to the Kalalau Lookout. The juxtaposition of the red soil and the lush greenery from the amount of rain in The Garden Isle makes Waimea Canyon a top spot to see in Kauai.
Other Fun Adventurous Things To Do on Kauai:
Check Out Wailua Falls
Wailua Falls is a short drive away from the Coconut Beach area and is fully accessible. You can't legally get down to the falls themselves (and if you try, there's a hefty fine), but you still get a nice view of the falls from the lookout up above. This was one of our favorite waterfalls that we saw on the island.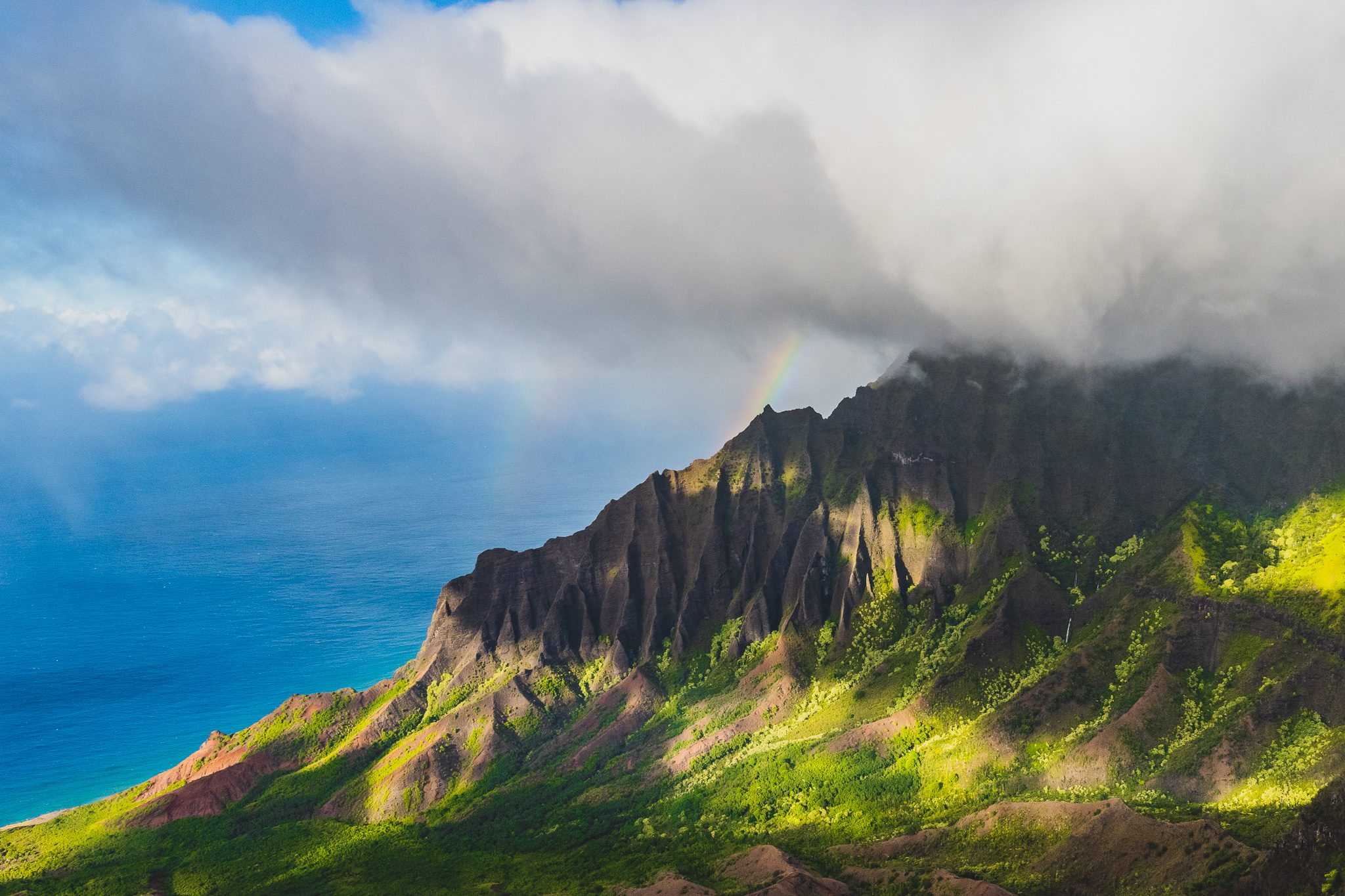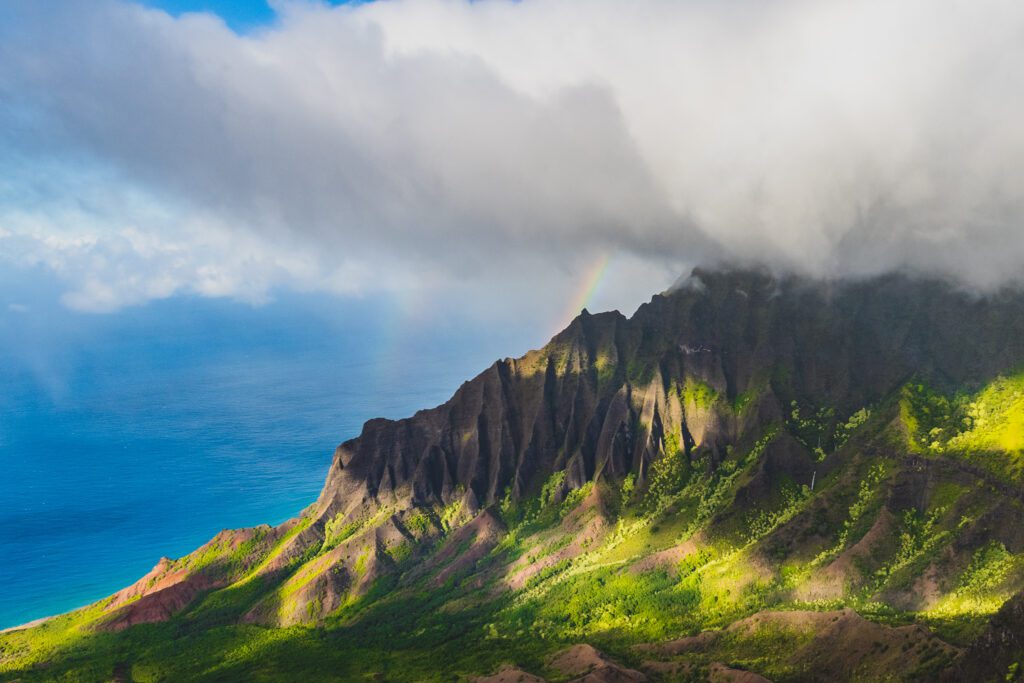 Watch Sunset From the Kalalau Lookout
One of our favorite things we did was just driving the highway all the way around the island. We stopped at every official lookout possible from Waimea Canyon to the final overlook on the Napali side of the island, and every view was crazy. Our favorite view was from the Kalalau Lookout. It's often cloudy in this area due to the atmosphere and climate in the area. However, when it's clear, it's one of the most beautiful scenes you will ever see, especially at sunset.
Guided Tours You May Enjoy:
Overall, Kauai is filled with so many opportunities for adventure. Whether you're a solo adventurer, travelling as a couple, or even as a family, Kauai has a vast array of options for your vacation.
Again, just a special thanks to the Sheraton Kauai Coconut Beach Resort for hosting us in Kauai. As always, all ideas and opinions expressed in this post are entirely our own.