Blue Lagoon vs. Sky Lagoon – Which is Better for You?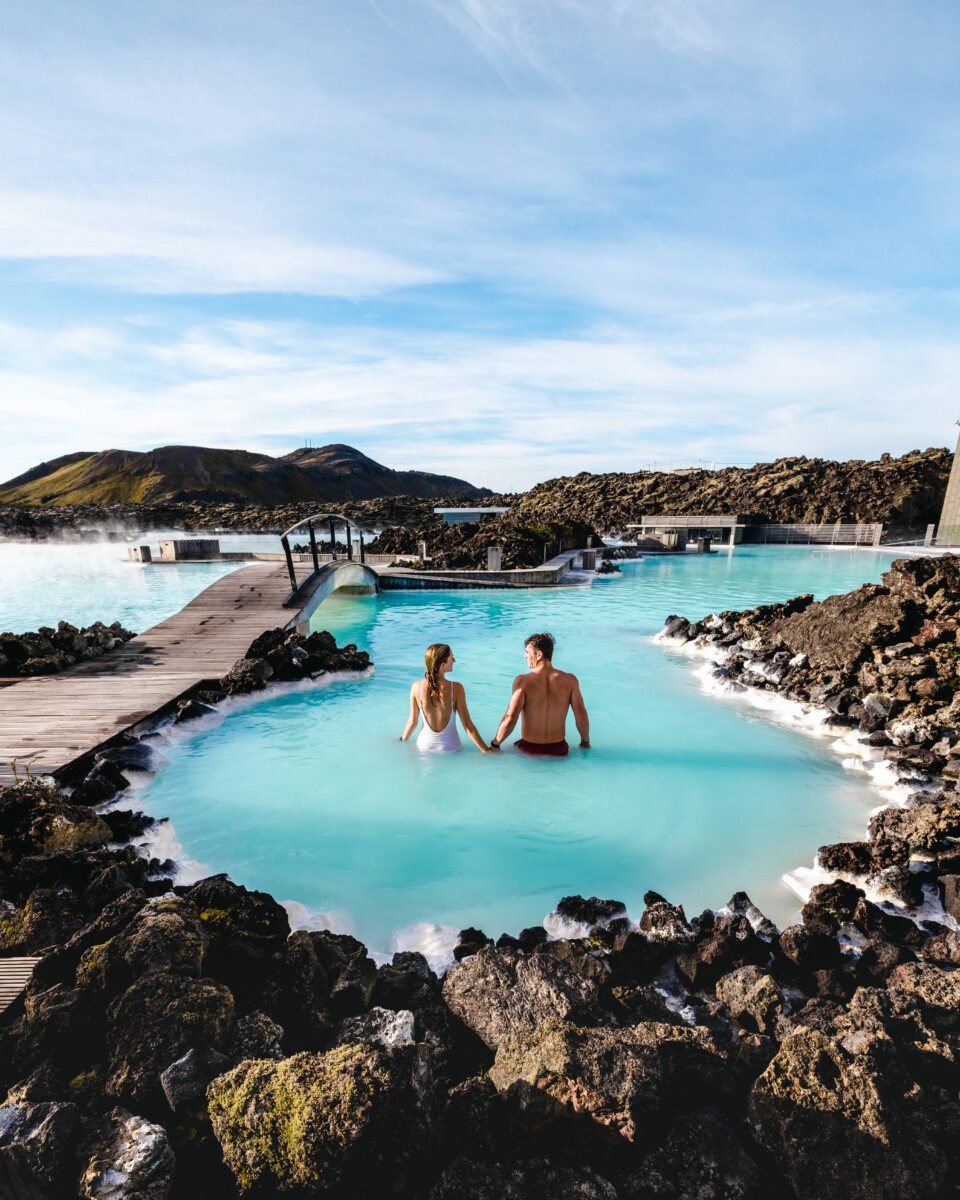 Iceland is a bucket list destination for beautiful lagoons and geothermal hot springs with over 45 natural hot springs and over 200 public swimming pools around the entire country. That's an insane amount when you consider that the island is about the size of Virginia. There are so many beautiful Iceland lagoons, but we highly recommend checking out their two most notable ones on your next trip, Blue Lagoon and Sky Lagoon. These two attractions will give you a unique and breathtaking experience as they are some of the best things to do near Reykjavik, Iceland.
Both of these Iceland hot springs offer amazing views and incredible photo opportunities, but they also offer quite different experiences.
So which one is best for you?
Here we will give you a breakdown of what you can experience at the Blue Lagoon and Sky Lagoon so you can make the best decision for your needs!
But before we get started, there are a few things you should know before entering Iceland lagoons.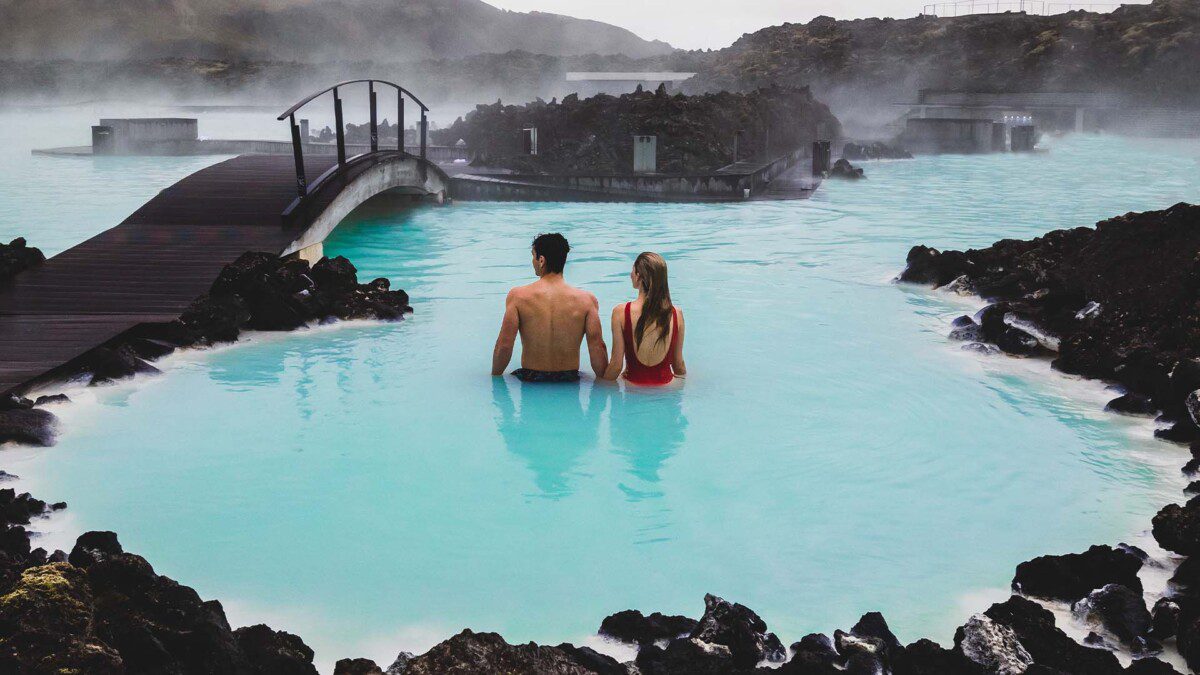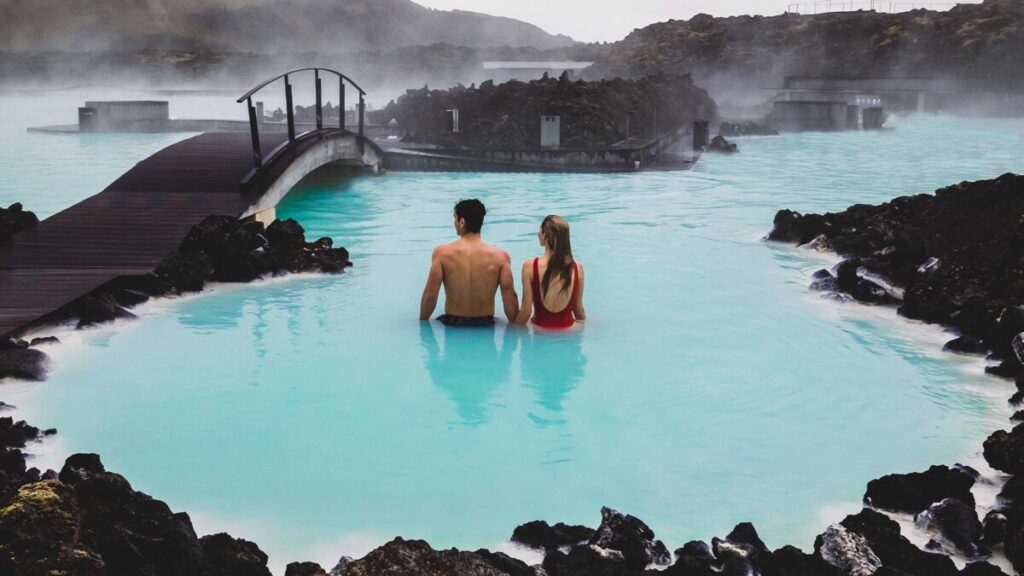 Things you should know before you go to an Iceland lagoon:
You must shower naked before entering the geothermal pools. This is an Iceland law. The popular Iceland lagoons will offer showering facilities, but the rules aren't as strict for the ones that don't offer showers.
The Blue Lagoon can affect your hair. The silica in the water can cause mineral build up, which will leave your hair stiff and unmanageable. In order to avoid this, if you choose to get your hair wet, make sure to apply their conditioners in the shower before you enter the lagoon. Then once you're done, immediately wash, rinse and deep condition your hair again.
Some hot springs in Iceland are free but these two are not, due to the popularity and experiences they offer. They do offer various pricing packages which we'll discuss below.
Now let's dive in.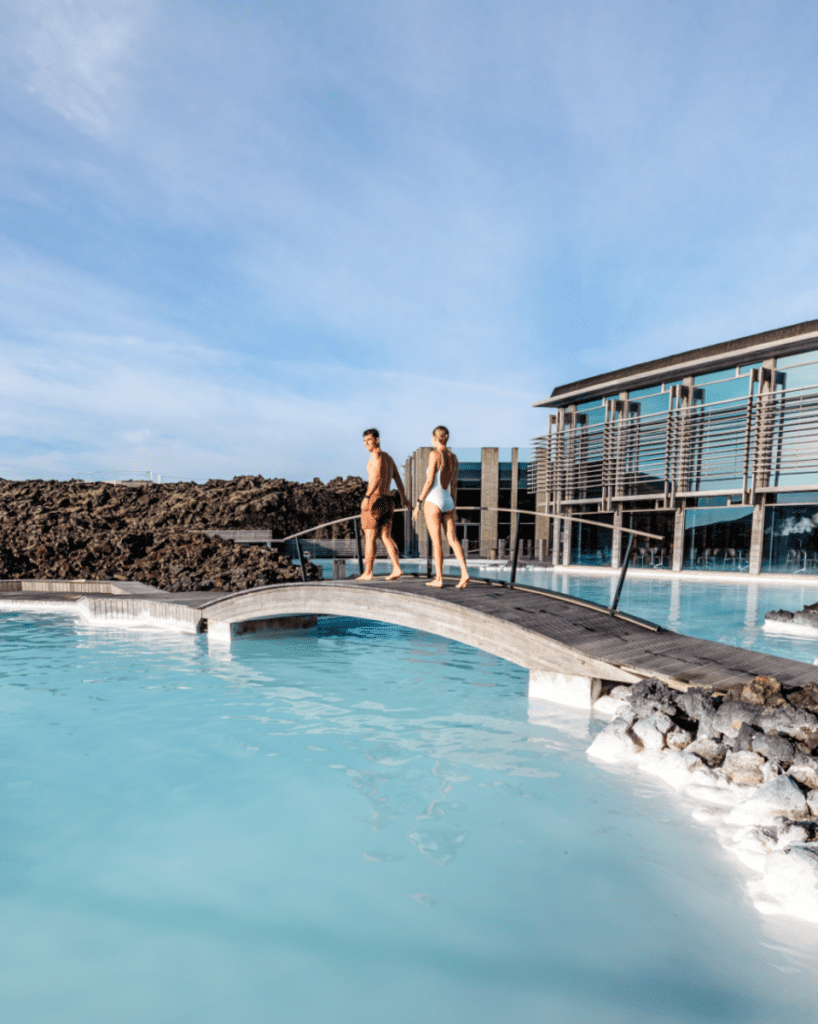 Blue Lagoon
The Blue Lagoon is most famous for its gorgeous blue waters and was named one of the 25 wonders of the world by National Geographic. This specific Iceland lagoon is notable for its use of geothermal sea water in which silica, algae, and minerals are present. This is what the Blue Lagoon skin care experience tends to cover, and we'll go more in depth about that below.
How does the water get so blue?
Many people are curious about how the water gets that color blue, so here's a short science lesson. The water has silica in it and the way the silica reflects the sunlight is what causes the turquoise color. There is truly nothing like seeing the colors of this lagoon in person. It was an experience we will remember forever.
Blue Lagoon hours
The Blue Lagoon is open all year round from 8 am-9 pm. Depending on what time you are visiting, these hours can change to be open as late as 11 pm. We recommend taking your time and enjoying the experience as long as you can.
If you're hoping to visit the Blue Lagoon without as many crowds, we highly recommend arriving as soon as the lagoon opens since there are significantly less people earlier in the morning.
How to get to the Blue Lagoon
The Blue Lagoon is just 41 minutes from Reykjavik. There are shuttle buses offered or you can rent a car or van. We personally chose to rent a campervan and we highly recommend it to anyone who wants to see as much of Iceland as they can. It takes a lot of the work out of traveling because everything you need is right there and you're always ready for the next adventure.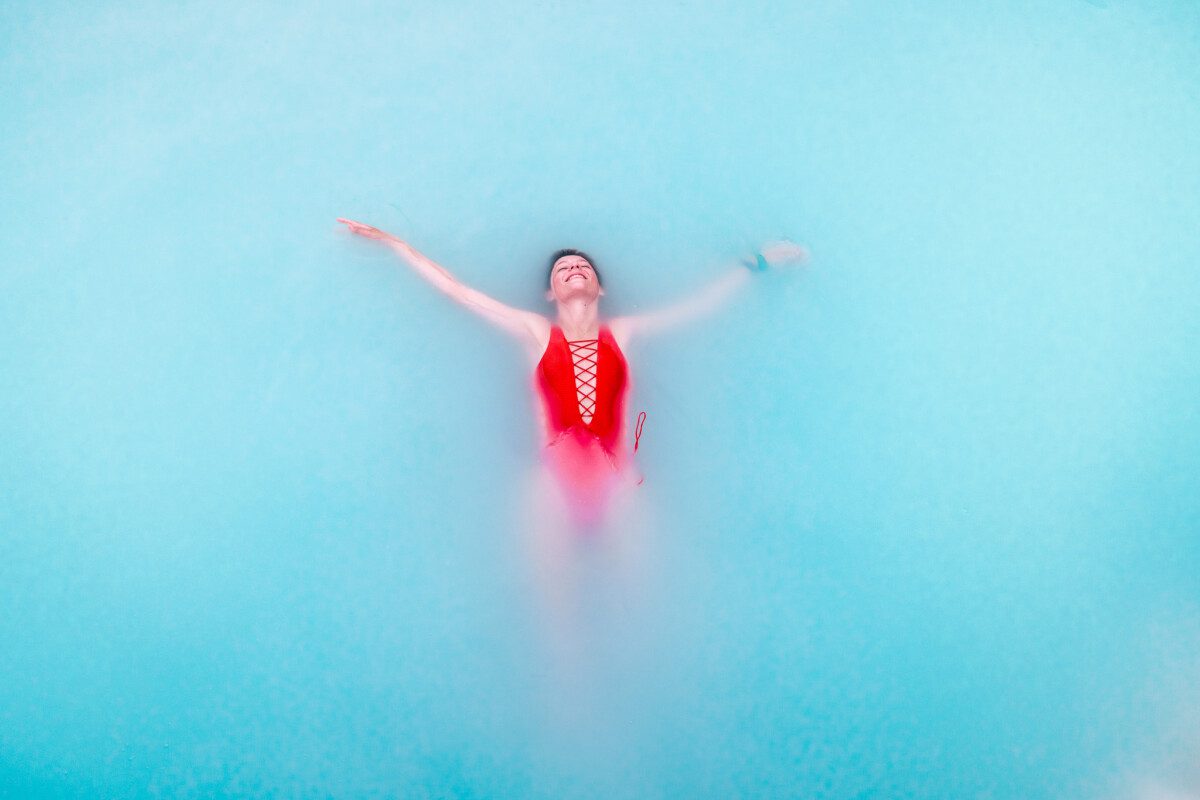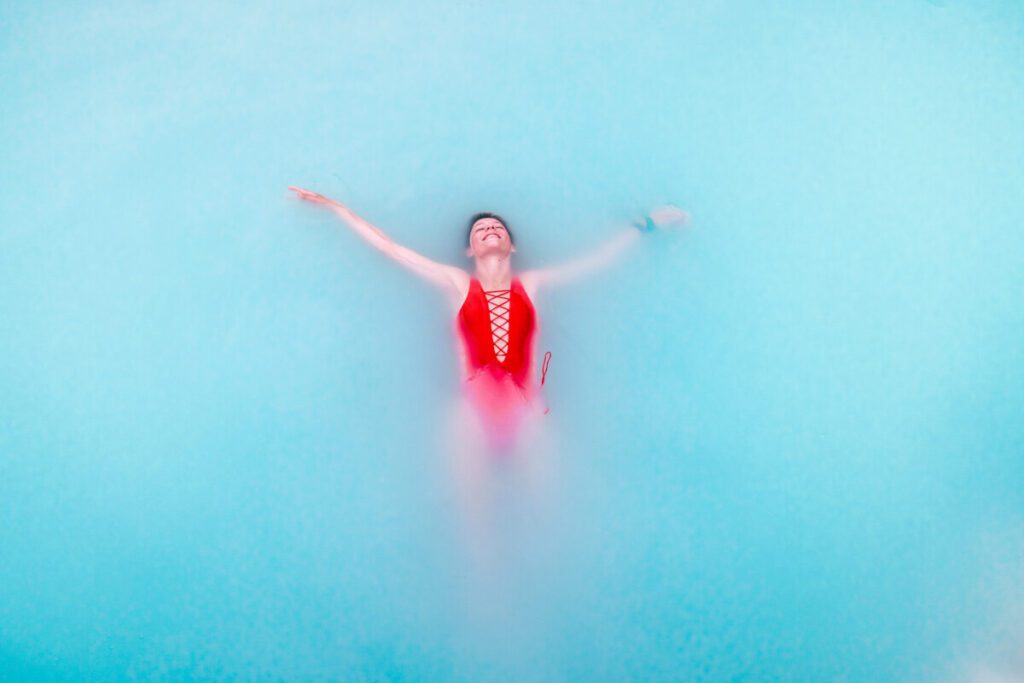 The packages Blue Lagoon offers
The Blue Lagoon has three separate day packages that range from $56-$390. They have a Comfort package, a Premium package, and a Luxury package. If you'd like to skip the ticket lines when you arrive, you can book your tickets in advance. 
We opted to buy the premium package and it did not disappoint. In getting this package, we were able to enjoy:
Entrance to the Blue Lagoon
Silica mud mask
Towel
1st drink of your choice
Two additional face masks of choice
Bathrobe
We have also done the standard Comfort Package on our second trip to Iceland. This package included:
Entrance to the Blue Lagoon
Silica mud mask
Towel
1st drink of your choice
Honestly, if you're trying to stay on a budget, the Comfort Package is still equally great of an experience and saves you some money if you're not looking to do three face masks.
There were a number of options for beverages such as, beer, wine, sparkling cider, sodas, smoothies, and green juice. They had something for everyone.
Skincare at Blue Lagoon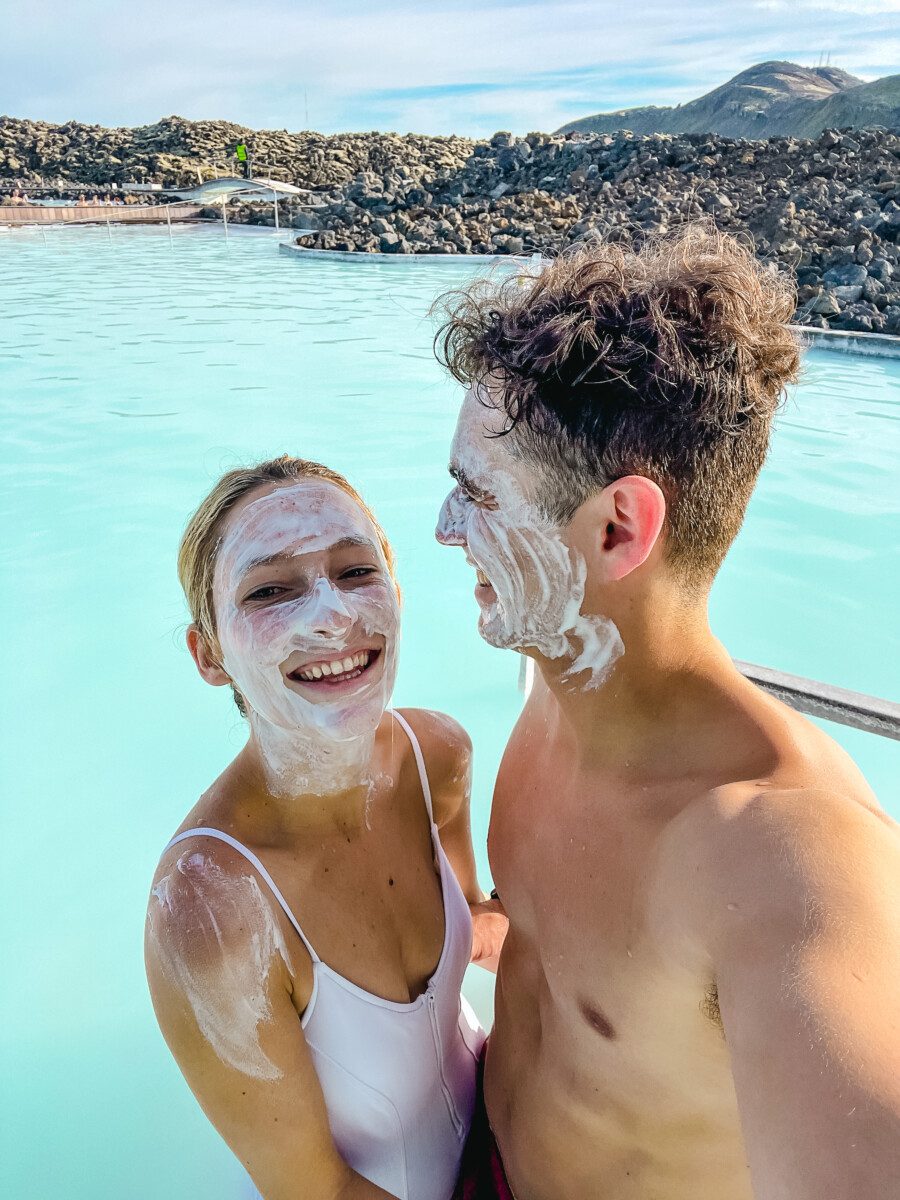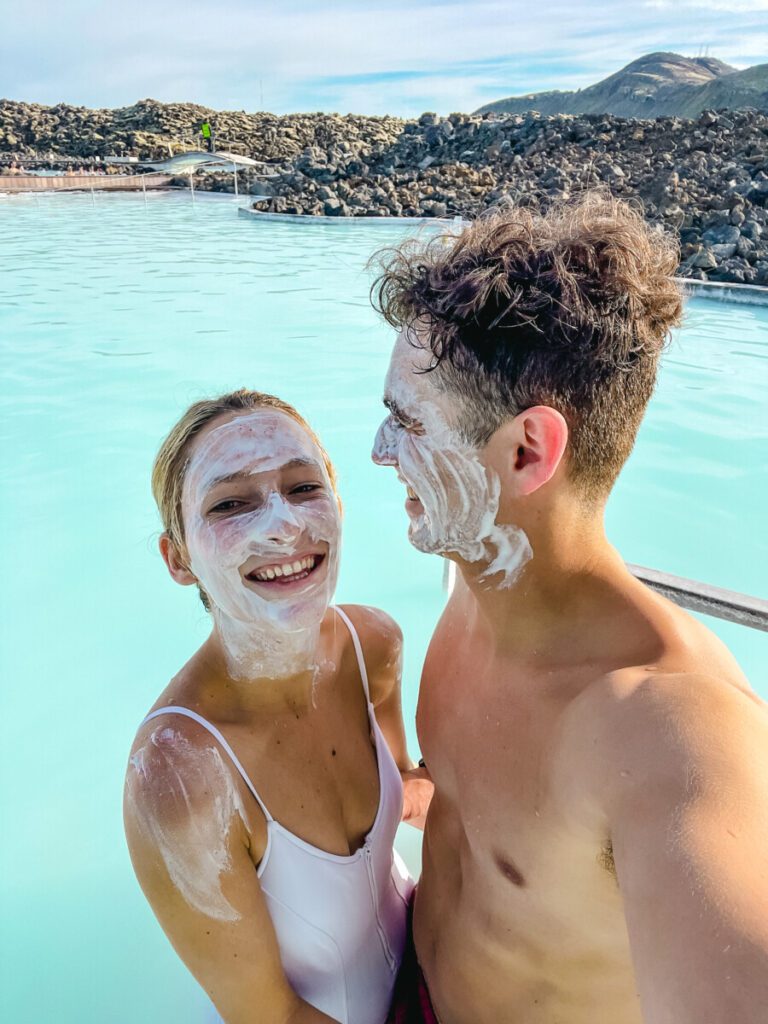 If you get the premium package like us, you get to choose their three face masks in whatever order you'd like. The Blue Lagoon skin care is the main experience they sell and we loved the way it left our skin feeling. The three facial masks they offer are:
a lava mask, which is a little harsher and is used to exfoliate your face
a silica mud mask, which is very hydrating and meant to give your skin a deep cleanse
an algae mask, which is smooth and refreshing and nourishes your skin
Privacy
This Iceland hot spring is extremely popular, so that means there will be a lot of people around you. But, since it is 3.35 square miles, there is plenty of room for everyone and it doesn't feel cramped.
As we mentioned before, you do have to shower naked in order to enter the lagoon, and this specific lagoon doesn't have too many options for privacy in terms of changing. There are shower curtains, but the locker room doesn't have many stalls to change in.
Sky Lagoon
The Sky Lagoon is brand new to the Iceland lagoon game. If you are staying in or around the southwest part of the country and looking for the best things to do in Reykjavik, look no further than here.
This Iceland lagoon is located right in the heart of Reykjavik and offers stunning views of the North Atlantic Ocean. It's a gorgeous facility with a unique infinity pool lagoon and a waterfall crafted in the lava wall. The main appeal to this lagoon is their 7 step ritual, which we will talk more in depth about below.
Sky Lagoon hours and how much time to spend there
We started our reservation at 6pm and were there for a little over 2 hours. We were able to do everything from relax, explore, go through the ritual, and enjoy some drinks. If you choose to go to Sky Lagoon, we would say to allot 2-3 hrs to make sure you can do everything you're wanting to. You can stay longer though, many people like to watch the sunset from the infinity pool.
The lagoon's hours range from 10 am-11 pm depending on what day and time of year you are there. So be sure to check their website before going.
How to get to Sky Lagoon
There are a few different options for getting to Sky Lagoon.
You can drive your rented car or van, which is about 15 minutes from downtown Reykjavik and use the free parking outside of the lagoon.
During the warmer months, you can ride your bike, which takes about 1 hour and 15 mins.
If you don't have access to a car or bike, you can take a bus, but be aware that you will have to walk for a few minutes from the bus stop to the lagoon.
The packages offered at Sky Lagoon
Sky Lagoon offers three packages also and they run from $55-$110. They have the Pure Lite Pass, Pure Pass, and Sky Pass.
We were graciously hosted with the Sky Pass, which was an incredible experience. The Sky Pass is their most premium package and it gives you access to their private changing room with private showers and changing facilities. It also includes the ritual, which we recommend doing if you intend on going to Sky Lagoon.
But, if you want to save money and not get the Sky Pass, we recommend getting the Pure Pass so you can still experience the ritual. The main difference between the two packages is that the Pure Pass doesn't give you access to private changing rooms. It all depends on what you're most comfortable with.
Sky Lagoon 7 step Ritual
The Sky Lagoon Ritual is a 7 step process and is the main event for this specific Iceland hot spring.
The process includes:
Slowing down, relaxing and getting inside the lagoon.
Take a cold plunge. There is a small pool next to the lagoon with water that is around 10 degrees. They recommend staying in the water for at least 10 seconds, but you can stay in for as long as 30 seconds.
Relax with a gorgeous ocean view in the sauna for 5-10 mins. This sauna is known for being the best in Iceland.
Step into a refreshing cold mist.
Grab the Sky Body Scrub and use it to exfoliate your skin. They recommend that you move your hands in slow, circular movements when applying it to your skin.
Step into the steam room and relax there for a few more minutes while the body scrub is still on your skin.
Shower and then head back to unwind in the lagoon.
This Sky Lagoon ritual is both relaxing and shocking on the body. We highly recommend doing this experience if you're driving Ring Road like we did. After being on the road for six days, living in a van, hiking every day, and not showering, this experience was incredibly rejuvenating.
You can certainly kick off your trip with the Sky Lagoon but we suggest doing it at the end to give yourself a nice reward to look forward to.
Privacy
The Sky Lagoon also has public changing rooms, but they do offer private showers and changing facilities with their Sky Pass, as we discussed above. If privacy is something that is important to you, we highly recommend upgrading to a higher pass.
While we were at the lagoon, there were about fifty to seventy-five people around us, but it didn't feel too crowded. There was a ton of room to explore and make our own area to relax.
Our opinions on both lagoons
Both of these lagoons are incredibly beautiful, there is no doubt about it. The Blue Lagoon skincare and the sky lagoon ritual, although very different, helped us feel more relaxed and rejuvenated in the midst of all our hiking and driving during our trip.
The Sky Lagoon is a serene and calming experience, while the Blue Lagoon is a much prettier, bigger, and more touristy experience.
The Sky Lagoon to us, felt more upscale and private than the Blue Lagoon, which could have been due to our Sky Pass. Our shower experience at Sky Lagoon was very clean and organized and relaxing, whereas the Blue Lagoon was much more chaotic and had a lot of crowds.
What are you looking for in an Iceland Lagoon?
Ultimately, it depends on what kind of experience you're looking to get out of an Iceland hot spring. Are you looking for skincare or a full body experience? Private or public facilities? Blue water or ocean views?
The cool part about these two lagoons is that you have different package options to choose from, which offers you even more control over what you want your experience to look like.
If we had to choose, we personally would recommend Blue Lagoon over the Sky Lagoon because nothing beats that classic blue water.
Thanks for reading and we hope we helped you figure out which lagoon suits you best for your next Iceland trip. If you've been to both of these lagoons, let us know which one was your favorite and why.
If you want to learn more about our Iceland trip, check out our full itinerary around the Ring Road.