How to Spend One Week in Guatemala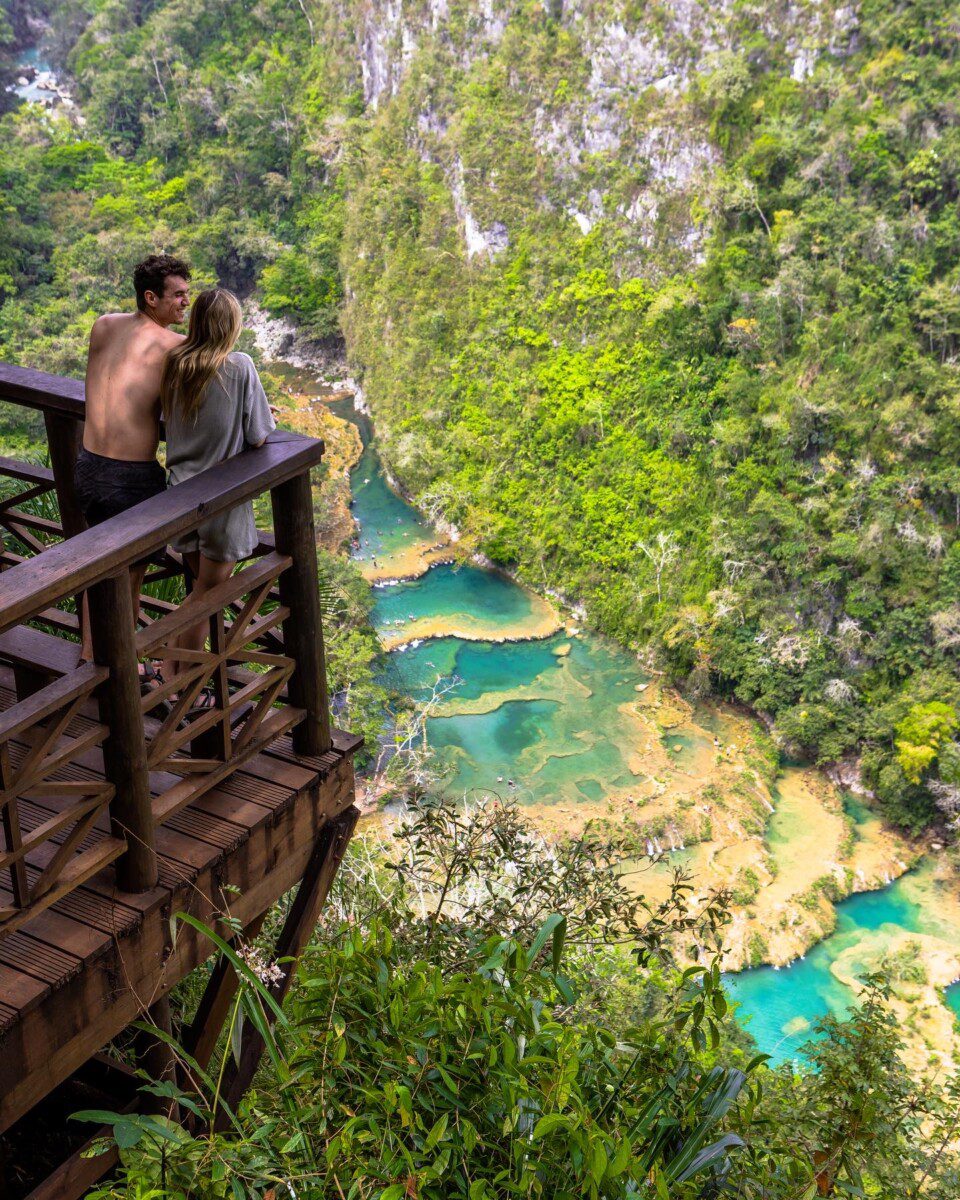 Ultimate 7 Day Guatemala Itinerary
We spent one week in Guatemala and had the most amazing experience from the food, nature, culture, and history. Here's our exact 7 day itinerary we used for our trip to Guatemala.
Day 1: Land in Guatemala City & Head Over to Lake Atitlan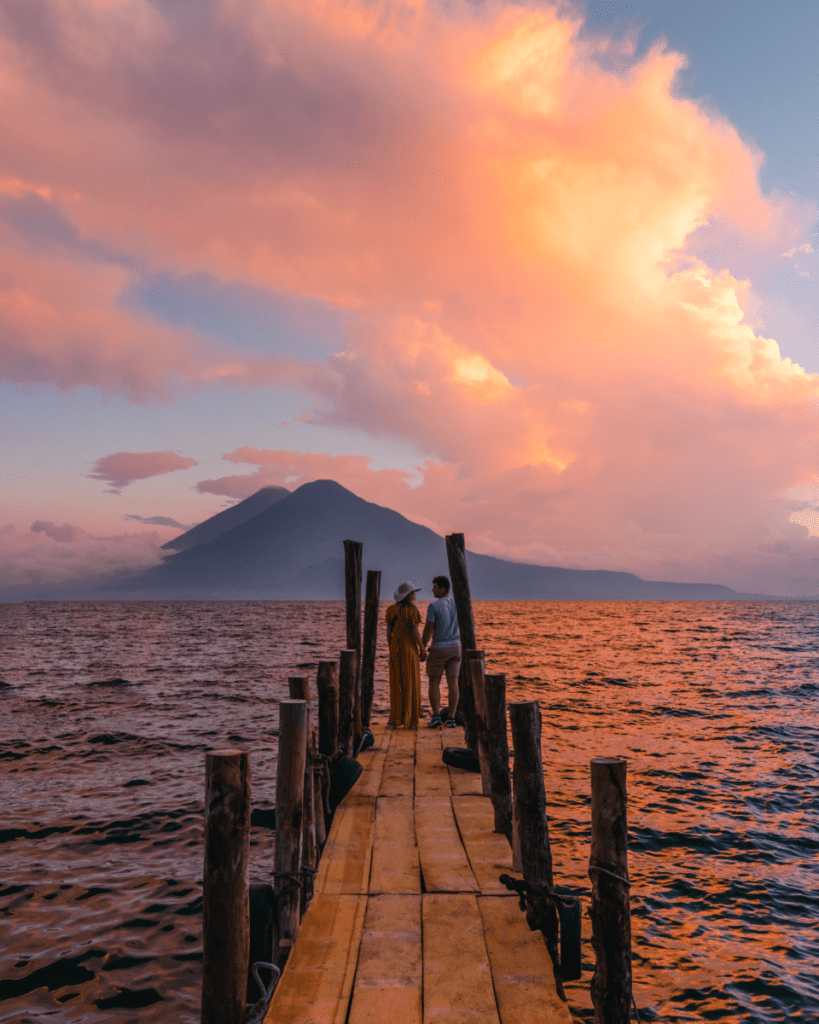 Once you land in Guatemala City, you're going to hit the ground running and make your way over to the beautiful area known as Lake Atitlan. Lake Atitlan is Guatemala's second largest lake in the country. Every town surrounding the lake has its own specialty industries and character. It is about a 3 hour drive from the airport to Lake Atitlan so make sure to sit back, relax, and take in the views along the way.
Check out the Villages Around Lake Atitlan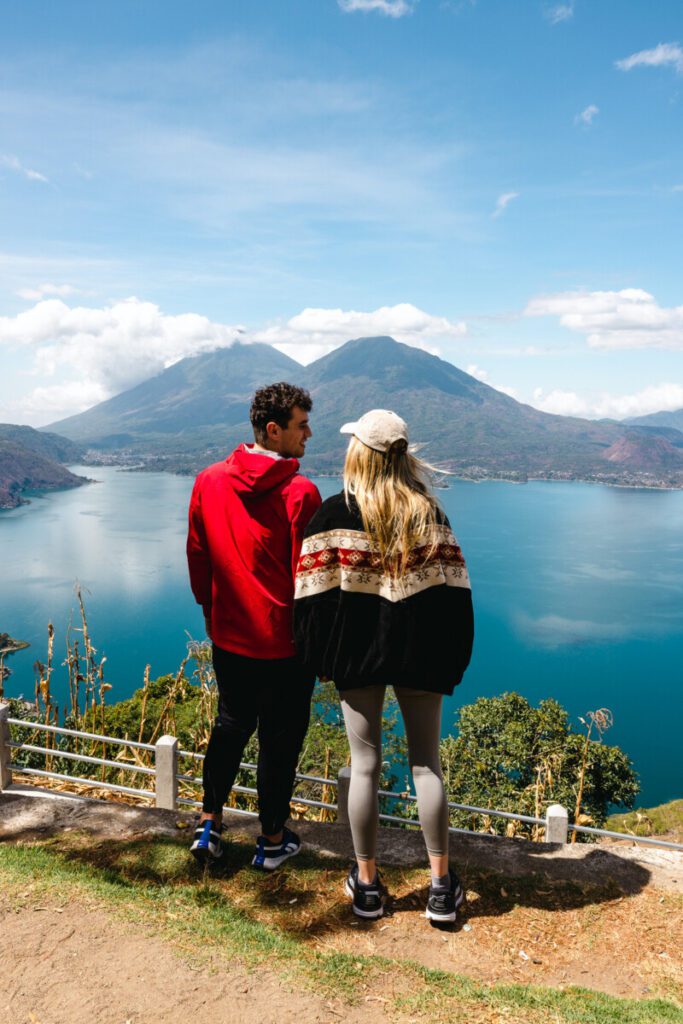 San Antonio Palopó
This village reminded us of the Amalfi Coast in Italy. San Antonio Palopó is a beautiful coastal village that specializes in pottery and ceramics. It is one of the least visited villages around Lake Atitlan, so if you prefer a much more authentic local experience this is a great spot to spend some time in Guatemala.
Wander around the iconic San Antonio Palopó Church. Make sure to take in the stunning views of all three surrounding volcanoes from the village while exploring around.
If you're thinking about purchasing any ceramic pieces while you're there, they prefer cash; however, credit card is accepted as well.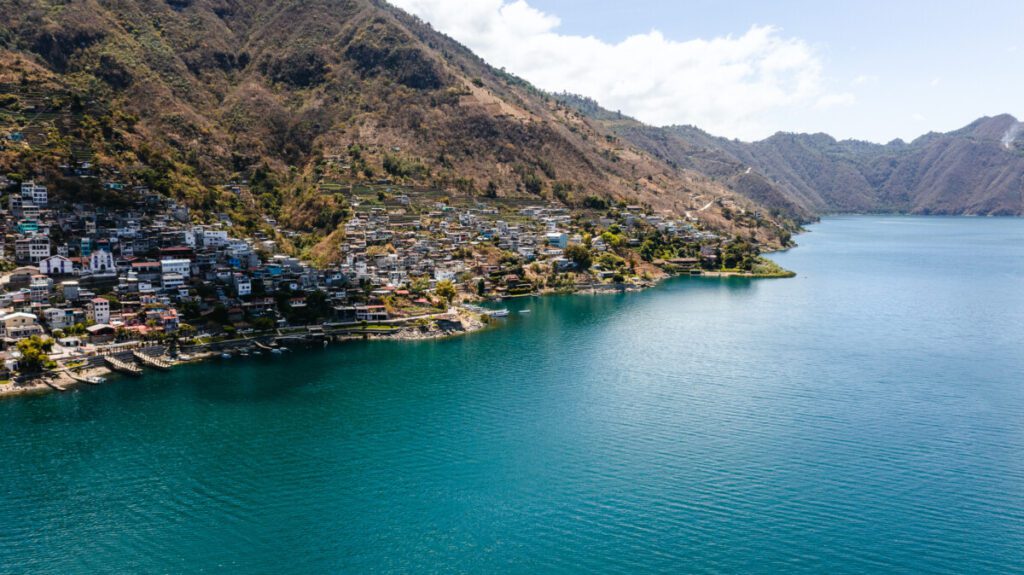 Santa Catarina Palopó
Santa Catarina Palopó is one of the most beautiful and colorful towns surrounding Lake Atitlan. Recently, there's been an initiative to help reinvigorate the town with a painting initiative to help elevate the area for tourism. The local painters have hand painted over 850 buildings with a variety of gorgeous patterns and cultural drawings based on traditional weaving patterns.
Panjajachel
Panjajachel is probably the most touristic village along Lake Atitlan. This village is the transportation hub for the neighboring villages where you can find water taxis to most of the other villages. There's also a lot more accommodation options and modern restaurants in this village when compared to the rest of Lake Atitlan.
We loved watching the sunset out on the docks in Panjajachel as you'll get a stunning view of the sun disappearing behind the volcanoes.
San Juan La Laguna
This was probably our favorite village that we went to! We took a boat from Panjachachel which took about 45 minutes. Here we got to see incredible views of the lake up at Mirador Kiaq'Aiswaan viewpoint. We got to see how textiles were made, an incredible art gallery of local artists, and a chocolate and cacao workshop!
San Pedro
We'd recommend spending a little extra time here if you have it. Although this one week in Guatemala itinerary includes 1 day here, 2-3 would be ideal to explore the all of the highlights in the area. We'd recommend making Panjajachel your home base. We stayed at the Hotel Porta del Lago and it was a nice central location between the villages.
Day 2: Explore More Villages around Lake Atitlan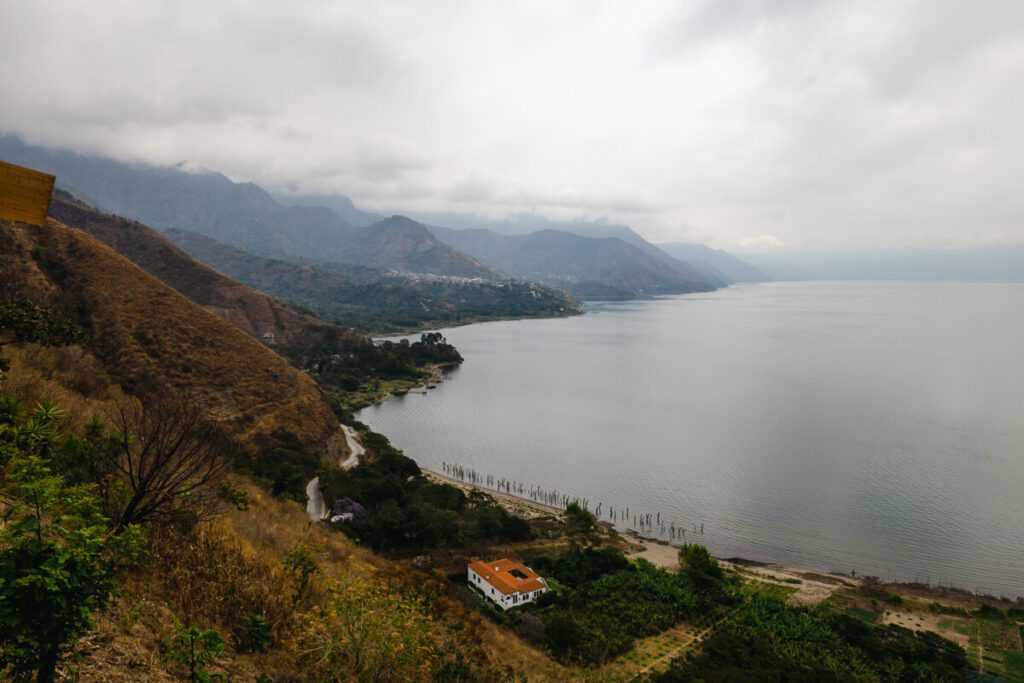 Hiking the Mayan Nose for Sunrise
Start off the day early by signing up for a tour of the Mayan Nose, also known as the Indian Nose. You will have to rise early and start hiking for about 1 hour before reaching the best viewpoint around Lake Atitlan. You can either hike it with a tour group or hike up by yourself. If you are a photographer, you won't want to miss this view!
Alternative: Hike the Mirador Kiaq'Aiswaan Viewpoint on San Juan La Laguna
If you don't have enough time to hike the Mayan Nose, or you want something a little easier in terms of elevation, the Mirador Kiaq'Aiswaan viewpoint in San Juan La Laguna is a great alternative for beautiful higher up views of Lake Atitlan. It does cost a small amount of money, so make sure you bring some cash for an entry fee.
Explore San Juan La Laguna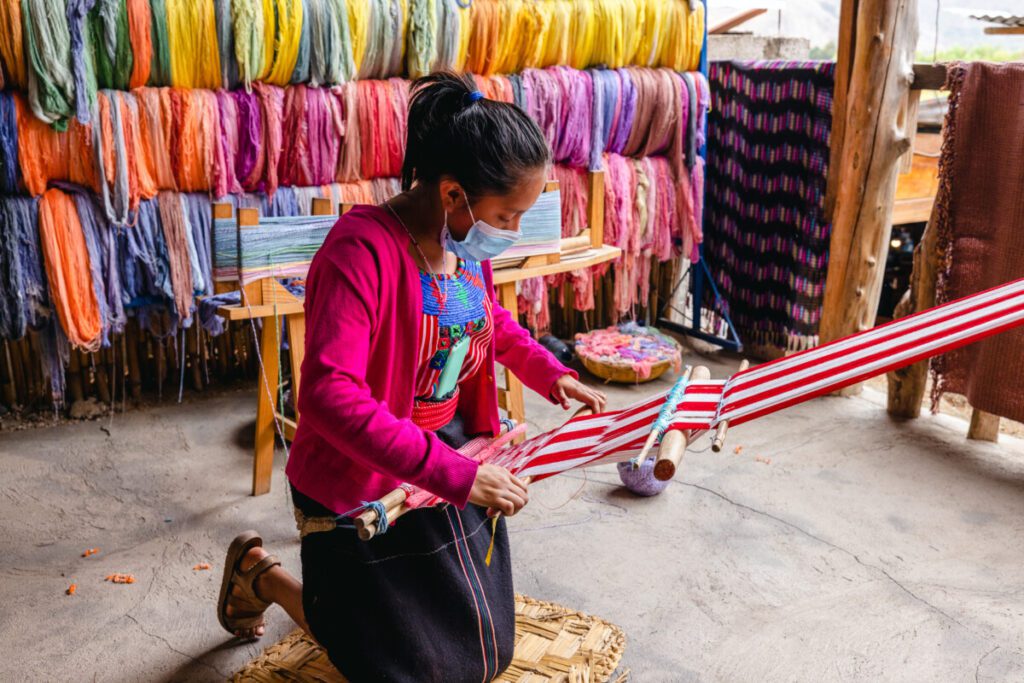 San Juan La Laguna was probably our favorite village we visited along Guatemala's Lake Atitlan region. Not only does it offer incredible viewpoints, but it really teaches tourists the culture and significance of each of its specialties.
We are able to learn about 4 main trades in particular, from natural medicine to indigenous art, to textile creation to chocolate making. Most of the locals are more than happy to show you their craft and then will offer to let you browse their stores afterwards if you'd like to purchase anything.
Make sure to stop at our favorite cultural presentation, Xocolatl Chocolate store. Here, you can see exactly how cacao is harvested and turned into chocolate products, as well as taste some of the authentic chocolate from the village. Try some of the hot chocolate at the storefront as well for some of the best hot chocolate you will ever have!
Once you're all done exploring San Juan La Laguna, take a ferry back over to Panajachel and check out of your hotel. Then head out to the colonial city of Antigua where Guatemala's volcanoes are awaiting. Make sure to get a good night's sleep before embarking on an epic adventure for Day 3 in Guatemala.
Where to Stay in Antigua
We stayed at the Camino Real Hotel in Antigua for two nights in total. We were able to bag check our luggage while we did an overnight tour on the volcano since we were coming back to the hotel for the night after. This is a great way to not have to worry about your luggage while climbing the volcanoes for an overnight trip.
Day 3: Climb One of Guatemala's Famous Volcanoes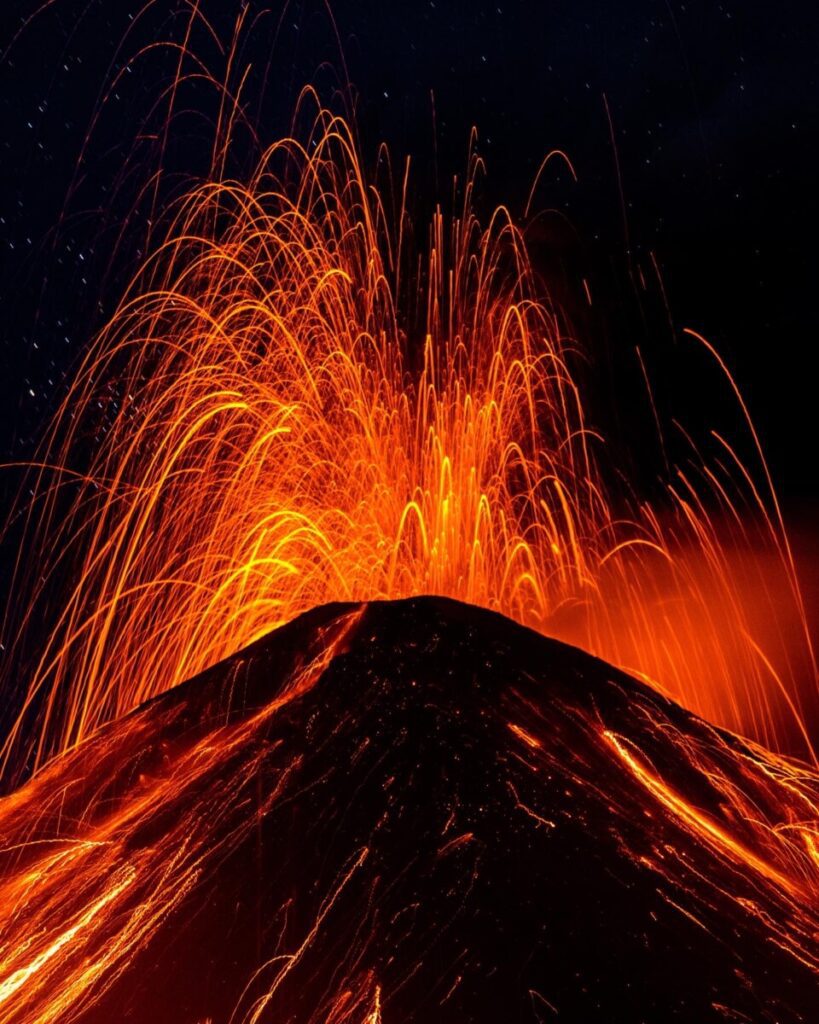 Check out of your hotel and head out for a crazy adventure by climbing one of the famous volcanoes of Guatemala.
Option 1: Volcan de Acatenango & Fuego
Acatenango is not only a beautiful mountain to hike itself, but it offers incredible views of the actively erupting Volcan de Fuego. This is one of the most popular things to do in Guatemala, especially for adventure lovers, and for good reason. At over 13,000ft tall, the sunrise here is unparalleled as it puts you above the clouds and offers the best overlook for taking in Volcan de Fuego's violent eruptions.
You can either do this hike as a long day hike or an overnighter. We chose to do it as an overnighter and would absolutely recommend doing it that way so you have more time to enjoy the volcanos and time to acclimate. It took us about 4-5 hours to get up to our camp the first day and 1 hour to get up to the summit for sunrise. It took 1.5-2 hours to get all the way down. You'll definitely want to bring a camera for this incredible experience in Guatemala. For our full photography recommendations, check out our camera gear guide before your trip!
After you finish, you can stay and explore the beautiful neighboring city of Antigua. For our complete guide on hiking Guatemala's Volcan de Acatenango, click here. We booked this experience with Kashem Adventures and loved our guide Roberto.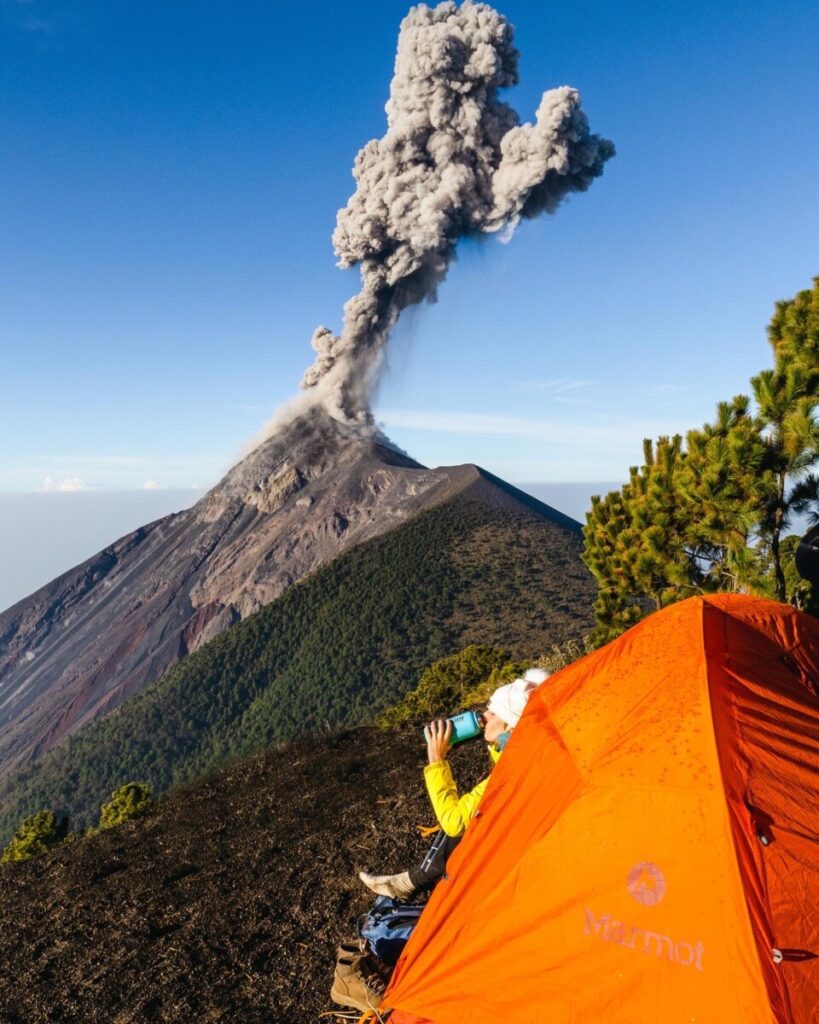 Option 2: Volcan de Pacaya
Unlike Acatenango, Pacaya itself is still in an active volcano. Pacaya is much more of a mild hike than Acatenango and is much more suitable for families, children, and those that don't hike very often. You can head up the volcano with your guide and even roast marshmallows over the lava flows!
Note: There are some volcanoes that you shouldn't consider climbing due to crime and safety, including Volcan de Agua. If climbing any volcano in Guatemala, we'd highly recommend hiring a guide to take you around.
Day 4: Explore Antigua Guatemala
Antigua Guatemala is the old capital of Guatemala and is a lovely small town surrounded by volcanoes and filled with lots of history. Antigua is also considered a UNESCO Heritage Site and so you'll get to see colonial Guatemalan history everywhere in the town.
Make sure to check out Cerro de la Cruz for sunrise or sunset for the best views of Volcan de Agua. However, know that it is often cloudy in the afternoon, so your best bet of a clear view is earlier in the morning around sunrise.
The best way to explore the historical aspects of the city is with a walking tour of Antigua! You can check out two other famous Antigua landmarks on your Guatemala itinerary: the Church of La Merced and the Arch of Santa Catalina. The Arch of Santa Catalina is one of Guatemala's famous landmarks. The arch was actually used to secretly allow transfer nuns in between convents without being seen!
Where to Stay in Antigua:
We stayed at the Camino Real Hotel in Antigua and had the best experience. Its central location is perfect as it lies in the heart of the city and is close to most major viewpoints within a short walk or Tuk Tuk ride.
Day 5: Visit Tikal National Park & Flores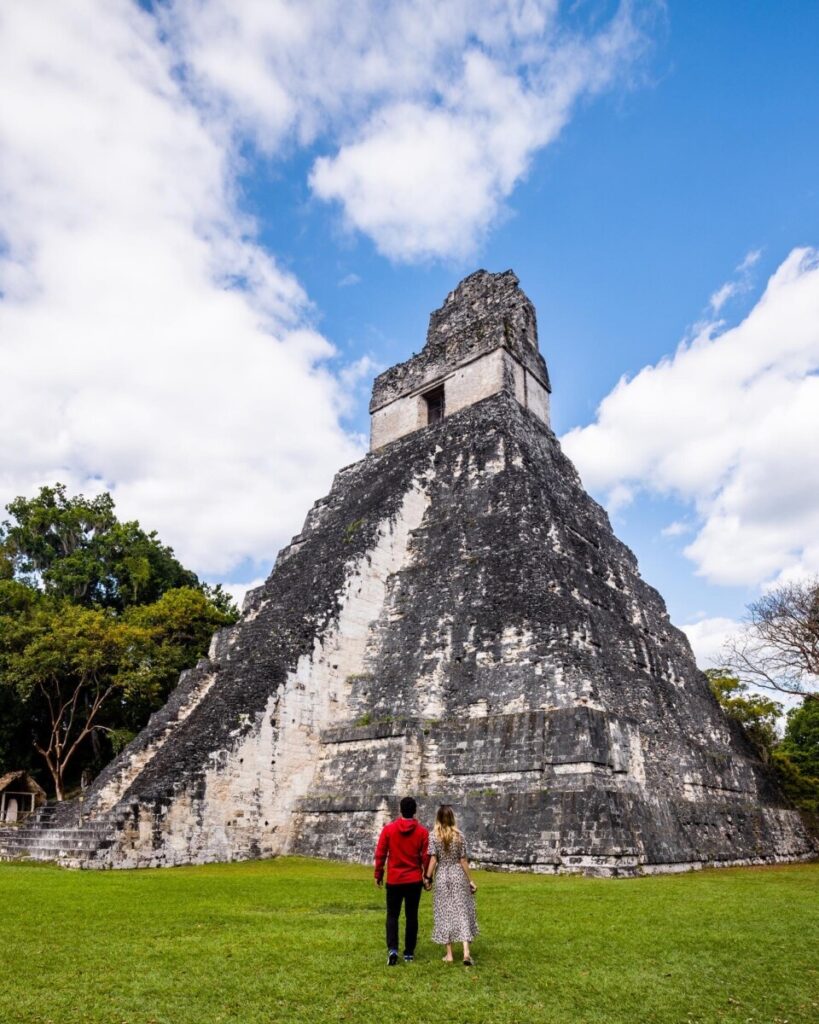 In order to get to Tikal National Park, you'll either need to drive or fly from Guatemala City. We would recommend flying into Flores to save yourself the 10+ hour drive from the city. Arrange for a private transfer to pick you up from the airport to take you into Tikal.
You can book several variations of guided tours in Tikal as well. There are options for a sunrise, middle of the day, or sunset tour around Tikal. Once you arrive at the gate entrance, you have to pay the park fee and you will get a wristband when you walk into the park.
Tikal itself could take 2-3 days to explore in depth, but for the highlights having a full day in the park is a good amount of time. Definitely make sure to visit Temples 1 & 2 in the Grand Plaza. You should also make sure to check out the Observation Temple and Temple 4 for the best panoramic views of the surrounding jungle.
Make sure to keep an eye out for the plethora of wildlife here in Tikal. There are so many unique species such as spider monkeys, howler monkeys, parrots, toucans, jaguars, and pumas that roam around the park.
Once you're all done in Tikal National Park, head out to your hotel for the night.
Where to Stay Near Tikal:
We stayed at the Casona Del Lago for our hotel for the night. It was a short drive away from Tikal in Peten and super convenient as it also had a nice restaurant on the property. However, there are hotels that are much closer to Tikal in Flores if you plan on spending some extra time there.
Day 6: Explore the Cuevas de Candelaria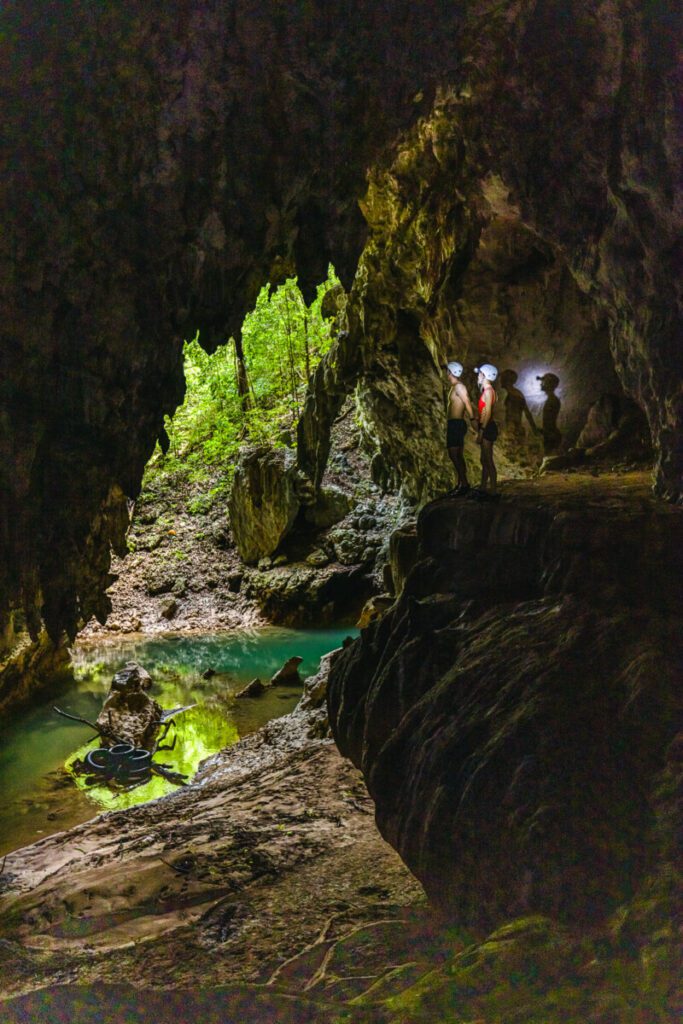 The Cuevas de Candelaria are arguably some of Guatemala's best hidden gems. This region is a community run tourism area where you get to go tubing through some of the most massive caves in Guatemala. It takes about 3 hours for the full tour out and back, and we would highly recommend adding it to your week long itinerary in Guatemala.
When you arrive, fit yourself with a headlamp and helmet. They do have some plastic bags for your electronics, but we'd recommend bringing your own dry bags or cell phone cases for better protection. You'll also want to add bug repellent to your day pack here as well. You can change into your swimsuit and water shoes at the bathrooms at the entrance before you begin the tour.
You start hiking with your tube for around 10-15 minutes before entering the beautiful turquoise water. Once you start floating, you get to experience about three different caves. There are more caves that have been discovered in the area, however, the general public does not visit them. Most of them are sacred to the Mayan people and are still used for ceremonies today, so the tour typically only includes the three largest and most known caves.
Make sure to bring some extra cash if you enjoy your tour, as the guides work on a volunteer basis!
This night we stayed at the Hotel La Posada Coban for our accommodations.
Day 7: Semuc Champey & Head Back to Guatemala City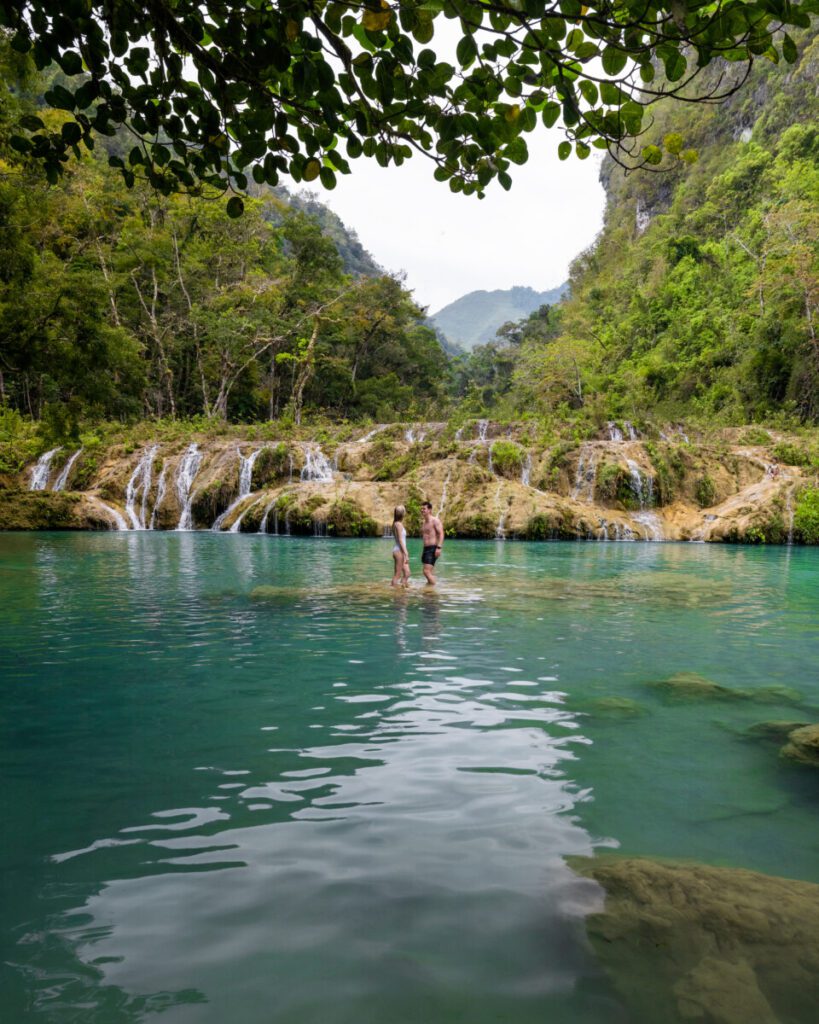 Semuc Champey is one of the most beautiful natural landscapes in all of Guatemala. However, it is out of the way from most of the cities and requires a lot of effort to get to.
How to Get to Semuc Champey
Once you get to Lanquin, you need to hire a driver or tour to take you the extra 10km to Semuc Champey. The road requires 4×4, which most private shuttles don't have. The alternative option is to take one of the busses from the town in which is a more budget friendly option. Most locals opt to take the bus in, however, they are a bit more crammed.
What to Bring to Semuc Champey
Make sure to bring water shoes, plenty of water, a swimsuit, and some snacks. If you forgot something, there are plenty of locals that will try to sell you these items. You will need to bring some cash if you want to buy anything from any of the locals here.
Exploring Semuc Champey
Semuc Champey has two main features, the lookout and the actual pools themselves. If you are interested in seeing the aerial views from the lookout above, wear hiking shoes with good traction as the way up is quite steep and slippery. It took us about 20-30 minutes to reach the top. Once you reach the top of the lookout, there is an incredible deck with gorgeous views of the turquoise pools. You'll have a perfect photo opportunity, however, a line does start forming if you get there later in the day so keep that in mind.
Once you finish your time at the lookout, you can keep heading down a path to reach the pools. If you're not interested in hiking up to the lookout, you can take an alternative flatter way to the pools as well. There are several different areas you can hop in and go swimming, but make sure to wear water shoes so you don't slip when moving around the water.
Head Back to Guatemala City
Once you're all done enjoying the beautiful water of Semuc Champey, it's time to make the long trek back to the airport. Since Semuc Champey is in a remote location, make sure to allot enough time to get back to your departure city. The closest airport is technically Guatemala City, but it will still take around 5-7 hours to get all the way back to the airport.
Spending One Week in Guatemala
That ends your 7 Day Itinerary of Guatemala's Highlights, but you can always add on more if you decide to stay longer! One week in Guatemala is just enough to see a little bit of everything, but you could easily spend a month exploring every amazing thing there is to do in the country.