Ultimate Guide to Exploring Edmonton & Jasper in the Winter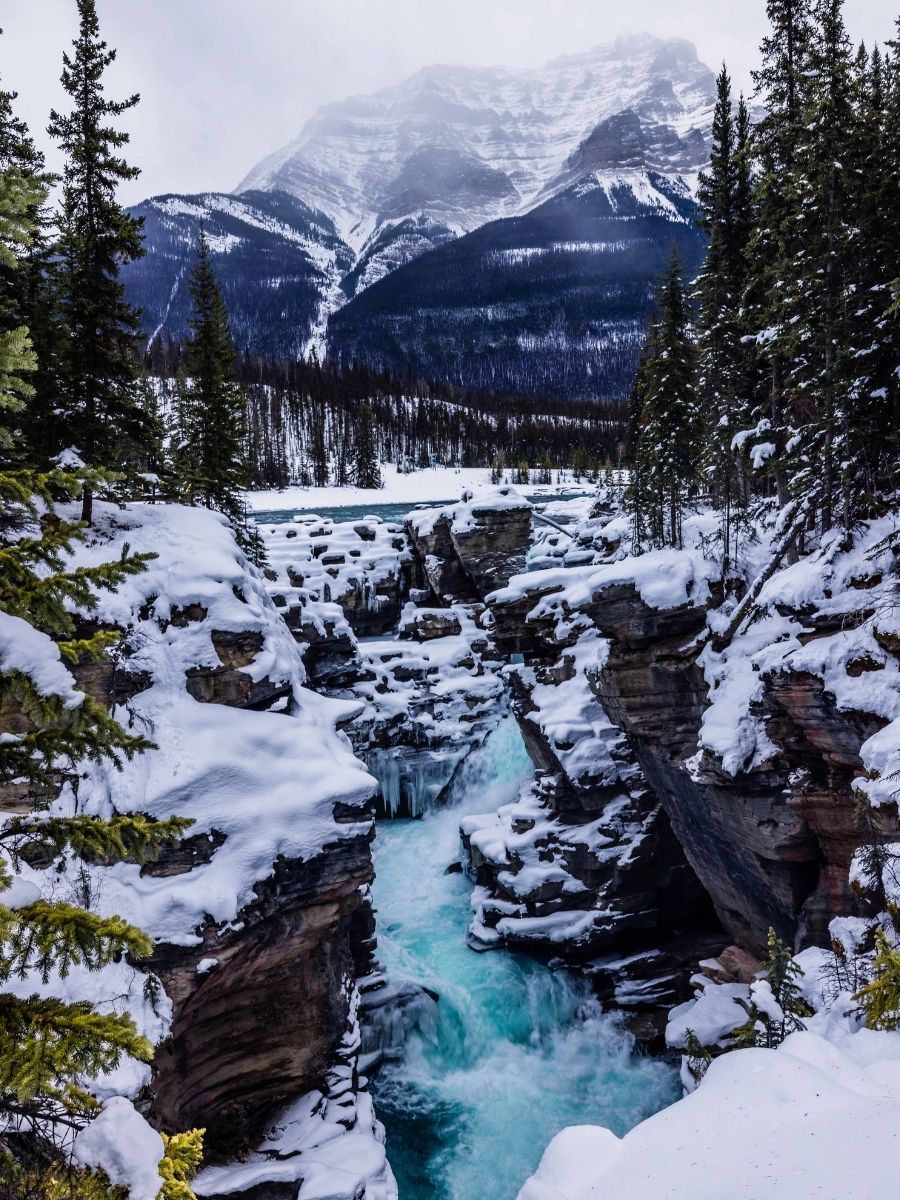 Getting to Alberta in 2021-2022:
If you are looking to getaway this winter, the beautiful cities of Edmonton & Jasper in Alberta, Canada should be at the top of your winter travel bucket list. After the first snow of the year, the whole region turns into a beautiful snowy paradise and winter wonderland.
Visiting Alberta During the Winter: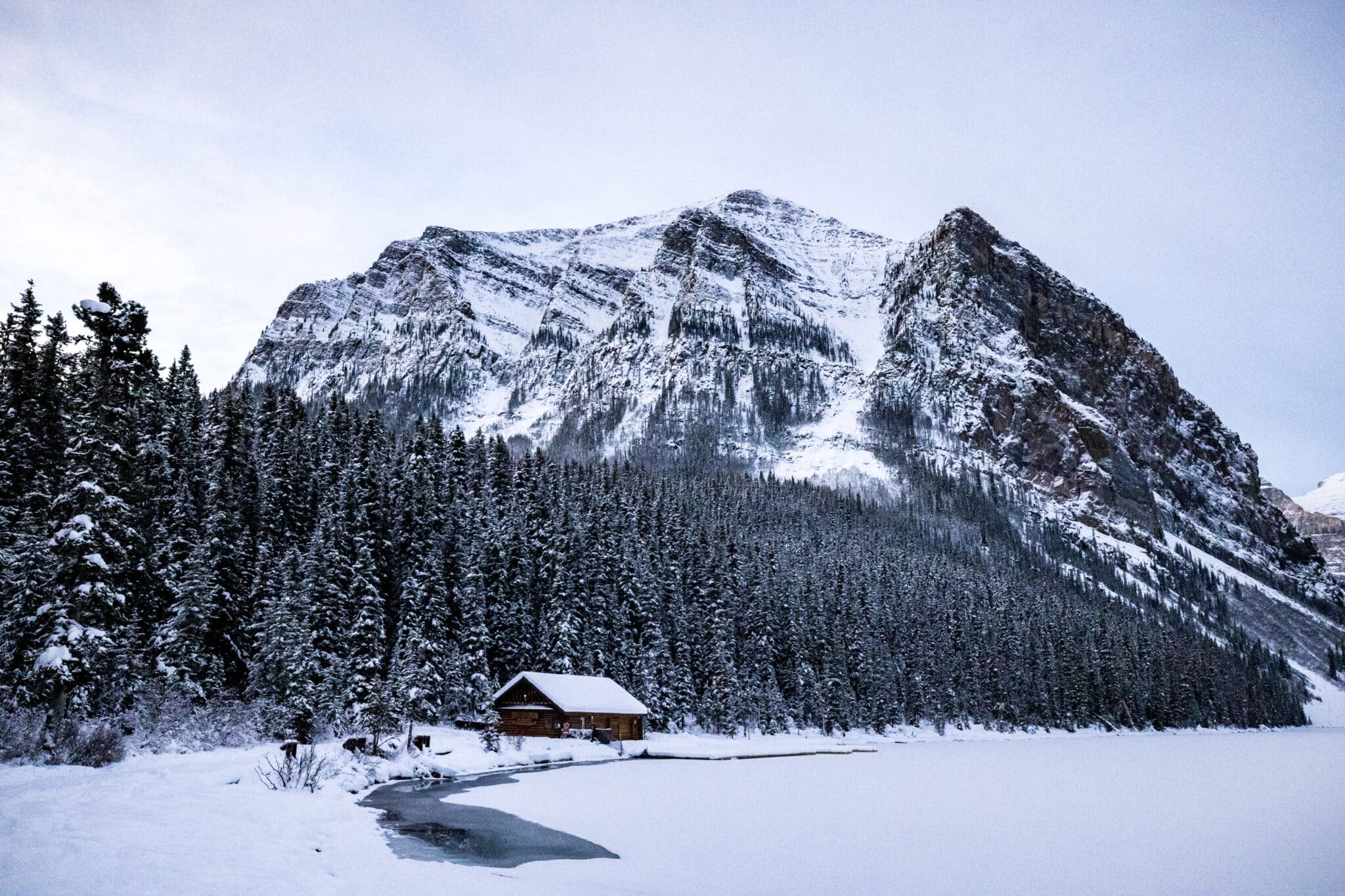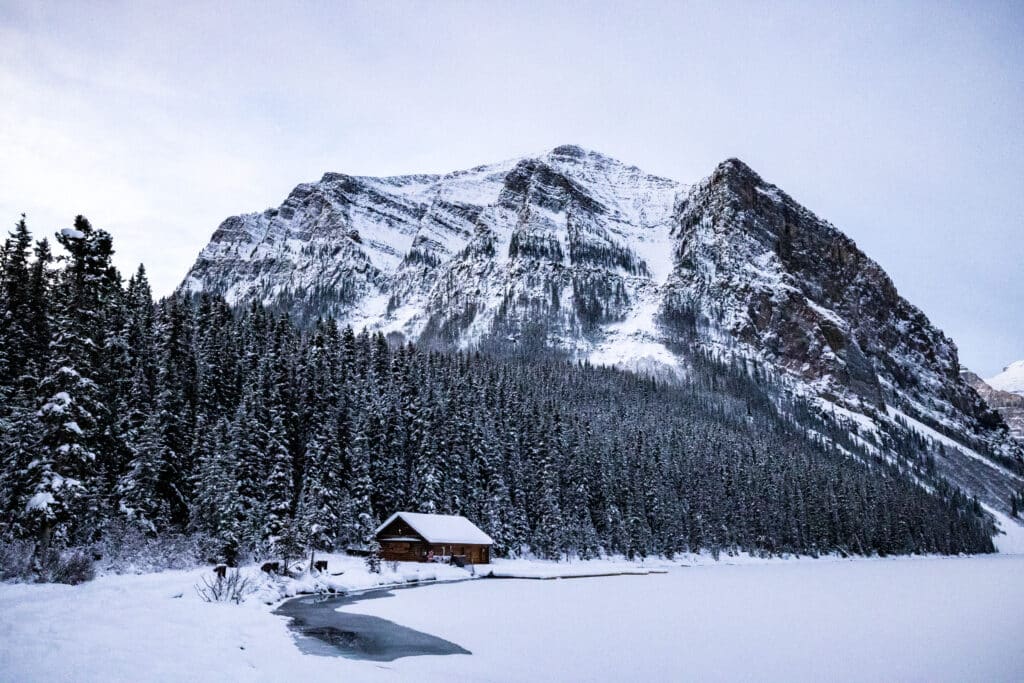 Disclaimer: This blog post is in collaboration with Explore Edmonton, Tourism Jasper, and Swoop Airlines. Some parts of the article also feature affiliate links, which means we get a small commission if you make a purchase (at no extra cost to you). It's one of the ways we can keep producing free guides and resources for our readers. Thank you for the support!
Best Time to Visit
We visited Edmonton & Jasper National Park toward the end of November and it was a complete winter wonderland! However, if you want to take full advantage of all the amazing winter activities the Alberta towns have to offer, we'd recommend visiting toward the middle of December through February so that you can take advantage of activities that may be closed down during the shoulder season in November.
There are a few tour operators that shut down in November to prepare for the busy holiday season, so if you are interested in things like dog sledding, ice climbing, or the Maligne Canyon ice walk in Jasper, try to plan your visit in December or January when tours are in full swing. However, if you want to beat the crowds and enjoy the cities with less traffic, less commotion, and better deals on accommodations and flights, November is a great time to visit!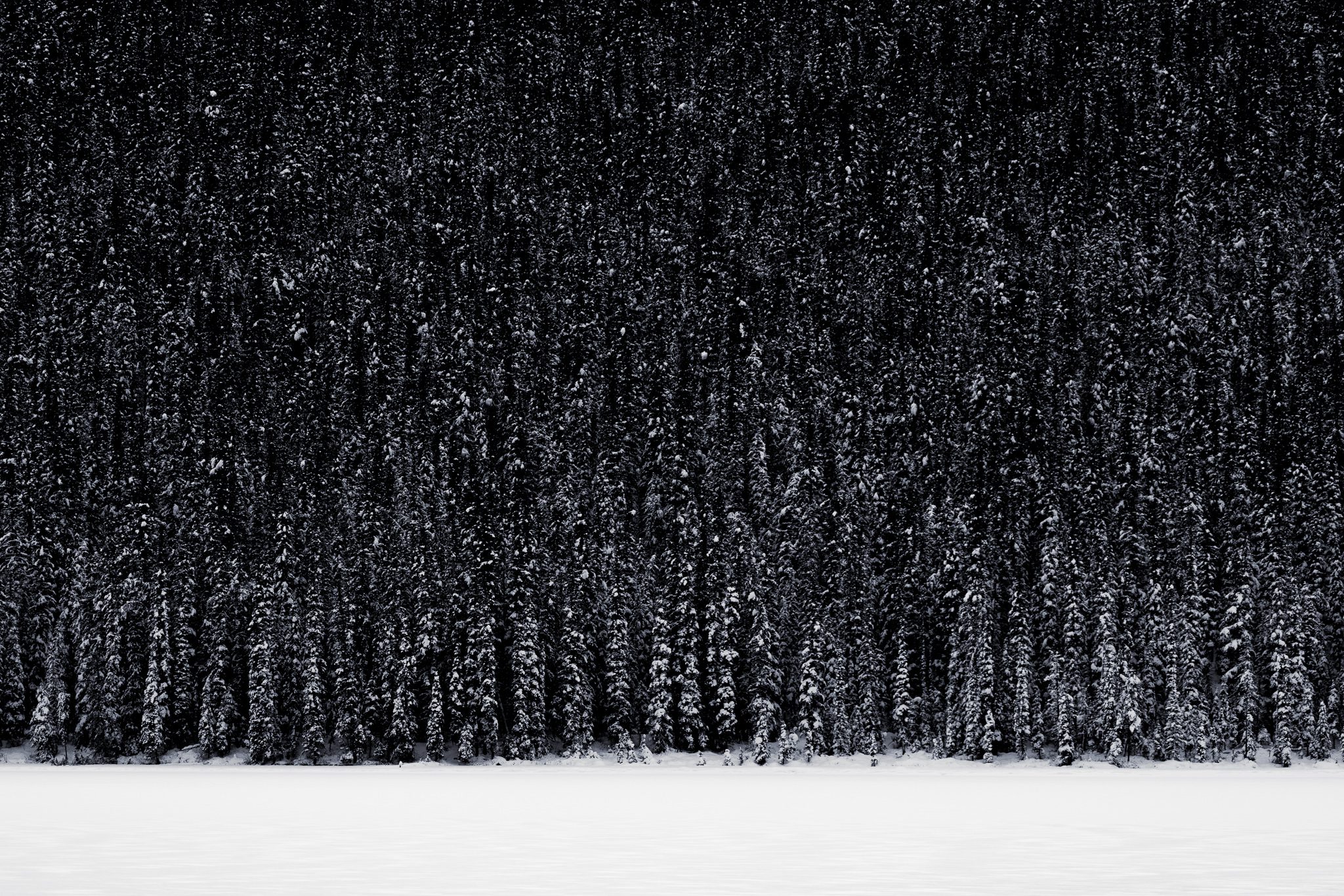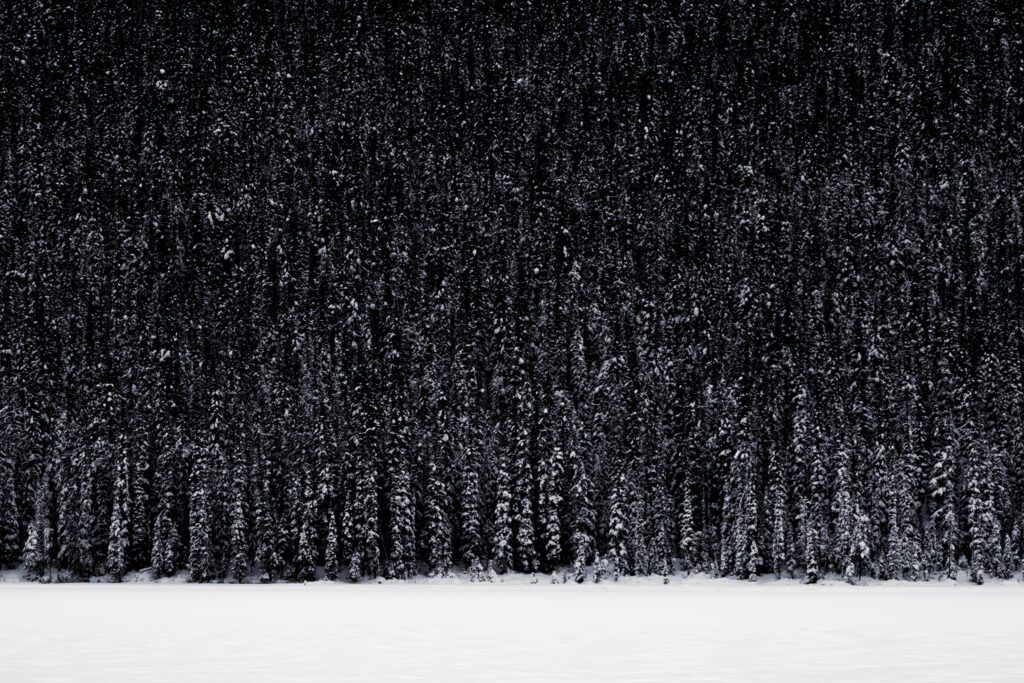 Weather
As expected, it can get pretty cold both in Edmonton and Jasper during the winter. The typical forecast includes quite a bit of snow. Make sure to pack extra layers, including a base layer, mid layer, and puffy jacket. We'd also highly recommend bringing snow pants as you will want them for activities like snowboarding, skiing, and snowshoeing to stay warm and dry. We brought along some accessories like rechargeable hand warmers, beanies, merino wool socks, and gloves to make sure we stayed warm enough the whole trip as well.
For more advice on what clothes to pack for your trip to Edmonton & Jasper, Alberta, make sure to check out our Adventure Clothing Guide.
Traveling During the Pandemic: What You Need to Know
When we visited in November of 2021, we were required to have the following when entering Canada from the USA:
A Valid Vaccination Card
A Negative PCR Test within 72 Hours of our Flight
ArriveCAN Barcode
Valid Passport & ID
Mask
Of course, restrictions and COVID-19 related guidelines are changing quite often and rapidly, so please make sure to keep an eye out on the most updated rules before your visit as what we needed then may have changed in the future. For more recent updates on things you need to travel to Alberta, Canada during the winter, make sure to do research with your airline and the Canadian Government's websites.
Check Out Current Canada Travel Restrictions
Airlines & Flight Options to Edmonton, Canada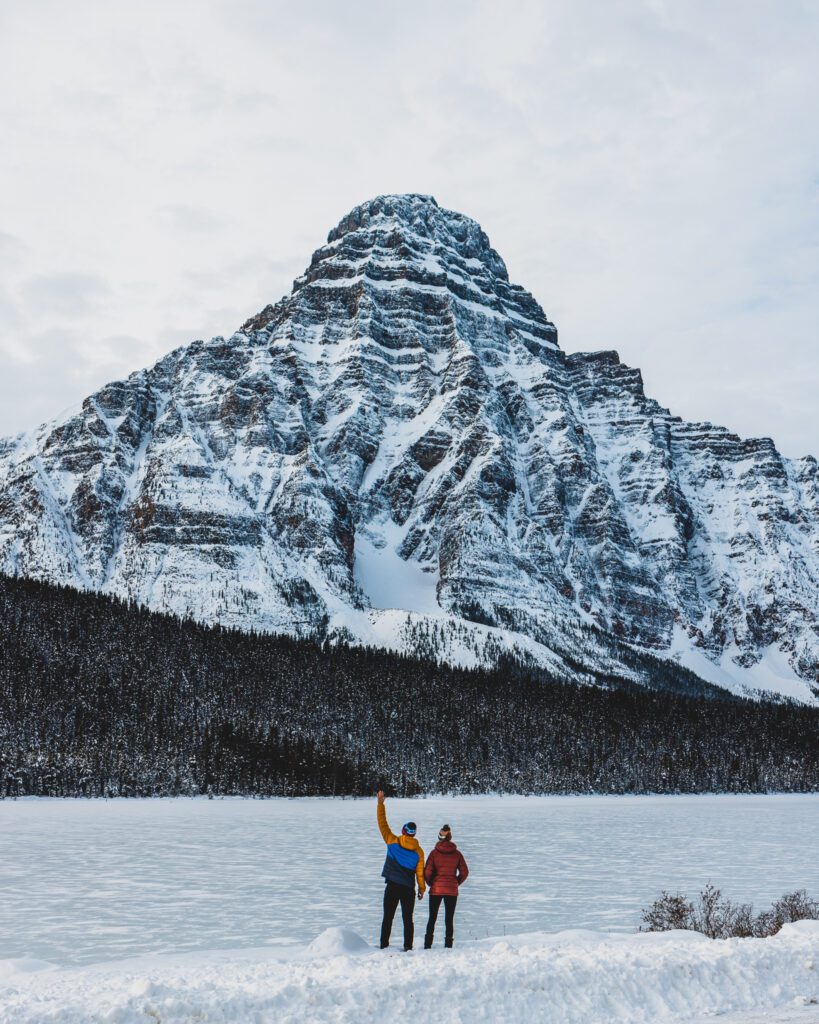 We flew from San Diego Airport in California direct, non-stop to Alberta using the newest flight route from Swoop Airlines. The flights were incredibly inexpensive, there were outlets on our plane, lots of legroom, and overall we had a great experience flying with them our first time. You do have to pay for extra baggage, however, so make sure to only pack what you need. Additionally, make sure to pack or buy snacks at the airport since there aren't snack services on board! For the price, it's a steal for an easy, nonstop roundtrip flight to Canada from Southern California.
Book Your Flights to Edmonton Here
Driving & Getting Around Alberta
We rented a car from the Edmonton airport for the whole week of our trip, and we couldn't recommend getting a rental car enough. Whether you use one of the available vendors at the Edmonton airport or use Turo, a car allows you to have a lot of flexibility and freedom when planning your adventure itinerary around the two cities of Edmonton and Jasper.
Driving during the winter, you do need to be more cautious when driving. There was one day when we visited where there was a freezing rain warning with a lot of black ice on the highway, so if that's the case, try to be flexible with your travel plans and avoid driving when that circumstance happens. It's better to be safe when driving in the snow, so we stayed an additional day in Jasper instead of making our way back to Edmonton to be cautious. Additionally, you will need snow tires or chains when driving the Icefields Parkway from Jasper to Lake Louise and Banff National Park as that highway can be dangerous if you do not have the proper winter precautions.
The nice thing about the drive is that it's an incredibly scenic road from Edmonton to Jasper, and you get stunning views of the Rockies! Although it's a 3 hour drive, it seems pretty short and is a straight shot with little to no traffic. If you drive at sunrise or sunset, expect a gorgeous show along your way too!
Ultimate Jasper National Park Travel Guide:
Best Activities To Do During Winter in Jasper National Park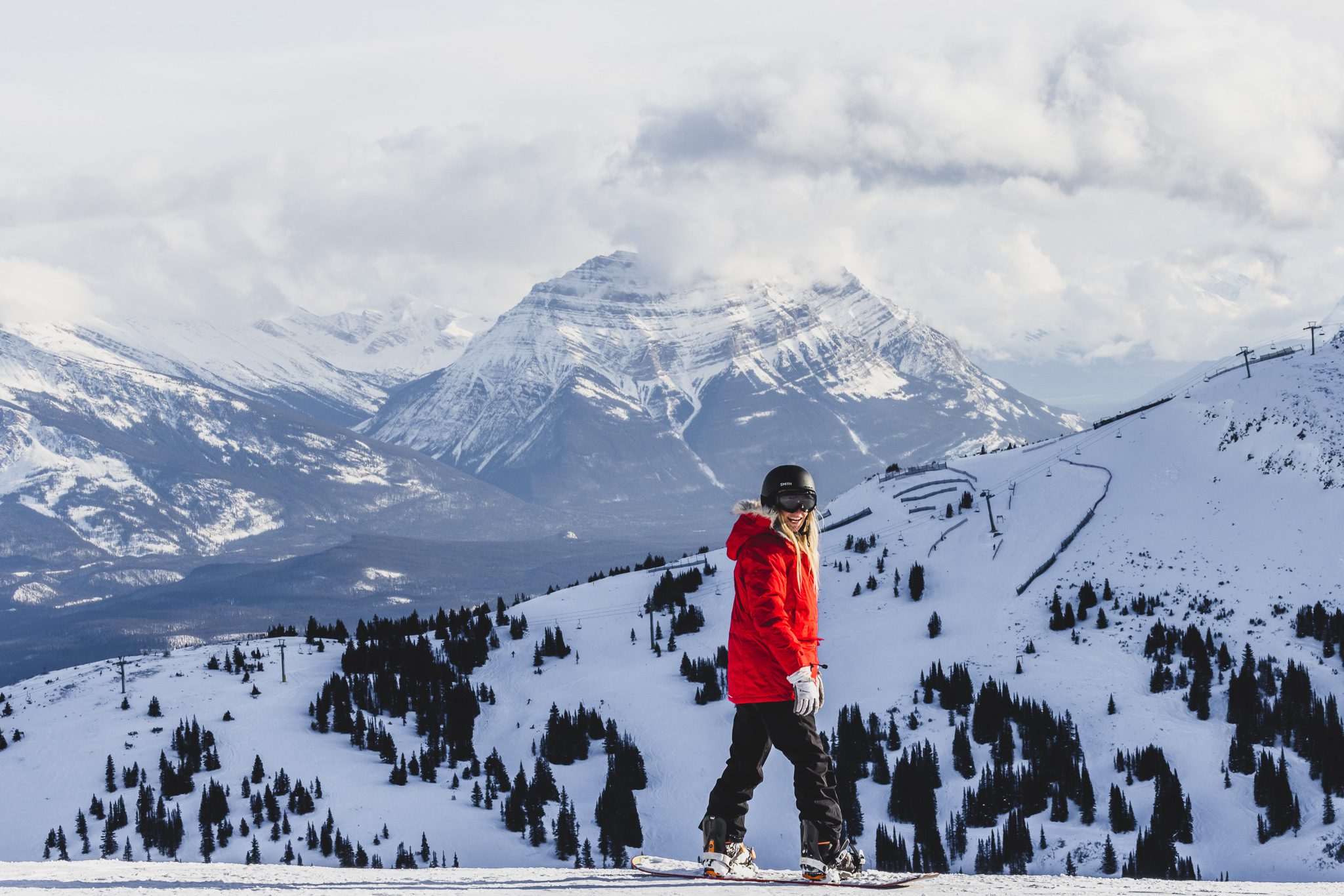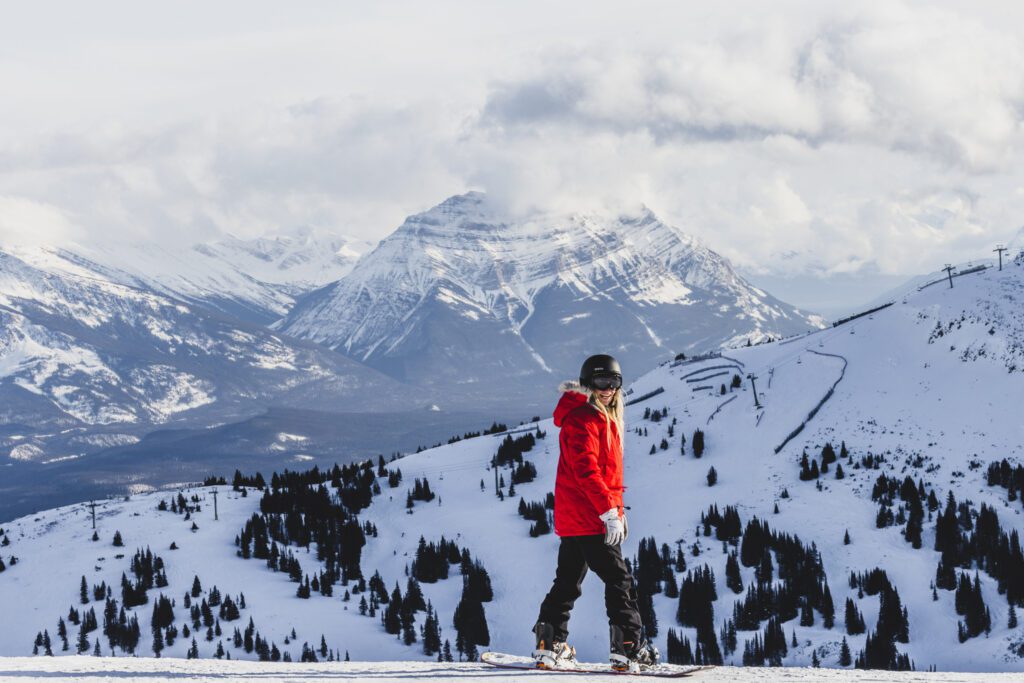 Snowboard or Ski at Jasper's Marmot Basin
Whether you ski or snowboard, Marmot Basin is an excellent resort in Jasper to enjoy a day of adventuring on the snow. We took a ski class at the snow school and it was so much fun. If you are a beginner, you can enjoy some great shorter runs with incredible powder. If you are advanced, the Black Diamond runs here are absolutely insane. We loved all the runs off of the tallest lift, the Canadian Rockies Express, and the view at the top of the rest of the Rockies is insane.
Take an Epic Helicopter Ride over the Rockies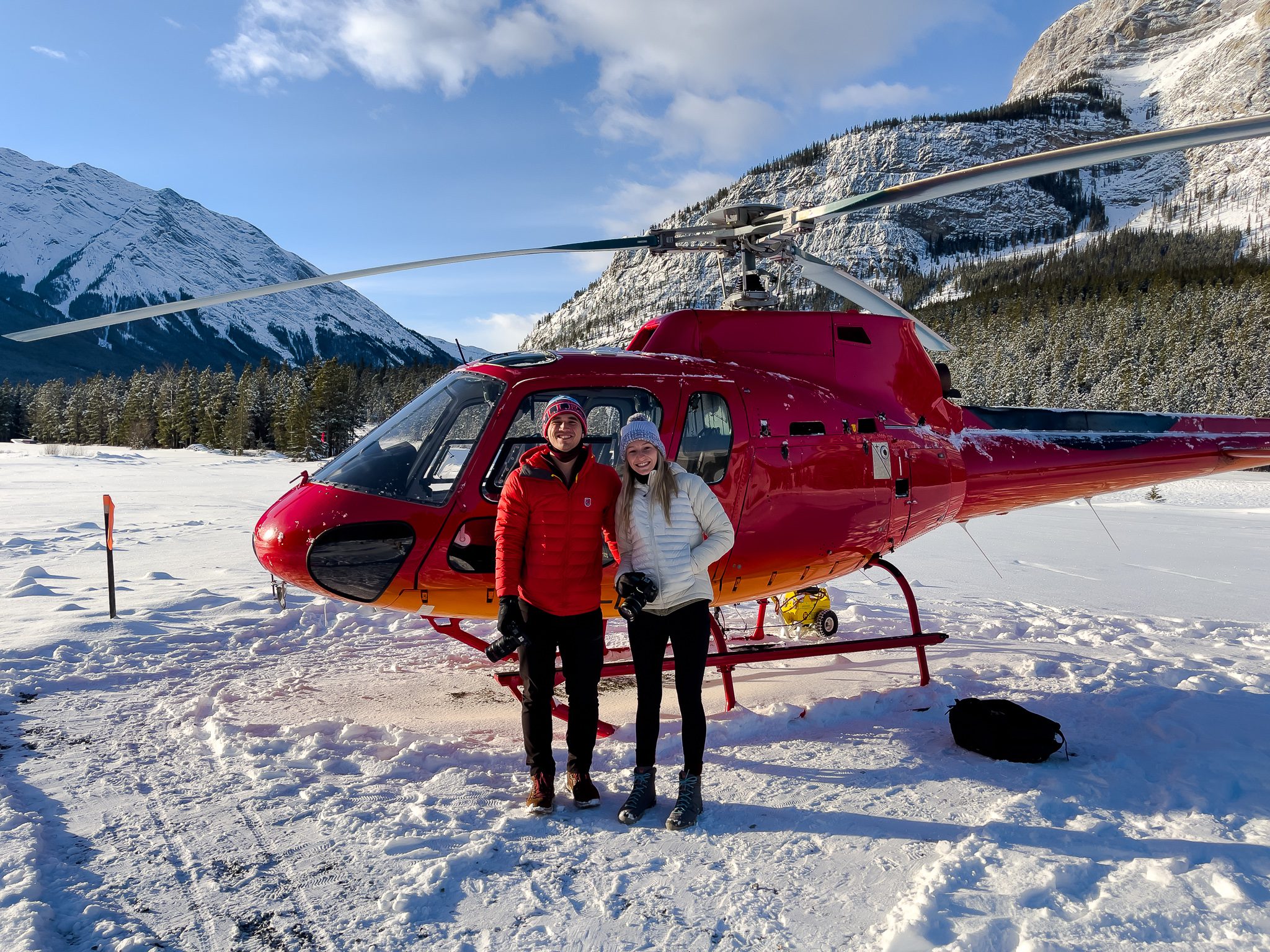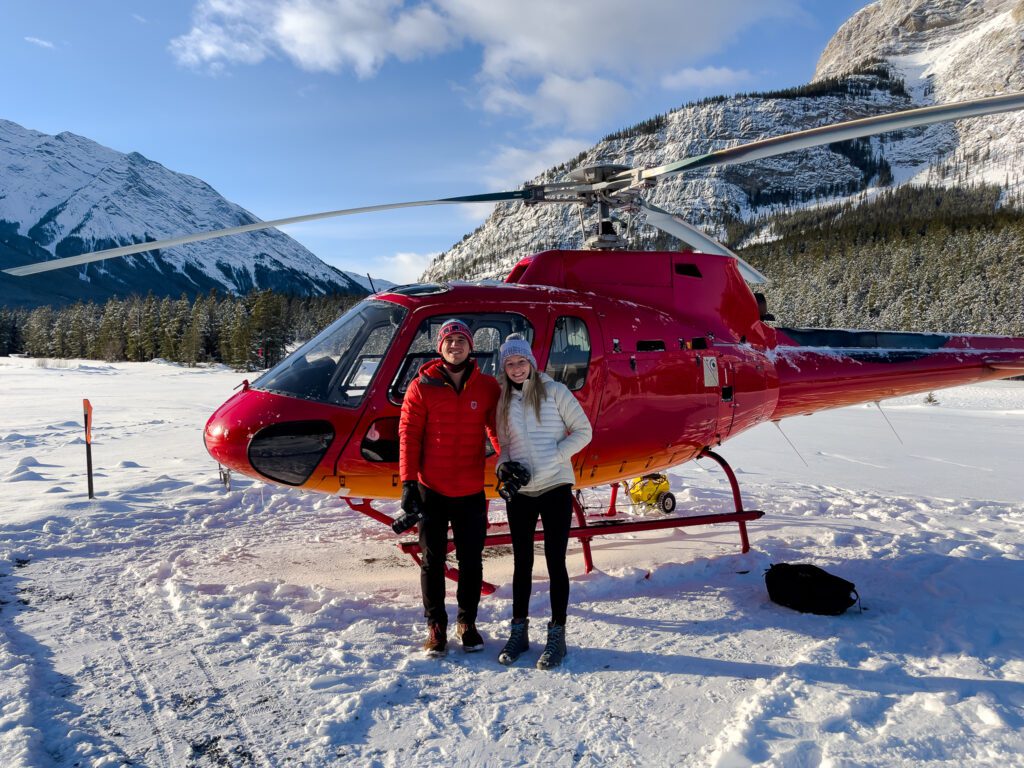 Hands down, our favorite thing we did during our trip to Jasper National Park was take an epic Helicopter tour with Rockies Heli Canada. We were up in the air for about an hour in total and the aerial view of the Rockies from above is absolutely mind blowing. Our guide, Ralph, was so knowledgeable and fun the whole tour. Make sure to dress warm in proper snow pants, jackets, and gloves. Beware, he will push you into the snow!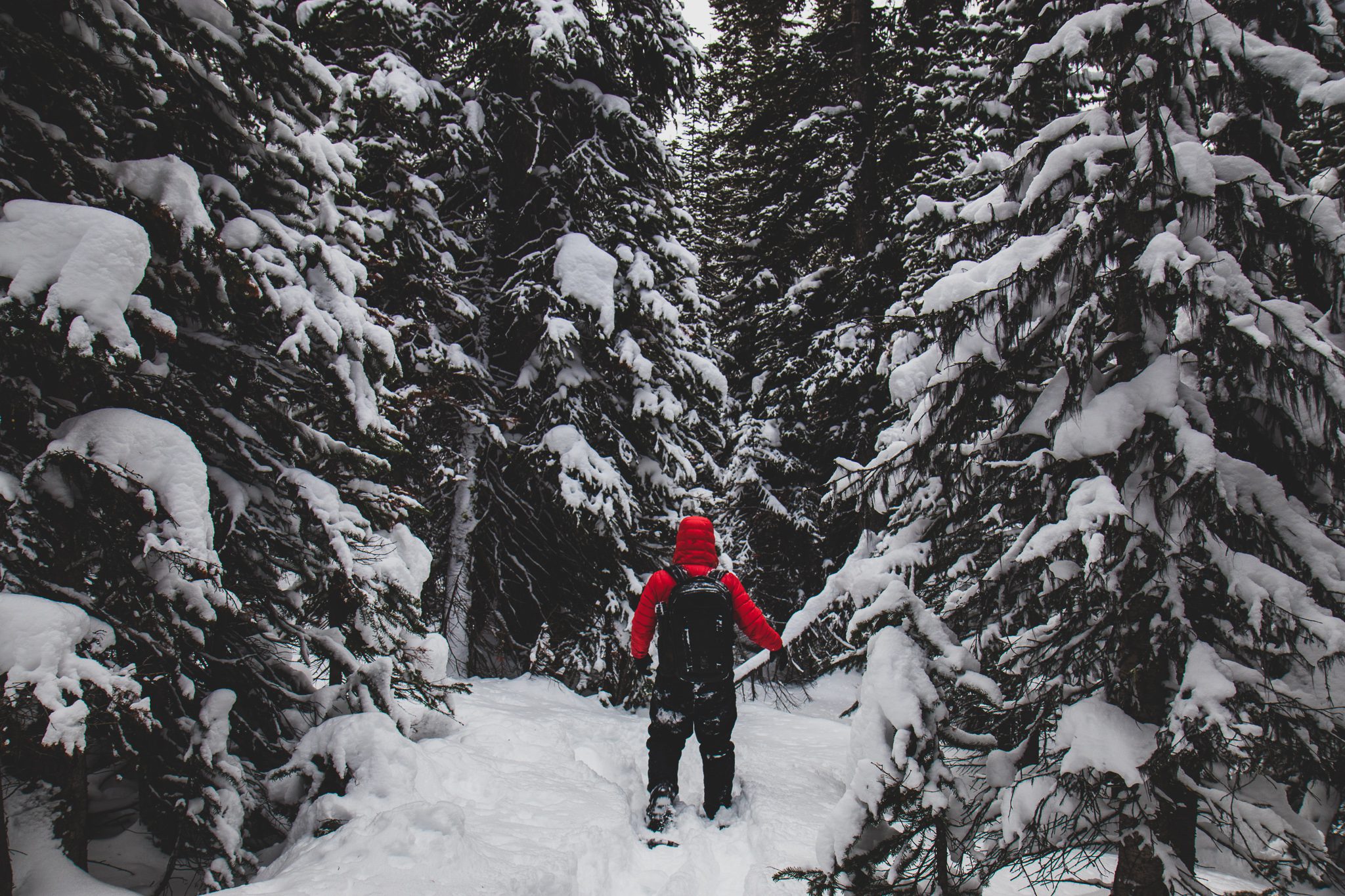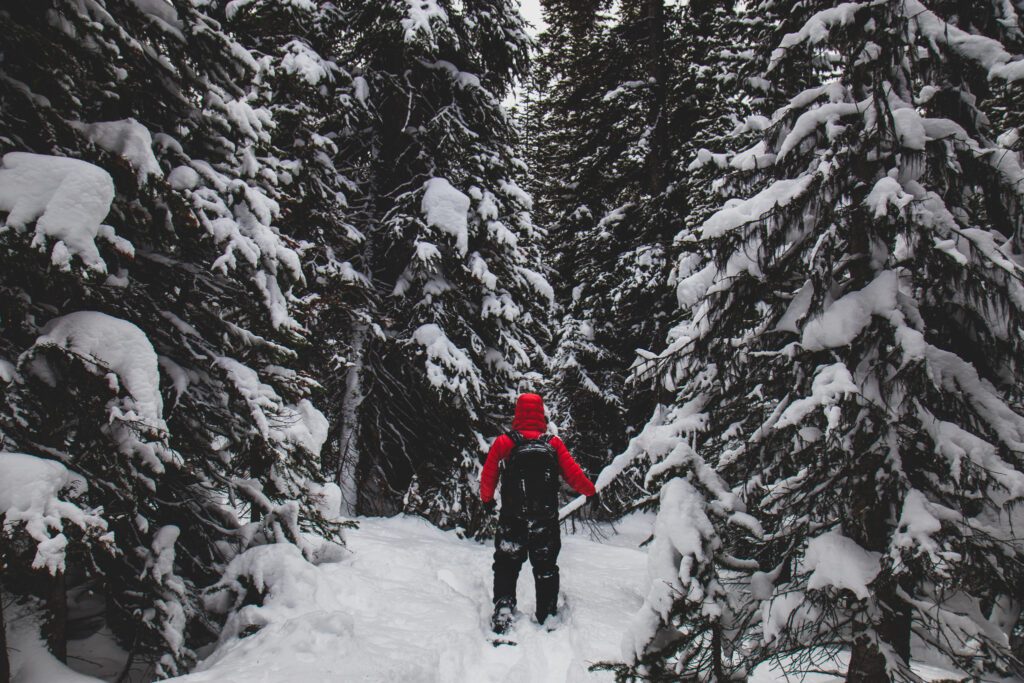 You can also add an optional snowshoeing excursion to your helicopter ride, which we highly recommend doing! We parked along Landslide Lake and snowshoed up to the top of the tree line for some incredible views and delicious hot cocoa.
Drive the Icefields Parkway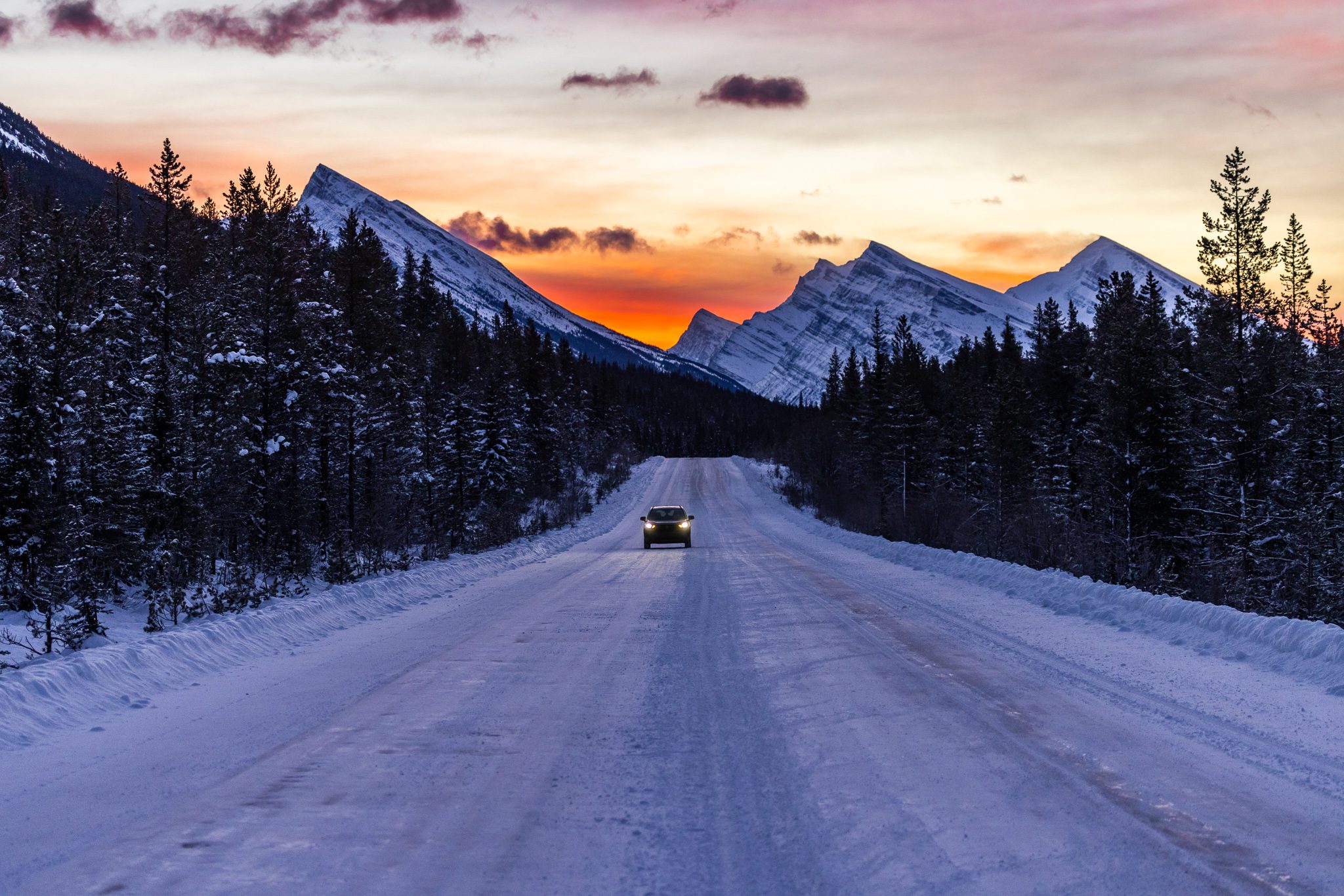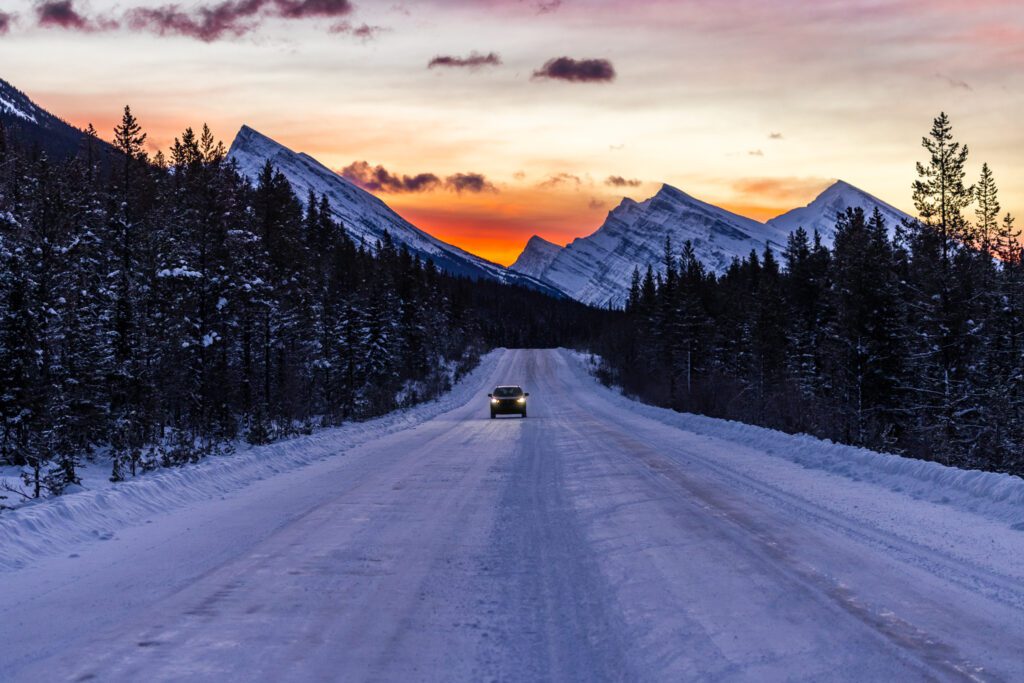 Athabasca Falls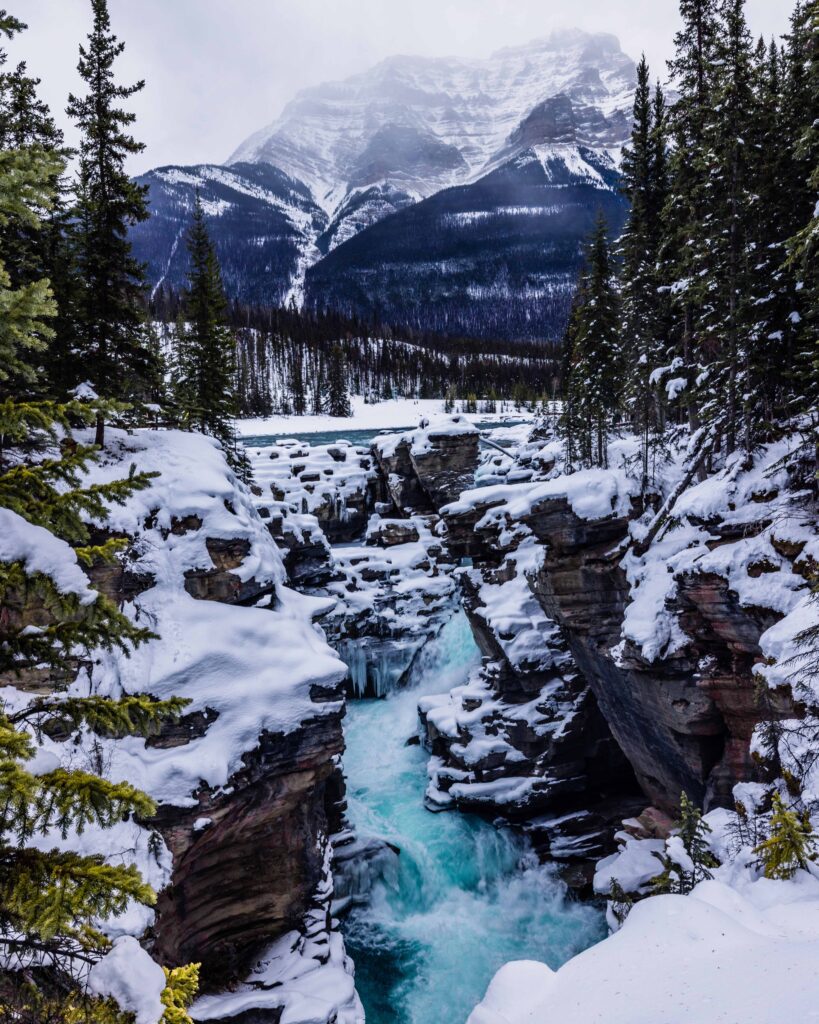 Athabasca Falls is an incredible view for its .6 mile round trip hike. During the winter, if you arrive before it's fully frozen over, you can see the beautiful turquoise blue water popping out below magical icicles and it looks like a scene straight out of Frozen.
Sunwapta Falls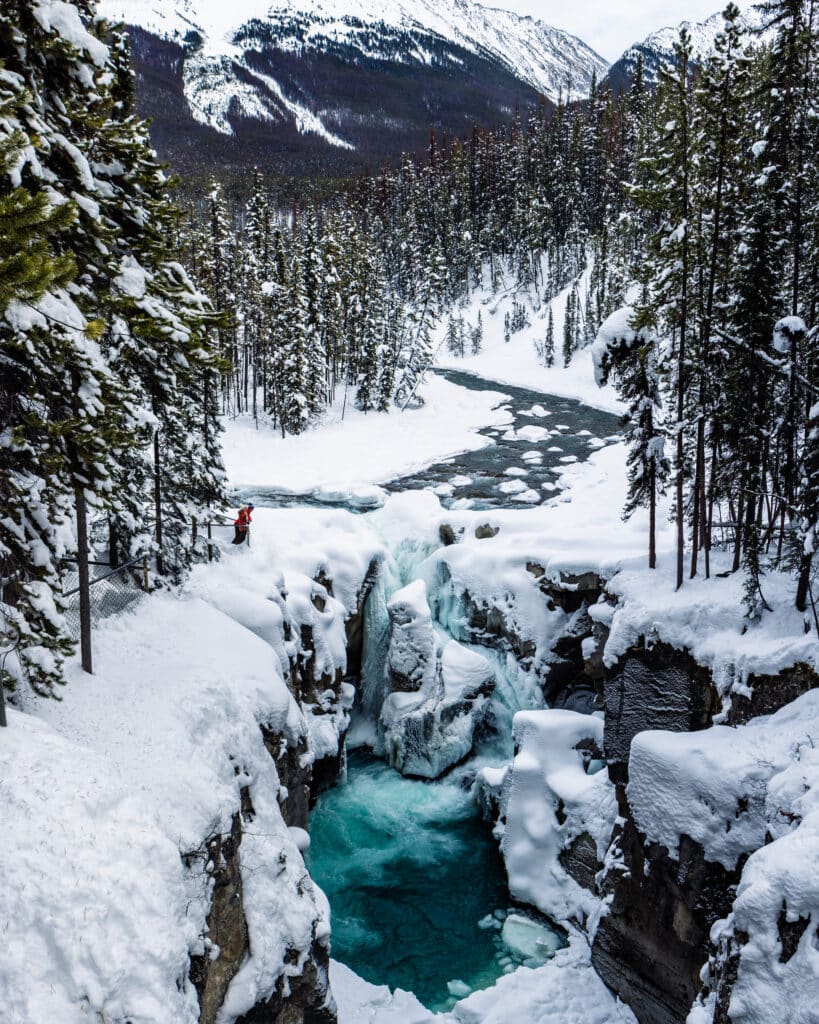 Sunwapta Falls was probably our favorite waterfall of the whole Icefields Parkway area. A short 2-3 minute walk away from the parking lot is this gorgeous horse-shoe shaped waterfall. The blue water here, just like Athabasca Falls, is incredible.
Tangle Falls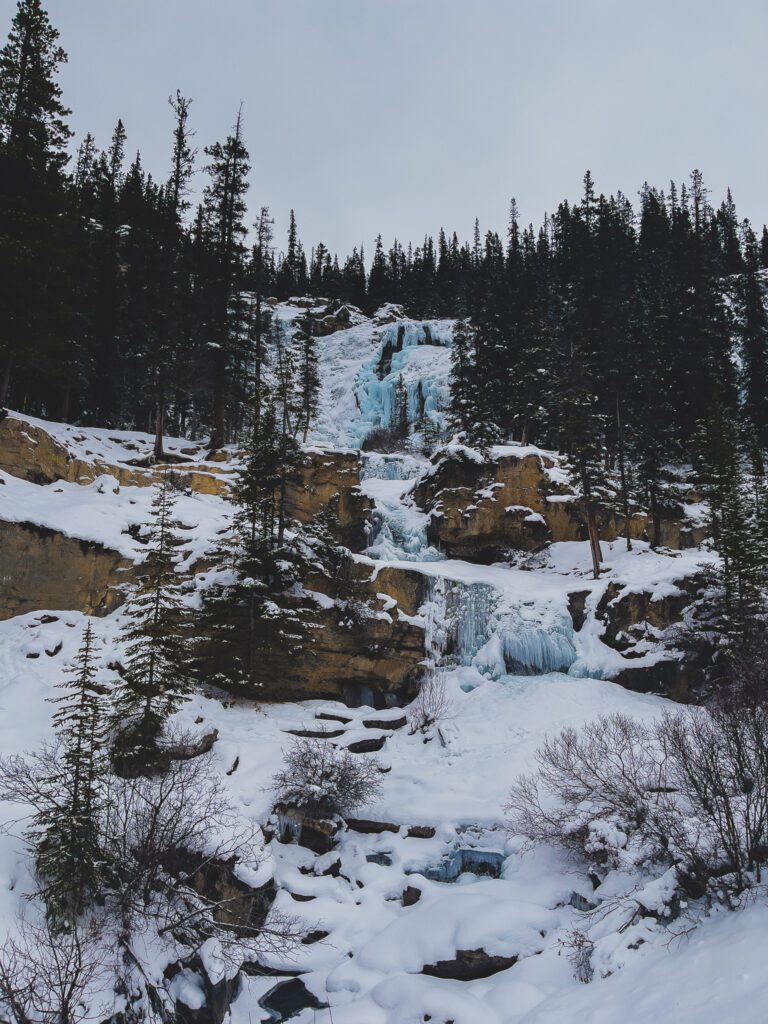 Tangle Falls can be hard to miss when you're driving on the parkway, we missed it the first time we drove it! It's literally right off the highway but there is a parking lot that is adjacent to the falls. You can either take in the view from below or hike/snowshoe it via the Tangle Falls Trail. Make sure you are prepared with the 10 essentials, layers, and even snowshoes/micro spikes if you decide to do the hike.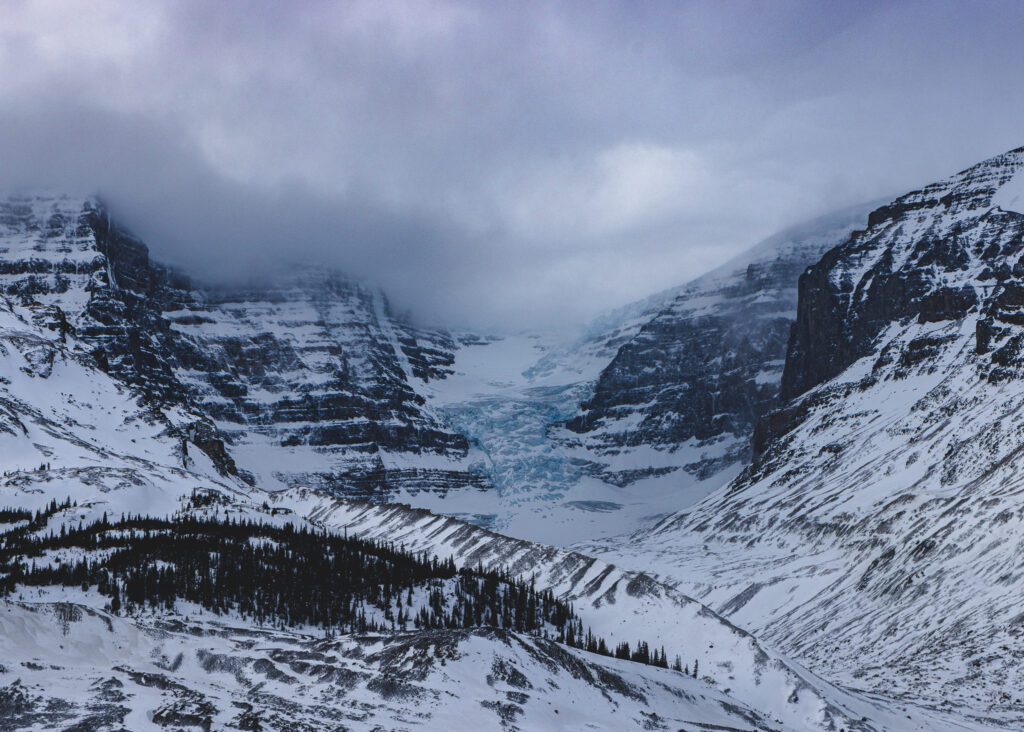 Stop at the Columbia Icefield & Athabasca Glacier
The Athabasca Glacier is a crazy sight to see with your own eyes. It's by far one of the largest glaciers we have ever seen and it's the largest glacier in all of the Canadian Rockies.
Go Snowshoeing and/or Hiking
Maligne Canyon Ice Walk: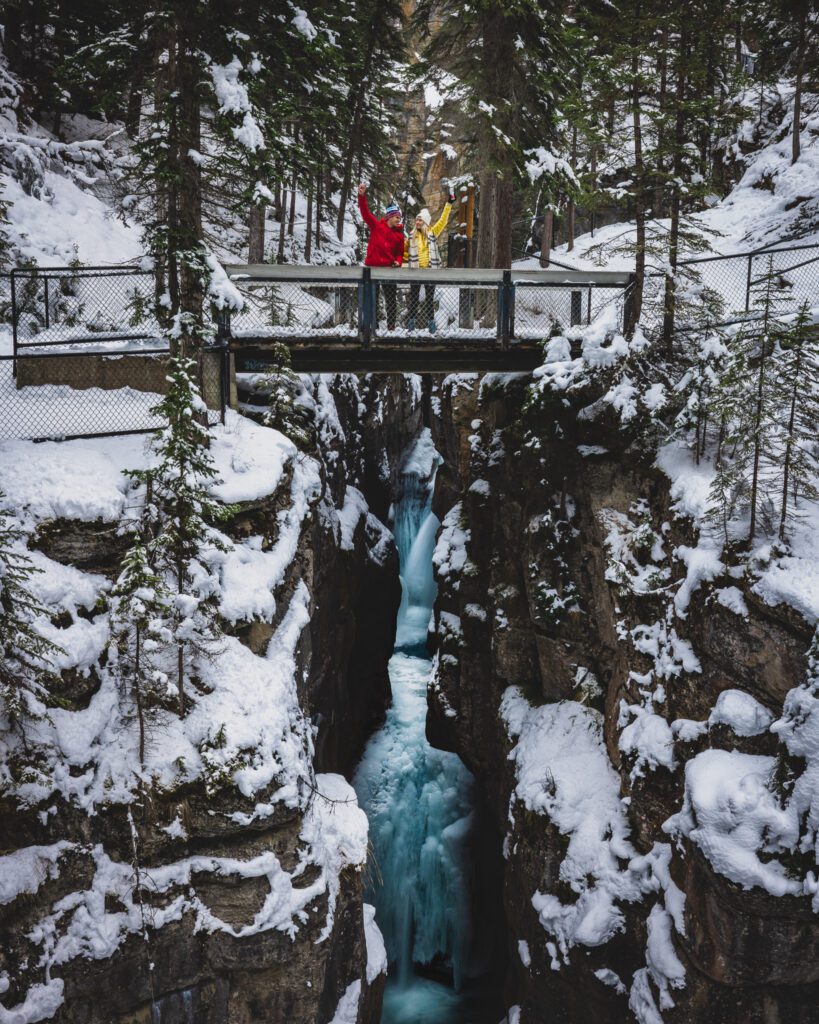 Starting in mid-December, The Maligne Canyon Ice Walk is the number one rated winter activity to do while you are visiting Jasper. Unfortunately, since we visited in November, it wasn't running yet, BUT we did have the opportunity to hike around the canyon. We took the 2.3 mile round trip loop around the different bridges and falls and it was still stunning. The sharp contrast of the icicles against the frozen waterfalls is stunning. The hike itself doesn't take you into the canyon, but you can still get beautiful views of it from above and around. We would highly recommend only venturing into the canyon with a certified tour guide, as it can be incredibly dangerous without the proper gear and expertise.
Valley of the 5 Lakes Hike:
If you are looking for a great snowshoe for a variety of experience levels, Valley of the 5 Lakes is a great choice. You can choose to just hike up to the first lake, or make it a longer adventure by heading up all the way to the last one.
If you are staying at the Fairmont Jasper Park Lodge nearby, you can even rent snowshoes for this hike which is super convenient.
Visit the Jasper Planetarium & Watch the Stars
Located at the Fairmont Jasper Park Lodge, the Jasper Planetarium is an amazing way to learn about the stars at one of the largest Dark Sky Preserves in Alberta. We watched a show on the Northern Lights and other planets inside the Planetarium and enjoyed a Telescope presentation.
Book Your Planetarium Experience
Take a Astrophotography or Night Photography Tour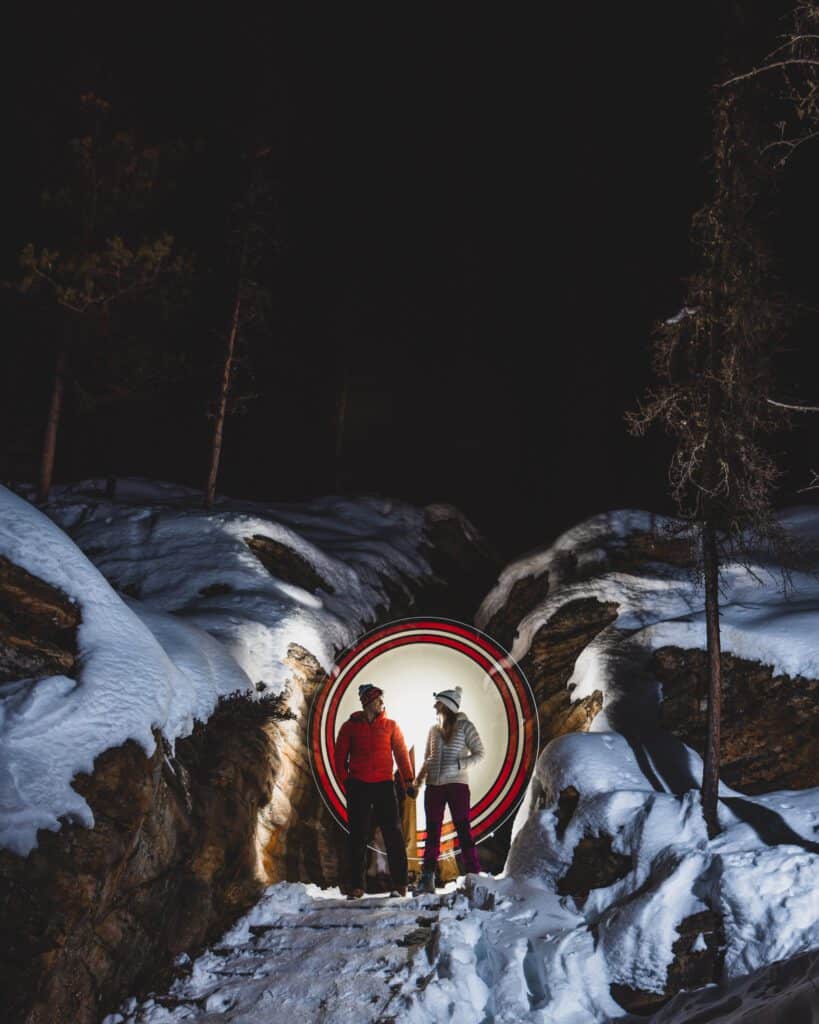 We took a night photography tour of Alberta with Jasper Photo Tours and Mike was an incredible host. Although we were greeted with less than optimal weather for astrophotography since we had quite a bit of cloud coverage and no aurora forecast, Mike taught us how to do a technique called Light Painting during our tour. We had an absolute blast just playing around with light tubes and long exposure photography. Check out the shots we got here!
Go Dog Sledding
If you visit Jasper National Park from December-March, check out SunDog Tours for a fun day of Dog Sledding. They have longer tours and one hour tours depending on your budget and ideal time in the snow. This is another great way to see the Canadian Rockies from a different perspective and a great family-friendly winter activity in Jasper.
Take an Ice Climbing Class
If you air on the more adventurous side, once the waterfalls have completely frozen over Jasper is a mecca for ice climbing. You can either do a private or group tour from December-March. If you've ever thought about trying it, you can do so safely with a local guide who will teach you the basics of ice climbing on some of the most beautiful turquoise frozen waterfalls in Canada.
Jasper's Delicious Restaurants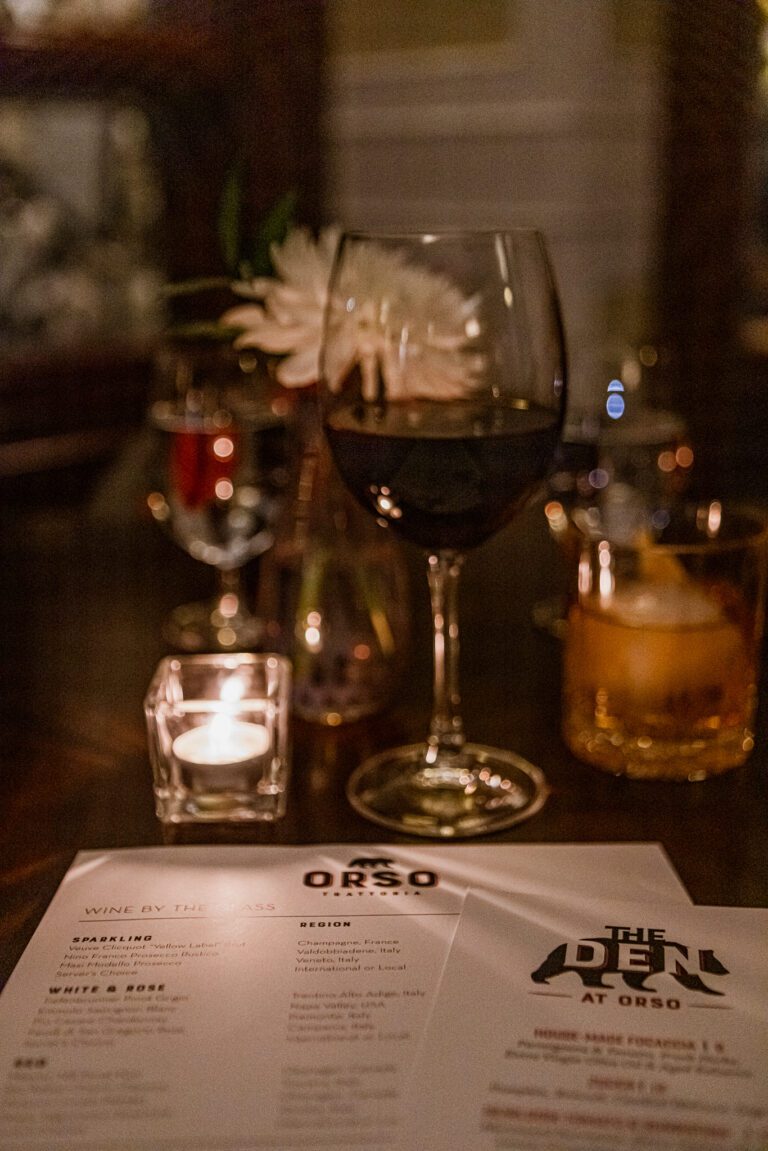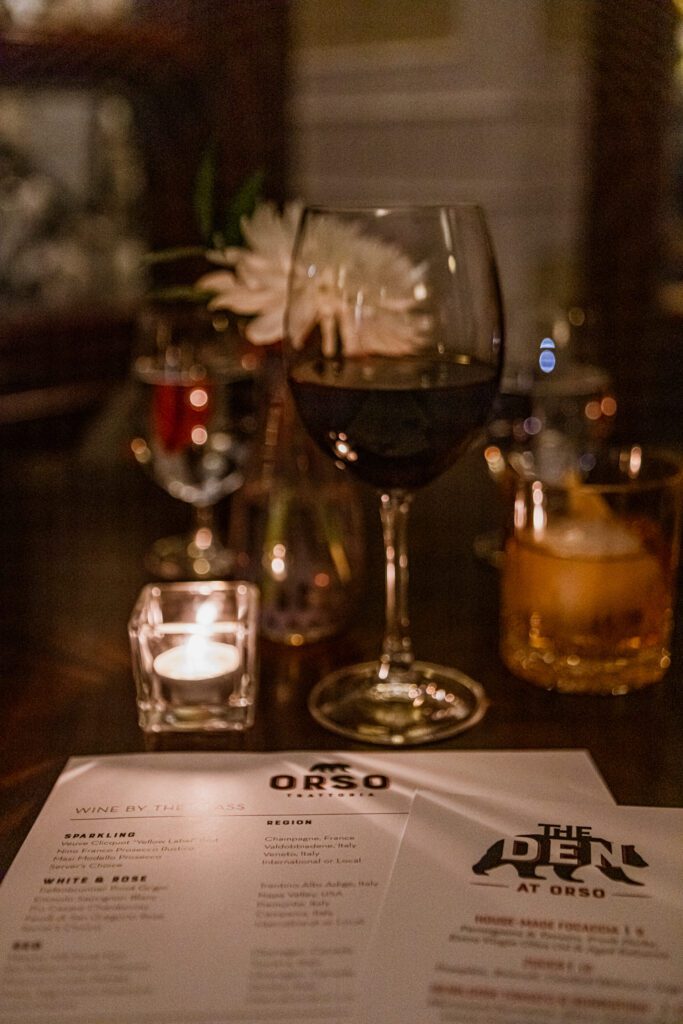 Orso Trattoria at the Fairmont Jasper Park Lodge
Our dinner at Orso Trattoria was hands down our favorite restaurant we visited during the Jasper leg of our itinerary. We were greeted with impeccable service from our waitress and impressive combinations of unique flavors from the restaurant's chef throughout a 5 course meal. If you are looking for a great spot to celebrate a special occasion, or if you are a foodie, we would highly recommend making reservations at Orso Trattoria during your stay in Jasper.
Evil Dave's Grill
Evil Dave's Grill was one of the fancier restaurants in Jasper that we visited and it was delicious. The wine selection was fantastic and we would highly recommend trying their famous Cowboy Sushi.
Famoso Pizzeria
This Italian pizzeria is not to be missed during your stay in Alberta. They are famous for their Neapolitan pizza and it definitely lived up to the hype. We ordered the Meat Lovers Pizza and would highly recommend it.
Jasper Brewing Company
Jasper Brewing Company is a great casual spot to go after a day of adventuring in Jasper. We ordered their specialty Vanilla Blueberry Beer and it was delicious. We would also highly recommend ordering their Poutine.
Best Accommodation for Winter Stays in Jasper National Park
We spent our time in Jasper staying at the Fairmont Jasper Park Lodge. This resort is now probably one of our top 5 hotels/resorts we've ever stayed at. The service of the staff was impeccable, they were all amazing and so genuinely helpful. The lodges were stunning and clean, and they felt like a home away from home during our trip to Jasper. The pool and spa area was super nice and if you get the chance to visit during snow, sitting in the jacuzzi while it's snowing is a magical experience.
Not to mention, the restaurants and cafes were incredible. Em's to Go was our go-to before our morning adventures, and their coffees were delicious. We also loved their to-go picnic basket for our day of driving on the Icefields Parkway. Their lounge menu in the dining hall was also fantastic and I've never had a better French Onion Soup and Grilled Cheese in my life. We'd highly recommend checking out their restaurant Orsos as well, but make sure to make reservations ahead of time.
Next time we visit Jasper, we will definitely be coming back to stay at the Fairmont JPL.
Book Your Stay at the Fairmont Jasper Park Lodge
Ultimate Edmonton Travel Guide: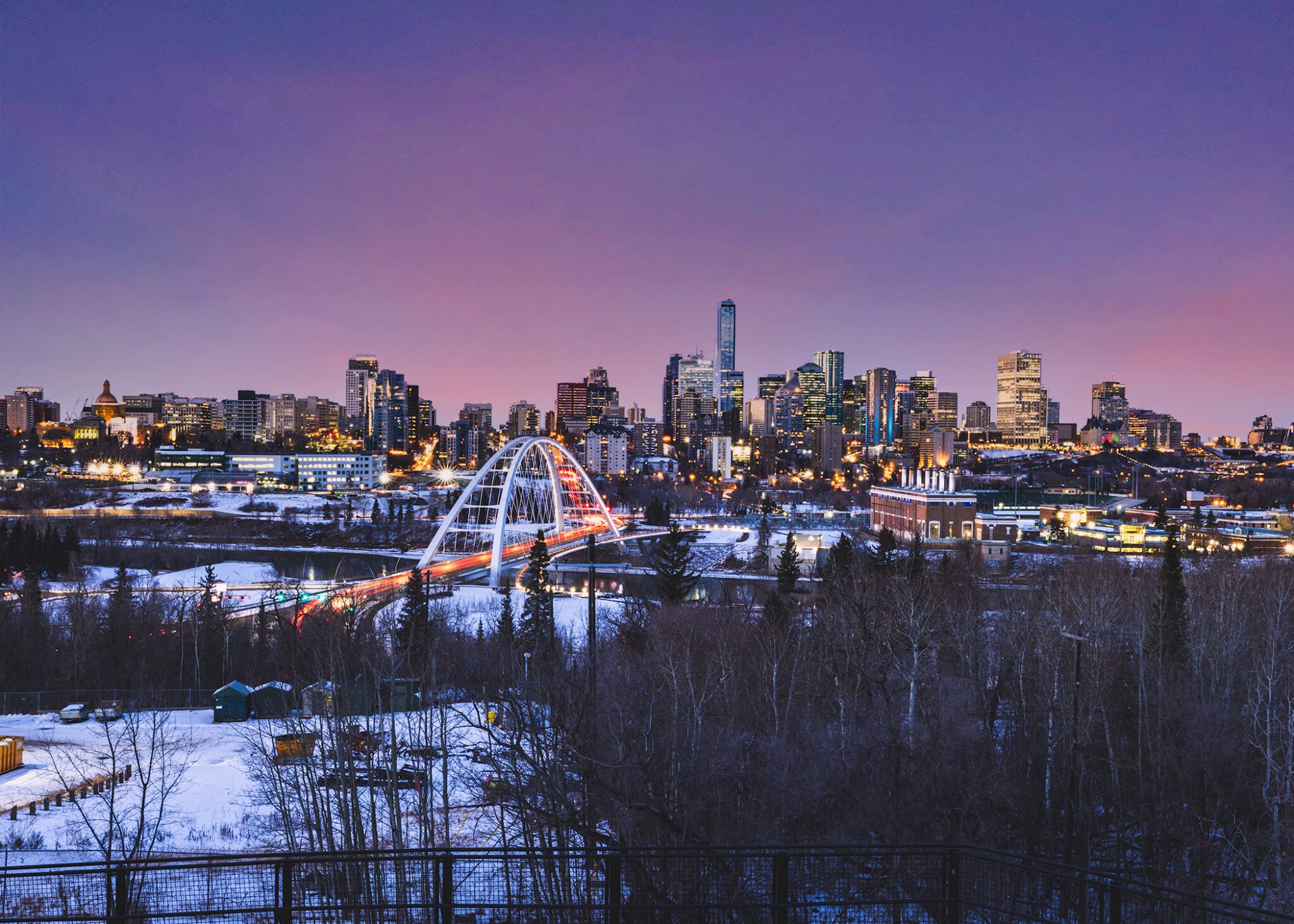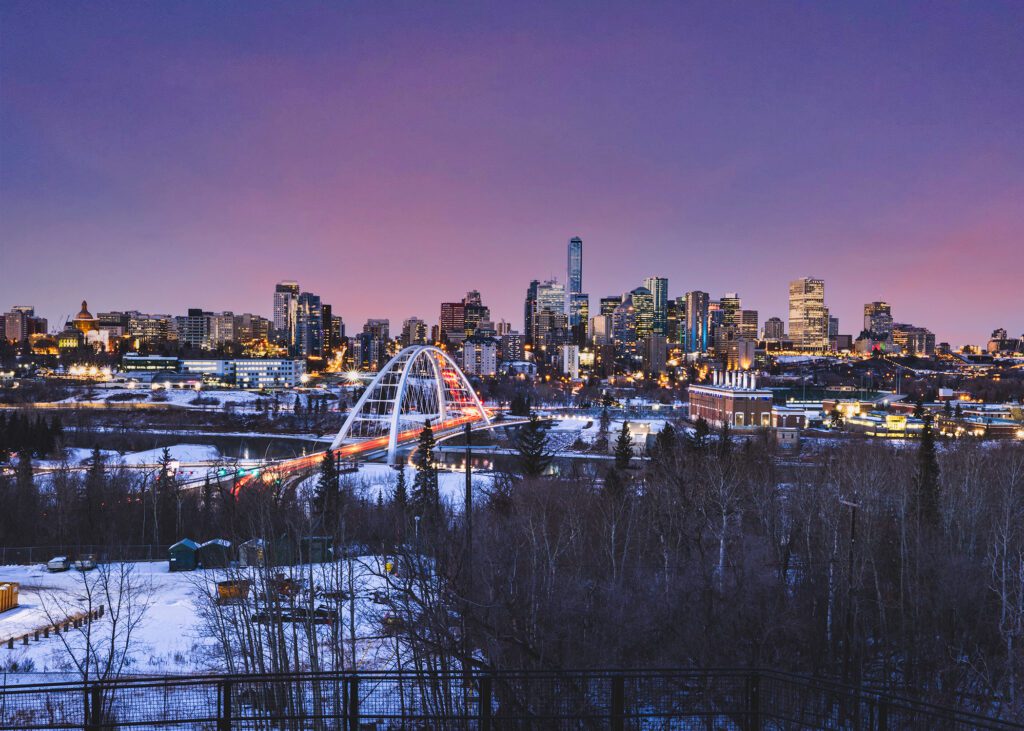 Where to Stay in Edmonton
We stayed in the Edmonton ICE District at the JW Marriott. It was a great central location to be in terms of proximity to all of the local hot spots. They have great WiFi, a nice restaurant in the lobby, and a nice lounge to get work done in. This hotel is also a straight shot 3.5 hour drive from Jasper National Park.
Best Things to Do for a Weekend in Edmonton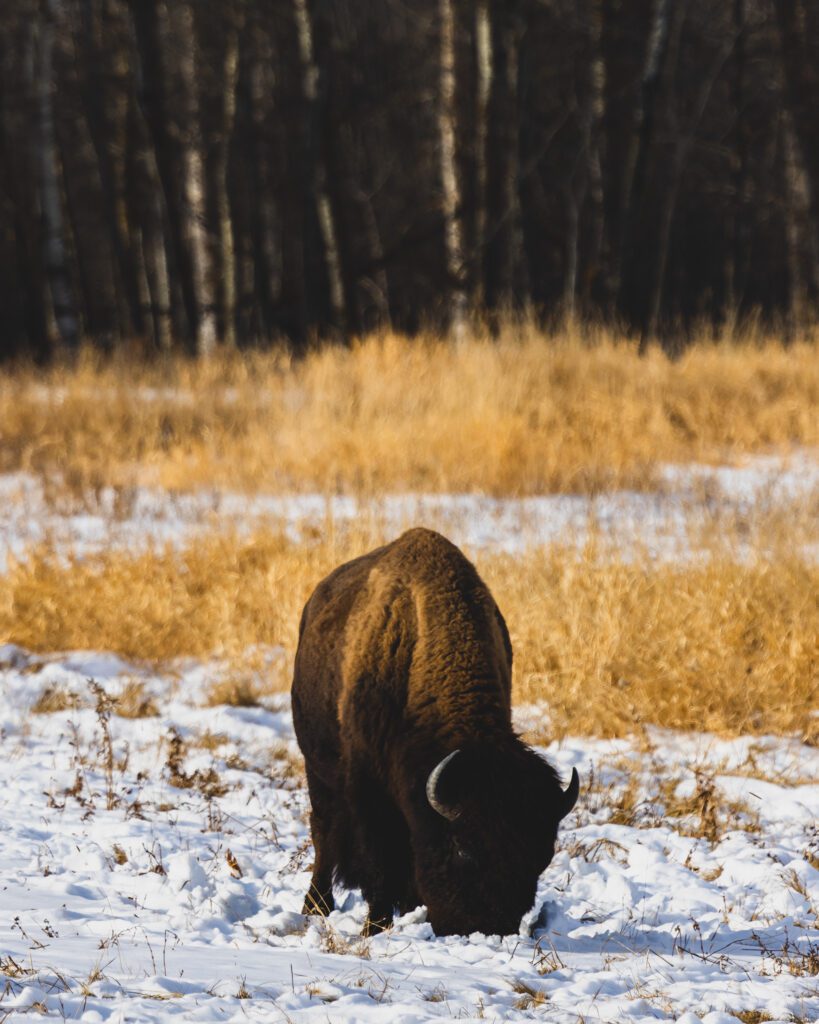 Elk Island National Park
With a short 30 minute drive away from Edmonton, you can explore Elk Island National Park. If you are into seeing wildlife or exploring great stargazing and Aurora watching spots, this a great place to add to your Edmonton itinerary. We have never seen so many bison in one area before, and would definitely recommend driving the Bison Loop for your best bet on seeing them in their natural habitat. Make sure to follow all safety measures, stay in your car, and keep a distance as bison can be dangerous. You can also spot several other forms of wildlife like beavers, elk, deer, and more! Prime wildlife viewing times are at dusk and dawn.
There is a small entrance fee to enter, but this is a great family friendly activity for your time in Edmonton. We'd recommend spending a half day to a full day exploring here. When visiting in the winter, make sure to bring some micro spikes or you can even rent Snowshoes from the Visitors Center for an additional fee. When hiking around in the snow, make sure to check out the trails along Astotin Lake. Those were our favorites to walk around and you can also search for the famous Red Chairs that make for great photo spots throughout the park.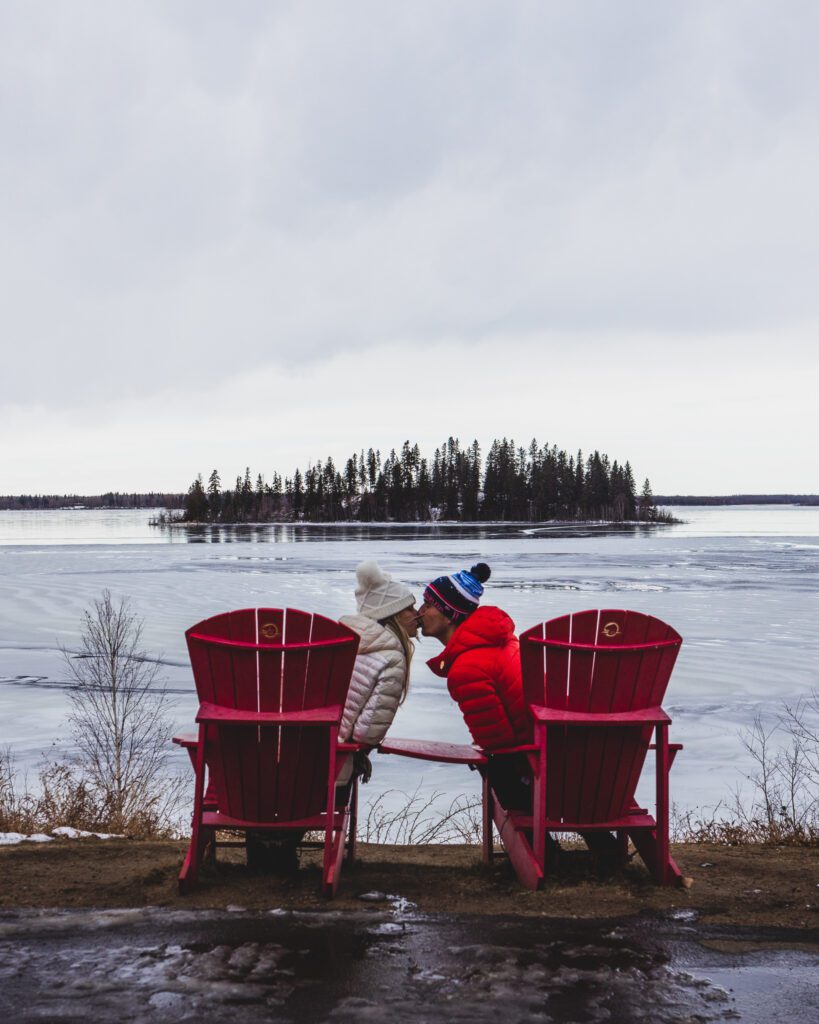 Take a Segway Tour around Edmonton
Our Segway Tour was our favorite thing we did during our trip to Edmonton. It's the number one rated Edmonton activity on Trip Advisor for a reason. We arrived at River Valley Adventure Co and got a tutorial on how to drive them along with a safety briefing and then we were good to go. Make sure to bring extra layers and gloves as it can get quite chilly riding around in the winter.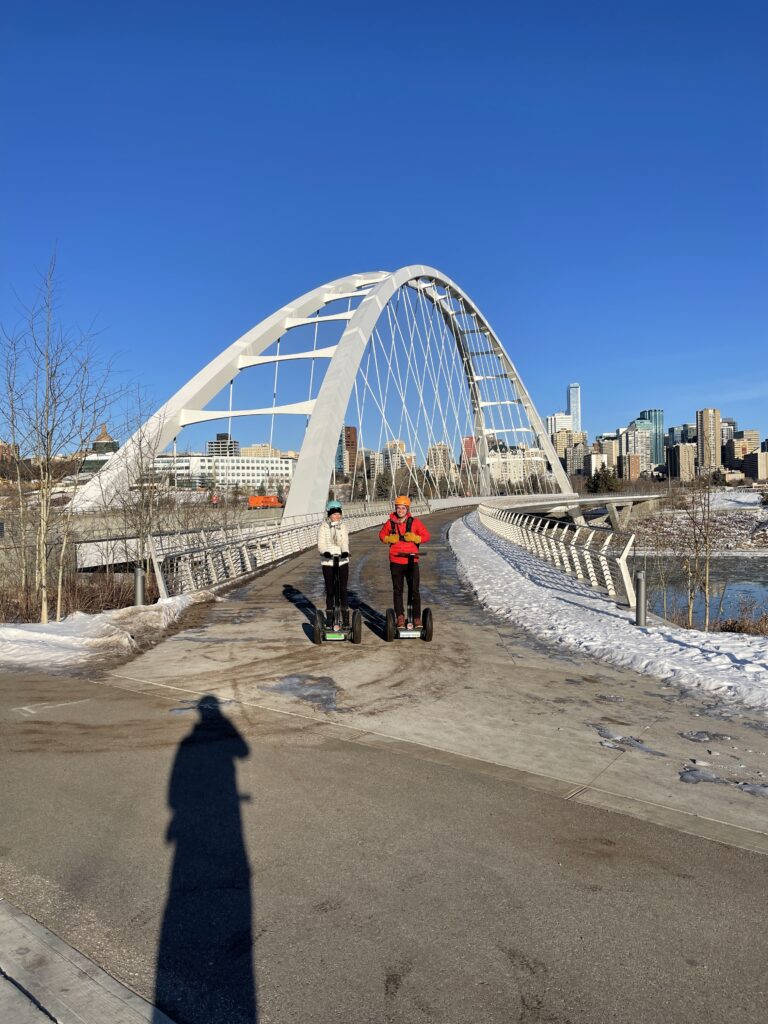 Seeing the city via Segway was a great way to get acquainted with the town and learn all about Edmonton's history. Our tour was about an hour and a half long and once we made it back we ordered some tasty hot chocolate from their cafe while we warmed ourselves back up.
Experience the Road Trip at Rge Rd
Rge Rd has got to be our favorite culinary experience we had in Canada. It was honestly so good that it has made our Top 5 Meals of all time. The restaurant is famous for its fresh farm to table style dishes, and we full heartedly trusted our waiter who recommended doing the Road Trip.
The Road Trip is a 6-7 course meal that takes you all over the place in terms of your palette. We tried dishes from pasta, to fish, to veggies, to elk, to desserts and they were all so incredible. The fun part of the Road Trip is that you don't know what you're going to get until they bring it to your table, so this restaurant is not for the non-adventurous eater. They do have other normal options on the menu, but for the price compared to the typical one course meal and appetizer, we thought the Road Trip was a steal.
Definitely make reservations ahead of time as this place was fully booked, and it is a bit of a more expensive restaurant so if you are balling on a budget, we'd skip over this one. However, if you are a foodie and want to experience the Road Trip, we could not recommend it enough.
Visit the Neon Lights Museum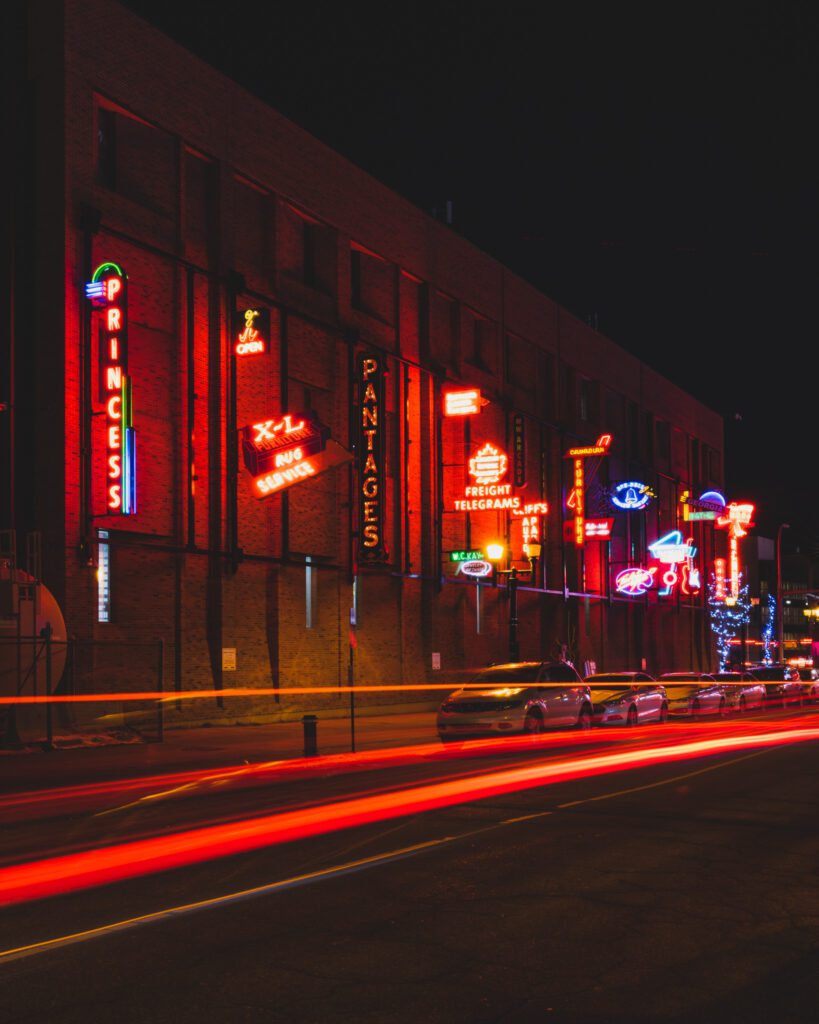 The Neon Lights Museum in Edmonton is right next to the Oilers Arena and the JW Marriott, so it was a short 5 minute walk from our hotel. It is open 24/7 and we'd highly suggest visiting at Night Time to see the contrast of all the colorful lights in the dark. This is a fun photoshoot location if you are into photography. Also, if you're looking for great nightlife nearby, check out Baijiu which is right across the street.
Walk Down Whyte Avenue in Old Strathcona
Whyte Avenue is the home to Edmonton's main arts and entertainment district, and is also known for its shopping. There are tons of restaurants and cafes in this area! Make sure to grab some tasty treats from Sugared & Spiced, which is right off of Whyte Avenue. They have some delicious cheesecake bites and cookies.
Best Viewpoints & Photography Spots Around Edmonton
River Valley Overlook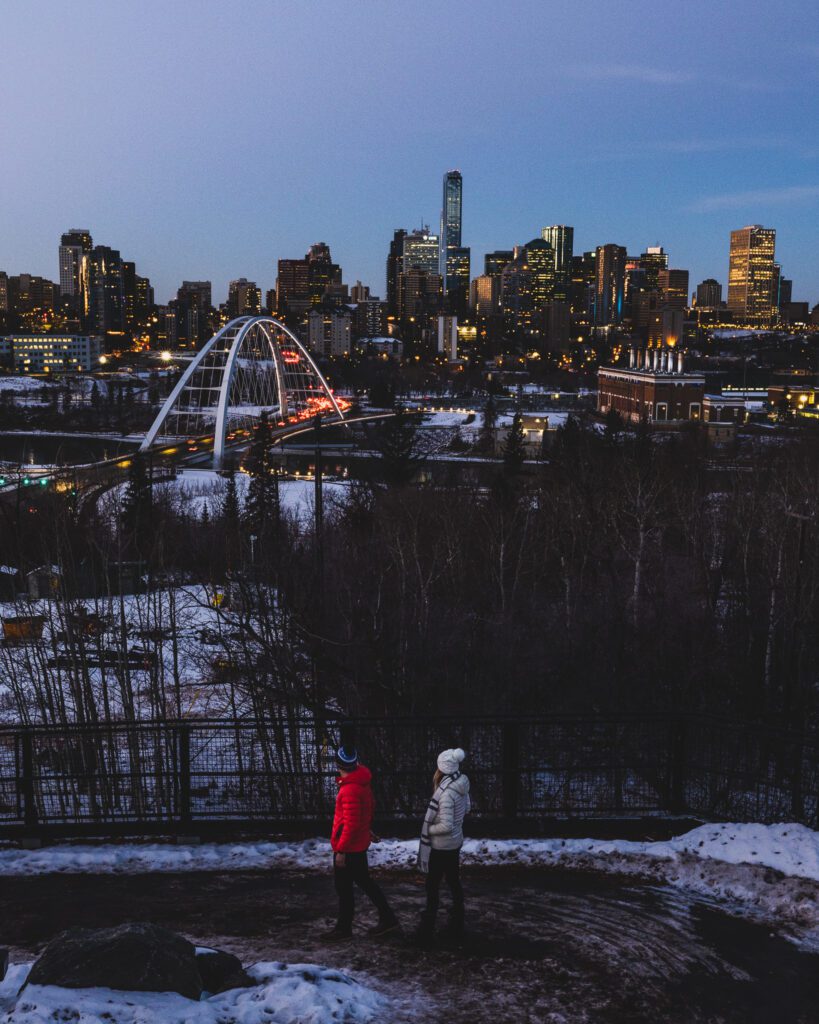 The River Valley Overlook is a great sunrise and sunset photography worthy spot. There are tons of walking trails nearby and it provides a great view of the nearby bridges.
Queen Elizabeth Park
Right next to the River Valley Overlook, you can find Queen Elizabeth Park. Not only does it have a great view of the city skyline, but it also has some really nice riverside trails, and a cool Indigenous Art Park Display.
Rowland Heights Lookout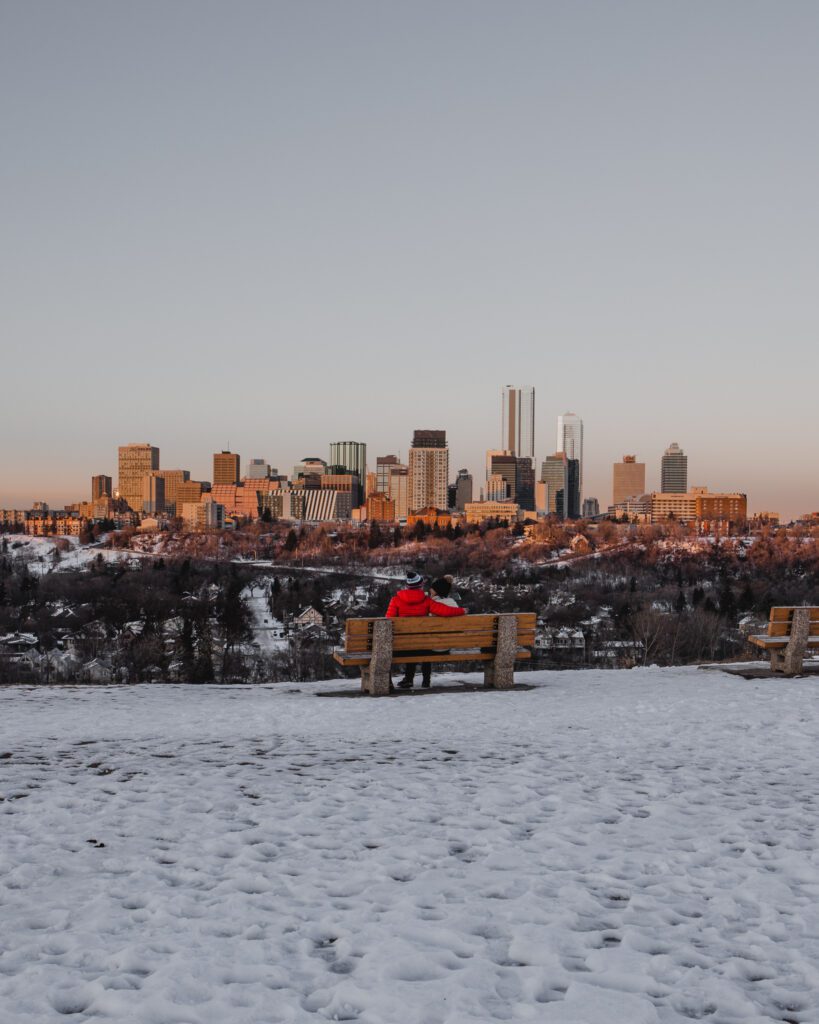 We visited the Rowland Heights Lookout for sunrise and it did not disappoint. This is another spot that had a lot of great dog-walking trails and provided a crystal clear view of the iconic Edmonton cityscape.
Walter Dale Bridge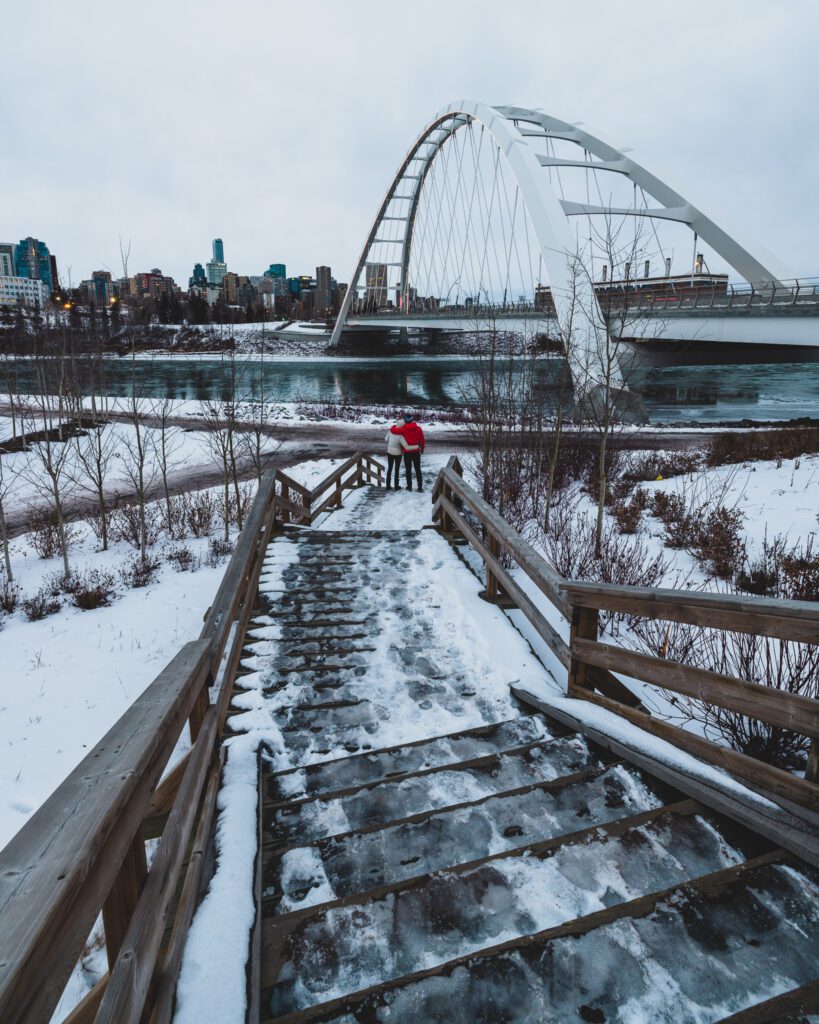 This is the most modern bridge in Edmonton and makes for great photos all day long. We segwayed across this bridge and knew we had to come back to photograph it at sunset.
Checkout this article for more photo-worthy spots around Edmonton!
Overall, Edmonton & Jasper should be at the top of your Winter Bucket List destinations if you are looking for an escape to a winter wonderland.