All You Need to Know About Camping in Zion National Park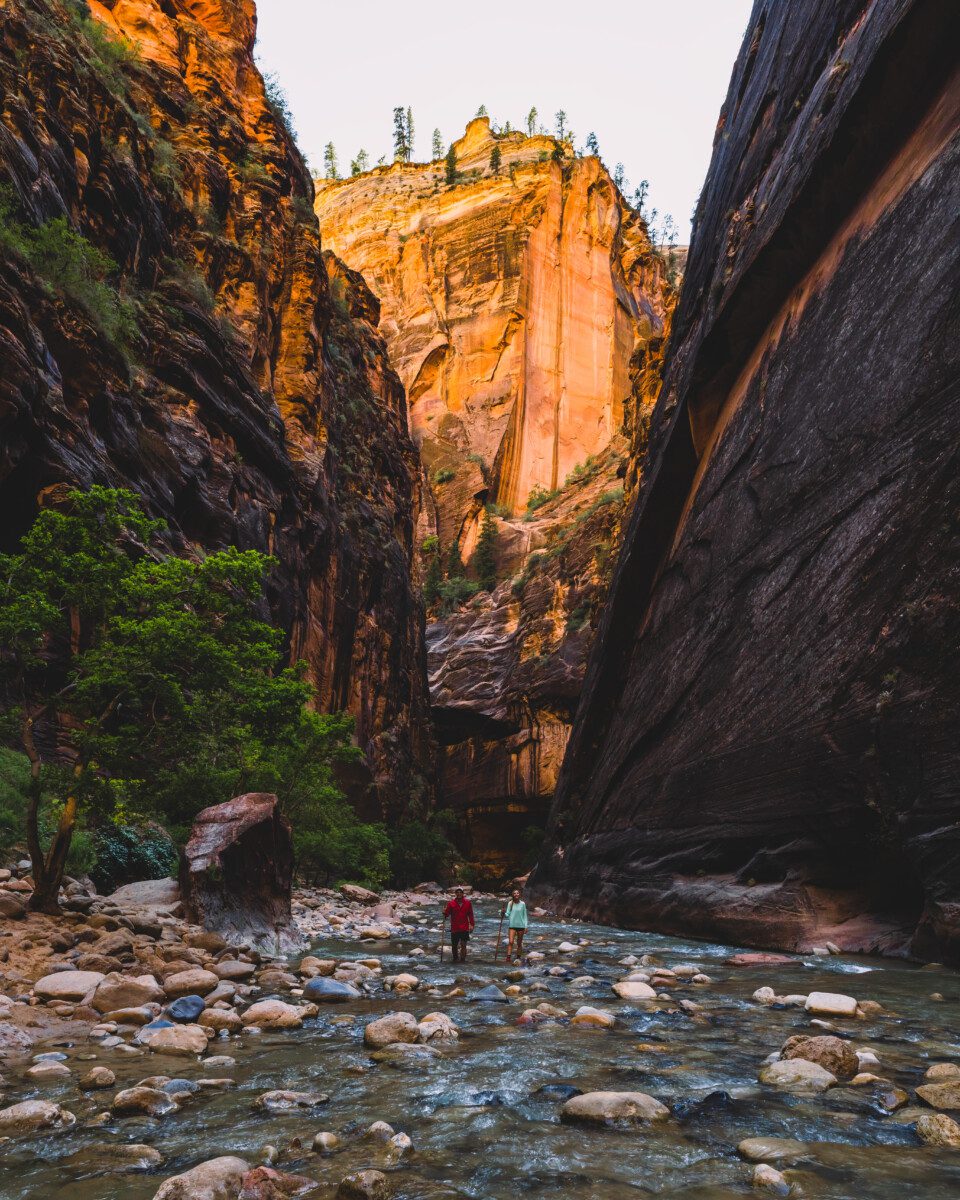 Zion National Park is a stunning and diverse landscape located in southwestern Utah. The park is home to some of the most spectacular geography in the world, with its breathtaking red rock canyons and iconic mesas. Zion is the fourth most visited National Park in the U.S. and there's a reason for that. Camping in Zion is such a magical experience. Waking up to the stunning rock formations surrounding you is unlike any other camping experience we've had.
Standing at 148,016 acres, this park is full of fun activities to enjoy while you explore Zion's magnificent wilderness – from hiking, biking, and camping to kayaking and rock climbing. Whether you're looking for an adventure or just want to relax in nature, there's something for everyone at Zion National Park. With over 150 miles of trails and countless landmarks, it's no wonder why visitors flock here year after year.
We've been camping in Zion a few times now and want to share all of our knowledge with each of you. In this guide to camping in National Park, we'll talk about everything you need to know before your trip, from which campgrounds are the best to what hikes are especially worth doing. We'll give you all the information you'll need to have the best trip to Zion National Park.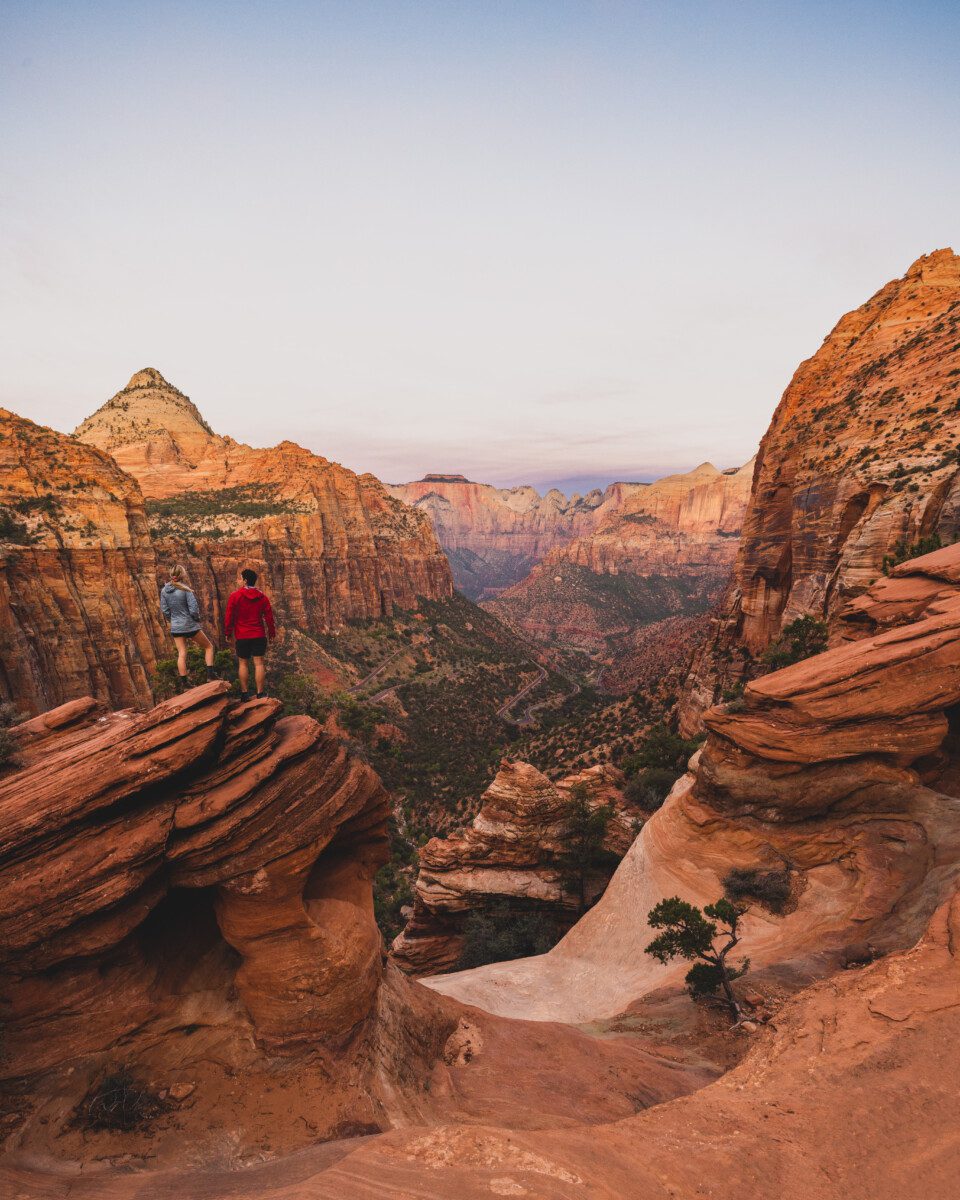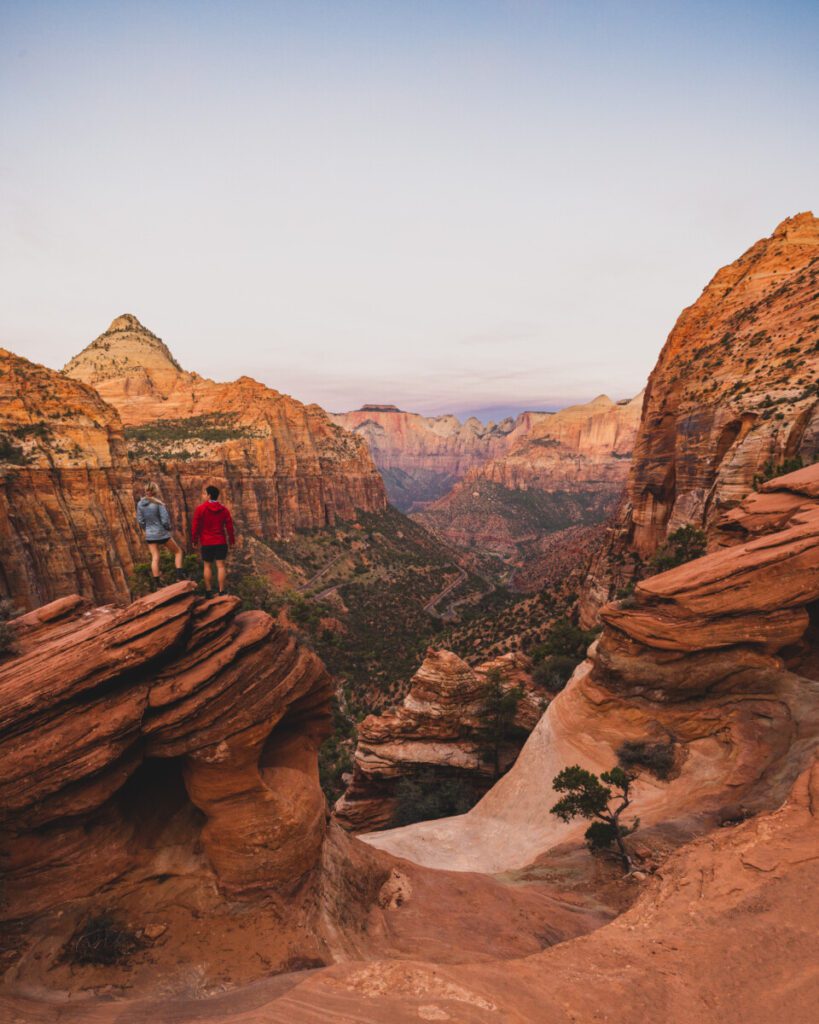 Things to Know Before You Go to Zion National Park:
How Long Should I Stay?
If you want to hit all the major spots, we recommend camping in Zion for about 2-3 days minimum. You can certainly stay longer, and you'll have tons to do and explore.
What Should I Bring?
When is the Best Time to Camp in Zion?
In our experience, camping in Zion National Park is best in October and November. The average high temperature for October is 72 degrees Fahrenheit and November is 59. This is perfect hiking weather. The evenings are a little chillier at 48 and 32 degrees, but this just means the park is less busy.
Zion in the summer can be extremely hot and the crowds are much more prominent. Every hike is packed full of other tourists and the shuttle lines can get quite long. In our opinion, summer visits to this National Park aren't worth it. Avoiding the high tourist season will ensure you get to explore even more of the park. Pack warm layers for the evenings and you'll be set when visiting Zion in the off-season.
Reservations and Entrance Fees
Because Zion National Park is so popular, booking a reservation can be difficult. There have been times we've tried securing a reservation in advance and couldn't find any openings. We highly recommend booking your stay here as soon as you can, which is up to six months in advance. Set a reminder on your calendar for the release date time of your desired camping permit releases. You can book reservations here.
There is a $35 entrance fee per vehicle, but you can avoid this fee by purchasing an annual National Parks Pass. There is also the option of parking outside of the park and taking a shuttle in, but that fee is $20 per person.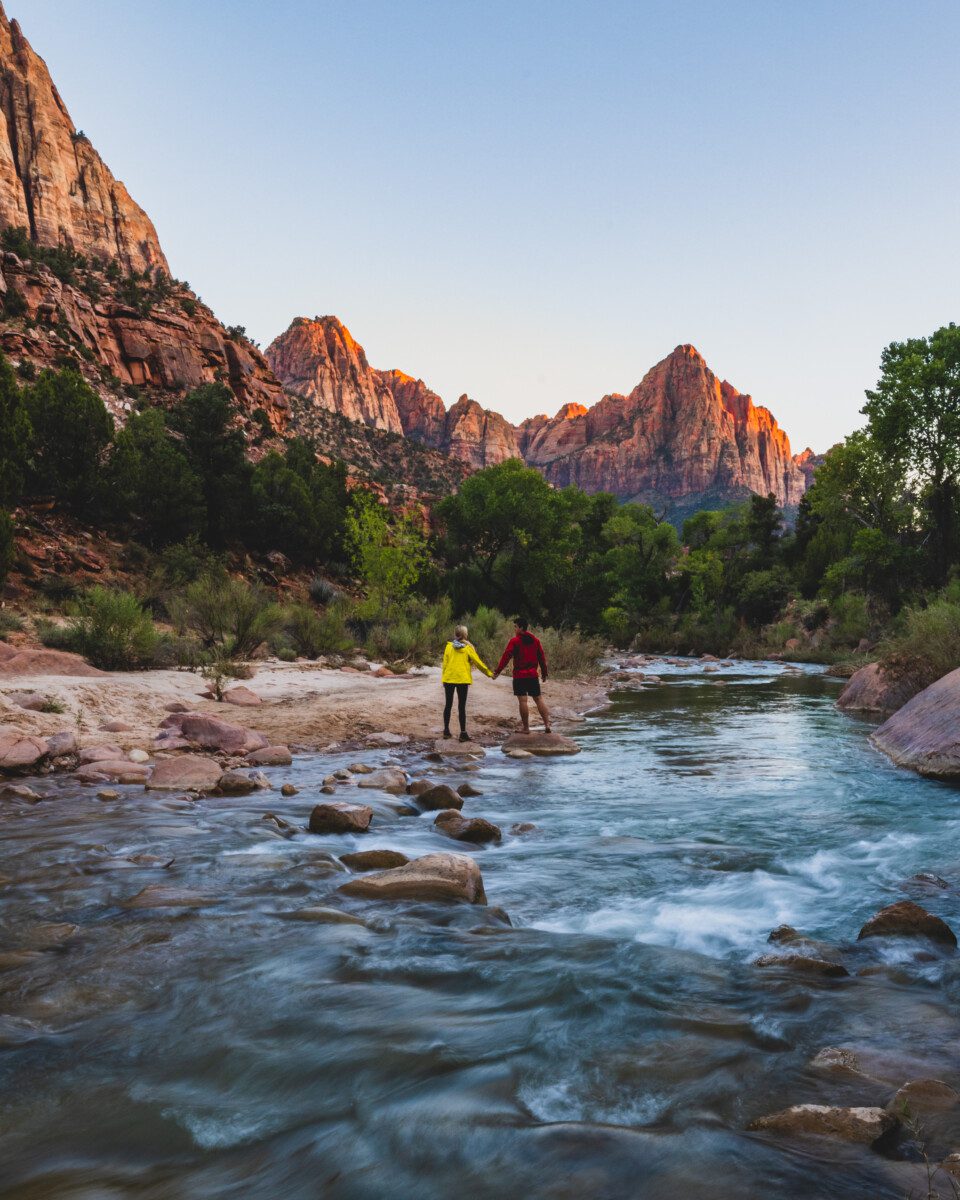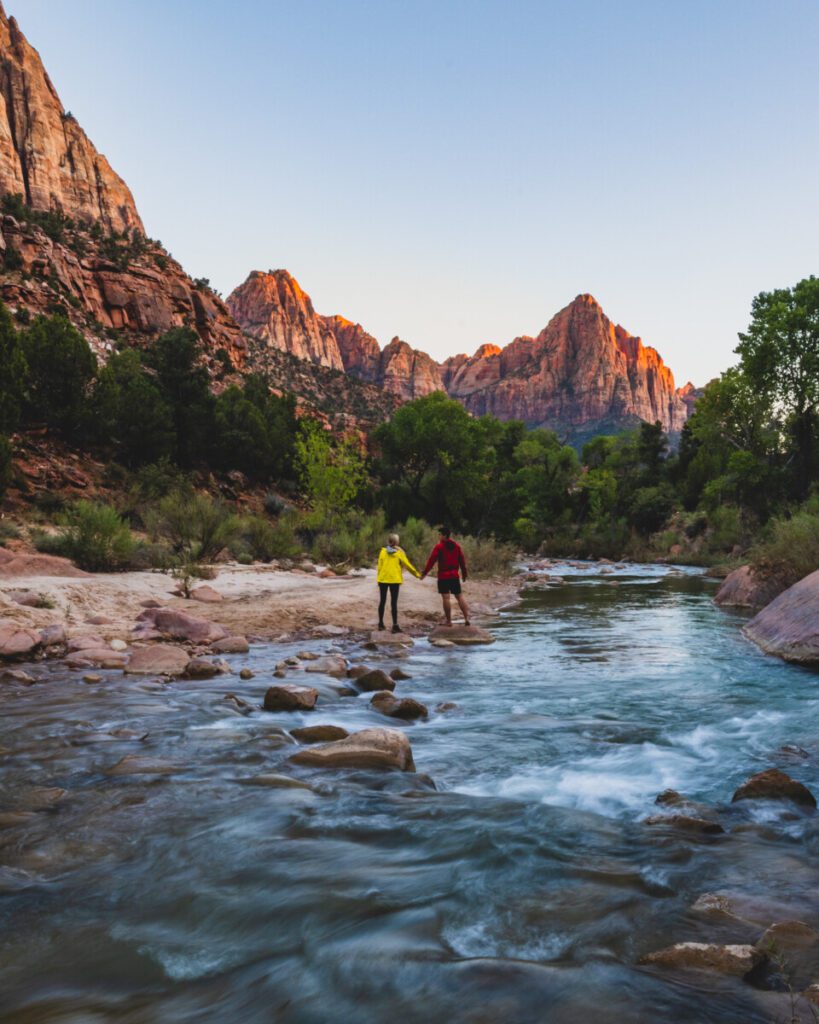 Where Should I Camp in Zion?
In Zion National Park, there are three campgrounds which are Watchman campground, South campground, and Lava Point campground. For each individual campsite you can't exceed six people or bring more than two tents. There is a camping limit of 14 nights if you choose to visit anytime between March and November, but that number changes to 30 nights if you come in any of the other months.
The South and Watchman campgrounds are on the south side of the park near Springdale, which makes them the most popular.
These campgrounds here are dog friendly, however, most of the trails in Zion are not so keep that in mind when planning your stay here.
Watchman Campground
When it comes to camping in Zion, the Watchman campground is the most sought after. Because it's so popular, we highly recommend booking your reservations as soon as you can. Reservations open six months in advance and are required for all campsites in this location. Being in the heart of Zion and just a quarter of a mile from Springdale, Utah, travelers love how easily accessible this area is.
In this campground, you're surrounded by huge, red rock formations that are simply stunning. Each campsite provides a fire ring and picnic table. Keep in mind that this area does not have a camp store to purchase any firewood, ice, or anything else you might need. It also doesn't have a food storage area. You can, however, stock up on any supplies you might need at the stores in Springdale nearby but that does require you going in and out of the national park.
The fee for staying if you come in a tent is $20 per night and $30 if you need an electric campsite. These sites are open all year-round, but if you're looking for group campsites, those are limited to only March-November. The fee for group sites starts at $50 and can go up depending on the number of people you have and only permits tent camping.
South Campground
Located just half a mile from Springdale, Utah, the South campground is also a great option for camping in Zion. Unlike the Watchman campground, this site does close for winter so be sure to check closure dates when planning your trip. All campsites are available by reservation only whether that be tent, RV, or group camping.
Reservations for this area can be booked as late as 14 days in advance and as early as 6 months. When we stayed here, we chose to reserve our campsite far in advance and we really enjoyed not having to stress about finding a spot. This campground is really big and gives you access to a picnic table and fire ring at each site.
Just like the Watchman campground, tent camping here is $20 per night and group sites are $50 per night. Again, there aren't any food storage lockers in this area, and you'll need to purchase your ice and firewood back in Springdale.
Lava Point Campground
The Lava Point Campground is a lot further from the south entrance where the Watchman and South campgrounds are. It's about an hour and a half drive. This site is open May through September but is subject to change depending on weather of course.
This campground isn't as popular because it's farther away from the main attractions in Zion, but we still recommend reserving your campsite ahead of time online. Being a much smaller campground, this area only has 6 sites available for reservation. You can book your campsite 14 days in advance. Just like the other two campsites, you'll need to provide your own food storage, ice, and firewood. If you're looking for a site with more trees and shade when camping in Zion, we recommend this campground. The other two campsites are on the desert side of the park and shade is very limited. The Lava Point campground has a lot of trees and is more on the green side.
BLM Lands Camping
If you're looking to save money and find a free place to put your tent when camping in Zion, we recommend checking out the BLM (Bureau of Land Management) Lands outside of the park. There are a lot of BLM lands south of Highway 9. These sites are open all year-round and you can stay up to 14 days. You can check out all the free campsites available by clicking the link above.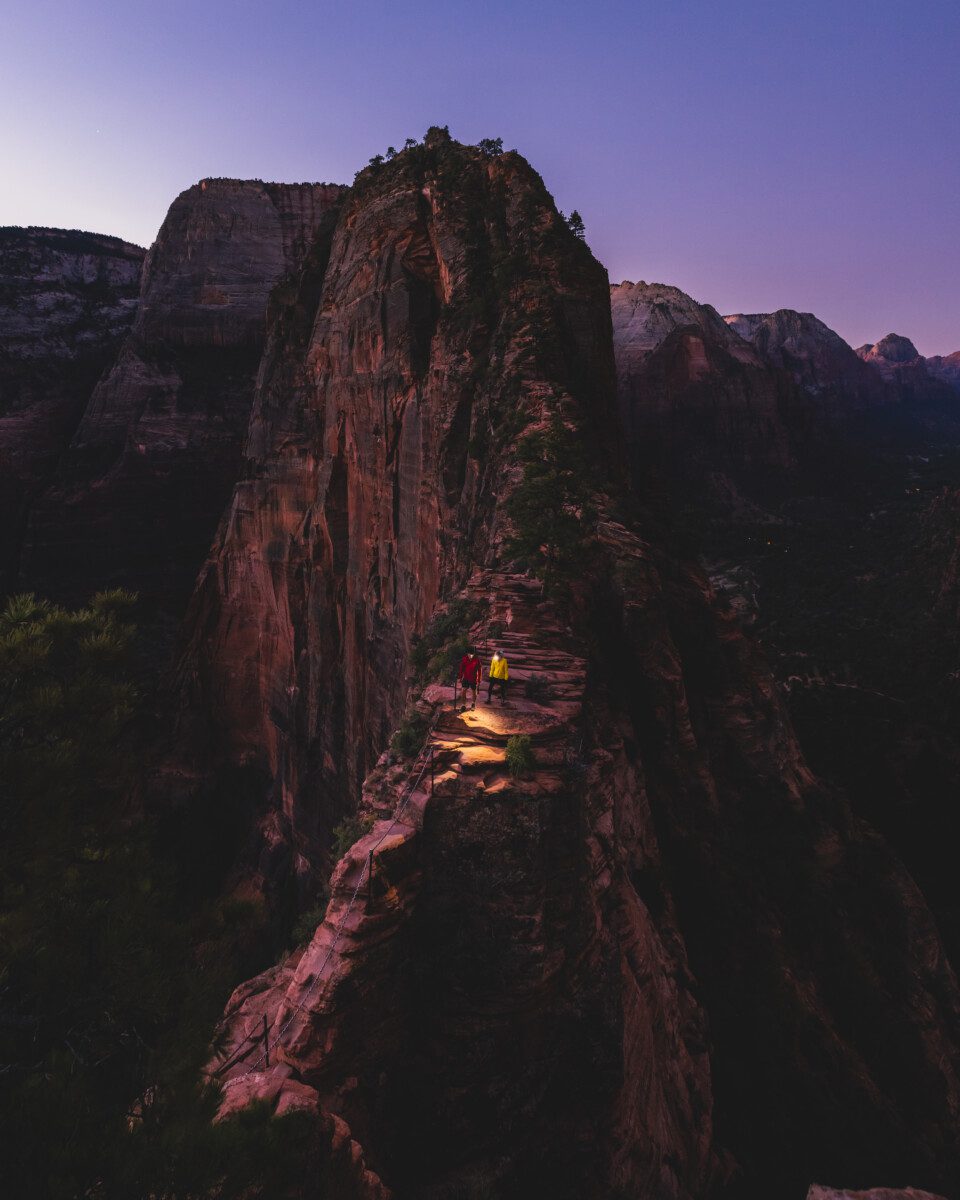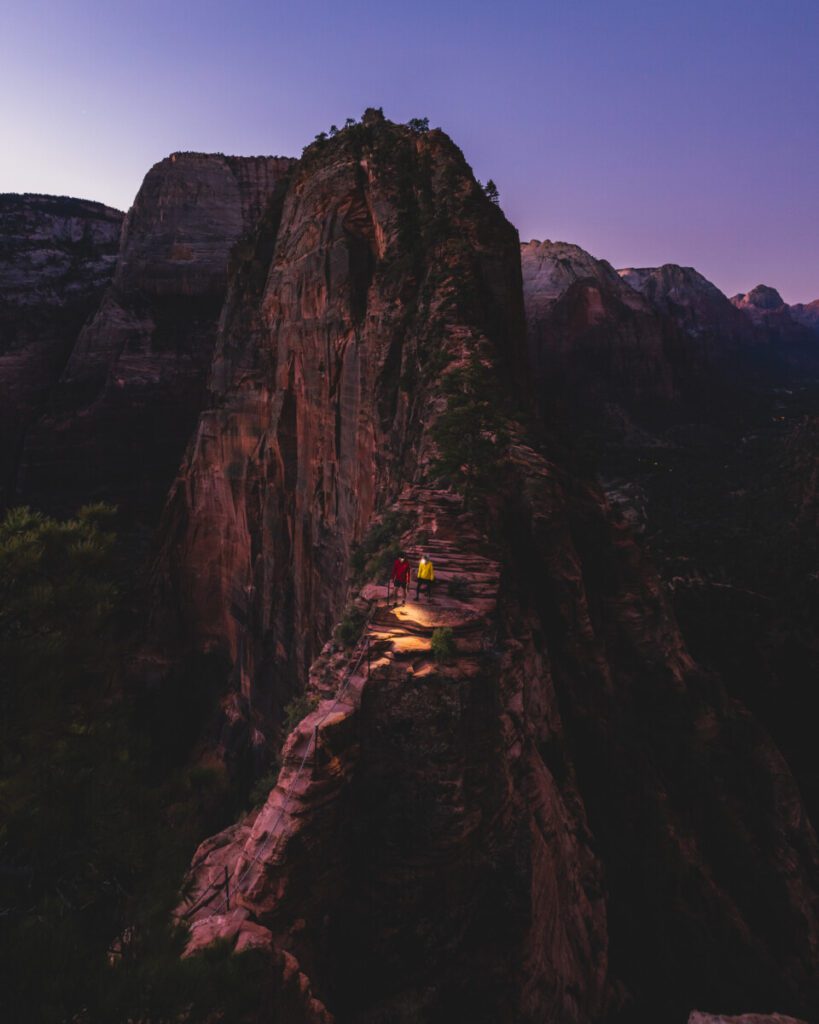 Hiking in Zion During Your Stay
Angels Landing
This hike is known to be the scariest hike in the whole country. Although we personally don't find it that intimidating, it's definitely not for those who are afraid of heights. It's about 4.4 miles total and 1,604 ft in elevation gain.
When we came to Angel's Landing in 2020 the trail was open for everyone, but now this hike does require a permit. So, make sure you have one before coming to the park. If you aren't able to get one, we recommend hiking to Scout's Landing at least and enjoying the views from there.
If you bring a bike to the park, we suggest riding it to the trailhead for sunrise. The shuttles start at 6 am, but if you arrive at the trailhead at 5 am, you'll beat the crowds and be some of the first people at the top. This hike does get extremely crowded so getting there early is essential. You'll definitely want to bring a headlamp and some layers as the top is very windy and maybe even some gloves for holding the cold chains as you hike up and down.
This is a must-do hike for all adventure lovers visiting the Zion National Park that aren't too afraid of heights.
The Narrows
The Narrows is a very unique hike and another must-do in Zion. Before you start this hike, we recommend visiting Zion Outfitters and renting some neoprene socks and boots and sticks. If you're planning to visit in the winter months, you should rent the pants as well.
Most of this hike is in the water so having the proper shoes is vital to enjoying your experience. Once you get off the shuttle you'll need to hike about a mile to the trailhead and that's where you can start putting your rental gear on. The best time to hike this trail is between 12-4pm when the sun is inside The Narrows. This is another very popular hike so keep in mind that there will be lots of people the whole time.
You can hike after 4pm and you might even have The Narrows to yourself but be aware that it might be a little chillier as the sun won't be coming in through the canyons.
Our favorite part of the hike was Wall Street and Orderville Canyon. Once you get to the junction, if you make a right, you'll be headed straight to it. You can only go about ¼ mile past the junction, but it's very peaceful and stunning in the canyon there.
Lastly, we recommend bringing extra shoes such as flip flops or comfy sneakers to put on after the hike. The rental boots aren't the most comfortable and your feet will thank you once you take them off.
Canyon Overlook Trail
We came to Canyon Overlook for sunrise and it was stunning. It's about a mile round trip and it does get pretty crowded so try and get there early if you can. We heard this location is more of a sunset spot than sunrise, but we don't think you can go wrong either way. Whatever your schedule allows on your trip, we definitely recommend checking this spot out for sunrise or sunset.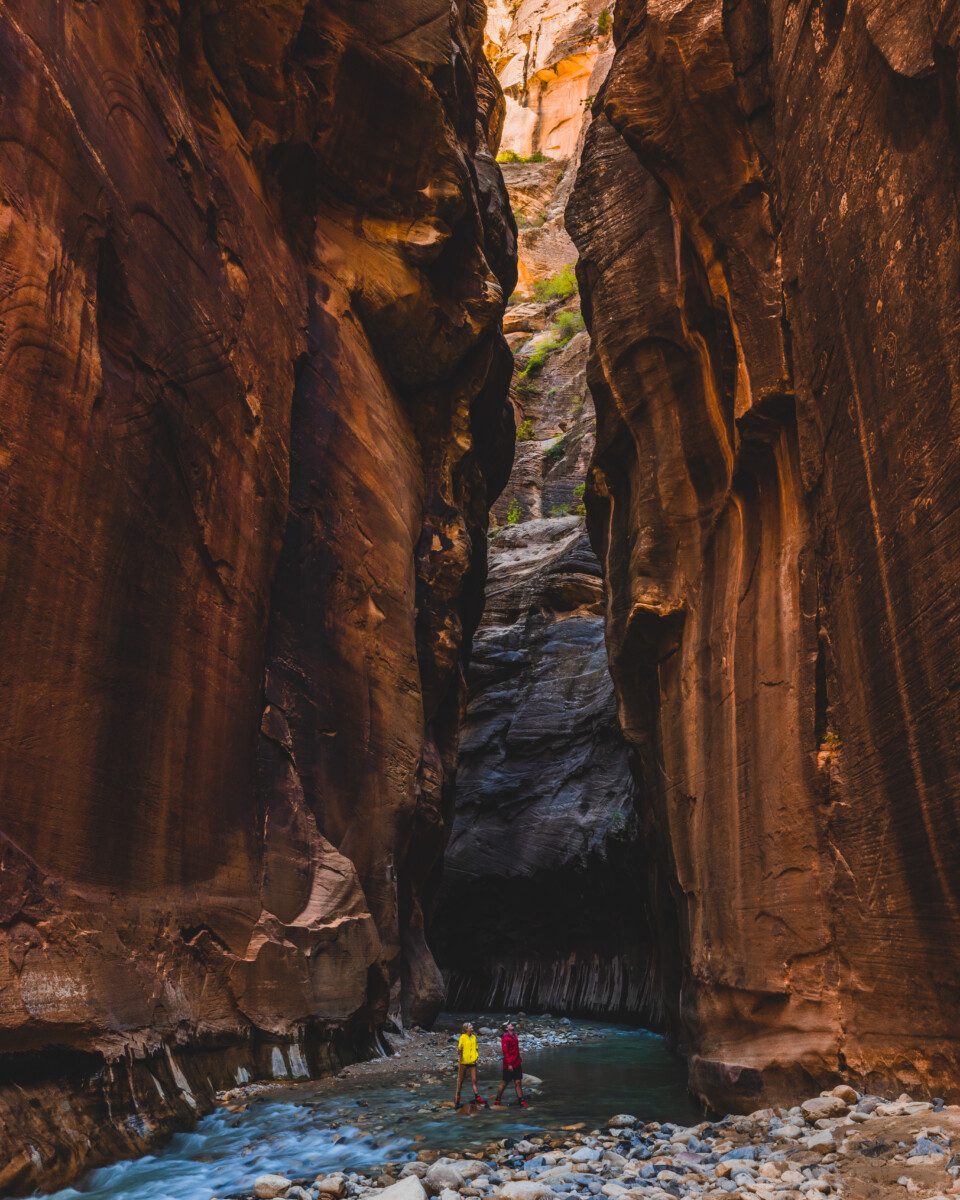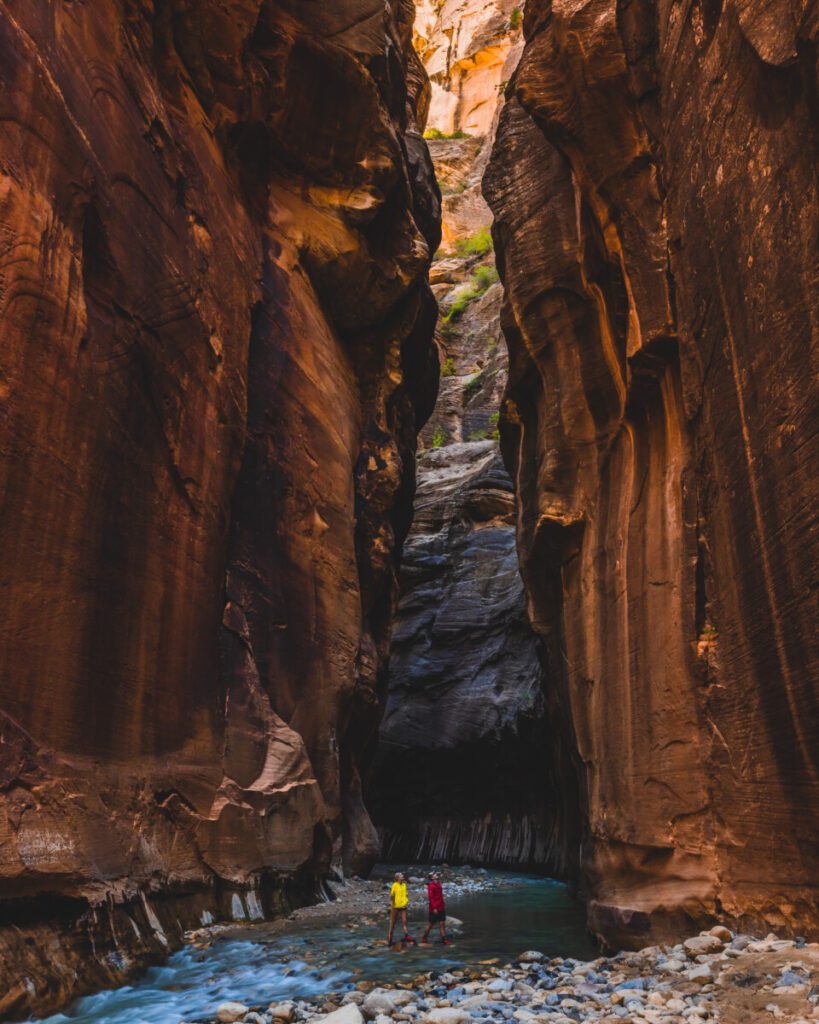 Photography Tips
Make your shot list in advance. Although Zion isn't a huge National Park, hitting all the main spots can be challenging if you're short on time. Make sure you plan out where you want to shoot and at what times. It's also important to allot yourself enough time to get to these locations whether you're taking the shuttle, biking, or hiking to them.
Capturing photos here can be difficult due to the large height of the rock formations and canyons. The high walls can result in shadows and uneven lighting. Shooting fully within the shadows during the day can help with the uneven lighting.
Sunrise and sunset photography are the best for overlooks. The best shots during these times of day are typically facing away from the sun. You can also capture good lighting by facing west for sunrise and east for sunset. If you're shooting the Narrows, however, make sure to go in the middle of the day.
Looking to upgrade your travel photography game? Then, check out our Photography E-Book!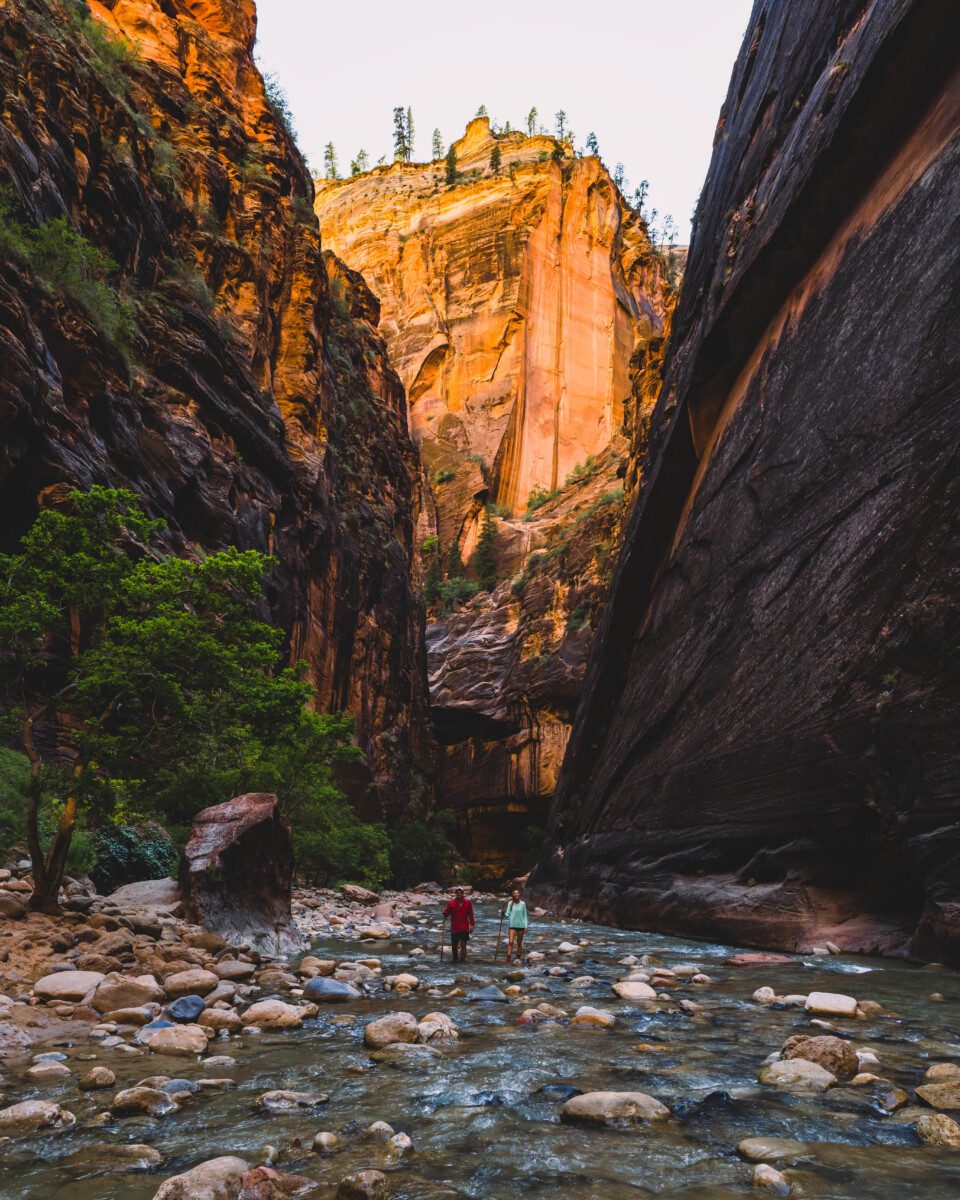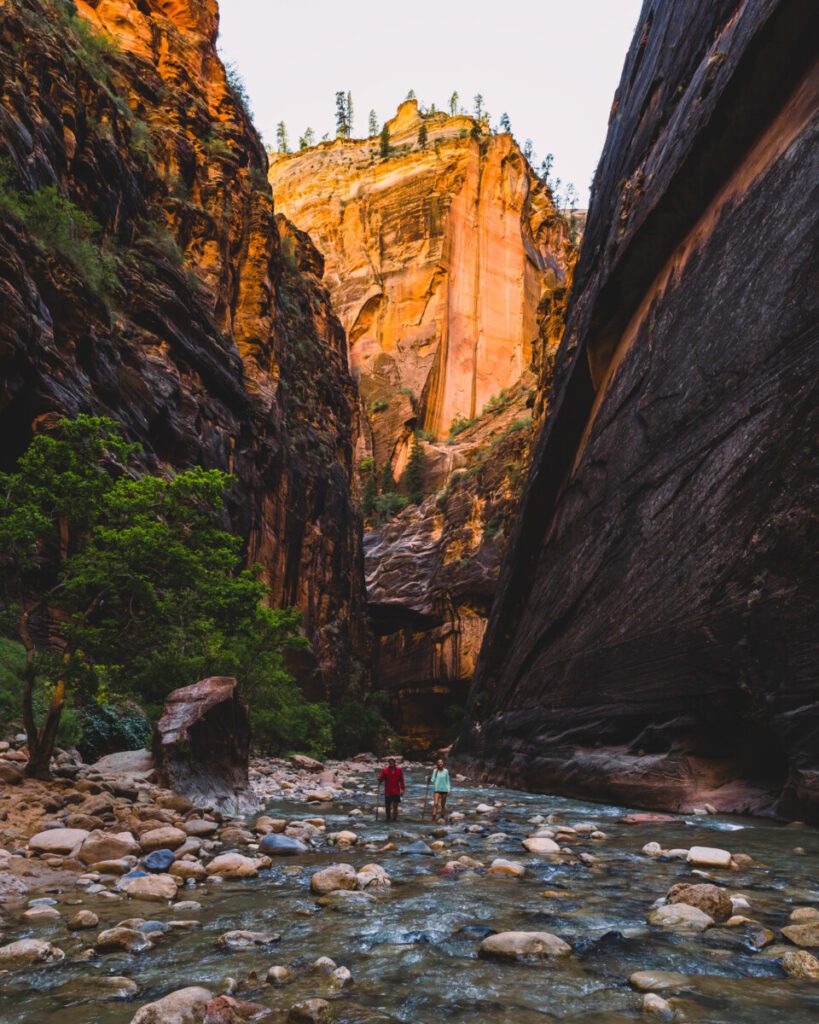 Ready to Book Your Reservation?
Camping in Zion National Park is an experience every adventure lover needs to have. We love everything about this park from the stunning campgrounds, the thrilling hikes, and the unique landscape. Go book your camping reservations now so you can enjoy all the beauty this park has.
Looking for more southwest National Park inspiration? Check out our favorite things to do at each Utah National Park.