Best Hiking Shoes for Outdoor Adventures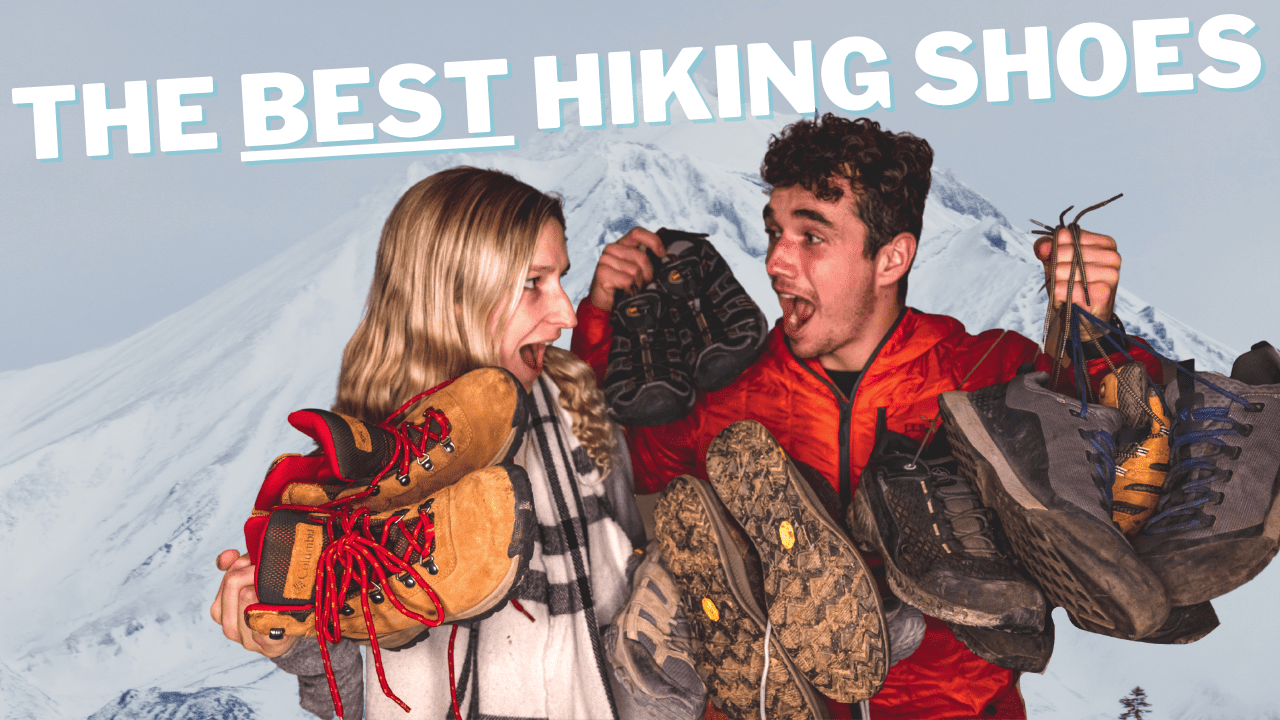 One of the number one questions that we get asked are "What hiking shoes should I buy?" After years on the trail, we believe hiking shoes can be such a game changer. Whether it is something as small as a day hike, or as long as a multi-day backpacking trip, it is very important to bring the best hiking shoes. We are going to discuss the many variables that go into hiking shoes and our top recommendations for the Best Hiking Shoes for Outdoor Adventures.
We have hiked 1000's of miles over the past few years on our adventures and have gone through our fair share of hiking shoes. In this blog, our goal is to help recommend the shoes that are going to give you the most bang for your buck. Since we have tested out multiple brands, ranging from premium to budget over the years, we have seen a wide array of prices and quality.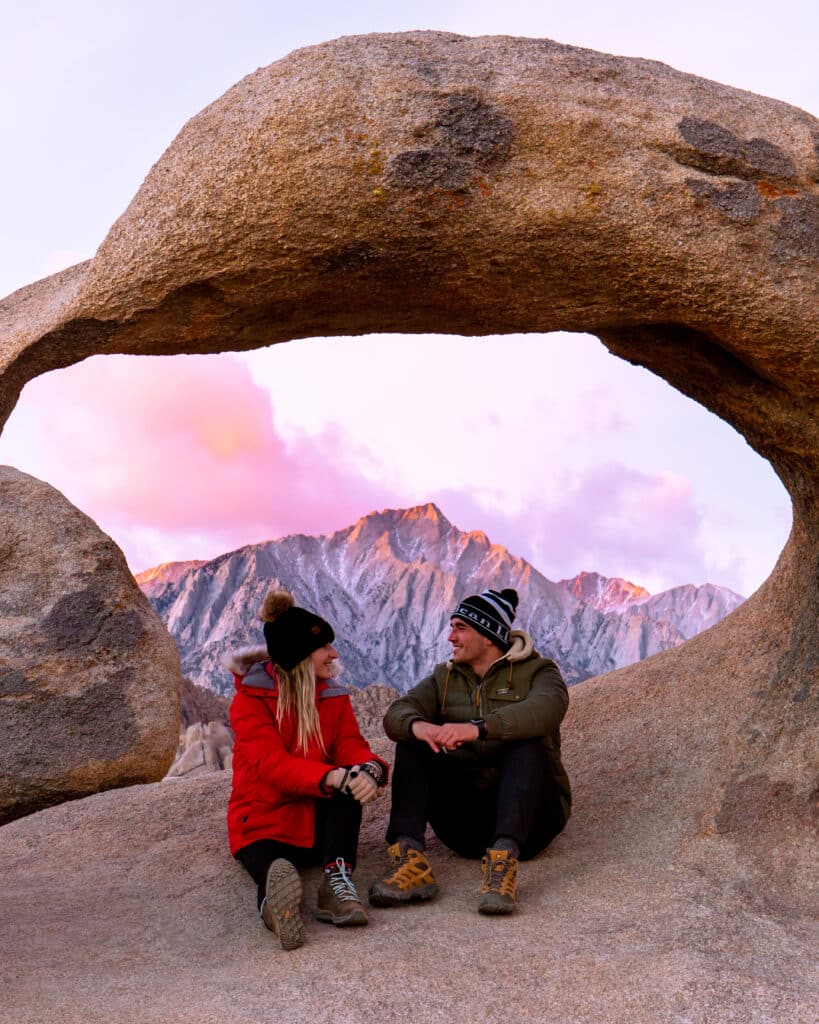 Best Hiking Shoes for Outdoor Adventures
Hiking has always been a passion of our since we started dating two years ago. Our Hiking Shoes have been put to the test through peak bagging, overnight trips, multi-day backpacking adventures, sunrise and sunset day hikes, winter excursions, river crossings, and everything in between. We have both developed a few favorites for every situation and want to share the Best Hiking Shoes for any type of Outdoor Adventure.
Which Hiking Shoe is for me?
We think it it very important to decide what kind of Outdoor Adventures you will be embarking on before investing in a pair of Hiking Shoes.
What Season will you be using your Hiking Shoes?
Trail Runnings vs Day Hiking vs Backpacking
Wet Environment vs Desert vs Snow
Hot or Cold weather that you will be adventuring in?
Do you need more ankle support?
Do you want lightweight or heavy duty?
Once you have answered these questions, it will help narrow down the broad spectrum of Hiking Shoes. The Hiking Shoes we will be discussing will look at weight, traction, ankle support, warmth, and water capabilities.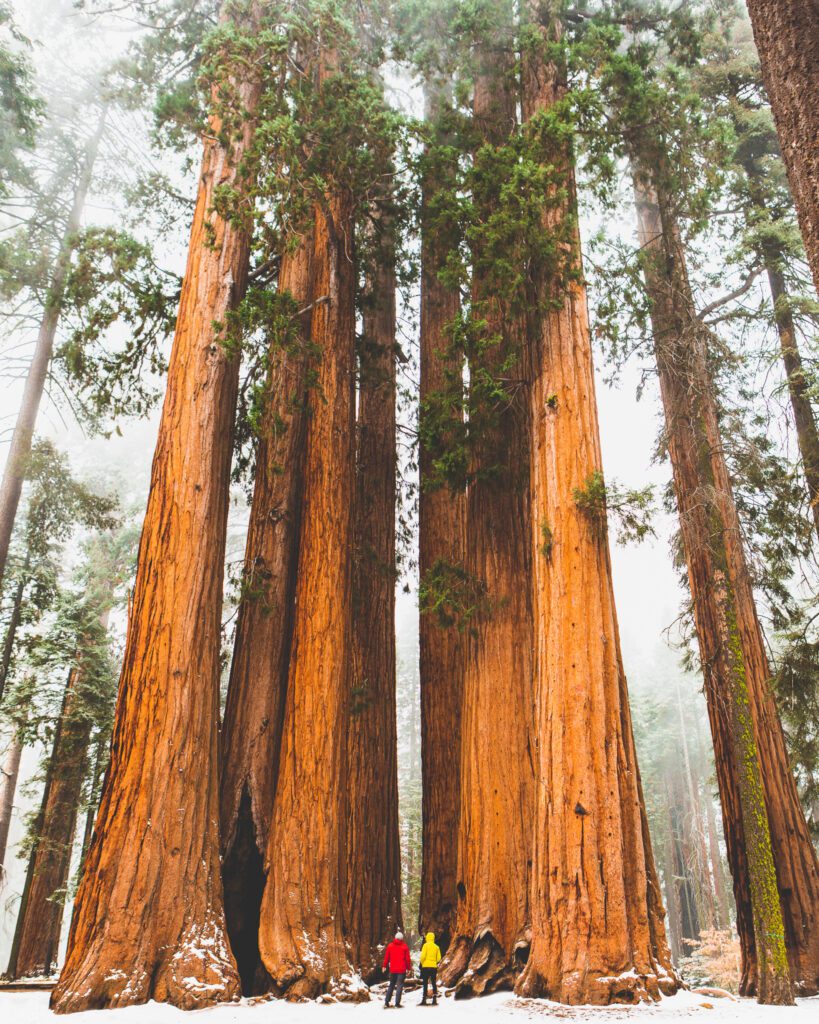 Winter vs Summer Outdoor Adventures
Stephen used to only wear one pair of hiking shoes year around! Some people still swear by it that they only need one pair of lightweight or sturdy shoes for all hiking, but we like to have our options now. The one thing about Hiking Shoes for Outdoor Adventures is that it is all personal preference. One person may have a wider or longer foot than another person and might need a completely different shoe. Here are our recommendations on things to consider when buying a Winter or Summer Hiking Shoe for Outdoor Adventures.
Summer Hiking Shoes
During summer temperatures tend to be much warmer on hikes no matter how long they are. We recommend looking for low top shoes that are lightweight and not waterproof. Hiking in waterproof shoes can just add to the insulation and cause your feet to get much warmer. One last thing to think about for summer Outdoor Adventures is tread. We tend to do more peak bagging during the summer, so we look for Approach Shoes that are good for climbing and have soles that are designed for sticking to rock rather than trudging through bushes and trees. Once again, it is important to decide what kind of terrain you are going to be hiking through!
Winter Hiking Shoes
Winter environments tend to be much colder and wet due to the season so we highly recommend investing in some waterproof shoes. On top of the waterproof lining, think about getting high top boots to stop any water from getting on the inside. We have tried hiking through snow/trails that are wet and no matter how careful we are, our feet always get wet when we wear low profile hiking shoes. Depending on the type of extreme winter conditions, you might also want to consider getting hiking shoes that have insulation to help your feet stay cozy on cold Outdoor Adventures.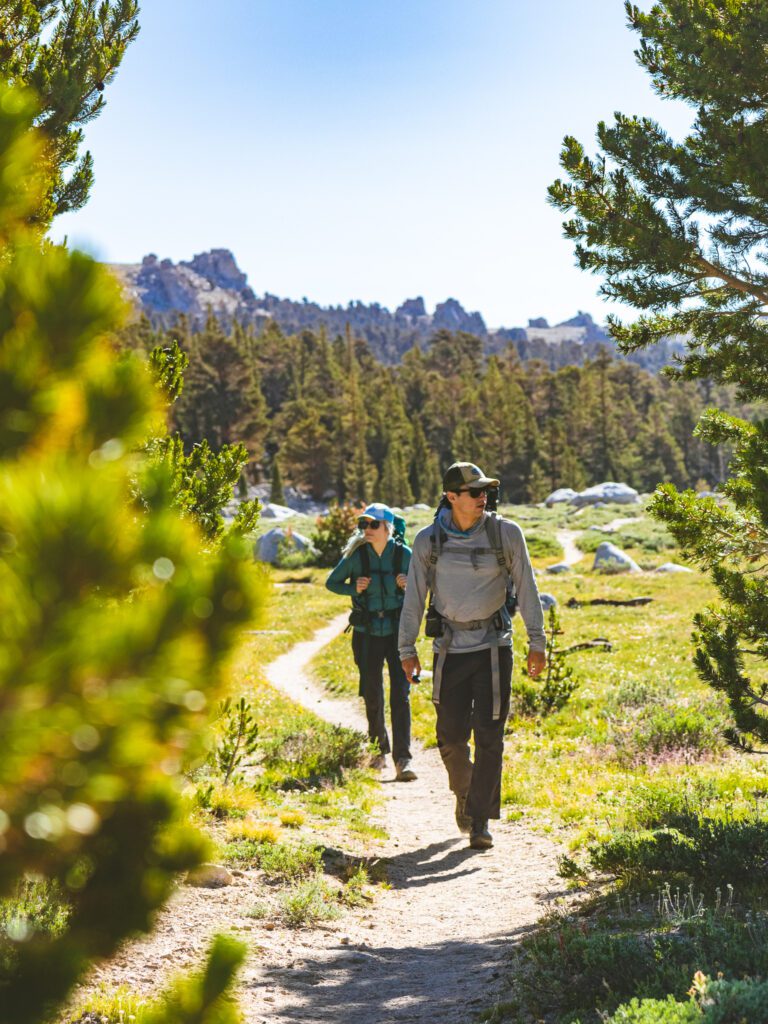 Day Hiking vs Backpacking Outdoor Adventures
Whether you are a beginner or an experienced backpacker, there are a few different options when it comes to the length of your trip. Some things to consider when buying hiking boots for longer adventures is the weight you will be carrying, elevation change, and terrain you will be covering. Day Hiking Adventures can be just as intense as an overnighter depending on the mileage and elevation gain. Here are our recommendations for the Best Hiking Shoes for your average Day Hike and Backpacking Trip.
Day Hiking Shoes
Running shoes, tennis shoes, lightweight athletic shoes, etc can all be the perfect Day Hiking Shoe. The biggest thing to consider is the type of terrain and elevation gain. Some of our local hikes are very loose trails which can cause us to slip easily so we bring heavier duty shoes. In general you can get away with low top lightweight pair of hiking shoes for most day hikes. Always do your trail beta research to know what type of terrain you are getting yourself into!
Backpacking Shoes
As soon as you start putting on weight like a backpack you are going to want some sturdier shoes. We always wear high top shoes that have more ankle and knee support when we are doing Backcountry Outdoor Adventures. We tend to lean towards waterproof high top shoes as well just in case we have to do any stream or river crossings along our route. Once again, do your research! Most trail data will allow you to see if there is a lot of water or not. Check ahead of time so you can be prepared for the trip and pack the Best Hiking Shoes for your Outdoor Adventure.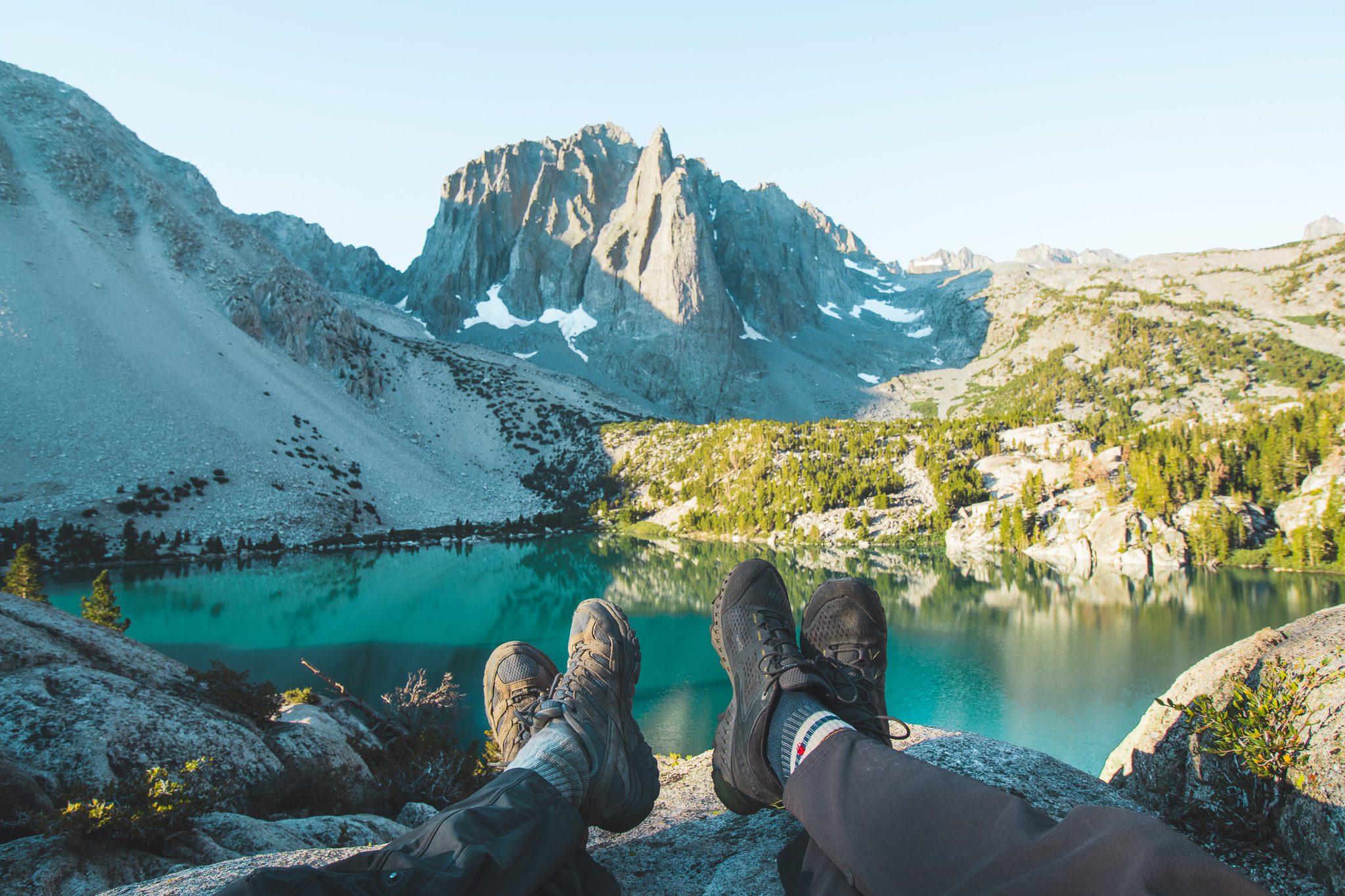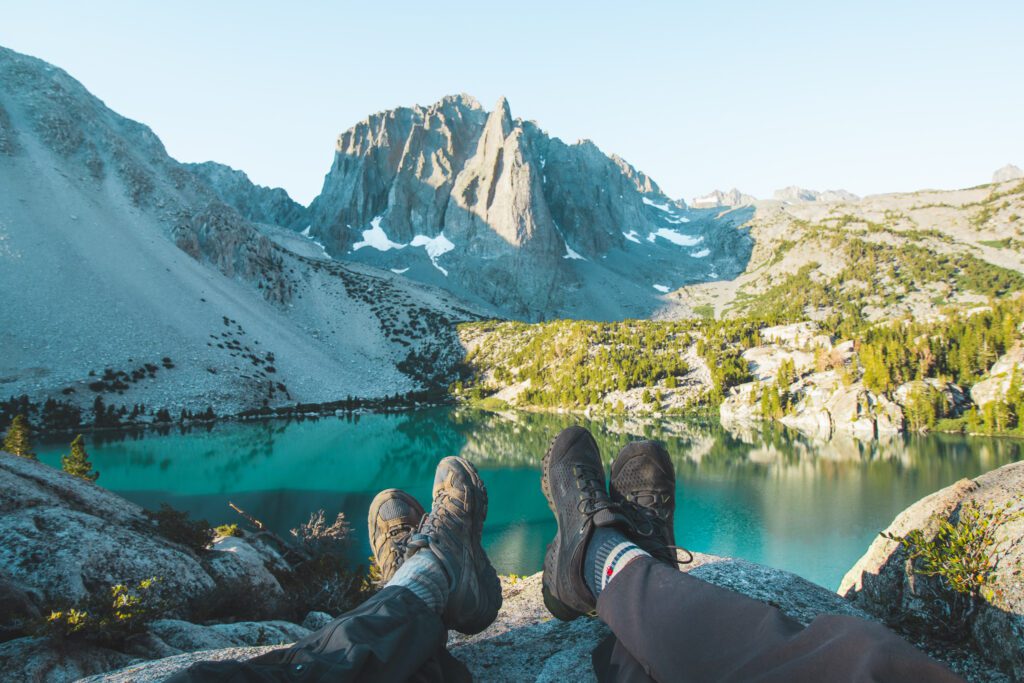 Our Favorite Hiking Shoes for Outdoor Adventures
Best Women's Hiking Shoes
These hiking shoes are Giselle's Favorites for our Outdoor Adventures. These are the shoes she wears year around and each one is used for a different type of season and purpose. Remember the high tops are meant for winter/fall adventures and backpacking trips while the low tops are meant for summer/spring trips and shorter hikes.
Columbia Newton Ridge Plus Waterproof Amped Hiking Boot – Women's
The Columbia Newton Ridge Plus Waterproof Amped Hiking Boots are your best option for a quality boot on a budget. They are super lightweight, waterproof, and an all-around great shoe for day hikes to overnighters. These are my go-to shoes for any type of day hike because of how comfortable they are, and I love how cute they look. Recently I have put around 100 miles on them during our winter adventures and have had no problem with wet feet. During the summer they might get a bit hot, but they are still a perfect beginner hiking shoe because of how affordable they are.
| | |
| --- | --- |
| Waterproof | Yes! |
| Weight | 1.71 lbs |
| Height | High Top |
| Retail Price | $89.99 |
These shoes are at the top of my list for being All Arounders
Merrell Ontario Mid-Waterproof Hiking Boots
The Merrell Ontario Mid-Waterproof Hiking Boots are my favorite hiking shoe as of February 2021. I wore these on a day hike without breaking them in and they performed amazing. They are incredibly comfortable and I've never had any issues with blisters. These especially are great in the snow and rain, and are truly waterproof in all environments I've encountered so far. These shoes might get a little warm during the summer, but they are still worth the investment because of how amazing their tread is. Snow, mud, granite, and everything else that we have encountered has been no problem for these hiking shoes!
| | |
| --- | --- |
| Waterproof | Yes! |
| Weight | 1.11 lbs |
| Height | High Top |
| Retail Price | $170 |
These shoes are at the top of my list for their comfort and stability.
KEEN Whisper Sandals
The Keen Whisper Sandals are my favorites for any trail with water crossings, or for days when we are hiking in the desert sand. I love the breathability of these Keen Sandals when hiking through hot environments because I can wear a sock for comfort and feel my feet air out immediately. The tread on the Whisper Sandals has help up very well over the past 2 years I have been adventuring with them. Day hikes are perfect for the Whisper Sandal, but I have also worn them for overnight adventures and rocky terrain and they perfrom great.
| | |
| --- | --- |
| Waterproof | No |
| Weight | 1.08 lbs |
| Height | Water Shoes |
| Retail Price | $100 |
These Sandals are at the top of my list for breathability and comfort.
Merrell Moab 2 Waterproof Hiking Shoes
The Merrell Moab 2 Waterproof Hiking Shoes were the first hiking shoes I ever bought. I have put hundreds of miles on these shoes and they have proven to be durable and affordable. If you are not a fan of the mid to high boot style, I would definitely recommend checking these out as a great low rise hiking shoe.
I particularly loved these for backpacking and longer day hikes since they are quite lightweight as well. The only problem that I have encountered is that they are low tops, so when I use them in the snow or rain they do get wet much more easily than my high tops. These are perfect for any summer adventure and I love how breathable they are! Try a pair of the Merrell Moab 2 Mid and High Top Hiking shoes if you are not a fan of the high top hiking shoes.
| | |
| --- | --- |
| Waterproof | Yes! |
| Weight | 1.12 lbs |
| Height | Low tops |
| Retail Price | $125 |
These shoes are at the top of my list for low top capabilities.
Best Men's Hiking Shoes
Merrell Moab 2 Mid-Waterproof Hiking Shoes
The Merrell Moab 2 Mid-Waterproof Hiking Shoe is a great all around high top hiking shoe. I really love that it is waterproof so I do not have to worry about hiking through some wet terrain or the snow. The Vibram soles are fantastic for all terrains and I have had no problem with slipping. There are two different options for the shoe with a Wide and a Regular. I have the regular fit and love how it is snug with not a lot of wiggle room. Giselle has the low top Merrell Moab 2, but I think the high top offers a little more versatility, so I can use it during all seasons rather than just summer and spring. These are my go to hiking shoes for any day hike, over night backpacking trip, and multi day excursions.
| | |
| --- | --- |
| Waterproof | Yes! |
| Weight | 2.04 lbs |
| Height | Mid Top |
| Retail Price | $135 |
These shoes are at the top of my list for all around capabilities
La Sportiva Spire GTX Hiking Shoe
The La Sportiva Spire GTX Hiking Shoe is a great hiking shoe for more technical terrain. The Merrell Moab is more of a trail shoe where I would consider this more lightweight and advanced. This shoe has braking capabilities so that the traction in the heel of the shoe is reversed to help with stopping on slippery terrain. These shoes are water resistant, but they do not perform well in wet environments because of how low the top is. They are very breathable, and I wear them on every summer hike because of how lightweight they are.
La Sportiva is a more expensive brand, but that also comes with all the bells and whistles. The features on this shoe are endless from inside the shoe to the soles. My only complaint is that they do feel very tall when you first start wearing them. I compared them to wearing wedges or dress boots until I got used to them because they do have quite a lift to give extra breathability below the foot.
| | |
| --- | --- |
| Waterproof | Water Resistant |
| Weight | 440 g |
| Height | Low Top |
| Retail Price | $190 |
These shoes are at the top of my list for low top capabilities.
Black Diamond Mission LT Approach Shoe
The Black Diamond Mission LT Approach Shoe is a great hiking shoe if you enjoy peak bagging and rock climbing. When I first saw that Black Diamond was releasing an approach shoe I was ecstatic. We do a lot of rock climbing on our backpacking trips to climb various peaks, and it was always a hassle to bring hiking shoes and climbing shoes. These shoes give you a lot of versatility on harder routes because or their soles build for granite/rock, the front of the shoe is equipped for climbing, and the laces give you a tight fit, so there is no movement. I do not use these for any type of wet terrain because they are not waterproof and not very easy to dry out. I would recommend trying out their 3 levels of Approach Shoes to see which one fits your needs.
| | |
| --- | --- |
| Waterproof | No |
| Weight | 312 g |
| Height | Low Top |
| Retail Price | $139.95d |
These shoes are at the top of my list for their technical aspects.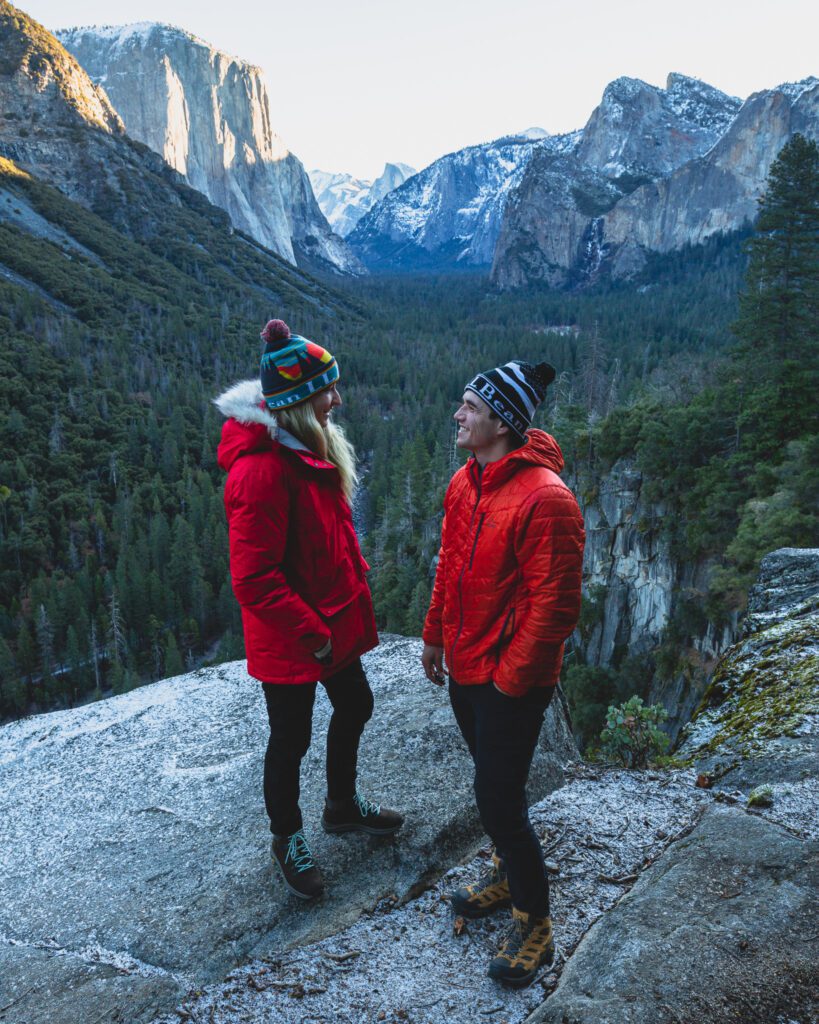 Avoiding Blisters in your Hiking Shoes
When we first started hiking we were always getting blisters! It is so important to test out your hiking shoes thoroughly when purchasing them, and bringing the necessary measurements on the trail to prevent blisters from happening. Buying hiking shoes online can be a great easy way to save money and find the best option, but we think it is very important that you go into a REI or local outdoor retailer to try on a few pairs of hiking shoes before investing in them. Here is a little checklist you should think of before buying a pair of hiking shoes.
Before buying your Hiking Shoes Check…
Heavy boots will cause more blisters than trail runners, so it is important to decide what type of hiking you will be using your shoes for.
Choose a lightweight and more breathable hiking shoe if you do not need the extra support and waterproof features.
Try your hiking shoes on at the end of the day because that is when your feet are at its largest size.
Bring socks that you plan on hiking in to avoid getting shoes that will be too small
Walk downhill and see if your toes touch the tip because that is a sign they are too small!
Walk uphill and check how your ankle and heel feel
Lean foot side to side to check stability
Blister Prevention Products
Blisters can make a hike miserable if not taken care of quickly. The best Blister Band-aid in our opinion is Moleskin. Moleskin is something that we bring on every hiking/backpacking trip just in case we start to feel a hot spot. As soon as you start to feel a hot spot on your feet, stop and put on some Moleskin because it is like having an extra layer of skin. It takes years to build up tough skin in your feet from spending miles on the trail, so it is important to start slow. Try breaking in your shoes on local neighborhood walks or short hikes so that you can see if any blisters start to form in your hiking shoes.
Hiking Socks
Socks can make a big difference when it comes to blister prevention. Our favorite socks for hiking are Darn Tough Socks. They have a ton of different options for both summer and winter options ranging in the thickness and height of the socks. We both enjoy hiking in high top socks for most of our adventures, but low top socks can be a great option for summer hiking.
A few things to remember when choosing the perfect pair of socks are:
Use Merino Wool Socks
Keep your socks very tight on your foot
Socks should be higher than the boots or shoes you are wearing
Test thickness of sock inside shoes to make sure they are not too tight
Keep your Hiking Shoes Dry!
The easiest way to prevent blisters is to prevent the inside of your hiking shoes from getting wet. As soon as water gets into your shoes, it softens the skin and can lead to blisters very quickly. We recommend always bringing Merino Wool socks because they are moisture wicking. Anytime moisture, debris, or water gets in your shoes, take a break and empty out your shoes. It is important to keep your shoes and feet clean because that is what is transporting you on your adventures! Imagine your engine saying CHECK ENGINE and you just kept driving without stopping to see what is going on. That is exactly what hiking with a pain or feet hurting is like. Take the time to stop, enjoy the scenery, stick your feet in a lake, and hop back on the trail. Check out our full hiking essentials list here.