The 8+ Best Anti-Theft Travel Backpacks (Latest Models)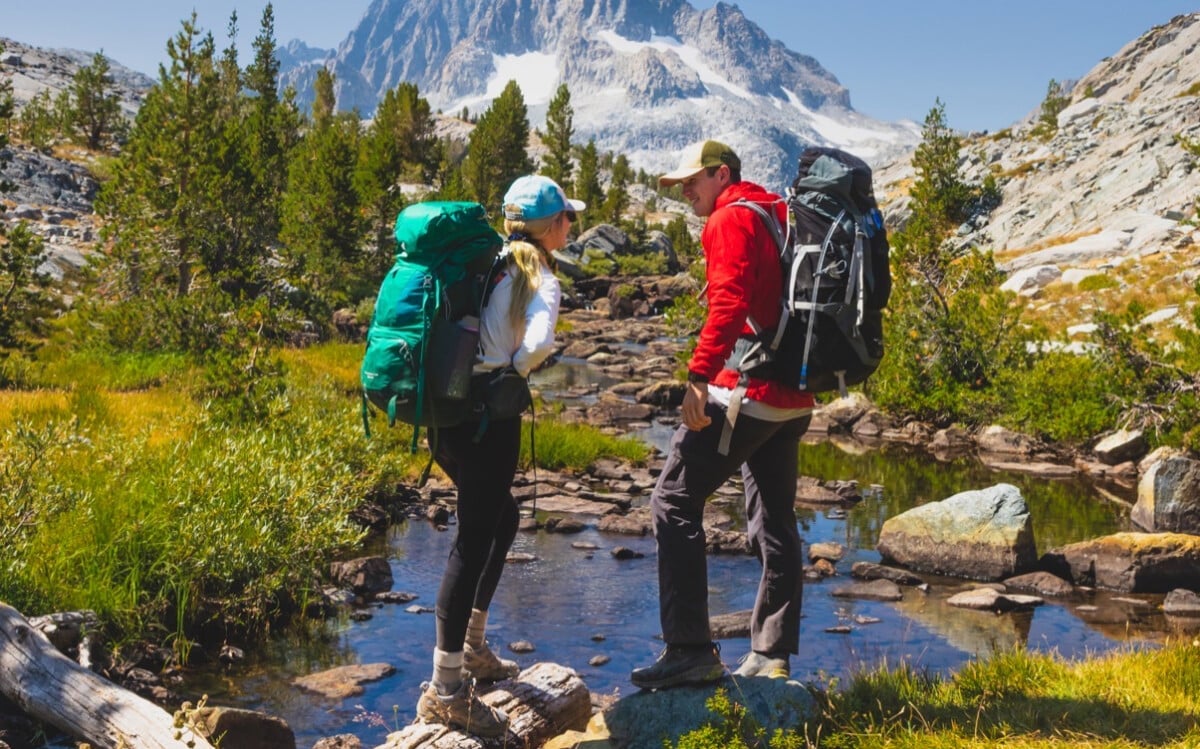 When you're out on adventures, traveling the wider world, or just sticking closer to home, security is often a huge concern. In the wilderness, you're probably not worried about a thief snagging your camera or drone out of your backpack – it's more the bears you have to think about – but in the more populated areas, human theft is a greater worry.
So, if you're in the market for a little added security while you're hopping from plane to hotel room to tourist getaway, one possible option is an anti-theft backpack.
What is an Anti-Theft Backpack?
An anti-theft backpack is just a backpack with some added security features that make it a little harder for someone to sneak a hand into it while you're distracted and nab your valuables.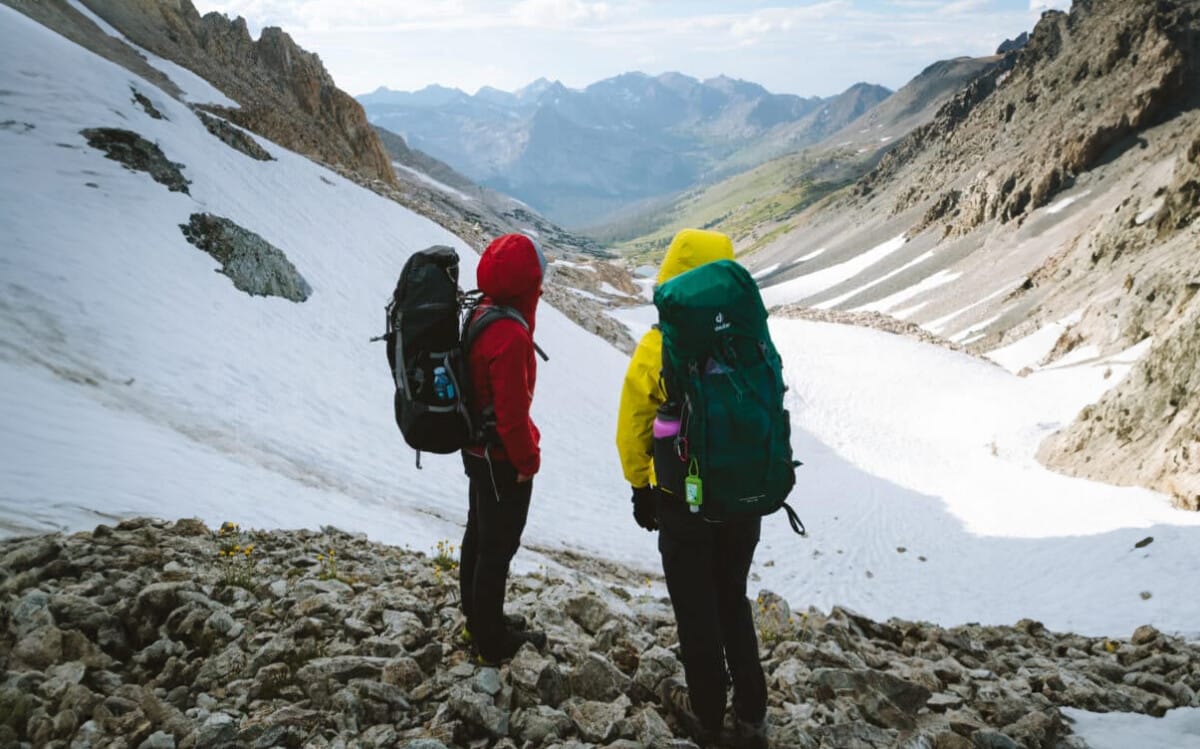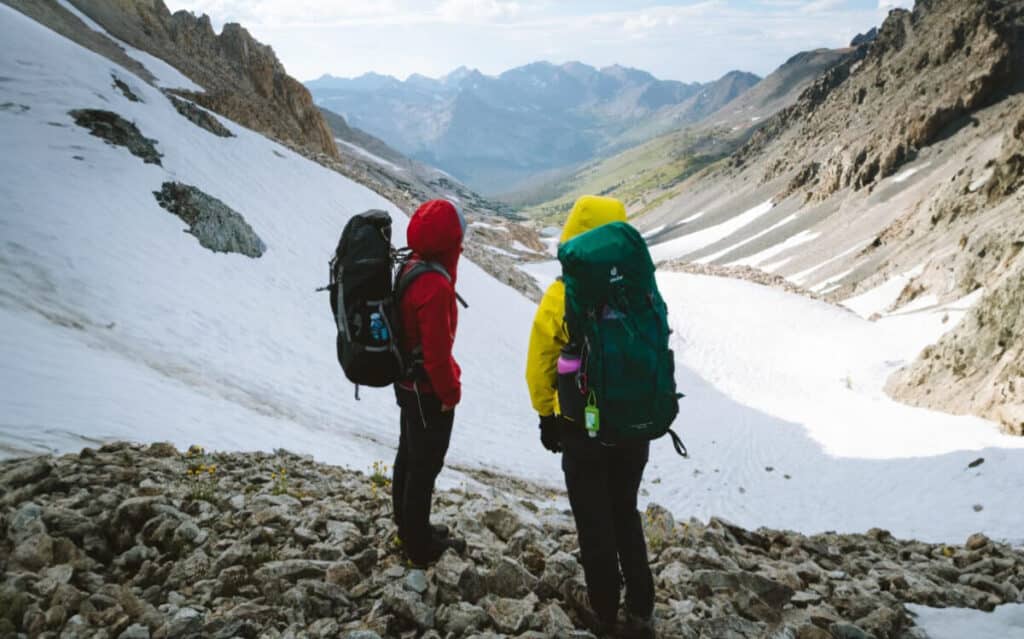 Different anti-theft backpacks have different sets of features, but you might see some or all of these:
A tough, durable material that is difficult to slice through with a box cutter or knife.
Durable zippers that are difficult to break around a padlock.
Zippers and latches hidden under flaps to make it harder to open at a glance.
Built-in or addable locking cables to secure the backpack to something resilient to prevent theft.
RFID-blocking linings to prevent things like card skimming.
All of these provide a little added security over your standard canvas backpack. It's a little harder for anyone to reach into your bag when you aren't looking, to cut through it and steal your valuables, or to just wander off with it. Harder, but not impossible.
A Note on Travel Security
Security features on a backpack are only as good as the thief is motivated. They can stymie casual crimes of opportunity, like the backpack equivalent of pickpocketing, and if they have the right technology, they can block credit card skimming.
However, a thief motivated with the right equipment or opportunity can still get in or even just take it and run, so you shouldn't rely too heavily on the inherent security of an anti-theft backpack on its own. You also need to practice good security habits and remain vigilant in places where there may be theft.
Moreover, there are a lot of "high-security" products out there on the market with significant flaws. Sometimes, they're tricky enough that it requires a potential thief to know what they're dealing with ahead of time, but often, they're just shady companies lying about their security features, using sub-par materials, or otherwise cutting corners.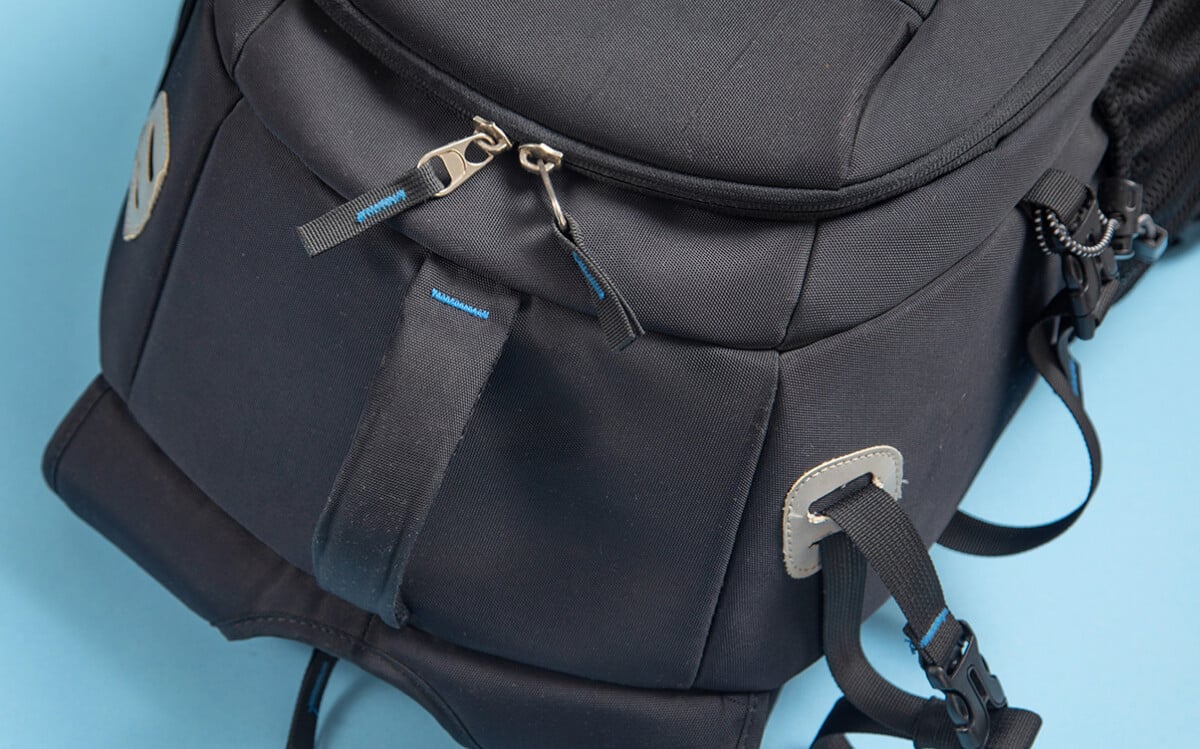 Here are a couple of examples:
This slash-resistant bag is both easily cut open and has a lock that can be bypassed with something as simple as a bit of scrap soda can.
This PacSafe bag – one of the most popular brands in travel security – gives you a terrible padlock, defeating the entire point.
This expensive slash-resistant bag is actually easy to slash open and reminds you that a high price tag doesn't always mean high quality.
No security method or feature is ever going to be perfect. PacSafe's bag itself, as seen in the video above, is actually very good; the weak point is something you can fix on your own. But would you, if you didn't know about it? That's always the sticking point.
In any case, the point of a secure travel backpack is more about preventing split-second crimes of opportunity than it is about long-term security. There are better options than a backpack if that's what you're after.
As with any product you buy these days, be skeptical of the reviews on a site like Amazon. It's easy to fake them, so look for actual reviews that perform serious testing if you're significantly concerned.
Secure Locks and the TSA
One common pain point many travelers and adventurers encounter is the TSA's requirement for access to bags. Locking security bags are nice, but if you fly with them, the TSA is going to want to be able to access them, which means you need to use a TSA-approved lock. What makes a lock TSA-approved? Well, it means it has a master cylinder that can be opened with a TSA master key.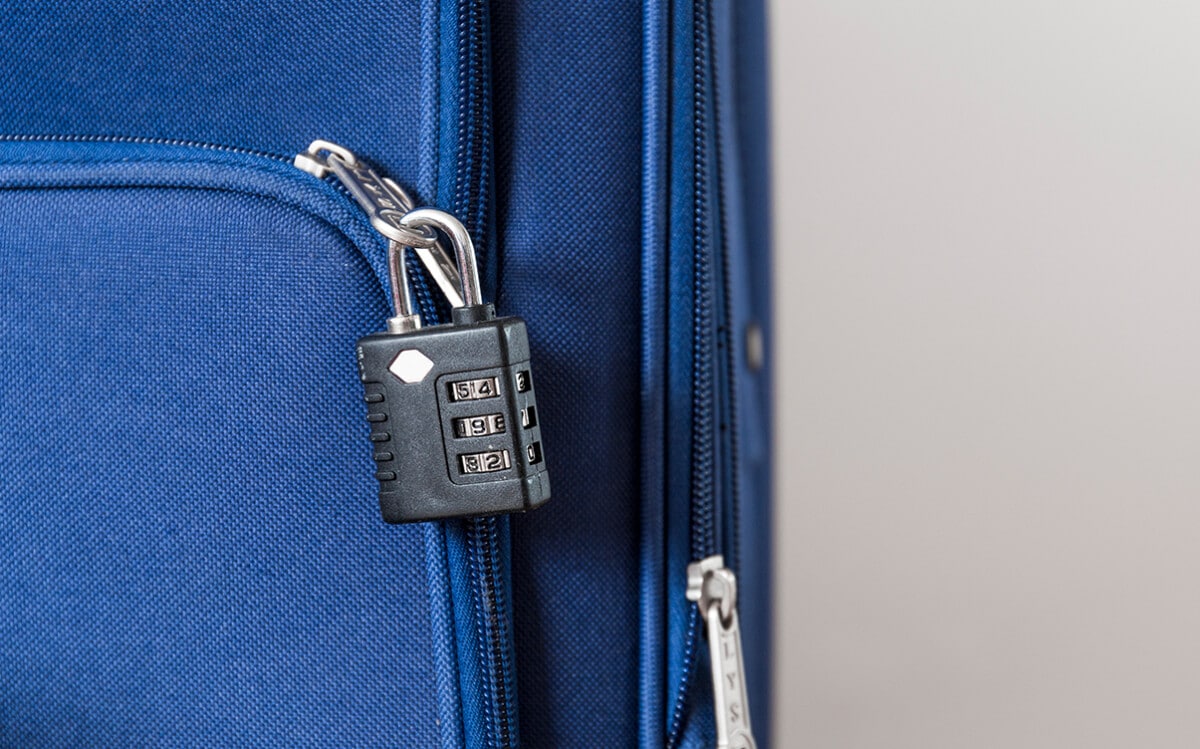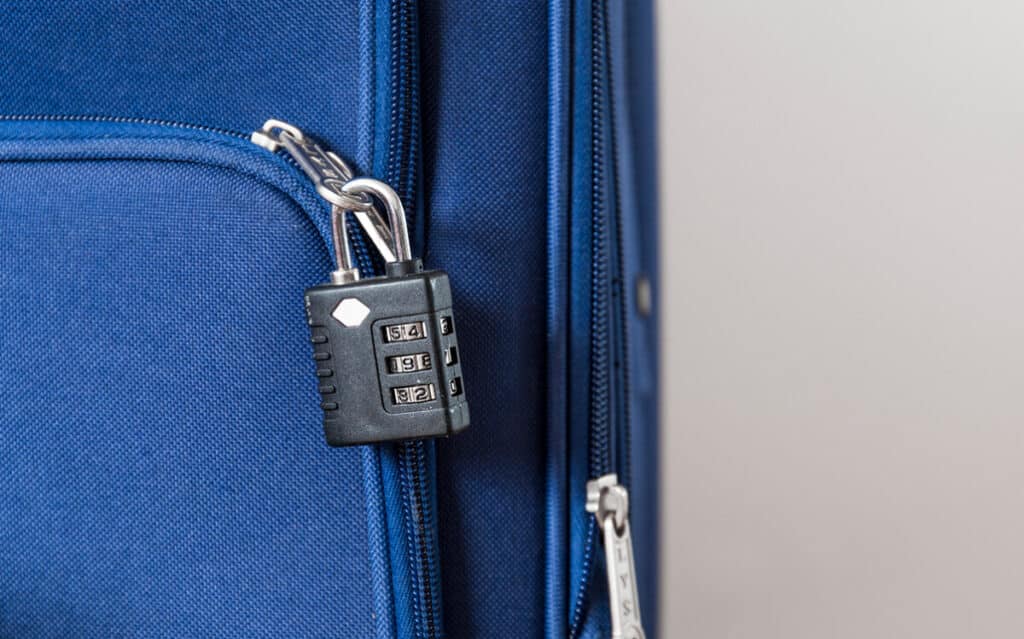 The problem here is that there's no such thing as a TSA lock that is secure.
A significant proportion of luggage theft is committed by TSA members.
A lock with a master key, especially a nationally-used key, is never secure. All of the master keys have been leaked, and a thief can buy them online for just a few dollars.
TSA locks are generally fragile as well and can be cut or broken open easily.
Most luggage and airport theft is just going to be someone walking off with your bags, not opening them.
A TSA lock can be there to play into security theater, but it's probably not going to help you much. If you absolutely want your luggage to be locked on an airline, you can use any lock you like; just be aware that if the TSA really feels like they need to get into it, they're legally allowed to break your lock to do it.
The best option is to keep your valuables on your person and carry-on (like a security backpack) rather than in checked luggage.
Do You Need an Anti-Theft Backpack?
That's up to you.
If you're going on adventures out in the wilderness, like a multi-day backcountry camping trip, chances are you don't need much in the way of security at all. You're going to be more concerned with the wildlife than you will be with other people and human, tool-using attacks. A slash-resistant backpack may or may not be able to resist bear claws, but if a bear is getting into your stuff, you've already done something wrong.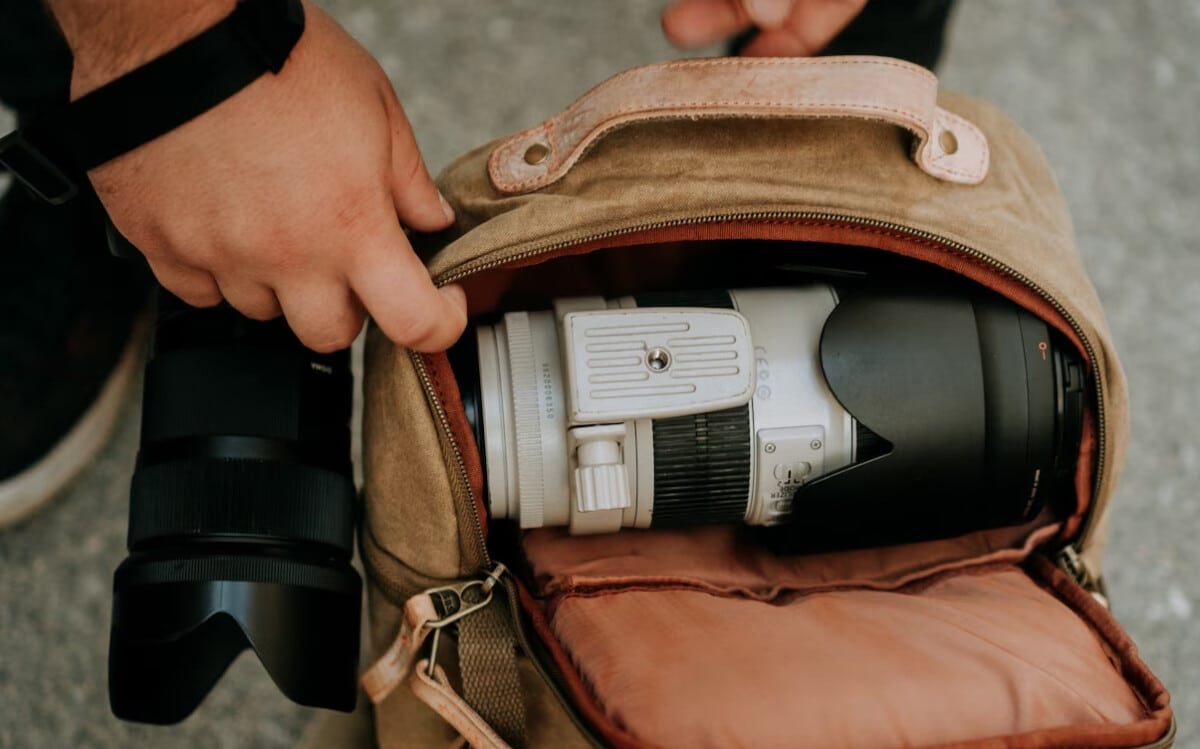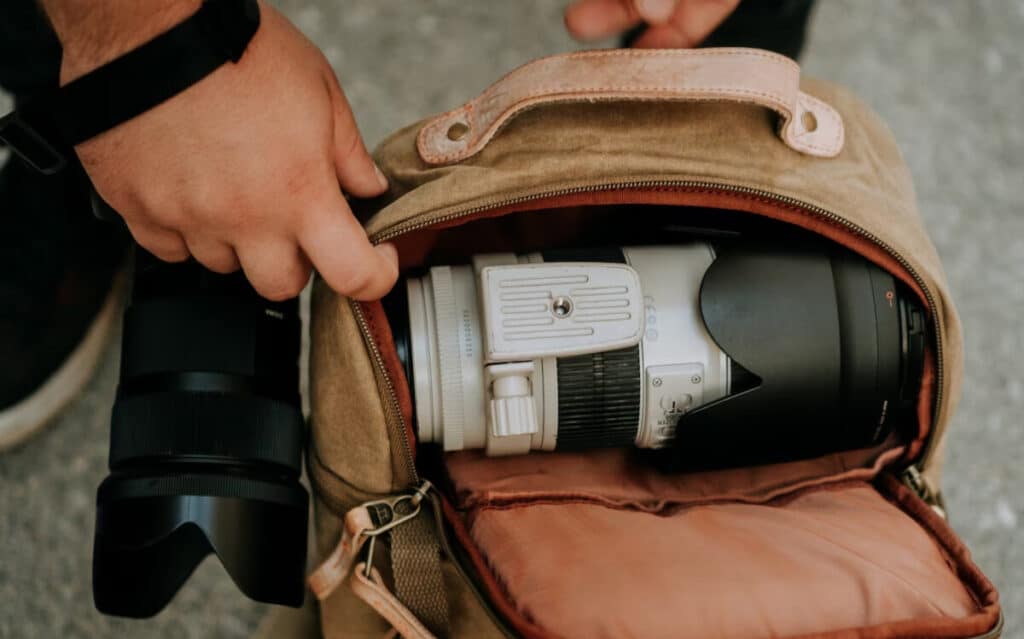 On the other hand, if you're traveling through a city, especially one known for tourism, you're a lot more likely to be a victim of casual petty theft. It can happen anywhere, in and out of America. If you feel like you're worried about someone reaching into or cutting open your backpack, then invest in a good anti-theft backpack.
If you're interested in getting an anti-theft backpack, here are some of the better options we've encountered recently.
PacSafe Travel Backpacks
PacSafe is probably one of the most well-known brands in travel security. Their various types of containers, ID protectors, card holders, and packs are all generally well-engineered, and they come in a variety of different forms and product types. Their slash-resistance is achieved with a woven steel mesh embedded in the polyester fabric, and they meet just about all of the other criteria for a solidly secure backpack.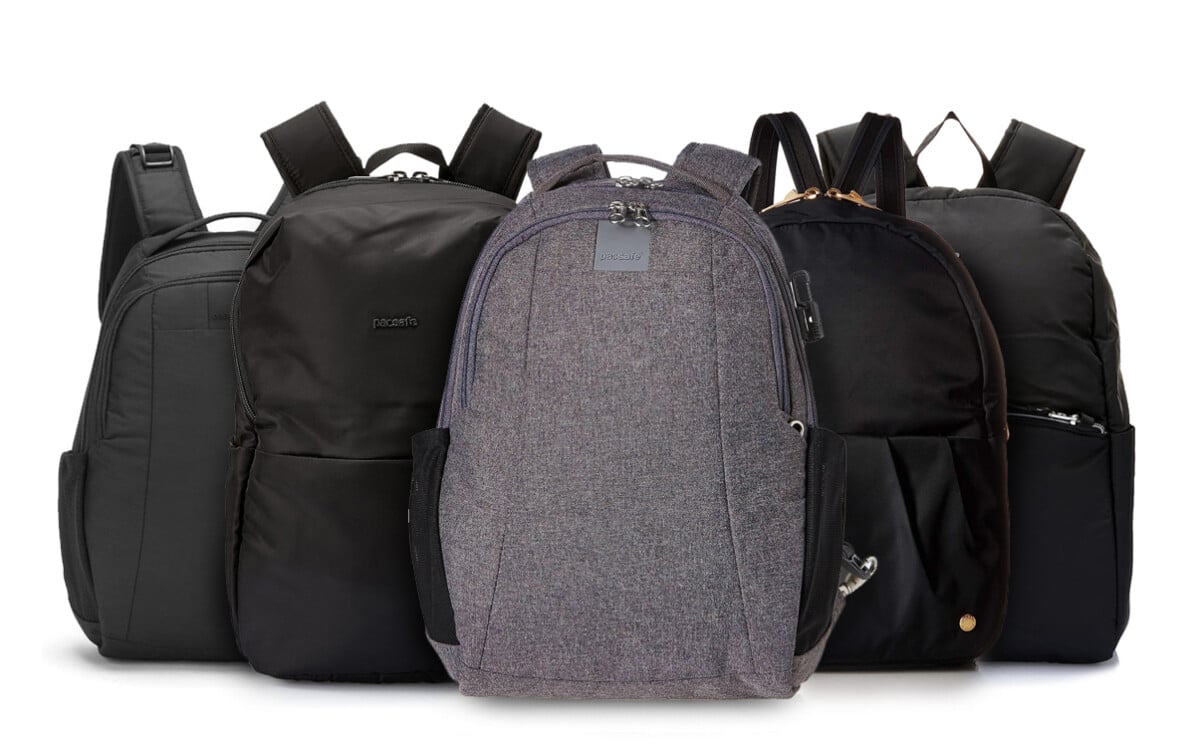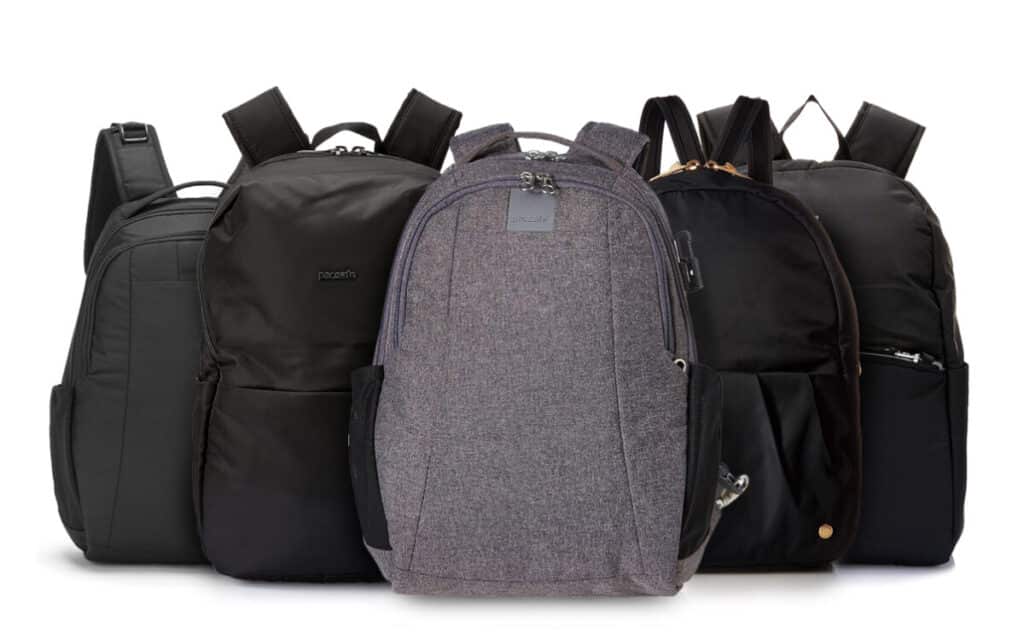 There are two downsides to PacSafe. The first is that, as shown in the video above, their provided locks (when they even provide them) are generally substandard. You can invest in a good padlock to help prevent intrusion, though a good lock is going to be a lot heavier. The second downside, at least for some of their models, is that they don't include locking cables, so you'll need to get your own if you need to secure your backpack to something else.
Product options:
Metrosafe LS450 for a large, high-quality anti-theft backpack.
Metrosafe LS350 for a smaller, more lightweight option.
Metrosafe X for a more streamlined, comfortable, and recycled material bag.
Venturesafe EXP45, which has some very cool security features but is often unavailable.
Travelon Secure Backpacks
Second only to PacSafe in terms of reliability and popularity, these are somewhat smaller backpacks with similar ranges of anti-theft features. The Travelon bags are aimed more at female travelers who don't want to be carrying huge backpacks around everywhere, though, of course, they're usable by everyone. They include slash-resistance on the straps and the body of the packs, and they have RFID protection in an interior pocket.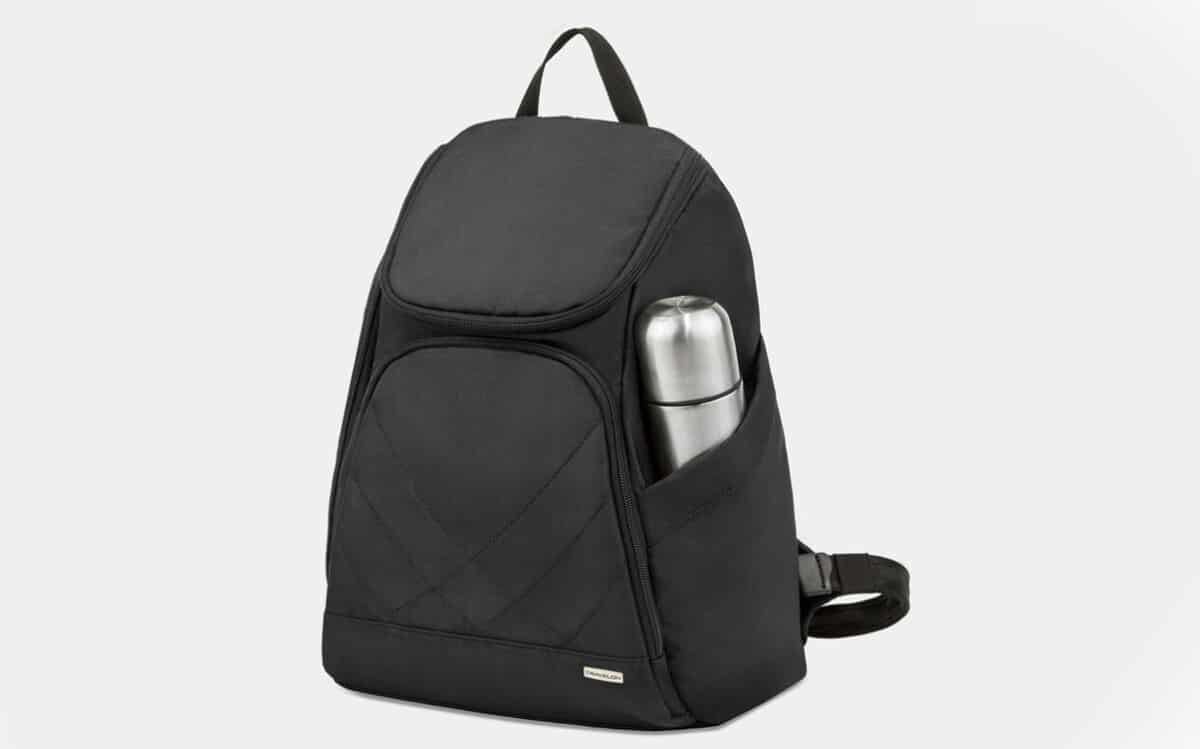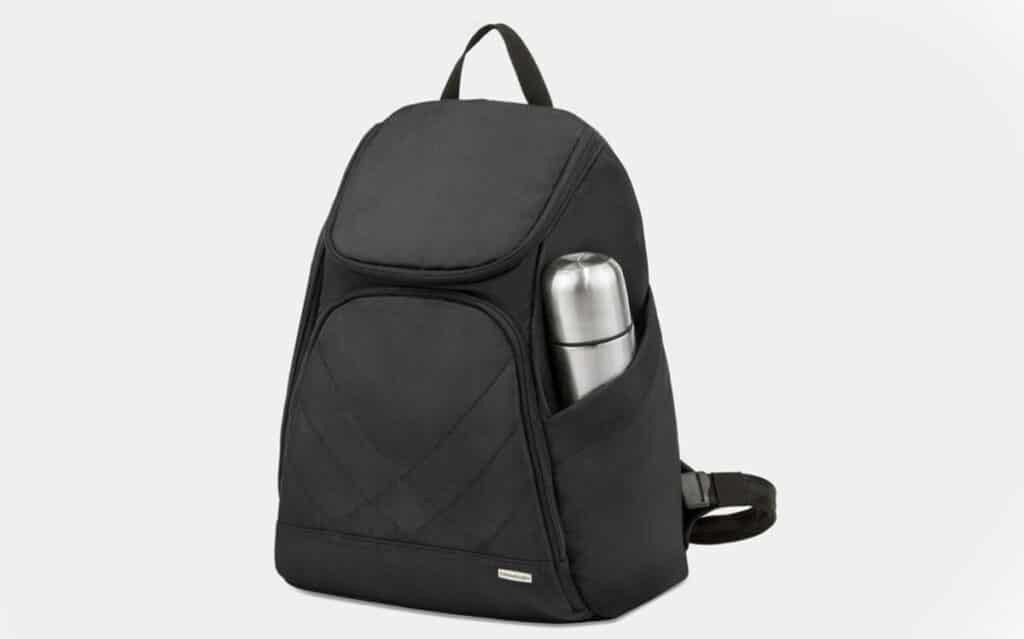 These packs also lack a locking cable, and they aren't riddled with hidden pockets the same way PacSafe tends to be, but that's generally fine. They still have secure materials, locking zippers, and other security features you're going to look for.
Product options:
Anti-Theft Classic, a simple and relatively small, but durable and cheap option.
Anti-Theft Urban, a small (8 liter) bag meant for short day trips.
Ambor Budget Travel Backpacks
Ambor isn't a high-security company. Instead, they produce travel backpacks that include a few security features but not everything you might want. Built-in locks and mechanisms help prevent pickpocketing, while hidden pockets and other features allow you to stash valuables out of sight and out of mind.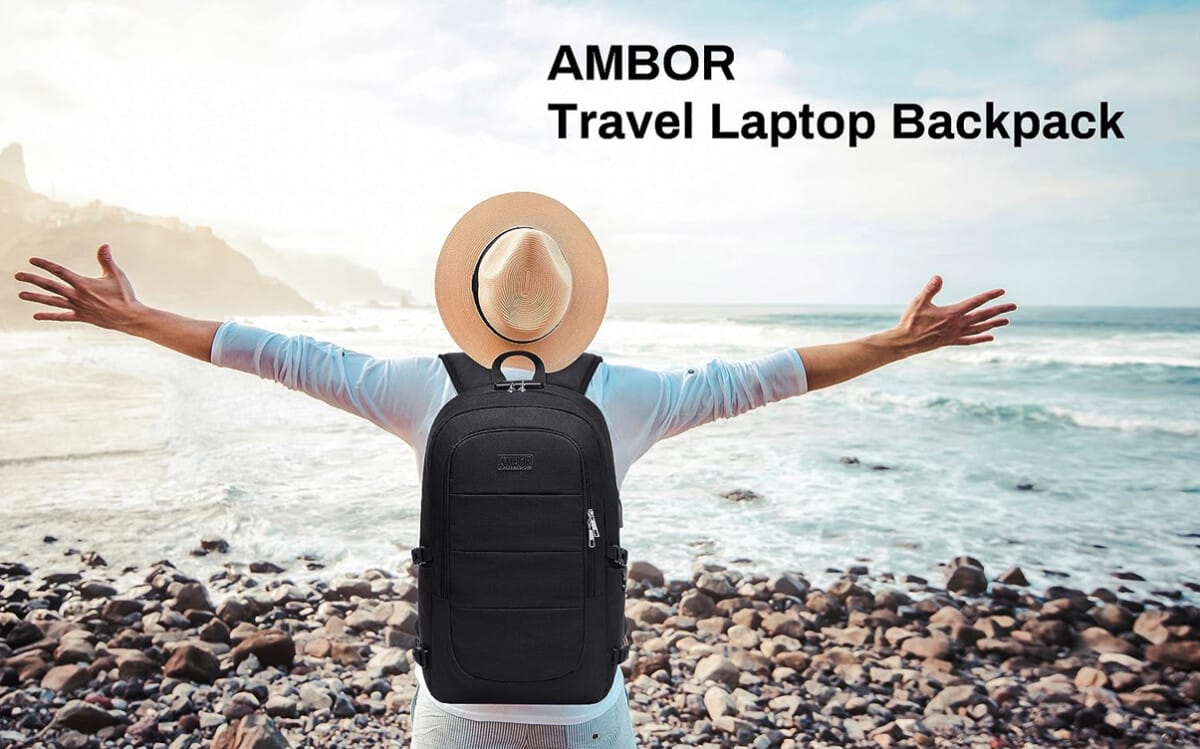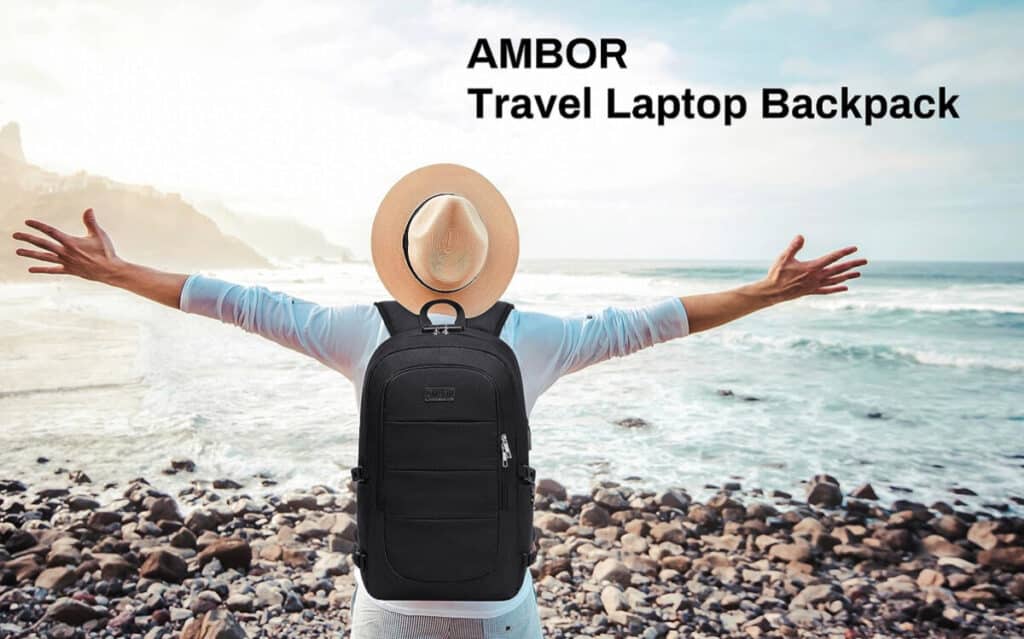 The biggest downside – and the reason these are a budget option – is that they aren't slash-resistant. They're tear-resistant, so they aren't going to rip open if you brush up against a sharp corner or protruding spike in your travels, but a thief with a knife can still get into them. Still, as long as you understand the weakness and plan accordingly, they have what you need.
Product options:
Ambor Travel Laptop Backpack is a larger offering with basic security and decent capacity.
XD Design Security Backpacks
XD Design has a variety of security and travel backpacks, each with a range of different features to set them apart, but all with a coherent design. They have a very slash-resistant material for their construction and have secure, hidden zippers and pockets – it's almost odd to see since they don't look like they can even open at a glance.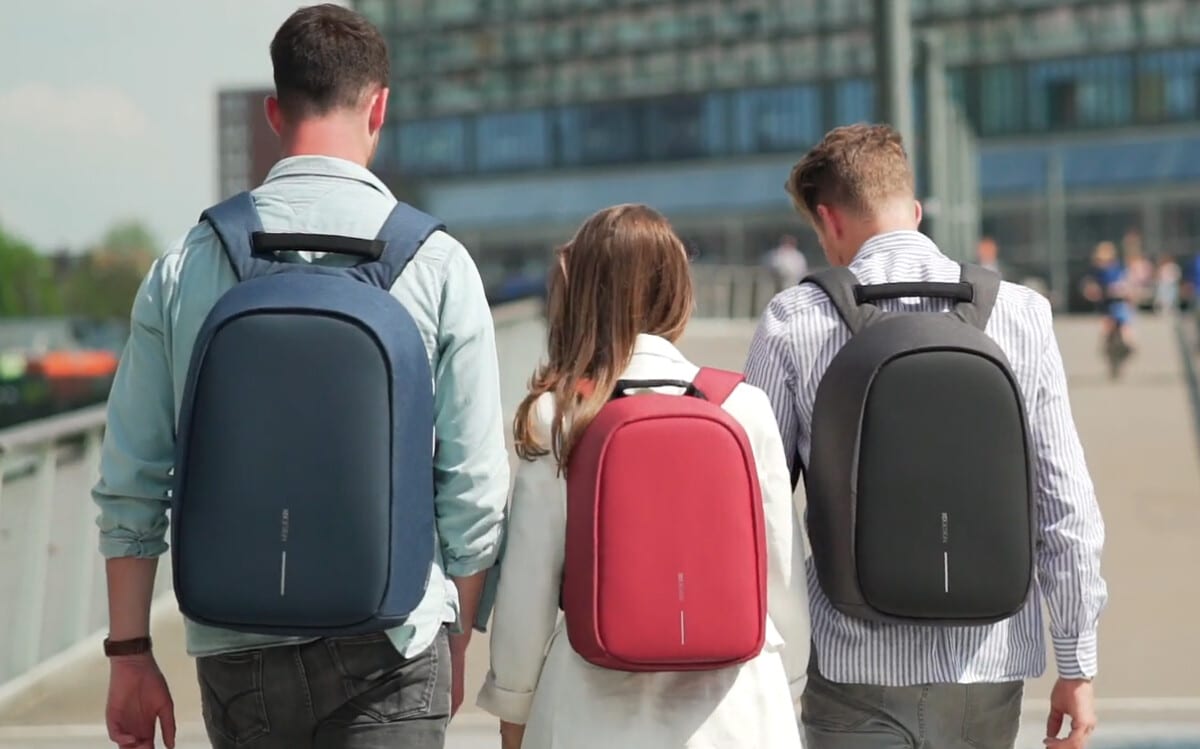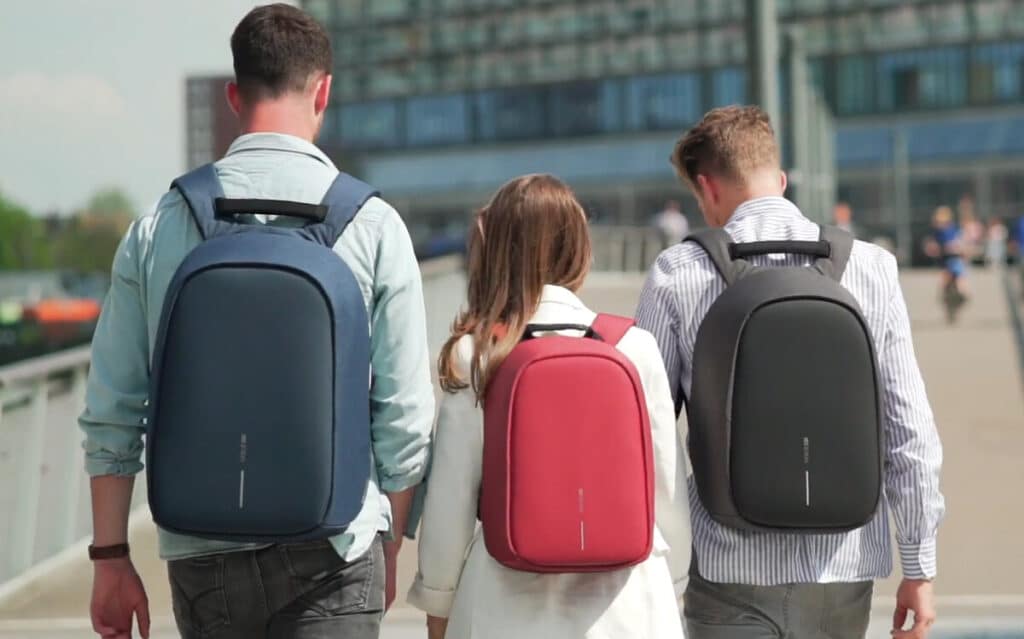 XD Design has a handful of different products on offer, so you can choose larger, smaller, or more high-tech options to suit your needs. For example, the Bobby Tech has built-in solar panels sufficient to help keep your phone topped up on the go.
Product options:
Bobby Duffle, for a huge, 30-liter capacity pack that can carry more than your adventure's worth of supplies.
Bobby Urban, which is designed for quick city jaunts with a smaller capacity but a higher security lock.
Bobby Soft, a pack with a softer, more flexible outer shell, sacrificing some security for flexibility.
What to Look for in an Anti-Theft Backpack
The exact range of specifications and features you want out of an anti-theft backpack will somewhat depend on where you're going and what you're doing. For example, if you have your backpack on your person at all times, you don't really need to worry about locking cables to secure it to a fixture when you leave it behind.
Most anti-theft backpacks are going to have secure, lockable zippers, potentially hiding them away. They'll also usually – though not always – have hidden pockets to store the more valuable bits you carry with you, like your passport, ID, some cash, or jewelry.
Optional features include things like slash-resistant materials, locking cables, and RFID blocking. RFID – or radio frequency identification – is the close-range chip that allows cards to be tapped to read their contents. This is stealable information to anyone with the right technology, so it can be worthwhile to store it away safely. Of course, you don't need a backpack for this – there are RFID-blocking single-card sleeves, wallets, and other storage containers as well.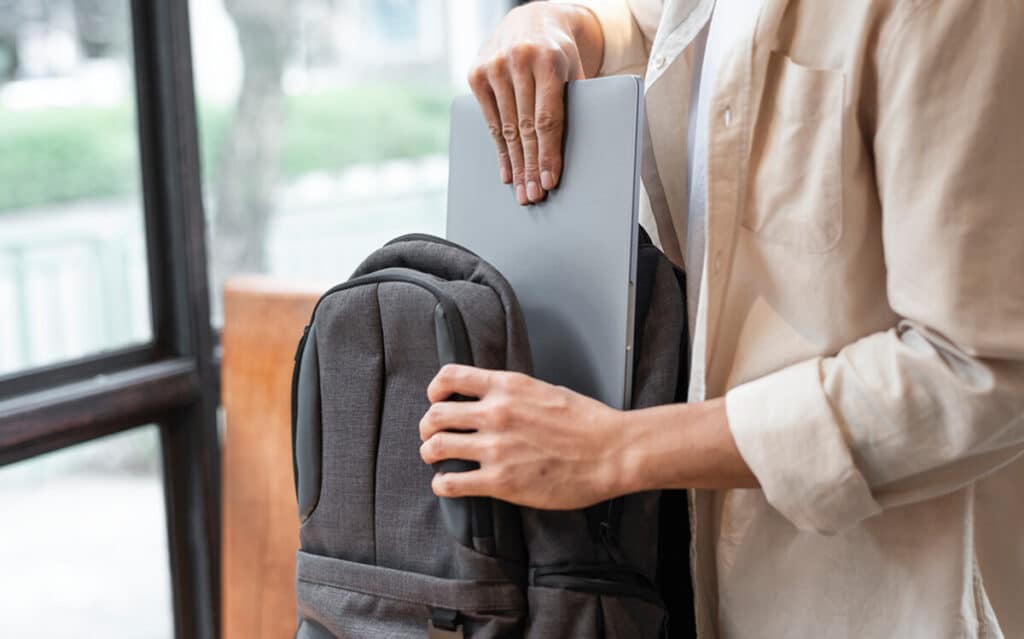 Another potential feature, seen in the XD Design store, is alarm and app options. A bag that can alert you if it's opened or moved can be nice if you're going to be leaving it behind in a hotel room or likewise, but, of course, an alarm is only useful if you can respond to it.
Otherwise, you should look for what's useful to you. The Bobby line above, for example, doesn't have a lot of extra pockets and storage compartments, so you kind of just pile everything inside without much organization. That's fine for some of you and a deal-breaker for others.
The moral of the story is this: there are a lot of different products on the market because there are a lot of different people with different needs in their security. You just have to choose the one that's right for you. If you have recommendations, as well, feel free to leave them in the comments below!