Top 11 Activities in Lake Tahoe in The Summer
Published on January 12, 2023
|
Hiking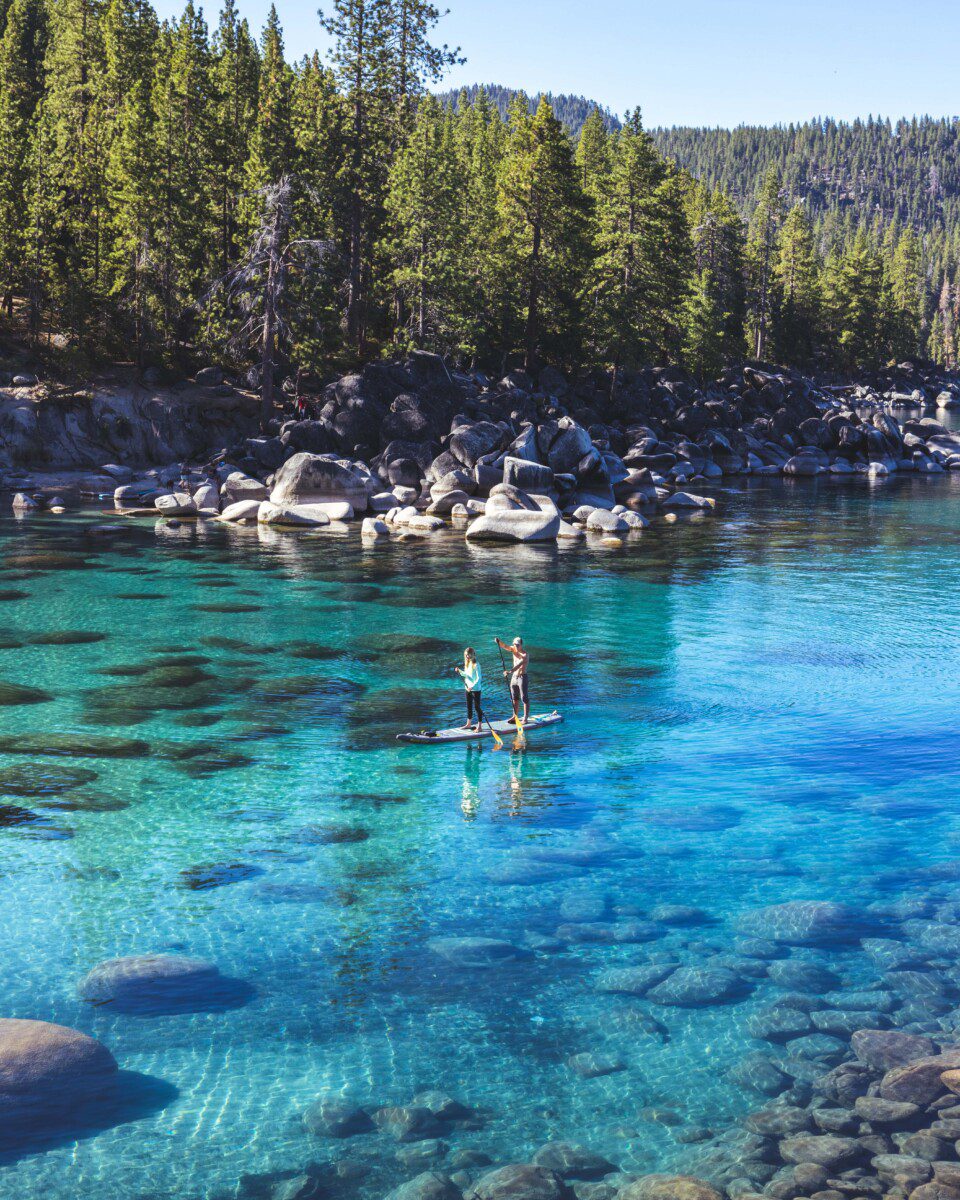 Covering 72 miles of shoreline and being the largest alpine lake in North America, Lake Tahoe is a must see for all adventure lovers. We absolutely love coming to this beautiful lake and exploring all around it. There is truly nothing like Lake Tahoe in the summer and there is never a shortage of activities. There are tons of hiking trails and bike trails, paddle boarding, kayaking, cliff jumping, and many beaches to relax on. The combination of the lake itself and the surrounding Sierra Nevada mountains is just breathtaking.
In this Lake Tahoe Summer Guide, we are going to share our 11 favorite activities to do while exploring Lake Tahoe in the summer. We want to help make your trip planning easier, so we'll go over when to go, how to get around, and the best things to see.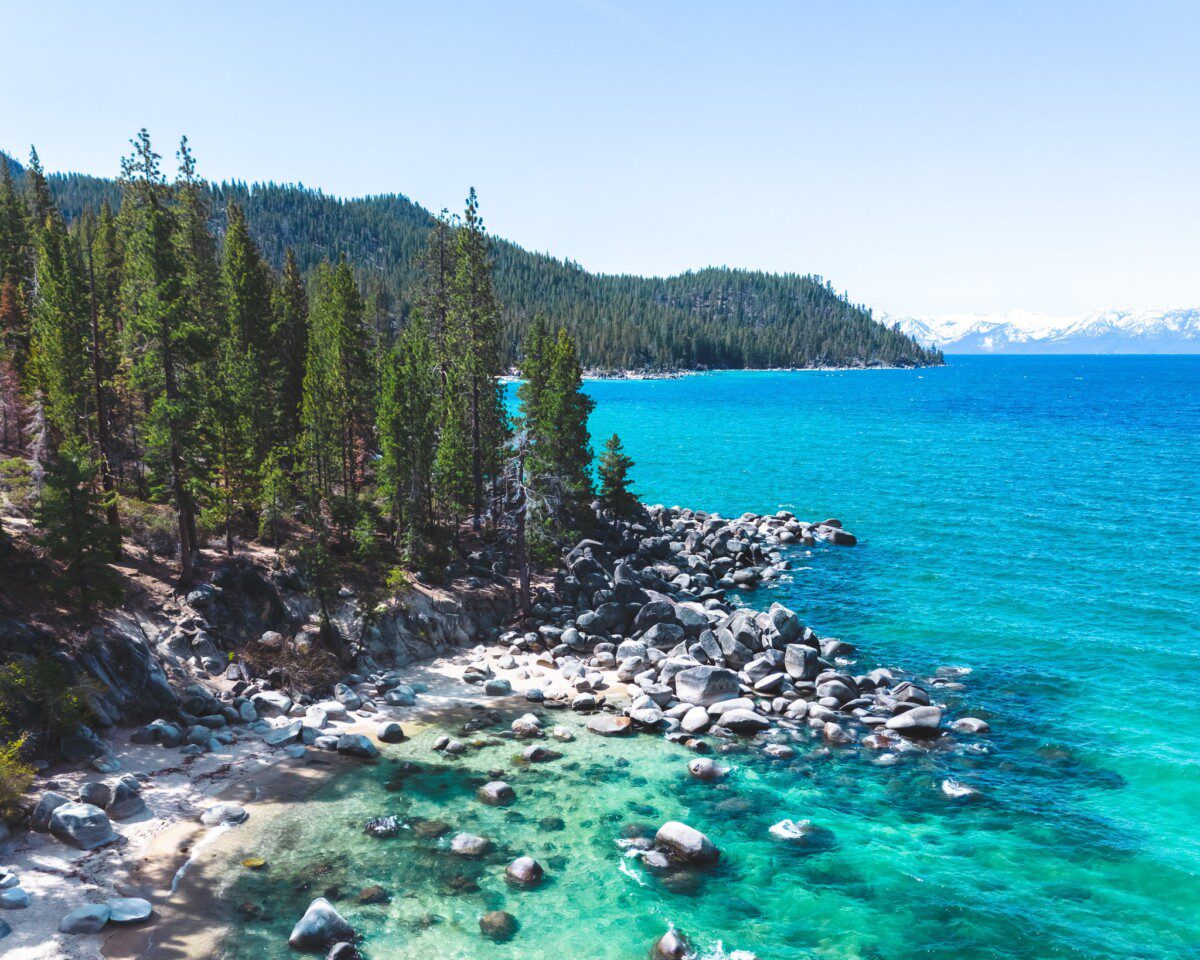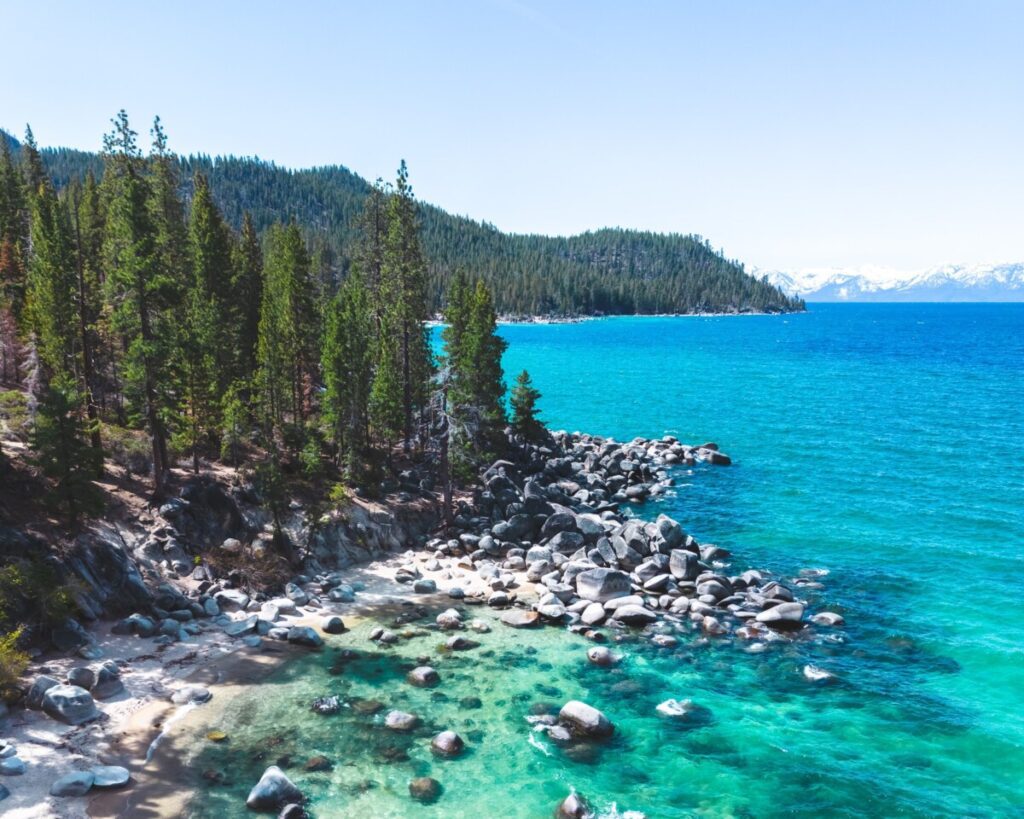 Things to Know Before Going to Lake Tahoe
Lake Tahoe is actually on the state line, meaning two-thirds of it is in California and one-third is in Nevada. This alone makes the lake unique, but the stunning turquoise water really sets it apart from other California lakes as well. Lake Tahoe gets its water mainly from rain and snowfall, but the gorgeous blue color comes from the algae living in the water.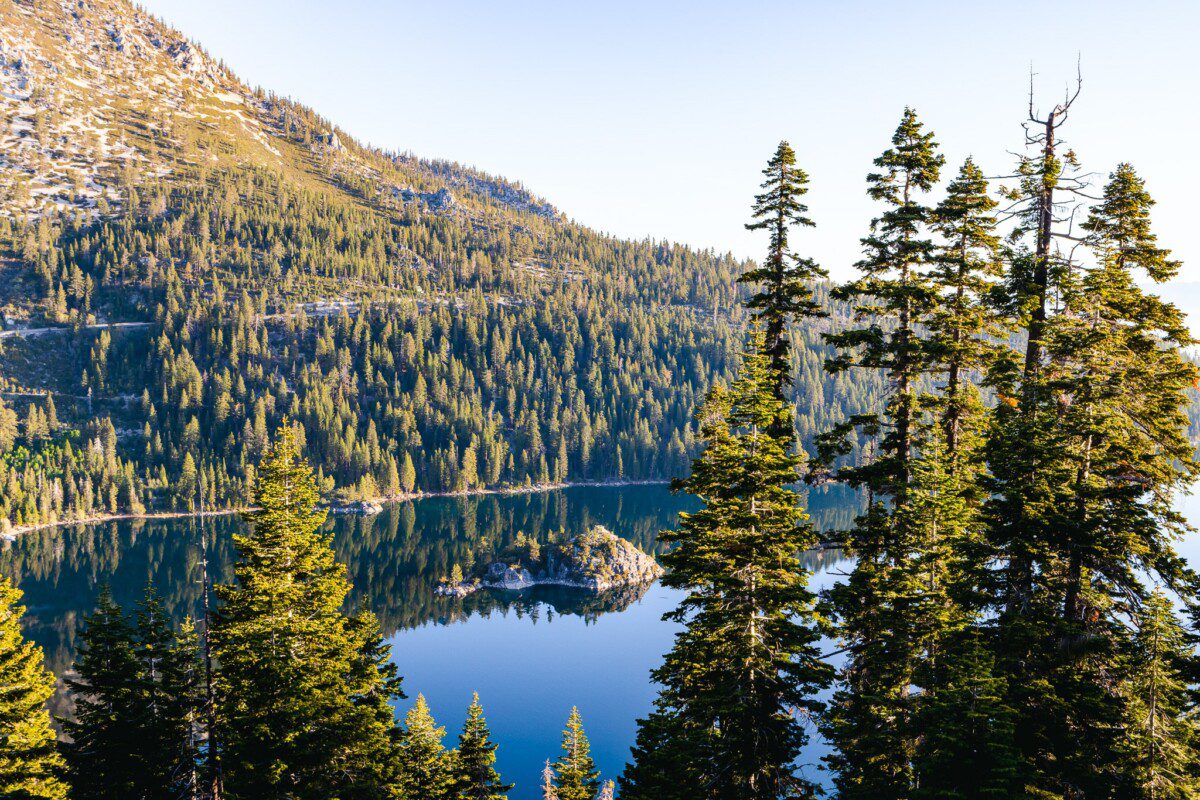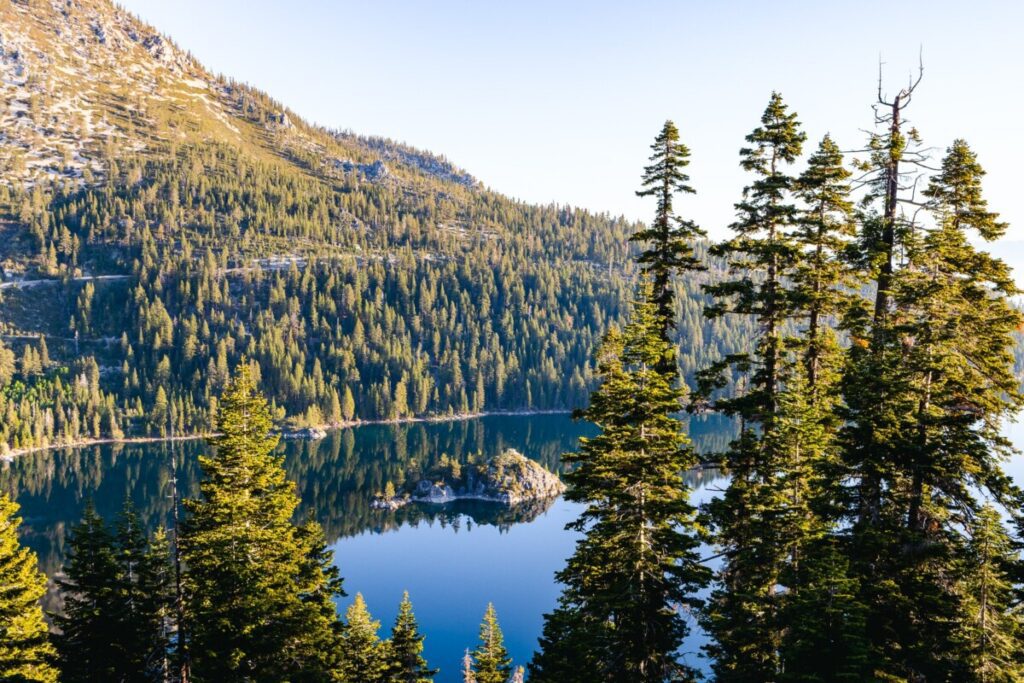 When to Visit Lake Tahoe
There really isn't a bad time to visit Lake Tahoe. The winters are snowy and magical, but we personally recommend visiting Lake Tahoe in the summer, specifically June or September. July and August are the lake's most popular times so if you want to avoid the crowds, we suggest going later in the summer.
However, the off seasons for spring and fall aren't the most ideal for outdoor activities as there are park closures and the weather can be a bit more predictable with wind and snow. We'd recommend planning your summer trip any time after Memorial Day, which is when all of the parks and rental shops reopen for the official summer season.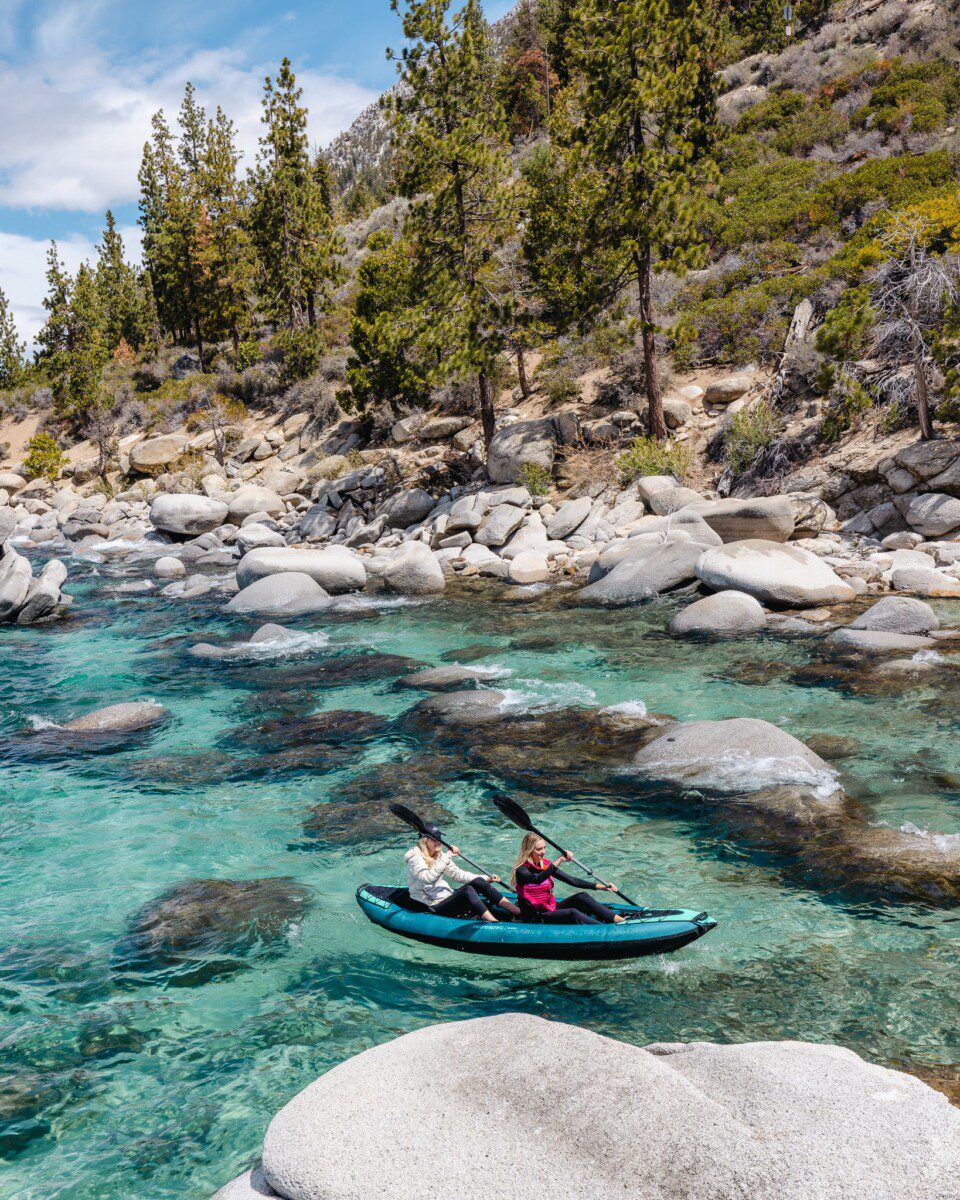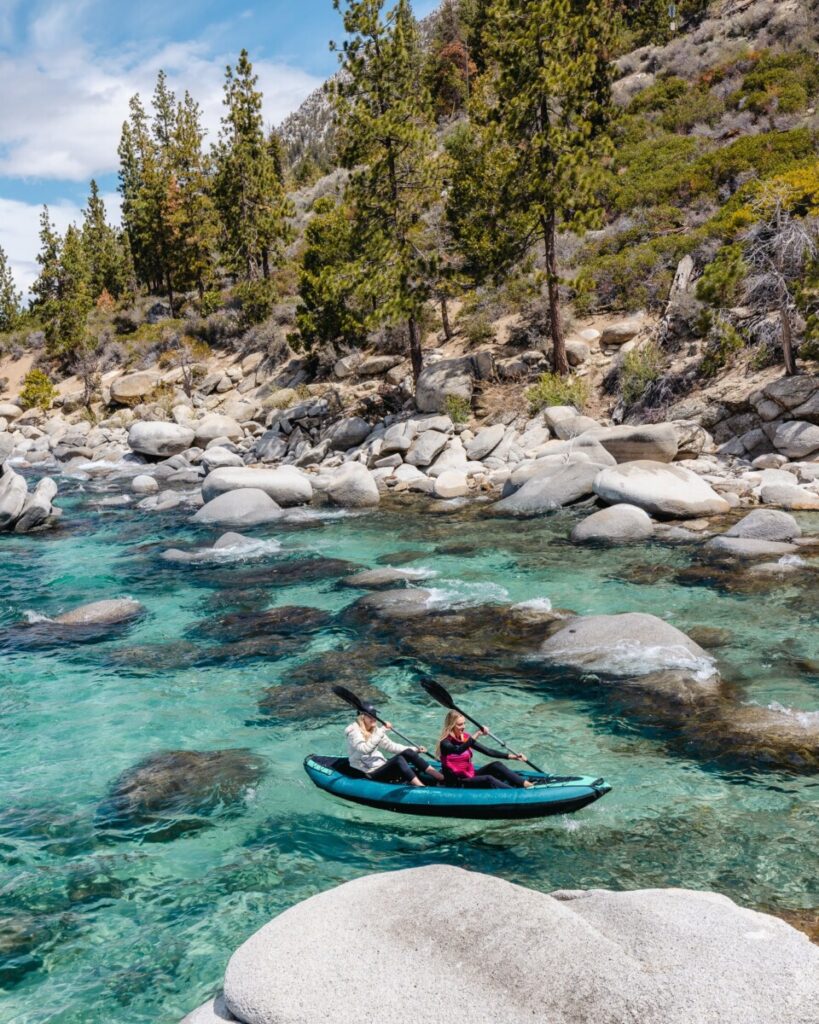 The Best Ways to Explore Lake Tahoe
The best way to explore Lake Tahoe in the summer is on the water. We recommend renting a paddle board, kayak, or boat. If you already own one of these, you can just bring it along on your trip. Having a way of getting around on the water will save you time and money so you don't have to worry about driving around trying to find parking.
Lake Tahoe in the summer can get crazy busy and the traffic isn't fun. If you own bikes or have the opportunity to rent bikes for the duration of your visit, we highly recommend bringing them along. There are lots of bike trails around the lake and neighborhoods and having your bikes will allow you to see more of the area without wasting time sitting in traffic.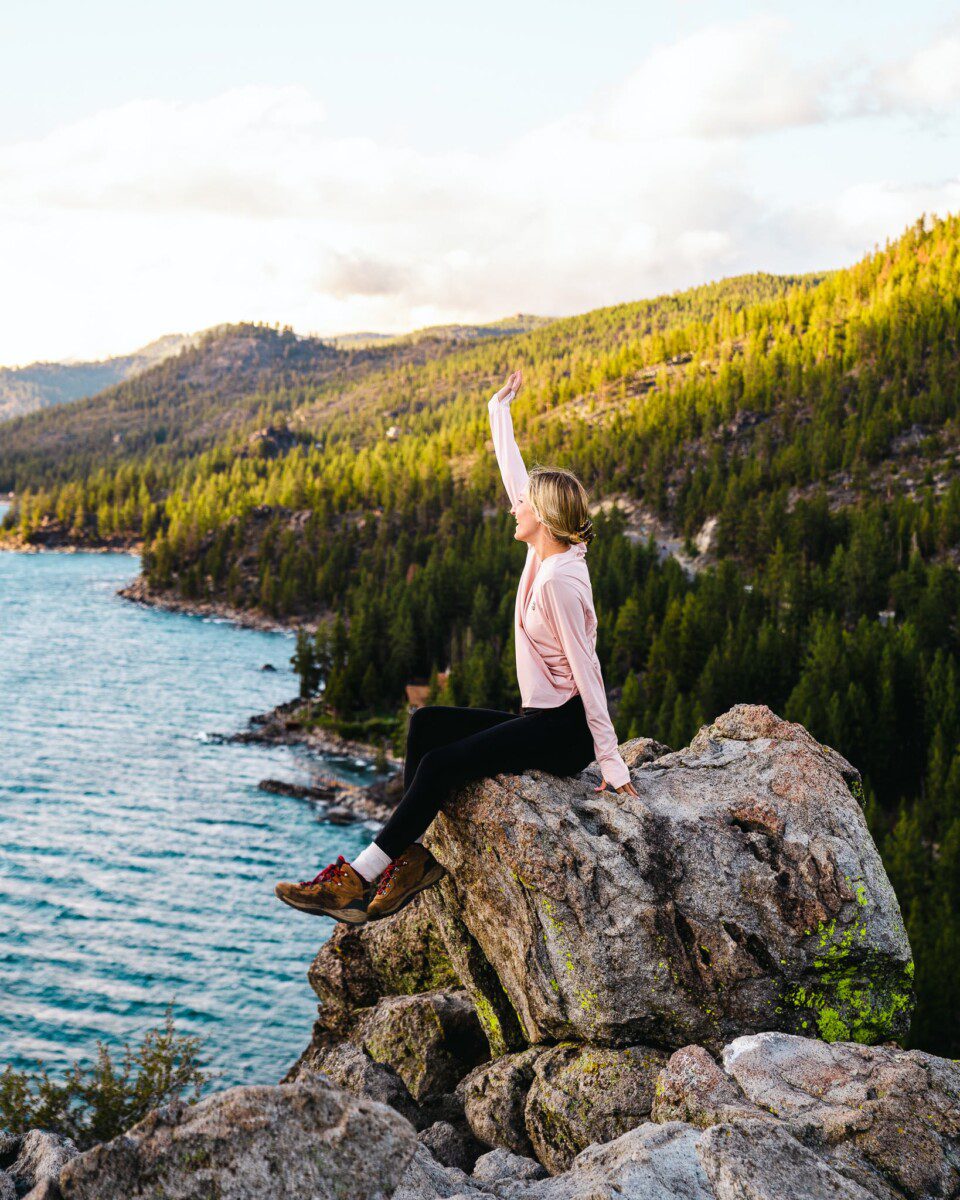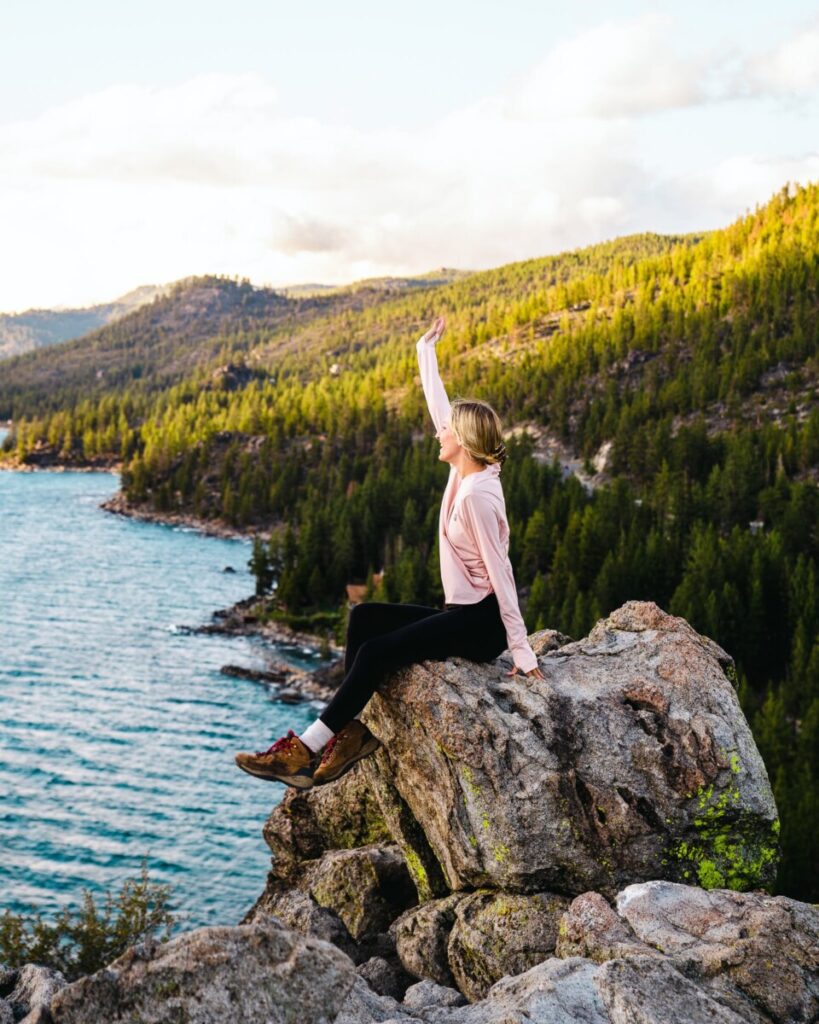 How Long to Stay
To see most places in Tahoe, we recommend making your visit a minimum of 2-3 days long. You can take a day to explore all of Sand Harbor and the surrounding areas and then another day to see the Emerald Bay area. Of course, if you have extra time and want to stay for a longer period you can take your time exploring each area.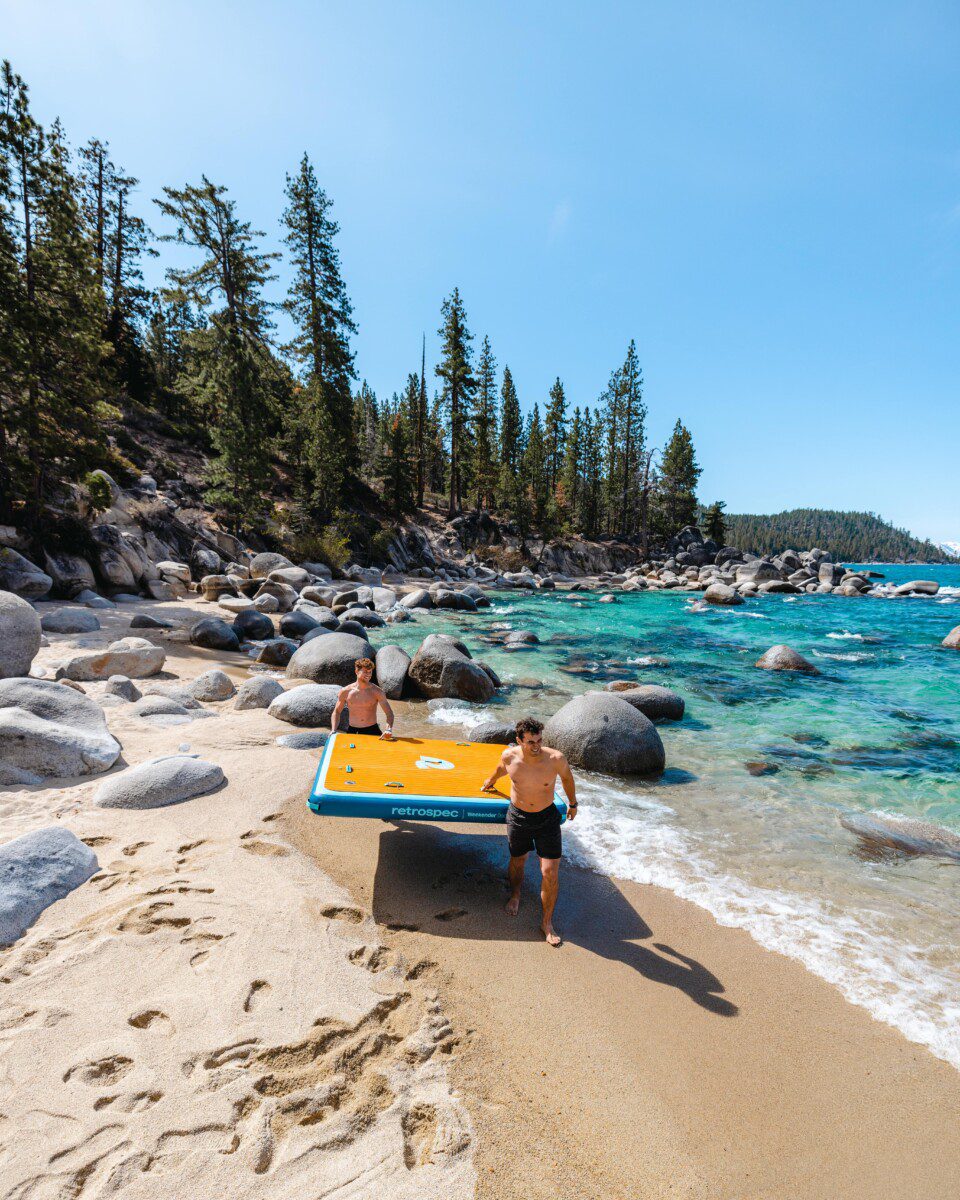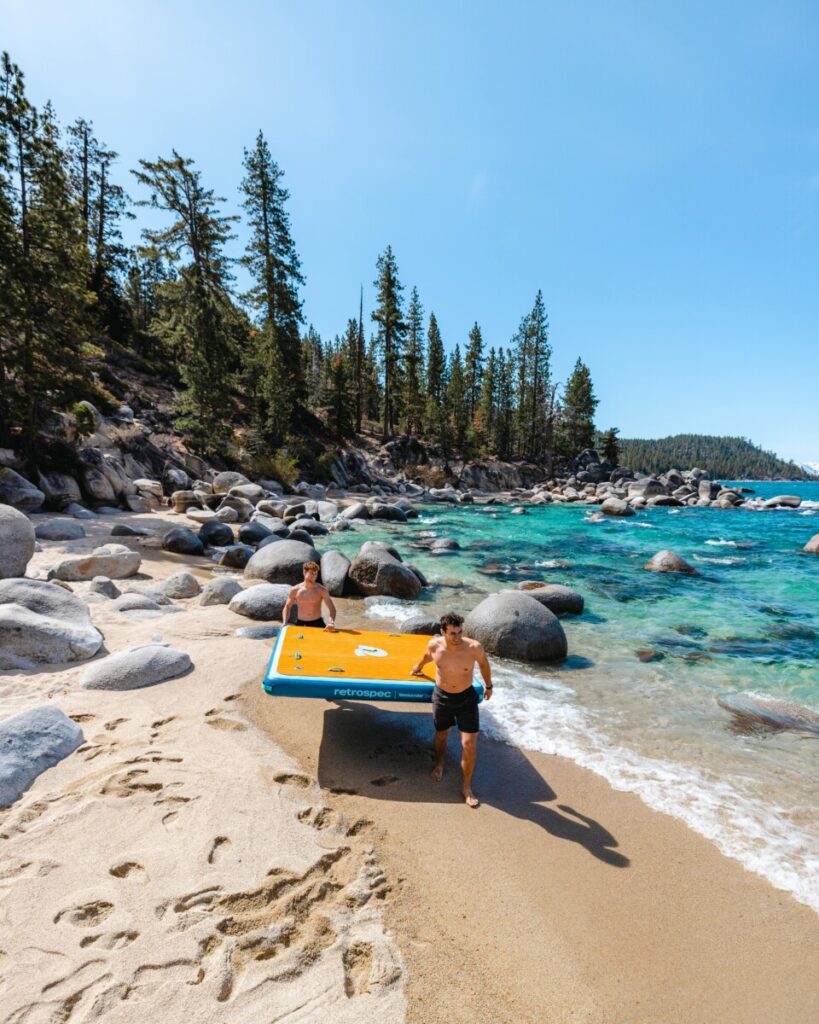 State Park Fees Around Lake Tahoe
Keep in mind, most of the state beaches on both the California and Nevada sides of the lake do charge for parking so bring cash and your card. Most of them take both forms of payment but having cash is always helpful in case one of them is cash only. They do offer a pass to access all the state parks around Lake Tahoe for $75. If you're wanting to hit all of them and do a full lake trip, we recommend getting the pass otherwise, it's about $10-$15 per park you go to.
Best Things to Do in Northeast Lake Tahoe in the Summer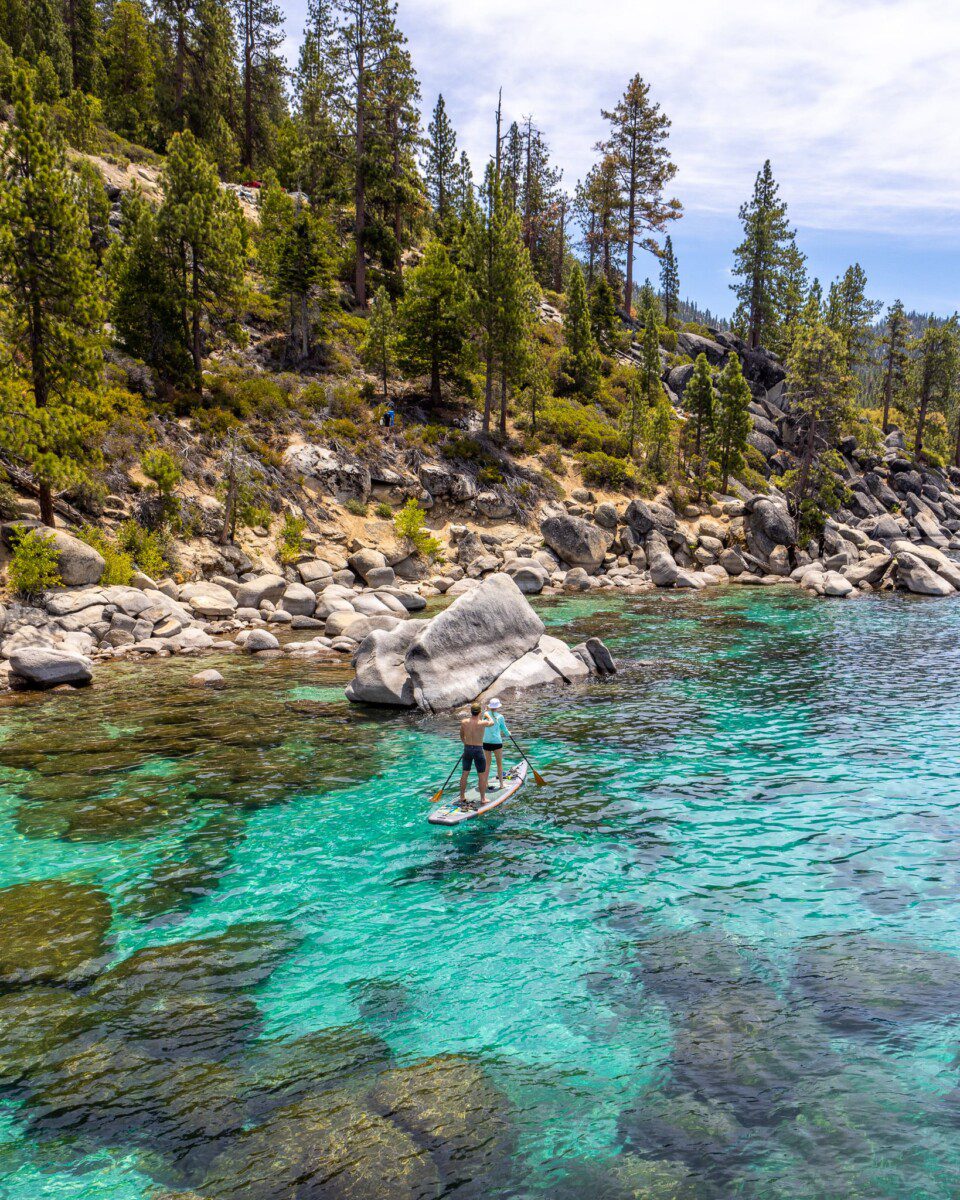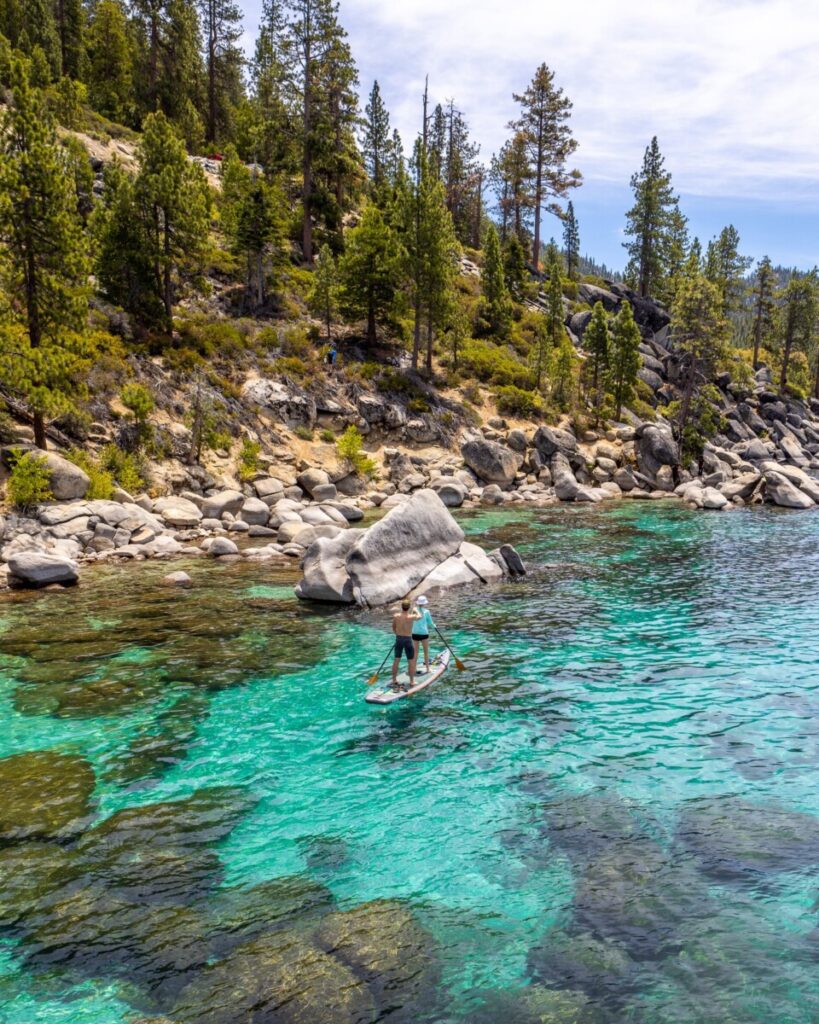 1. Visit Sand Harbor
To kick off your visit to Lake Tahoe in the summer, we recommend you start at Sand Harbor. This area of the lake opens at 7am and closes once the parking lot is full. Sand Harbor is one of the most popular spots in Lake Tahoe, so you'll definitely want to plan ahead. It usually reopens around 5pm, but it depends on the day and traffic levels. Because of this, you definitely need to get here right as it opens so you can find a parking spot and start exploring the area.
Sand Harbor will have tons of people on it, so if you want to beat the crowds, we recommend paddling out along the shoreline and exploring the different coves and sandy beaches. Many have very few people and some are completely empty. Sand Harbor is an area where you can launch kayaks and paddle boards from. For a full map of where you can launch paddle craft in Lake Tahoe, check out this website.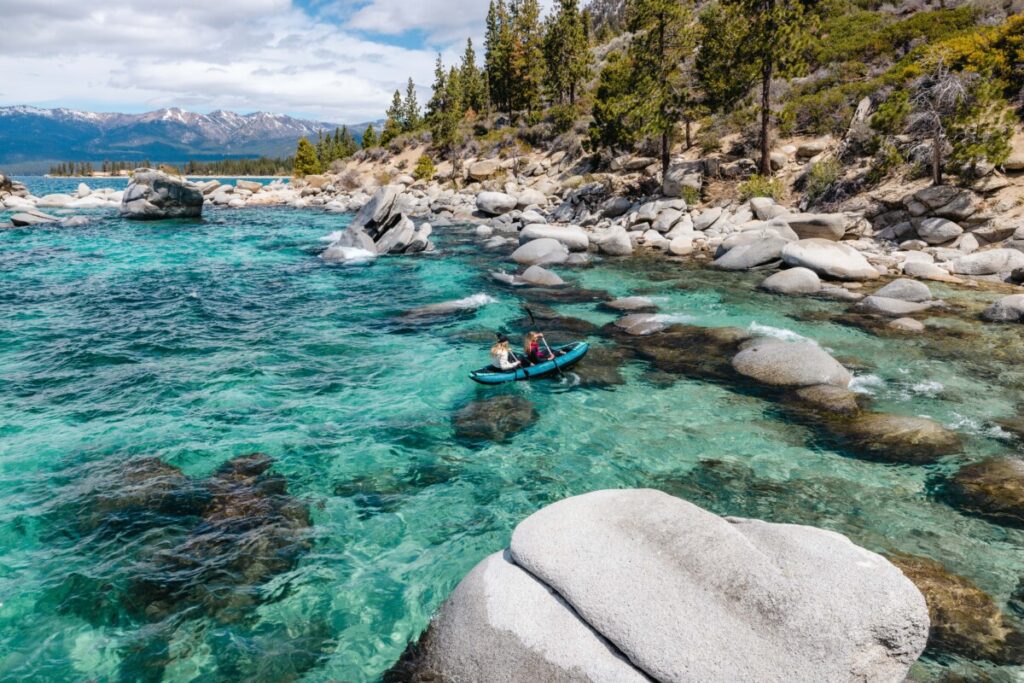 2. Explore Around Bonsai Rock
Bring your paddle board or kayak to Sand Harbor and paddle out to Bonsai Rock. Or, if you don't own one, you can also rent them at a nearby adventure outfitter or go on a guided tour of Bonsai Rock. If you don't want to paddle, there is parking above Bonsai Rock. You can hike down but be aware that the trail is a little treacherous. We definitely don't recommend hiking down with a paddle board or kayak. So, if you want to be on the water at Bonsai Rock, the easiest way is to just paddle your way out there from Sand Harbor.
Bonsai is a really fun jumping rock depending on the conditions. The water levels do fluctuate though, so make sure it's deep enough before you choose to jump. If you're not sure if it's safe or not you can ask a kayak guide and they should be able to tell you. As always, air on the side of caution if you are inexperienced or unsure.
3. Hang Out At Chimney Beach
Next you can continue paddling out to Chimney Beach. This rock is the remnants of a giant old chimney in the middle of the beach. It may look out of place but is really amazing to see. This area has more of a college and high school age crowd and gets really busy around the summer holidays. People say it's a party beach so if that's your scene then definitely go check it out. If it's not, there are some families that get there earlier in the morning to explore the area before the crowds come in around 10-11am.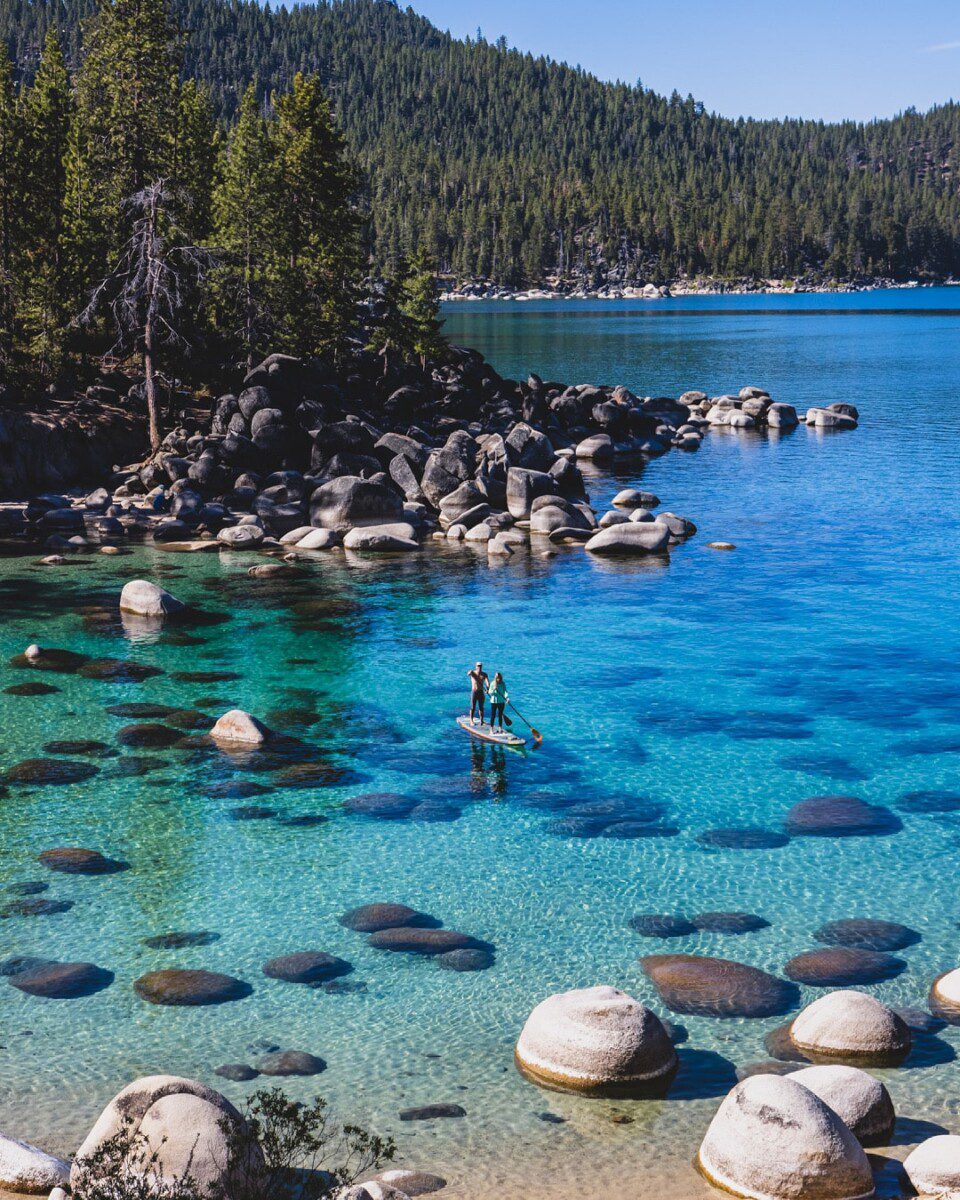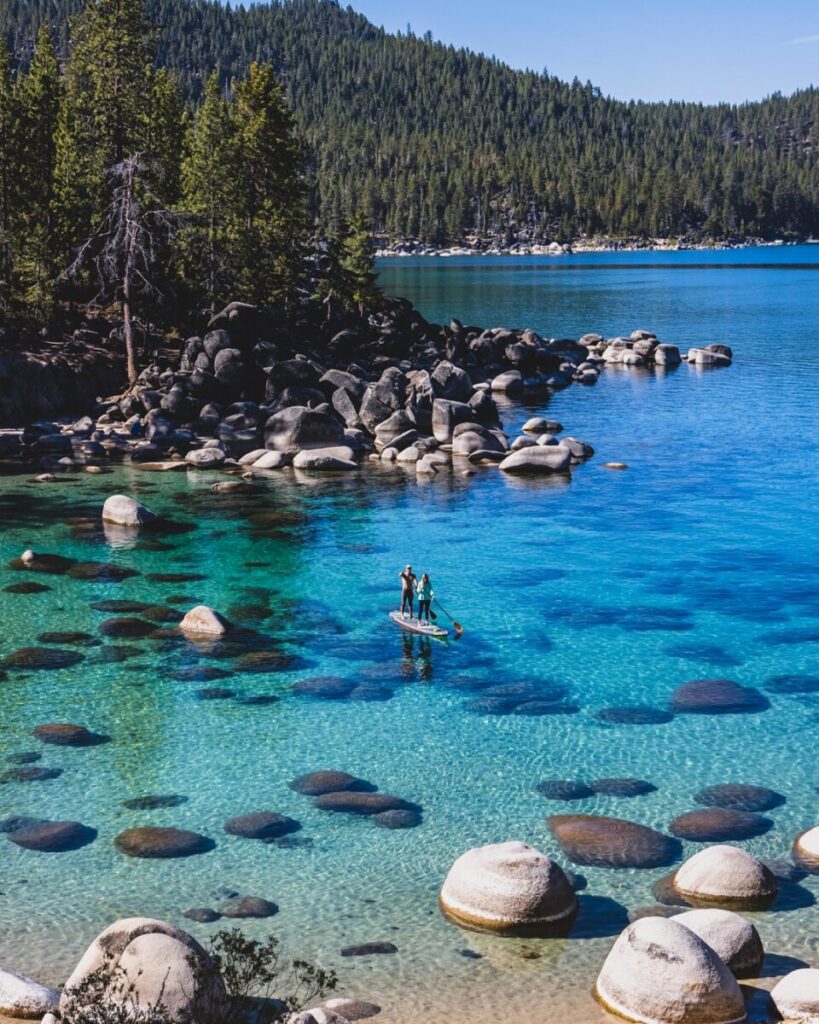 4. Paddle Around Secret Cove
If you keep paddling past Chimney Rock, you'll come to Secret Cove. The paddle from Sand Harbor to Secret Cove is about 5 miles and takes us about 1 hour each way to complete. This is a nude beach so be aware that clothing is optional. People do take full advantage of this so if you're not comfortable with naked people, we don't recommend visiting. However, we did go to Secret Cove to shoot sunrise and it was basically empty. So, if you want to explore the area and not see any naked people, go early!
Secret Cove is by far our favorite area of Lake Tahoe for paddle boarding and taking photos of the beautiful clear water.
5. Bike the East Shore Boardwalk
Bring your bike and ride it along the East Shore Boardwalk Trail. It's one of the most popular bike trails in Lake Tahoe and one of the most beautiful bike paths in the world. We love this trail because you get to ride next to the amazing blue water the whole time. You can park in Incline Village or Sand Harbor but, due to Sand Harbor filling up quickly, you're more likely to find a spot at Incline Village.
There's another bike trail in Incline Village that takes you along all the state beaches and shows you the gorgeous neighborhood with amazing houses. Or, if you're looking for some mountain biking in Lake Tahoe, check out the Flume Trail instead!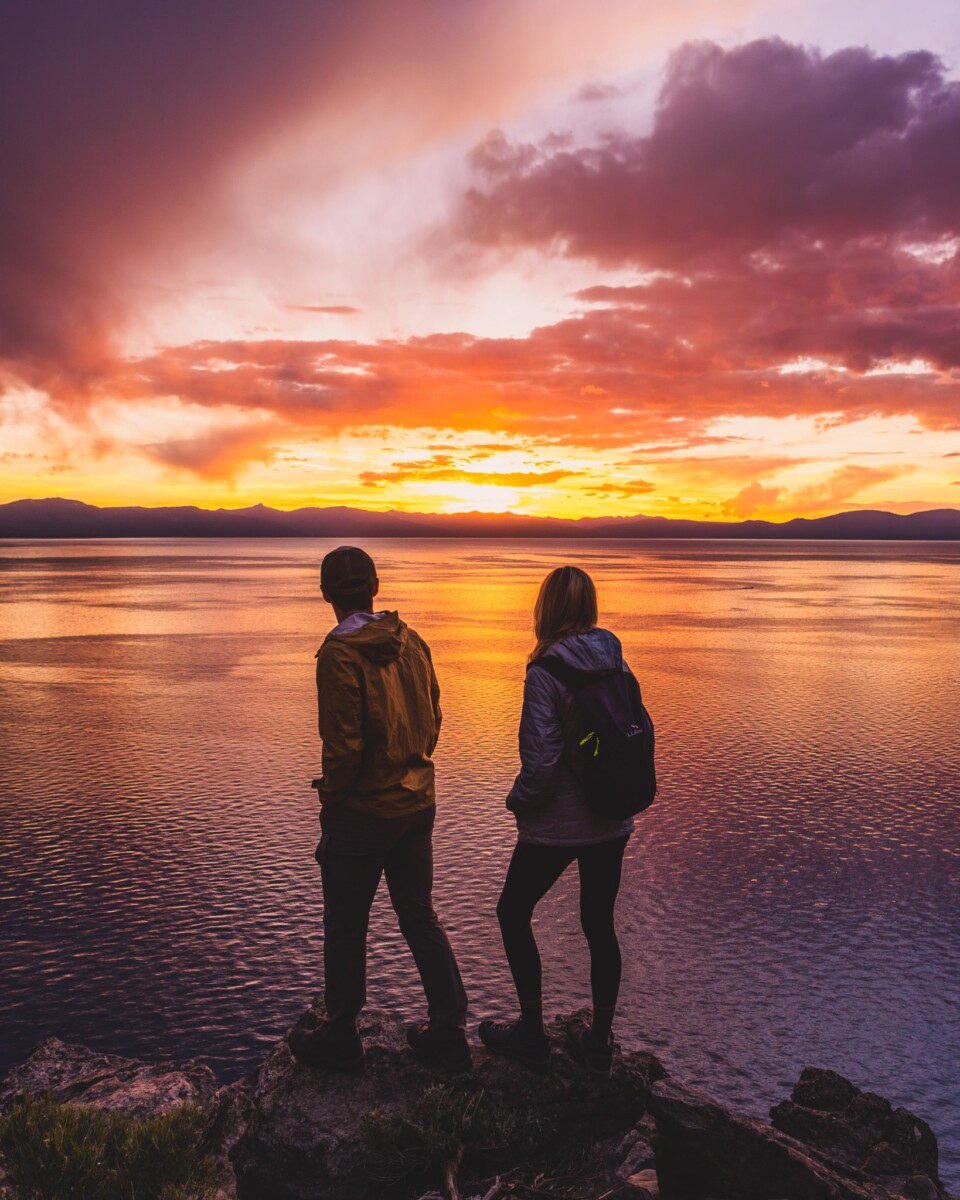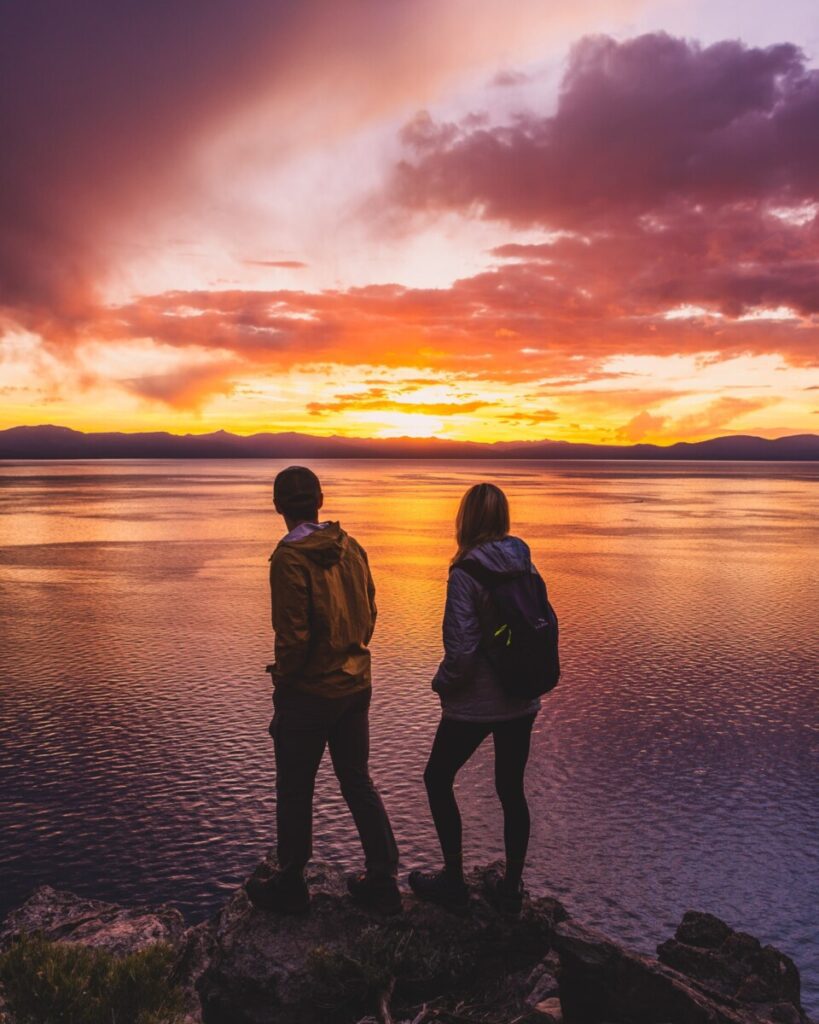 6. Catch a Sunset at Cave Rock
Head over to Cave Rock to watch a stunning sunset. There aren't too many popular sunset spots besides Cave Rock in Lake Tahoe. This spot overlooks the lake on a beautiful cliff side and is absolutely stunning. If you're lucky and get some cloud cover, the sky will light up with colors right in front of you. We recommend getting there really early cause it gets crowded fast.
There is a little rock scrambling on the way up to the best view, but if you have a dog or kids or family with you, we recommend finding a spot closer to the water to watch the sunset there. It only takes us about 10-15 minutes from the parking lot to get to the viewpoint on Cave Rock.
Also, if you're planning on catching sunset anywhere else along Lake Tahoe, stay on the south side of the lake for sunset. This is because on the north side, the sun is setting on the wrong side, and you'll lose sunlight about an hour and a half earlier than the south side will.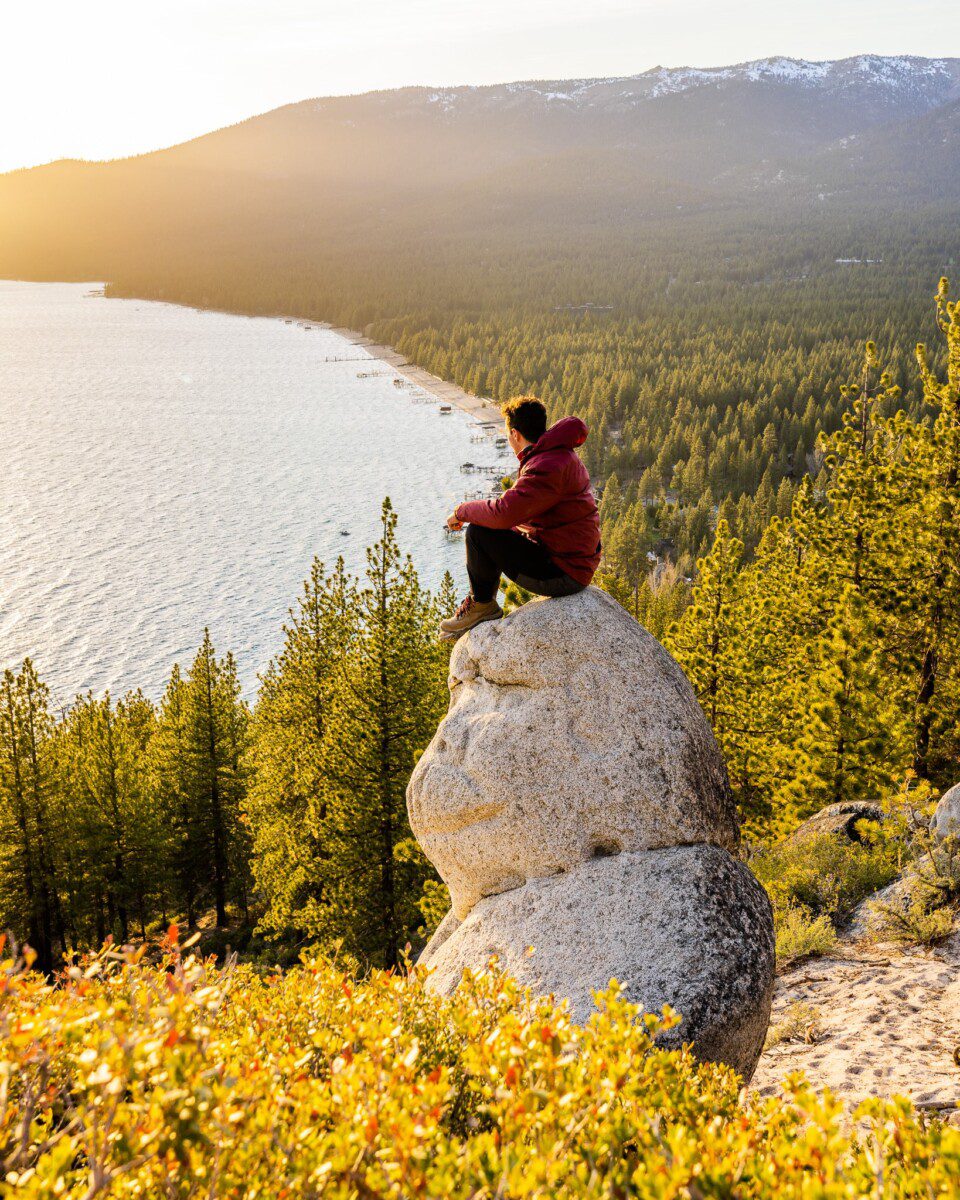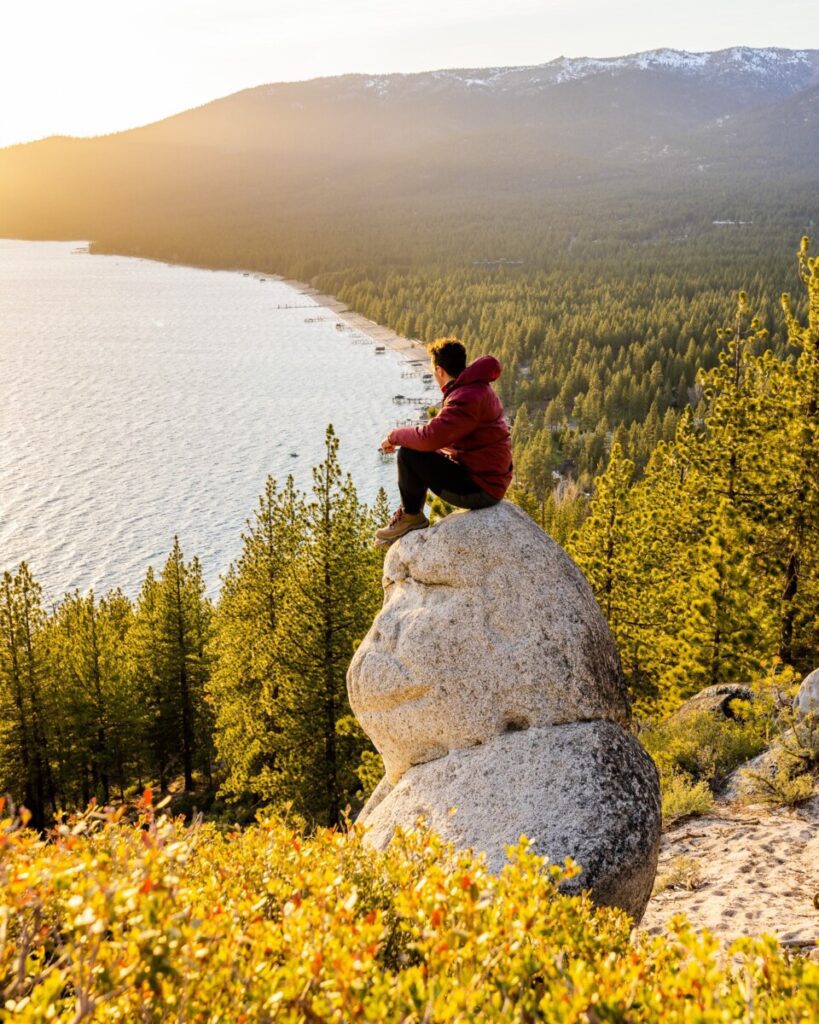 7. Hike to the Famous Monkey Rock
One of the most popular hikes in Lake Tahoe is to the infamous Monkey Rock; so named, because it does, indeed, look like a Monkey. It's a fairly easy hike good for families and beginner hikers. Make sure to bring your 10 essentials and some extra layers because it can get a little chilly up there in the afternoon.
As always, we recommend downloading All Trails or Gaia Data in the event you don't have cell signal so you can still have the trail data for your hike without any issue.
Best Things to Do in Southwest Lake Tahoe in the Summer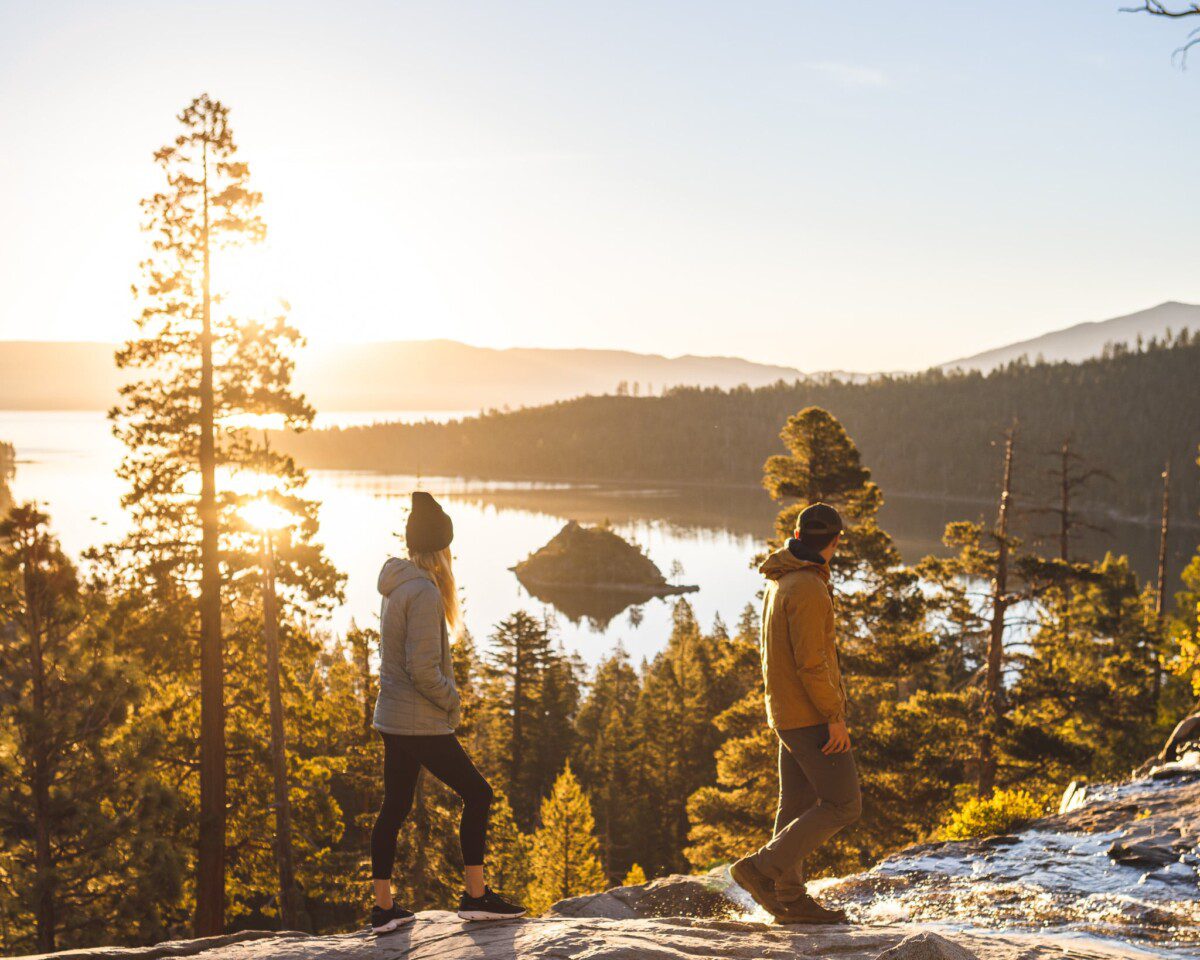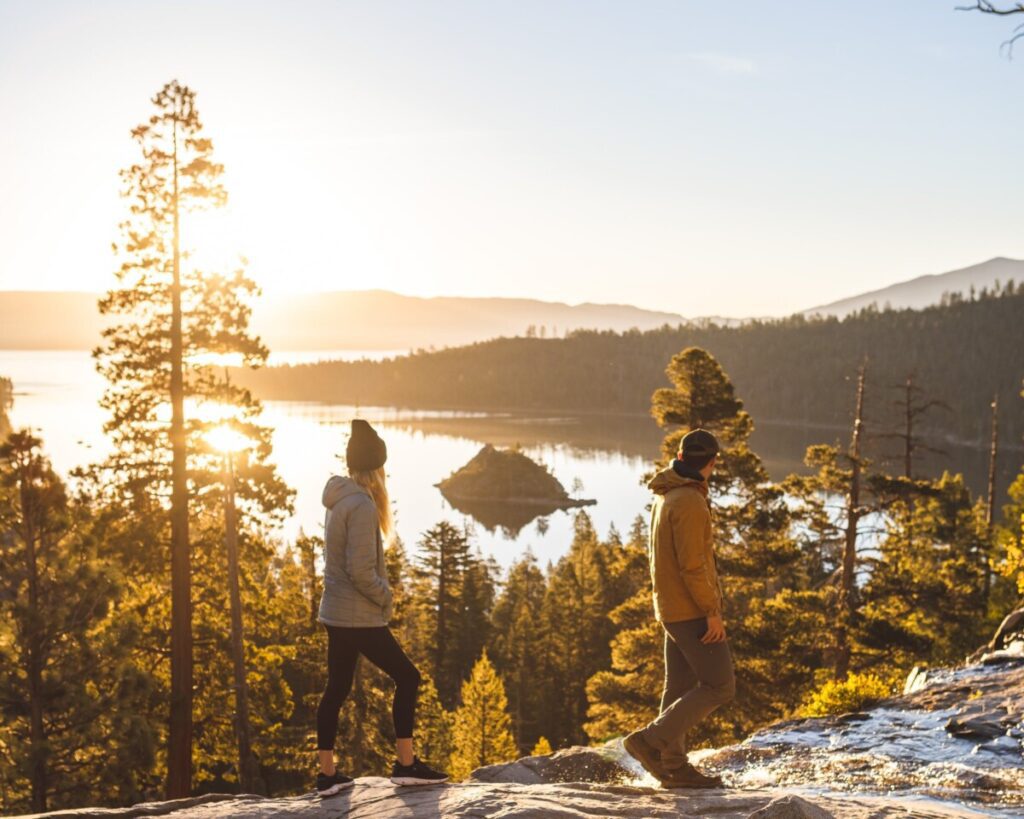 8. See the Sunrise at Emerald Bay
Emerald Bay State Park is a beautiful state park next to Lake Tahoe. There are tons of pull offs along the highway such as Inspiration Point, where you can park and take in the view of the bay. This bay resembles Horseshoe Bend in Arizona and has a little island in the middle. You will definitely need to get there early because the parking can get pretty overwhelming. We recommend arriving any time before 9 am to secure yourself a spot. This area is stunning for sunrise and is definitely a must-see spot.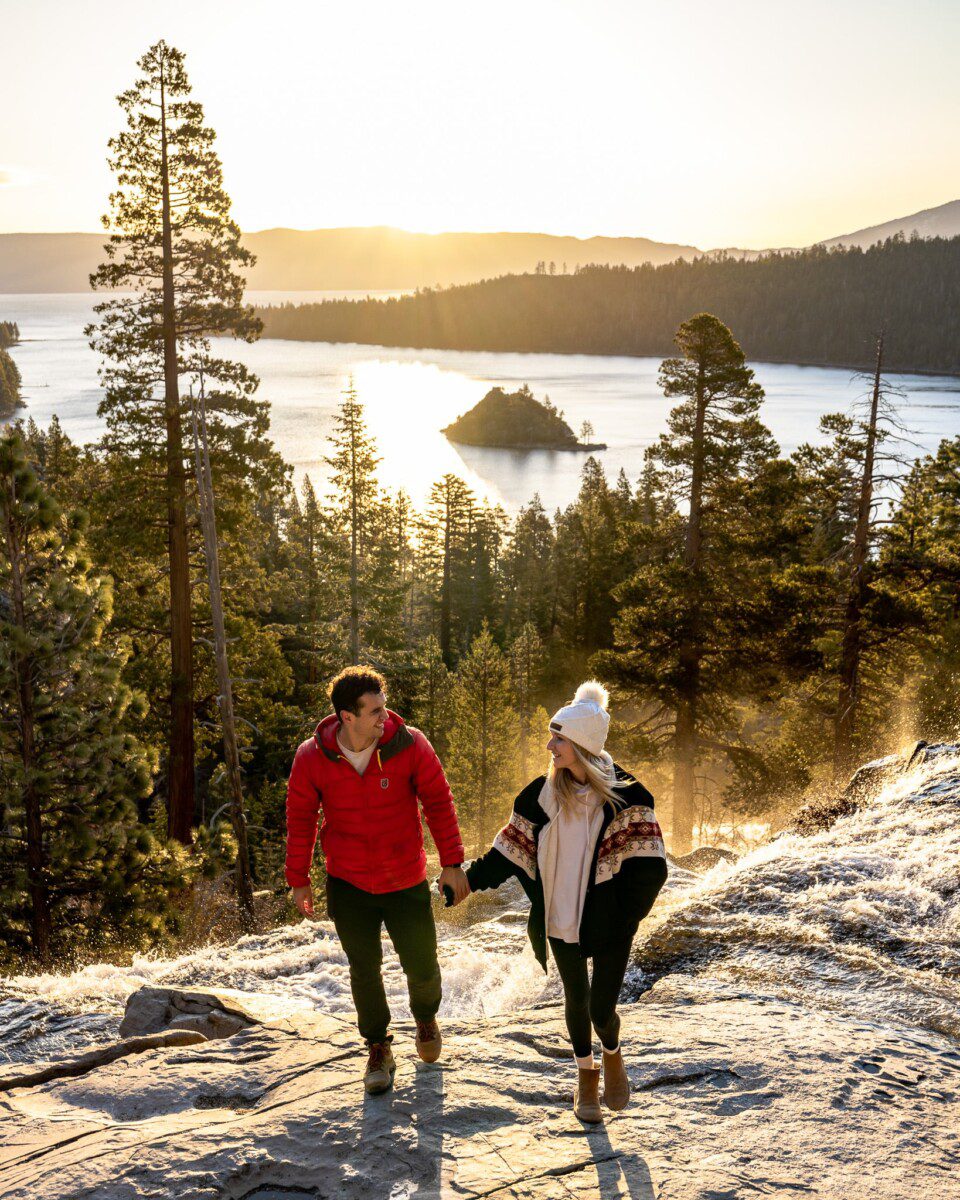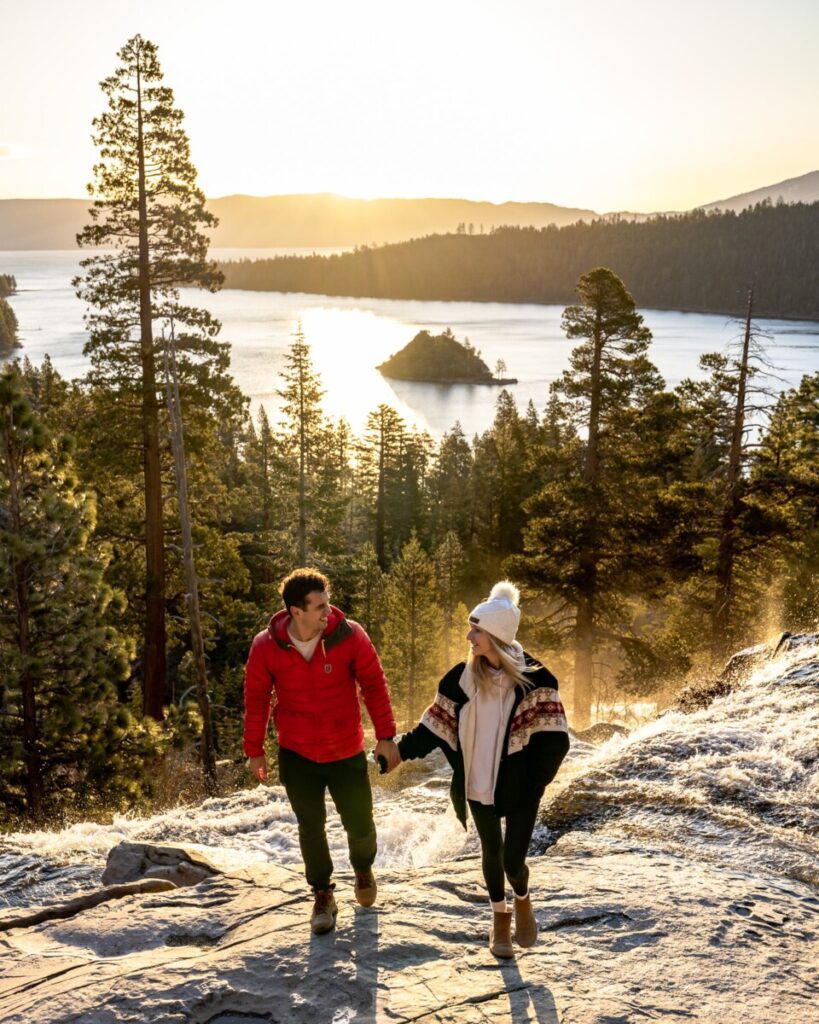 9. Hike Eagle Falls in Emerald Bay
Another great spot for sunrise is Eagle Falls. This location is absolutely beautiful and is also located in the Emerald Bay area. If you're looking to hike in Lake Tahoe, you can hike the trail to the falls or you can take your car to the top of the falls and park if you don't want to hike around.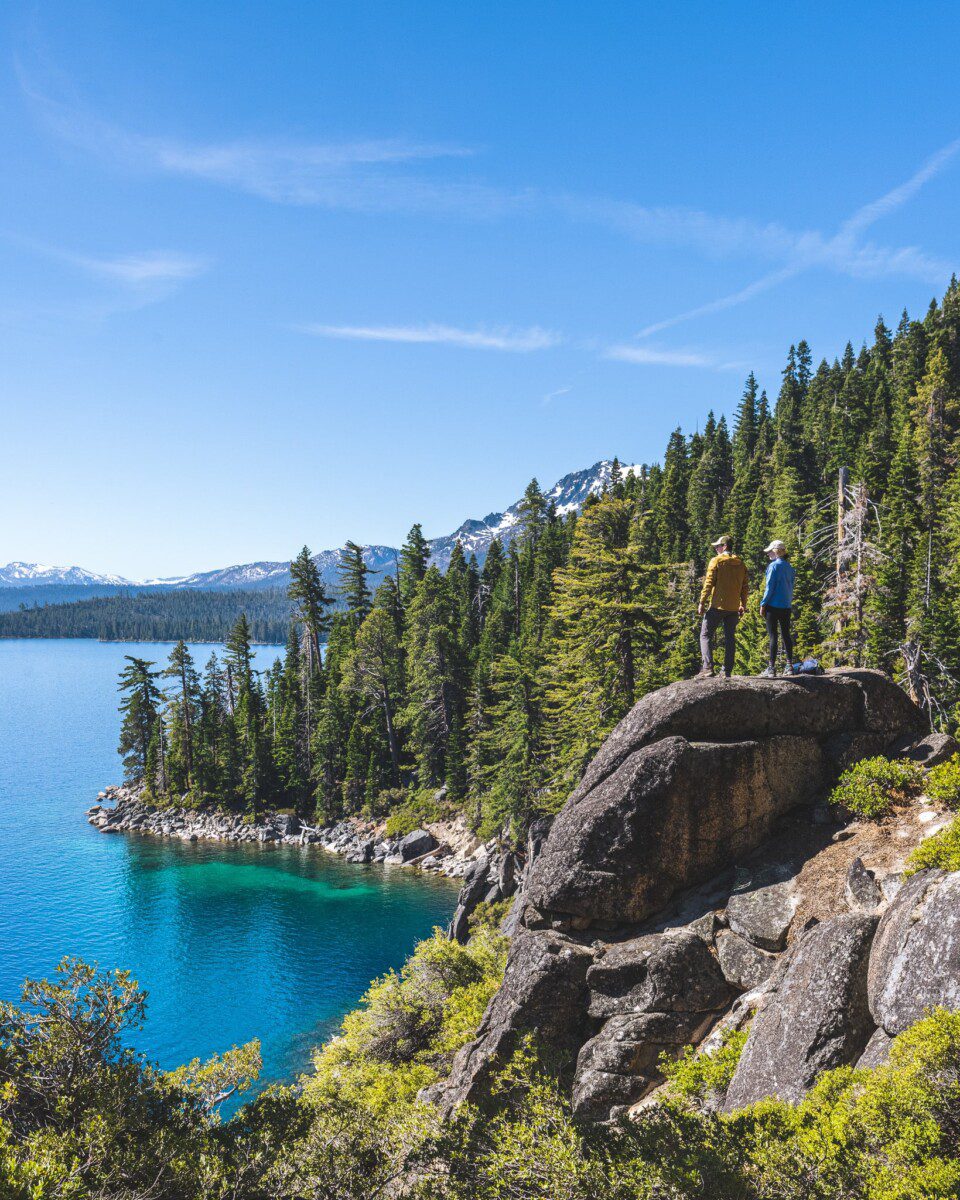 10. Hike the Rubicon Trail
Cruise down to the lakeside off of the Rubicon Trail. Here you can see the Swedish house, Vikingsholm. This is another out of place landmark where you can explore the remnants of an old house that is beautifully set next to the little island in the middle of Emerald Bay. Vikingsholm is a downhill hike in and all uphill coming out, so be prepared in advanced.
The full Rubicon Trail is about 16 miles out and back. If you don't have enough time to complete this entire trail like us, we recommend exploring either end of it. The trail itself starts at Emerald Bay or DL Bliss State Park. Take your time and explore Emerald Bay and then drive over to DL Bliss to see the other side of the trail.
11. Enjoy the Water at DL Bliss State Park
If you want to do the whole Rubicon Trail, we recommend starting from this side. The water is extra turquoise looking and so refreshing. This area has some of the best hiking trails in Lake Tahoe in the summer, amazing campsites, and fun cliff jumping rocks you can paddle out to. If you don't want to hike the whole trail, we recommend hiking out about 2 miles and turning around once you pass the railing section.
DL Bliss is also home to some of the bluest water in Lake Tahoe and some of the best areas to hang out on a boat or paddle board along the beach
Are You Ready for Lake Tahoe in the Summer?
Visiting Lake Tahoe in the summer is something we believe every adventure lover should do. It's truly a magical place and each area is absolutely stunning. Make sure to save this blog for your trip planning to Lake Tahoe and let us know what some of your favorite spots are to explore.