Top Unique Date Ideas in LA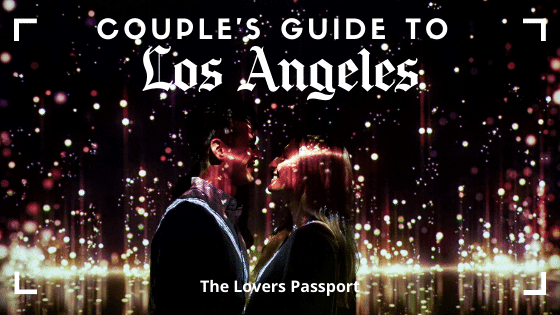 Our Favorite Couple's Spots & Top Unique Date Ideas in LA
About the Area: Los Angeles (LA) is HUGE! It's basically several big cities within an even bigger city filled with loads of traffic. HOWEVER, we love traveling to the city. There is so much interesting culture, art, film history, and amazing dining that it would be hard to hit everything in less than a week. With that being said, here are our some of our top unique date ideas in LA to hit!
For the Art Lovers: Top Unique Date Ideas in LA
Museum of Dream Space
This was the first time either of us had visited this spot located in Beverly Hills. This is the first entirely multimedia digital art museum in the United States. It is full of psychedelic displays that will blow your mind. They offer special packages for couples too, which Stephen took advantage of to surprise me. If you are interested in photography this museum is for you.
With a range of insane digital exhibits, it presents a fun challenge to capture the best shots with various lighting scenarios. We had a lovely couple of hours shooting in the different rooms and tapping into our creativity. If you happen to venture into the area, we highly recommend checking out this dreamy spot at least once for the experience! We also went to the restaurant Yardbird after for a fantastic meal. If you don't want chicken, try out the brussel sprouts, mac n cheese, potatoes, and steak.
The Getty Center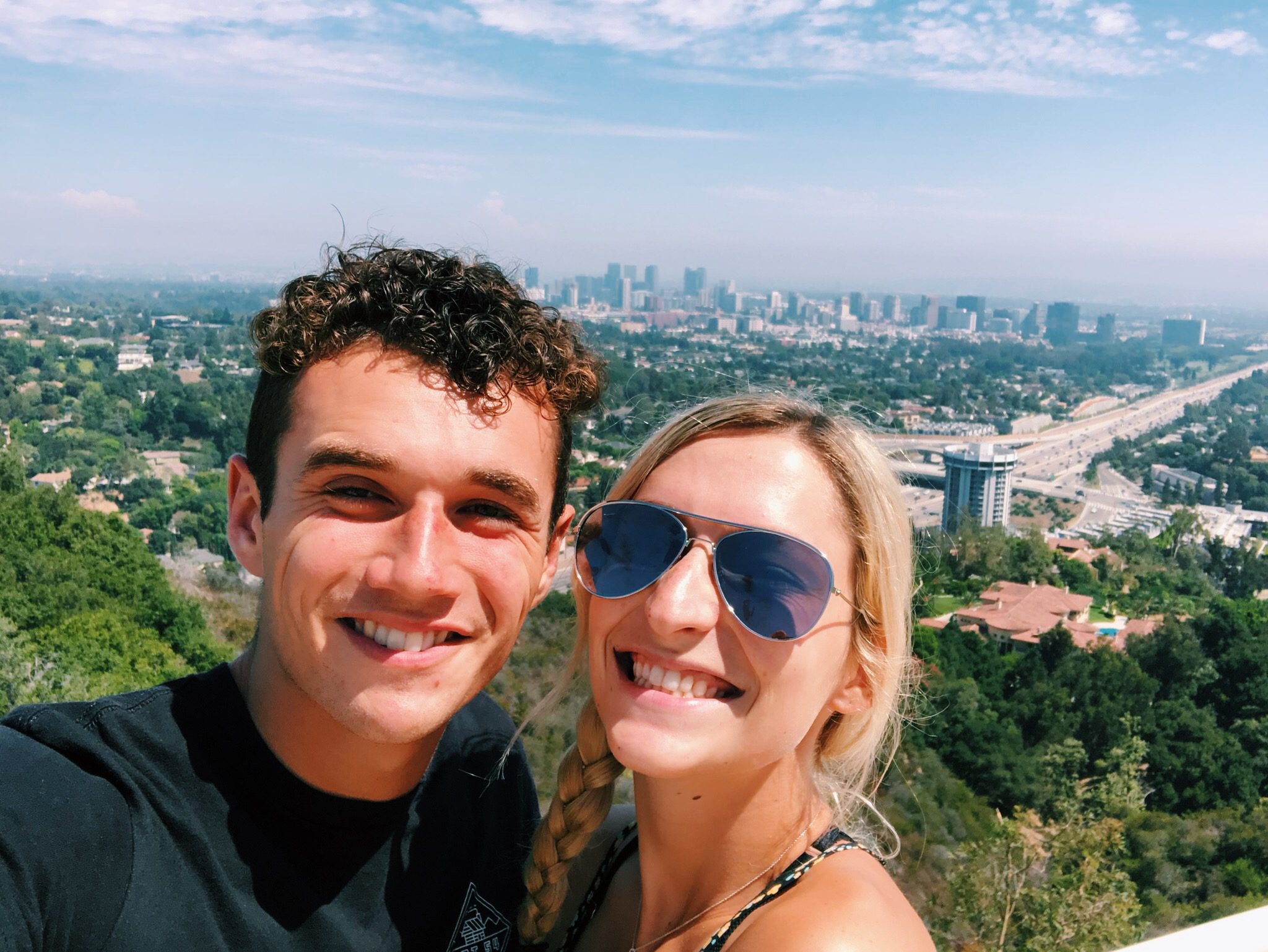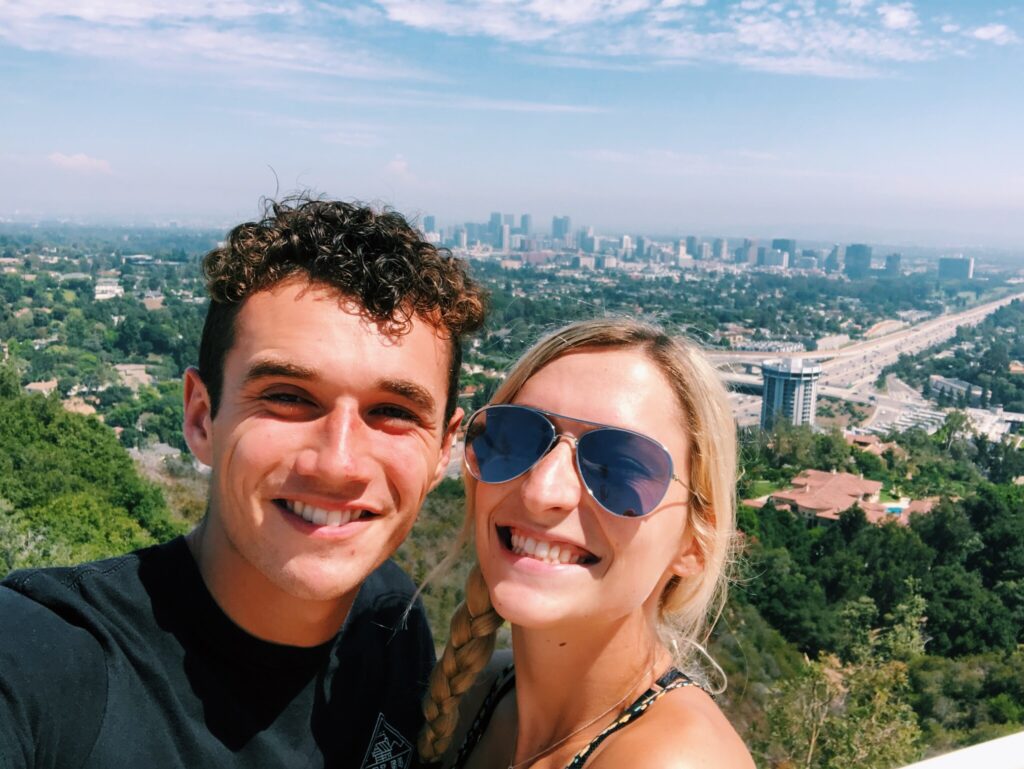 This is Stephen's favorite museum in LA (not to be confused with the Getty Villa which is located in Santa Monica; G personally loves this place as well for gorgeous art near the oceanfront). There are so many things we love about the Getty. For starters, the views of LA from the museum are stunning, and the Central Garden is absolutely gorgeous. We weren't prepped, but next time we want to have a picnic outside by the garden because it's a cute, romantic area filled with gorgeous scenery. And of course, THE ART!
The art offered ranges from European and American history—from medieval times to the present. From Rembrandt to Van Gogh to Renoir to Monet, there is gorgeous historical art in encasing every room. Stephen and I liked to go into each room and secretly pick out our favorite, then when we were finished looking point the art out and explain why we liked it. It was a fun little couple's activity and great to help our art analyzing skills. There's also an audio tour available if you would like a more informative experience at this incredible museum.
LACMA
To be honest, LACMA is definitely the least favorite of our recommended museums, but it's still worth going depending on the exhibits they are offering if you love Modern Art (so make sure to check out their website before going). Our favorite exhibit they had on display when we ventured downtown was on the history of photography, film, and 3D which was hands-on, informative, and very entertaining! Another exhibit worth checking out is Miracle Mile, which makes for a great photo op. And, of course, Urban Lights, the exhibit on the exterior of the museum is also one of the most photographable.
The Last Bookstore & Amoeba Music
Yes, books and music are art. If you are book lovers like we are, you will greatly appreciate the Last Bookstore in the heart of Downtown LA. It's a trendy spot that is California's largest used and new book and record store. It has also been ranked in the "Top 20 Most Beautiful Bookstores in the World." You have to look up photos to see why, as their book displays are stunning.
Amoeba Music, located near the Pantages in Hollywood, is similar to the Last Bookstore in that it's a multi-level store that sells records, but it also has so much more inventory than that. They have everything from old movies, CDS, records, equipment, band merchandise, and more. We could've easily spent hours in this place.
Unique Date Ideas For the Drinks & Dining Lovers:
Eataly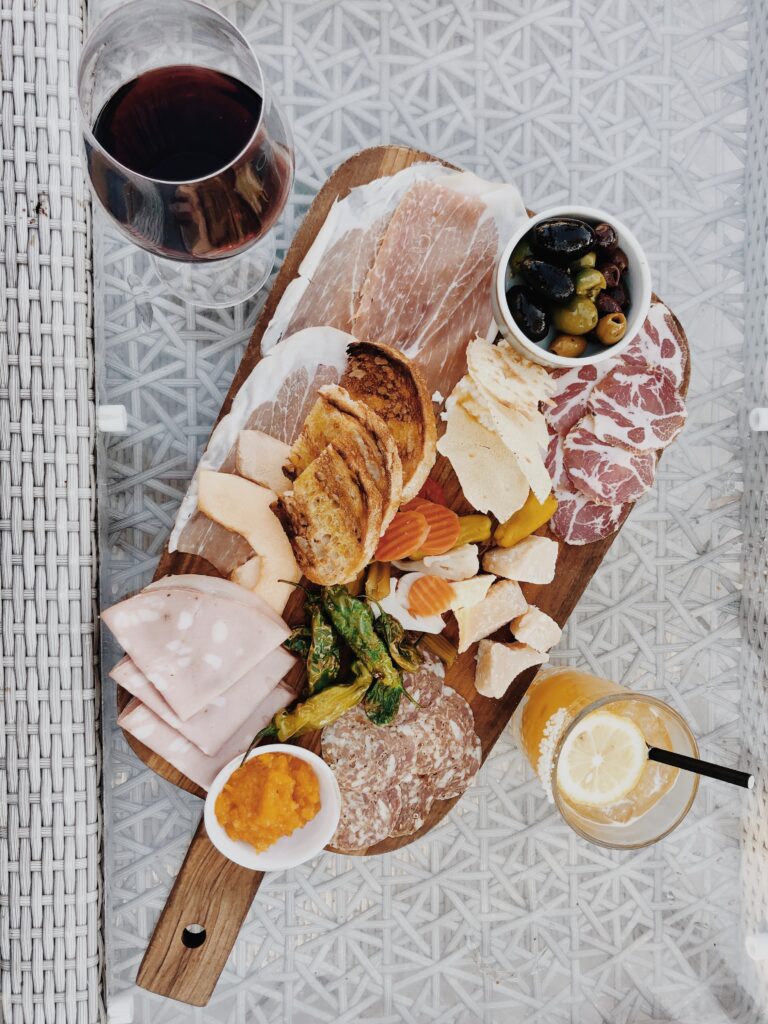 G is OBSESSED with Eataly and has been to the locations in LA, NY, and Las Vegas because she loves it so much. The Charcuterie and Cheese boards are phenomenal, the service is fantastic and fast, the atmosphere is so trendy and usually located on a rooftop (as it is in LA/NY) and best of all excellent Italian wine, gelato, and authentic entrees. We decided to take a visit after a Dodger Game around sunset and the rooftop happy hour was more than lovely. If you are in the area near Century City, it's a must hit on G's list. It's also attached to huge Italian markets so you can buy fresh pasta, pizza, seafood, and more. Check it out here.
Fat Sals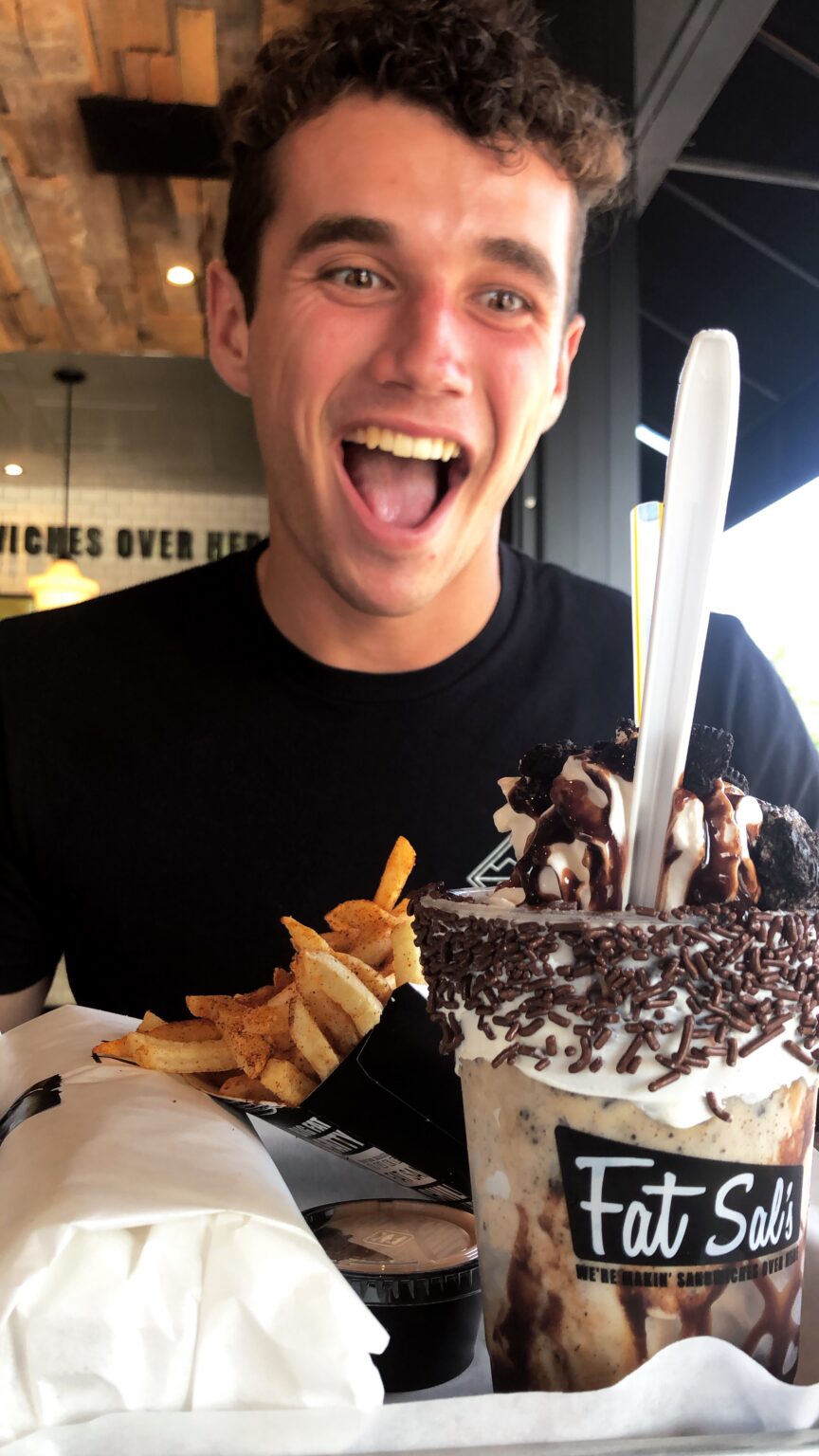 We left Fat Sals so happy and so full. This place is worth the hype. Hands down in the top 3 sandwich places we have ever been to. G ordered the Fat Texas and Stephen got the Fat Jaime and, guys, we cannot emphasize enough how amazing this meal was. CHECK THIS PLACE OUT. There are several locations throughout Los Angeles. Their milkshakes are dessert on steroids but totally worth the calories, but definitely good to share between you and your partner. This was one of the unique date ideas in LA we were told about from Stephen's mom because she had seen it on Diners, Drive-Ins, and Drives. It's a must do. Moving on.
Roscoes
The home of the best Chicken & Waffles in Hollywood. Located near the Pantages Theater, it's definitely a fun and decently priced restaurant for any meal. We went before heading over to the Pantages for a BTS showing of Frozen and would recommend coupling this place with a musical or show if you are looking for more casual dining.
Malibu Wine Safari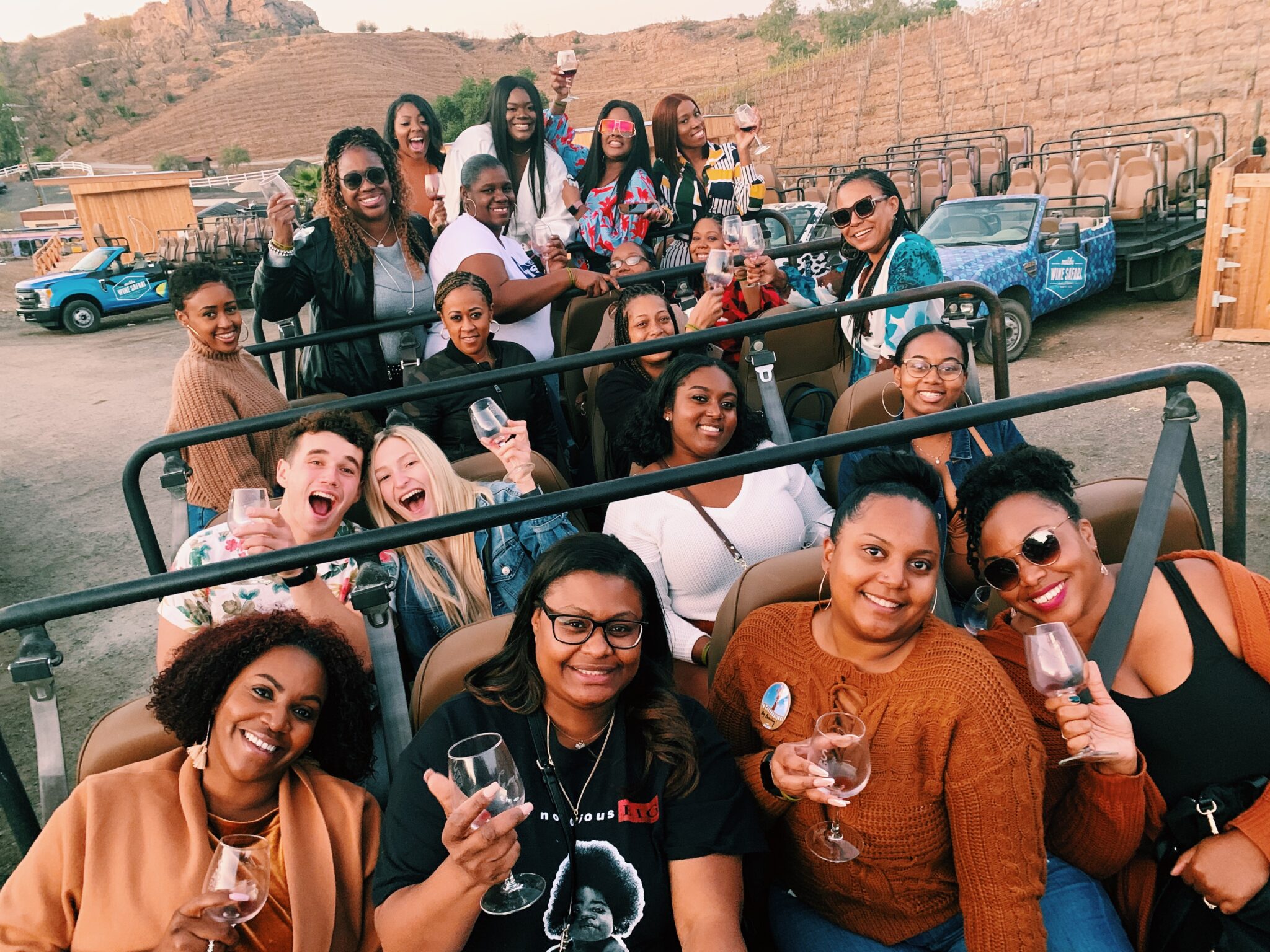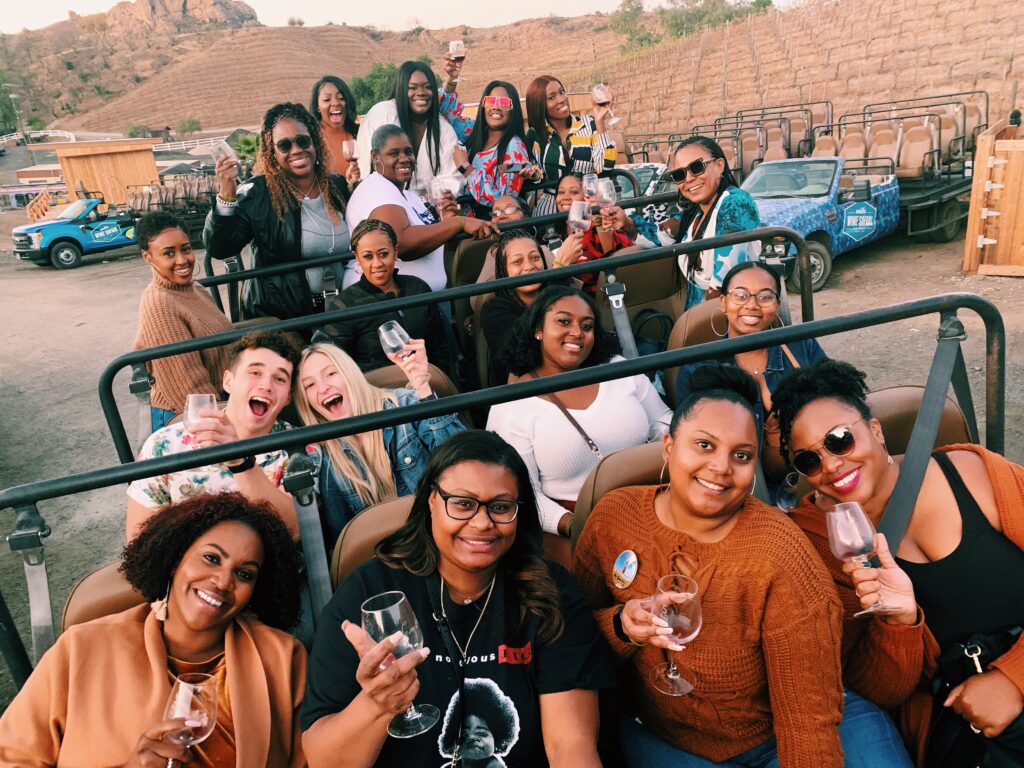 Stephen surprised G with a Malibu Wine Safari and it was really amusing. We were the only two on the safari vehicle that wasn't in this giant birthday group of women from Florida and they were a real hoot to drink with. We'd definitely say who you go with on this really can make or break the experience for you. They have great wine, pour heavy, and give you roadies while you look at the animals around the ranch. They offer charcuterie snacks, provide a fantastic view for sunset in the Malibu mountains, and have entertaining hosts driving you around and teaching you about the area. Whether you're going for a special occasion or just going for fun, we think everyone should try a Malibu Wine Safari.
Rosenthal Winery
Rosenthal is located on the West Side of LA, right off of PCH (Pacific Coast Highway) and in the heart of Malibu. We went here for G's birthday for a wine tasting flight and had a great time. The service was outstanding, they were super informative and willing to give you extra tastings not on the menu based on your favorites, and have the cutest outdoor setup often paired with food trucks and a live band.
Lost Spirits Distillery
The Melrose Farmers Market occurs every Sunday from 10 am-2 pm. Fair warning, parking is nearly impossible nearby so plan ahead! There's great shopping in the area, really tasty food trucks, fresh fruits & vegetable stands, and loads of other options for pastries. On a day with nice weather, strolling through this area can be really fun. Try to find lunch or try out one of the really delicious coffee spots.
Melrose Farmers Market
This is a Los Angeles Distillery that offers rum and whiskey tours and tastings. They also offer an optional package called Fish or Flesh, a 9-course delicious boozy meal infused with brews. G's physical therapist did this package and said it was unbelievable but pricey. This place is so good that it even won the "Best Distillery Tour in the World" in 2018. We had tickets for the normal tour and tasting and it did not disappoint. If you are trying to find an alternative to wine tasting or brewery flights, this is the stop for you. Make sure to book your reservation online ahead of your trip, however, because spots fill up pretty quickly. We learned this the hard way on several other occasions when we wanted to spontaneously use our tickets.
Unique Date Ideas For The Sunset Lovers:
Griffith Observatory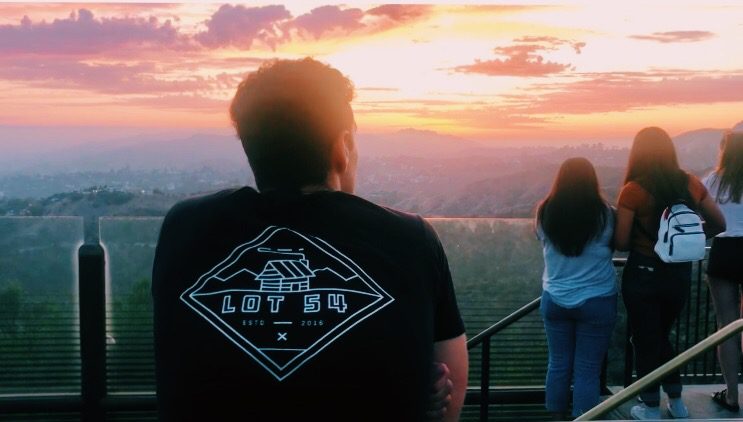 We have gone up here several times together. Not only is the space exhibit awesome, but the views here are spectacular for sunset regardless of the time of year. You can see the whole city of LA on your left, and the Hollywood hills (and the infamous Hollywood Sign) on your right. G loves going to the Planetarium shows in the Observatory which are around $5-$10 for admission. The shows offer really immersive learning experiences if you are interested in space. There's a variety of shows to choose from too if you've been before! If you're feeling super adventurous, you should try hiking up to it from the bottom of the trail. Or, you can hike from the Hollywood Sign as there are several great, well-maintained hiking trails in the area. This is truly one of our favorite unique date ideas in LA that we love to repeat!
Santa Monica Pier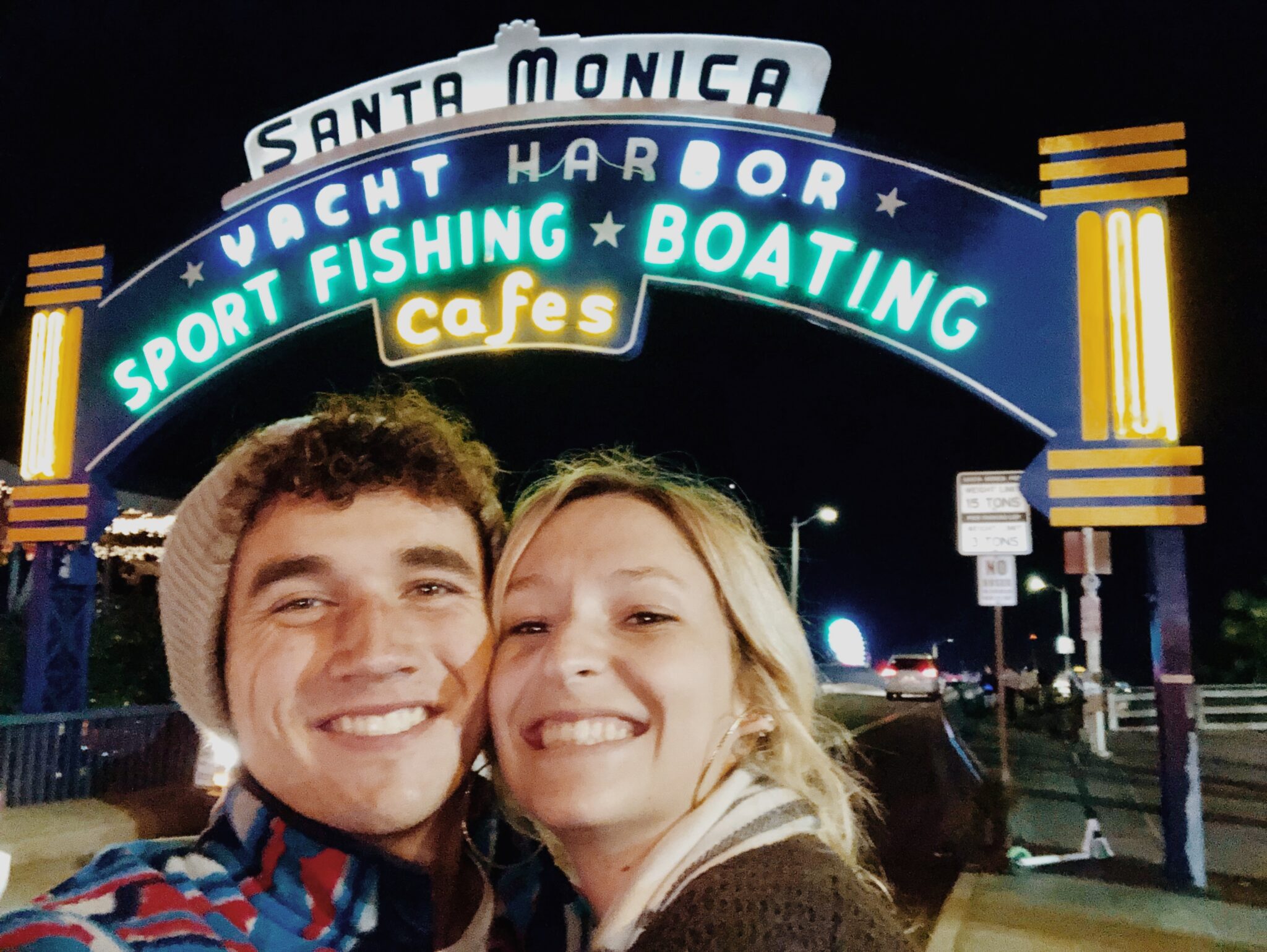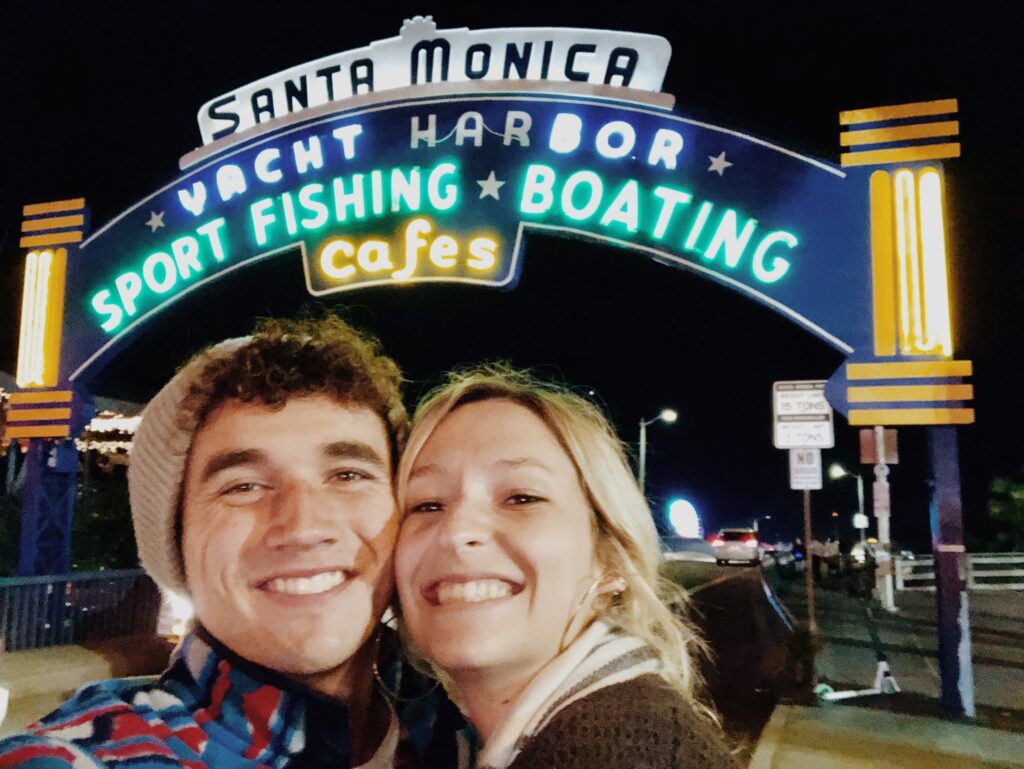 We came here for one of our first dates as an official couple for sunset. Before lingering at the pier, we decided to spend the day shopping and scootering around in the Third Street Promenade (which is basically a large outlet mall that's a few blocks away from the beach). This area is GREAT for shopping and dining. After, we decided to eat dinner at Bubba Gump on the Pier and explore around the beach! The Pier offers several rides, a Ferris Wheel, an arcade, and your stereotypical fair games if you're feeling lucky! If you go at night time, it's more special in our opinion because you get the experience of seeing all the lights in their glory.
For Activity Lovers:
Sandstone Peak
Hike to the highest point in the Santa Monica mountains and find a fantastic romantic view! Such a gorgeous hike up in West Side of LA. It's a beautiful 2-mile hike via the out and back trail! For Sandstone Peak, follow the switchbacking trail up the north face of the ridge. You will be rewarded with a stunning view of LA and Santa Monica. We highly recommend this hike during sunrise or sunset for the most rewarding views. However, it is usually less busy for sunrise (just take a headlamp with you).
Definitely a hike for all levels, including beginners as the elevation gain is really tame! This was actually the first hike we ever did together for sunrise. We also mobbed to the top for sunrise with a group of 21 people one time which was such a fun experience. Make sure to sign the summit book when you reach the top! If you're into hiking and want a little bit of a drive, make sure to test out our other recommendations in Santa Barbara, only a short drive away from LA.
Dodger Stadium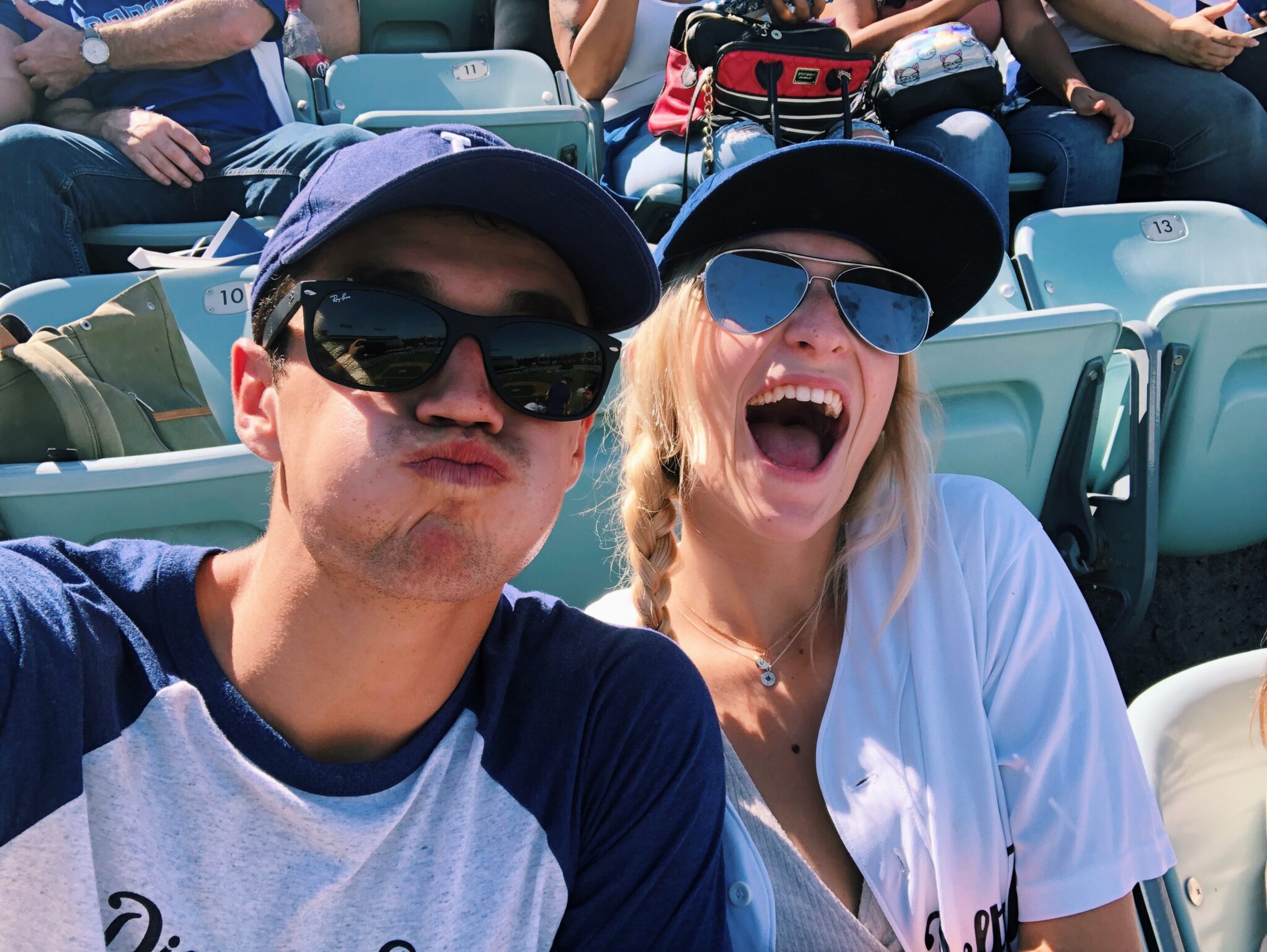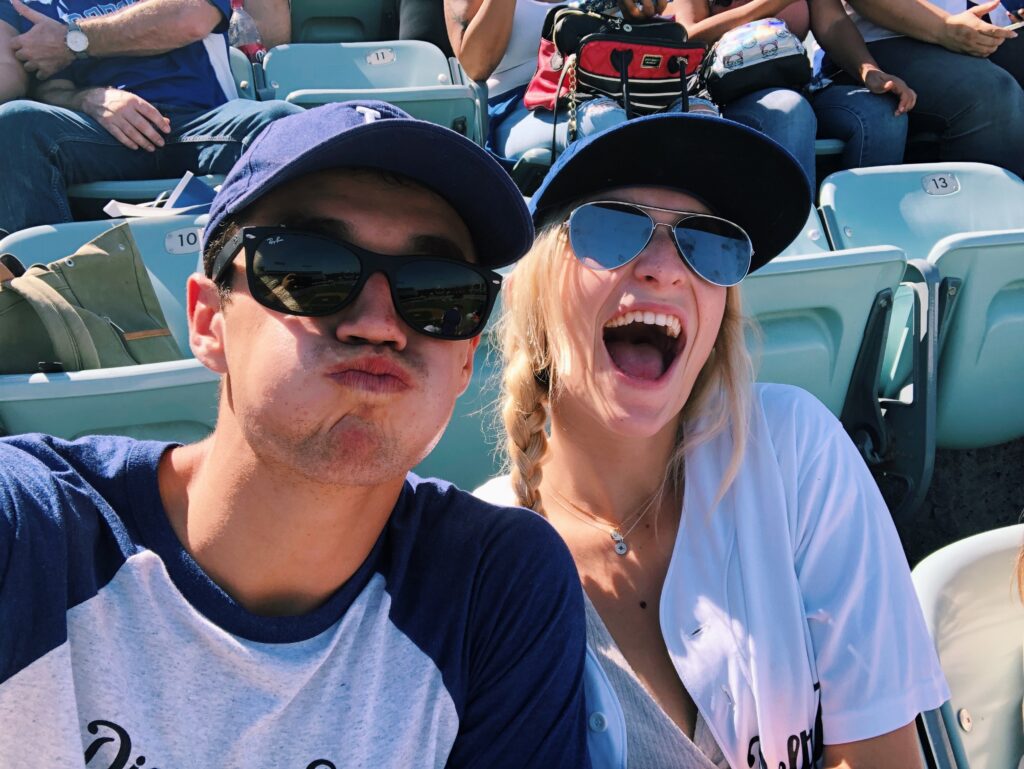 Support the (better) local baseball team! G surprised Stephen with Dodger Game tickets for our 6-month celebration and it was such a fun game! Tickets are fairly inexpensive for a really entertaining experience. Indulge in a Dodger Dog or 2, grab some garlic fries, and maybe even some beers and sit back and enjoy the game! We got lucky because the Dodgers actually won that day, so the stadium will actually give you fun deals and discounts on places like Taco Bell based on the scoring of the game.
60out Escape Rooms
This Escape Room holds the #1 rating for Escape Rooms in Los Angeles. If you and your partner are looking for a fun challenge together, check this place out. We have done an escape room together and loved trying to get creative and solve the puzzles to escape. We got out AND made it on the leaderboard just to stroke our egos even more. Escape rooms can help you improve your communication with your partner too!
Overall, LA is a HUGE area that offers several activities to please almost everyone. These are just our top unique date ideas in LA. Do you have any favorites that we didn't mention? Let us know in the comments!