Best Places to Visit in California During Fall and Winter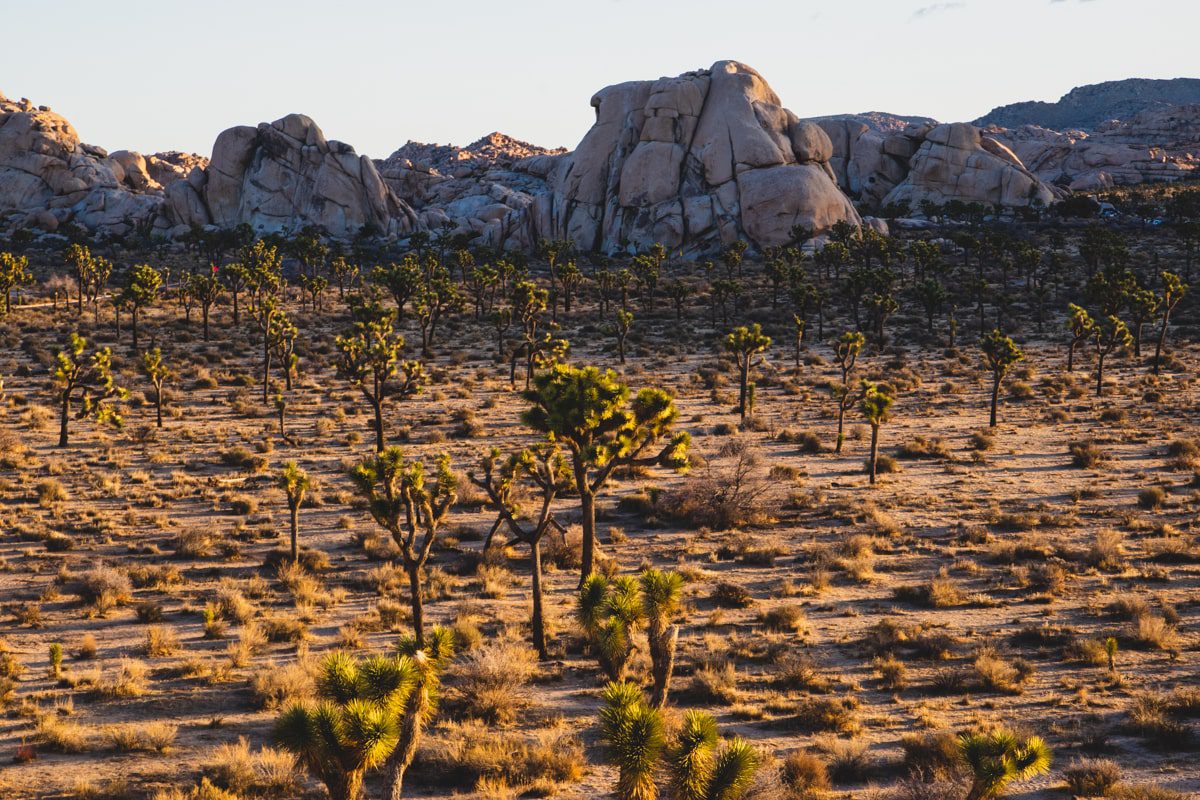 If you're looking for a great fall or winter getaway, look no further than California. The weather is wonderful year round, and the opportunities for beautiful views are endless. During the fall and winter, California offers so many diverse adventure travel activity options from the beach, to the desert, to the mountains.
During these months, you can explore some of California's best cities and parks with mild temperatures and fewer crowds, making sightseeing a breeze. And if you're looking for a little winter fun, the California mountains are full of snow and winter activities.
Being natives to the state, we know all the best places to visit in California during fall and winter. In this guide, we'll go over the Top 9 spots in California to explore, as well as a few activities to do in each place. With this guide you'll be completely set for your California vacation this fall or winter whether you're wanting to explore Southern, Central, or Northern California.
Top 9 Spots in California During Fall & Winter
1. Joshua Tree National Park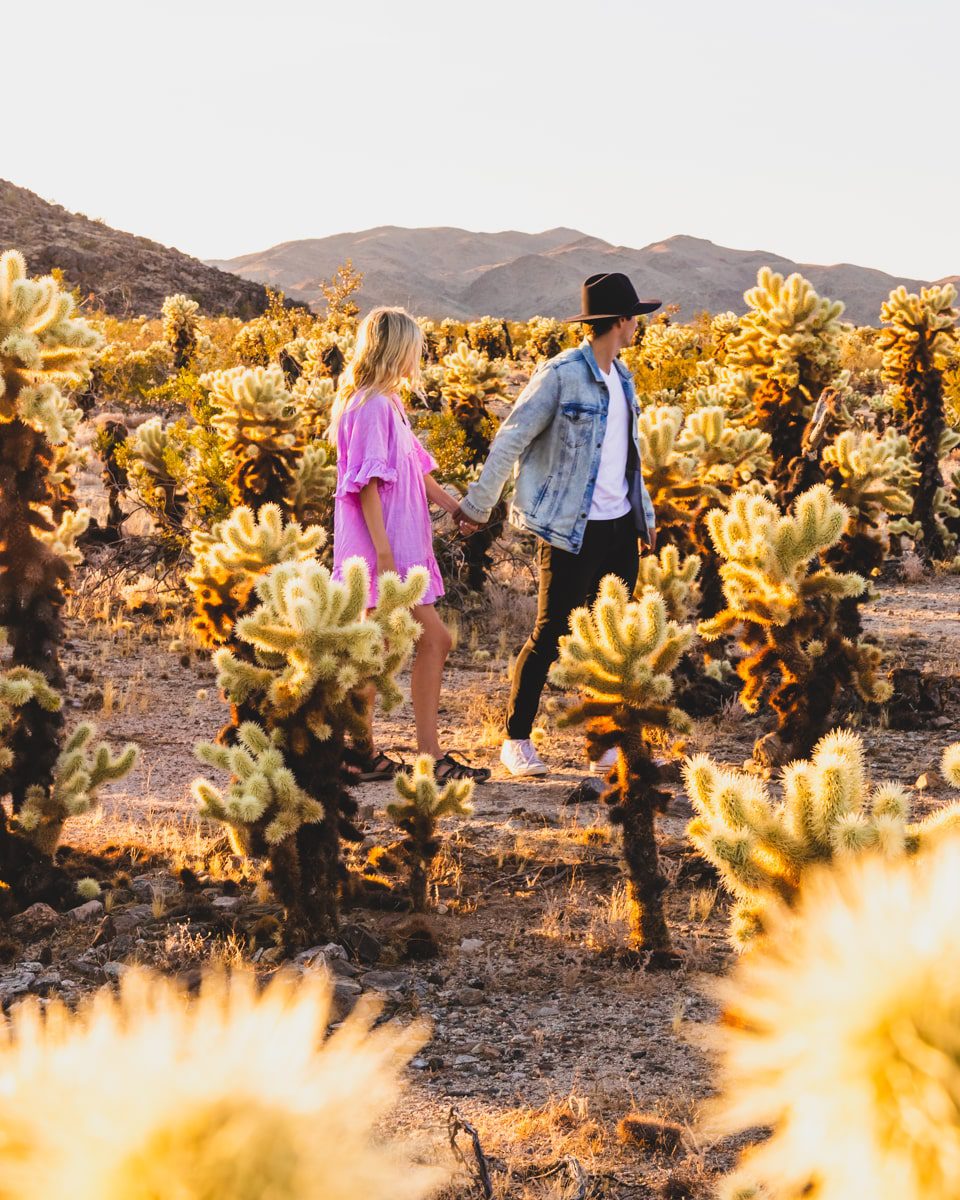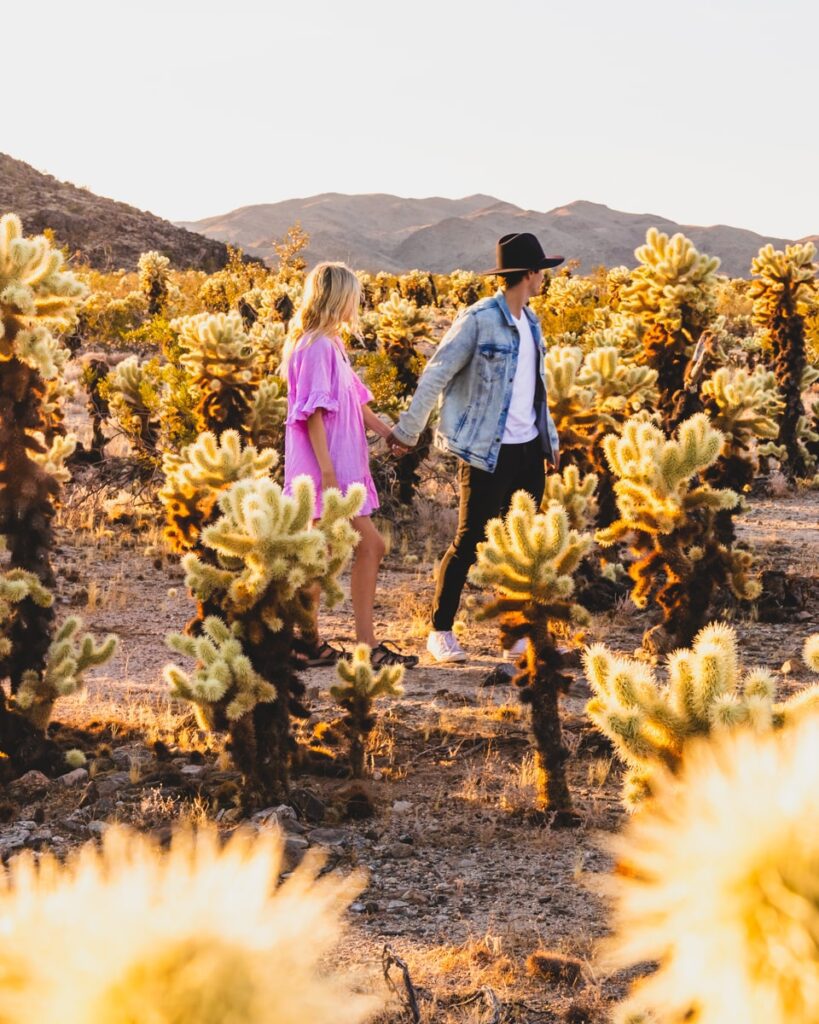 Have you ever wanted to explore a magical, otherworldly landscape? Joshua Tree National Park is truly a park that is out of this world. This desert oasis is home to stunning rock formations and unique wildlife that can't be found anywhere else. From the unique Joshua trees to the colorful wildflowers springing up from the dry ground, you're sure to find something mysterious and beautiful around every corner.
This area is filled with plenty of hiking trails, camping spots, and scenic drives for exploring the park's many wonders. Being a desert, Joshua Tree National Park can get extremely hot in the summer months, making this a great location to visit in California during the fall and winter. 
Here are a few must-do's while in Joshua Tree National Park.
Hidden Valley Loop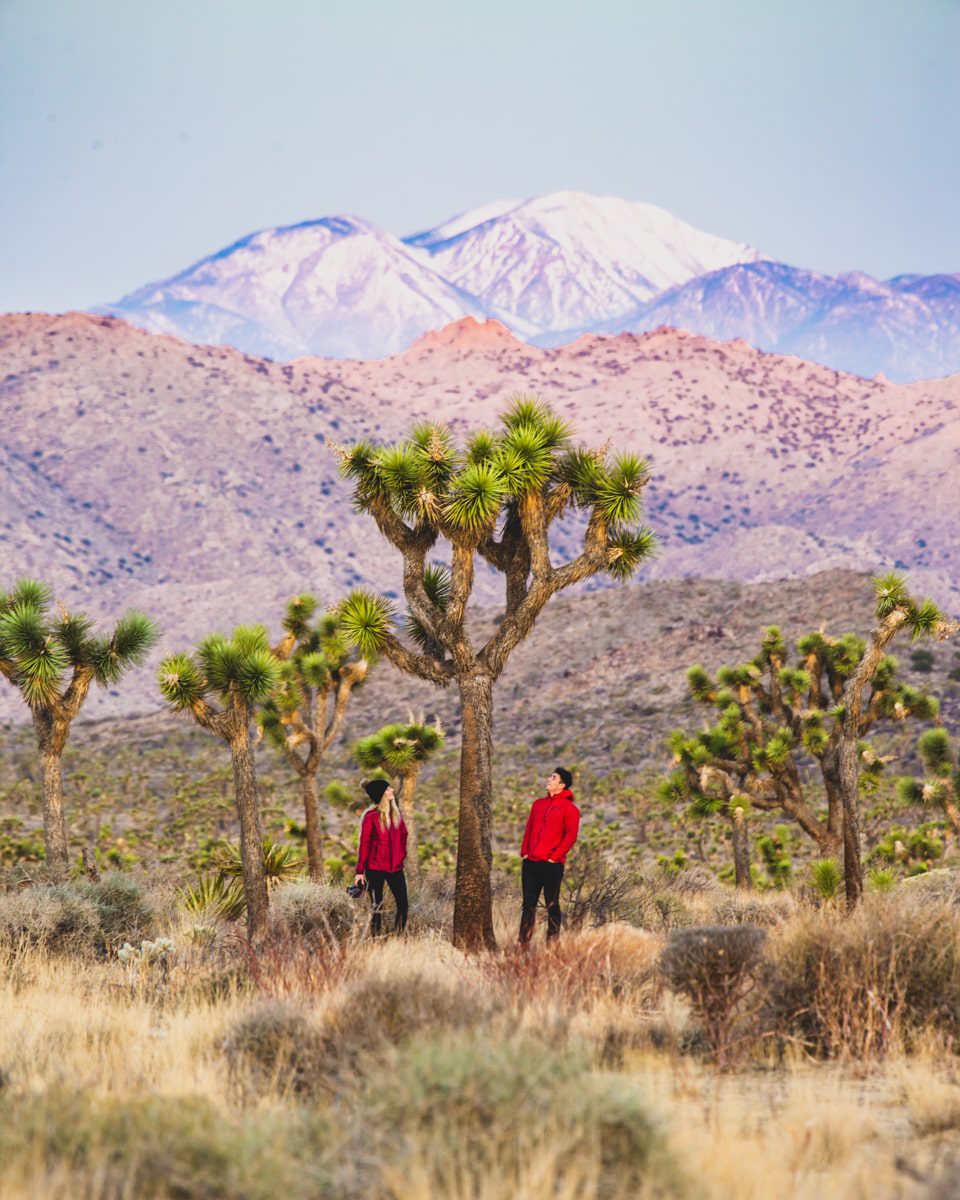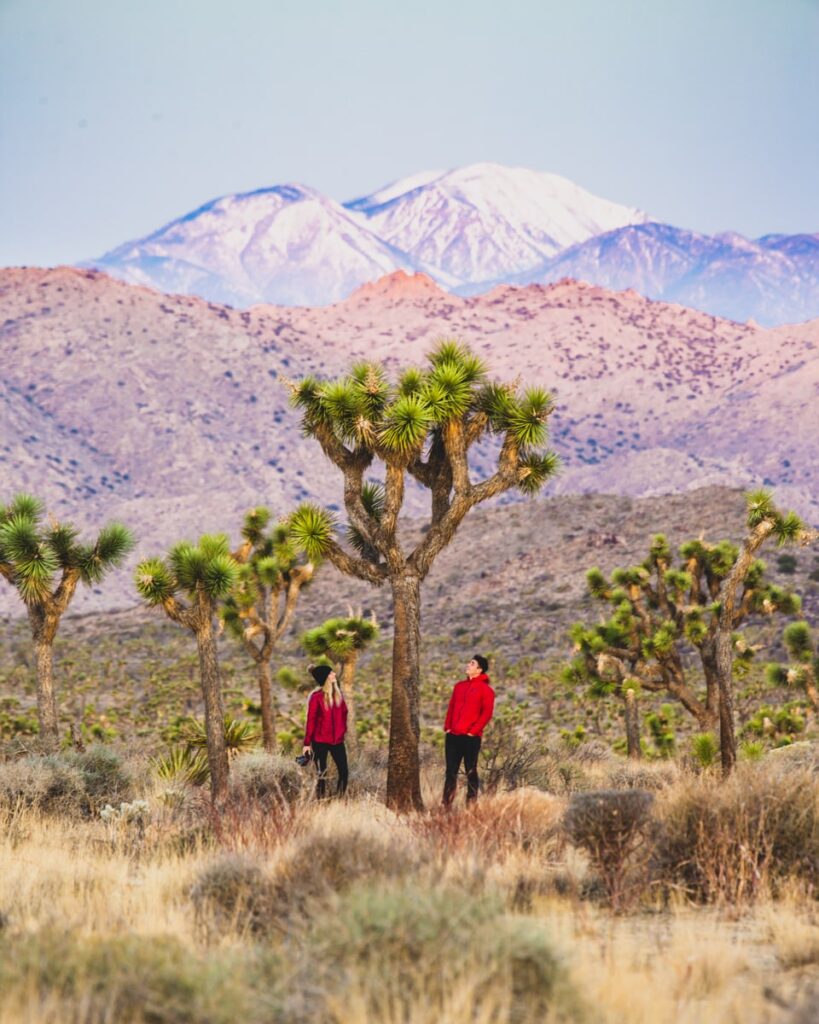 The Hidden Valley Loop Trail in Joshua Tree National Park is a must-do when visiting. The trail features a stunning array of landscapes, from winding trails that take you through unique rock formations to amazing views of the Joshua Trees. And if you're lucky, you might even spot some of the local wildlife on your journey.
We love this trail because it shows some of the best Joshua Tree has to offer and it's a great 1-mile hike for beginners. We highly recommend this location for sunrise photography as well. You won't want to miss seeing the beautiful rock formations during golden hour in this California National Park.
Rock Climbing & Bouldering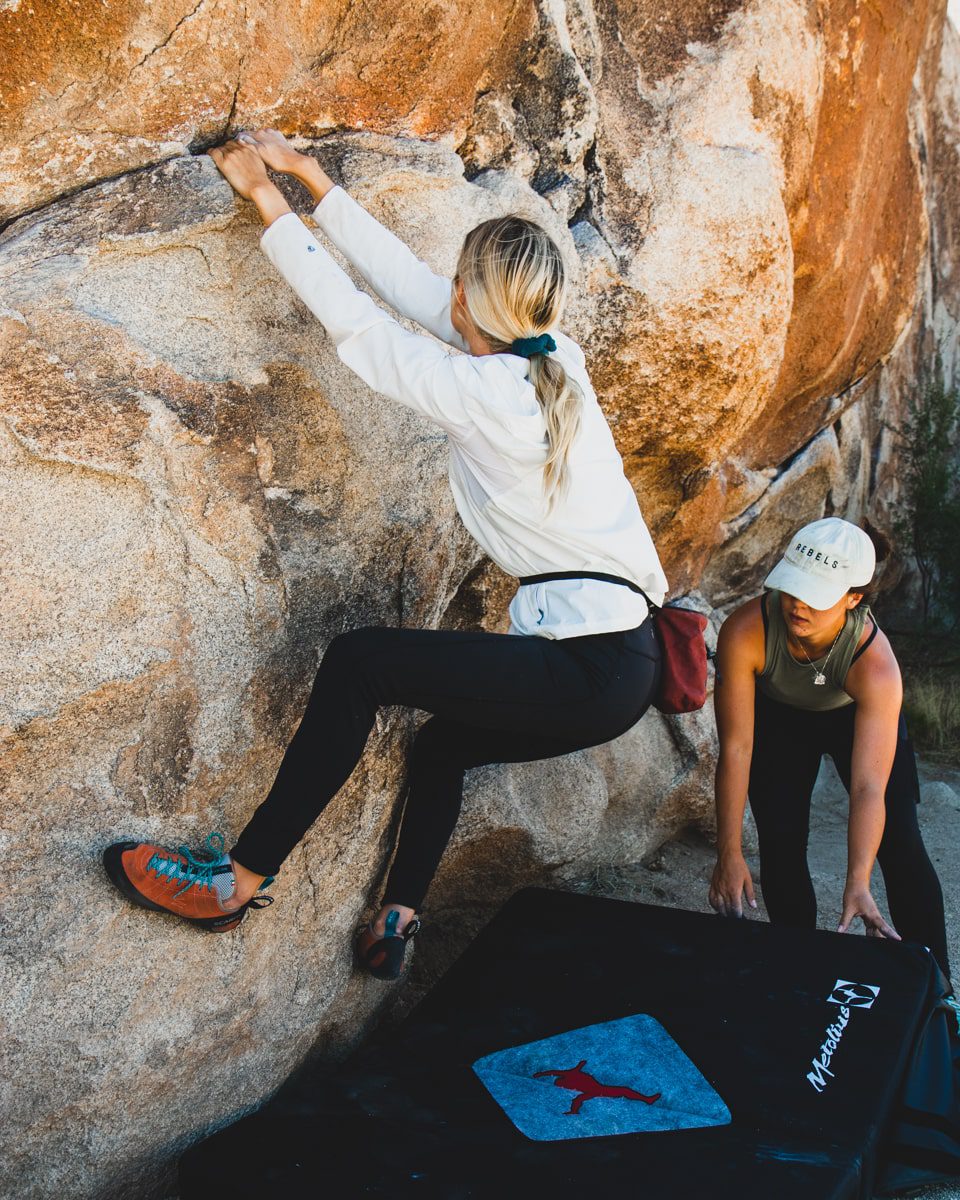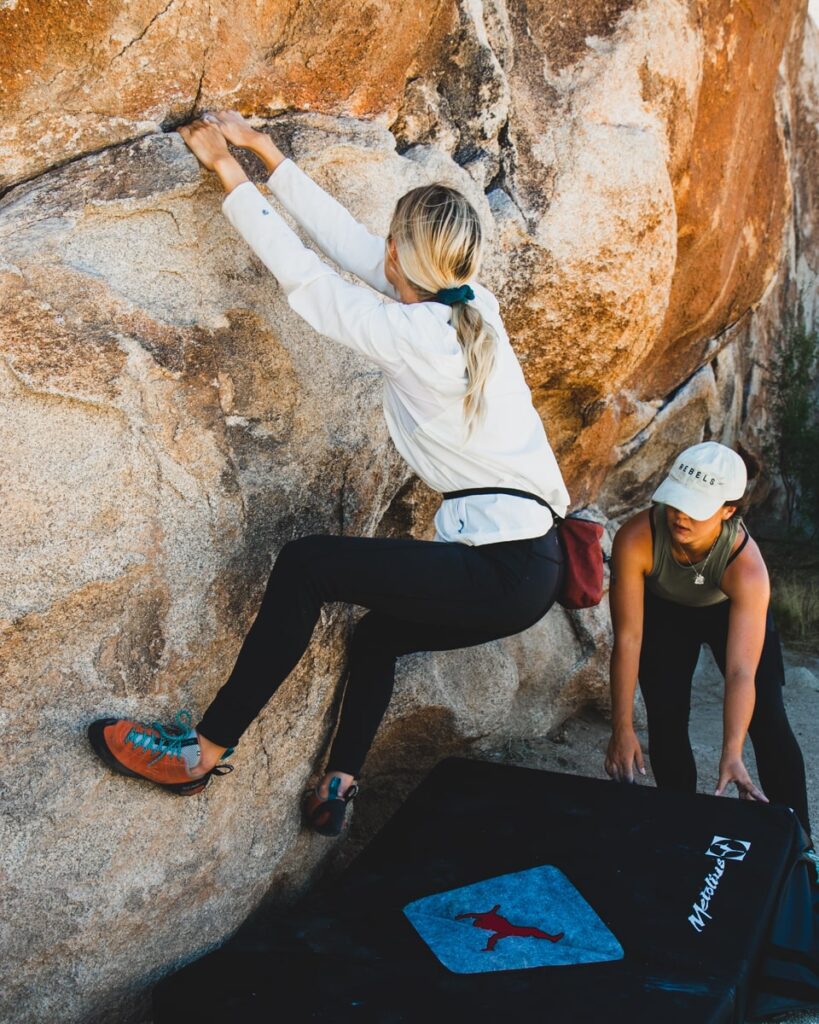 Joshua Tree National Park is a top destination for rock climbing and bouldering. This park has cracks, slabs, and long faces that attract climbers from all around the world. With over 8,000 established routes to choose from in this incredible environment, you can explore your limits while being surrounded by spectacular views.
Joshua Tree has become a favorite amongst climbers as its wide range of terrain offers something for everyone—beginners will appreciate the more accessible routes while more experienced climbers can enjoy the challenges posed by steep walls and overhangs. If you're new to the rock climbing/bouldering scene we recommend you check out Trash Can Rock or other spots in Quail Springs so you can access some easier routes and start practicing your skills.
Arch Rock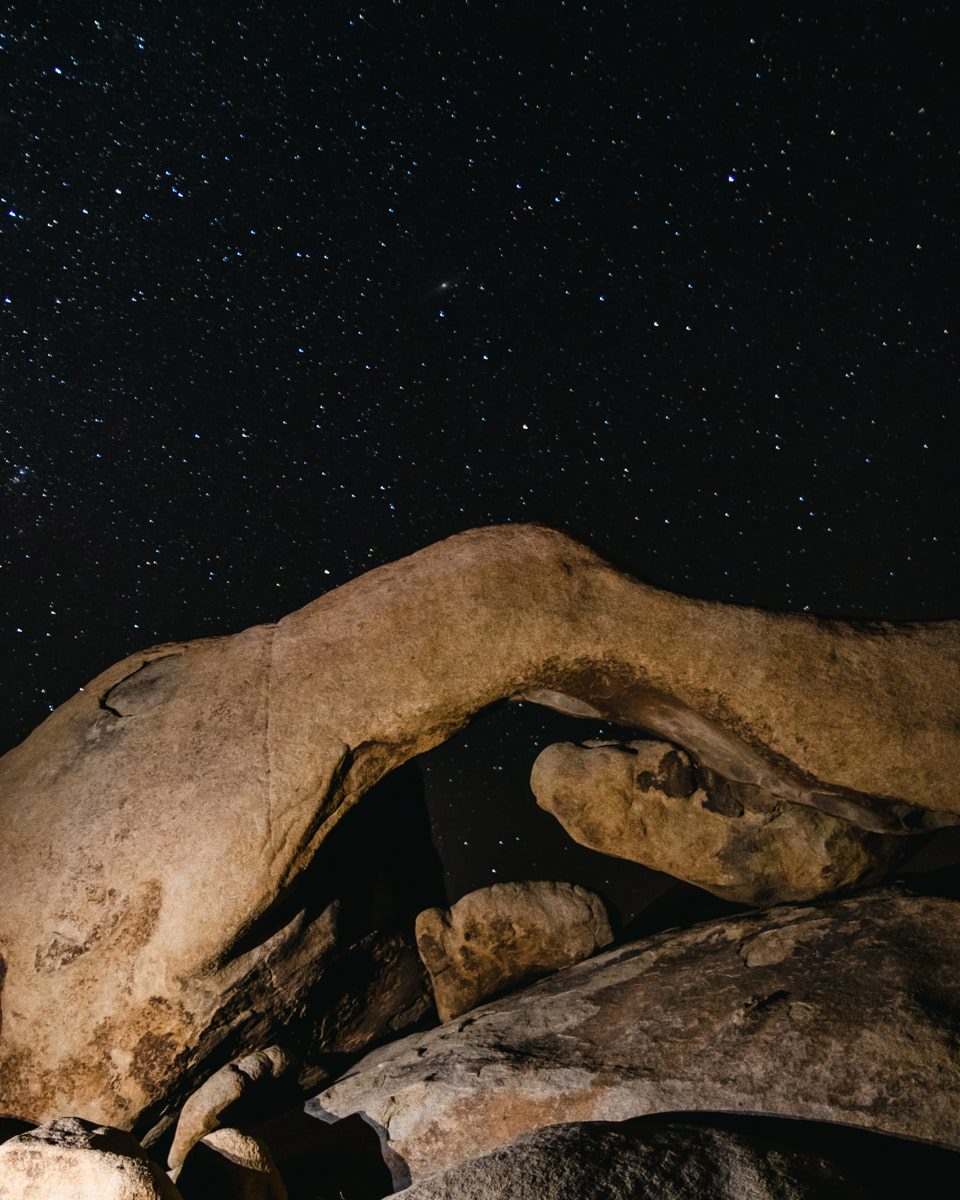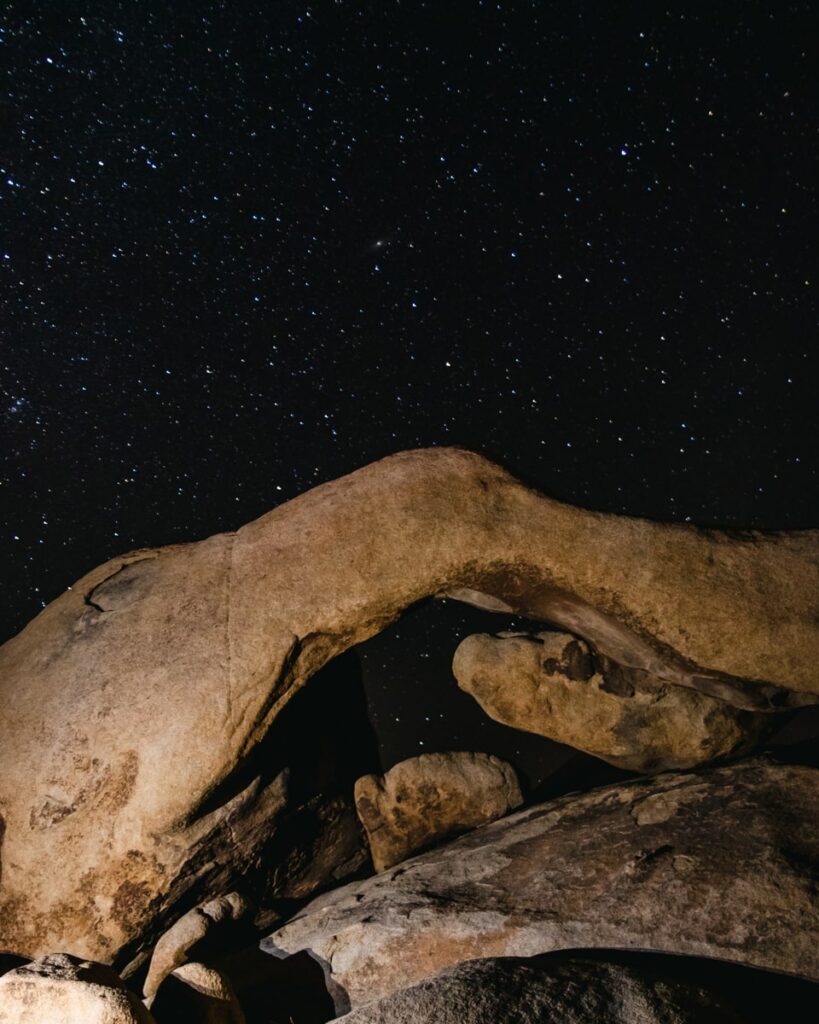 If you're looking for a fun and exciting trail to explore Joshua Tree National Park, then make sure to add Arch Rock Trail to your itinerary. This scenic 1.4 mile out and back trail is an excellent way to take in the incredible desert landscape of the park. 
Along the trail, you'll be treated to stunning views of some of the area's more unique rock formations, most notably Arch Rock itself—a massive sandstone arch formation that rises high above its surroundings. You can walk underneath this natural wonder and get some really cool photography opportunities.
Although this trail is beautiful during the day, we personally love coming here as a nighttime activity and highly recommend it. Make sure to bring a headlamp or flashlight. Here you'll find stunning views of the Milky Way and so many stars to capture with your camera. It's a dream land for anyone into astrophotography.
Want to learn how to take stunning astrophotography travel photos? Check out our Travel Photography E-Book where we teach you exactly how to take beautiful photos of the stars with your camera or phone!
2. Anza-Borrego Desert State Park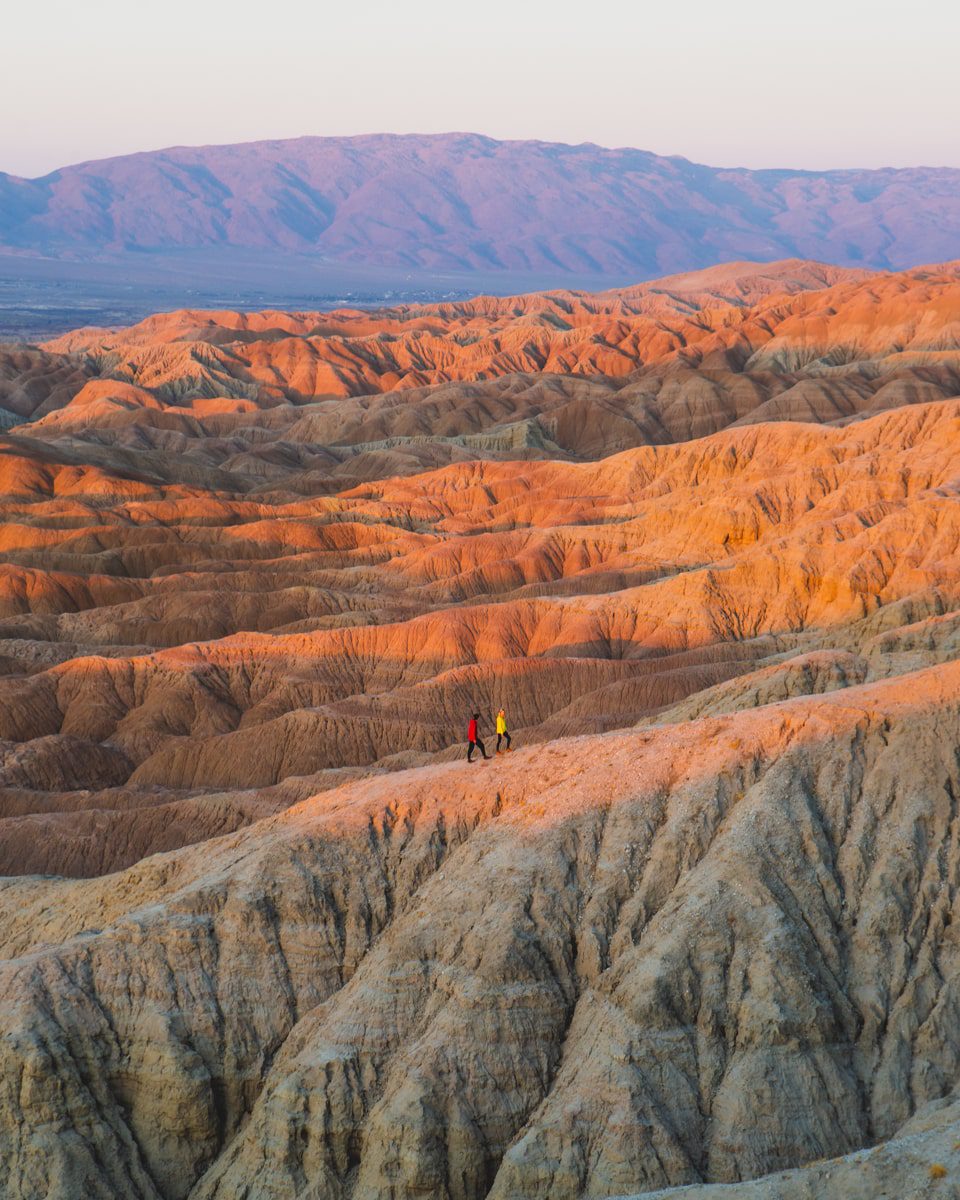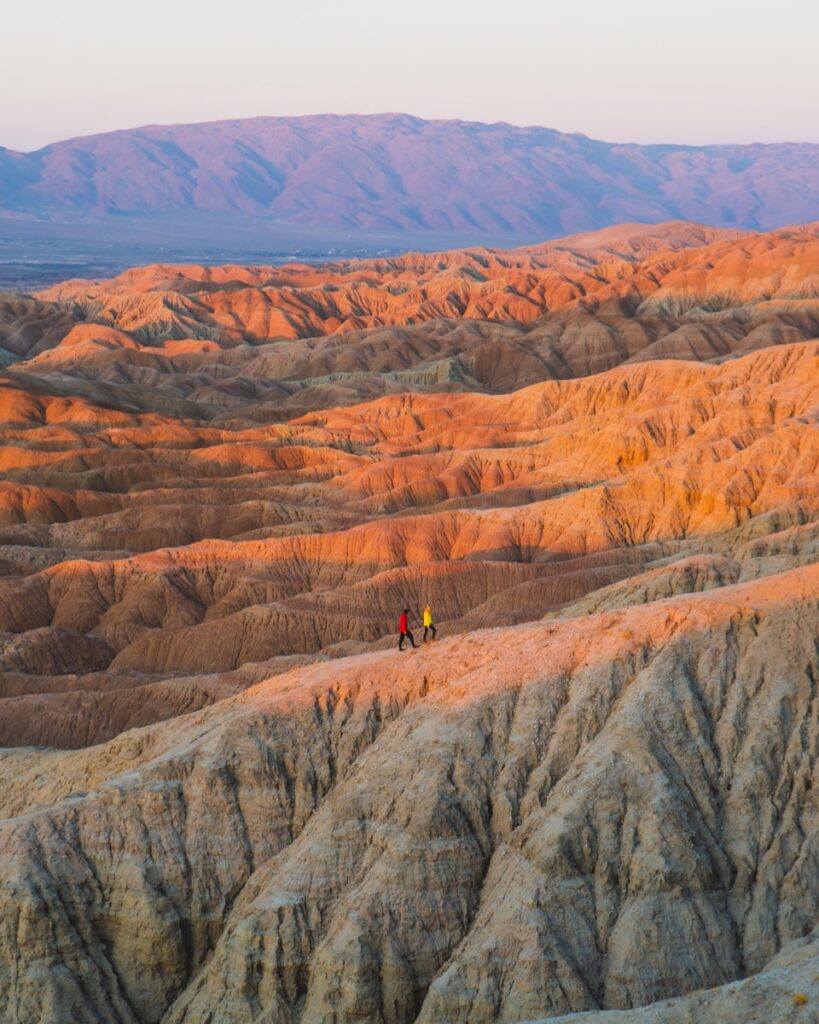 Anza-Borrego Desert State Park is like a mini-Death Valley National Park in our opinion. There are tons of beautiful badlands, off-roading trails, hikes, and slot canyons to explore. We were surprised by how absolutely gorgeous it was. Fall and winter are great times to visit this park as it is located in the desert and the temperature is perfect for outdoor adventures.
Astrophotography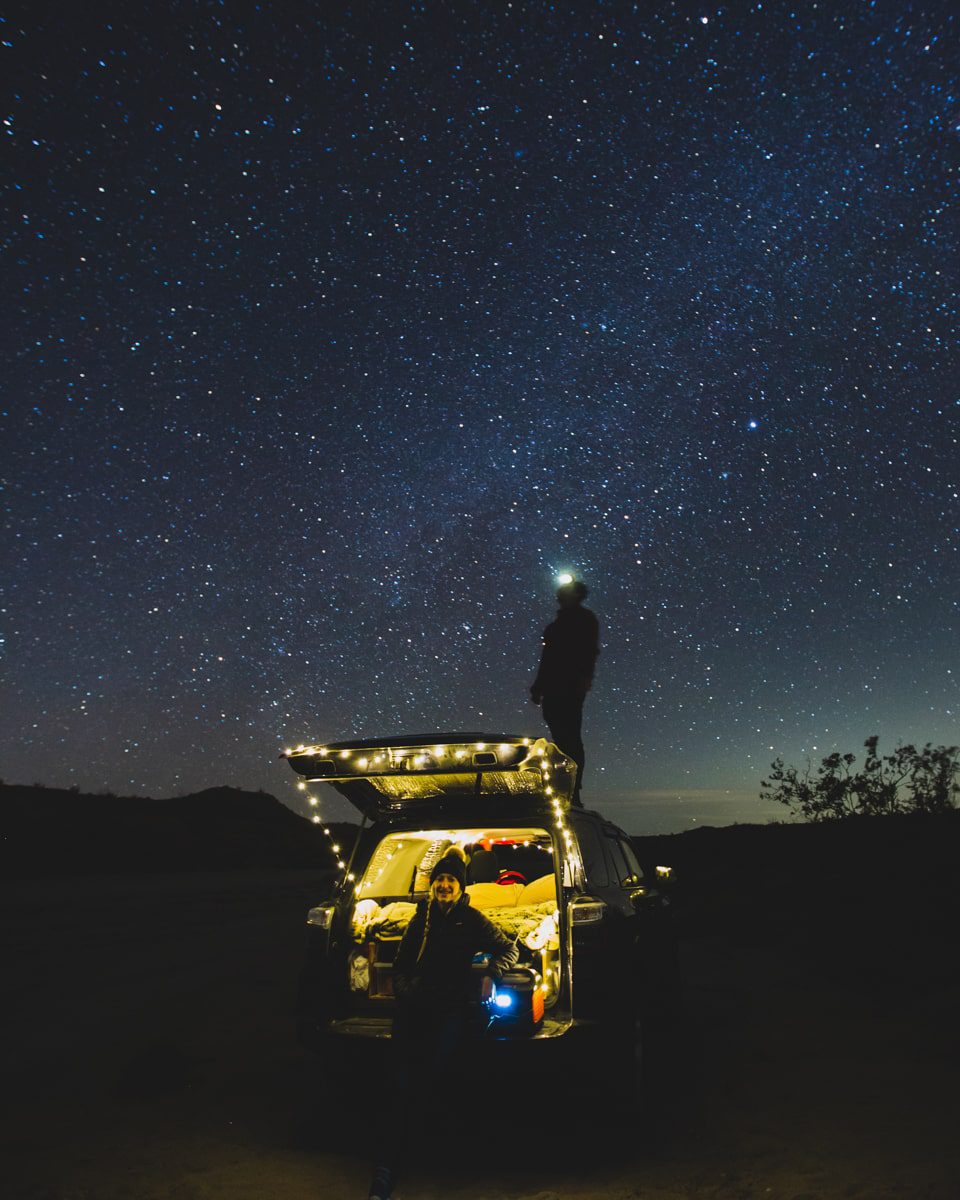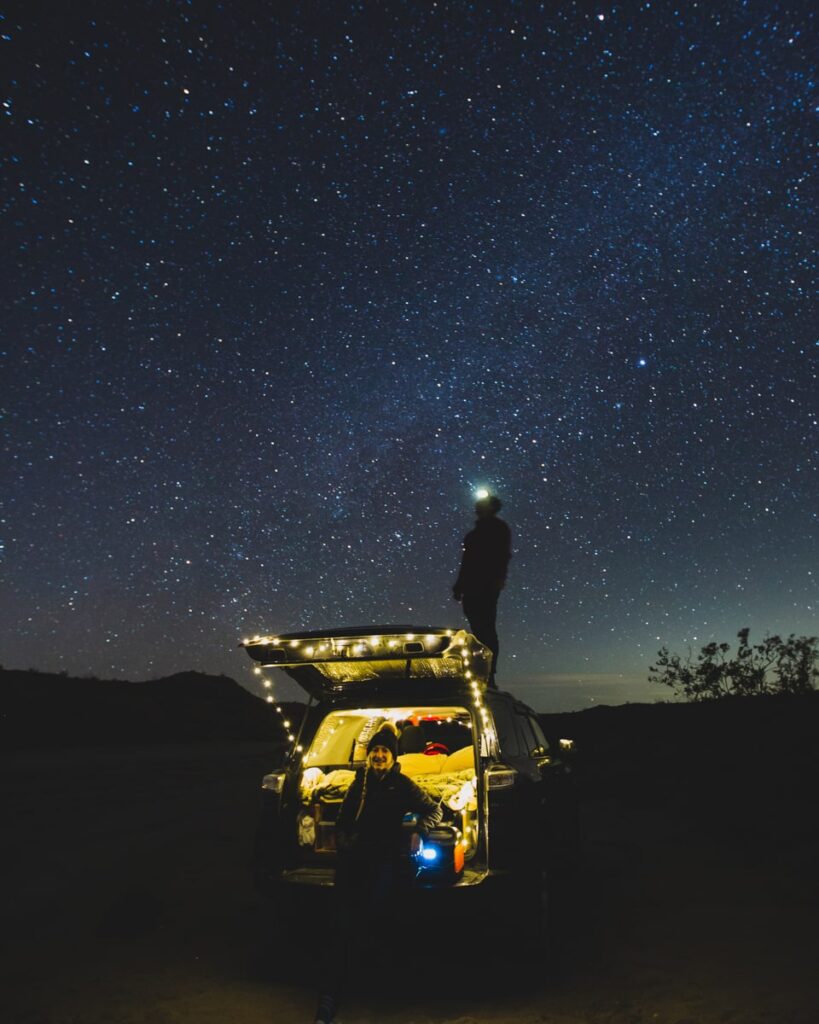 Being an International Dark Sky Park, Anza-Borrego State Park is a great place to get some stellar astrophotography. Whether you're an amateur or a professional photographer, you'll find plenty of dark skies and breathtaking sights to capture in this park. From taking pictures of star trails, to shooting the Milky Way, to capturing deep sky objects like nebulas and galaxies–you can do it all here.
Here are some of the best spots to capture the night sky in the park.
Blair Valley
Cup Valley
Fish Creek Primitive Campground
Mountain Palm Springs Primitive Campground
The Slot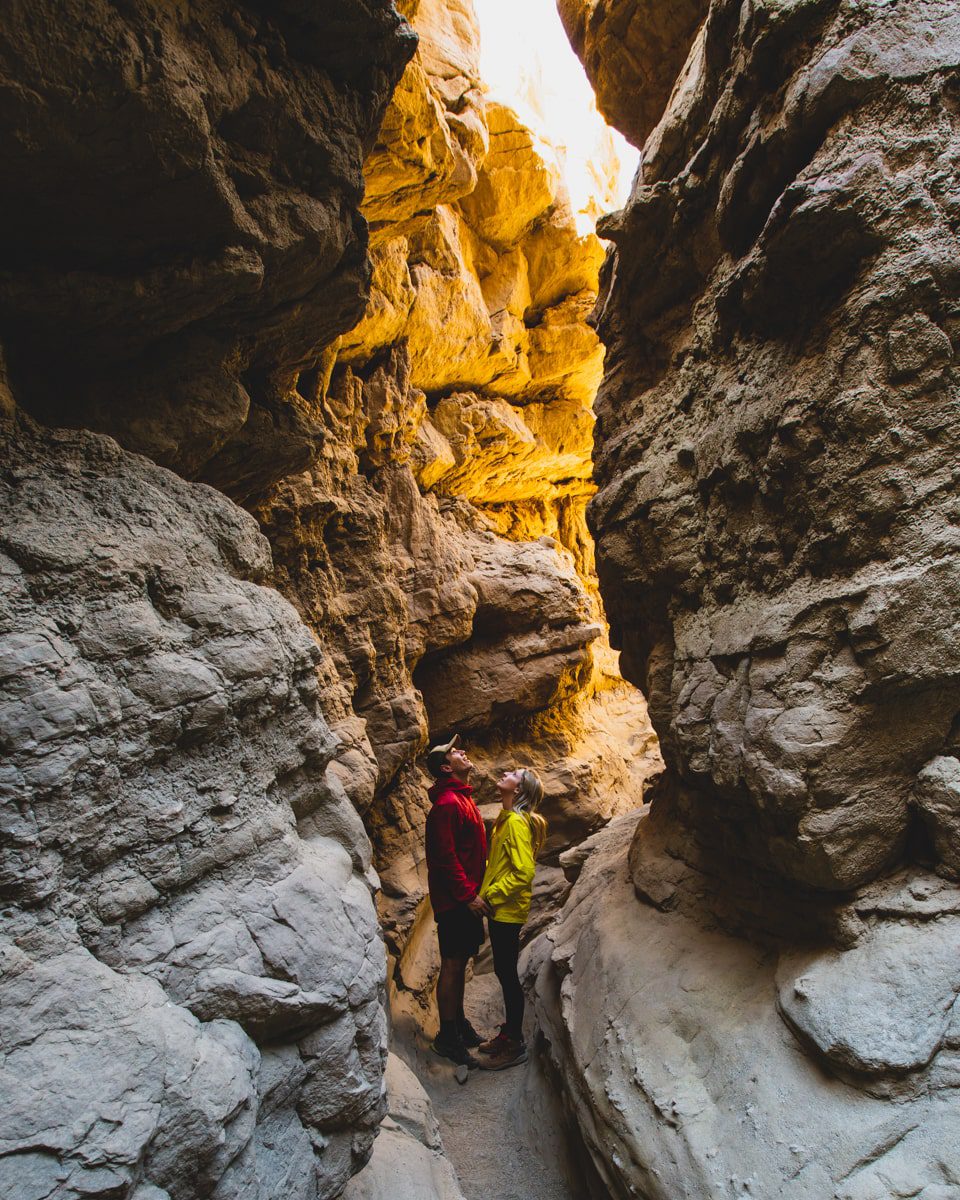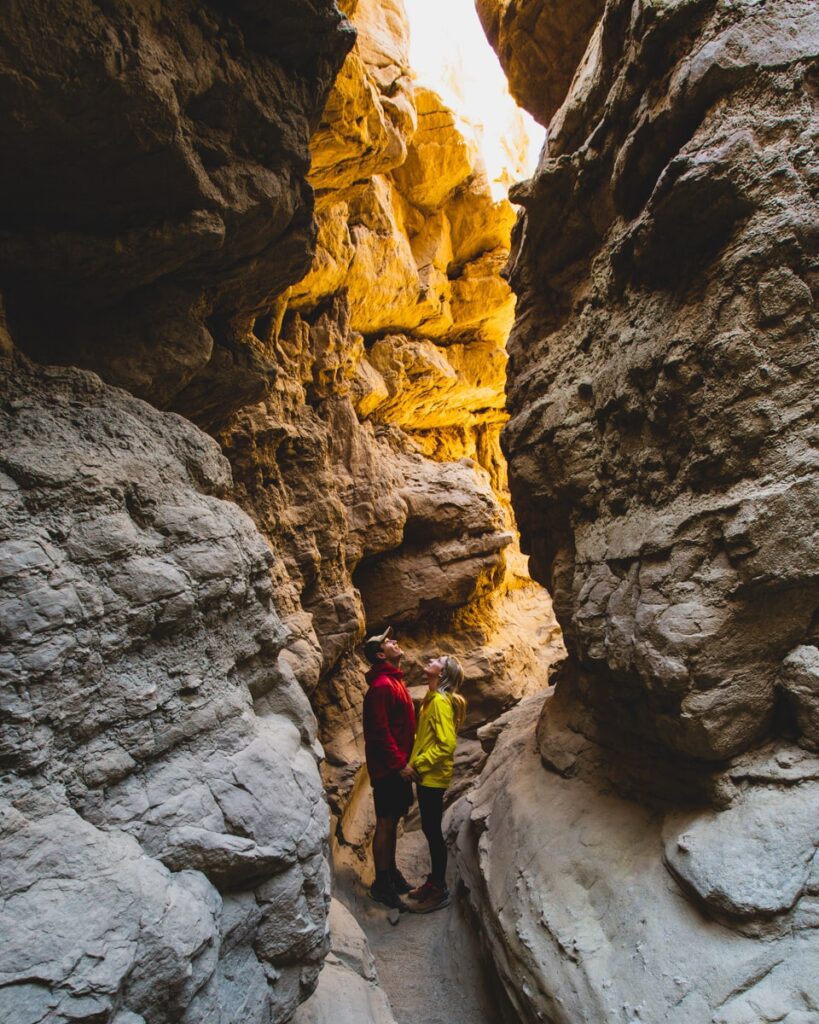 The Slot is an amazing 2.3-mile loop trail through a slot canyon. The canyon floor is about a foot wide and the canyon walls around you can reach heights up to 40 feet high. This is a super easy hike as you only go up 301 feet in elevation. There is an entrance fee of $10 so make sure to bring cash. This trail does fill up quickly so get there as early as you can.
Fonts Point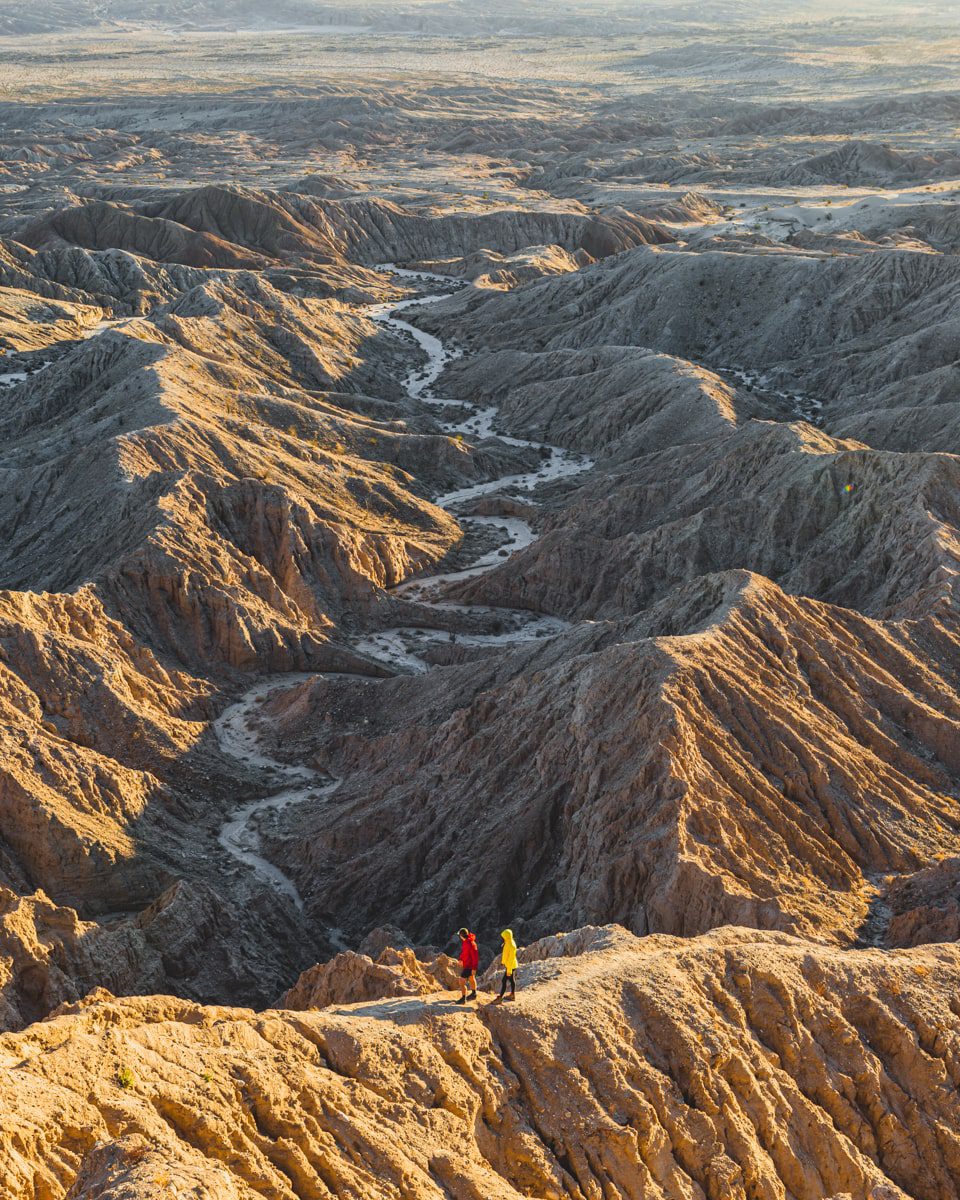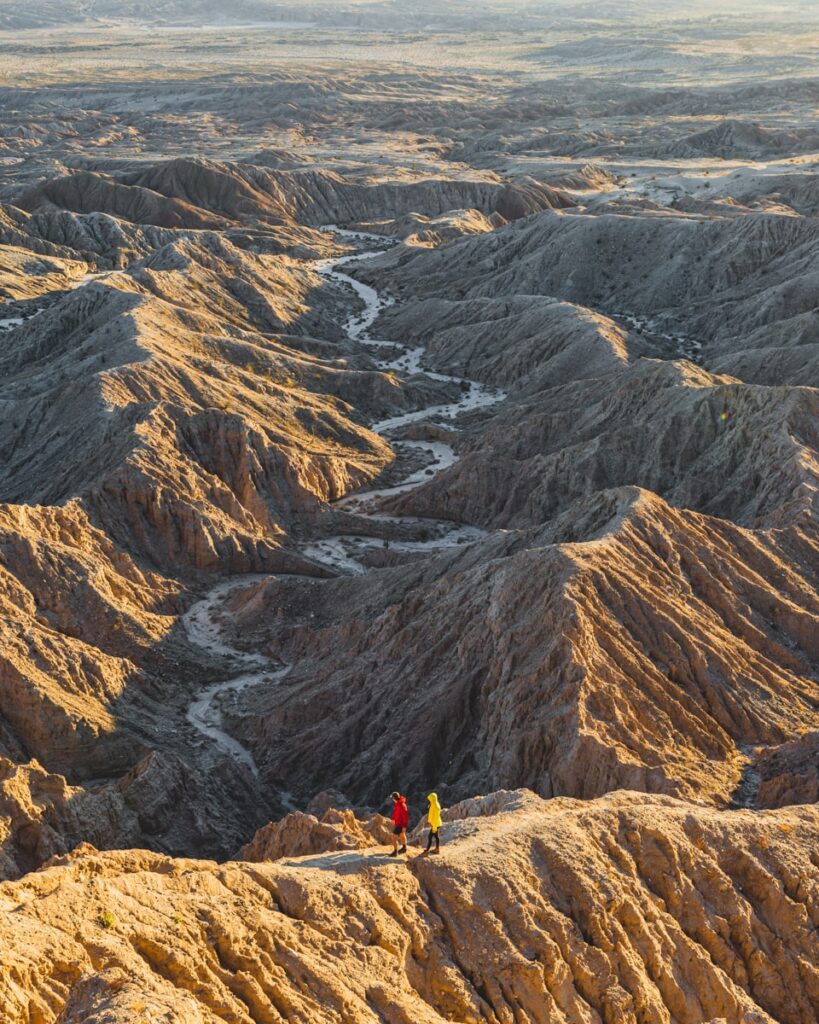 You have the option of hiking or driving the Fonts Point trail. It's about 7.9 miles and does require a 4-wheel drive vehicle if you're trying to drive it instead of hike. It's a fairly easy route as it only goes up 547 feet, and it has stunning views of the badlands. This location is especially great to watch the sunset over the park.
If you opt to drive, make sure you're comfortable driving on sandy and rocky terrain. Inexperienced off-road drivers often get stuck on this road.
3. Death Valley National Park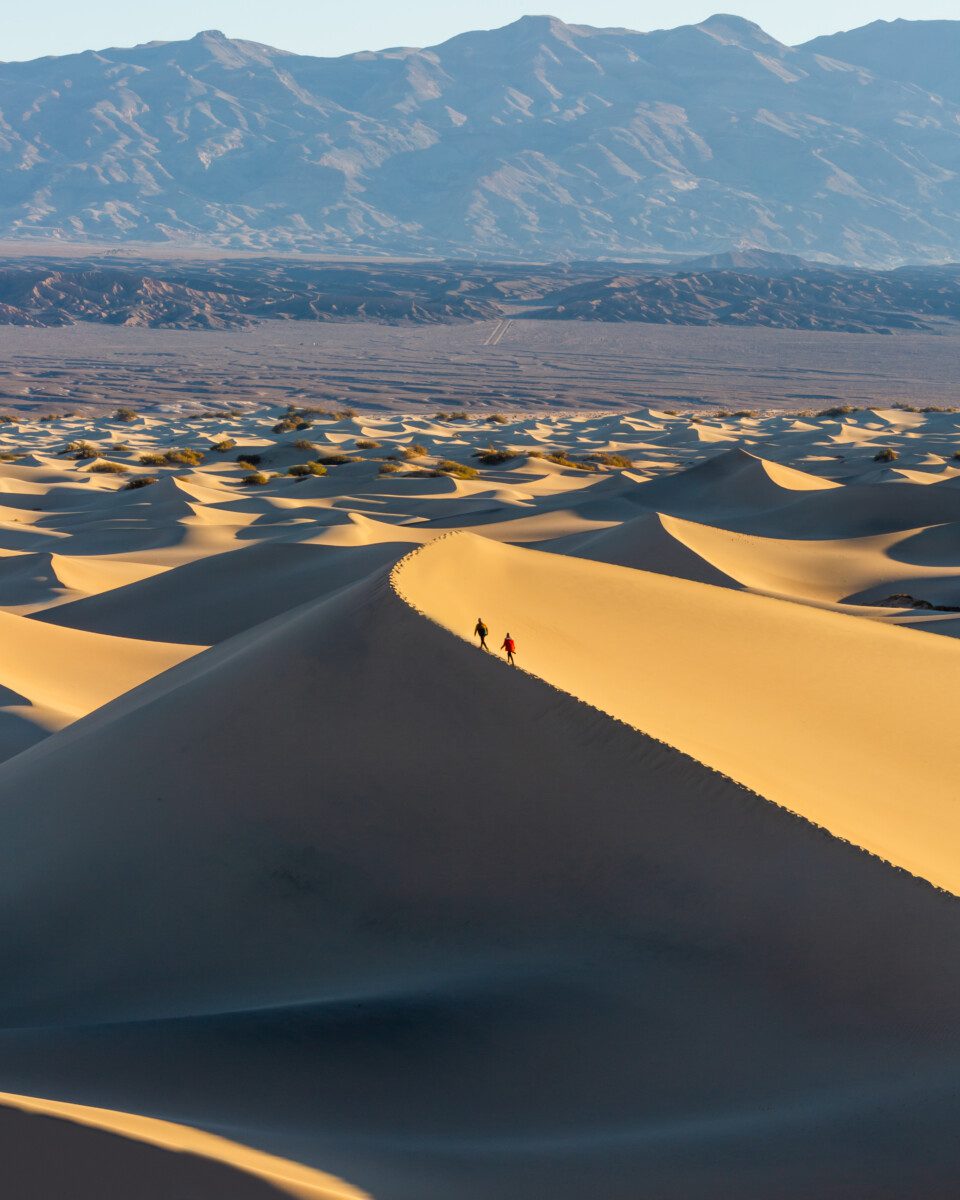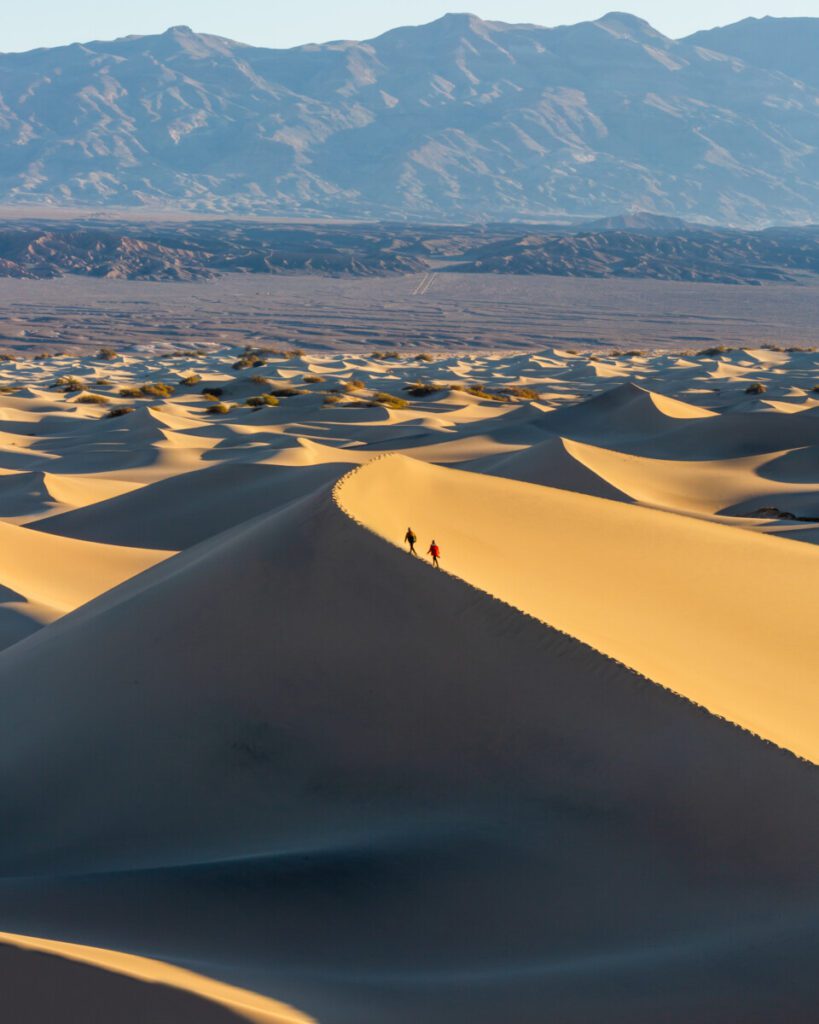 Being the biggest National Park in the US, Death Valley is incredibly unique. Here you have sand dunes, caves, slot canyons, and so many hiking trails. Death Valley is also home to the lowest point in North America at 282 feet below sea level. Just like Joshua Tree, Death Valley gets excruciatingly hot in the summertime. That's why the fall and winter are the most popular times to explore this National Park.
When it come to Death Valley during the fall and winter, these are some of our favorite locations to explore in this National Park.
Mesquite Sand Dunes
The Mesquite Sand Dunes in Death Valley National Park are the perfect example of Mother Nature's artistry. These dunes, which stretch for miles and reach heights of up to 140 feet, truly look like a painting. But unlike a painting, you can actually feel the sand between your toes as you explore this magnificent landscape.
The trail to the dunes is 2.8 miles out and back. Once you reach the dunes themselves there isn't a defined trail, so you can hike out as far as you'd like. If you're looking for great National Park photography, this is the place. Sunrise offers gorgeous lighting and minimal crowds, and the night sky offers unbelievable views of the stars. Coming to the dunes in the afternoon is great as well if you want to capture the sun touching the sand at sunset.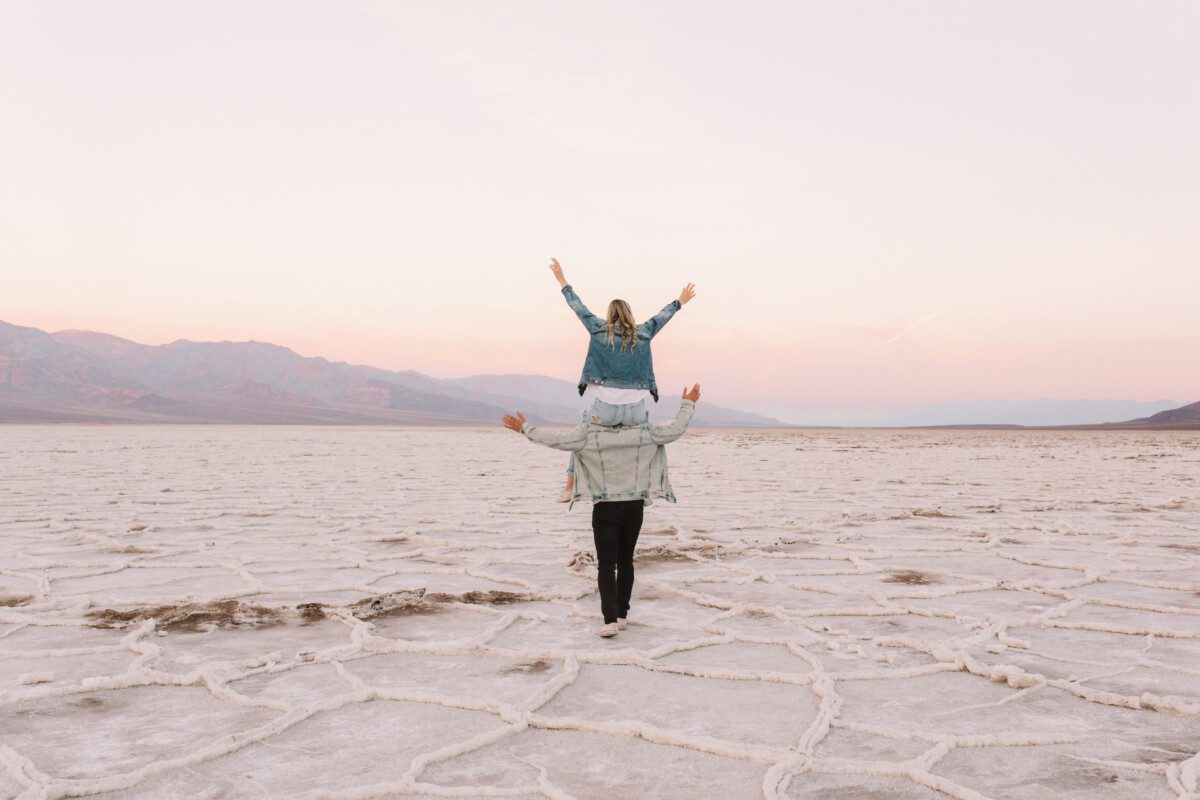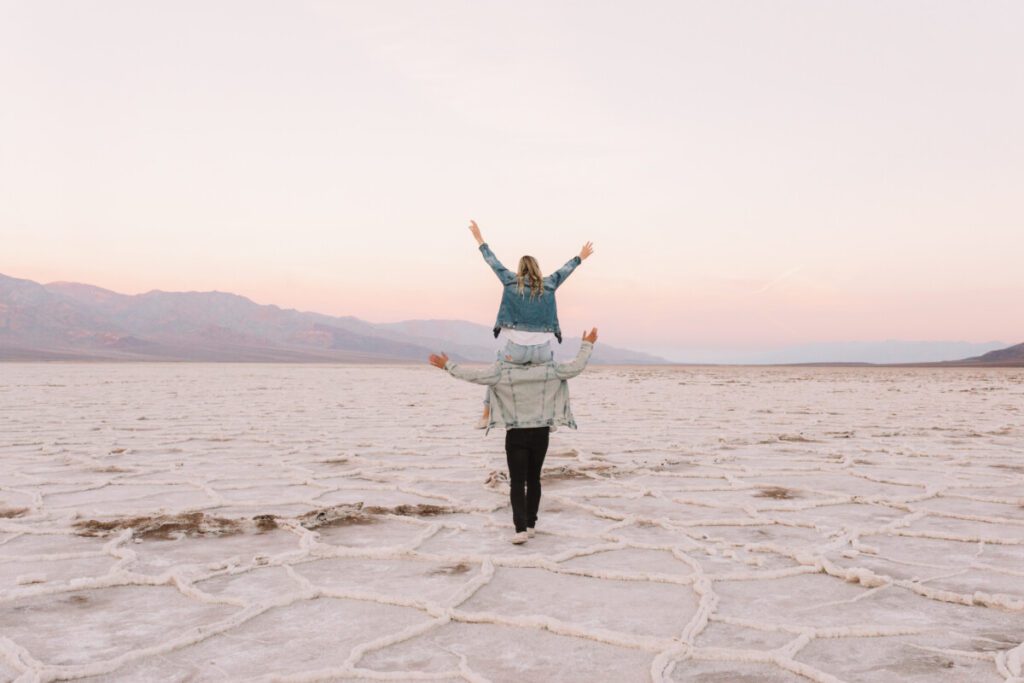 Badwater Basin Salt Flats
When it comes to visiting Death Valley, California during the fall and winter, Badwater Basin Salt Flats are a must-do. If you're looking for stunning views of the salt flats and mountains, this spot is for you. With its vast expanse of white salt-encrusted land stretching for miles and miles, it's no wonder this foreign landscape has been featured in countless movies, books and video games over the years. Totaling 1.9 miles round trip, this trail allows you to walk out on the salt flats and take in the breathtaking views all around you. 
Zabriskie Point
Zabriskie Point is a must-see destination when you come to Death Valley National Park. This spectacular viewpoint offers visitors an amazing panorama of the surrounding area. It's a great place to take some stunning photos and get in touch with nature. As one of the park's most famous spots, Zabriskie Point shows off the colorful and eroded badlands. At a total of 0.4 miles round trip, this point is great for sunrise and sunset.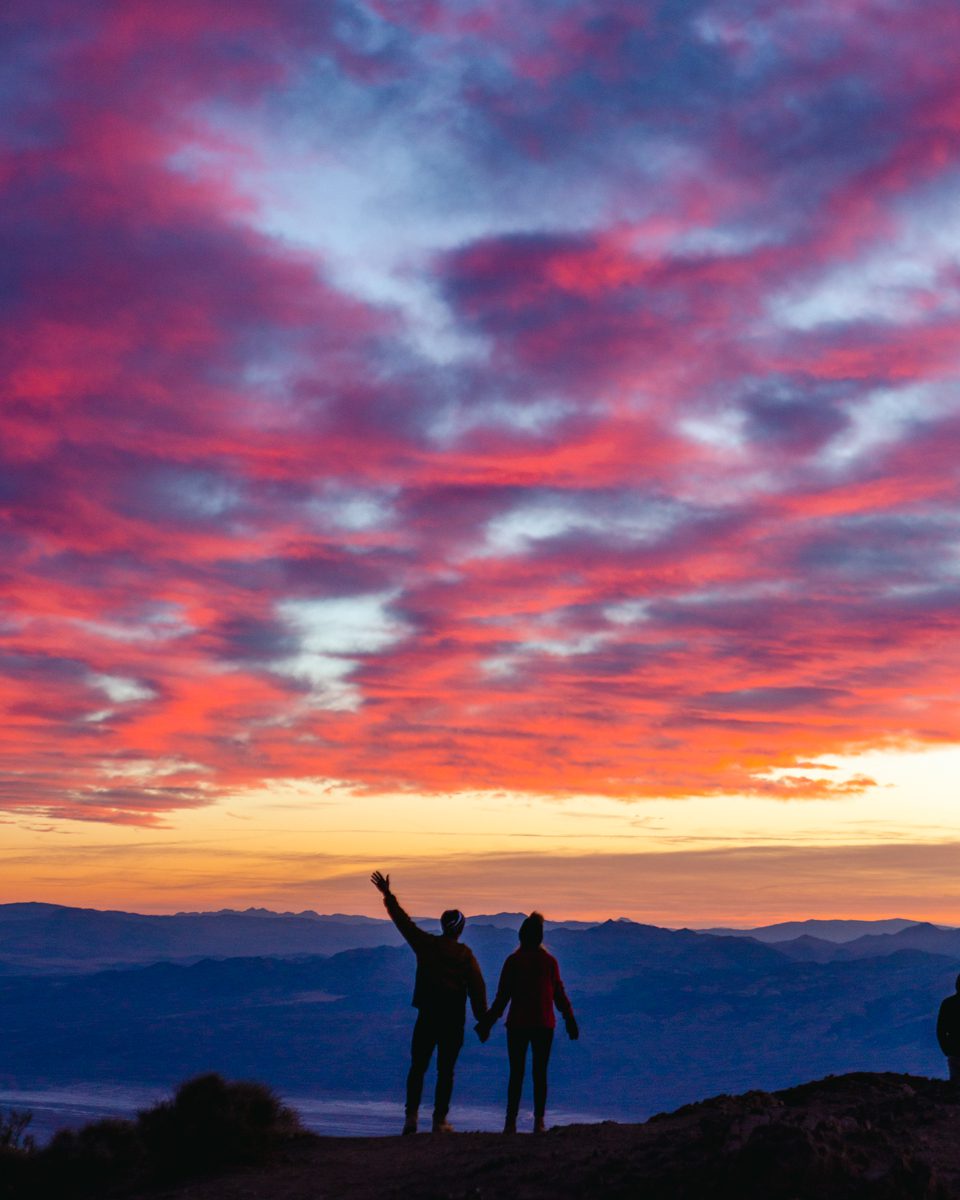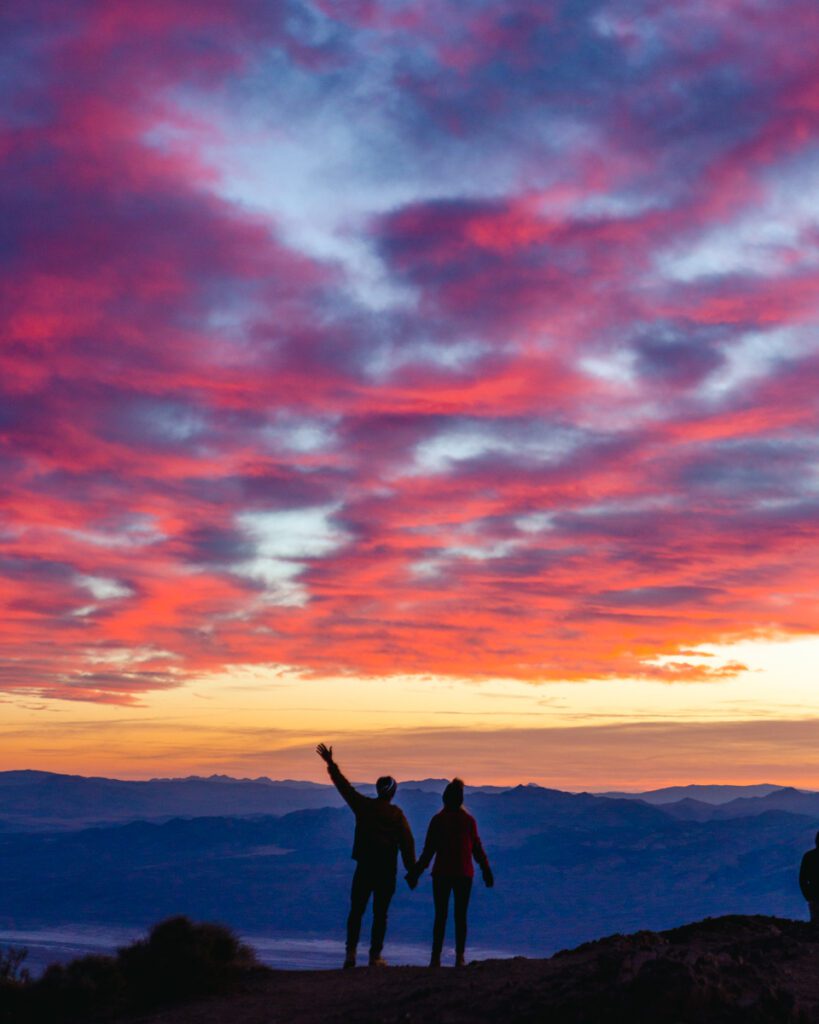 Dante's View
Dante's View is the highest established viewpoint in the entire park. From the 5,475-foot viewpoint, you can see all the way down to Badwater Basin. You'll be entranced by majestic mountain ranges stretching as far as the eye can see and the deep reds and oranges of Death Valley's desert. Totaling 1 mile of hiking, this spot is perfect for a sunrise hike or sunset hike. It does get a little crowded, but you can usually still find an area to yourself.
Want more information on visiting Death Valley? Check out our full guide here.
4. San Diego
If you're wanting to escape the cold by coming to California during the fall and winter, San Diego is a great place along the stunning coast line. The days are sunny and warm enough to hit the beach, but you can always bundle up for hikes in the mountains or a night out on the town. When it comes to the cooler months, San Diego is the perfect destination.
Sunset Cliffs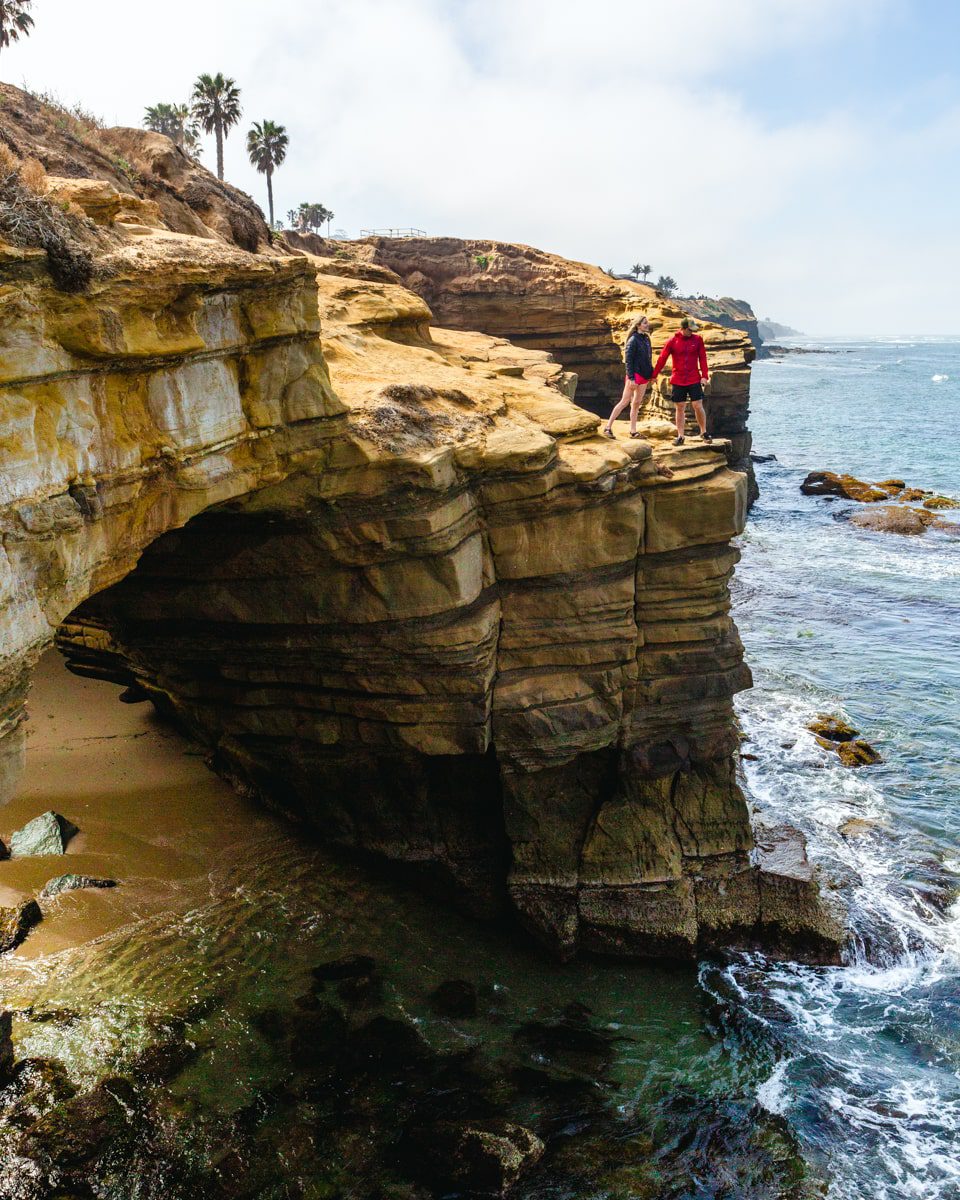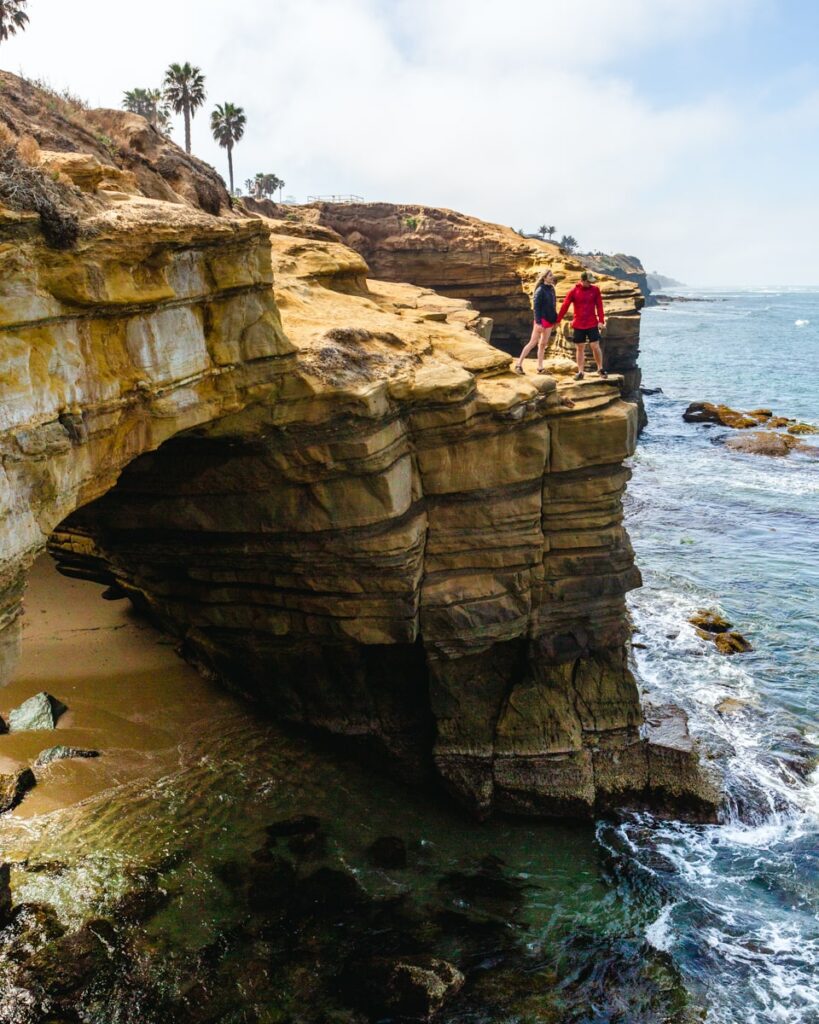 Sunset Cliffs in San Diego is no ordinary beach spot. This stunning stretch of coastline offers incredible views of the Pacific Ocean, as well as plenty of fun activities to keep you entertained. Whether you're looking for a romantic sunset stroll or an adventurous cliff jump, this beautiful area has something to offer everyone. You might even catch a glimpse of some local dolphins while you're here. Grab your sunscreen and get ready for an unforgettable day at this one-of-a-kind destination.
San Diego State Parks
San Diego has such a wide variety of activities including many State Parks such as:
Border Field State Park
Old Town San Diego State Historic Park
Torrey Pines State Beach
Cuyamaca Rancho State Park
Each of these State Parks are super unique and have lots of fun places to explore.
Kayaking and Snorkeling Tour
If you're in California during the fall and winter, kayaking and snorkeling in San Diego are a must. We recommend booking your tour with Everyday California and using our code "THELOVERSPASSPORT" for 20% off any tour. If you choose to come in the early fall, you can experience swimming with the leopard sharks that are breeding in the area. They're completely harmless and it's such an unforgettable experience.
Torrey Pines Gliderport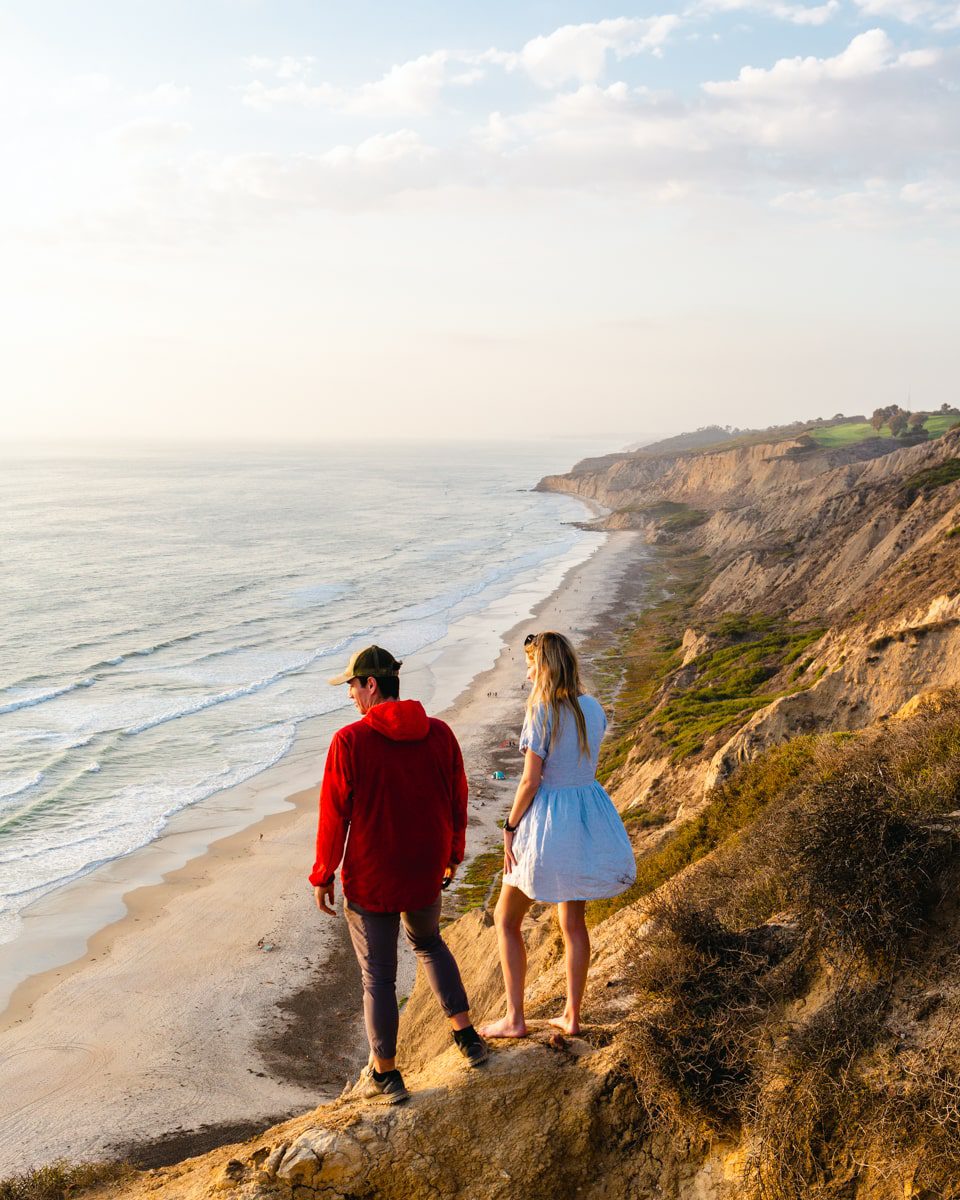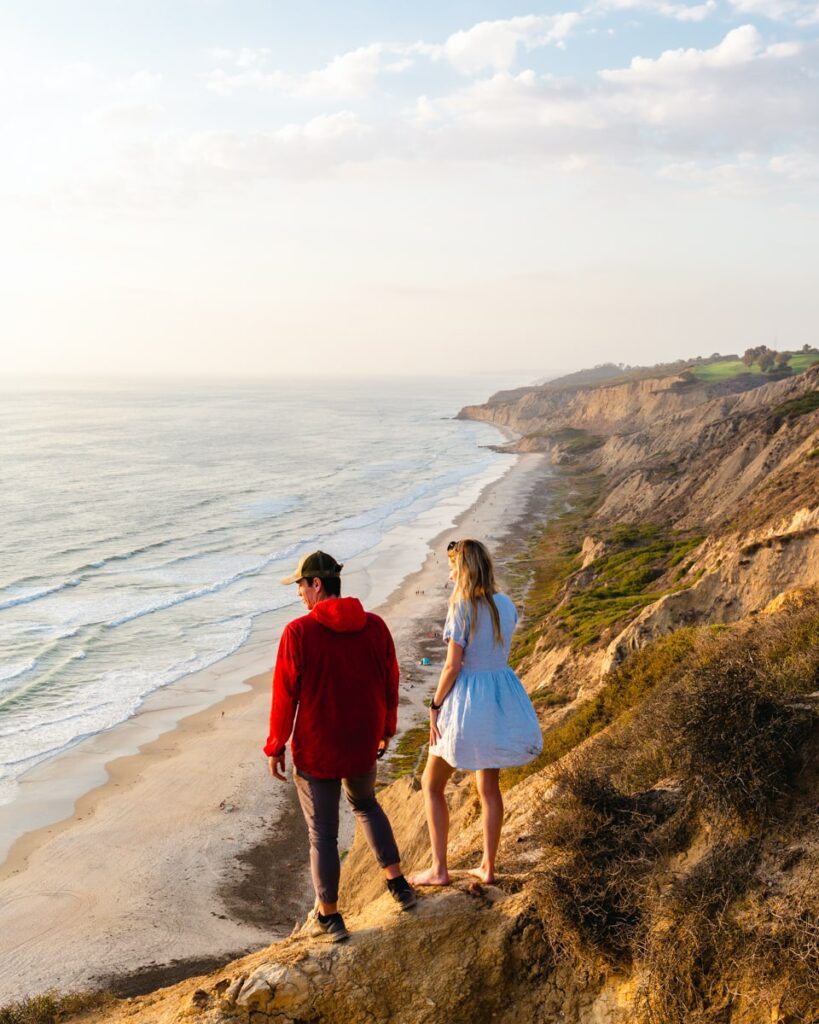 Next, we recommend coming to Torrey Pines Gliderport for sunset. Here you can watch the sun sink below the waves and watch all the paragliders and hang gliders do their thing off the cliffs. It's a very fun evening activity.
5. Pinnacles National Park
When the fall chill brings a change of season, you know that it's time to start thinking about heading to Pinnacles National Park. The dramatic rock formations and stunning views make it the perfect spot for an autumn adventure. The summertime in Pinnacles can get very hot so fall or winter are perfect months to get out and explore this park.
Here are a few of our suggested Pinnacles National Park stops when in California during the fall and winter.
Moses Spring Trail to Bear Gulch Reservoir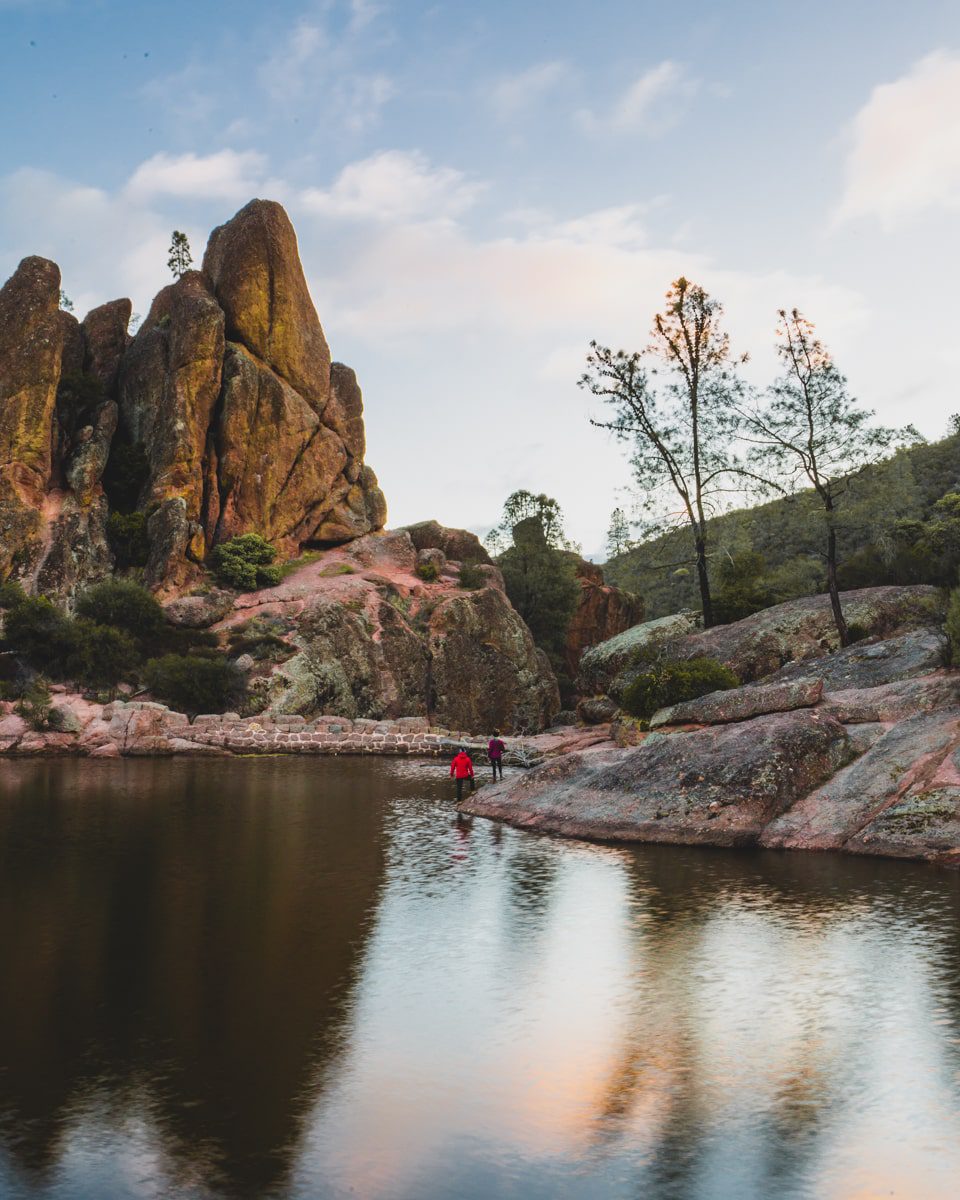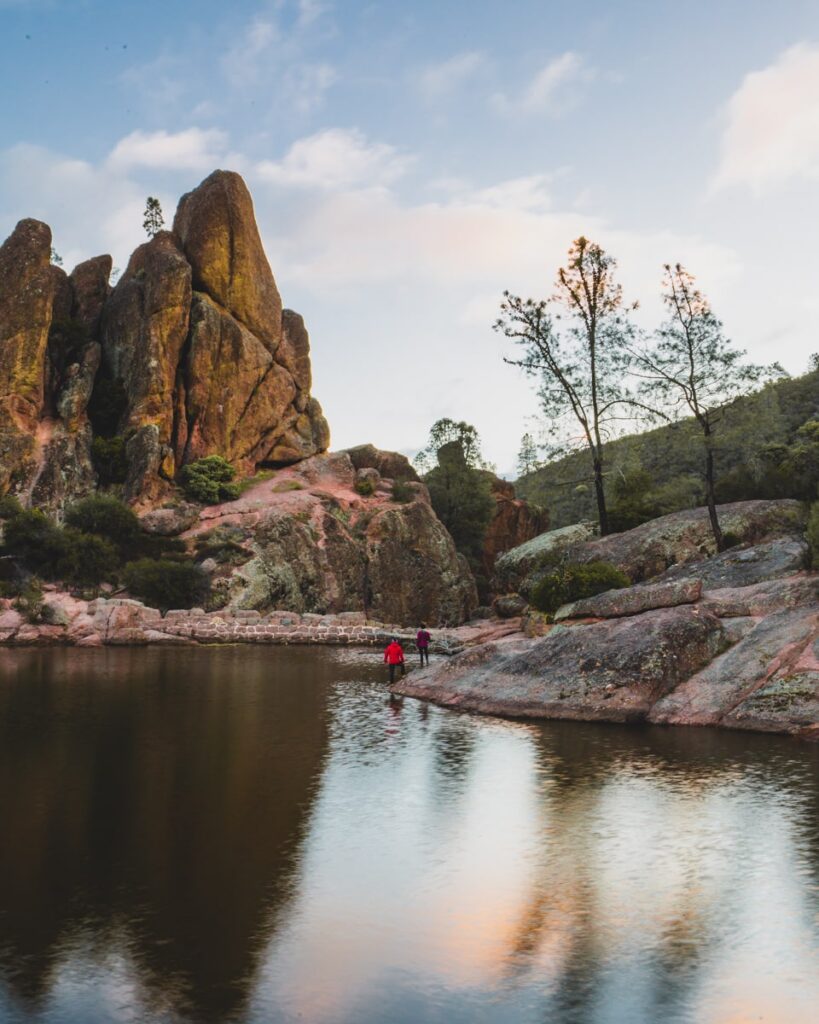 This 1.2-mile trail takes you up to the reservoir. We highly recommend this hike for sunrise as the views are beautiful and the trail is empty. This trail provides nature lovers with a diverse array of scenic views and wildlife.
High Peaks Trail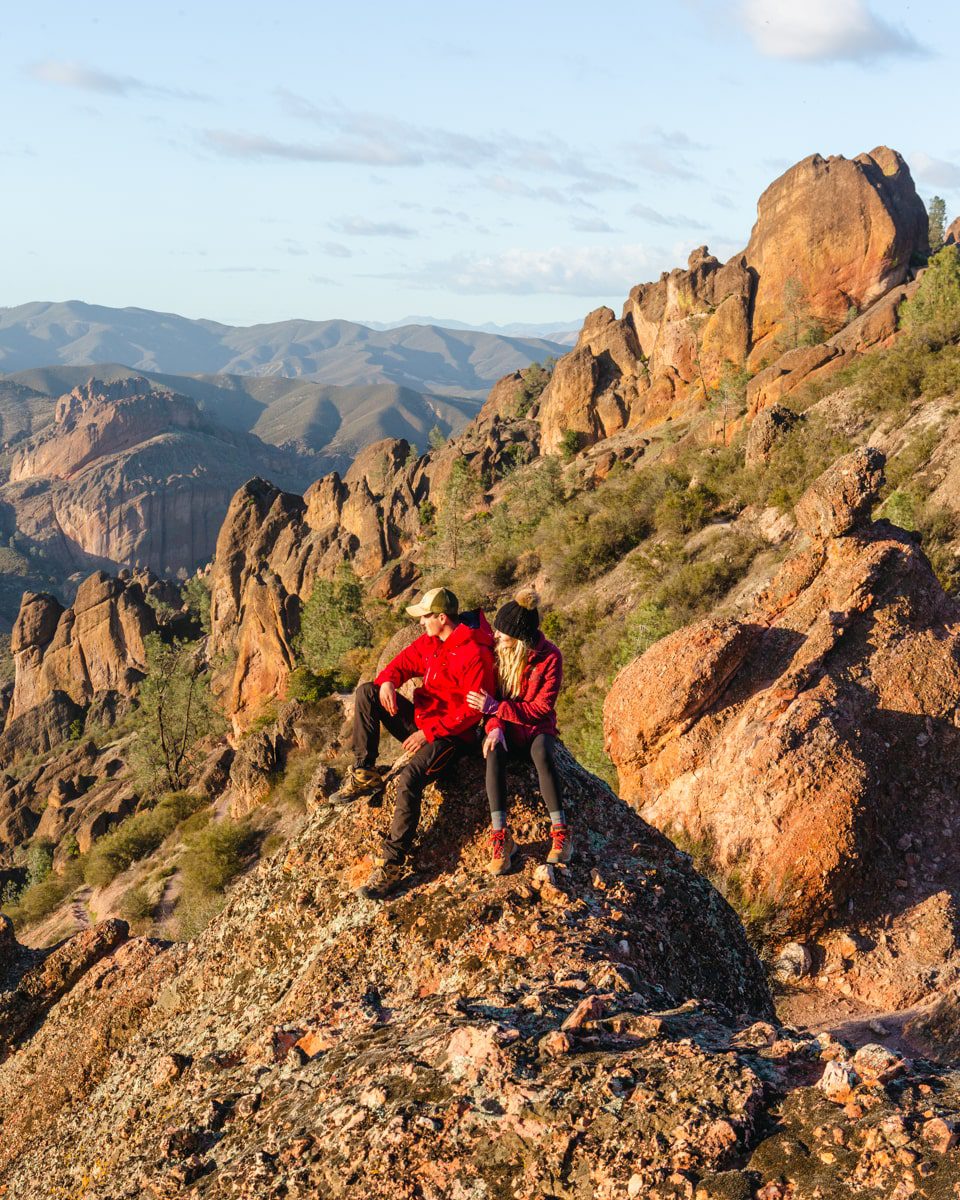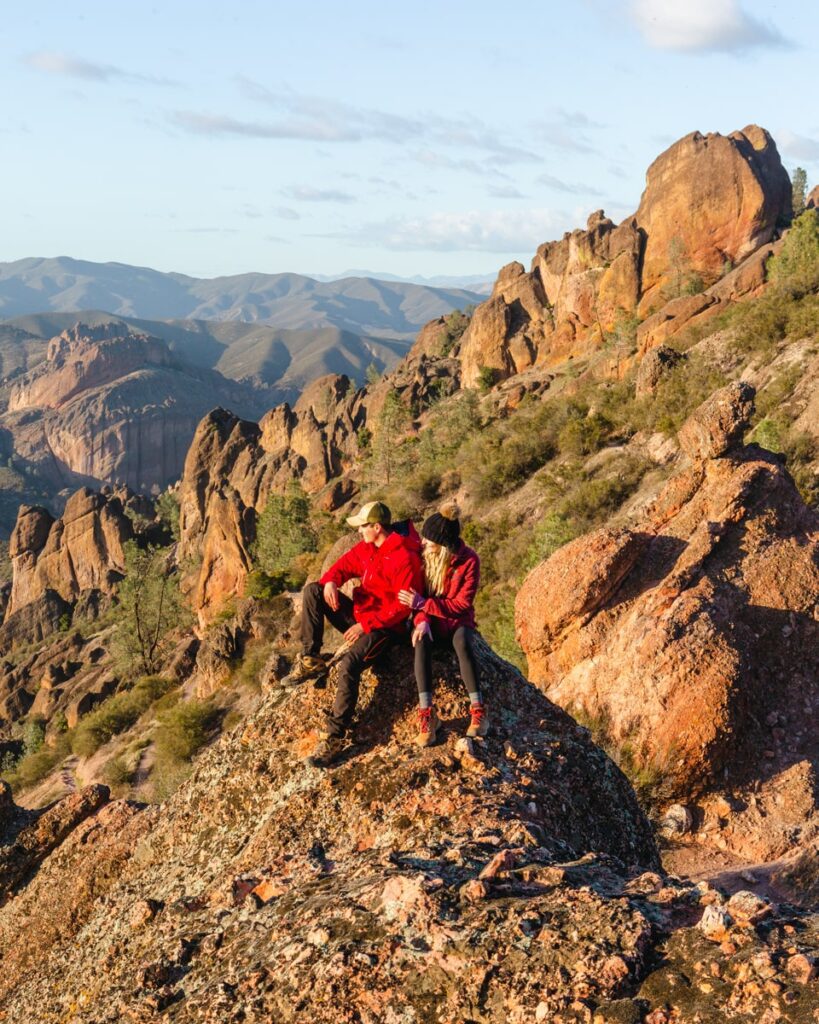 The High Peaks Trail is a 6.4-mile loop that takes you up 1,840 ft in elevation and allows you to overlook the park. We personally started the trail from Bear Gulch and went up to High Peaks and then the Steep and Narrow and back around. This is such a fun and beautiful hike, and we love the amazing views it offers. We recommend this trail as a sunset hike but make sure to stick to the High Peaks side of the trail and not the Steep and Narrow section as that is more of a sunrise spot. 
Personally, the Steep and Narrow section of this trail is our absolute favorite because you get to overlook the rolling mountains and all the pinnacles. Since this California National Park lies on a fault line, this part of the trail shows the volcanic rock on one side and the sedimentary rock on the other. It's such a beautiful view.
There is railing and steps for this section, but we would not recommend it to anyone who is afraid of heights. If you want to avoid the Steep and Narrow part of the trail, you can just head back down the way you came up on the High Peaks Trail and not do the full loop.
Condor Gulch Trail
We recommend the Condor Gulch Loop as a sunrise hike to see a nice golden glow in the park. On this trail, there is a viewpoint about a mile up that we love for capturing photos. If you're a photographer, we highly suggest stopping at this spot on your way up. This hike is 1.9 miles out and back and takes you up 521 feet in elevation. 
6. Mammoth Lakes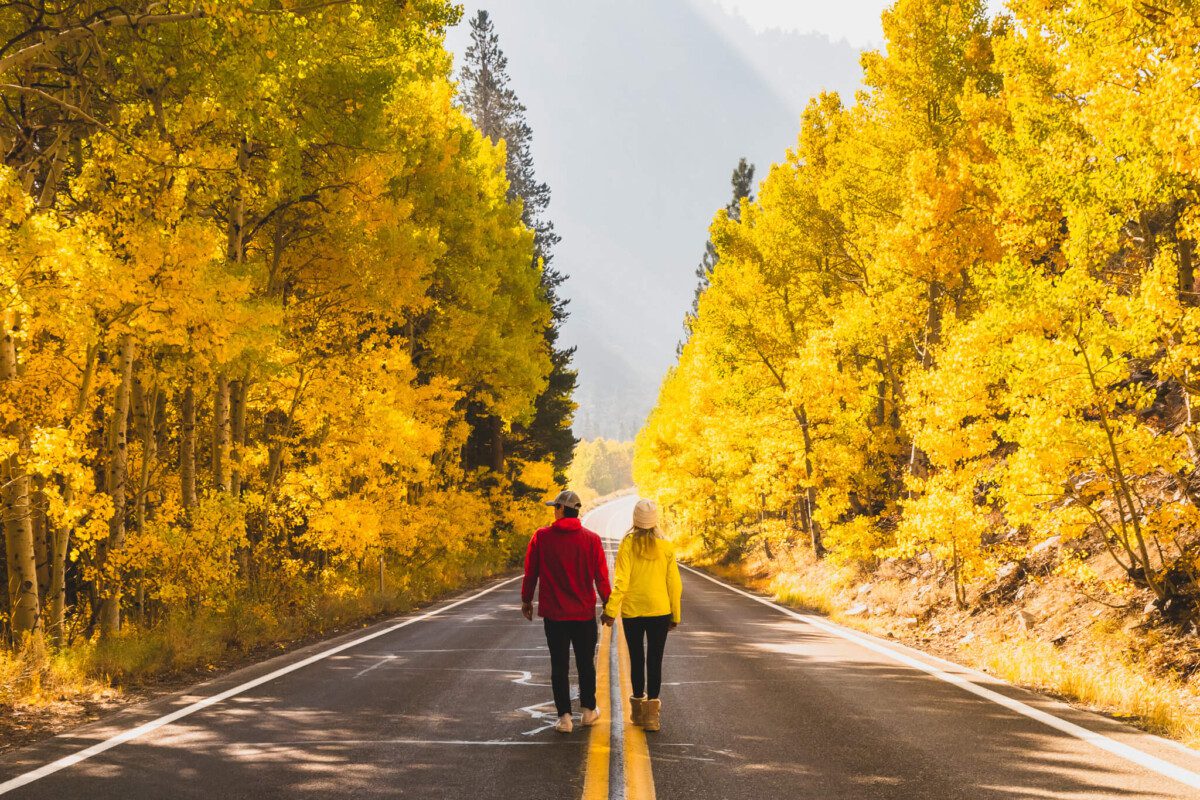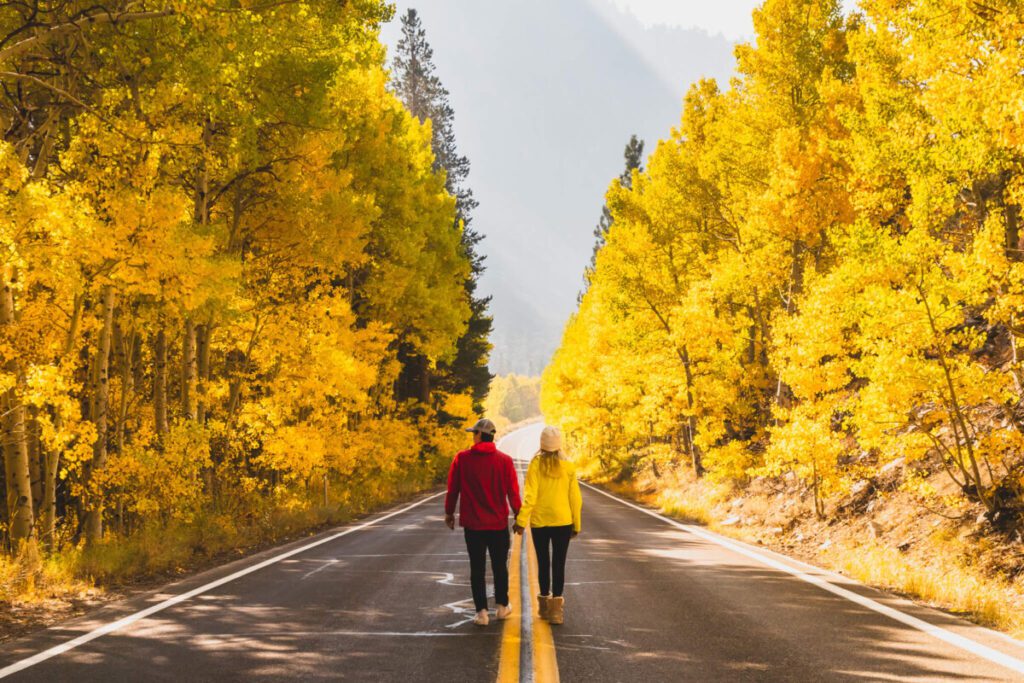 Mammoth Lake is the perfect choice for a winter getaway. The crisp mountain air and breathtaking views of the lake and surrounding mountains make for an unforgettable experience. Whether you want to try downhill skiing or go snowshoeing, there's something for everyone at this alpine destination.
Skiing and Snowboarding
If you're looking for a spot to take on some of the most impressive mountains in the country, look no further than Mammoth California. Whether you're an expert skier or snowboarder, a beginner, or just someone who loves being outside in the winter, Mammoth is sure to provide you with an unbeatable experience. With over 150 trails and 28 lifts to choose from, there's something for every level of skill and adrenaline-seeker. Mammoth also has an average yearly snowfall of 400 inches. The skiing and snowboarding here is insane.
Convict Lake 
If you're wanting to see a stunning sunrise while in California in the fall/winter, we suggest heading up to Convict Lake in Mammoth. The trail is just 2.5 miles long and only goes up 180 feet in elevation. On this super easy trail, you can watch the sunrise over the beautiful lake and mountains and enjoy a peaceful start to your day.
Mammoth Hot Springs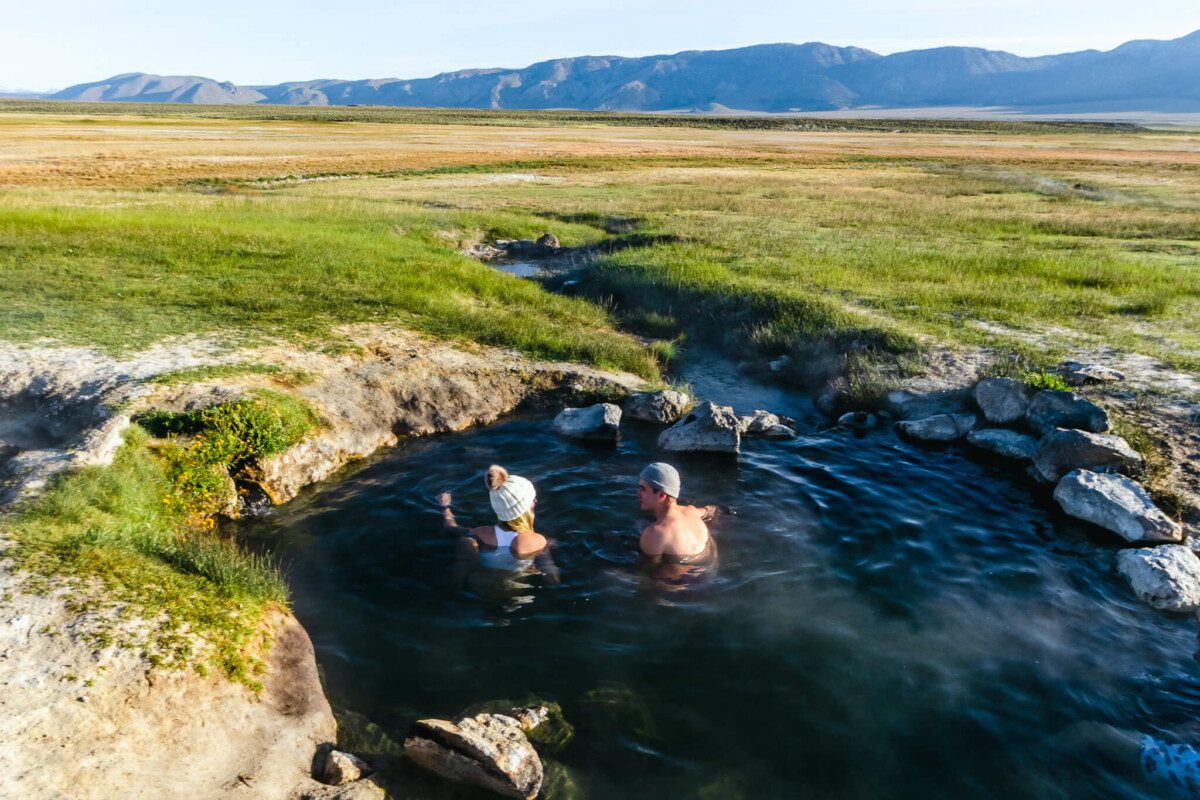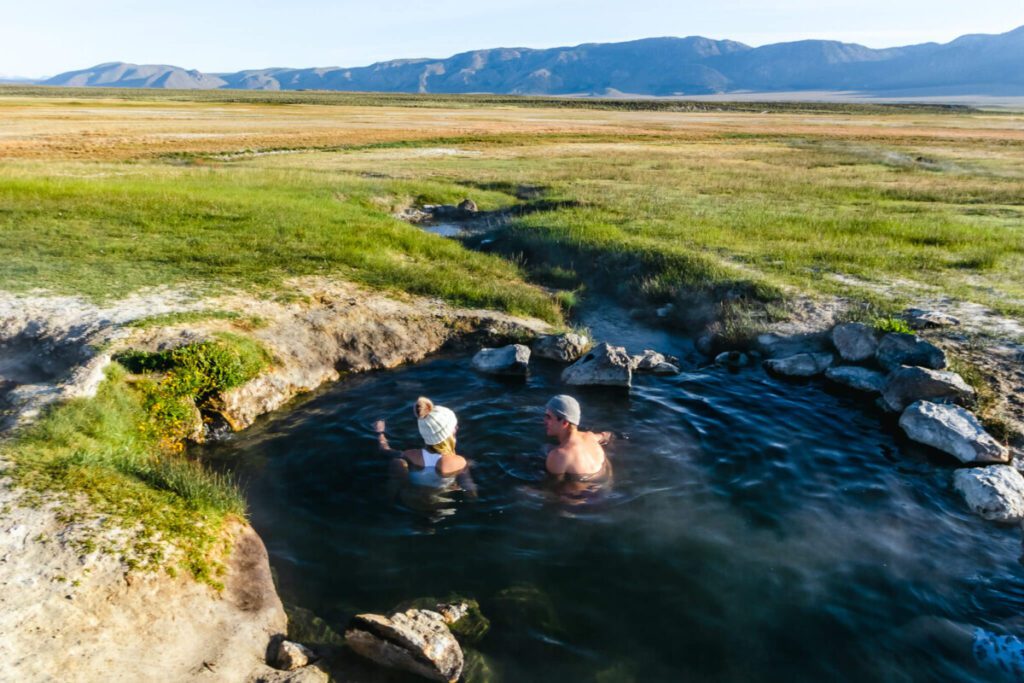 Mammoth Lakes has plenty of naturally heated mineral pools to take advantage of during the fall and winter. From hot springs tucked away in scenic meadows to primitive pools hidden deep in the forest, there's something to fit every adventurer's needs. Whether you're looking for some relaxation or an outdoor adventure with friends, these hot springs have got you covered. 
Here are a few of the most popular hot springs in the area.
Wild Willy's Hot Springs
Rock Tub Hot Spring
Crab Cooker Hot Spring
Shepherd Hot Spring
Hilltop Hot Spring
We highly recommend visiting the hot springs for sunrise to avoid the crowds and have a peaceful experience in nature. For more recommendations near Mammoth, check out our full Highway 395 Road Trip itinerary.
7. Yosemite National Park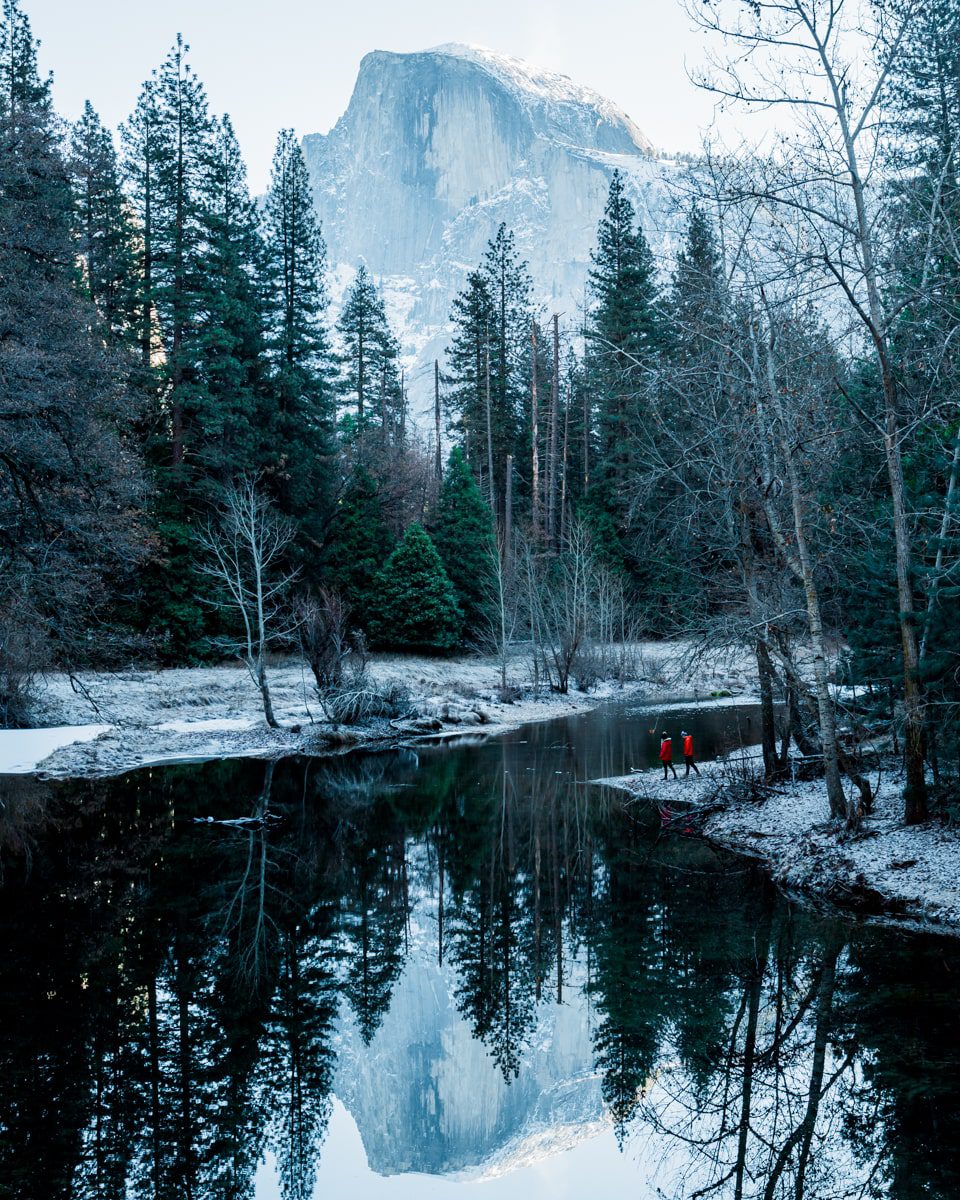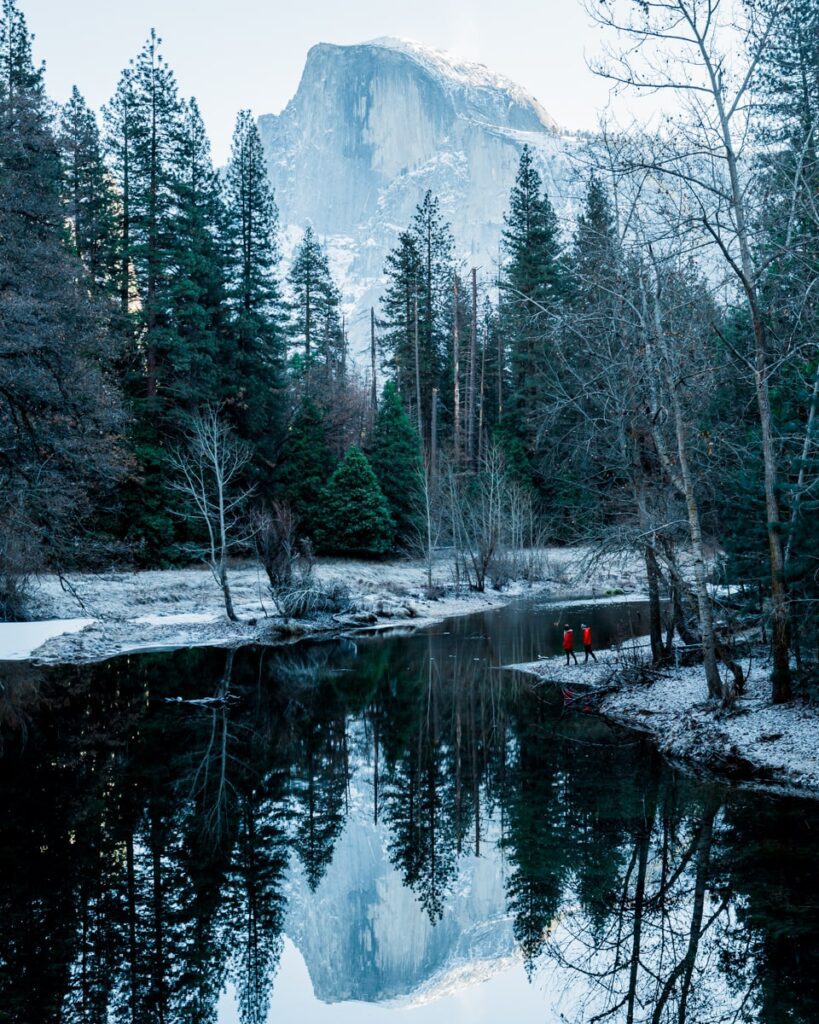 The crisp air, the vibrant foliage, the snow-capped peaks…nothing is like Yosemite, California during the fall and winter. There are plenty of activities and sights to see in this stunning National Park. 
Snowshoe Up the 4 Mile Trail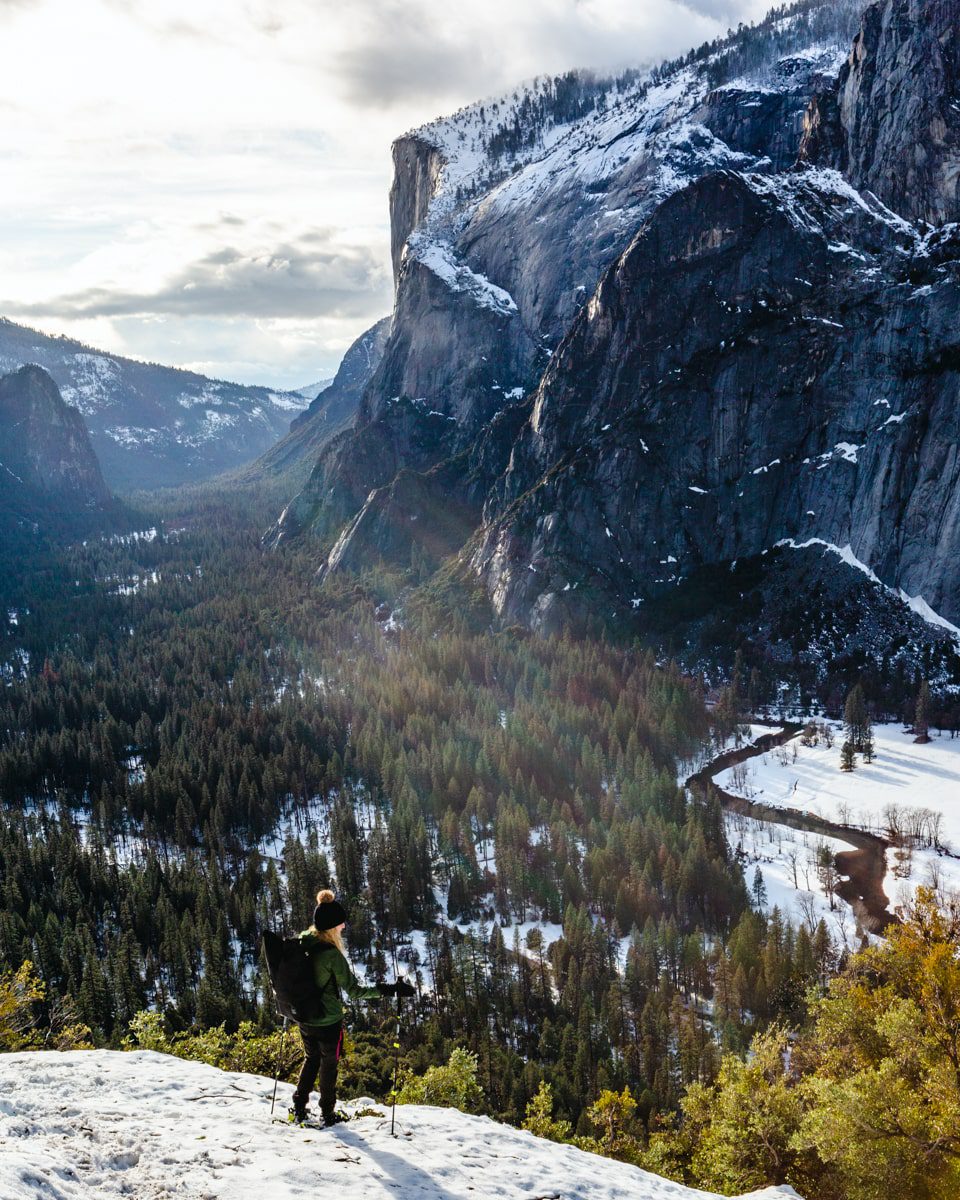 Why not put your snowshoes to use and head up the 4-mile trail in Yosemite National Park? The trek up is definitely an uphill battle, but once you reach the top, you'll be rewarded with breathtaking views of the valley below. This entire hike is 9.2 miles out and back and climbs up 3,612 feet in elevation. Bundle up as it does get chilly up there. We recommend bringing along some coffee or hot cocoa to reward yourselves at the top and warm your bodies.
Scenic Valley Loop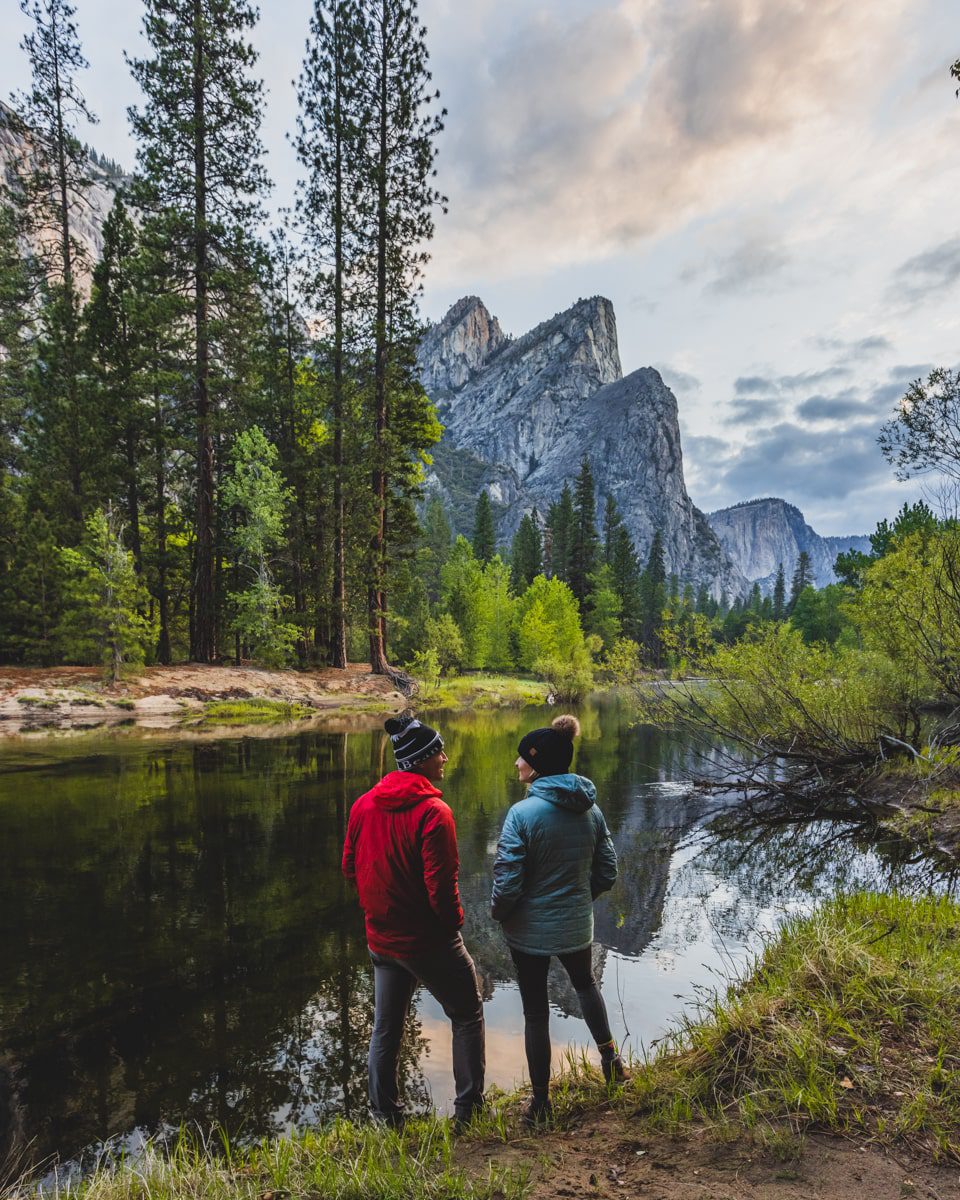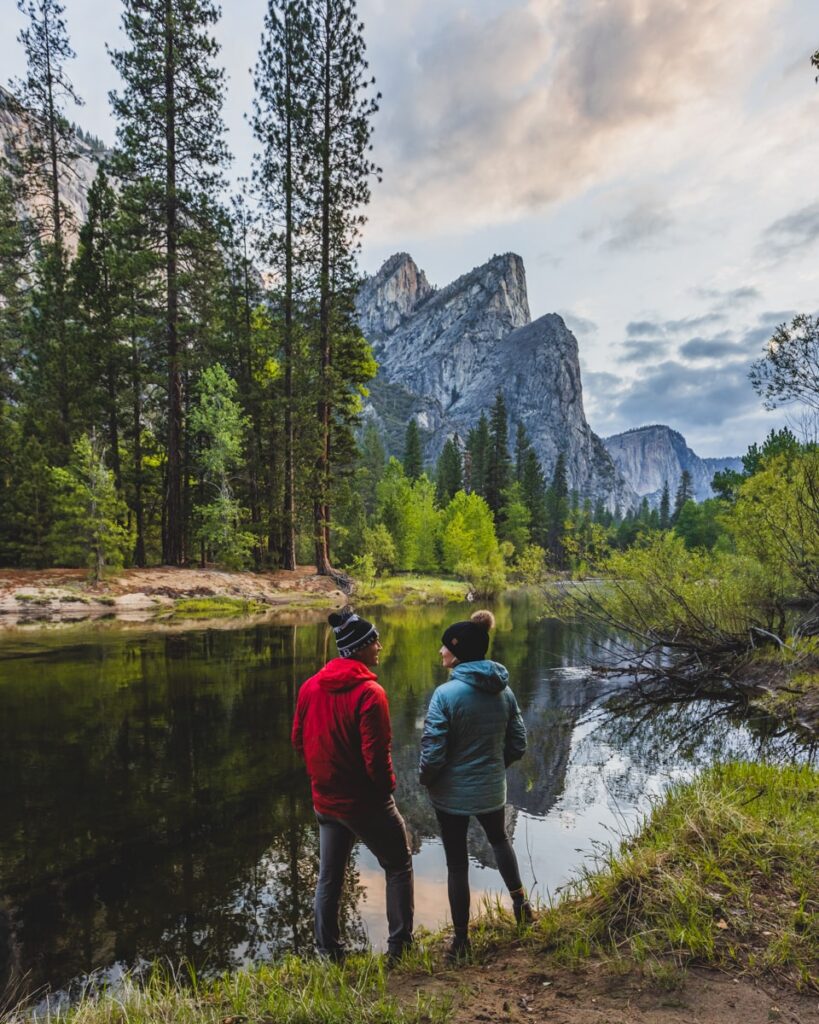 If you're looking for an adventure, nothing beats walking the scenic valley loop in Yosemite during the winter. The footpath winds its way through snow-dusted pines and frosty meadows, culminating with a stunning view of Half Dome and majestic El Capitan. It's an awe-inspiring hike that will take your breath away.
Firefall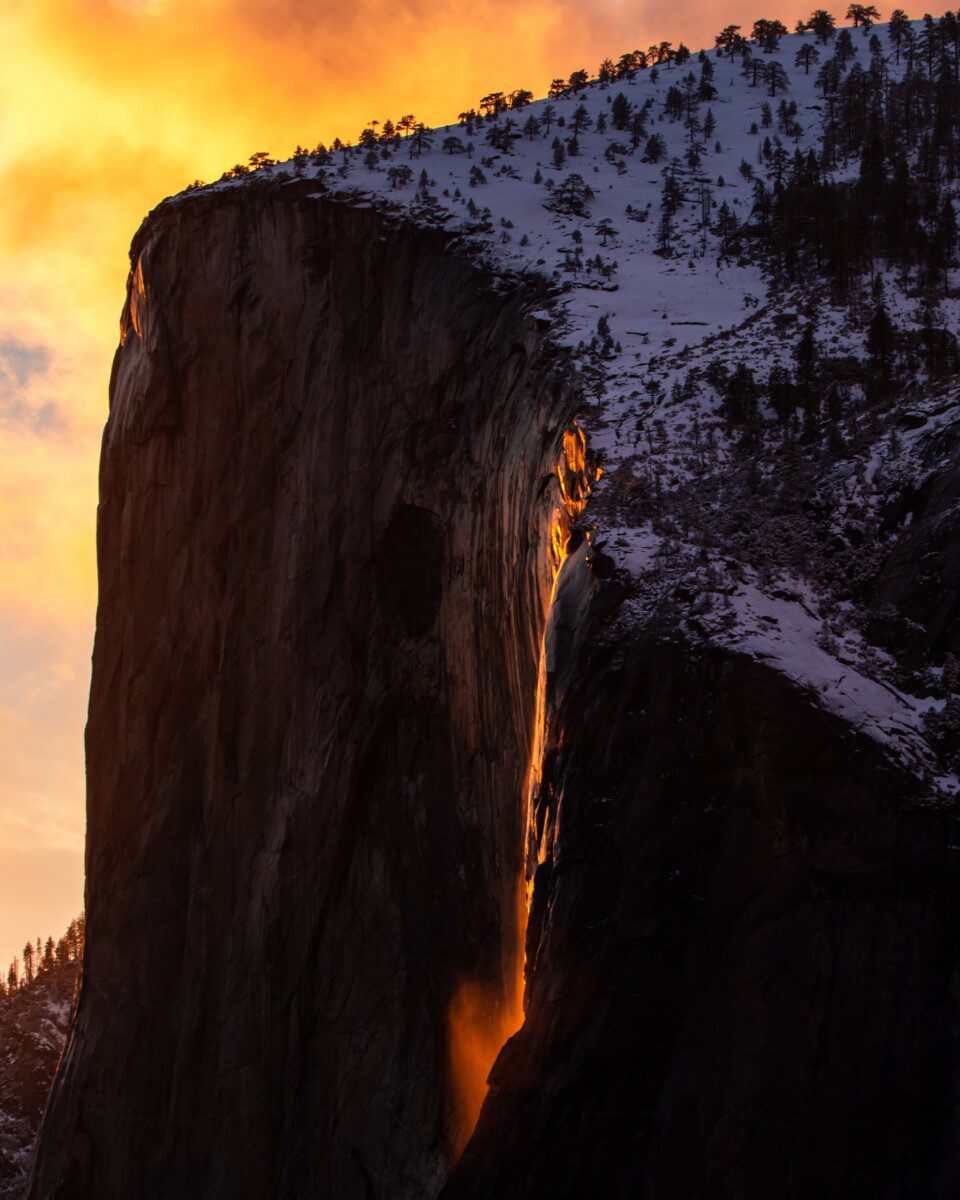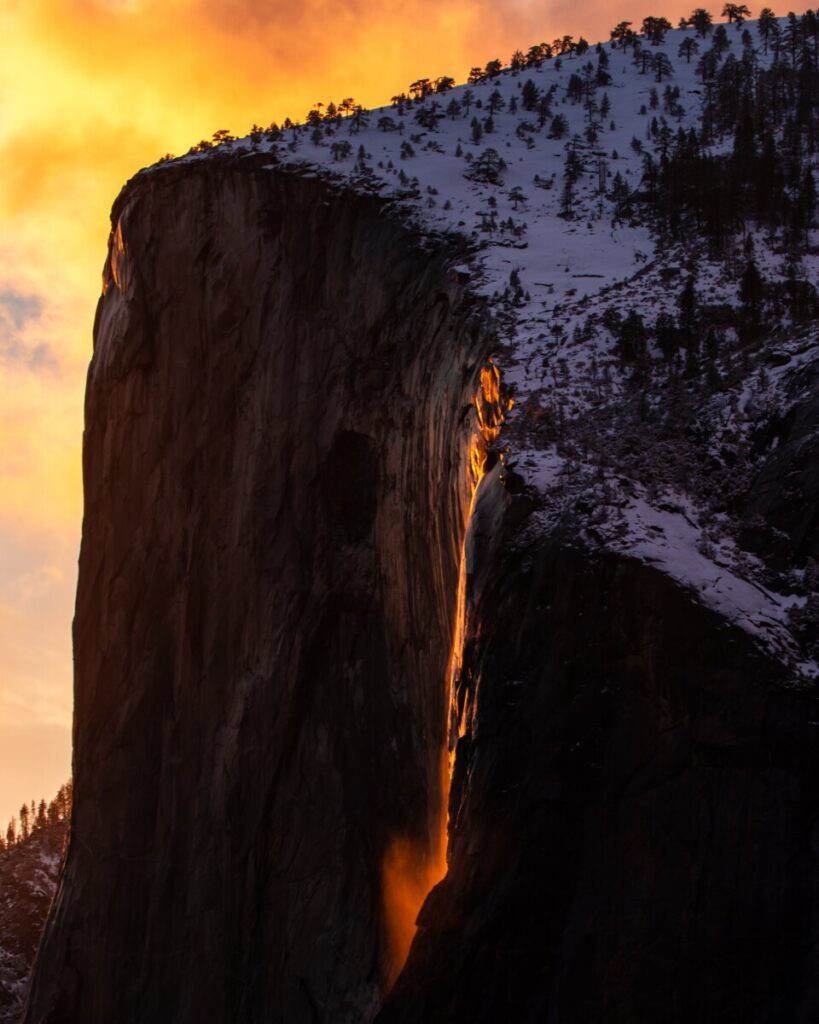 While most people dread the cold and snow of winter, it's the perfect time to catch a glimpse of a truly unique phenomenon – the Yosemite Firefall. Every February since 1872, visitors can witness this amazing natural event when the sun sets over Glacier Point casting its orange glow on Horsetail Falls creating an awe-inspiring 'firefall' effect. It's truly an unforgettable sight.
So, if you're looking for something special to do this winter season, make sure you put visiting Yosemite and seeing the Firefall at the top of your list. You won't regret it. Plan your Firefall trip using our ultimate planning guide here.
8. Lake Tahoe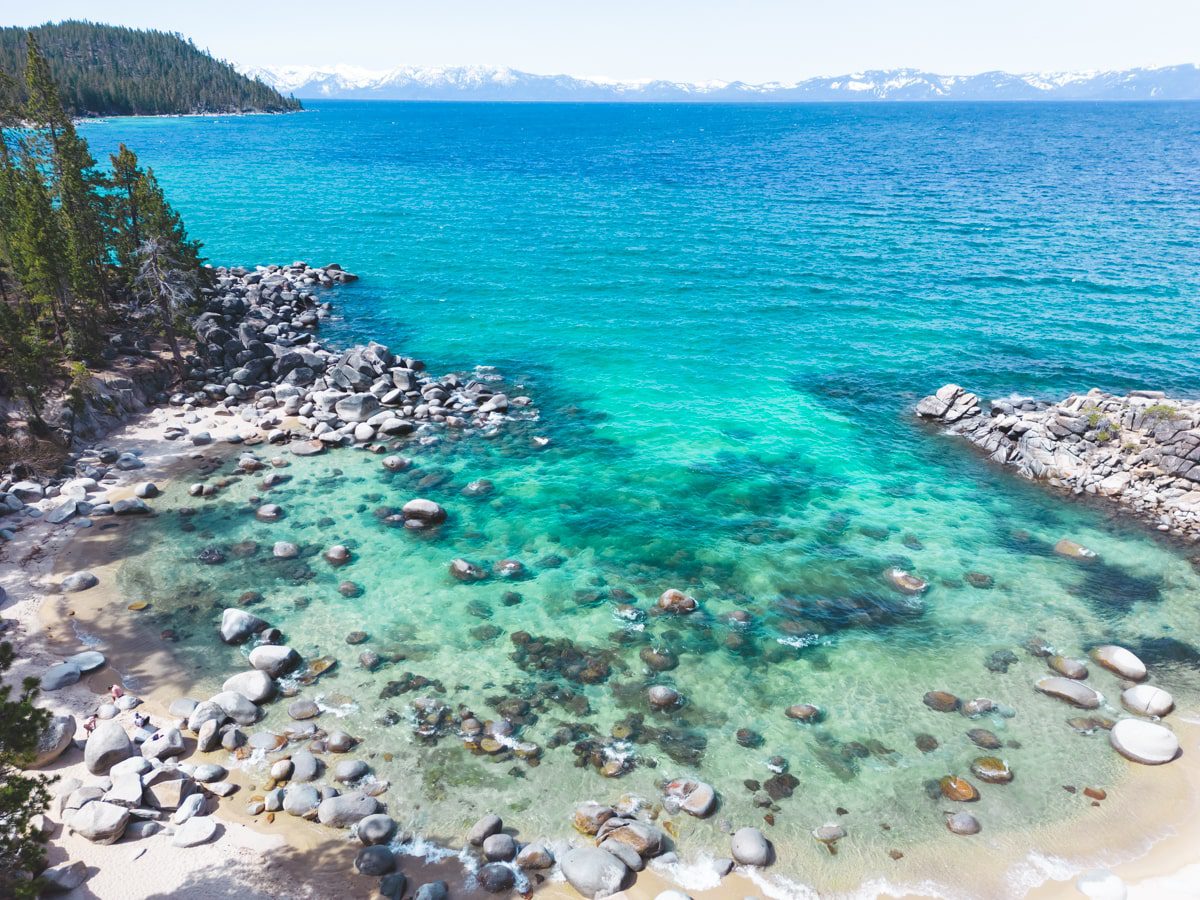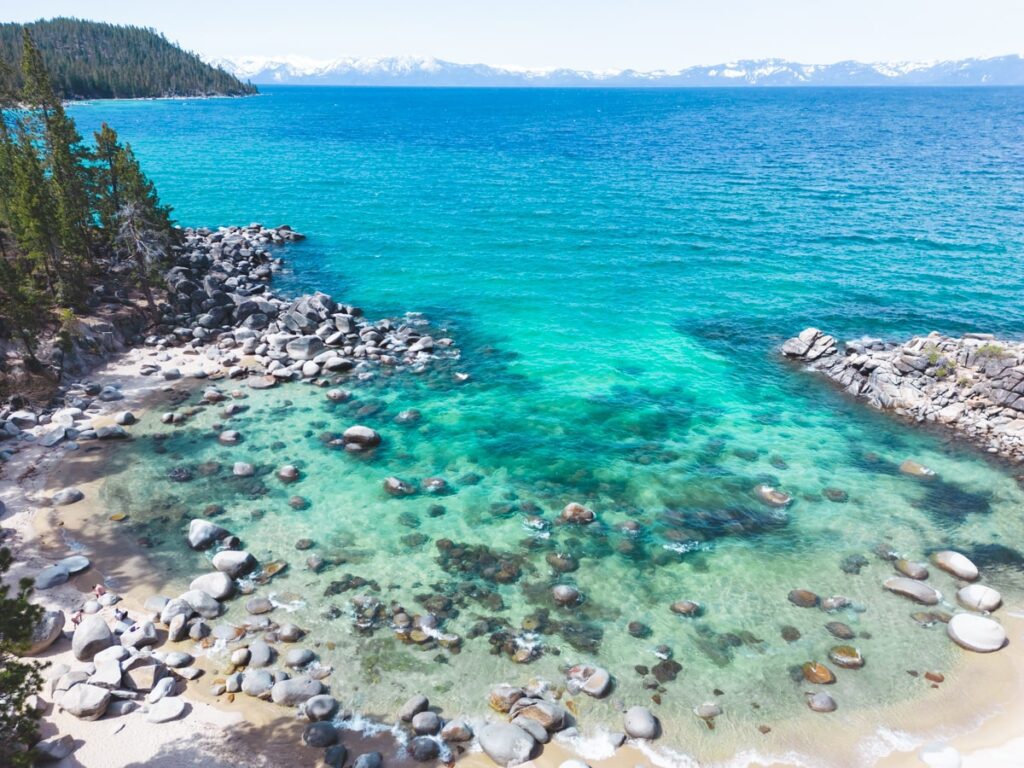 Lake Tahoe is magical during the fall and winter. The lake transforms from a bright blue to an icy cool color that is breathtakingly beautiful. Being outside on a crisp day enjoying nature is what it's all about. Lake Tahoe, California in the fall/winter brings an array of activities to explore, from skiing and snowboarding to hiking and snowshoeing. Whether perched up in the mountains or down by the shoreline, Lake Tahoe is one of nature's most spectacular sights during these cooler months.
Skiing and Snowboarding
With its pristine terrain, abundant powder, and breathtaking views, Lake Tahoe is great for beginner skiers and seasoned veterans. Whether you're hitting the slopes or just enjoying some relaxation in one of the many resorts, this is sure to be a winter wonderland unlike any other.
Fallen Leaf Lake Trail
This trail is extremely popular for snowshoeing in Tahoe. It's 3.6 miles out and back and only 136 feet in elevation. Fallen Leaf Lake trail is a great way to get outdoors in the winter and enjoy a nice hike through the snow.
Ice Skating
Ice skating in Lake Tahoe is a classic winter activity. Whether you're looking to skate indoors or outdoors, Lake Tahoe has it all. Here are a few of the many places you can ice skate in the area.
To check out our recommendations for Lake Tahoe in the summer time, read our Lake Tahoe Summer Activities Guide.
9. Redwoods National and State Parks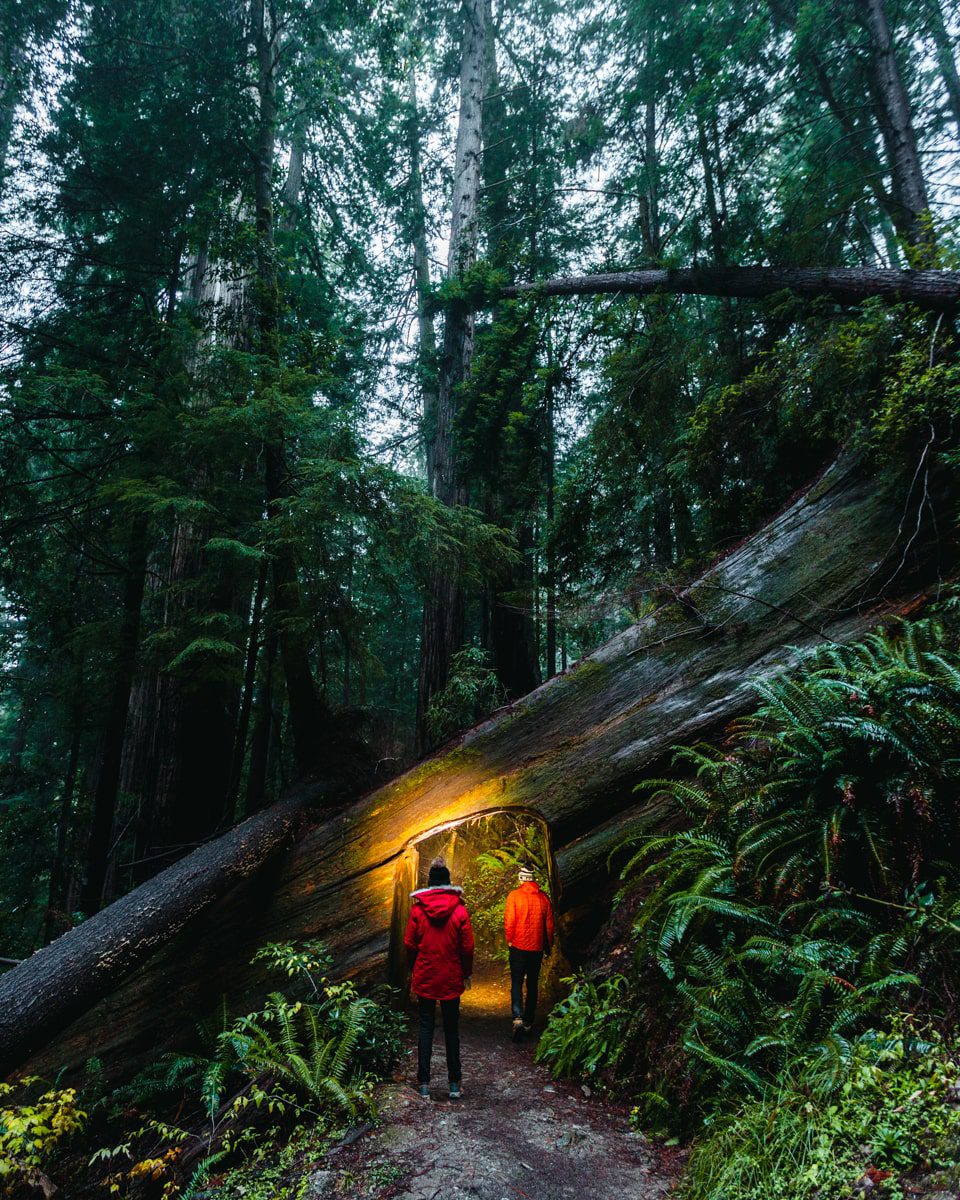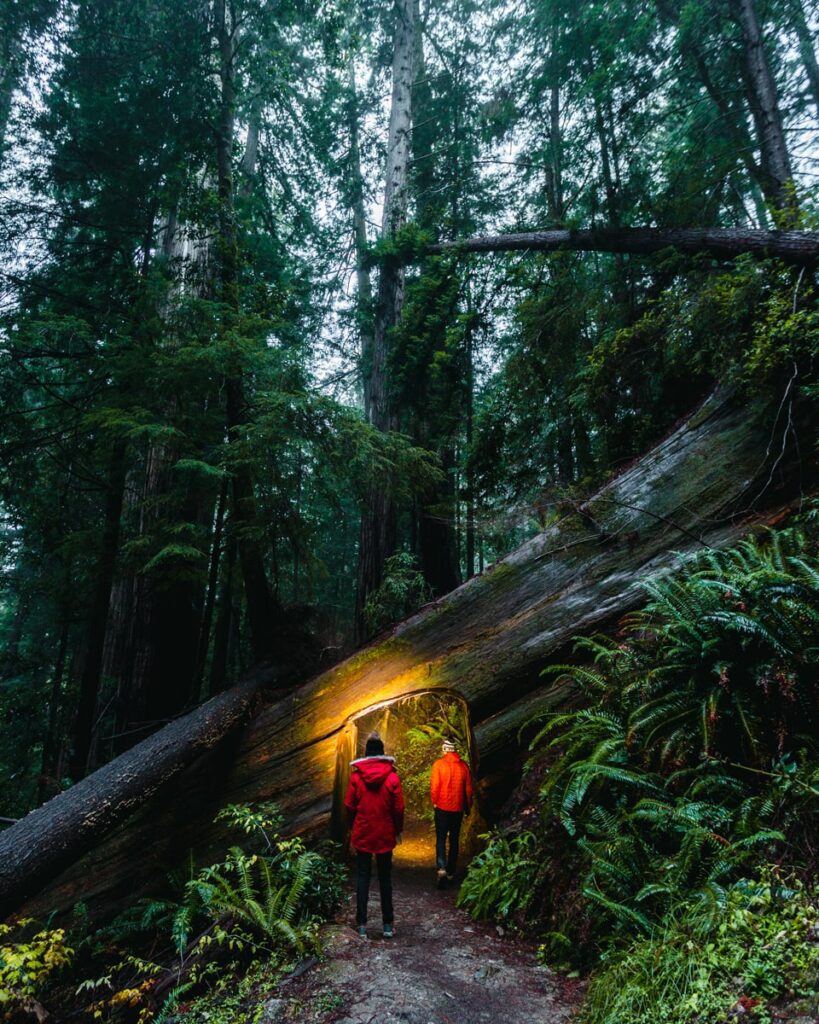 If you're in the mood for some tall trees and a moody atmosphere, Redwoods National and State Parks are the place to be during the fall and winter. These parks offer miles of hiking trails with breathtaking views of ancient forests, making it a favorite destination among hikers and nature-lovers alike. The main appeal to visiting during this time of year is avoiding the crowds. There will be rain but pack your waterproof jackets and you'll be good to go.
Here are some of our favorite trails in Redwoods National and State Parks.
Boy Scout Tree Trail
One of the State Parks in Redwoods National Park is Jedediah State Park. Our favorite hike here is the Boy Scout Tree Trail. It's about 5 miles long and takes you up 750 ft in elevation. Throughout the trail you'll see some of the best redwood scenery in the northernmost part of the National and State Parks. We found that the road to get there is a little sketchy and full of potholes so make sure you have a vehicle that has four-wheel drive to get to the trailhead. 
Tall Trees Trail
Next, let's talk about some of the tallest trees in the world. Specifically, the trees located on the Tall Trees Trail located in Redwood National Park proper. This 4-mile loop is home to some of the tallest and oldest trees on the planet. It takes you through a stunning landscape of these giants, so massive that it can take several people linking hands to completely surround them with their arms.
For this specific hike, you need to apply for a permit 2-7 days before you come. It's a free permit but they only let 50 vehicles in per day so make sure to not forget to apply when planning your trip. This is one of our favorite trails in the park and feels like you're walking through a magical forest.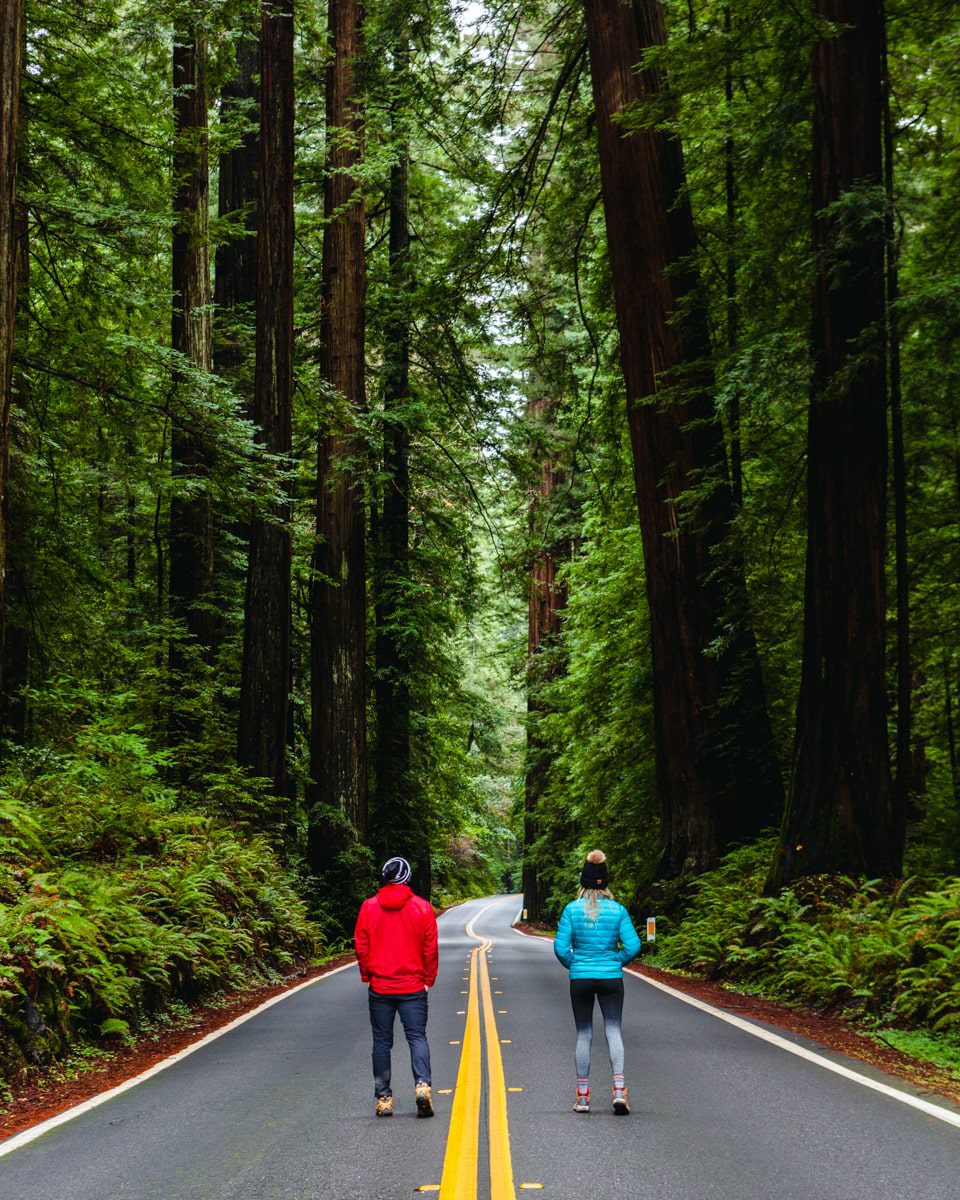 Avenue of the Giants
Avenue of The Giants is a 31 mile stretch of the Humboldt Redwoods State Park with gorgeous views of the redwoods. It's insanely beautiful. While driving, we like to pull off as much as we can to take in the views. We suggest starting from the south most point on Avenue of The Giants towards Eureka and then driving up about 15 or 20 miles. This drive is a must do if you're in the Redwood National Park area.
Ready to Head to California This Fall and Winter?
We hope after reading this guide, you understand why we say California has it all. The beautiful golden state has so much to offer, and the exploring opportunities never cease to end. If you haven't experienced California during the fall or winter, it's time to book those tickets and start the adventure.
If you want more information on the California National Parks, check out our Top Things to Do in Each California National Park blog.