Couple's Hiking Clothing Essentials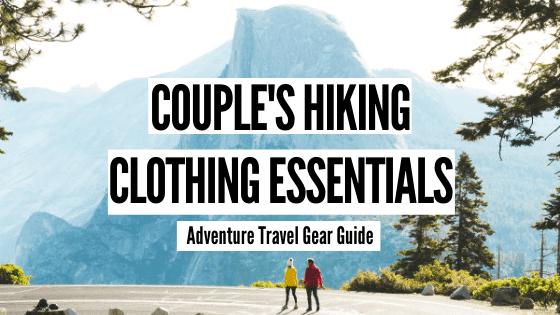 Is anyone else a gear junkie? When trying to compile our list of couple's hiking clothing essentials, it's taken us a long time because some pieces can be an investment to try out. After testing out SEVERAL outfits around on our adventure, we have compiled our favorites for 2020! We ended up loving the following pieces because they are lightweight and breathable, pack down super small, and are all super warm!
We wear a variety of brands from Patagonia, North Face, Lot 54 Goods, Black Diamond, Kuhl, Prana, Merrell, La Sportiva, Lululemon, Keen, Adidas, REI Co-Op, Ariat, and more.
Couple's Hiking Clothing Essentials Guidelines
Obviously you want to pack as light as possible. Any extra layers result in more weight to carry with you. In our experience, it's better to pack only one extra outfit besides the clothes on your back while backpacking. It is important not to overpack and bring clothes you will never wear. We still find it important to pack enough to stay warm. For day hiking, we suggest packing/wearing a base layer, a sun-protective shirt, an insulation layer, and a windbreaker. Make sure to check the weather before you embark on your adventure to dress appropriately!
Shirts
We tend to wear long sleeve shirts with UPF while hiking and backpacking. They are lightweight, great at moisture-wicking, and most importantly, protect you from the sun. Giselle uses the Patagonia Capilene Cool Daily Graphic Long Sleeve, and Stephen loves his NRS H2Core Silkweight Hoodie. The main difference between our preferences is that one has a hood and one doesn't, so it's really a matter of personal preference. For day hiking, we love our tees from Lot 54 Goods, including the Stoke Tee & the Grizzly Tee.
Hiking & Backpacking Pants
For pants, Stephen and I both LOVE our Kuhl and Prana Pants. They are comfortable, stretchy, warm, and great against bugs. When we are just going for more casual hikes and road trips though, we both live in our Lulu Lemons. I love my Align pants and Stephen is obsessed with his ABC pants. A cheaper alternative to Lulus is the 90 Degree Reflex leggings on Amazon which I absolutely love as a dupe for Lulus! They are especially great for day hiking.
When it's hotter outside, occasionally we opt for shorts! Giselle wears Lululemon shorts as well in the Speed Up Short Regular and High-Rise model. Stephen opts for his Patagonia Baggies 5in Short – Men's. Make sure that you aren't doing a lot of bushwhacking if you are going to be wearing shorts on your adventures!
Jackets
FOR THE WOMEN: For the jackets on my couple's hiking gear essentials list, I have a Hooded Patagonia Macro Puff, Down Jacket, Ariat Down Jacket, R1, Houdini Jacket, and grey base layer. For a windbreaker, I use either my Houdini or my Yellow Black Diamond Stormline Stretch Rain Shell. My yellow jacket is awesome for pictures since it is so bright, but there are also so many other fun colors. However, the rain shell is heavier than the Houdini, but I do get cold easily so it's great for cold-weather hikes. The lightweight Houdini jacket is nice for summer trips, peak bagging, and backpacking. So in summary, always have a down jacket and a windbreaker but based on the activity, I'd recommend a Houdini for Backpacking and the Black Diamond Shell for day hiking.
FOR THE MEN: Stephen wears a Hooded Macro Puff for insulation, a Red Houdini for a windbreaker, and an R1 jacket for the base layer. He doesn't tend to get too cold so those are all the layers he needs.
Socks
For socks, we recommend using Darn Tough wool socks. These help prevent blisters and are easy to dry if they get wet. They also provide great cushion for longer hikes. A great alternative that is usually on sale is also the REI Co Op Merino Wool sock.
Shoes
For shoes, Stephen likes his La Sportiva's and I love my Merrell Women's Moab 2 Vent Hiking Shoe for longer trips. I love how comfy they are and how they don't leave blisters. I'll bring my waterproof Keen Sandals for areas that have water crossings.
Accessories
We also recommend gloves (women's) and (men's), beanie, and a balaclava for cold weather trips. Sunglasses are VERY important to protect against UV Rays and glacial rays. During COVID-19, you should also be bringing a mask or bandana with you out on more populated trails where you cannot social distance!
Once you have all of your clothing ready to go for your adventure, make sure to check out our Adventure Gear Guide! It discusses what gear to bring with you while backpacking, camping, and more! That's it for our couple's hiking clothing essentials. Happy adventuring!