Treasure Lake via South Lake Day Hike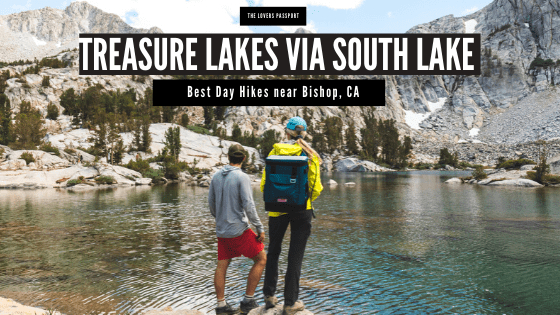 Treasure Lake via South Lake Day Hike near Bishop, CA is a hikers paradise! There are multiple lakes and trails that you can take out of South Lake Trailhead. Treasure Lake is the most beautiful in our opinion. There are options for Backpacking, day hiking, fishing, kayaking, SUP, and mountaineering all in one place. This is a hidden gem right outside Bishop that you are not going to want to miss.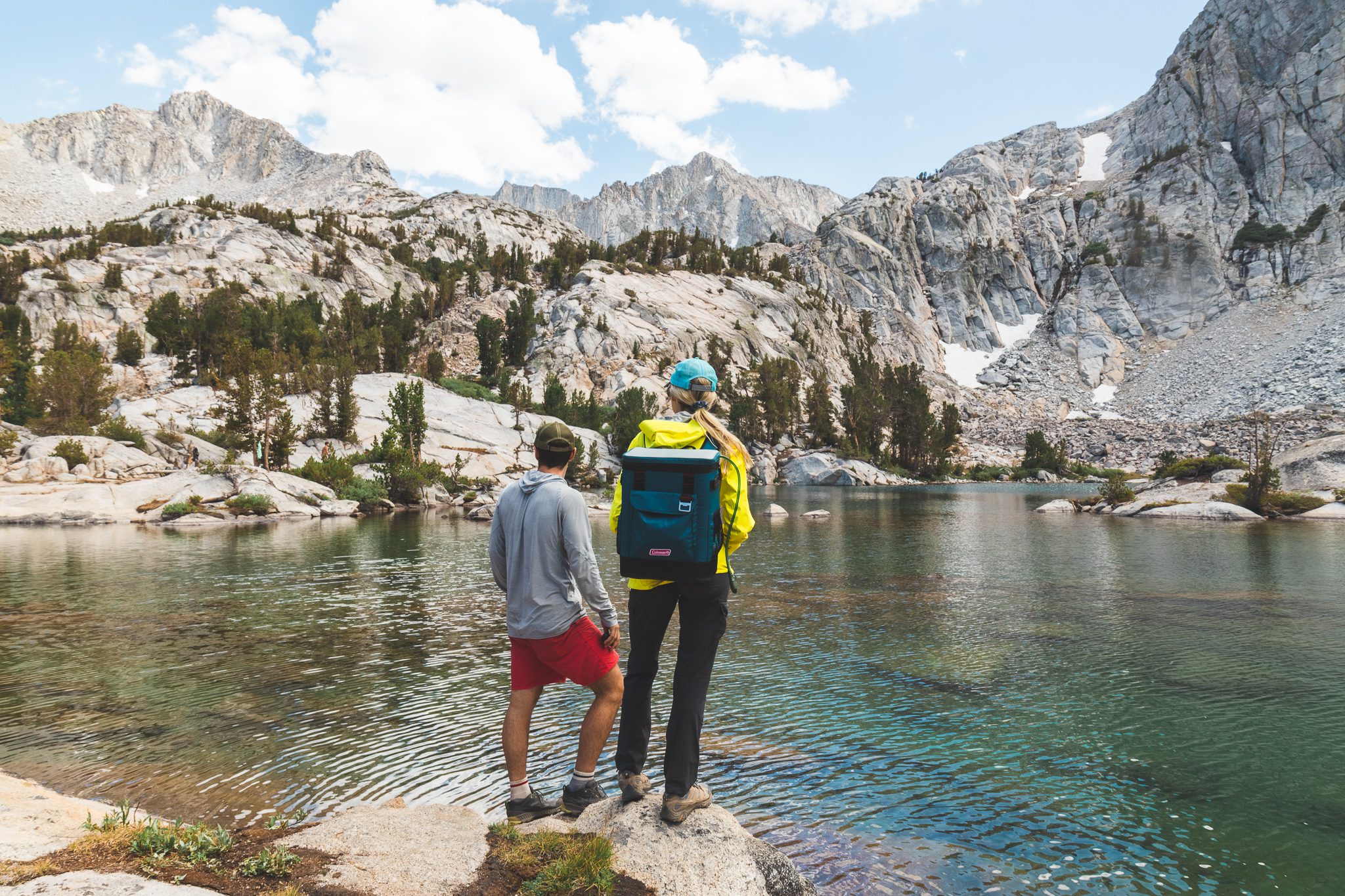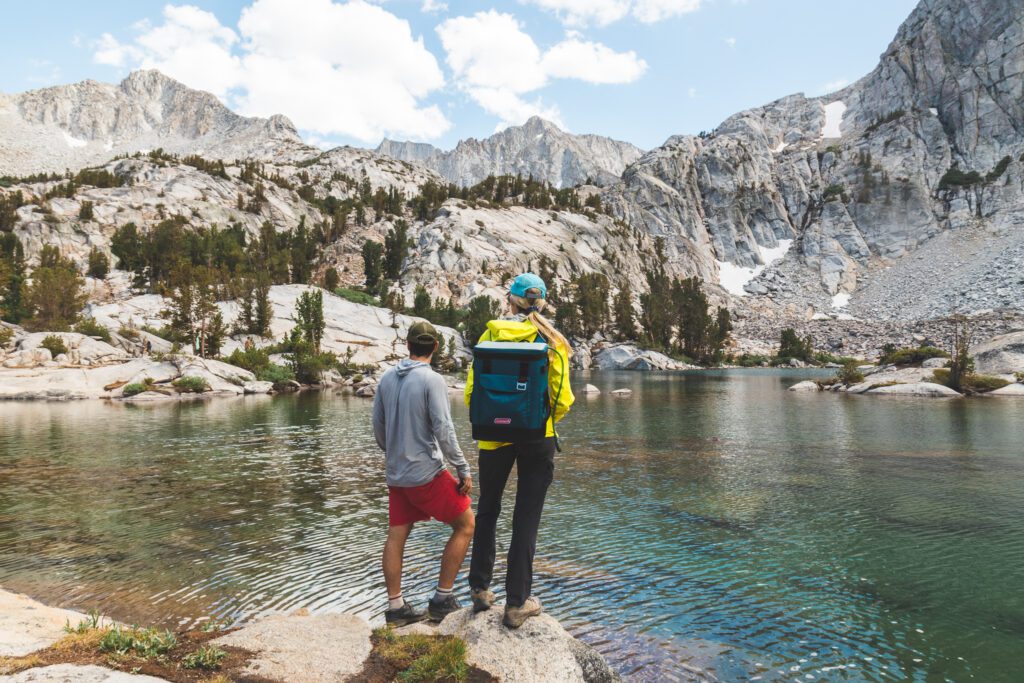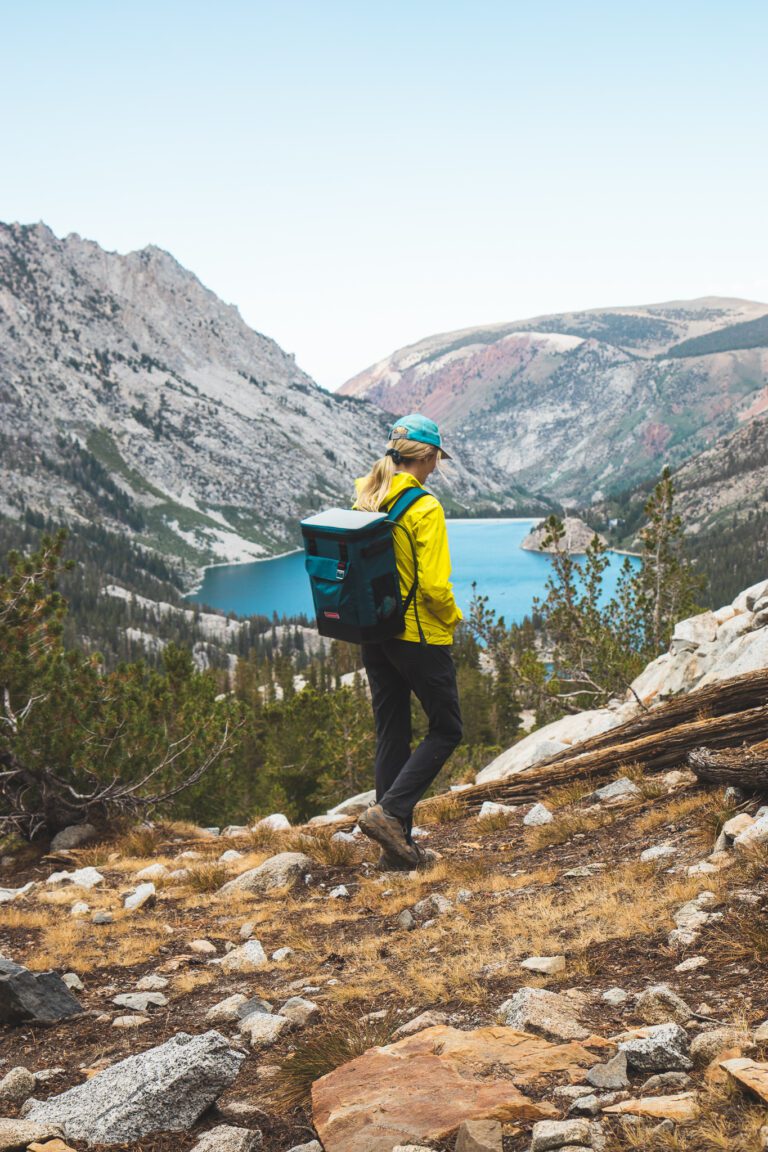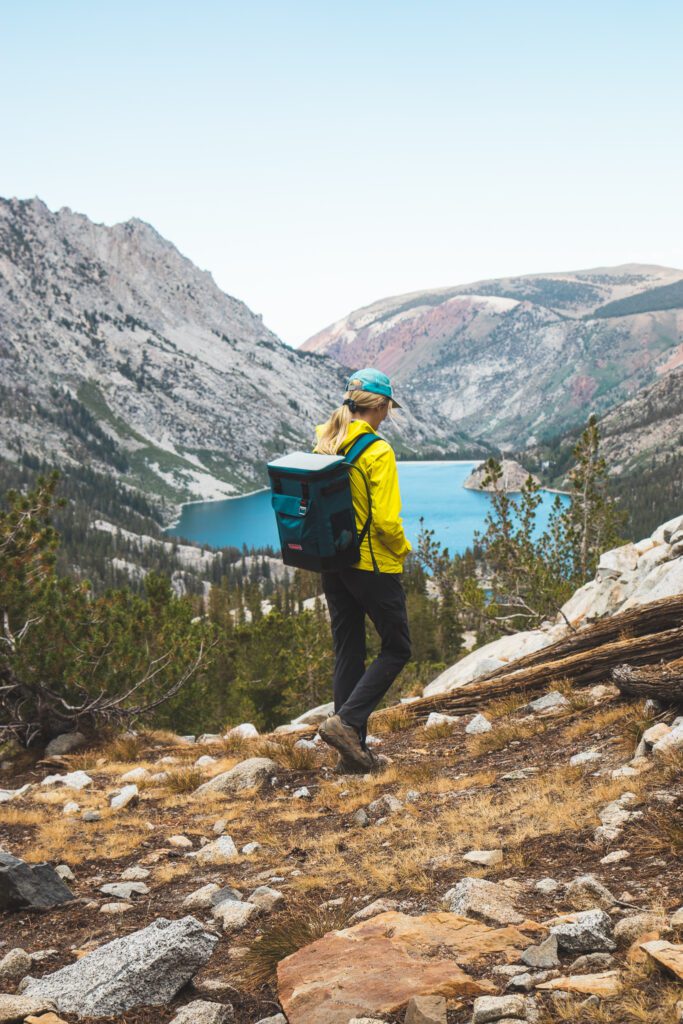 Treasure Lake Trail Data
Distance – 5.4 Miles to Lower Treasure Lake (Round Trip)
Elevation – 10,686 ft at Lower Treasure Lake
Elevation Gain – 866 ft to Lower Treasure Lake
Difficulty – Moderate Day Hike
Trailhead – South Lake Bishop Pass
Best Time to Visit – Summer and Fall
Treasure Lakes Description
This trail is a hidden gem in the Northern End of the Eastern Sierra. It boasts multiple alpine lakes and amazing views of Chocolate Peak along with many other beautiful hikes in the area. The trailhead is a 20 minute drive outside of Bishop, CA and gets extremely busy during the summer. We recommend to get there by 7 or 8 am for Treasure Lake via South Lake Day Hike.
Parking at South Lake Bishop Pass Trailhead
Most of the people that we saw were fishermen but it is important to find parking early. There is free parking at the trail head for day hikers. The start of the Trailhead has 2 bathrooms and is directly next to South Lake. The Treasure Lake via South Lake Day Hike starts off with a steep uphill for the first mile. The views of South Lake get better and better as you climb to the east side of the basin. The trail flattens out and becomes more moderate until you reach the split off of Bishop Pass and Treasure Lake. Bishop Pass trail was very busy the weekend we were hiking but also has some beautiful lakes.
Bishop Pass vs Treasure Lake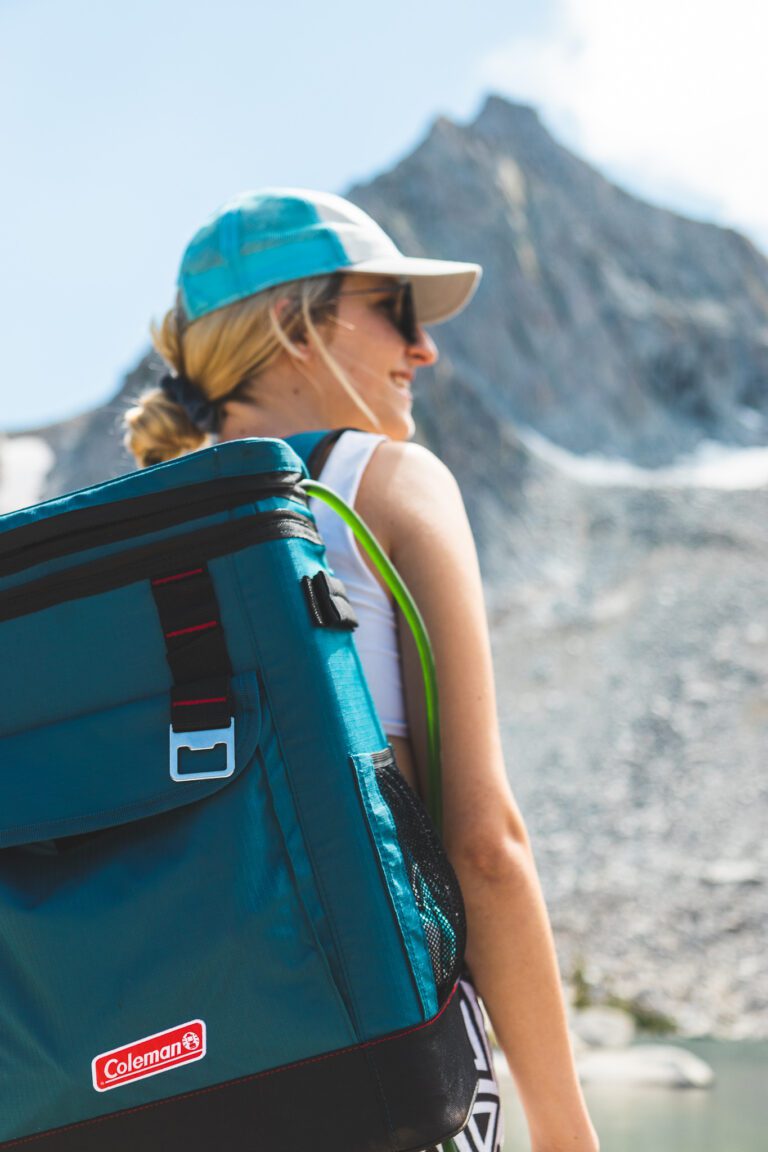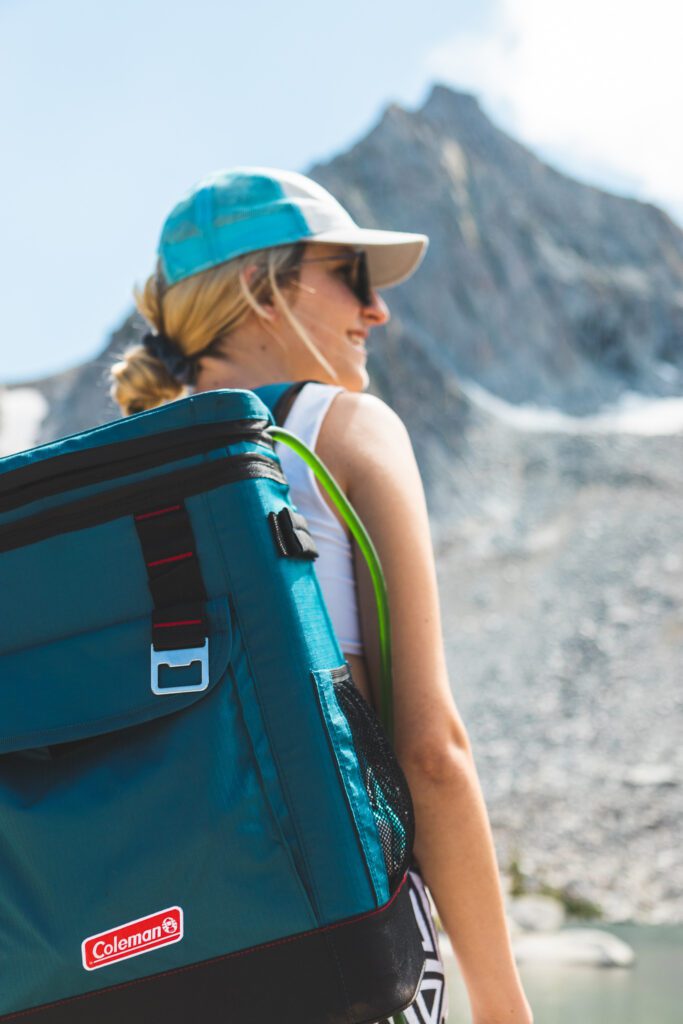 We decided to go to Treasure Lake and continued right down the trail. Both trails have beautiful views of alpine lakes, but we wanted to get away from the crowds. The trail begins to decline until you reach a few creek crossings and cool temperatures. The shade of the Aspens and Lodgepole Pine is a great first rest stop to enjoy the flowers and meadows. Treasure lake via South Lake is a perfect day hike for everyone. The East Side of the lake is filled with perfect spots to jump in the water and enjoy the views.
The water during the summer months is perfect because of the warm weather and shallow waters. During the fall we would not recommend jumping in unless you are a warm blooded person! There are perfect spots to set up a hammock, swimming holes, and amazing views of the Eastern Sierra Mountains. This is our favorite hike out of Bishop, CA.
Day Hike Essentials
For a full list of our clothing essentials on what to bring click here. We recommend bringing lots of Sunscreen on this hike! It is very easy to get burnt because there is not a lot of tree protection.
Water and Food is another super important thing to bring on the Treasure Lake via South Lake Day Hike. This is a moderate 3 hour hike out and back. We always say it is better to be over prepared rather than under prepared. Jacket, hiking boots, swimsuit, and Wind Breaker are all key clothing pieces to bring on ever Eastern Sierra Hike. The weather here changes drastically in the afternoons.
Backpacking vs Day Hiking Treasure Lake
We think that Treasure Lake is better done as a day hike because it is so close to the trailhead. It can also be a great introduction to backpacking in the Eastern Sierra. Please refer to our Beginner's Guide to Backpacking if you have never done a backpacking trip. The hike is beautiful, but there are so many other hikes to do in the area. We recommend enjoying the day by the lake, and then hiking out. If you do plan on backpacking here, don't forget to register for a backcountry permit!
Backpacking is a great option if you are looking to fully explore the area. It is a great trip to hit both Treasure Lakes and Long Lake in one weekend. Check out our Unknown Secrets to Backpacking to make sure your pack stays as light as possible!
Things to See near Bishop, CA
Food – One of our favorite spots to stop after a day exploring the mountains is Pizza Factory in Bishop. There Pizza and their atmosphere is so fun and most importantly DELICIOUS! Schat's Bakery is another one of our favorite spots for a breakfast or afternoon snack. We could stop there every time we drive through and never be disappointed. They cook all their pastries fresh and they have everything that you can think of!
Hikes – Close to Bishop is Big Pine and boasts some of our favorite hikes in all of the Sierra. Big Pine North Fork can be done as a day hike or an overnight backpacking trip. It is one of the most beautiful places that we have ever hiked in the Sierras. Mount Langley via Old Army Pass is another one of our favorite backpacking trips in the area. It can be done as a day hike or an overnight backpacking trip. It is a 14,000ft peak and has a trail from the beginning to the end.