Ultimate Couple's Outdoor Gear Guide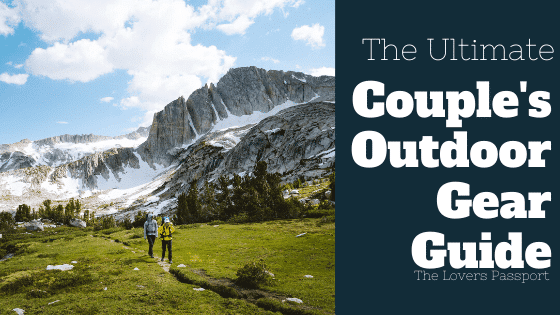 Being prepared is essential on a backpacking trip, whether it's on trail or in the backcountry. Stephen loves the saying "failing to prepare is preparing to fail." It's incredibly important to take stock of the items when you and your significant other are out in mother nature. The items that you should ALWAYS have with you are commonly known as the "10 Essentials." They include: navigation, insulation, nutrition, hydration, shelter, means to start a fire, illumination, first-aid supplies, repair kit, and sun protection. The National Park Service has published a more in depth article on this topic here. Here's our Ultimate Couple's Outdoor Gear Guide for couple's looking to embark on a new exciting adventure.
Choosing the Right Backpack: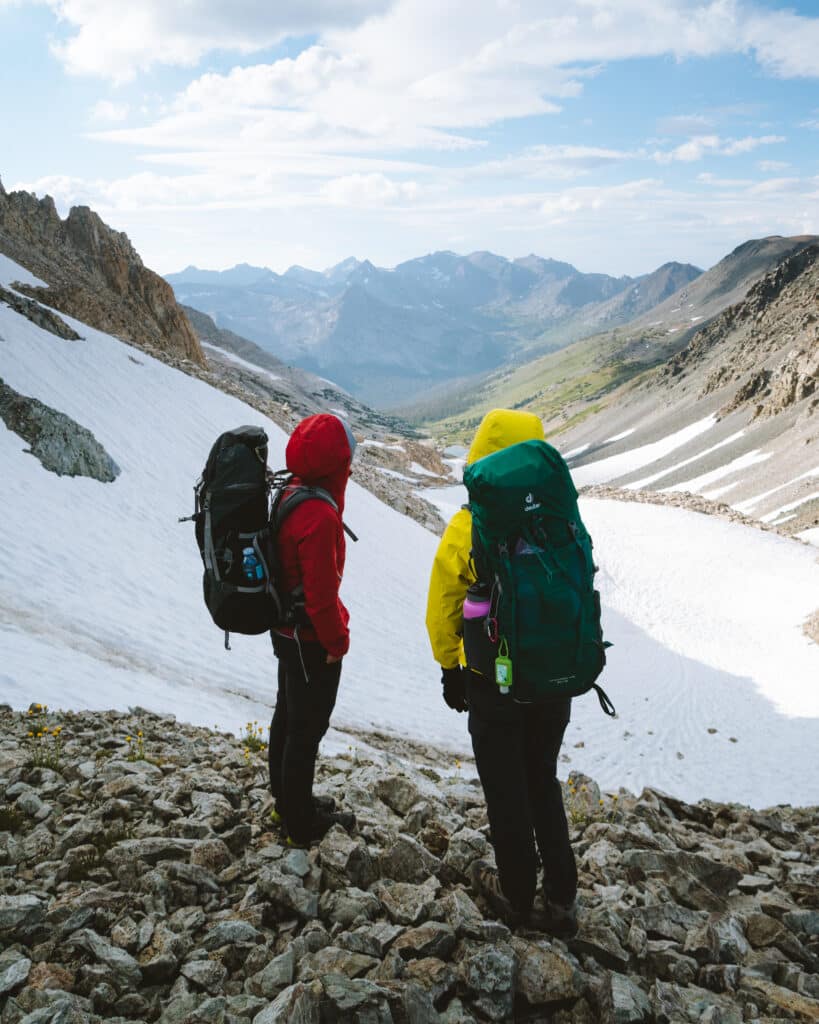 Both Stephen and I are big fans of Deuter backpacks. I have the Deuter Aircontact Lite 50 + 10 Pack in Green. It has performed wonderfully on all of backpacking adventures, including our multi-day Sierra High Route Trip. Stephen has a slightly older Deuter ACT Lite 50+10L in Black/Graphite.
Both models are ultralight and a perfect size for a week long backpacking trip. We had to add them to our Ultimate Couple's Outdoor Gear Guide because a backpack is an important piece of gear. Ours are super breathable, have great pocket storage, and very adjustable. For day packs, Stephen uses his Black Diamond Crag 40 Backpack and I use my North Face Borealis Pack – Women's. We highly recommend going to your local REI to get fitted for a backpack that is the right size for you.
Outdoor Sleeping Gear: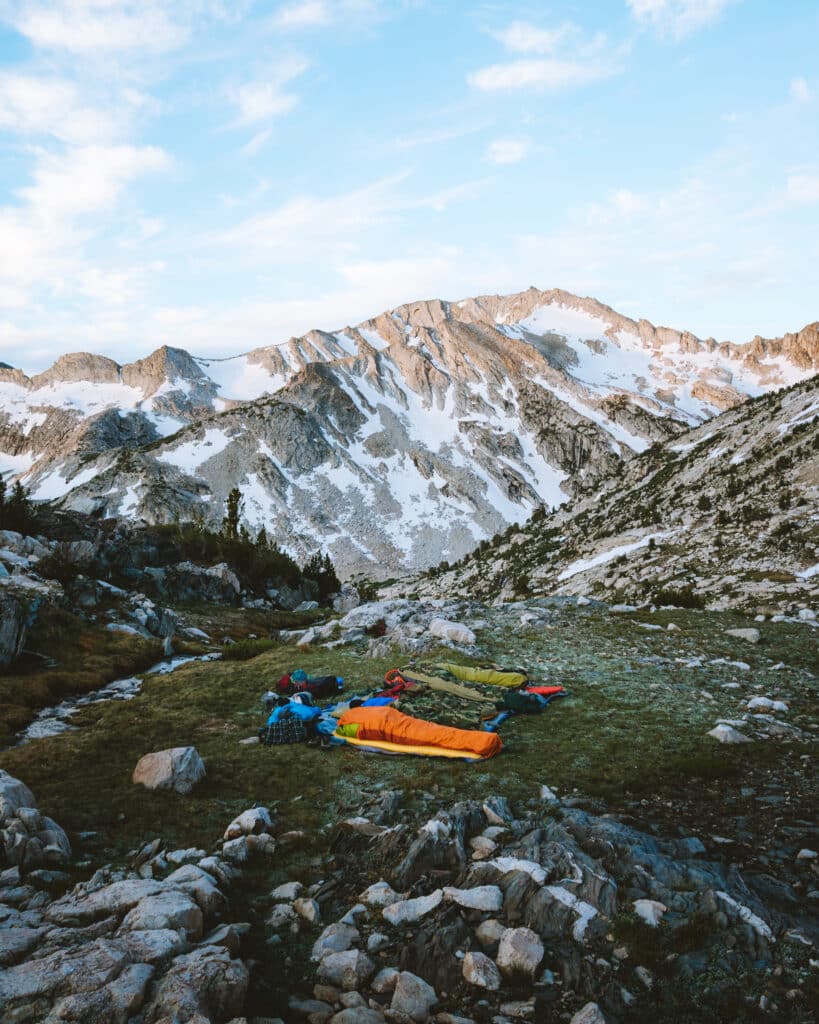 When you are exploring the outdoors, exhaustion and irritability can hit you pretty quickly. ESPECIALLY, if you don't get a good night's sleep. We want to avoid getting irritated with each other outdoors over small issues. That's why we HIGHLY recommend bringing a comfortable sleeping pad with you. Stephen's used to deflate because it got snagged on something and his back would kill him.
Sleeping Bag and Pad
One that I find to be a bang for its buck is the OutdoorsmanLab Ultralight Sleeping Pad
. Both Stephen and I have an REI Co-Op Brand Sleeping Bag. They are the warmest, softest sleeping bags we could ask for. While backpacking, we use the REI Co-op Durable Stuff Sack to compress these ultra-lightweight sleeping bags. They make it so that we have more room in our packs without adding a ton of weight. Depending on the trip, we also pack either a Bivy Sack for individual use or a tent that fits both of us.
Bivy sacks are ideal for long backpacking trips to carry as little weight as possible. However, for a trip on a trail or just for comfort, a tent is always nice to have. Stephen and I usually split up the tent so one person will carry the poles and the cover and another will carry the tent itself. If you really are looking for lightweight sleeping gear, you can also bring a hammock with you. We always bring an empty pillow case to stuff our clothes in for a pillow. This is our Ultimate Couple's Gear Guide for sleeping as comfortably as possible in the outdoors.
Couple's Outdoor Essentials: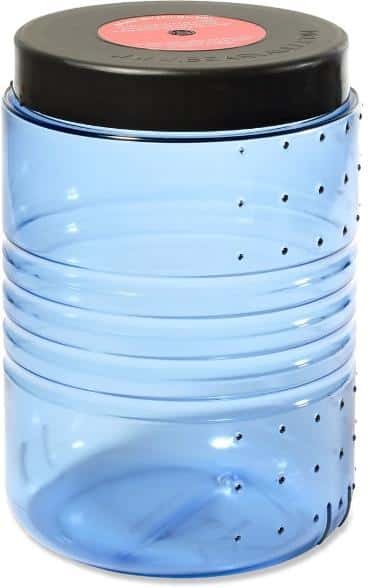 A necessary investment to make is definitely getting yourself a Bear Canister or Vault. Imagine taking your food with you for several miles only for it to be stolen by little creatures or bears. That would suck! Some people tie their food up and still have issues with squirrels or marmots getting into it. We think your safest bet is to purchase a bear canister for your outdoor needs.
If you are backpacking in dark conditions, you definitely need a headlamp as well. Headlamps help make everything easier, but male sure to bring extra batteries. A nice light camera is the last thing we recommend bringing. We love capturing the moments in the backcountry together so we can look back on them and remember the trip.  
Couple's Guide to Clothing:
We like to wear a range of brands from Patagonia, Kuhl, Black Diamond, Keen, Lululemon, La Sportiva, Ariat, Lot 54 and more.
Obviously you want to pack as light as possible. We still find it import to pack enough to stay warm. We suggest packing a base layer, a sun protective shirt, an insulation layer, and a windbreaker.
Stephen is brand loyal to Patagoia. He wears a Hooded Macro Puff for insulation, a Red Houdini for a windbreaker, and an R1 jacket for base layer. I also have a Hooded Patagonia Macro Puff, Down Jacket, R1, Houdini Jacket, and grey base layer. For a windbreaker, I use either my Houdini or my Yellow Black Diamond Stormline Stretch Rain Shell. My yellow jacket is awesome for pictures since it is so bright. However, the rain shell is heavier than the Houdini, I do get cold easily so it's great for cold-weather hikes. The lightweight Houdini jacket is nice for summer trips, peak bagging, and backpacking.
For pants, Stephen and I both LOVE our Kuhl Pants. They are comfortable, stretchy, warm, and great against bugs. We also recommend gloves, beanie, and a balaclava for cold weather trips. Sunglasses are VERY important to protect against UV Rays and glacial rays. For shoes, Stephen likes his La Sportivas and I love my Merrell Women's Moab 2 Vent Hiking Shoe
for longer trips. I love how comfy they are and how they don't leave blisters. I'll bring my waterproof Keen Sandals for areas that have water crossings. For socks, we recommend using Darn Tough wool socks. These help prevent blisters, and are easy to dry if they get wet. In our experience, it's better to pack one extra outfit besides the clothes on your back. It is important not to overpack and bring clothes you will never wear.
Ultimate Food Guide:
After a long day of hiking we had to include our favorite dinners for our Ultimate Couple's Outdoor Gear Guide. Top ones we've loved included the Fettuccini Alfredo, the Spaghetti and Meatballs, Sweet & Sour Chicken, and Chicken Teriyaki. We usually pack up Oatmeal packets for breakfast everyday and bring snacks for lunch. We enjoy trail mix, beef jerky, potato chips, and more for lunches. When we go camping, we are a little more "extra" and are usually able to bring a legitimate stove and pots so we can cook a full breakfaster a nice dinner. Stephen's dad also always carries salt and pepper to add to his food. This can add a nice touch to the dehydrated food for sure.
In terms of drinks, always make sure to have 2 liters of water on you to prevent dehydration. I also bring an extra Water Bag for my Backpack because of personal preference. I like the accessibility of the straw so I don't have to slow everyone down by pulling out my water bottle.
Couple's Cooking:
For camping, we usually bring a lot more cooking supplies that we can just pack up in the car, but we always make sure to bring our portable camping stove. When backpacking, however, we don't want to carry that on us since it's huge and heavy, so we invested in a portable cooking stove like Jetboil or MSR Pocket Rocket. I use this mug for my meals and drinks and always bring my handy spork with me. You'll want to make sure you have the means to start up your stove, whether you bring a lighter or matches.
Toiletries:
We always recommend bringing 2 Ziplock Bags with you, one to hold your food trash and one to hold your toiletry trash. Since we are usually in the backcountry, we always follow the Leave No Trace Policy. Always always ALWAYS make sure to pack out what you pack in. We usually bring wipes, a shovel, travel toothpaste/toothbrush, sunscreen, insect repellent. For the ladies a small lightweight hairbrush, deodorant, and since I wear contacts, obviously those too. If it happens to be your time of the month make sure to plan ahead! I also attach a mini hand sanitizer on my bag for when I have to put in my contacts each day, but the boys don't care to take one so totally up to personal preference.
Emergency: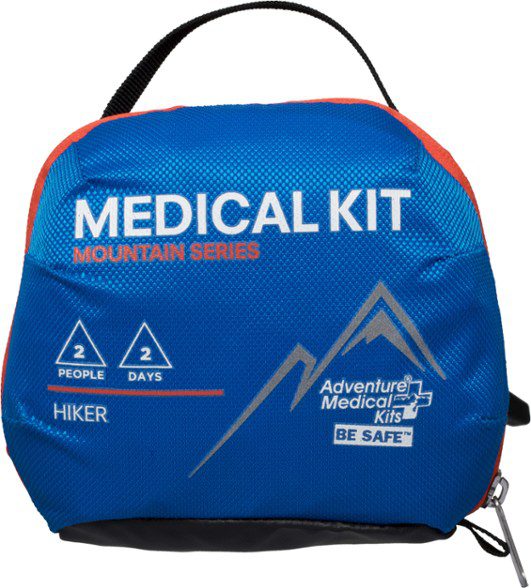 We always like to be prepared for the worst possible scenario. We make sure we go out into backcountry backpacking with GPS Receivers, maps, emergency kits with medications like Advil, ibuprofen, Tylenol, and Benadryl, as well as Bandaids and Neosporin. If you have any daily medication, make sure to pack that with you. We also like to bring an extra Trash Bag each just in case it starts raining or snowing so we can cover our backpacks with them to prevent our packs from getting soaked.
We hope this Ultimate Couple's Outdoor Gear Guide helps you and your partner get ready for your next adventure of a lifetime! Do you have anything you can't live without while camping or backpacking? Let us know in the comments!
*FTC Disclosure: As always, all opinions are our own. This post does contain some affiliate links,  which means if you buy something my blog will receive a small commission at no extra cost to you.