Everything to Know About Visiting Banff National Park in 2024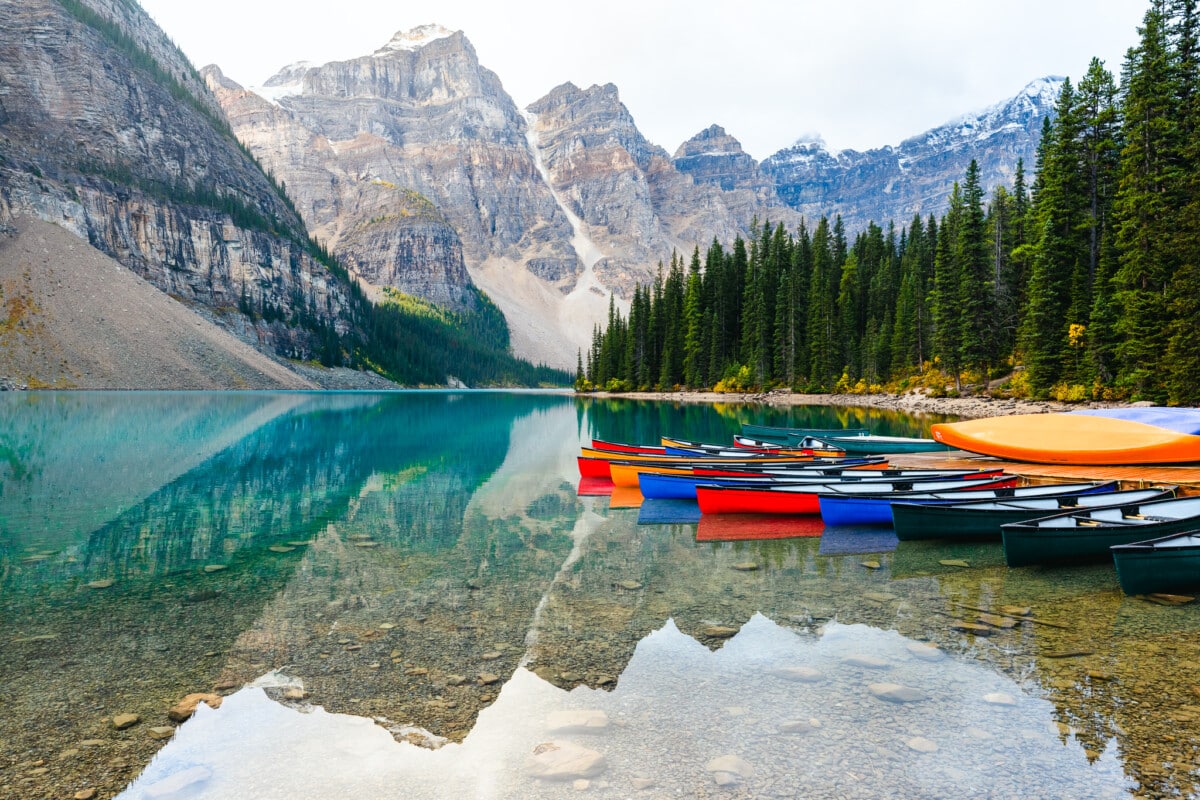 Ultimate Guide to Planning Your Perfect Trip to Banff
Embarking on an adventure to Banff is an unforgettable experience. With its unparalleled beauty and range of activities, Banff National Park is a gem in the heart of the Canadian Rockies. We've visited this gorgeous mountain paradise twice now, once in the summer and once in the winter, and can confidently say it should be on every travel lovers bucket list. This guide will go over everything you need to know about visiting Banff National Park in the 2023-2024 season so you can plan your perfect trip.
Where is Banff?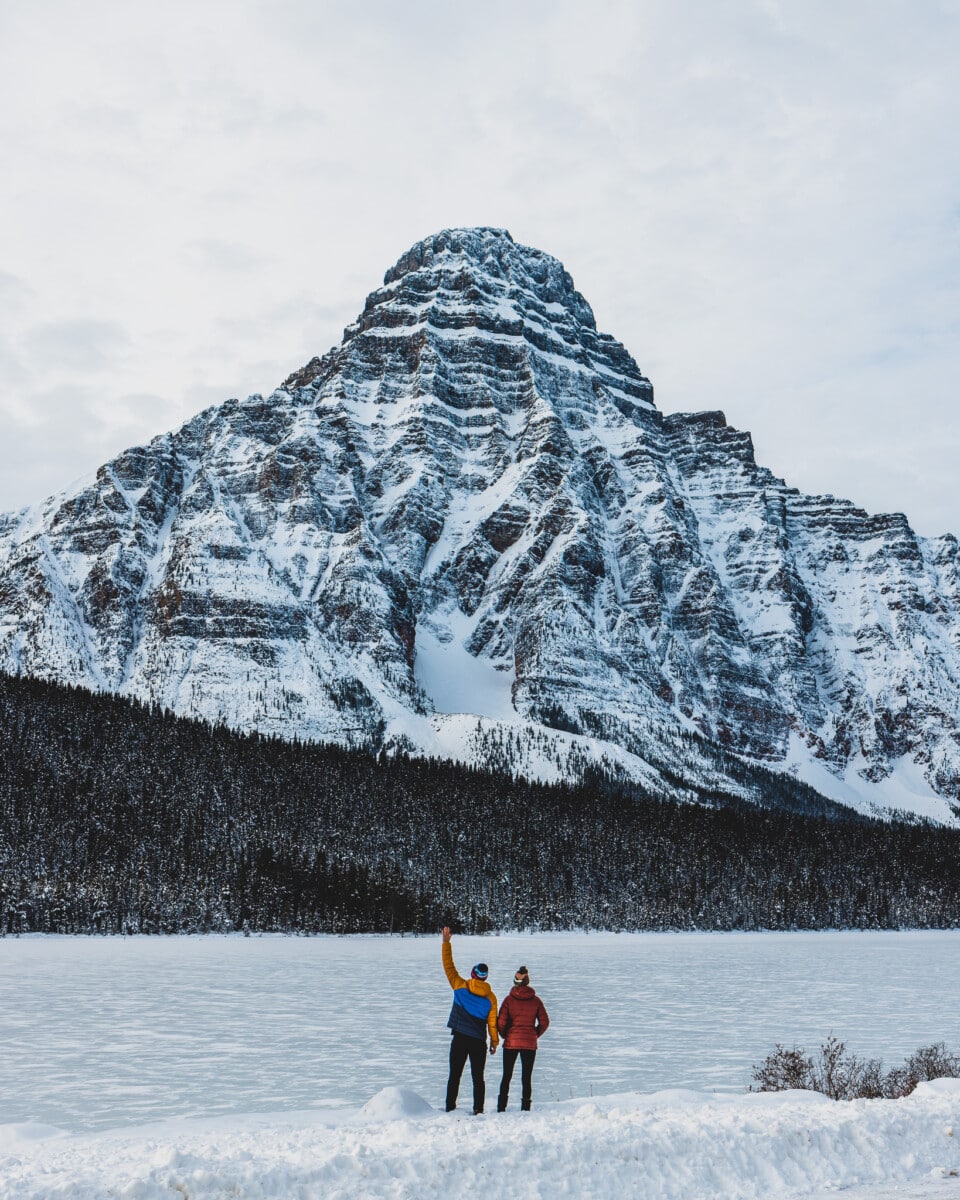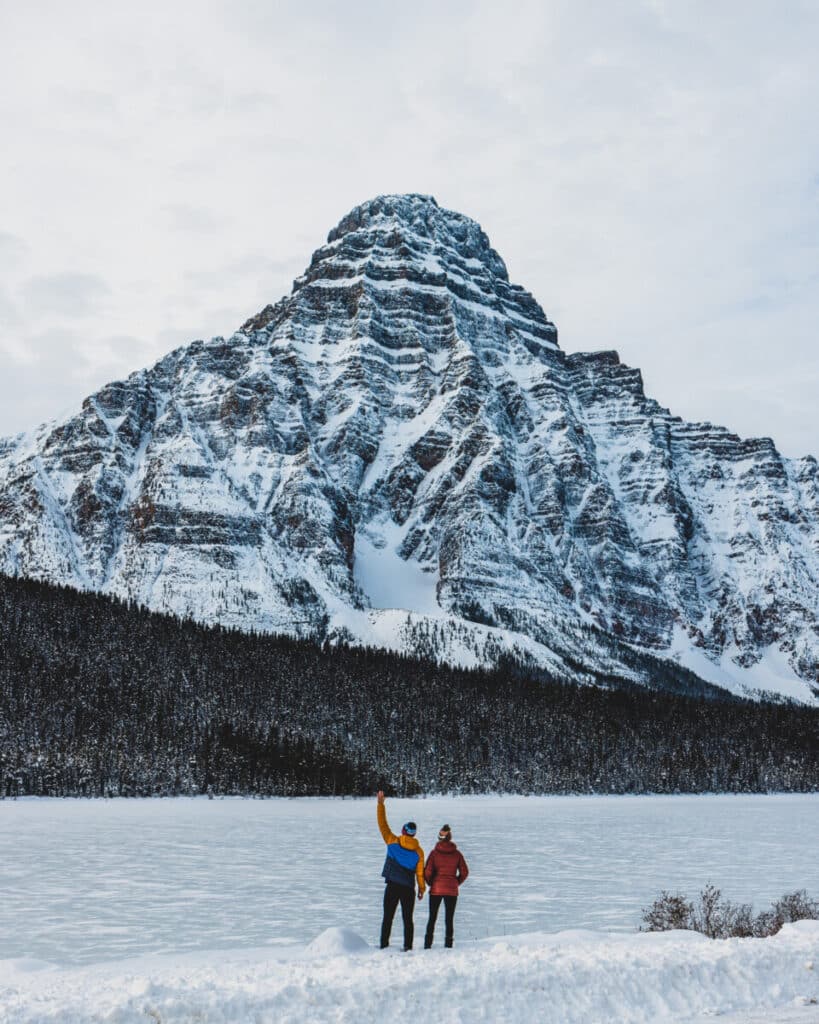 Nestled within the breathtaking Rocky Mountains, Banff is a picturesque town located in Canada's oldest national park, Banff National Park. The town was first established back in 1883 as an old railway town.
What Province is Banff in?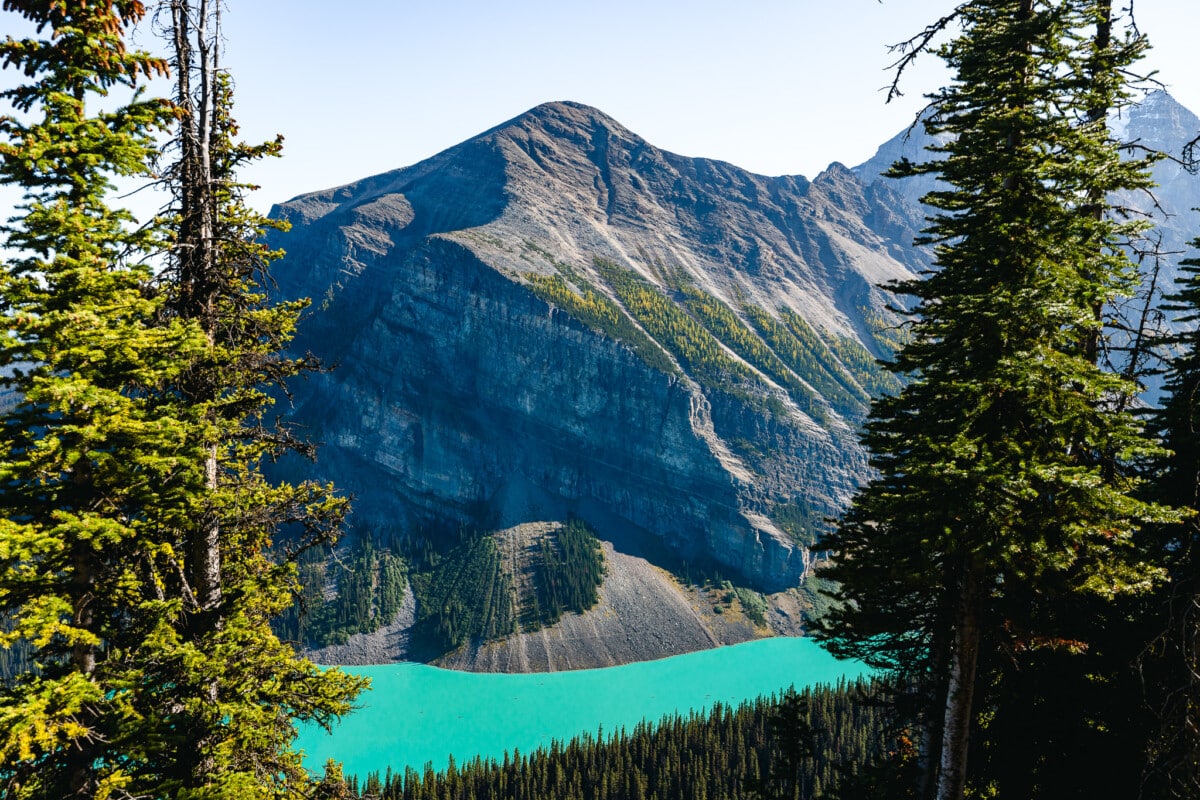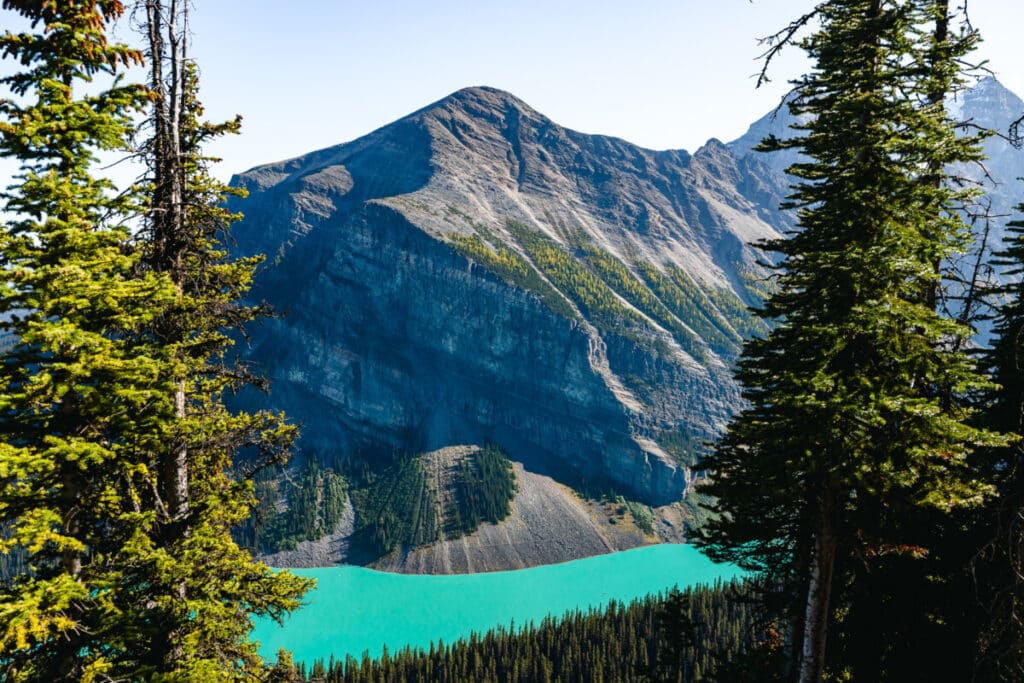 Banff is situated in the province of Alberta, a region renowned for its majestic landscapes and outdoor adventures. Alberta is also home to the beautiful Jasper National Park, which we highly recommend visiting during your time in Banff.
How to Get to Banff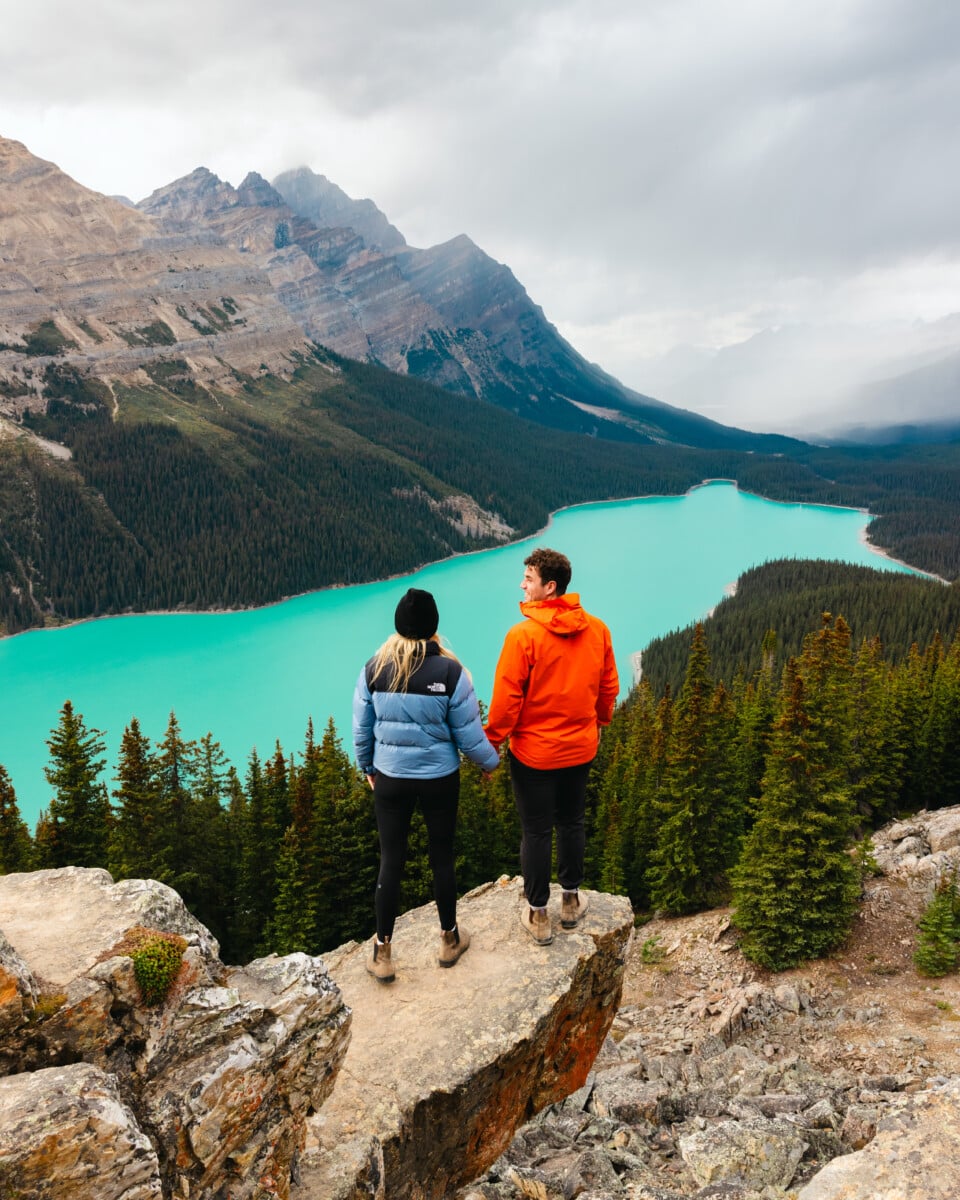 Where to Fly Into For Banff
The most accessible airports for reaching Banff are Calgary and Edmonton. While both cities serve as gateways to Banff, Calgary International Airport (YYC) is closer and offers more frequent connections. We'd only recommend flying through Edmonton if you are doing a multi-city trip connecting Banff with Jasper National Park.
We love tracking airfare on Google Flights or Skyscanner to find the cheapest options for your desired dates to visit Banff. Or, if you have flexible dates, we 100% recommend signing up for a flight drop service like Thrifty Traveler Premium. This service emails you everyday with flight deals from your local home airport and that's how we ended up booking our flights to Calgary when they emailed with an insane deal to book! You can sign up using our code PASSPORT10 for $10 off your first year here!
Driving Distances From Banff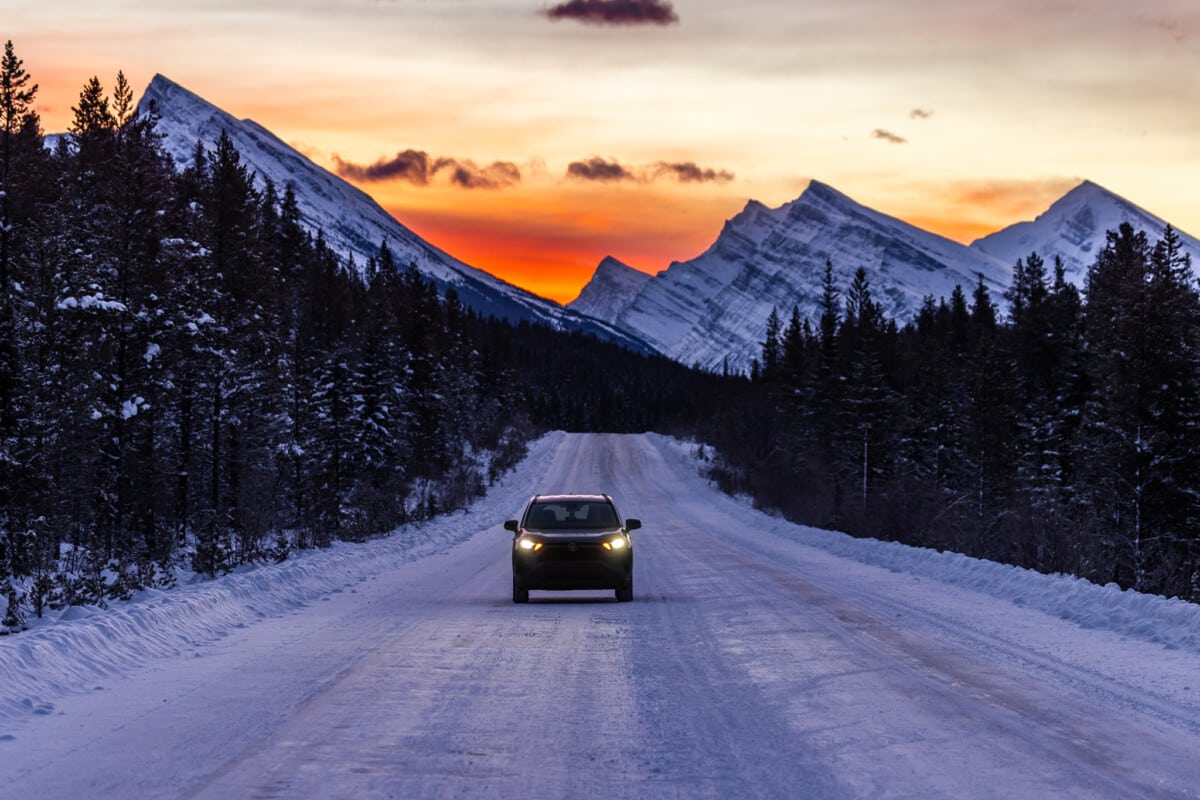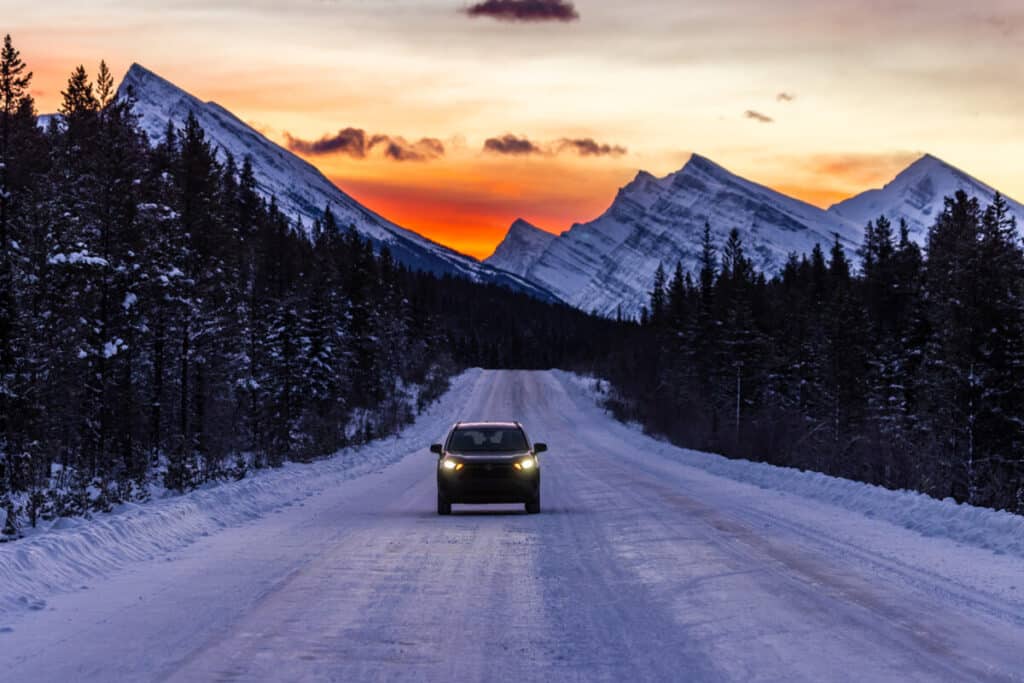 How Far is Banff from Calgary?

Approximately 128 km, a drive of about 1.5 hours.

How Far is Banff from Jasper?

About 288 km, translating to roughly 3.5 hours by car. Keep in mind if driving the Icefields Parkway to Jasper from Banff

How Far is Banff from Lake Louise?

A mere 57 km away, or around a 45-minute drive.

How Far is Banff from Edmonton?

The distance is approximately 415 km, making it a 4.5-hour drive.

How Far is Banff from Canmore?

A short 26 km, or roughly 20 minutes by car.

How Far is Banff from Golden?

Around 140 km, or an estimated 1.5-hour drive.
We would HIGHLY recommend getting a rental car. We booked ours through Turo. Most activities, hikes, and restaurants are pretty spread out. Having a rental car gives you the most flexibility to do what you want, and also change plans in the event of bad weather.
When to Visit Banff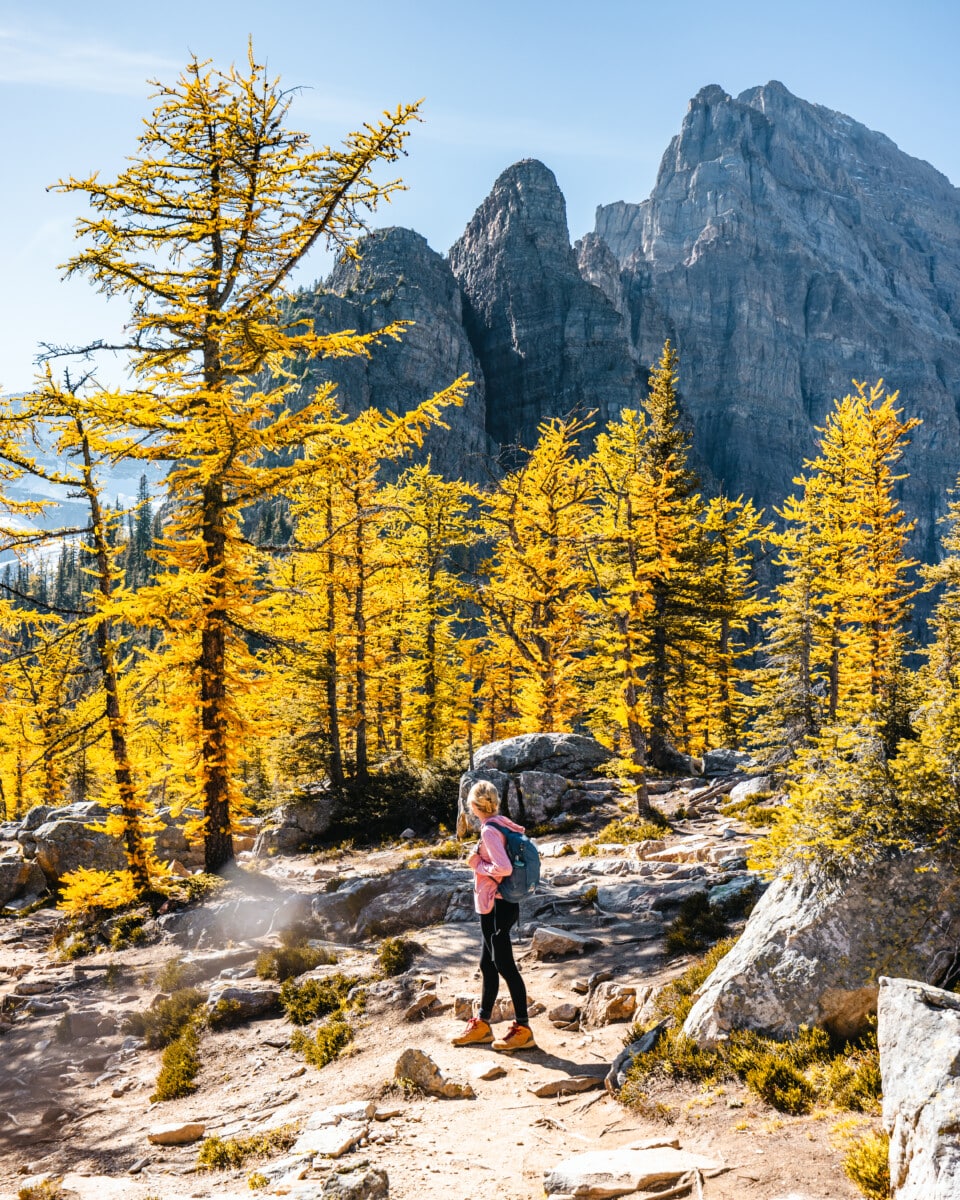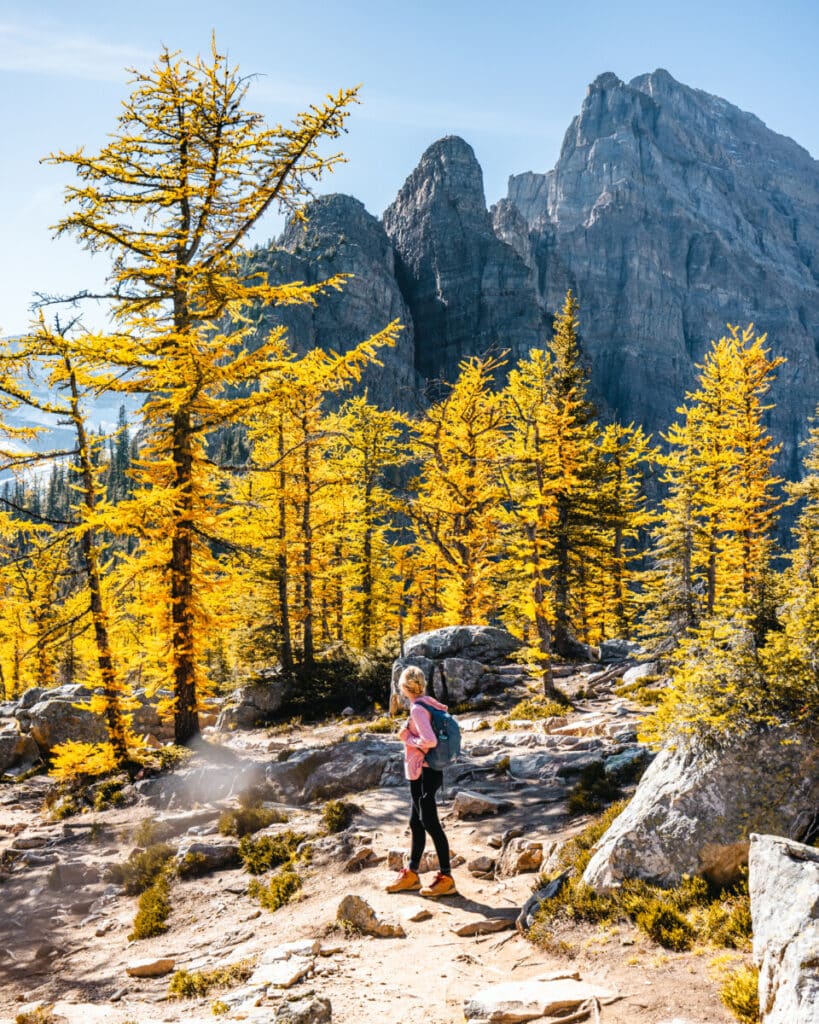 Depending on your interests, you'll want to plan your trip to Banff National Park at different times.
Planning a Summer Trip to Banff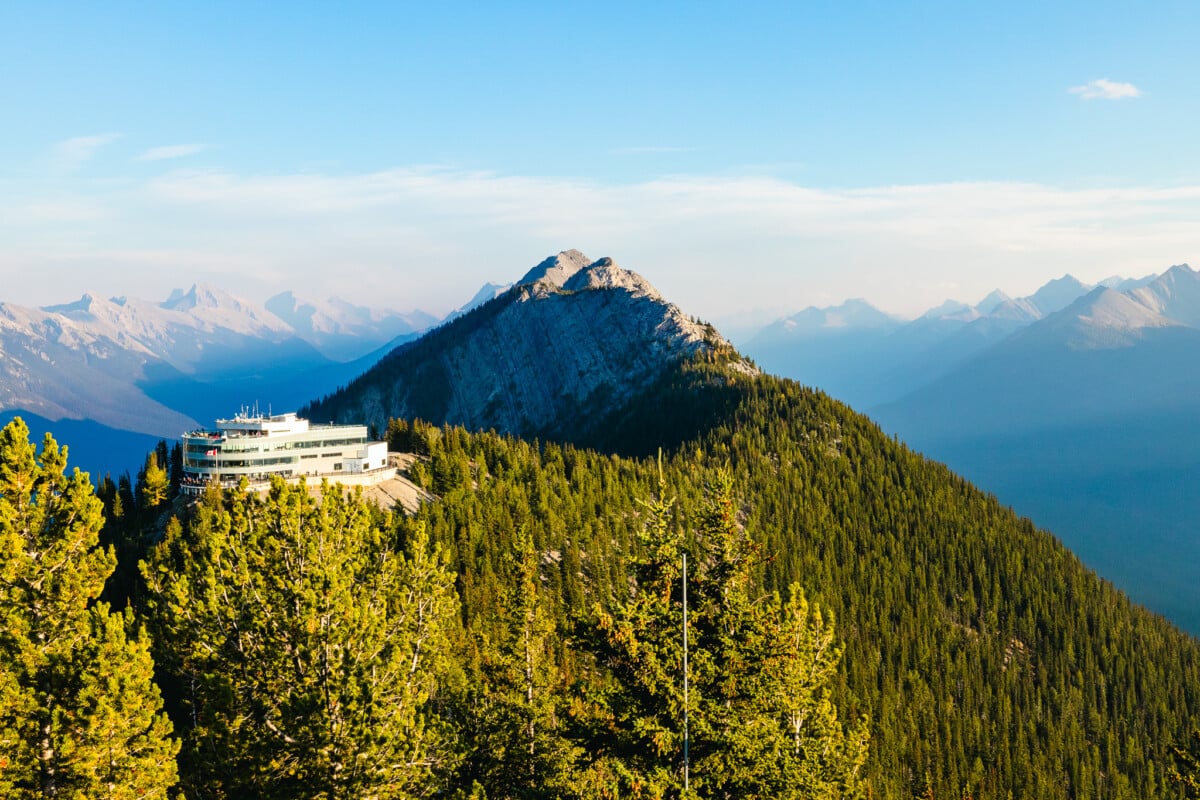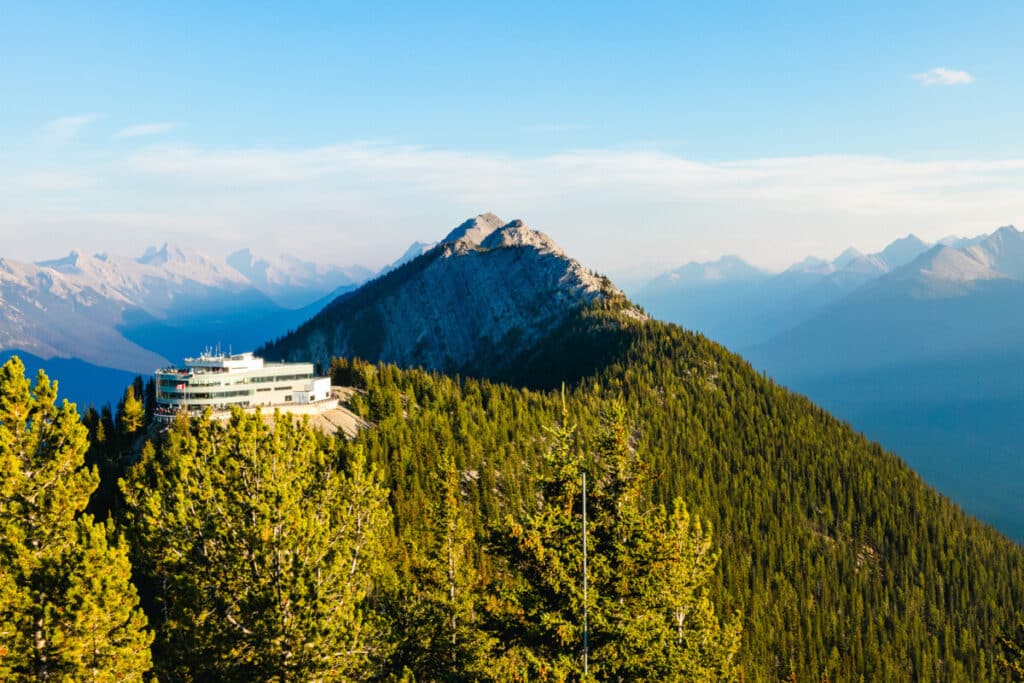 If you're a hiking lover, June to September offers the best hiking conditions with trails being snow-free and comfortable temperatures. This is a great time for backpackers, mountain bikers, and trail runners as well.
If you're hoping to catch the best time for golden larches in Banff, you'll want to visit mid to late September going into the first week of October. While we visited Banff in September, the larches peak week was from September 14-21, 2023.
Need some inspiration on what to pack for your summer trip to Banff? Check out our favorite outdoor apparel here.
Visiting Banff in the Winter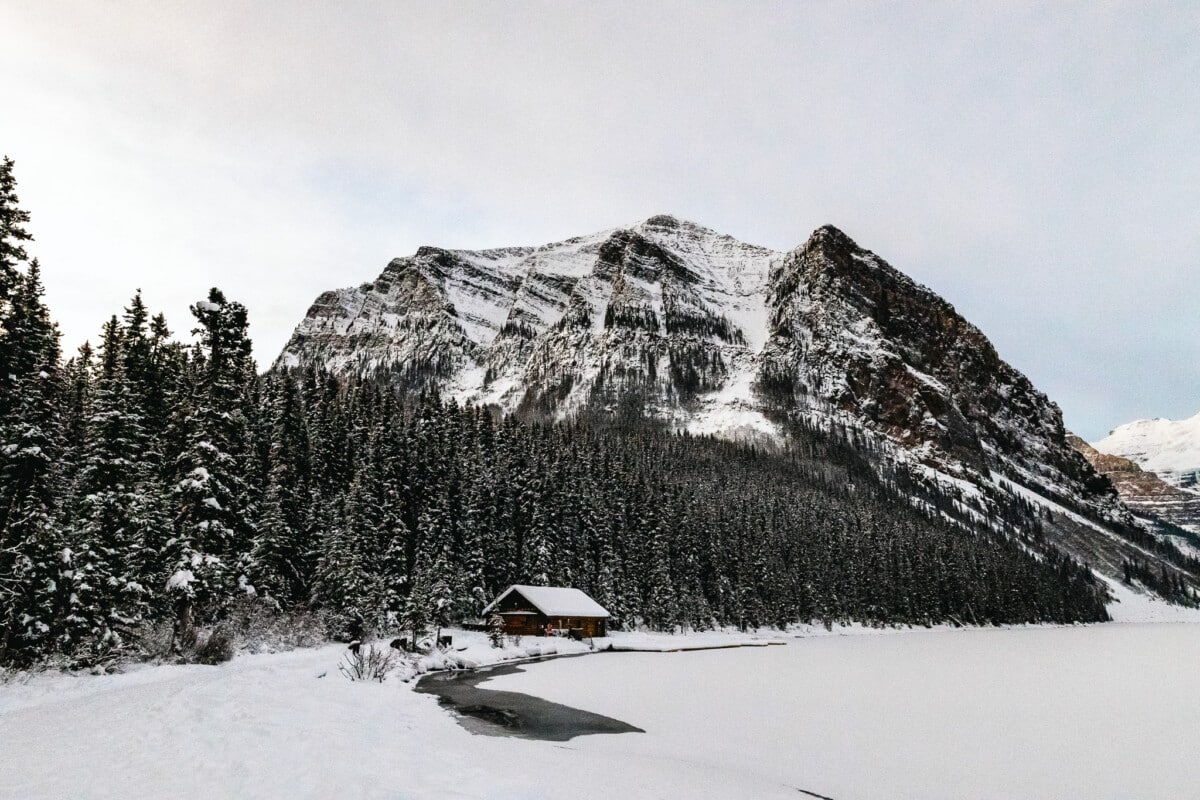 Banff is renowned as a winter wonderland, particularly for skiing enthusiasts. The best time to visit Banff for skiing is during the winter months, from late November to early May. However, the peak ski season, when conditions are optimal and all three major ski resorts are fully operational, spans from December to mid-April. Mt. Norquay, Lake Louise, and Sunshine Village are all fantastic options for those looking to spend their time in Banff skiing.
If you're looking to combine skiing with other winter activities like ice skating, snowshoeing, or winter festivals, January to March offers a good mix of snow-covered landscapes and vibrant winter events.
Remember to always check the snow conditions and resort opening dates when planning your trip, as they can vary year-to-year based on weather conditions.
When Should You Visit to See the Northern Lights in Banff?
Yes, you can see the Northern Lights from the beautiful dark skies in Banff National Park. Peak aurora season starts in late September into early April. There's usually higher aurora activity around the seasonal equinoxes as well.
Make sure to sign up for Aurora alerts before visiting so you will be notified if you have a good chance to see them! Learn more about chasing the Northern Lights here.
Where to Stay Near Banff National Park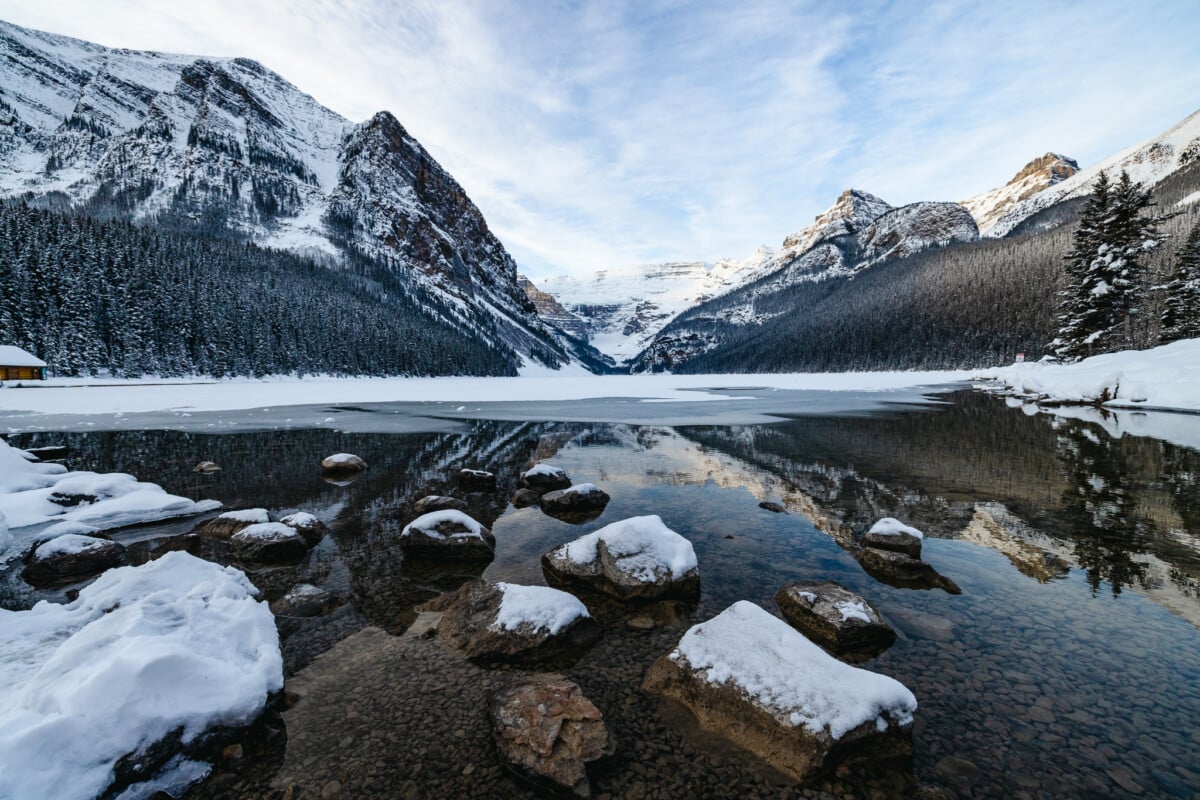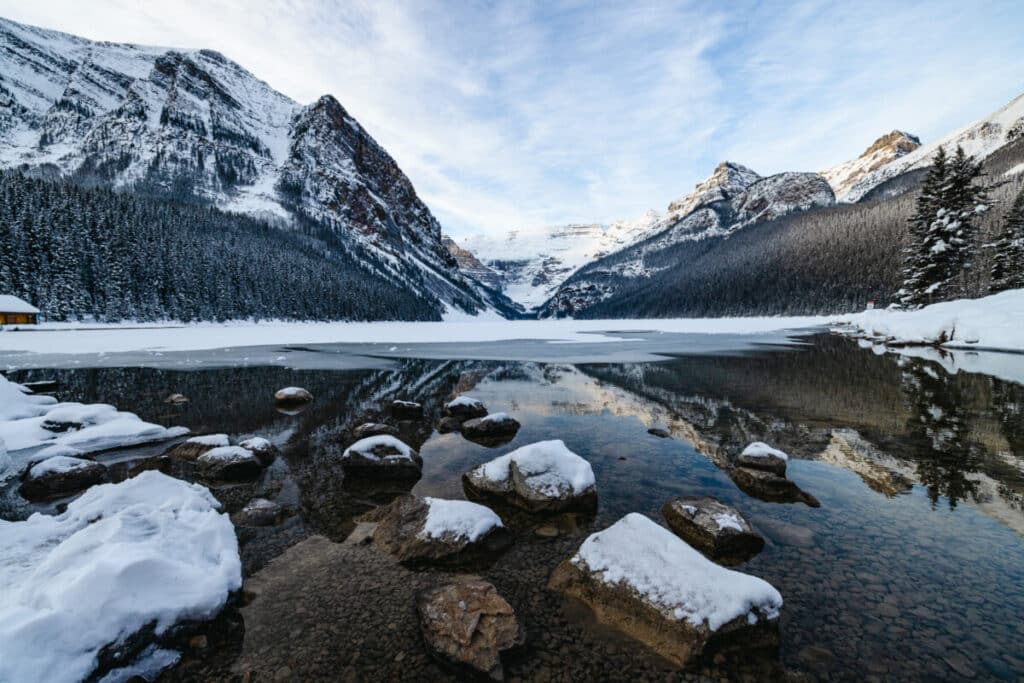 There are three main areas around Banff that we would recommend considering as your home base for your trip to the park.
Banff: The heart of the national park, Banff town offers a mix of hotels, hostels, and guesthouses, all within walking distance of the town's amenities. Although the most convenient, expect this area's accommodations to be less available and more expensive than Canmore.
Canmore: A vibrant town just outside Banff National Park boundaries, offering a range of accommodations and a slightly quieter atmosphere. This town is much less expensive than Banff itself, however, it is about a 25 minute drive away from downtown Banff and 55 minutes from Lake Louise. If you have a rental car, this would be a great spot to base out of.
Lake Louise: A serene location with iconic views, Lake Louise provides upscale resorts and lodges, perfect for those seeking tranquillity. Out of the three options, this is definitely the most expensive area to stay. You'll find stunning luxury properties like the Fairmont Lake Louise in this area.
Where to Eat in Banff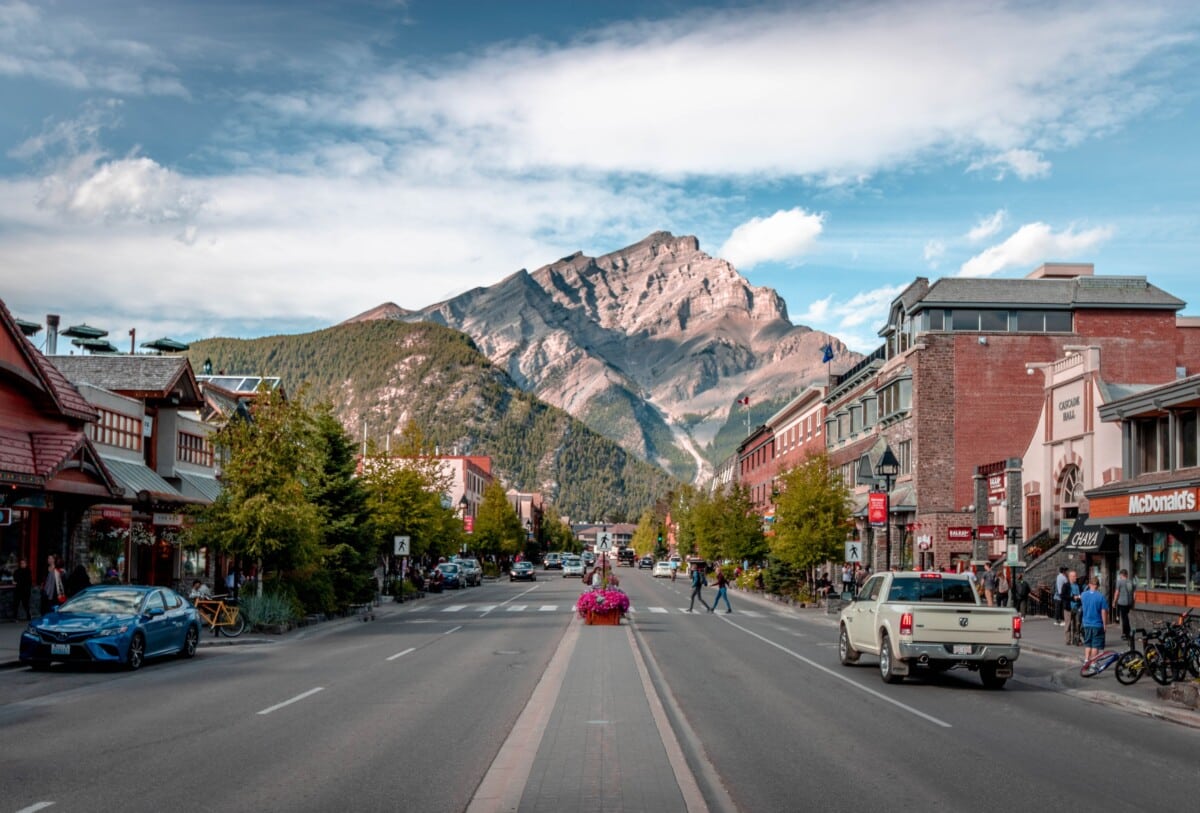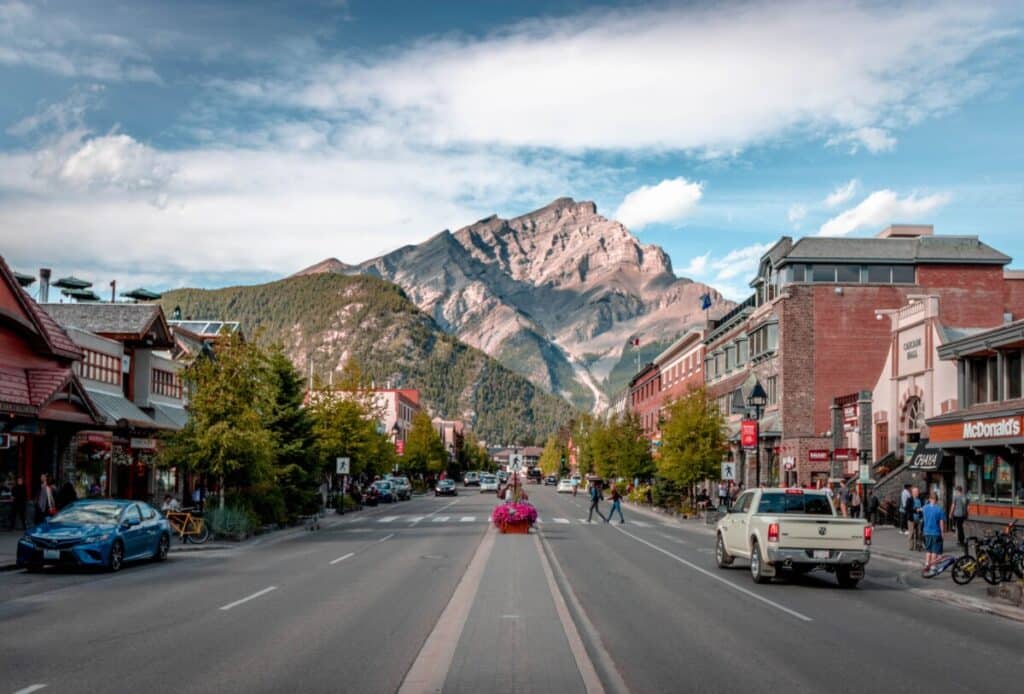 Given how popular Banff has become in the past few years, it's highly recommended that you make dinner reservations if you're eating out downtown for brunch or dinner. Expect some wait times if you don't have reservations.
Our Favorite Restaurants in Downtown Banff
Tooloulou's: Our favorite breakfast spot in Banff. We went back here twice we loved it so much!
Anejo: Top notch Mexican food (and that's coming from Californian's!)
Pad Thai Restaurant: Great hole in the wall restaurant for those looking for some delicious Asian food and lovely service.
Tavern: Fantastic pizza and beer for a casual night out.
Whitebark Cafe: Our go-to coffee shop in Banff.
Farm & Fire: For a more luxury dining experience. Make sure to make reservations.
Park Distillery: Known for their in-house spirits and delicious meats.
Shuttles, Buses & Public Parking in Banff National Park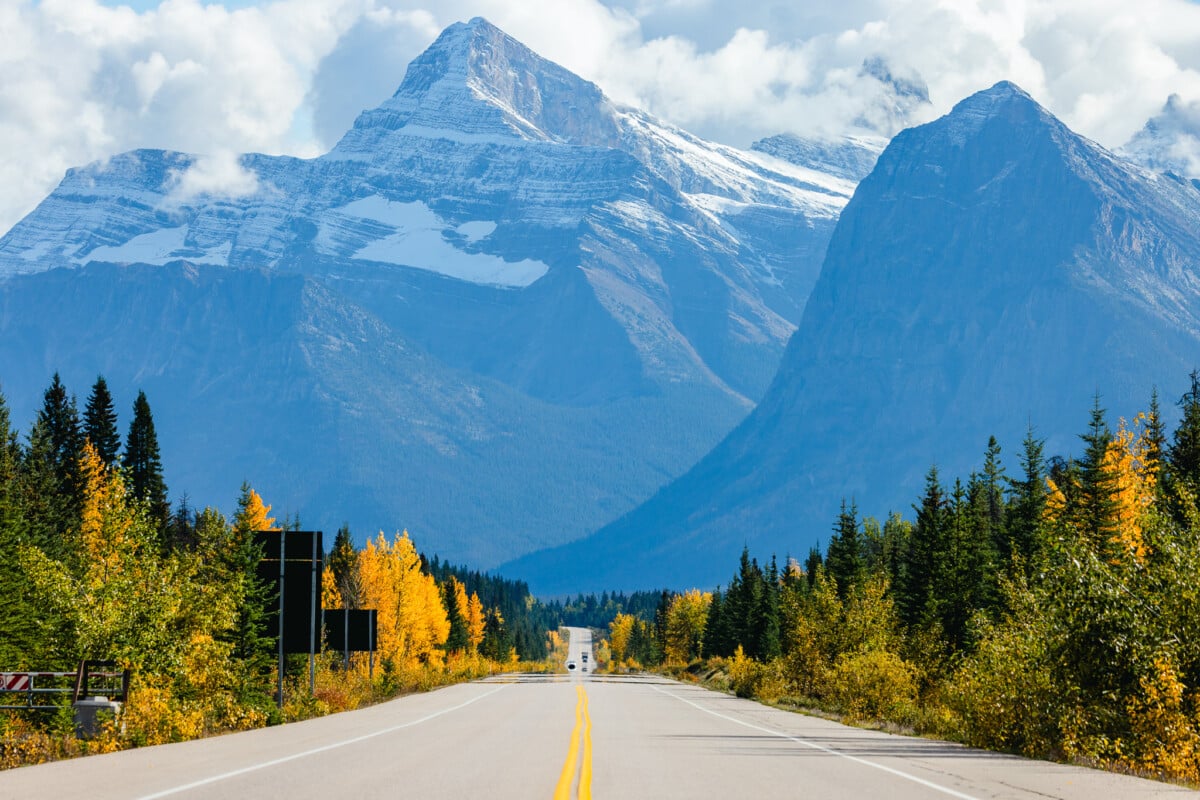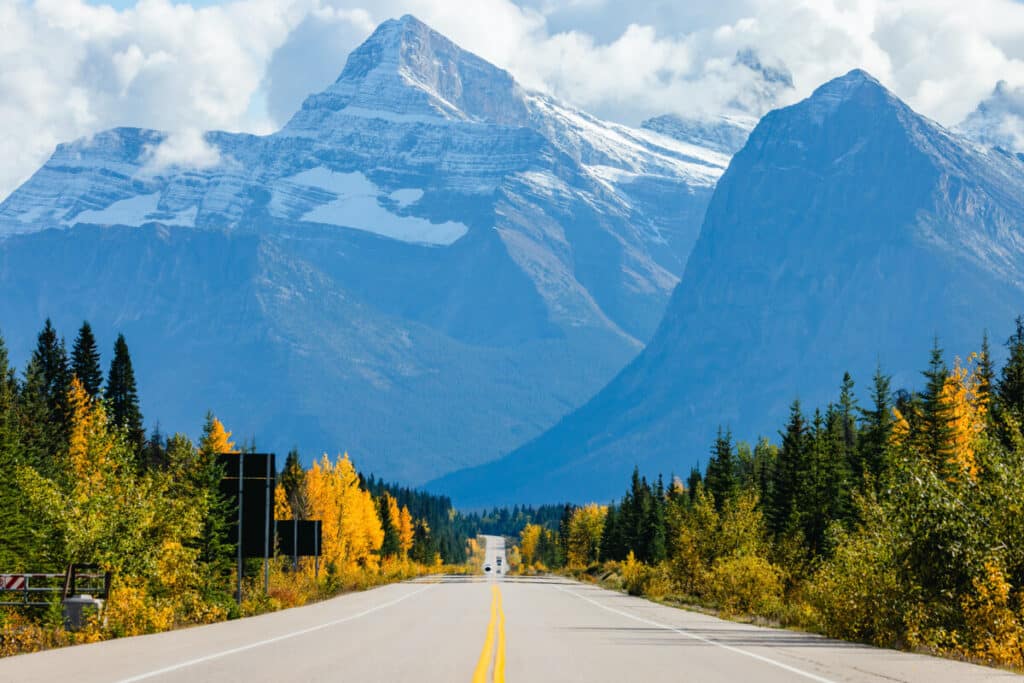 Parking Around Downtown Banff
During peak season, finding parking in Banff can be a total pain. However, there is free day use parking for cars, vans, and RVs at the train station for up to 9 hours. This is a convenient option for those not wanting to venture into the busy town center. It is an approximately 8-10 minute walk from here into the downtown area. Many hotels in the area will also provide a free shuttle service into town to help avoid traffic congestion in the town center.
If you have your own car or a rental car, there are paid parking options available for street parking throughout the downtown area. You can use BanffParking.ca to find your route to free parking at the Train Station, or real-time pay parking availability elsewhere in town. The paid parking is only from 8am-8pm. Afterwards, it is free as it is no longer peak visitation hours.
Getting to Moraine Lake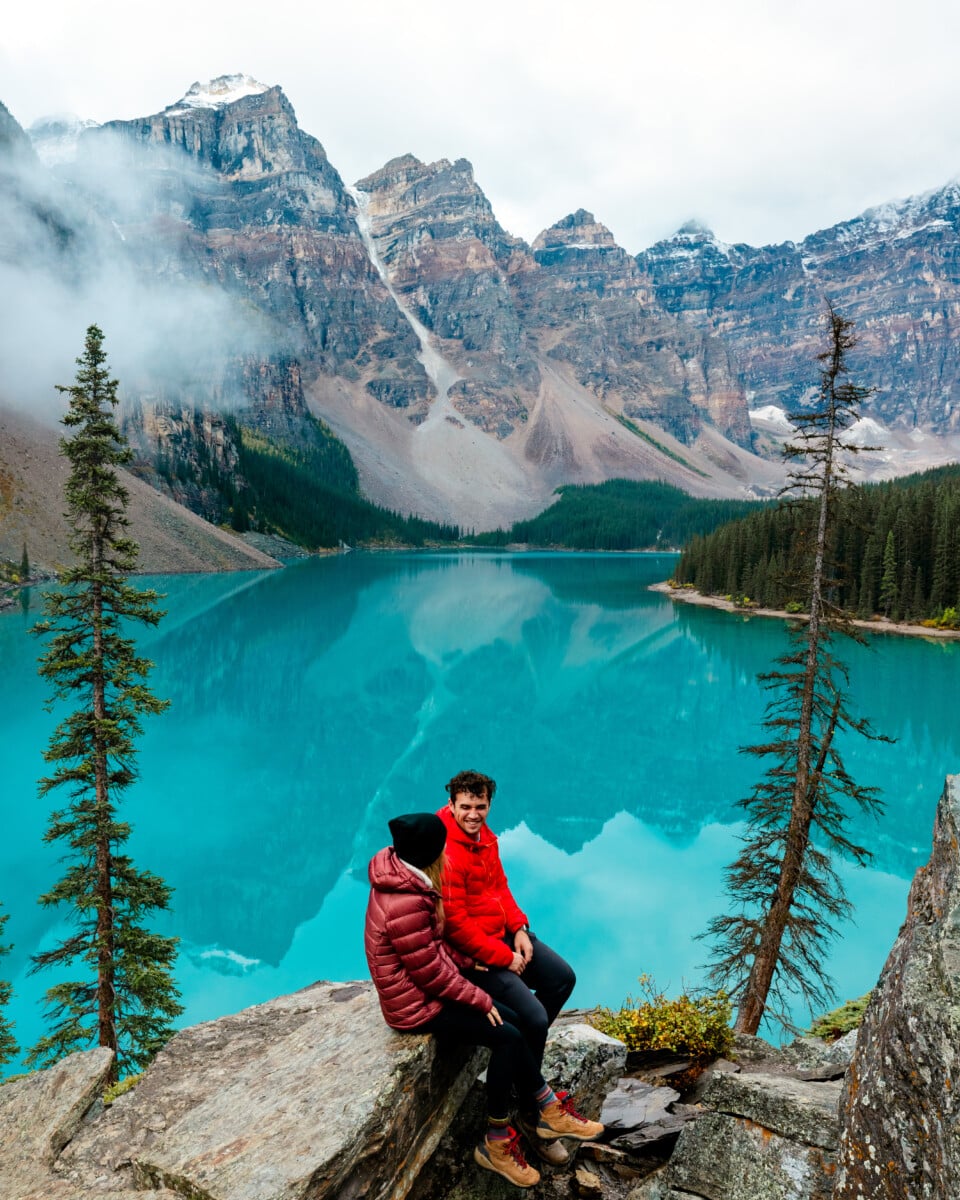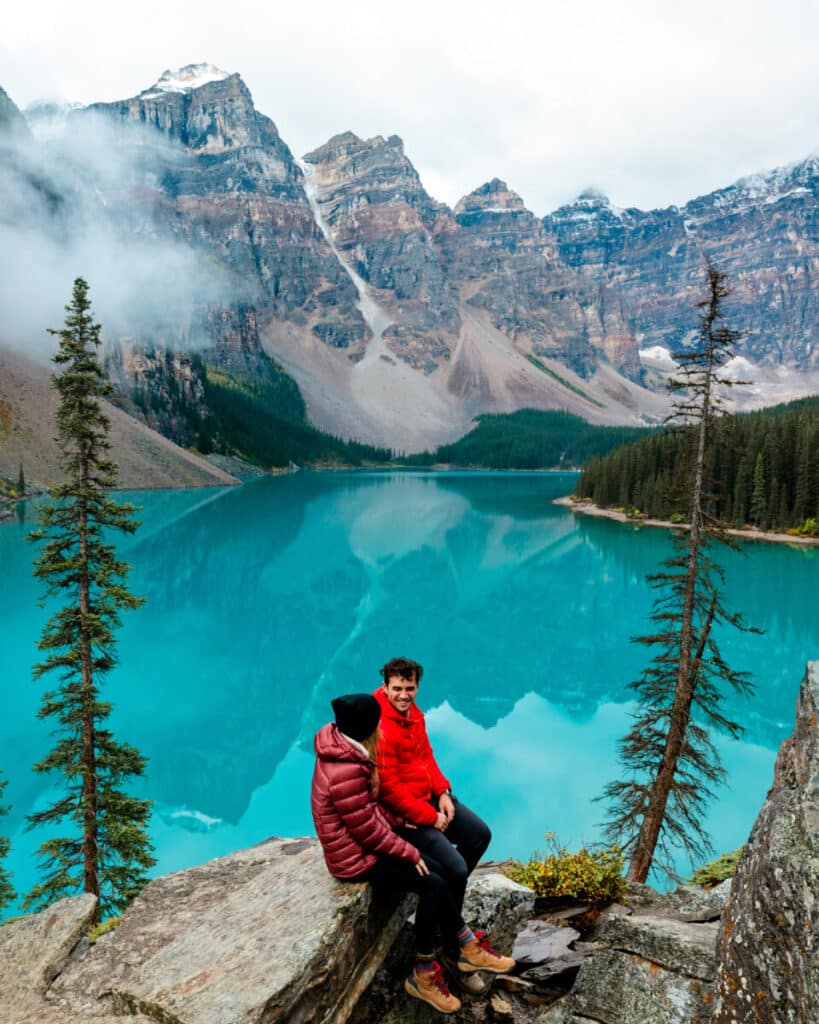 As of the 2023 season, private vehicles are no longer allowed to drive down Moraine Lake Rd. This means that in order to visit Moraine Lake, you must take public or private transportation including the following options from June to mid-October:
Book a Parks Canada Shuttle: Reserve your seat in advance on the Parks Canada shuttle for an easy ride over to Moraine Lake. The only caveat with this option is that most of the seats are released super early in advance, so set a reminder on your calendar when they are released. Don't worry too much if you can't get a seat during the first release. They do keep a batch of extra shuttle spots that are released 48 hours prior to the shuttle's departure date as well at 8am Alberta time. PSA: Make sure to have a Parks Canada account BEFORE you try reserving seats or you might miss out!
Take Roam Public Transit: If you don't have a car with you, this is a great option. The Roam bus will depart from Canmore or Banff. Although it's not required like the Parks shuttles, we'd recommend reserving a seat in advance.
Commercial Transportation: These options will cost the most compared to the others, but require less advanced planning on your end. For a full list of commercial providers, check out this link.
Bike: This option is not our recommended choice for most people, but it is doable if you are committed and prepared.
Hoping to see Moraine Lake During Sunrise? Since public parks shuttles don't start running until 6:30am, the main commercial option to get there on time is by using Moraine Lake Bus Company. This is the company we used and we highly recommend them! You can book Your Sunrise Moraine Lake Bus Seat Here.
Bringing a SUP or Kayak to Banff's Lakes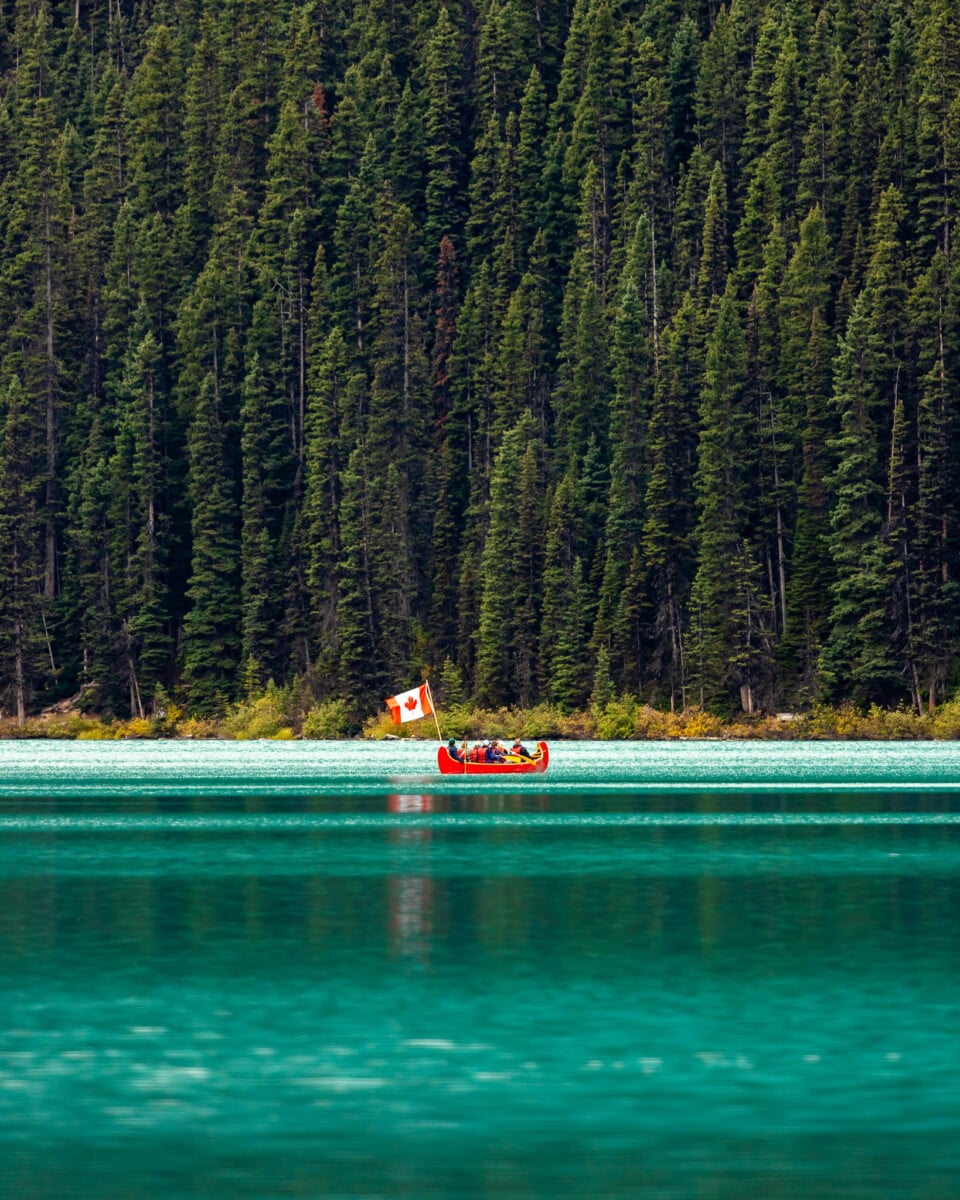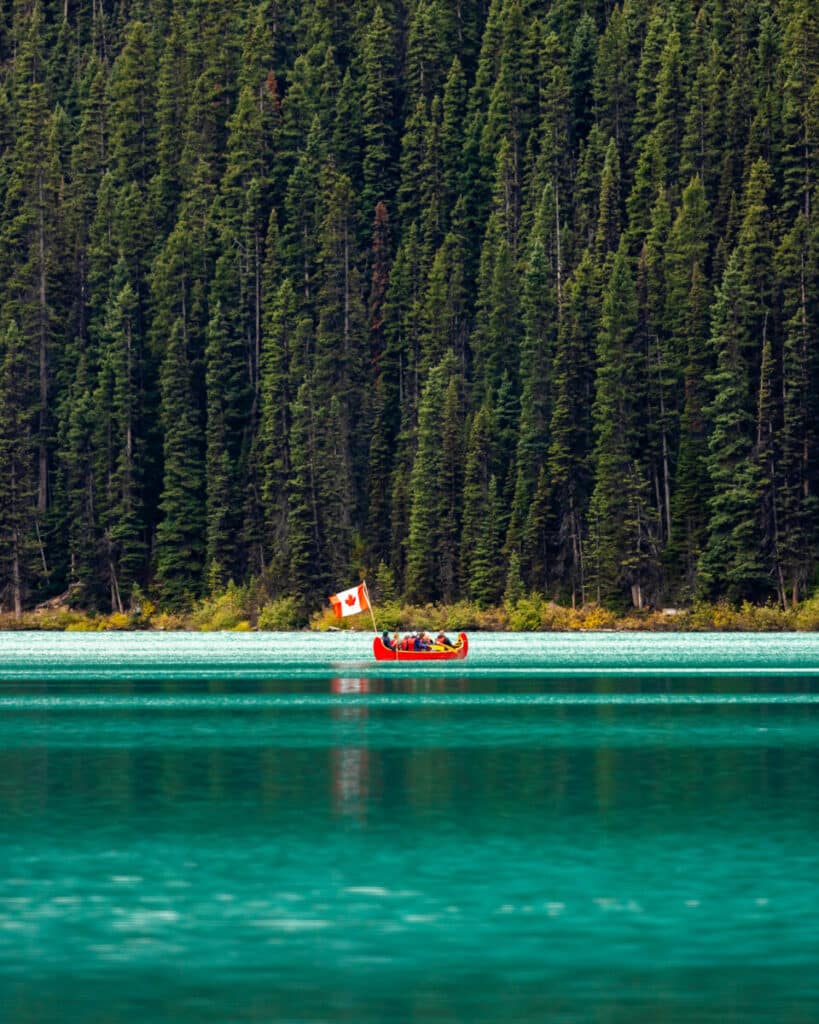 If you're looking to bring your own Inflatable SUP/Kayak, make sure to let your shuttle provider know. Parks Canada allows you to bring them on the shuttle, but they have to be inflatable. You will also have to Self Certify your watercraft on arrival to any lakes in Banff (there are little stations on arrival), and make sure you bring a life vest with a whistle as they are required. Tour operators do rent them for $10 as well if you don't have one.
If not bringing your own, you can rent a canoe at Moraine Lake! Be warned, however, they are quite expensive at $140.00 CAD plus tax per canoe for a one-hour rental. They will seat 2-3 people maximum and cannot be rented by the half hour.
Getting to Lake Louise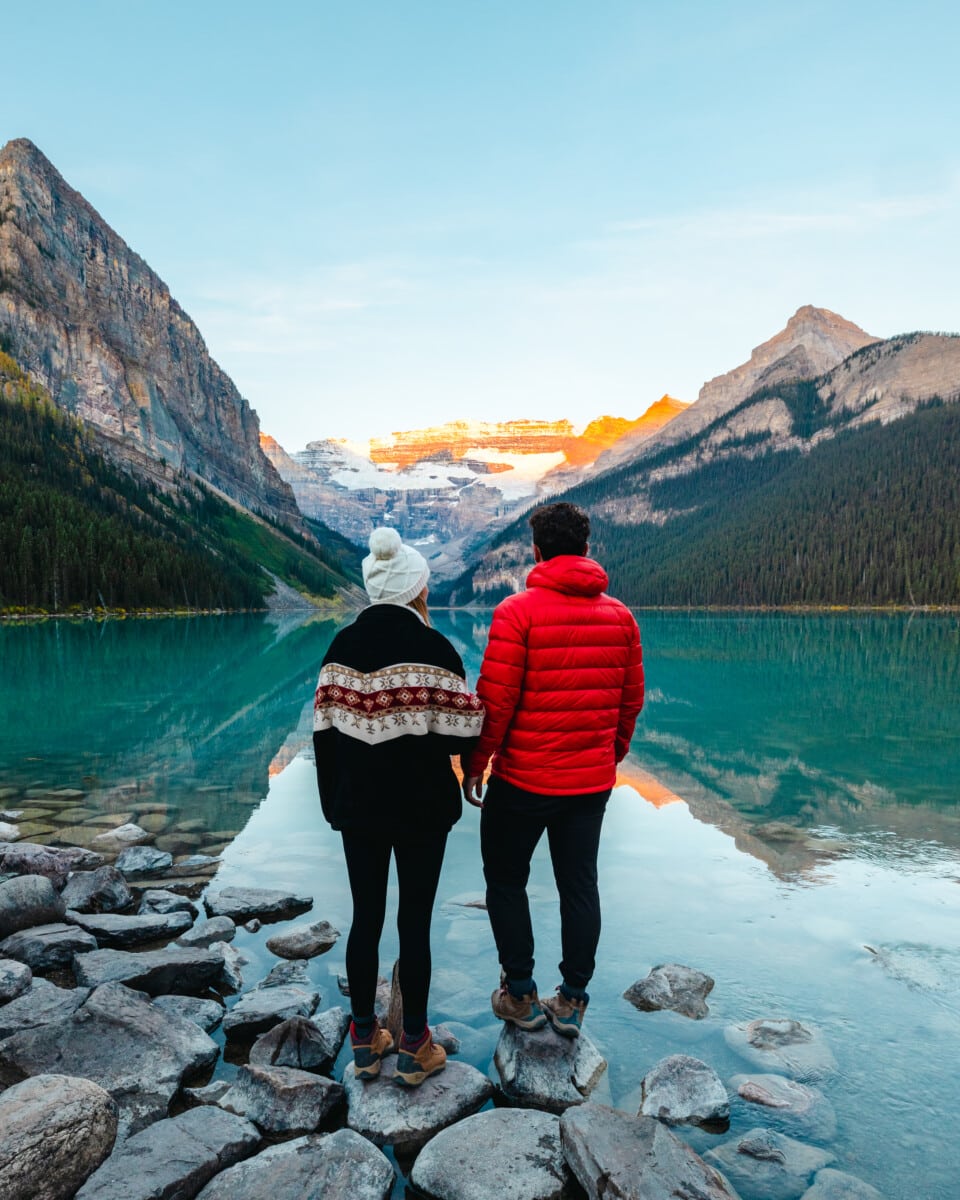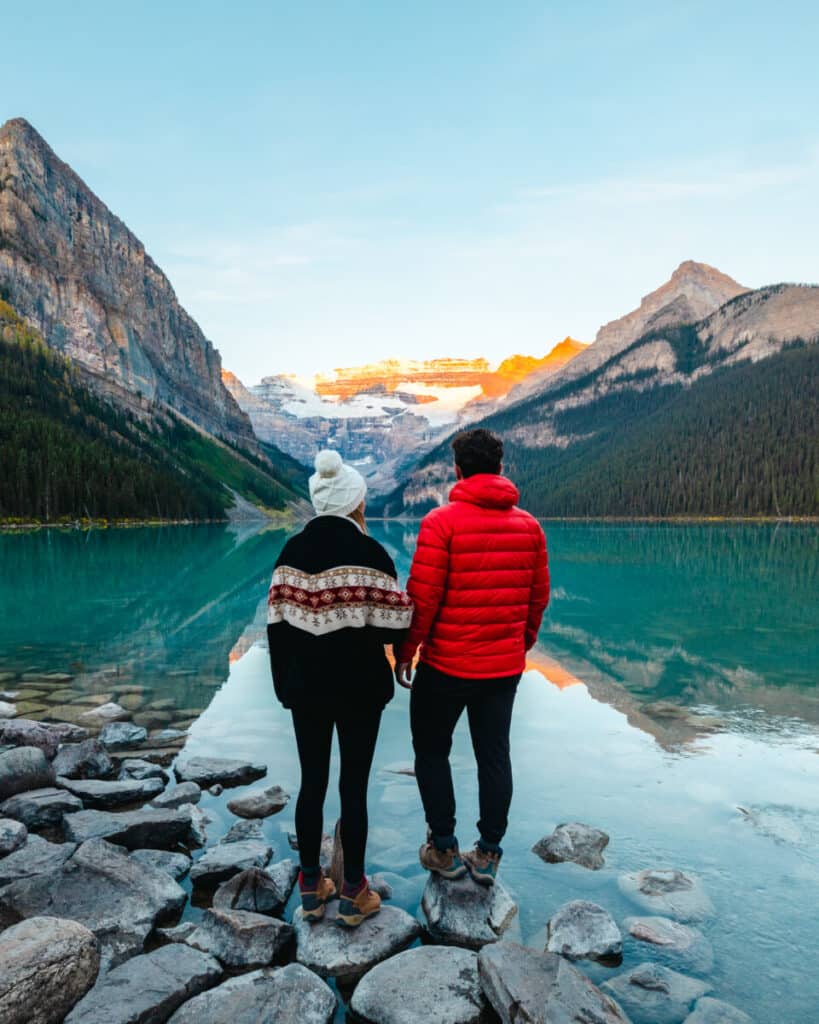 Unlike Moraine Lake, you can actually still drive your own vehicle to Lake Louise. However, there is limited parking and it does cost $21 CAD to park there all day and you'll need a credit or debit card. There is no hour by hour parking available.
The parking lot fills us very quickly from it's opening time at 6:00am, so we'd recommend getting there no later than 7:30am to ensure a spot. Once the parking lot is full, they will turn you away. Don't fret, however, typically in the afternoon spots start opening up again around 1-2pm. The lot closes at 7:00pm.
Similar to Moraine Lake, you can also take the Parks Shuttles, Roam Transit, or go via a commercial operator as well.
How Much Does a Trip to Banff Cost?
During our stay, we visited Banff for 10 days. The total for 10 days per person, splitting equally between a group of three, came out to $1995 USD per person. Staying in the town of Banff is not cheap. However, you can help subsidize your costs by camping, or splitting with a large group of friends or family. Also, you can save by not eating out at restaurants often and instead cooking on your own.
We hope this helps while planning your trip to Banff National Park! While visiting Banff, make sure to venture to explore Jasper National Park as well.