Ultimate Winter Guide to Snowmass, Colorado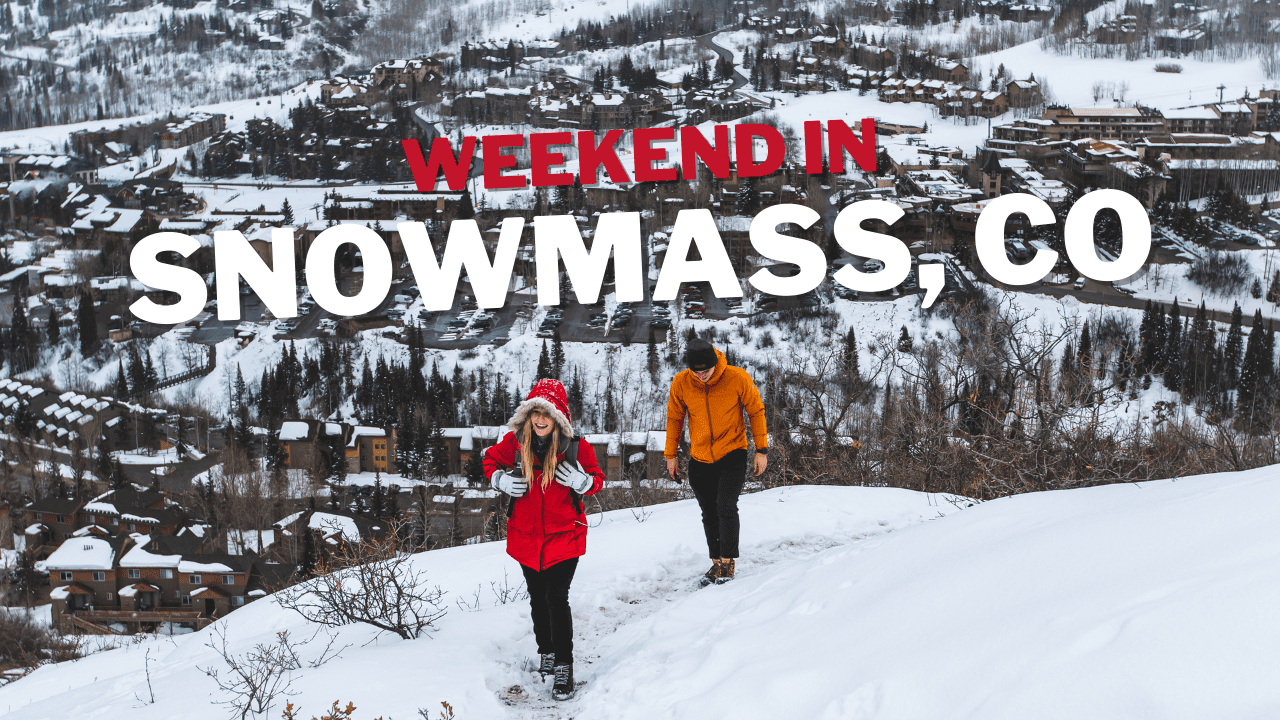 Snowmass, Colorado should be added to everyone's winter bucket list! Not only is it the perfect families and solo adventurers alike, but it has so many amazing things to do. Whether you are into hiking and snowshoeing, skiing and snowboarding, or simply would like to relax and take in some beautiful views, Snowmass has activities for everyone! Here is our Ultimate Winter Guide to Snowmass, Colorado:
Know Before You Go to Snowmass:
Best Time To Visit:
If you are planning your visit to Snowmass, Colorado to enjoy the snow is December-February for peak snow. However, we always love going in the slight off season since there are less crowds and equally as beautiful weather and conditions! We visited Snowmass in March 2021 and were greeted with a day of snow and two days of sunshine with ideal powder.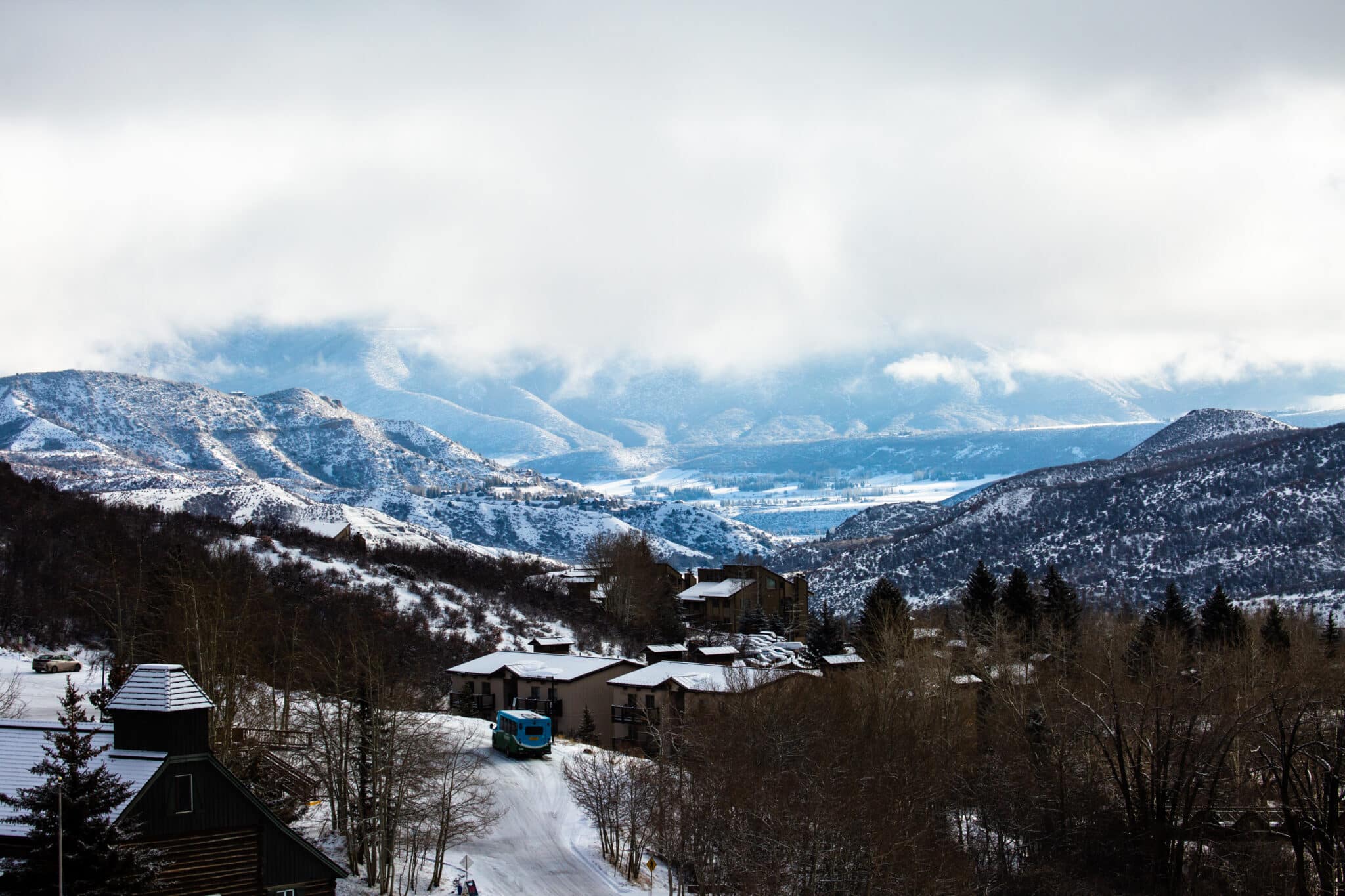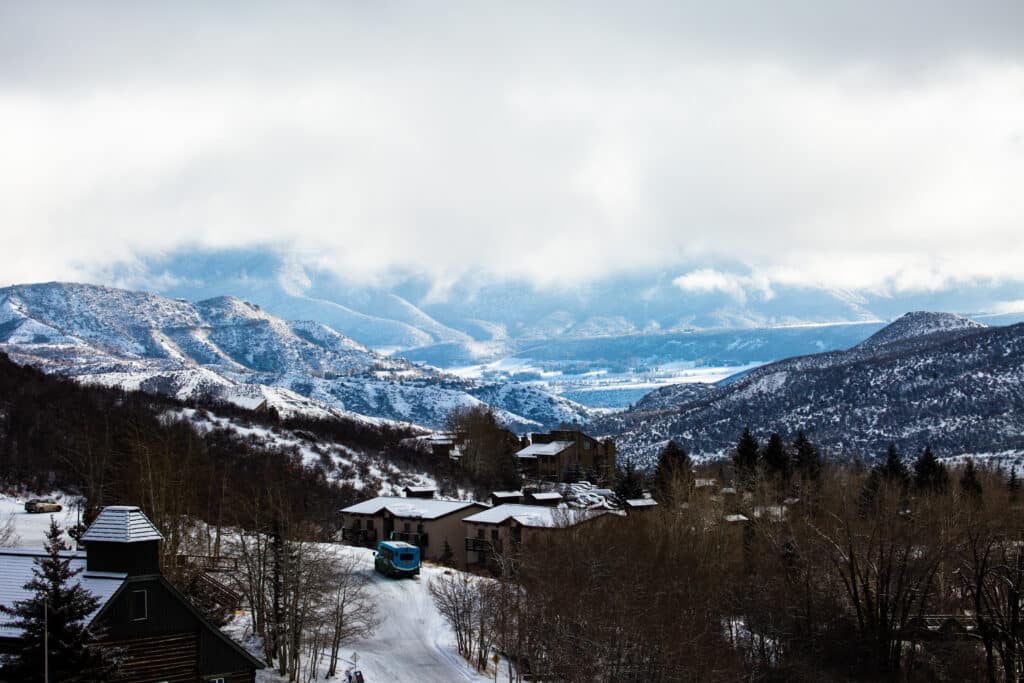 What to Pack:
During the winter, Snowmass is a winter wonderland. However, this means you must pack accordingly! Bring lots of layers. We always recommend bringing base layers, mid layers, and waterproof puffy/ski jackets and pants to keep you warm. We also brought beanies, wool socks, hand warmers, waterproof hiking shoes/snow boots, ski goggles/sunglasses, chapstick, and lots of sunscreen since the UV rays can be strong out on the snow!
Transportation:
If traveling out of state, we recommend flying directly into the Aspen airport as it's located about 20 minutes away from Snowmass Village. The Aspen airport is quite small and incredibly easy to navigate. Depending on your accommodations, several hotels also arrange shuttles for pickup from this airport as well. Alternatively, you could fly into Denver, Colorado and make a road trip out of your stay in Snowmass by renting a car. The drive takes about 4 hours one way.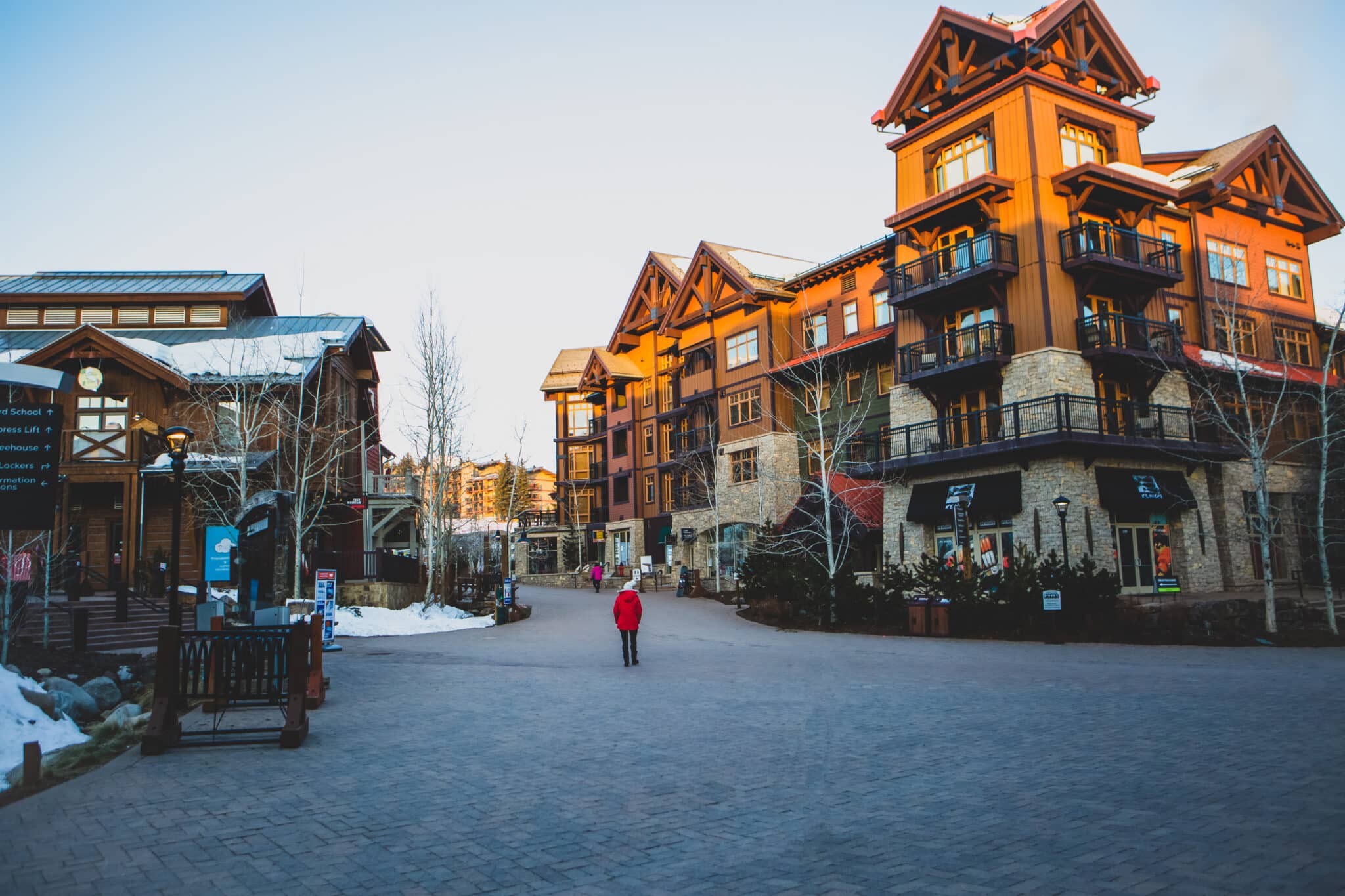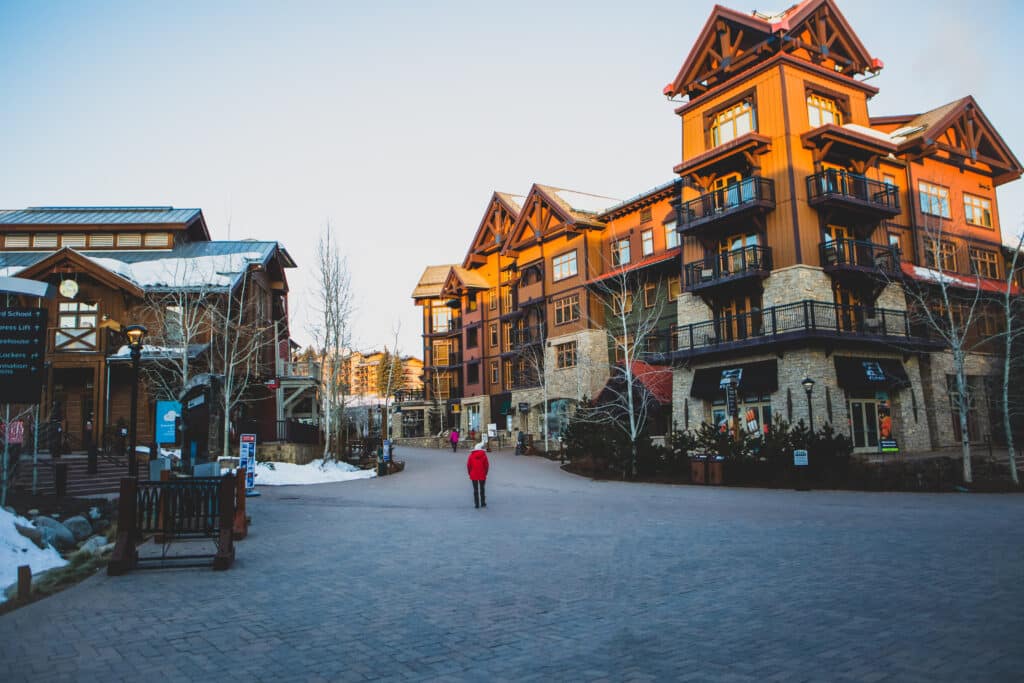 Accommodations:
When we visited Snowmass, we absolutely loved staying at the Limelight Hotel. It is conveniently located right in the heart of Snowmass Village. If you are skiing or snowboarding, it's about a two minute walk to the closest chairlift and gondola! The rooms were luxurious, comfortable, and clean. The balcony to our room had a beautiful balcony that overlooked the local ice skating rink and the rest of the village. The hotel did an amazing job at maintaining COVID-19 safety protocols and the staff were all incredibly friendly. We loved being able to order some dessert from the hotel restaurant and take a dip in the jacuzzi after a day exploring in the snow.
Things to Do in Snowmass, Colorado:
Activities: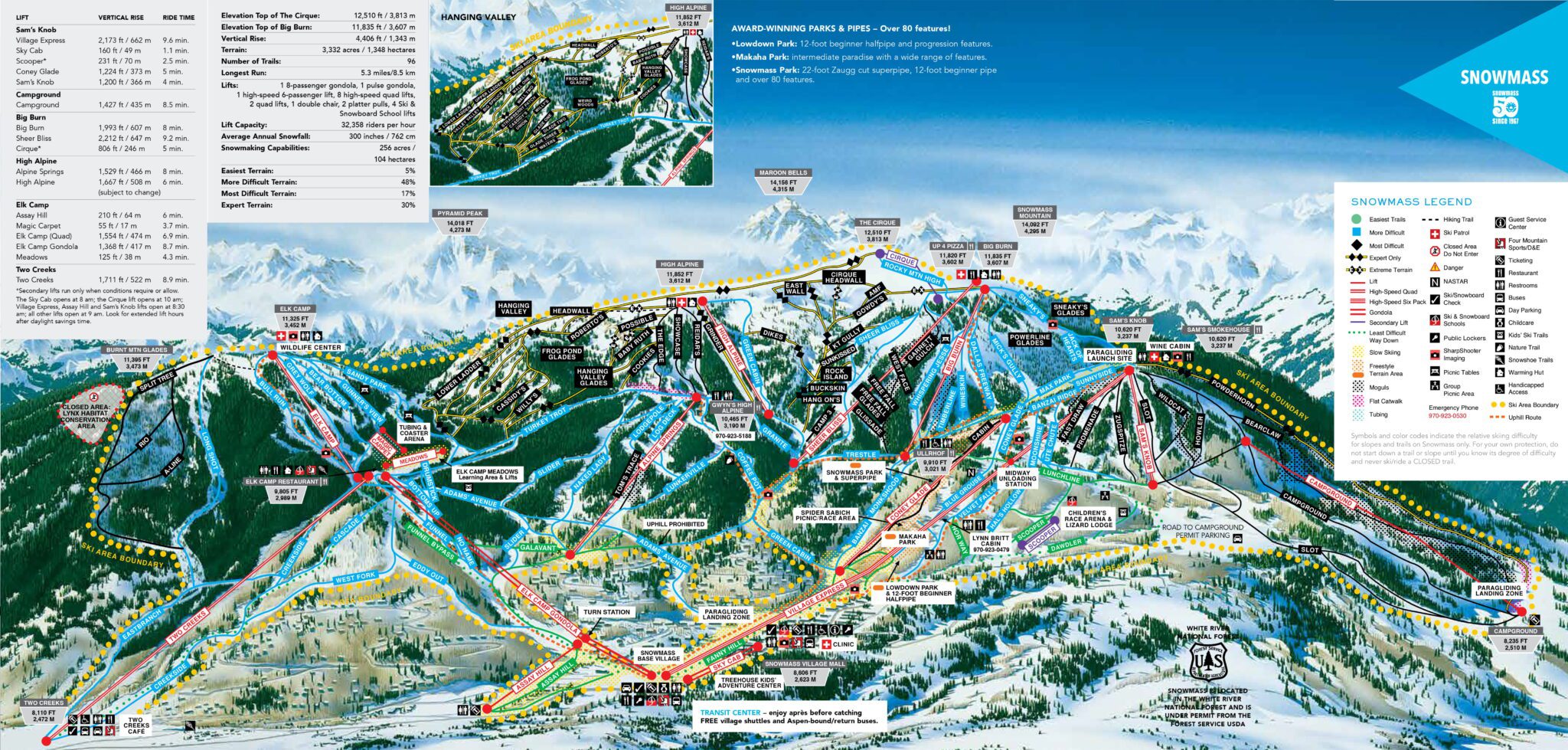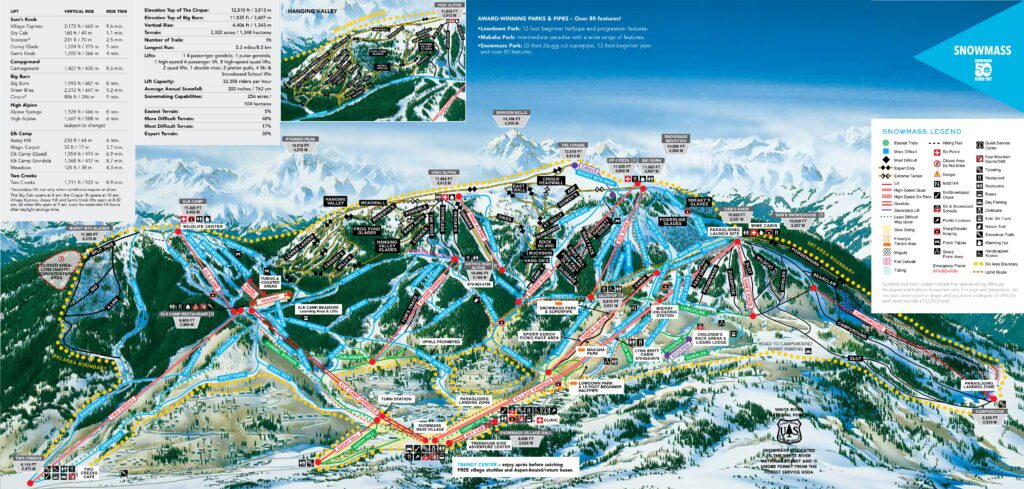 Skiing & Snowboarding
From the several people we chatted with in our stay, everyone agrees that Snowmass is the best and most scenic mountain in the area for skiing and snowboarding. There's a variety of lifts and runs for all skill levels. There's also tons of instructors and lessons available, and everytime we were out in the village we were so impressed by how organized the whole process ran!
Snowmobiling
By far the highlight of our activities in Snowmass was going Snowmobiling to the Maroon Bells! The Maroon Bells are one of the most beautiful mountain ranges we have ever seen. Once arriving, we could easily see why these bell shaped peaks are the most photographed mountains in North America. The Snowmobiling tour from T-Lazy 7 Ranch itself lasted about 2 hours and took us throughout the gorgeous wilderness area surrounded by aspens and 14ers like Pyramid Peak.
If we could only choose one activity outside of skiing, this would be it. They also offer snowmobile tours to a Klondike Cabin and to Independence Pass if you wanted to explore other routes. The guides were super informative about the area as well. You'll get a great history lesson of the town! We had no idea that the mountain division for WWII trained throughout the area to fight in the mountains abroad.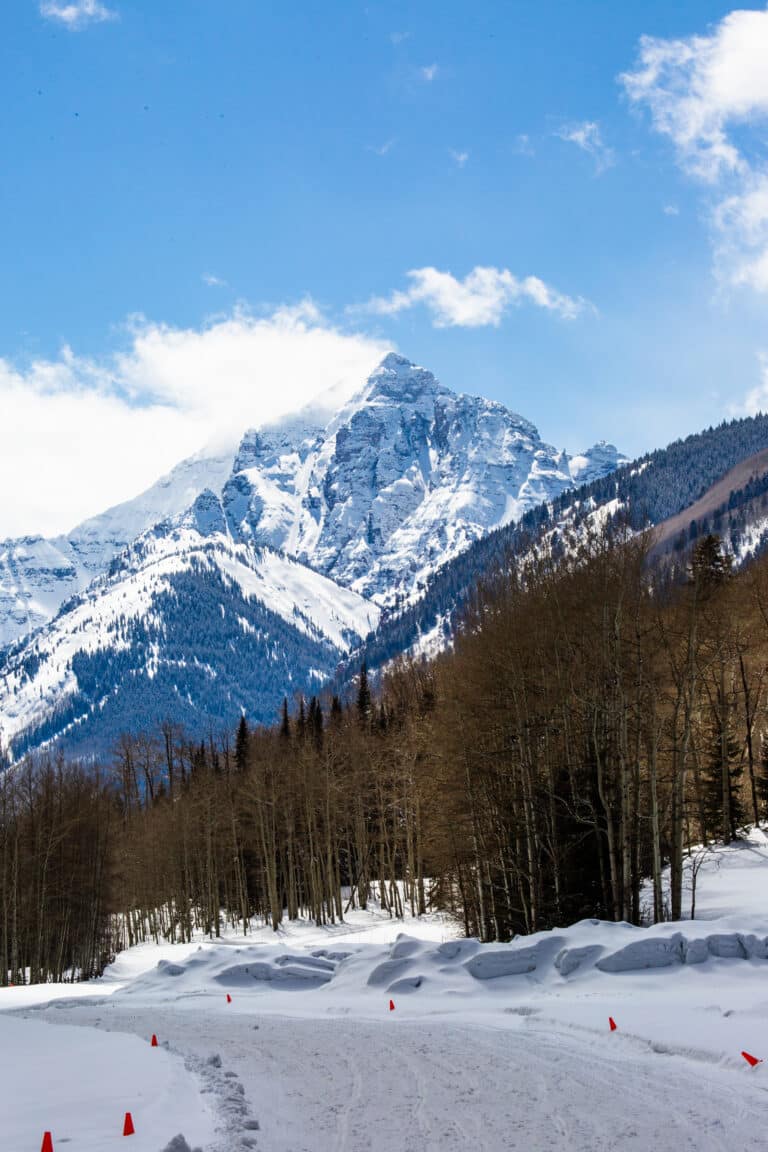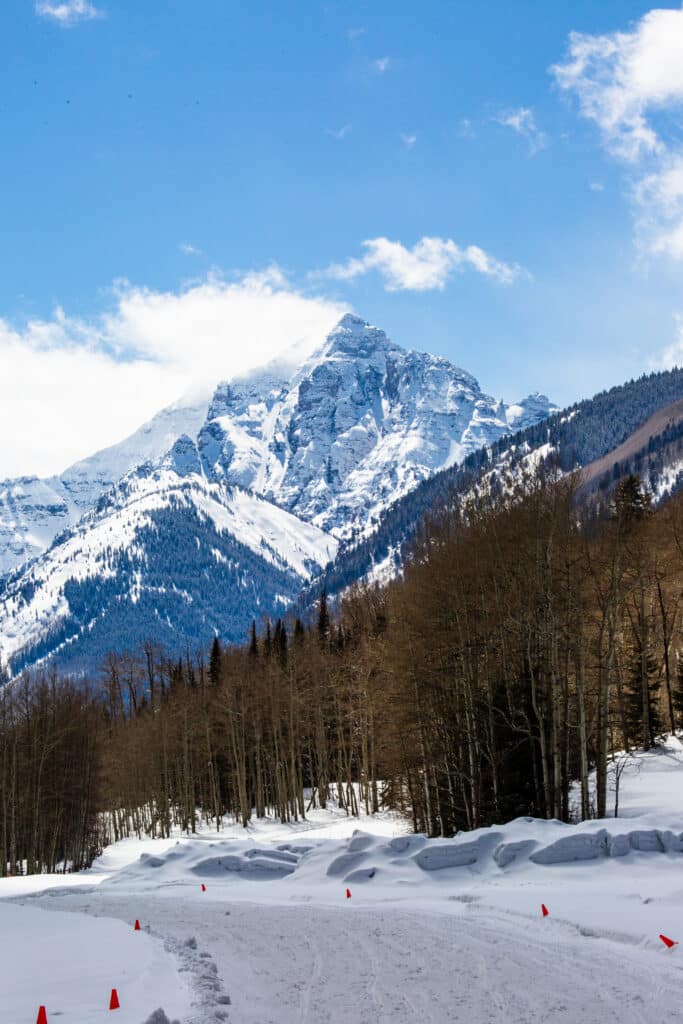 Hiking & Snowshoeing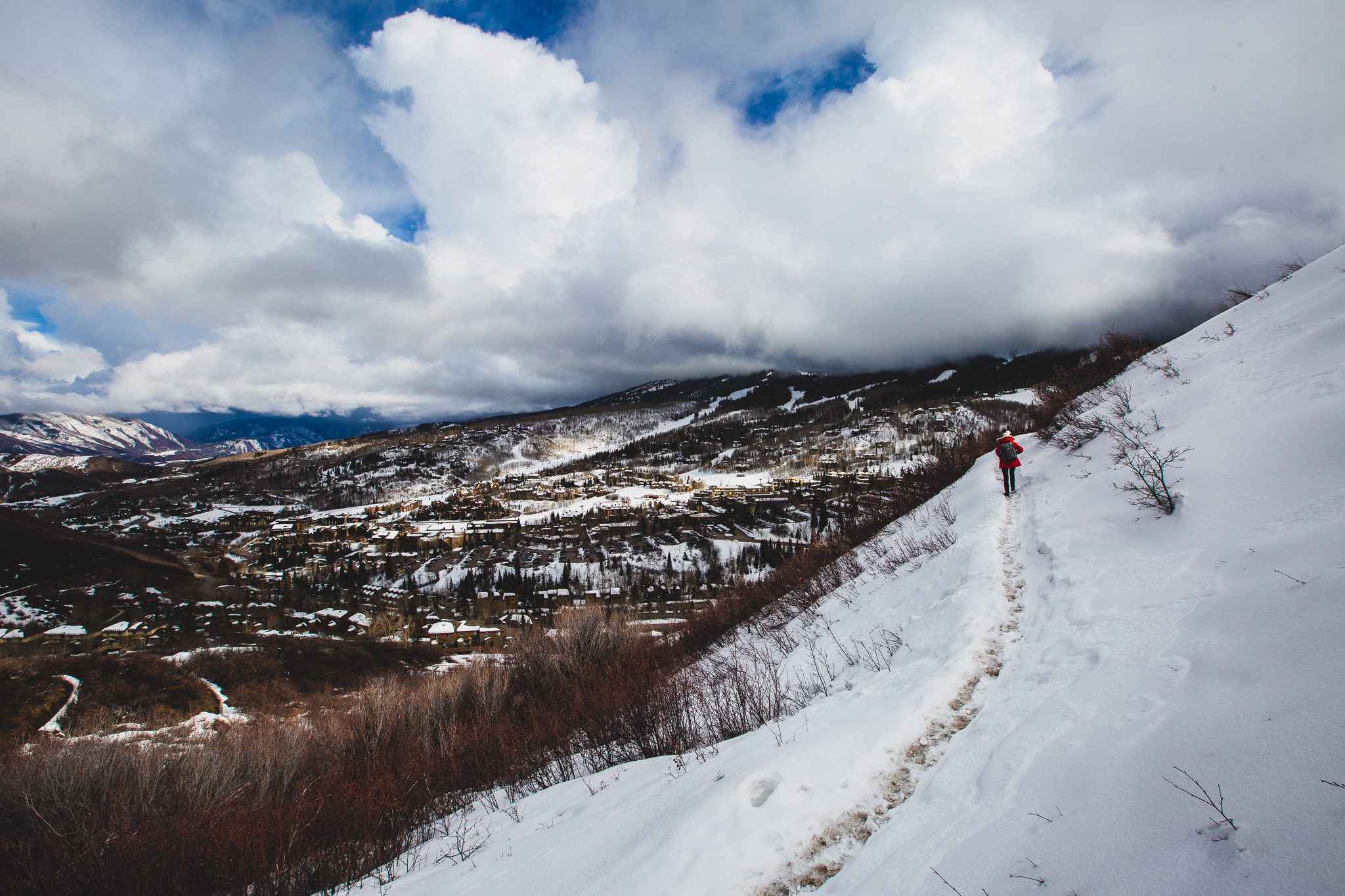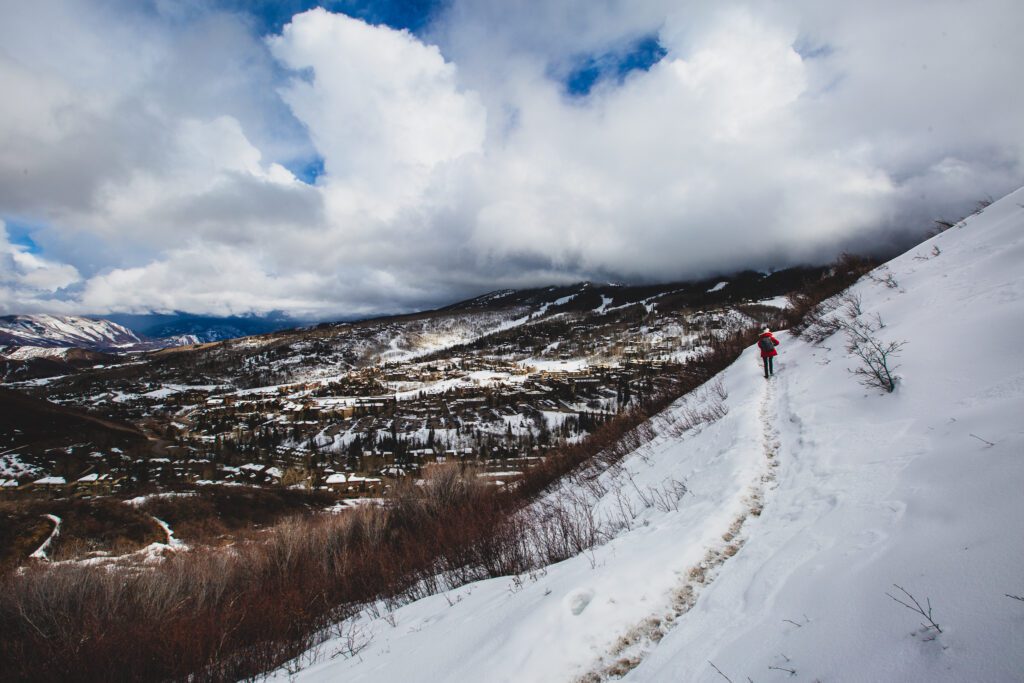 Although Snowmass is known for its hiking in the summer, the views during the winter are unparalleled. We hiked the South Rim Trail up to Spiral Point (aka the iconic Yin Yang) and were greeted with panoramic views of the whole village frosted in new powder. The hike is about 2.6 miles round trip but the trail was maintained all the way through even in snow and had plenty of signs to make sure you were on the right path. We would definitely recommend doing this hike at sunrise or sunset to see the town light up during golden hour. Several locals who chatted with us also recommended hiking up near the Buttermilk ski area for beautiful views of the mountains.
We also took the ACES guided snowshoeing tour that is sponsored by the Snowmass tourism board as well. It takes you out of Snowmass village via the Nature Trail which was a nice relaxing activity. We would recommend this tour for anyone with kids or any plant and nature enthusiast. The walk is definitely for beginners and they will provide snowshoes for you! It's also free and you will learn all about the history of the town and other strategies to recognize footprints, wildlife, and types of flowers and trees. This is a great more chill outdoor activity for those looking to enjoy the serenity of the outdoors. If you are looking for some more adrenaline, we would stick to the snowmobiling tour since there are many similarities in the information the guides share in terms of the history of Snowmass and Aspen.
Ice Skating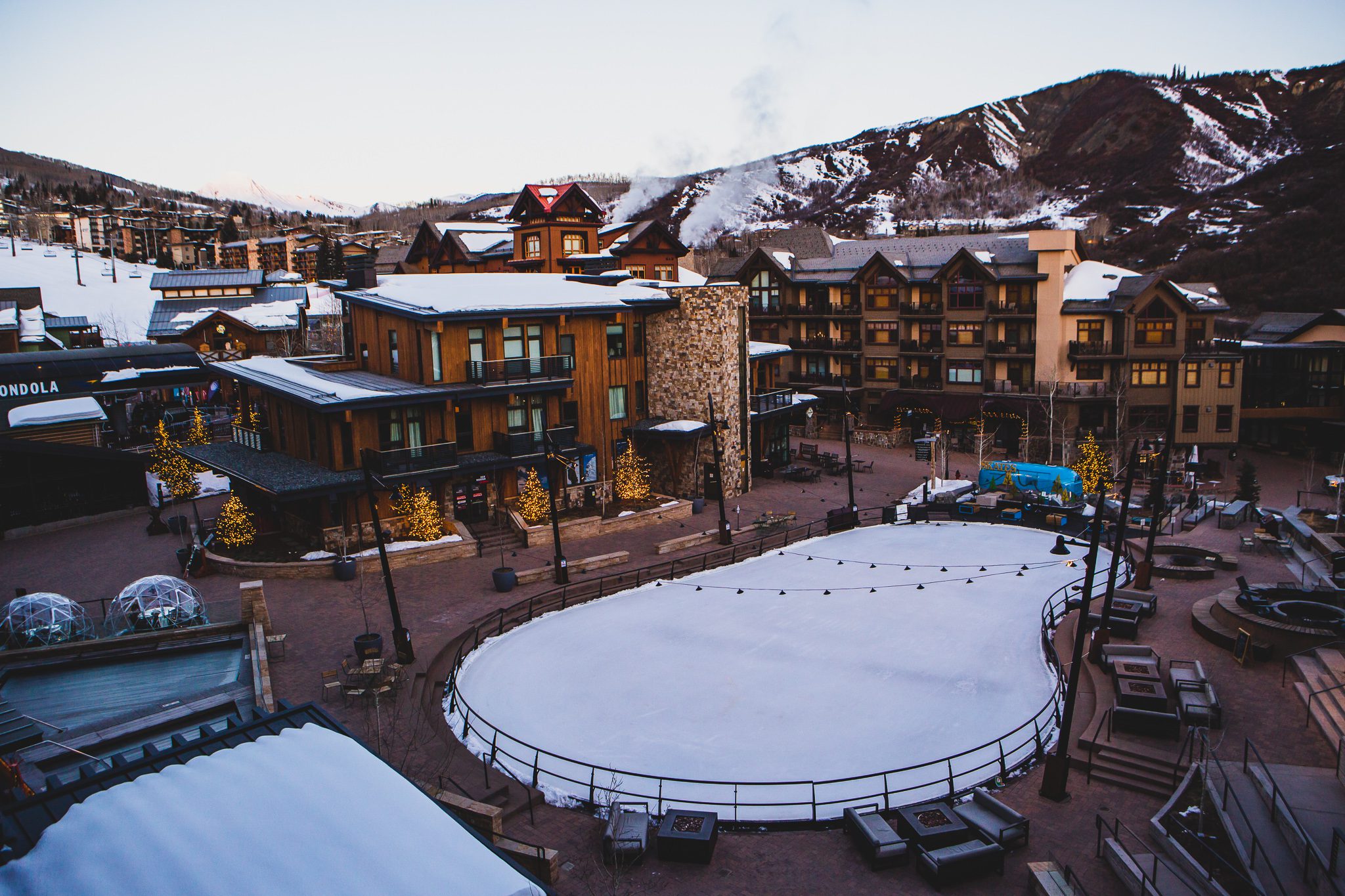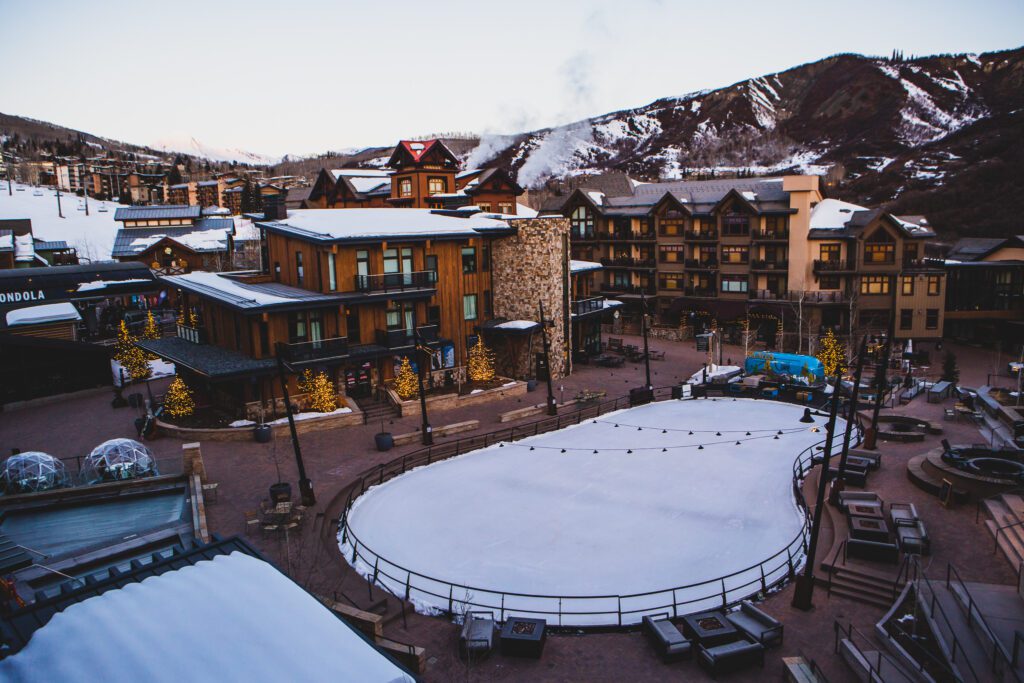 Snowmass has an ice skating rink located in the middle of the village adjacent to the Limelight hotel. They offer free ice skating rentals outside of their Airstream and at the moment you can make a reservation to reserve your time on the rink to allow for social distancing. If you have kids, you can watch them skate while enjoying Apres Ski or happy hour at the surrounding restaurants in The Collective.
Alpine Coaster & Tubing
The Breaktaker Alpine Coaster should be added to everyone's Snowmass Winter bucket list. Simply purchase your tickets at the store next to the Elk Camp Gondola and head up the Gondola to arrive at the coaster. It's fun for all ages, including adults, and a fun little thrill to break up a perfect day skiing. The coaster is also conveniently located next to the Elk Camp restaurant so you can grab a bite to eat after riding! You can also purchase tickets to go Tubing up at Elk Camp at the lift ticket office. If you have children, we highly recommend this activity as we saw so many families having an amazing time!
Other Things To Do: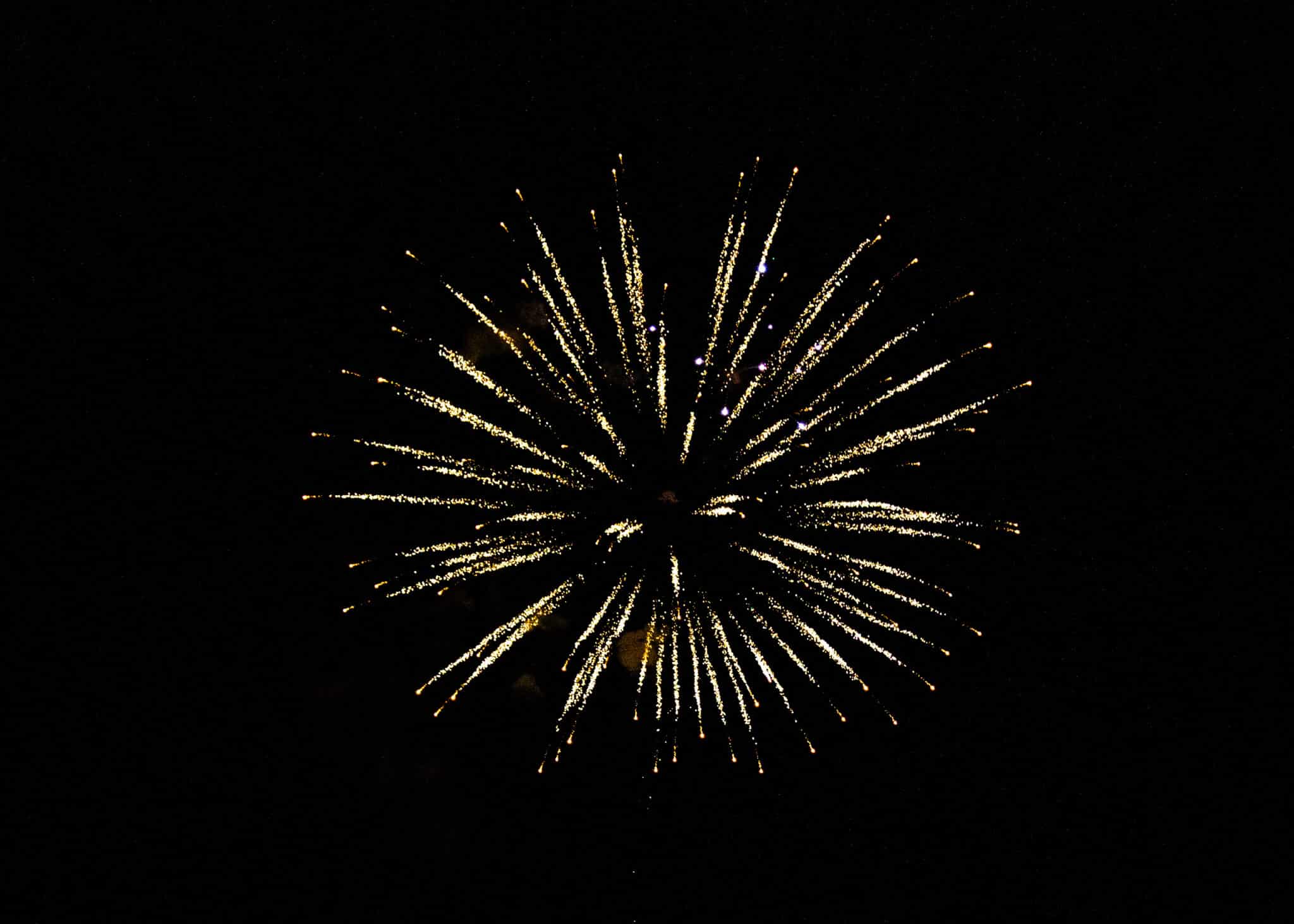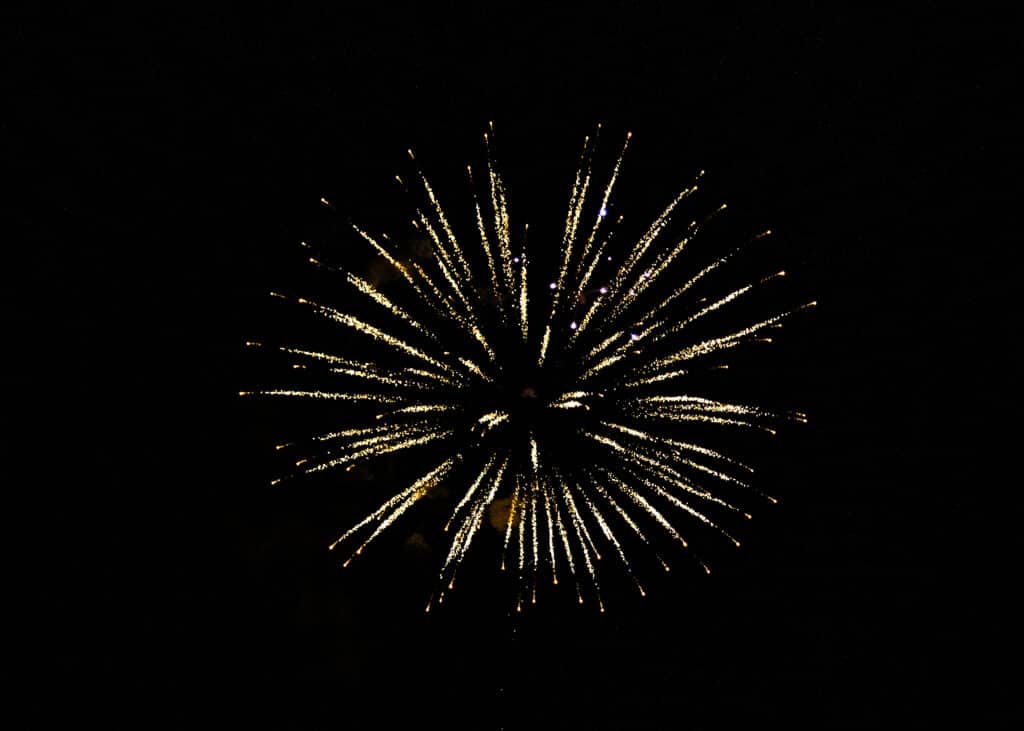 Certain nights on the weekends, you can watch the night sky light up in a beautiful fireworks show over Fanny Hill! Watching the fireworks over the snow is a magical experience for all ages.
Because our trip was only 3 days in total, we didn't get to experience EVERYTHING we wanted to do, but that gives us a great excuse to come back! Next time, we are hoping to test out their dog sledding, which is one of the most popular activities in the area. You can also reserve a guide who will take you out Ice Climbing which is also great for adventurous souls looking for some fun in the winter.
Dining:
Breakfast: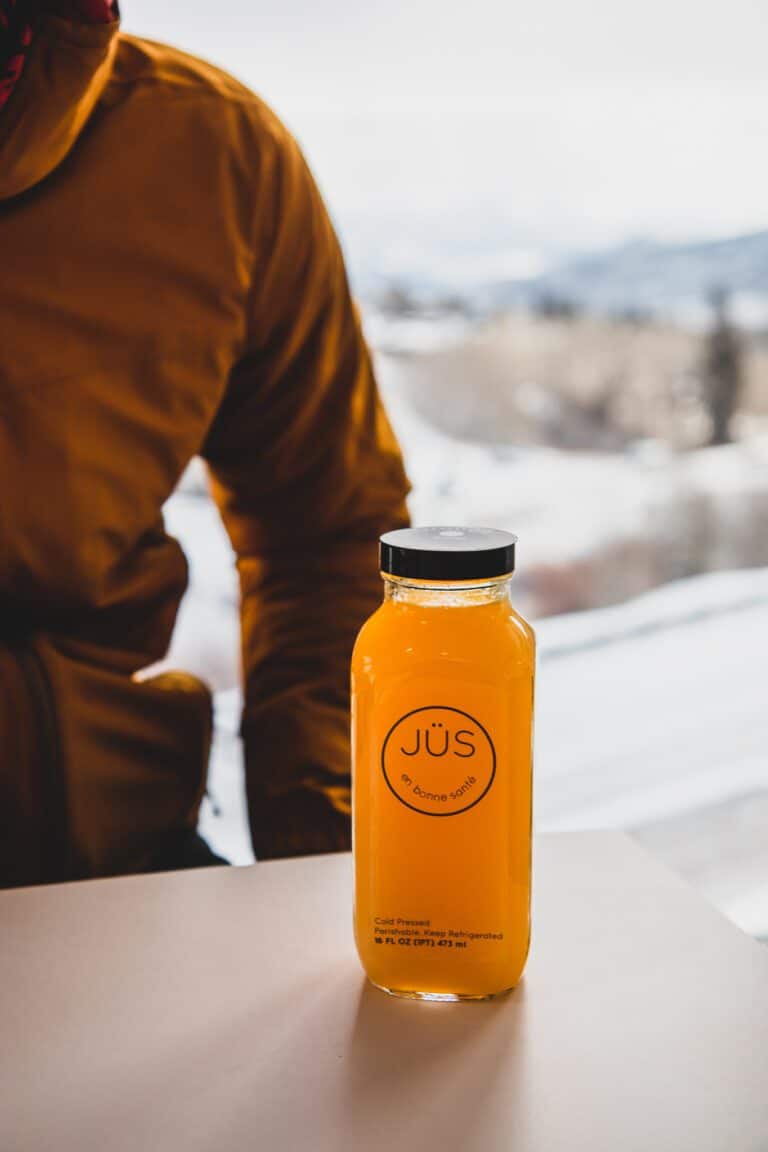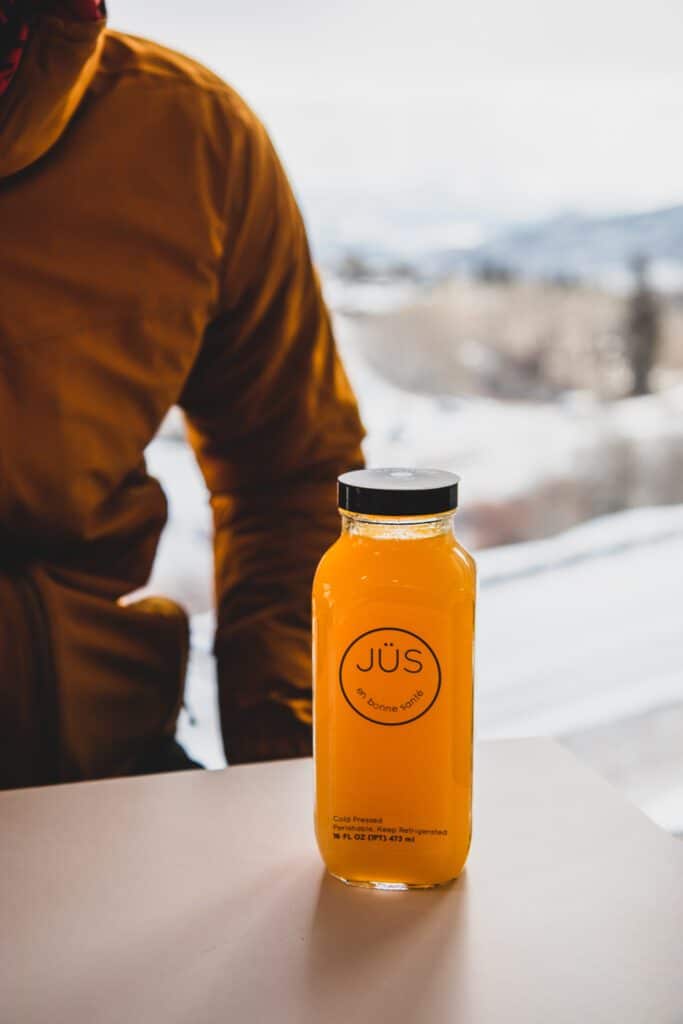 Our first breakfast in Snowmass was spent enjoying a delicious breakfast from JUS. Giselle ordered an acai bowl with orange juice and Stephen got the breakfast burrito and both were delicious and healthy. Also, not to mention the views inside the place or breathtaking! We also had the pleasure of having breakfast in the Limelight Lounge restaurant. There was a buffet selection of everything from pastries, to waffles and hash browns, to yogurt and granola! We loved all of the options and the food was great. 
Lunch
When we first arrived in Snowmass, our first order of business was finding a place to eat. We decided on trying out Venga Venga Cantina and we were not disappointed! The food was amazing! It was one of the best meals during our entire stay. We started off with some of the margaritas and some table side guacamole, which were all made to perfection. We highly recommend the steak tacos and the Chicken Zarape. Beware, though, since the food is so good, you should expect a small wait time to enter since it does get quite busy. The food is definitely worth the wait though and you can explore the rest of the town shops while you wait for your table. 
We also visited the Crepe Shack in the Base Village for lunch and ordered the Crepe Burger. They have several sweet and savory options, but we really enjoyed our choice! The Crepe Shack is also conveniently located right next to the Ice Skating Rink and the Limelight Hotel. Our last lunch was at the Basecamp Bar and Grill, which is right next to the Gondola and Lift in the Base Village. Service is fast and the food hits perfectly after a morning of being out on the snow. This is the perfect spot for some brews and burgers, and is definitely more of a fun social restaurant outdoors.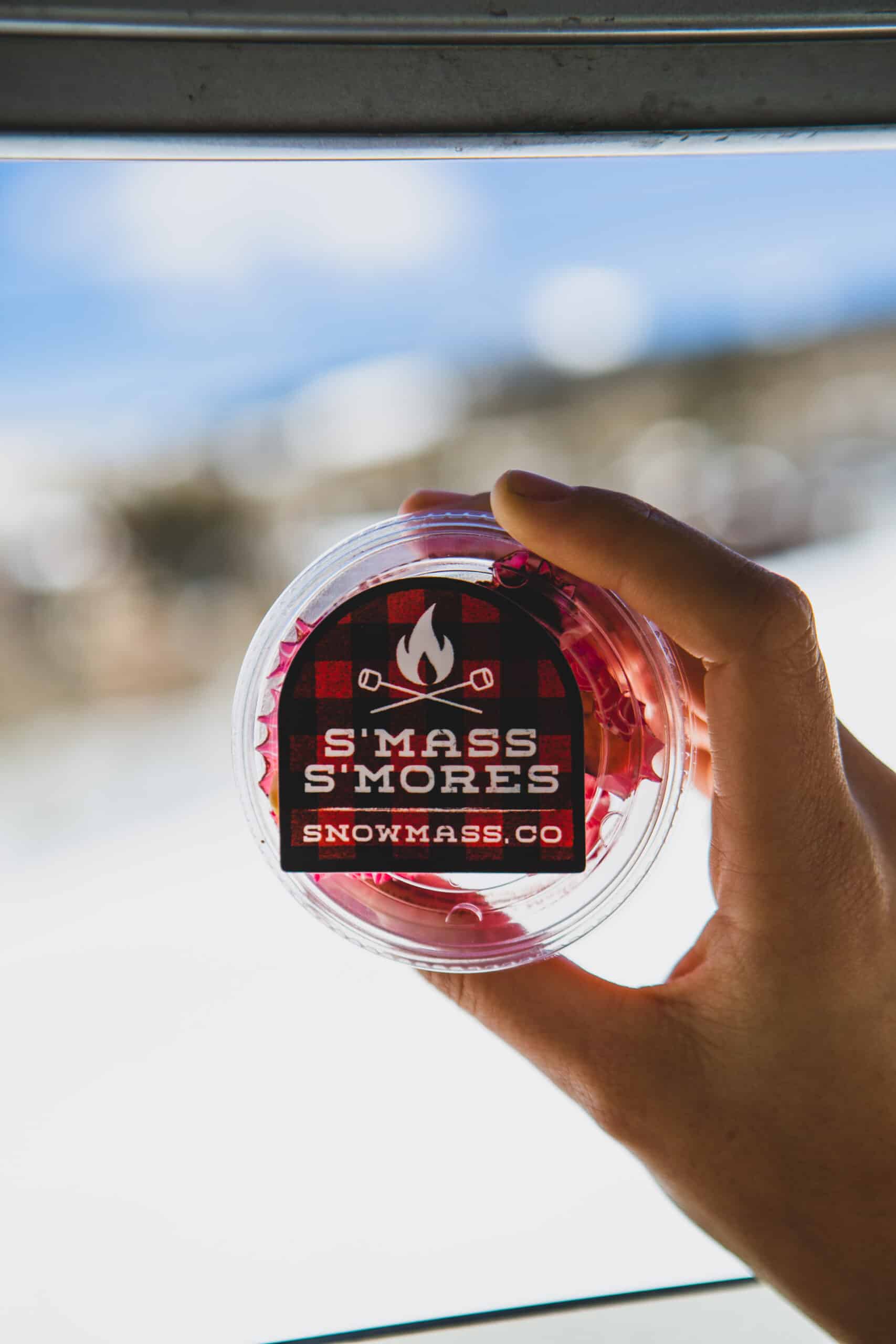 After lunch, there are several great spots around The Collective for Apres Ski and Snowmass also hands out s'mores around 3:30pm each day which were such a great snack when exploring around! Stephen loved stopping each day to pick one up. 
Dinner:
If you are looking for a fancier place to grab a bite for dinner, we highly recommend Toro Kitchen and Lounge at the Viceroy Hotel. The service is fantastic and the wine list, octopus, steak, and salmon were phenomenal. Stephen's favorite part, however, was dessert. We ordered Mochatinis and had an amazing raspberry cake to finish. We also heard Il Pogio was a great Italian restaurant for dinner.
Our experience in Snowmass made us love winter adventures even more. We can't wait to make this a recurring trip for us and definitely will be adding it on our summer bucket list as well. We hope you enjoyed our ultimate winter guide to Snowmass, Colorado!