How to Hike in Zermatt, Switzerland: Best 6 Trails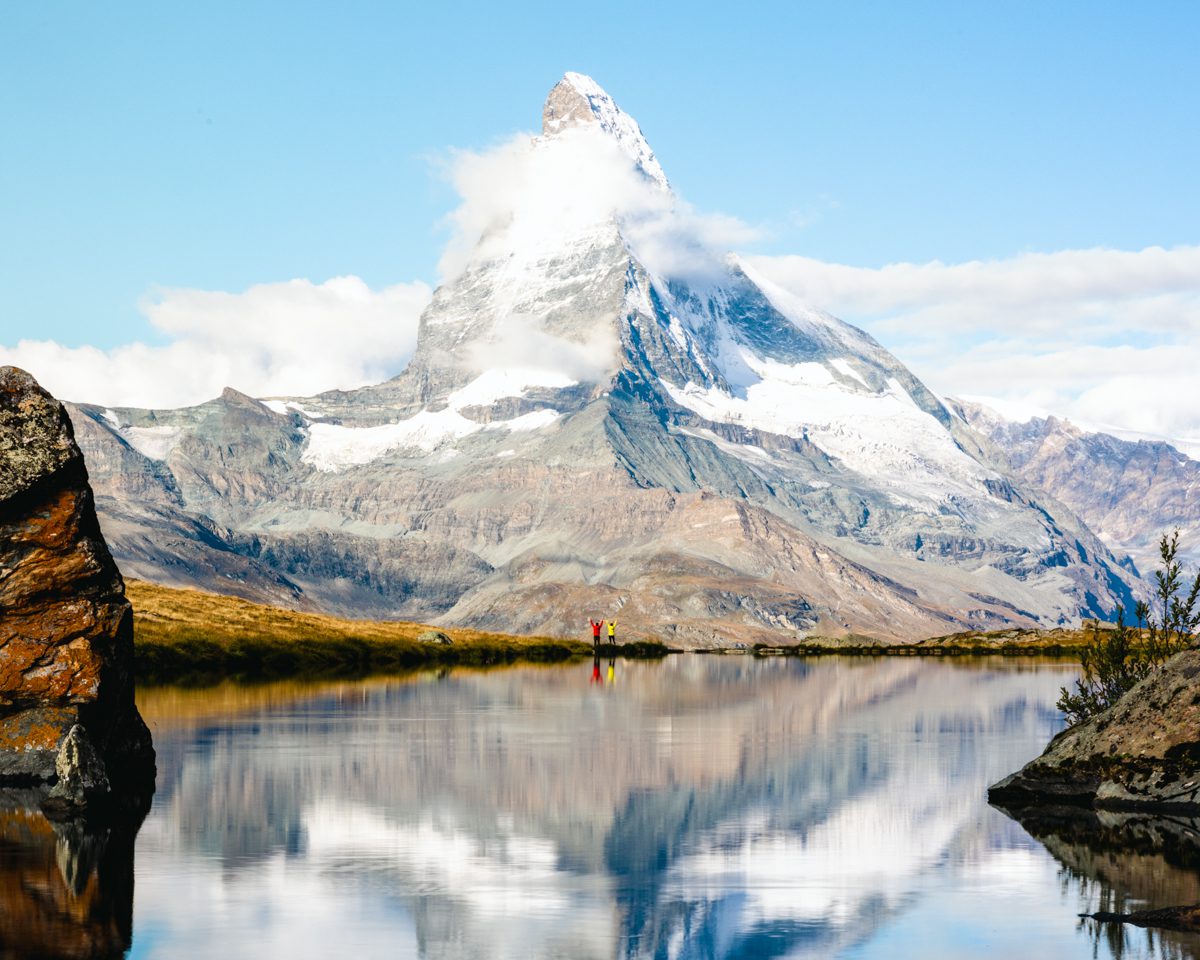 Looking to hike in Zermatt in Switzerland? You've come to the right place. Zermatt is a beautiful area to visit for any hike enthusiast. This picturesque town nestled in the Swiss Alps has been ranked as one of the best hiking destinations in the world. From rugged mountain trails to well-paved paths, there's something here for everyone.
If you're looking for an adventure that will take you off the beaten track, then you definitely want to book a trip to Zermatt. With towering peaks like the famous Matterhorn and Monte Rosa looming majestically above, you won't be disappointed. This stunning area offers some of the most breathtaking views imaginable from magnificent mountain passes and glaciers, to stunning lakeshores.
We visited and hiked in Zermatt back in 2021 and immediately fell in love with this magical city. We loved it so much so that Stephen decided to propose in front of the Matterhorn. Zermatt will always have a special place in our hearts and our story and we're here to share that magic with all of you. In this blog we'll give you some information on what the top hikes are in the Zermatt area, what to bring along on your hikes, and how to get to each of the trailheads.
What to Know Before Hiking in Zermatt
Best Time of Year for Hiking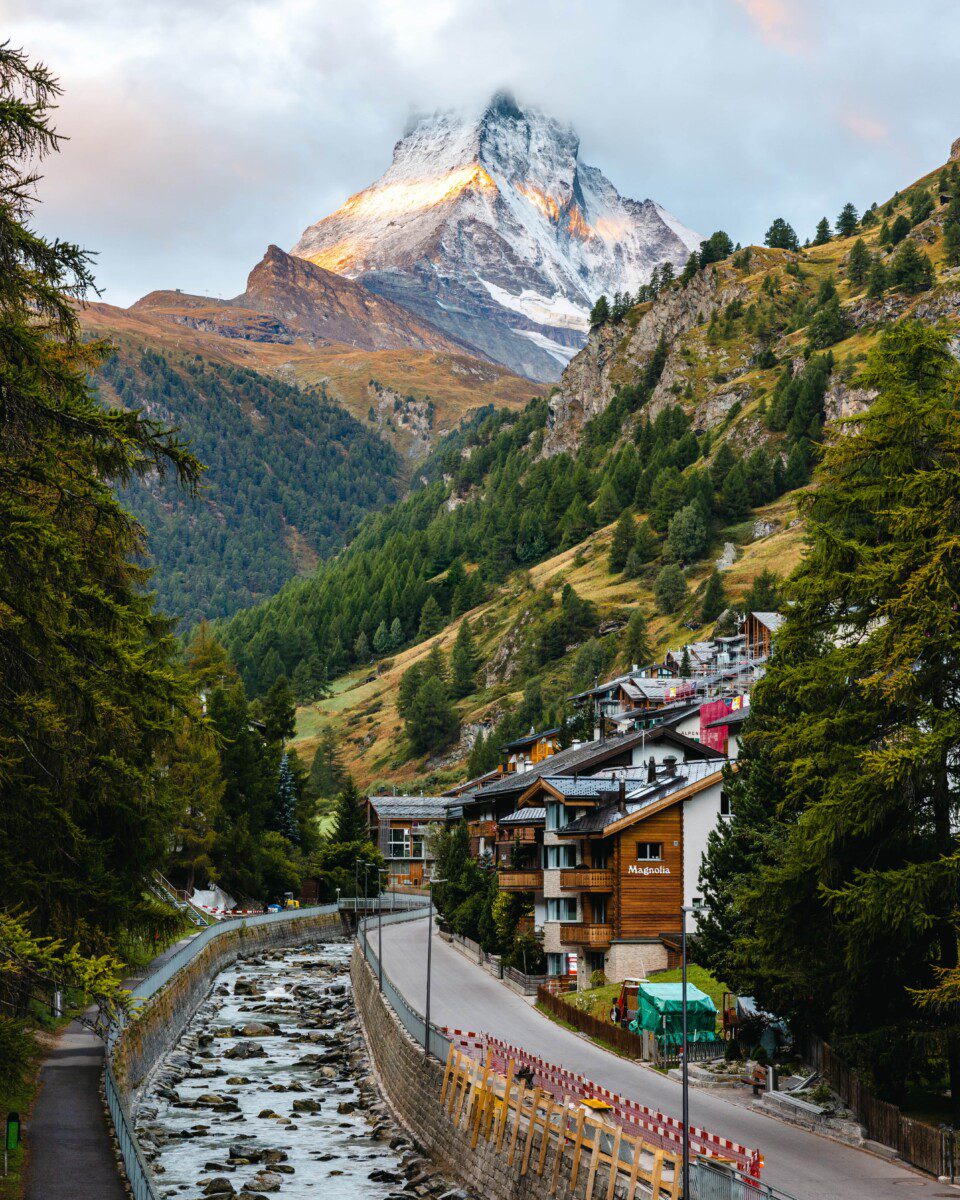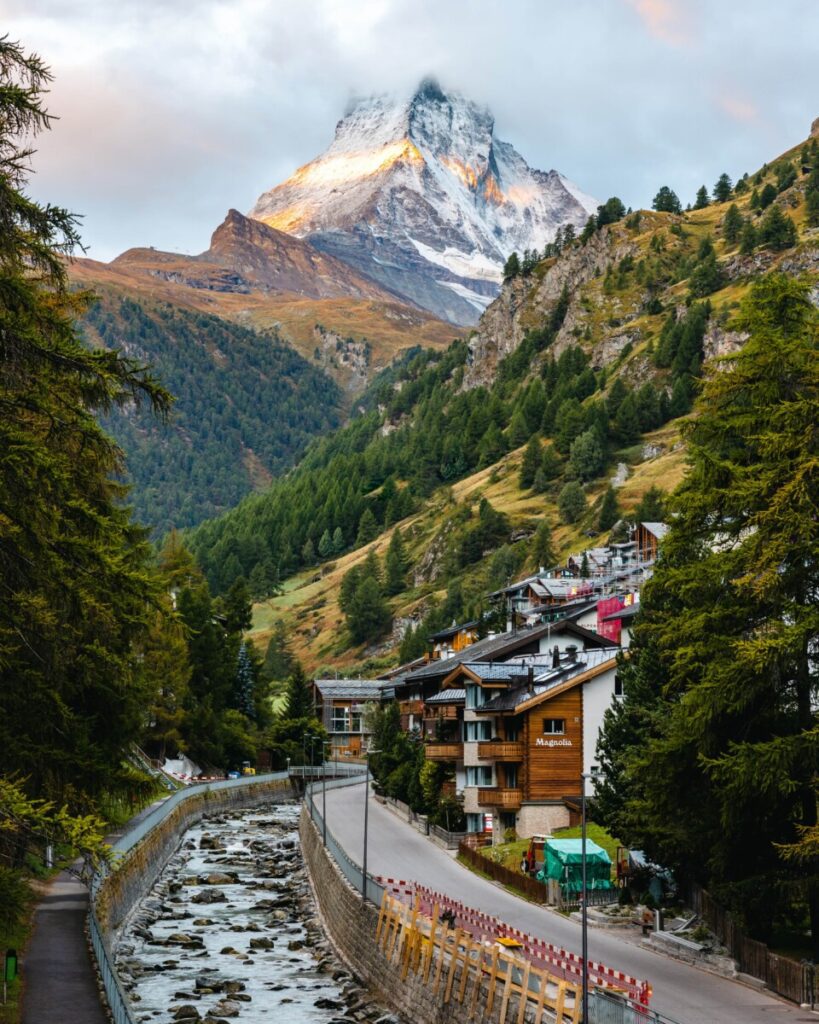 The best time to visit if you're looking to hike in Zermatt is June through September. This time of year gives you warm weather and clear skies. This is perfect for days exploring the great outdoors or admiring majestic alpine vistas. The days are an average of 77 degrees Fahrenheit, and the evenings are cooler at an average of 53 degrees.
Once Autumn hits, the weather cools down significantly and the trails are empty. If you're looking to avoid the summer crowds, we suggest visiting in September or early October at the latest. As October hits, the snow comes, and a lot of restaurants and hotels close before the busyness of winter hits.
Zermatt is a Carless City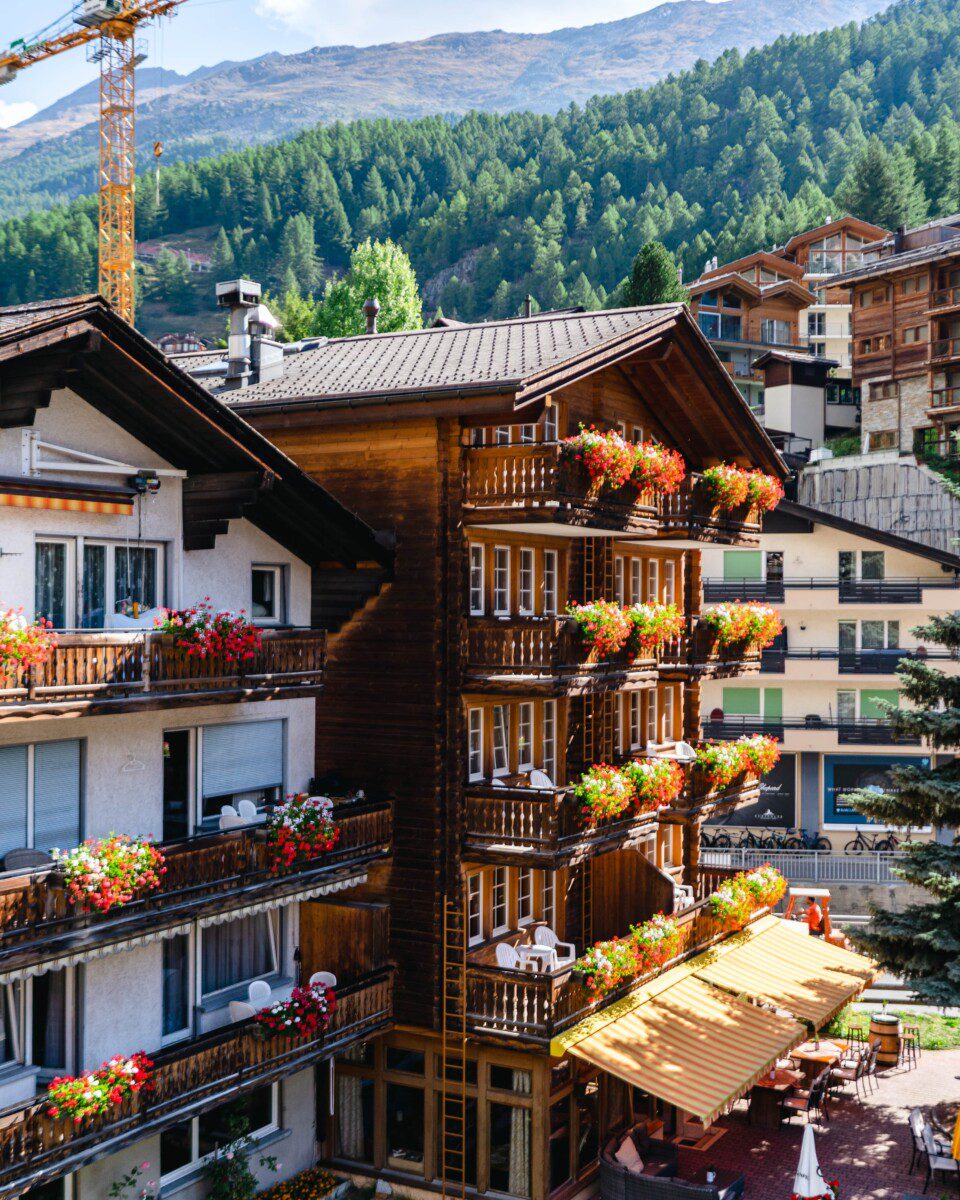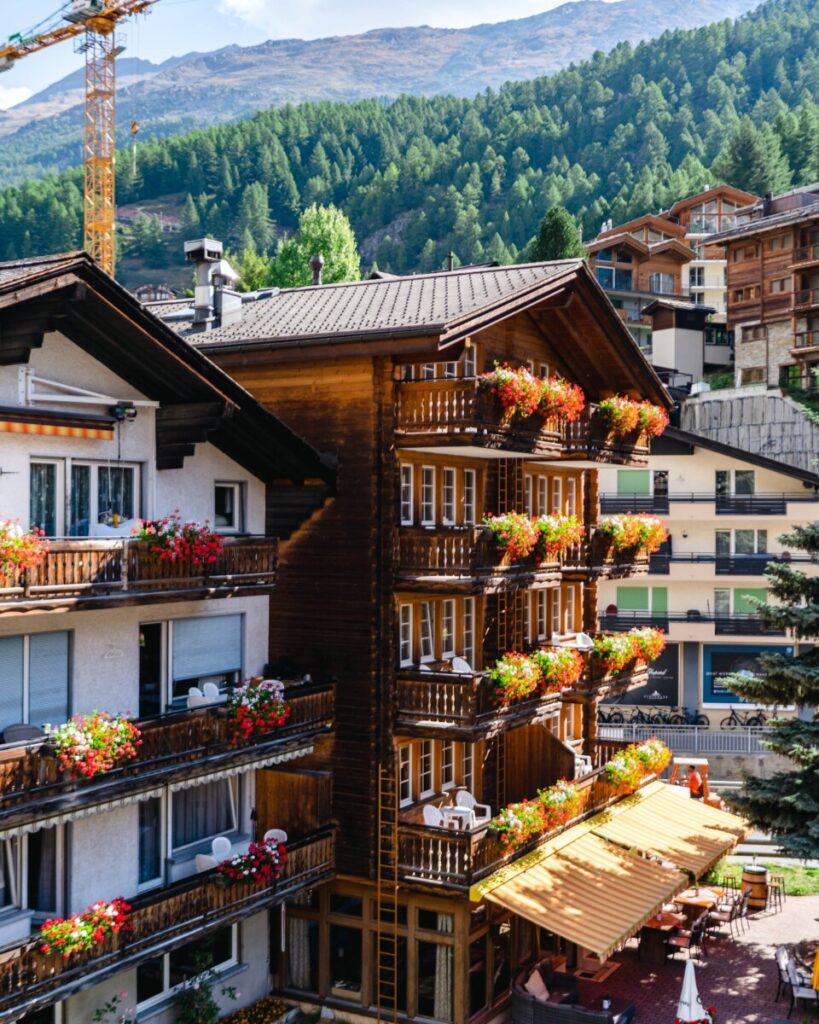 Visiting Zermatt Switzerland is like traveling back in time. This quaint carless city is a stunning sight to experience, particularly for those of us used to living in the hustle and bustle of our modern cities. With no cars allowed, you won't hear any honking or loud engines here.
Though cars aren't allowed here, that doesn't mean there aren't other options for getting around. There are plenty of electric buses and trams available. In order to get into Zermatt, you'll have to take a train from Täsch, which is a small town a little over 3 miles away.
What to Pack on Your Hikes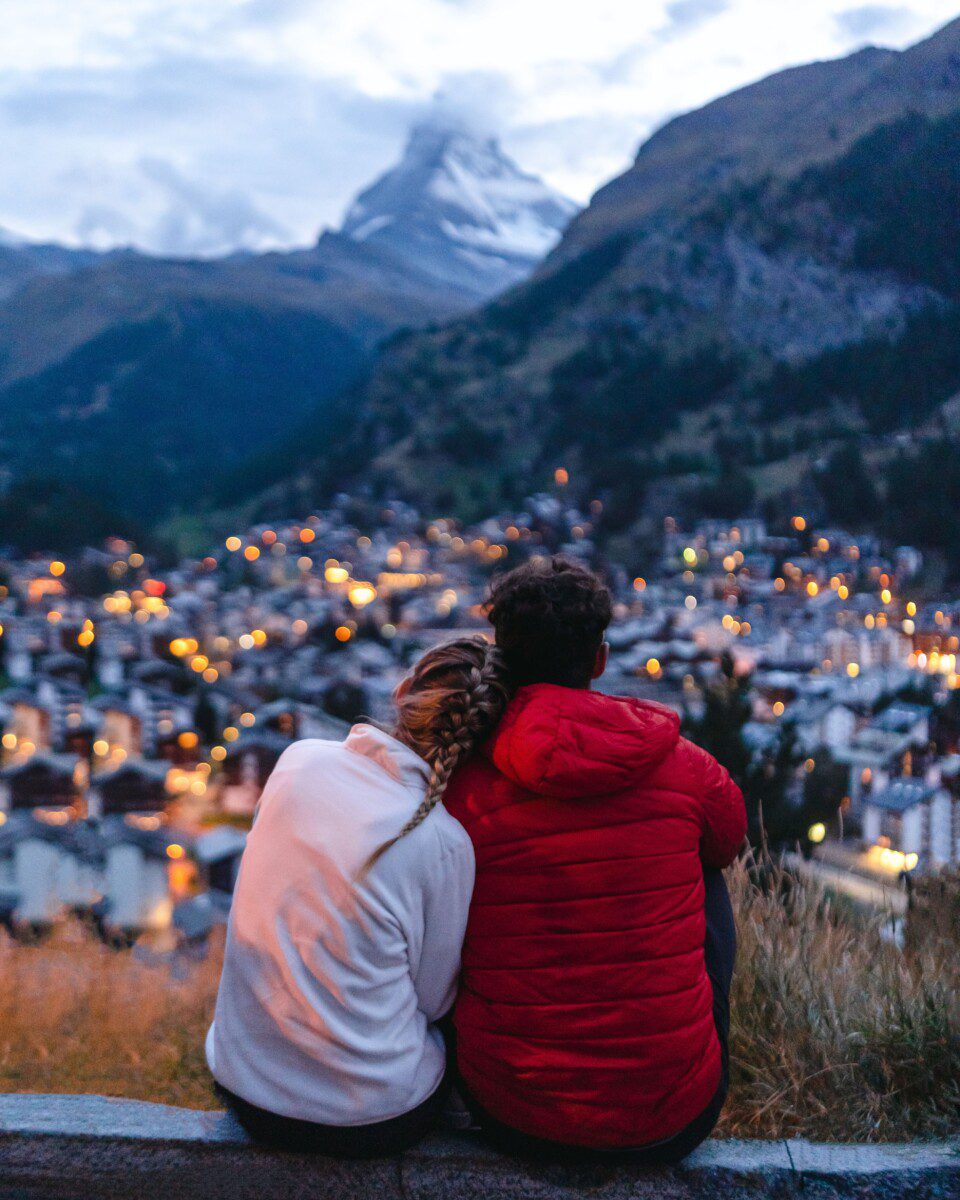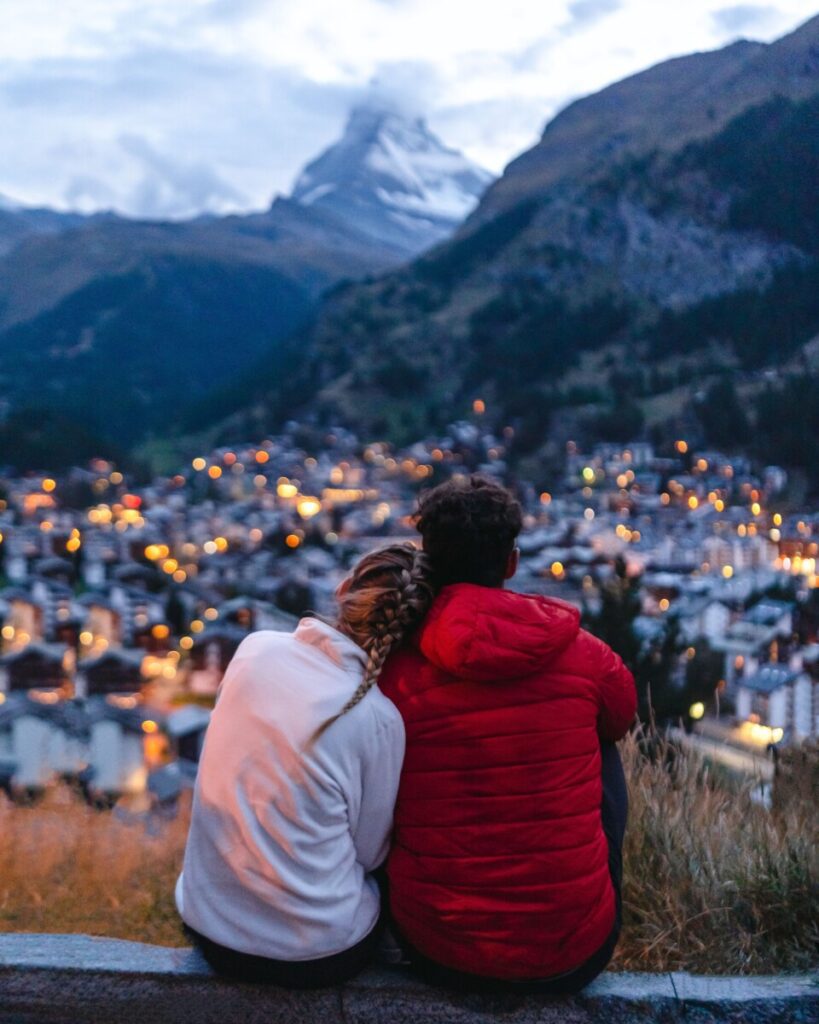 When packing for your hikes in Zermatt, Switzerland, don't forget the essentials!
A good pair of hiking boots and socks are a must to keep you standing upright and avoiding blisters. Make sure they fit snugly and are well broken-in before hitting the trails.
Bring plenty of water and extra food. It's easy to get dehydrated when you're out there at high altitudes and you should always be prepared.
Sunscreen and other forms of sun protection are a must.
Wear lots of thin layers as the weather in the mountains can change very quickly. And be sure to pack a waterproof jacket in case of rain. For all of our recommended layering options, check out our hiking apparel guide.
Hiking poles can help a lot with the steeper inclines but are not essential if you don't have room to pack them. Our favorites are from Black Diamond.
Bring your camera so that you can capture all the breathtaking views this beautiful country has to offer.
Currency in Zermatt
In Zermatt, the main currency is Swiss Franc. Although some places do accept Euros, you'll most likely get change back in Francs. Right now, it takes $1.09 US dollars for every $1 in Swiss Francs. However, the exchange rates often fluctuate. The easiest forms of payment in Zermatt are credit cards. Looking for the best travel credit cards for your trip? Check out our favorite ones here.
The most accepted credit cards are Visa and MasterCard, while a handful also do take AMEX. Although you can use your credit card a lot, we suggest getting some cash to carry with you just in case you need it. However, we only had to pull out cash once the whole week we were visiting.
Why do you need to know this for hiking? Most of the hikes in Zermatt will require transportation which you will need to pay for. We'll get into exactly which types of tickets you need to buy for each hike below!
Time of Day to Hike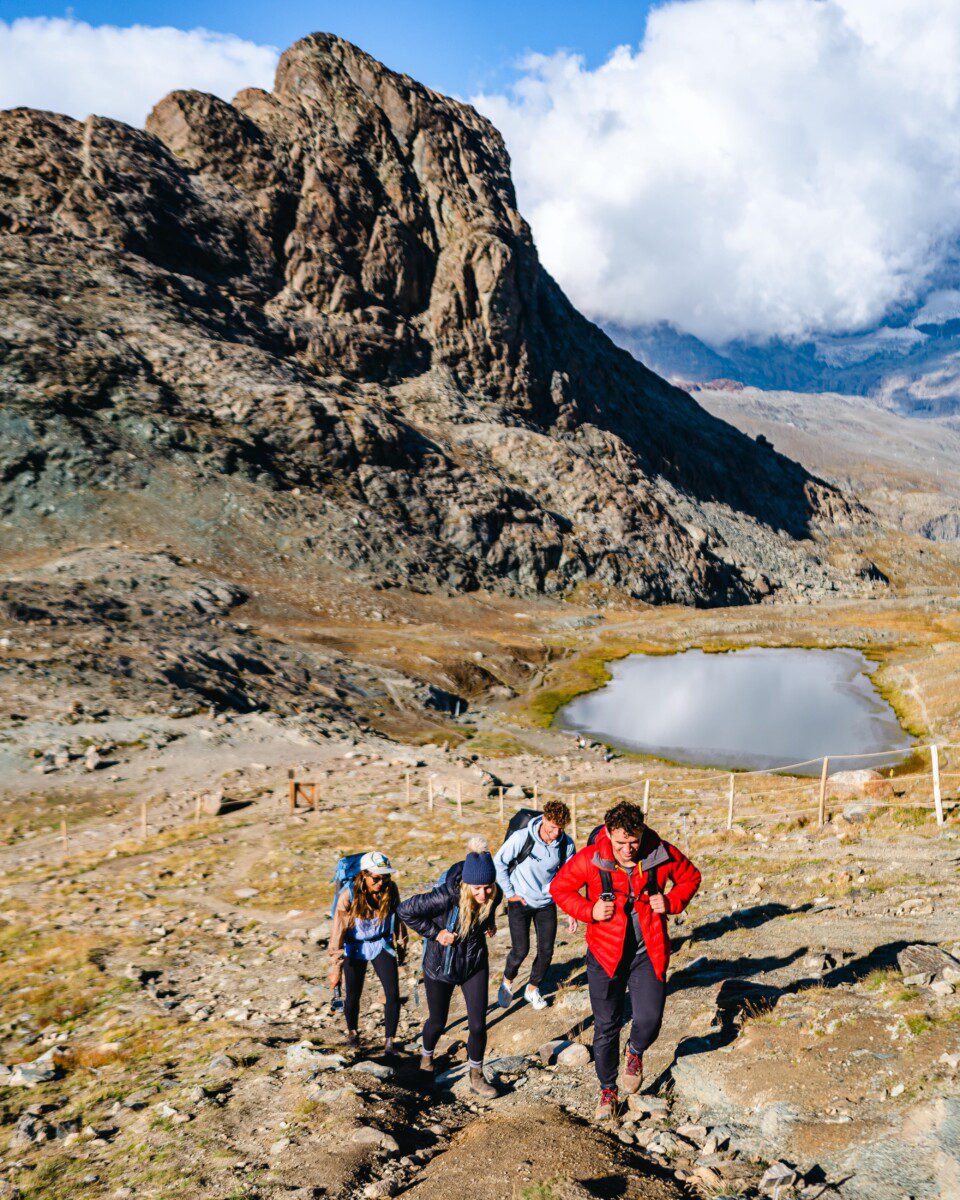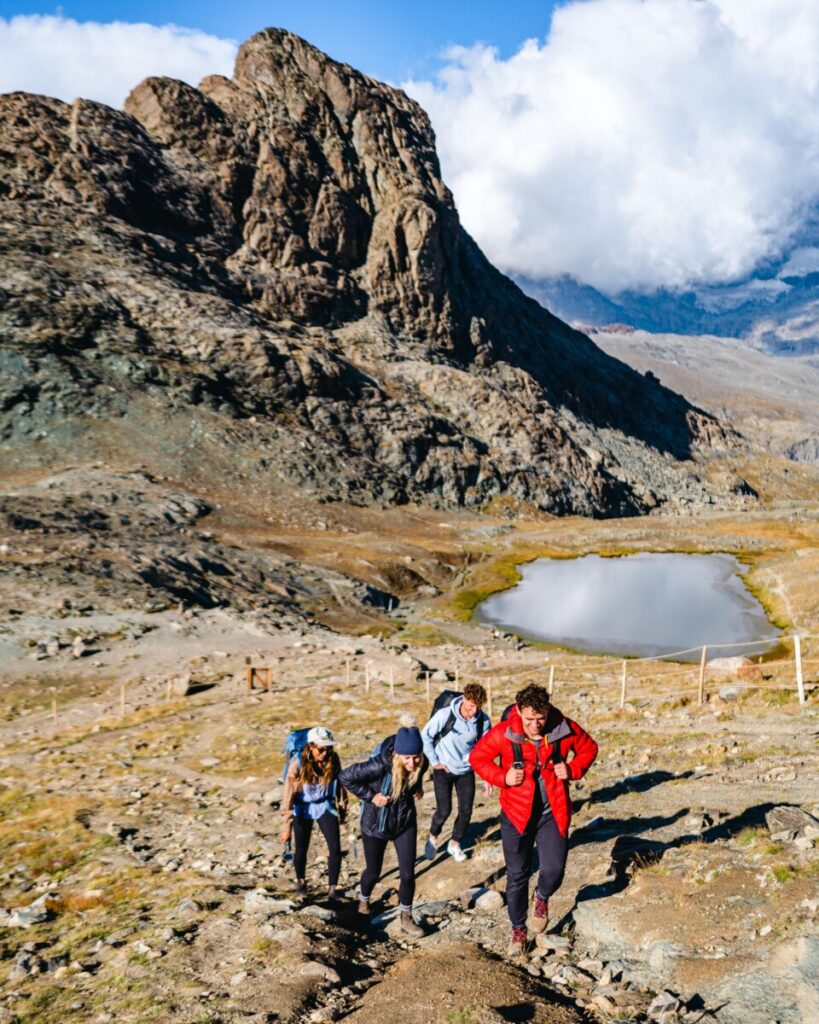 It is very difficult to hike at sunrise or sunset in Zermatt, Switzerland. Because so many hikes do require gondolas, funiculars, or trains that operate on set timetables, you need to be prepared to plan your hike around your transportation to and from the trailheads.
This means that you'll likely be hiking in the late morning or afternoon. To avoid crowds, we'd recommend starting your hikes as soon as the first gondola or train is available wherever you decide to hike. Consider staying at local mountain huts if you are wanting to shoot sunset or sunrise photos while on a hike in Zermatt.
Top 6 Hikes in Zermatt
Getting to a hike in Zermatt can seem confusing, due to it being a carless city, but rest assured it's not as complicated as you might think. Many of the trails start from train station drop offs or gondola rides. Click here for more information on the timetables and ticket prices for transportation.
Five Lakes Trail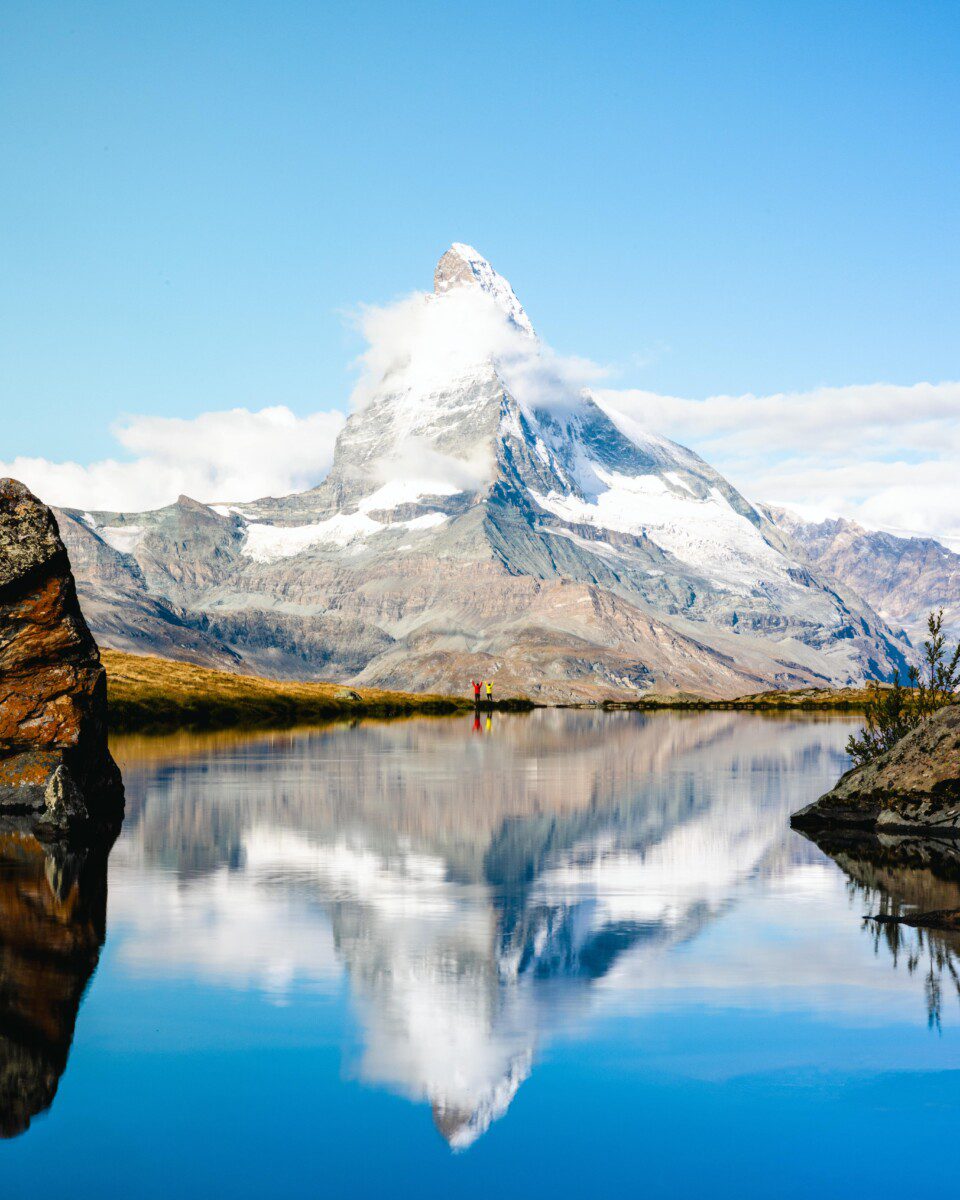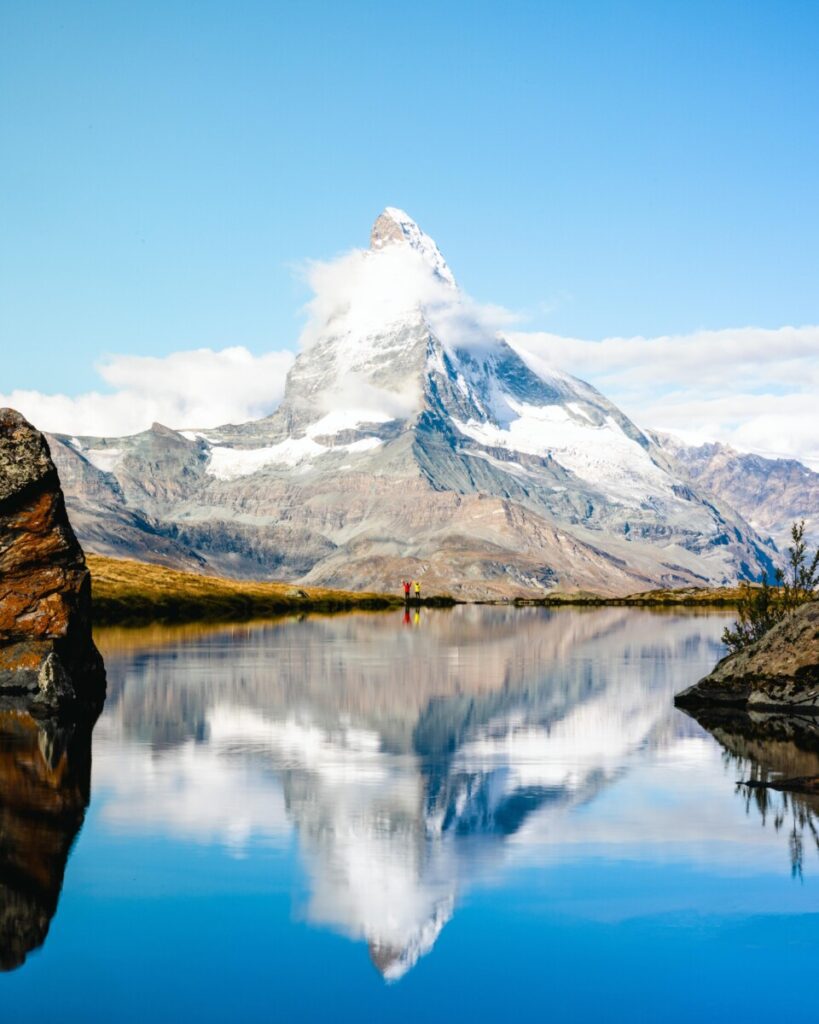 If you're looking for a moderately challenging hike in Zermatt that takes you through some of the most breathtaking nature the area has to offer, then look no further than the 5 Lakes Trail! This is a 6.8-mile point to point trail and takes you up 1,653 feet in elevation.
It takes you past five stunning alpine lakes in the Swiss Alps which are, Stellisee, Grindjisee, Grunsee, Moosjisee and Leisee. You can see the Matterhorn's reflection in each lake, which is a big reason for this hike's popularity. Along the way, you'll get to experience awe-inspiring views of lush meadows and towering mountainsides, as well as plenty of wildlife. Make sure to bring a swimsuit along as you can swim in Grunsee and Leisee Lake.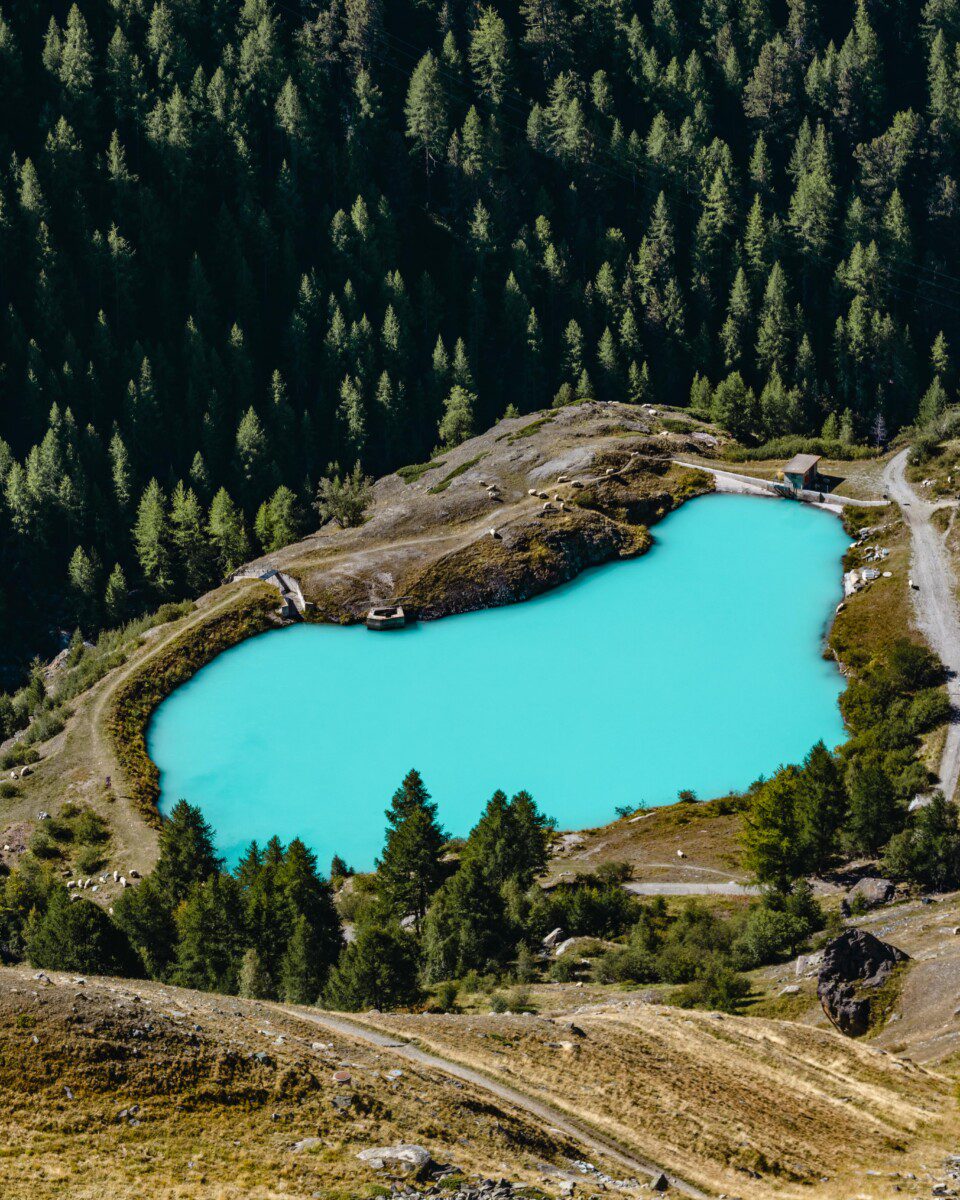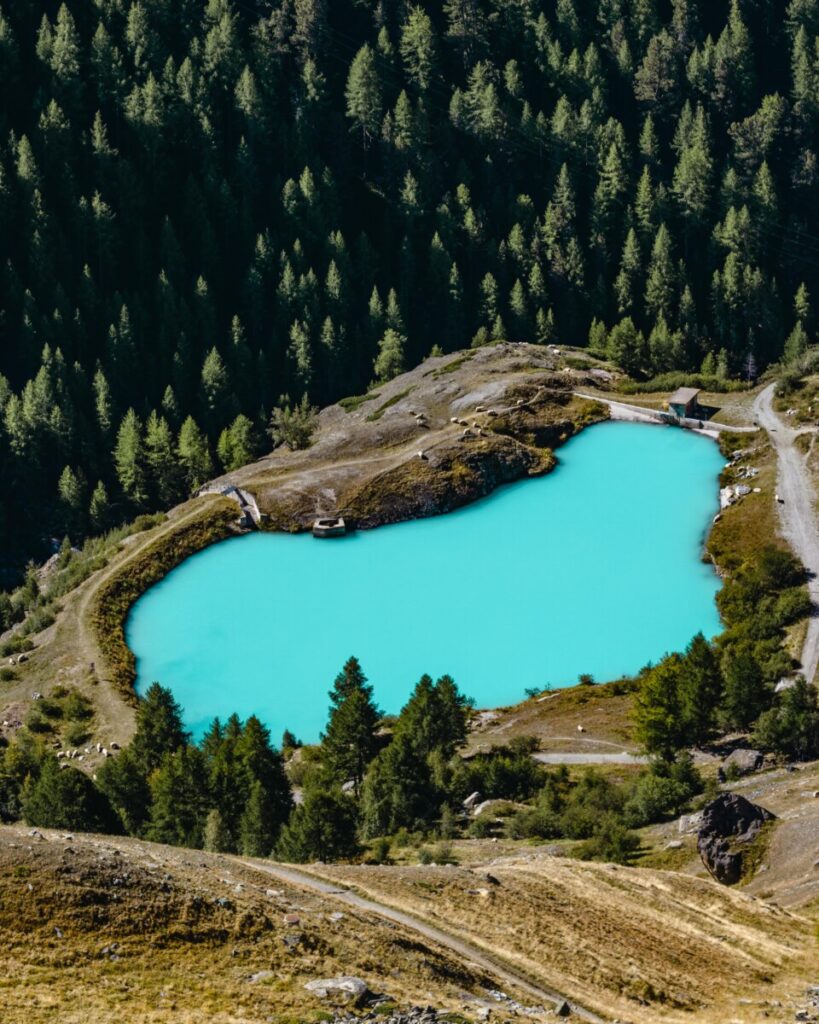 Our Experience Hiking the Five Lakes Trail
Our favorite of the five lakes is Stellisee. However, if you are a photographer and want to witness this beautiful spot at sunrise or sunset, depending on the time of year, you'd have to stay at the mountain hut. This is because the gondolas don't operate early enough or late enough to be able to be at the lake for sunrise or sunset proper. You'll find this is a trend for most of the epic Switzerland hikes. However, it's equally as beautiful throughout the rest of the day as well.
We made it up there right after sunrise and had Stellisee Lake all to ourselves for a few minutes as we took the first available gondola up to the trailhead. But after that, expect a ton of crowds as this is a very heavily trafficked trail (for good reason).
Moosjisee Lake was our second favorite of the five lakes for its bright turquoise water color. If you're strapped on time and don't want to do the whole trail, we'd highly recommend at least visiting Stellisee Lake.
Getting to the start of the trail: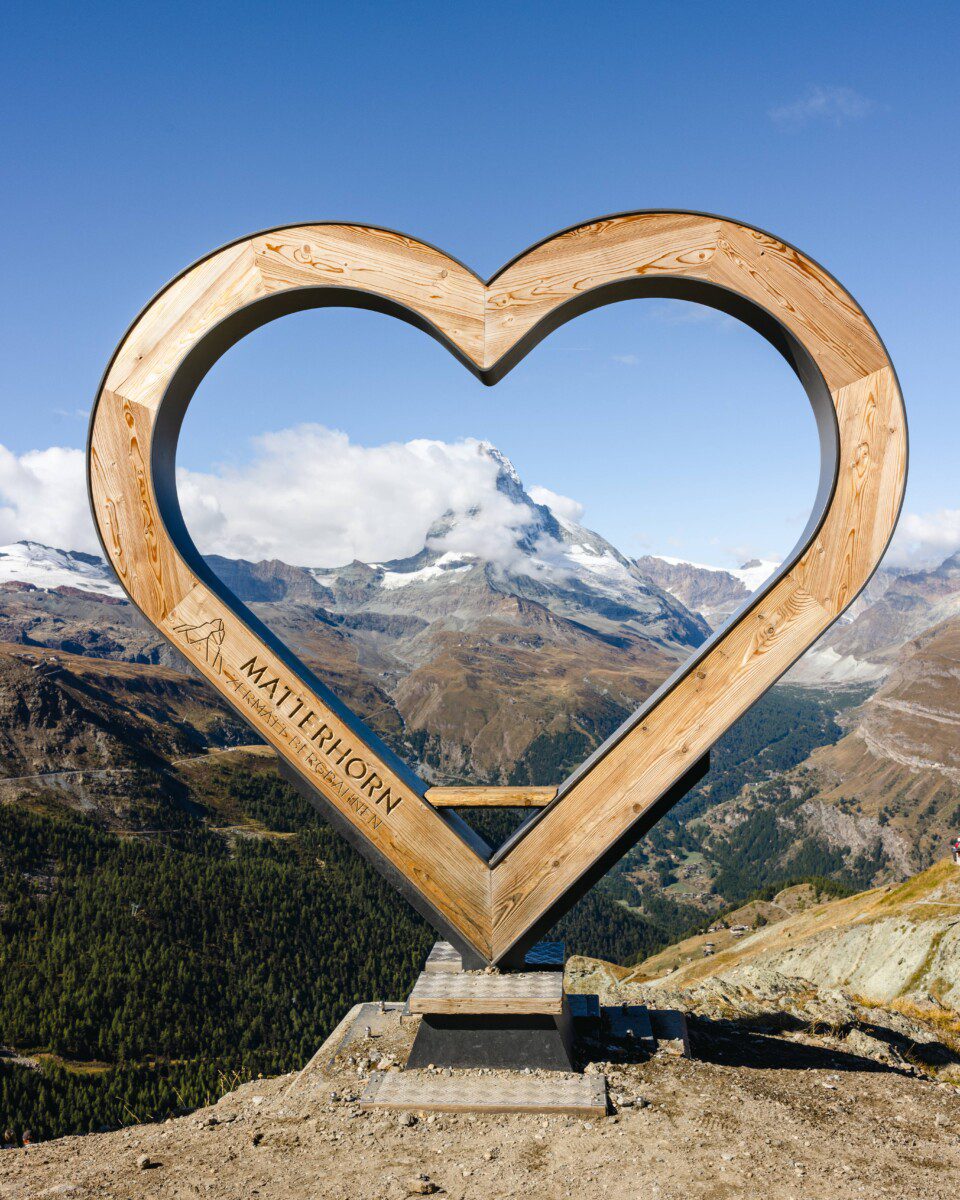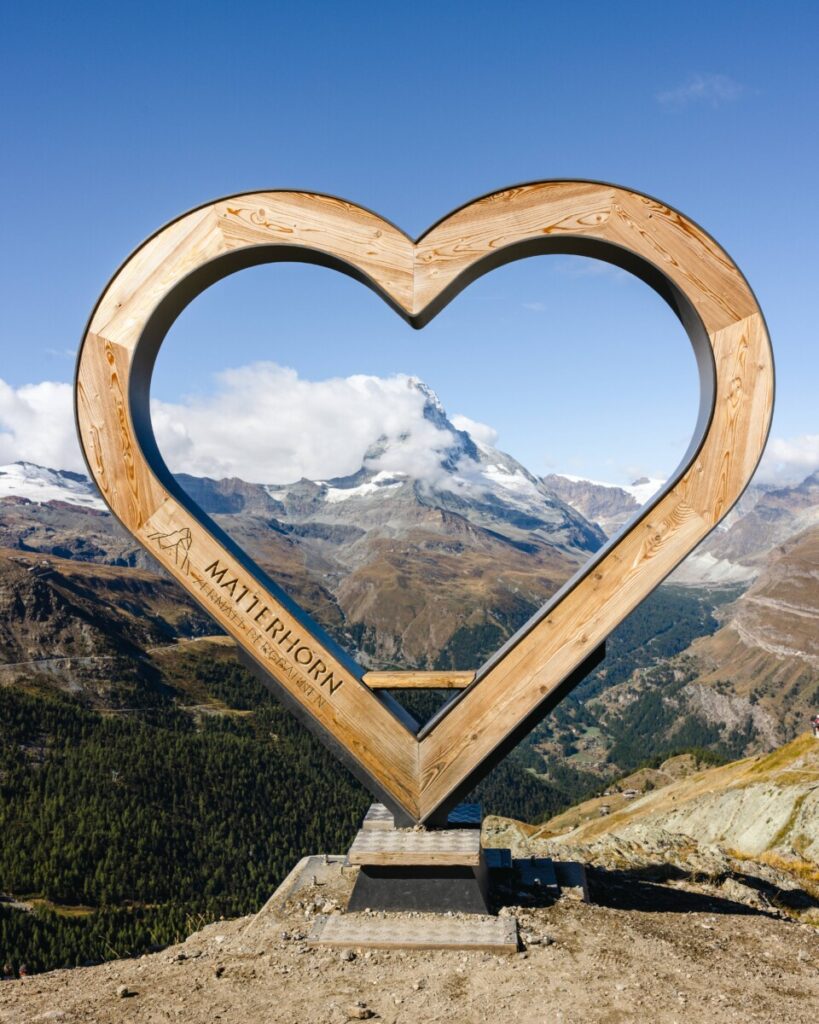 In order to get to the trailhead, you need to take the underground funicular from Zermatt to Sunnegga. After this, you'll get on the gondola in Sunnegga and get off at Blauherd. The trail begins near the Blauherd cable car station.
Make sure to download your trail data for the hike before getting to the trailhead so that you know where you are going. Although there is plenty of signage throughout the trail, sometimes it can be hard to follow.
Getting back to Zermatt:
Because this is a point-to-point trail, where you end will be different than where you started. So, upon reaching the last lake, you'll take the gondola to Sunnega. From here you can take the funicular back to Zermatt like you did at the beginning.
Edelweiss Hutte
The Edelweiss Hutte hike in Zermatt is a fairly easy 2-mile loop trail. You climb 1,066 feet in elevation, but you're rewarded at the top with a great restaurant. The Edelweiss Hutte is a well-known restaurant and hotel and serves traditional Valais cuisine. This building is only accessible by hiking up or taking a helicopter. Here you can enjoy a nice refreshing drink or meal before heading back down the trail.
Getting to the start of the trail:
The trail starts in the village of Zermatt and ends in the same spot, so no gondolas or trains are necessary.
Matterhorn Glacier Trail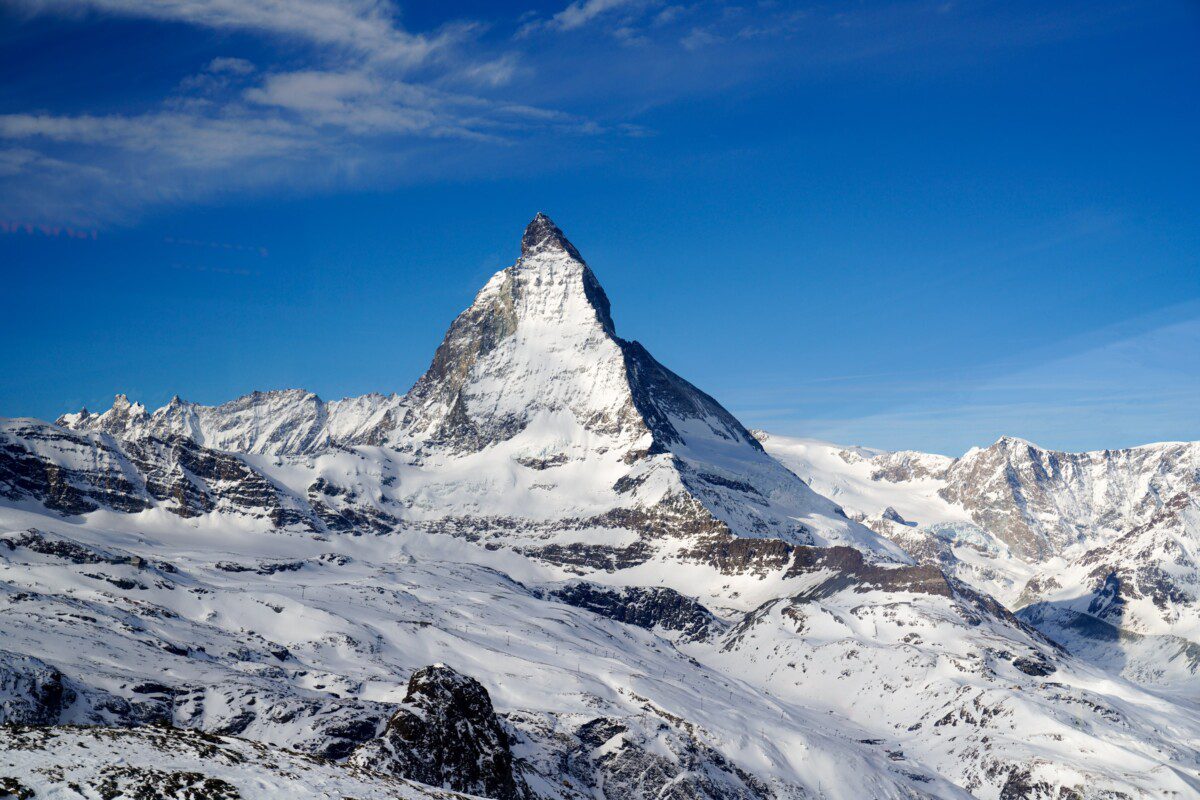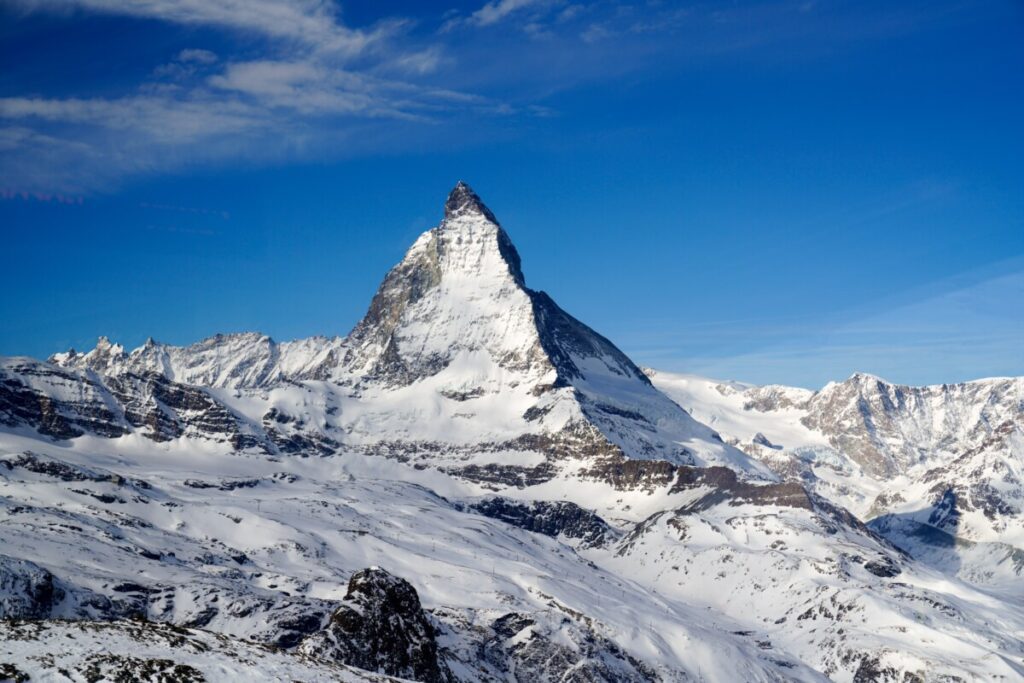 Ready to experience some of the most stunning alpine views Switzerland has to offer? Look no further than the Matterhorn Glacier Trail. This beautiful hike in Zermatt is a 3.8-mile point to point trail. It takes you up 1,683 feet in elevation and along the glaciers and across the breathtaking rocky terrain of the Swiss Alps. It's considered a moderate trail with its steep drops, winding paths, and stunning scenery. On this hike you can see stunning views of Schwarzsee, Trockener Steg, and the Matterhorn Glacier.
Getting to the start of the trail:
You need to take the Matterhorn Express cable car from Zermatt to Matterhorn Glacier Paradise and then get off at Trockener Steg.
Getting back to Zermatt:
This trail ends just one station lower at Schwarzsee and you can take the same cable car you did at the beginning to get back to Zermatt.
Hörnlihutte from Schwarzsee Hike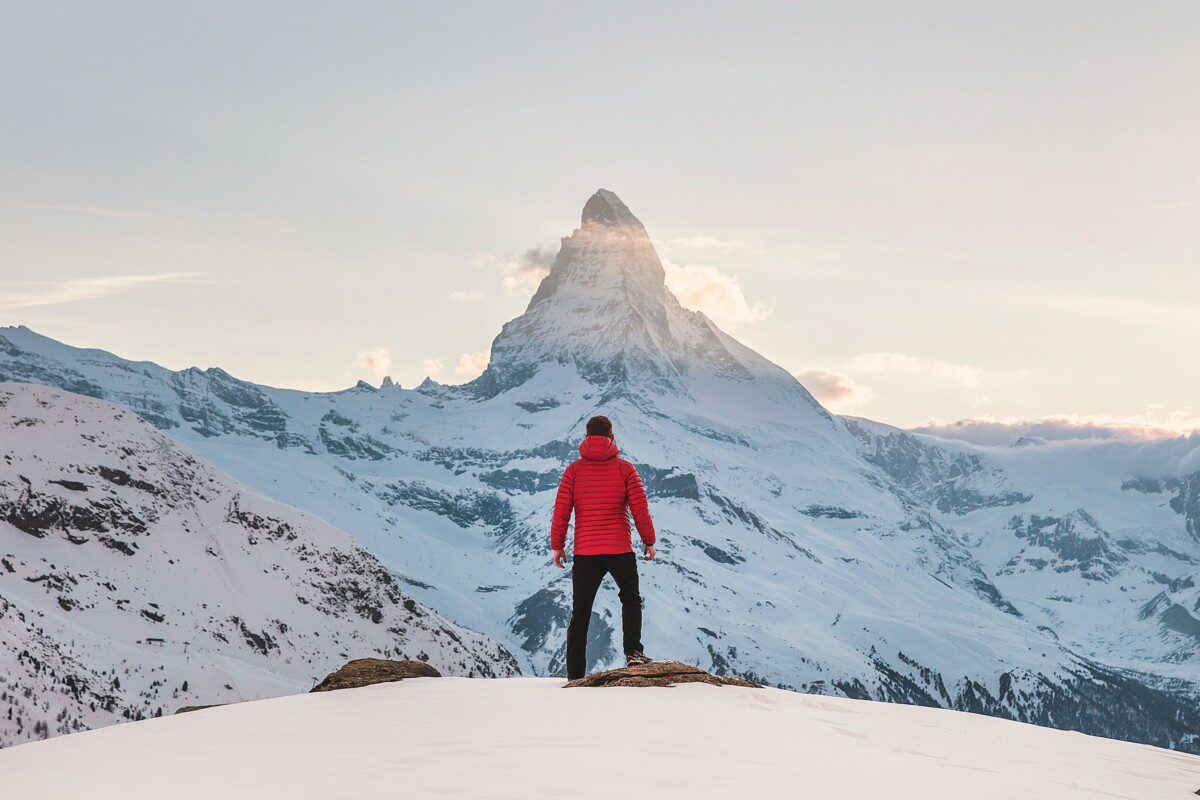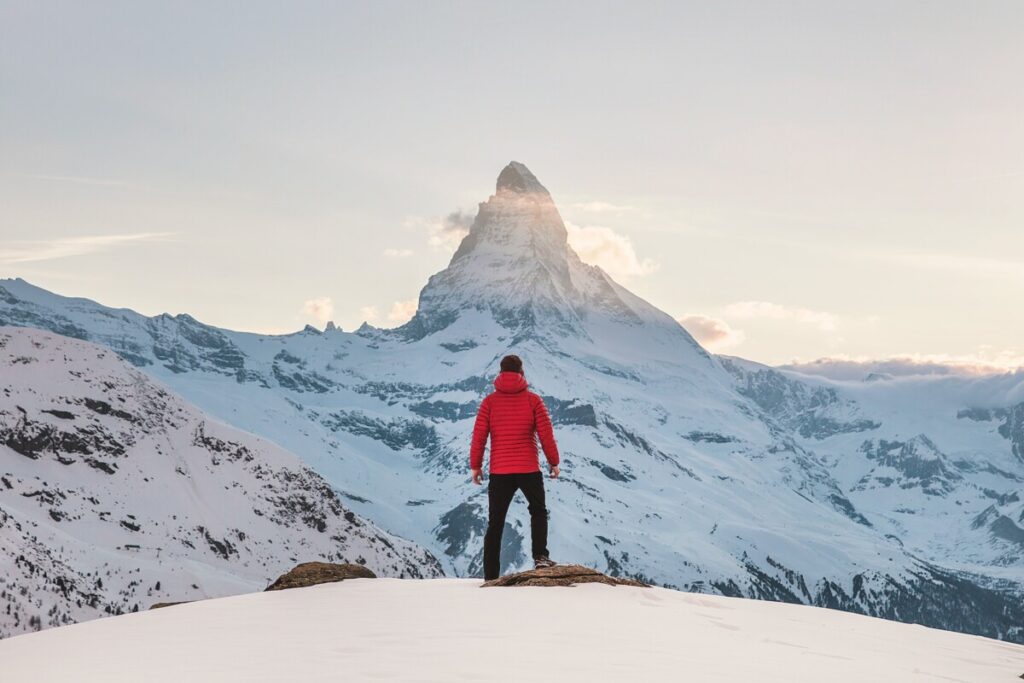 The Schwarzsee to Hornlihutte trail in Zermatt Switzerland is the perfect hike for those looking to experience views of the Matterhorn and green meadows filled with wildflowers. On this 5.5 mile out and back trail, you can traverse through forests, cross streams, and pass by picturesque alpine lakes.
This hike in Zermatt is moderately challenging as it goes up 2,185 feet in elevation. At the end of the trail, you'll be rewarded with a breathtaking panorama of the Swiss Alps. Bring your camera along to take lots of pictures, especially of the Matterhorn as you're only a little over a mile away from its summit.
Getting to the start of the trail:
Taking the Matterhorn Paradise/Schwarzsee gondola to the Matterhorn Plateau at Schwarzsee will get you to the start of the trail. You can take this same gondola back to Zermatt at the end of your hike.
Gornergrat Trail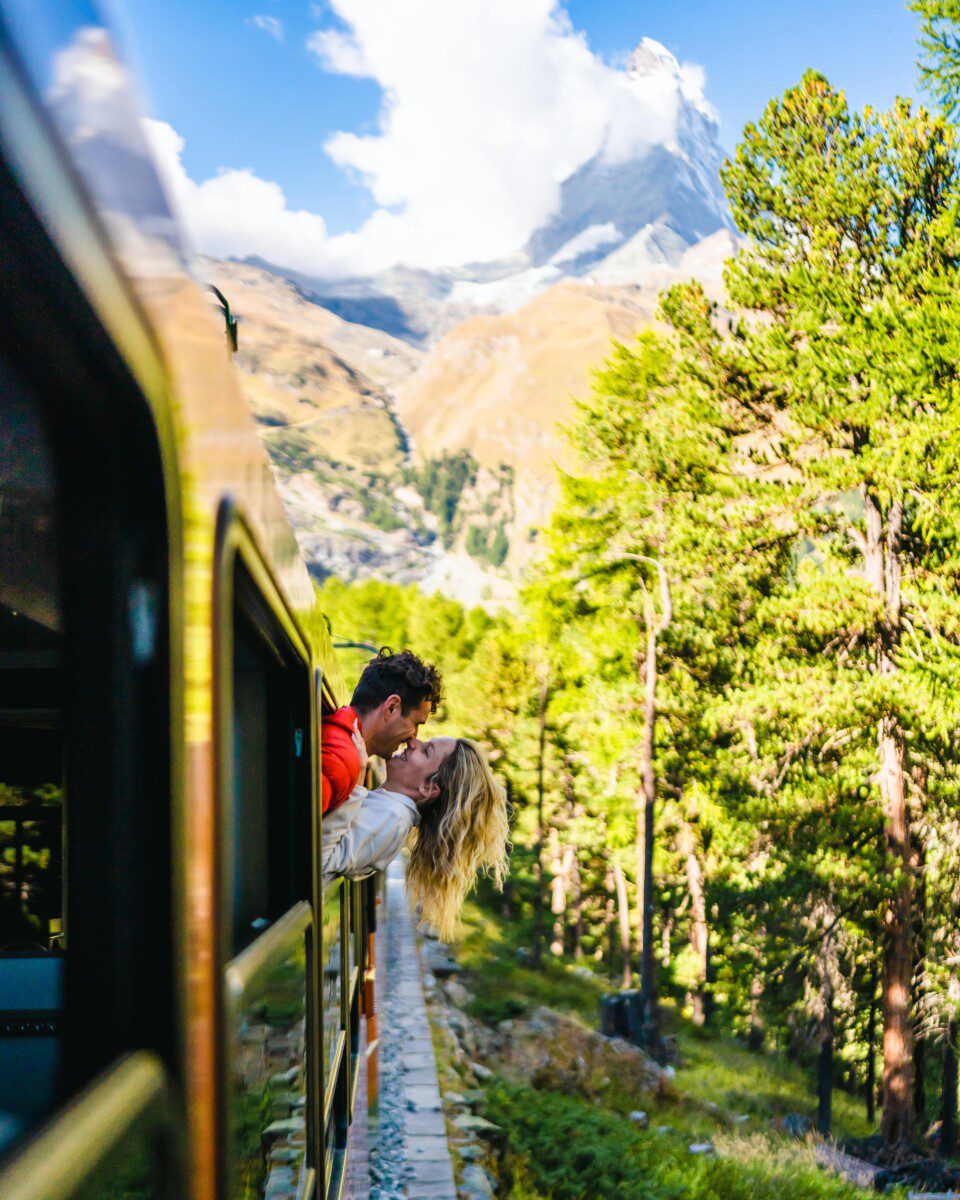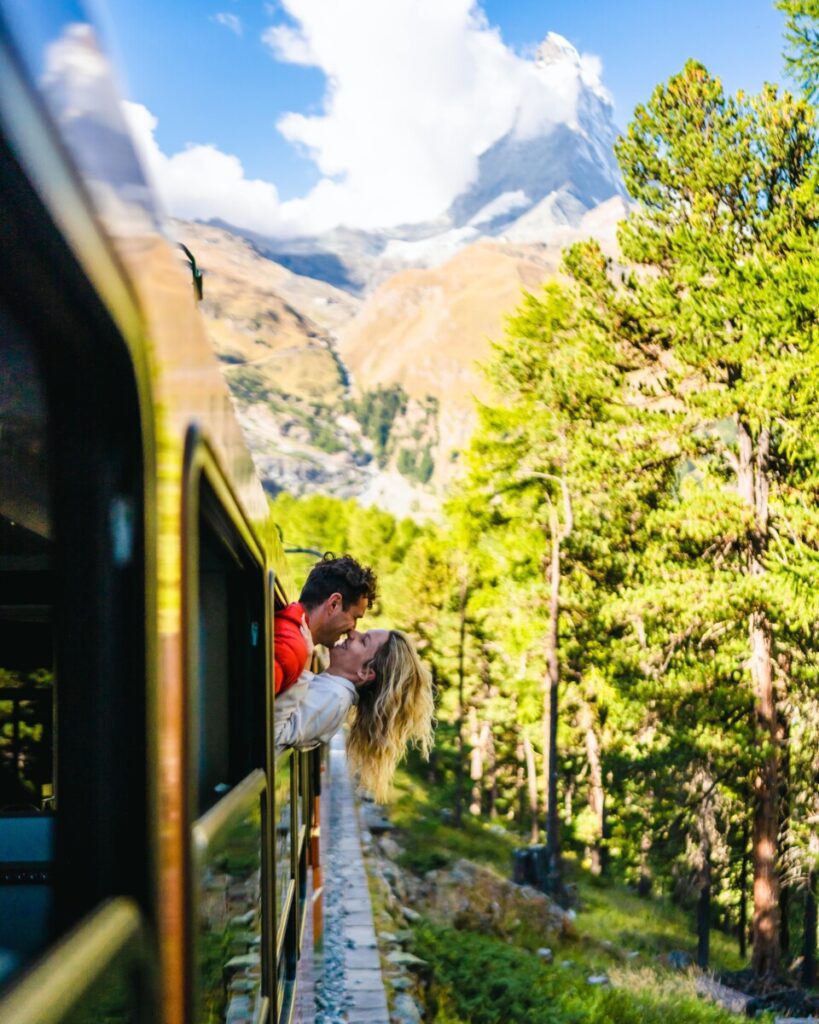 If you're looking for a truly spectacular hike in Zermatt, the Gornergrat trail should be at the top of your list. Not only do you get amazing views of the Matterhorn and breathtaking alpine scenery, but also a 5.4 mile workout that will have you hiking to heights over 10,000 feet. The difficult terrain combined with breath-taking vistas make this trek truly unforgettable.
This trail goes up 4,776 feet in elevation, which is definitely why it's considered a very challenging route. The average person takes around 5 hours to complete the hike, so make sure you allot yourselves plenty of time before starting this trail. We don't recommend this route for beginners!
Getting to the start of the trail:
In Zermatt, look for the train station with the sign "Gornergrat Bahn". Once you get on this train, stay in your seat until you reach the top station. Here you'll find the trailhead.
Getting back to Zermatt:
Since this is a point to point hike you have two options to get back to Zermatt. You can either add an additional 5 miles or you can simply take the Gornergrat Train back down. This is by far one of the most scenic train rides we've ever been on!
Rotenboden Trail (Rotenboden – Rifflesee – Riffleberg Hike)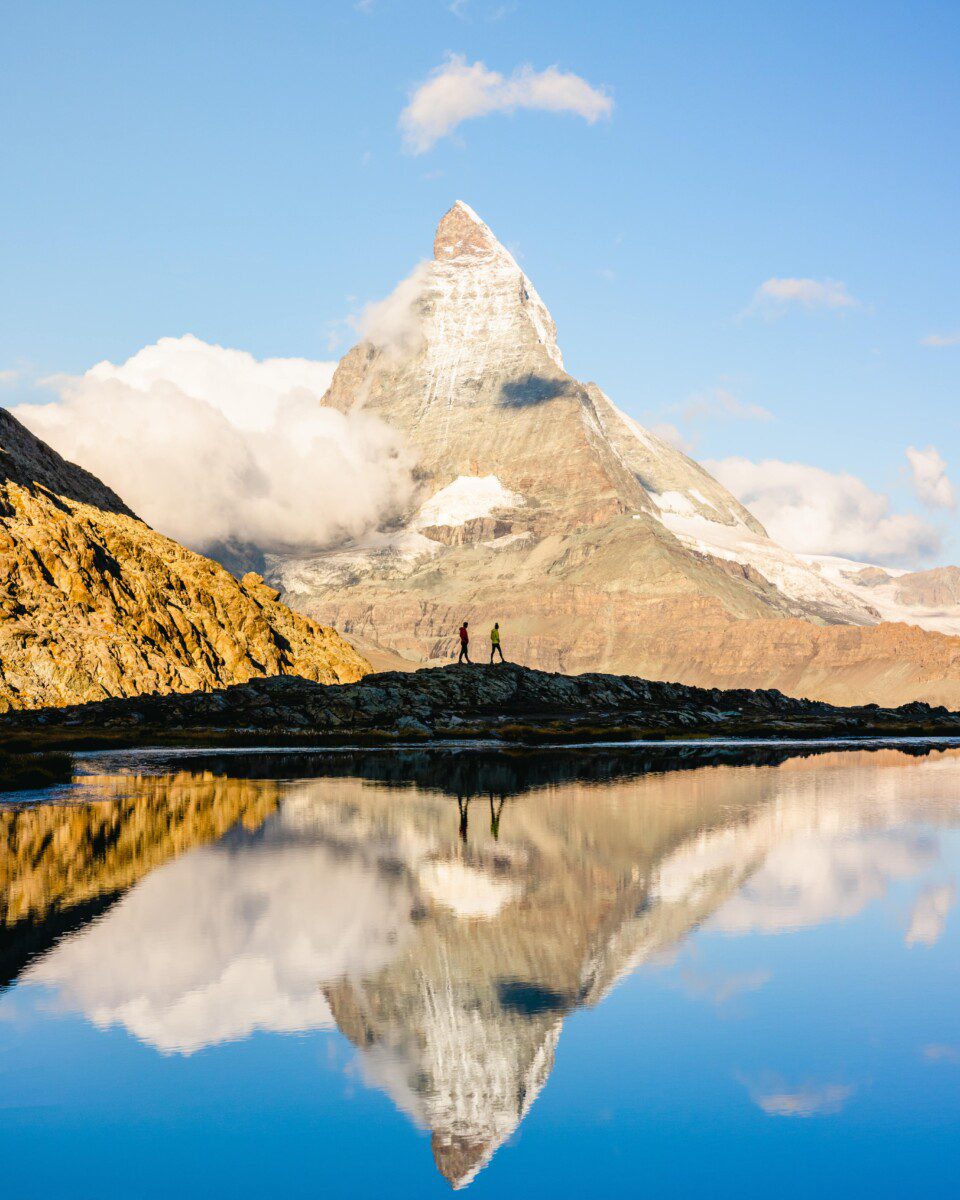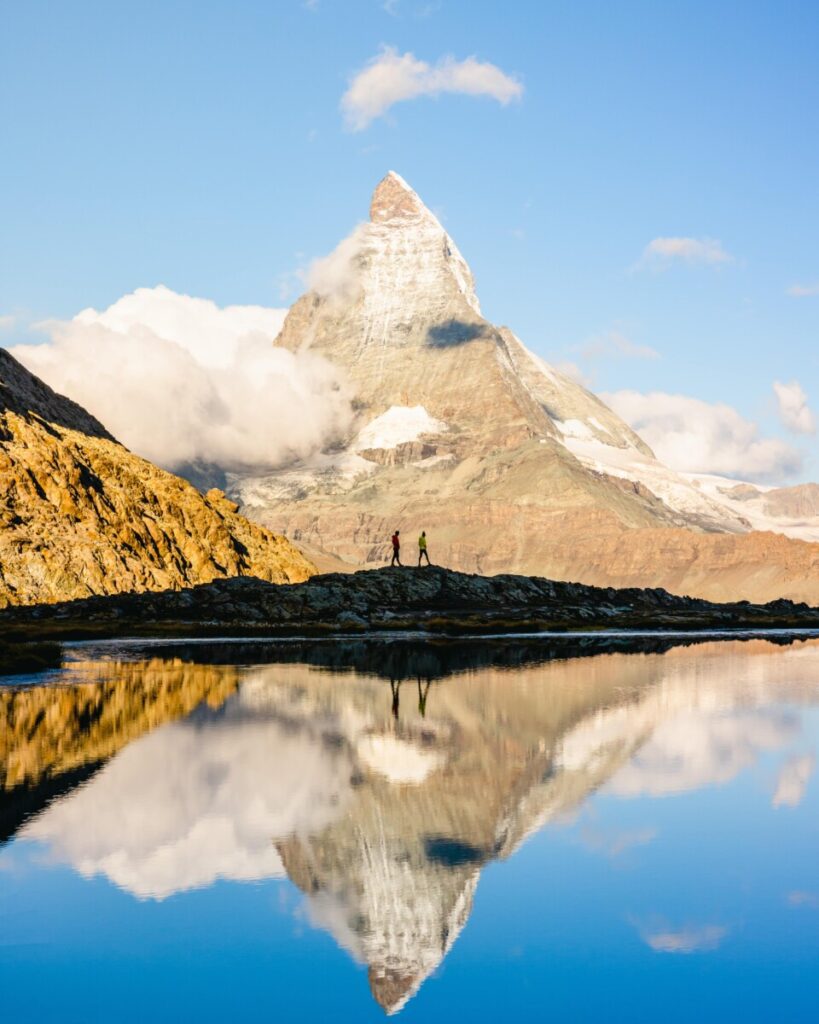 The Rotenboden hike in Zermatt, Switzerland is a must-do for hikers of all levels. With stunning views of the Matterhorn, this 2.6-mile out and back trail leaves you feeling like you're on top of the world. Not to mention that it's an easy-to-moderate trail that features flat sections and gentle slopes so you can take your time and really enjoy it.
Here you can see stunning views of Riffelsee Lake which is known as the mirror lake of the Matterhorn. This is where Stephen proposed and I can honestly say it's one of the most breathtaking locations I've ever seen. The weather and visibility surrounding the Matterhorn out here can be a bit hit and miss, but if you are lucky enough to see the Matterhorn popping out make sure to take in the incredible views.
If you're able to secure a spot on the first Gornergrat train leaving Zermatt, it's likely you'll be able to have Riffelsee almost all to yourselves for at least a short time frame. This hike was significantly less busy than the 5 Lakes Trail in our experience.
On this trail, it's important to remember that the higher altitude means less oxygen. Although you only climb 9 feet in elevation, make sure to bring tons of water to stay hydrated because the altitude will get to you. Make sure to take your time, stopping for breaks when needed and we promise the views are worth it.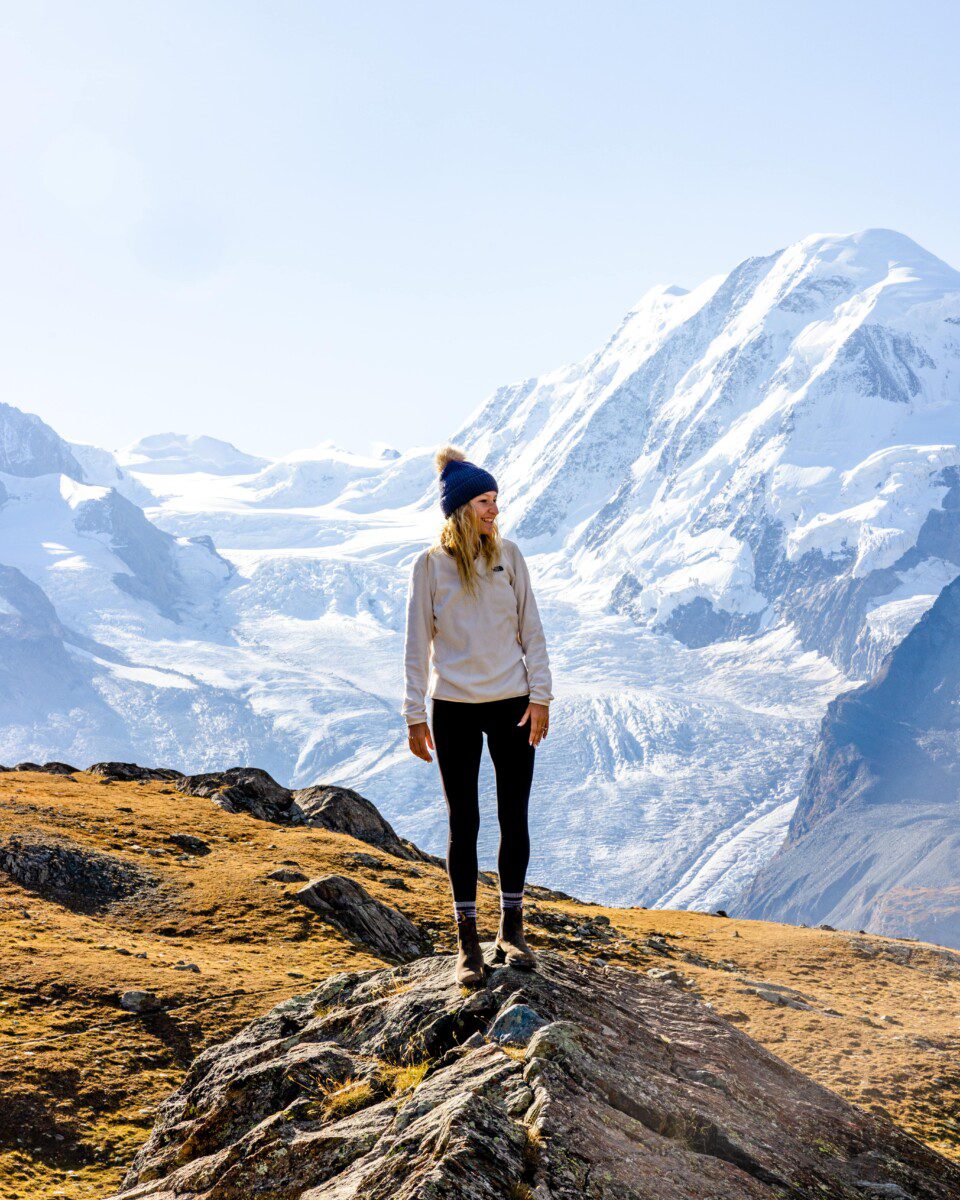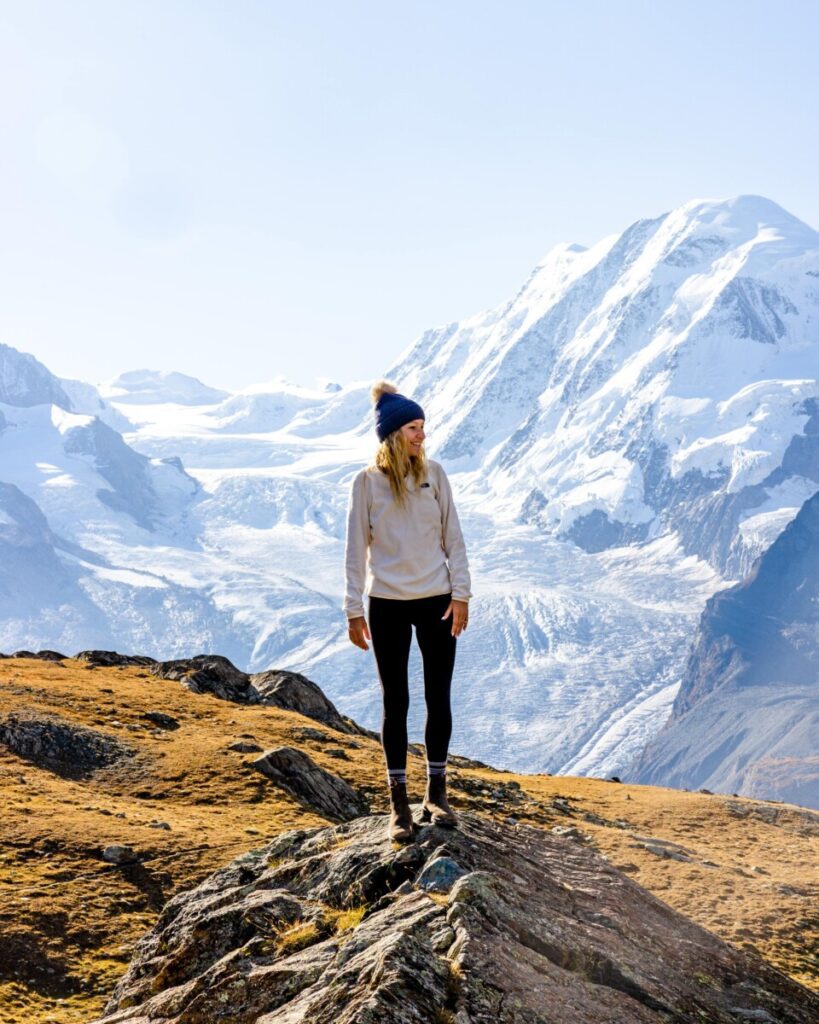 Getting to the start of the trail:
Just like the Gornergrat trail, you'll hop on the Gornergrat Bahn and stop at Rotenboden Station. This is where the path will start.
Getting back to Zermatt:
Because this trail is so short, you can hike back down to Rotenboden Station and ride the Gornergrat Bahn back to Zermatt.
It's Time to Take Your Hikes to the Swiss Alps
There is truly nothing like hiking in Zermatt, Switzerland and we hope our blog reflects that. We want each of you to experience the beauty of the Matterhorn close up and swim in the stunning alpine lakes. It's time to get out and explore and book those tickets, you won't regret it.
If you're looking for a full Switzerland guide, check out our 7-Day Switzerland Itinerary.