Couple's Camping in Joshua Tree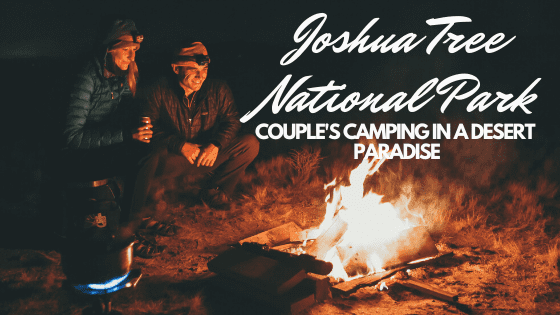 About Joshua Tree
 Joshua Tree National Park lies in the heart of California's Desert. Named for its abundance of Joshua Trees, the park is also full of rugged rock formations. The stark desert landscapes are perfect for outdoor adventurers and lovers. Joshua Tree is a beautiful landscape that can be full of adventure or simply relaxing. It is truly a rock climbing mecca. It is filled with scenic walks, hikes, stunning campgrounds. Here is our guide for Couple's Camping in Joshua Tree.
We came to this desert in search of climbing and hiking. G had not climbed outdoors too much before we went to Joshua Tree. Luckily, this National Park has thousands of routes ranging from easy to extremely difficult, so it made a great learning area. This is now one of our favorite places to climb and is also a great weekend getaway.
Getting to Joshua Tree: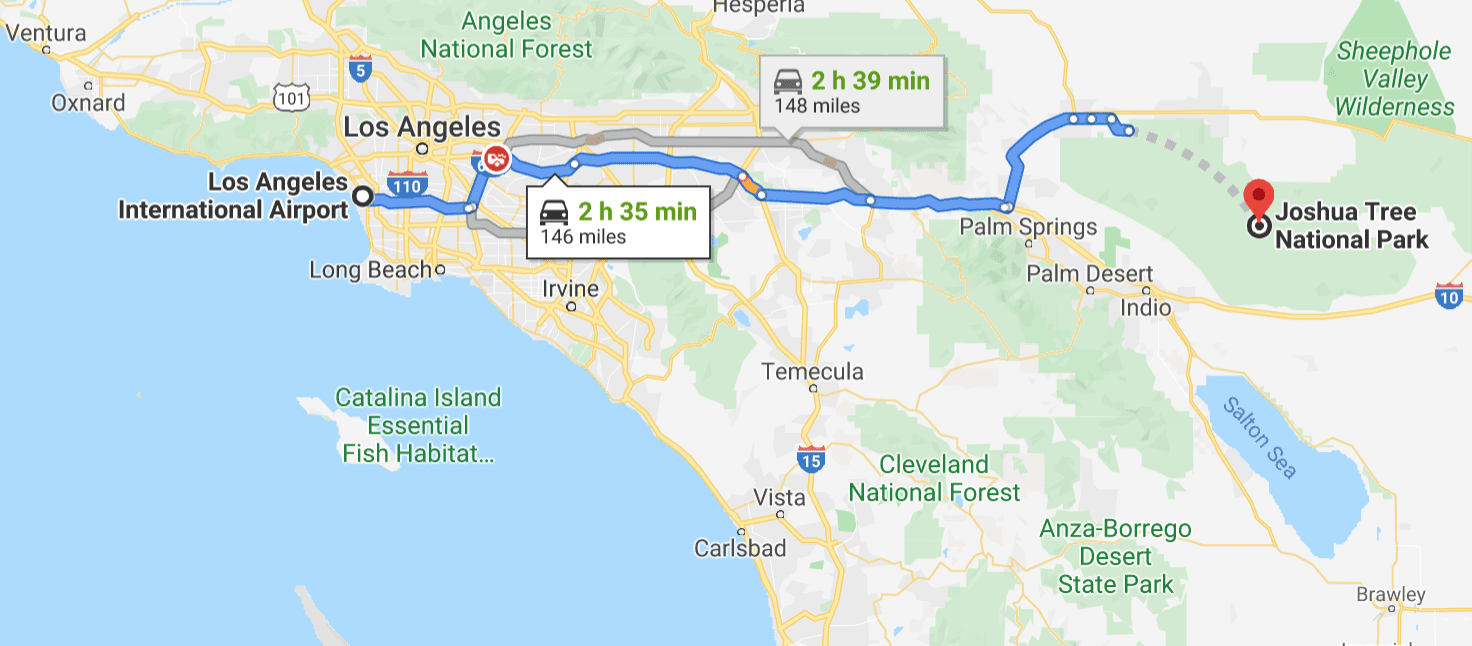 We have the luxury of living only 3 hours away from Joshua Tree. We switch between listening to our favorite jams on Spotify, listening to a podcast called "Small Town Murder" (it is a comedy podcast that we highly recommend), or having conversations ranging from food, to the creation of the universe, and everything in between. Driving is great bonding time for us and makes for some of our favorite memories. For us, it is one of the most important things that you are easy to be around and enjoy each others company.
If you are not within driving distance you can fly into LAX. From there it will take around 2 and a half hours to drive. The drive is as simple as 210, to the 10, to the 62. When entering the park there are a few different entrances but I always go through the small town of Joshua Tree. Make sure to remember your National Parks Pass if you have one so you avoid the steep $40 entrance fee. The rangers will ask for your pass whether you are going in or leaving the park. One tip for Couple's Camping in Joshua Tree is to get there before 8am or after 5pm. This will help avoid the fee depending on what time you are going and leaving.
Best Time for Couples to Go:
Plan your trip according to the weather! The weather in Joshua Tree ranges from freezing to so hot that you are able to cook an egg on the hood of your car. We recommend going between March and May. This is when temperatures are 60 to mid-70s, or between October and November for a bit cooler temperatures.
Personally, we love to go in Spring because of the flowers. The beautiful colors popping up in the cactus and around the desert add to the magical area. As G would say, this is the perfect cuddle temperature. She will without a doubt be cold and I can step in to hold her and keep her warm. We tend to go during the weekends because of our work. Our Couple's Camping in Joshua Tree recommendation is to go during the week. You will avoid the masses of crowds. The weekends tend to fill up every campsite while the weekdays are much less impacted. 
The best time is during October-November to go rock climbing. It is also great especially if you are into photography. The light hits the crazy rock piles and gives it a different shade you won't find any other time of the year. The temperatures are still a bit hot, but you can also make some time to explore. The town has some activities to do that are not so vigorous. This time of the year tends to be less busy then the springtime, but it still can be difficult to get a campsite. 
Couple's Camping: What to do if you can't get a campsite?
If you are like Stephen and tend to be a bit "thrifty" as his dad likes to say, there are some opportunities for free camping around Joshua Tree. There is a dry lake bed that is considered BLM Land ( Bureau of Land Management) which you can camp on for free. This area does not have bathrooms or firepits, and you just set up camp where you can find some flat area. Once you pass Park Blvd just continue until you find Sunfair Rd. We have camped here multiple times and as I said, it is FREE!! This makes for a great spot for Couple's Camping in Joshua Tree when all the camping sites are filled and you just need a place to sleep.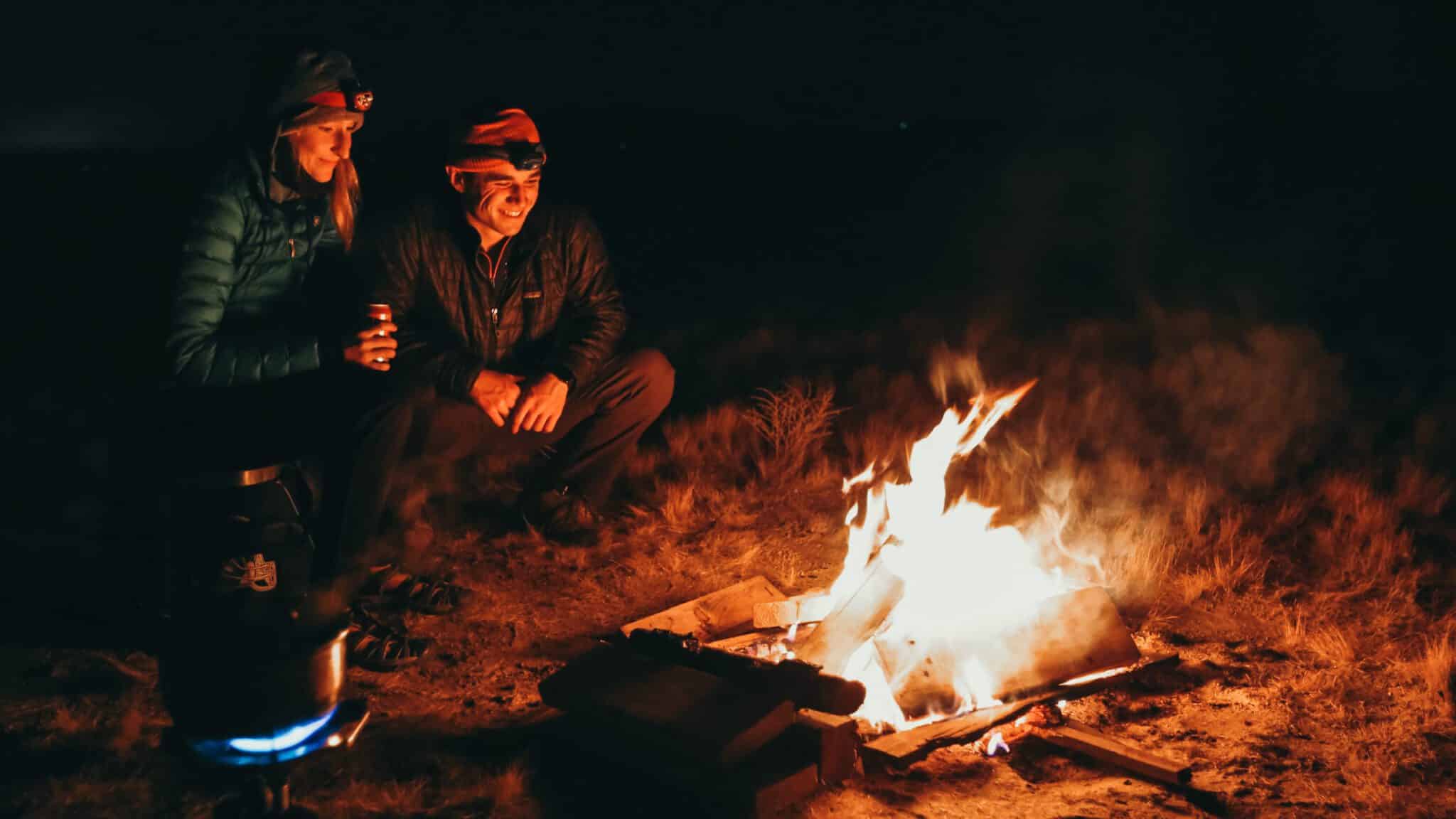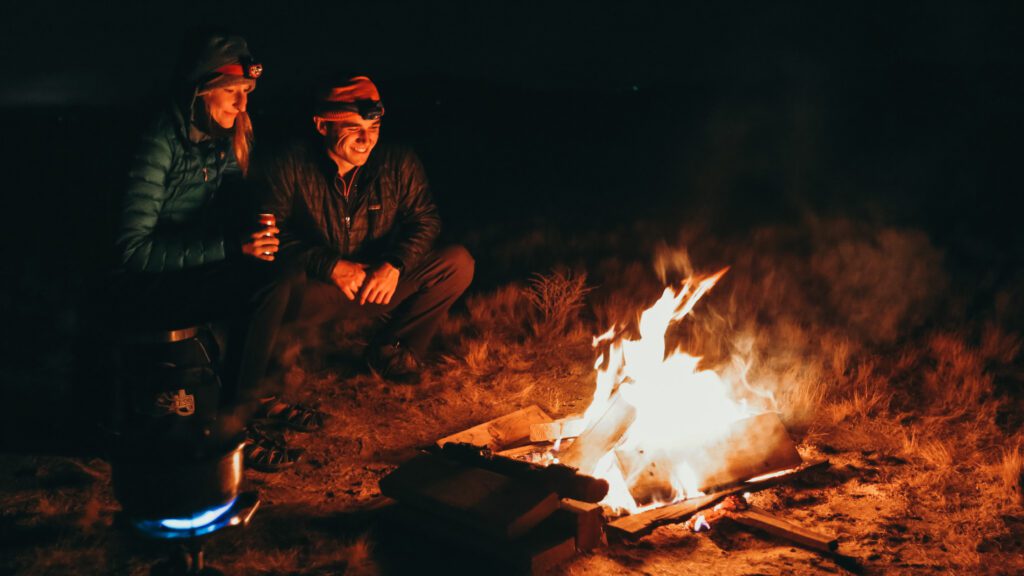 Hidden Valley Campground
If you have the luxury of finding an open campsite I always recommend Hidden Valley Campground. These sites are located in the middle of the park and have everything you could want. There are hiking trails surrounding this campground, climbing routes within a two-minute walk, the main road (Park Blvd) is right around the corner, and it has some of the most scenic views in the park. The problem is, it is so well placed and on a first come first serve basis so it is very difficult to get a campsite. If you plan on getting a spot we recommend getting there on a Wednesday or Thursday at the latest to claim your site. October-May most of the campgrounds are completely full unless you get there midweek when the weather is nice.
Campsites are great for RV or tent camping plus they have bathrooms, fire rings, picnic tables, and you get to be surrounded by the incredible landscape. G and I love to sit around the fire ring together and count the shooting stars. Lastly, there is a multitude of AirBnB's in the area for the lover of nature that doesn't prefer to rough it in a tent. They tend to be on the expensive side but most have a very hipster feel which blends perfectly with the culture in this area. Whether you are camping in the boondocks, in a campsite, or in an air-conditioned house, the magic of Joshua Tree can be enjoyed. 
What to Pack for Couples:
Sunscreen
If you haven't already, make sure to check out our Gear Guide. A good pair of shoes or good sleeping bag can make all the difference when Couple's Camping in Joshua Tree. What you bring is completely dependent on what you want your experience to be. Whether you are looking for a more relaxed trip or sending climb after climb, the three things you need to remember are sunscreen, water, and comfy shoes. The sun is beating down on you all day unless you find a nice rock cave to sit in. G always reminds me to put on her Cleure Tinted Sunscreen because it is the healthiest one out there. I have been sunburnt so many times in Joshua Tree just from forgetting one simple essential packing item.
Water
Next on the list is water. No matter whether you plan on climbing all day or hopping from rock to rock water is a must. The temperatures get very high during the middle of the day so we recommend always having a few liters of water to avoid heat exhaustion. One trick we like to do is pick up a 5-gallon jug from Walmart and fill it up with drinking water before entering the park.
Shoes
Lastly, the shoes you wear will help prevent injury and give you more stability. Joshua Tree is filled with granite and different slippery rocks so if you do not have good shoes you will slip and fall. When I was a young boy, I slipped when trying to climb a small rock and chipped my teeth. Luckily they were not my adult teeth but it still caused quite a bit of panic from my parents.
Bring shoes that have good soles and that will protect you when you need it. The nice thing about Joshua Tree National Park is that if you do forget something, a quick 20-minute drive into the city will bring you to a Super Walmart. There have been many occasions after a long day of hiking and climbing that we run to Walmart and pick up some essentials like Marshmallows, graham crackers, chocolate, and bacon to feast on. 
Things to Do: Couple's Camping in Joshua Tree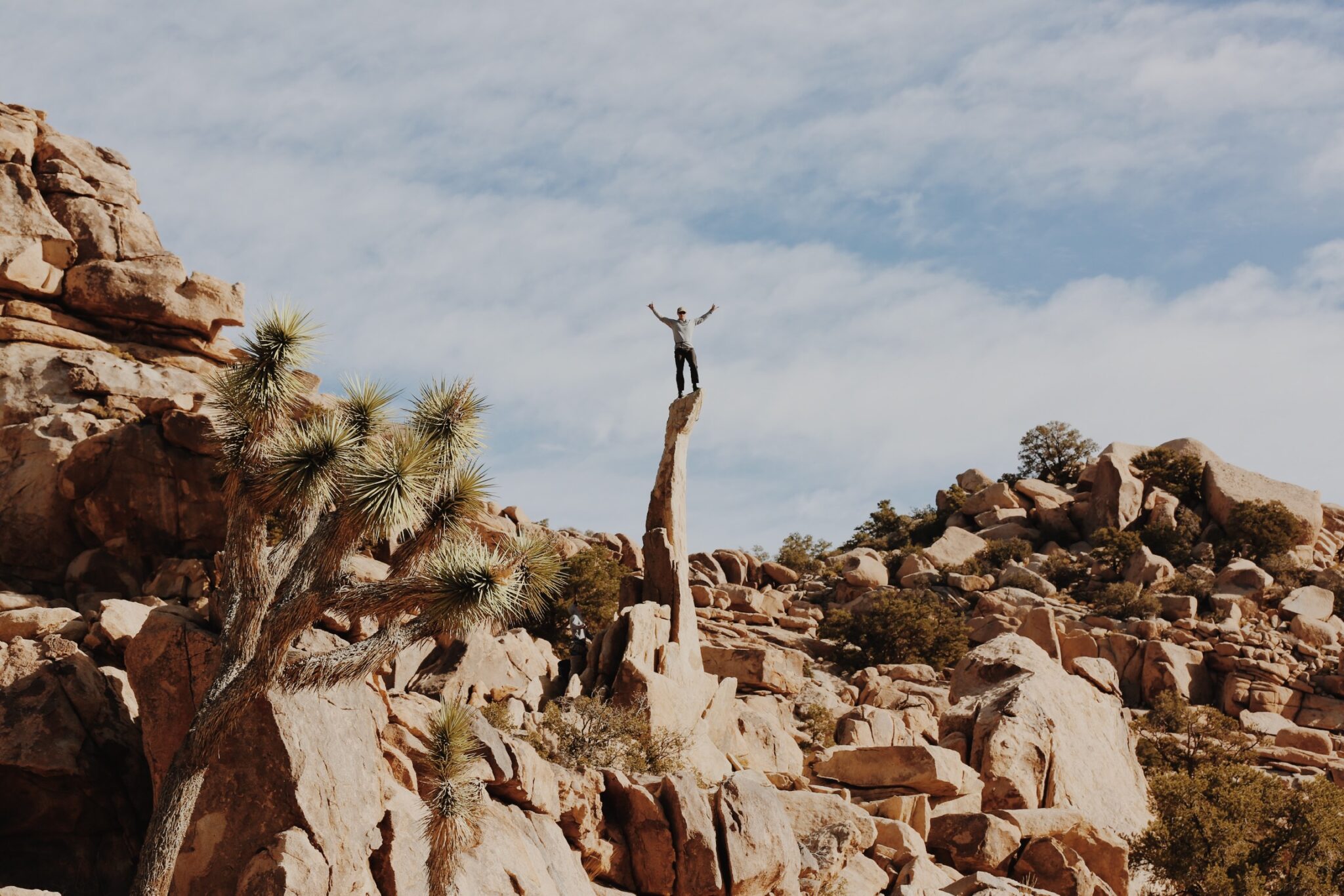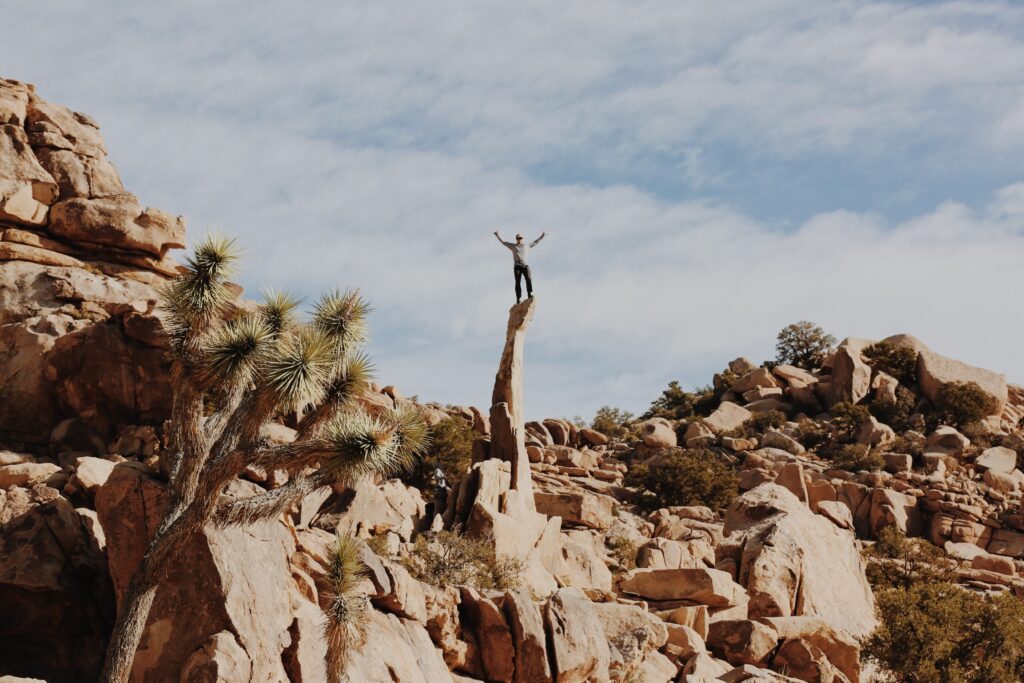 Climbing
Joshua Tree has thousands of different climbs, hundreds of different hikes, and a million different rocks to take pictures of. If you are into rock climbing this is a great place to start. The park is filled with boulders and rope climbs that bolster some of the best in California. Whether you are a beginner or an expert there is a place for everyone to start climbing. If you forgot your climbing gear or have never done it before, there are tons of guides that would love to show you the best routes in the park. It is a great activity for Couple's Camping in Joshua Tree.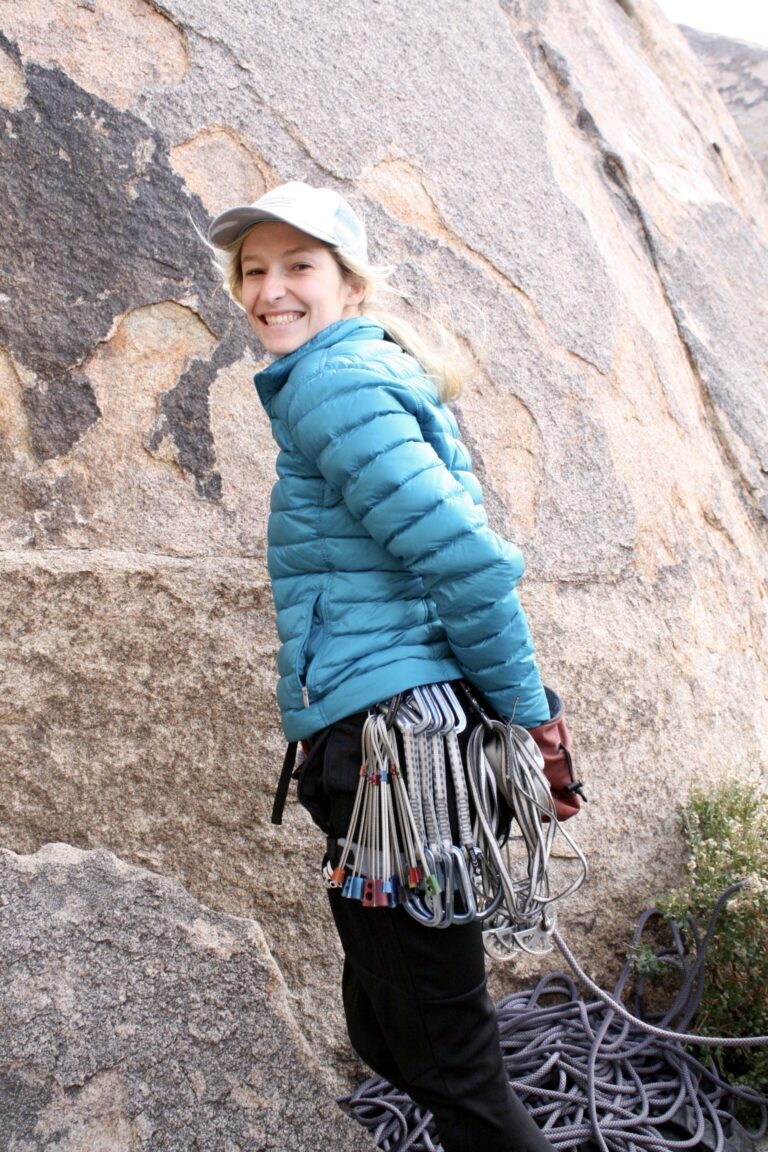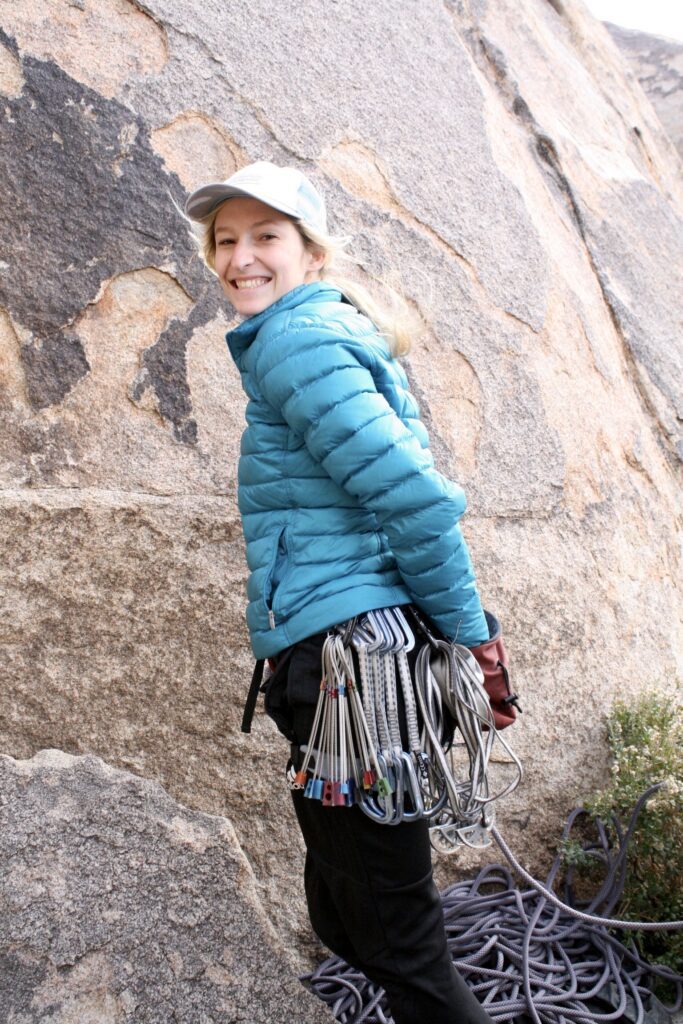 The only problem with climbing here is it is very humbling. Many of the routes are "sandbagged" meaning that they say they are much easier than they actually are rated for. The routes can be run out, but it is still a great area for beginners. Trashcan Rock, being the first climbing area in the park, is a great place to start. G and I both are beginners when it comes to outdoor climbing so Joshua Tree was a great spot for us both to practice leading and placing protection.
Couple's Adventure
Couple's climbing is great bonding being able to do something together and get better each climb. I remember there was one moment last trip where G was leading a climb and I had this immense feeling of how proud of her I was. She had never done it before but she pushed herself and trusted me to belay her. You literally put your life in each other's hands.
Hiking
Hiking from climb to climb is where I like to take in the insane scenery. Around every boulder is another interesting looking rock formation. On the horizon, you are surrounded by Mt. San Jacinto to create a true immersion into the National Park. I love hiking on the flat trails and talking about the trees or rocks. The conversations are endless and so are the trails.
Most of our favorite hiking trails all leave from Hidden Valley Campground or Boy Scout Trailhead. We especially enjoy hiking through the Wonderland of Rocks from boy scout trailhead because is it well… wonderful. The hiking and climbing are all very moderate. It can make for a great morning or late afternoon stroll to take in the beauty.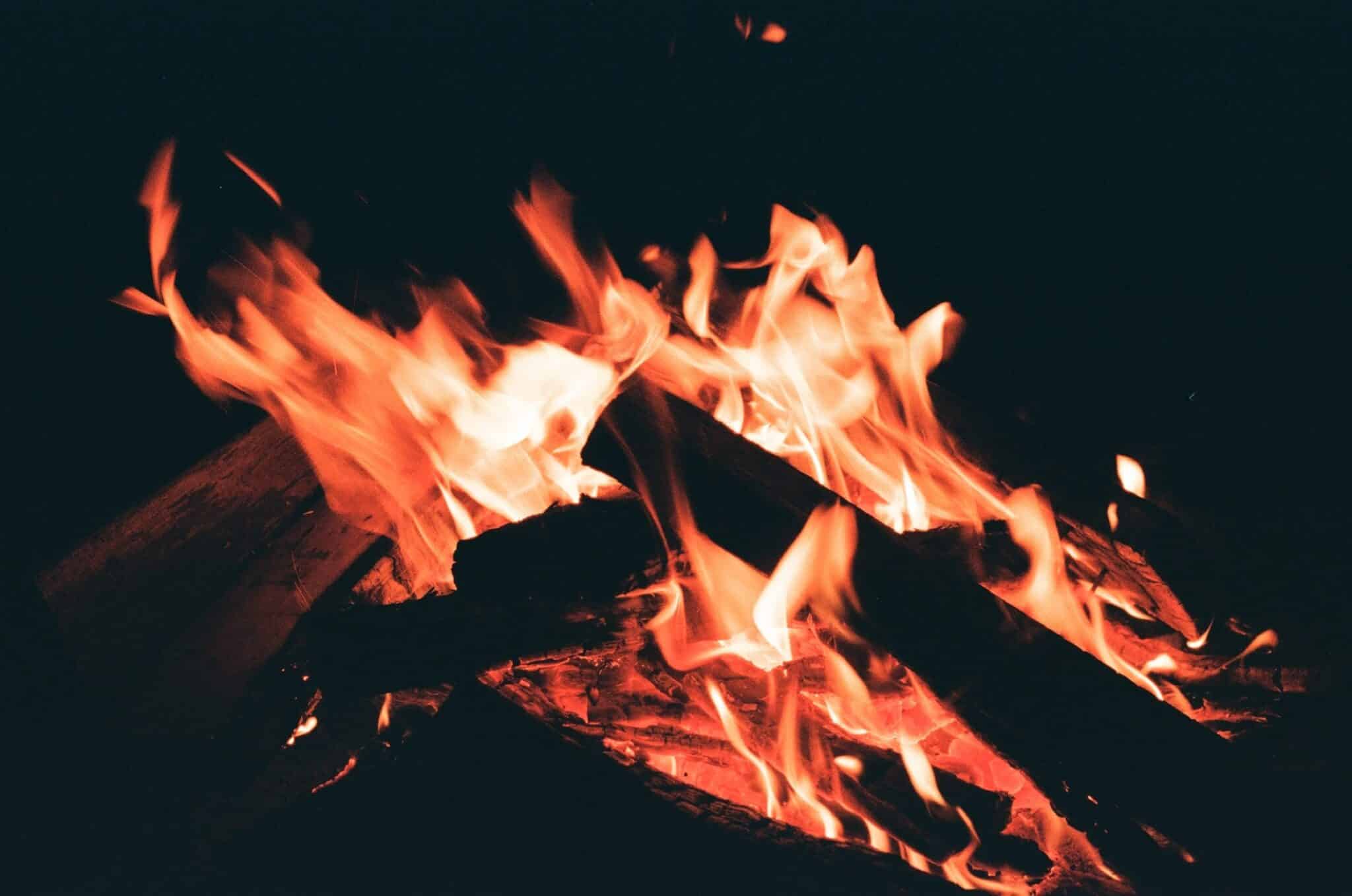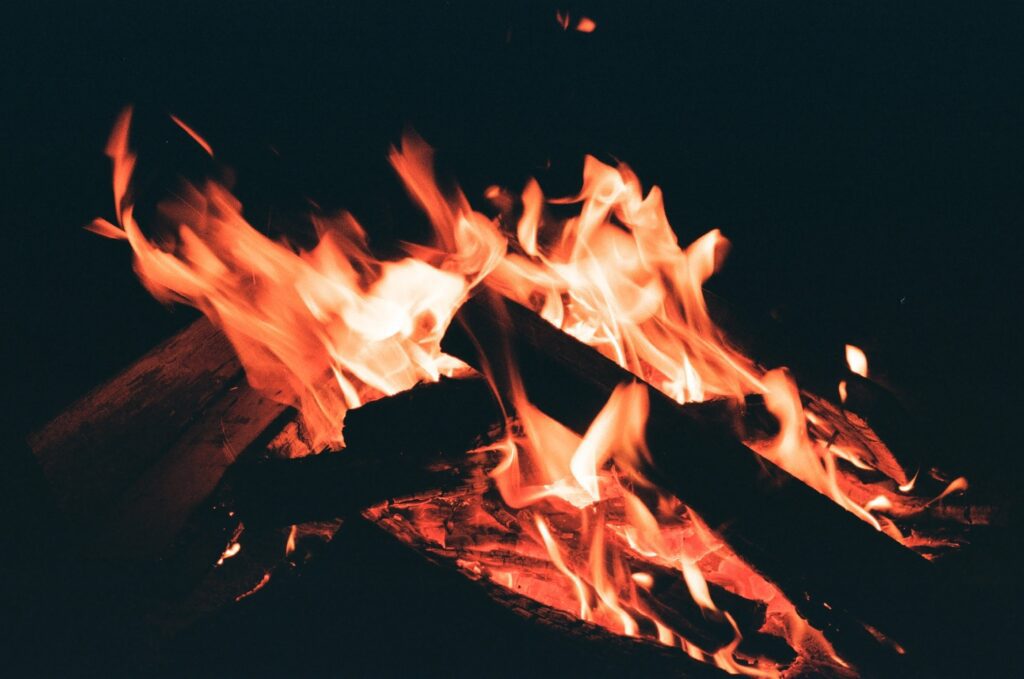 Stargazing
Stargazing is another reason to not only go to Joshua Tree during the day for climbing and hiking but to sit and enjoy the night sky with your loved ones around. There are lots of classes in Joshua Tree that you can check out at the Visitor Center and view the stars. Sometimes it is fun to just mozy around the campsites where you are bound to find other people with telescopes stargazing. Night photography is a fun challenge. It is so dark in Joshua Tree you do not have any light pollution affecting your pictures. G and I love the night in J-Tree, especially for the campfire time. The warmth, the cuddles, the smores, the conversations that go deep into the night. This is all part of the camping experience when Couple's Camping in Joshua Tree.
Leave NO Trace
The last bit we wanted to touch on Joshua Tree is the saying "Leave no trace" or as my dad likes to say "leave it cleaner then you found it." Joshua Tree is a beautiful sanctuary that is mostly wilderness. You can drive over 100 miles through the park but most of the park is just trails to go exploring on. Whether you camp in the park or outside the park, please respect the natural beauty. You can do your part by packing up all your trash you brought it, using bathrooms when available, and not hurting the wildlife such as trees and animals that you are around. The more popular the National Park becomes the dirtier it gets from people who do not respect it.
Joshua Tree is a great weekend trip that has helped G and I trust each other more while rock climbing, talk about almost anything from the car rides and hikes, and learn to love enjoying the beauty of Joshua Tree side by side as the sun goes down and the shadows of the trees grow longer. Tread lightly but make memories to last a lifetime. Enjoy your time couple's camping & rock climbing in Joshua Tree!