The 8 Best New Hampshire Waterfall Hikes for Summer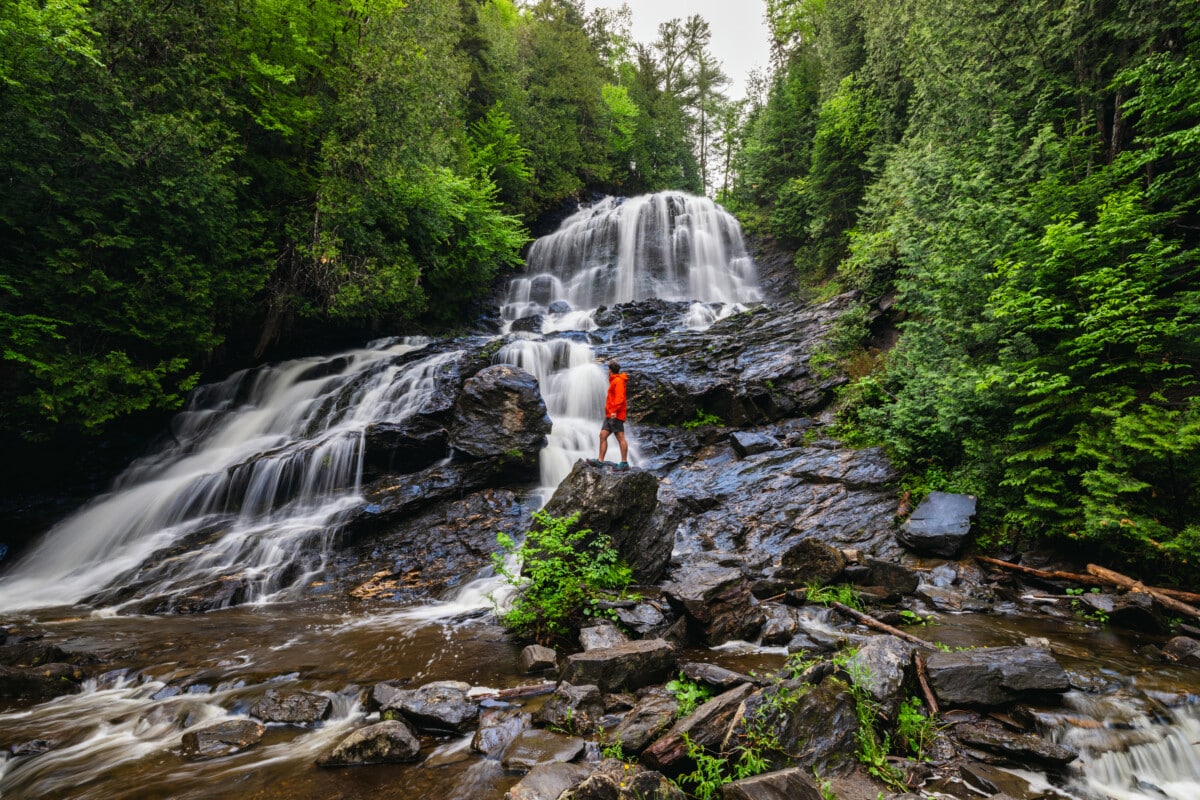 New Hampshire's White Mountains and Great North Woods regions are havens for outdoor enthusiasts, offering breathtaking landscapes and an abundance of natural wonders. Among these are over 100 cascading waterfalls throughout the state that stand out as some of the most captivating sights to witness. What better way to spend the summer than exploring a beautiful New Hampshire waterfall and incredible mountains?
This guide to the best summer New Hampshire waterfall hikes will include everything you need to know to plan your adventures – from what to bring, the best time to visit for waterfall hikes, trail data information, recreation fees and permits, and more. If you're embarking on a New Hampshire summer road trip, make sure to add these gorgeous waterfalls to your itinerary.
Disclaimer: This blog post is in collaboration with Visit New Hampshire. Some parts of the article also feature affiliate links, which means we get a small commission if you make a purchase (at no extra cost to you). It's one of the ways we can keep producing free guides and resources for our readers. Thank you for the support!
Know Before You Visit New Hampshire's Best Waterfalls
LNT Principles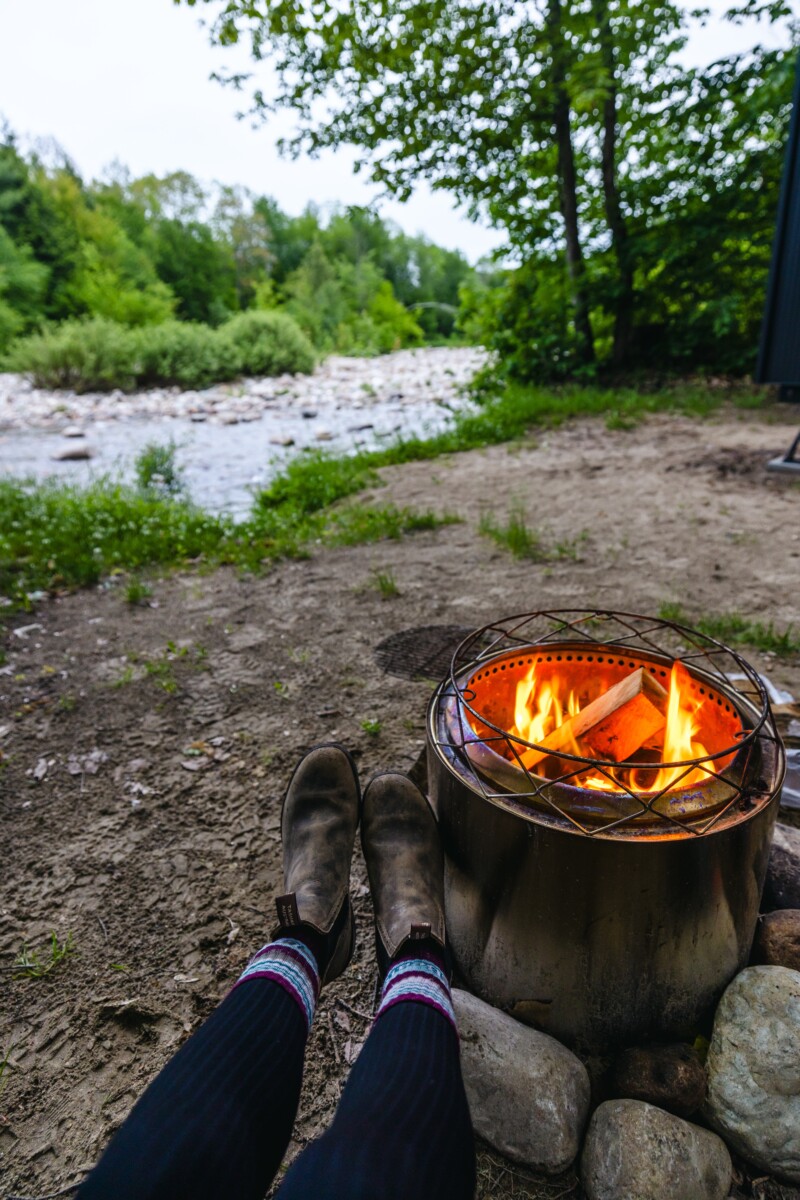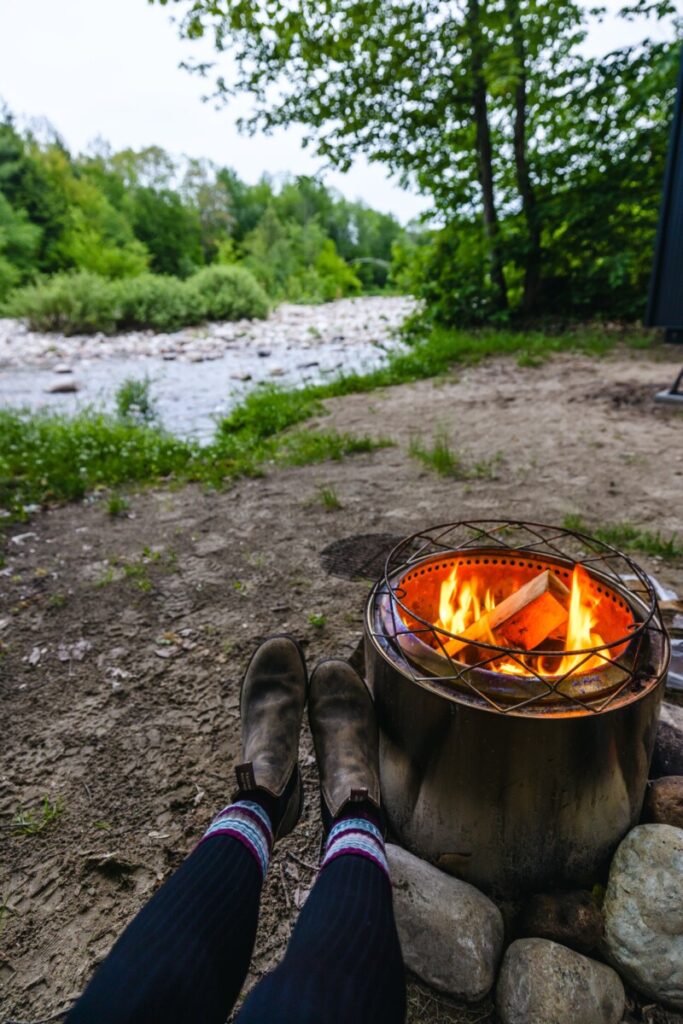 If you're planning a summer hiking trip to the breathtaking landscapes of New Hampshire, it's crucial to remember that responsible outdoor recreation is key to preserving the beauty and integrity of these natural wonders. Hence, it is so important to familiarize yourself with the Leave No Trace Principles.
Plan Ahead and Prepare
Before embarking on your hikes, take the time to research and plan accordingly. Familiarize yourself with the chosen trail's regulations, obtain necessary permits if required, and assess the weather conditions.
Travel and Camp on Durable Surfaces
New Hampshire's lush landscapes are fragile, so it's crucial to stick to established trails and camp only in designated areas to protect the natural habitat. Avoid trampling on delicate vegetation and fragile ecosystems by using established campsites, rock surfaces, or dry areas for resting and setting up camp.
Dispose of Waste Properly
Carry out everything you bring in, including food wrappers, leftover food, and any other waste items. Leaving garbage behind not only spoils the beauty of the area but can also harm wildlife. Additionally, be mindful of human waste disposal by using designated restroom facilities or digging a small cat-hole at least 200 feet away from water sources, trails, and campsites. Proper waste disposal preserves the integrity of New Hampshire's ecosystems.
Leave Only Footprints
Don't take anything from your hikes like rocks, plants, or wildlife with you!
Respect Wildlife
New Hampshire boasts a rich diversity of wildlife, and encountering these creatures is undoubtedly a thrilling experience. However, it's important to observe them from a safe distance and refrain from feeding or approaching them. Feeding wildlife disrupts their natural behavior and can lead to negative consequences for both animals and humans. Be mindful of their habitats, nesting areas, and breeding grounds, and remember that we are guests in their home.
Be Considerate of Other Visitors
Sharing the trails with fellow hikers is part of the adventure. Respect the tranquility of nature and other visitors by keeping noise levels to a minimum. Yield to uphill hikers, maintain appropriate trail etiquette, and leave enough space for others to pass.
Recreation Fees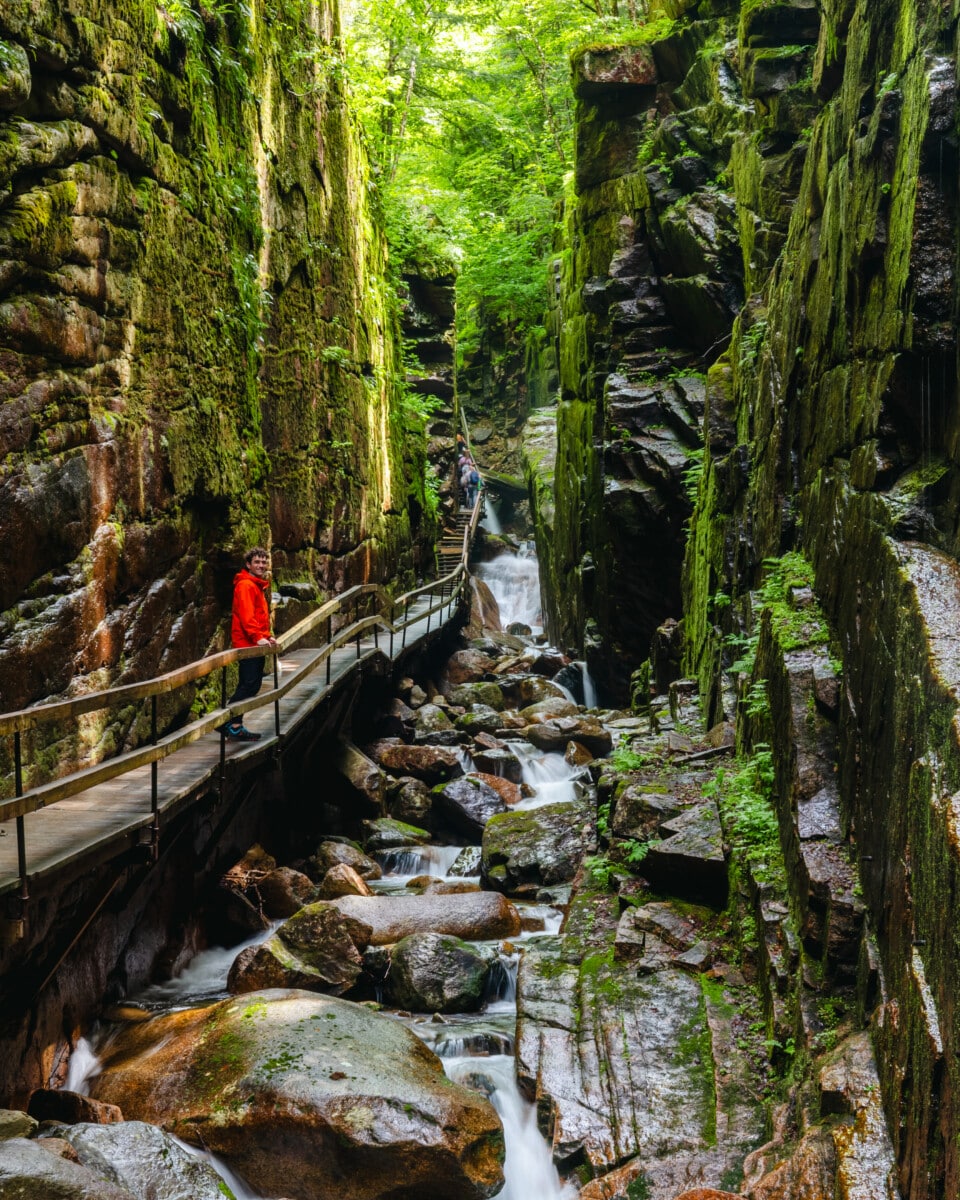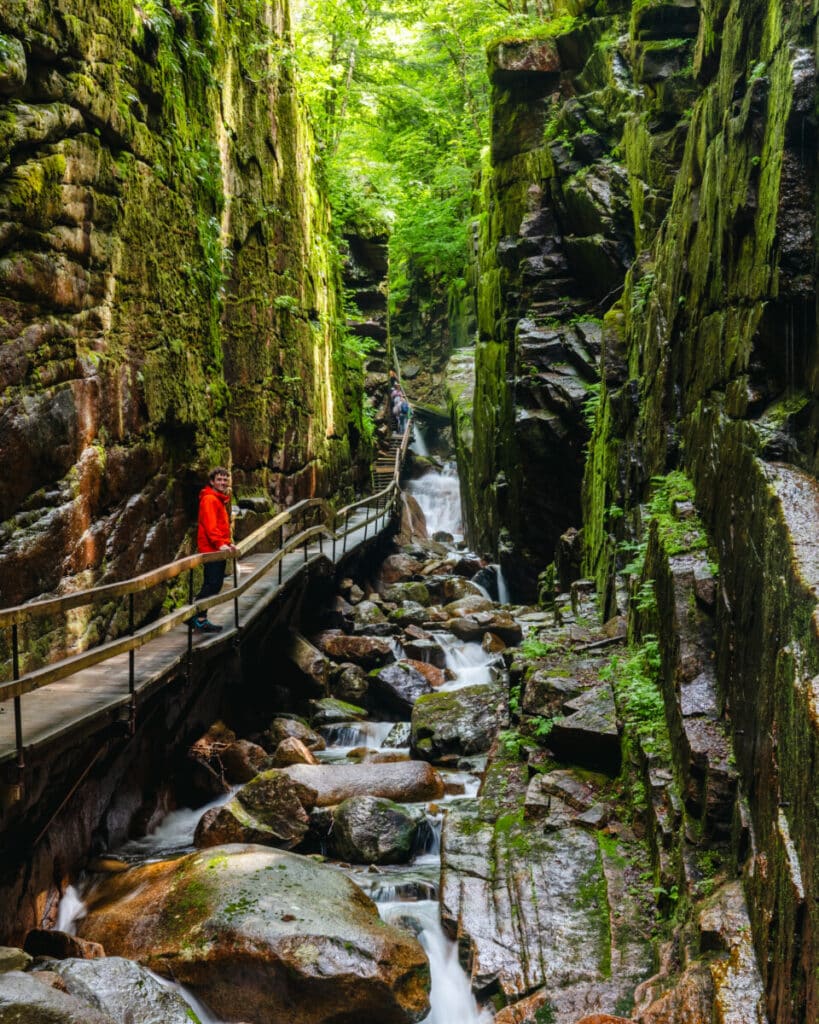 Many of the waterfalls listed below involve having some sort of park pass, or paying a recreation fee when hiking. If you don't have a state parks pass, make sure to carry cash or check with you to be able to pay the fees at the trailheads.
If you're local to New Hampshire and are interested in purchasing a pass, you can check them out here.
Download Trail Data in Advance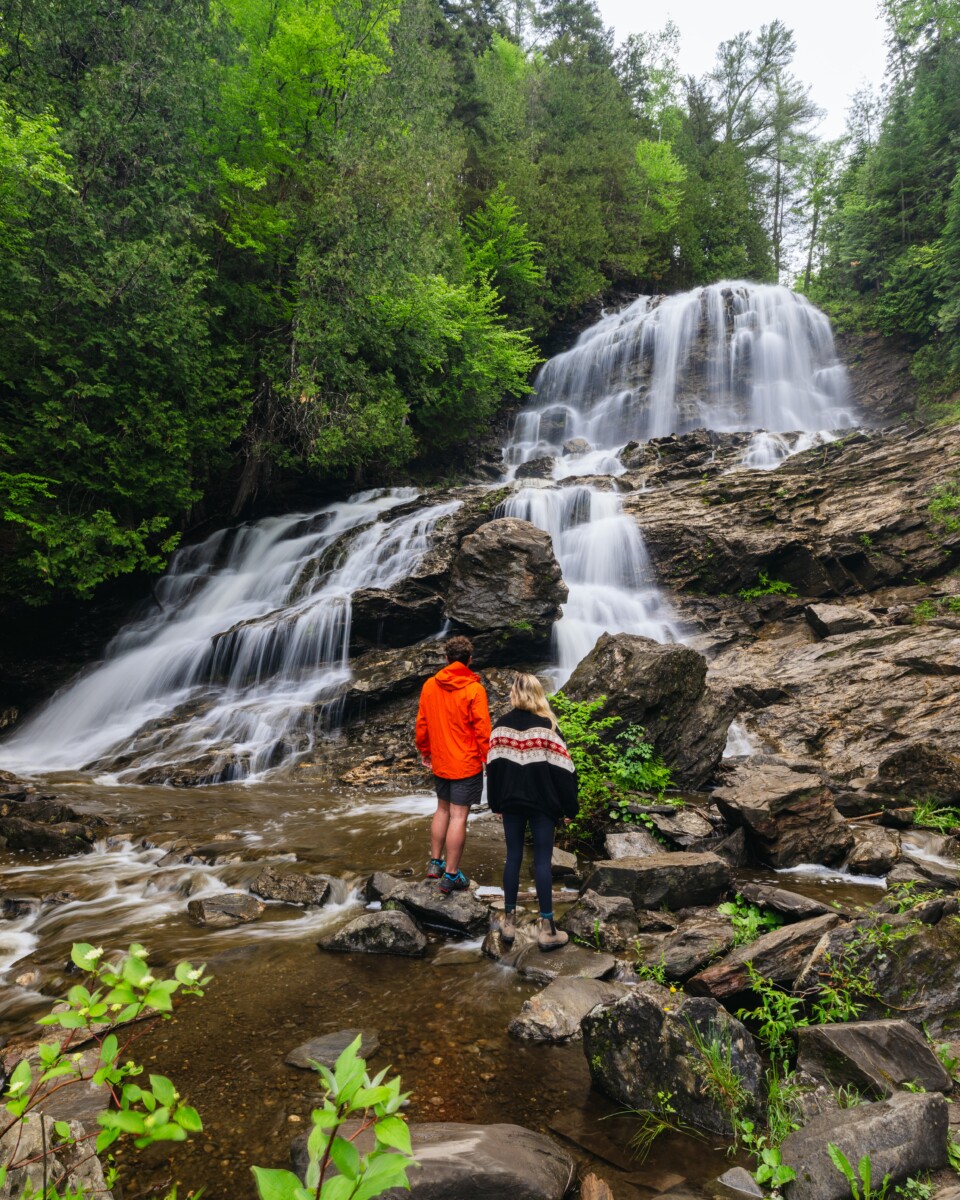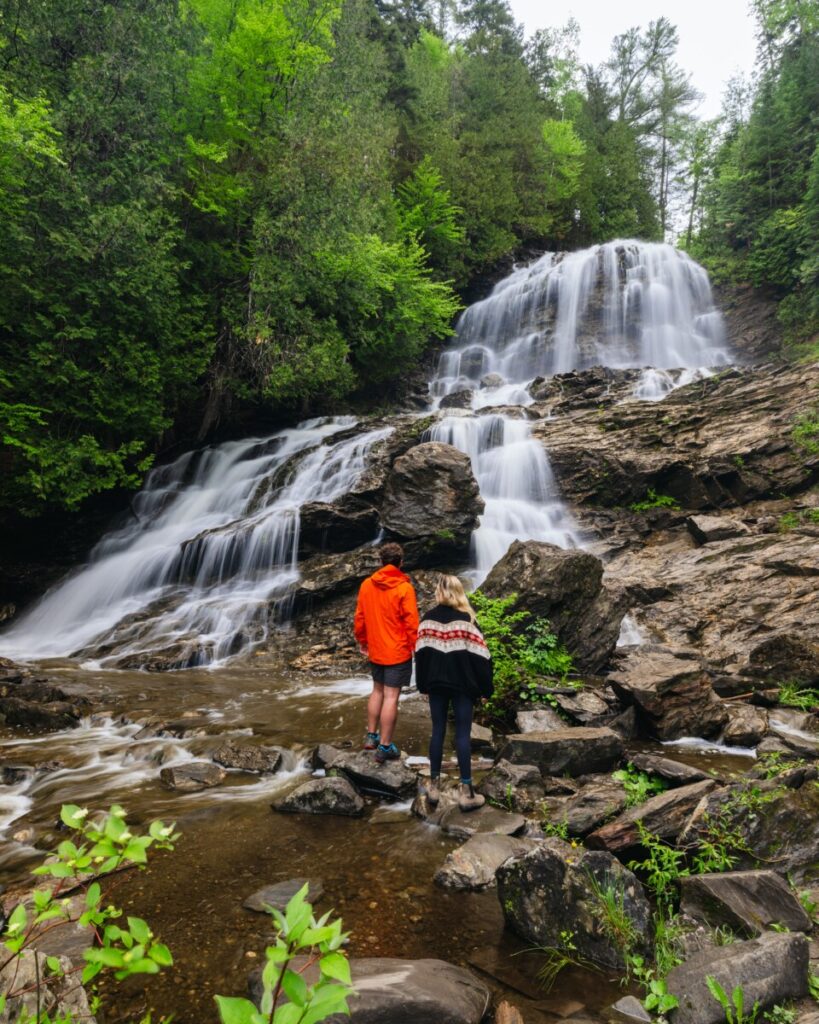 Most of New Hampshire's White Mountains and Great North Woods regions have limited cell signal. Subsequently, you'll want to plan ahead and download your maps ahead of time to make sure you get access to the necessary directions.
That being said, if you plan on doing any hiking in the region (which we highly suggest), you should also download your trail data in advance. We recommend using All Trails Pro to keep track of the multiple hikes you want to do in New Hampshire as it will tell you waypoints, directions, and recent information about the trail.
Best Time to Visit New Hampshire for Scenic Waterfalls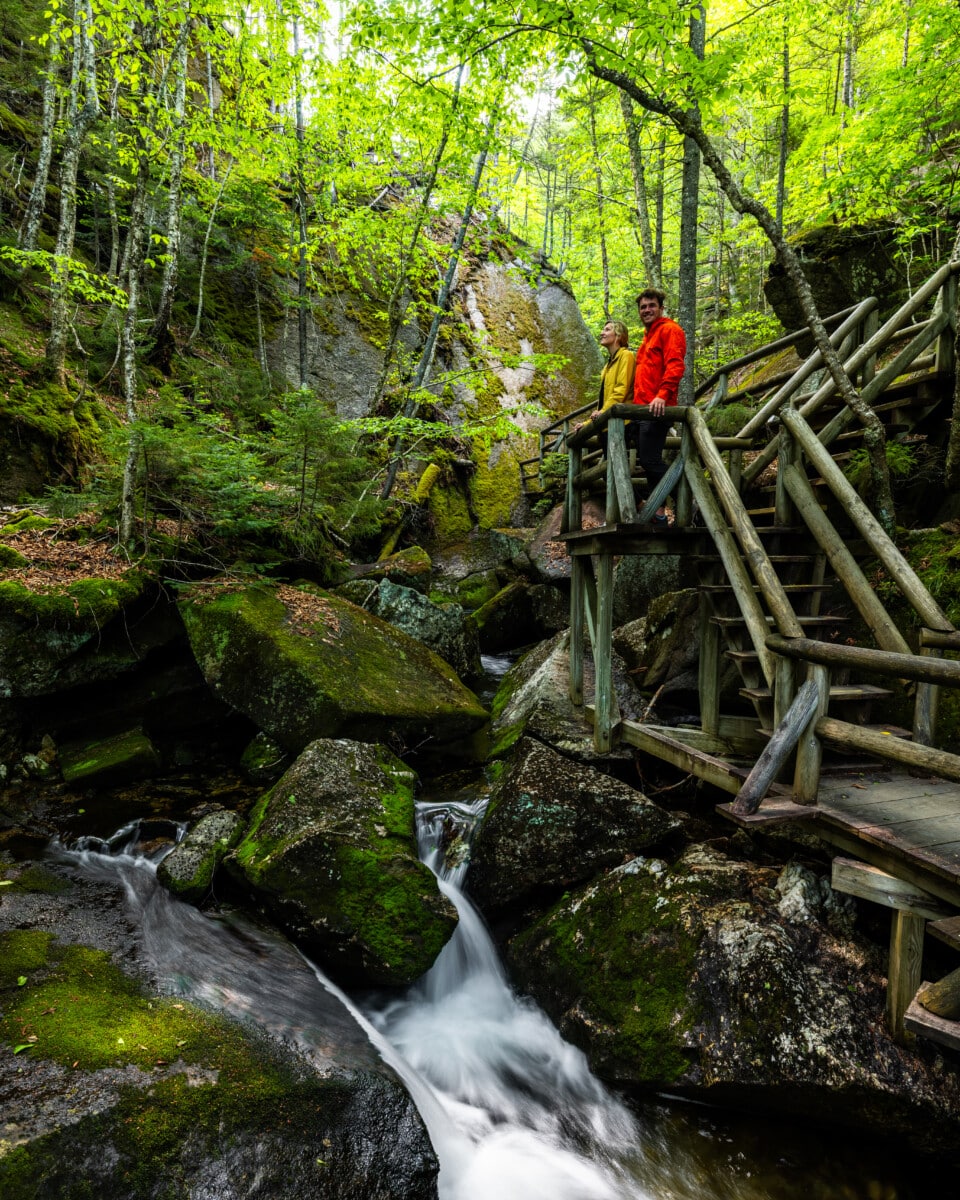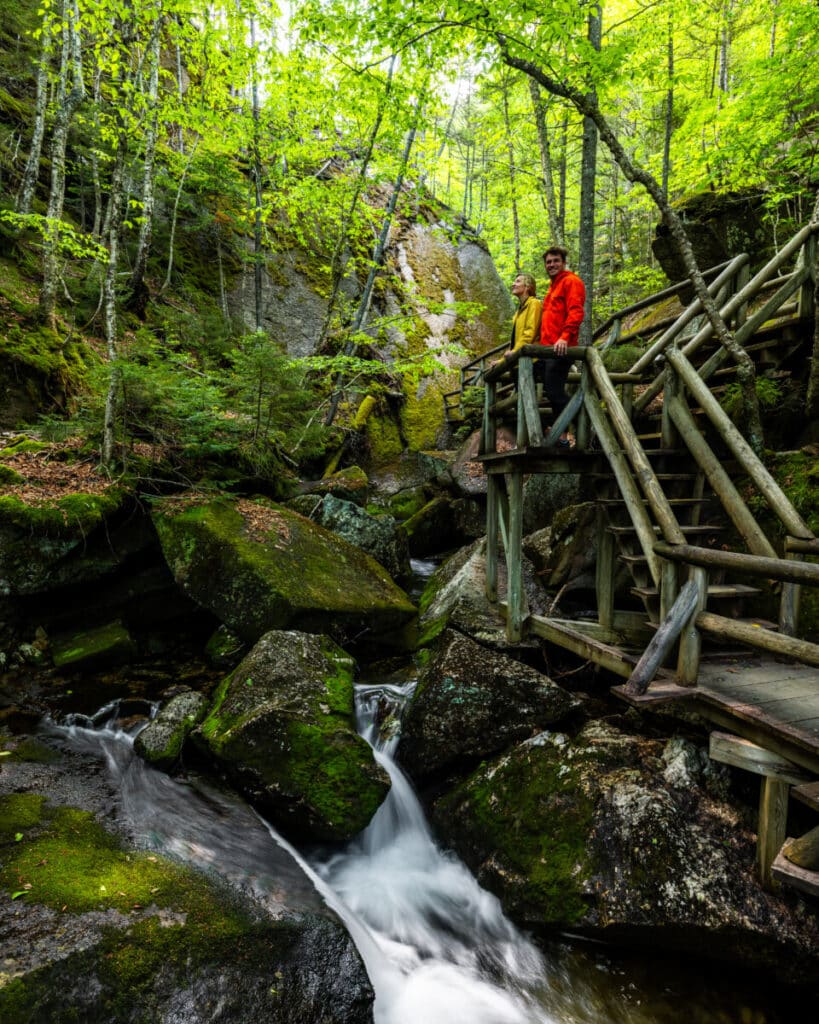 In our opinion, the best time to visit New Hampshire for a stunning waterfall road trip is in either June or September. Both months in the summer typically have great weather, without too much heat for outdoor activities, as well as fewer crowds than July and August. This year, we visited New Hampshire in June and experienced the incredible waterfalls at insane water capacities with almost no crowds – it was truly magical.
However, there is no bad time during the summer to visit! Just make sure to plan ahead in terms of your accommodations and tours in the peak of summer to ensure your desired vacation plans run smoothly. In the peak months of July and August, make a plan B in the event that your desired activities are too crowded.
What to Pack for New Hampshire Waterfall Hikes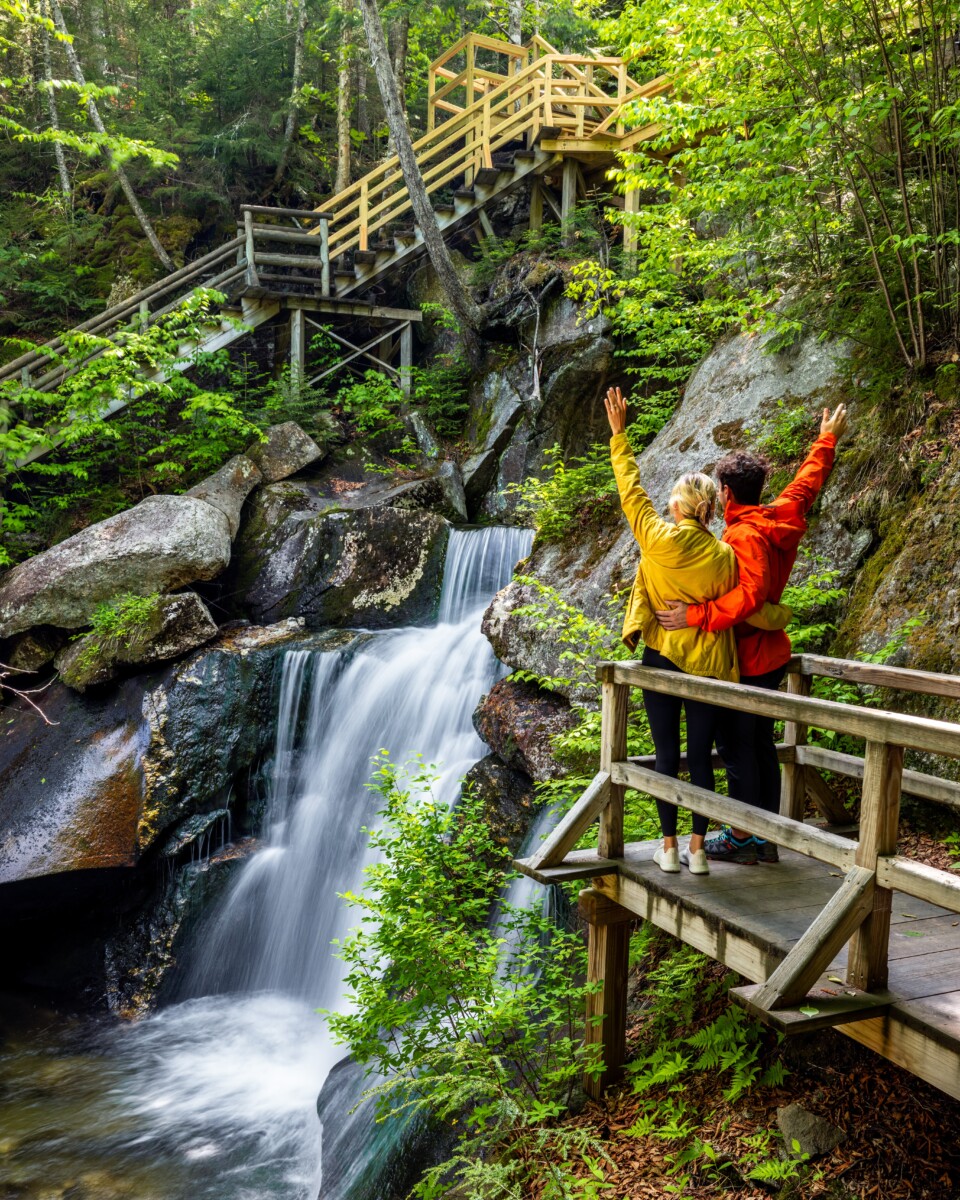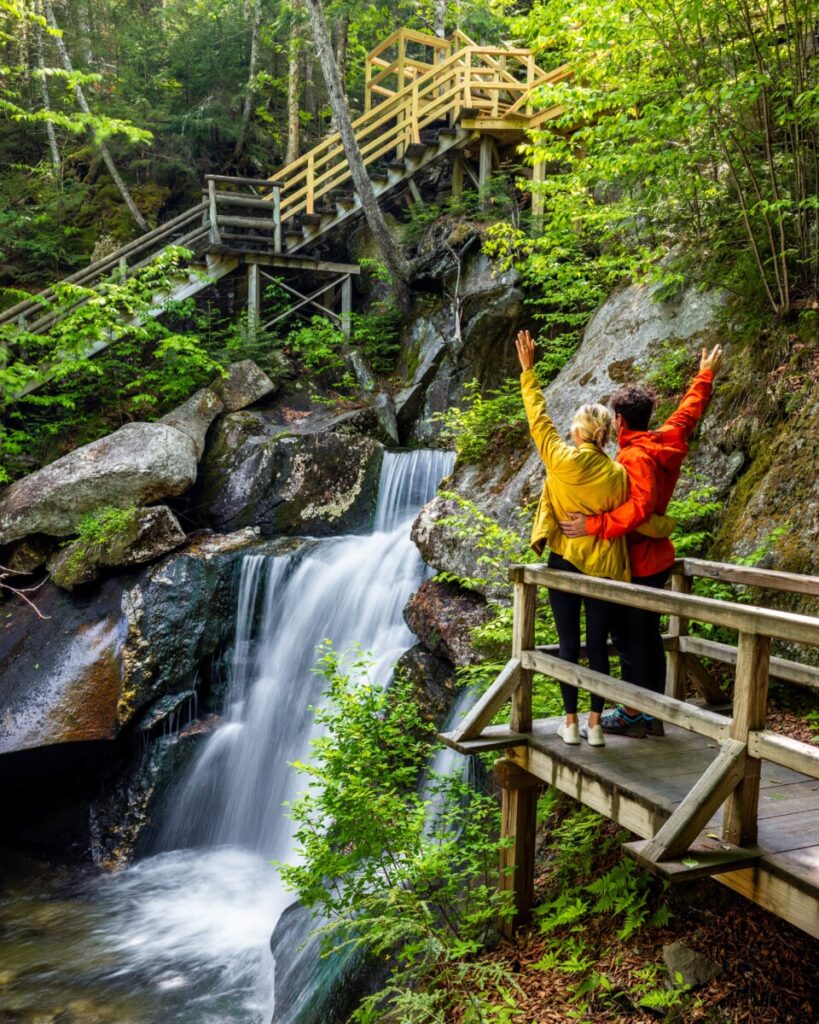 There are several things you'll want to make sure you pack with you to visit New Hampshire's gorgeous waterfalls in the summer.
Water Shoes or Hiking Shoes
Rain Jacket
Day Pack
10 Essentials
Reusable Water Bottle
Sun Protection
Swimsuit
Lightweight Towel
Bug Repellent
Must Visit Waterfalls in New Hampshire's White Mountains
Arethusa Falls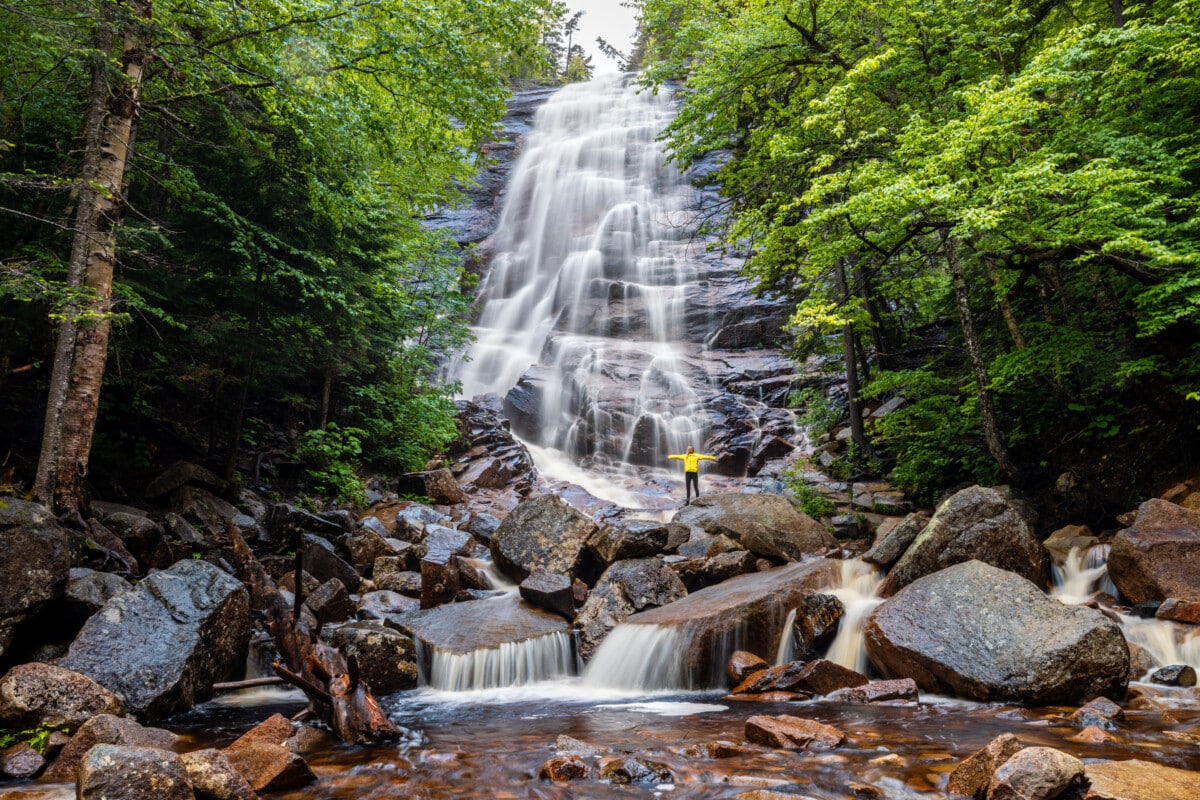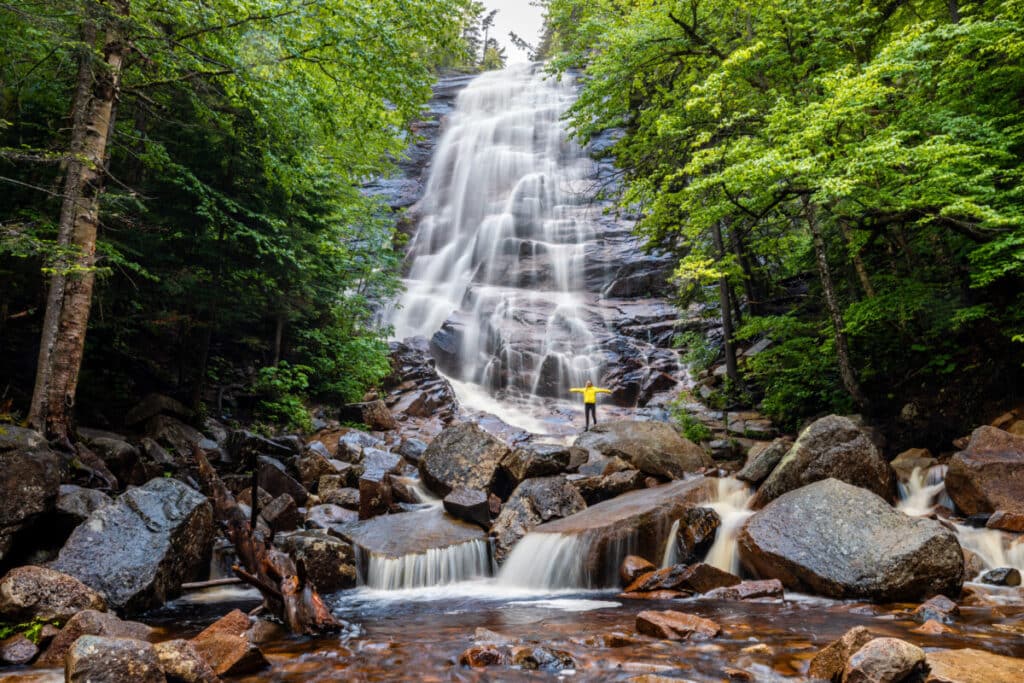 Hiking Distance: 2.8 Miles | 885 ft. Elevation Gain
Entrance/Parking Fee: Yes
Swimmable: No
Located in Crawford Notch State Park, Arethusa Falls is one of the tallest and most impressive waterfalls in New Hampshire.
Make sure to bring cash or check for parking fees as recreation fees are $5. Once we were on our way, it took us about 50 minutes to reach the falls from the trailhead. The trail is fairly steep in a short amount of time, so make sure to take your time! You will hike across two bridges before you're rewarded with views of the magnificent waterfall! Marvel at the sheer power and beauty of Arethusa Falls as the water plunges down into a sparkling pool below.
We visited on a weekday morning in June and had the falls to ourselves for a few hours. However, as we were leaving in the afternoon, a ton of people started to trickle in. If you're hoping to experience the falls with fewer crowds, we'd definitely recommend visiting on a weekday morning as opposed to the weekends or afternoons in the summer.
This was our favorite waterfall in New Hampshire that we visited, but it was also one of the busiest!
Glen Ellis Falls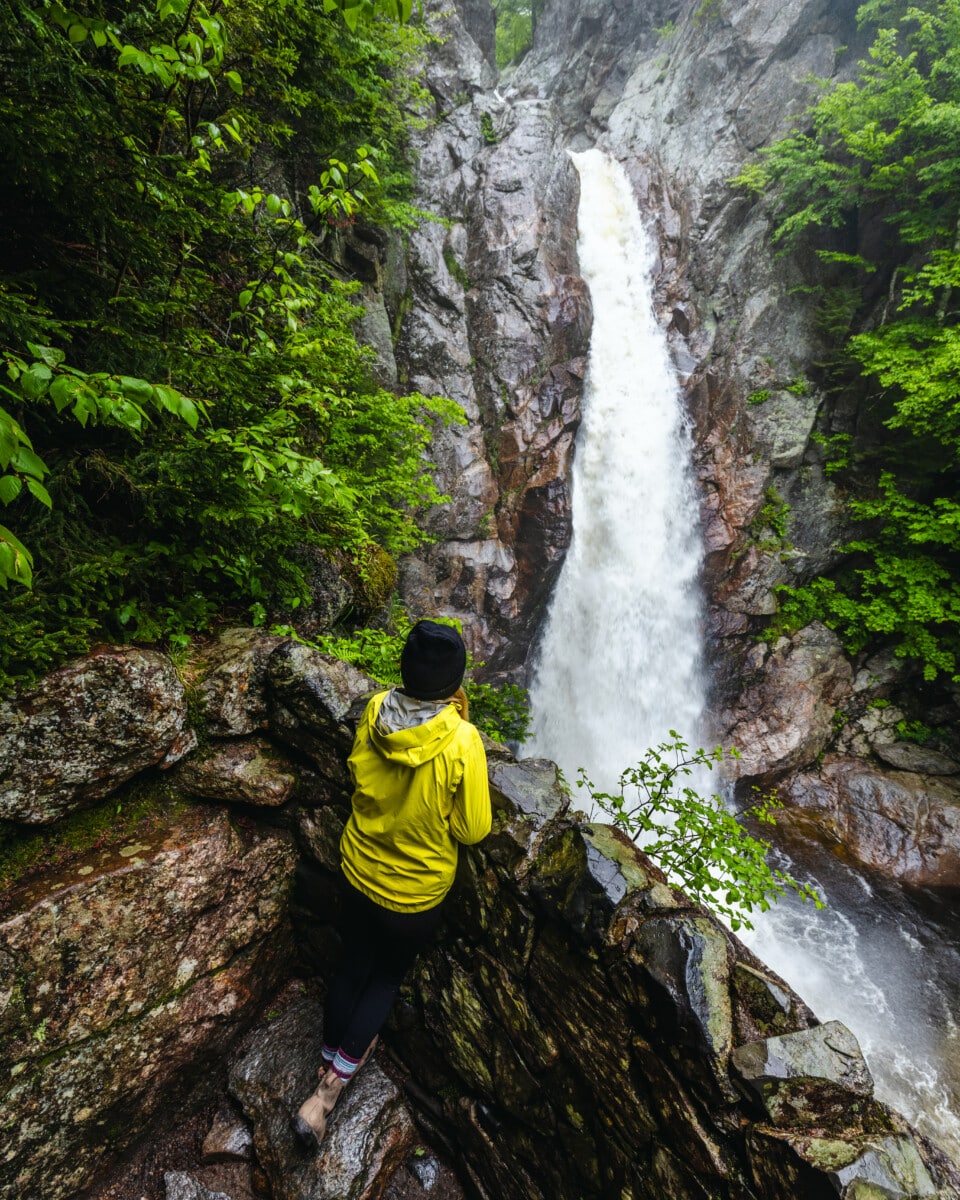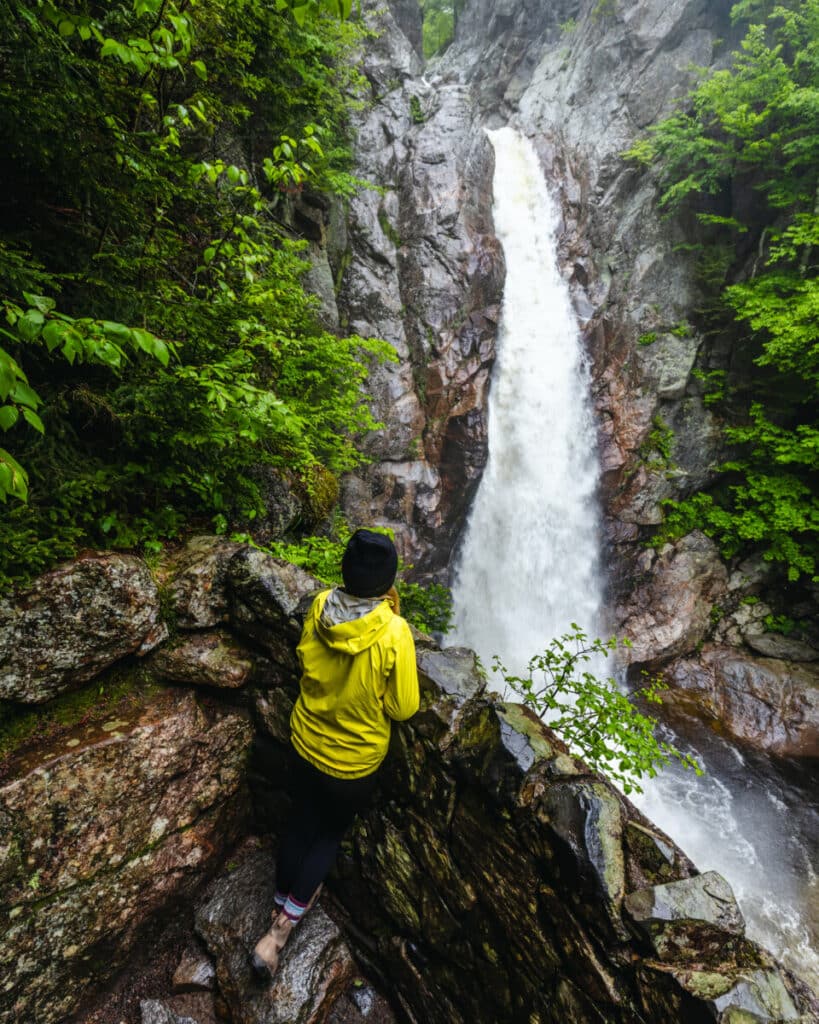 Hiking Distance: .4 Miles | 88 ft. Elevation Gain
Entrance/Parking Fee: Yes
Swimmable: No
Situated in Pinkham Notch, Glen Ellis Falls offers a picture-perfect setting and is easily accessible. A short walk from the parking lot off Route 16 brings you to a viewing area where you can witness the impressive 64-foot drop. Don't forget your camera to capture the magic of Glen Ellis Falls.
This is a great waterfall to explore if you only have a short amount of time to explore during the day. Although it is a short walk, make sure to note that there are a lot of stairs required to reach this waterfall. It's not very accessible for those that cannot handle steep, slippery stairs. Make sure to wear good hiking shoes with tread.
Paradise Falls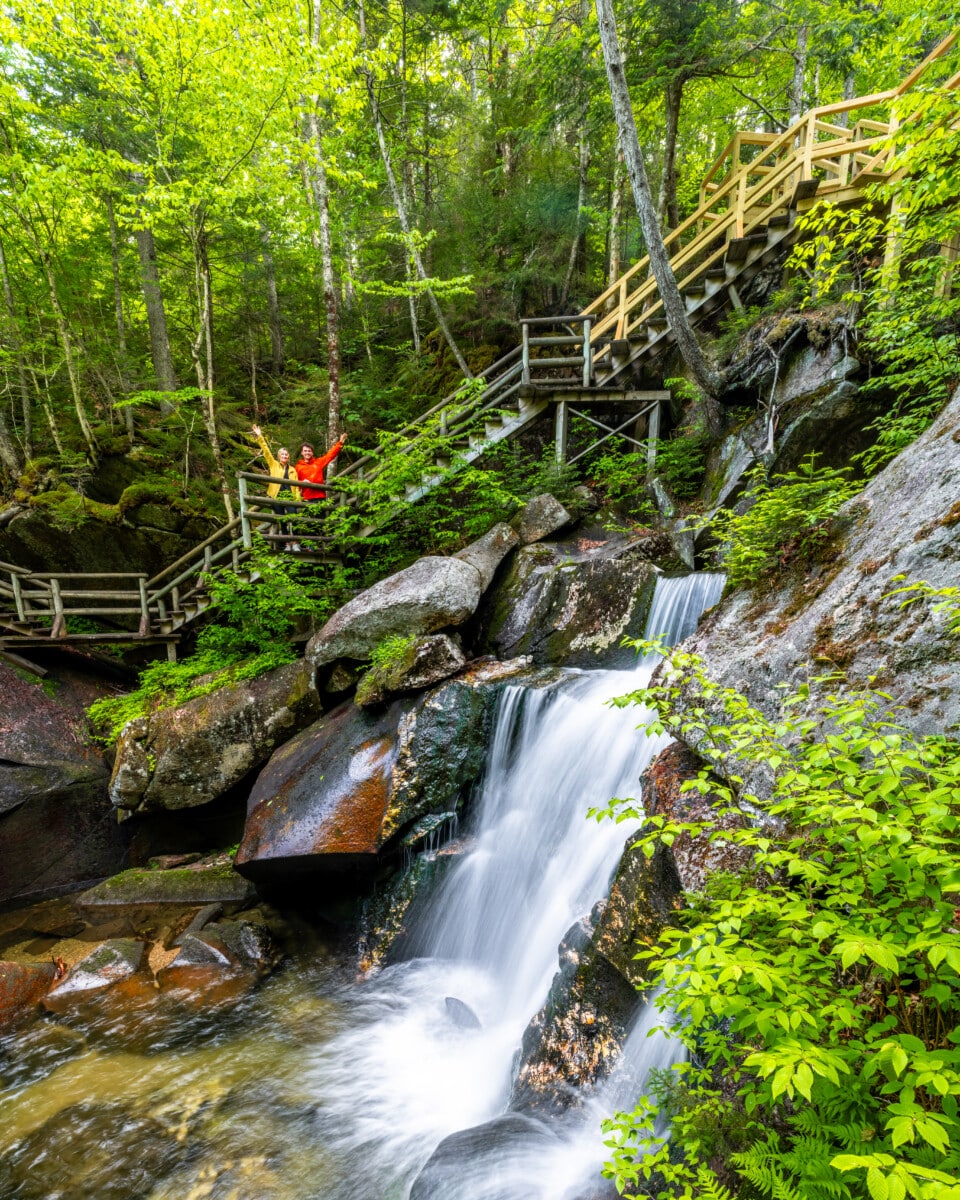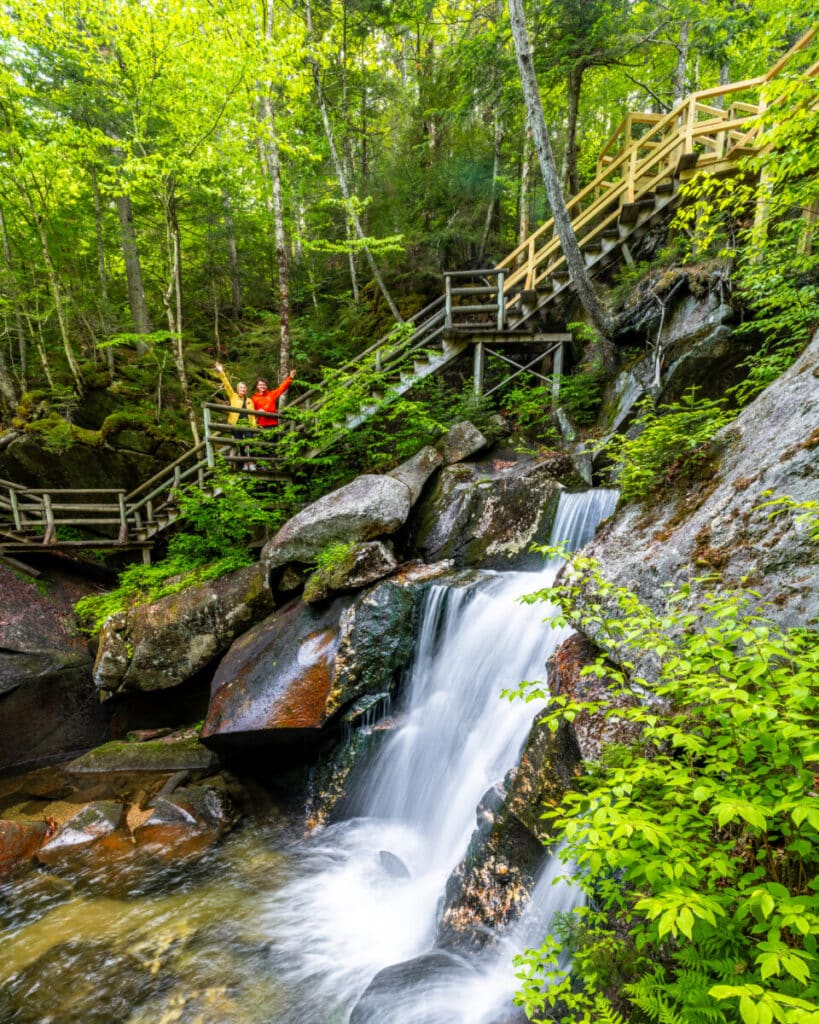 Hiking Distance: .6 Miles | 170 ft. Elevation Gain
Entrance/Parking Fee: Yes
Swimmable: No
Located within the Lost River Gorge and Boulder Caves attraction, Paradise Falls provides a delightful surprise amidst the rugged landscape. Access to the falls is included with admission to Lost River Gorge.
Follow the boardwalk trail through the gorge, where you'll encounter several small waterfalls before reaching the magnificent Paradise Falls. The 35-foot cascade creates a picturesque scene, surrounded by lush greenery and moss-covered rocks. Be sure to take your time exploring the entire gorge for an immersive experience in this natural wonderland. There are several different viewpoints to enjoy the falls along the way.
We'd recommend booking your tickets for the Lost River Gorge in advance, just in case it's a busier day! You can book them here. Keep in mind, since Paradise Falls is located within this park, it is only open until 5pm with the last entry being at 3:30pm so plan your itinerary to visit this beautiful waterfall accordingly. We'd recommend giving yourselves 2-3 hours to explore the falls and surrounding gems in the gorge.
Crystal Cascades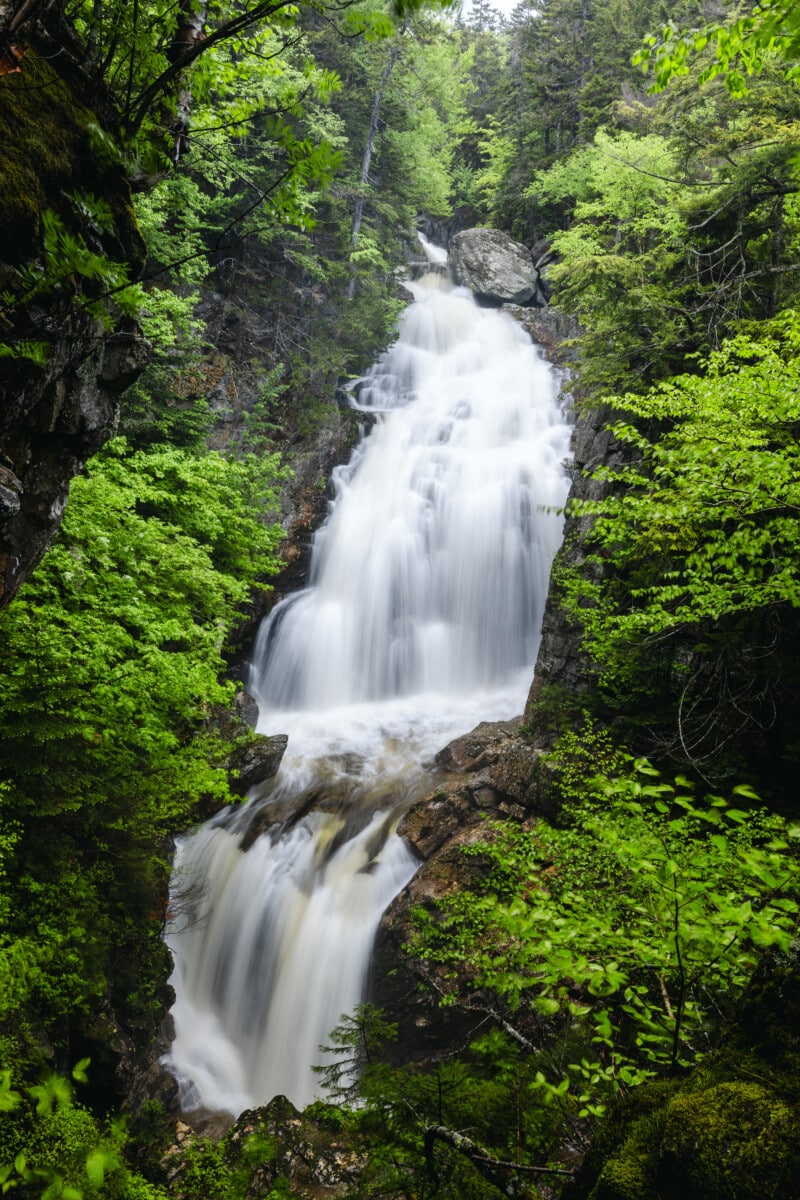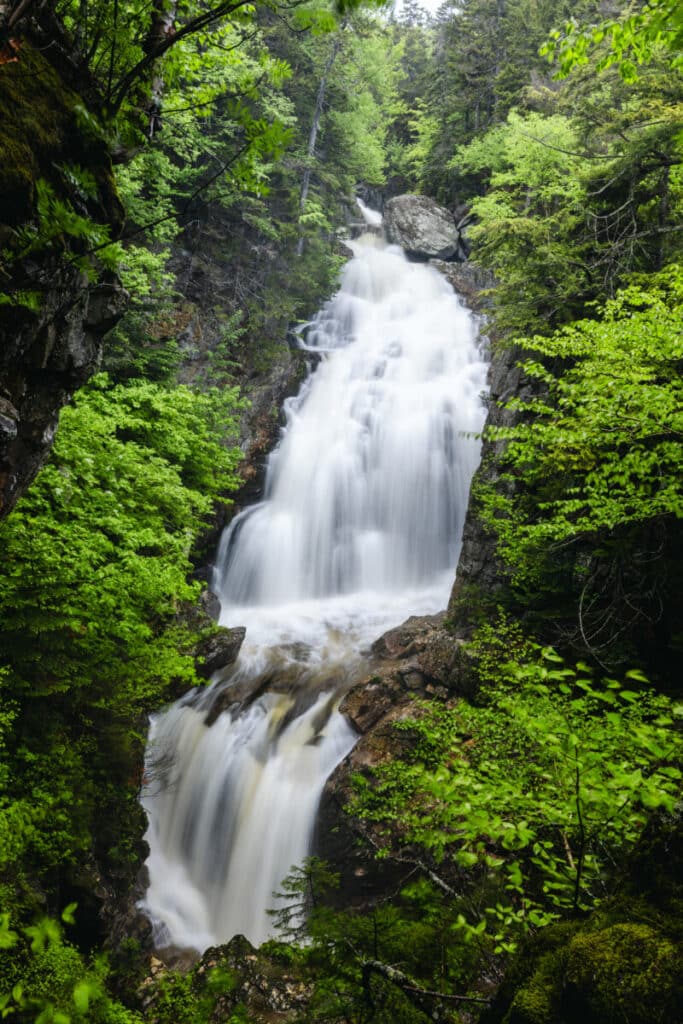 Hiking Distance: .7 Miles | 160 ft. Elevation Gain
Entrance/Parking Fee: Yes
Swimmable: No
The Crystal Cascades of Pinkham Notch are not to be missed when visiting waterfalls in New Hampshire! The reward to effort ratio is incredible – a short walk for stunning gushing waterfalls coming down from Mt. Washington. You only need about 30 minutes round trip to enjoy and it's the perfect family friendly waterfall hike in New Hampshire.
Georgiana and Harvard Falls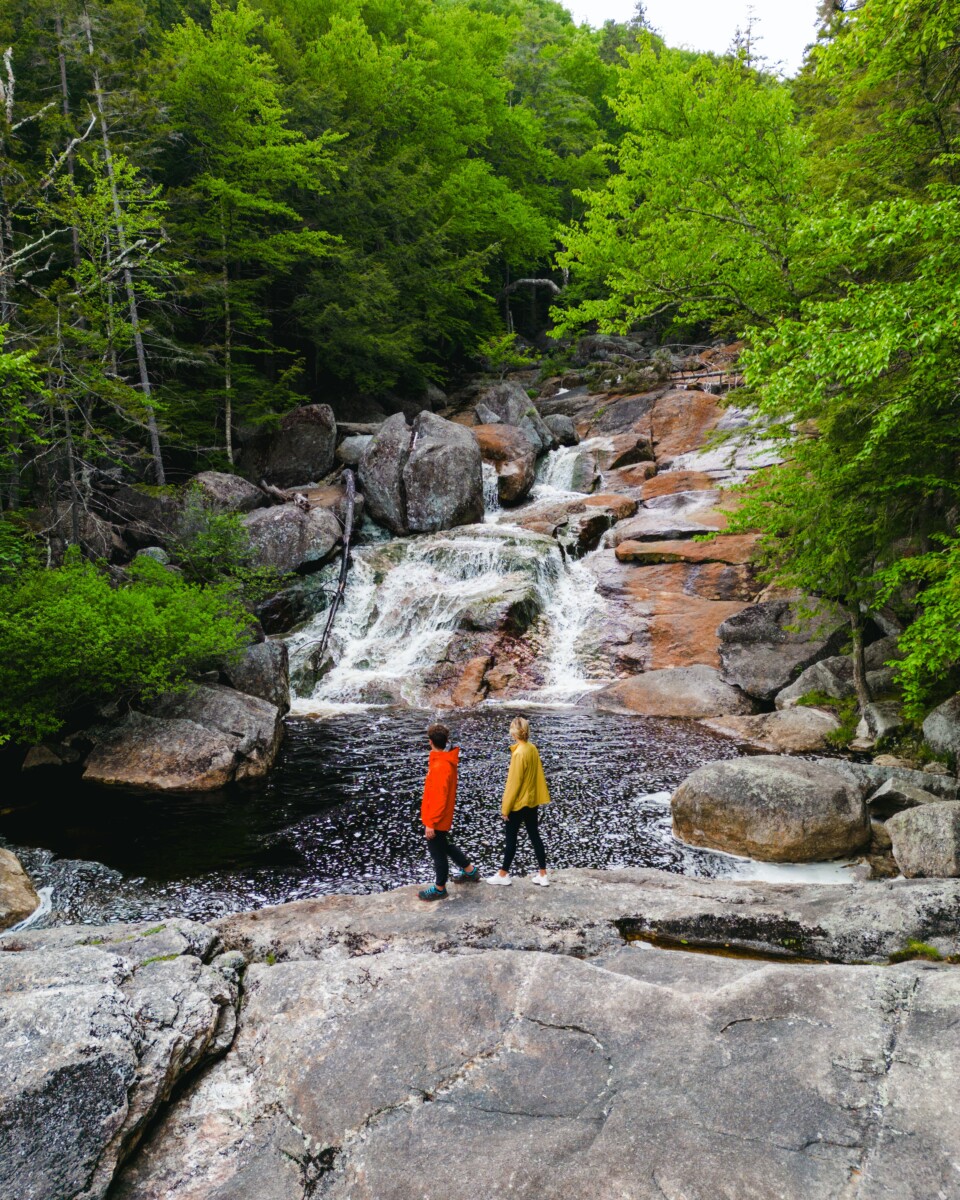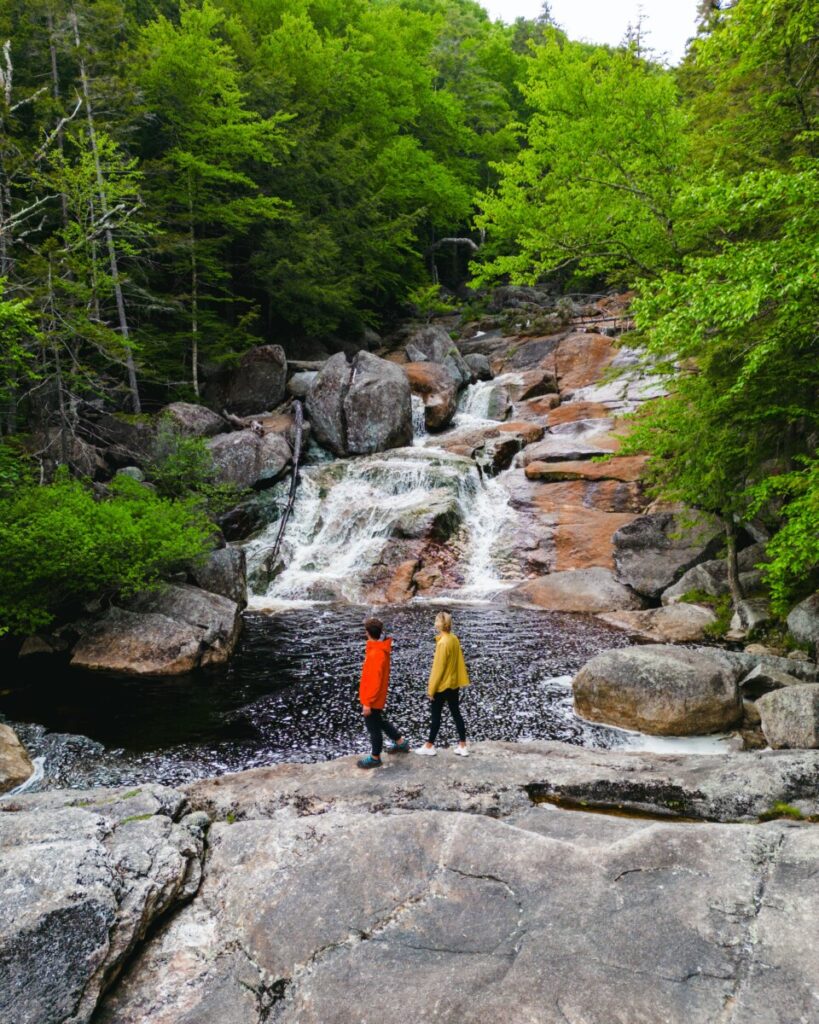 Hiking Distance: 2.4 Miles | 777 ft. Elevation Gain
Entrance/Parking Fee: No
Swimmable: Yes
If you're looking for a more unique, off the beaten path waterfall to take a dip in, check out Georgiana and Harvard Falls. The hike to get to the pools is absolutely stunning – you'll walk through a beautiful forest and keep along the flowing river. There is a little bit of rock scrambling along the way, so make sure to wear good hiking shoes.
Once you make it about halfway through the trail, you'll see a pool below Georgiana Falls where you can take a dip, if you're wanting to jump in to cool off! Or, you can continue up to the top where you'll find Harvard Falls and a gorgeous view of the surrounding mountains.
Avalanche Falls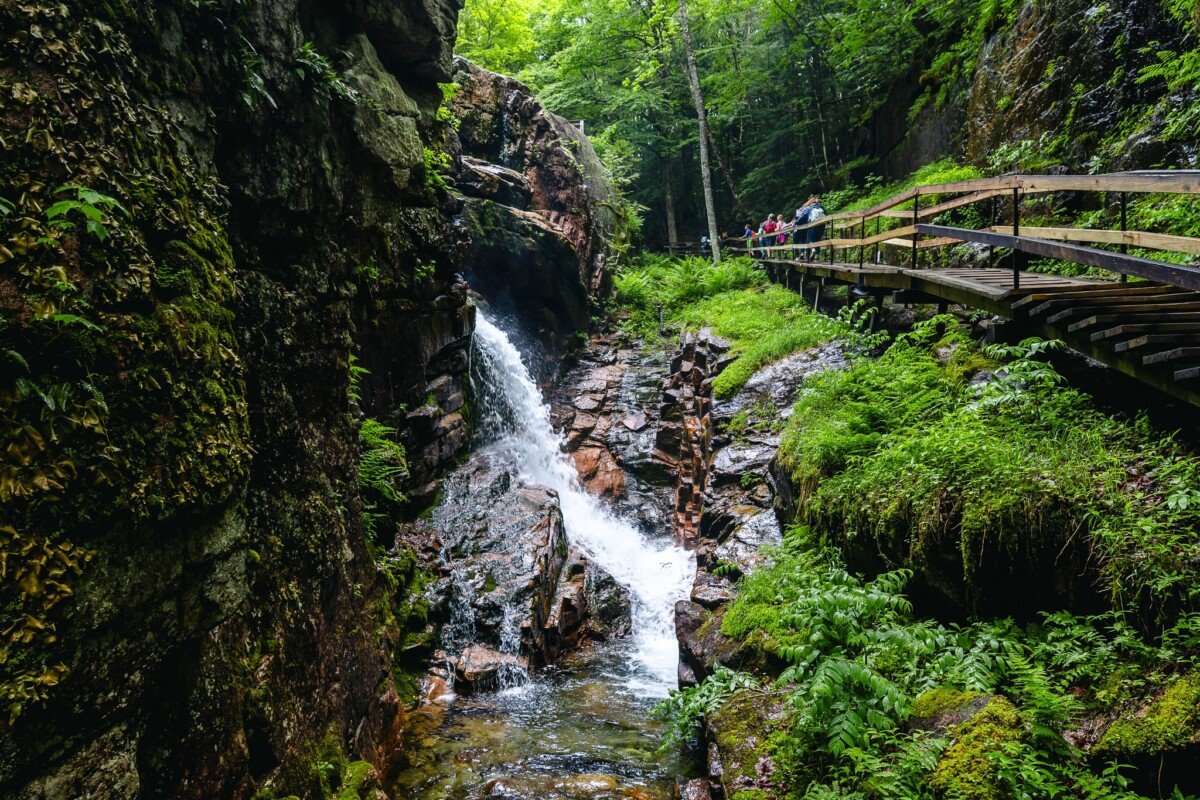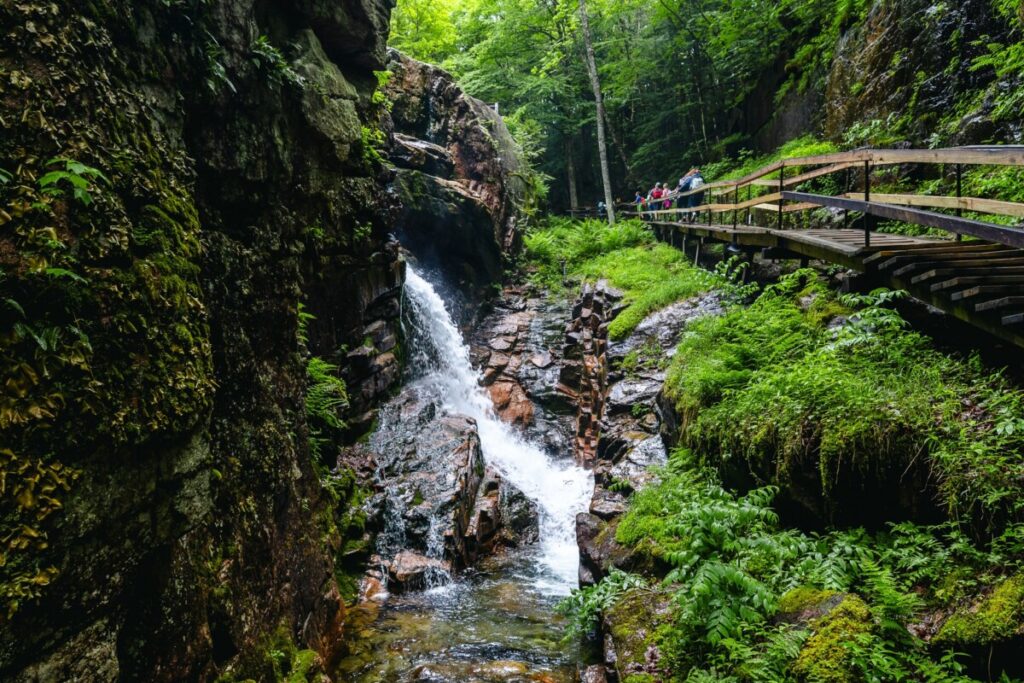 Hiking Distance: 2 Miles | 1000 ft. Elevation Gain
Entrance/Parking Fee: Yes
Swimmable: No
This gorgeous White Mountain's waterfall is located right in the middle of New Hampshire's famous Flume Gorge.
This waterfall is super family friendly and a great hike for all ages and hiking levels. Flume Gorge is pretty consistently busy from spring to fall with school field trips, tourists, and fall colors traffic, so we'd recommend reserving your tickets to visit online in advance. Doing so not only guarantees your admission, but it also saves you $3 per person! You can book your tickets online here. 
Once you enter the gorge, you'll walk down to the Flume Covered Bridge and past the main gorge. You'll head up some steps, and come across the beautiful Avalanche Falls toward the end of the boardwalk. Stop and bask in the glory of the falls and make sure to bring your camera. 
Sabbaday Falls
Hiking Distance: .7 Miles | 101 ft. Elevation Gain
Entrance/Parking Fee: Yes
Swimmable: No
Nestled in the White Mountain National Forest, Sabbaday Falls offers a series of cascades and pools that are a delight to explore. A short, family-friendly hike from the parking area on the Kancamagus Highway brings you to a wooden bridge where you can catch a glimpse of the upper falls. Make sure to pack some bug spray when visiting in the summer!
Top Waterfalls in New Hampshire's Great North Woods
A summer trip to New Hampshire is not complete without chasing the waterfalls up in the Great North Woods as well. There are some of the most beautiful and fairly easily accessible waterfalls in the state. Since this region is typically less trafficked than the White Mountains region, these falls were great areas to escape the crowds and immerse yourselves in nature's grand beauty.
Beaver Brook Falls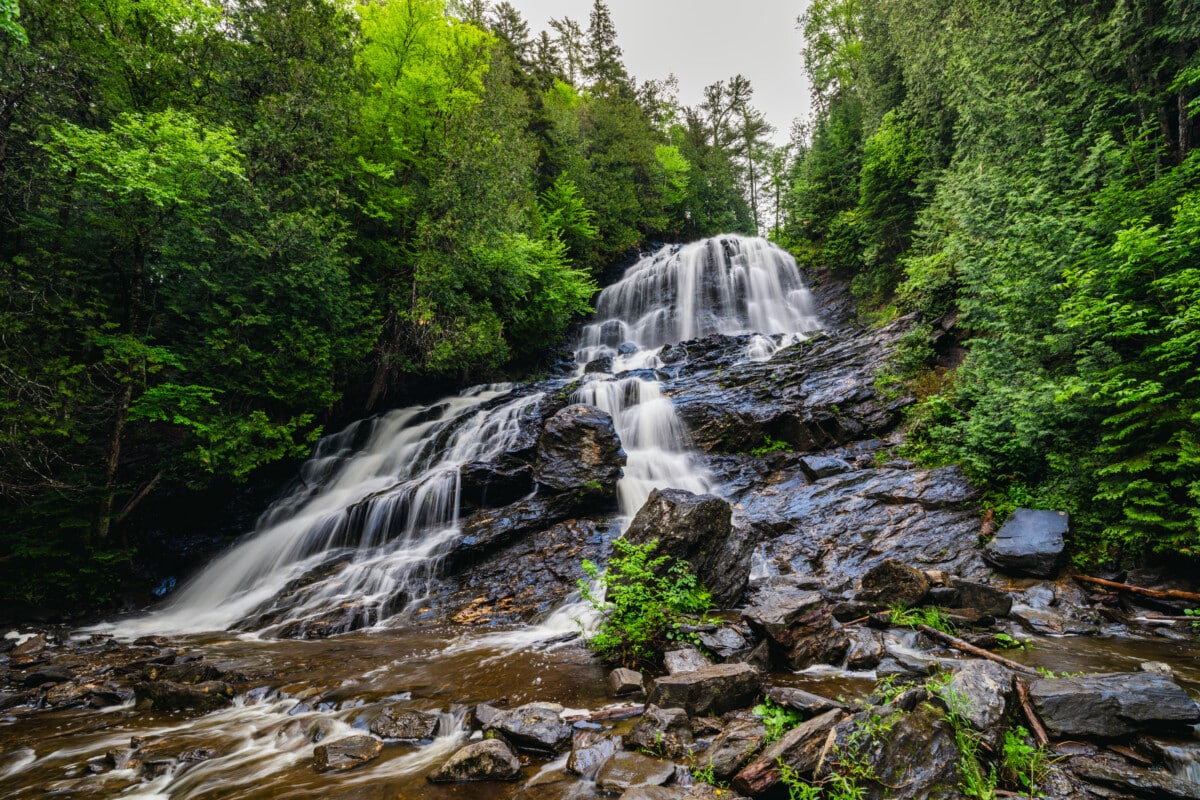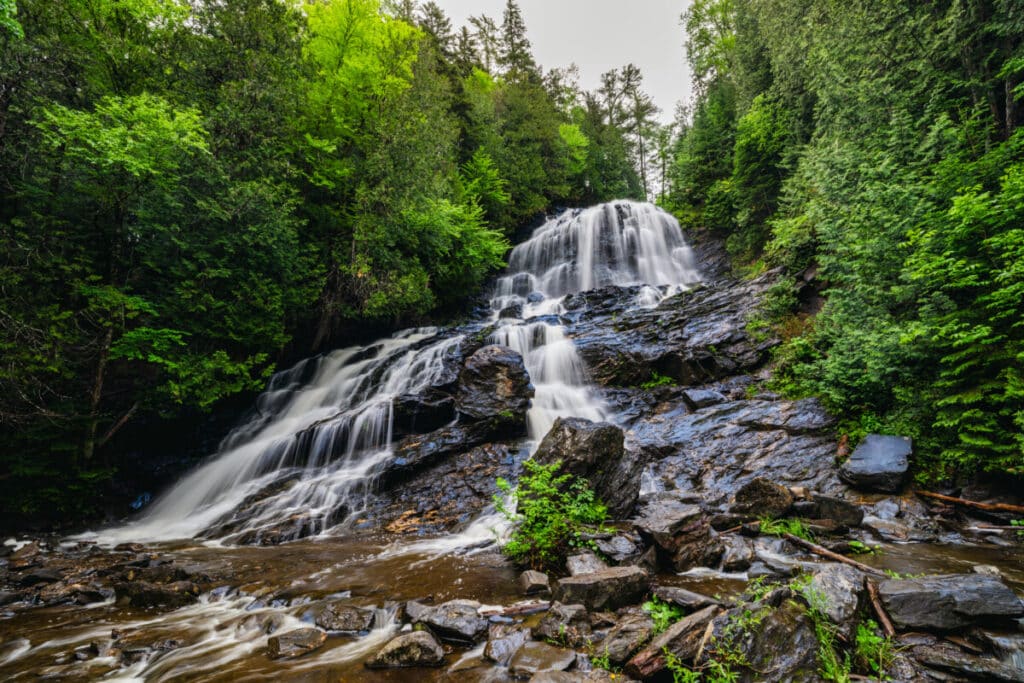 Hiking Distance: Walk Up
Entrance/Parking Fee: No
Swimmable?: No
Located near the quaint town of Colebrook, Beaver Brook Falls is a spectacular 80 foot cascade in full view from the roadside wayside. This gorgeous waterfall requires minimal effort to reach, as it is a short walk from the parking lot and easily accessible from Route 145. Between the roadside parking and the falls there is a grassy area with picnic tables and a nice bench facing the falls. Note, there is another waterfall by the same name near Keene, New Hampshire so make sure not to confuse yourself when planning your trip!
There's no place to swim here, but it's still a great waterfall to see on a summer day in New Hampshire.
Huntington Cascade
Hiking Distance: .4 Miles | Up to 50 ft. Elevation Gain
Entrance/Parking Fee: Yes
Swimmable: No
The Huntington Cascades are located right in the heart of Dixville Notch State Park and is a perfect hike for beginners or families. It takes about a 10 minute walk to reach the upper falls, but note there is a bit of immediate elevation gain. There is a lower viewpoint of the falls that takes about only 5 minutes to reach as well. Make sure to wear grippy hiking shoes. There is lots of parking and a bathroom at the trailhead. Consider pairing this hike with local favorites nearby, the Table Rock Trail or the Flume Trail. 
Ready to explore a New Hampshire Waterfall?
Overall, visiting New Hampshire's waterfalls is the best way to spend the summer getting outside, enjoying nature, and cooling off from the summer heat. For more trip planning resources on enjoying waterfalls in New Hampshire this summer, visit New Hampshire's website for more information. Planning a trip in the fall? Make sure to check out our Ultimate Fall Foliage Road Trip Guide to New Hampshire as well.