How to Have the Best Weekend in Monterey, California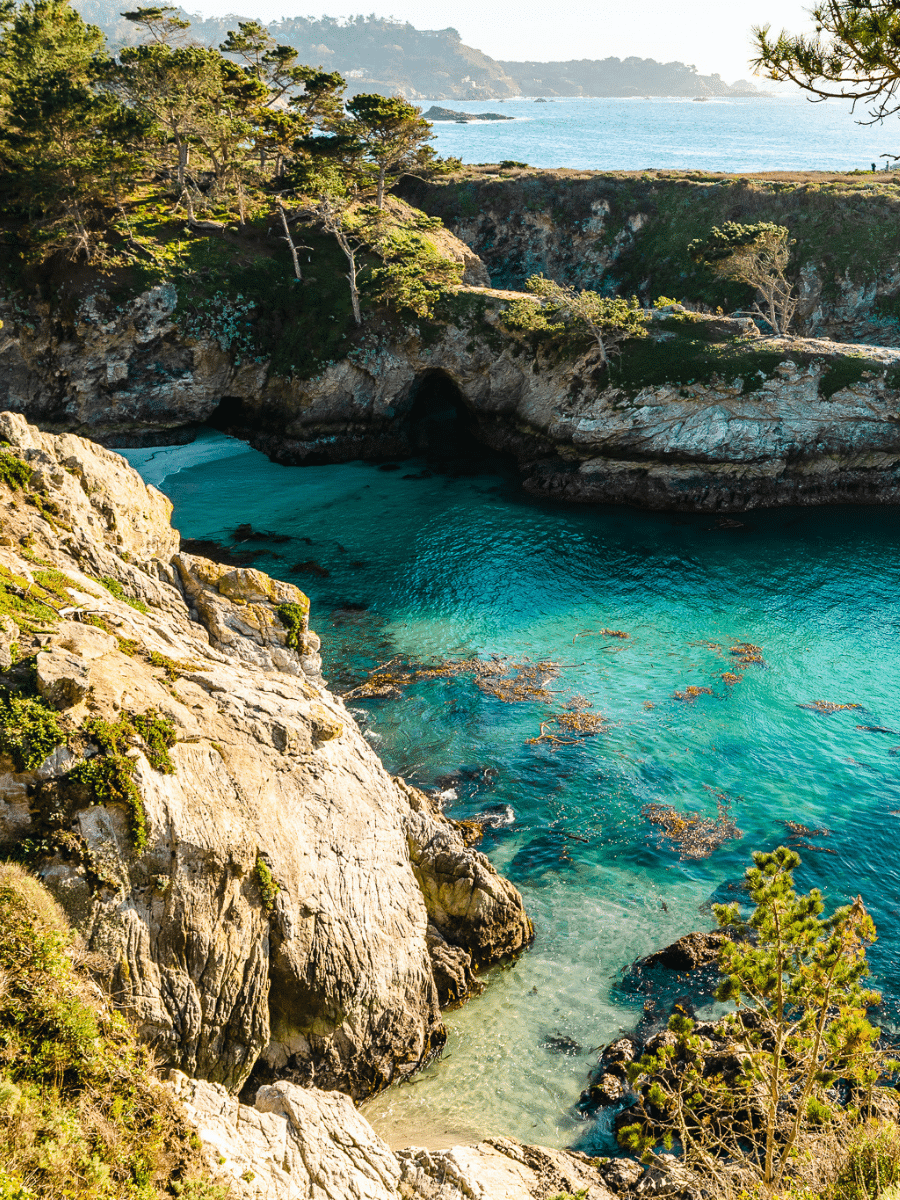 Monterey is a beautiful coastal city that's a hidden gem along the coast of California. Filled with stunning coastal bluffs, gorgeous groves of Cyprus Trees, and piercing blue water, Monterey should be on your California bucket list! Here's how to have the best weekend in Monterey, California.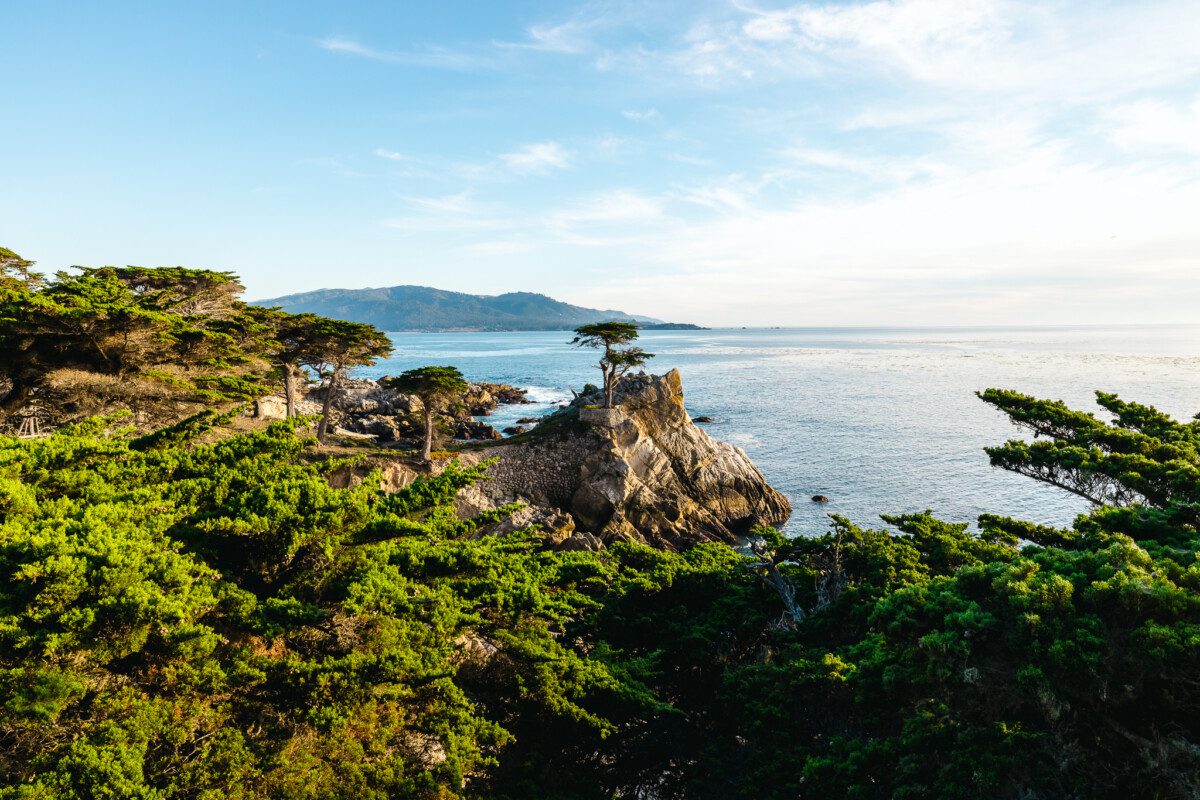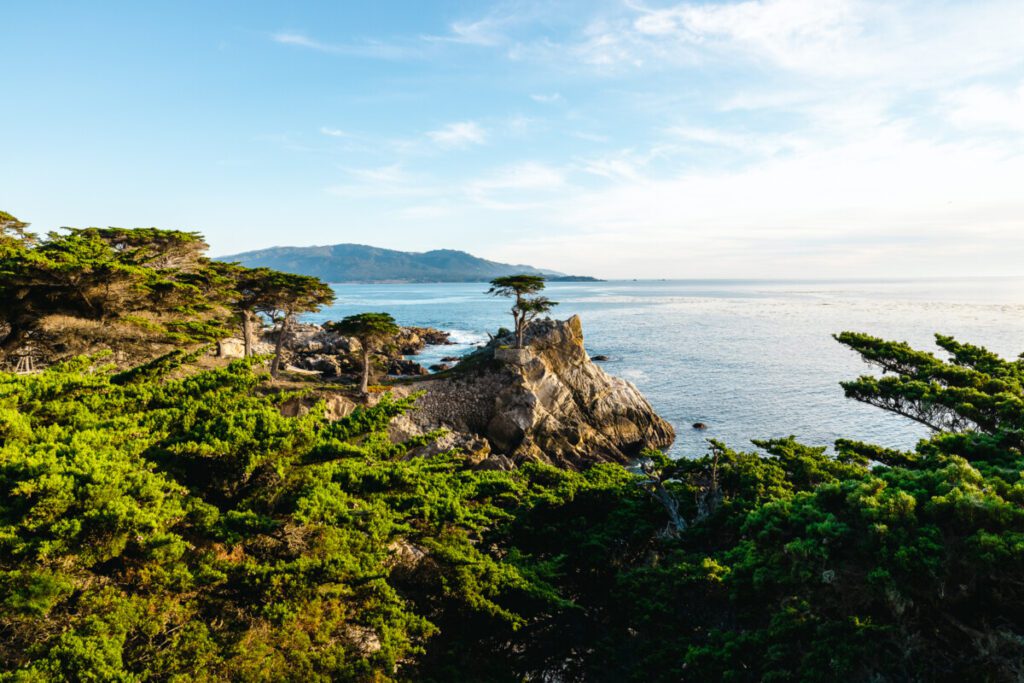 Disclaimer: This blog post is in collaboration with The Hyatt Regency Monterey Hotel and Spa on Del Monte Golf Course. Some parts of the article also feature affiliate links, which means we get a small commission if you make a purchase (at no extra cost to you). It's one of the ways we can keep producing free guides and resources for our readers. Thank you for the support!
Planning Your Weekend Trip to Monterey
Best Time of Year to Visit Monterey
As with most towns along the California coastline, Monterey is fairly pleasant to visit year round in terms of weather. The peak season in terms of crowds is definitely summer, from June to August. During these months, however, know that coastal fog often occurs in the morning up until the afternoon. Spring is the best time to visit Monterey, as in April and May you still get nice summer temperatures in the 70-80 degree range with fewer crowds. We visited in the Winter during late January, and it was still beautiful and sunny our whole trip. If visiting in the winter, just make sure to bring some layers of sweaters and jackets and you'll be good to go! If you are aiming to spend a lot of time at the beach or in the ocean, then probably wait until May or June to visit Monterey.
Accommodations for your trip to Monterey
The Hyatt Regency Monterey was the perfect location for our trip to Monterey. It was so central to everything that we wanted to see in the city. The resort was stunning in itself, with gorgeous golf course side rooms and two relaxing swimming pools. The restaurant was delicious, especially for breakfast and all the staff were friendly and spot on with their recommendations. The Spa was definitely the highlight for us. We enjoyed a couple's deep tissue massage at the Adeline Spa and it was the best massage we've both ever had. We definitely recommend staying at the Hyatt Regency Monterey if you want the ideal central location for all of the best activities to do during your weekend exploring in Monterey.
Click Here to Book Your Stay at the Hyatt Regency
Best Activities To Do During Your Weekend Trip to Monterey
Visit the Monterey Bay Aquarium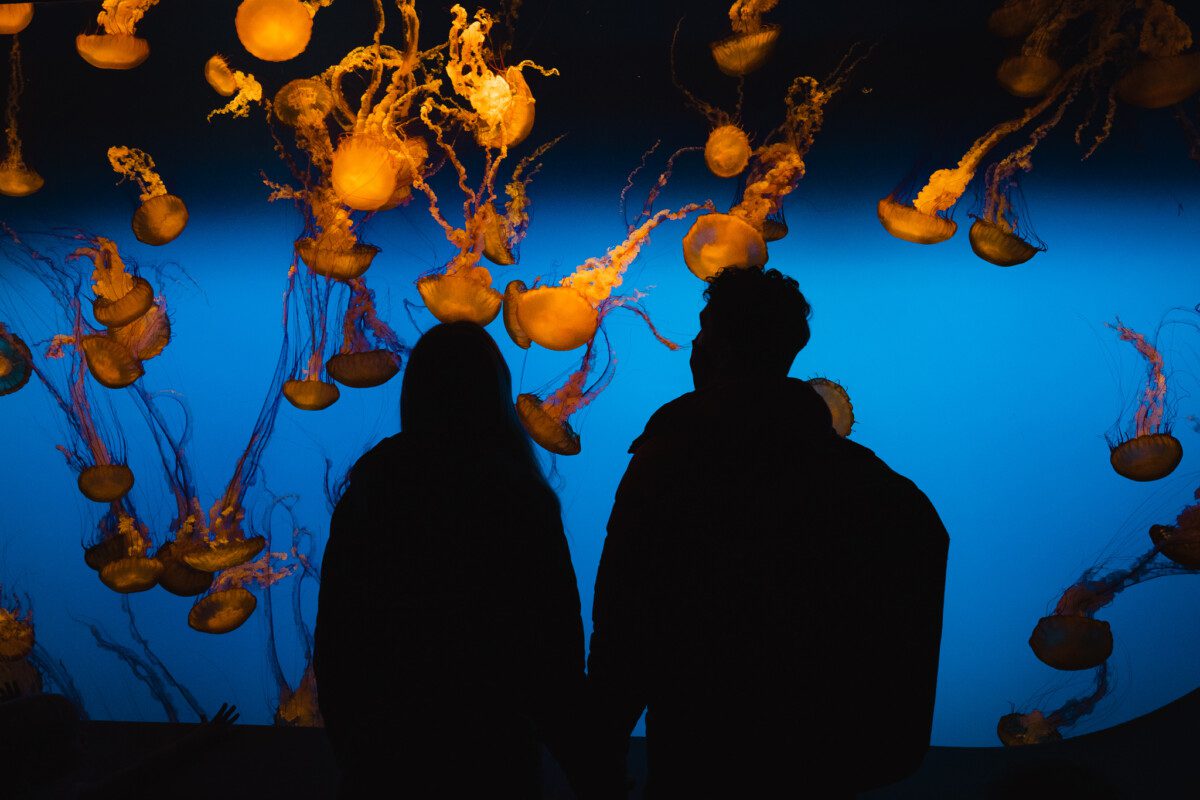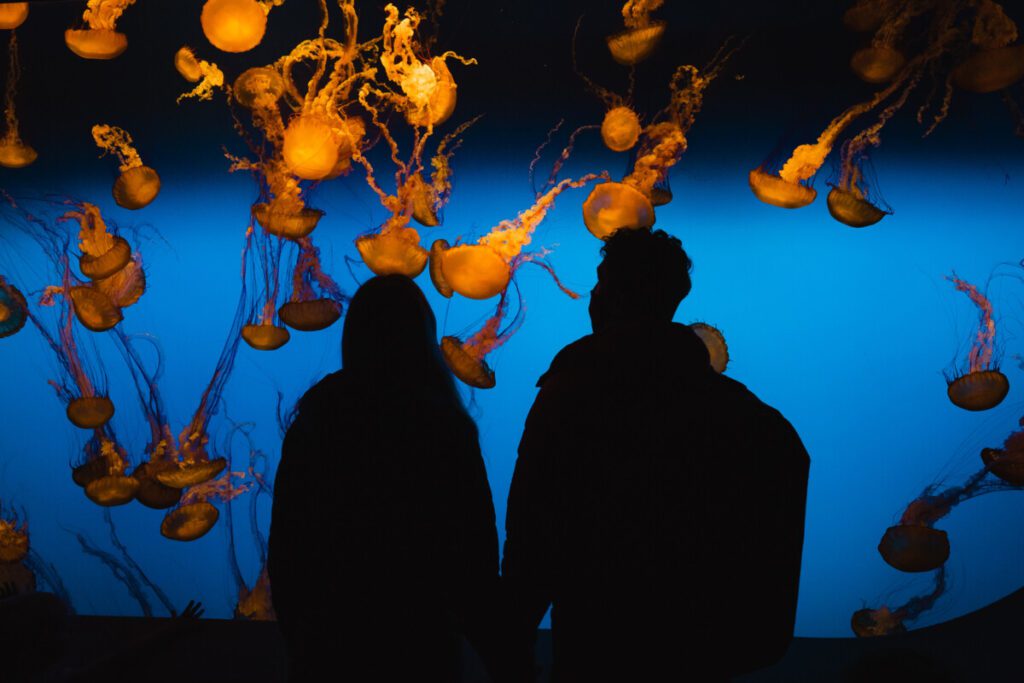 The Monterey Aquarium is probably the best aquarium we have ever experienced. From exquisite jelly fish exhibits to the deep sea tanks, there is so much incredible sea life to see first hand. There's stingray touch tanks, interactive sea lions, huge shark tanks, and plenty of fascinating sea creatures all around the aquarium. We spent 2-3 hours just fully taking in the vast amount of sea life that you wouldn't typically see while out swimming on the beach.
The Aquarium is incredibly family friendly, but it also can get quite busy so we'd recommend arriving right when it opens or when the crowds die down in the afternoon. It does cost about $50 for an adult to enter, however, if you've never been, we would say it was worth the heftier cost since it's a really enjoyable activity for all ages in Monterey.
Buy Your Aquarium Tickets Here
Drive the 17 Mile Drive for Sunset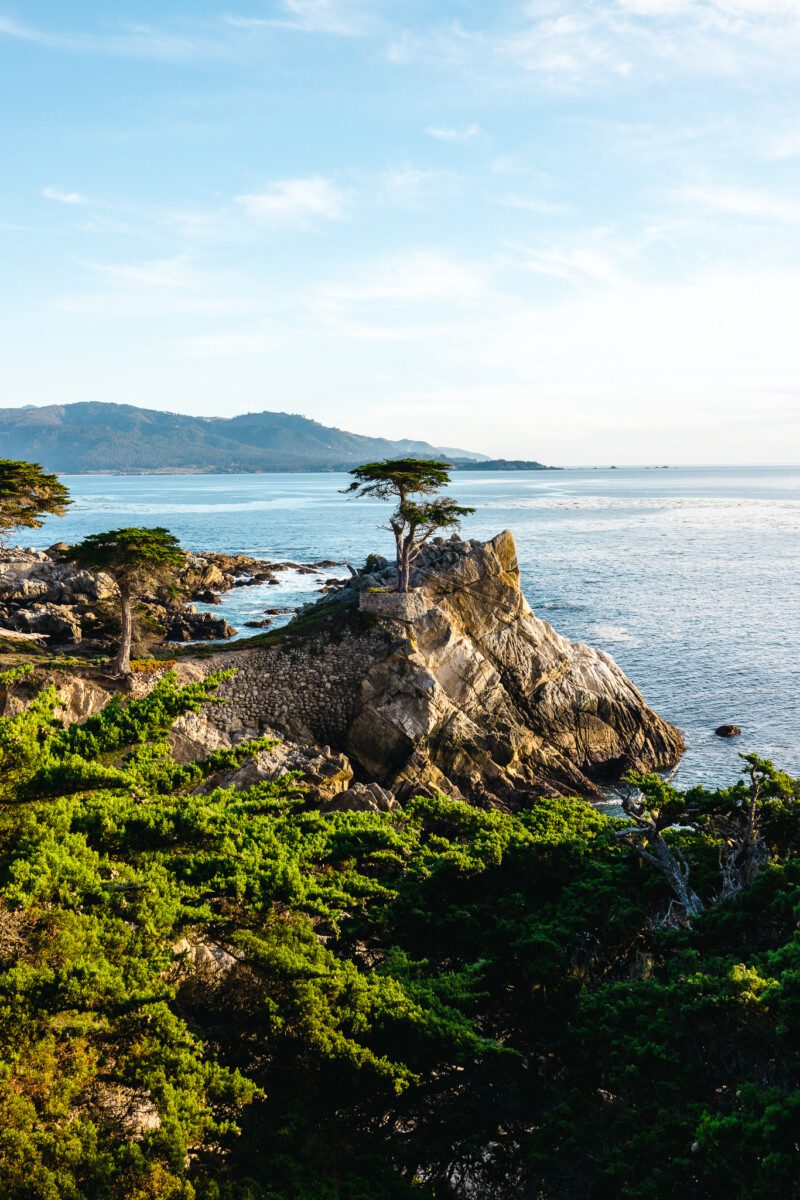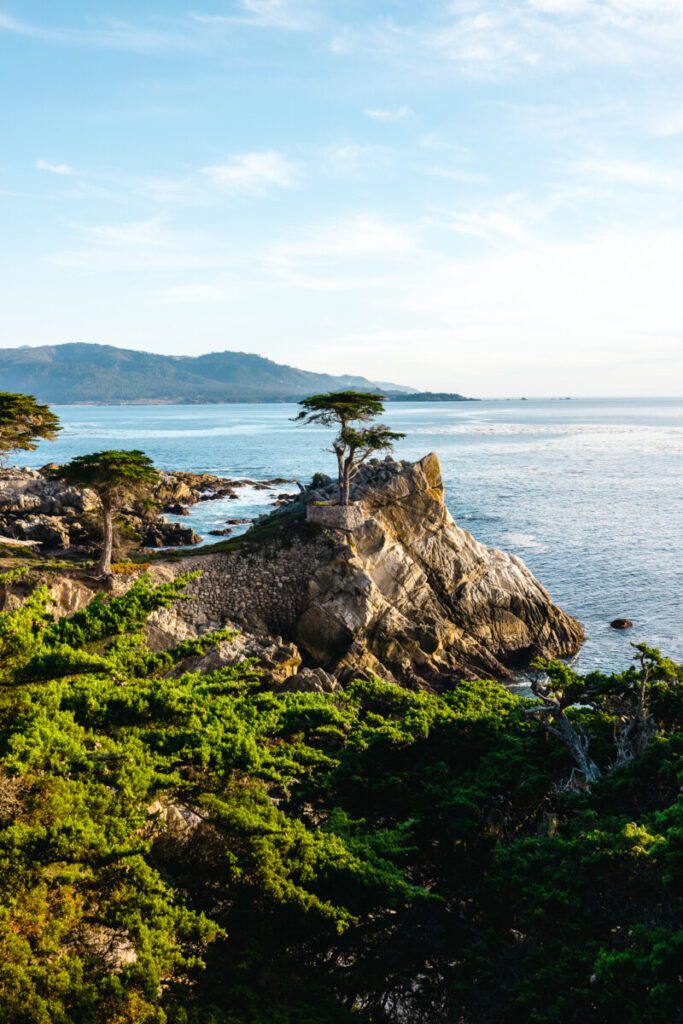 The 17 Mile Drive is an iconic feature of Monterey county. You do have to pay a $10 entrance fee in order to do the full drive, but it's definitely worth checking out at least once, especially if you decide to do the drive around sunset. Our favorite stop along the way was the Lone Cyprus Tree viewpoint although the whole coastal drive is stunning.
You can either drive it or bike the whole drive. Whether you drive yourself, or get a guided audio tour, there are a lot of signs at each of the stops to help you learn more about the area. There are even guided e-bike tours that will take you around the drive showing you the best stops along the way for a more immersive experience!
Check out Lovers Point Park for Sunrise or an Afternoon Picnic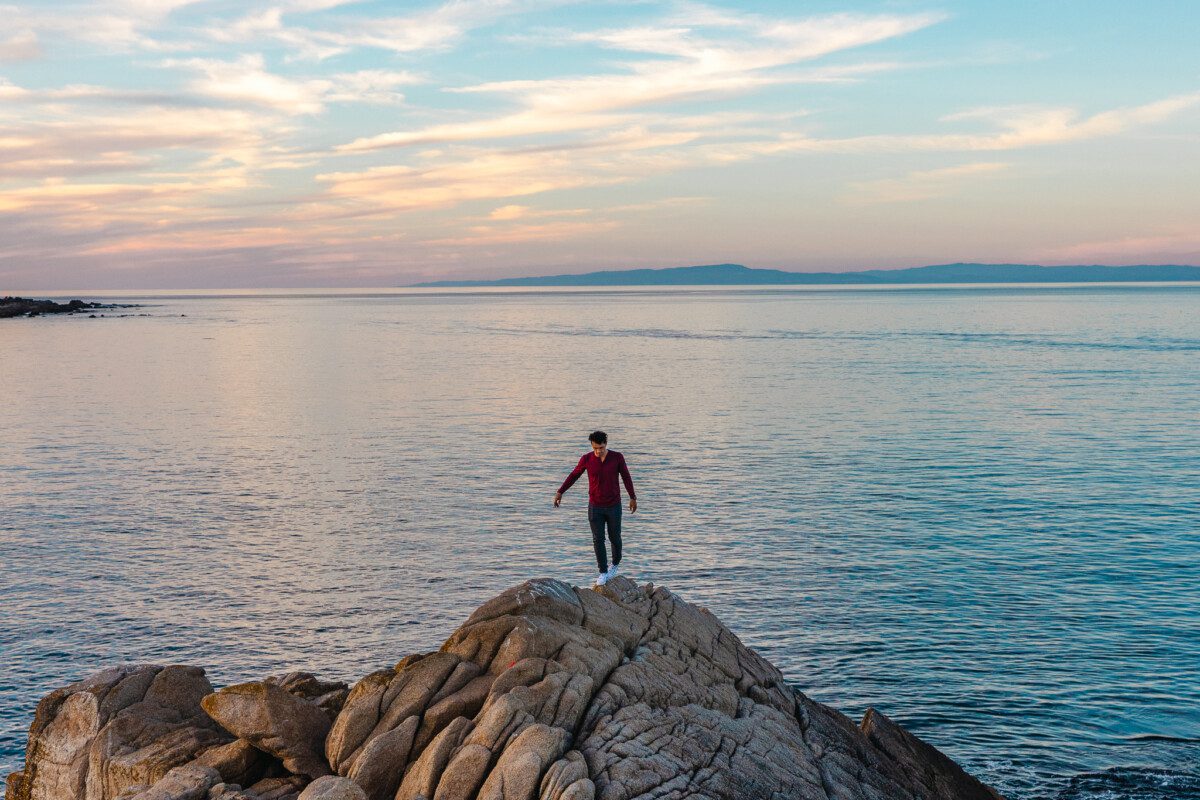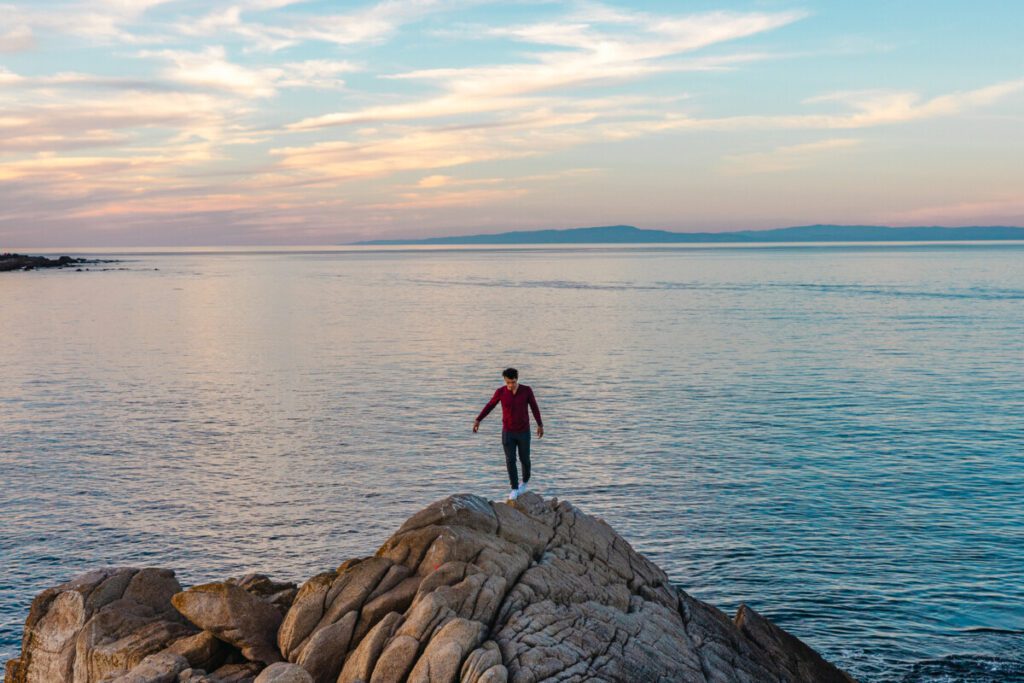 We visited Lovers Point Park for sunset and it was beautiful, but we both agree that it is more of a sunrise spot for photography! During the middle of the day, it is a great spot to enjoy the coastal views with a picnic or a walk around the park. There's ample street parking nearby.
Hike around Point Lobos State Natural Reserve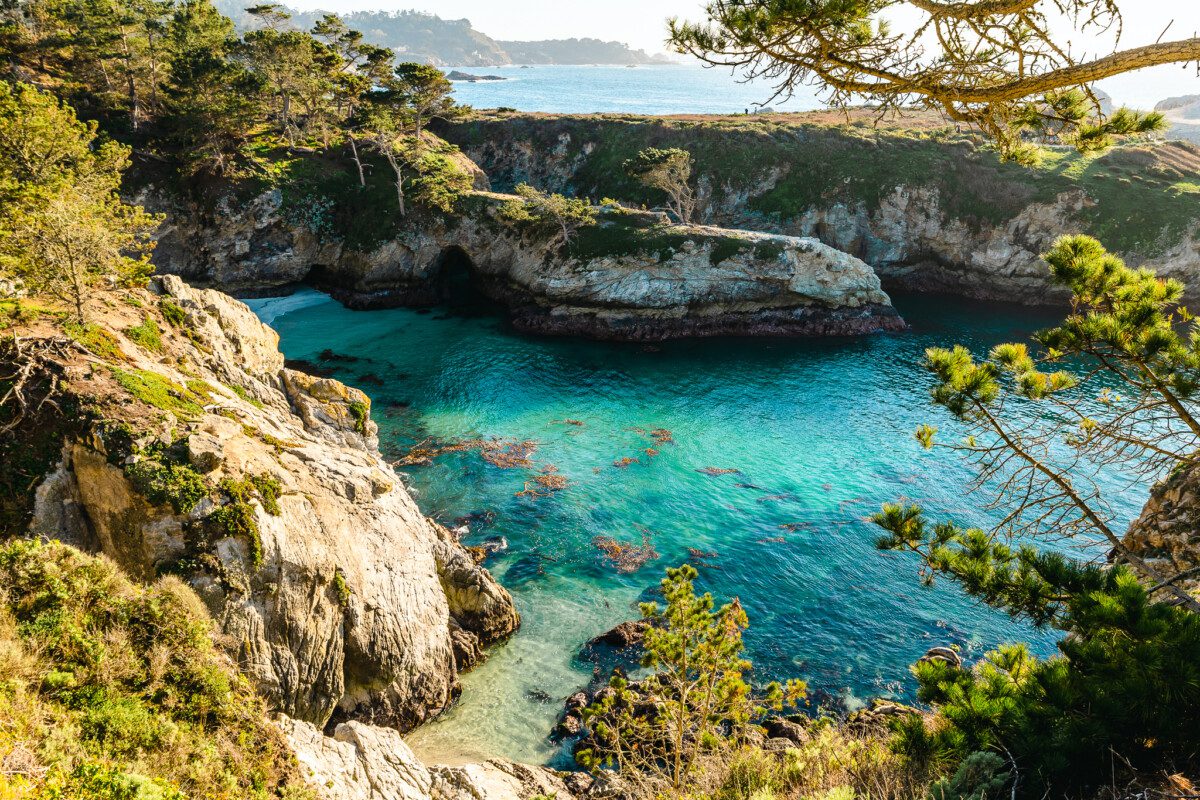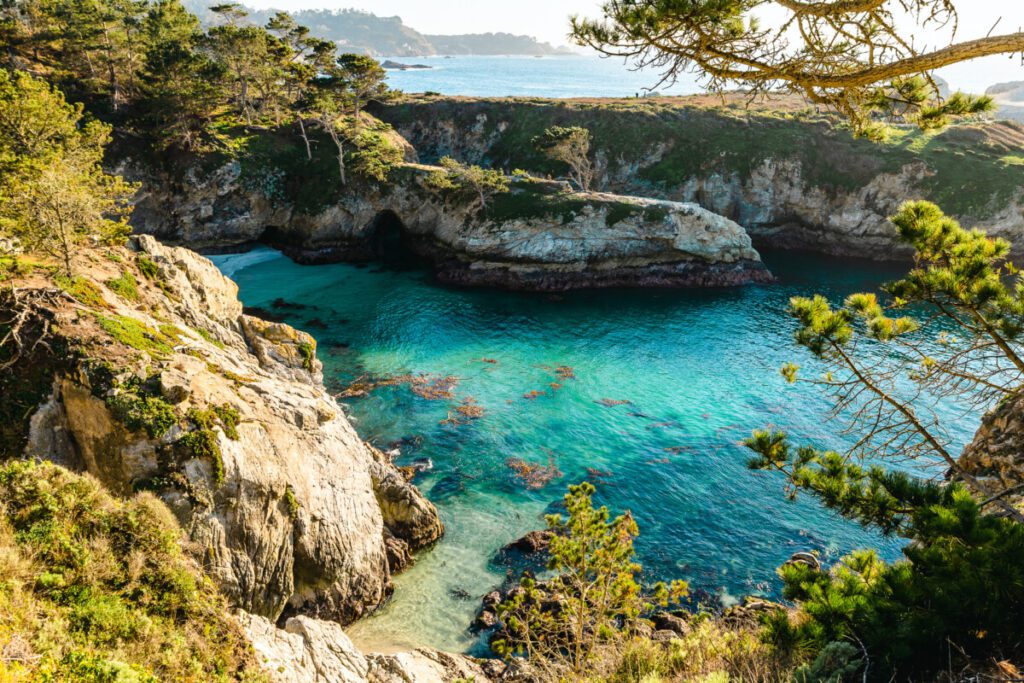 Point Lobos State Natural Reserve is one of California's hidden gems. With beautiful turquoise water and stunning stretches of beaches, it's no wonder why locals love to come here. If you're planning on visiting Point Lobos though, you will have to pay an entrance fee and dogs are strictly prohibited from the whole reserve, including in the parking lot. There are also pretty set opening times from 8am-5pm. There's also limited parking, so we'd highly recommend getting there early if possible as the parking lot can fill up. There is, however, a bit of street parking along Highway 1 if you do end up wanting to go inside the park and don't mind some additional walking.
Our favorite hike in the park was to get to the famous China Cove and Gibson Beach. To get to China Cove in Point Lobos, drive to the end of the park road, where you will find parking for the Bird Island Trail. A short two minute walk away, the beautiful blue water will greet you from down below. Bird Island Trail is one of the most scenic easy hiking trails in Big Sur. Along the trail, you will find some steep wooden stairs that lead down to Gibson Beach. We loved hanging out on this beach and the view of the Monterey coast line with endless Cyprus trees was stunning. It should definitely be on your Point Lobos itinerary.
Make sure to bring your ten essentials, a water bottle, and some extra layers because it can get quite chilly here with the coastal breeze, especially if you are visiting at sunset.
Explore Garrapata State Park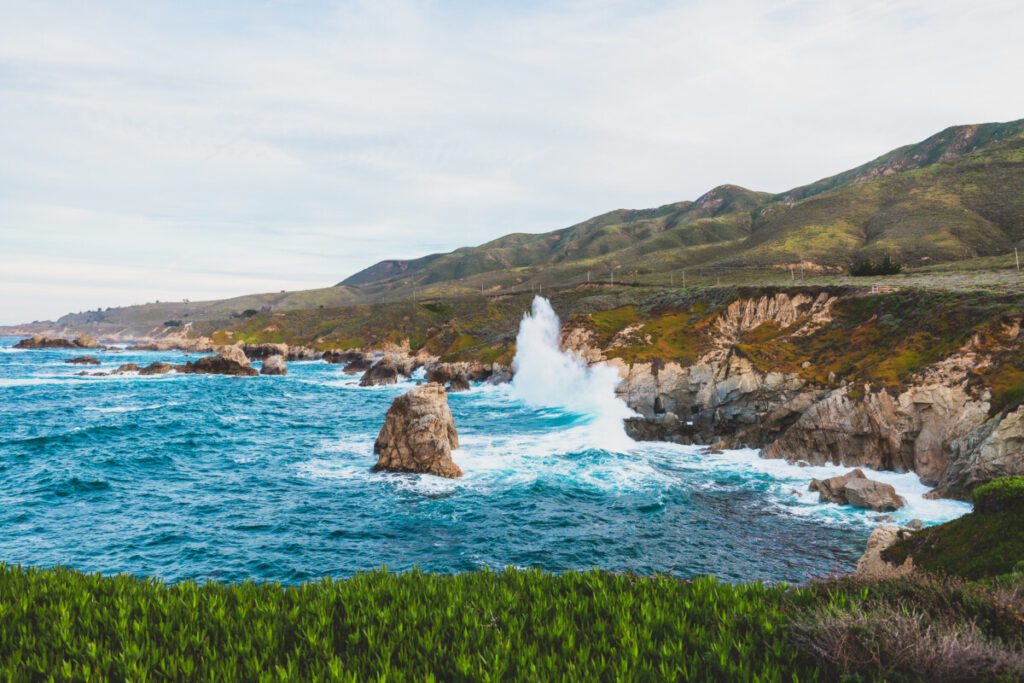 Garrapata State Park is a short 20 minute drive from Monterey and is an incredible section of ragged cliffs and beautiful beaches reminiscent of Big Sur. Watching the waves crash here is pretty magical. We think this area would be perfect for sunset as well, especially during the winter.
For some incredible views of the iconic coast line, check out Painter's Point. It is a short walk from the Highway 1 pull outs. To add on to a hike, you can add on Soberanes Point. If you continue walking past Painter's Point, you'll reach a ton of stairs leading up the side of a hill. Take the stairs all the way up for the best panoramic views from above. The view is looking back toward Monterey one way and at Big Sur on the other.
Watch Sunset at Shark Fin Cove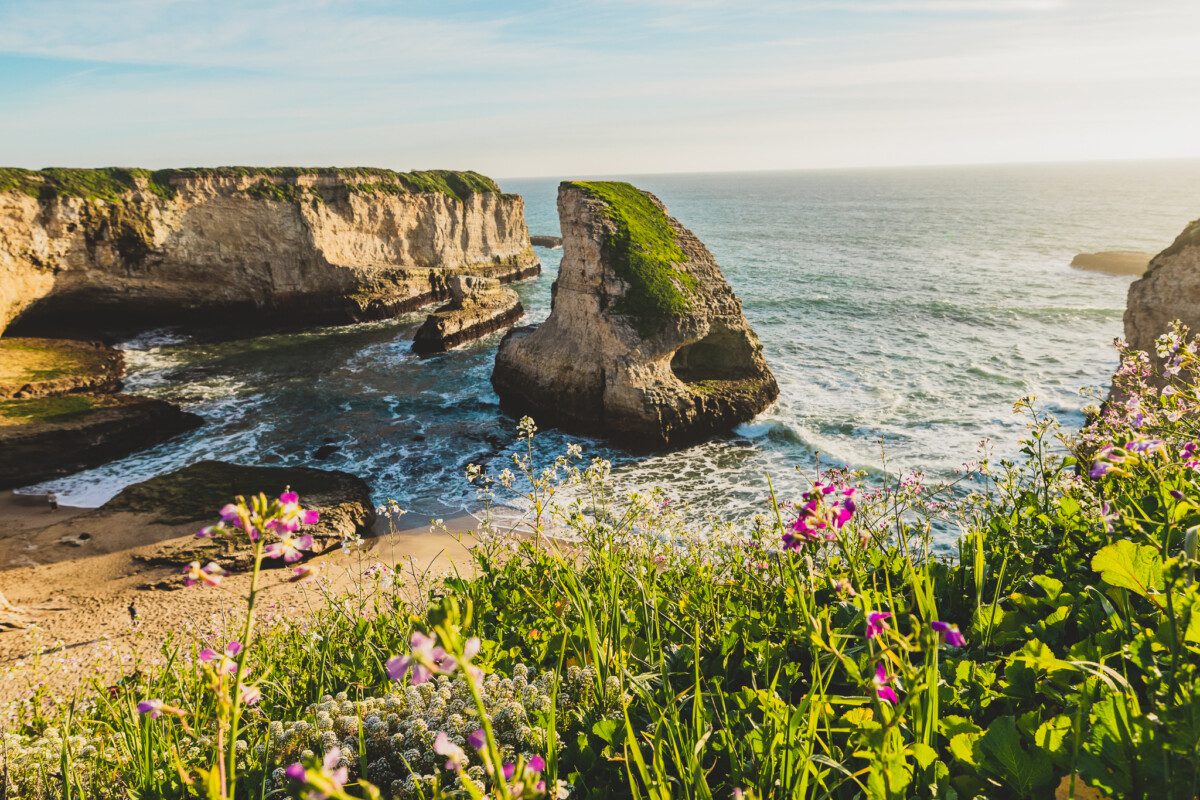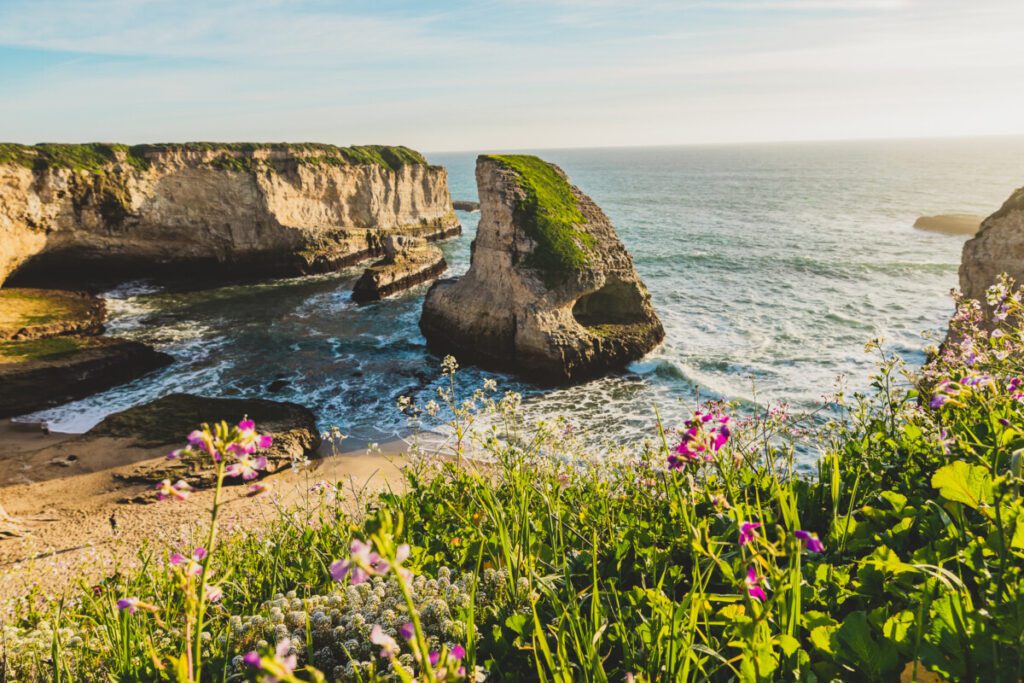 Shark Fin Cove lies about an hour north of Monterey toward Santa Cruz. It makes for a perfect sunset spot. It reminds us of Horseshoe Bend in Arizona in that Shark Fin Cove has a large beach with the shark fin looking rock directly in the center of the ocean.
There are two different parking lots when arriving, so try to grab a spot in the second one if you are driving northbound/first one if you're driving southbound for a shorter walk. Fair warning, the beach does get quite busy at sunset and it's not unheard of to see a few photoshoots going on, BUT it's still worth visiting every time we've gone.
Explore the Monarch Butterfly Reserve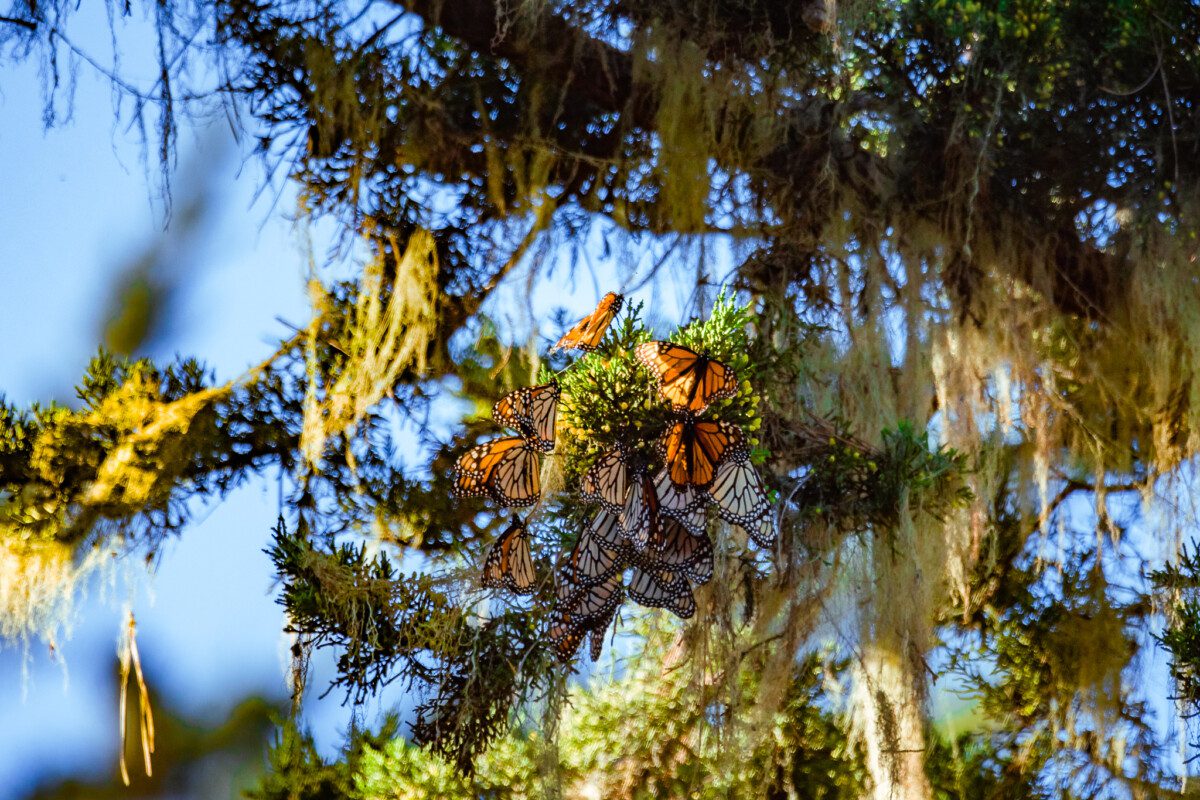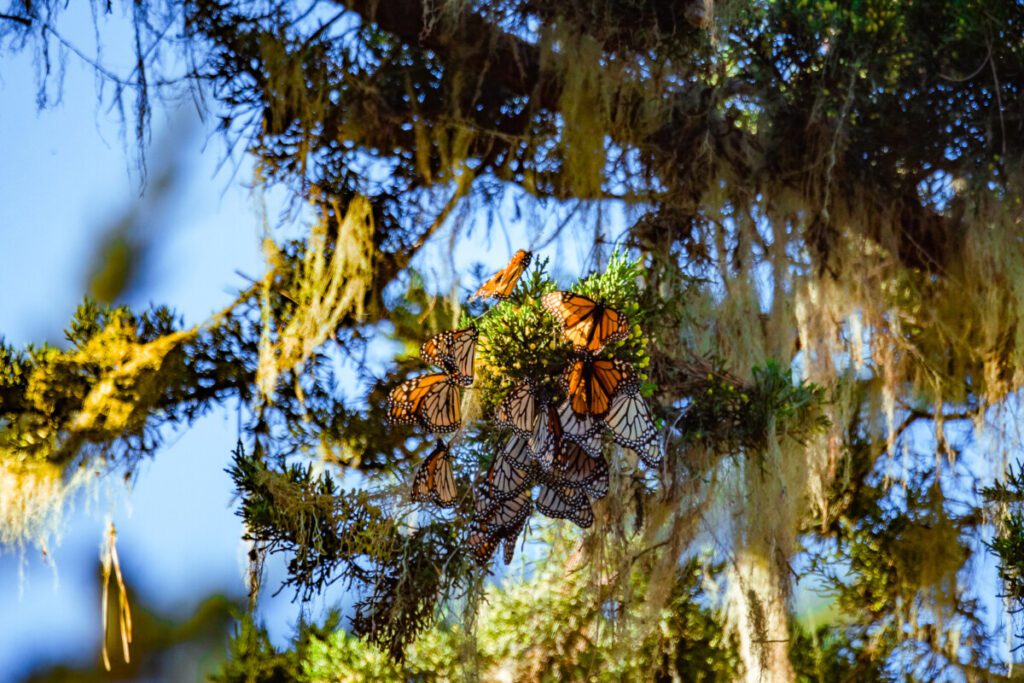 The Monarch Butterflies found in the Monterey Butterfly Reserve are typically in migration during the winter months. They typically fly over California's coast in the peak of December through February. It is a truly magical experience to see so many butterflies in one spot. The reserve is free to visit and has some parking across the street. Occasionally there are custodians giving talks on the butterflies too!
There's a short walk around the trees where they hang where you can take in all their beauty. We'd recommend bringing some binoculars or a camera with a zoom lens. We loved using our 100-400mm lens. For more recommendations on zoom lenses, check out our camera gear guide!
Explore the Monterey Coast by Boat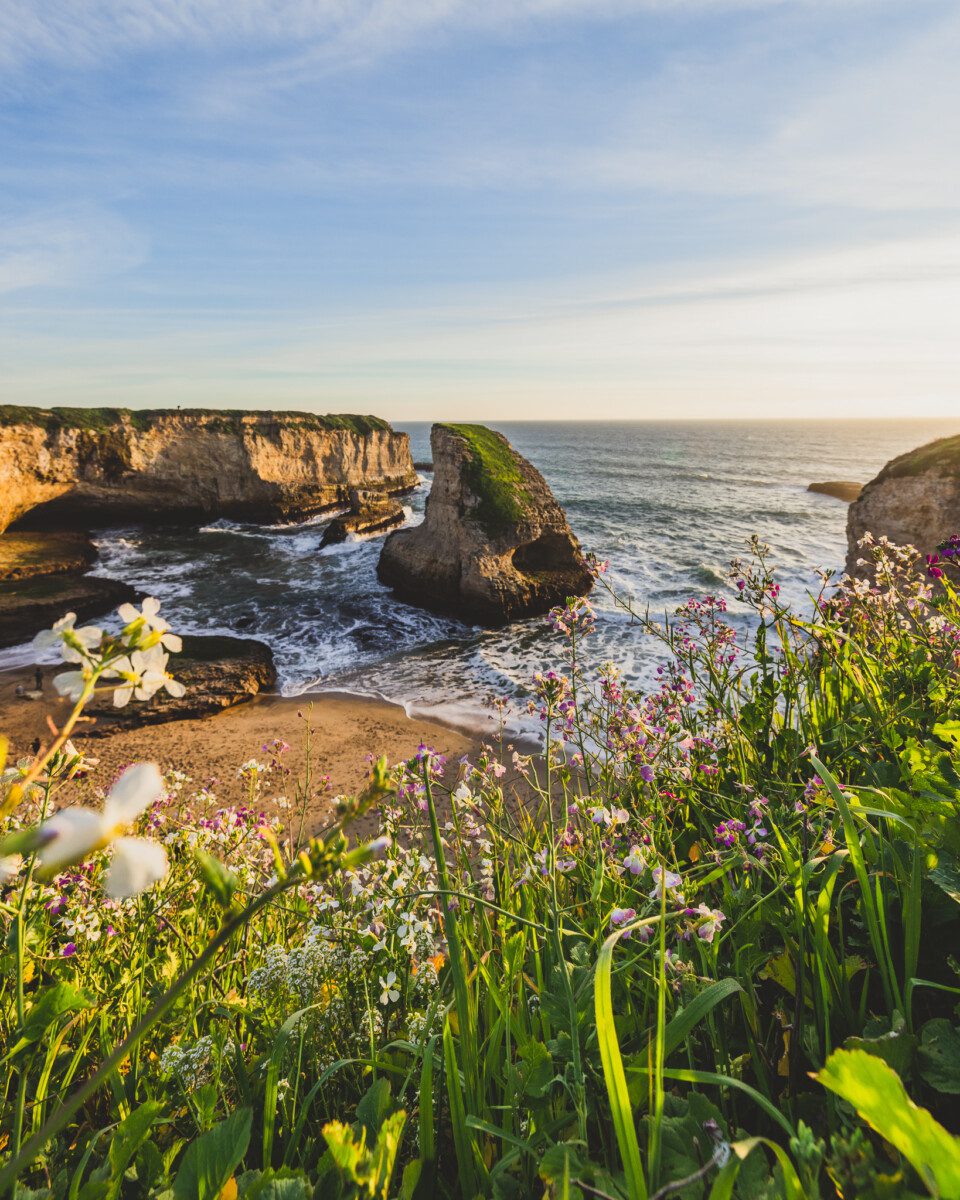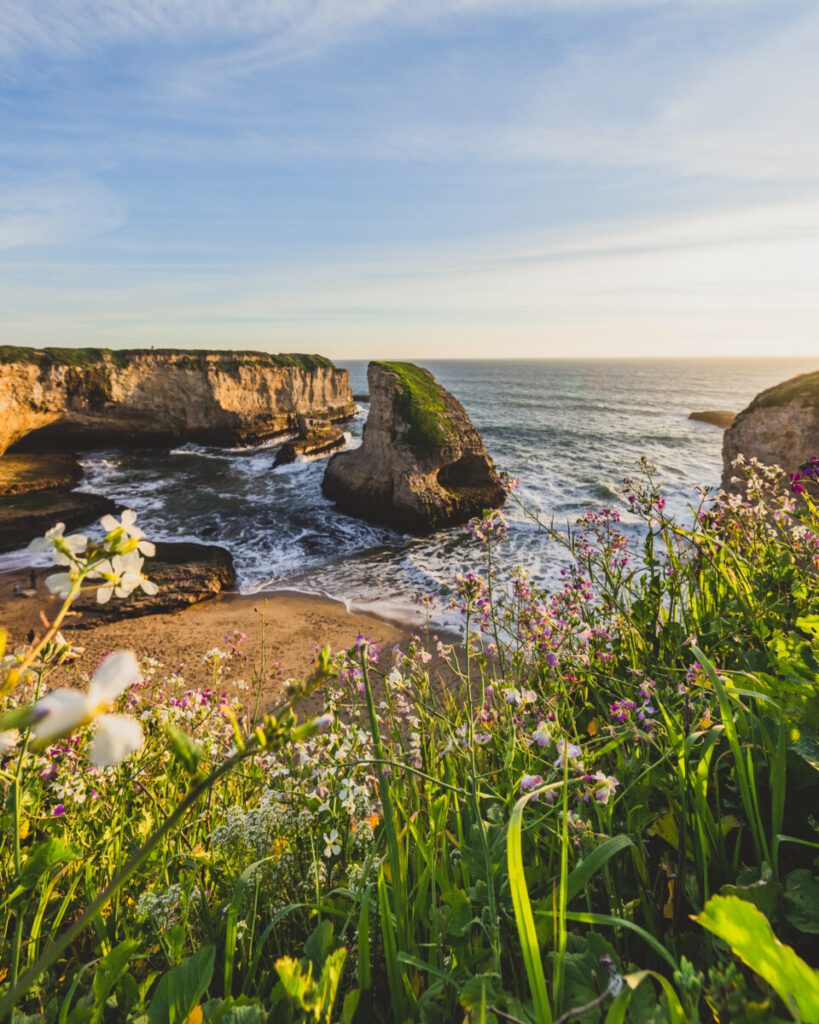 Monterey Bay has some incredible sea life which is best explored out on the water! From kayaking, whale watching, sailing on catamarans, or even paddle boarding, there are endless opportunities to go explore the rich marine life in Monterey. If you are visiting in the winter time, it's the prime season to go and try and see whales and dolphins right off the California Coast.
Best Restaurant & Brews in Monterey
Alvarado Street Brewing |Best of Downtown Monterey
This popular spot along the main downtown area of Monterey is definitely one of the ways to have the best weekend in Monterey. The food is absolutely incredible. They're known for their huge burgers, but we all loved sharing their array of appetizers including their poutine and calamari. Stephen tried every single on of their IPAs on tap and was a happy camper. He claims that this is now his favorite brewery along the whole coast of Highway 1. I had a sour and vanilla coffee stout that was on tap which was equally delicious. The French Dip sandwich was juicy and flavorful and their Chicken Sandwich was top notch. If there's only one dining spot you have to get too on your Monterey Itinerary, we'd recommend it be this one. Although, you will probably have to wait in line since it's such a popular spot, but it's definitely worth it!
Overall, you can definitely enjoy all of the best activities in Monterey in one weekend! Once you check Monterey off the bucket list, try adding on some more stops to a California Highway 1 Road Trip. A short drive away is Big Sur if you are headed south, or enjoy a northern stop in San Francisco!