West Virginia Waterfalls 3 Day Road Trip Itinerary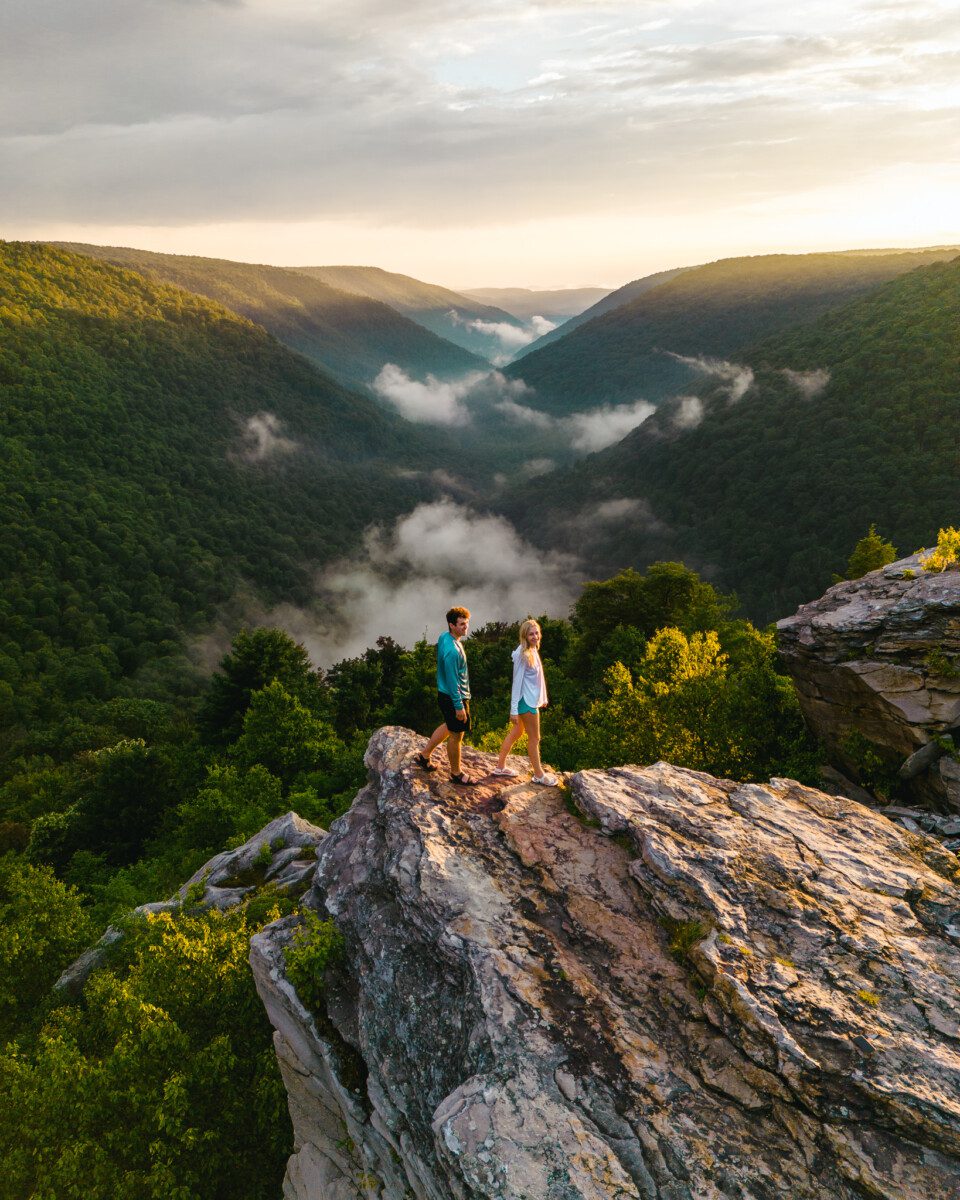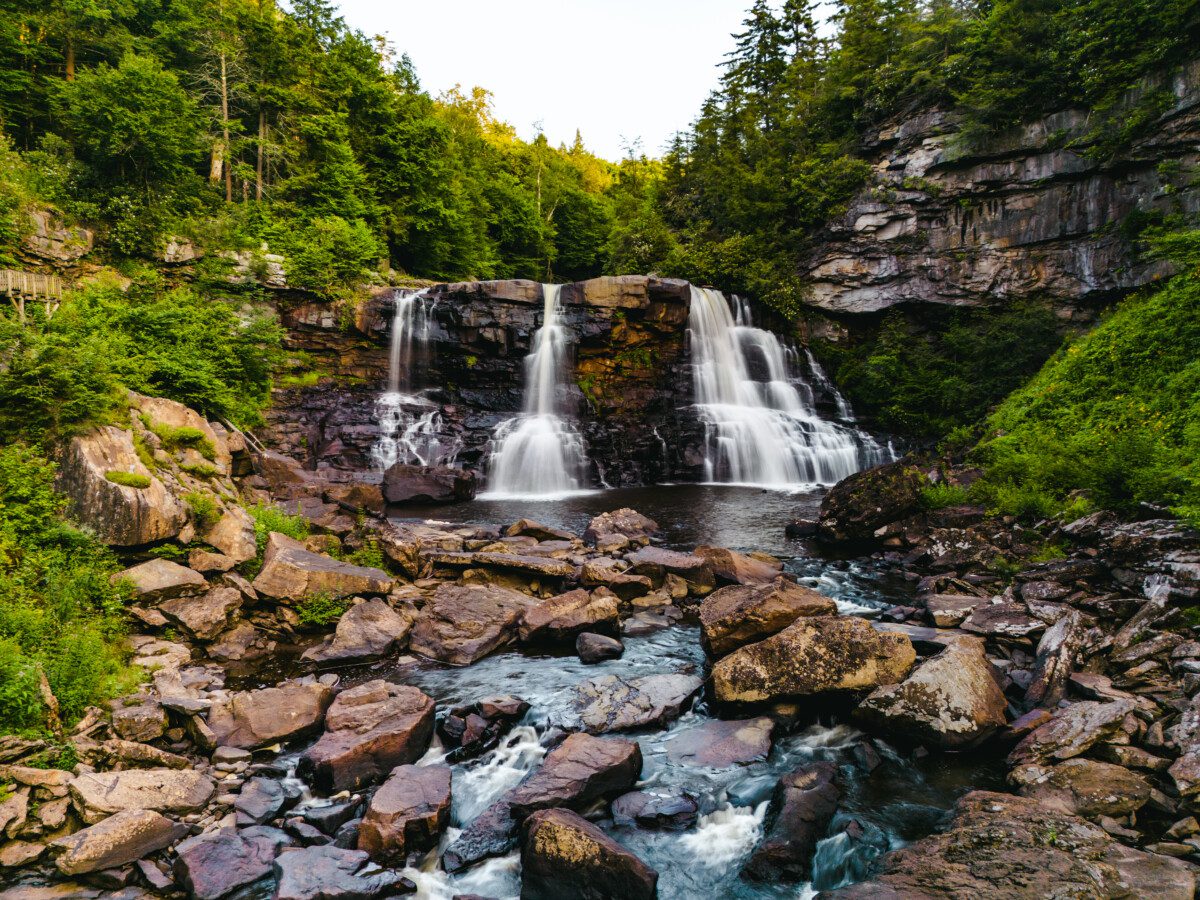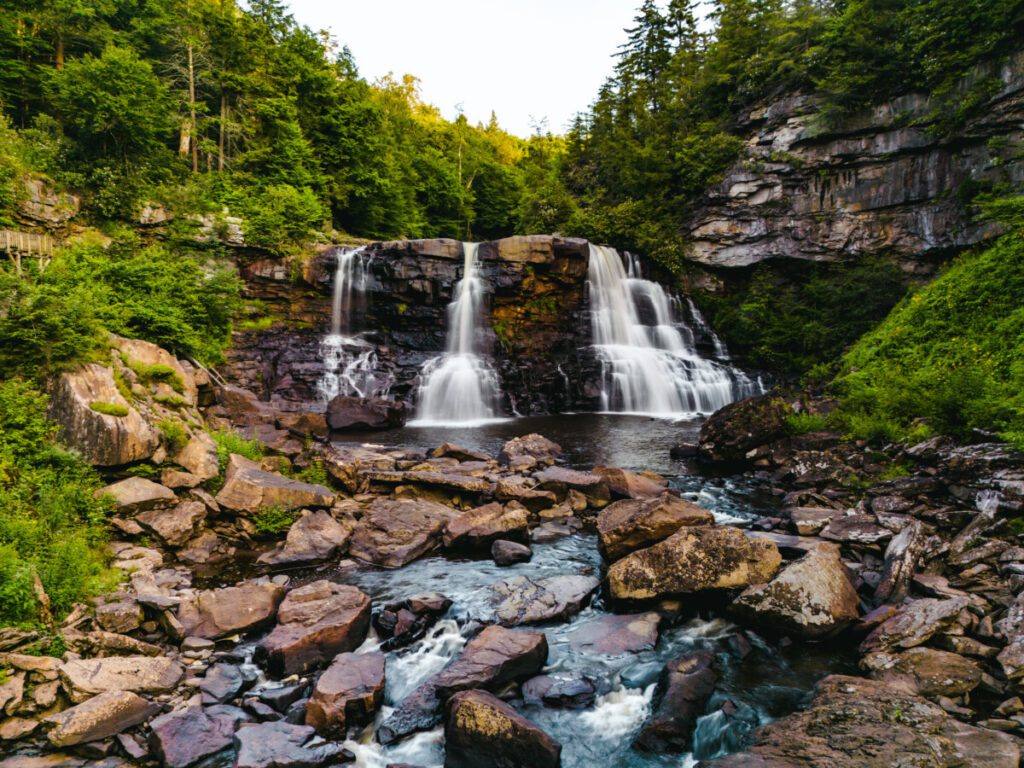 West Virginia is an incredibly underrated state for outdoor adventure lovers. The state is filled with an insane amount of roaring waterfalls, beautiful sunrise & sunset vistas, dark sky preserves, and even America's newest National Park!
While it is possible to accomplish exploring the highlights of the famous country roads of West Virginia in a day or two, you are definitely going to want to take your time exploring this insanely beautiful part of the United States. Our 3 day West Virginia waterfalls road trip itinerary is going to help you do just that!
Disclaimer: This blog post is in collaboration with West Virginia Tourism. Some parts of the article also feature affiliate links, which means we get a small commission if you make a purchase (at no extra cost to you). It's one of the ways we can keep producing free guides and resources for our readers. Thank you for the support!
Planning Your Visit to West Virginia
Where to Start & End Your West Virginia Waterfalls Road Trip
For your 3 Day Road Trip to some West Virginia Waterfalls, you'll want to fly into Washington Dulles Airport. From there, you can rent a car or use Turo. Although it's not necessary to rent a 4×4 vehicle, we always try to make it a habit of doing so just in case we find some cool hidden gems that require it throughout our trip. You can also jump on this itinerary at any stage of your West Virginia road trip and you may opt to start/finish in different spots.
With this itinerary, we are using our first-hand experience to help you put together an adventurous 3-day West Virginia Waterfalls road trip. This ultimate planning guide will also share some of our favorite scenic stops, hikes, suggestions of where to stay, and some of our favorite food options along the way.
Waterfalls in West Virginia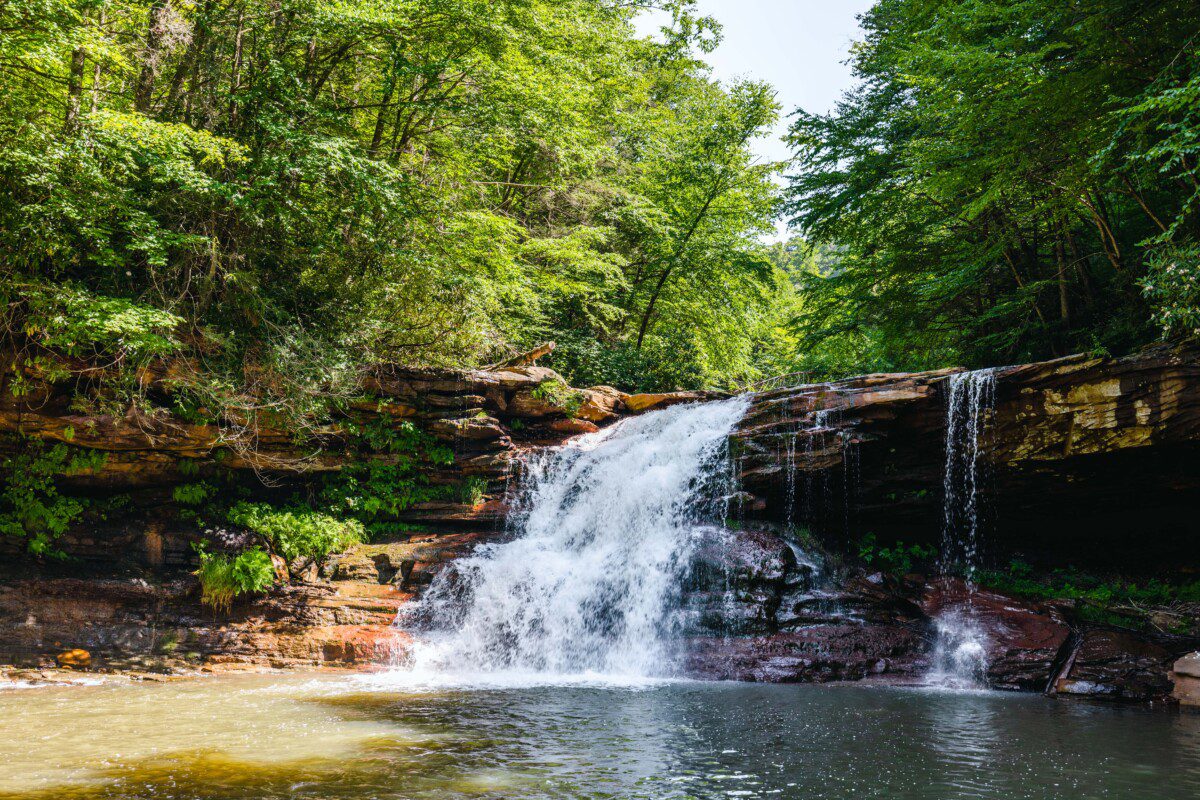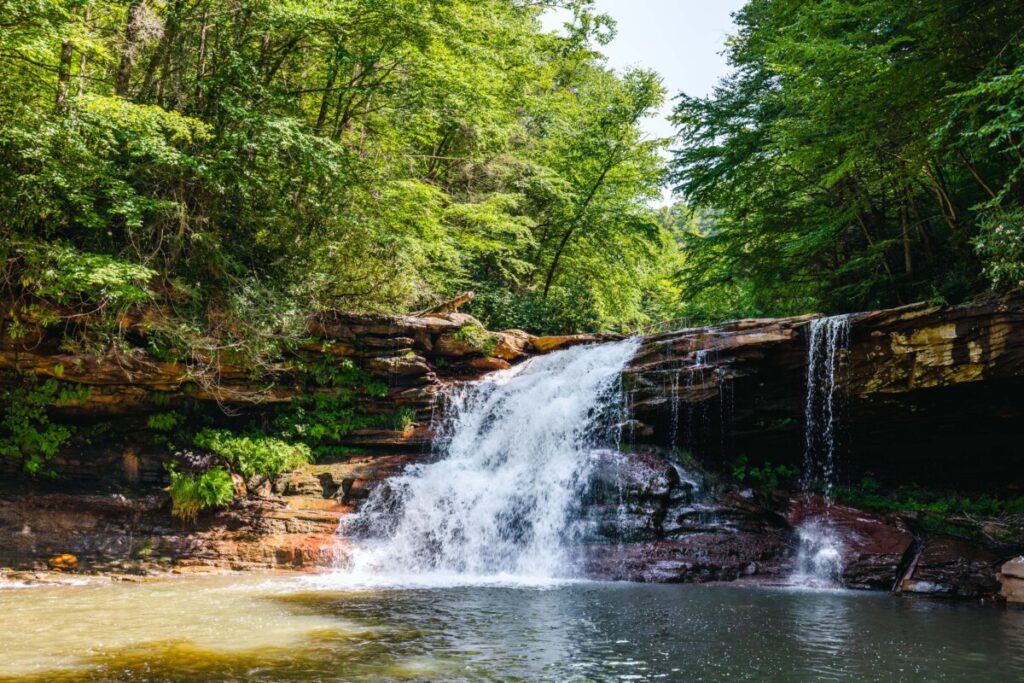 This 3 Day Road Trip itinerary around West Virginia is specifically going to be basing your trip around chasing gorgeous waterfalls all throughout the state. West Virginia's tourism department actually just launched a brand new state wide Waterfall Trail which you can follow using their ultimate guide. 
West Virginia has over 200 waterfalls with a variety of difficulties to reach them. You can see them from drive ups, short hikes, or backpacking trips to get to these beautiful natural wonders. This short itinerary is focusing on waterfalls that are easier to get to to maximize time. This way you can hit 6 of them in a matter of a long weekend!
Where to Stay Along Your West Virginia Road Trip
We'd highly recommend staying at West Virginia's accommodations at the state parks.We loved our stay at both the lodge at Blackwater Falls State Park as well as the cabins at Watoga State Park. 
When doing this itinerary, the newly renovated lodge at Blackwater Falls State Park is a perfect location as it's central to most of the activities that you will be doing throughout the 3 days. It has a great buffet available, a gift shop, a pool, and WiFi available for its guests.
Watoga State Park is a perfect home base for the latter half of your trip. The cabins offer a cozy, authentic outdoor experience. Not to mention, they are prepped with everything you could need as they are equipped with bathrooms, kitchens, fireplaces, and more!
When staying at Watoga State Park, keep in mind that the cabins are surrounded in wilderness. That means that there is minimal to no cell service throughout the park. If you need access to maps, we'd highly recommend downloading them ahead of time prior to your visit to the park. In the event that you need WiFi, the area does have it available at the main lodge for guests. 
Familiarize Yourself with Leave No Trace
Make sure to brush up on the 7 Leave No Trace principles and recreate responsibly when enjoying all of the beautiful nature that West Virginia has to offer. 
West Virginia Waterfall Road Trip Itinerary
DAY 1: Blackwater Falls State Park Region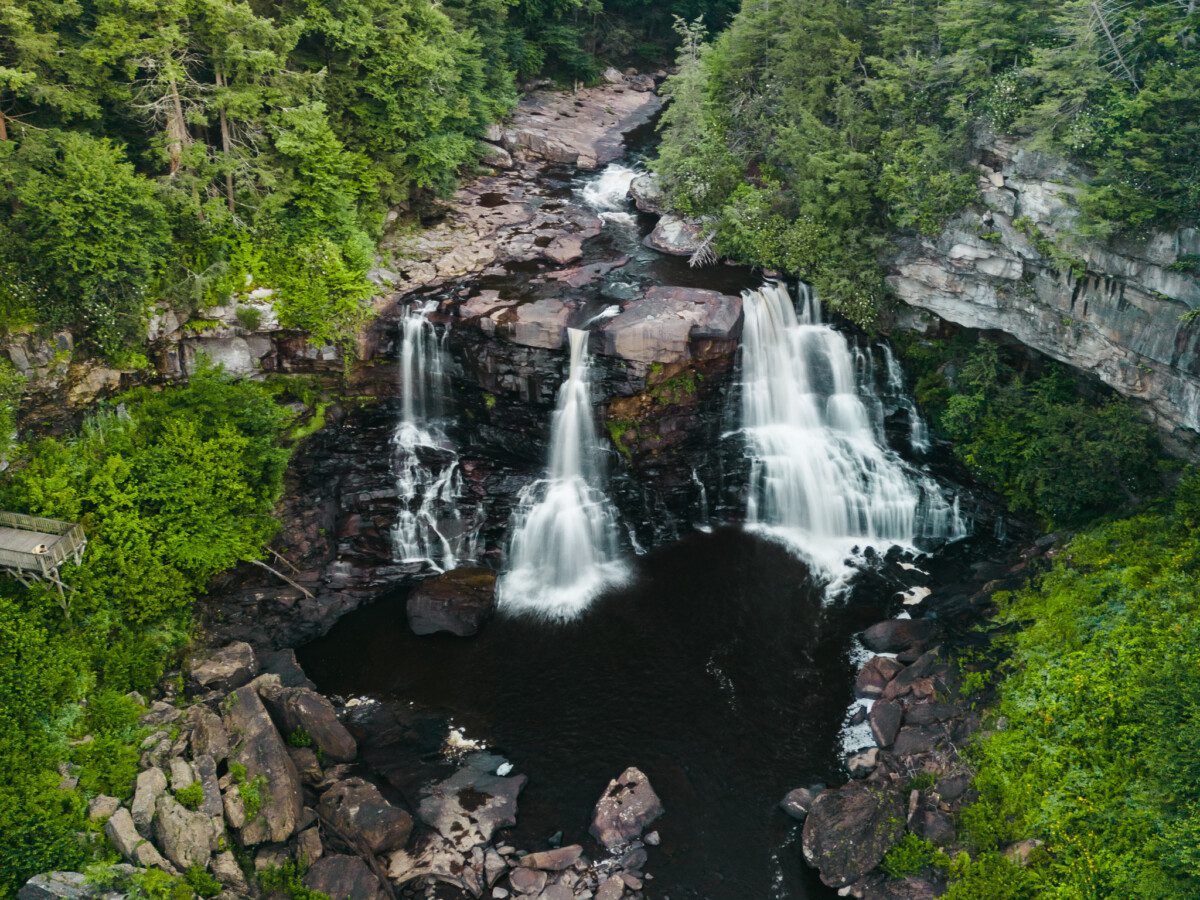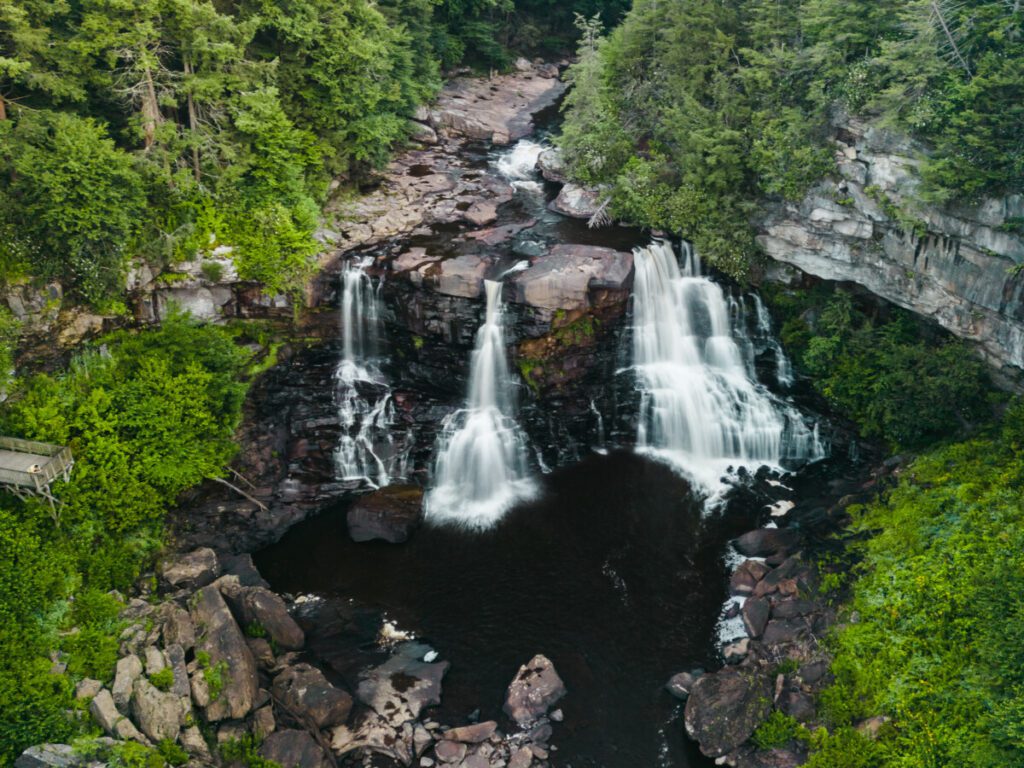 Start your day by grabbing some breakfast at the restaurant at the lodge in Blackwater Falls State Park. Then it's time to start the West Virginia Waterfall Trail! This is your most jam packed waterfall chasing day out of this 3 day road trip itinerary.
Blackwater Falls
One of Almost Heaven's tallest waterfalls, Blackwater Falls cascades a plunging 57 feet. We'd recommend hiking to this waterfall earlier in the morning to beat the crowds and the summer heat. 
The out and back hike down to the falls does require a ton of stairs. However, it's a gorgeous hike and should take you about 10-20 minutes to complete depending on your fitness level. This is a great short hike for families and hikers of all skill levels.
Elakala Falls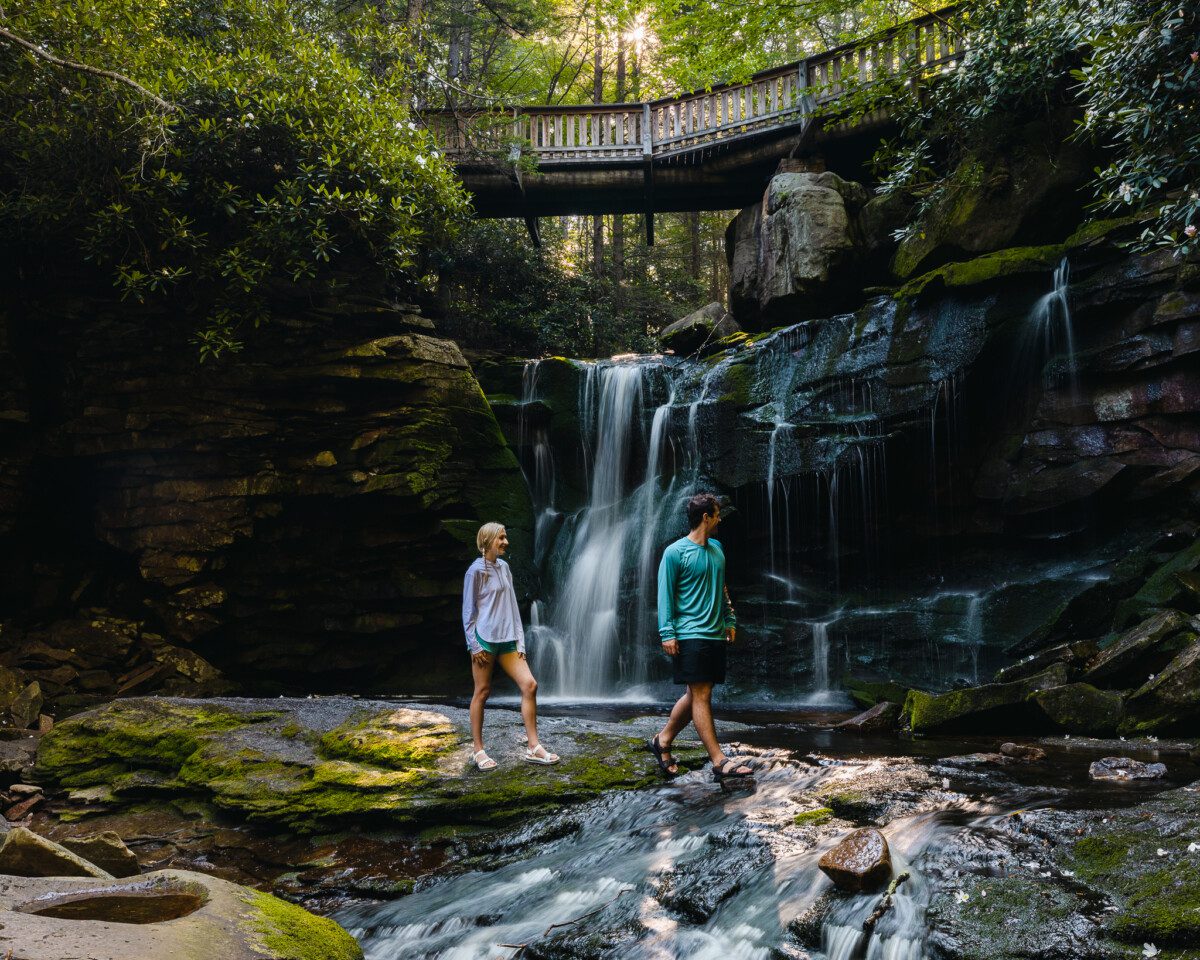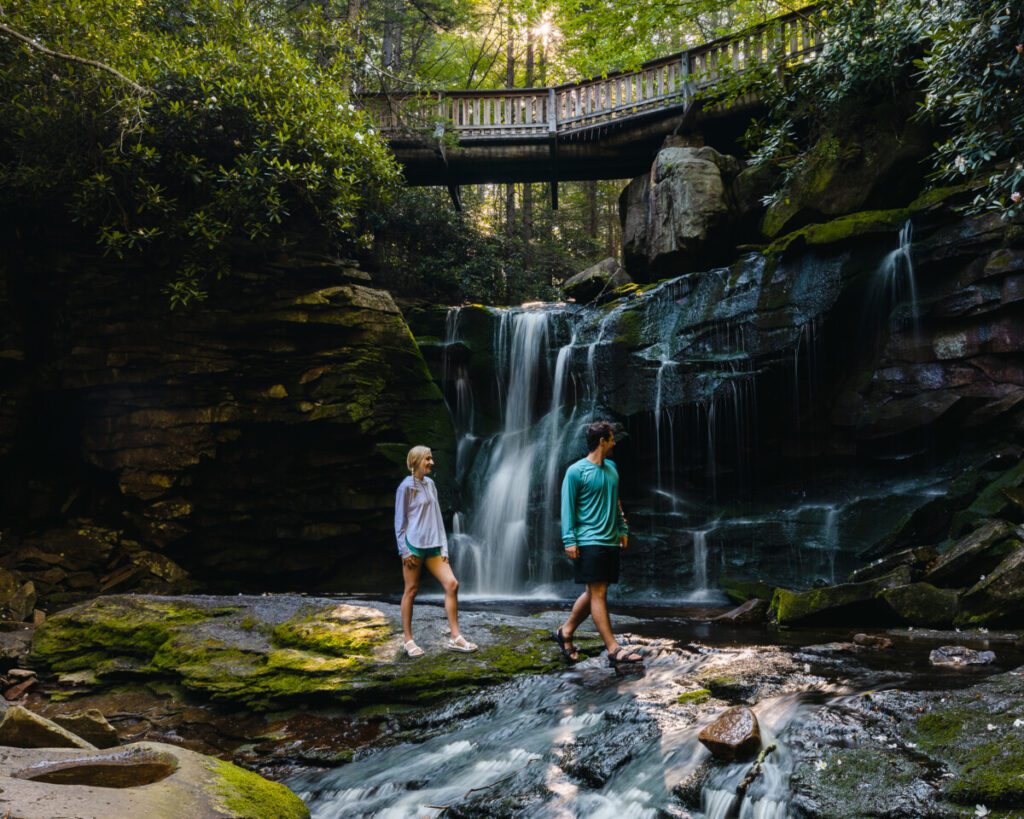 Next up, you'll check out Elakala Falls. It's super convenient as the trailhead is located right next to the lodge. The Elakala Trail is also fairly short and takes you across a wooden bridge that lies directly above the first falls. You can hike down to the falls, but make sure you have grippy hiking shoes on!
Albert Falls and Kennedy Falls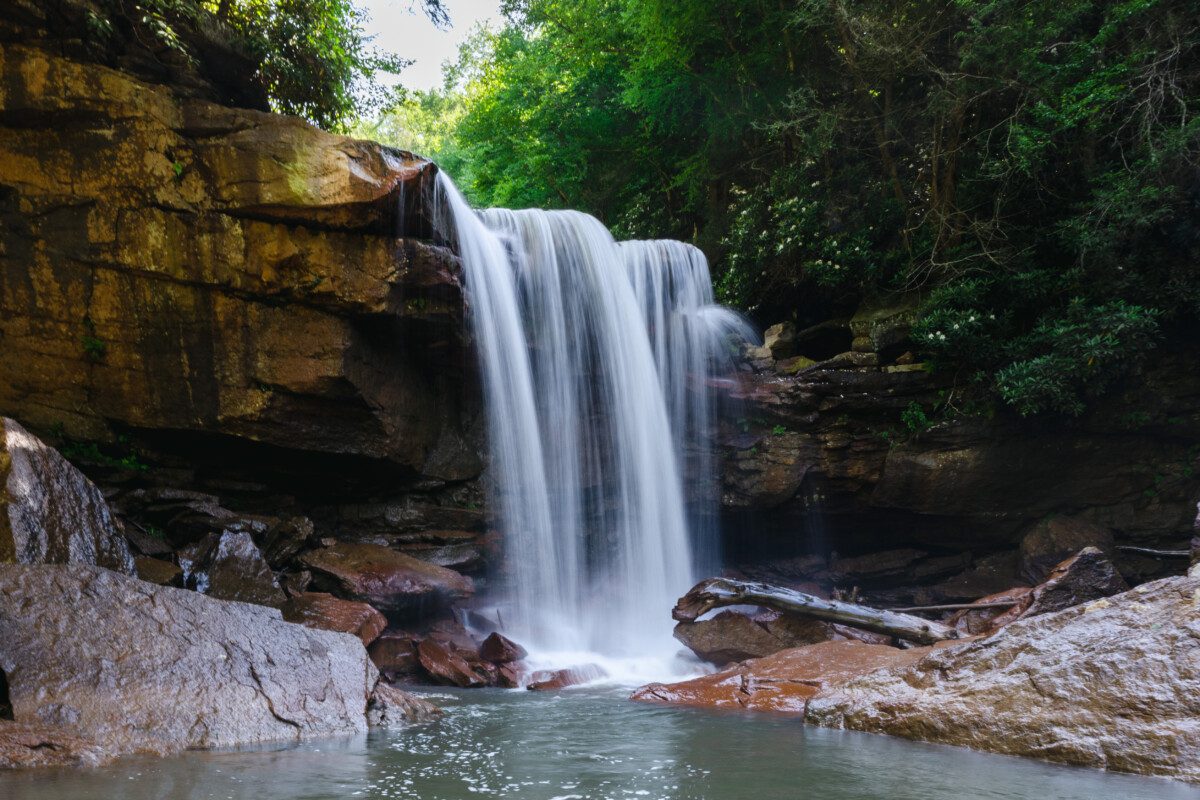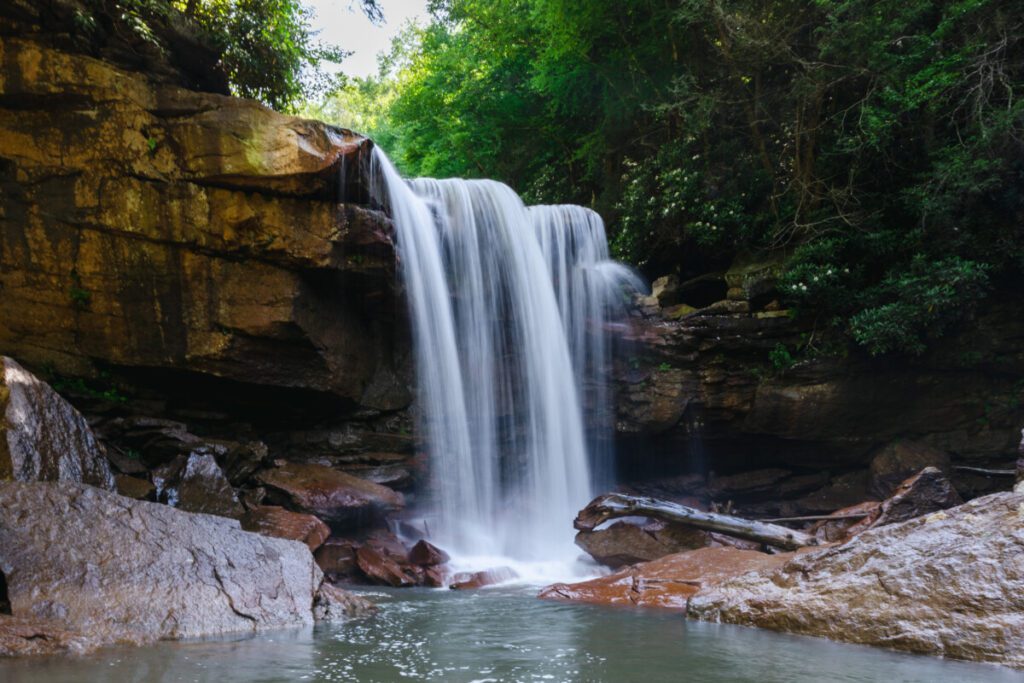 Your next two West Virginia Waterfalls are a short 15-20 minute drive from Blackwater Falls State Park to access. These waterfalls are on much more primitive land, so there are no bathrooms or trash cans available. Make sure to pack out what you pack in, and read up on how to properly go to the bathroom outdoors if necessary. 
Albert Falls
First, you'll encounter Albert Falls which is right off the side of a dirt road! It's a mini cascading waterfall that is super beautiful, but make sure to keep an eye out for it as you can definitely miss it when driving past it. There's one pullout adjacent to the falls, but it only fits about 2 cars. 
Kennedy Falls
As you continue down the same dirt road, you'll encounter another dirt parking lot area for Kennedy Falls. You want to make sure there's enough parking and that it's not incredibly packed. 
Once you visit Albert Falls, you have the option to continue on down to Kennedy Falls. Make sure you have the trail data for this waterfall downloaded ahead of time since it's easy to get lost on your way to the waterfall. This waterfall has a much bigger swimming hole at the bottom compared to some of the other West Virginia waterfalls. Check out the trail data and hiking information here. 
In terms of photographing these falls, if you want even lighting you'll want to make sure to arrive prior to 10am or much later in the afternoon so that they are all ideally lit for photos.
Once you're done enjoying these waterfalls, head on up back to your car and make your way into town for some lunch!  
Check out Davis & Thomas
We'd recommend heading into the town of Davis to grab a bite to eat. We had lunch at the Big Belly Deli and our sandwiches were fantastic. Other top recommendations are Hellbender Burritos and Sirianni's Cafe if you enjoy Italian.
Then head on over into the town of Thomas and explore the cute shops down the main street. We highly recommend checking out Macy Lou's Gourmet Apple Co. – our favorite was the Apple Pie flavor. Also take a peak around Bloom, Riverfront Antiques, Creature, and Ella & Co. while you are there to see some beautiful art and knick knacks! 
Enjoy a Day Hike around Blackwater Falls State Park
Blackwater Falls State Park has over 20 miles of hiking trails, so there are a ton of different day hikes to choose from! Here are a few we'd recommend:
Pase Point Trail
Pase Point Trail offers a similar view as Lindy Point with a beautiful overlook into a canyon down below. At 4.2 miles long out and back, this is the longest trail option we'd recommend in Blackwater Falls State Park. This trail is an extension of Dobbin House Trail that runs through hardwoods & rhododendron to Pase Point, overlooking the North Fork of the Blackwater River 
Balanced Rock Trail
The Balanced Rock Trail is a winding trail through the West Virginia forest that passes a large sandstone table rock. This trail begins at the main park road across from Elakala Trail, crosses Shay Trace and Red Spruce Riding Trails, continues to Balanced Rock Trail and ends near cabin 13.
Grab Dinner in Thomas
Head back into town for dinner! Two amazing options that are open are Farm Up Table, which offers southern style favorites, or Riverfront Woodfired Pizza which serves artisan-style pizzas using old-world, wood-fired brick ovens. We went to Riverfront Woodfired Pizza and got the Spaghetti Pizza and Hawaiian Pizzas and they were delicious! 11/10 would recommend.  
Watch the Sunset at Lindy Point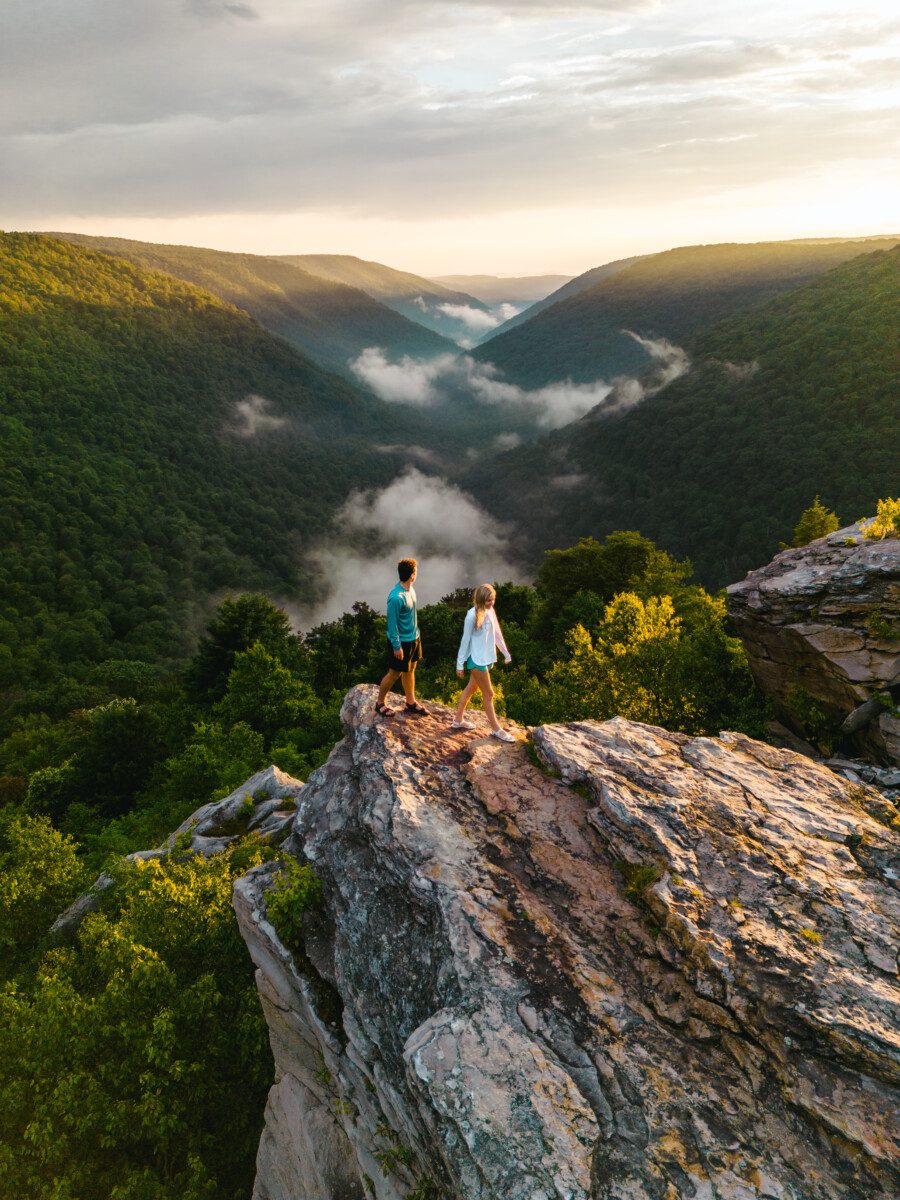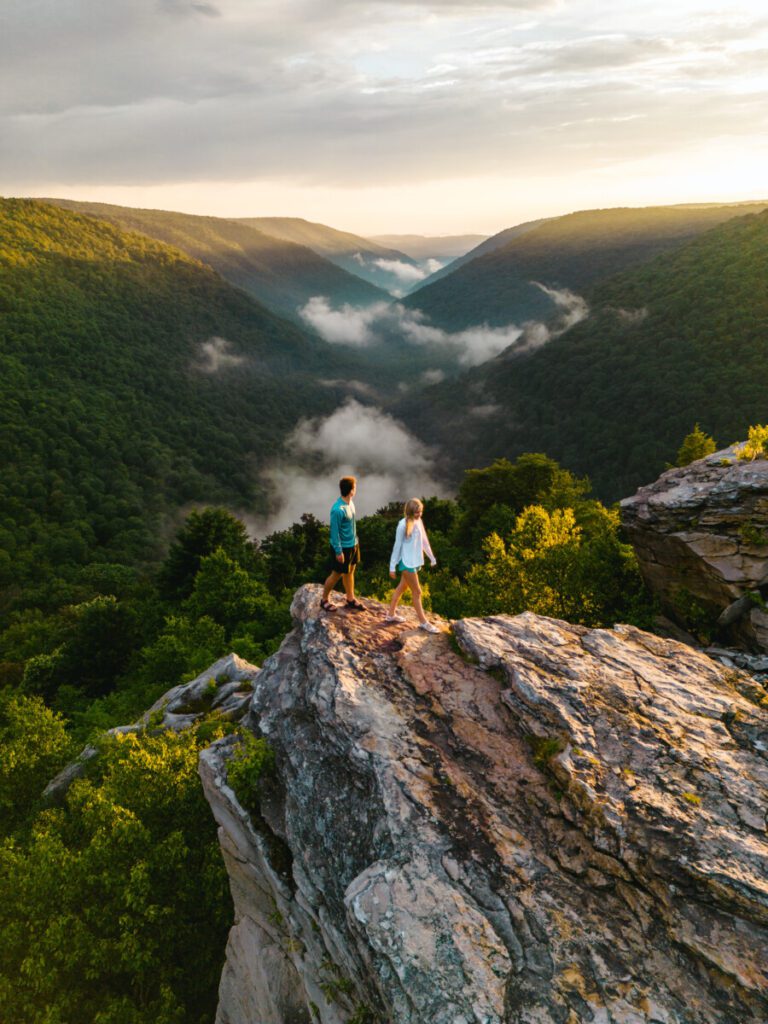 Lindy Point is one of the best sunset spots in all of West Virginia. Located in Blackwater Falls State Park, it's a short drive from the lodge to a dirt parking lot. It overlooks a gorgeous canyon where you may be greeted with some low hanging fog or cloud inversion if you're lucky!
Don't forget your headlamps for your way back to your car!
Optional: Live Music & Beer in Thomas
If you're not tired and are still itching for some fun things to do, you can head back into town and check out Stumptown Ales to try some local brews and/or listen to some live music at the Purple Fiddle.
DAY 2: Bear Rocks Preserve, Seneca Rocks & Spruce Knob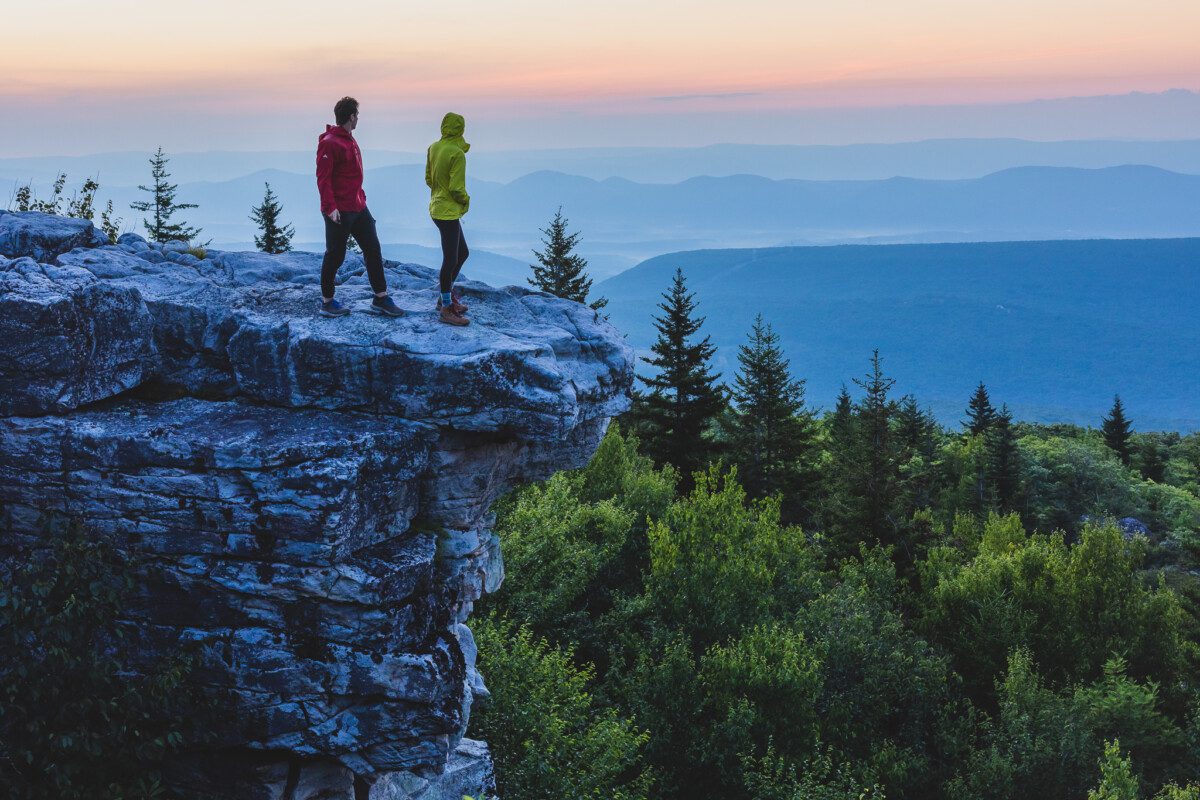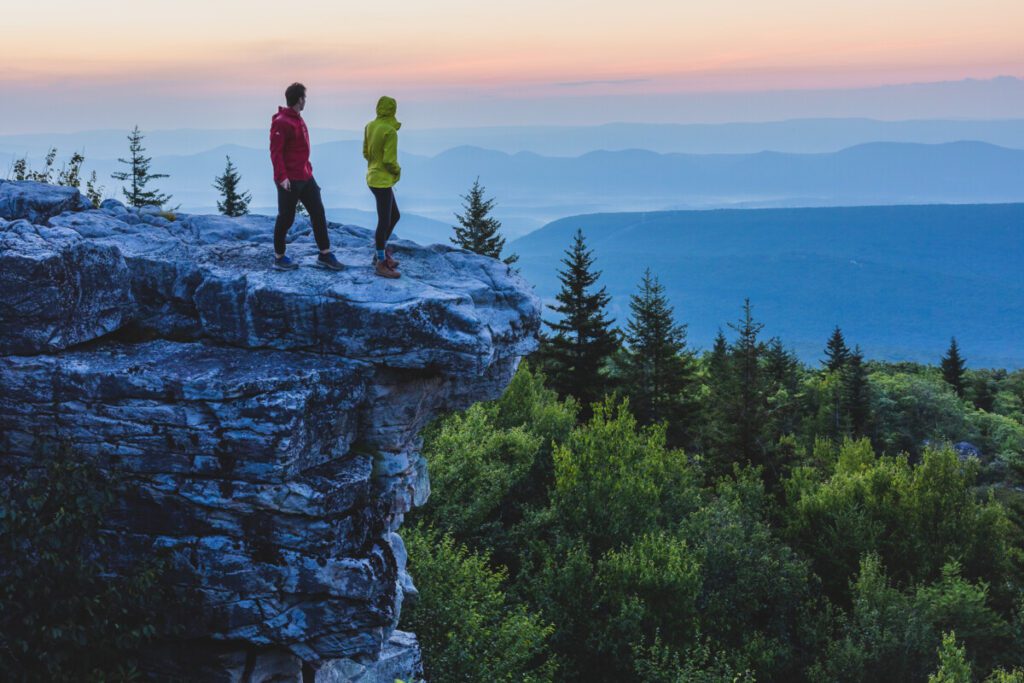 Bear Rocks Preserve
To start the day, head out for a sunrise in the Dolly Sods Wilderness area at Bear Rocks Preserve. This is about a 45 minute drive from Blackwater Falls State Park.
There aren't really any set trails over at Bear Rocks Preserve. Once you arrive, you'll come up on a dirt parking lot and head over the opposite direction of the Dolly Sods Wilderness sign. From there, there's a few foot paths that lead over to a set of rocks that are the iconic sunrise view at Bear Rocks Preserve. It takes about 2 minutes to see from the parking lot.
Take in the gorgeous view as the sun rises above the mountains before heading out to breakfast!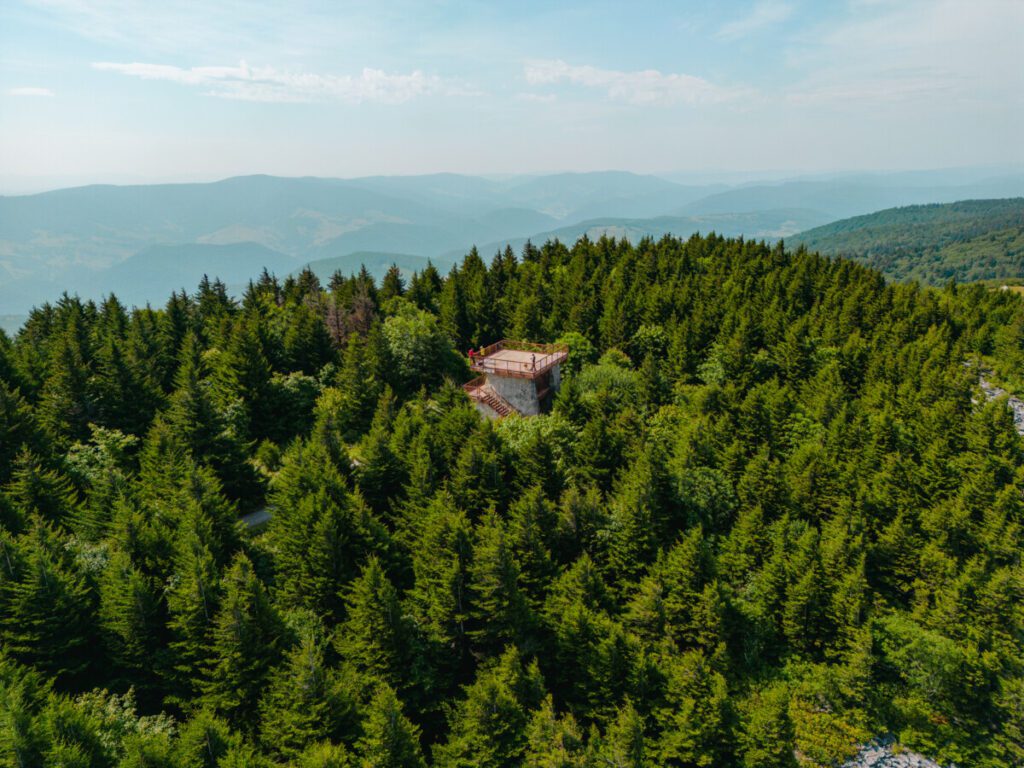 Spruce Knob
Spruce Knob is the tallest point in all of West Virginia! There's a short trail that takes you around the top of the mountain where you can get up on an observation tower as well as other benches placed around the trail for some epic views. It's about a 900 ft walk to the observation deck from the parking lot. From there, you can take a very easy ½ mile hike around the top of the mountain.
We'd highly recommend doing this hike if you are visiting for fall foliage – we wish we could go back to see this! The panoramic views of the tree lines are gorgeous.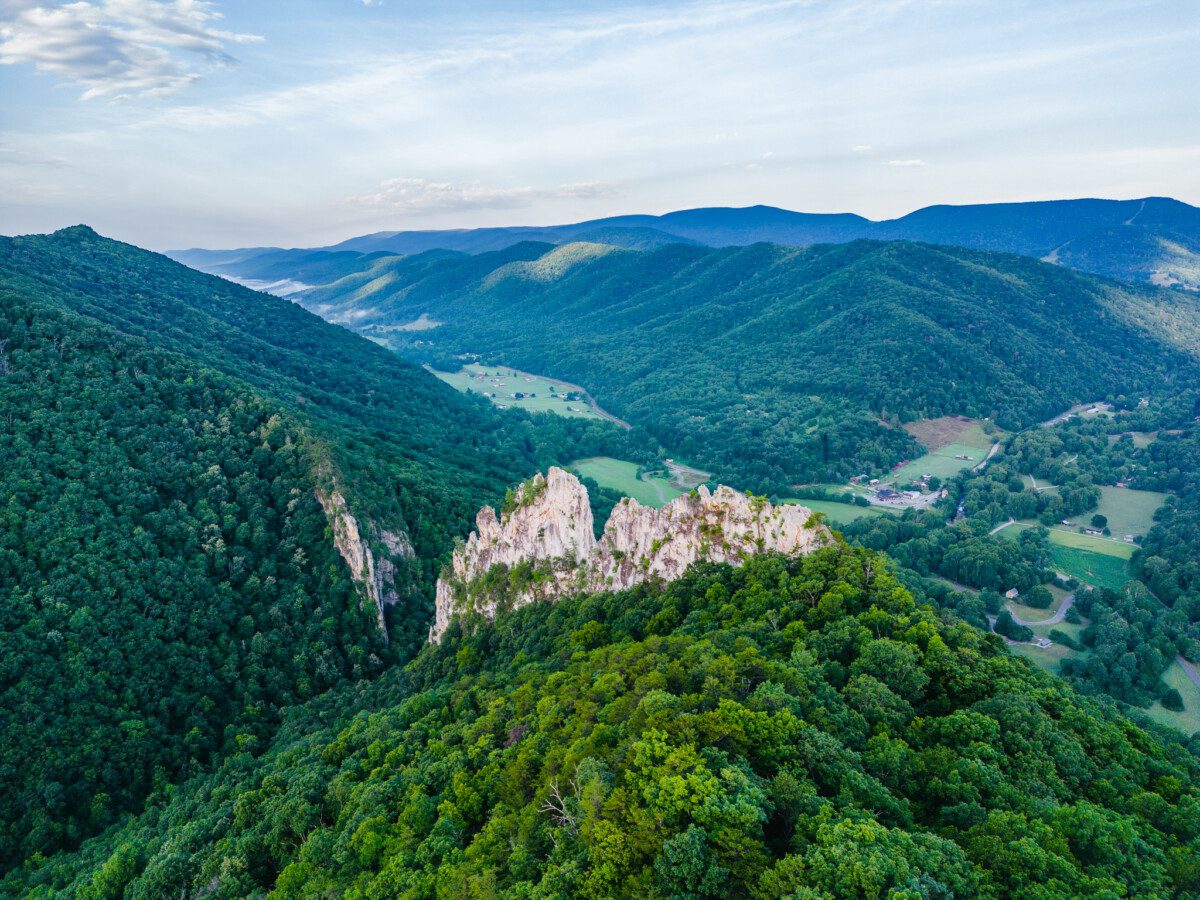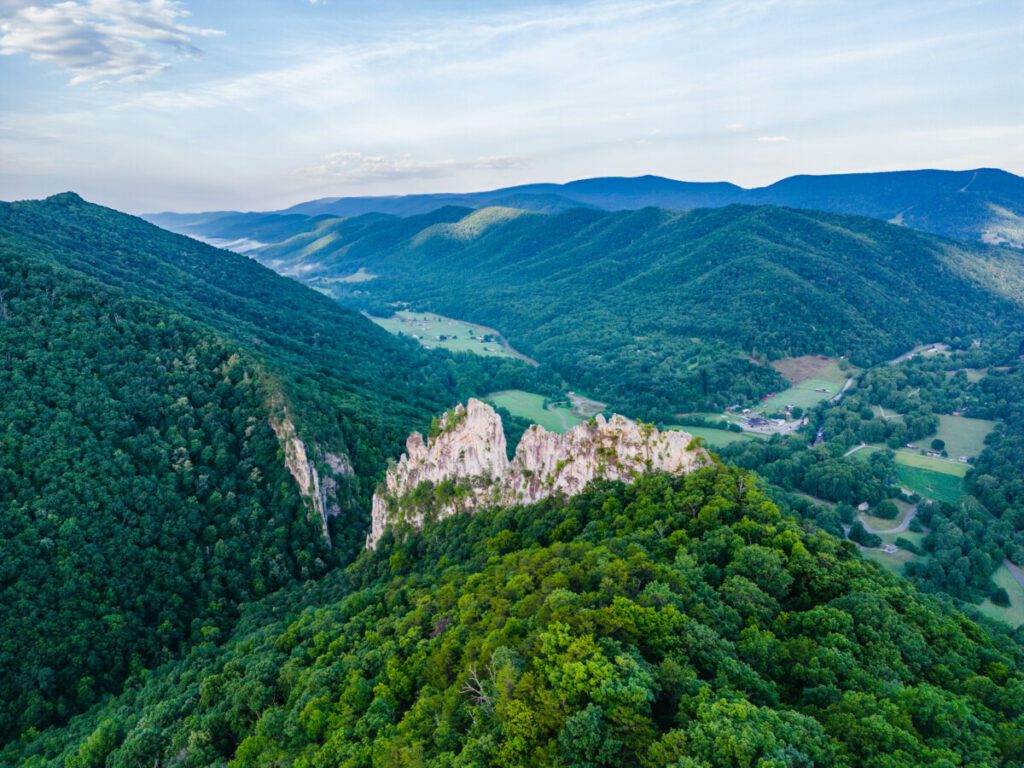 Seneca Rocks
West Virginia's Seneca Rocks is a great area for hikers and rock climbing enthusiasts! The best time to visit Seneca Rocks is definitely at sunset, but it's still absolutely beautiful during the day as well. The hike to get to the top of Seneca Rocks is about 3.6 miles round trip. You can find the trail data here.
After visiting Seneca Rocks, you'll have a longer 1 hour 45 minute drive to check into your cabin at Watoga State Park for the night.
Drive to Watoga State Park
Watoga State Park is actually an incredible area to stargaze and shoot astrophotography! As of 2021, the International Dark-Sky Association awarded Watoga State Park with official Dark Sky Park status. If you are into astrophotography or watching the stars, we'd definitely recommend staying up a little later to take advantage of the dark sky before heading to bed.
DAY 3: Watoga State Park & Waterfalls
Watoga State Park is one of West Virginia's hidden gems! It is actually the largest state park in West Virginia. Watoga has a reputation for its vast wildlife and recreational activities like fishing, hiking, and swimming. Make sure to brush up on your bear safety as there are black bears located throughout the park – we ran into a mamma bear with some of her cubs. 
Once you've explored the park a little bit, it's time to head over to your last waterfall of the West Virginia Waterfall Trail for this trip, Falls of Hills Creek.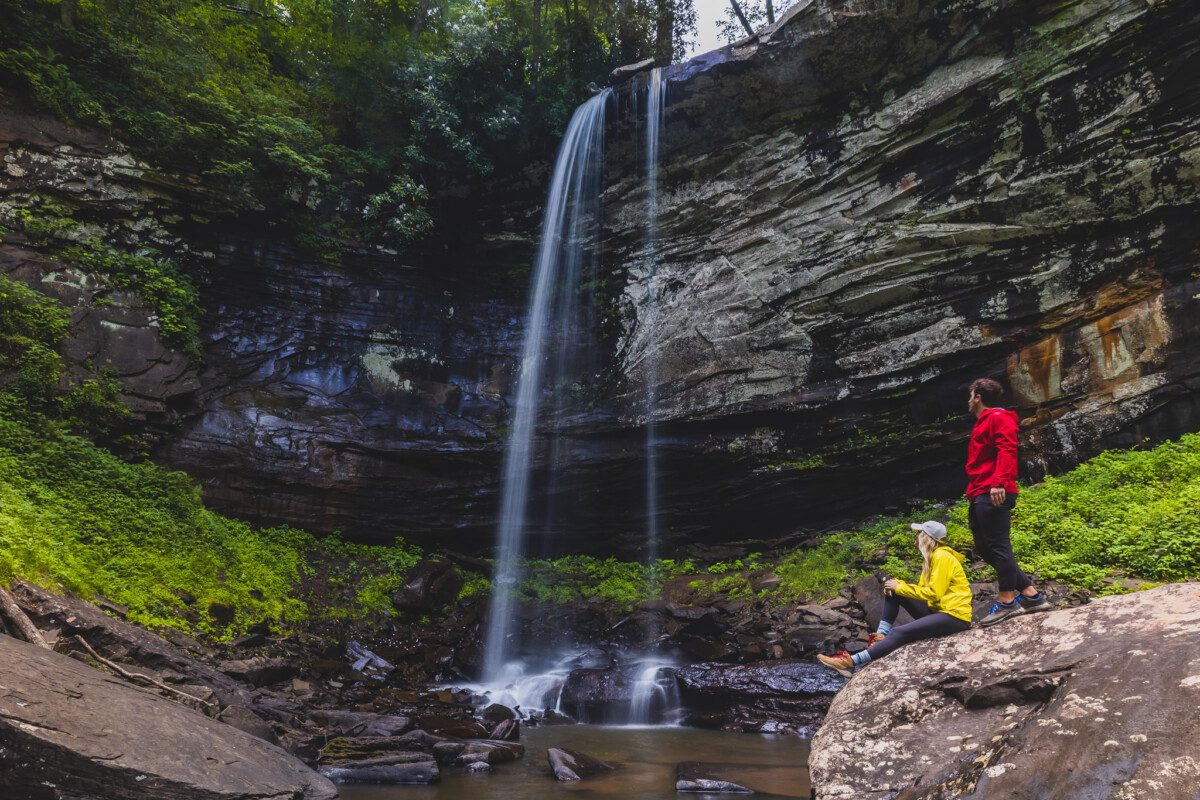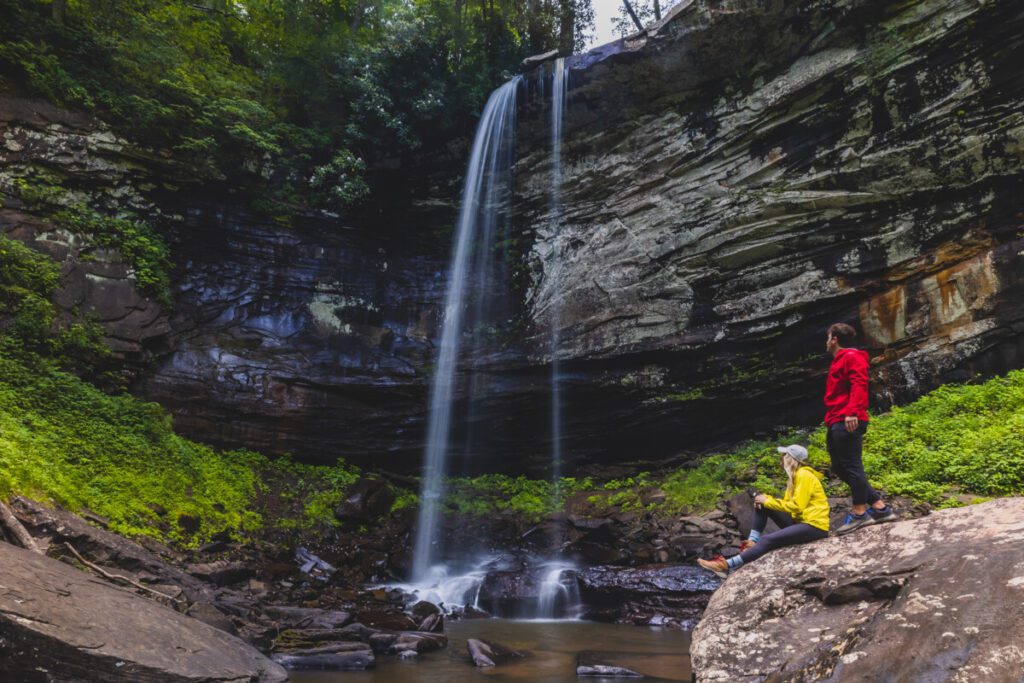 Falls of Hills Creek
The Falls of Hills Creek hike is a hike compiling of three different waterfalls that cascade over rock layers of sandstone and shale. Be warned, this 1.4 mile trail has over 400 stairs so although it's easy on the way in, you'll be working up a sweat on the way back to the trailhead. 
This trail provides paved access to the falls via a long boardwalk. A scenic forest trail leads into a narrow Gorge containing 3 waterfalls, the largest of which is 65 feet high, and is the second highest waterfall in West Virginia. Admittedly, the last waterfall on the trail was our favorite and reminded us of something straight out of Iceland! 
This was probably our favorite waterfall hike we did along the West Virginia Waterfall Trail and definitely recommend prioritizing this on your 3 day road trip itinerary!
Finally, after your last waterfall hike of the trip, it's time to head back to Washington Dulles Airport! We hope you enjoyed our West Virginia Waterfall itinerary for a 3 day road trip. Let us know which West Virginia waterfall is your favorite!