14 Best Stops on a South Dakota Road Trip
South Dakota is a state that absolutely took our breath away. From the incredible vast badlands, to towering pinnacles, to roaring waterfalls and swimming holes, to historical monuments, South Dakota is a destination every adventure lover should have on their travel bucket list. In this Ultimate South Dakota Road Trip Guide, we're sharing all the bucket List destinations from Sioux Falls to Rapid City.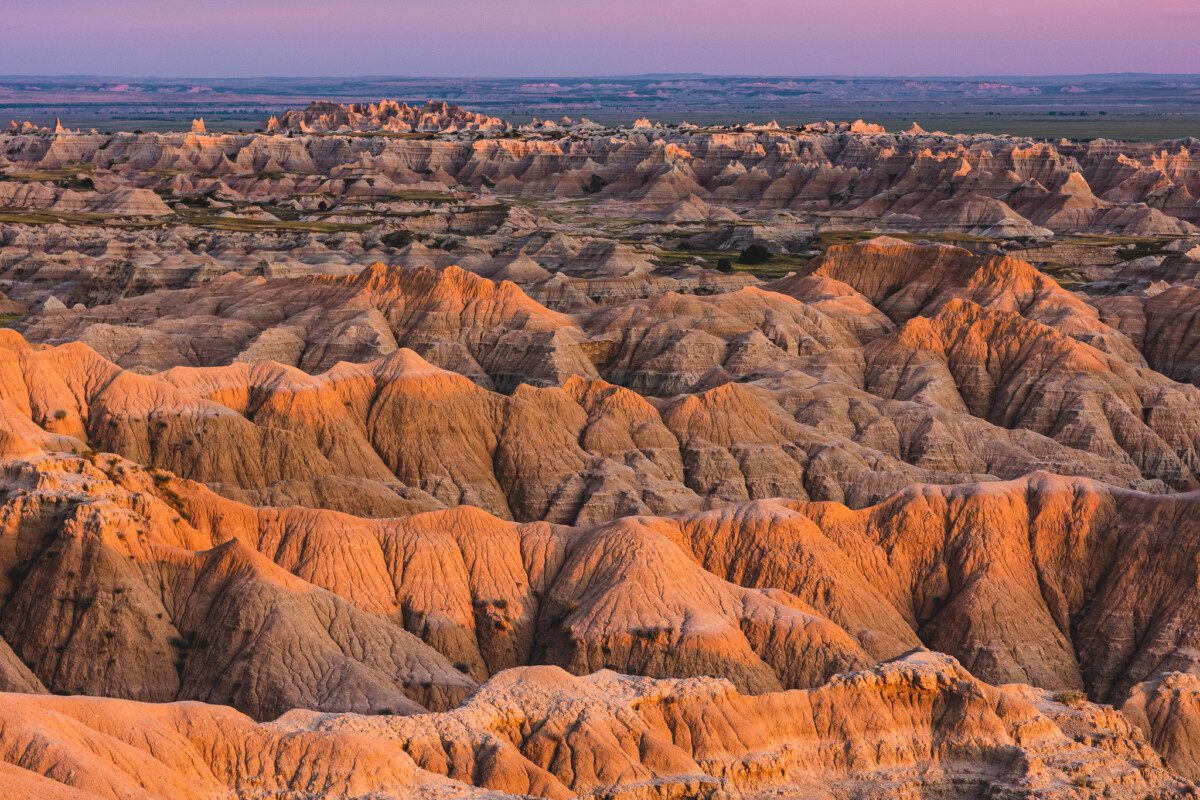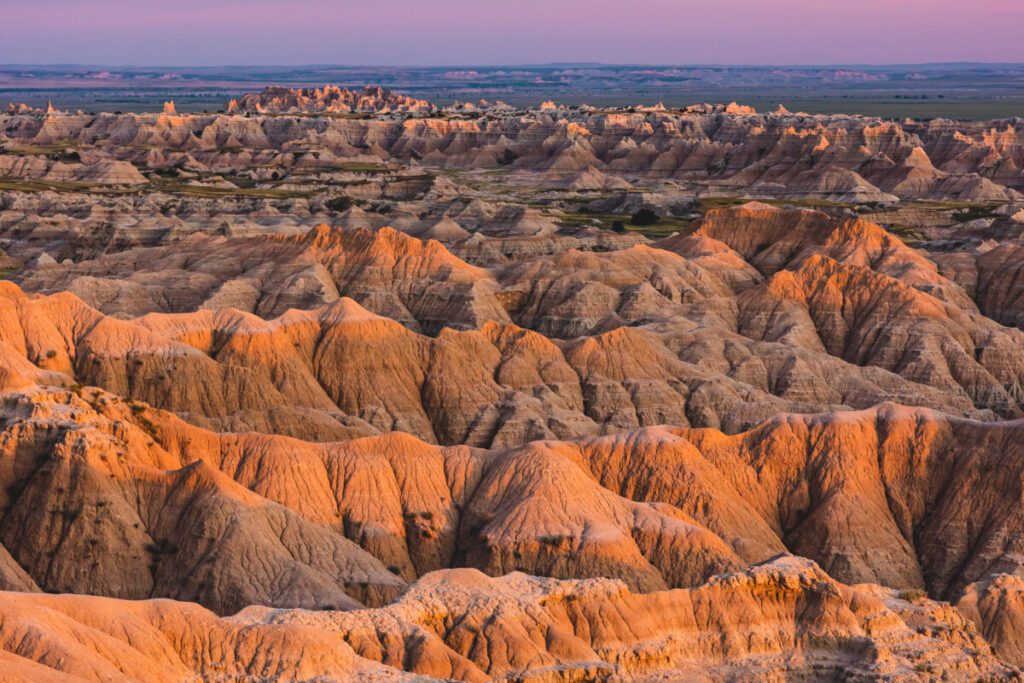 Disclaimer: This blog post is in collaboration with Travel South Dakota. Some parts of the article also feature affiliate links, which means we get a small commission if you make a purchase (at no extra cost to you). It's one of the ways we can keep producing free guides and resources for our readers. Thank you for the support!
South Dakota Road Trip Planning
Where to Start and End Your South Dakota Road Trip
To start your Day South Dakota road trip, you have 2 main options. You will be starting and ending your road trip in Sioux Falls, or more specifically, the rental car area near the Sioux Falls regional airport. You will end your South Dakota Road Trip in Rapid City.
In saying that, you could jump on these itineraries at any stage of your South Dakota road trip and you may opt to start/finish in the opposite direction. We'd recommend giving yourself 5-7 days in total to complete all of the 14 best things to do in South Dakota.
Getting Around South Dakota
The best attractions in South Dakota are fairly spread out, so we'd highly recommend having some sort of vehicle to get around. Public Transportation isn't very accessible or abundant. If you're flying into South Dakota, pick up a rental car from the airport, or check out the available rentals on Turo.
Best Time To Go on a South Dakota Road Trip
The best time to take a road trip to South Dakota is definitely from Spring & Fall. The shoulder seasons typically have fewer crowds and more mild, enjoyable weather! Summer is also fantastic, however, just be careful about the heat as the temps get into the 90s in the middle of the day. Also, make sure to keep an eye out for thunderstorms as they are quite common in the summer.
14 Must See Stops on a South Dakota Road Trip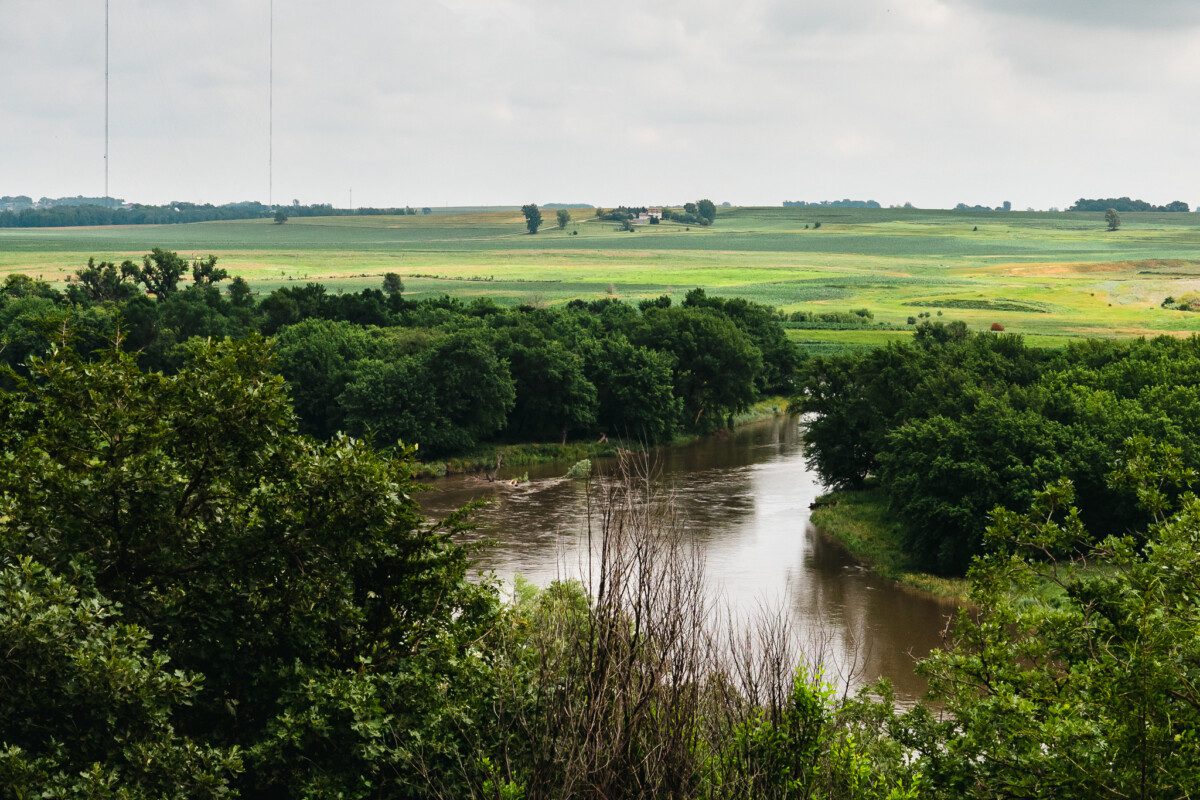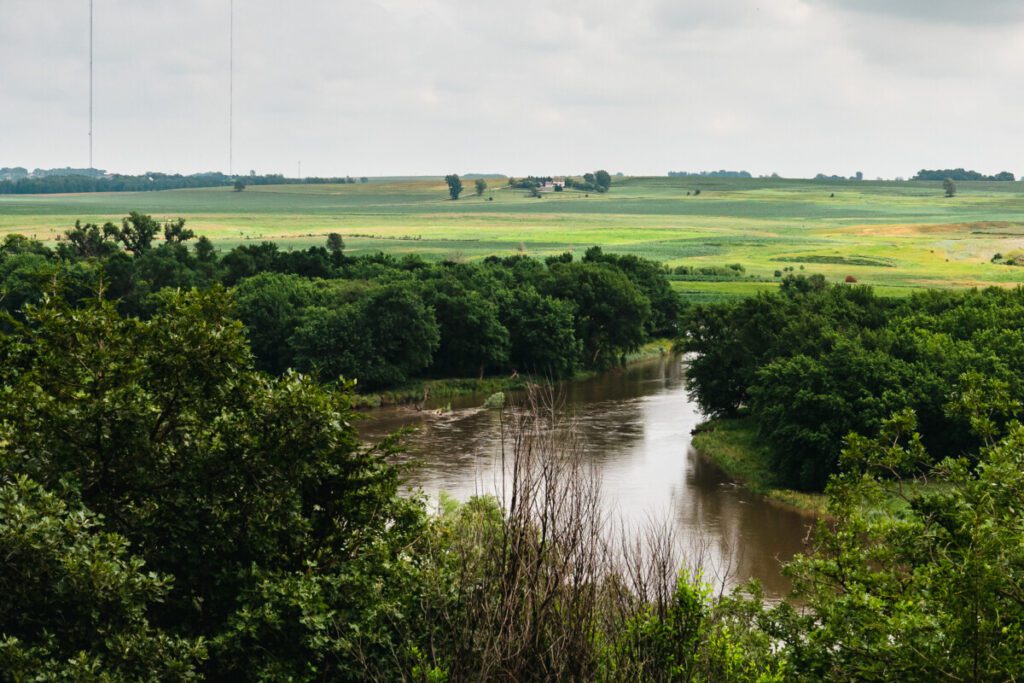 South Dakota Road Trip Stop #1 – Good Earth State Park, Sioux Falls
Good Earth State Park is definitely one of the top things to do in Sioux Falls for outdoor lovers. It makes for a nice sunrise or sunset location and has plentiful wildlife throughout the park.
It is a super historical area in terms of Native American history in South Dakota as well. Make sure to check out its thorough exhibits on the Oneota Tradition Peoples, including Omaha, Ponca, Ioway and Otoe.
There is an $8 vehicle fee to enter, or you can use your South Dakota State Parks pass. For more info on the park, check out their website here.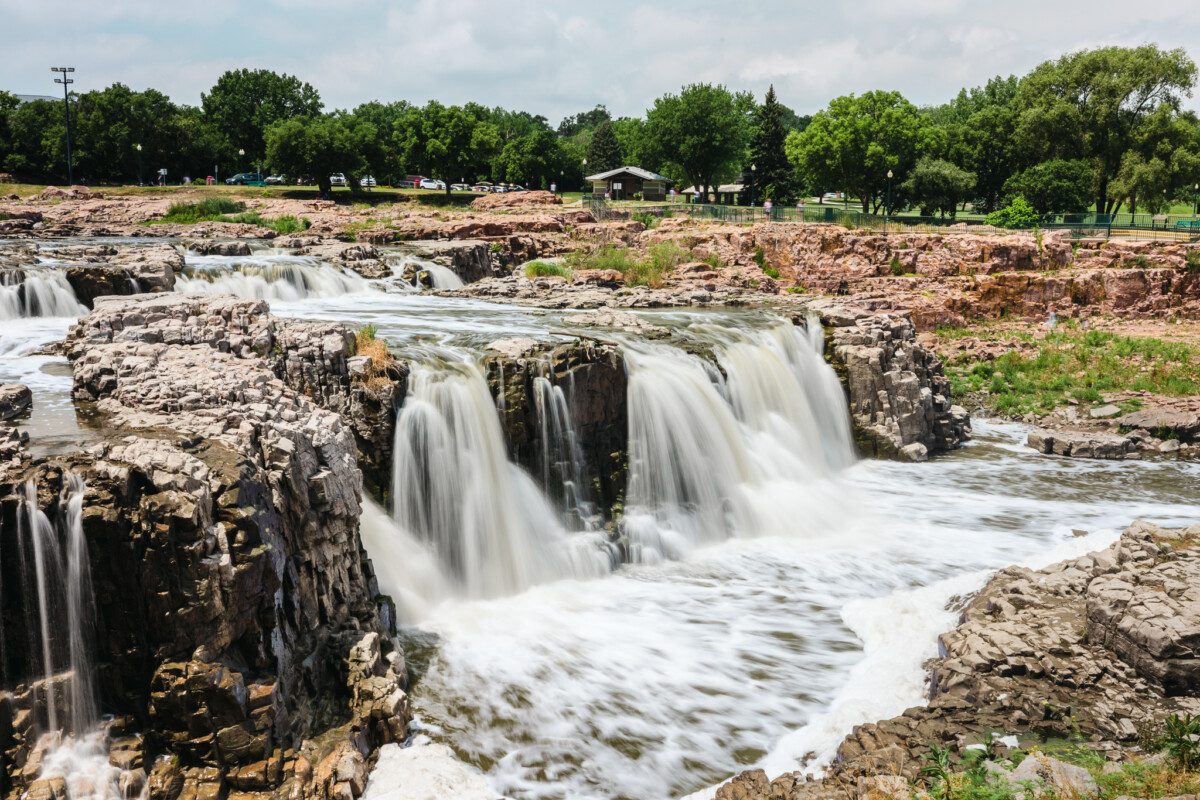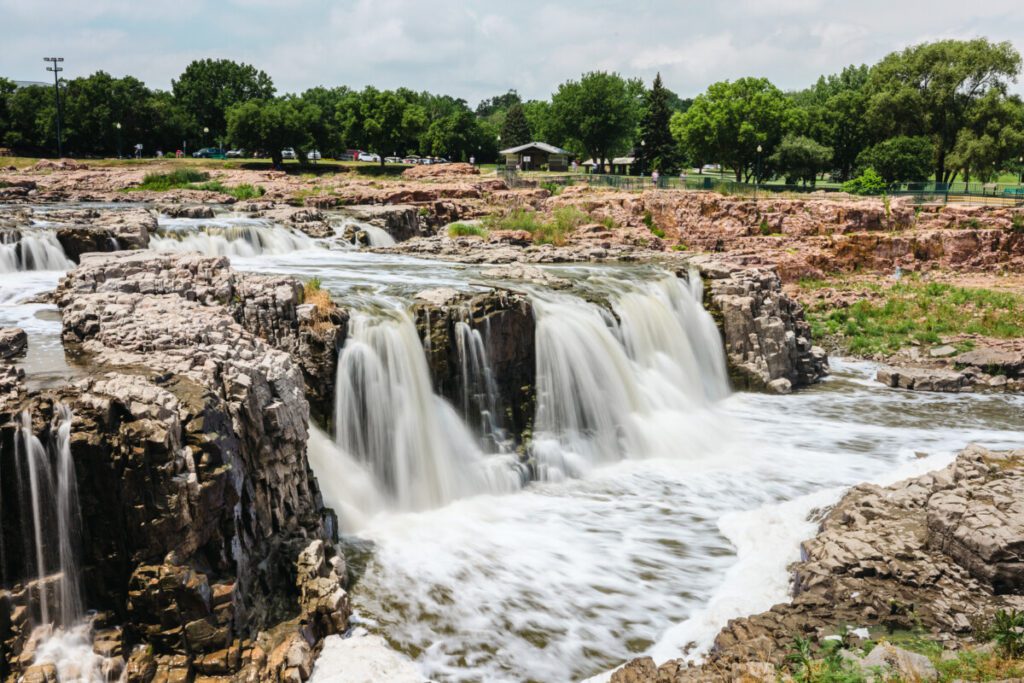 Stop #2 – Falls Park, Sioux Falls
This area is definitely the best thing to do in Sioux Falls during your time on this side of South Dakota! The park itself is super beautiful and is surrounded by these cascading waterfalls and a fun watchtower to get a nice view from above. Every day, an average of 7,400 gallons of water fall over 100 feet each second!
Stop #3 – Corn Palace, Mitchell
The Corn Palace is a quirky and mandatory tourist stop along your road trip in South Dakota. It's en route to the Badlands from Sioux Falls and makes for a great stop to break up your drive and grab some food in town. Make sure to pick up some home made popcorn balls for road trip snacks – they're delicious!
The Corn Palace is the world's only arena made out of corn, and is continuously being maintained so that the corn doesn't rot! It's also named as one of the top places to play basketball in the USA.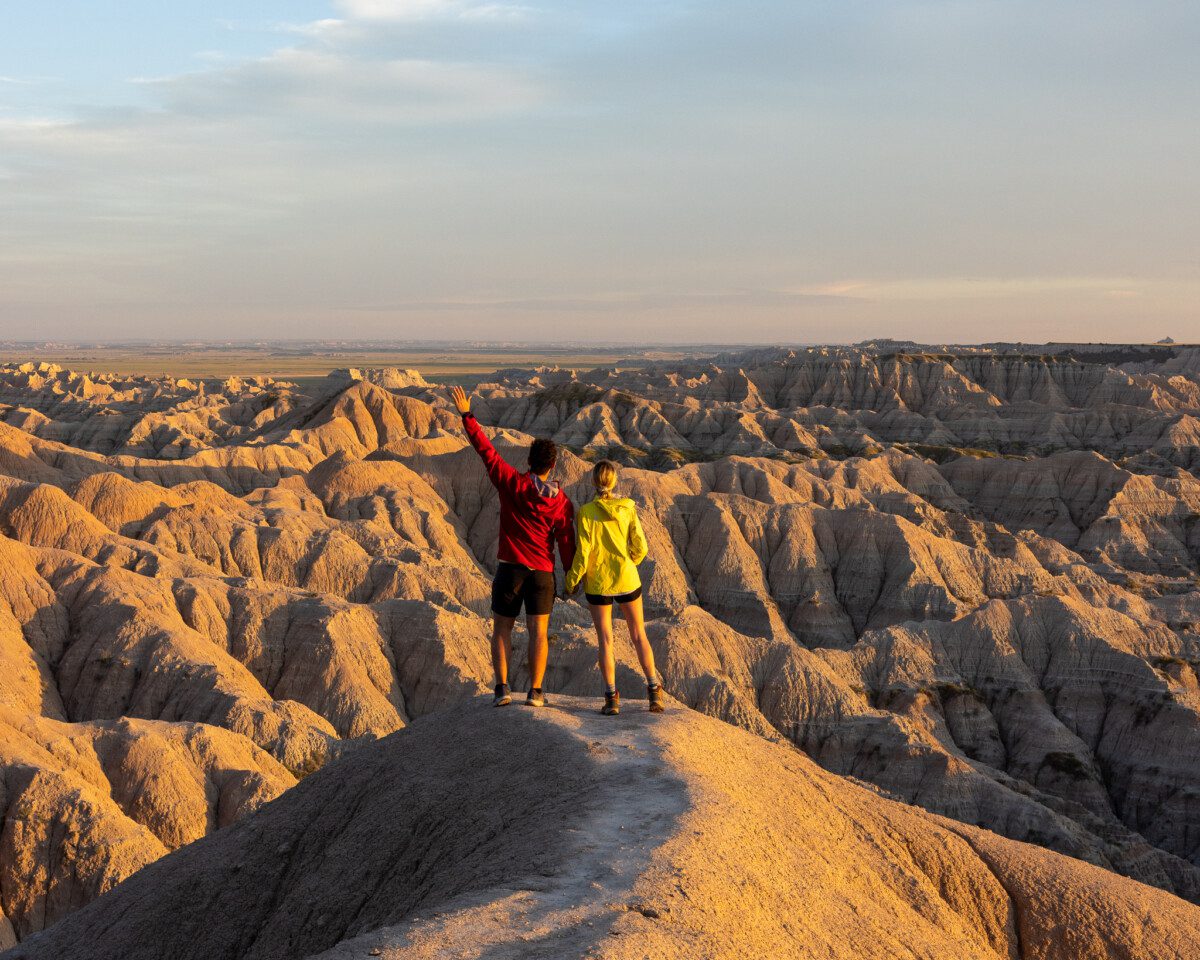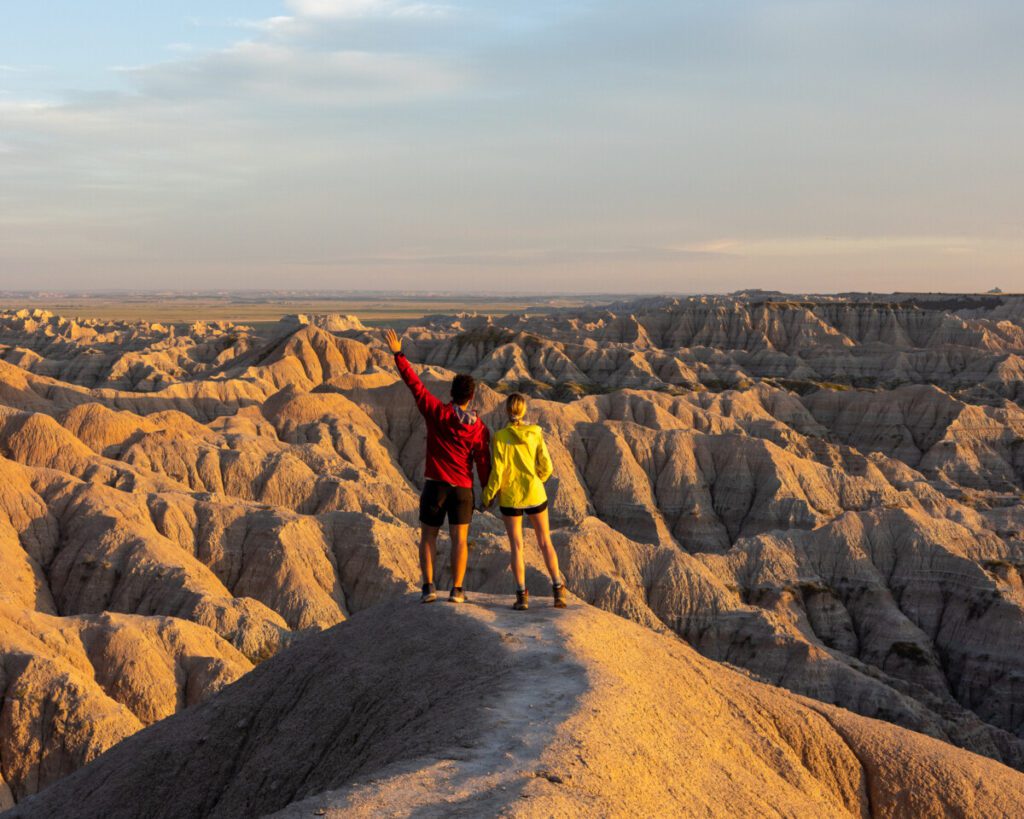 Stop #4 – Badlands National Park
Badlands National Park is a must do during your South Dakota road trip. This was one of our favorite national parks that we've been to together so far and one of the highlights from our trip around South Dakota. The Badlands themselves are incredible, the sunsets were something else, and the wildlife was so abundant!
How Long to Spend at Badlands National Park on Your South Dakota Road Trip
If you really want to experience everything in Badlands National Park, we'd recommend visiting for a minimum of 1-2 full days. You can definitely see all of the highlights of the park in one day though.
Badlands National Park Weather
The weather at the park is pretty pleasant year round, however, it does get quite hot during the summer time so make sure to pack accordingly and to start your hikes early in the morning or late in the day to avoid those peak heat hours from 10am-2pm. 
Where to Stay at Badlands National Park
We stayed at the cutest lodge in Wall at the Frontier Cabins. This was the perfect accommodation for us as it is a 10 minute drive away from the Pinnacles Overlook entrance to the park. We loved the cabins for a glamping feel.
If you're looking to camp, backcountry camping is actually permitted anywhere within Badlands National Park — no permit needed — as long as the campsite isn't visible from any of the park's roads or trails and is at least a half-mile away. They also have 2 established campgrounds if you'd prefer more amenities that you can book sites at here.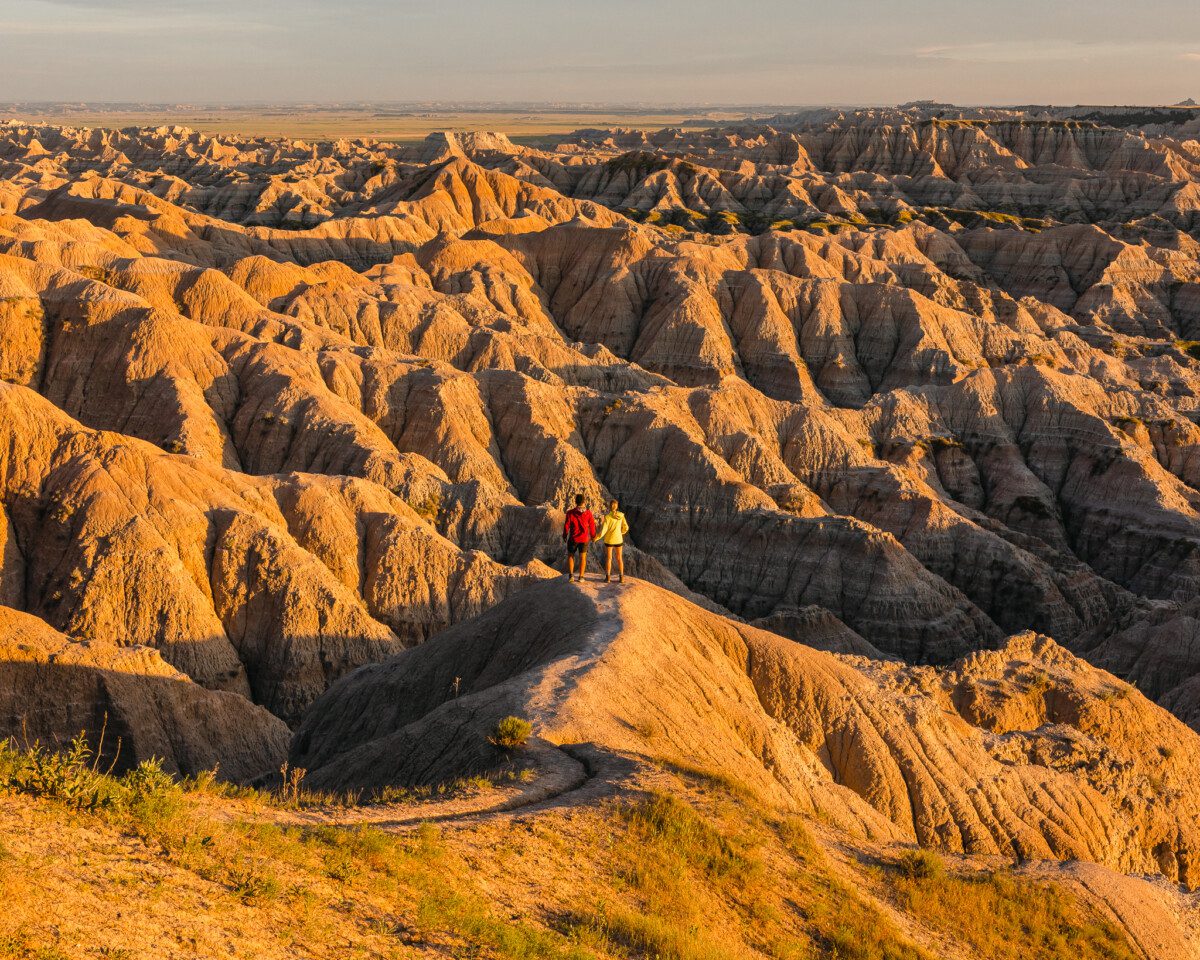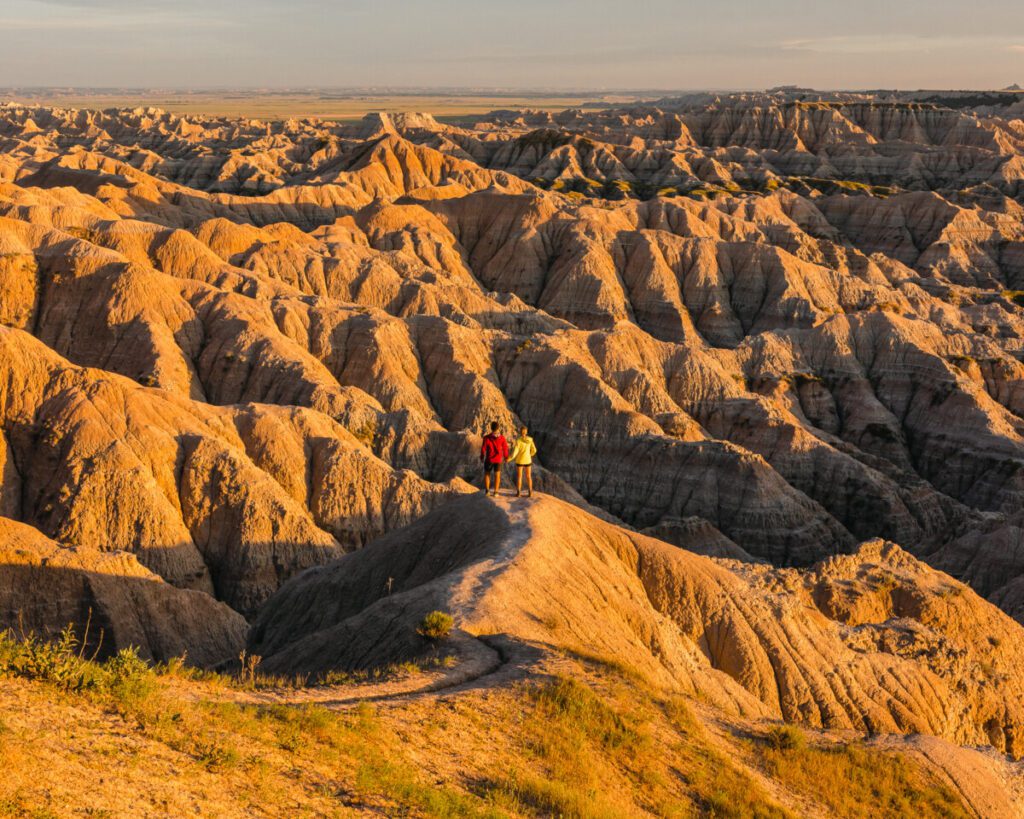 Hiking & Best Viewpoints in Badlands National Park
In our opinion, the best hikes to do in Badlands are the Door Trail, Window Trail, Notch Trail which all leave from the same trailhead parking lot! The Castle Trail is another great trail for sunrise and sunset to see the golden hour glow on the Badlands.
The best sunrise spots in Badlands are the Big Badlands Overlook, Panorama Point, the Door Trail, the Norbeck Pass area and the Dillon Pass area based on the positioning of the sun rising.
For sunset, on the other hand, check out Pinnacles Overlook, Conata Basin Overlook, Bigfoot Pass Picnic Area, and the Norbeck Pass area. Our absolute favorite viewpoint in Badlands was the Pinnacles Overlook area for sunset time – just be warned it does get crowded! Get there early to reserve a parking spot.
Don't forget to stop by Robert's Prairie Dog Town to watch the thousands of prairie dogs pop out of their holes! If you're lucky, you'll also find some other wildlife in this area. We saw a coyote, a badger, and some bison in this area during our visit.
South Dakota Road Trip Stop #5 – Wall Drug
Wall Drug is a store located right outside of Badlands National Park that draws almost twice as many visitors per year! To truly understand its hype, you have to add this as one of your South Dakota road trip stops.
The store is essentially everything you could possibly need in one establishment – from a cafe, to cowboy boot fittings to a bookstore to an apothecary. Make sure to visit the cafe and grab some of their famous $.01 coffee and if you're visiting for lunch, they are known for their Bison Burger!
Stop #6 – Rapid City 
Rapid City is a perfect stop for your South Dakota road trip. In fact, if you are short on time and only have a few days to explore South Dakota, we'd recommend you starting and ending your road trip here rather than starting in Sioux Falls.
We stayed at the Hotel Alex Johnson, which is a historical hotel right in the middle of downtown Rapid City, and is famous for its paranormal activity! Although we didn't have any experiences during our visit, there's a full guest book at the front desk detailing people's encounters throughout the year. Their rooftop restaurant and bar, the Vertex, can't be missed as well! They have the best views of Rapid City from above at night and great vibes.
Make sure to wander around downtown and check out all of the local shops! There's a ton of quaint stores to check out.
In our opinion, the best things to do in Rapid City are all surrounding the Black Hills Region! Before you head out to the adjacent Black Hills, stop by Black Hills Bagels for a delicious breakfast!
South Dakota Road Trip Stop #7 – Deadwood
Deadwood is the most quintessential gold mining western town we've ever seen. If you picture a movie of a western cowboy showdown, it was probably filmed in a location modeled after this famous city.
Stop by on your way into Spearfish Canyon for a bite to eat, or experience one of the famous ghost tours along your South Dakota road trip.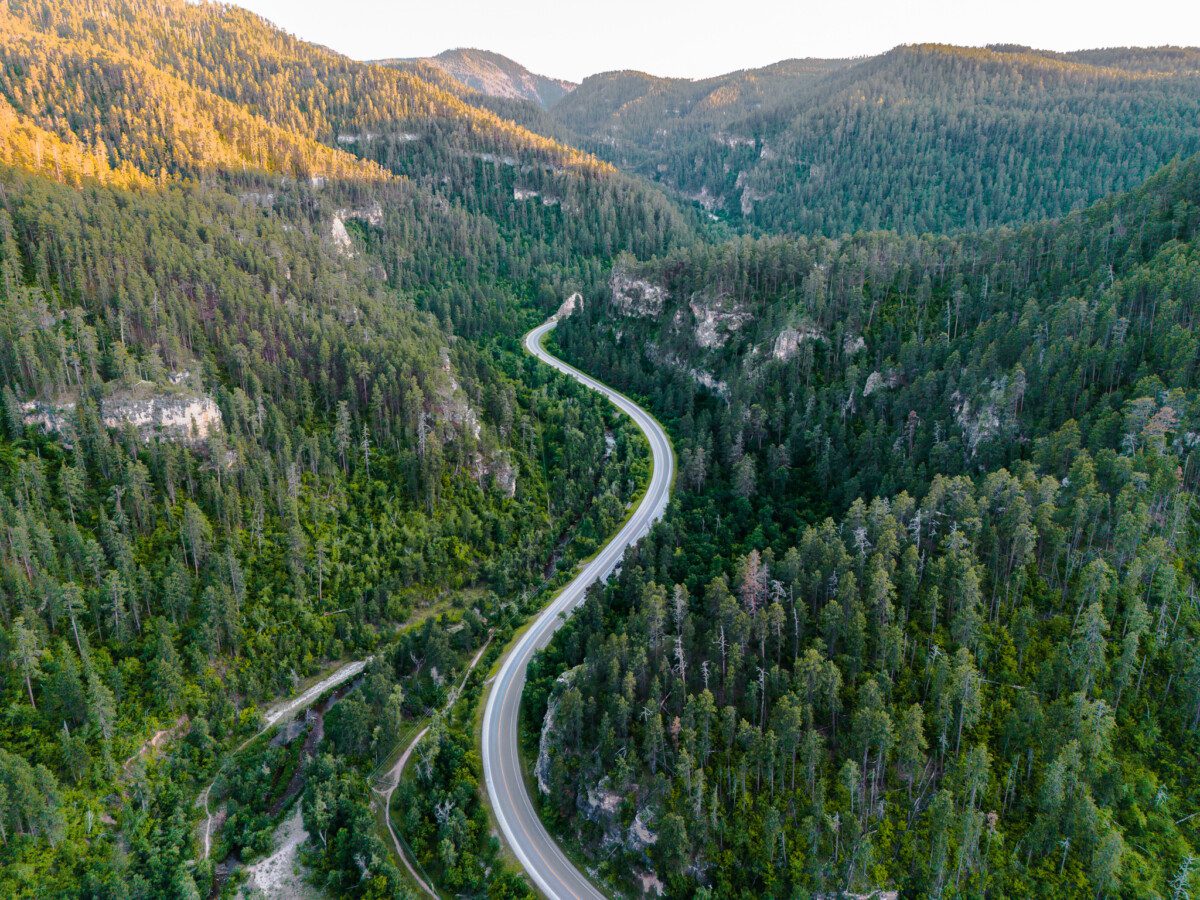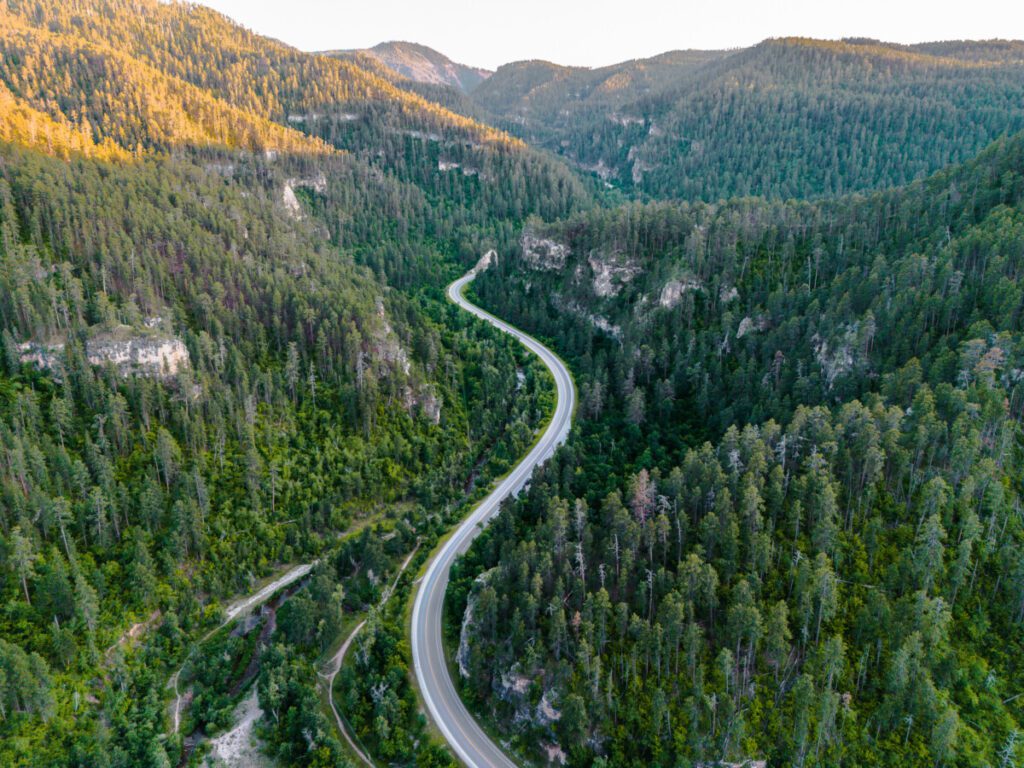 South Dakota Road Trip Stop #8 – Spearfish
One of the best family friendly stops and most scenic spots along the way of your South Dakota road trip is going to be along the Spearfish Scenic Byway. This stretch of highway has so many natural hidden gems located right off the side of the road!
We spent one whole day exploring this area and were able to hit several small trails and viewpoints in one day. However, if you'd like to take your time in this area and spread out your hikes, we'd say two days is a good amount of time to spend in Spearfish, South Dakota. Make sure to add the following stops along your itinerary in Spearfish:
Roughlock Falls
Mileage: 2.1 Miles Round Trip
Elevation Gain: 242 Feet
You can actually drive up and park right next to the falls instead of hiking if you are so inclined! Otherwise, if you decide to hike to Roughlock Falls, it's a pretty mild, beginner and dog friendly trail with minimal elevation gain. We'd recommend hiking to the falls at sunrise or sunset for the best lighting if you are a photographer to prevent your highlights from being blown out.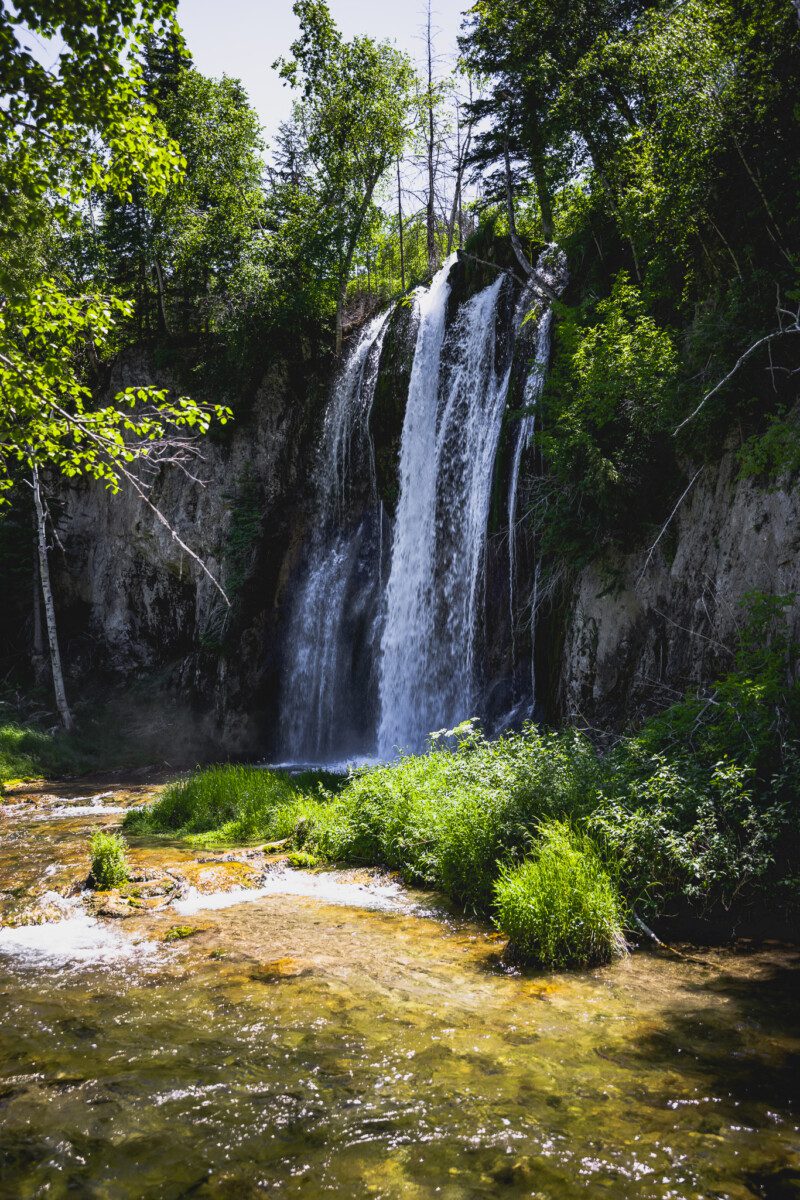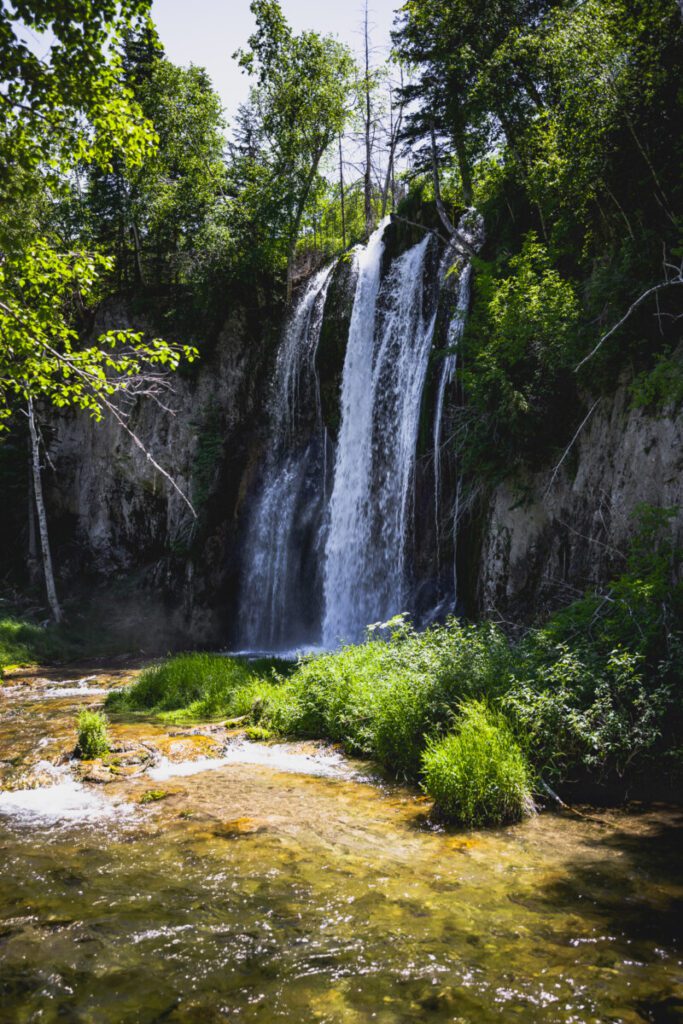 Spearfish Falls
Mileage: .8 Miles Out & Back
Elevation Gain: 62ft
Make sure to park over by the Roughlock Falls Trailhead as well to avoid any parking issues. It's a short minute or two walk away from the Spearfish Falls Trailhead next to the road.
This hike is beginner and family friendly, but we'd definitely recommend hiking earlier in the morning to avoid getting too hot in the middle of the day.
Devil's Bathtub
Mileage: 1.6 Miles
Elevation Gain: 190ft
If you only have time to do one hike while making your road trip stop in Spearfish, make sure it's this one! The Devil's Bathtub hike is super fun and filled with river crossings and swimming holes.
Bridal Veil Falls
This beautiful waterfall in Spearfish is quite literally right off the side of the highway. Simply park on the adjacent side of the highway where there is a giant pullout for parking and head on over to view the gorgeous waterfall! There is a boardwalk to view the falls from and this is accessibility friendly.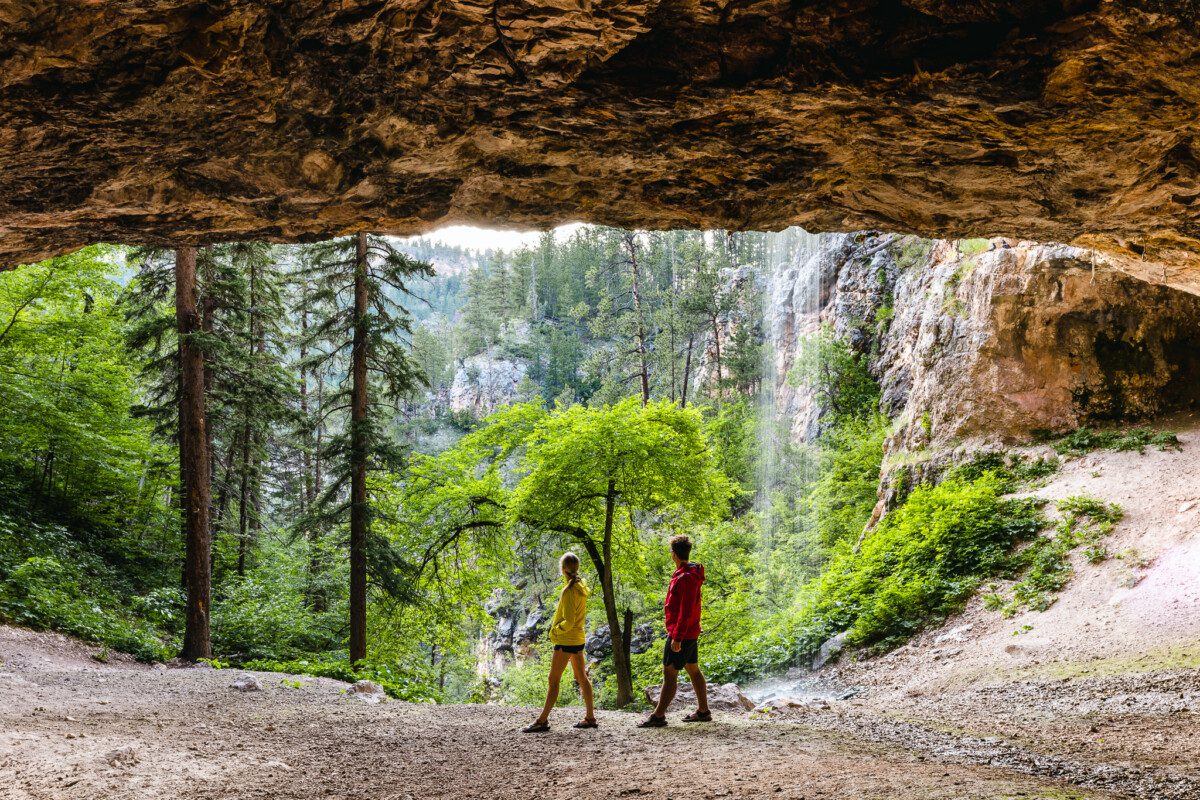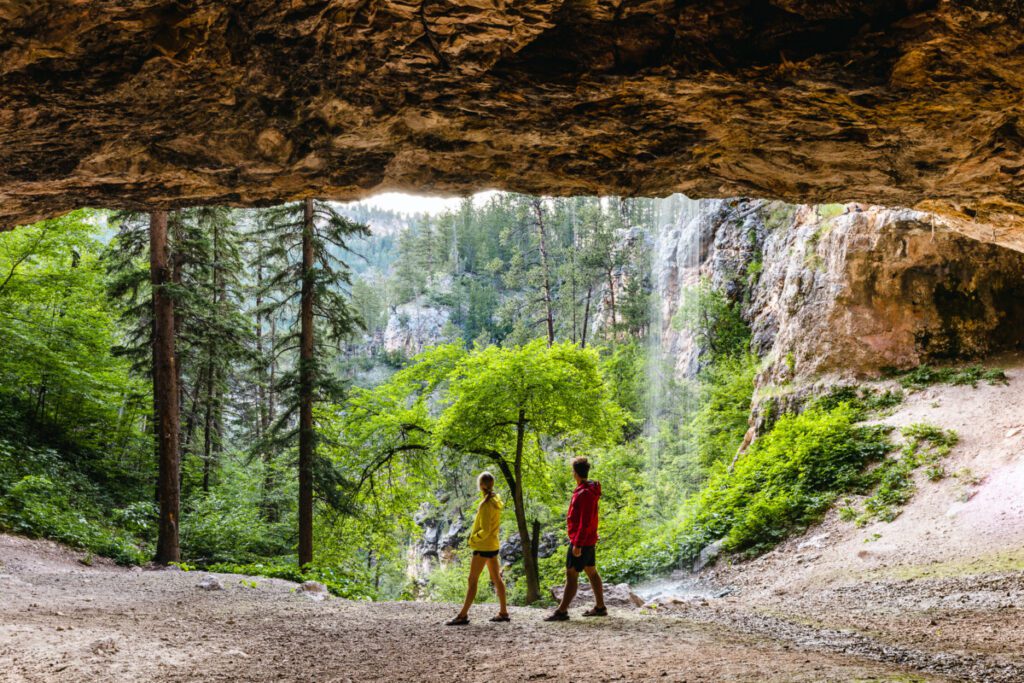 Community Cave Trail
Mileage: .6 Miles
Elevation Gain: 180ft
The Community Cave trail is a popular hike in Spearfish, however, it's not so easy to find! Make sure to have your trail data downloaded ahead of time as it's quite easy to get lost on this trail since there are no manmade trail markers anywhere and it does involve one stream crossing. It's a pretty short, but steep hike that takes you up a gully to a gorgeous cave often used for recreation and sport rock climbing.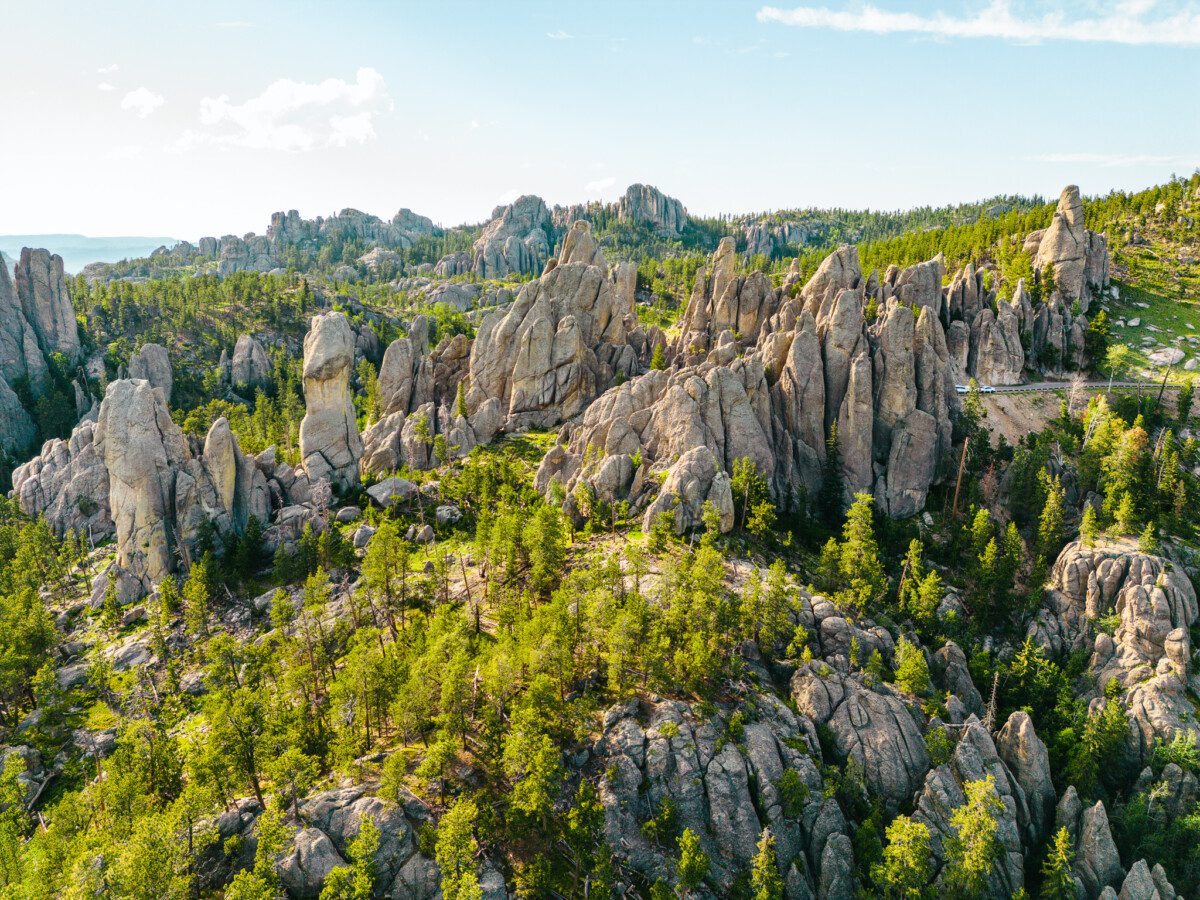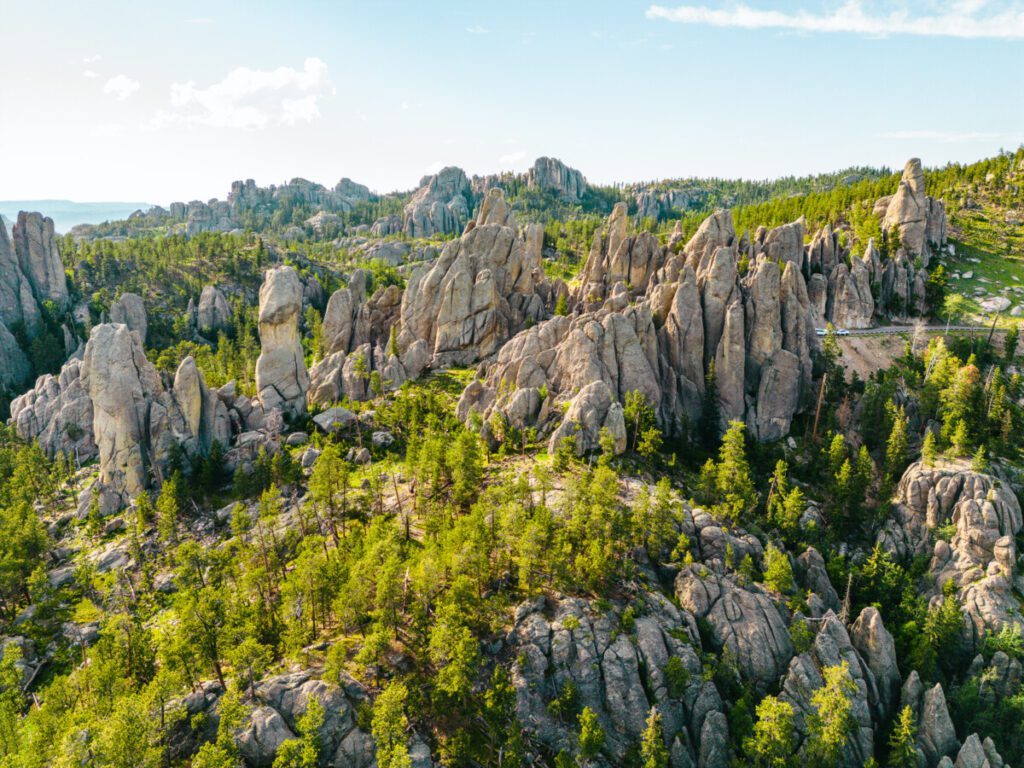 South Dakota Road Trip Stop #9 – Custer State Park
Drive the Needles Highway
The Needles Highway in Custer State Park is easily one of the most beautiful scenic drives in all of the USA. It takes you among the gorgeous pinnacles all around Custer State Park. Make sure to give yourself at least 1-2 hours to fully explore the whole thing out and back.
Take a Hike along the Cathedral Spires Trail
Mileage: .6 Miles
Elevation Gain: 180ft
The Cathedral Spires Trail is a great intermediate hike for those wanting to get right in the middle of the spires around Custer. It puts you up close and personal with the spires and takes you up and through a lush meadow.
Watch a Sunset at Sylvan Lake
Sylvan Lake is a beautiful gem of the Black Hills area of South Dakota. Sylvan Lake is right next to the Black Elk Peak trailhead. It's a top notch destination for sunset, but it can get fairly busy due to the National Treasure film series making the spot pretty popular!
You can swim, boat (non-motorized only), paddle boat, canoe, kayak, and/or paddle board around Sylvan Lake and if you don't have your own you can rent some!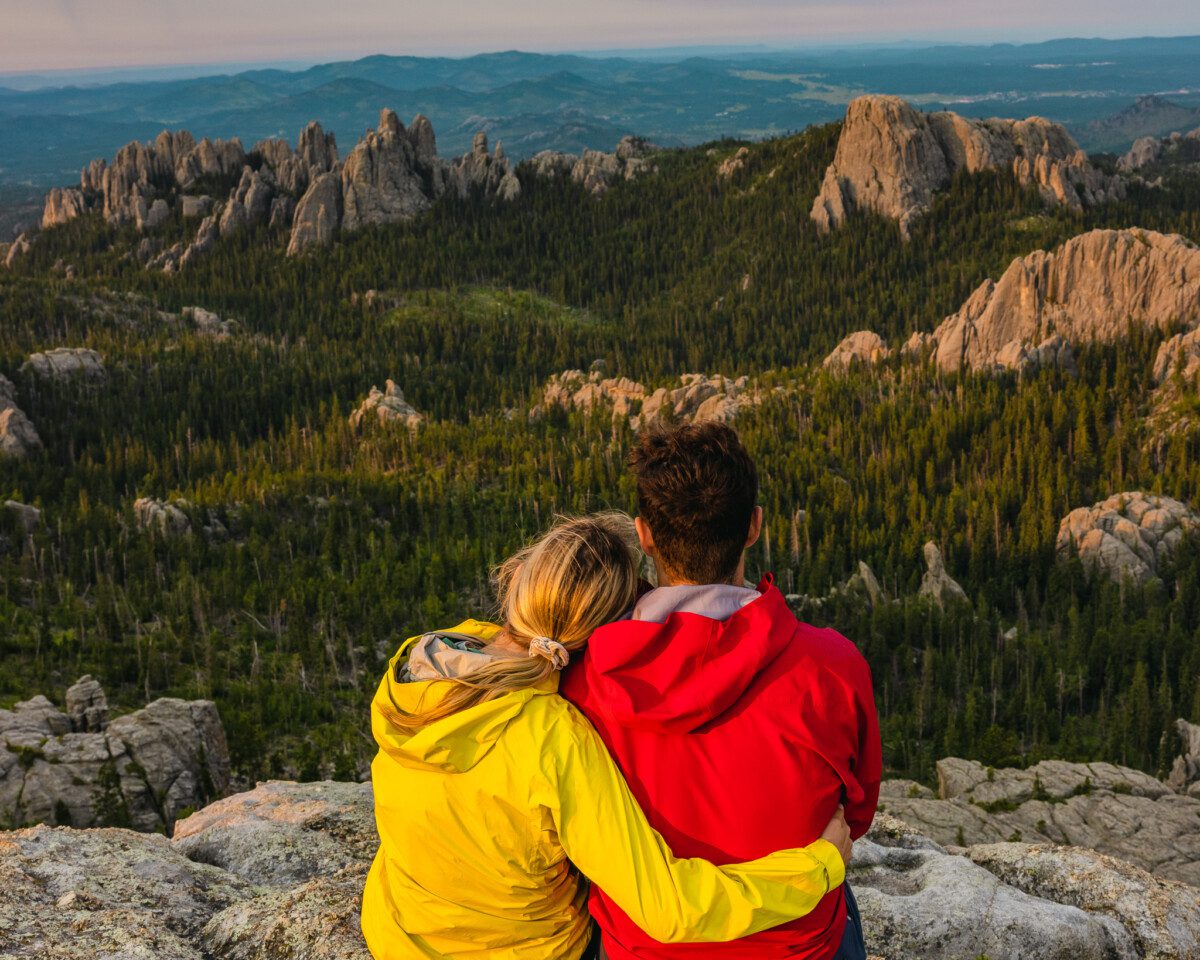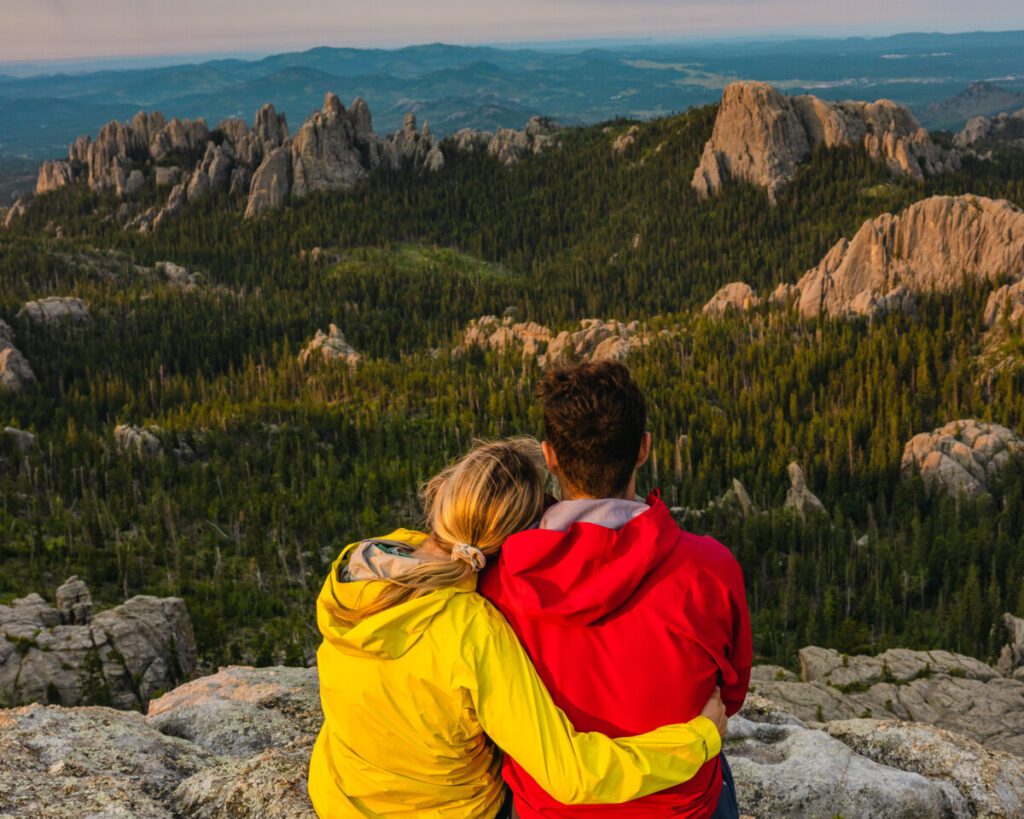 South Dakota Road Trip Stop #10 – Black Elk Peak
The tallest peak east of the Rockies is located right next to Custer State Park at Black Elk Peak. This was by far our favorite hike we did while we were on our South Dakota Road Trip. However, it was also the most challenging hike and is more suited for intermediate/advanced hikers.
There are several different routes to attempt the hike up to the peak. We did the Black Elk Peak via Harney Peak Trail which was approximately 7 miles round trip from start to finish. The trail is super well marked the entire way! We'd highly recommend hiking at sunrise or early in the morning since the parking lot fills up pretty quickly and temperatures rise pretty high during the middle of summer.
At the top of the peak, you'll be greeted with 360 degree panoramic views from the fire lookout watch tower. The landscapes are gorgeous and, if you're really lucky, you can even get a cloud inversion up here!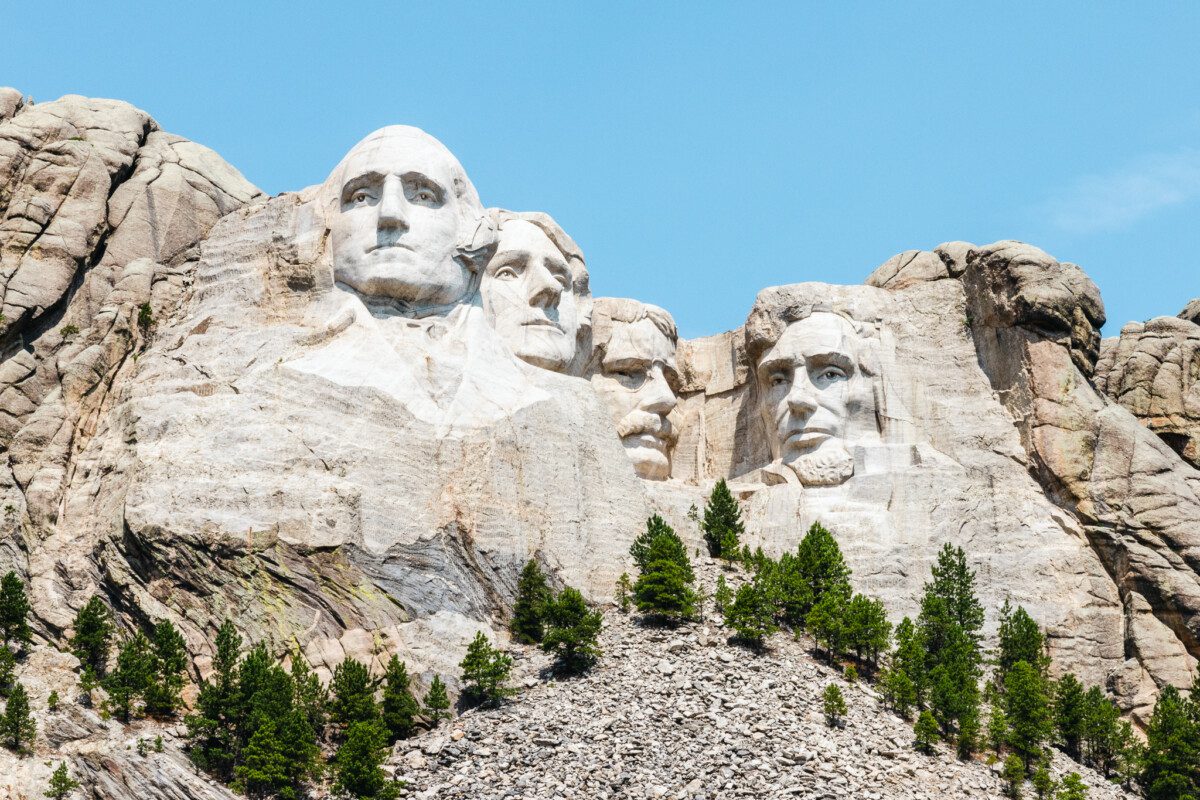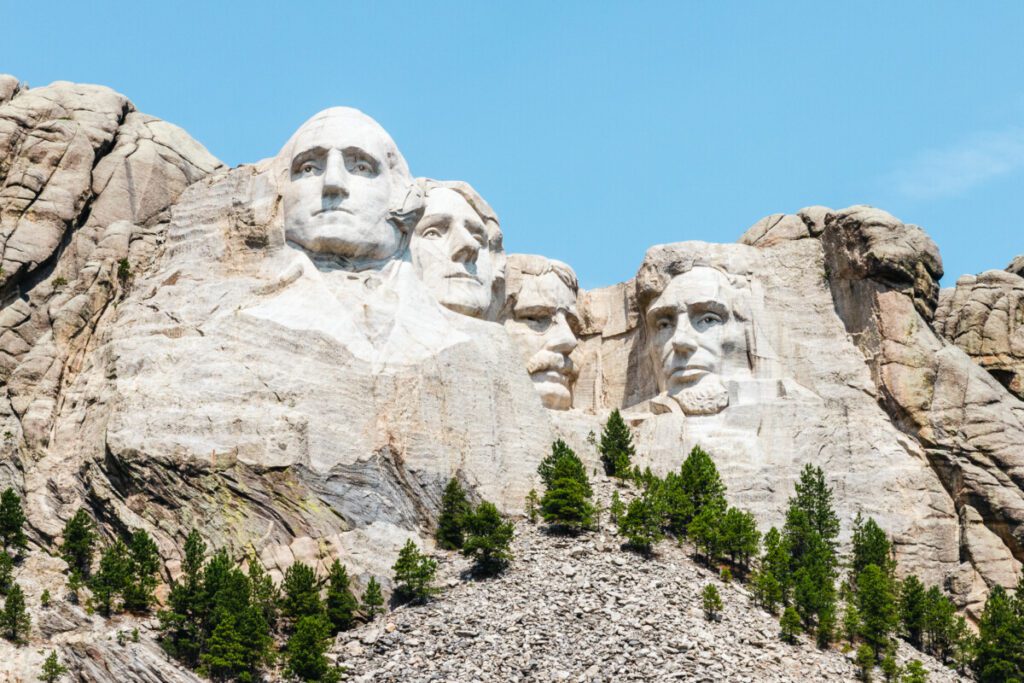 South Dakota Road Trip Stop #11 – Mt. Rushmore National Memorial
South Dakota is home to one of the most famous monuments in all of the USA – Mount Rushmore National Memorial. Mount Rushmore is the iconic memorial carving of 4 USA Presidents into granite rock. Although touristy, it should definitely be a road trip stop on your way through South Dakota.
We'd highly recommend visiting around sunrise if you want to enjoy the area without the crowds, and if you want to see the faces light up during golden hour!
If you'd like to get a closer look at the faces, you can embark on the short Presidents Trail. Make sure to also check out the Avenue of the Flags.
It costs $10 per vehicle to park on site and there's plenty of parking available.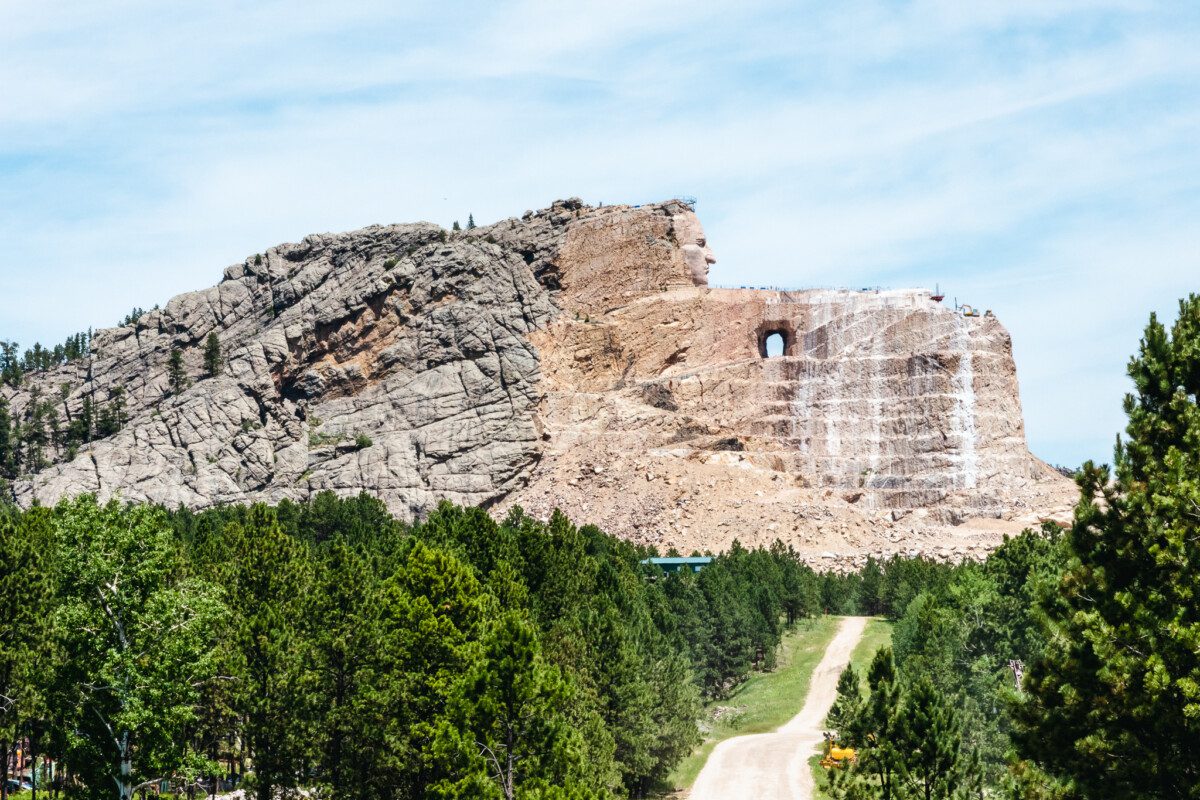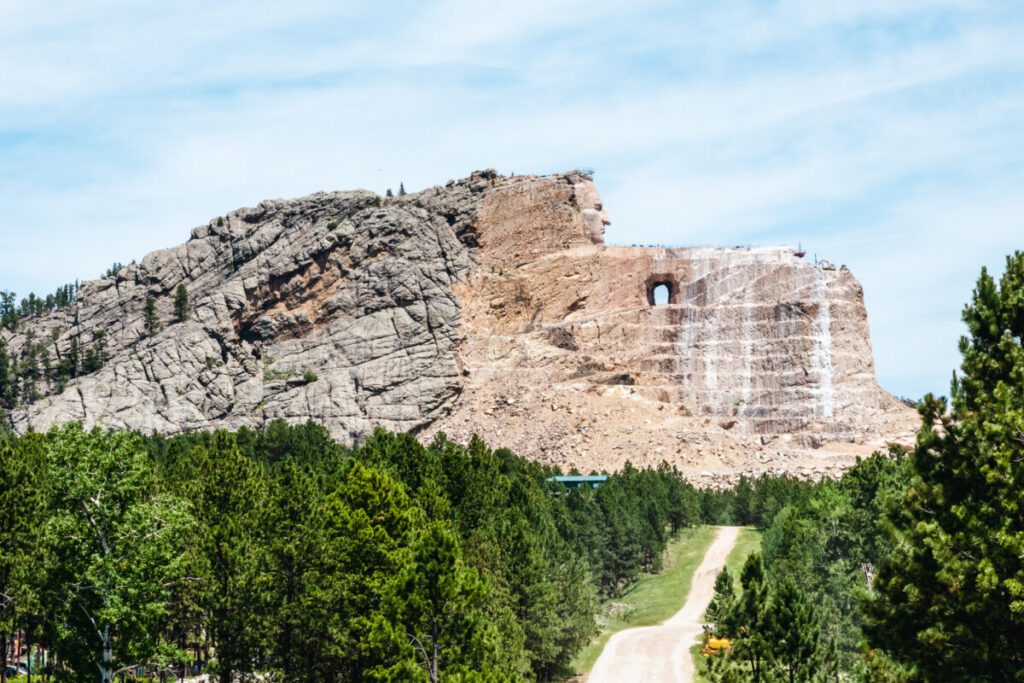 South Dakota Road Trip Stop #12 – Crazy Horse Memorial
The Crazy Horse Memorial is quite similar to Mt. Rushmore in that its focus is on a carving into rock. However, the Crazy Horse Memorial pays homage to Native Americans and indigenous peoples in the area that made the Black Hills area their home thousands of years ago.
Make sure to check out the Indian museum when you visit as well and watch the historic film that gives you an idea of the history of this monument coming into existence.
Unlike Mt. Rushmore, this monument still isn't complete, even though it's been in construction since 1948. Be aware that entry prices are steeper here, however, all of the entry tickets go towards future construction efforts.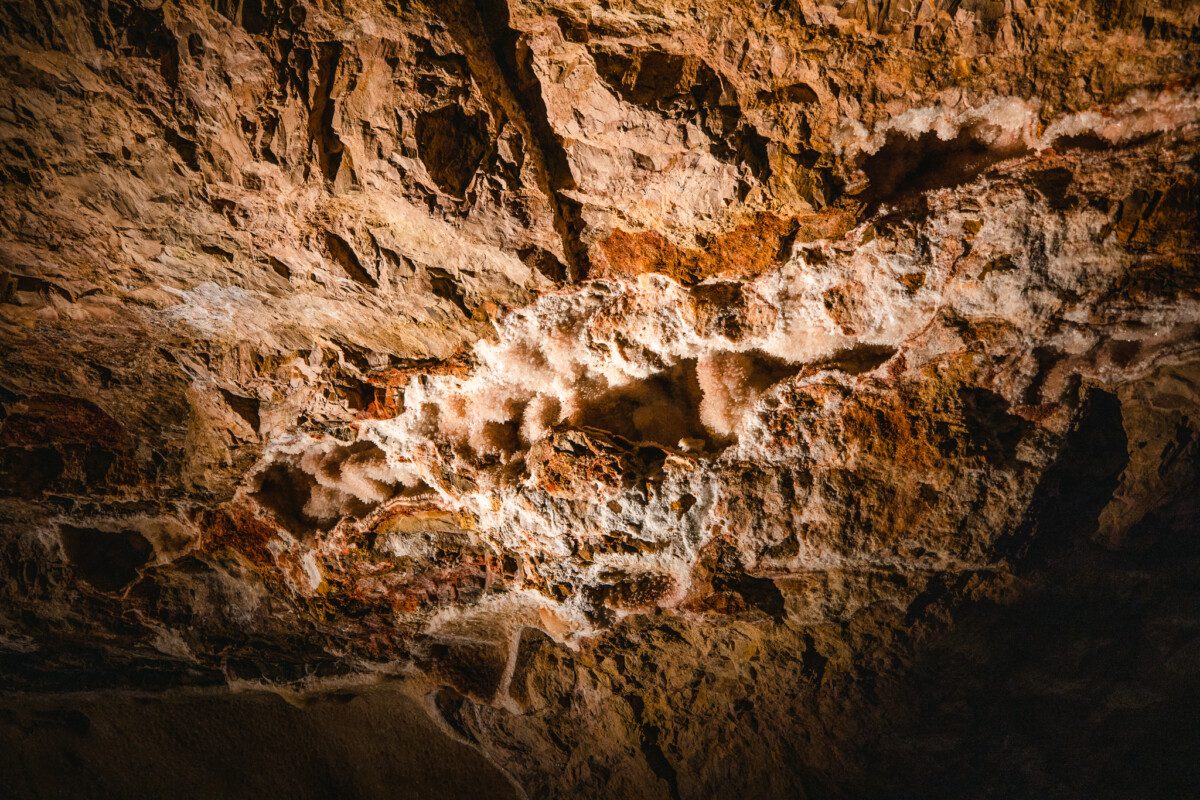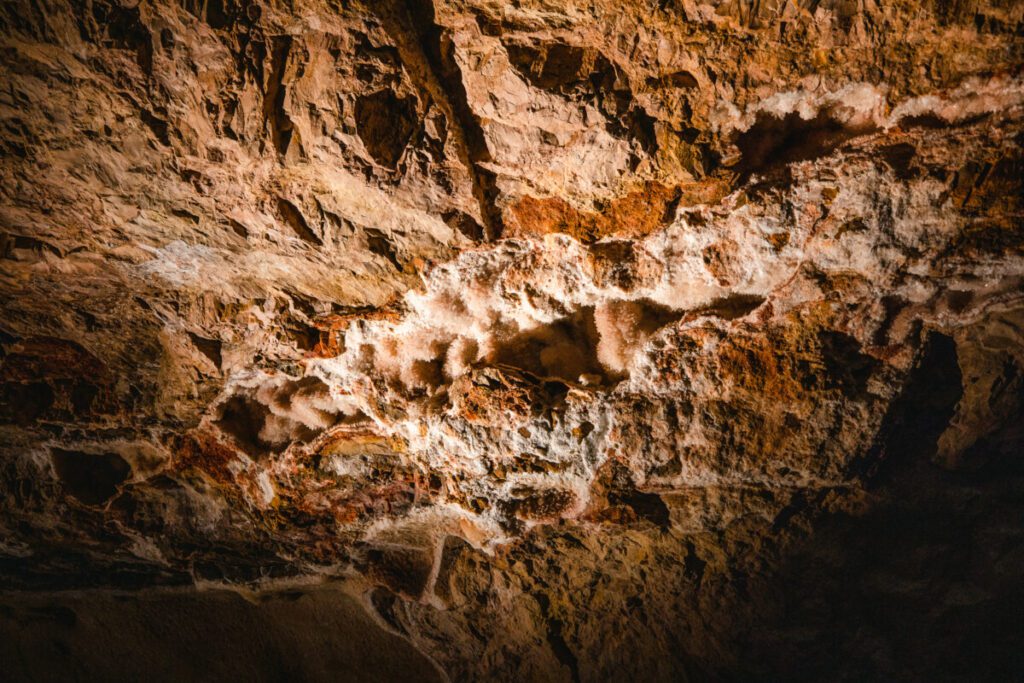 South Dakota Road Trip Stop #13 – Jewel Cave National Monument
Jewel Cave National Monument is one of the top things we did on our South Dakota road trip. These caves are super unique because they are covered in calcite crystals and have deep, wide open caverns that are incredible to see in person.
Jewel Cave has 210 miles of cave networks currently explored! According to airflow studies, only 10% of the park has been explored, and scientists believe that there's still thousands of miles of caves that exist below that we haven't had the chance to see via expeditions just yet.
Jewel Cave Tours
In order to see the cave, you do need a reservation for a tour in advance, whether you reserve it online or purchase a tour in person at the Visitor's Center. However, if you try to walk in, it's not guaranteed that you will be able to get on a tour so we would highly recommend buying your cave tour online on recreation.gov in advance.
You can't bring anything into the cave with you outside a sweater, your keys/wallet, a small camera and your person. Make sure to leave your bags and backpacks in the car! For more info on what's allowed and not allowed in the caves, check out the park's website here.
There are 4 different tour options available. We did the Scenic Tour and had a great time and learned a lot about the geological features of the cave!
If you're incredibly adventurous, the National Monument offers extreme tours on the weekends. In order to even go on these tours, you'll have to prove your ability to crawl through a tiny cement block outside of the visitors center. We both managed to squeeze through, but if you're claustrophobic we'd absolutely avoid signing up for this tour.
Make your reservations for Jewel Cave National Monument here.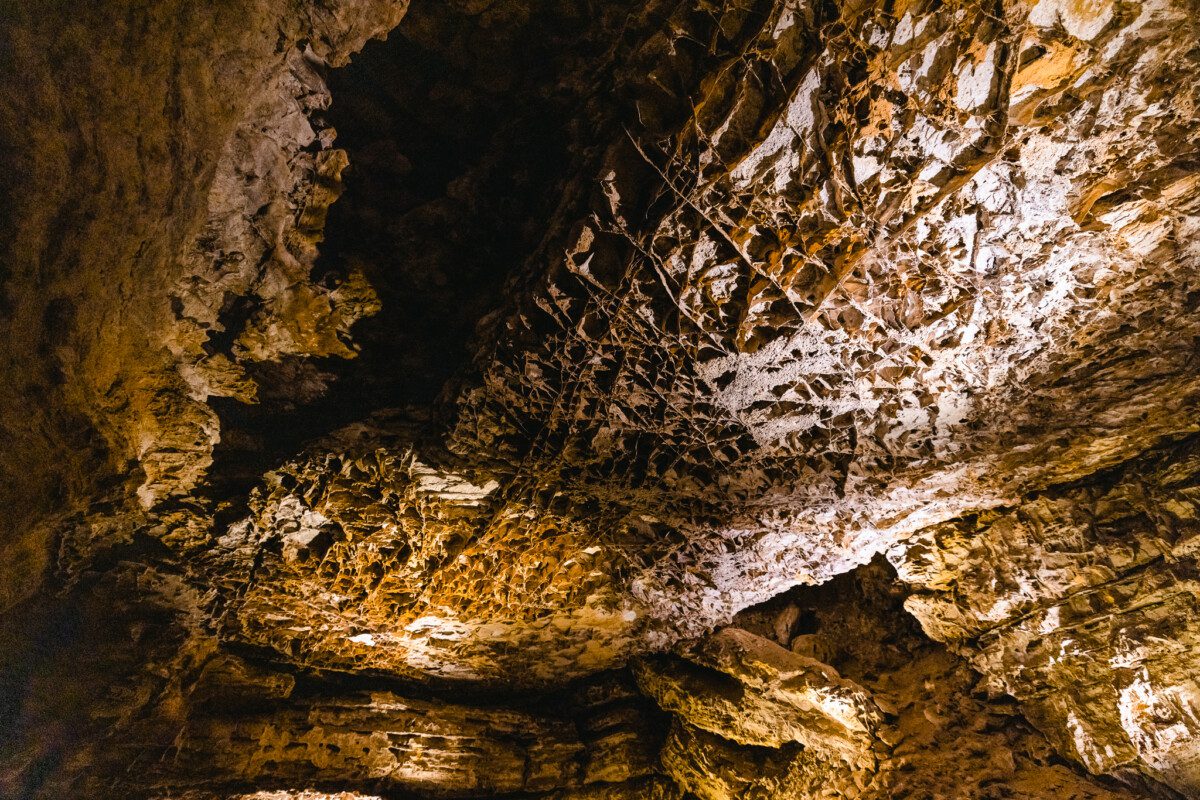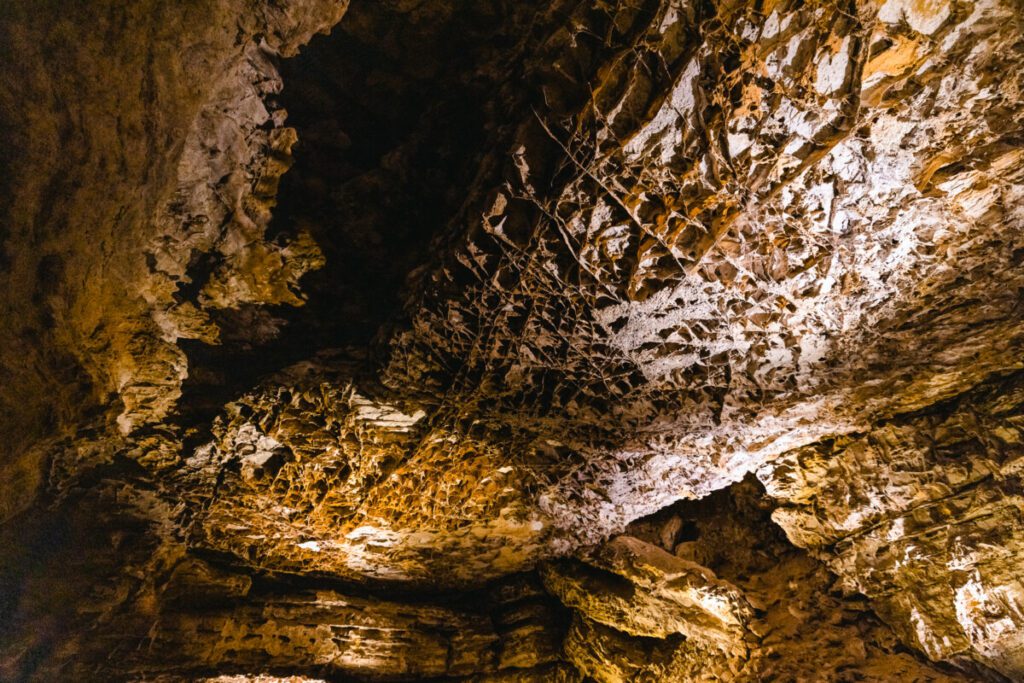 South Dakota Road Trip Stop #14 – Wind Cave National Park
We actually preferred Jewel Cave National Monument over Wind Cave National Park! However, we still think this is one of the best things to do in South Dakota!
Wind Cave National Park is known for its unique rock formation called Boxwork. In fact, this concentrated area contains 95% of the world's boxwork. You can find it all over the 150 miles of caves below the park.
There are a few different tour options you can book to explore Wind Cave National Park. We did the Natural Entrance Tour. Similar to Jewel Cave National Monument, we'd highly recommend making reservations in advance to secure your time slot on a tour. You can do this on the recreation.gov website here.
Once you're all finished at Wind Cave National Park, it's a short hour or so drive back to Rapid City where you can return your rental car and head out on a safe flight home.
We hope you enjoyed this ultimate South Dakota Road Trip Guide! Let us know which of the 14 Best Things to Do in South Dakota you want to visit the most.