Ultimate Guide to Eastern Idaho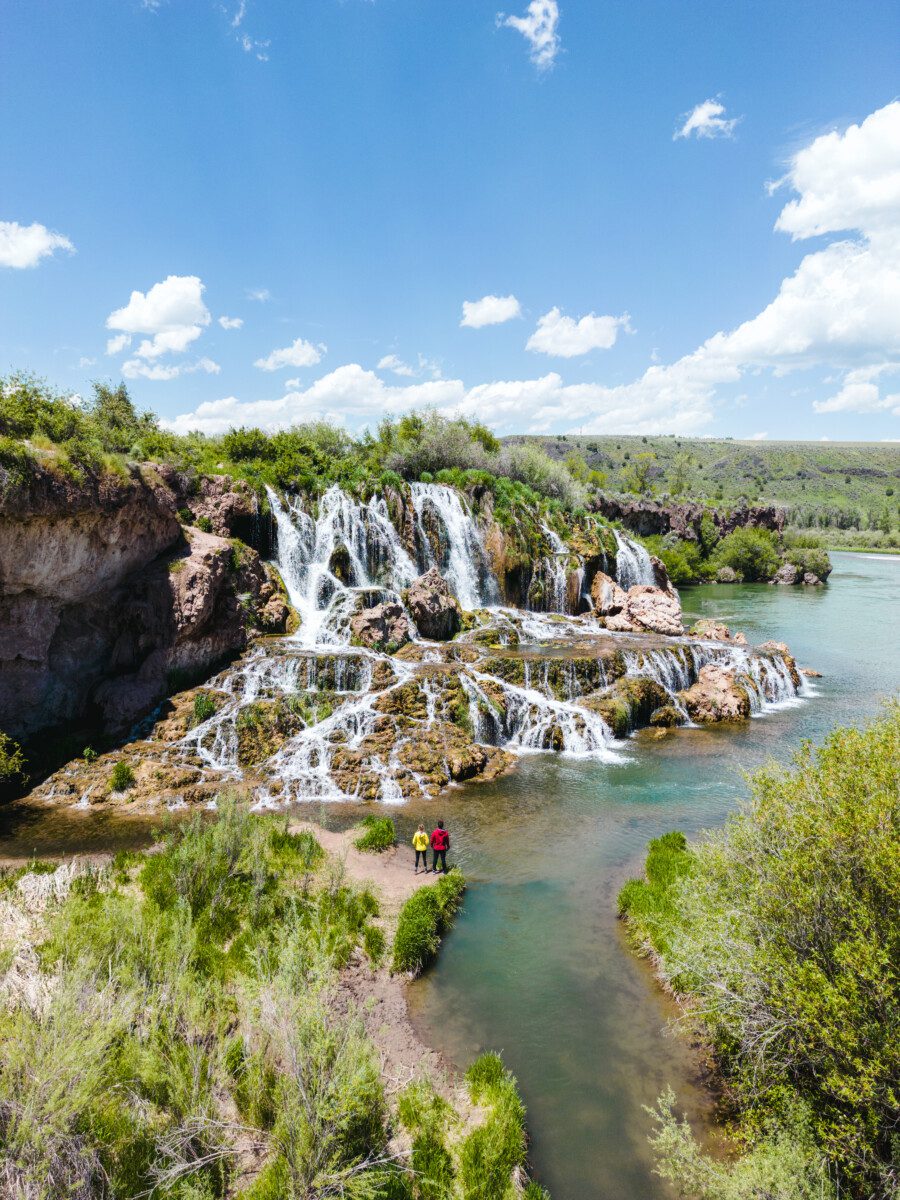 The most Eastern side of Idaho is by far one of the most scenic and beautiful areas we've been to in the USA. From endless lush green fields to exquisite views of the Grand Tetons, it's a great destination for any adventure lover. This ultimate guide to Eastern Idaho will cover everything you need to know about visiting from things to do and activities in Eastern Idaho to accommodations, restaurants, best time to visit and more.
Disclaimer: This blog post is in collaboration with Visit Idaho. Some parts of the article also feature affiliate links, which means we get a small commission if you make a purchase (at no extra cost to you). It's one of the ways we can keep producing free guides and resources for our readers. Thank you for the support!
Planning Your Trip to Eastern Idaho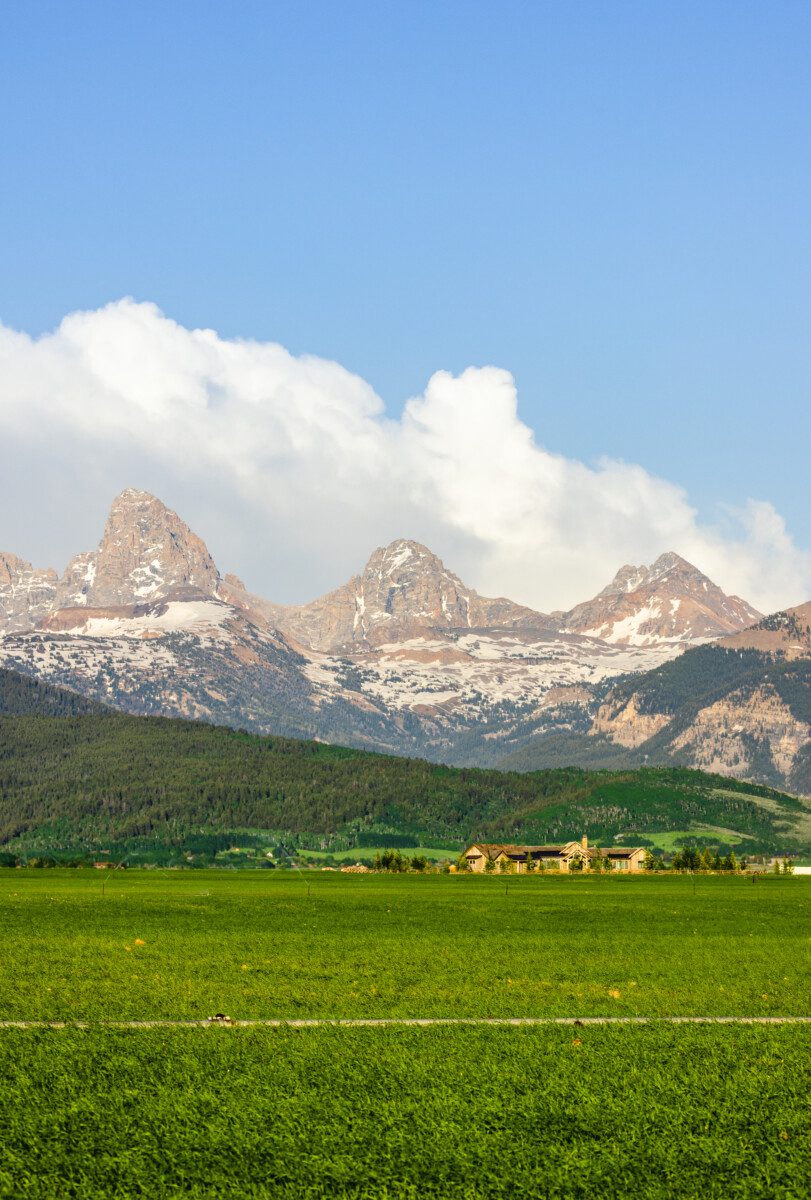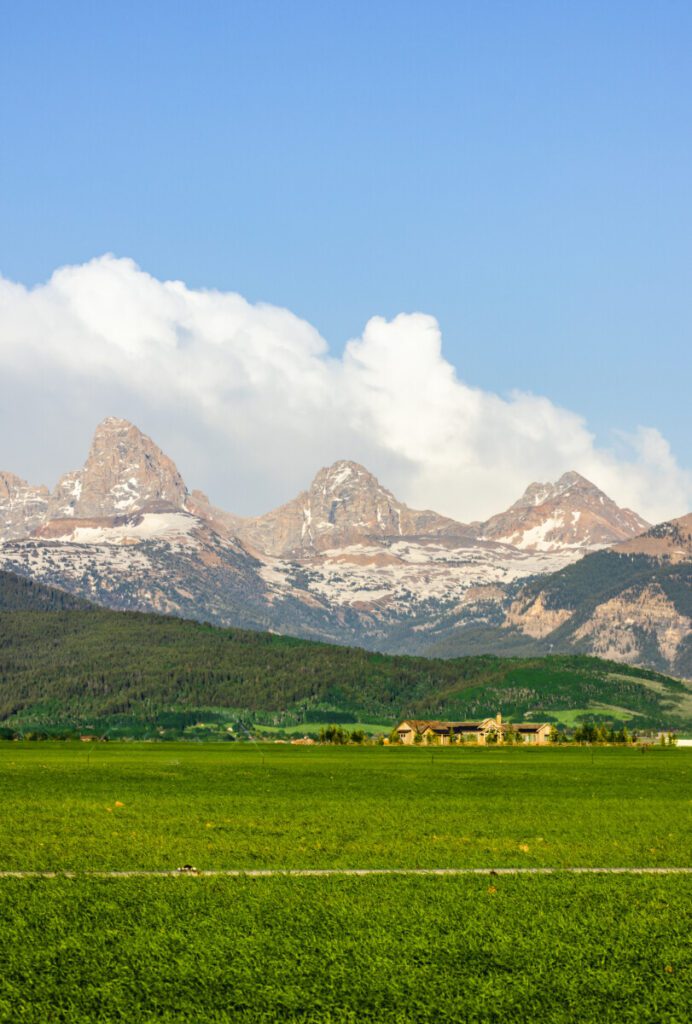 Exploring The Teton Valley
Southeastern Idaho is also commonly known as the Teton Valley. It's the quieter side of the Teton mountain range when compared to its neighboring side in Wyoming, but it's equally as beautiful and comes with significantly fewer crowds.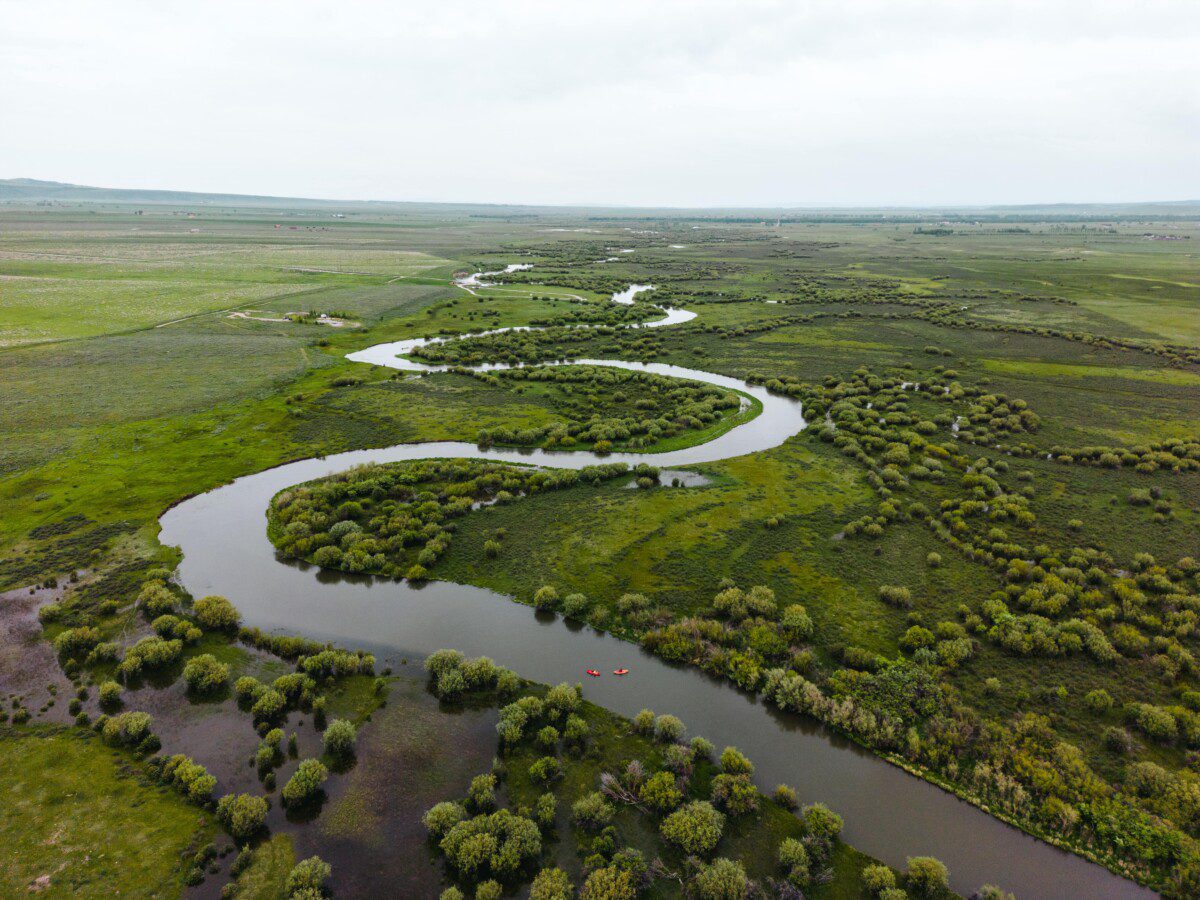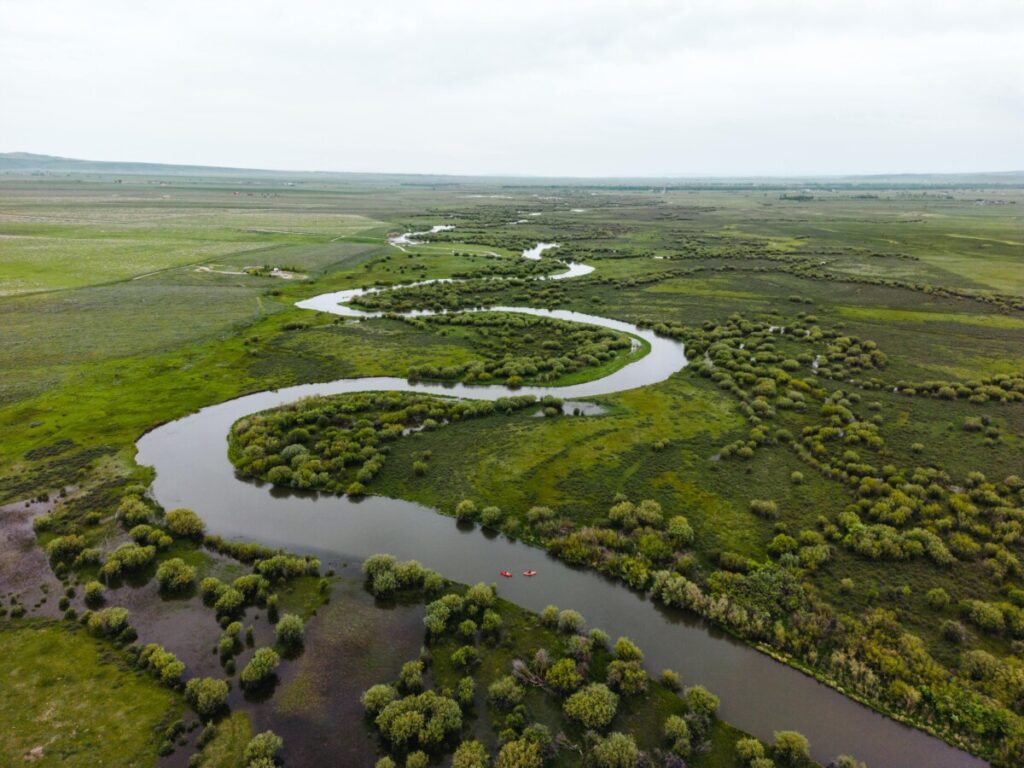 When to Visit
The best time to visit Eastern Idaho for outdoor adventures and the best weather is during the summer months of June to September. These months are also the most crowded, so if you can visit during a shoulder month or during the weekdays, then you might have better luck getting some of these beautiful spots to yourselves. Just note, afternoon thunderstorms do occur pretty often in the off season!
If you are interested in some of the amazing skiing and snowboarding opportunities offered in the Teton Valley, we'd recommend visiting during December and January for the best conditions.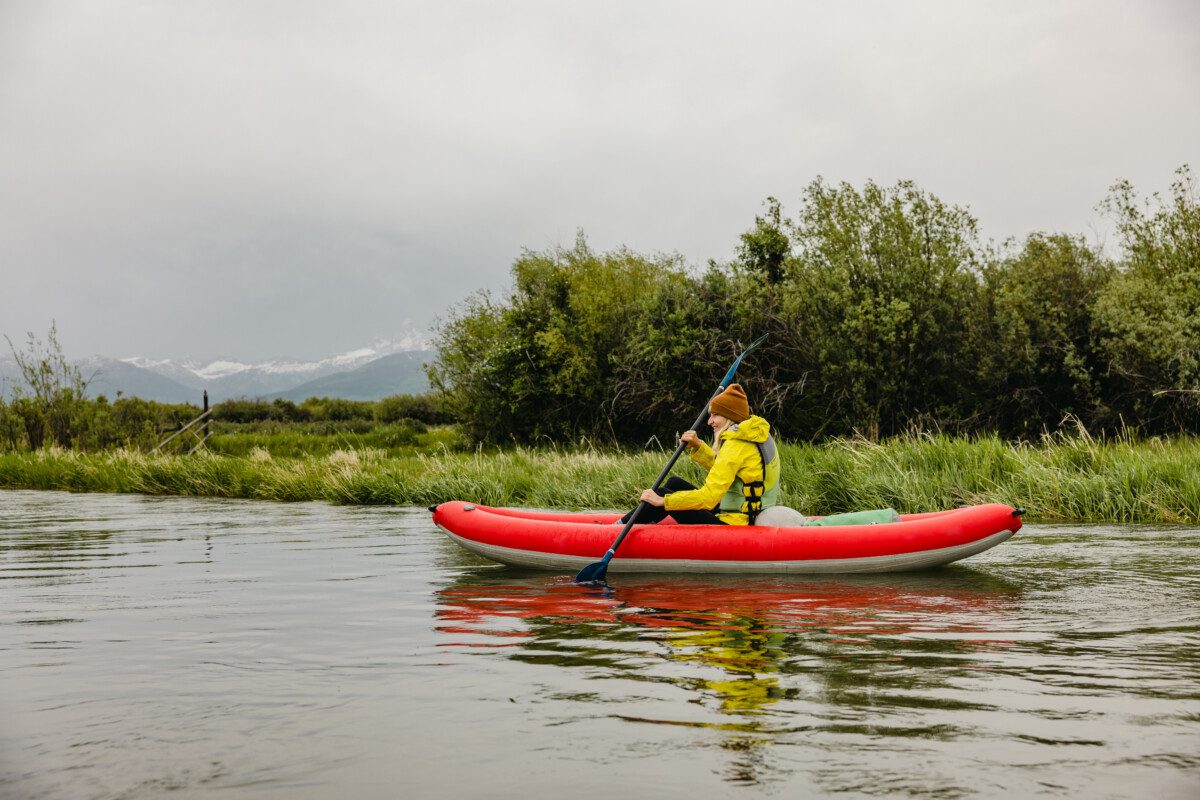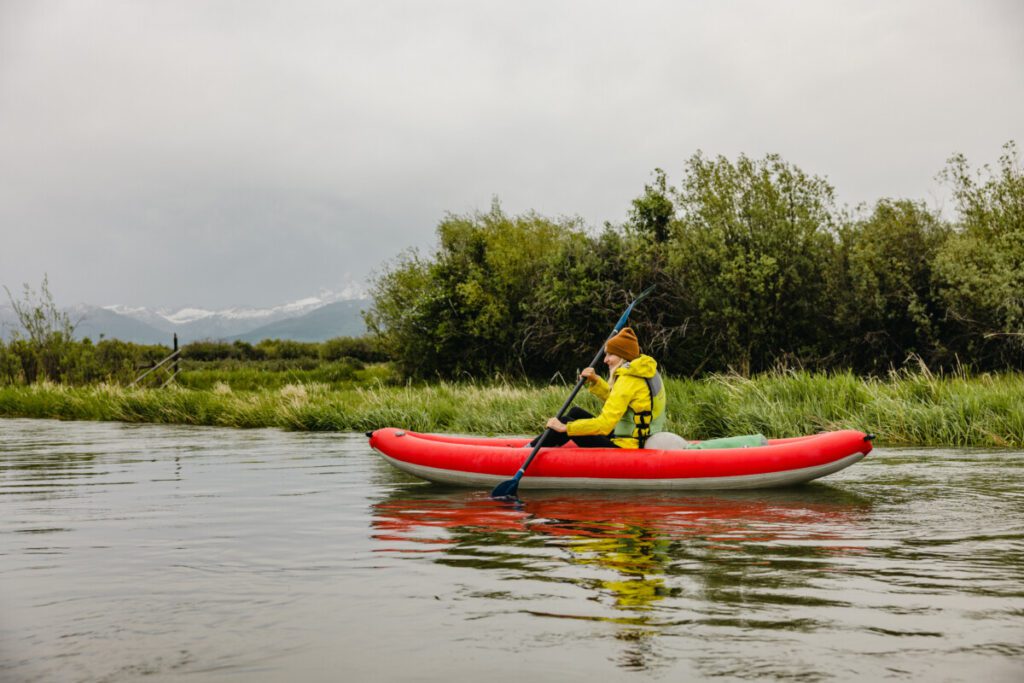 Where to Stay During Your Trip to the Teton Valley
There are two main towns in Eastern Idaho – Driggs and Victor. Both are fantastic areas to make your home base for your trip and they're also fairly close in distance to each other.
We stayed in Victor and ended up glamping at the beautiful rustic tent sites at the Moose Creek Ranch. The property is adorable and offers a serene retreat into nature next to a running creek and nearby hiking trails.
Each site at the Moose Creek comes with a Solo Stove for campfires and a cute pre-made s'mores kit. There's also an internal furnace inside the tent so if you get cold at night you can start a fire to keep yourself warm. They provide all the kindling and firewood you could need! We'd highly recommend bringing along any extra sleeping bags and hiking apparel you may need if you are prone to getting cold at night.
The glamping sites don't have electricity or a bathroom, however, the ranch has electricity and WiFi in the main lodge and a separate washroom to shower and use the bathroom.
Book your stay at the Moose Creek Ranch here.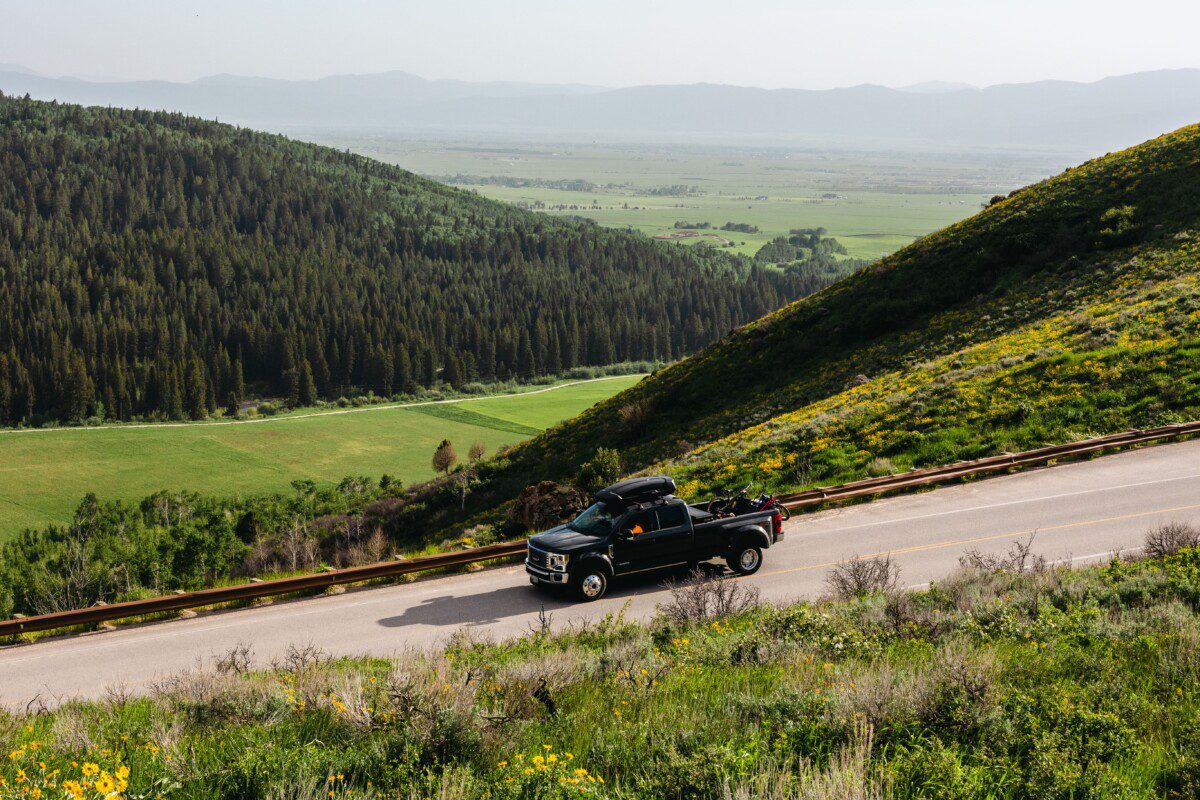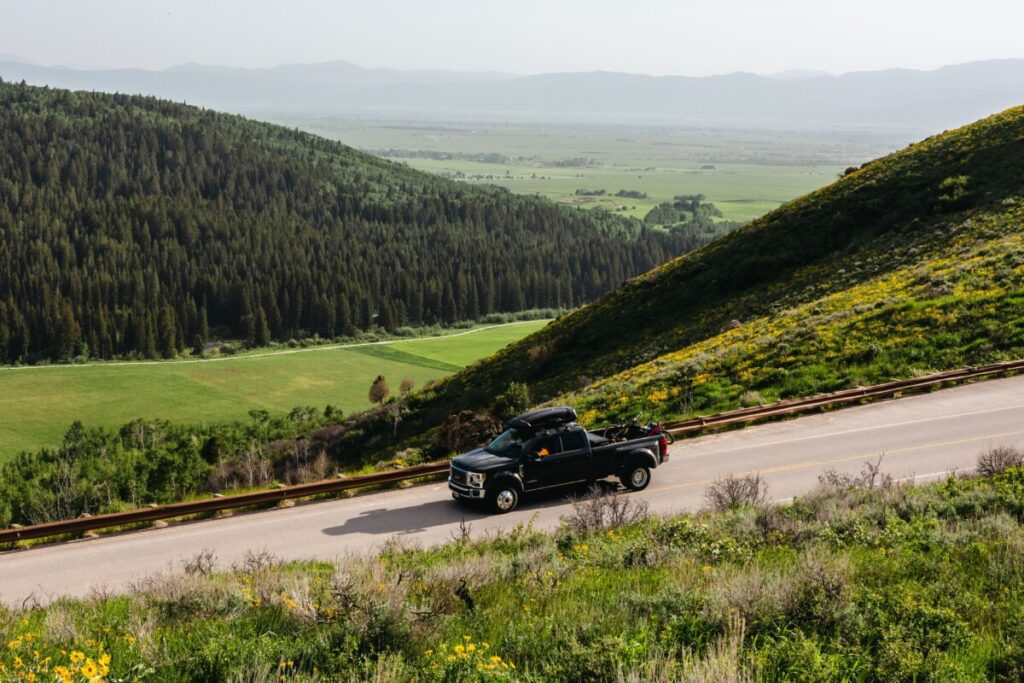 Getting Around Idaho
Eastern Idaho is very spacious and very large. We'd highly recommend booking some sort of rental car or Turo to make your way around the area. That being said, make sure to book a car with off-loading capabilities and higher clearance like a truck or SUV with 4×4 as there are a lot of dirt roads to get to some of our top excursions and activities in the area.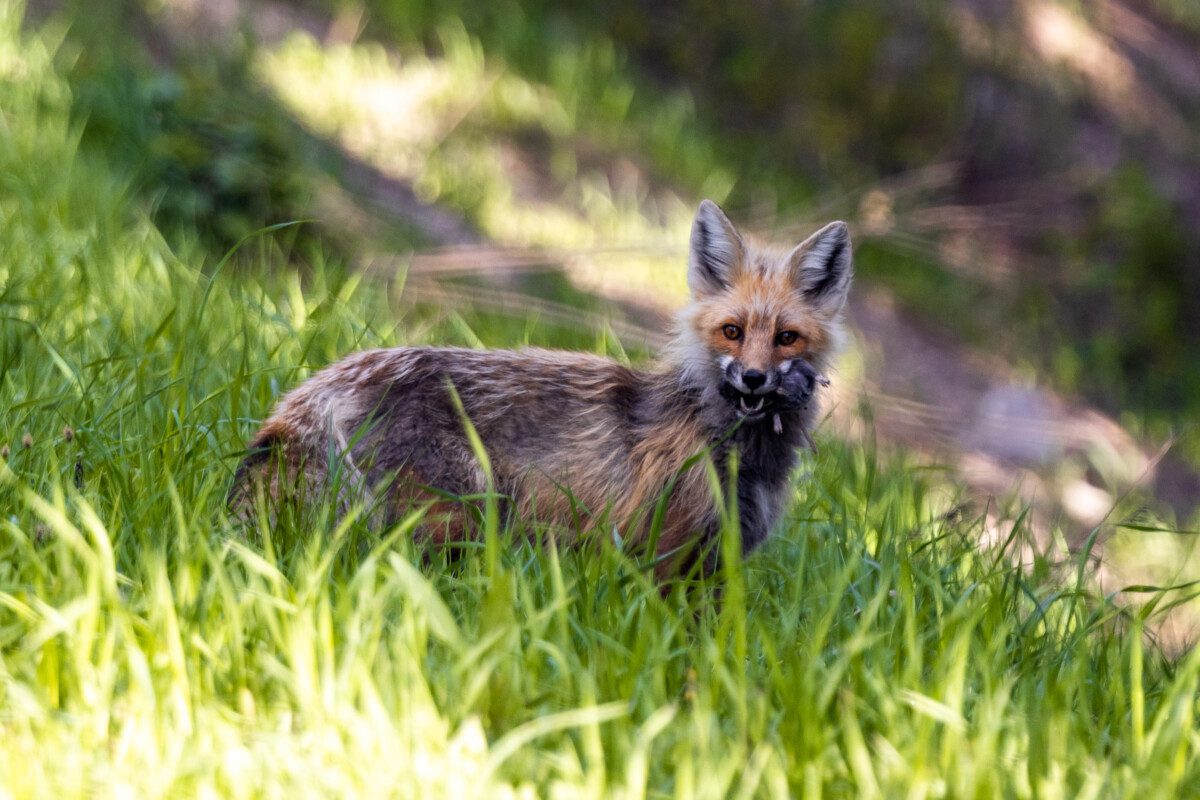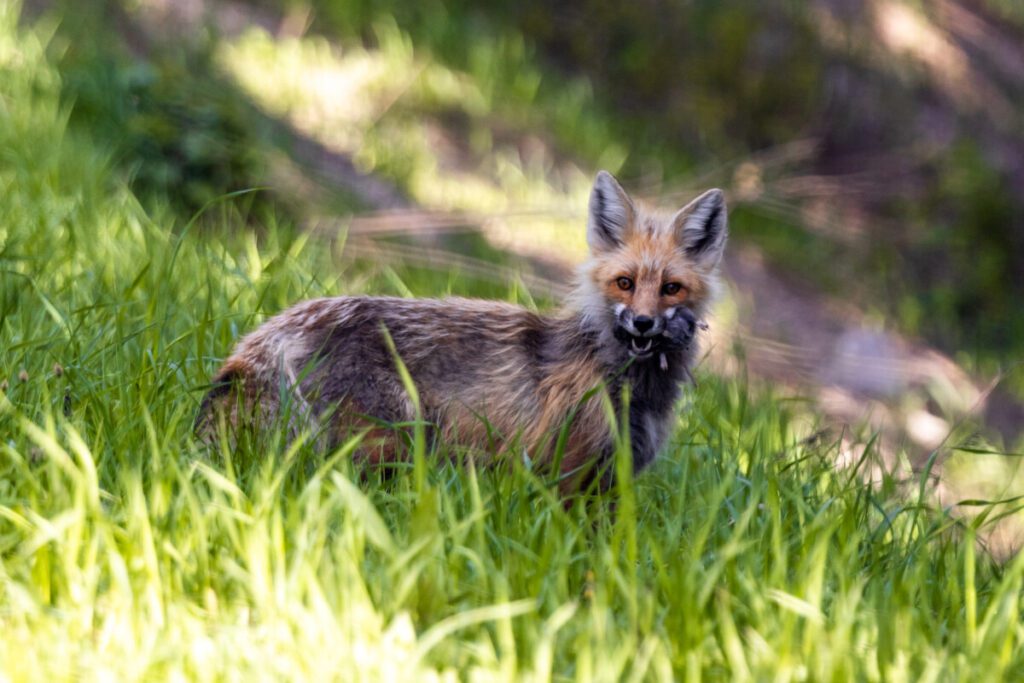 Our Favorite Restaurants & Brews in Driggs & Victor
Before visiting, make sure to know that as both Driggs and Victor are pretty small towns, your options for eating out are a little bit more limited. That being said, there are grocery stores and village marts where you can buy food to make on your own!
If you're a photographer and planning on shooting sunset, just expect all restaurants in town to be closed by 9pm at the latest, so make alternative plans for grabbing a bite to eat before you head out on your adventure. Some restaurants on Yelp will also say that they are open, and in fact, not be, so just make sure to call in advance to get current updates.
Citizen 33
Our favorite restaurant and brewery in town was Citizen 33. They had a great menu filled with a variety of comfort food and fine dining. We opted for the poutine for an appetizer, which has got to be the best Poutine we've ever had (including authentic Canadian poutine). The Smash Burger is the local favorite and the chicken tenders were also great. Many locals come in here for a beer and to watch sports so it does get busy, but it's definitely worth the wait.
Village Mart
They have a fantastic deli section where you can grab some sandwiches and salads for a picnic somewhere. We also made sure to stack up on snacks here for our hikes and road trip.
Grand Teton Brewing Company
If you're looking for a great scenic spot to relax and enjoy the views of the Teton Valley, head over to Grand Teton Brewing. We took our sandwiches from the Village Mart and took them to Grand Teton Brewing Company. They don't serve food here but they allow you to bring your own. They have cornhole and lots of outdoor seating for you to enjoy, and it's dog friendly!
Victor Emporium
Everyone told us we had to go visit Victor Emporium and try their famous Huckleberry Milkshake. It did not disappoint – we'd recommend going as well! This is also a store, so if you're needing to pick up anything like Bear Spray or any other outdoor gear, this would be the spot to check!
Best Outdoor Experiences & Activities in Eastern Idaho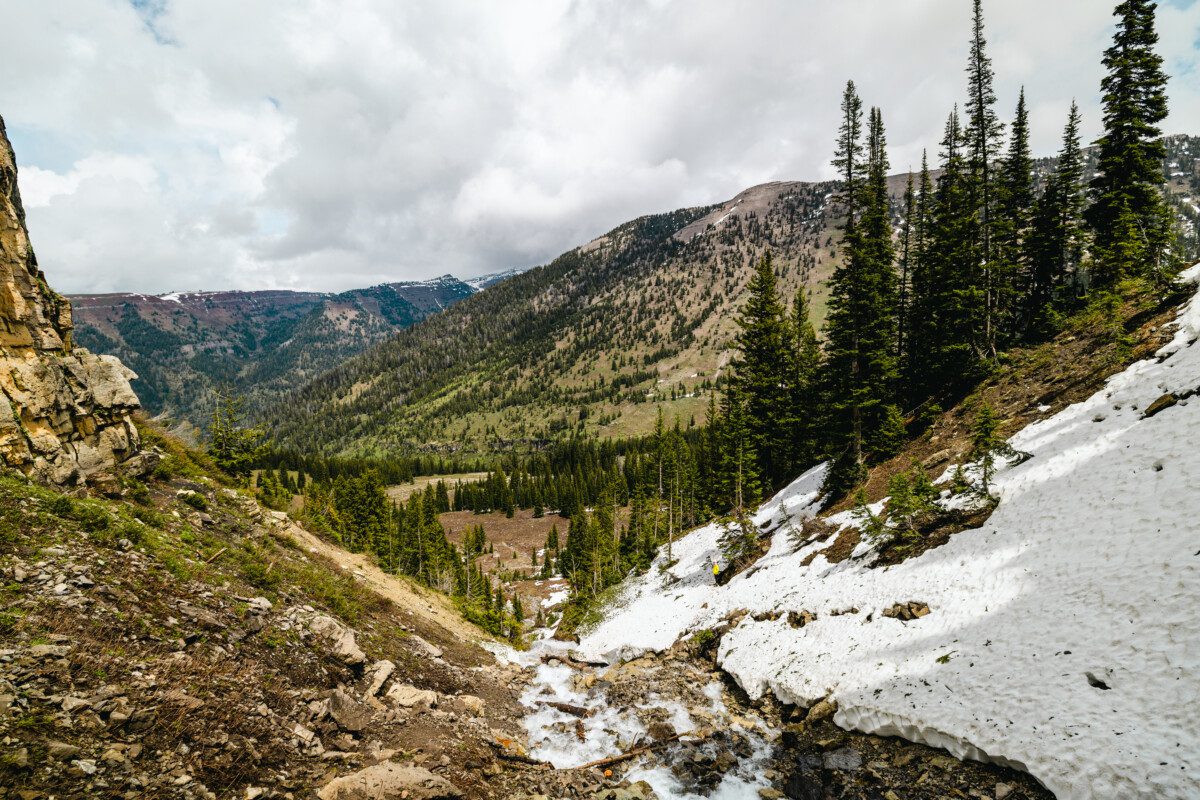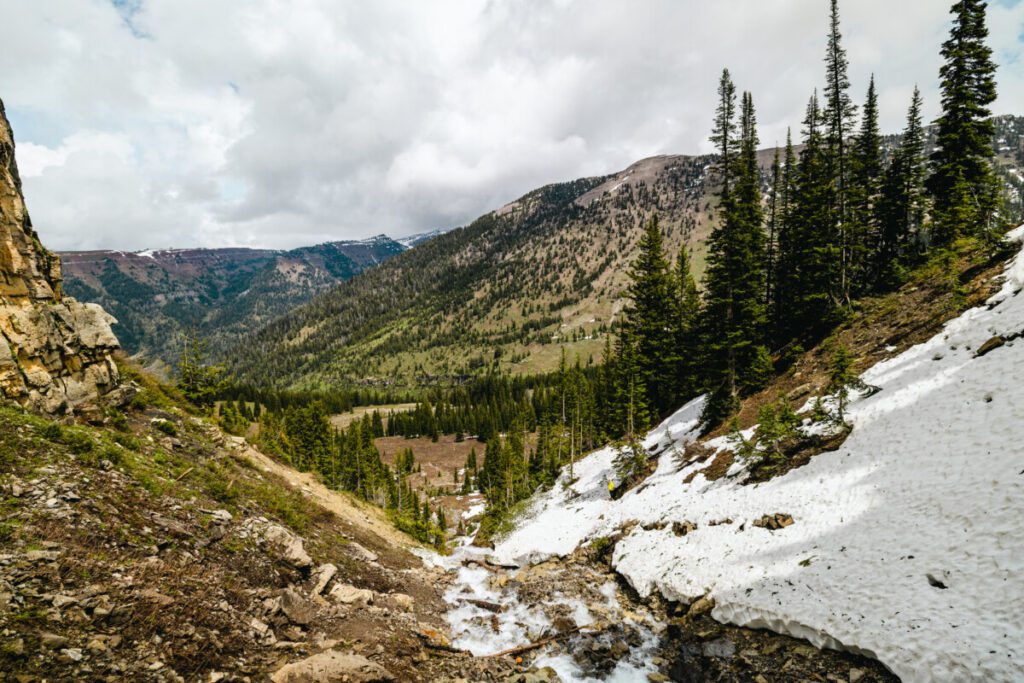 When experiencing the outdoors around the Teton Valley and Eastern Idaho, please make sure to familiarize yourself with the Leave No Trace principles. You can help preserve the beautiful landscapes for generations to come by staying on trail, packing out your trash, respecting wildlife and not feeding wildlife, and making sure you have the 10 essentials with you when recreating outdoors.
Kayak or Paddle Board along the Teton River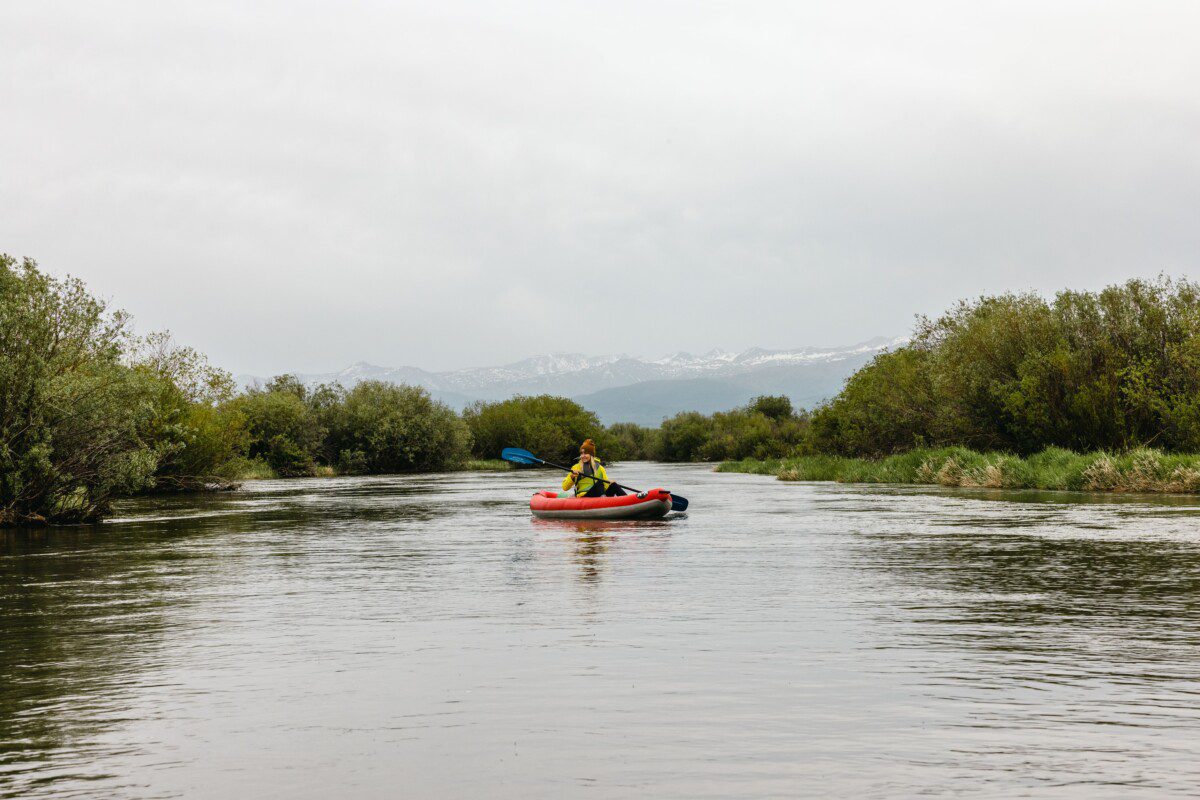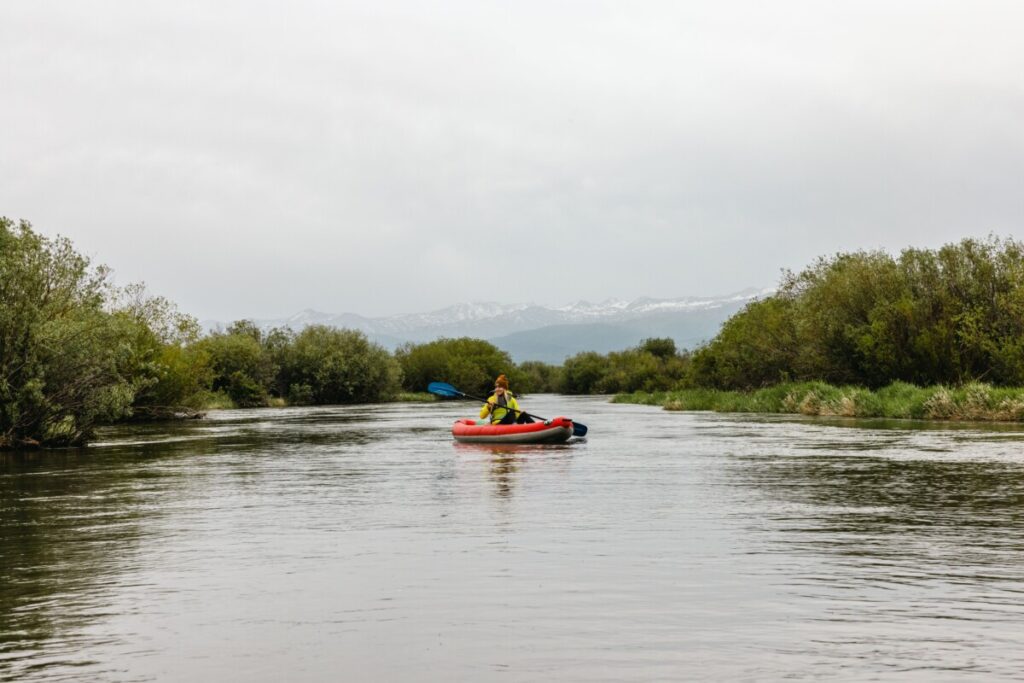 One of the best ways to experience the Teton Valley is by floating the Teton River. We went out with Teton River Supply who hooked us up with some inflatable kayaks, dry bags, and a cooler. They have a shuttle service that drops you at the part of the river you'd like, and you simply call them when you reach your drop point to get shuttled back. The whole way, you'll be treated to some epic views of Grand & Middle Teton, and you might get lucky and see some moose out grazing!
Book your Grand Teton Kayak Here
Horseback Ride along the trails at Harriman State Park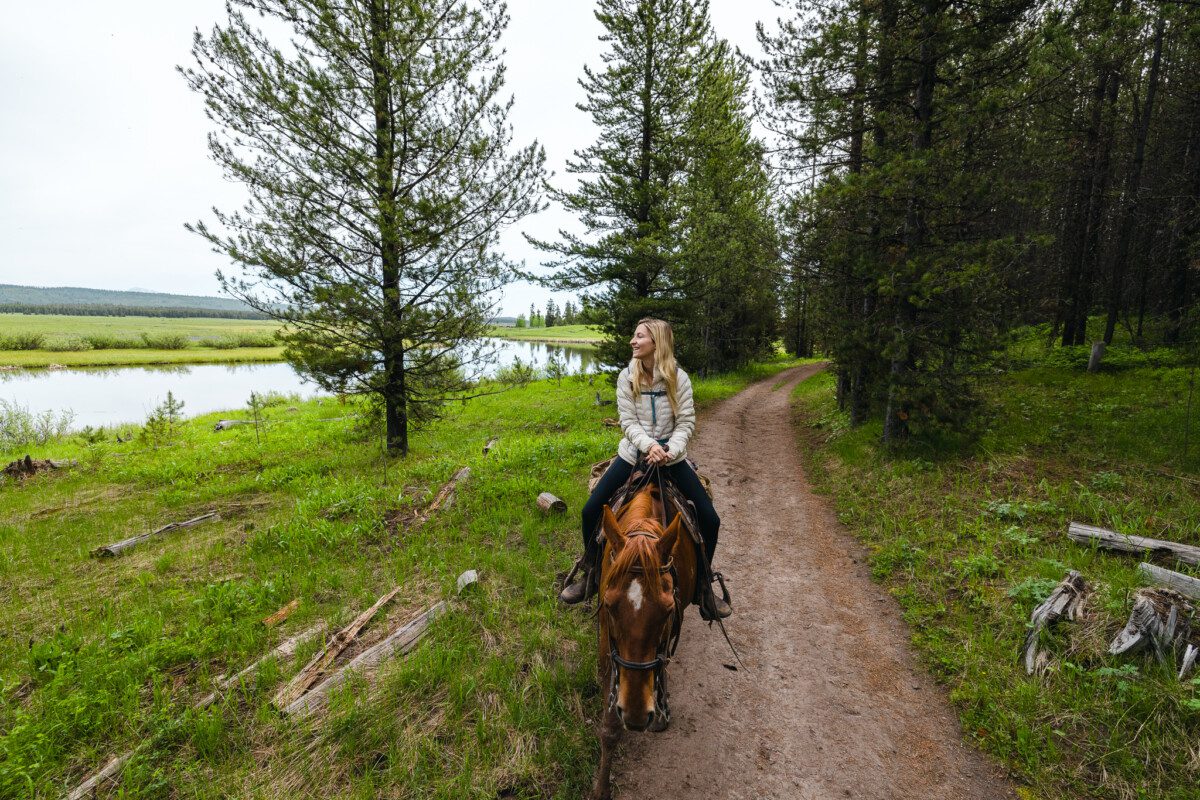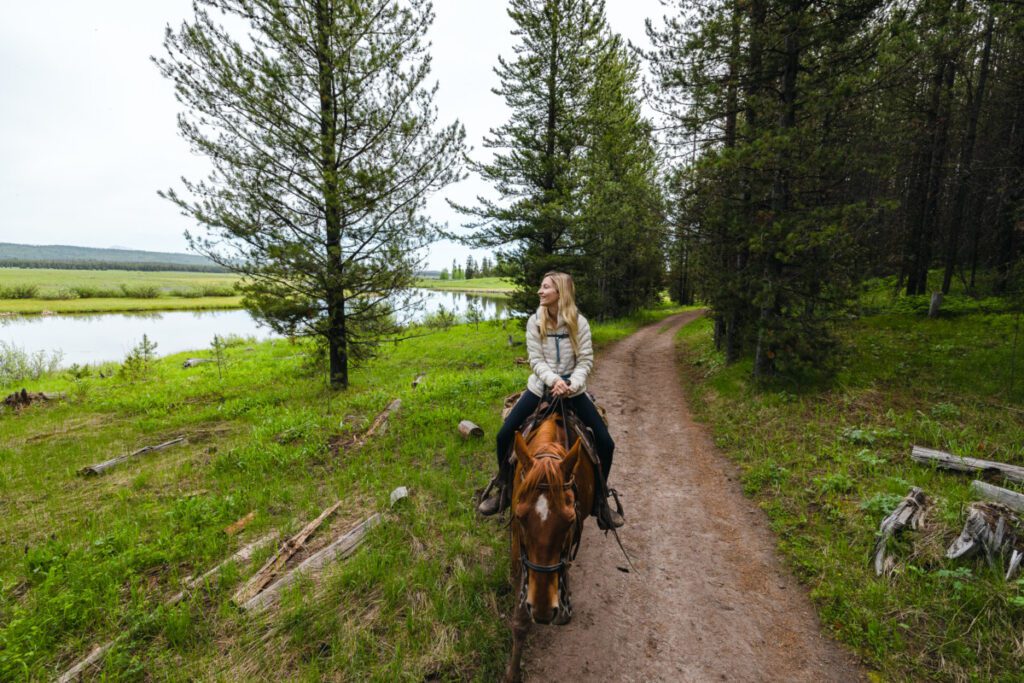 Experience the beautiful lakes and nature trails at Harriman State Park via horseback with Dry Ridge Outfitters. Whether you've been horseback riding before, or are a total newbie, this tour is perfect for those wanting to get some incredible views of nature and wildlife from the treeline above Harriman State Park. We opted for the 2 hour tour and thought that was plenty of time to see the whole state park.
If you're planning a trip to Yellowstone National Park (link external), this is a great activity to add on from the western entrance as it's only about a 40 minute drive away. This tour is about an hour away from Victor, so make sure to give yourself some time to get there.
Book Your Horseback Ride Here
Visit Fall Creek Falls & Swan Valley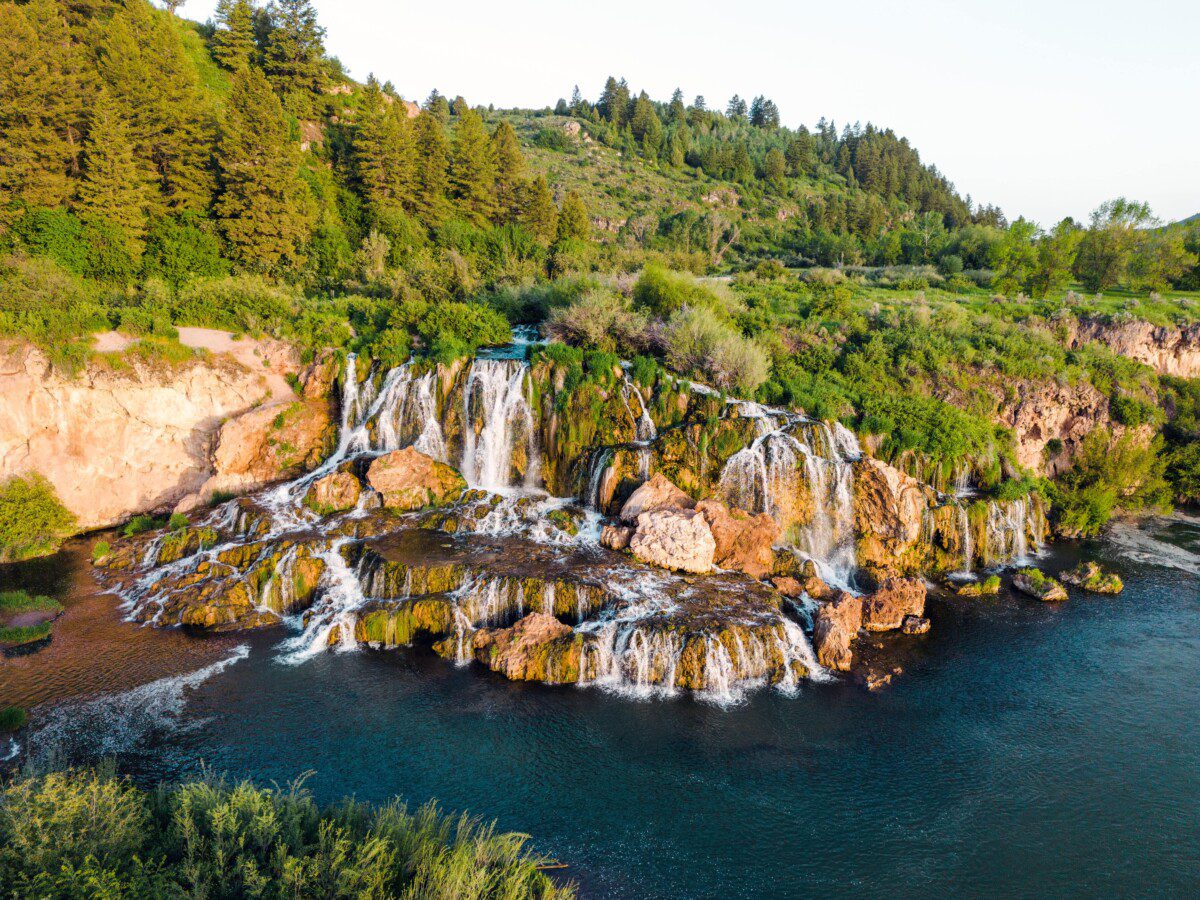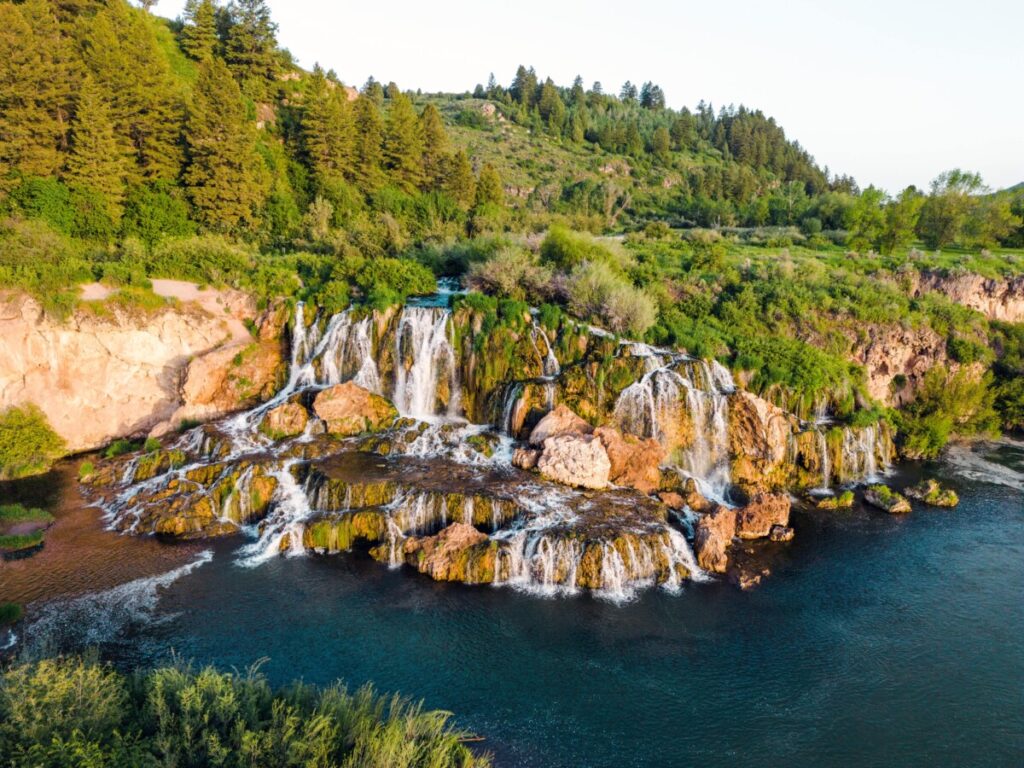 Fall Creek Falls is definitely one of the hidden gems of Eastern Idaho. Located tucked away in Swan Valley off of a little side dirt road, Fall Creek Falls is absolutely stunning. It's only a short 1-2 minute walk from the road until you find the cascading falls.
You can reach the lower area of the falls by heading down the dirt road from the "trailhead" and you'll encounter a rope. If you decide to use the rope down to access the lower falls viewing point, be super careful as the dirt is very slippery. Or, if you'd like to access the lower part of the falls, you can actually kayak down to the falls from one of the boat ramps in the area.
Explore Lower and Upper Mesa Falls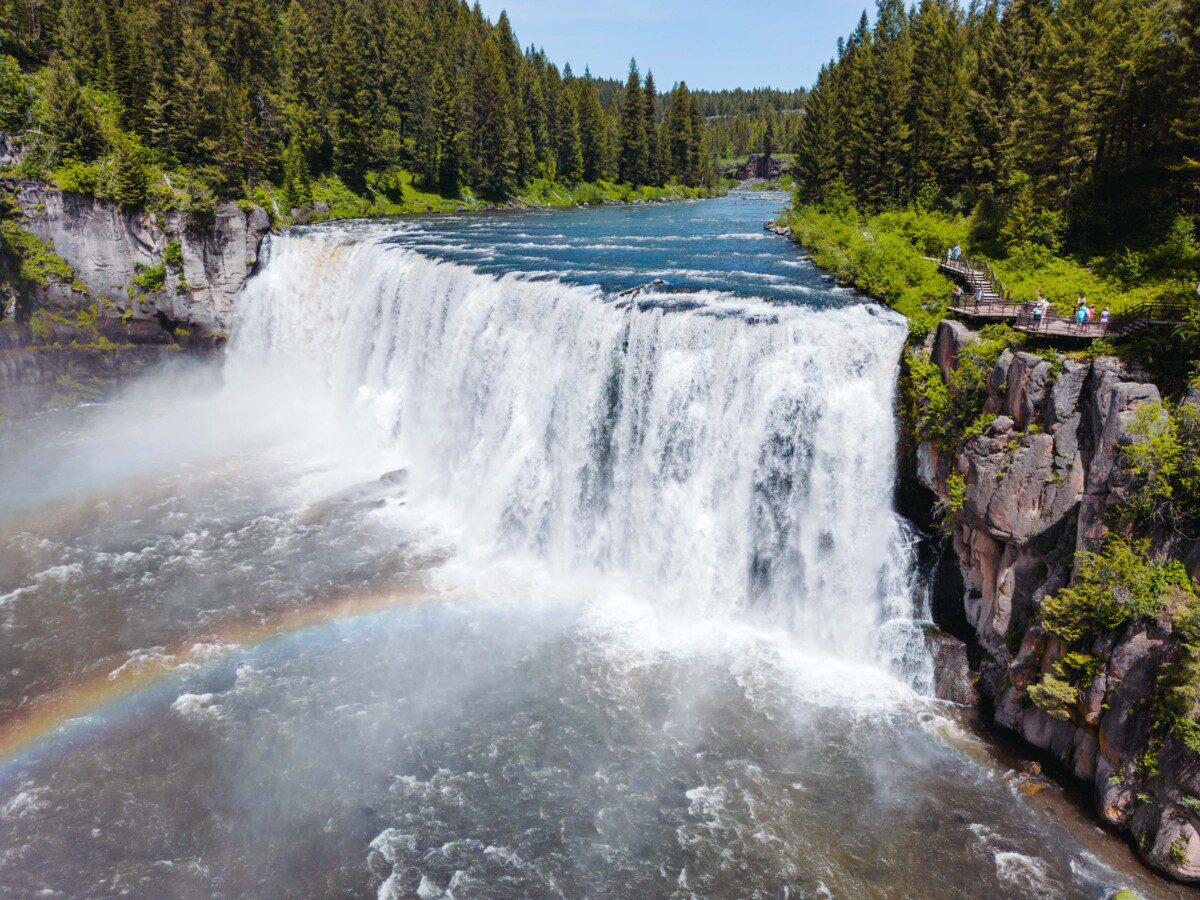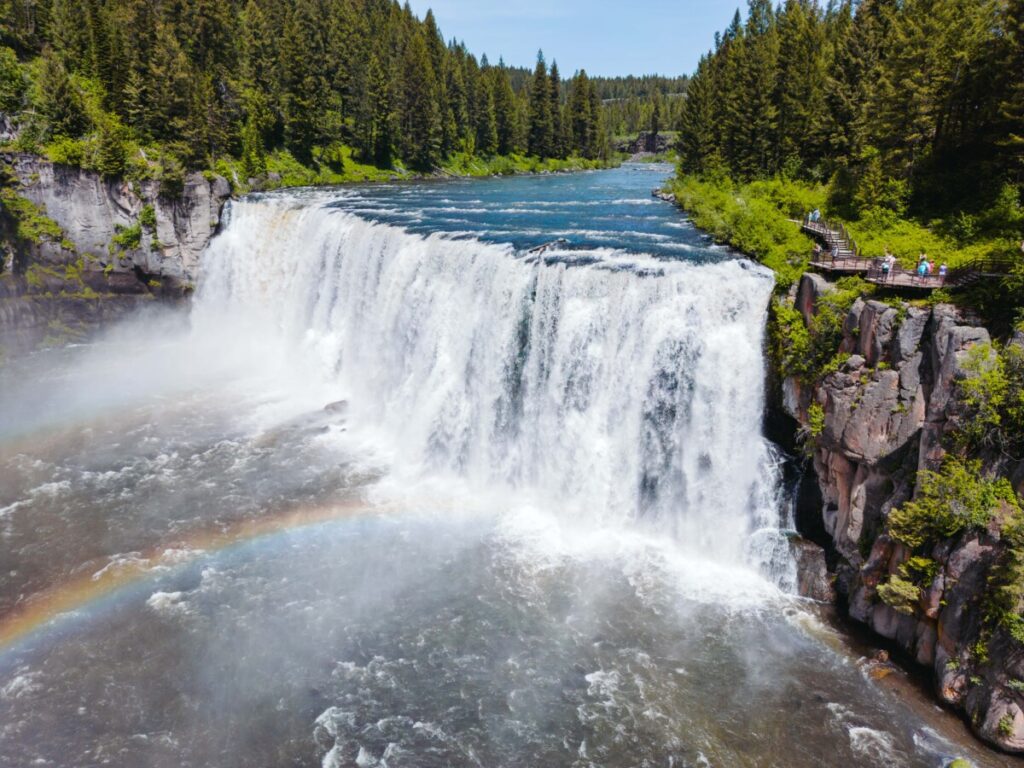 Mesa Falls is a must do on your Eastern Idaho itinerary. Often compared to Niagara Falls, Upper Mesa Falls is a true force of nature. It's located about 30 minutes away from Harriman State Park and is also pretty close to Yellowstone National Park. You can experience the roaring waterfall via a boardwalk loop where you can see the falls from multiple different viewpoints.
Make sure to get here early as its an incredibly popular spot to visit in Eastern Idaho. There's also recreation fees (link to forest service website), so make sure to bring exact cash or check, or carry your America the Beautiful pass (insert affiliate link).
Lower Mesa Falls is a little bit further south than Upper Mesa Falls and has its own parking lot if you'd rather drive instead of hike. You can hike to it from the Upper Mesa Falls overflow parking lot. We personally liked Upper Mesa Falls better, but would still definitely recommend visiting the lower falls as well. The viewpoint is just farther away than Upper Falls so you can't get as close to it.
Watch a Sunset at the St. Anthony Sand Dunes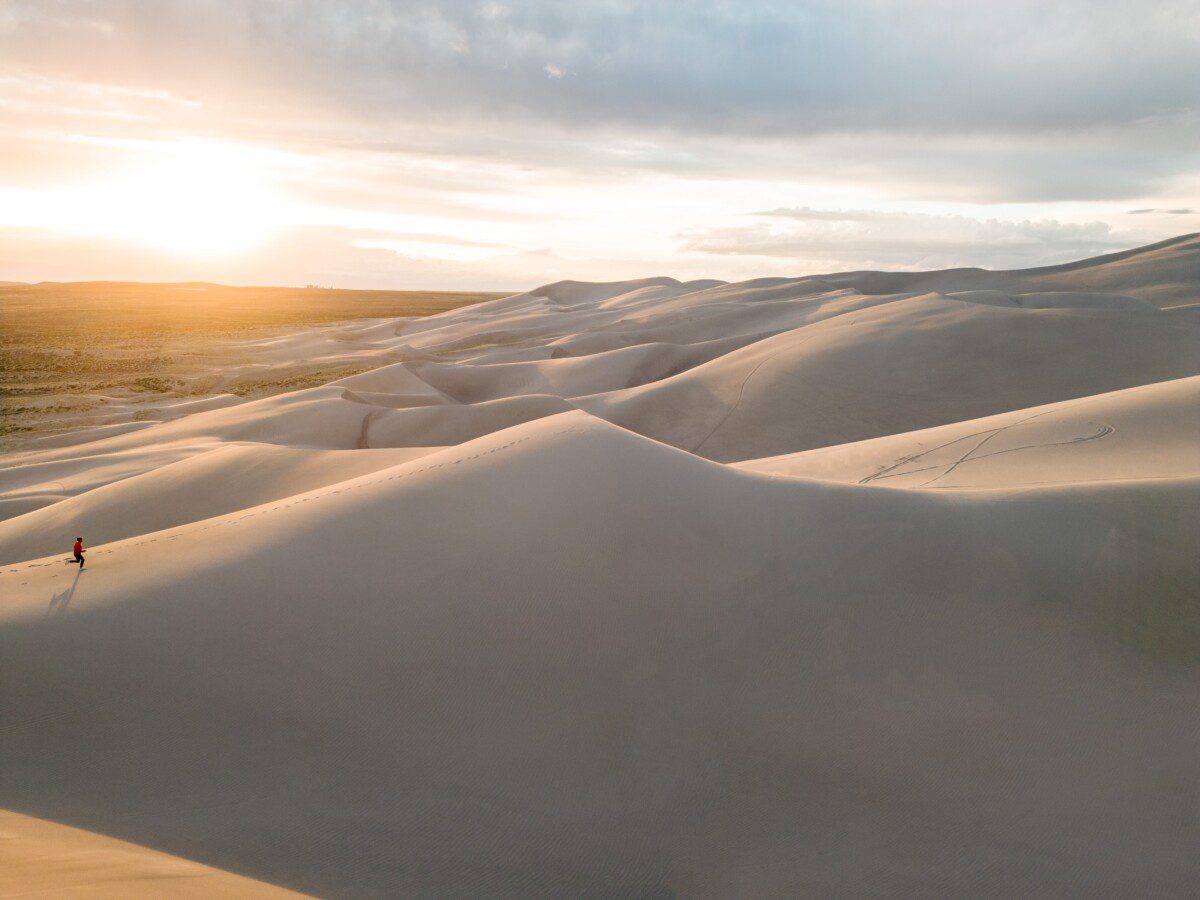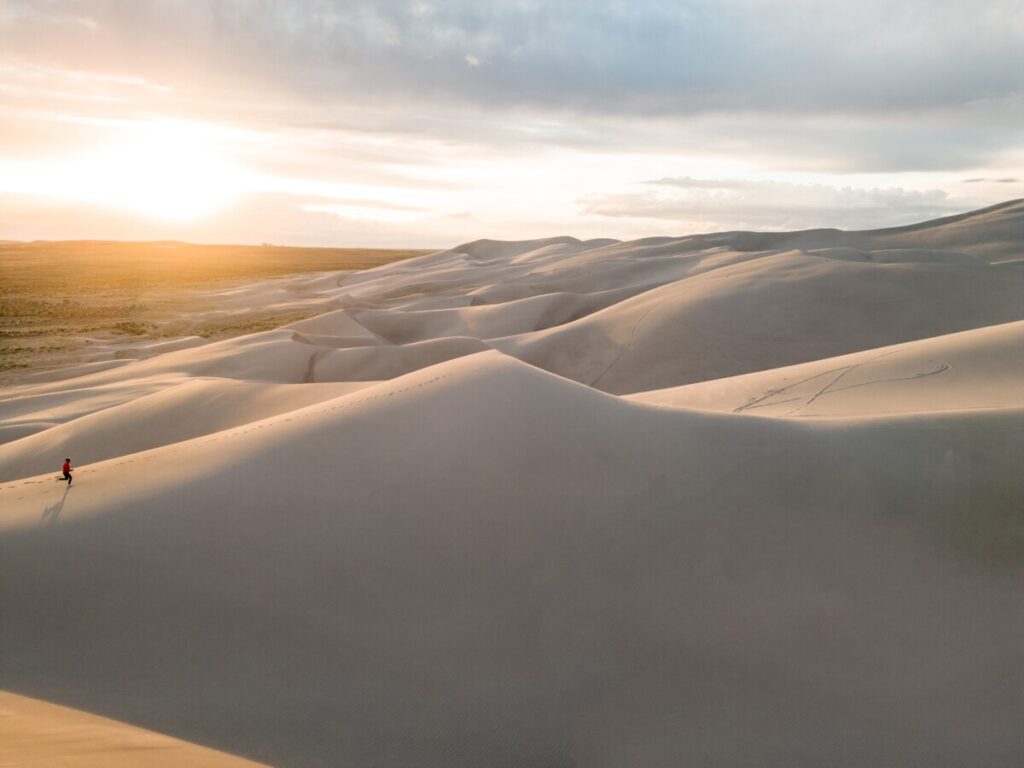 The St. Anthony Sand Dunes should 100% be on your Eastern Idaho itinerary if you love outdoor adventures. These dunes are massive and one of the best spots for sunset in the area.
We didn't have the proper vehicle and equipment for off roading on the actual dunes, so we opted to park near Devil's Dune and walk all the way up to the dunes from the road, which ended up taking us about 25 minutes each way.
If you are looking to photograph the dunes, the western side of the recreation area is definitely the side to go to as the tallest 400 ft dunes are located on this side. The western side also has some nice dunes, but they aren't nearly as epic. It takes about a 30 minute drive to get from the western to eastern side of the dunes when driving around.
If you are into ATVs, dune buggies, dirt biking, and/or off-roading the St. Anthony sand dunes are going to be your playground. You can rent off roading vehicles from this area if you don't have one and you can also camp right next to the dunes at the Egin Lake campground.
For more information on the St. Anthony Sand Dunes click here.
Hike to Sheep Falls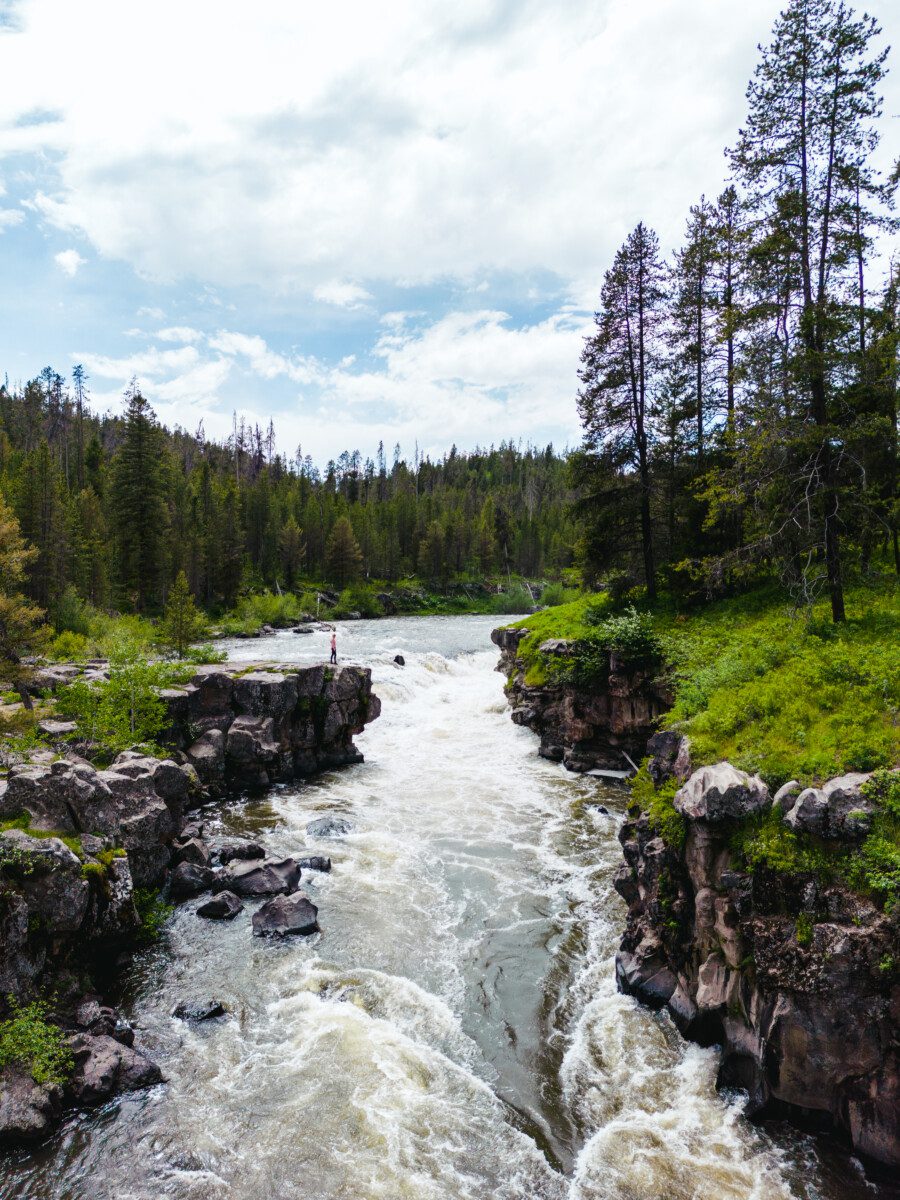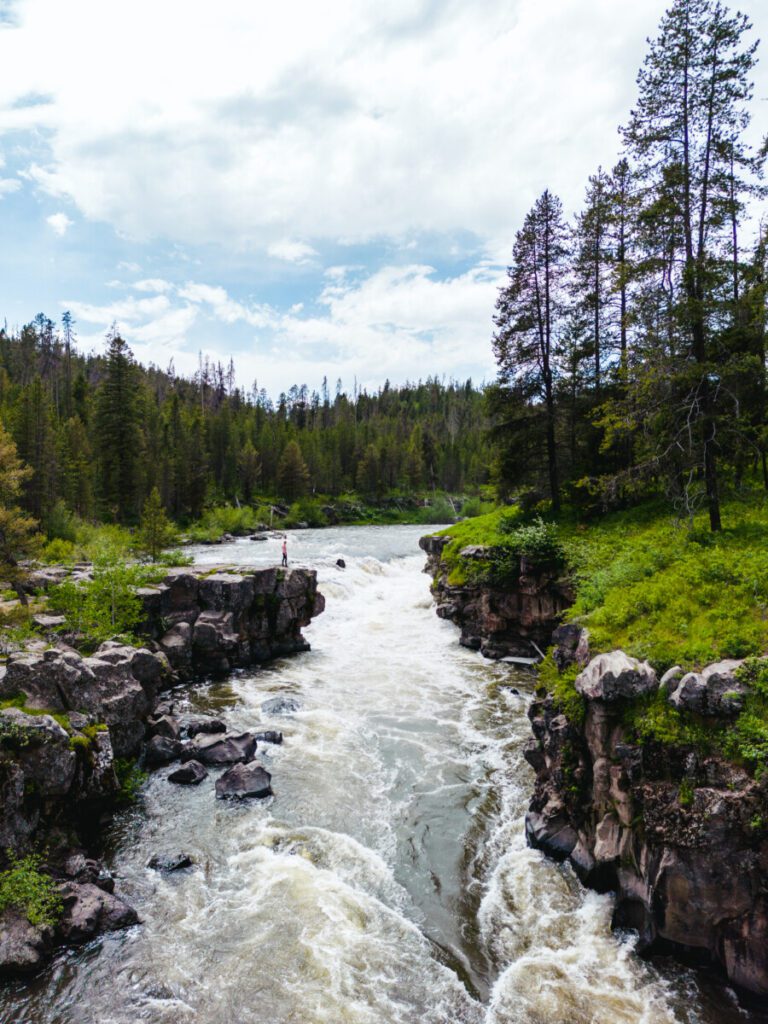 Sheep Falls is a beautiful hidden gem along the Falls river. It's another close drive from Mesa Falls and Harriman State park if you are already headed in that direction during your time in Eastern Idaho. It's a short 10-20 minute walk or so from the trailhead and is a super family friendly hike.
We HIGHLY recommend having high clearance or 4 wheel drive for this area. We did do it in a Sedan, however, we had to go super slow and cautious to get here as there are some sketchy potholes throughout the drive out here.
Watch a Sunset Overlooking the Grand Tetons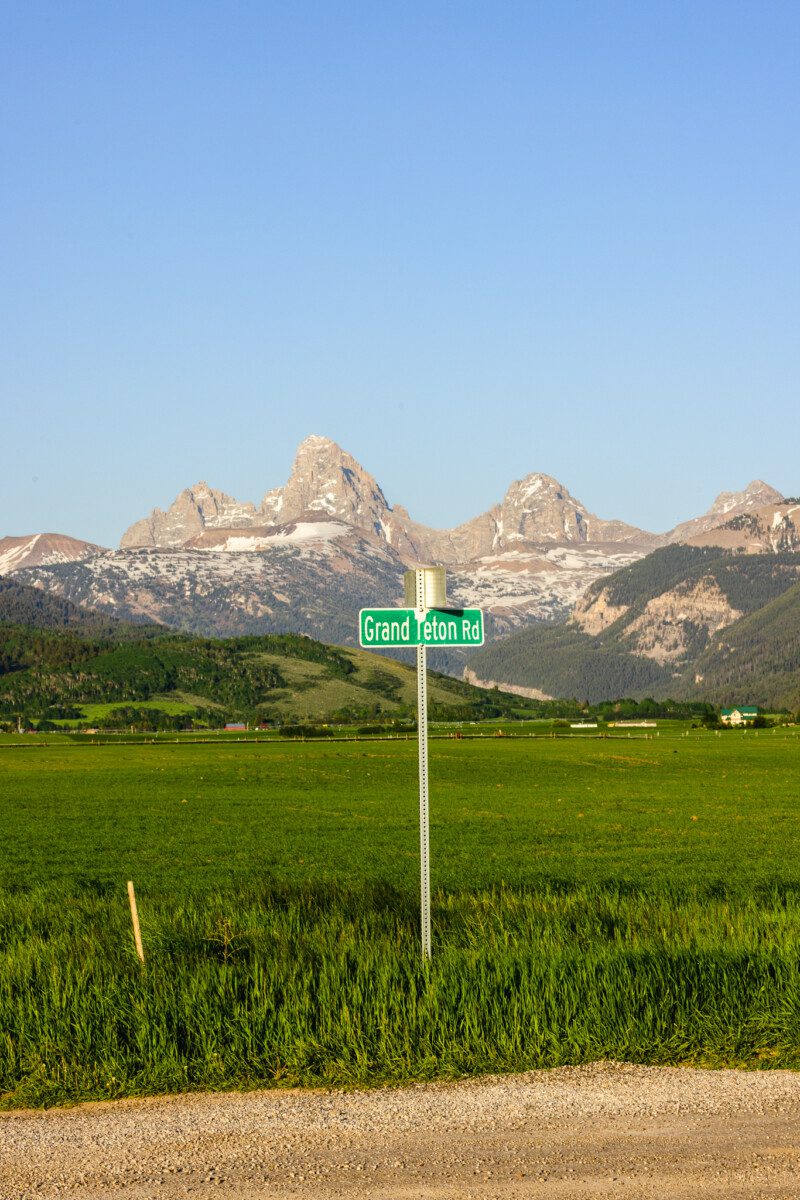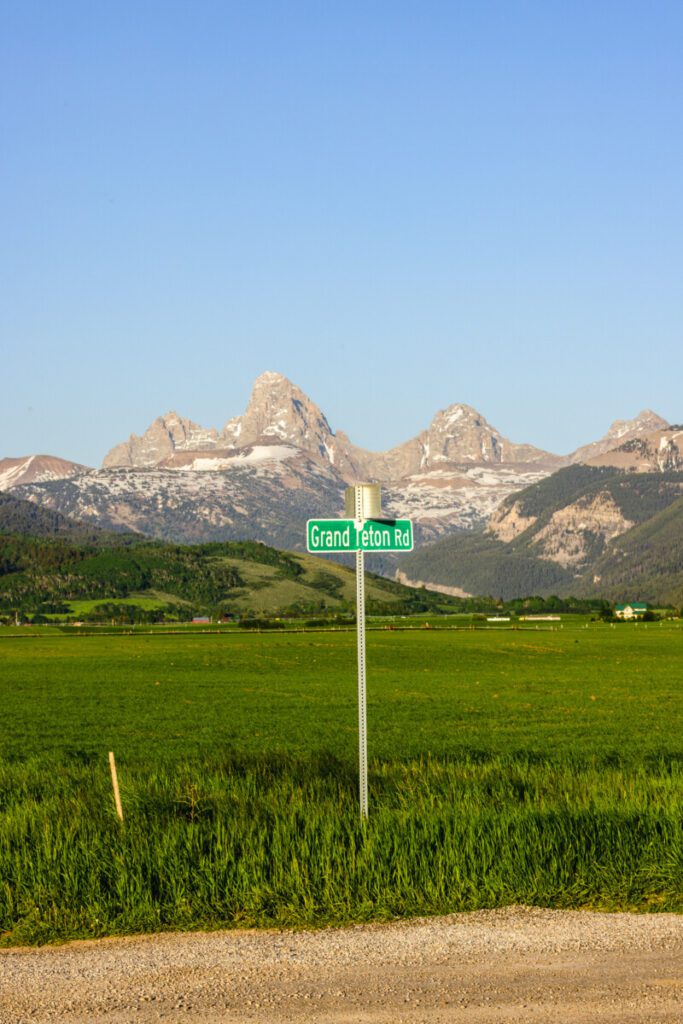 If you drive into the town of Driggs at sunset, you're basically guaranteed an incredible view of the Teton mountain range. Watch the peaks of the mountains turn red and glow at sunset from basically anywhere along the main highway.
Hike to the Darby Wind Cave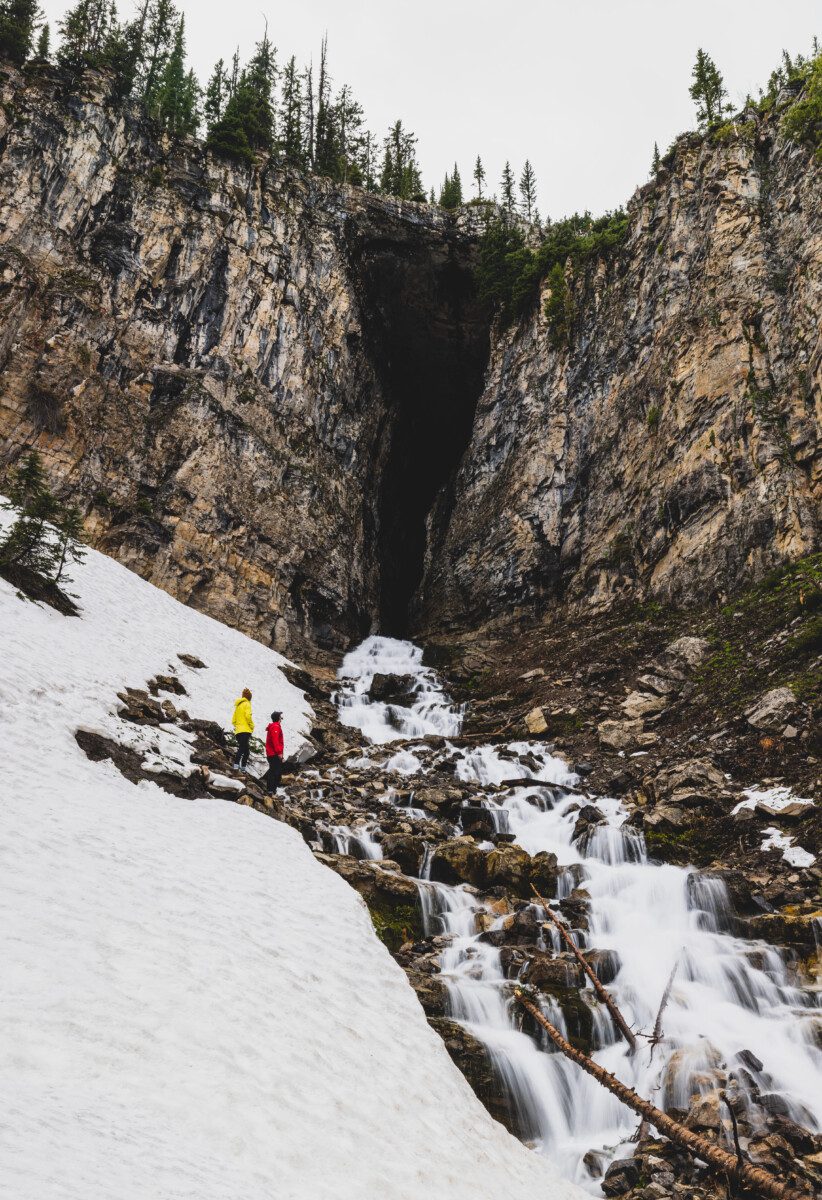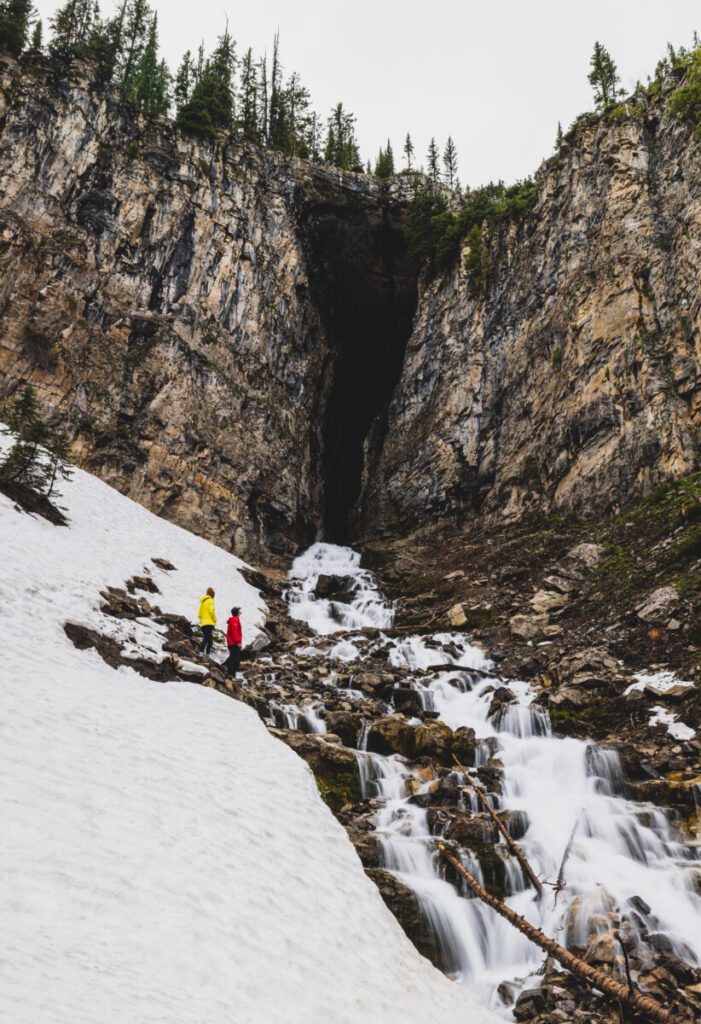 Located right on the state line of Eastern Idaho and Wyoming is a gorgeous hidden cave tucked away in the mountains. The Darby Wind Cave is a crazy feat of nature surrounded by waterfalls. It's about a 6 mile round trip hike with 1800 feet of elevation gain, and is definitely more of a moderate to advanced trail.
Make sure to follow directions to the Trailhead from Google Maps rather than All Trails as All Trails is incorrect on the parking lot location. You won't have service in this area, so download your trail data ahead of time and know that you are in a wilderness area for this hike. There are also no restrooms or additional resources so make sure you pack your 10 essentials. Make sure to be bear aware as well as you do enter bear country here.
It took us about 2 hours to get to the very top of the cave and about 1 hour to get back down. Most people will take an average of 4-4.5 hours to complete the out and back trail. You'll pass through a ton of aspen trees, boulder fields, and waterfalls throughout your way up to the cave. It's a super fun day hike if you are looking for a more advanced trail in Eastern Idaho.
Click here for the full trail data.
Drive Up the Teton Scenic Byway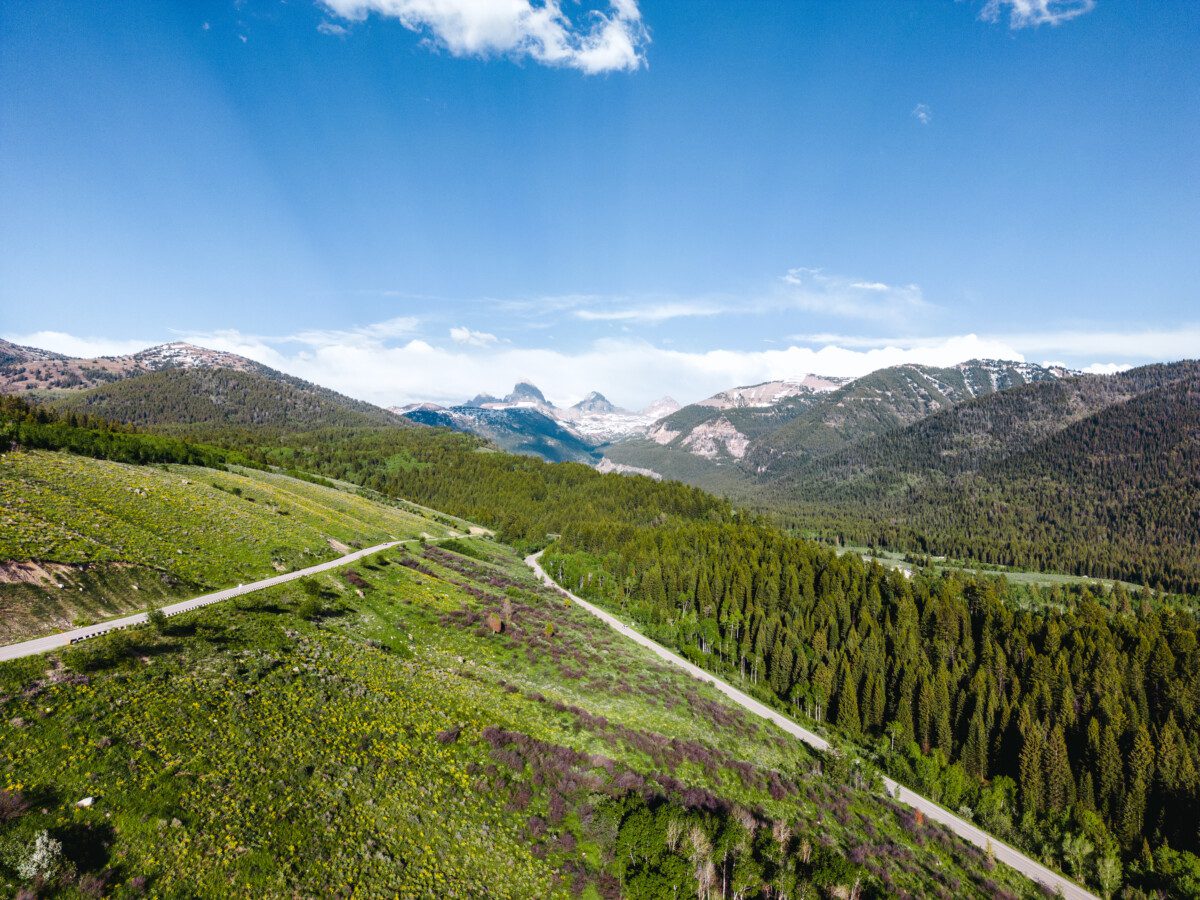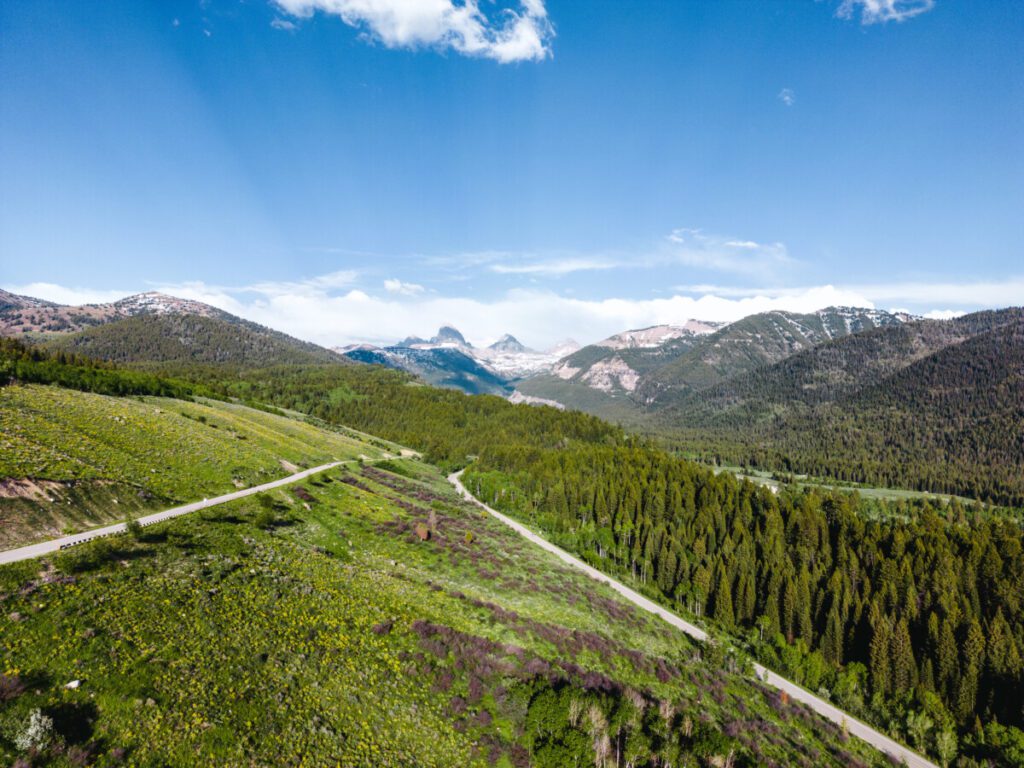 The Teton Scenic Byway is a 70 mile byway that treats you to stunning viewpoints of the Tetons all the way up to the Grand Targhee Resort. If you want to drive the whole byway, it will take about 2.5-3 hours; but driving any portion of the highway near Grand Targhee is worth the drive.
Go Mountain Biking at Grand Targhee Resort
The Grand Targhee Resort is located at the top of the Teton Scenic Byway. They offer mountain biking tours during the summer. This area is extremely popular for riders looking for a downhill slope the whole way. The bike trails are gorgeous and take you through tons of wildflower meadows while keeping great views of the Teton mountain range.
Make sure to check out their trail map and lift tickets before heading out for a ride!
Overall, you should definitely add a road trip through Eastern Idaho to your bucket list. There is so much to see in such a small area! Aside from this ultimate guide to Eastern Idaho, for more information on planning your adventures, check out Visit Idaho's website for more resources.