The Best Highway 395 Road Trip Stops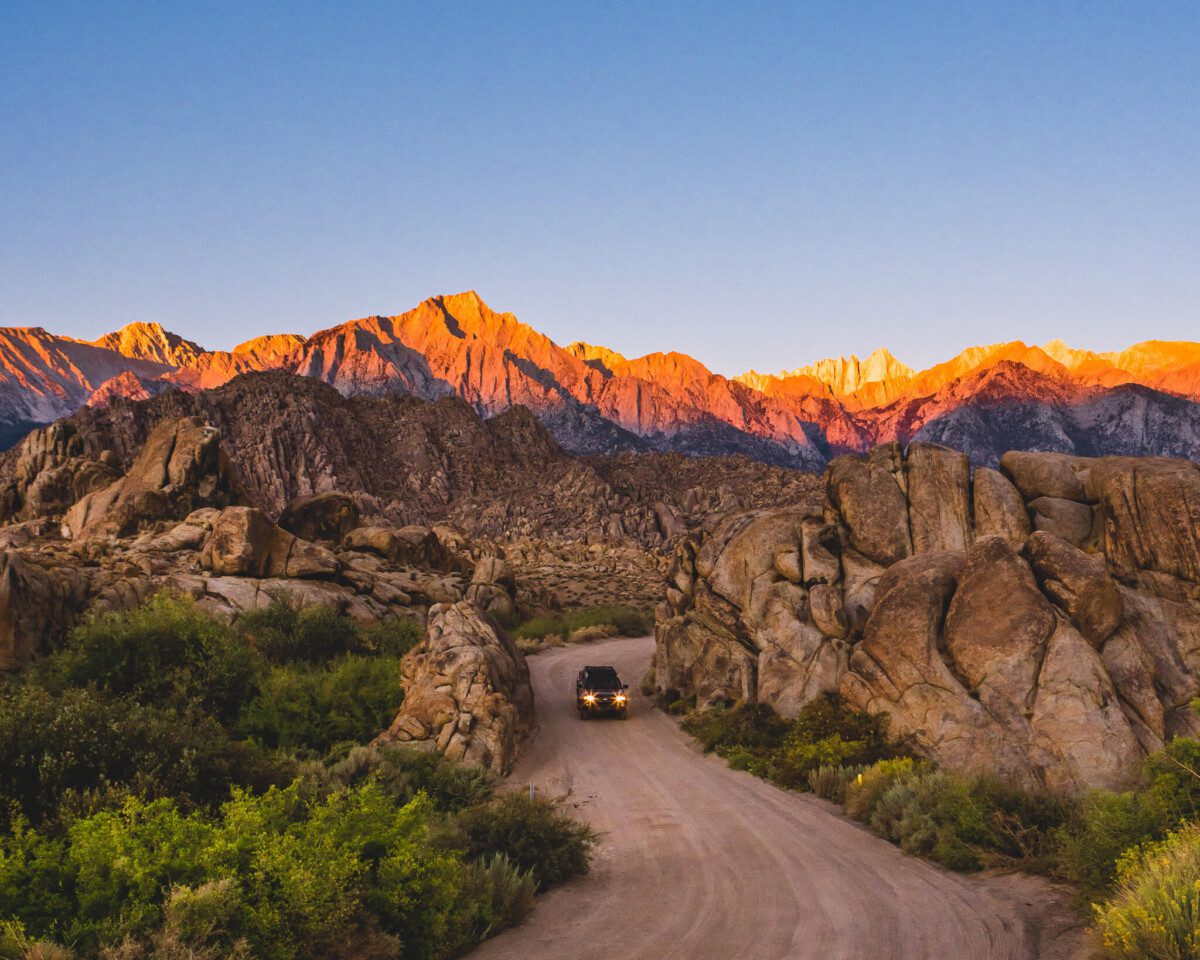 If you're looking for an unforgettable road trip experience, look no further than Highway 395 in California. Highway 395 is one of the most scenic and diverse road trips in the United States. This scenic highway takes you through some of the most breathtaking landscapes in America, offering a unique blend of natural beauty, outdoor adventure, cultural history, and unique landscapes.
We've done this road trip at least 10 times now, and have put together the best Highway 395 road trip stops to help you plan your adventure! We have highlighted our favorite spots on Highway 395, including the best viewpoints and hikes, photography spots, what to pack, helpful tips, and much more! Get ready to pack your bags, hop in the car, and get ready for an incredible road trip.
Things to Know Before Your Highway 395 Road Trip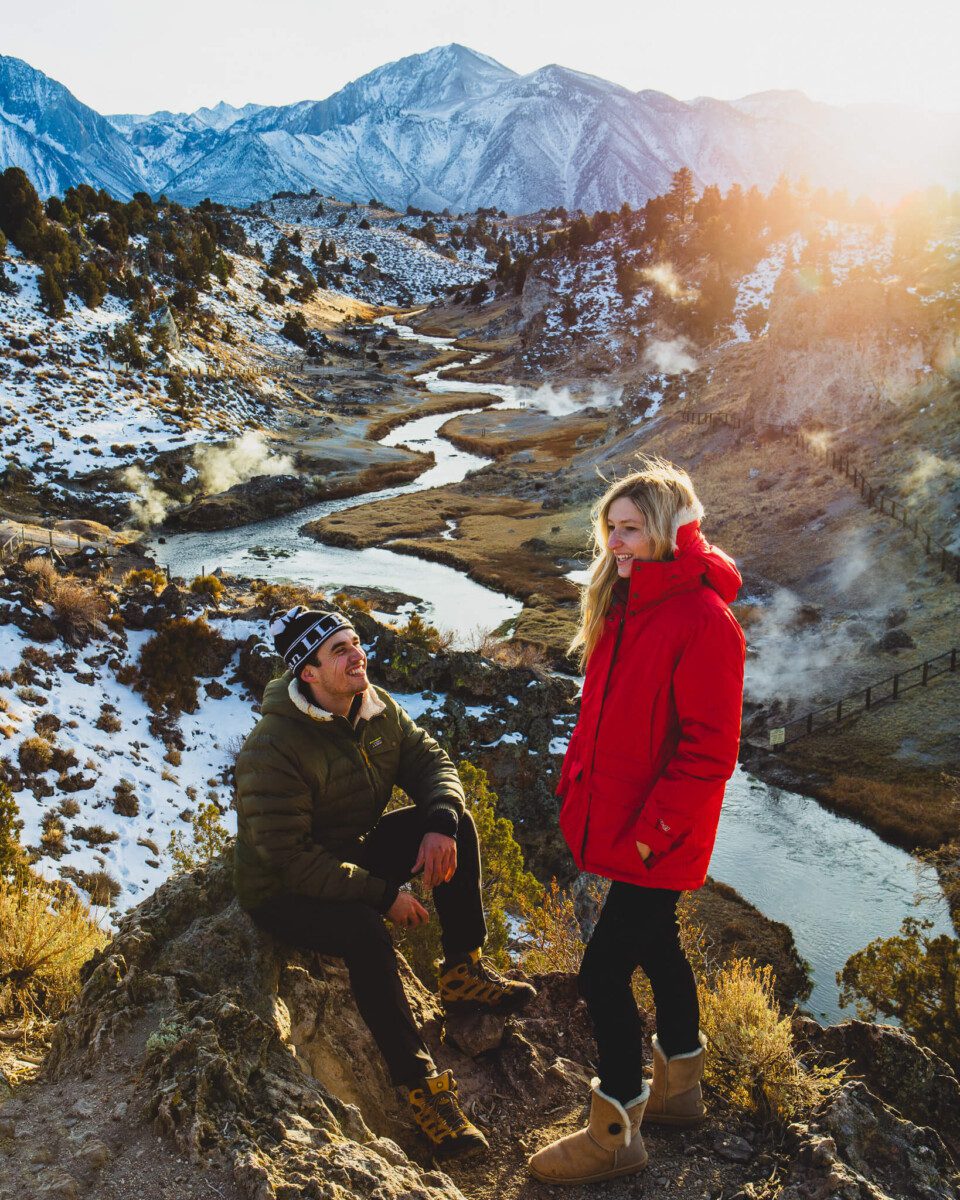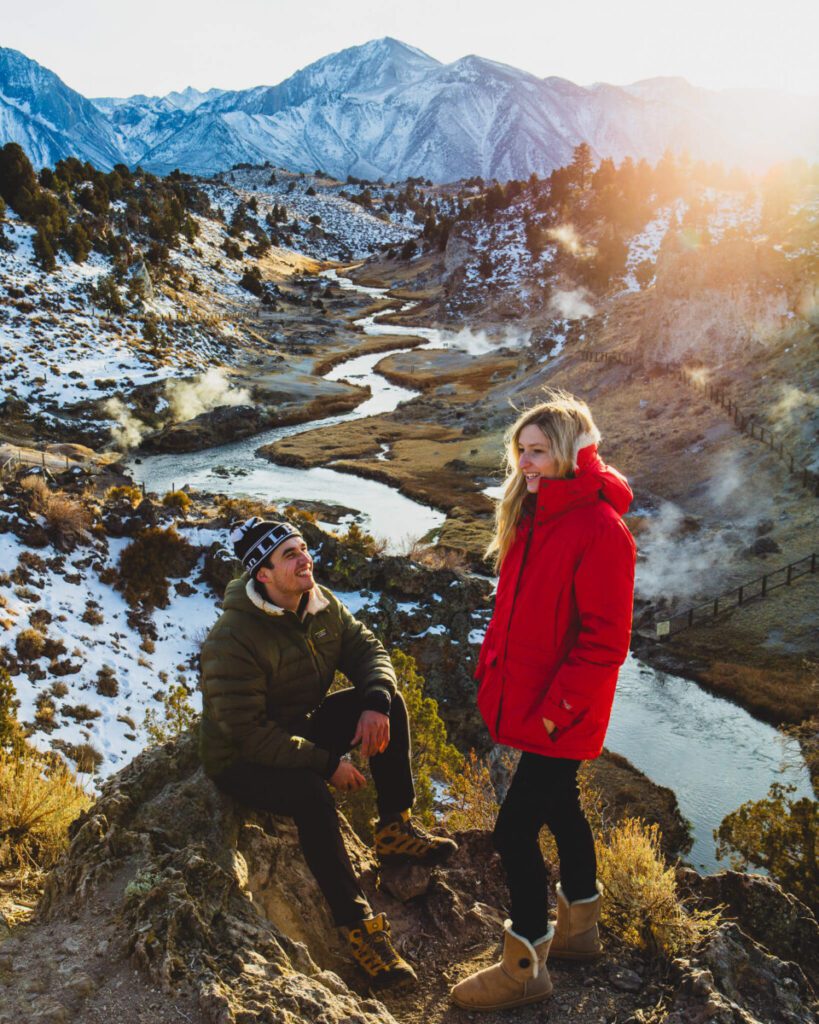 Best Time to Visit Highway 395
The best time to visit Highway 395 in California depends on what you hope to see and do. In general, the shoulder seasons of spring (April to June) and fall (September to November) offer mild temperatures, less crowds, and vibrant landscapes, making them great times to visit.
Spring is a great time to see the wildflowers in bloom and catch the fresh new growth in the forests. Fall brings brilliant autumn foliage and cooler temperatures, ideal for outdoor activities like hiking and camping. In fact, we always recommend visiting in fall as Mammoth offers the best fall colors and leaf peeping in southern California.
Summer can be hot in the desert areas and crowded in popular destinations like Yosemite and Lake Tahoe, but it's also a great time for water activities like boating and fishing. Winter can bring snow and icy conditions, making some roads and trails impassable, but it's also a great time for skiing and snowboarding in the high-altitude resorts.
Ultimately, the best time to visit Highway 395 in California depends on your personal preferences and interests, so choose the season that best suits your plans.
Road Trip Packing Essentials:
Before heading out on a road trip along Highway 395 in California, consider the following information. By keeping these tips in mind, you can ensure a safe and enjoyable road trip.
No matter where we are road tripping, we always bring out top road trip essentials with us.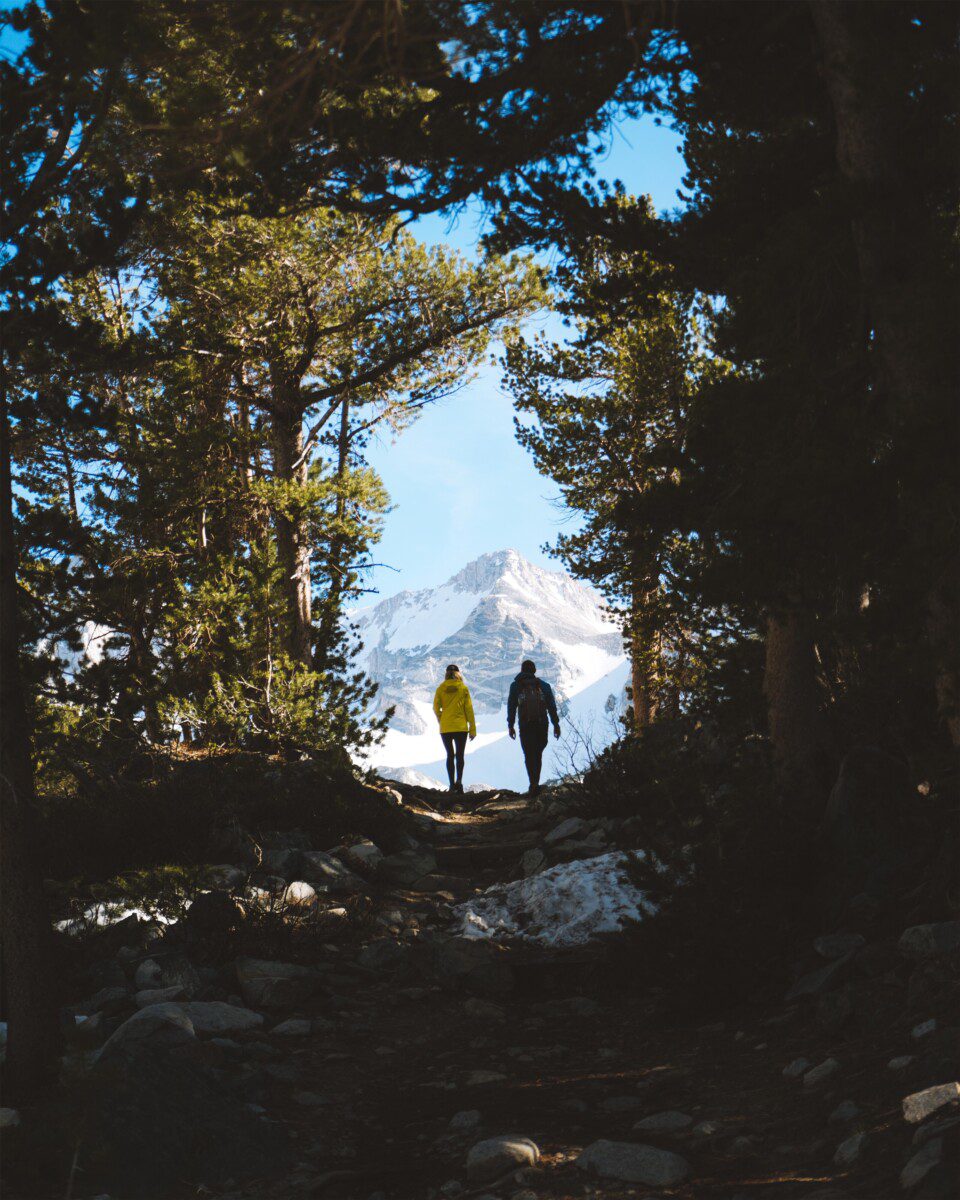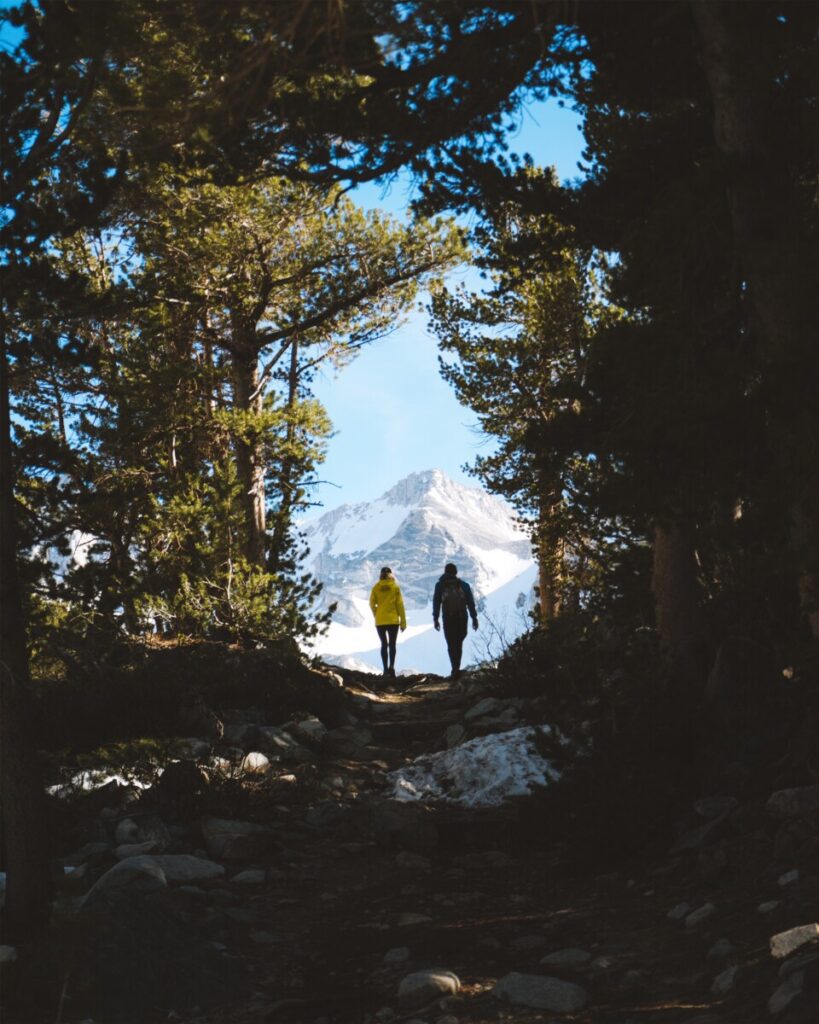 Weather
California's Highway 395 runs through high-altitude desert, mountain, and forest areas, so check the weather forecast for each stop along the way and pack accordingly. There are often afternoon storms from around 2pm-5pm in the Eastern Sierra Nevada mountains along the highway. If you plan on doing any hiking, make sure to pack layers, and wear waterproof apparel and shoes.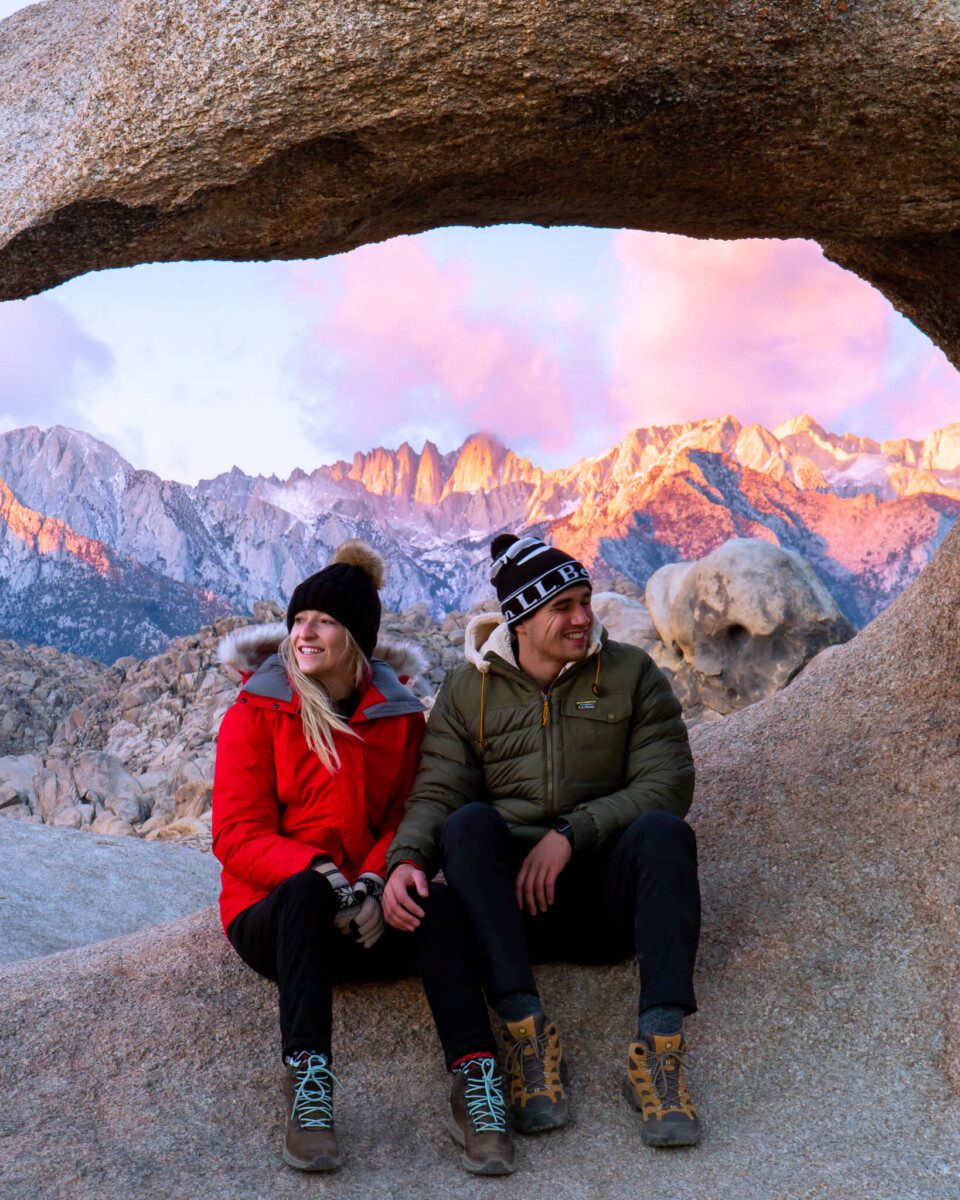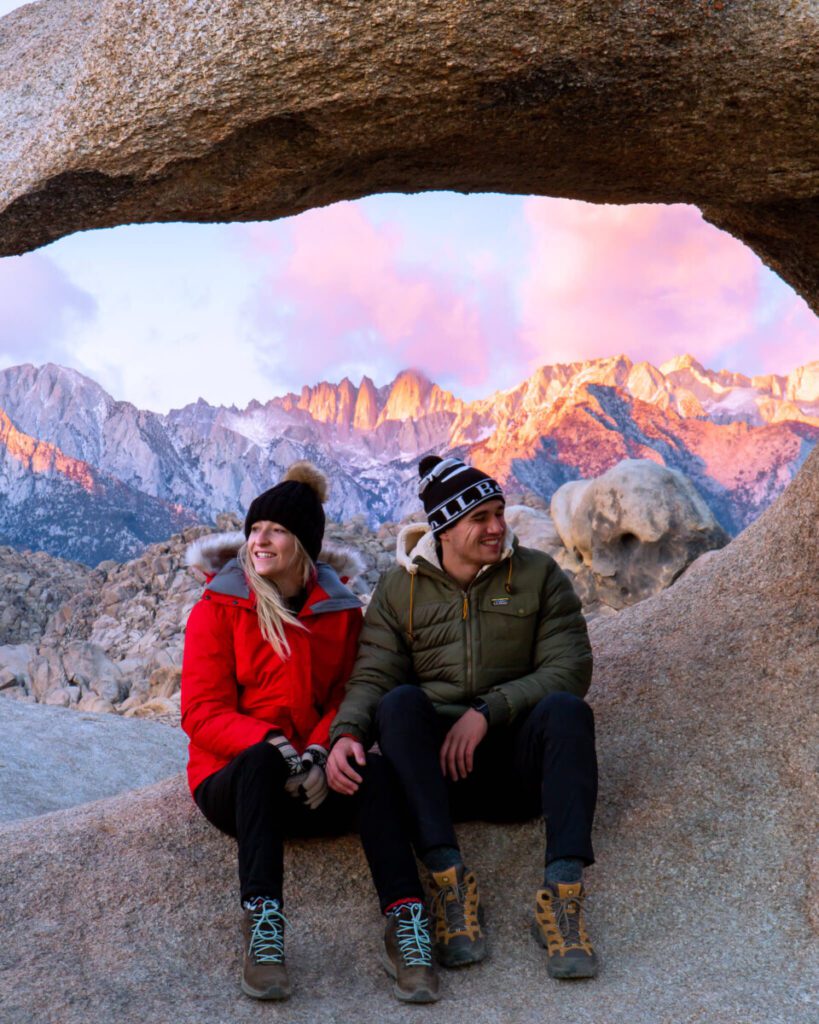 How to Get to Highway 395
We typically start this road trip itinerary from Los Angeles. There are plentiful car and van rentals if you are flying in from LAX. We always recommend using Outdoorsy for van rentals or Turo for more specialized car rentals. The drive out to your first few stops in Lone Pine will take about 3 hours depending on traffic.
(P.S. You can use the code LoversPassport for 10% off a van rental with Outdoorsy!)
Gas Stations Along Highway 395
Gas stations can be few and far between along Highway 395, so plan accordingly and make sure to fill up when possible. Pack snacks, water, and any other essentials you may need. We typically fill up our gas in Lone Pine near Alabama Hills and once more in Bishop. Use apps like Gas Buddy if you want to find the cheapest gas station in your vicinity.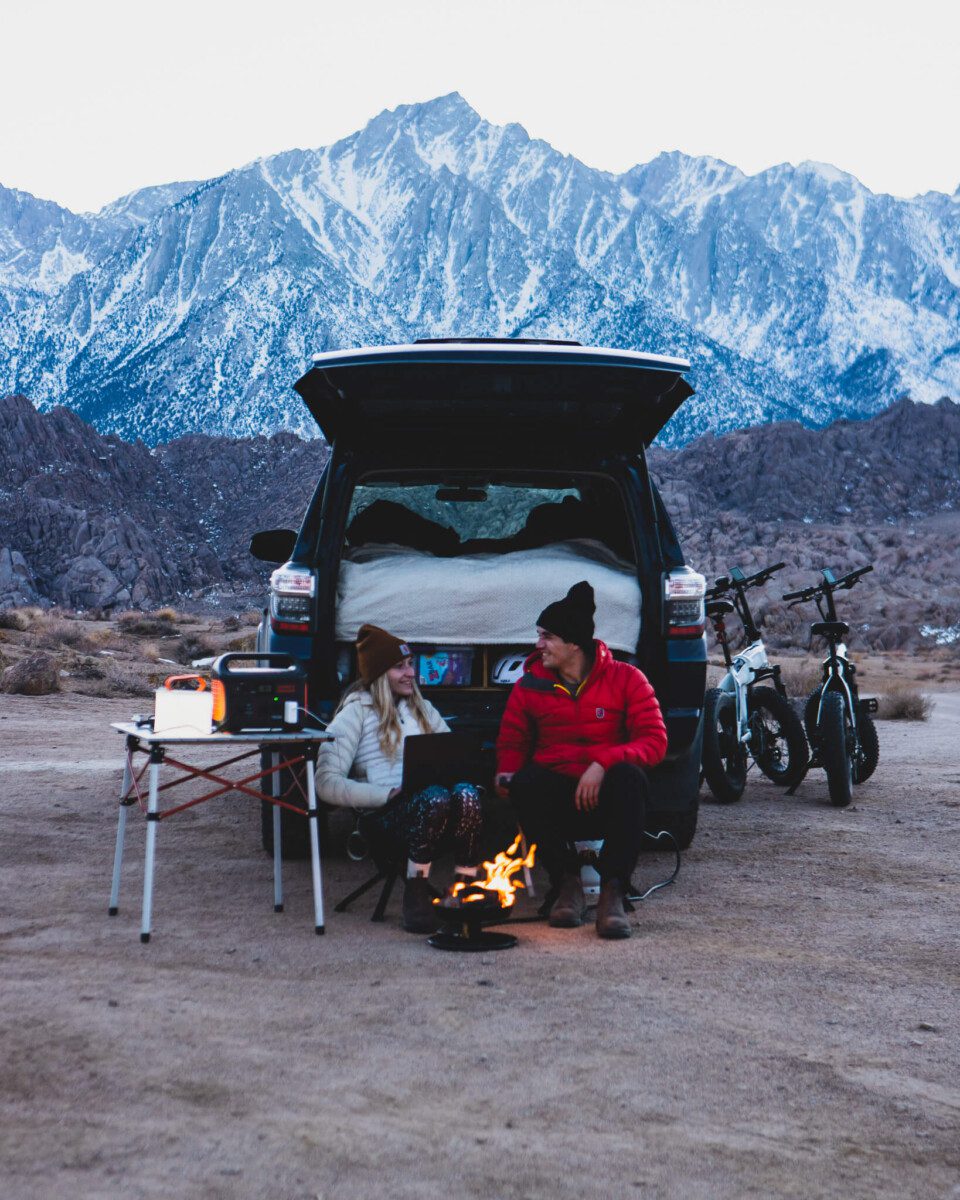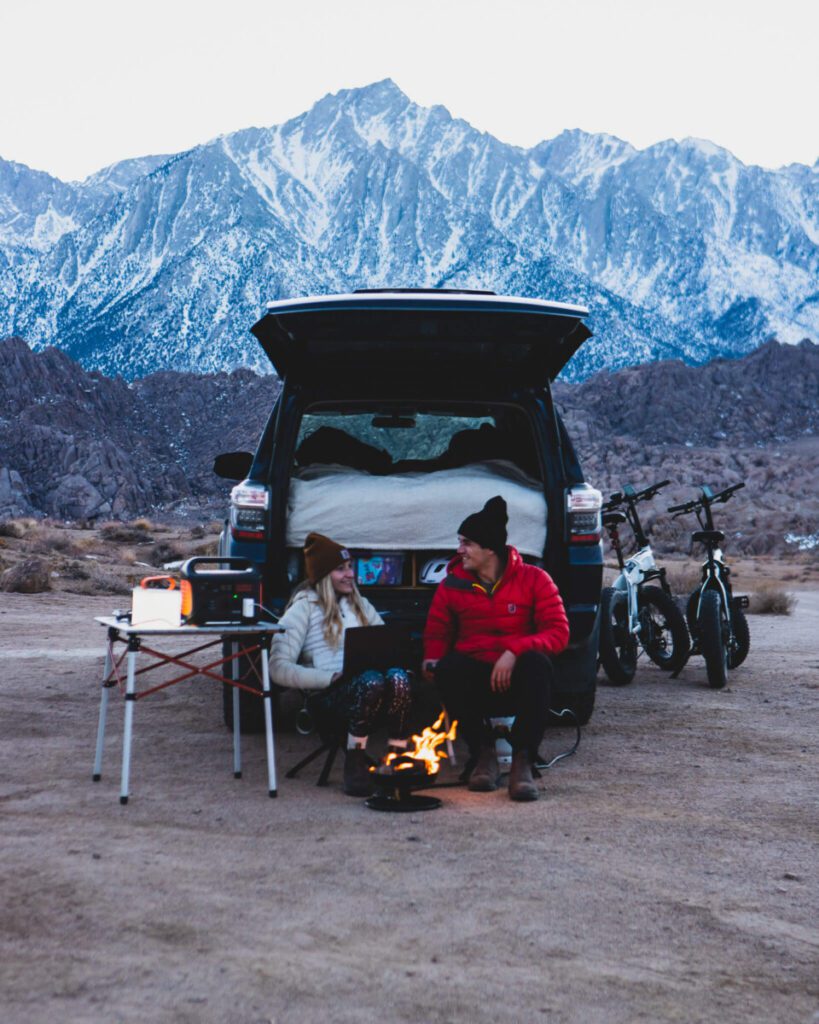 Where to Stay On Your Road Trip:
There are several options for accommodations along Highway 395, including campgrounds, RV parks, motels, and more.
Whenever we embark on a road trip on this route, we typically opt to car camp on BLM land or at campsites. There are a ton of free campsites along this route. If you have a car with off roading capabilities, that increases your chances of finding free campsites on BLM land.
To find out where is the best option to stay, check out Free Roam or freecampsites.net. Our favorites we've camped at are Alabama Hills, the BLM near Convict Lake, the BLM near Bridgeport, and the forest routes near South Lake Tahoe. If you're looking to do this road trip on a budget, then car camping is accessible and thrifty way to go!
Pre-Road Trip Safety Checklist
Plan ahead: Make sure to research and plan your route, accommodations, and activities ahead of time.
Vehicle preparation: Make sure your vehicle is in good condition and suitable for a long road trip. Pack a spare tire, jack, and basic repair tools.
Cell service and GPS: Cell phone service can be spotty in some areas along Highway 395, so it's a good idea to have a backup GPS device and a map just in case.
Itinerary Sharing: It's always a good idea to share your travel plans with other individuals before you leave in the event of an emergency.
Wilderness Areas
Many areas along Highway 395 are protected wilderness areas, so follow Leave No Trace principles, obey any posted regulations, and respect wildlife and the environment.
For our full car camping and road tripping setup, checkout our full build with dimensions & sizing here.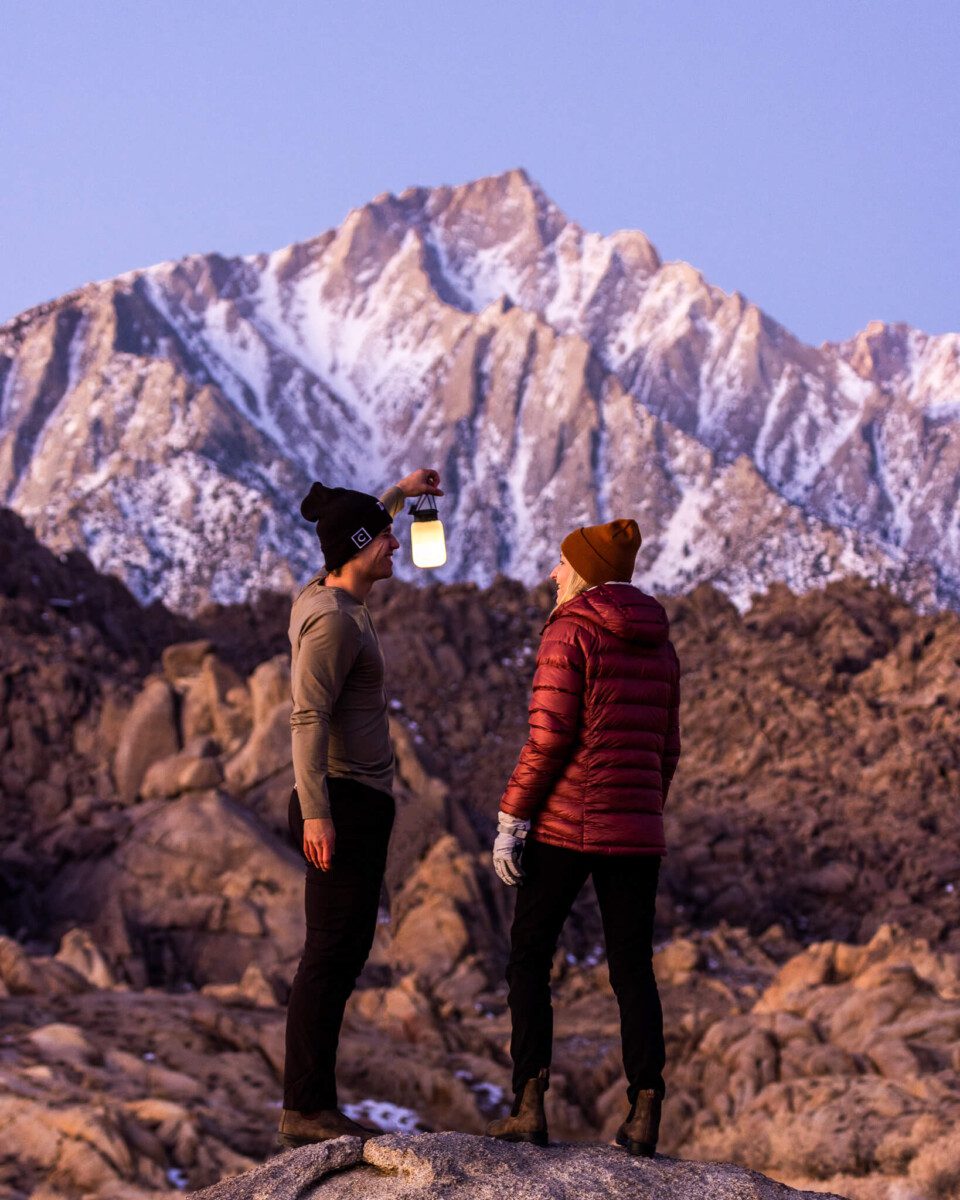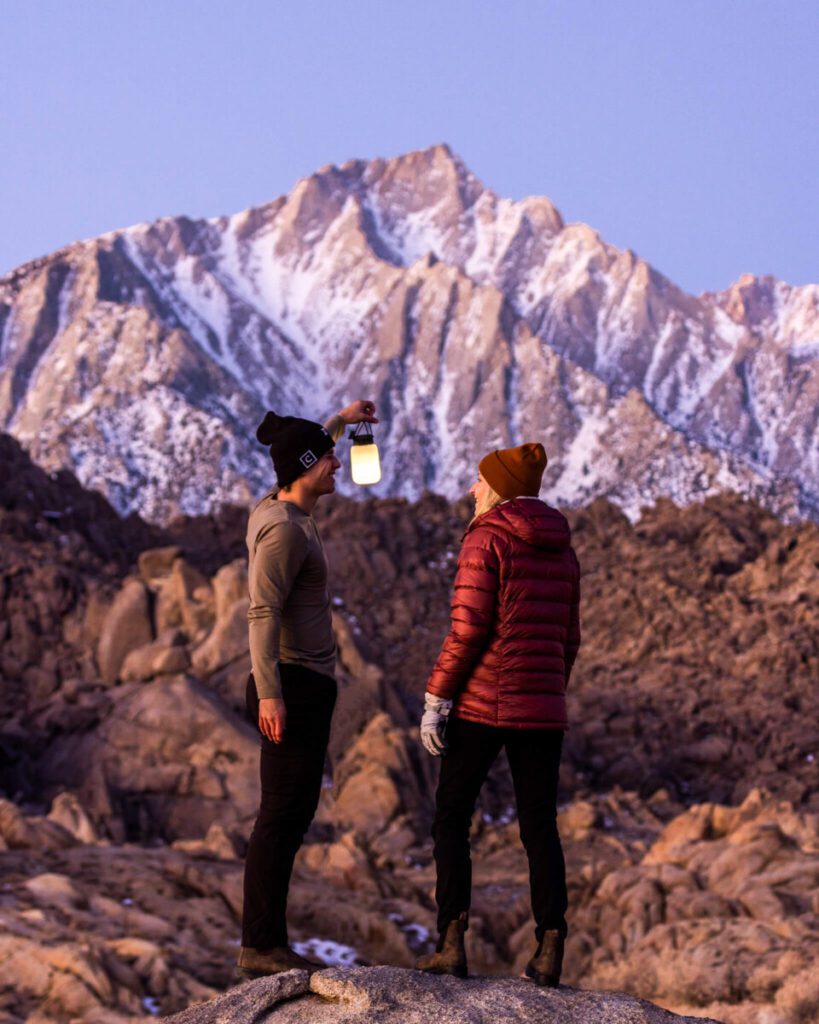 Best Road Trip Stops Along Highway 395
Now that you're prepared to head out, let's get to the stops on Highway 395 that you're not going to want to miss! Note: These itinerary items are just a sample and can be customized based on personal preferences and time constraints.
Manzanar National Historic Site
Manzanar Historic Site is a former Japanese American internment camp located in Inyo County, California. During World War II, the US government forcibly relocated more than 120,000 Japanese Americans from their homes on the West Coast to 10 internment camps located throughout the country. Manzanar was one of these camps and held over 10,000 Japanese Americans from 1942 to 1945.
The Manzanar Historic Site has been preserved as a reminder of this dark chapter in American history, and today serves as a memorial to the Japanese Americans who were interned there. Visitors can explore the camp's remains, including restored guard towers, the foundation of the former mess hall, and a cemetery. The site also features interpretive exhibits, including photographs, personal artifacts, and historical documents.
Visitors to Manzanar can take guided tours, attend interpretive programs, and participate in other educational activities that help to deepen their understanding of this important chapter in American history. If you're interested in exploring Manzanar, it's best to plan ahead, as the site is located in a remote area of California and may require some additional time and effort to reach.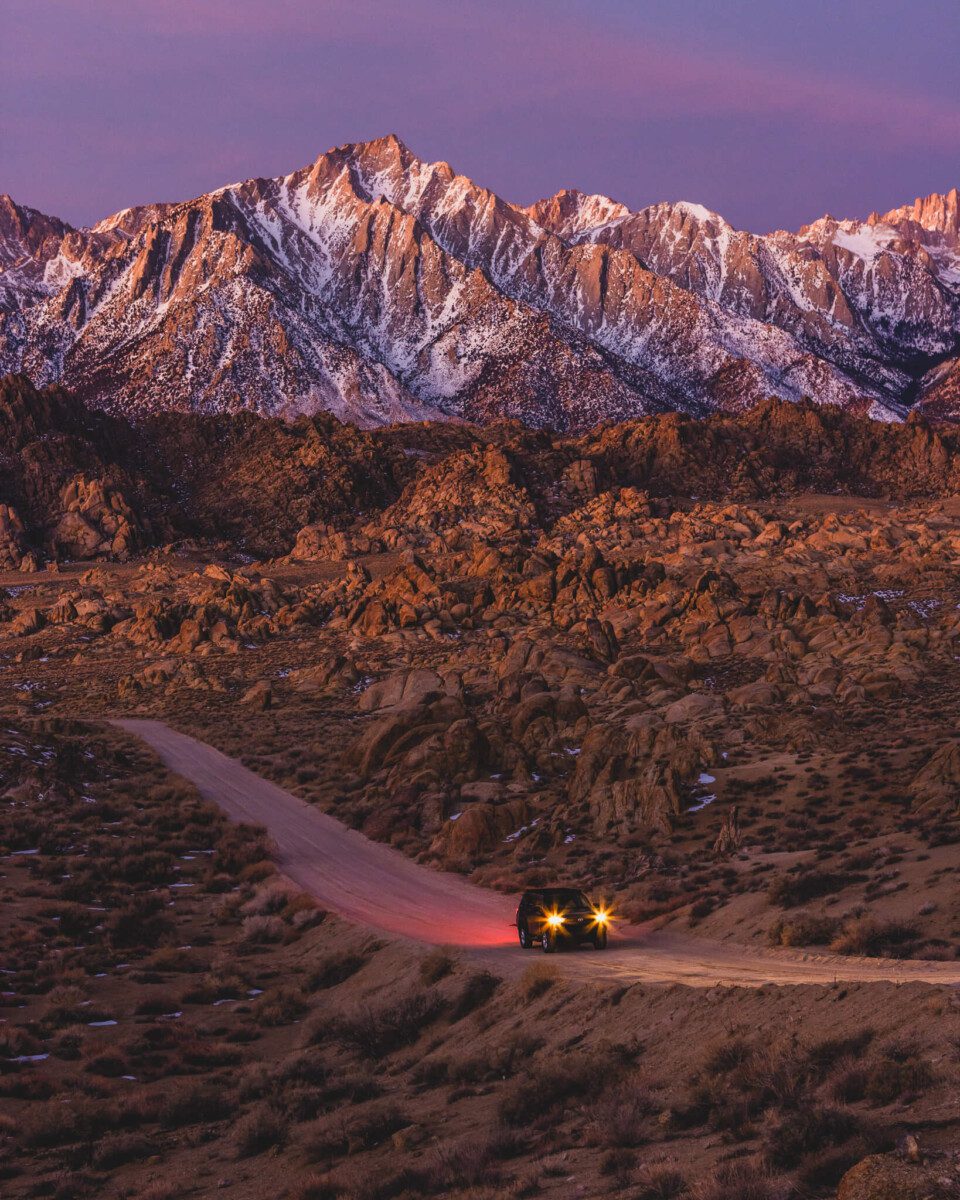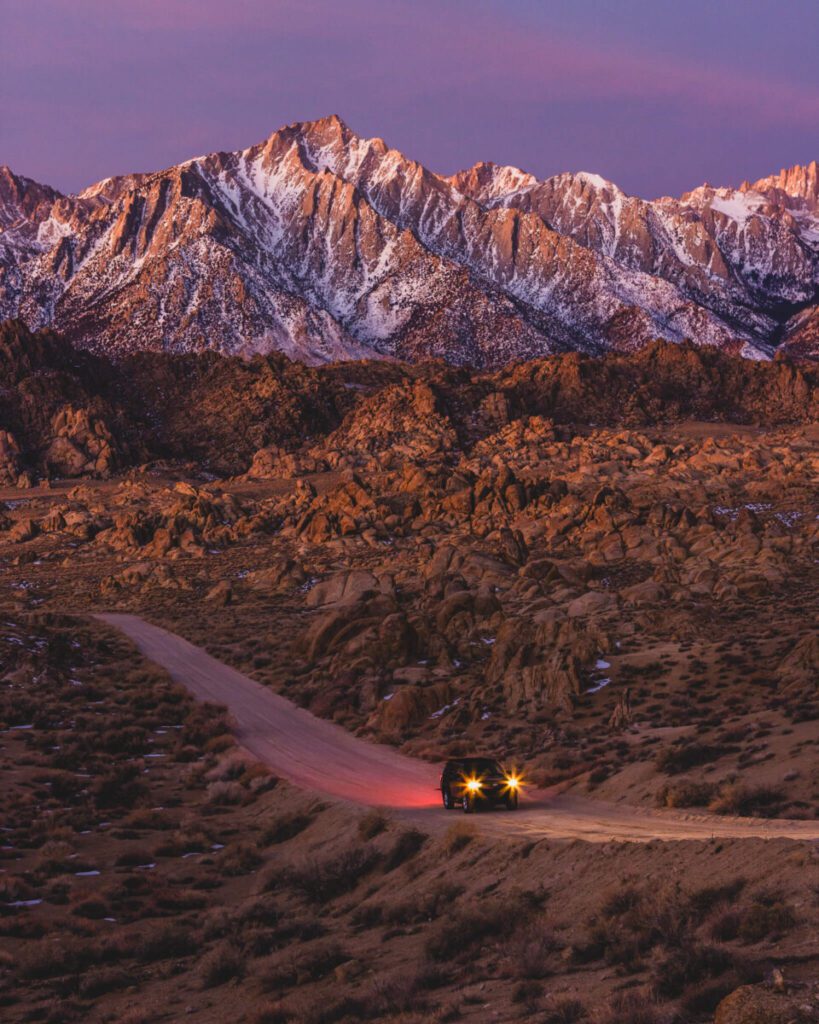 Alabama Hills
The Alabama Hills are located in eastern California near the town of Lone Pine, about a 4.5-hour drive from Los Angeles. This beautiful area in the Eastern Sierra mountains offers a variety of outdoor activities, including hiking, rock climbing, photography, and stargazing. The famous "Movie Road" is also located in the area and offers scenic vistas and movie history.
Hiking in Alabama Hills
During your stop here, try hiking over to some of the top trails in Alabama Hills:
Mobius Arch Trail: This easy 0.5-mile hike leads to Mobius Arch, a natural rock arch with views of the Sierra Nevada Mountains and Owens Valley. The arch perfectly frames the gorgeous peaks of Mt. Whitney and Lone Pine Peak.
Movie Flat Trail: This moderate 2.5-mile hike leads through the heart of the Alabama Hills and offers views of the surrounding peaks and formations.
Arch Rock Trail: This moderate 2.5-mile hike leads to Arch Rock, a large rock arch and popular rock climbing destination.
Boot Arch Trail: Also known as High Heel Arch, this is one of our favorite spots for Astrophotography. If you want to learn more about how to shoot photos of the stars here, check out our travel photography e-book!
These are just a few of the many hiking options available in the Alabama Hills, so be sure to check with apps like All Trails or Gaia GPS and a hiking guidebook for more information and to choose the best hike for your abilities and interests.
Make sure to also drive by the famous Shark Fin rock and cruise down along Movie Road. You'll get beautiful views of Mt. Whitney and Lone Pine Peak! If you're a photographer, make sure to visit this stop during sunrise for the best photo options.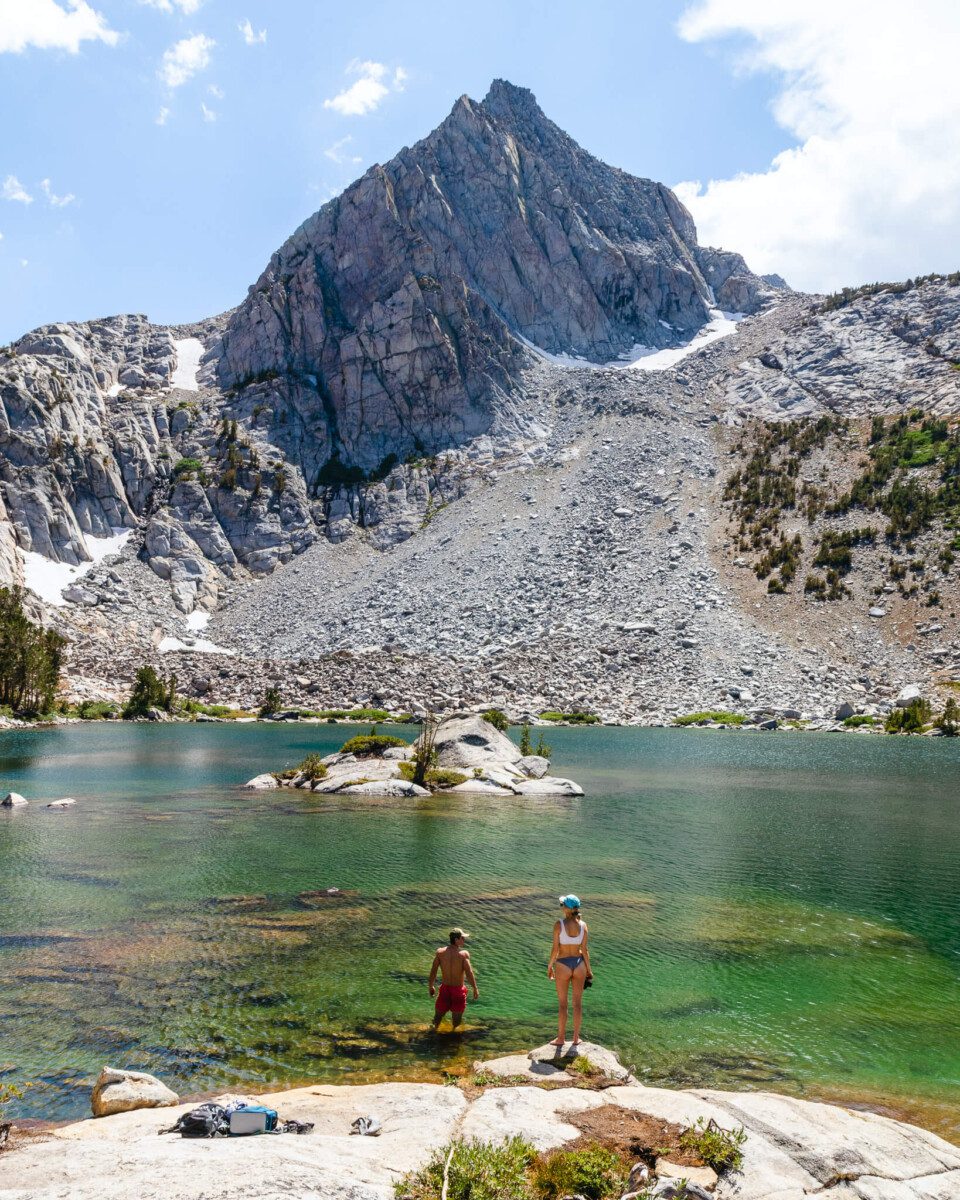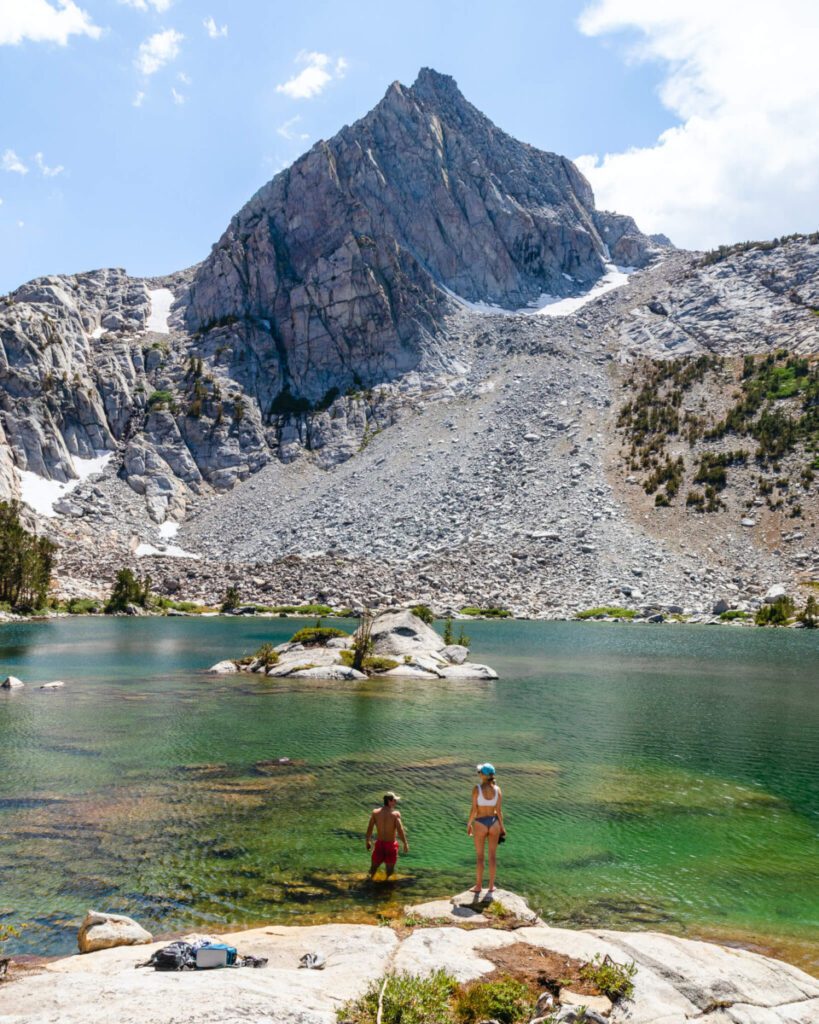 Bishop
Bishop is a great road trip stop along Highway 395 for both grabbing a bite to eat and taking a hike! We always love checking out Schatt's Bakery for a snack. They have the best desserts and pastries.
One of our favorite hikes in Bishop is the South Lake to Treasure Lake hike. You can find our full trail guide here along with some of our other top recommendations.
Bristlecone Pine Forest
The Bristlecone Pine Forest is a protected area located in the White Mountains of California, near the border with Nevada. The forest is home to some of the world's oldest living trees, including the Great Basin bristlecone pine, which can live for over 4,000 years.
Visitors to the Bristlecone Pine Forest can explore a number of hiking trails that wind through the forest, offering opportunities to see these ancient trees up close and to experience the unique and otherworldly environment of the high Sierra Nevada Mountains.
Some of the most popular trails include the Methuselah Walk, which takes visitors to the oldest known bristlecone pine tree, and the Schulman Grove Nature Trail, which offers a more leisurely and accessible route through the forest.
Crowley Lake Columns
Crowley Lake is a large reservoir located in the Owens Valley. This area has become famous for it's photogenic columns around the lake. The columns are made of basalt, a type of volcanic rock, and were formed around 760,000 years ago when a massive volcanic eruption occurred in the area.
The eruption produced a lava flow that traveled down the slopes of the Long Valley Caldera and eventually cooled and solidified into the distinctive columnar formations that we see today. The columns are hexagonal in shape and range in size from a few inches to several feet in diameter. They are stacked on top of each other like giant pillars, creating a dramatic and otherworldly landscape.
The Crowley Lake Columns are located just outside the town of Mammoth Lakes and are easily accessible by car. Visitors can park in a designated parking area and walk along a short trail to get a closer look at the columns.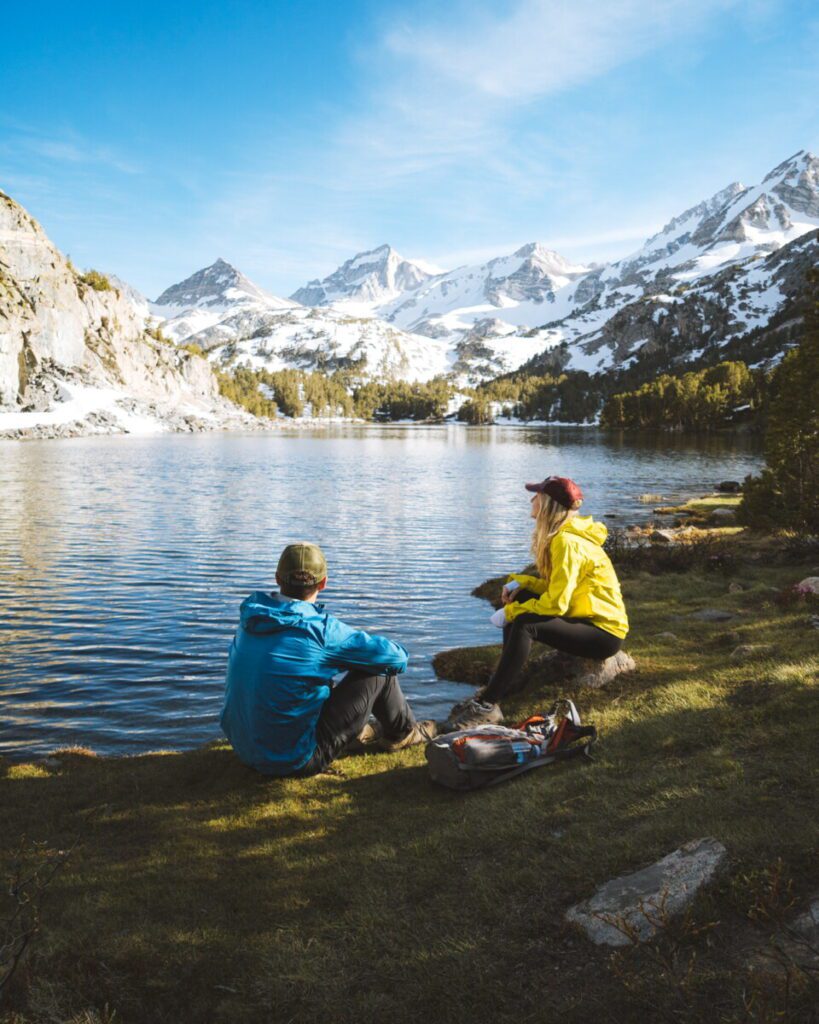 Little Lakes Valley
Little Lakes Valley is a stunningly beautiful area located in the Eastern Sierra Nevada Mountains, just south of the town of Mammoth Lakes. It is a popular destination for hikers, backpackers, and anglers, with numerous alpine lakes, towering peaks, and panoramic views. The valley is home to several lakes, including Chickenfoot Lake, Gem Lake, and Long Lake, each of which offers excellent fishing and scenic views.
One of the most popular hikes in the Little Lakes Valley is the hike to Gem Lake, which is a moderate 3.5-mile round trip. This hike offers breathtaking views of the surrounding peaks and a crystal-clear lake that is perfect for swimming and fishing. The hike to Long Lake and Chickenfoot Lake is a bit longer, but equally rewarding, with stunning views of the valley and the peaks above.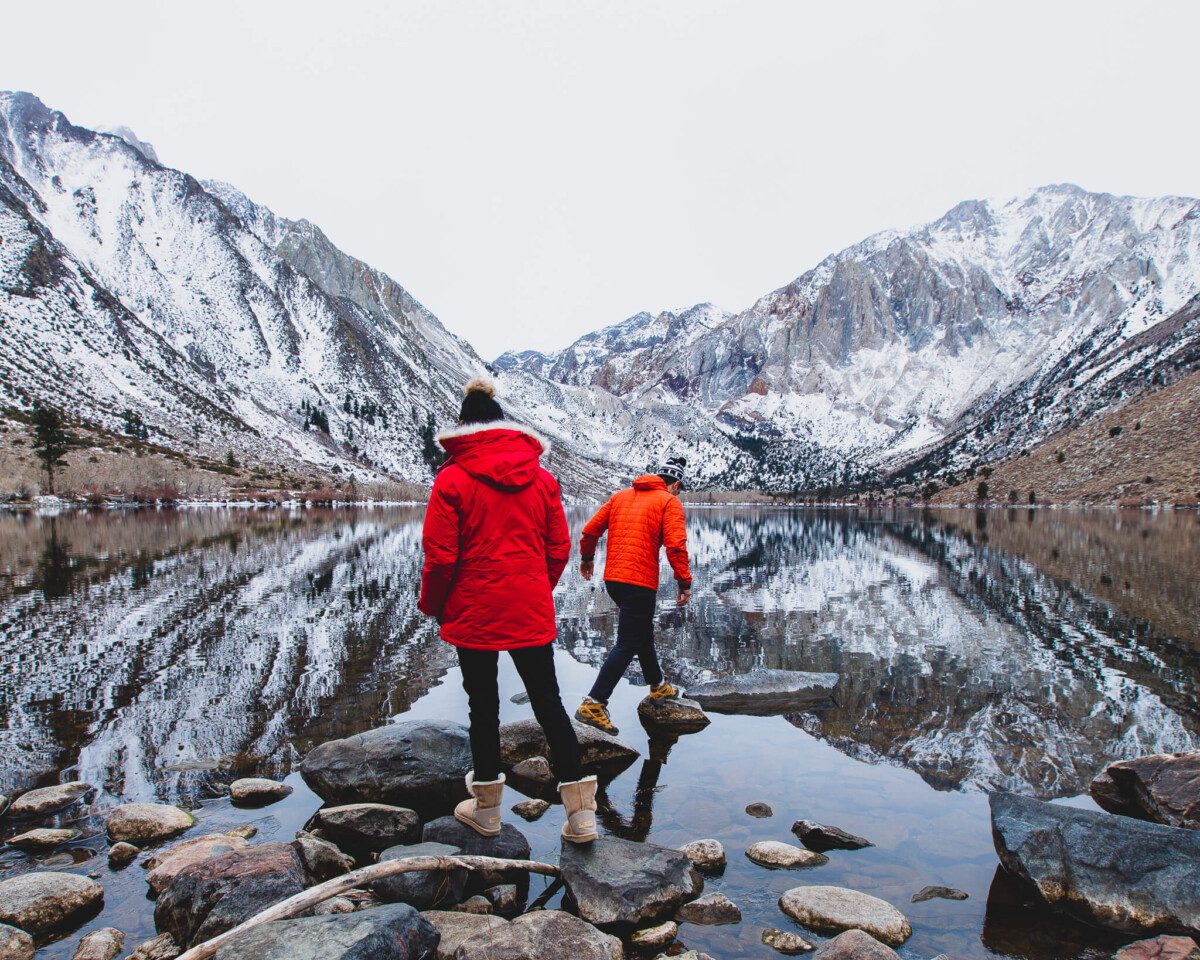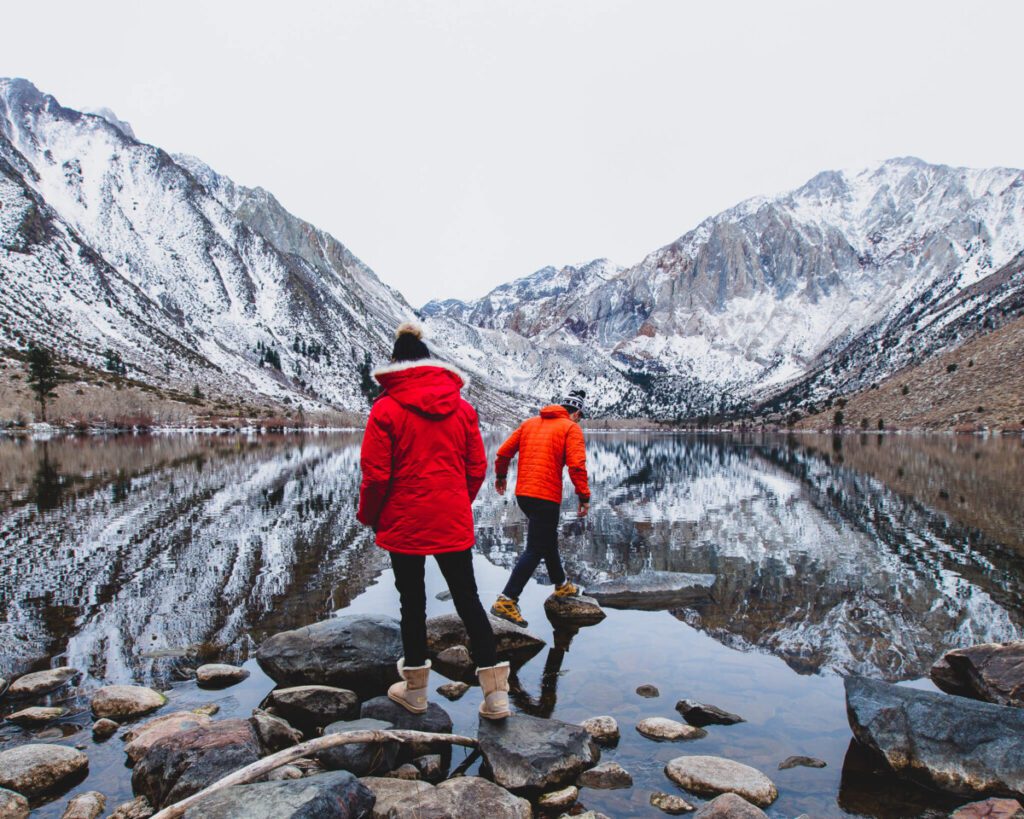 Convict Lake
The infamous Convict Lake is a picturesque glacial lake surrounded by beautiful steep and forested mountains, making it a popular spot for outdoor activities.
The lake's unique name comes from a dramatic event that took place in the late 1800s. In 1871, a group of convicts escaped from a prison near Mono Lake and fled into the nearby mountains. The convicts were eventually cornered at what is now Convict Lake. In the ensuing shootout, two of the convicts were killed and the rest were captured and returned to prison.
Today, Convict Lake is a popular destination for fishing, with a well-stocked lake that is home to rainbow trout, brook trout, and brown trout. The lake also offers scenic vistas, picnic areas, and several hiking trails that lead into the surrounding mountains.
We always love hiking the Convict Lake Loop Trail, especially during the fall when the leaves have all turned. Seeing the beautiful alpine glow at sunrise on the surrounding mountains is also amazing if you are into photography. Note that it can get pretty crowded at that time with photographers, so arrive early to grab a good spot.
If you're planning on stopping at Convict Lake on your Highway 395 Road Trip, be sure to bring plenty of water, sun protection, and insect repellent, as the area can be quite warm and buggy during the summer months.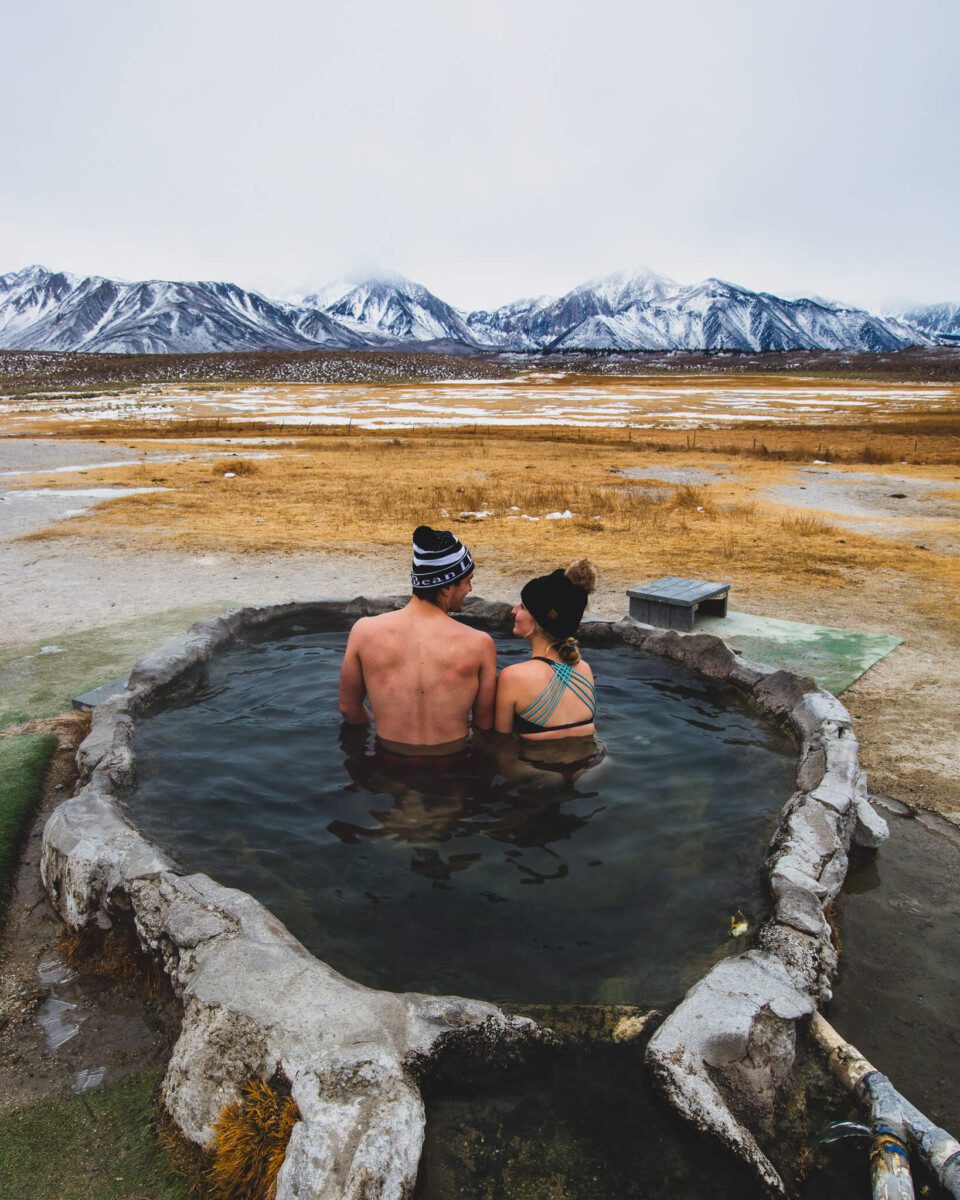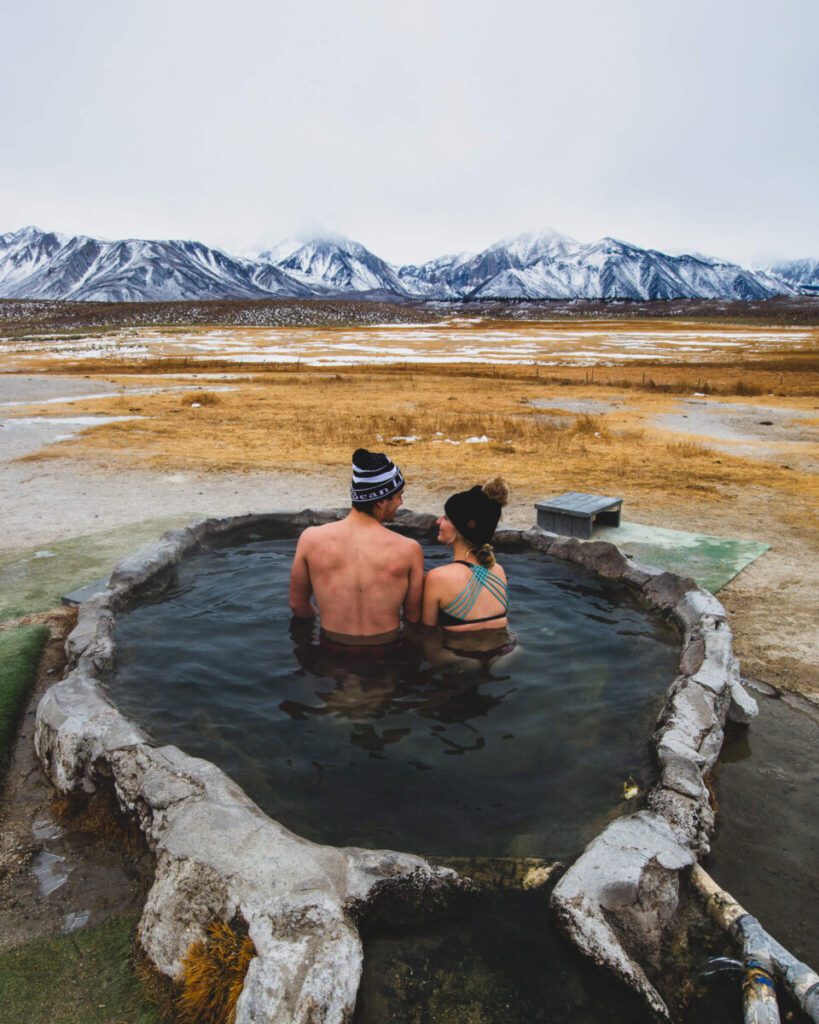 Mammoth Hot Springs
If you're looking to relax and soak in the natural beauty of the area, the natural hot springs in Mammoth are not to be missed. These hot springs are fed by geothermal waters that are heated by volcanic activity beneath the Earth's surface, and they offer visitors the chance to soak in warm, therapeutic waters surrounded by beautiful mountain scenery.
Hot Spring Etiquette
Before getting into our favorite hot springs in the area, let's go over some basic hot spring etiquette.
Respect the environment: Hot springs are often located in sensitive and fragile environments, so be sure to pack out all of your trash and follow any rules or regulations set by the local authorities.
Respect others: Hot springs are often crowded and social spaces, so be sure to be mindful of other people's personal space and keep noise levels down. Additionally, be mindful of other people's modesty and avoid staring or taking photos of others without their permission.
Be clean: Before entering the hot springs, be sure to wash thoroughly and rinse off any dirt, oils, or chemicals that could pollute the water.
Keep the hot springs clean: Do not introduce soap, shampoo, or other chemicals into the hot springs, as this can damage the delicate ecosystem and affect other people's enjoyment of the hot springs.
Respect the temperature: Some hot springs can be very hot, so be mindful of your own comfort level and do not stay in the water for too long. Additionally, be mindful of other people's comfort levels and do not splash around.
By following these simple guidelines, you can help ensure a safe, clean, and enjoyable experience for everyone at the hot springs.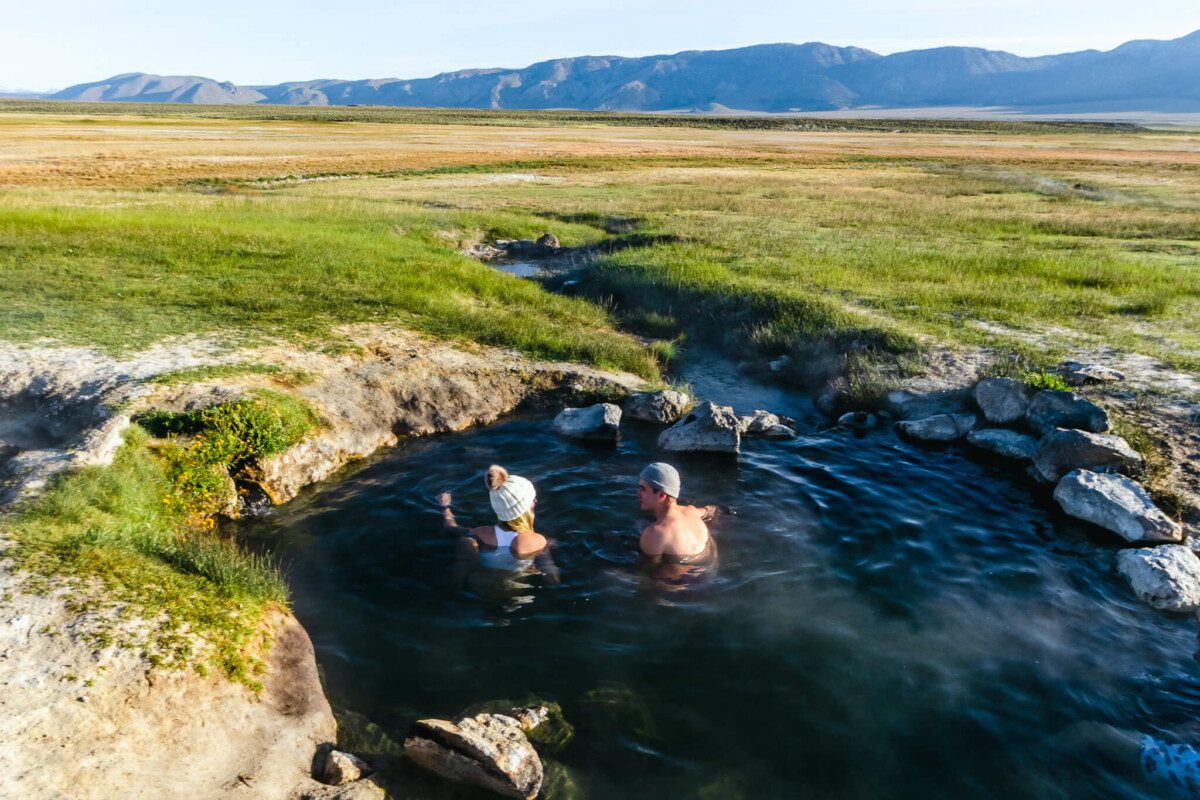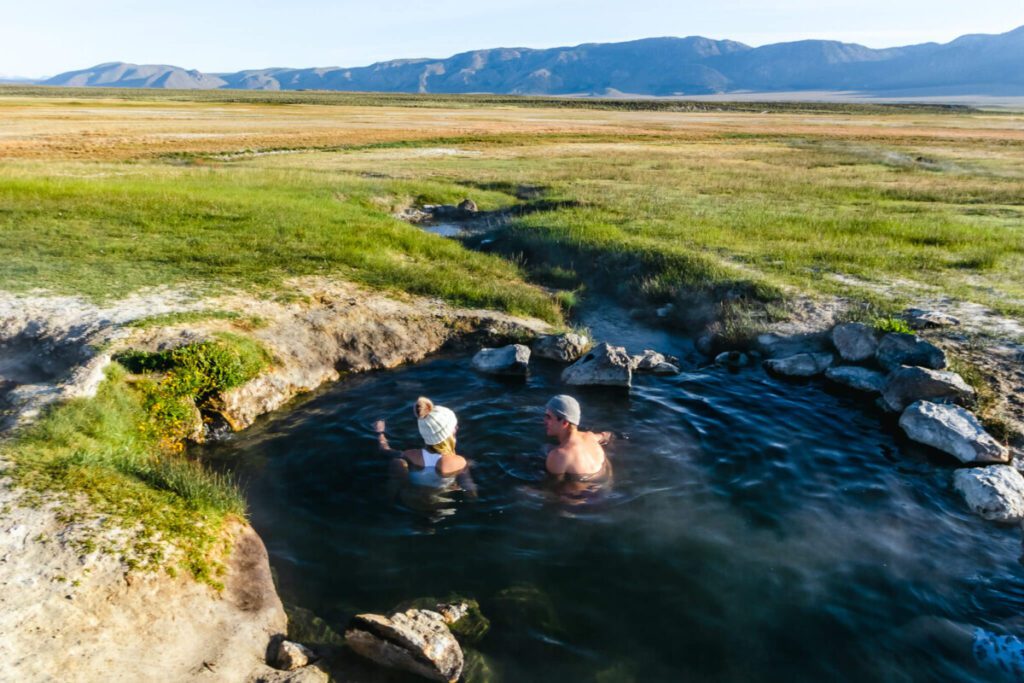 Popular Mammoth Hot Springs
Some of the most popular hot springs in the Mammoth area include:
Wild Willy's Hot Springs: Wild Willy's is a remote and rustic hot springs area near Mammoth. With several large pools surrounded by towering peaks and a pristine wilderness setting, Wild Willy's offers a true backcountry hot springs experience.
Hilltop Hot Springs: Hill Top is a smaller pool than Wild Willy's, but equally as beautiful! The pool is wide enough to fit about 4-6 people.
Crab Cooker Hot Springs: This is probably the hottest of the aforementioned hot springs. Crab Cooker Hot Spring is not a natural spring, it's actually an artificial stone tub. The hot water runs from a geothermal mineral spring close by and is very refreshing.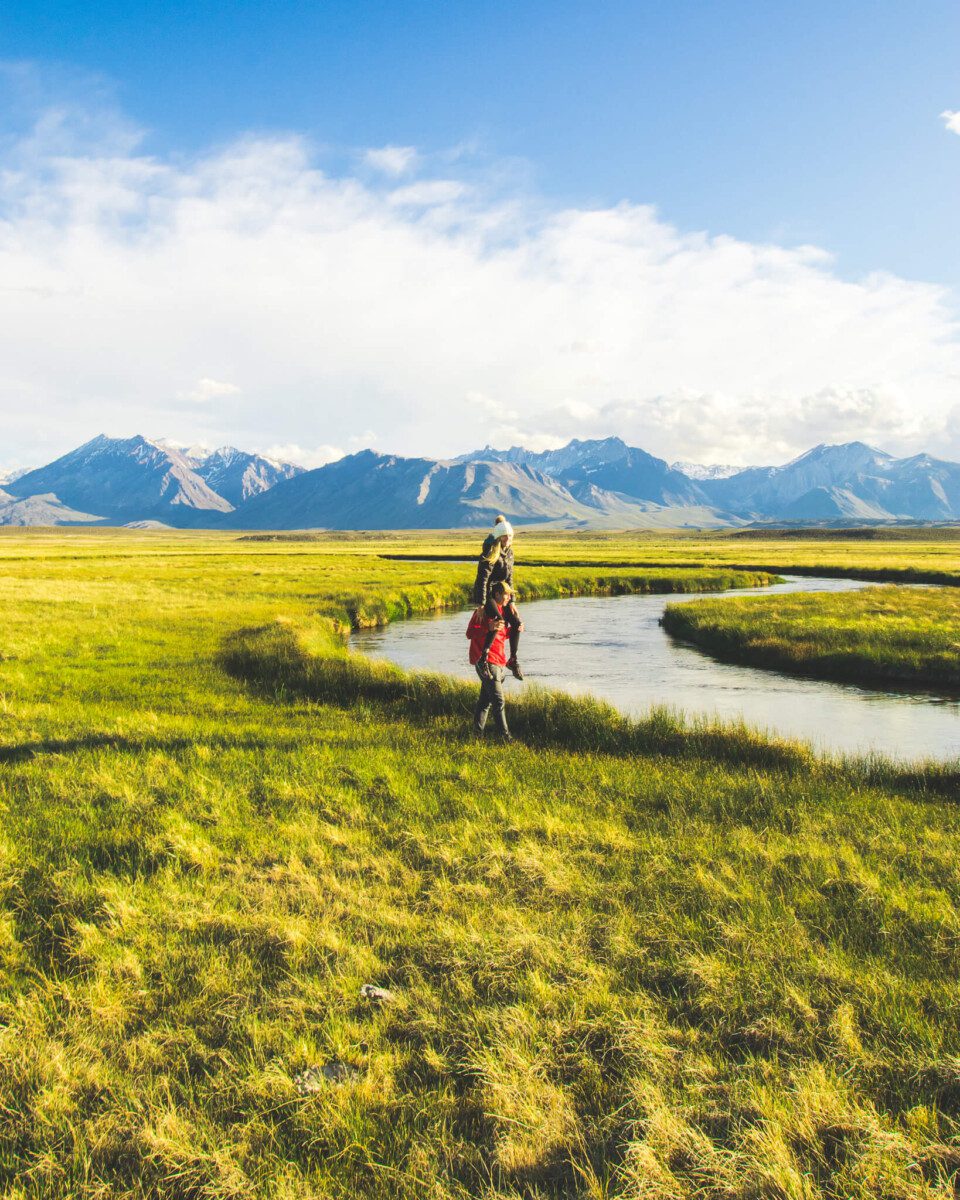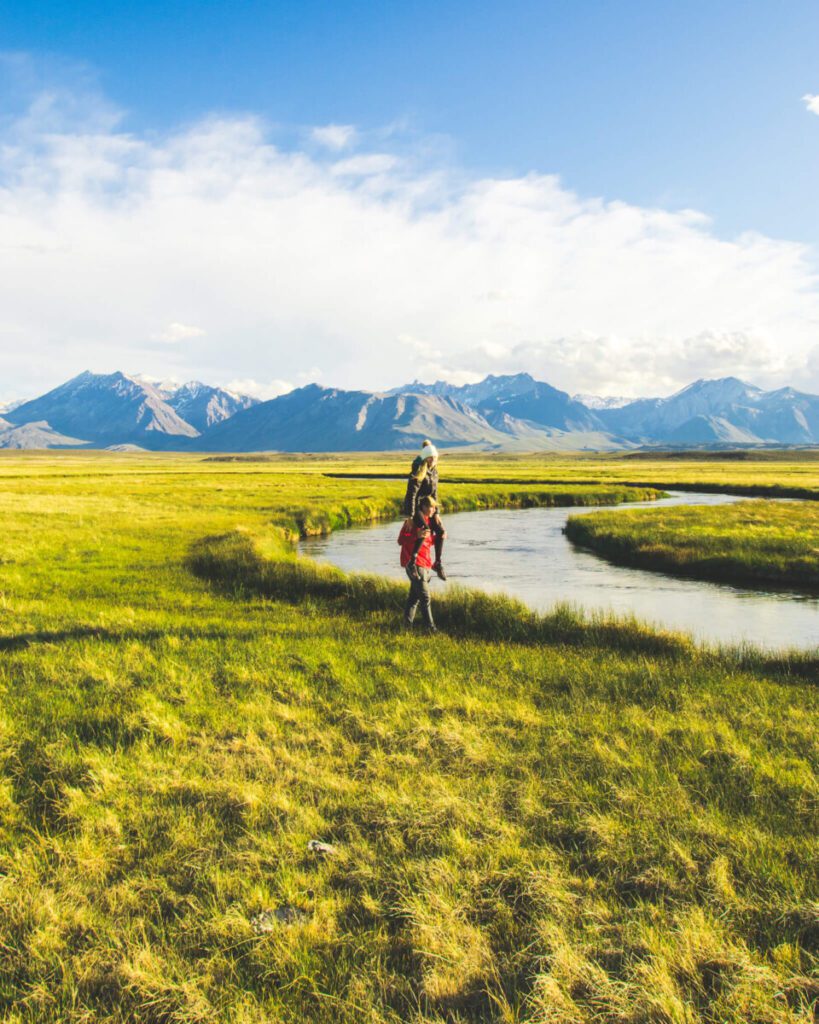 Owens River Valley
Visitors to the Owens River Valley can explore the area in a number of ways. You can go hiking and fishing in the valley. We love checking out the Owens River Valley at sunset for landscape photography of the green meadows.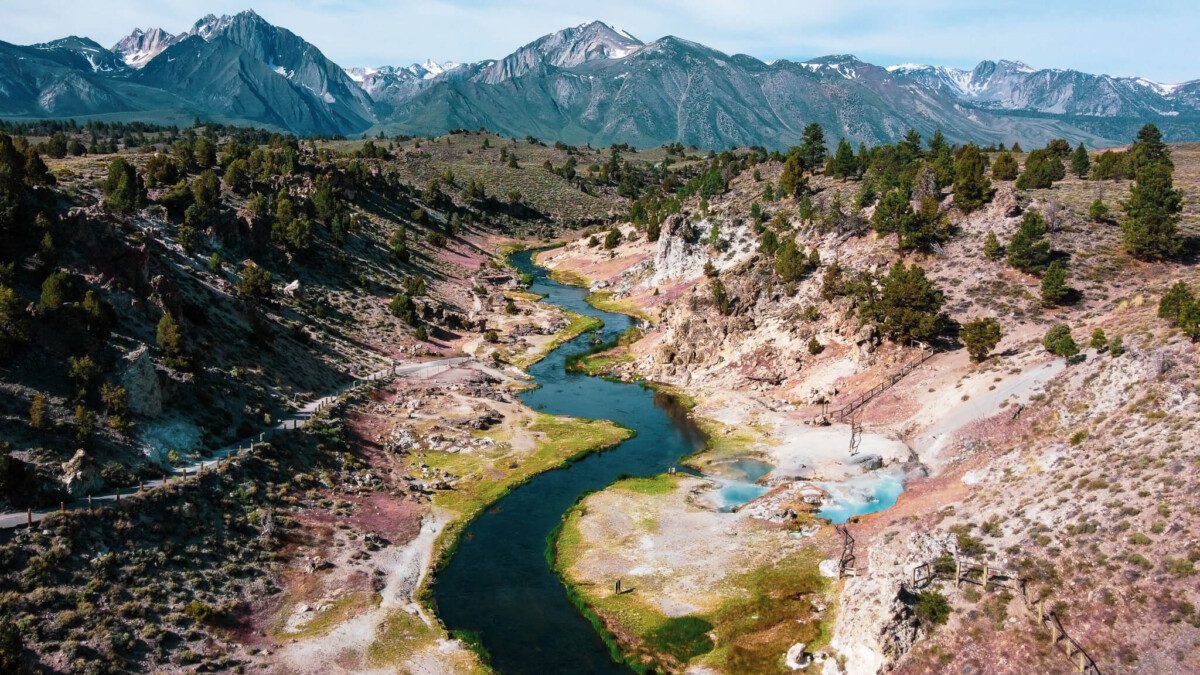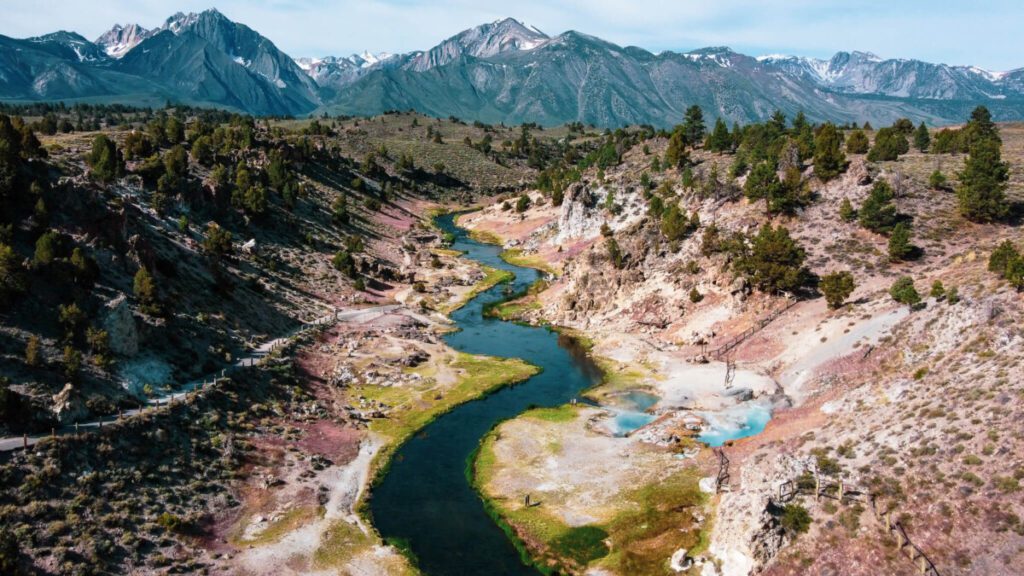 Geological Hot Springs
For a beautiful scenic view of the Eastern Sierras, the Geological Hot Springs Site is a prime road trip destination. The site is located near the town of Mammoth Lakes and is known for its hot springs, geysers, and fumaroles, which are vents in the Earth's surface that release hot gases and steam. The hot springs in this area are a result of volcanic activity beneath the Earth's surface, which heats underground aquifers and causes them to rise to the surface as hot springs. Note that this area is not for swimming, rather it's just for hiking and photography.
In order to access this area, you'll need a car that is ideal for off-roading as the roads are a lot of gravel. You can probably make it in a sedan, but there are quite a few potholes so drive slowly.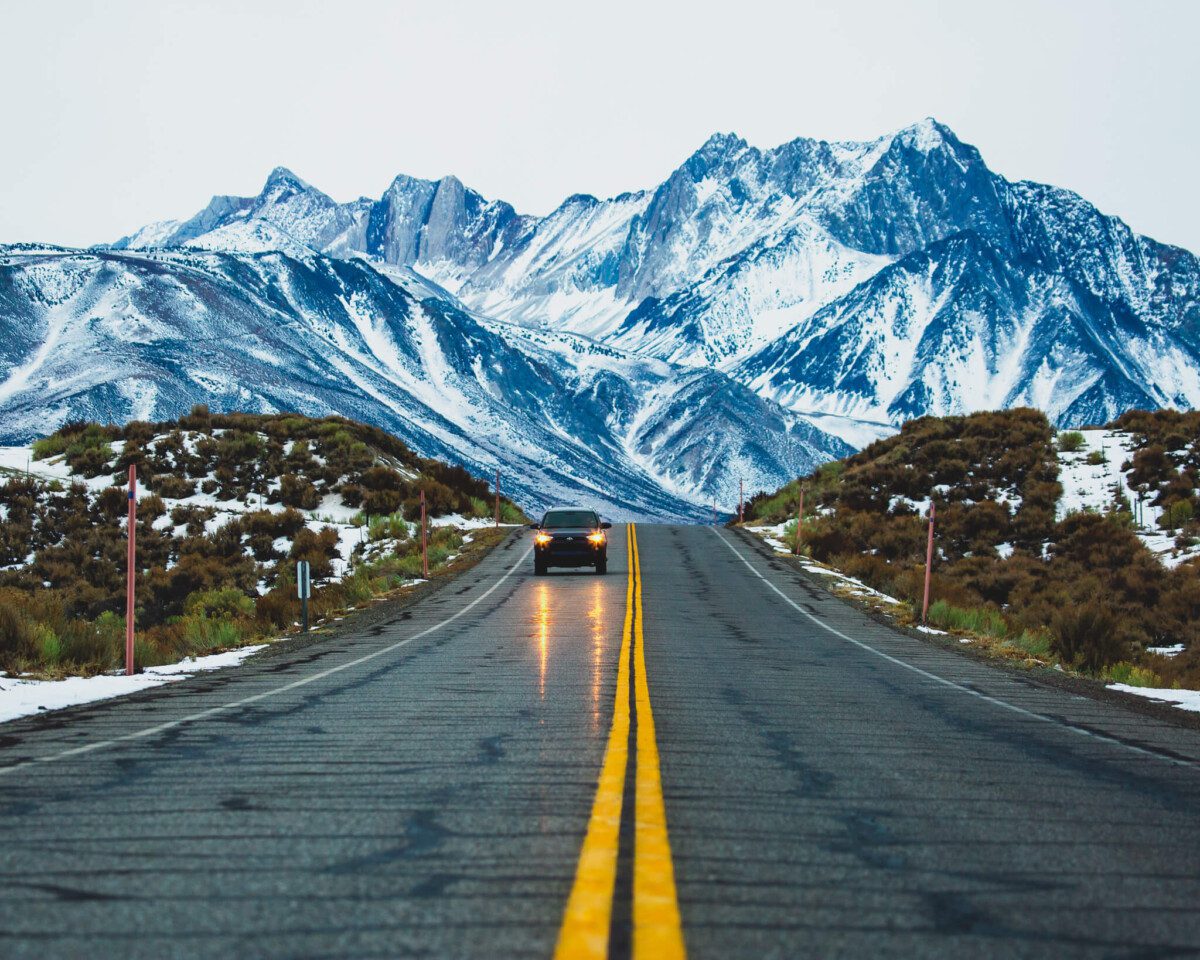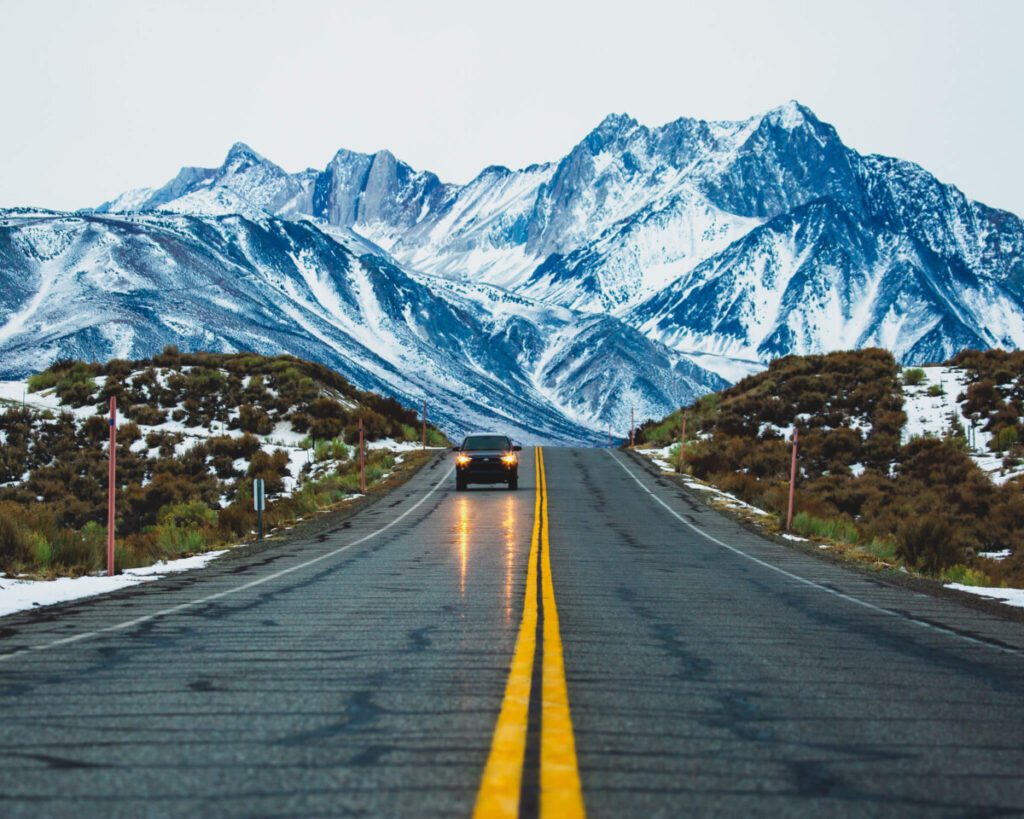 Mammoth Lakes
Mammoth Lakes is a scenic mountain town located in the eastern Sierra Nevada Mountains of California. The town is surrounded by towering peaks, pristine forests, and alpine lakes, providing a stunning landscape that is ideal for outdoor recreation and adventure. Mammoth offers an incredible amount of hiking, skiing, mountain biking, fishing, and more.
The town is home to several ski resorts, including the popular Mammoth Mountain Ski Resort. During the summer months, visitors can explore the surrounding wilderness areas, hike in the nearby national forests, and fish in the many alpine lakes that dot the landscape.
Hikes in Mammoth to Check Out:
Devil's Postpile: If you're looking for an easy, yet rewarding hike, check out Devil's Postpile National Monument. A 1-mile trail that takes you to the famous Devils Postpile, a unique geological formation formed by volcanic activity. It looks like something you'd find in Iceland with it's gorgeous slanting columns.
Rainbow Falls: The 101-foot waterfall is part of the Devils Postpile National Monument. It is known for the colorful rainbow that its mist creates.
Twin Lakes Trail: This 2.5-mile trail that offers great views of the surrounding mountains and lakes. Keep an eye out for some wildlife!
These are just a few of the many day hike options in Mammoth. Before heading out on a hike, it is always a good idea to check local conditions and be prepared for changing weather, as well as to practice Leave No Trace principles to help protect the environment.
If you want to see how much you can do in Mammoth in one weekend, check out our previous trip vlog here.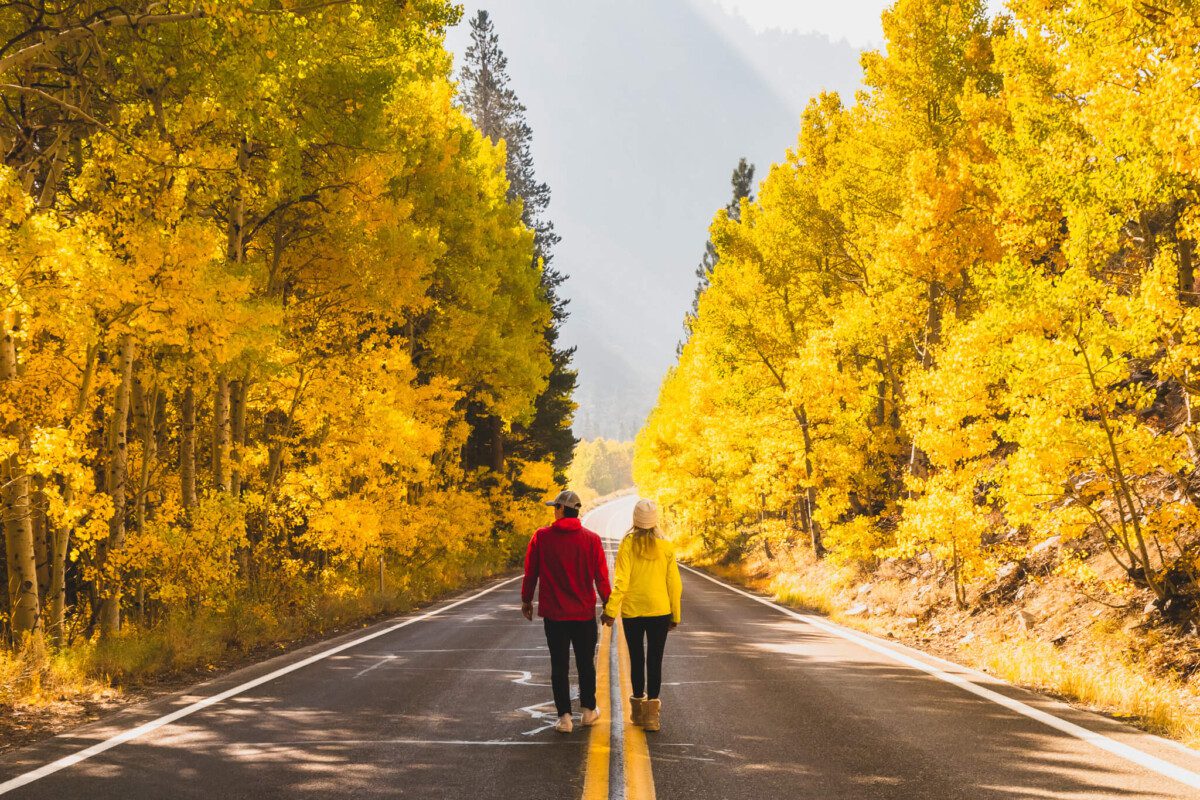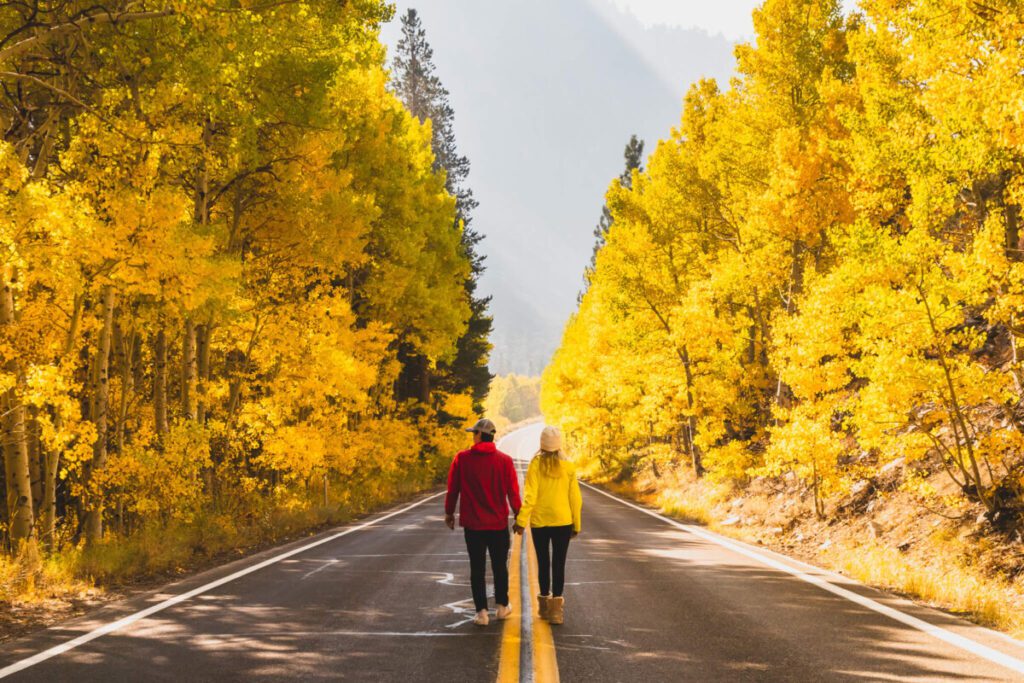 June Lake
We always opt to drive the June Lake Loop whenever we take a Highway 395 Road Trip. The June Lake Loop is a scenic drive around the lake and the surrounding mountains, offering stunning views of the area. If visiting in the autumn, this is arguably the most scenic fall color drive in this region.
June Lake is also known for its excellent fishing. It has several species of fish found in the lake, including Rainbow, Brook, and Cutthroat Trout.
Mono Lake
Mono Lake is famous for its Tufa Towers, unusual geological formations created by the interaction of fresh water and saltwater. You can walk around the lake and explore the towers up close.
South Lake Tahoe
Arguably, South Lake Tahoe is one of the most beautiful spots in California. We'd recommend visiting anytime from June-September if you're looking for the best hiking and paddle boarding here. Otherwise, it has an amazing ski and snowboarding season in the winter time.
For our full guide on the best things to do in Lake Tahoe, check out our top recommendations here.
Enjoy Your Road Trip!
Overall, a road trip along Highway 395 in California offers a unique blend of natural beauty, outdoor adventure, cultural history, and unique landscapes, making it a must-visit destination for anyone seeking an unforgettable road trip experience.
Looking for more adventures near Highway 395 in California? We'd definitely recommend adding the nearby Death Valley National Park as another trip to your bucket list! Alternatively, Yosemite National Park is a great add on if you're looking to make your road trip longer as well.