The Ultimate New Hampshire Summer Road Trip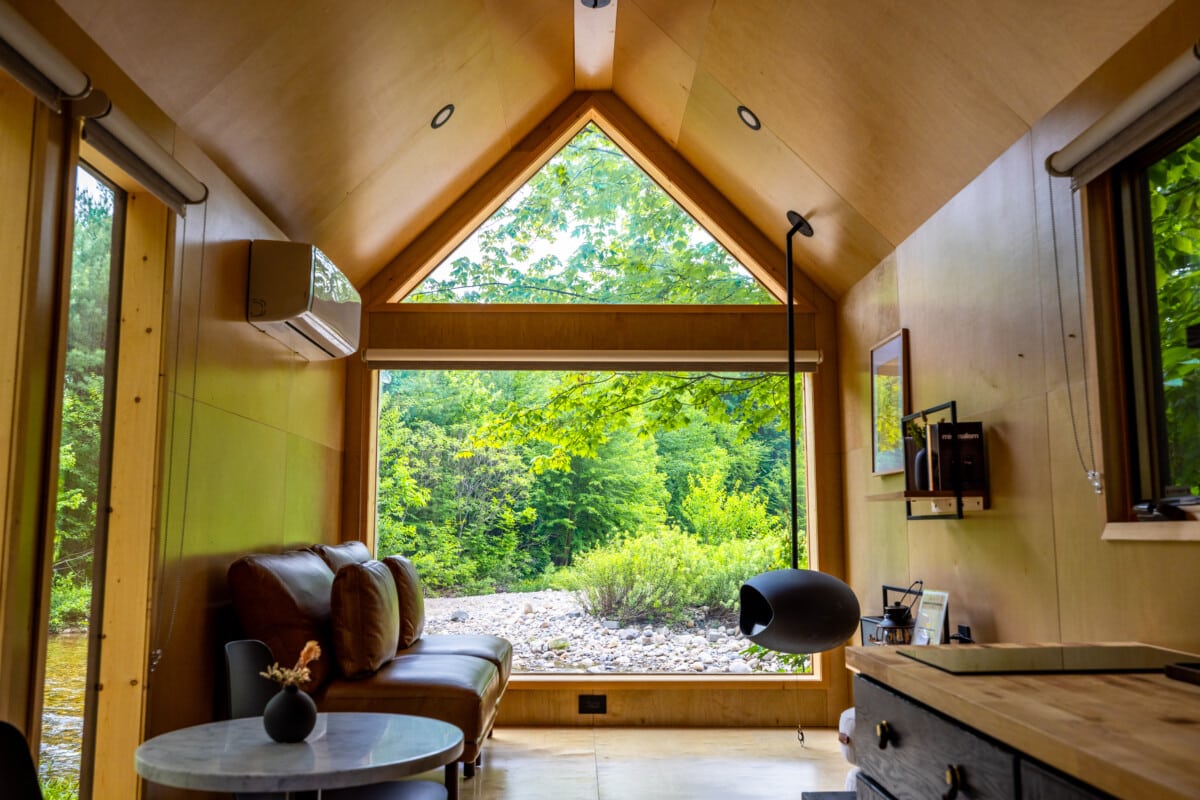 How To Spend 5 Days Enjoying New Hampshire's White Mountains & Great North Woods
Get ready to embark on an unforgettable summer adventure through the picturesque White Mountains and Great North Woods regions of New Hampshire. This 5-day New Hampshire summer road trip itinerary will take you through stunning natural landscapes, enchanting waterfalls, and breathtaking hiking trails.
Disclaimer: This blog post is in collaboration with Visit New Hampshire. Some parts of the article also feature affiliate links, which means we get a small commission if you make a purchase (at no extra cost to you). It's one of the ways we can keep producing free guides and resources for our readers. Thank you for the support!
Where to Start and End Your New Hampshire Summer Road Trip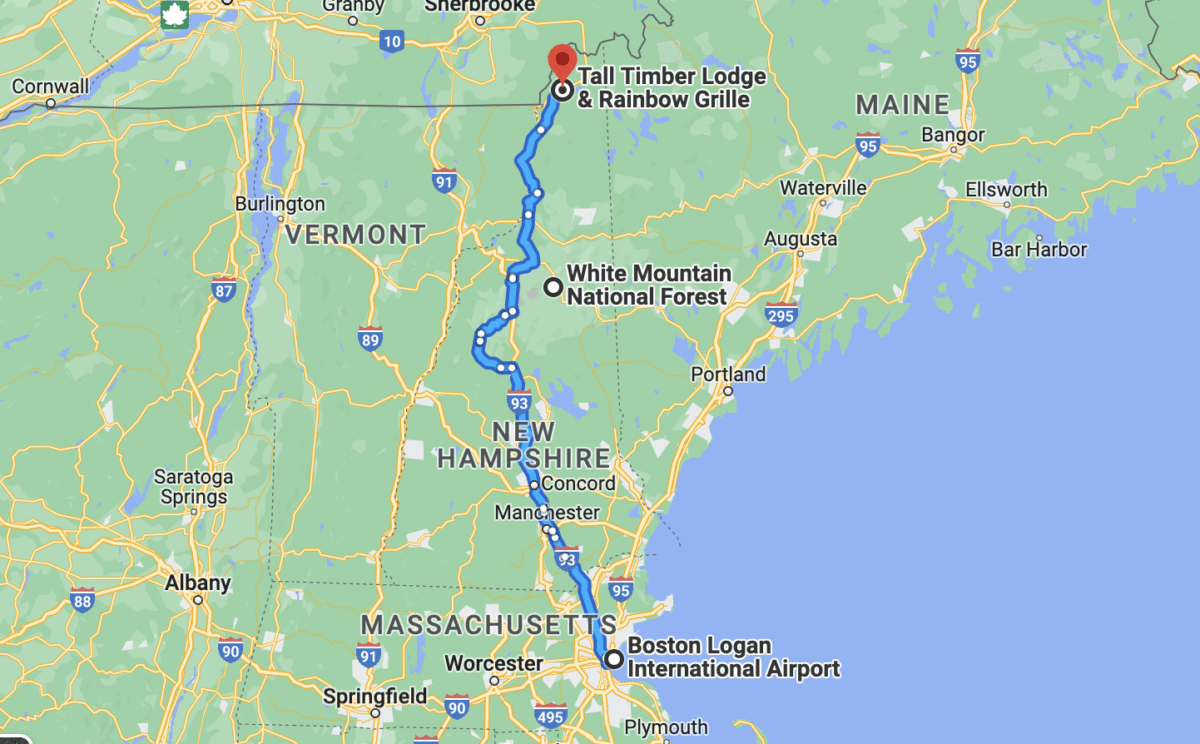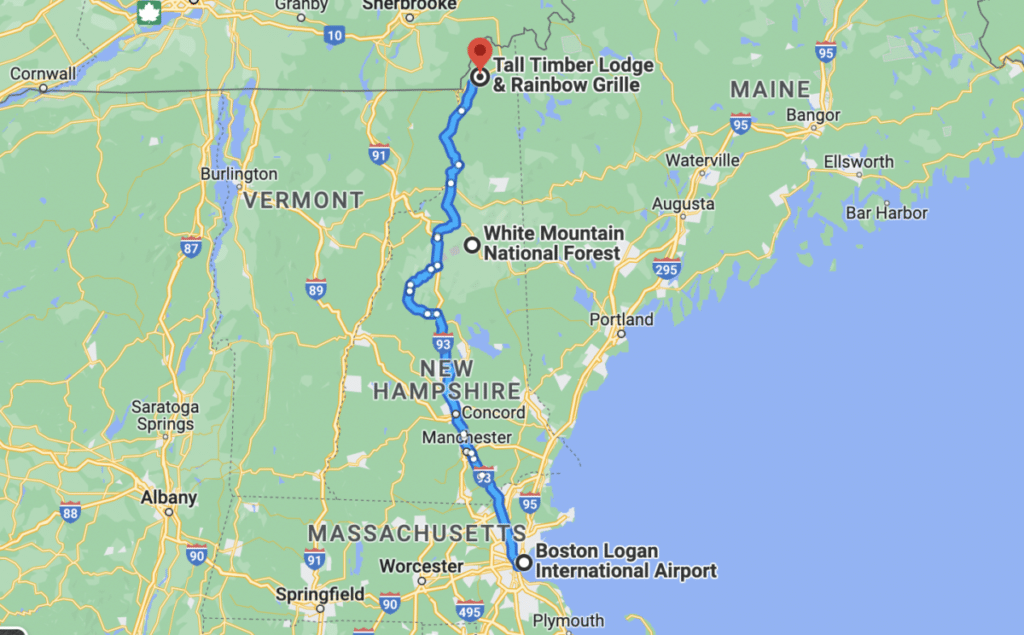 You will be starting and ending your road trip in Boston, or more specifically, the rental car area near the Boston airport. In saying that, you could jump on these itineraries at any stage of your New Hampshire vacation and you may opt to start/finish in different spots.
You could also opt to fly into Manchester Boston Regional Airport in New Hampshire to save some driving time. We have flown into both airports to get into the White Mountains region before and they are both easy options to get started on your summer road trip.
How Long To Spend in New Hampshire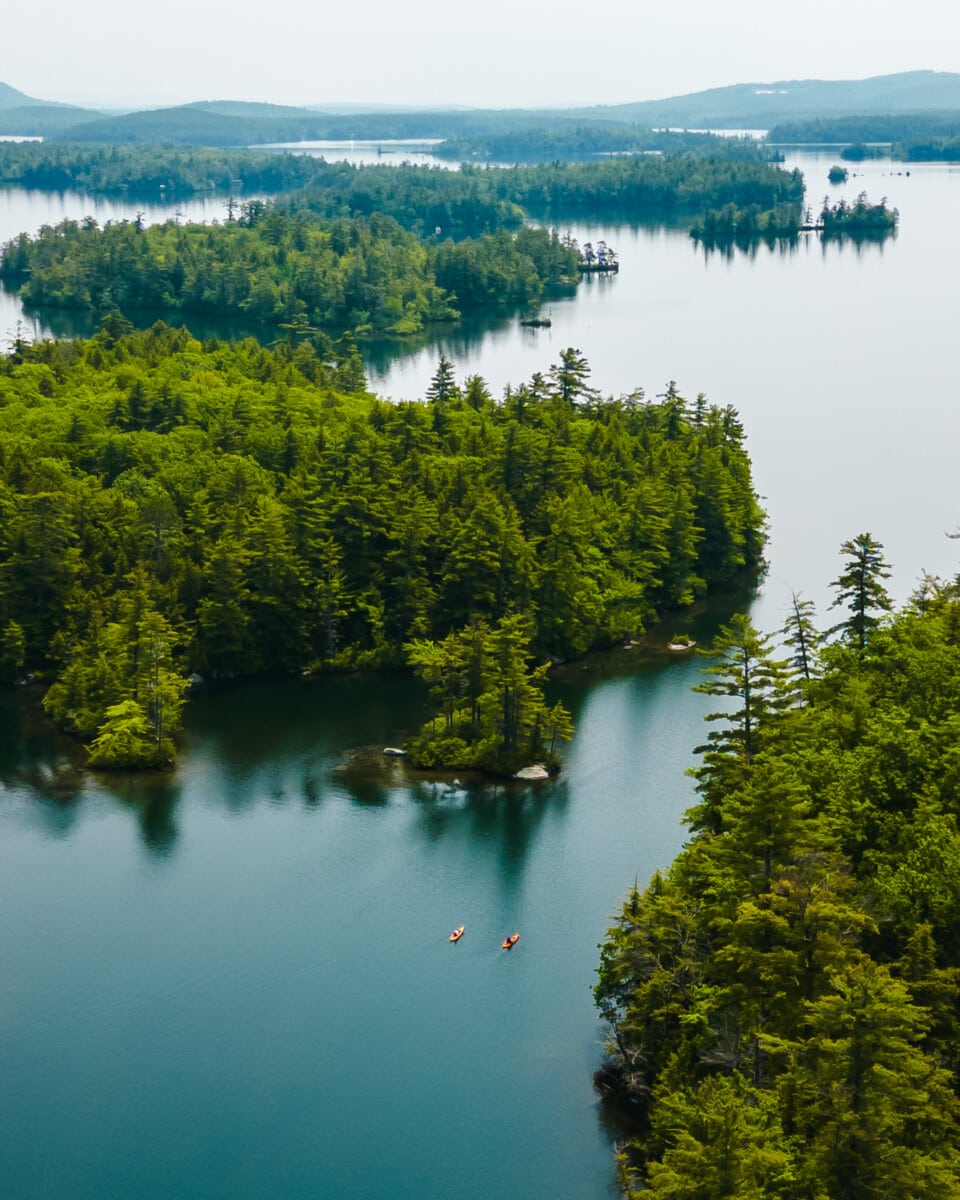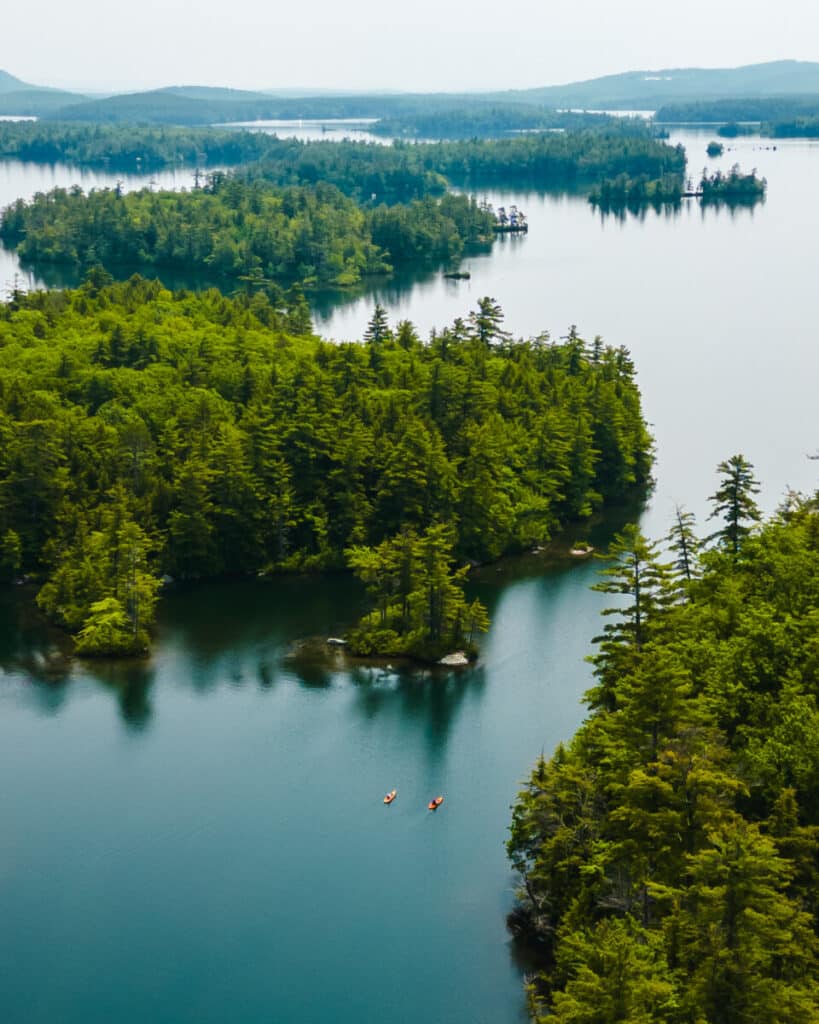 For a summer road trip around New Hampshire's best outdoor hidden gems and attractions, we'd recommend spending a minimum of 3-5 days. You want to give yourself enough time to experience all the amazing natural wonders the state has to offer without feeling rushed. This itinerary covers our favorite highlights over the course of 5 full days.
Restaurants in New Hampshire's Northern Regions
Something to note when planning your summer road trip to New Hampshire is that restaurants in the White Mountains and Great North Woods areas are not always open 7 days a week. Typically, most establishments are open on the weekends. However, expect that during earlier days of the week, you might have a harder time finding restaurants that are open.
If experiencing the amazing food that this region has to offer is an important part of your vacation, we'd recommend visiting over the weekend for the most availability. That being said, as long as you plan ahead, you can find fantastic restaurants all over the state easily by looking up your options in advance! We highly recommend making reservations if you can!
Leaving No Trace During Your Road Trip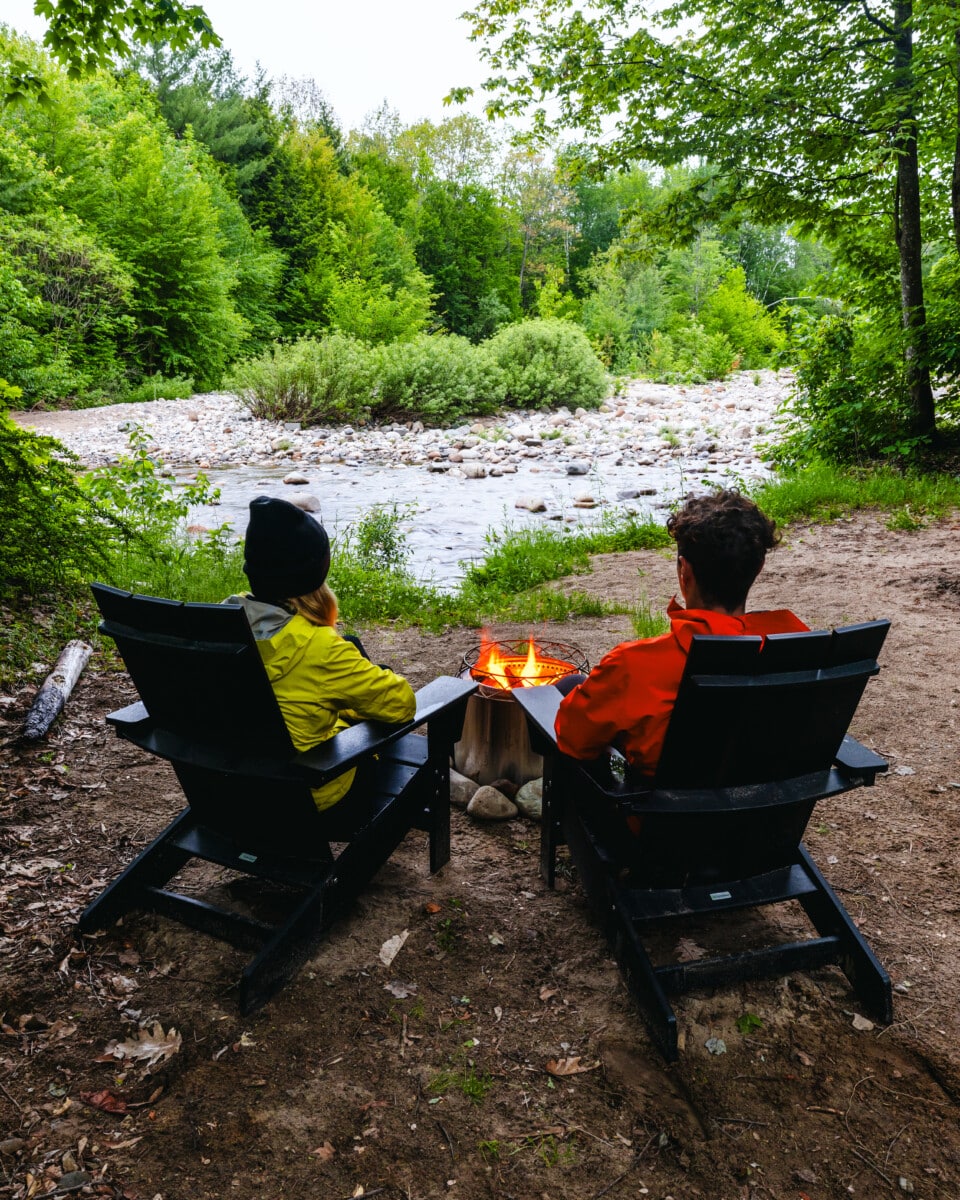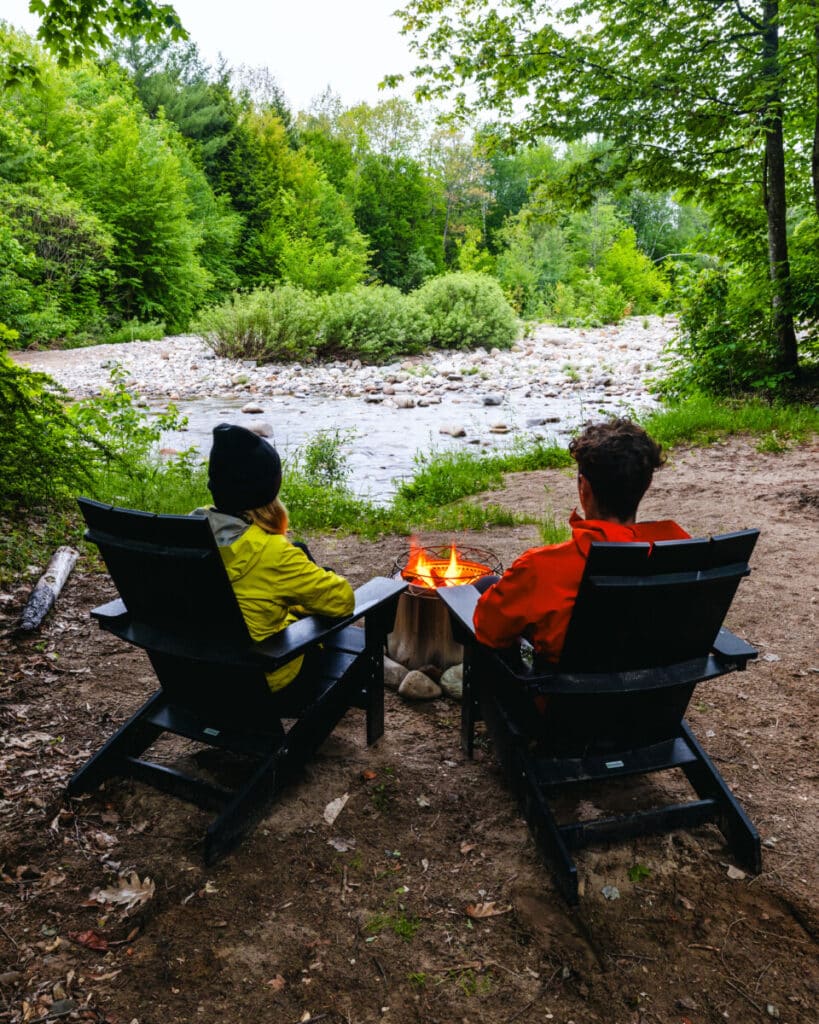 When embarking on a summer road trip in New Hampshire, it is crucial to remember and adhere to the principles of Leave No Trace. While exploring the state's natural wonders and scenic landscapes, please keep the following guidelines in mind:
Pack It In, Pack It Out: Ensure that you carry out all your trash, including food wrappers, beverage containers, and any other waste generated during your trip. Do not leave any garbage behind, as it can harm the environment, wildlife, and detract from the natural beauty for others.
Respect Wildlife: Observe wildlife from a distance and do not disturb or feed them. Feeding animals can disrupt their natural behaviors and lead to dependency on human food, which can have detrimental effects on their health. Maintain a safe distance and use binoculars or a camera with zoom capabilities to enjoy wildlife encounters without intruding on their habitats.
Stay on Designated Trails: Stick to established trails and pathways to minimize the impact on vegetation and wildlife habitats. Straying off-trail can trample fragile plant life, cause erosion, and disturb nesting sites. Respect any signage or closures in place to protect sensitive areas.
Be Considerate of Others: Respect fellow visitors, local communities, and the tranquility of nature. Keep noise levels to a minimum, especially in secluded areas, and be mindful of others seeking a peaceful experience. Follow any posted rules or regulations specific to the places you visit.
Remember, the goal of Leave No Trace is to leave the environment as pristine as you found it, preserving its beauty and ecological integrity for future generations. By following these principles, you can enjoy your summer road trip in New Hampshire while minimizing your impact on the natural surroundings.
How to Find Cheap Flight Deals to New Hampshire
There are numerous ways to score cheap flights to New Hampshire. We typically keep an eye out for emails from Thrifty Traveler Premium or Fare Drop. We will also use Google Flights and Skyscanner to search for options. Save $10 on Thrifty Traveler using our discount code for our readers, PASSPORT10 for $10 off your first year here!
Click here to search for cheap New Hampshire flights from your city. From the airport, you can rent a car for your road trip!
5 Day New Hampshire Summer Road Trip Itinerary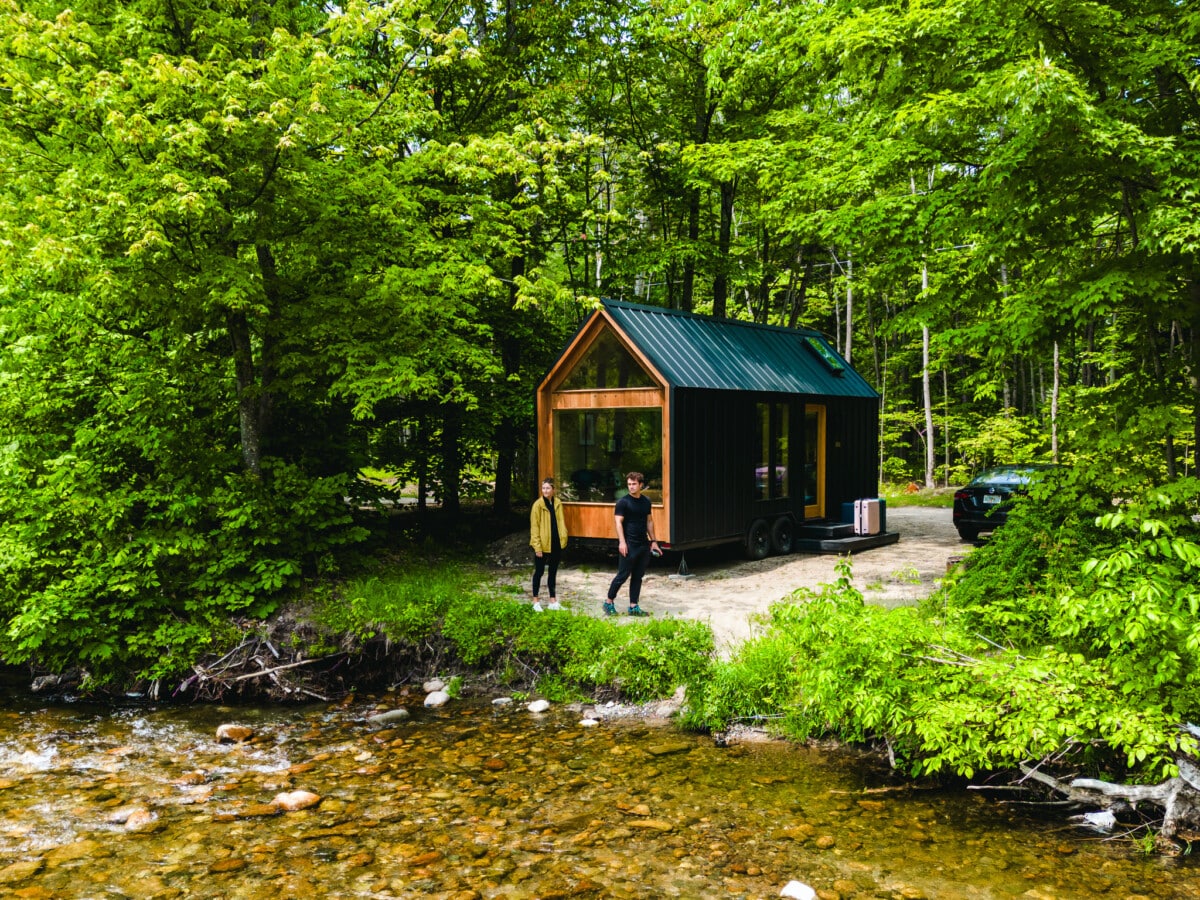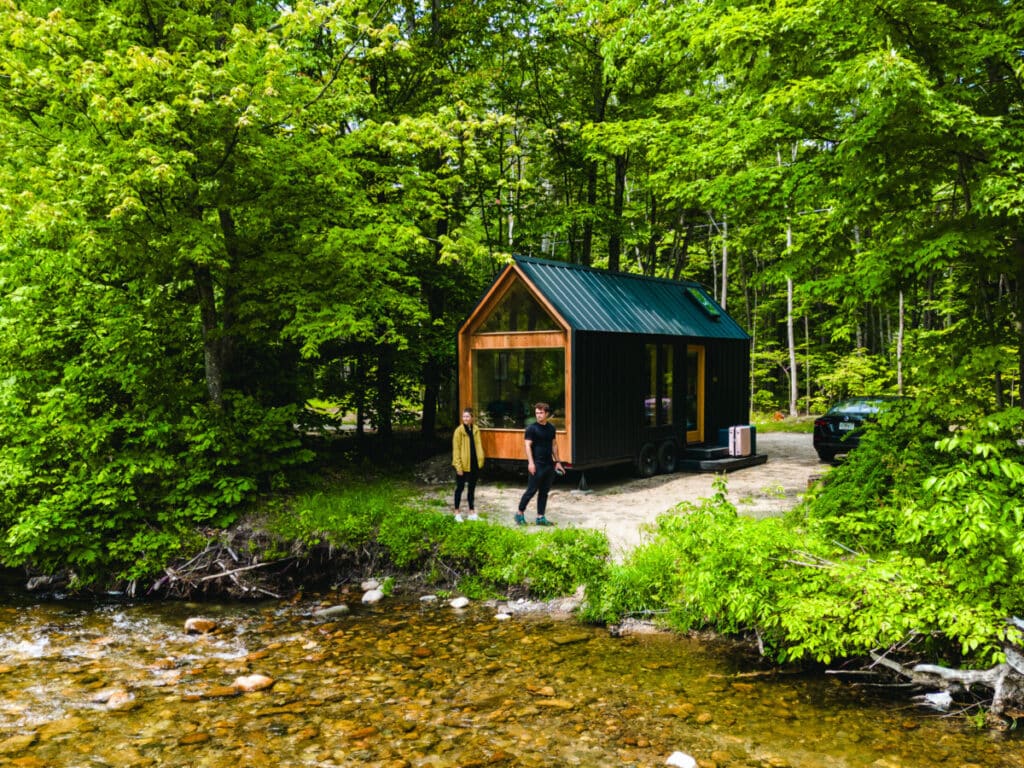 With this itinerary, we're using our first-hand experience to help you put together a dream 5-day New Hampshire road trip. We'll also be sharing some of our favorite scenic stops, hikes, suggestions of where to stay, and some of our favorite food options along the way.
Day 1: Arrive in the White Mountains
You will be starting day 1 in Boston Logan or Manchester Boston Airport. From here you will pick up your rental car or Turo and begin your journey! Most rental car companies have a location near the airport via a shuttle.
Stop 1: Check out Sculptured Rocks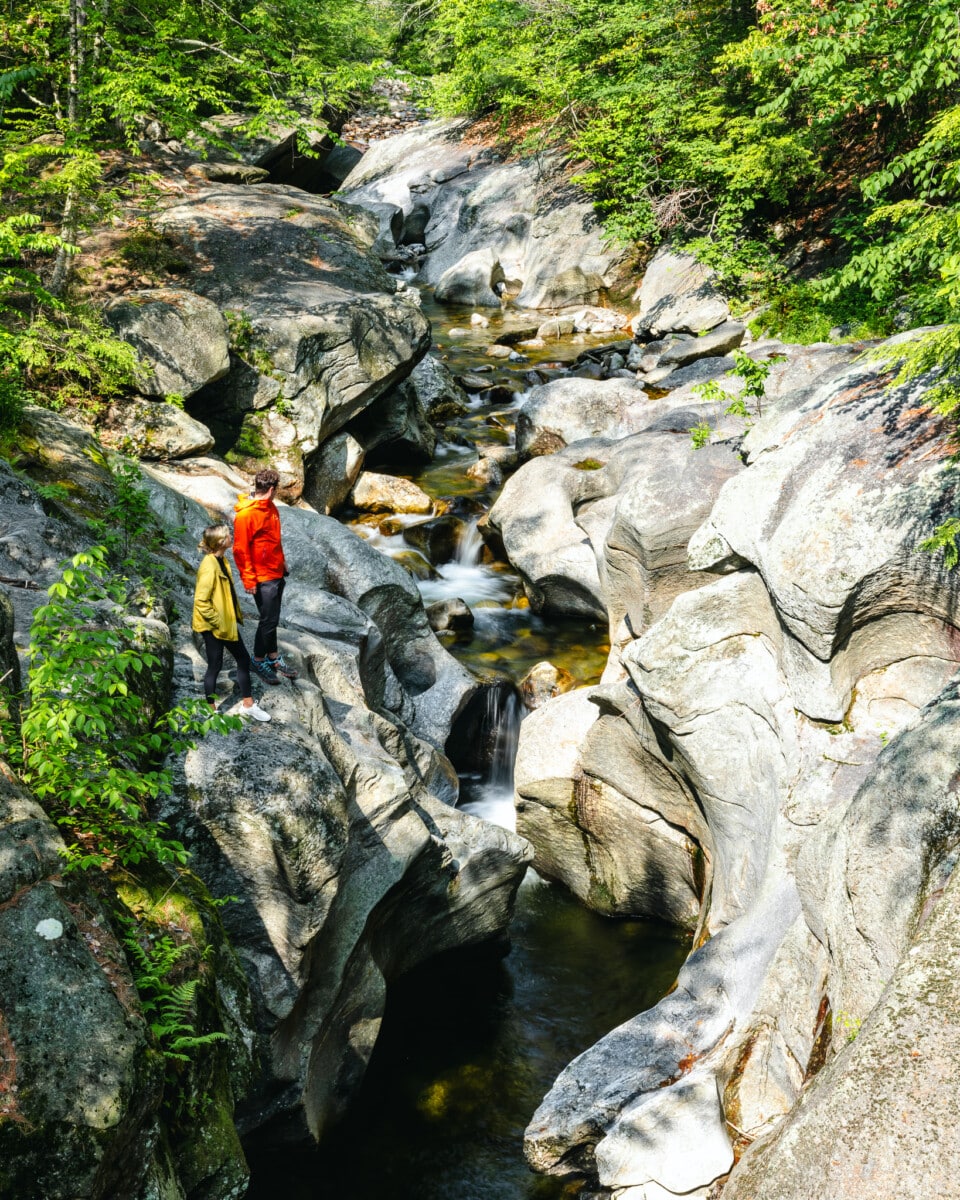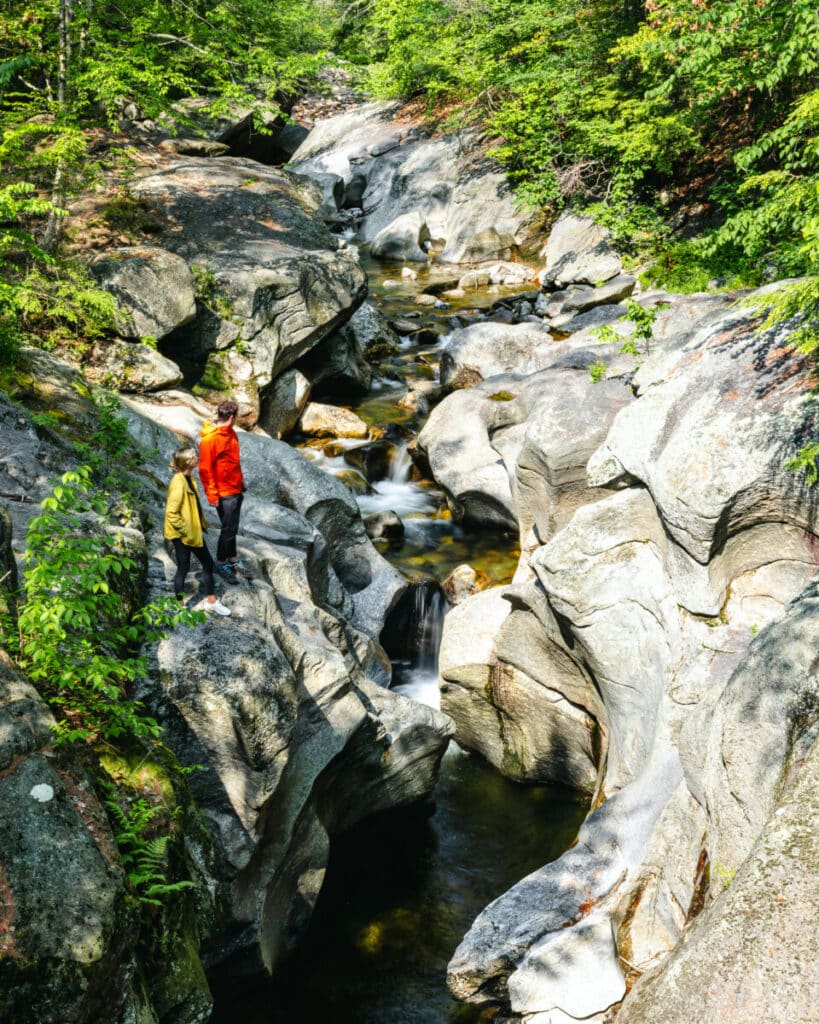 On your drive up to the White Mountains from Boston, you might as well break up your drive with some beautiful landscapes! The main attraction of Sculptured Rocks is the unique rock formations that have been sculpted over thousands of years by the flowing waters of the Cockermouth River. The river has carved intricate patterns and deep potholes into the smooth granite bedrock, creating fascinating and artistic designs. These sculptured rocks, with their smooth curves and interesting shapes, offer a captivating display of nature's artistic prowess.
Visitors to Sculptured Rocks can explore the area via a short, easy trail that follows along the riverbank. The trail offers several vantage points where you can observe the striking rock formations up close and appreciate their beauty.
Stop 2: Take in the Views at Squam Lake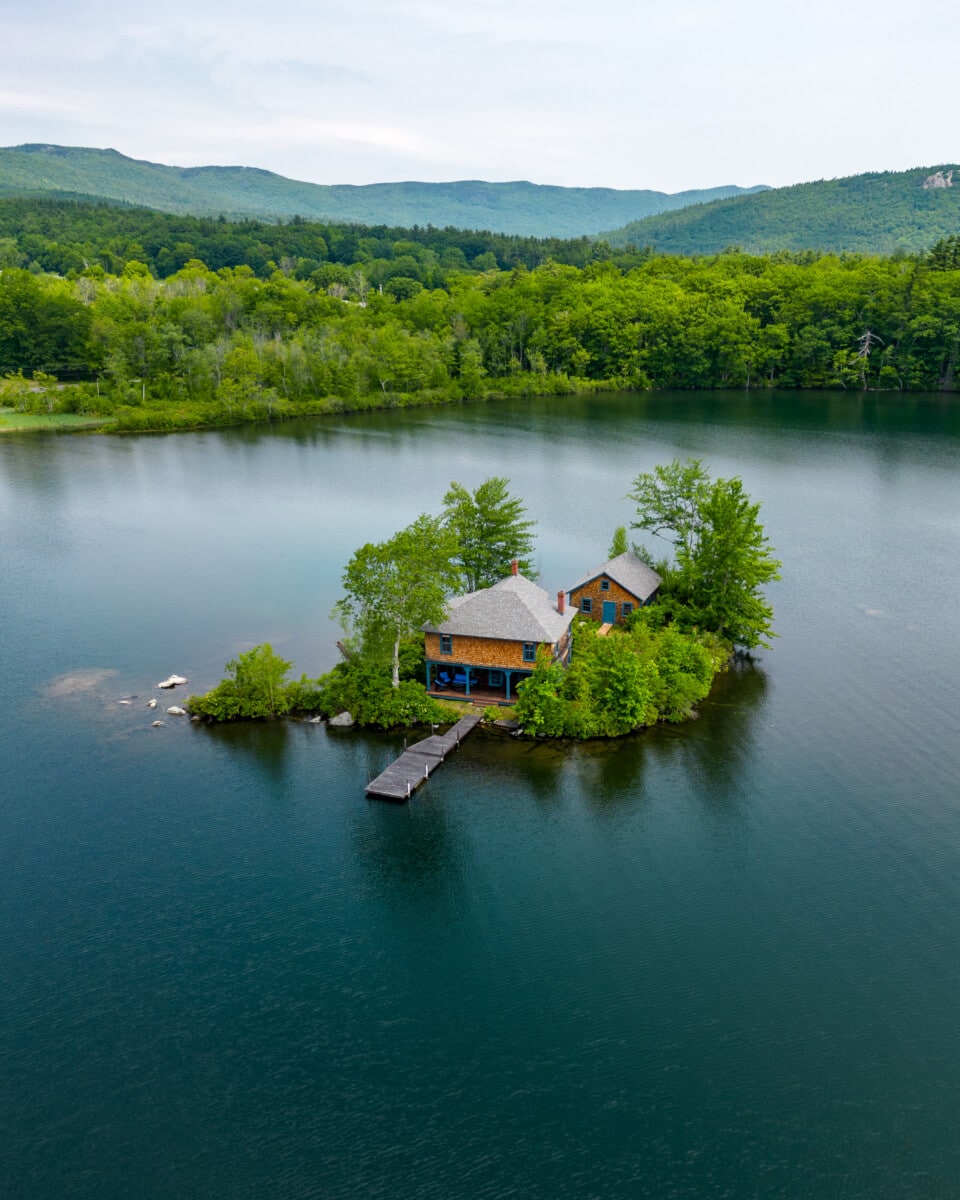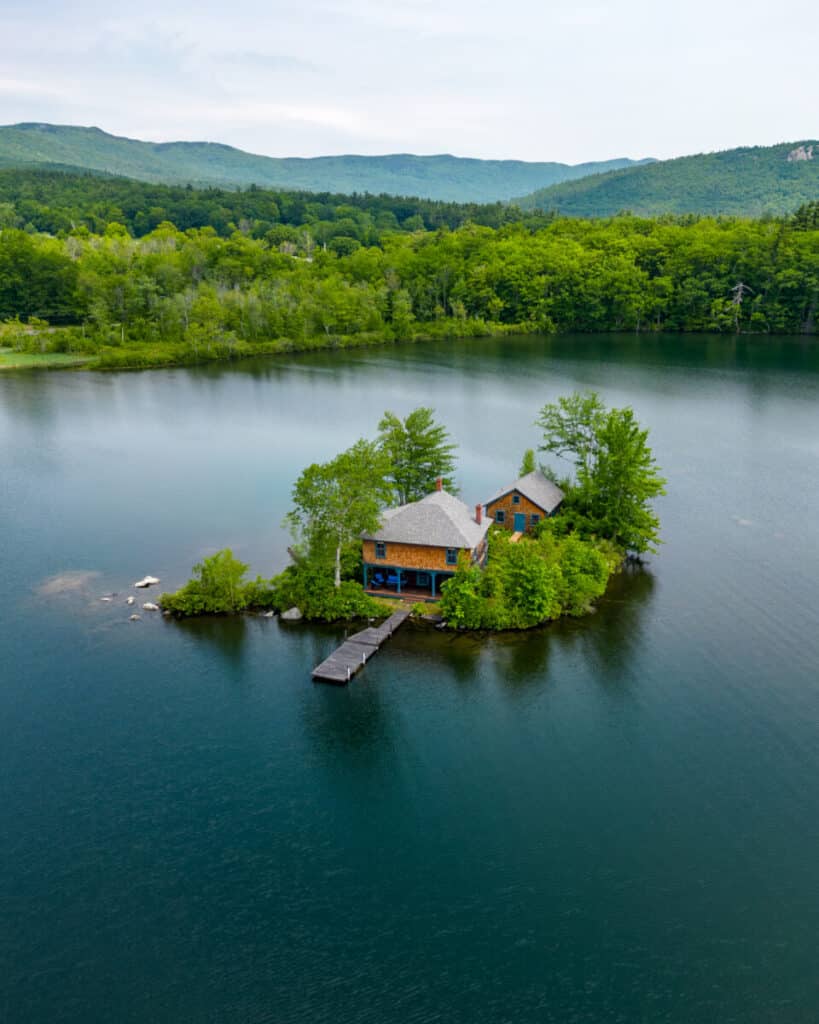 Next, you can either just stop by Squam Lake and take in the gorgeous views, or you can choose to head out on the water! Squam Lake is great for those that love fishing, paddle boarding, kayaking, and canoeing, especially on a beautiful summer day in New Hampshire.
Stop 3: Visit the Lost River Gorge & Boulder Caves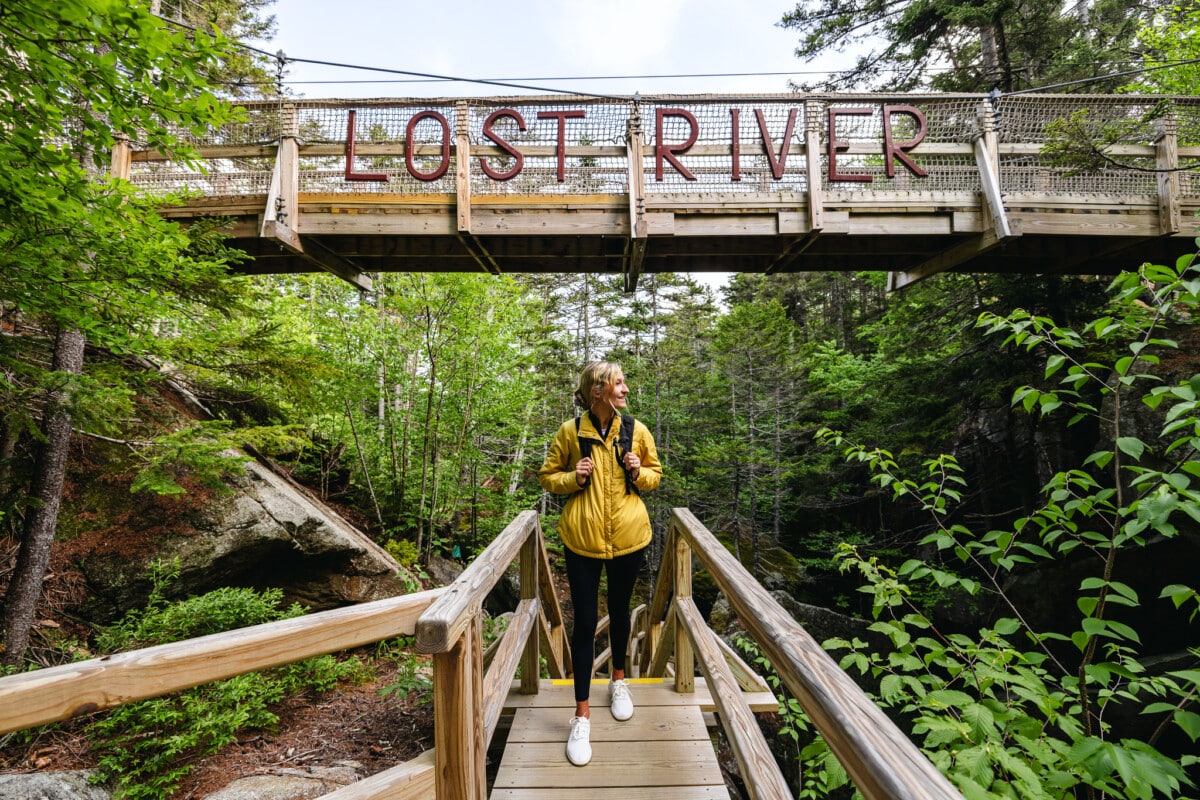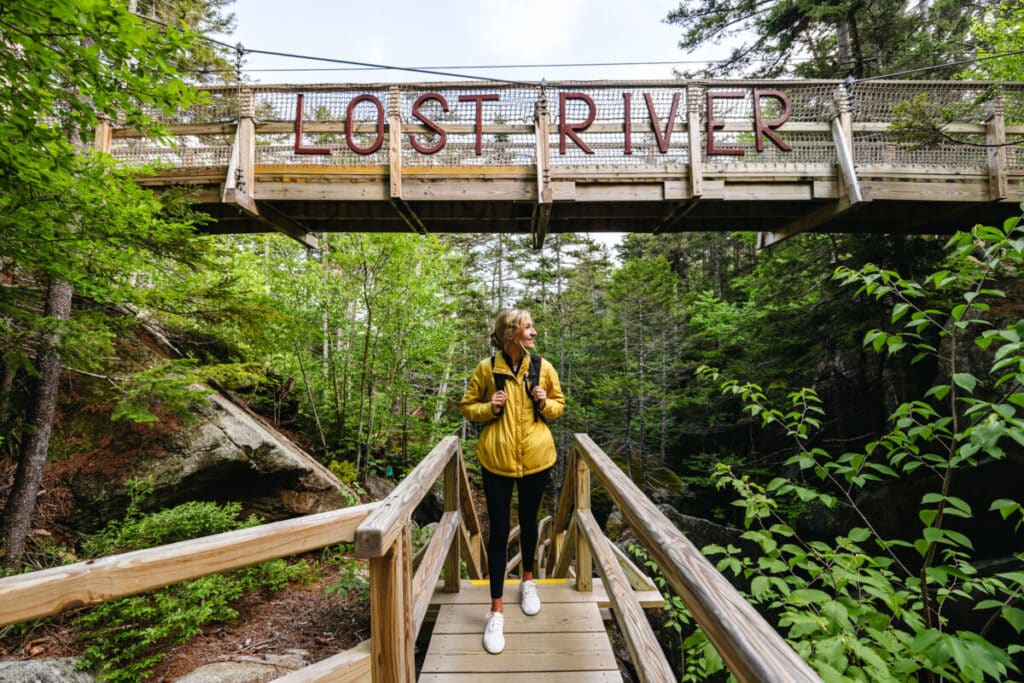 If you love exploring caves and beautiful waterfalls, then you absolutely need to add a stop to the Lost River Gorge and Boulder Caves on your New Hampshire summer road trip itinerary. This area is great for all ages as long as you are physically able to walk up and down a lot of stairs.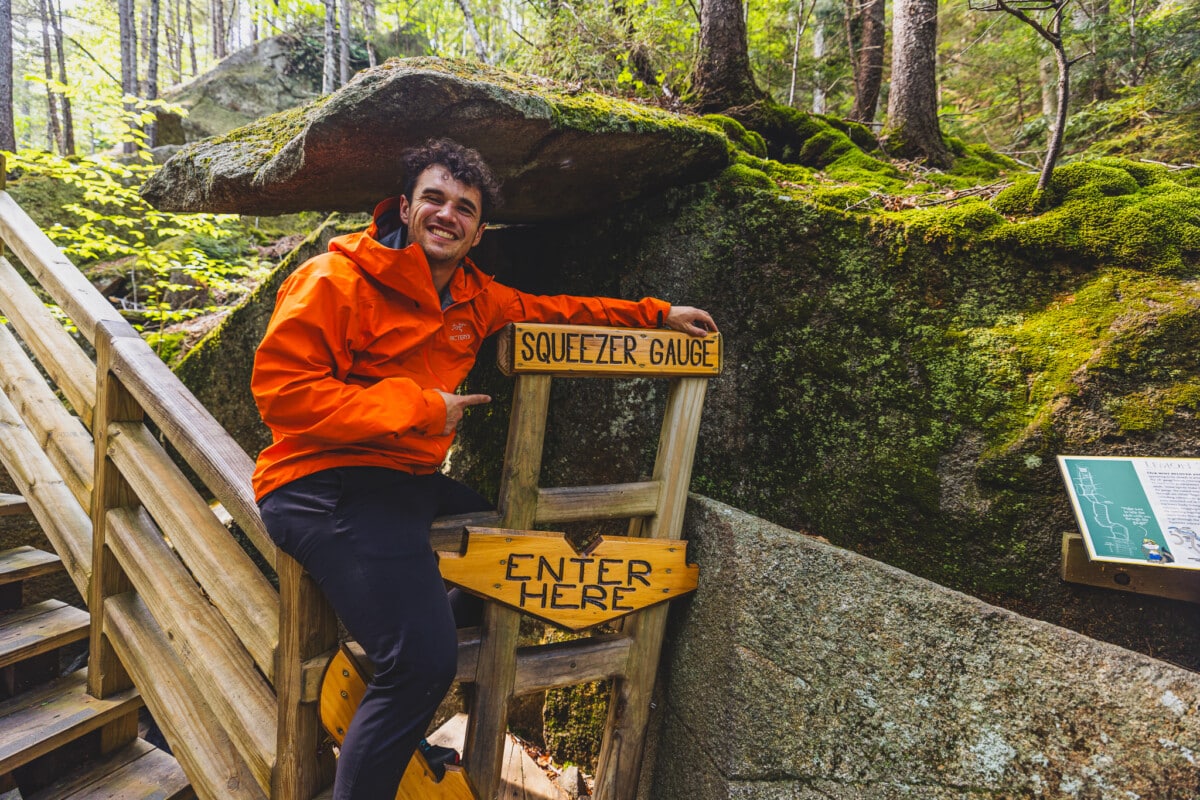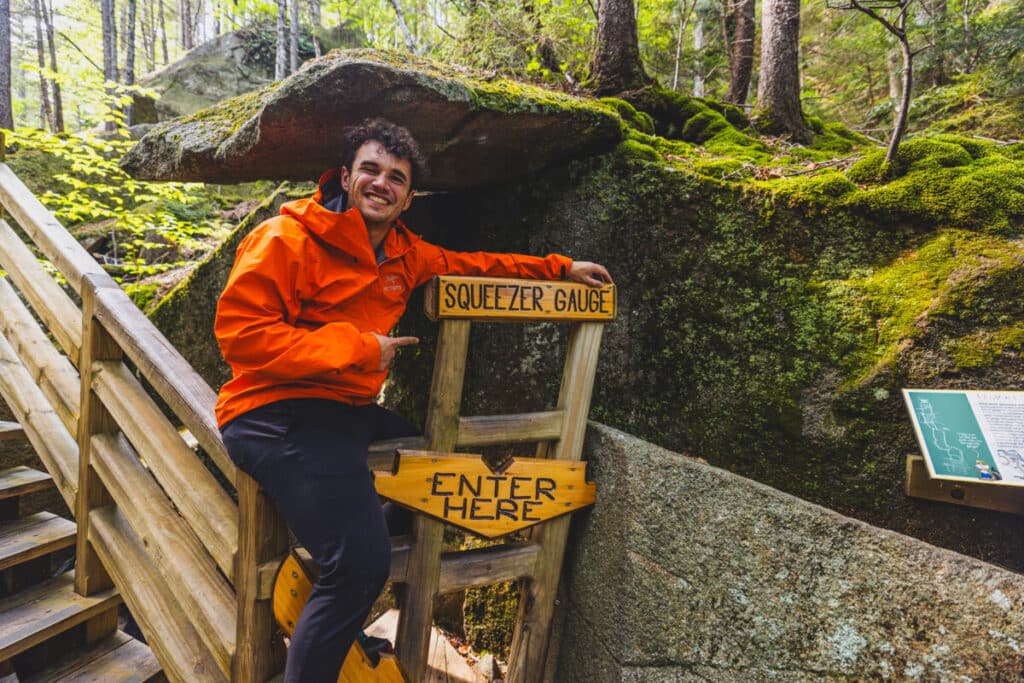 The gorge is filled with a ton of different caves that you can go into and explore, including the famous Lemon Squeezer if you can fit! You can either choose to hike around at your own pace, or embark on a guided tour. Note that there is a $23 entrance fee and you can only visit during certain hours depending on the season.
To plan your stop here, check out the Lost River Gorge website.
Stop 4: Hike to Georgiana & Harvard Falls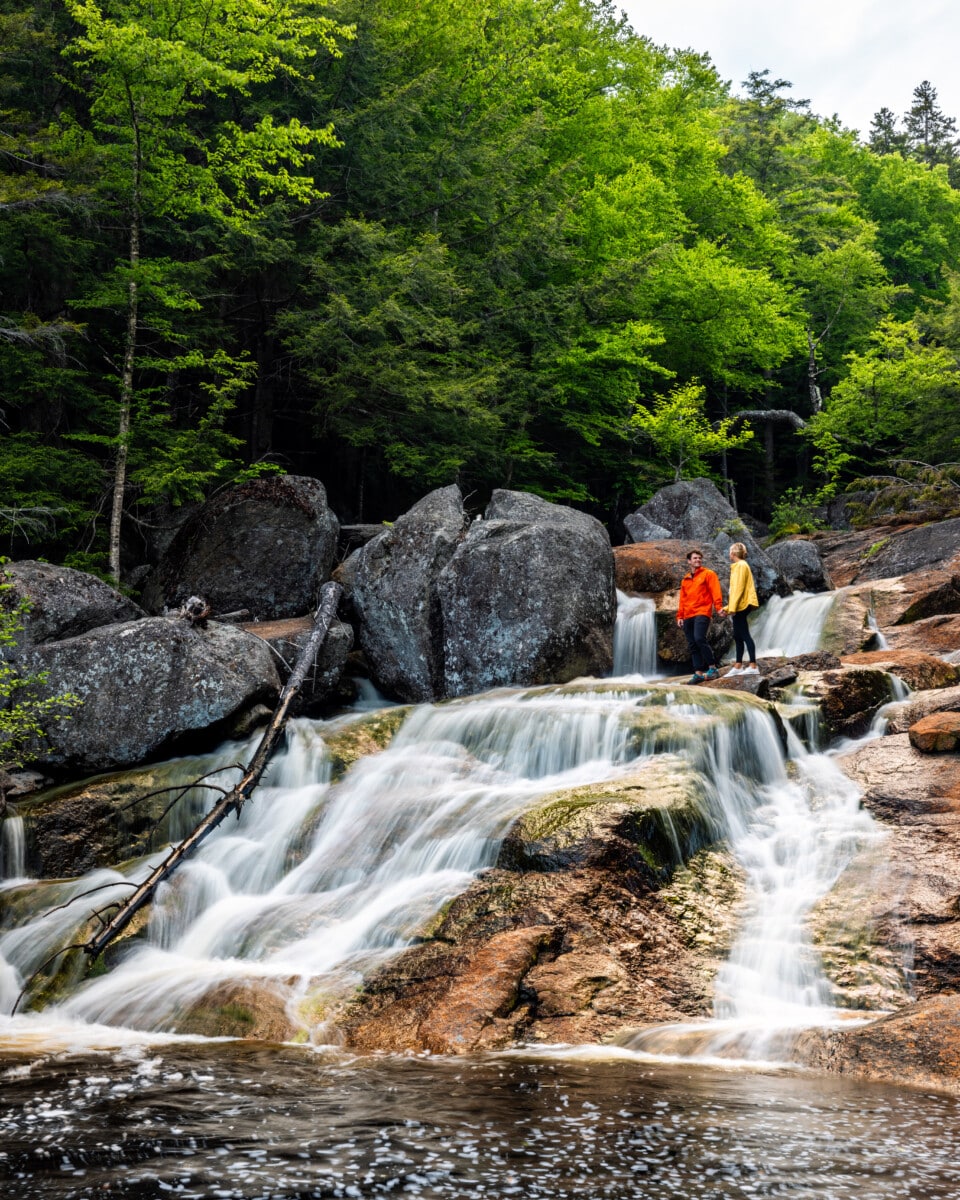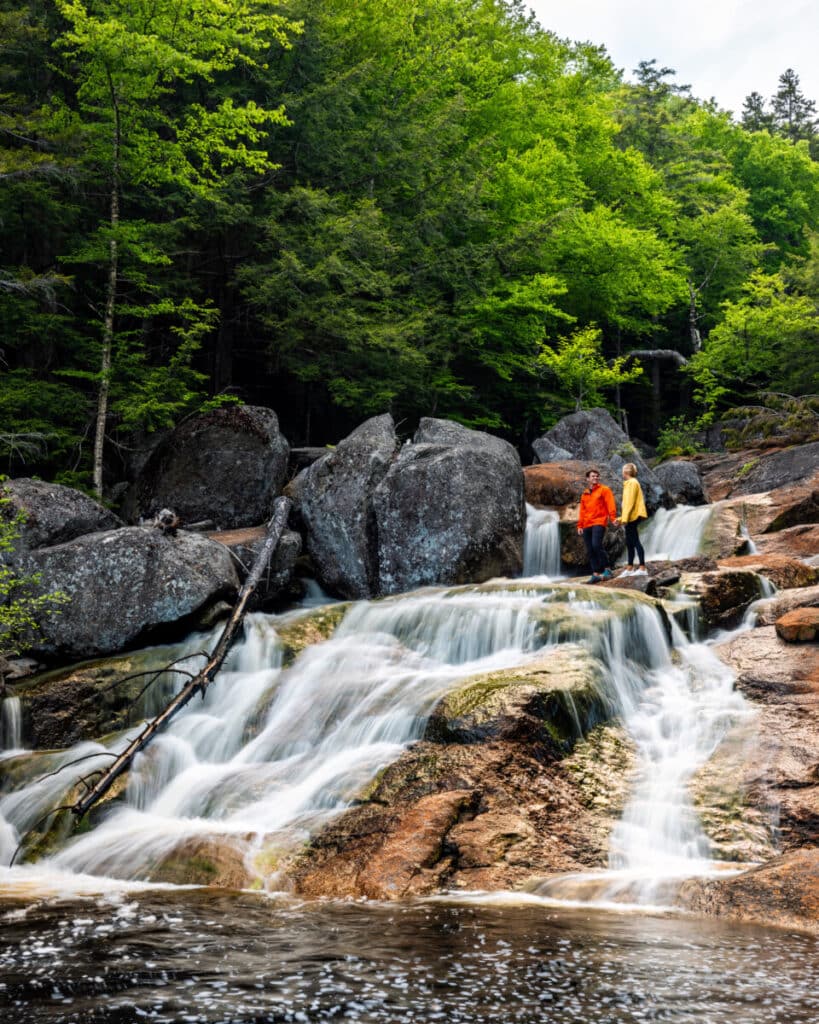 To round out the day before dinner, head out on a hike to the more secluded stunning Georgiana and Harvard waterfalls. This 2.4 mile hike takes you through a gorgeous forest and toward a giant waterfall and swimming area – perfect for staying cool in the summer!
Where to Stay in Lincoln, NH
Suggested Eateries
Day 2: Explore Around the Waterfalls & Pools of the White Mountains
Stop 1: Check out New Hampshire's Largest Waterfall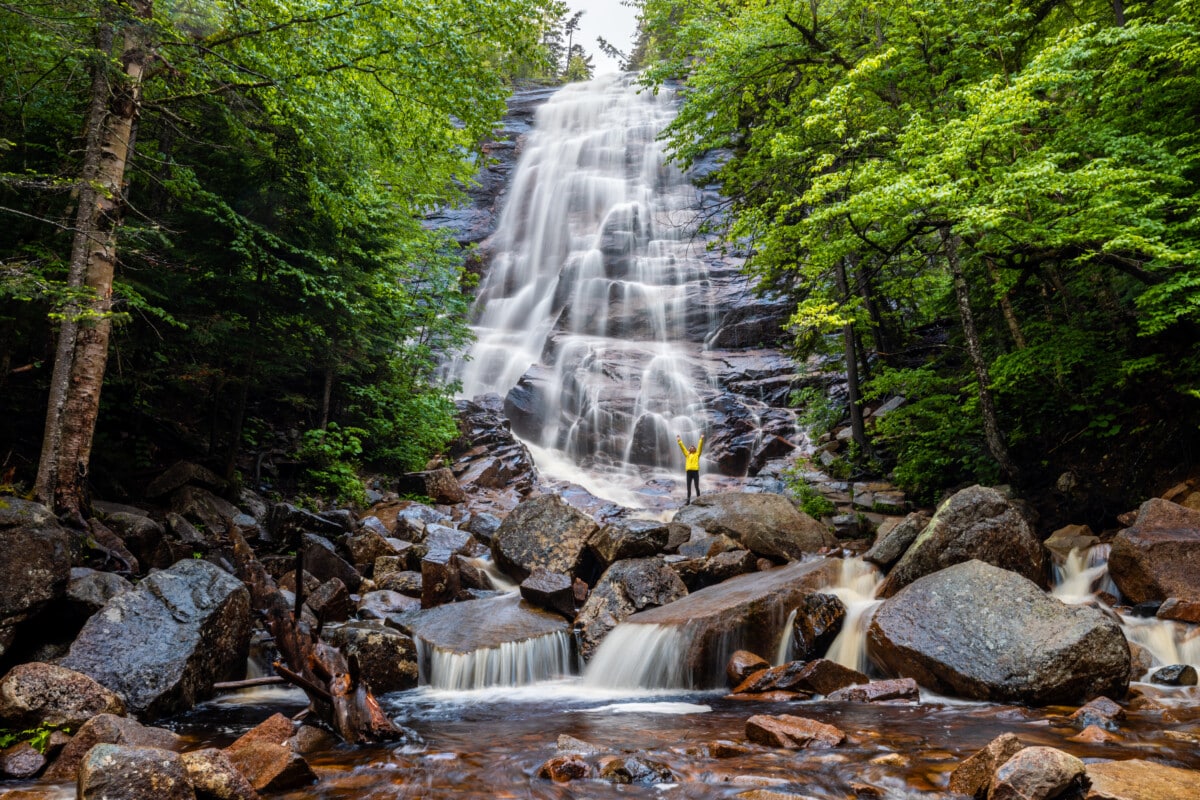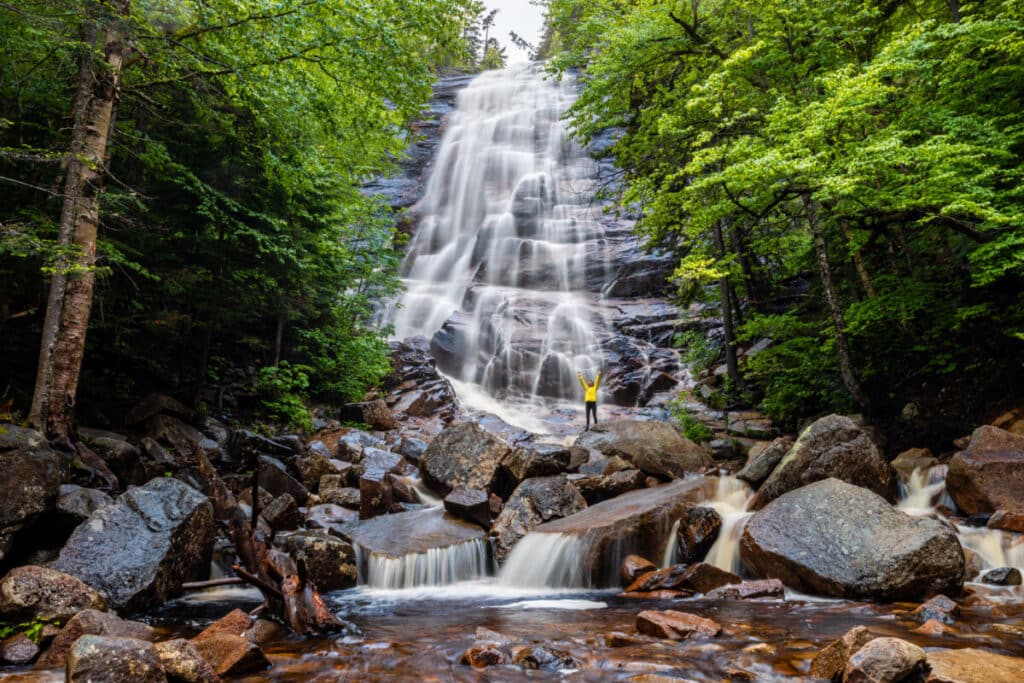 Time to put on your hiking shoes and start the morning by visiting Arethusa Falls, New Hampshire's largest waterfall! This trail is more intermediate with almost 900 ft of elevation gain in 2.8 miles, so it's definitely a steep incline. But, the views are absolutely worth it!
Once you reach the viewing area for Arethusa Falls, you'll be rewarded with a spectacular sight. The waterfall cascades down a massive granite cliff, creating a powerful and picturesque display of nature. The mist from the falls often creates a refreshing and cool atmosphere, making it a great spot to take a break and admire the scenery.
Remember to pack water, snacks, and appropriate hiking gear when embarking on the Arethusa Falls hike. It's also a good idea to check weather conditions and trail status beforehand. The trail may be closed during certain times of the year or due to maintenance.
Stop 2: Wander Through Crawford Notch State Park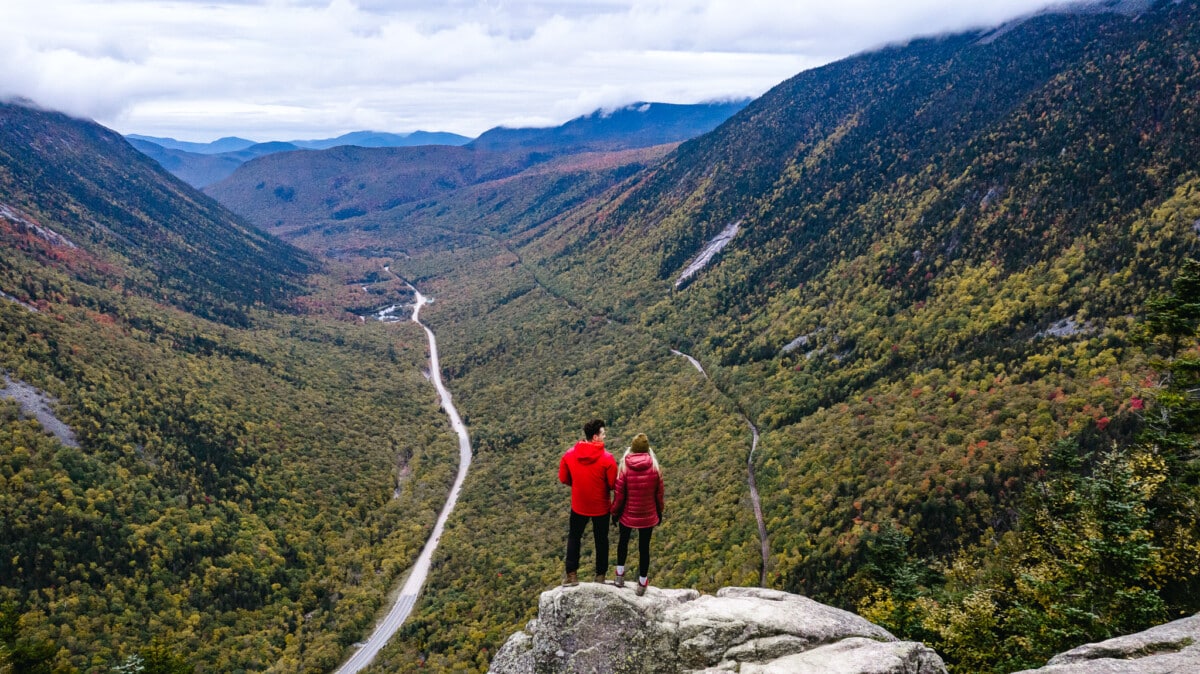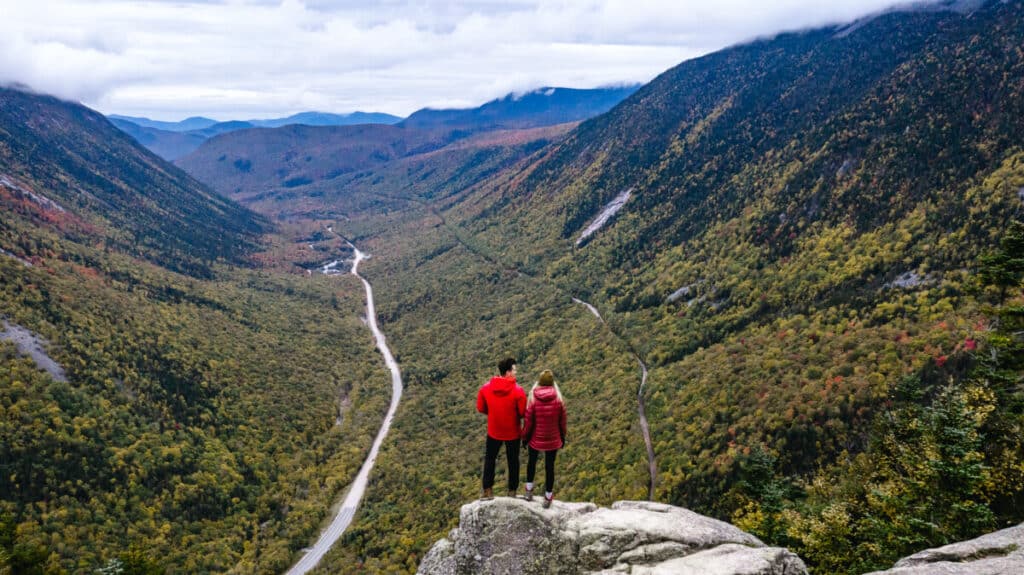 Crawford Notch State Park is a true natural gem of New Hampshire. There are so many gorgeous hikes, viewpoints, and waterfalls in the area nearby to explore!
Optional Additional Road Trip Stop: Mt. Washington Cog Railway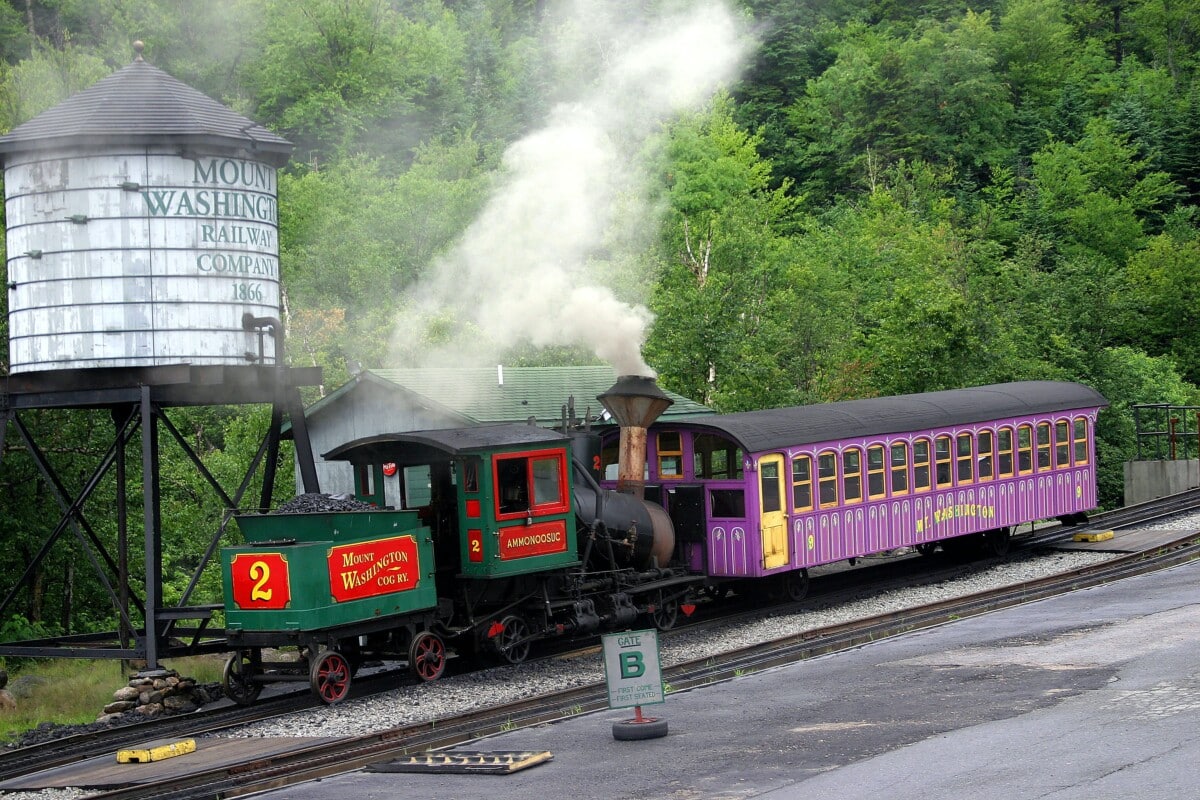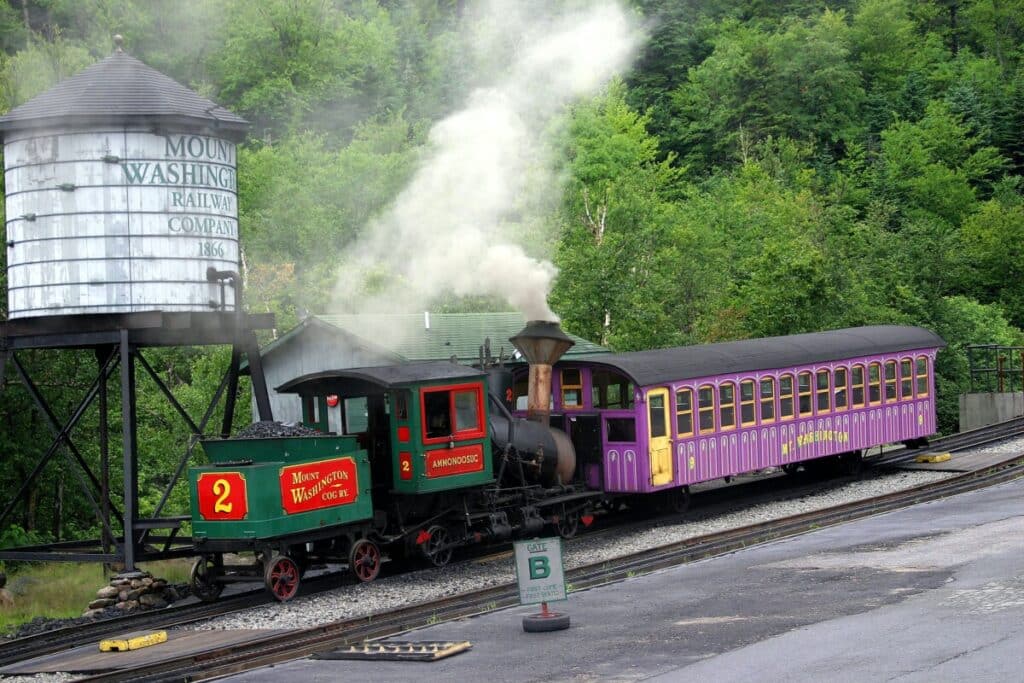 If you have time, you can also add on the Mount Washington Cog Railway to the itinerary! It is just a short drive from Crawford Notch State Park. Take a ride on the cog railway to ascend Mount Washington, the highest peak in the Northeastern United States. Enjoy breathtaking panoramic views from the summit and explore the observatory and museum to learn about the mountain's history and weather conditions.
Stop 3: Witness the Beauty of Crystal Cascades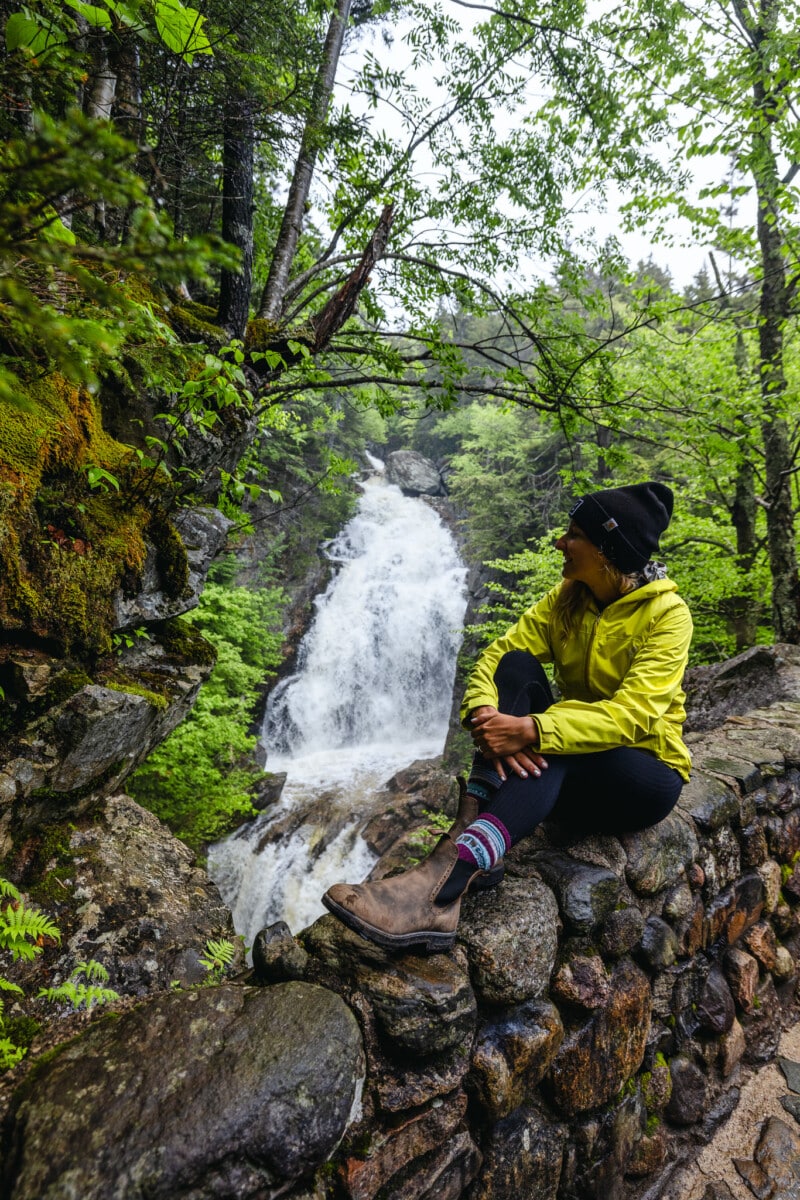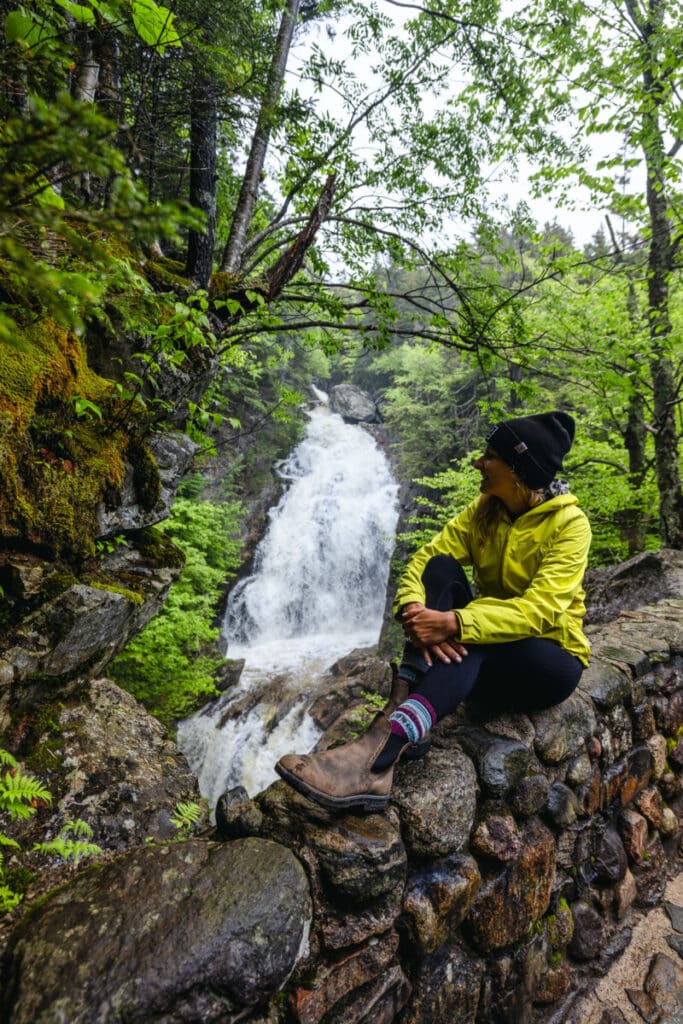 Time to head over to Pinkham Notch State Park for another gorgeous walk to a waterfall. To reach the Crystal Cascades, it is about a short 10 minute walk along the 0.7-mile out-and-back trail. The sheer force of the waterfall is incredible. Make sure to bring a rain jacket and some bug repellent!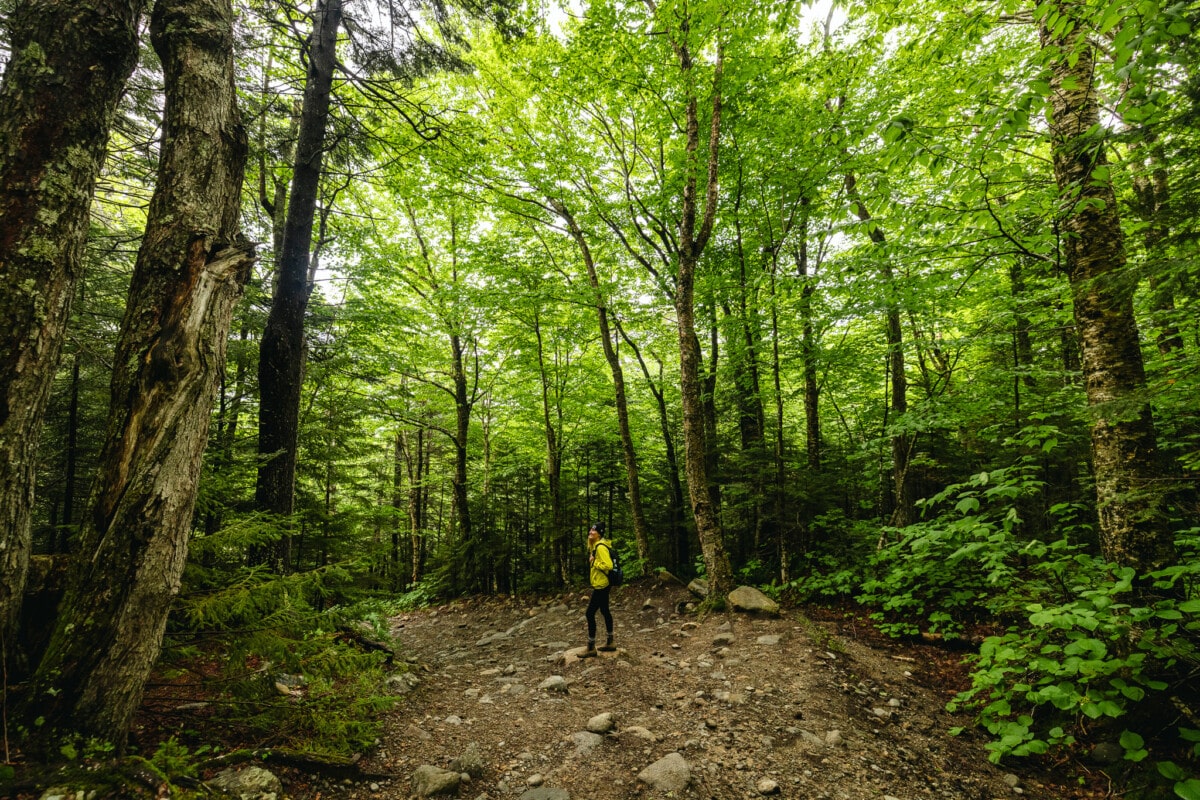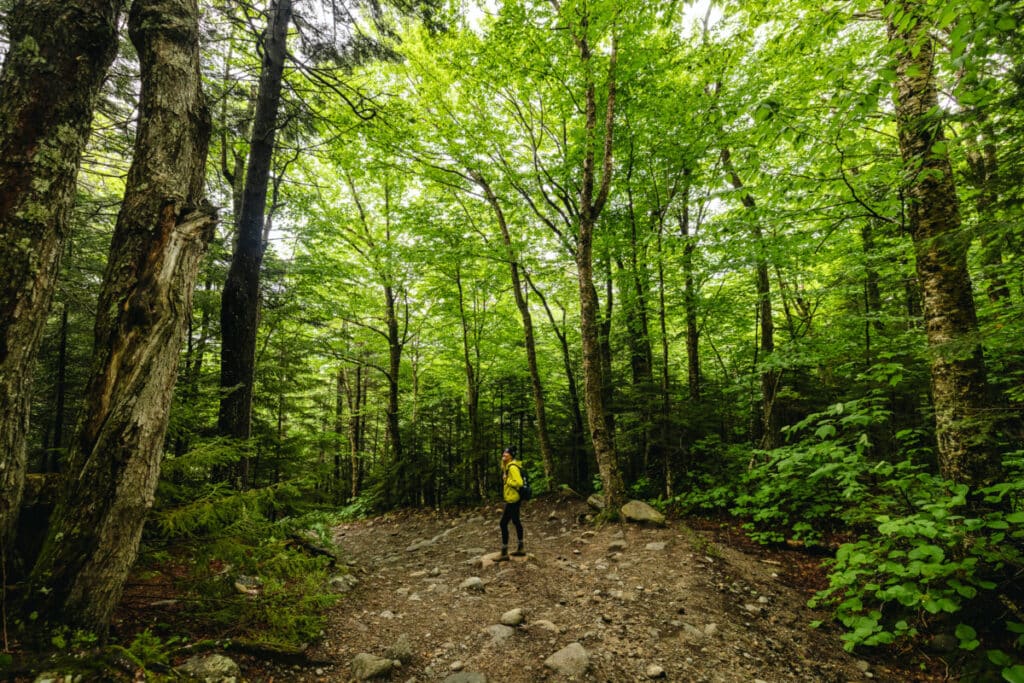 Stop 4: Take a Short Walk Down to Glen Ellis Falls
Your next New Hampshire summer road trip stop is right down the street at Glen Ellis Falls. It is one of the most popular and accessible waterfalls in the area, known for its picturesque beauty and the impressive force of the falling water.
For this particular waterfall, you will need to be able to walk up and down a ton of stairs. We'd recommend wearing good hiking shoes in the event the stairs get a little slippery.
Stop 5: Watch the Sunset by Cathedral Ledge and Echo Lake
If you're lucky on a sunny day, catching the sunset at Cathedral Ledge is a must do! Cathedral Ledge is a towering granite cliff that rises approximately 700 feet above the surrounding area. It offers breathtaking views of the White Mountains and the Saco River Valley.
You can reach the top of the ledge by driving up the scenic auto road or by hiking the Cathedral Ledge Trail, a moderately challenging 2-mile round-trip hike.
This area is also renowned for its rock climbing opportunities. With numerous routes of varying difficulty levels, it attracts climbers from beginners to advanced. The cliff face offers excellent granite features and challenging vertical and crack climbs. Climbing is permitted, but it requires proper equipment and experience. It's essential to follow safety protocols and check the current conditions before attempting any climbs!
Where to Stay in Lincoln, NH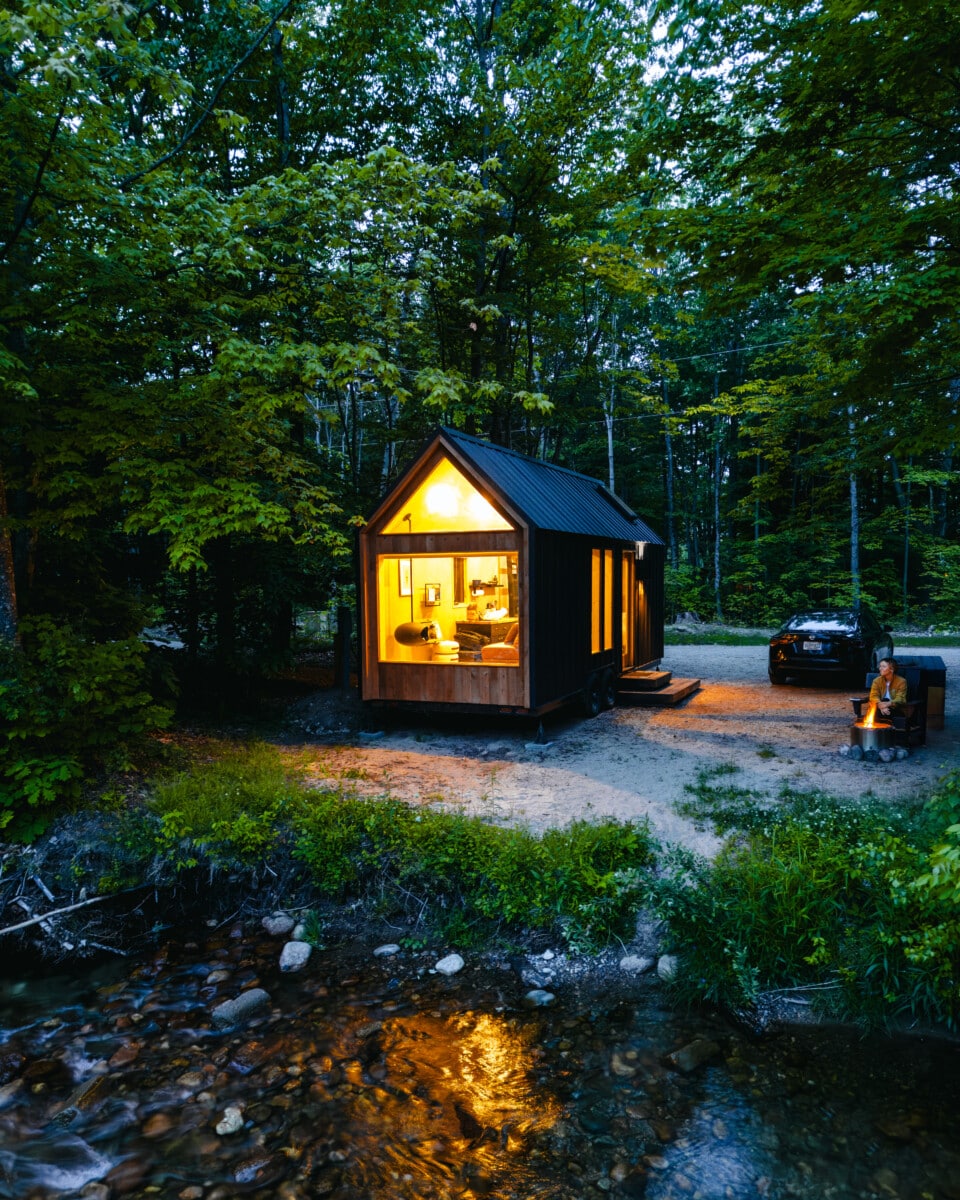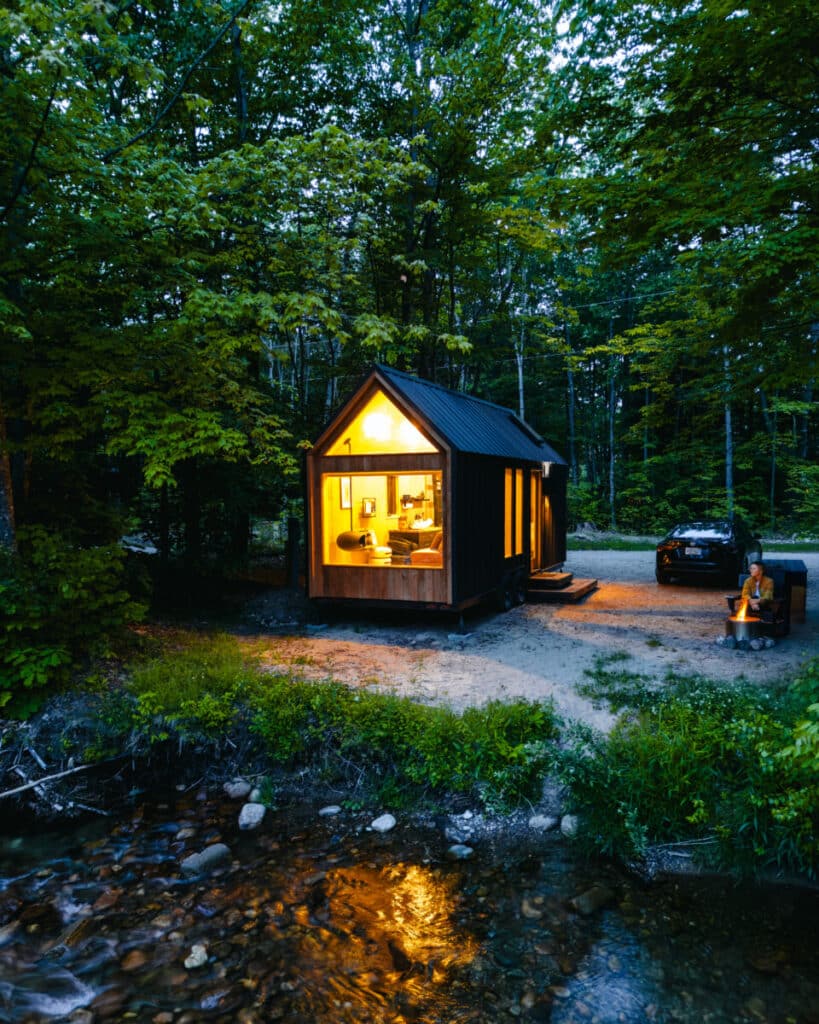 Suggested Eateries
Day 3: Head Up to the Great North Woods
Stop #1: Flume Gorge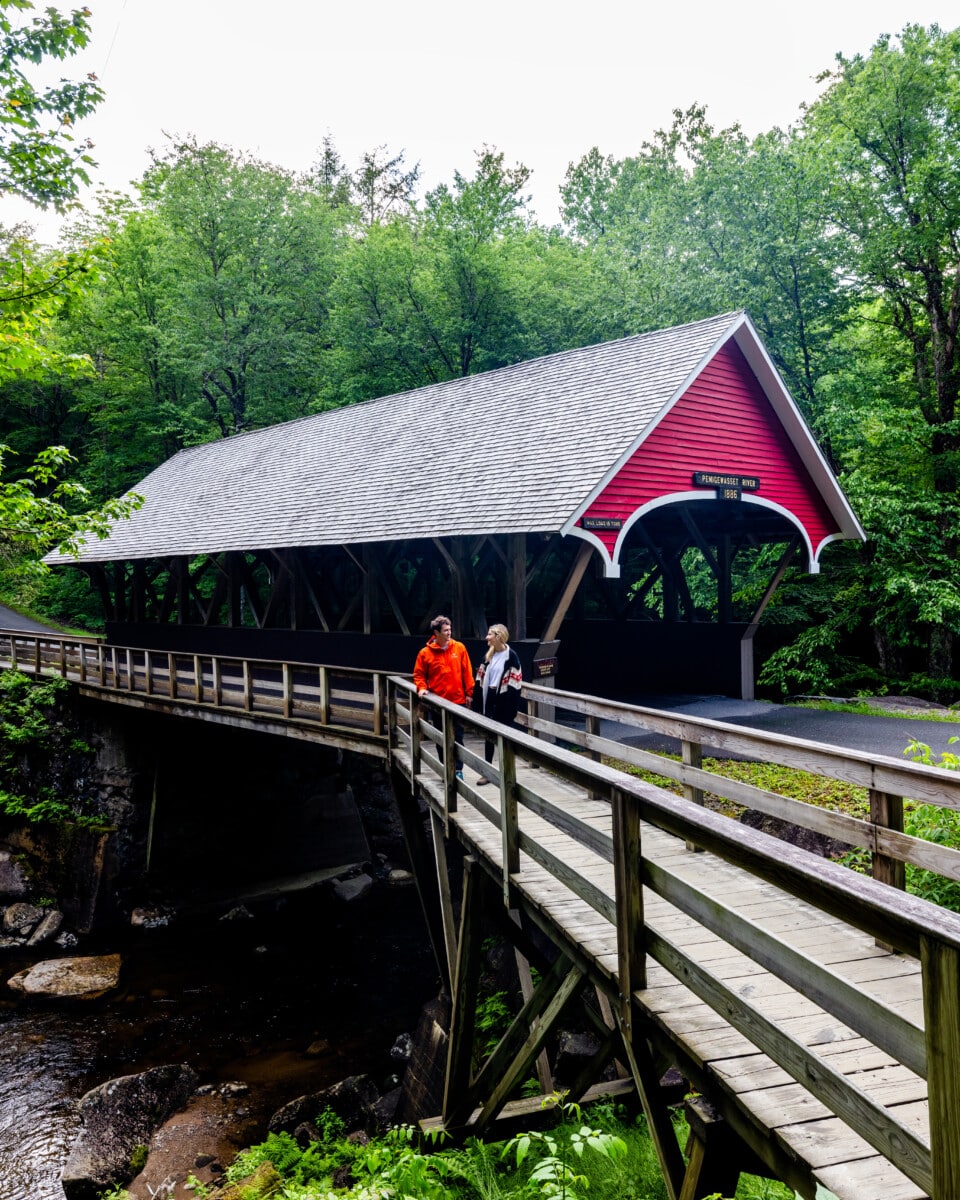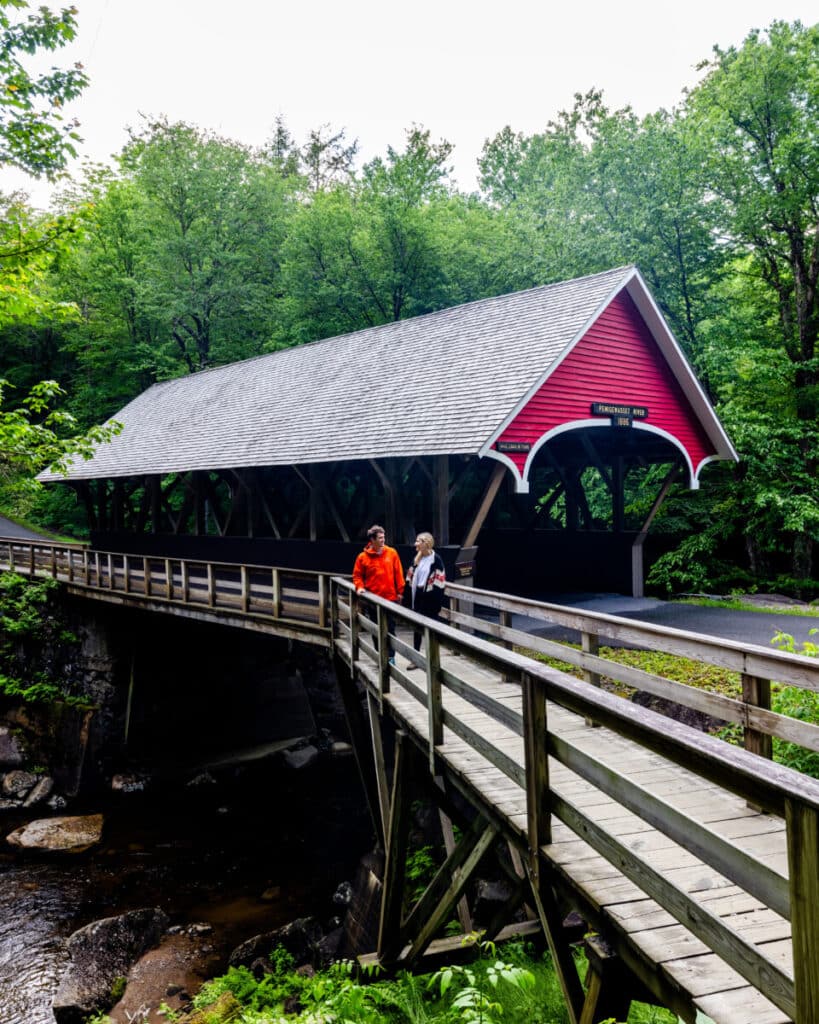 Before heading out of the White Mountains, no trip to New Hampshire is complete without visiting the famous Flume Gorge! The main attraction at Flume Gorge is the 2-mile self-guided trail that takes you through the gorge itself. As you walk along the boardwalks and stairs, you'll encounter a series of captivating sights, including towering granite walls, rushing waterfalls, and picturesque streams.
The trail leads you over covered bridges and through narrow passageways, offering an up-close and personal experience with the gorge's natural beauty. Along the way, you'll also be able to check out the beautiful Flume Covered Bridge!
This stop is great for all ages, and is especially family friendly. Note that if you want to avoid the crowds, make a reservation online for the first opening time available!
Stop #2: Get Out on the Water at Lake Francis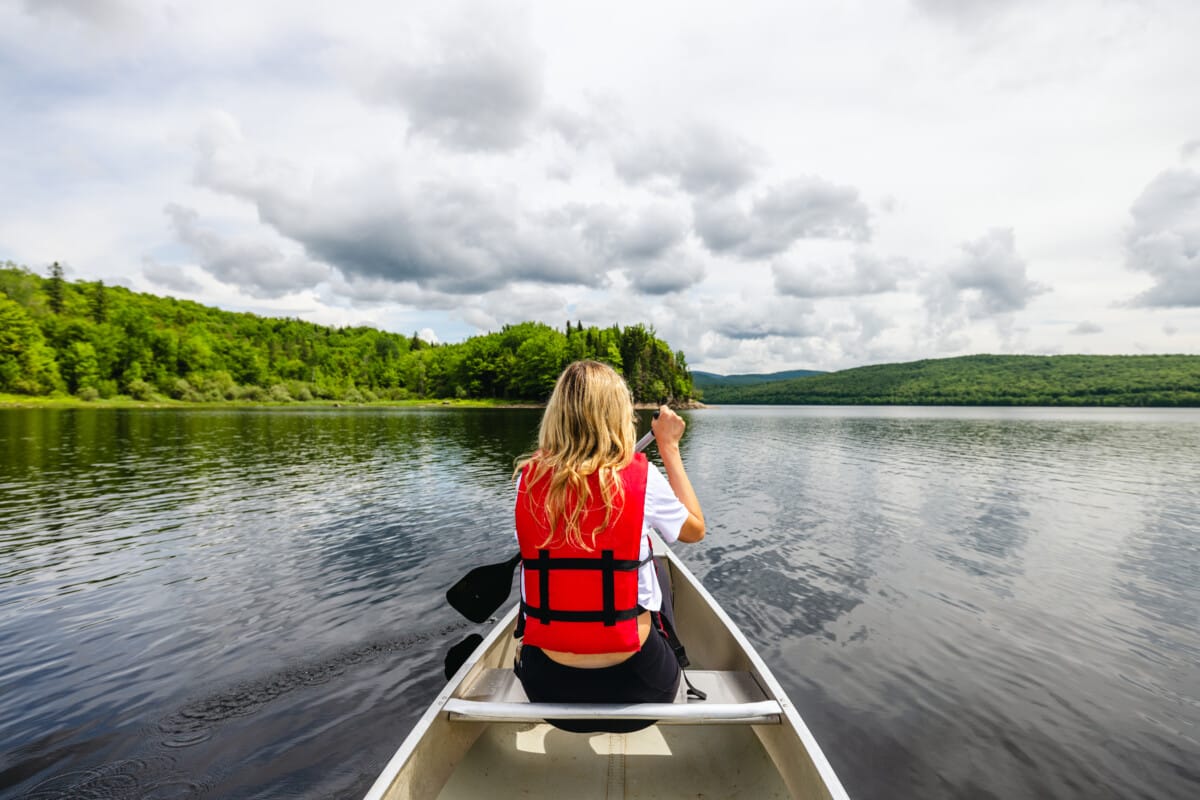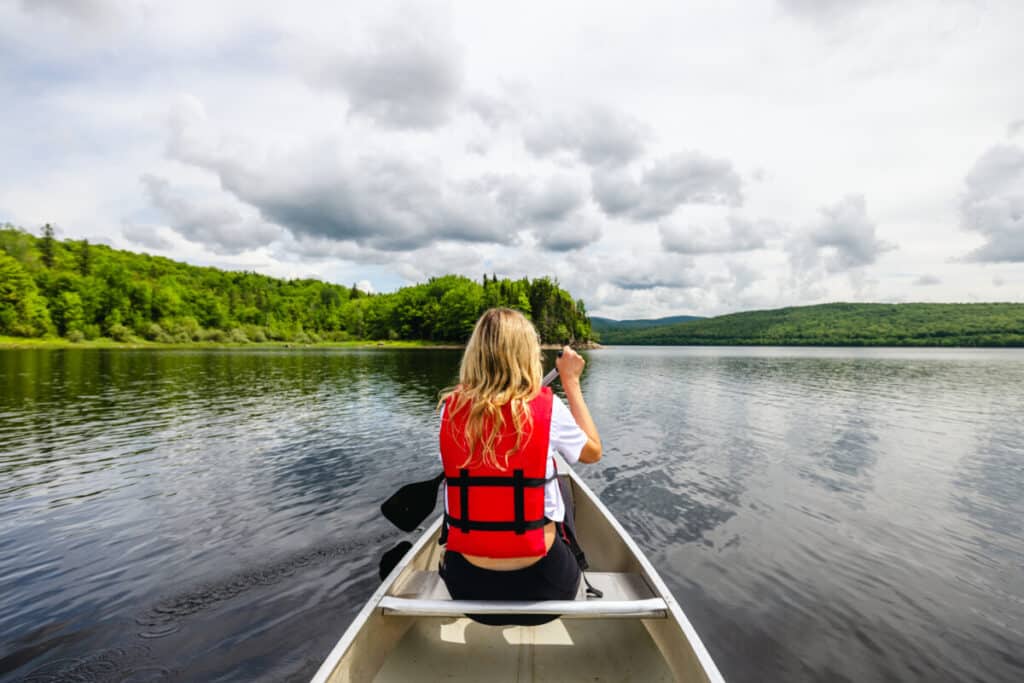 Time to beat the heat by renting a kayak or canoe and taking it for a spin on the serene Lake Francis! You can rent either at the Lake Francis campground, or you can use one of the local outfitters nearby as well that will deliver straight to your desired destination! This lake is one of the most relaxing, peaceful places to enjoy the water and the surrounding nature.
Stop #3: Check Out the Connecticut Lakes at Sunset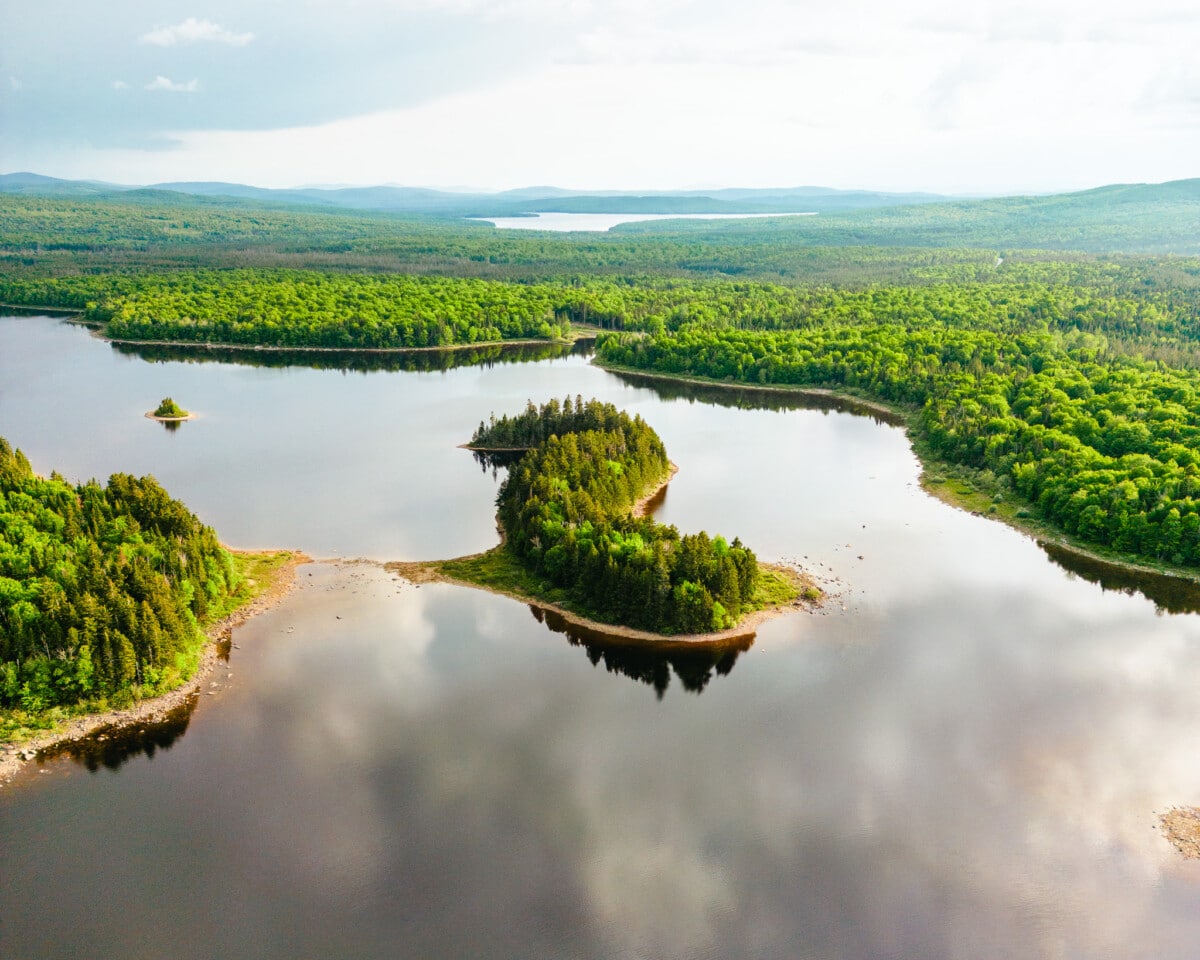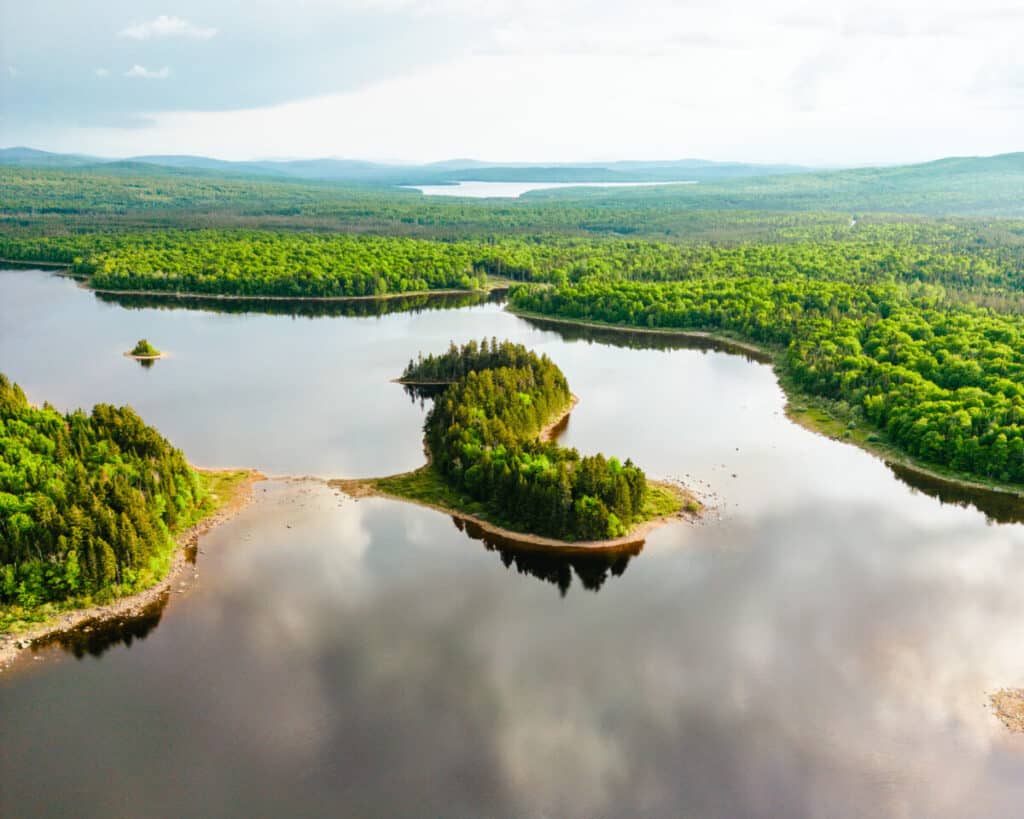 Visiting the Connecticut Lakes offers a chance to immerse yourself in the tranquility of nature, experience remote wilderness, and enjoy recreational activities in a pristine environment. The Connecticut Lakes consist of four main lakes: First Connecticut Lake, Second Connecticut Lake, Third Connecticut Lake, and Fourth Connecticut Lake.
The lakes are surrounded by pristine forests, rolling hills, and the majestic mountains of New Hampshire's Great North Woods. The area offers a peaceful and remote setting. There are opportunities for outdoor activities such as fishing, boating, kayaking, canoeing, and wildlife viewing. The serene waters and unspoiled landscapes make it a haven for nature enthusiasts and those seeking a peaceful retreat.
Stop #4: Head over to Moose Alley at Dusk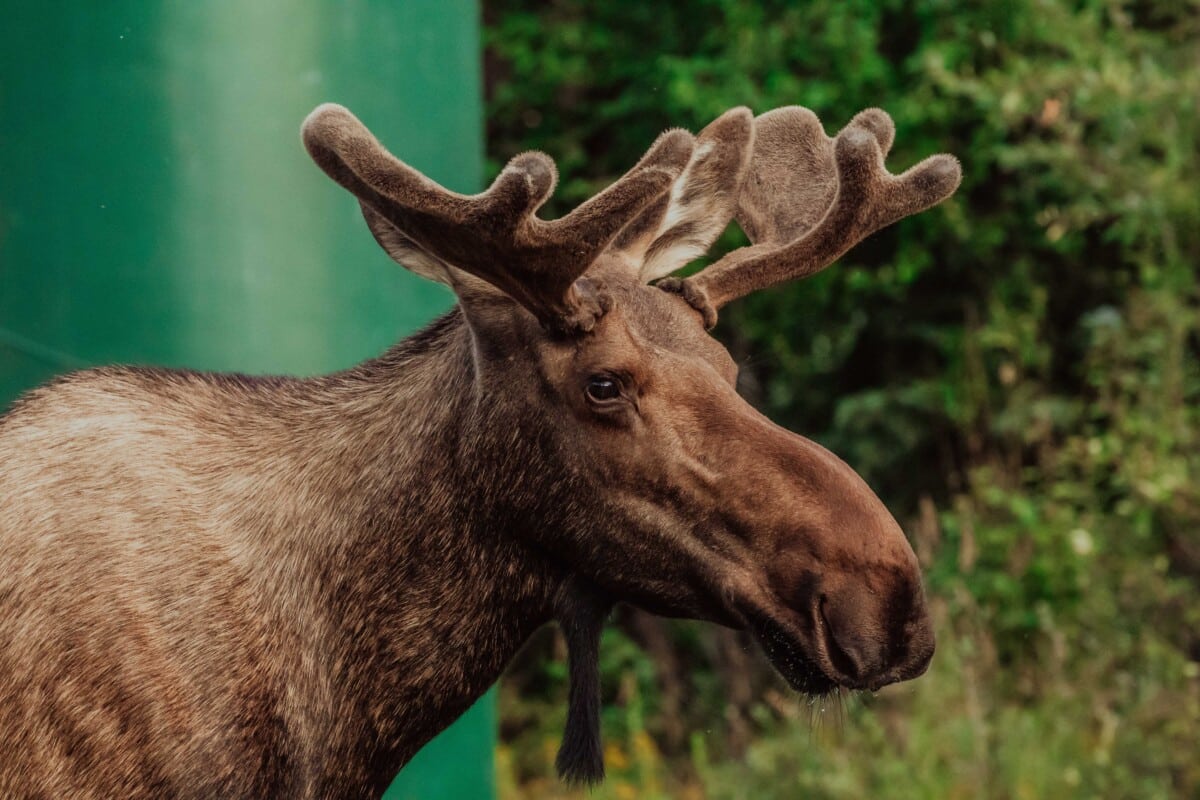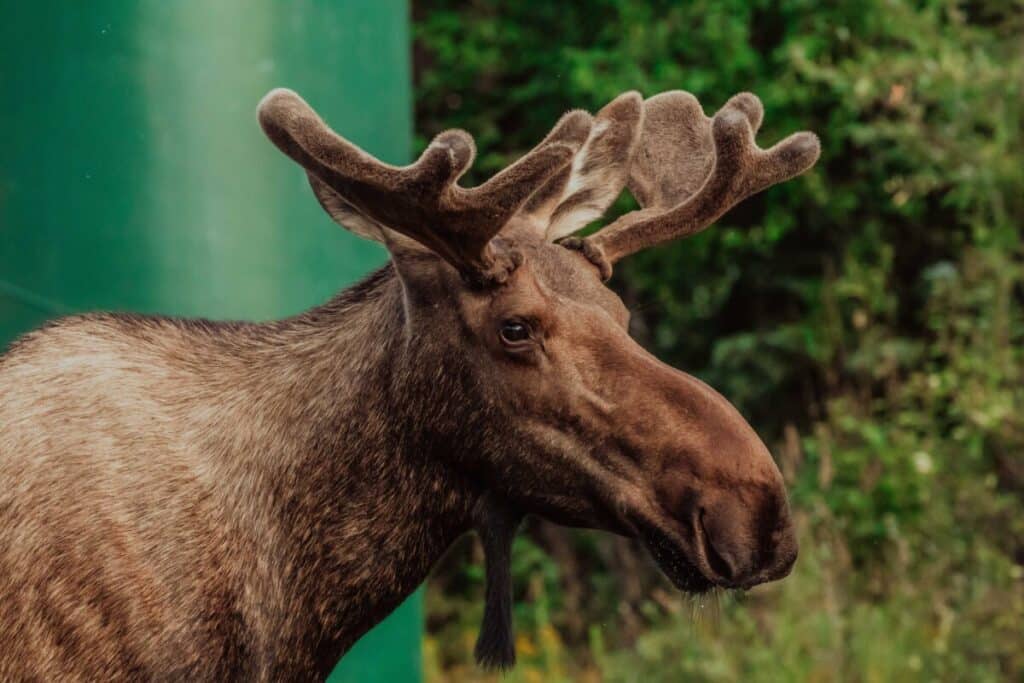 New Hampshire's Great North Woods region is actually one of the best places in all of the United States to try to spot a moose! Your best chance of seeing them is by checking out Moose Alley, which is a stretch of road that leads right up to the border of New Hampshire and Canada. The best time of day is right after sunset or right before sunrise! Remember to pack your patience and respect the wildlife. Keep a safe distance and stay in your vehicles to view responsibly.
Where to Stay in the Great North Woods Region
Suggested Eateries
Day 4: Explore Dixville Notch & Wildlife Refuges
Stop #1: Admire Beaver Brook Falls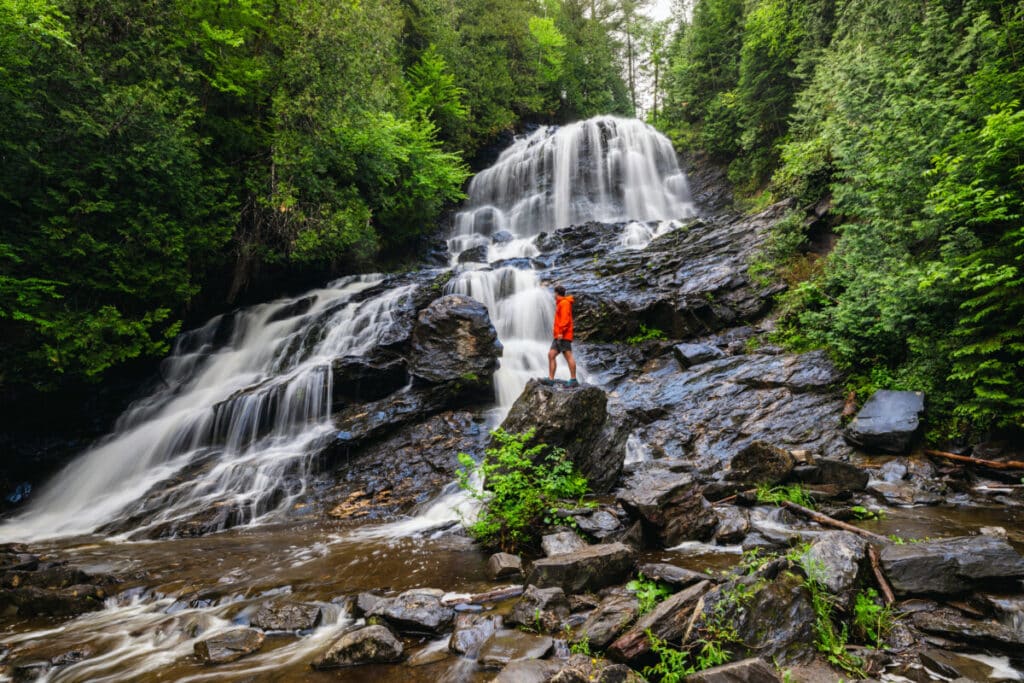 Beaver Brook Falls is a spectacular 80 foot cascade in full view from the roadside wayside. This gorgeous waterfall requires minimal effort to reach. It is a short walk from the parking lot and easily accessible from Route 145.
Stop #2: White Water Rafting with North Woods Rafting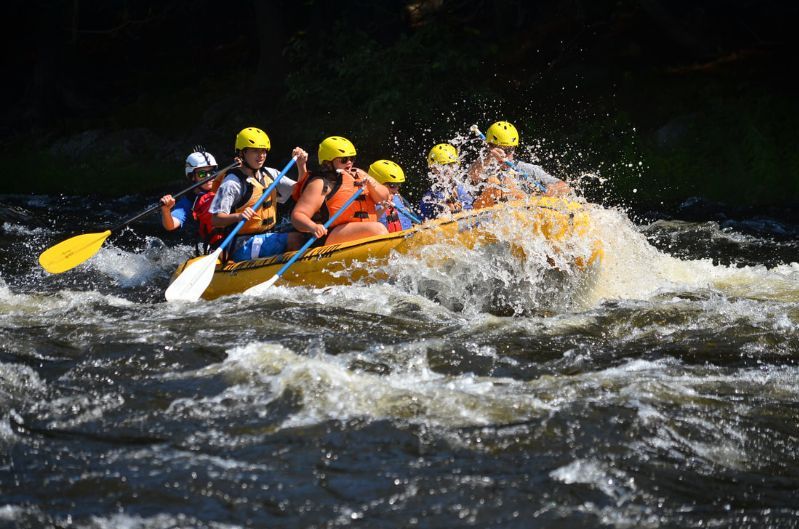 If there's one adventure we'd recommend doing in the Great North Woods, it is white water rafting! We had such a fantastic time heading out on the river and doing a few runs down some class 2 rapids. We got to do them both in a raft and you could also opt for a kayak if you were feeling extra adventurous! They also supplied lunch and we got to do 3 runs down the river!
Book Your Rafting Experience Here
Stop #3: Umbagog Wildlife Refuge
After drying off and grabbing a bite to eat, you'll actually be right next to your next stop at the Umbagog Wildlife Refuge! This area is HUGE, and it offers excellent opportunities for wildlife observation, birdwatching, fishing, paddling, and hiking, allowing you to immerse yourself in the beauty of nature while exploring this ecologically significant area.
Stop #4: Huntington Cascade
Next up, pop by Dixville Notch State Park and explore one of the nearby waterfalls. Huntington Cascade is an easy 10 minute hike to a gorgeous cascading fall surrounded by lush beautiful trees in the forest.
Stop #5: Table Rock Trail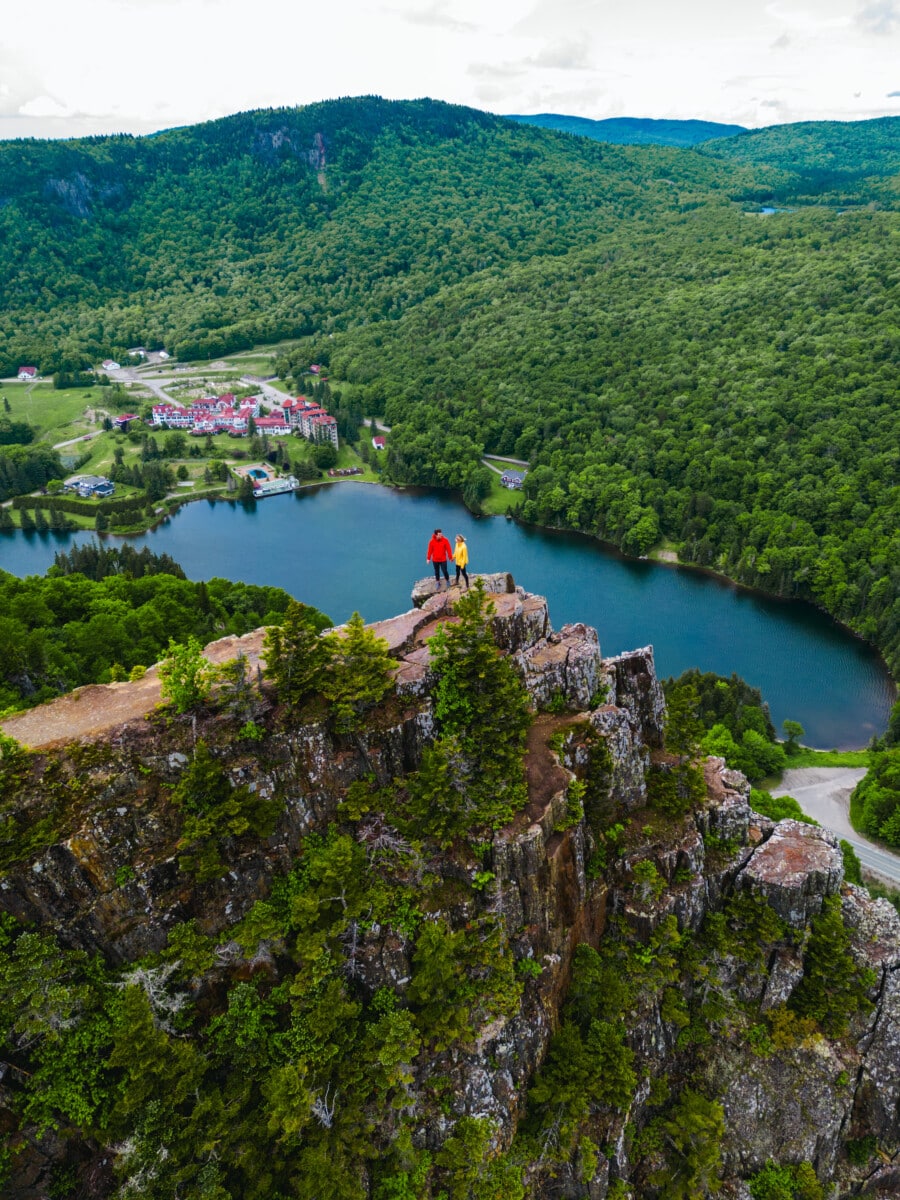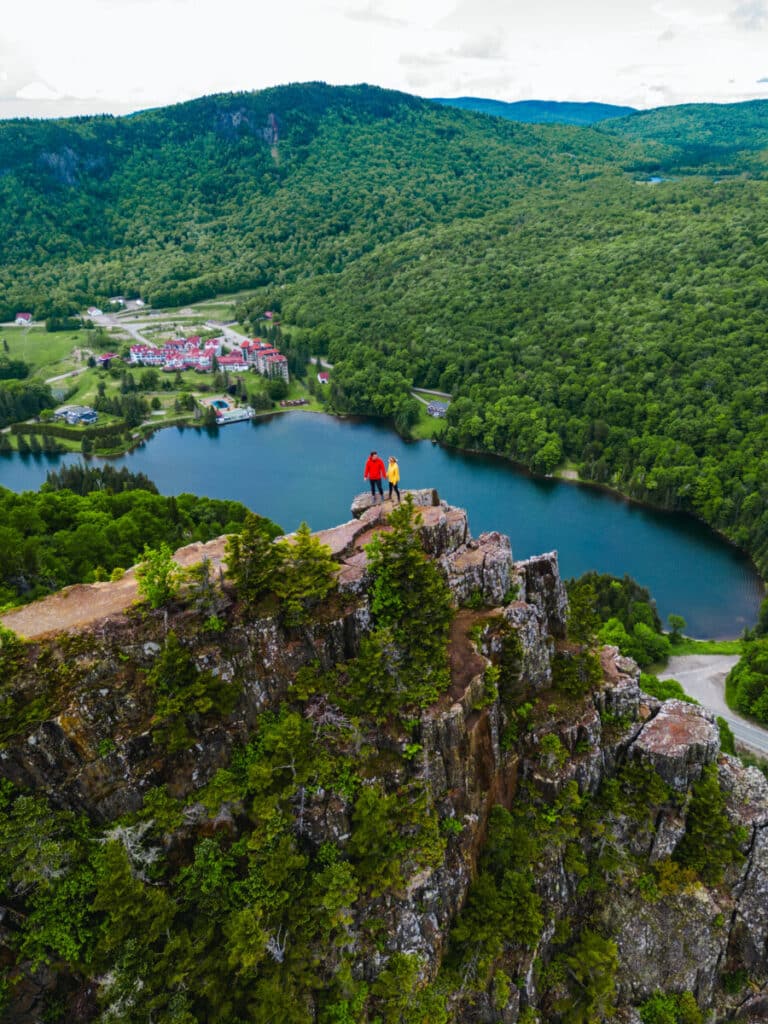 Lastly, it's time to embark on our favorite hike in all of New Hampshire! In fact, we've done this trail 5 times in the past two years. The Table Rock Trail is right outside of Dixville Notch State Park. It offers some of the most epic panoramic views in all of New Hampshire.
The trail gets its name from the unique rock formations found at the summit. Table Rock itself is a large, flat rock ledge that provides an excellent perch to take in the scenery. The exposed rock surfaces and cliffs add to the dramatic beauty of the hike. As you ascend the trail, you'll be rewarded with stunning panoramic views of Dixville Notch, the surrounding mountains, and the nearby Lake Gloriette. At the summit of Table Rock, you'll be treated to an expansive vista that showcases the natural beauty of the area.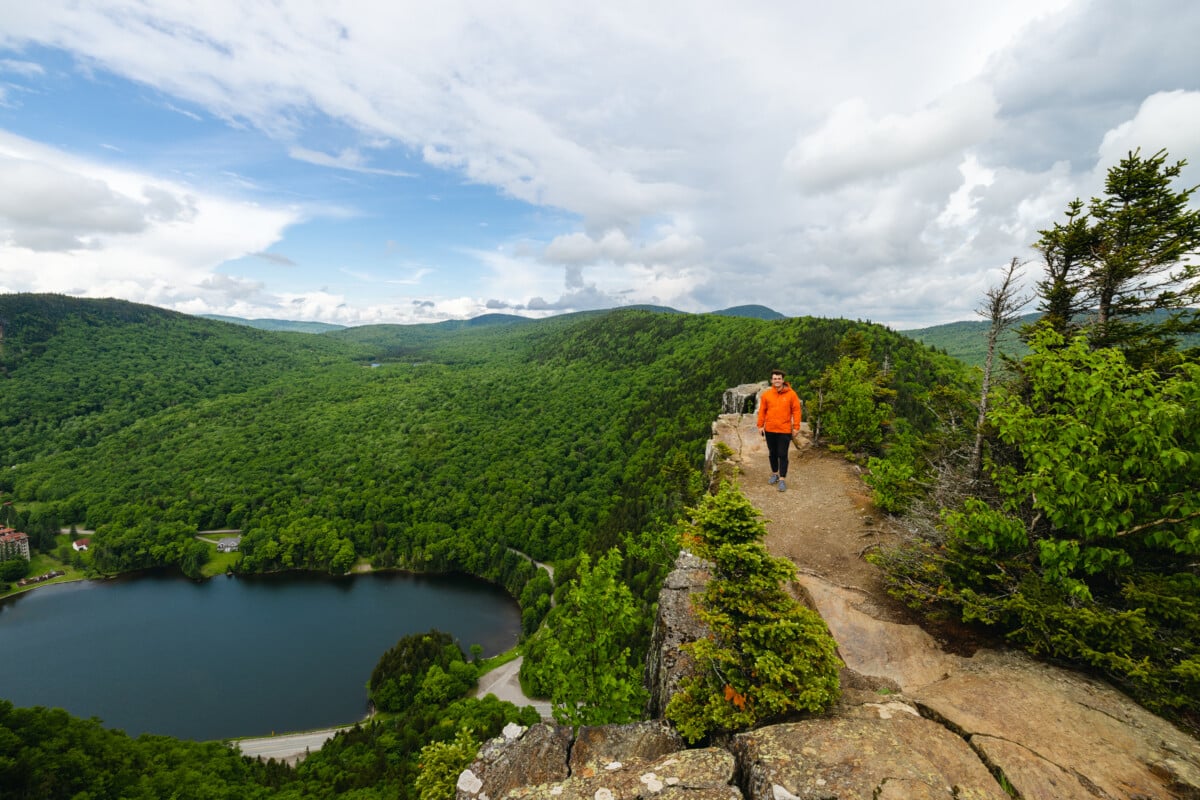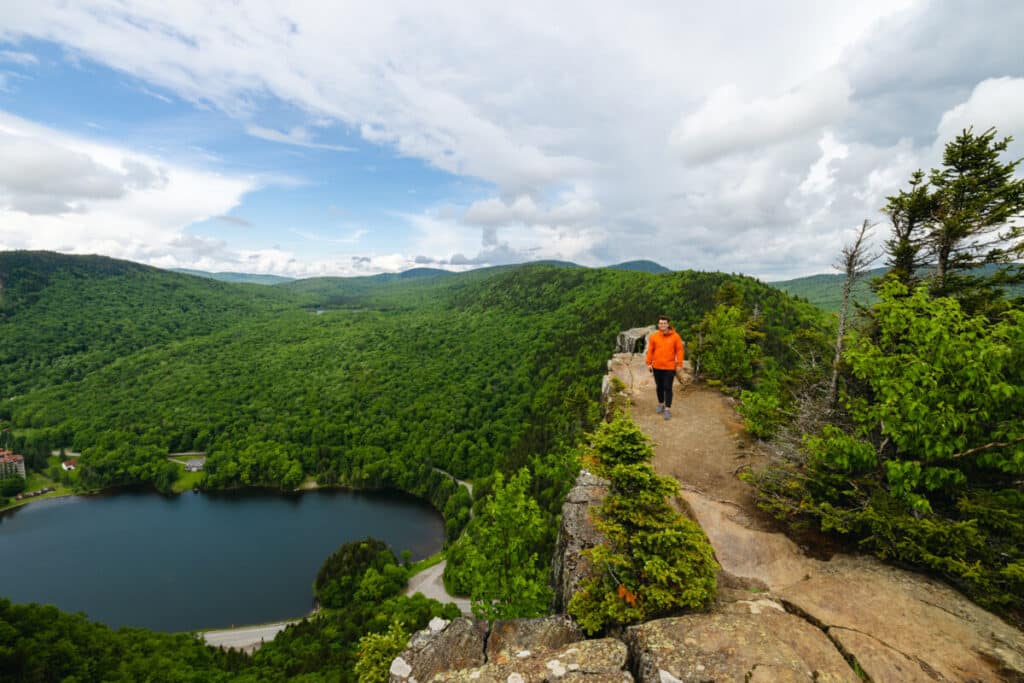 However, it's important to note that the Table Rock Trail is considered a moderate hike. It's recommended to have prior hiking experience and be in good physical condition. Wear good hiking shoes as the trail does get muddy as well.
Where to Stay in the Great North Woods Region
Suggested Eateries
Rainbow Grille & Tavern
1840
Buck Rub Pub & Lodge
Day 5: Head back to the Airport
Finally, the day has finally come where you sadly must return home! We hope you enjoy this 5-day New Hampshire road trip itinerary and have a safe summer adventure!
Make sure to check out our full guide to New Hampshire's best waterfalls. Or, perhaps, plan your next road trip to New Hampshire in the fall to chase the spectacular fall foliage! For more summer road trip planning resources, head to Visit New Hampshire's website!