Lower Yosemite Fall Hike: Finding the Trail, Waterfall & More
Published on July 22, 2023
|
Hiking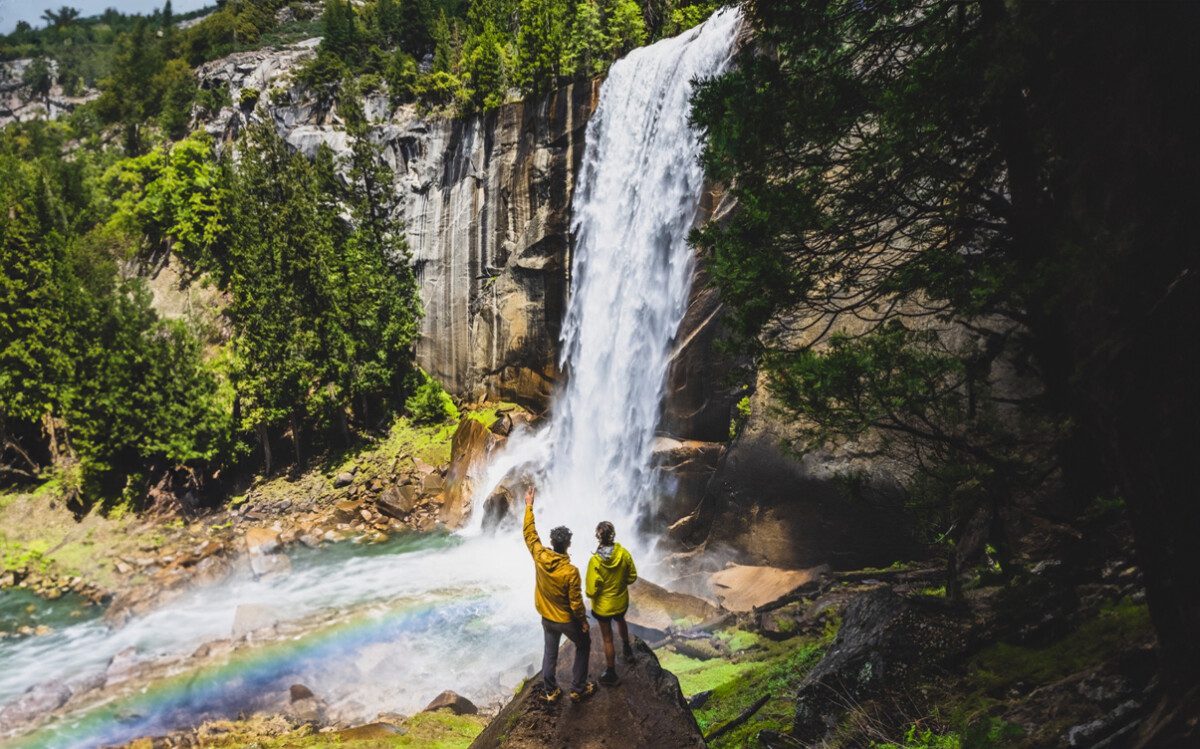 Yosemite is a wonderful and compelling park to visit, and it's large enough with enough different things to do that you can make weekend trips out of it for a year without exhausting everything. Whether you're a fan of wildlife, camping, viewing the stars, or checking out the waterfalls, there's something for you in Yosemite.
One of our favorite places to visit in Yosemite is the Lower Falls. Why are they so compelling, why do we love them, and how can you visit them? Read on to find out.
Lower Yosemite Fall Overview
First of all, what is the lower Yosemite fall? It's a waterfall – of course – and it's one of the more impressive falls you can see on a simple short hike in the USA. Or anywhere. And by "more impressive," we mean "stunning."
The lower fall in Yosemite is, in fact, the tallest waterfall in North America. Well, that's not strictly true; Yosemite Fall is, taken as a whole, the tallest waterfall in continental North America. There are a few taller falls in the borders of the USA:
Johannesburg Falls in Washington is a few meters taller but can have a very low volume; at times, it barely feels like a real waterfall.
Colonial Creek Falls in Washington is taller still but is divided into 13 distinct drops, so it doesn't feel as large.
Waihilau Falls in Hawaii is one of Hawaii's natural wonders and, yes, beats out Yosemite Falls if you're up for a trip to the islands.
Pu'uka'oku Falls in Hawaii is even better than Waihilau and is only beaten out by
Olo'upena Falls in Hawaii, the tallest falls in the USA and the fourth tallest in the world.
For a waterfall lover, you might initially wonder why Yosemite is even worth noting. If you consider falls all around the world, it's actually #22 on the list of tallest falls. At 739 meters (2,425 feet) of drop distance, Yosemite Falls is only 2/3rds the distance of the world's tallest, Tugela Falls in South Africa, which has a distance of 983 meters (3,225 feet). Olo'upena is "only" 500 feet taller, at 2,953 feet (900 meters).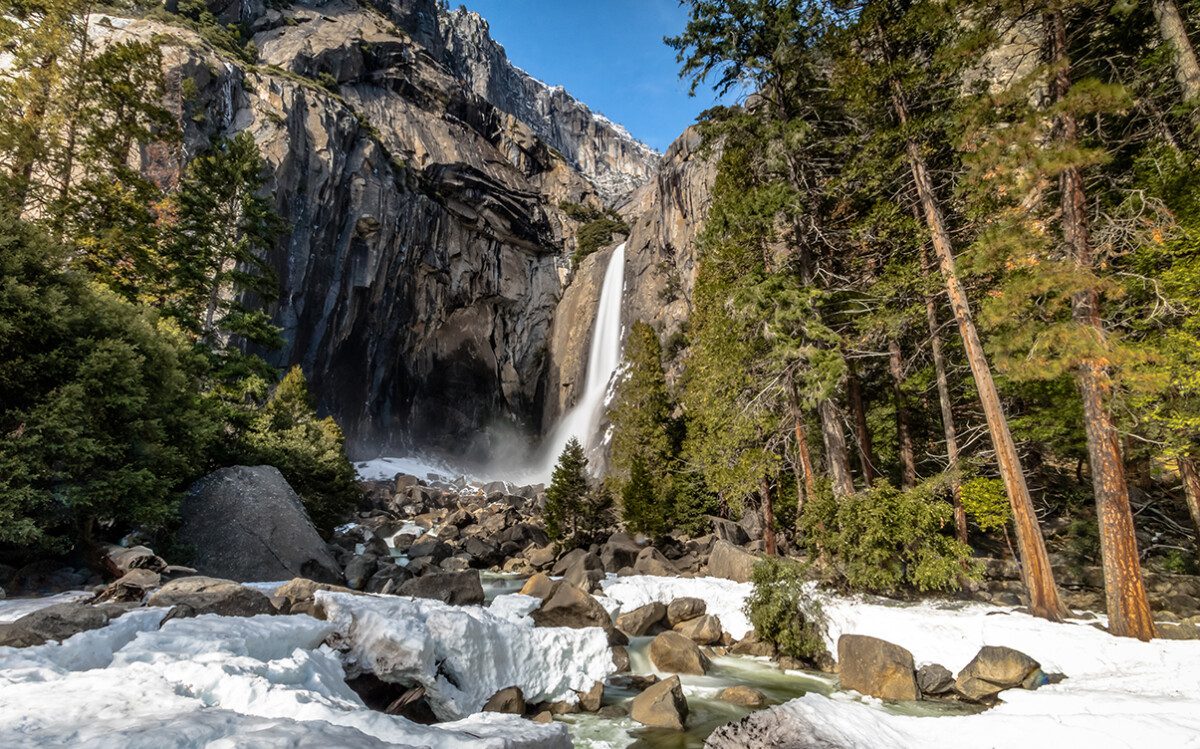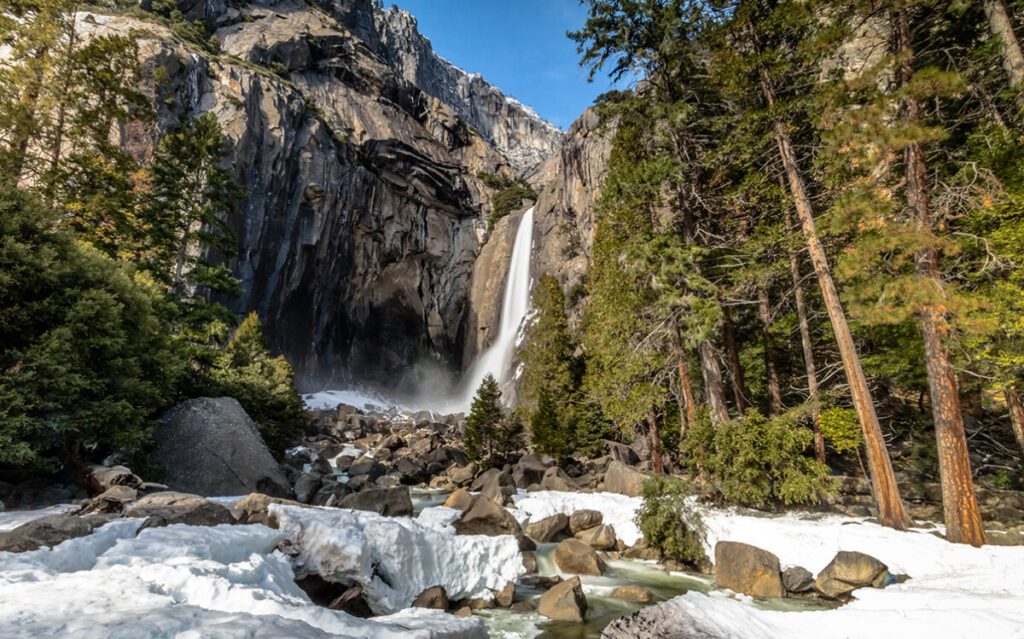 Despite all of that, fellow adventurers know two things.
It's not just about the height; many different factors go into the all-encompassing beauty and majesty of a park, waterfall, or adventure.
Every adventure has something to it that makes it unique. Focusing on the numbers only serves to distract from the adventure.
Lower Yosemite has all of this in spades; as part of the overall Yosemite National Park, it's one of the easiest places to access while also being an incredible destination. It can easily be the start of a longer adventure, the capstone to round out a trip, or just a day trip to see something incredible before moving on.
Don't think just because it's an easy hike that millions of people make every year, that it's any less spectacular for it. It may be well-trodden ground, but it's highly regarded for a reason! Even simple day-trip adventures are a great experience, and they can be a gateway to grander things in the future. Give the Lower Falls a shot, and experience the majesty of Yosemite without having to spend days planning.
Technical Details for Lower Yosemite Falls
So you know what you're getting into, here are the important details of Lower Yosemite Falls and the hike to see it.
Price: Entering Yosemite has a price. Day passes are $20 per person or $35 for a private vehicle, though if you're visiting during peak season, you're probably going to want to park further out and take a shuttle in instead. You can also buy an annual pass if you want to visit Yosemite frequently. Five days of the year – MLK Jr. Day, the First day of National Park Week (April 22), the Great American Outdoors Act Day (August 4), National Public Lands Day (September 23), and Veterans Day are all no-fee days.
Trail Distance: 1 Mile in a loop; roughly half a mile from the trailhead to the falls.
Elevation gain: 50 feet. This trail is almost entirely flat, paved, and incredibly easy to walk. It's hard to even call it a hike, really.
Difficulty: Super easy. People take their children on this trip from the shuttle stop to the falls and back without issue. It's even wheelchair-accessible on the eastern half of the loop.
Time: Obviously, it depends on how much you stop to admire the scenery, but it's unlikely to take you more than half an hour or so. Yosemite is open 24/7/365 (though some roads are closed during evening hours or during winter months), so you can even visit the Lower Falls at night if you want. In fact, on clear spring days with a bright moon, you can even see moonbows, waterfall-fueled rainbows reflecting the light of the moon and stars. It's seriously magical if you can catch it.
Amenities: There's no parking at the trailhead, so you need to park a ways out and hike in or take the shuttle. The trail itself has restrooms and water fountains on the western trail, but the main trail doesn't have anything – not that you're likely to need it for the short in-and-out trip. The Yosemite Valley Visitor Center is just half a mile further away if you want to start there instead. Here's a map to show you the shuttle routes.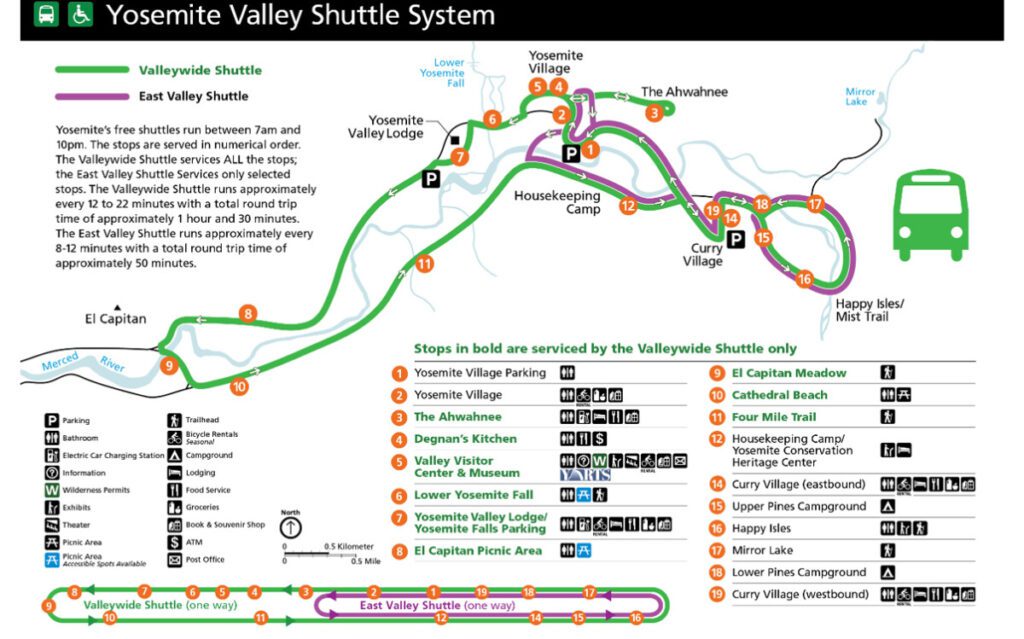 Crowds: As one of the easiest trails to hike, one of the most impressive parts of the scenery in Yosemite, and one of the most accessible locations in the park, Lower Falls is almost always going to be crowded. Even in the winter, and even when they're dried up, chances are decent that you're going to be walking within, through, and around groups of people.
What you see: Approaching from the trail, you get a spectacular view of the Lower Falls and the Upper Falls further in the distance. The Upper Falls are a bit trickier and longer to reach, but even just reaching the Lower Falls vista point gives you an excellent view and a wonderful day trip adventure without needing to gear up or plan to spend days on the journey.
Other Rules: As with all of Yosemite, keep your food in hand and don't feed the wildlife. You're not likely to run into bears or anything dangerous on the trail, but it's still against park policy to feed anything. Pets are allowed on leashes (that's how easy the trail is), and even strollers are allowed. Bikes are prohibited, though; you can bike to the trailhead, but you have to leave your wheels behind for the last jaunt up to the falls.
Seasonality for Lower Yosemite Falls
One of the quirks of Lower Yosemite is that it's a very seasonal waterfall.
Peak times for the falls are spring and early summer, from around April to May. The volume of water tumbling over the cascade is impressive, and when you're standing near the falls, you can expect to get a little wet. You're not going to get entirely drenched, but you won't be staying completely dry, either, so make sure things like your camera or phone are water-resistant and that anything sensitive or important is tucked away in a waterproof bag.
Note that the area around the falls can be pretty slippery, both on the trail and on the surrounding rocks. You'll always want to use caution and make sure you have good shoes.
On the flip side, the Lower Falls can actually dry up in the late summer and early fall. Anywhere from late July to October, visiting the falls has a chance to find you, well, lacking the actual falls part of the trip. You can still see where the water would fall, but once they've dried up, chances are they're going to stay dry for the rest of the season, barring some unseasonable weather. Both the upper and Lower Falls dry up.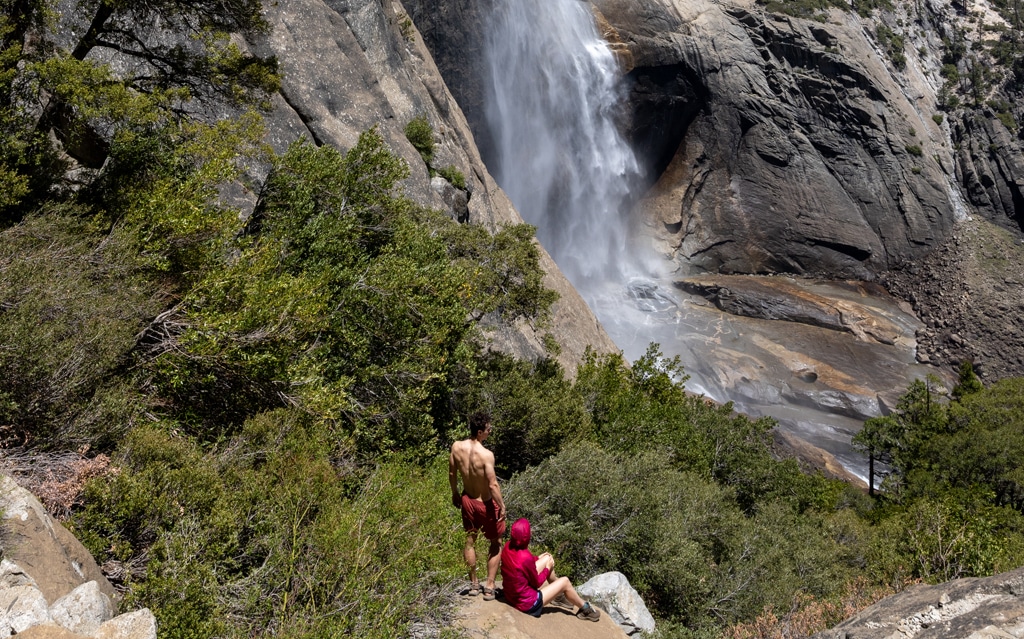 Checking conditions and alerts: From time to time, different parts of Yosemite may have traffic closures, problems with wildlife or wildfires, and various alerts that can affect your trip. For example, as of the time of this writing, high visitor numbers mean you'll have a hard time driving into the East Valley parking areas. Congestion is high, and traffic is often redirected around El Capitan.
As with any adventure, planning is incredibly important. It might not be a high-stakes multi-day adventure camping in the backcountry, but it's a popular destination where you have to concern yourself not just with your plans but the plans of everyone else who intends to visit on the day you're visiting.
You can check any Yosemite alerts and warnings by visiting this page. This will keep you informed about everything from road closures and traffic conditions to the weather, streams and rivers, and even wildlife alerts.
If you're curious about the conditions of the falls themselves, you can check one of the Yosemite webcams. This camera for the Upper Falls is a good indication of the conditions of both falls, for example.
Do You Need a Guided Hike?
Nope. Lower Yosemite is a super simple, well-marked, paved trail from a trailhead to the falls and back. There's no opportunity to get lost, and frankly, not all that much of note that a guide would tell you.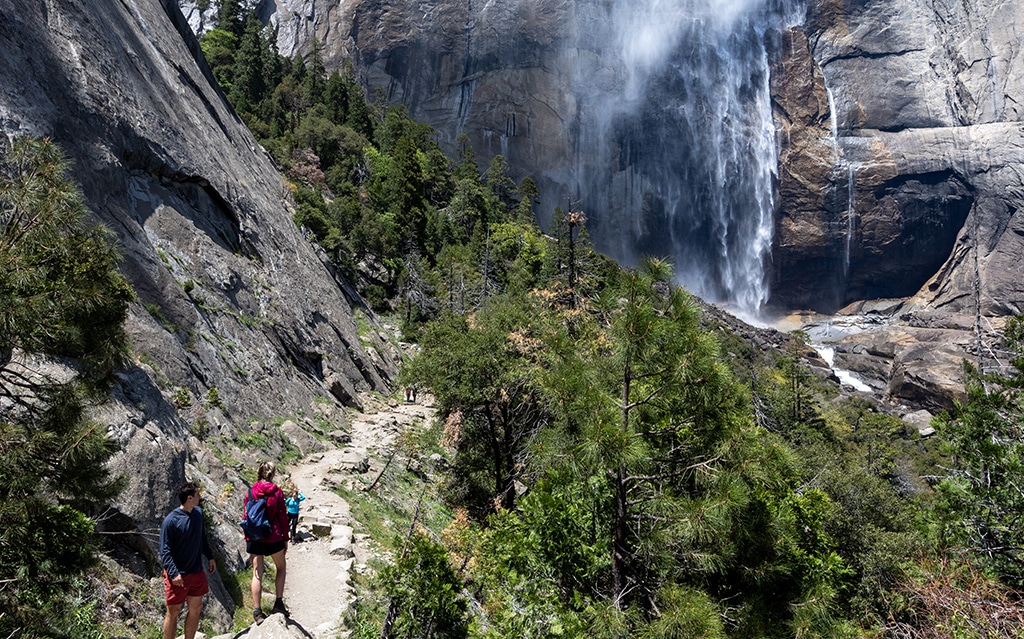 You start at the trailhead with a distant view of the falls, walk through some forest, and arrive at the base of the falls to see their might from up close.
Gear and Equipment for Lower Yosemite Falls
What do you need to bring for a trip to the Lower Falls? Less than you might fear but more than you might expect.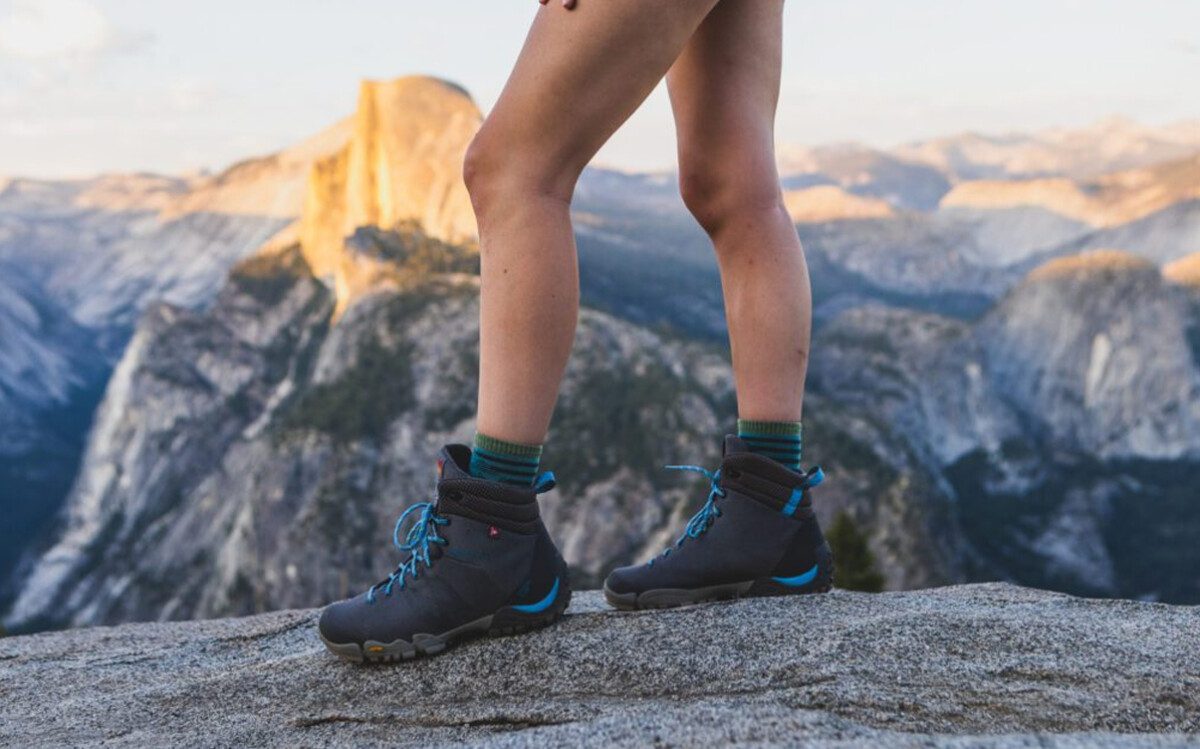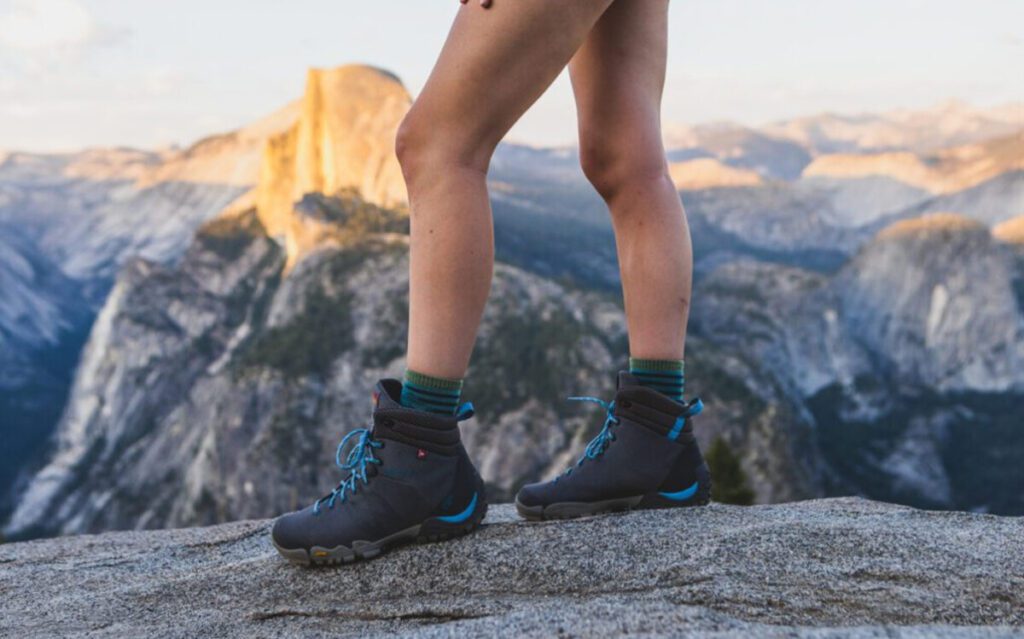 The biggest concern with the falls is the water. You'll want ways to handle or deal with excess water that might envelop you.
Waterproof bags to store anything sensitive to water that you might need to be kept dry, like phones, medications, or paperwork.
A poncho in case you're visiting during the peak water flow season, and you don't want your clothes to get wet. If you don't mind a bit of a shower, you don't really need this, though.
Good shoes. You don't necessarily need top-of-the-line hiking boots, but you should have something with grip and traction so you don't slip on the wet pavement or rocks surrounding the falls.
Beyond that, there's not a ton you need. Water is always good to have on hand, as are snacks, but since this is a mile-long hike, you're not going to be wanting for energy.
What About Upper Yosemite Falls?
Visiting the final resting place for the falls is one thing, but what about a journey to the top, where it all starts? A trek up to upper Yosemite is significantly harder and more intense – and thus requires a lot more preparation – than the trek to the Lower Falls.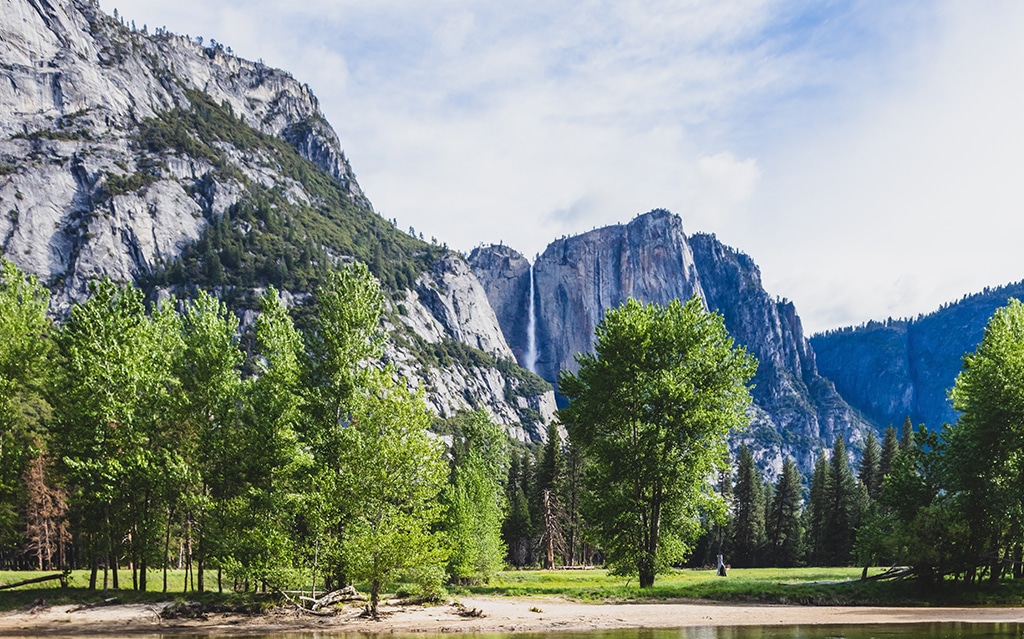 Don't get too worried; it's not a huge multi-day trip like some other adventures you can have in the area. The hike from the trailhead up to Upper Yosemite is a round trip of 7.2 miles, which can take the better part of a day. It's also a 2,700-foot elevation gain, which means you're going to be doing a bit of climbing. It's an excellent hike with a lot of great views, but it's also quite a bit more than a trip just to the Lower Falls and not something you want to jump into in the middle of the day as a spontaneous visit.
More Yosemite Adventures
As California residents, we're big fans of Yosemite, so we've been there quite a few times and done a lot of different kinds of adventures.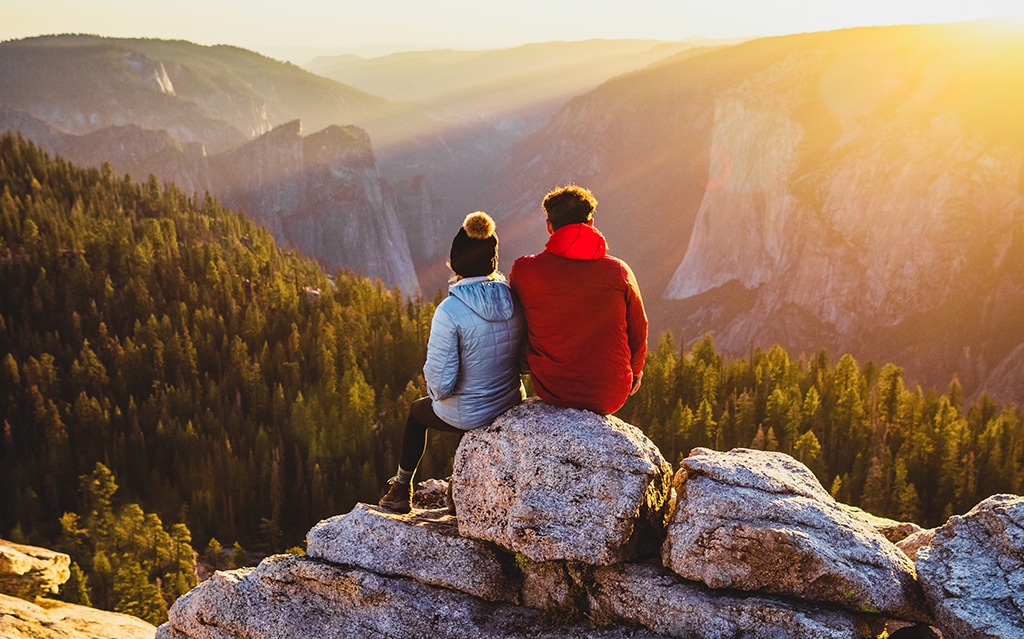 Here are some other posts you can read about it.
If you have questions about Yosemite or how to make your adventure go smoothly, our blog is packed full of advice for adventurers of all skill levels. Whether you need general advice, specific tips on gear or how to manage a lengthy hike, or just questions about the things you can do in California, we've got the hookup. And if you want info on something you don't see on the blog, just drop us a line!