California Road Trip | Couple's Edition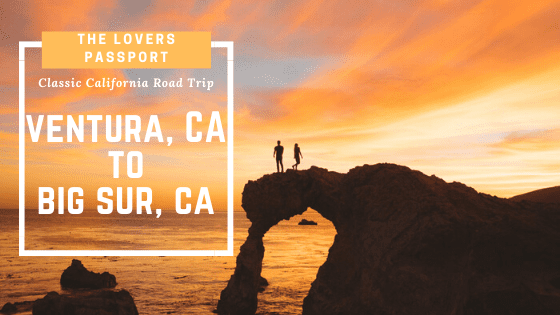 Top Places to Visit from Ventura, CA to Big Sur, CA
About the Area: This road trip to Big Sur stays next to California's coastline. It is known for winding turns, seaside cliffs and views of the often-misty horizon. All of the stops from Ventura to Big Sur are very popular areas to camp, hike, surf, and relax. We recommend this as a California Road Trip | Couple's Edition because of the beautiful weather typically year round! Because it's entirely on CA's coast, there are several places to watch spectacular sunrises and sunsets throughout your road trip!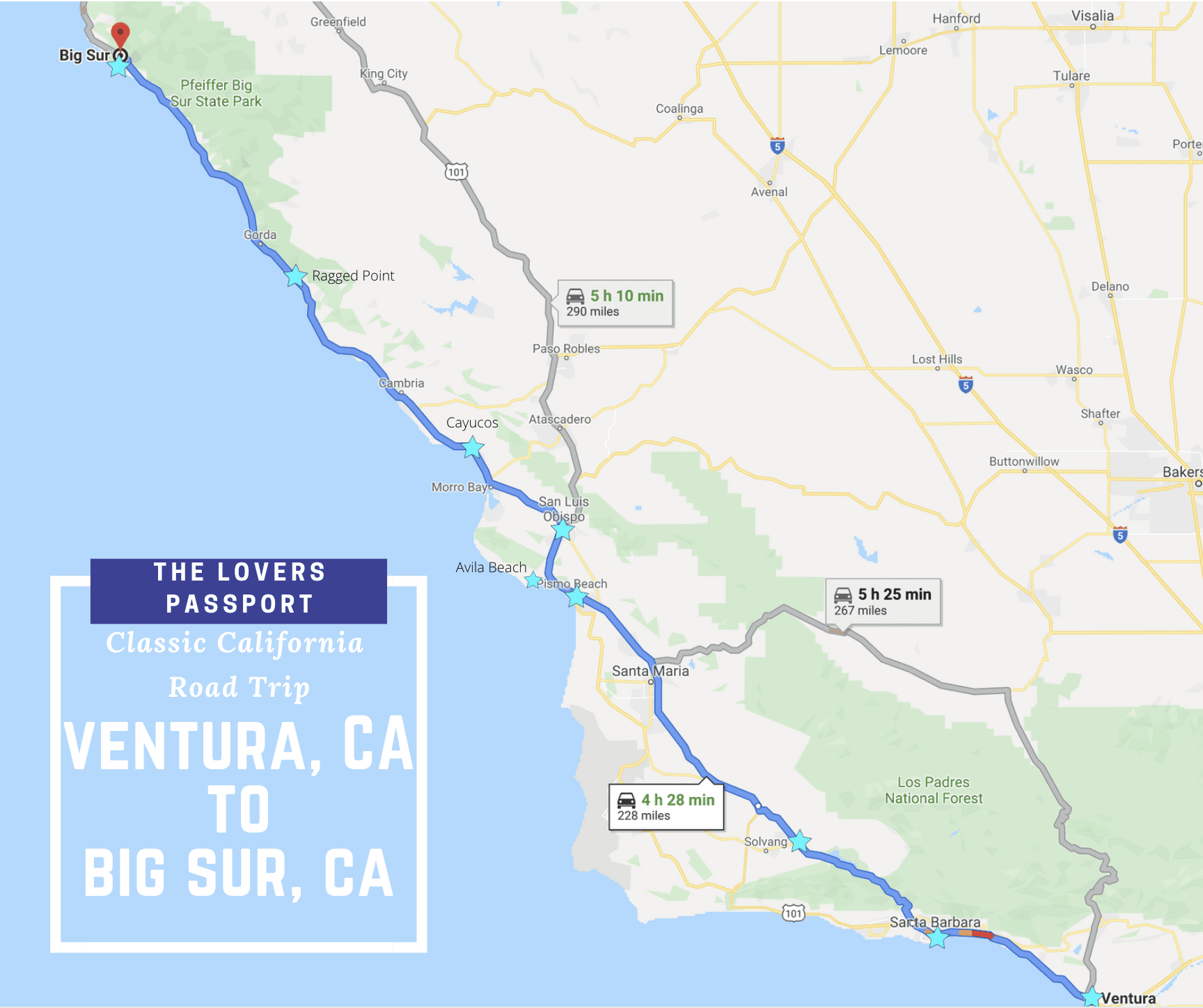 Highway 1
Taking Highway 1 along the coast up to northern California is one road trip that every couple should do. The first time I ever drove it my mind was blown that I have lived in Ventura, CA my whole life and had not done this before. This was the first road trip that G and I had ever gone on together and was technically our 2nd date.
There are amazing beaches, hipster towns, delicious eats, and some of my favorite coastal views to date. The drive from Ventura to Big Sur is about 250 miles, so it can be a hefty trek. I recommend taking a full day of travel (if not two) depending on where you are coming from. Slowly make your way up the coast and enjoy the stops along the way.
Santa Barbara on the California Road Trip | Couple's Edition
The first major city along our California Road Trip | Couple's Edition is Santa Barbara. This luxurious coastal city is filled with a very interesting culture. Looking for some sun? Just south of Stern's Wharf lies East Beach, a stunning mile long beach that is fun for everyone. On the weekends it gets very busy. You will see everything from Spikeball and volleyball to boogie boarding and many other outdoor sports. If you are in town on a Sunday, go to East Beach and meander through the Art Walk to find some home made art and small boutiques. G and I met in Santa Barbara, find our guide to Santa Barbara here, and used to walk along to enjoy the festivities all the time. Another great time to visit is for sunset. The sun disappears on the horizon creating spectacular colors, plus the crashing of the waves gives it a movie like feel.
The Funk Zone
Looking for the night life? I recommend heading to the Funk Zone. It's got something for everyone: Breweries, Wineries, and Tiki Bars galore. The Funk Zone is filled with energy and a fun culture where you can see people from all walks of life. After the beach and a few drinks I highly recommend checking out my favorite restaurant in the entire city, The Lark. The food, the atmosphere, the service, and the cocktails leave this place as my number one spot for a romantic dinner for two. After you have soaked up enough Vitamin D head into the beautiful hills up Highway 154 for a sunrise or sunset on your way to the next stop, Solvang.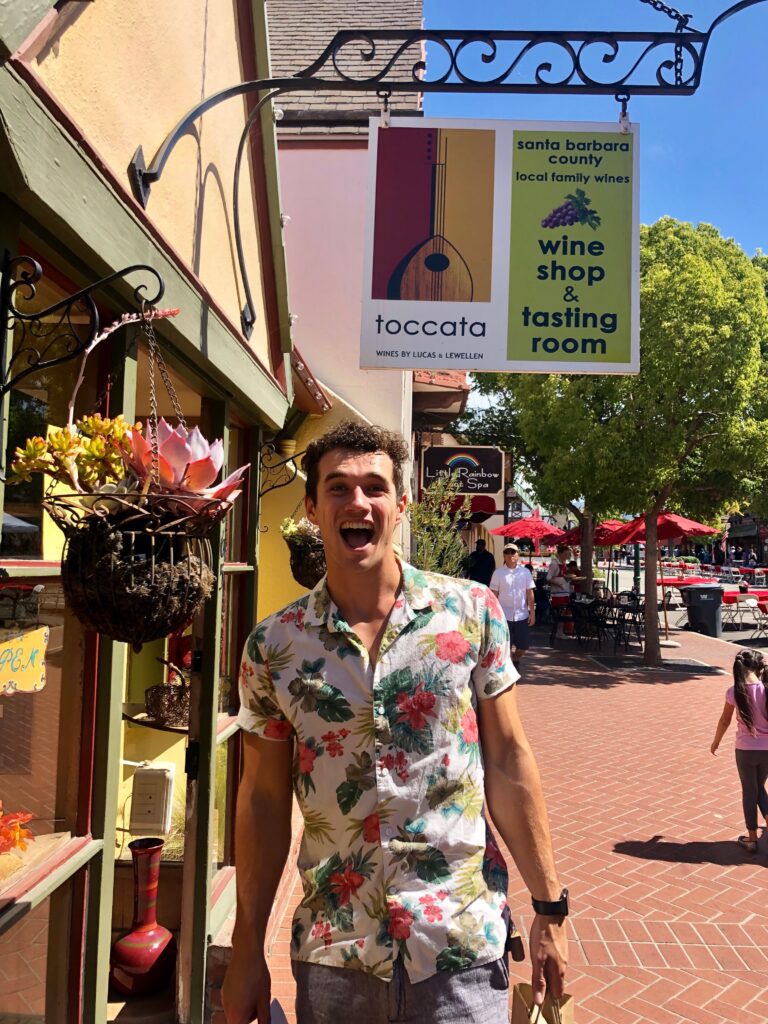 Solvang California Road Trip | Couple's Edition
Solvang is a cute little Danish town that makes you feel like you are in Europe. All the restaurants are Dutch themed and the architecture throughout the city takes you back in time. The pastries make for a great mid-morning snack before you stroll through the multitude of gift shops. If you are a fan of Disney I highly recommend going to the Thomas KinKade store because it has some jaw dropping paintings of your favorite Disney characters.
My favorite restaurant in town is Paula's Pancake House because of their decorations and food. If you have some extra time, go check out the wineries in town and don't forget to ask for their recommendations. Most wineries will give you complimentary wine tastings to the next winery if you ask them where to go. Last time we were in Solvang we only had to pay for 2 tastings and we received 4 for free! Giselle and I talked and drank as we learned so much about this small town from the pourers.
Los Alamos on California Road Trip | Couple's Edition
Stop and enjoy the atmosphere because it is definitely one of our favorite stops along the way. Just up the road if you get hungry for some Pizza is Full of Life Flatbread in Los Alamos. The chefs go to the town's farmers market, pick up whatever catches their eyes, and make custom pizzas every week! You never know what kind of surprises you will find. Once you finish getting a taste of Danish culture hop back on highway 101 and head up to Pismo Beach.
Pismo Beach California Road Trip | Couple's Edition
Pismo Beach is home to our favorite sunrise spot along the way. Our favorite thing to do here is go check out the epic sand dunes for sunrise. The sun creates some mind boggling shadows and makes you feel like you have escaped town into an oasis. For photographers, don't forget to check out Chris Burkard's studio. He is one of my favorite adventure photographers and his work will inspire you to continue the trek up North to make memories and take artsy photos of your own. He told one of our best friends Chris, different Chris, to head up to Avila to check out a sea arch, which leads to our next spot in Avila.
Avila California Road Trip | Couple's Edition
The town of Avila is a small coastal town that has some tasty eats and beautiful sunsets of the harbor. The spot that I usually recommend involves a little more adventure. Head up the hill on Cave Landings Road and park in the lot. Head down the path to the left until you come upon a rope. Climb down to some rocks above the ocean. Look right after enjoying the view and continue into a cave. This is known as Smugglers Cave and is in my top 5 favorite sunset spots I have ever seen.
The cave itself is a fun, relaxing hang-out spot and if you are feeling adventurous, go stand on top of the arch for an epic photo op. We stop here every time we drive north no matter what time of day. Sunset is definitely the best time to relax and enjoy the view together. Once you finish instagramming the arch head up the road 10 minutes to the best donuts you will ever have.
San Louis Obisbo California Road Trip | Couple's Edition
San Louis Obisbo is the next must see spot on the California Road Trip | Couple's Edition. Another college town and most importantly, home to SLODOCO. This 24-hour donut shop changed my sugar eating experience forever. They create fresh donuts of your favorite movie characters, new flavors you would never guess would go together, and are open 24/7 for all your late night cravings. Highly recommend stopping by to grab some treats for the rest of the drive. After you have fueled up keep heading north to the next beach town Morro Bay.
Morro Bay California Road Trip | Couple's Edition
Once you leave SLO you will begin to see increasingly bigger hills until you reach the behemoth above Morro Bay. Morro Bay has a stunning view when you walk along the beach and look south to see the waves crashing below this massive rock. Sadly you cannot hike the peak but you can surf below it. Even better, surf in Morro Bay then drive 10 minutes north to Cayucos and surf next to the pier.
Cayucos California Road Trip | Couple's Edition
Cayucos is another cute beach town that I stop in every time I head north for the cookies. Can you tell I have a sweet tooth? Brown Butter Cookie Bakery might have the best cookies on the coast. They are soft, sweet, fresh, and have dozens of different flavors to fulfill every taste bud. Cayucos is the last town I recommend stopping in before the hour long trek and windy roads on the way to Ragged Point. Go use the bathroom, start your time lapse, and hit the road up one of the most beautiful and treacherous stretches of road on the coast.
Ragged Point California Road Trip | Couple's Edition
Ragged Point is the last stop before reaching Big Sur proper and the surrounding beaches. Get out and smell the fresh ocean air before taking a short 5 minute stroll to the wooden donut aka the "Portal to Big Sur". The view through the hole gives you a taste of what the next 50 miles of road will entail. Once you take in the view and stop in the cafe for a quick snack continue down the path to the very tip of the point. Watch the waves crash upon the cliffs and take in the view. There is an opportunity to leave a lock on the fence which could be a promise or have significant meaning to you and your partner. We did not leave a lock but instead opted to listen to our favorite Caamp songs and cuddle while taking in the view together.This spot is my second favorite area on highway 1 up to Big Sur for our California Road Trip | Couple's Edition.
Big Sur California Road Trip | Couple's Edition
Make a playlist, grab some snacks, bring your favorite person, leave early, and don't be in a rush. Half the magic of Big Sur is the journey to get there. My top five spots I would highly suggest stopping for are Santa Barbara (East Beach for a romantic sunset), Pismo (wake up early for sunrise on the sand dunes), Avila (enjoy privacy together in Smuggler's Cove), SLODOCO (tell your partner they are a sweeter then the donuts for brownie points), and Ragged Point (to enjoy the beautiful coastline view).
This is one of my favorite drives in all of my travels and makes it even more memorable depending on who you go with. Some of our favorite memories are the deep conversations while taking in the view, car karaoke to our favorite Taylor Swift songs, and getting to spend time together in so many different situations. Yes, there will be terrible drivers who cut you off and make you wonder why you are driving up. Yes, there will be Cruise America RV's on the road going at half the speed limit that drive you crazy. Roll your windows down, turn on some music, and go adventuring together.
To learn more about Big Sur itself, keep an eye out for a future post on our Big Sur Guide including the town's best hiking, waterfalls, camping spots, and more! Check out our other Blog for more Romantic Date Ideas in Los Angeles.