Thousand Island Lake Backpacking from Agnew Meadows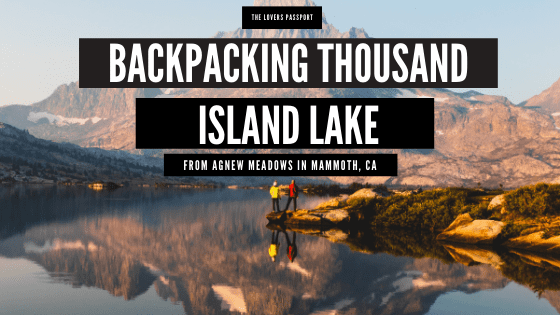 Preparation for your Thousand Island Lake Trip
Thousand Island Lake, California is located in Ansel Adams Wilderness right outside of Mammoth. When we embarked on our overnight trip to this stunning spot overlooking Mt. Ritter and Banner Peak, we were required to acquire wilderness permits from the Inyo National Forest site. We decided to start at Agnew Meadows. For this specific route, we decided to get the permits for the River Trail, although there are several other ways to get to Thousand Island Lake around the area. Others we ran into started in Tuolumne Meadows or June Lake, for example.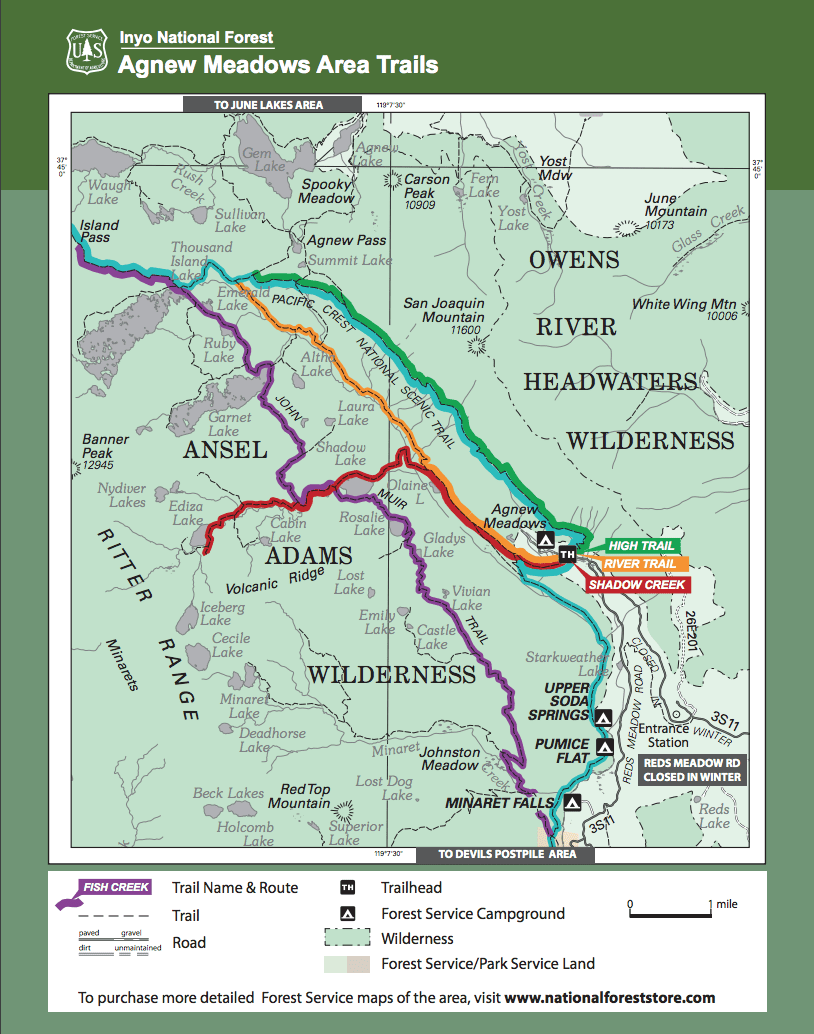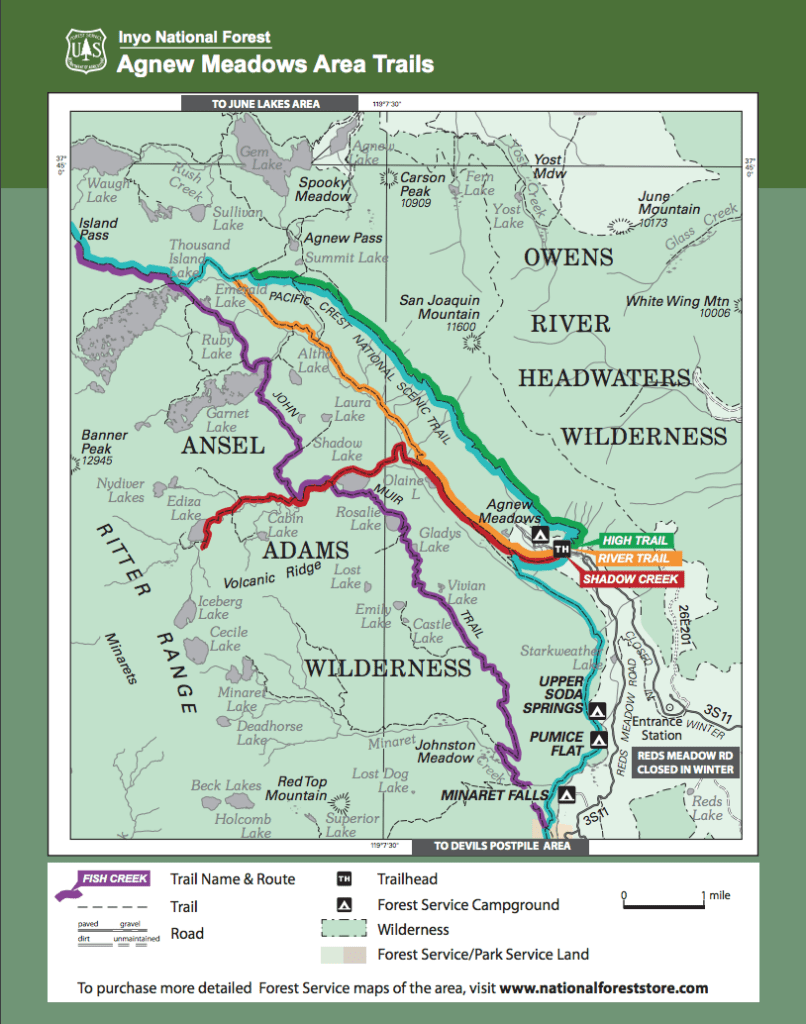 Popular Permit Options:
High Trail (If you take the PCT to get to Thousand Island Lake)
River Trail (If you take the JMT to get to Thousand Island Lake)
Shadow Creek Trail (If you want to get to/camp at Ediza Lake and Shadow Lake and continue to loop around via the JMT to Thousand Lake after)
Fish Creek (If you want to Garnet Lake, Ruby Lake, Emerald Lake, and Shadow Lake before going to Thousand Island Lake)
To download the map above, click here.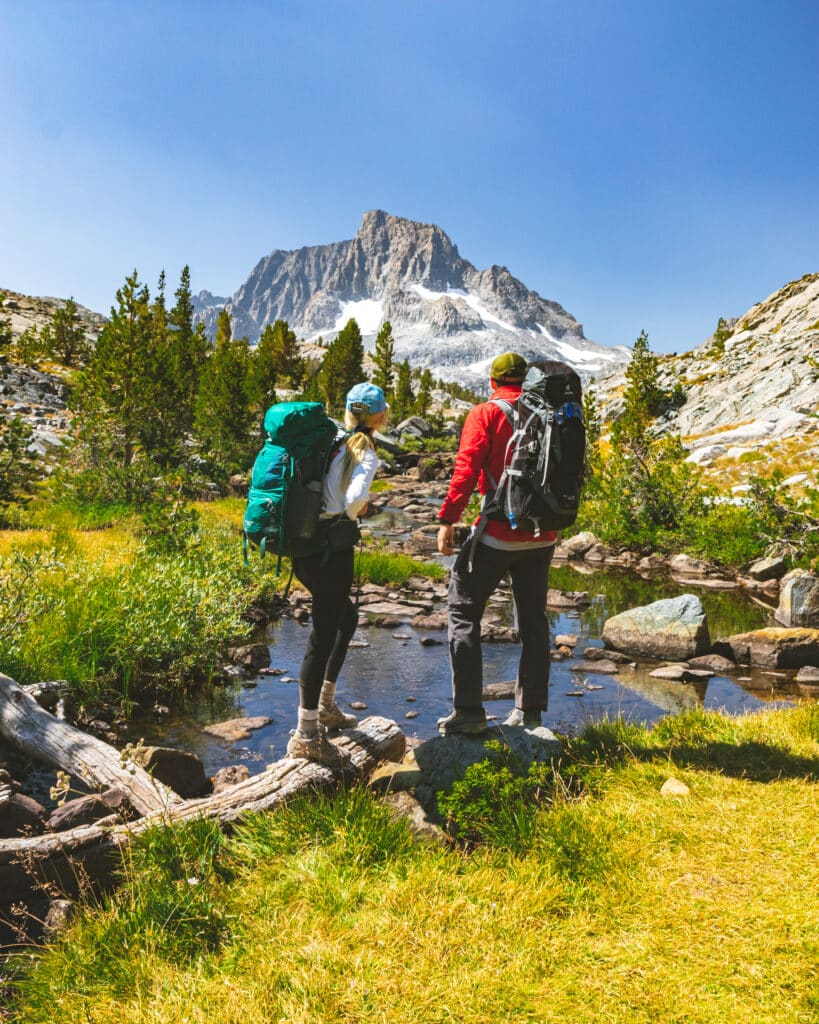 The full route we did had us starting on the PCT High Trail to Thousand Island Lake, and then we took the Fish Creek Trail down to where it conjoins with the Shadow Creek Trail and then back to the River Trail until we reached Agnew Meadows. We mainly wanted to see all the lakes in the area, but it is much less mileage if you stick to the PCT High Trail and River Trail for a direct route to Thousand Island Lake. There are several different ways to do the Thousand Island Lake loop back to Agnew Meadows.
If you are a beginner to backpacking & hiking, we would recommend taking the PCT High Trail to Thousand Island Lake, and returning back on the River Trail (which is almost all downhill) if you take it back to Agnew Meadows. If you're up for a challenge where you'll be rewarded with gorgeous glacial lakes, we'd recommend adding the extra mileage and taking part of the Fish Creek/Shadow Creek trail back to Agnew Meadows.
Things to Know Before You Go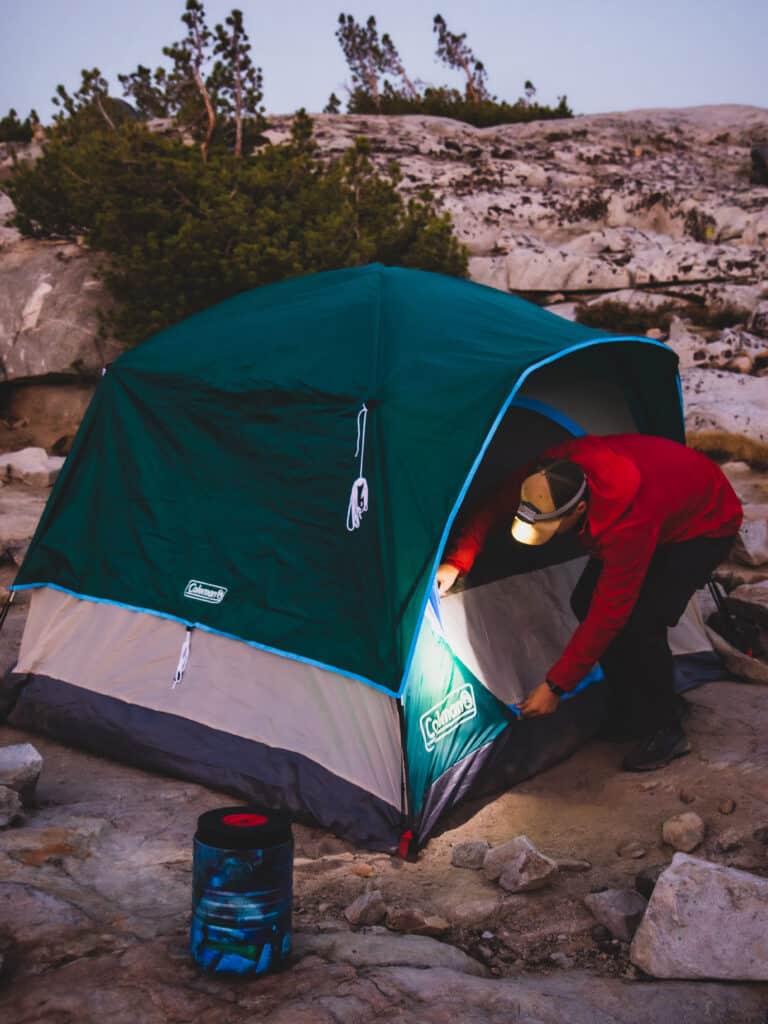 There are no campfires allowed in this part of the Eastern Sierra. You also are not allowed to camp within a quarter-mile of the outlet of Thousand Island Lake. There are some revegetation efforts as well, so you'll need to look for a campsite that's not on plants, far away enough from the water, and on flat, level land. Additionally, you will need to make sure you have a bear canister for food storage as this area is in bear territory. This is also a backcountry camping area, meaning you will have to pack everything in and out with you. Bring reliable water filtration with you as this is a popular area, whether it's with an actual filter or pump, life straw, or iodine tablets. 
Shuttles:
Usually, you have to take a shuttle in order to get to the High Trail trailhead in Agnew Meadows, which would be shuttle stop #1. However, due to COVID the shuttles weren't running, and we were able to get a parking spot at the trailhead. Just so you are informed, if you arrive before 7 AM, you can drive to the trailhead in Agnew Meadows usually but you'll be charged $10 when you leave.
If you arrive after 7 AM, you must take the shuttle bus. If you have the exact change, you can purchase shuttle passes from the driver for $7, but if you don't you have the proper change, you'll need to purchase them from the Mammoth Mountain Visitor Center. The first bus leaves at 7:30 AM. SO, if you want to see the sunrise, make sure to get there early enough to secure a parking spot! The parking lot does indeed fill quickly.
Optional Agnew Meadows Campsite:
There's also a first come, first serve walk-in campground available right next to the trailhead if you decide to drive in to Agnew Meadows the night before you start hiking to Thousand Island Lake. If you decide to take advantage of this to get an early morning start, when you self register, it costs $23 per night for a standard campsite. Make sure you bring exact change and a pen to fill out your permit.
Best Time To Go:
Late Summer. In late August of 2020, we had no snow crossings, no mosquitoes, and perfect sunny weather the entire time we were there. We heard in July there's a ton of mosquitoes, so we'd recommend going August-October before the first big snowstorm hits in the Sierra (depending on the year). In terms of hiking times, definitely try and get an early start if you are hiking during the warmer months since the PCT route is pretty exposed.
What To Bring:
Check out our Ultimate Outdoor Gear Guide for our top backpack, sleeping pads, sleeping bags, and tent recommendations. In terms of food & drink, make sure to print out our Camp Kitchen Essentials checklist as well to make sure you aren't forgetting anything. The PCT was super exposed, so make sure to bring some UPF protective sun clothing and lots of sunscreen, hats, and water. 
Hiking Thousand Island Lake: Agnew Meadows to Thousand Island Lake
PCT High Trail
Mileage to Thousand Island Lake from Agnew Meadows: 8.3 Miles One Way with about a 2000ft elevation gain.
When you start the trail, which starts climbing almost immediately up some switchbacks, there are some incredible views of the valley down below and of the majestic peaks across from you. If you start hiking before sunrise (which we recommend), you can witness some insane alpine glow on the Minarets, Mount Ritter, and Banner Peak. Especially around 3 miles in, there are some great viewpoints along the trail to take in the amazing landscape.
Along the way, you have the option to take some side trips via trail junctions to Summit Lake, Agnew Pass, Clark Lakes, or Badger Lakes. The High Trail is also part of the Pacific Crest Trail. If you continue on the Pacific Crest Trail you will connect with the John Muir Trail near Thousand Island Lake. For full trip data, check out this link! We started the PCT High Trail around 6 am and got to Thousand Island Lake by 11 am.
Mileage from Thousand Island Lake to Agnew Meadows: 9.5 Miles One Way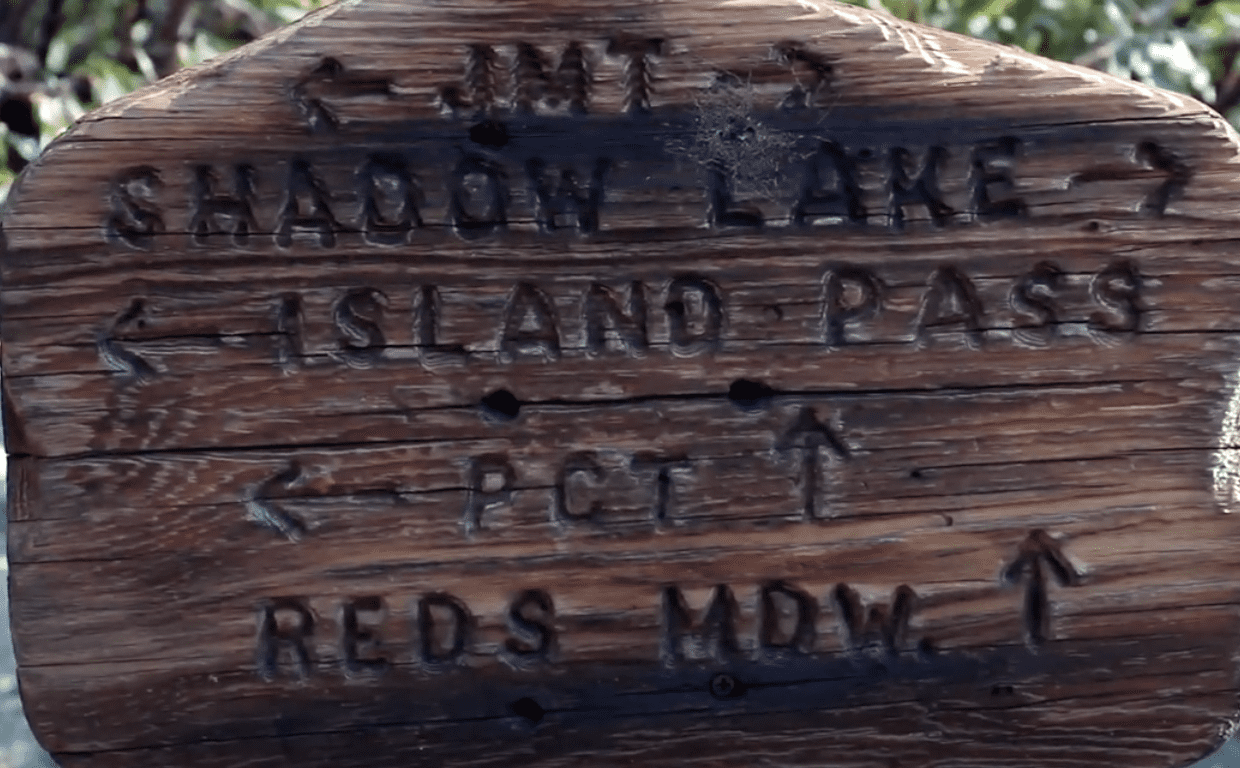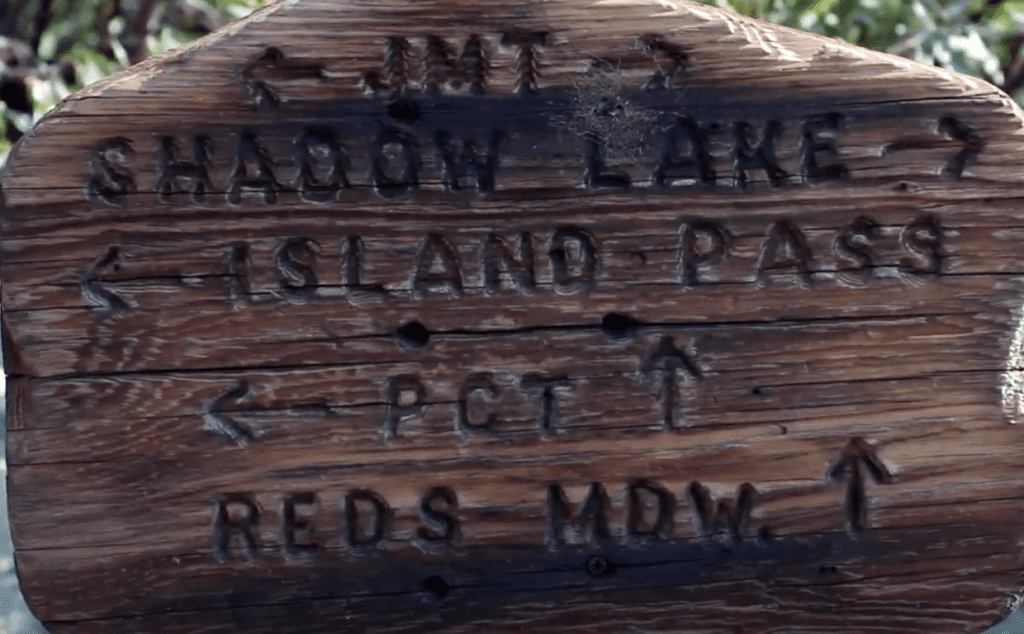 These are the mix of trails we took on our way out. This Thousand Island Lake Loop made our total trail mileage almost 18 miles there and back after taking the PCT for our hike in. You start off by veering right at the outlet of Thousand Island Lake on your way back to Agnew Meadows. 
Follow a sign that points you in the direction of JMT & Shadow Lake if you choose to do this specific route. Very quickly, you will run into a gorgeous view of Emerald Lake, followed by some uphill toward Ruby Lake. There are a ton of uphill switchbacks in this area of the trail, so just be mentally prepared.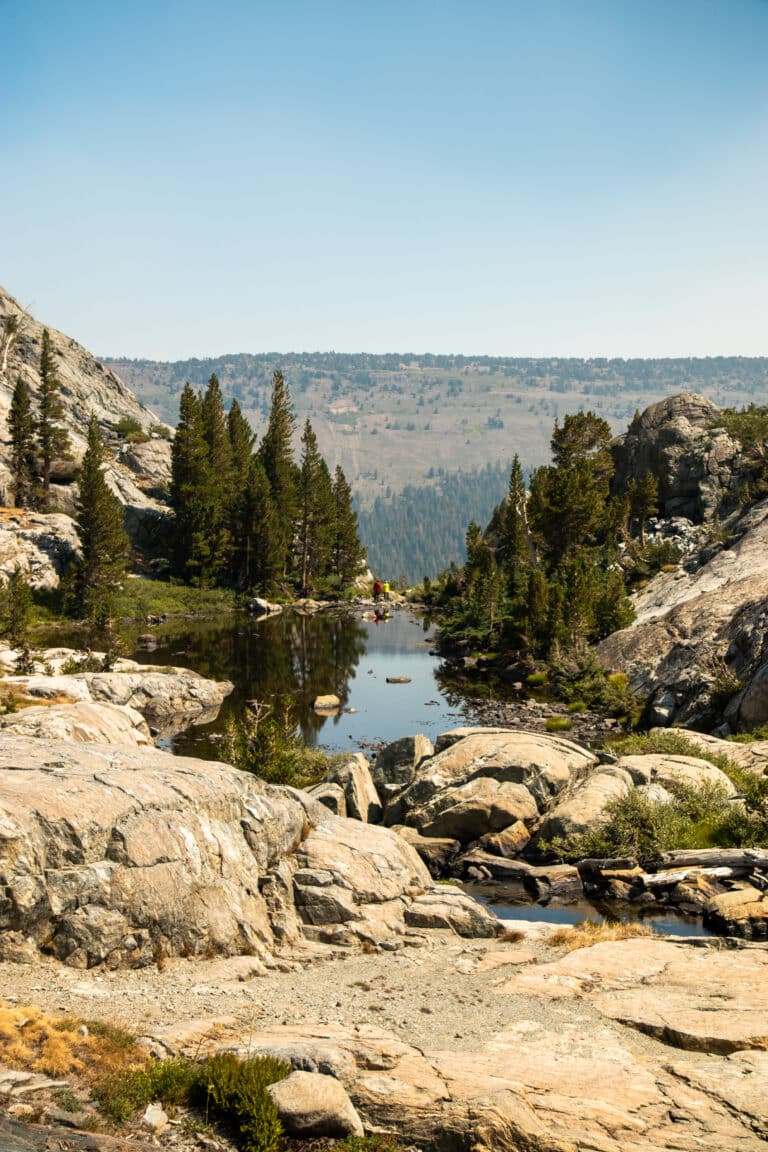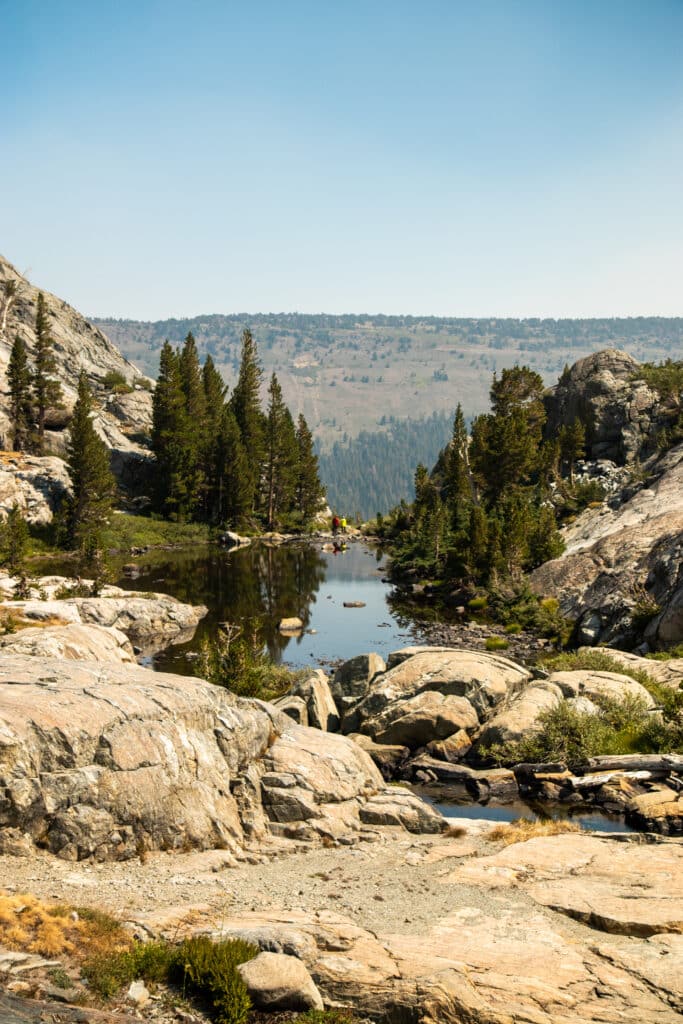 Once you get the first glance of Garnet Lake, you start to drop back down in elevation gain along some switchbacks until you get to a wooden bridge to cross a creek at the outlet of Garnet Lake. This is a great spot to fill up your water for the trail along the way before you get to Shadow Lake. See the picture to the right for reference!
Continue to follow signs that say JMT South until you run into a junction where you can veer off to Ediza Lake or Shadow Lake. Follow the trail to Shadow Lake. We found Shadow Lake to be a great spot to take in the views of the Minarets and to stop for lunch. After passing Shadow Lake, you will encounter a bridge that crosses over with the JMT. Stick to the left to continue back to Agnew Meadows. 
Things to Do Near Thousand Island Lake:
Thousand Island Lake had some amazing opportunities to relax and disconnect in nature. There were several people we saw fishing, relaxing, and jumping in Thousand Island Lake to cool off. If you are interested in adventure or landscape photography, you will absolutely love Thousand Island Lake at sunrise. The water is so still and the reflection of Banner peak in the water is so crisp. It was serene and beautiful, and there was hardly anyone else there. The sunrise here was definitely better than the sunset during our experience in the late summer. If you are an avid peak bagger, this is another spot to attempt Mt. Ritter and Banner Peak as well!
Have you ever hiked to Thousand Island Lake? If so, which route did you take? And, as always, let us know in the comments if you have any questions regarding this trip! See you on the next adventure!