Ultimate Guide to Rovaniemi, Finland in Winter
Published on January 23, 2023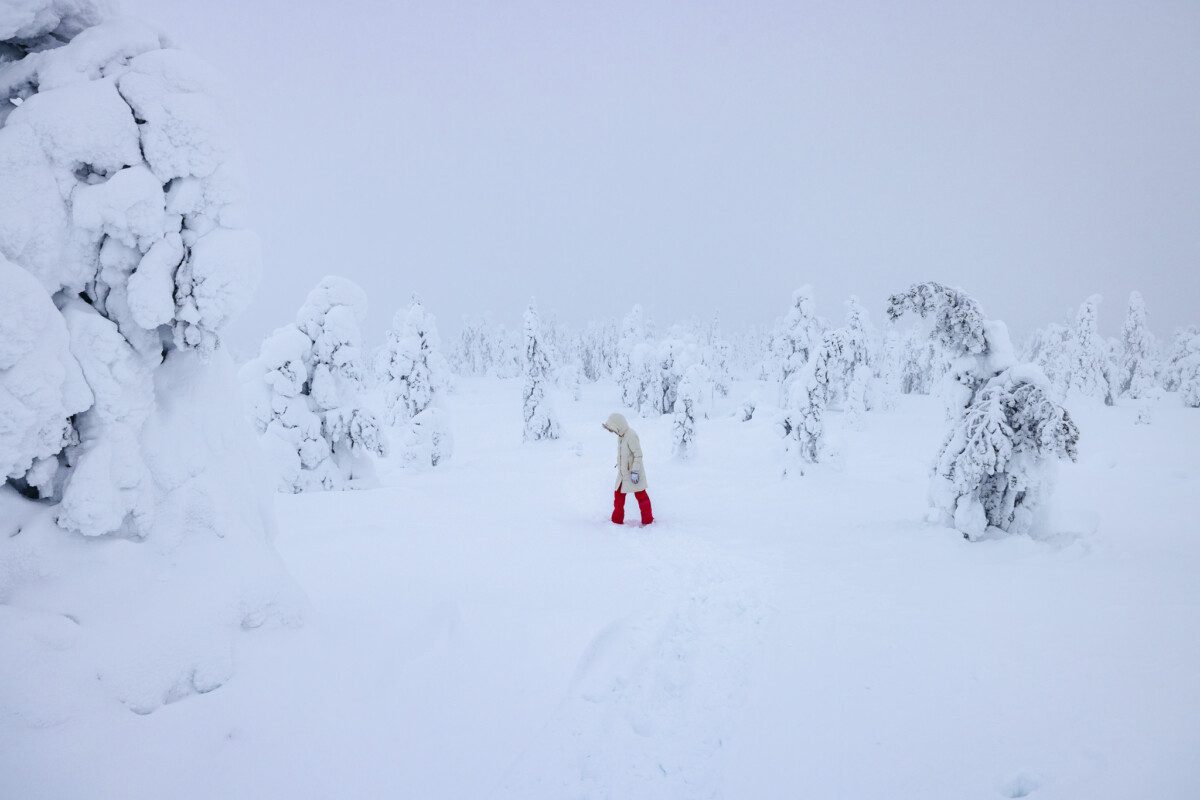 When assessing epic winter travel destinations, Rovaniemi and the Arctic Circle in Finland should be at the top of your bucket list. From gorgeous snowy landscapes, to the northern lights, to husky dog sledding rides, Rovaniemi in the winter has a little bit of adventure for everyone.
In this ultimate guide to Rovaniemi, we're sharing everything you need to know for planning your own trip to Finnish Lapland in the winter time. We'll go over how to get there, recommended accommodations to stay at while chasing the elusive Northern Lights, and all trip planning logistics so you can have the best trip to Lapland.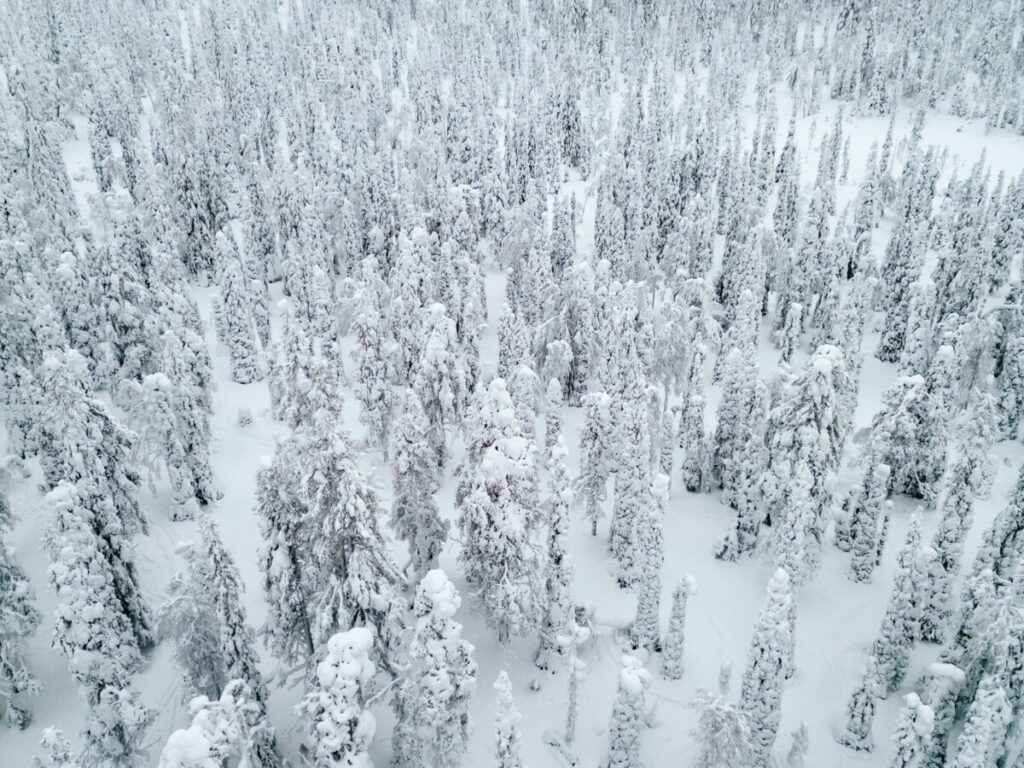 What to Know Before Your Trip Rovaniemi, Finland
This beautiful area of Finnish Lapland really appeared on the radar when it became known as the official home to Santa Claus. Rovaniemi is a true winter wonderland that makes you feel like the Christmas spirit actually lasts all year long.
Best Time to Visit Rovaniemi
Visiting Rovaniemi to See the Northern Lights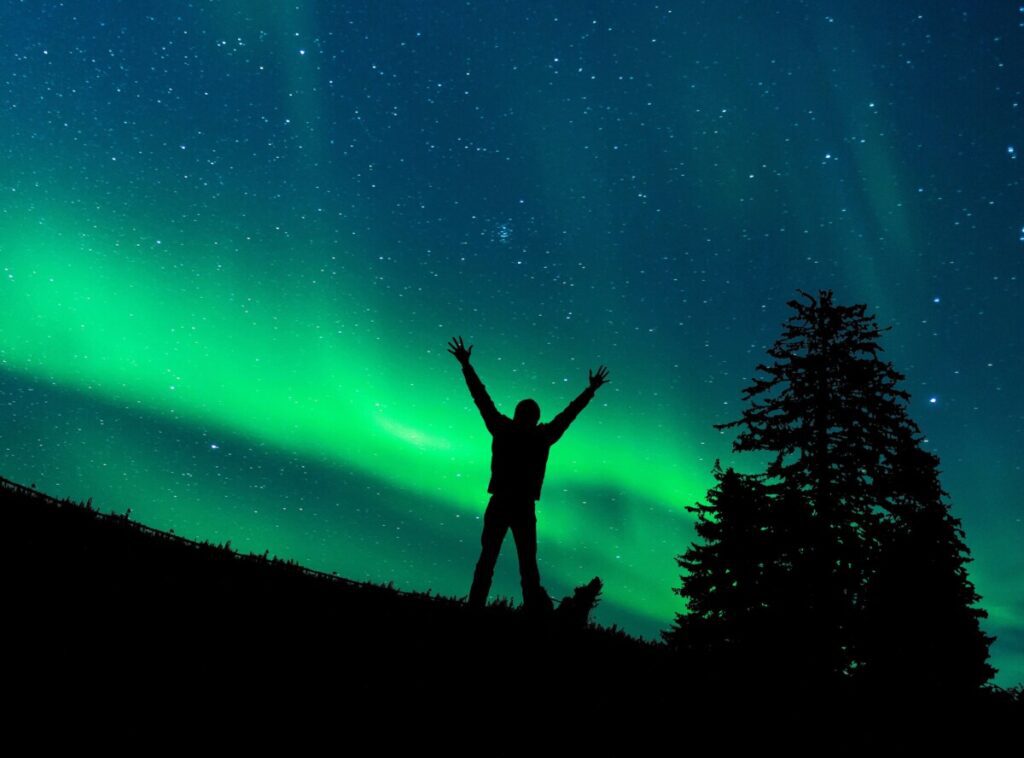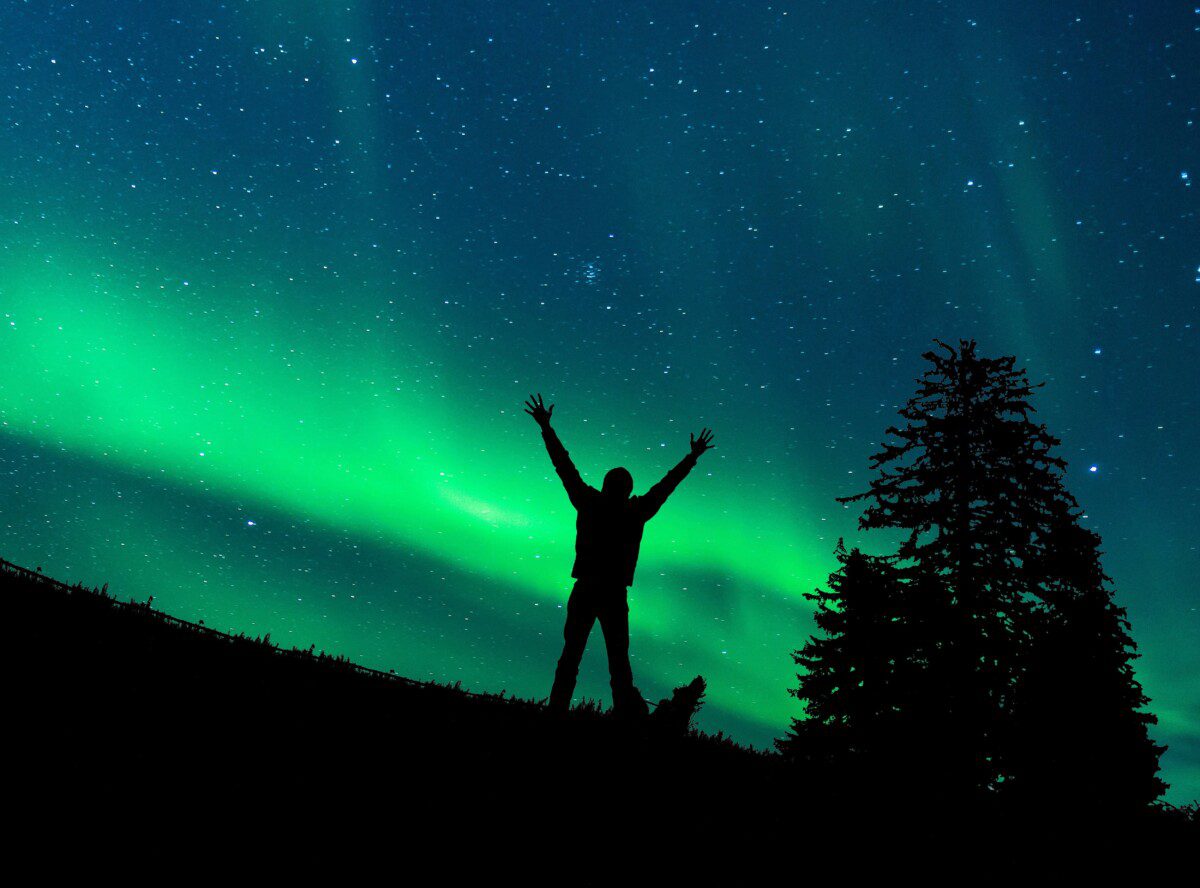 If you're looking to visit Finnish Lapland, there's a few things to consider when it comes to timing. If you'd like to experience the Northern Lights, most blogs recommend visiting from October to April. However, upon talking to locals and from our own experience, the best time to visit Rovaniemi to see the northern lights is actually during late September – early October and late March. More solar activity tends to occur during the autumn and spring equinoxes.
That being said, you can still see the Northern Lights during the rest of the winter time frame. However, the winter weather can diminish your chances of seeing them quite a bit. We were, unfortunately, only able to see the Northern Lights once out of a whole week of attempts due to the clouds being too bad in Rovaniemi during our time there.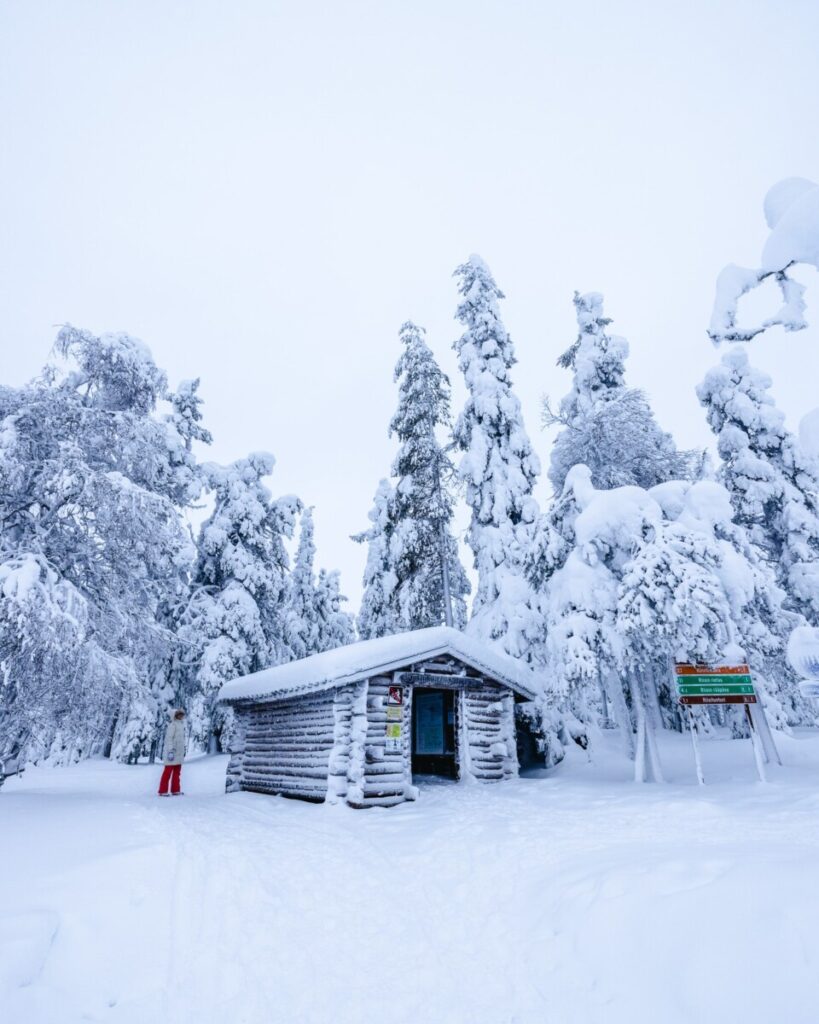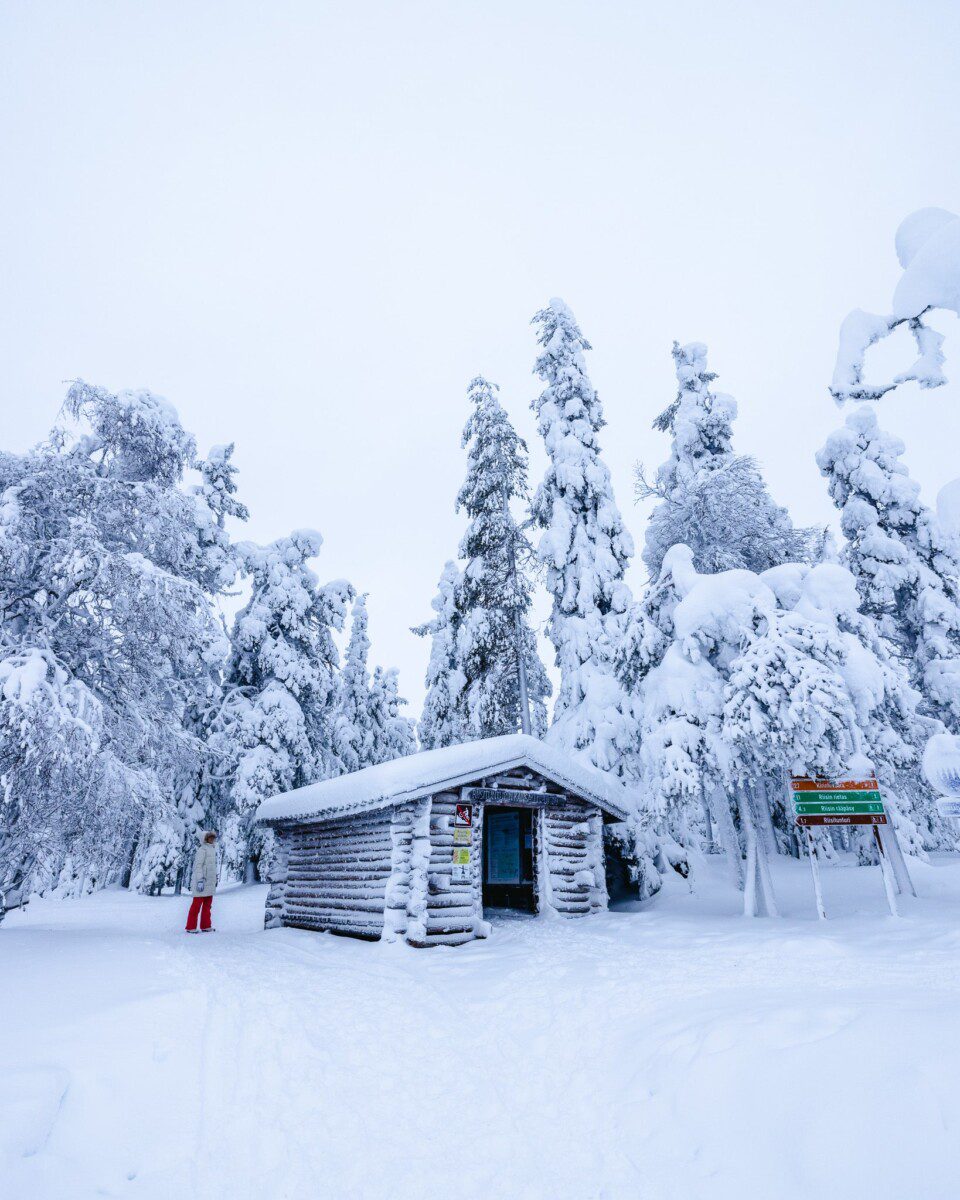 Visiting Rovaniemi for Winter Activities
If you want to visit for the winter activities in Finnish Lapland, then you'll want to plan your trip to Rovaniemi from December to March. After that, most resorts and hotels close down for the rest of the year until tourism picks back up again.
The last two weeks of December and the first two weeks of January are the busy season due to Christmas and New Years. If planning on visiting then, as Rovaniemi is known as the home of Santa Claus, you'll want to make sure you plan your accommodations and activities far in advance to prevent your desired activities from being fully booked.
We visited during the third week of January and it was not crowded at all. Many hotels will also be running discounts, packages, or promotions after the second week of January as the slower season starts.
How Much Time to Spend in Rovaniemi?
We would recommend staying in Rovaniemi for 4-7 days to truly experience everything the area has to offer. This is mainly because visiting Rovaniemi in the winter means that there's less daylight to explore, so having more time will work in your favor to see and do more things. You really don't need more than a week here to get the full winter wonderland experience.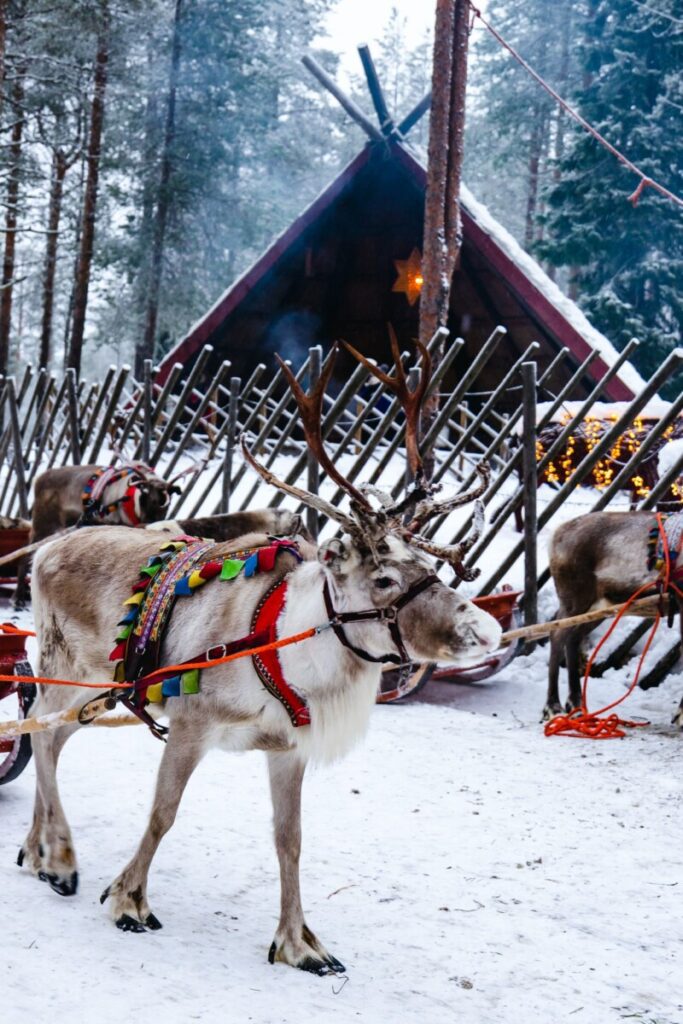 How to Get to Rovaniemi & Finnish Lapland
We opted to fly all the way to Rovaniemi via Finnair. We flew from LAX to Helsinki and then took a flight from Helsinki to Rovaniemi. Connecting in the Helsinki airport was rather painless – we only had a 1 hour layover and were able to make it to our flight in time even with additional customs and passport control. The nice thing about the Helsinki airport too is that if you have a short connection time they do have a specialized lane to help expedite you through security to make your connection.
If you have some extra time while connecting in Rovaniemi, there's 3 great lounge options for AMEX Platinum Holders. You can use our referral link to get an additional bonus offer when you sign up! It's our go to travel credit card.
You can also drive from Helsinki to Rovaniemi; however, that would take about 9.5 hours of your time versus a 1 hour flight. Or, you can take the magical Santa Claus Express Train from Helsinki, which takes anywhere from 8-12 hours.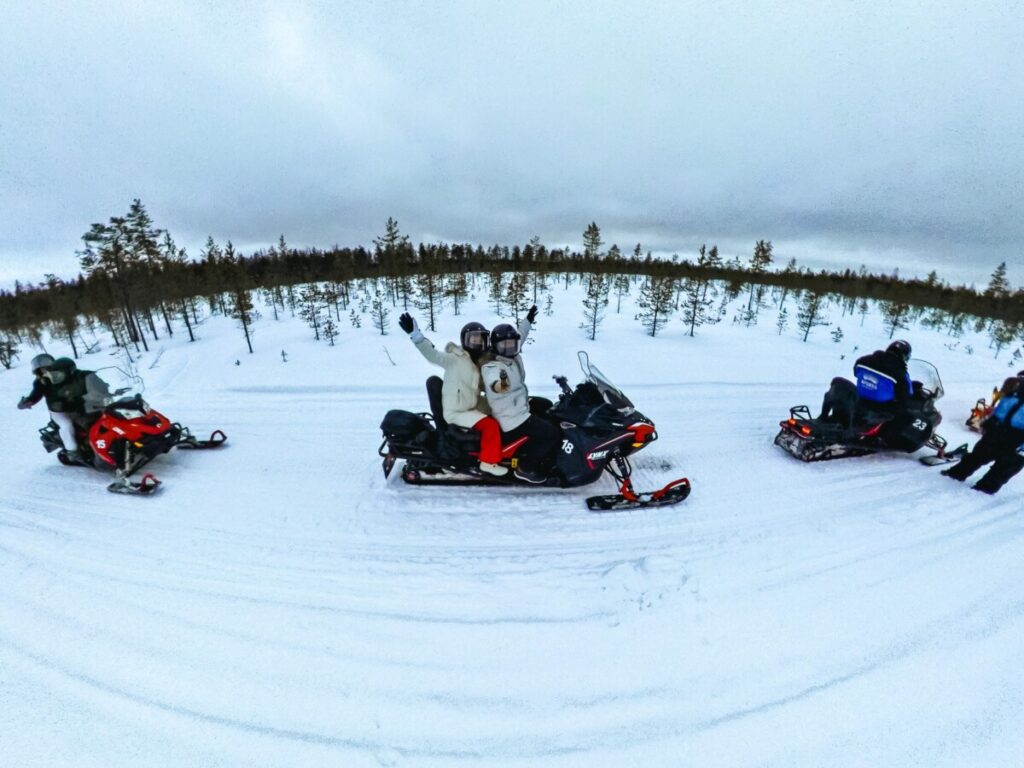 How to Get Around Rovaniemi
Do you need a car in Rovaniemi?
Technically, no – BUT we'd highly recommend it if you want more flexibility on your winter vacation or if you're hotel hopping.
Originally, we were not planning on renting a car in Rovaniemi seeing as there are a ton of free shuttles at most of the touristy resorts and most tours offer pick up/drop off included in their pricing. However, we ended up booking a rental car through Enterprise last minute and were so happy we did.
Having a rental car in Rovaniemi gave us a ton of flexibility when we wanted to go out for a bite to eat, head out to the nearby national parks, and when we wanted to go Aurora hunting on our own without a scheduled tour. We should note, gas is much more expensive here than in the USA, so we opted to rent a hybrid to save some money on that end.
Parking in Rovaniemi is free with most accommodations. If you head into the downtown center, you do have to pay for almost all street parking, however, it's fairly inexpensive.
Rideshare in Finnish Lapland
Contrary to what we read online, there is no Uber, Lyft, or ridesharing in Rovaniemi so it would have been much more difficult to get around when we had free time to explore. There are taxis available though that you can hire, but depending on how often you go into town or explore, you might end up being better off cost wise with a rental car.
Tips on the Winter Road Conditions Around Finnish Lapland
Despite it being winter, we found the roads were much more manageable to drive in snow than we expected. Most of the main roads are plowed a minimum of twice a day.
However, we did notice that a lot of the less popular roads did have more of a snow build up. This was especially apparent on our day trip to Riisitunturi National Park. Just be careful and slow down if you are driving a few hours away at a time as roads can get icy and slippery. The rental cars all have snow tires on which performed phenomenally and we had no issues at all.
How Expensive is a Winter Trip to Rovaniemi?
Finland is on the Euro system for currency. If you are balling on a budget, we hate to say Rovaniemi is probably not the best option for you. There are definitely ways to save some money by only using free transportation, cooking your own food, and staying in AirBnBs instead of hotels and resorts, but the area in general is pretty pricey.
Almost all places we went to in Rovaniemi accept credit cards, although some don't take AMEX, however we didn't need to take cash out at all on this trip. Tipping is also already included in most things and is not as customary as in the USA, so you won't typically have to add additional expenses on top of the price you're paying for restaurants and activities.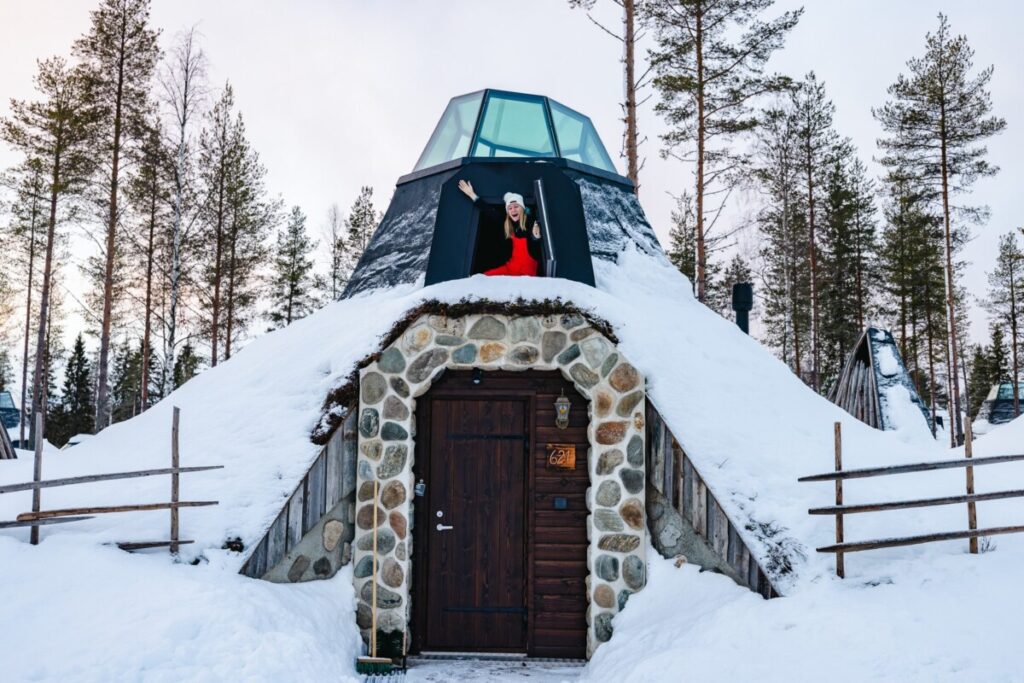 Where to Stay
What are the best hotels in Rovaniemi, Finland? Aside from trying to chase the Northern Lights, Rovaniemi has some of the coolest, most unique accommodations in Lapland. We had the opportunity to stay at some bucket list worthy spots around Rovaniemi. We booked stays from aurora cabins to a hotel made entirely out of snow and ice.
There's a ton of options to choose from, but most do opt to stay in an aurora cabin during the winter time. If you're trying to visit Rovaniemi in the winter on a budget, try checking out non-aurora related stays and AirBnBs.
Unique AirBnBs & Hotels in Rovaniemi
Aurora Igloo Dome AirBnB: This was the cheapest option of the properties we stayed in for the week. It had heated floors, a heated blanket, and was lit primarily by candles and a fireplace for a fun and romantic ambience. There was a kitchenette where you could make coffee and heat up some food – but not a full kitchen to cook! This location was great as it was about 20 minutes away from the airport and 10 minutes from downtown Rovaniemi.
Apukka Resort: Apukka was probably our favorite accommodation in Rovaniemi that we stayed at in the winter. Not only were the Lappish Kammi Suites beautiful, but there was also such a plethora of things to do here. Their activities list to choose from was massive so you could do everything from a traditional lakeside sauna, to husky sledding, to snowmobiling, and so much more! The best part is they gave us a coupon code for our readers. When booking straight on Apukka Resort's website www.apukkaresort.fi with the code LATEWINTER you'll get a 20% discount on all accommodation for stays between March 27-April 10, 2023. A night in an Aurora Cabin glass igloo now starting from 288.80€/night! 
Arctic Snow Hotel: It's not every day you can stay in a hotel that is entirely made out of snow and ice. This experience was definitely for the bucket list! Every year this hotel is only available from December – March before it closes down and melts. Each room is totally unique and the hotel actually changes every single year! We booked the 5 Senses of Ice Package and were able to sleep in a snow room one night, go ice fishing, eat at the ice restaurant and drink at the ice bar, and relax in the world's only snow sauna.
Glass Igloos: After our stay in the snow hotel, we finished at the same resort's glass igloos. Similar to Apukka, they had a beautiful panoramic ceiling for aurora viewing.
Arctic Tree House Hotel: This ultra luxury resort is a gorgeous getaway for those looking for more private views of the auroras.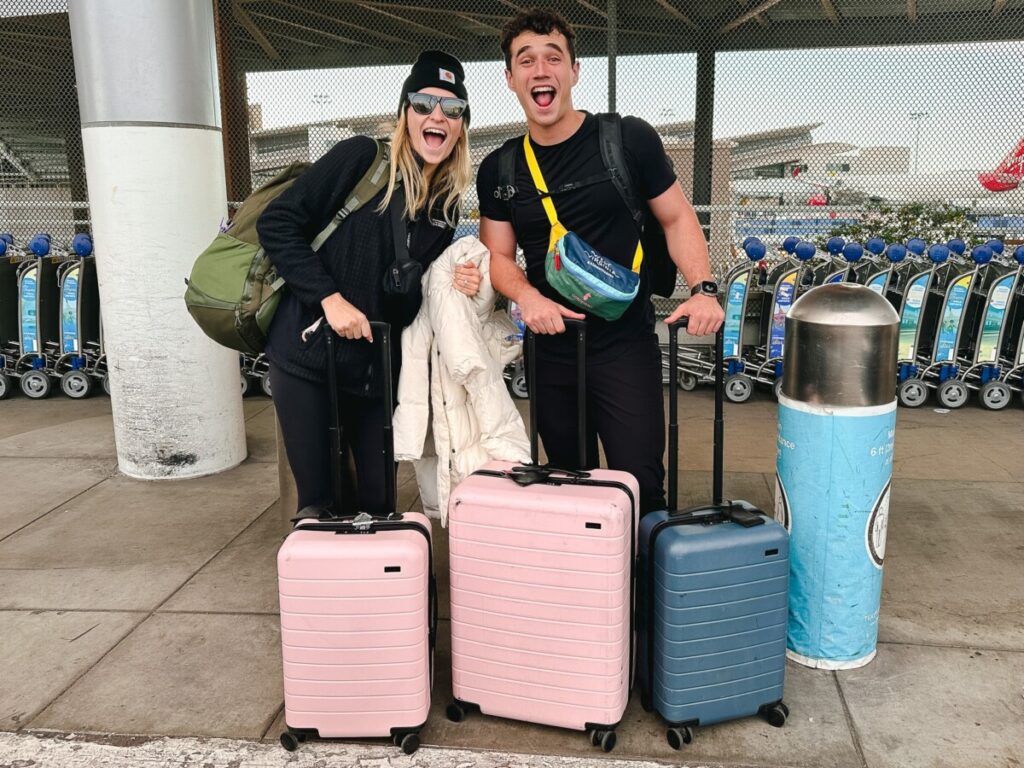 Weather & Packing for Your Winter Trip to Finland
Keep in mind, the weather in Finland during the winter is no joke – it gets very cold. Typically, temps get to -30 to -40 degrees Celsius in January and February. You will want to make sure that you are prepared when you are packing.
Daylight Hours During the Winter
When visiting Lapland in the winter, it's also good to know that daylight typically only lasts for about 3-4 hours! The sun rises around 10:30am and sets around 2:30pm. You'll want to schedule most of your outdoor activities during those hours if you aren't doing an aurora hunt.
Average Weather in Rovaniemi, Finland
Below are the average minimum and maximum temperatures you can expect from Rovaniemi's winter weather when you visit:
Rovaniemi Finland Weather November: 32°F / 22°F
Rovaniemi Finland Weather December: 24°F / 11 °F
Rovaniemi Finland Weather January: 18°F / 4°F
Rovaniemi Finland Weather February: 22°F / 7°F
Rovaniemi Finland Weather March: 32°F / 14°F
We'd recommend using these temperatures in Rovaniemi in the past as guidelines for your packing. We'd keep track of the weather in real time using the app Windy, as that's what the locals recommended to us! You'll definitely want to try to pack several layers to accommodate various possible weather conditions from rain, wind, and snow. Also, make sure you pack lots of waterproof apparel and merino wool materials to stay dry and warm.
Stephen and I opted to bring all of our own winter clothes. If you'd like to see what we packed, you can check out our full winter packing list for Finland.
Renting Winter Clothes
The nice thing is that if you do book tours or stay at resorts around Rovaniemi you can likely rent snow apparel for free. Most places do offer outfittings for free in an accommodation or tour package. If you feel that you don't have the right clothes and don't want to spend a ton of money ahead of time to get some, this is a great option.
Seeing the Northern Lights in Rovaniemi in the Winter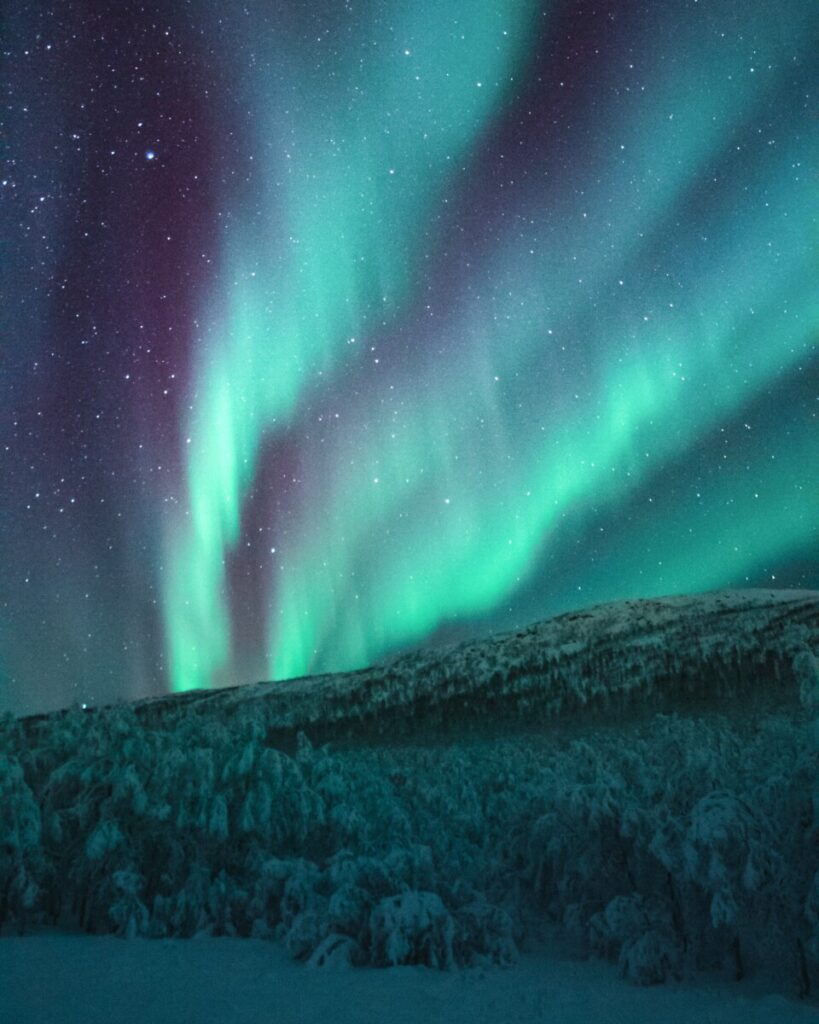 Conditions You Need to See the Northern Lights in Finland
Although you are in the Arctic Circle in Rovaniemi, there's no guarantee that you'll see the northern lights. There are 3 conditions that you need to have prime Aurora viewing:
Cloud Free Sky: When visiting Rovaniemi in the winter, this is going to be your biggest battle. We visited for one week in January and didn't have a single non-cloudy day all week. It's still possible to see the northern lights if there are breaks in the clouds, it's just much more unlikely if there is 90-100% cloud coverage.
High Aurora Index: There needs to be enough solar activity for the aurora to show up. You can check the KP Index which measures the activity on a scale of 0-7 on any northern lights apps. We'd recommend using apps like Aurora and Northern Lights to track the probabilities of aurora. They also allow you to get real time alerts when they are visible in your area.
Dark Sky: You need to have a completely dark sky so you're able to see the stars and Aurora. That's why you can't see them during the day time. The most optimal viewing times are typically around 10pm-3am.
Light Pollution in Rovaniemi
Something that was super surprising to us was that Rovaniemi had a lot of light pollution in the city center area despite being known as a top Northern Lights viewing area. It is still possible to see Aurora from the city. However, you do have to drive further away by 20-30 minutes for better viewing conditions.
Finnish Lapland Winter Photography Tips
Winter Photography
When taking photos out in the snow during winter, you're going to want to make sure you camera gear is weather proof or weather resistant. We use the Canon R5 and love that it's weatherproof so we can use it out in winter conditions.
Because of the extremely cold temperatures, your camera batteries are also going to die much quicker than usual. We will typically take the batteries out when we aren't using them and keep them warm in our pockets.
When it comes to drone photography in Finnish Lapland, you can actually do a lot! Finland has some of the least amount of restrictions to fly. Since we only travel with a drone under 250g, we didn't need to register it. However, if yours is heavier than that you'll need to register it in advance.
Northern Lights Photography
Pro Tip: Your best chance at capturing the most epic Northern Lights photos in Lapland will be during October or March around the equinoxes. Here are a few things you'll need to take the best photos of the auroras:
Extra Batteries
Wireless Bluetooth Remote or Self-Timer
Headlamp
If you book an aurora photography tour in Rovaniemi, they'll typically have additional tripods and headlamps for you to borrow.
We brought our full adventure photography camera gear setup with us. In reality, the most important thing to bring is your camera with a wide lens with the lowest aperture you have. Want to be a pro photographer in time for your trip to Finnish Lapland? Check out our travel photography e-book, where we teach you the essentials on how to shoot in manual mode.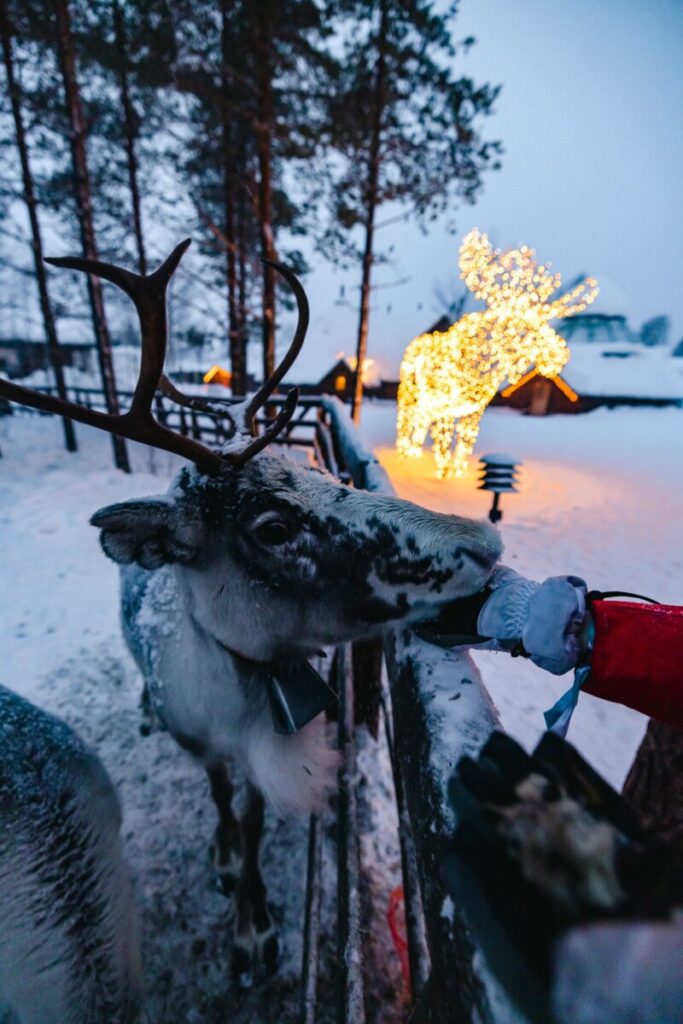 Booking Tours vs. Exploring On Your Own
The great thing about visiting Rovaniemi in the winter is that there are SO many different activities and excursions you can do during your trip! Whether you are into snowshoeing, snowmobiling, going on a husky tour, or just hunting for the Northern Lights, there are enough activities to keep you busy every day for a week. Stay tuned for our full blog post on the best things to do in Rovaniemi in the winter!
However, just because there are a variety of tours, doesn't mean you should limit yourself to strictly doing them during your time in Finnish Lapland. We found every guided aurora group activity to be a lot of the same. You are basically guaranteed to end your night with sausages, warm berry juice and a campfire in teepee.
We'd honestly not recommend booking any Aurora related tours depending on weather. If the weather in all of Lapland (Norway, Sweden, and Finland) has a 100% cloud coverage forecast or is snowing, you're basically guaranteed to not see any northern lights and will be wasting your time and money. Otherwise, you will spend another night just sitting in the teepee with sausages and no aurora for a hundred dollars.
If you're really stubborn and want to still hunt despite a bad weather forecast, opt for a real Aurora hunter. We'd recommend Arctic Road Trips. They will cancel your tour if they genuinely think you will not have a shot at seeing the auroras.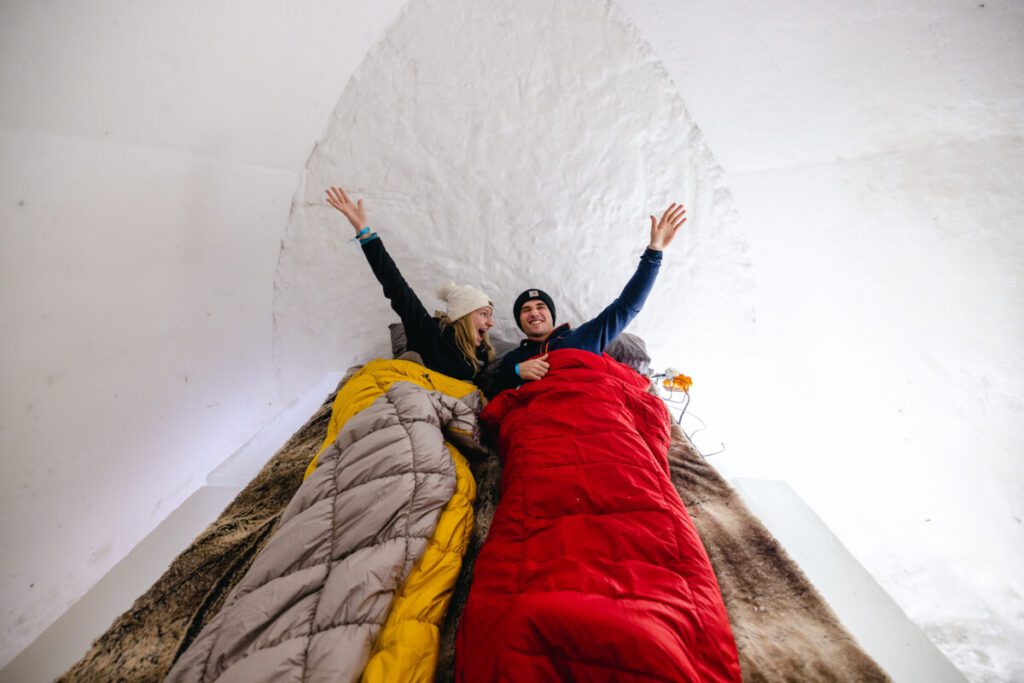 Rovaniemi in the Winter | FAQs
Still, have some questions about visiting Rovaniemi in winter? Below are some of the frequently asked questions about a winter visit to this beautiful area of Finnish Lapland.
Where is Rovaniemi in Finland?
Rovaniemi is located right above the Arctic Circle in northern Finland. It's sandwiched right in the middle of the country, adjacent to Sweden and Russia.
What languages do you need to know in Finland?
Obviously, most people in Finland speak Finnish. However, if you know English, you will be perfectly fine getting around! Almost everyone speaks English, especially those in the tourism industry.
Is Rovaniemi, Finland safe?
We felt super safe during our whole trip to Finland. Whereas most locations we don't recommend doing this, we were able to leave our luggage in the car without any fear of people stealing it or breaking our car windows. We'd definitely say Rovaniemi is solo traveler friendly.
What's the food like in Finland?
You will find most food available in the Rovaniemi region focus around reindeer, salmon, elk, or fish. Pizzas and soups are also very popular. They also harvest a ton of fresh berries and make delicious berry juice and jams from these in the region.
What time zone is Rovaniemi on?
Rovaniemi is on Eastern European Time which is GMT+2.
Are you ready to visit Rovaniemi in the Winter?
We hope this blog post was a good starting place for your Rovaniemi, Finland trip planning. Let us know in the comments if there is something specific you would like us to share about our experience. And, keep an eye out for our future guide on the best things to do in Rovaniemi!
Looking for other great winter destinations? Check out our other winter travel guides to Snowmass, Edmonton & Jasper & Sequoia & Kings Canyon National Parks.