Grand Canyon Hiking Guide: Adventures, Tours, and Trails
Published on June 30, 2023
|
Hiking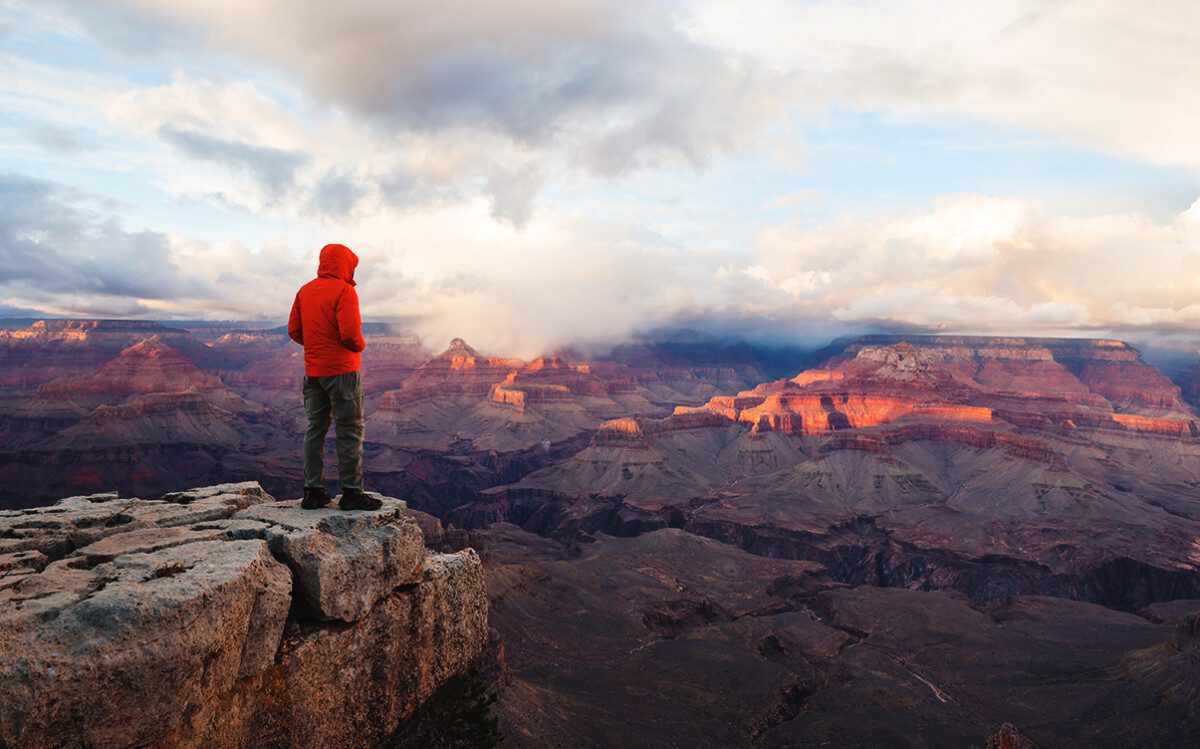 The Grand Canyon features in all sorts of media, both as direct depictions and as a reference for much more, but relatively few people ever visit it in person. Let us say, if you've never been, find the time to visit. It's much more impressive in person than you would ever imagine, and nothing beats being able to see it up close, hike into and through it, and have yourself a canyon adventure.
So, what are the must-visit locations, the best trails to hike, and the more guided, official tours you can take? There's something for everyone, so let's dig in.
Must-Visit Sites in the Grand Canyon
The Grand Canyon is huge. It's not the largest in the world – the Kali Gandaki Gorge in Nepal is three times deeper, for example – but it's both much more local and easily reached than canyons halfway around the world, and it's a lot more accessible to hikers and adventurers like us.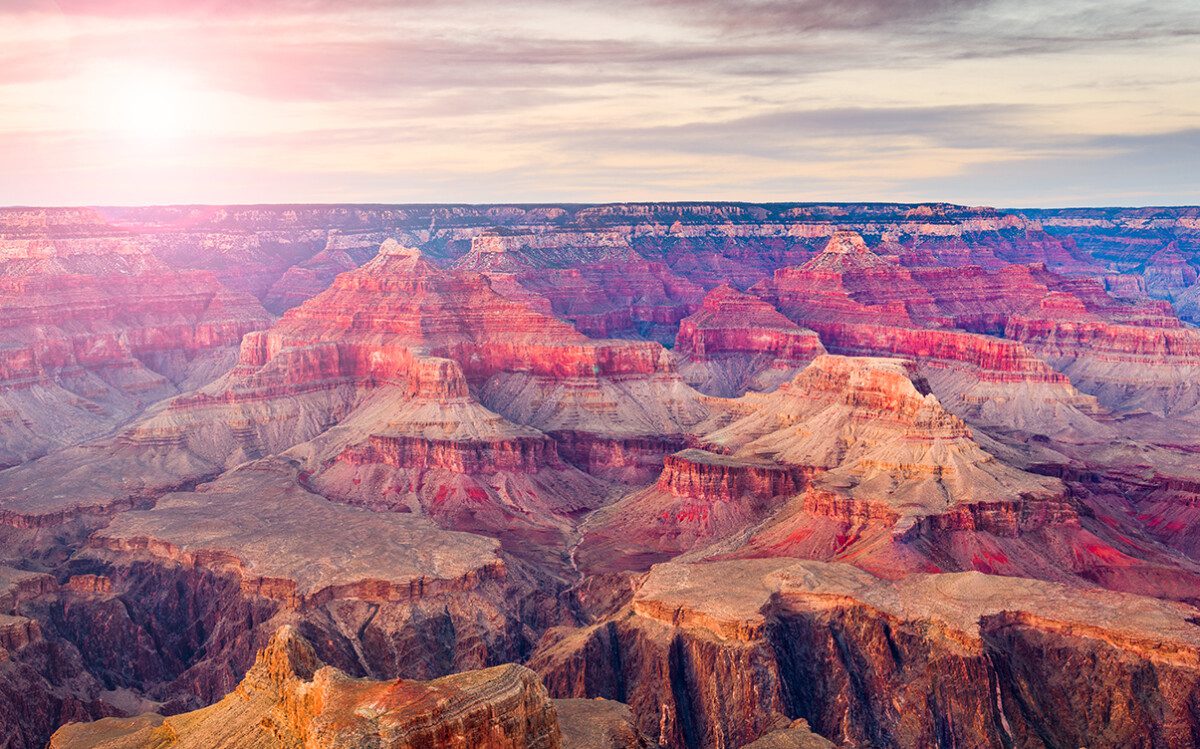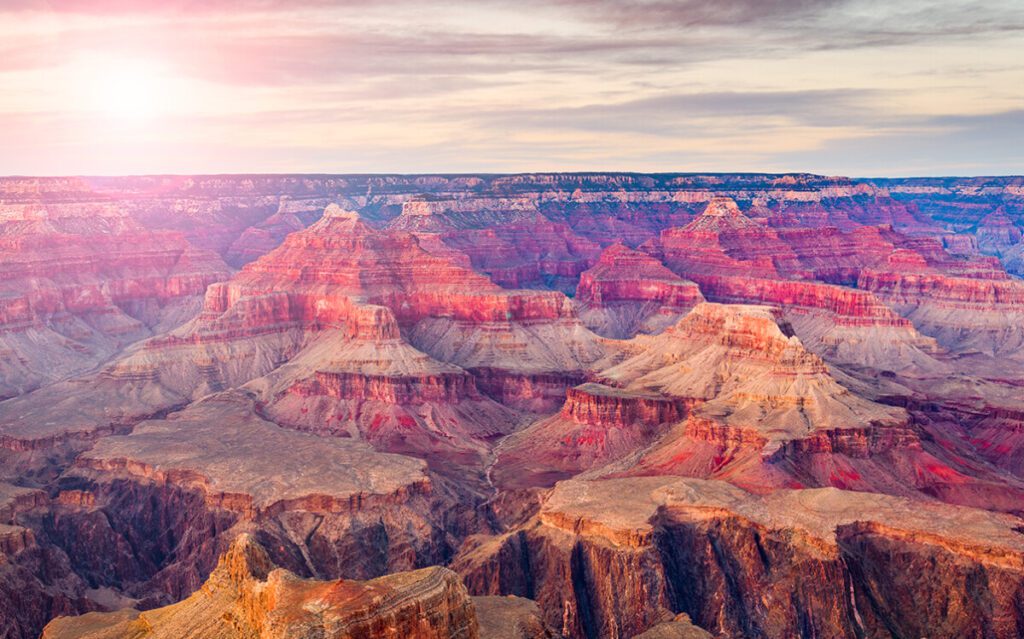 Stretching over 270 miles long, there are a ton of different overlooks, trails, and sites along both sides of the canyon that offer stunning views and scenery you can't get anywhere else. So, what are the must-visit sites?
Mather Point Overlook
Mather Point is one of the more popular options. It's a relatively small peninsula jutting out into the canyon, and it's one of the most spectacular views you can get of the canyon itself… if you can look past the crowds.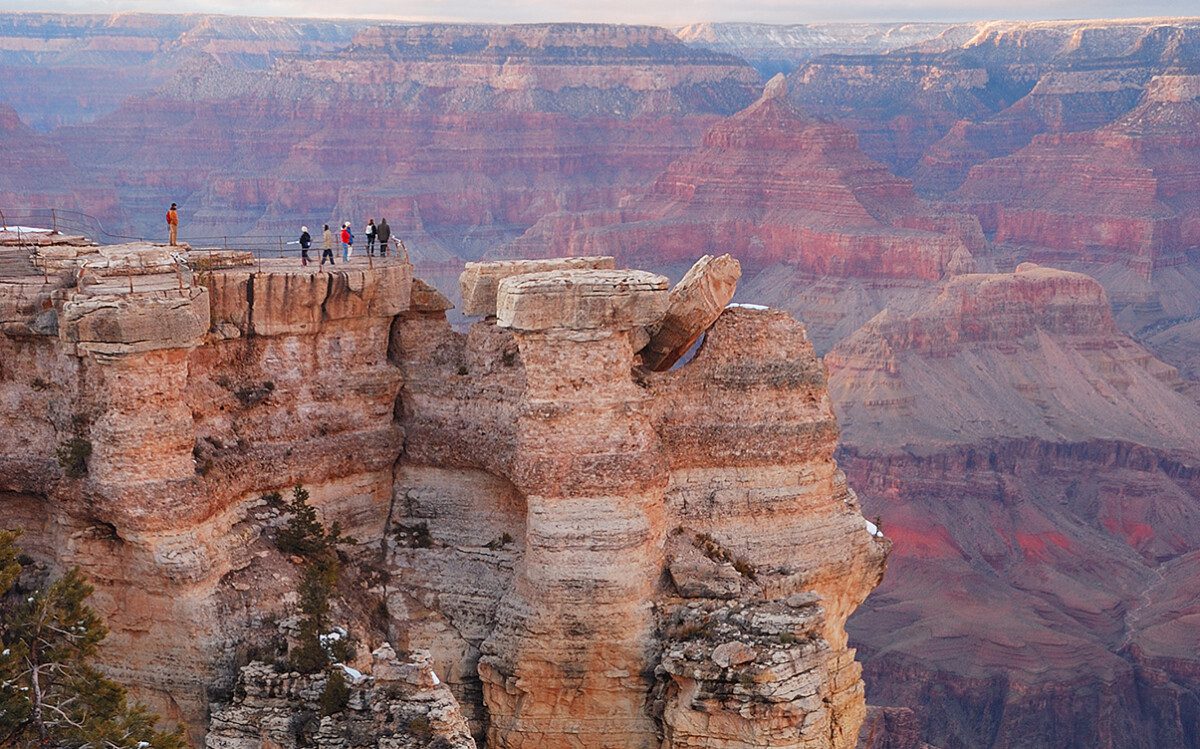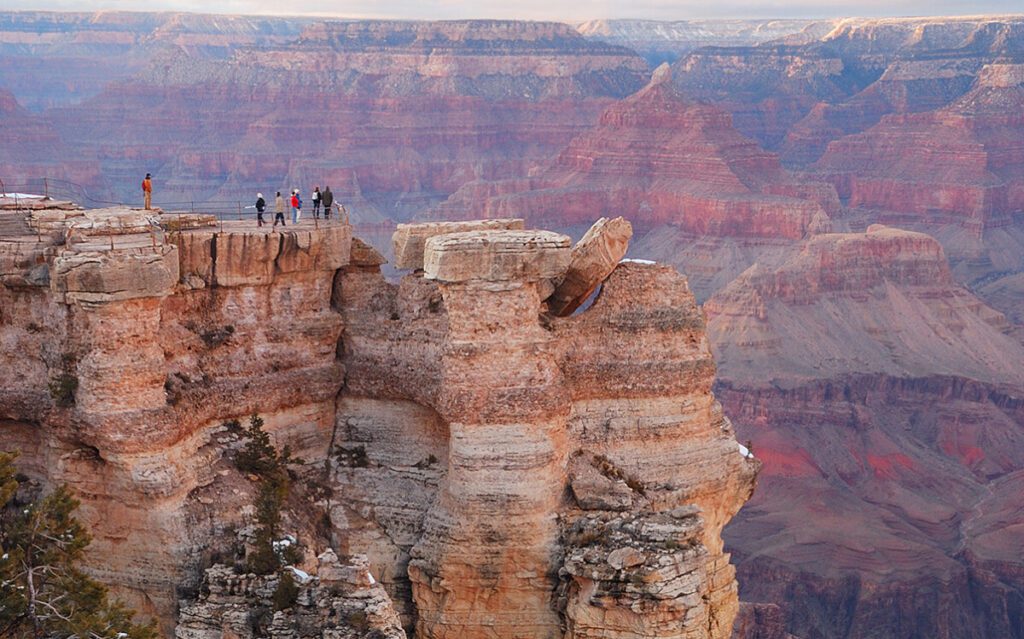 It's very accessible with just an easy walk from the visitor's center, and it's a popular destination, so it tends to be rather densely populated on busy days. Think of it as an impressive but impersonal adventure.
Geology Museum
Another of the more touristy locations, the geology museum is situated over an impressive viewpoint of the canyon. It's not the deepest or the best vista, but it's perfectly illustrative of the unique geology of the area, which is why it was chosen.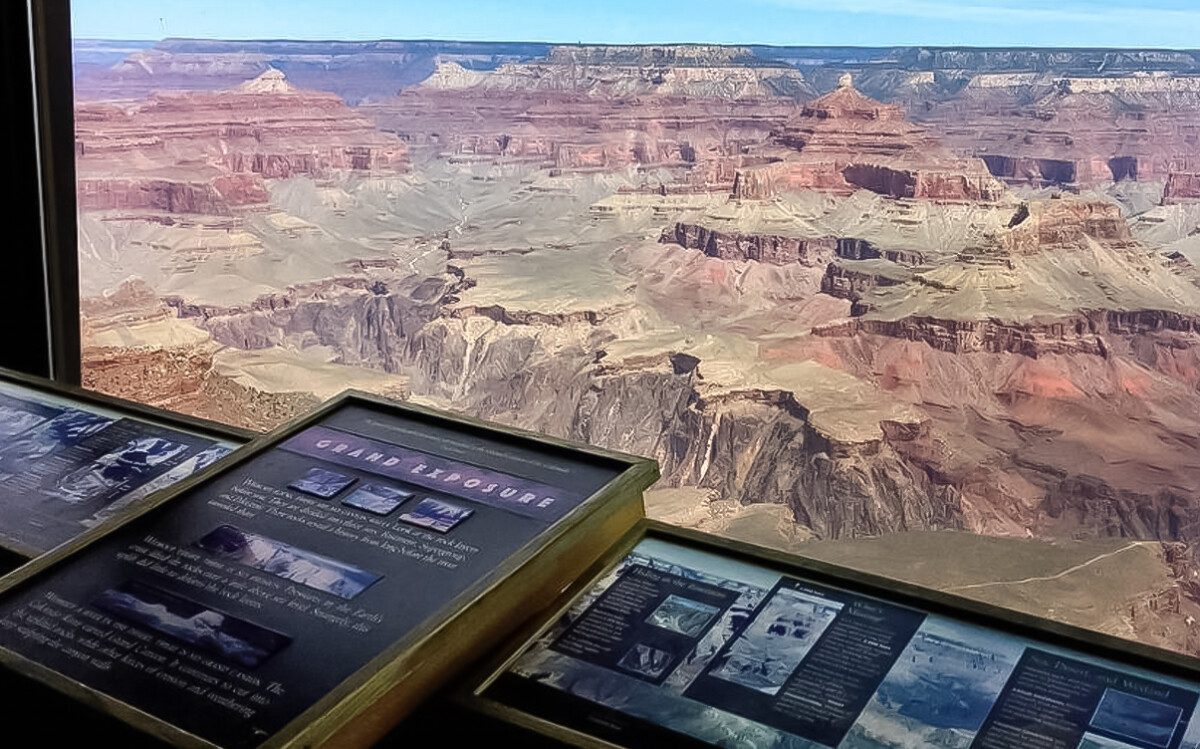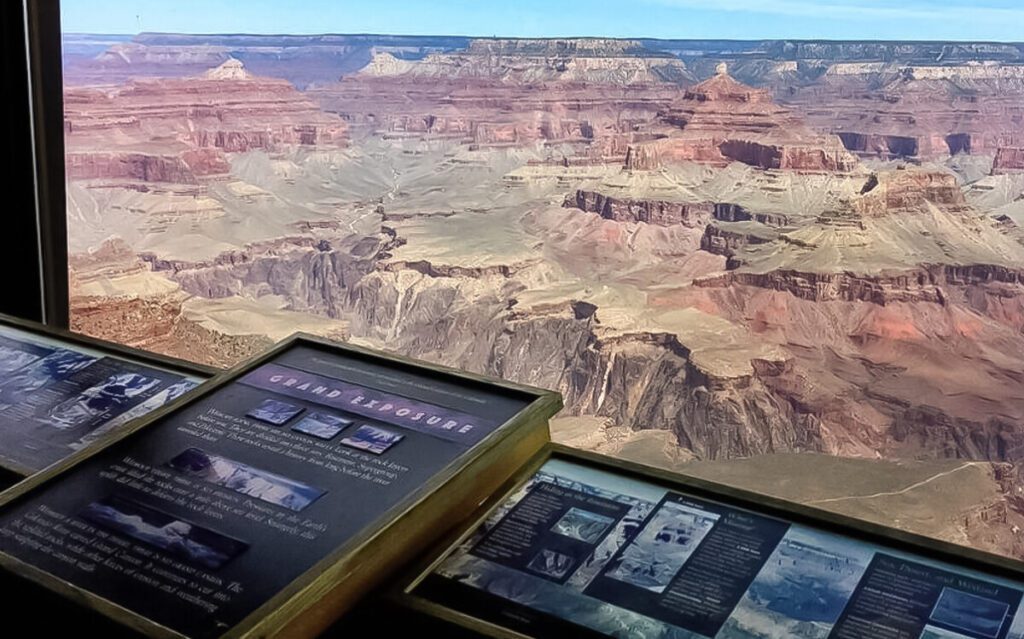 It's extremely informative, teaching visitors all about how the canyon was formed and what those gorgeous bands of rock actually mean. You can also look down and out over several trails you can then go hike if you're so inclined.
Havasupai Oasis
Havasupai is found along the Bright Angel trail, a hike we'll cover a bit later in this post. It also has a more common access route from Hualapai Hilltop, where you can drive in and park for a hike into the oasis. It's still a ten-mile hike, though, so it's not easy.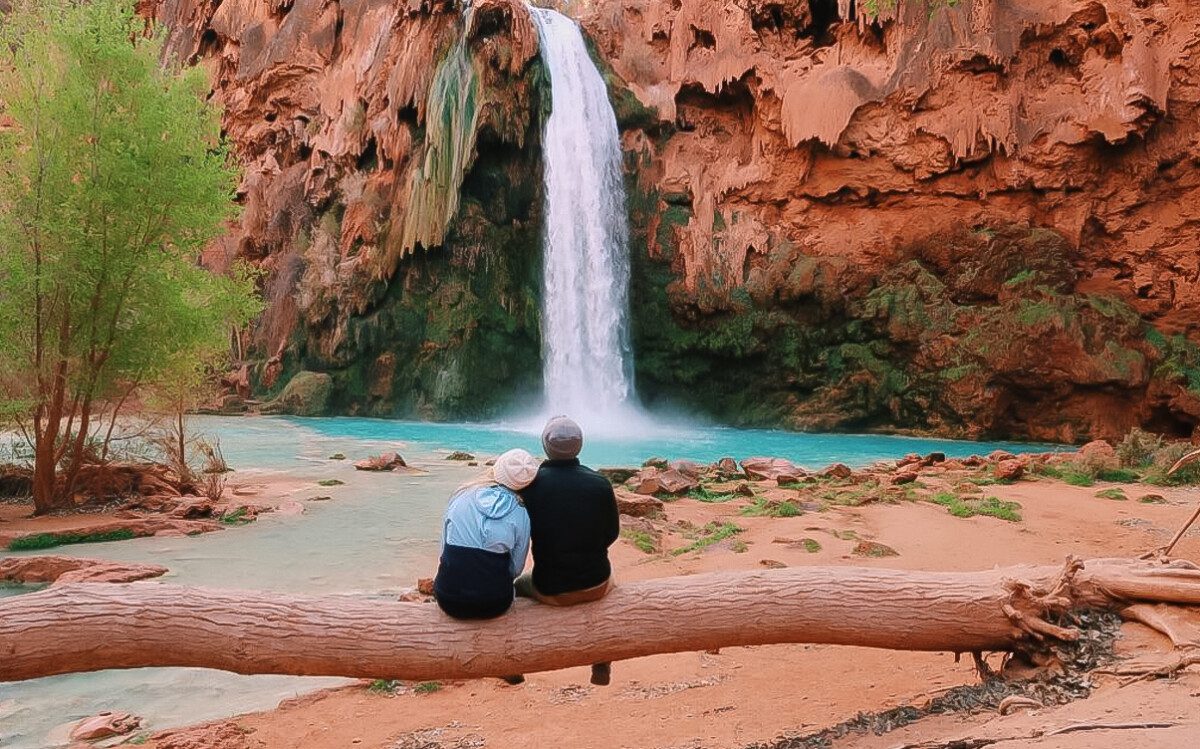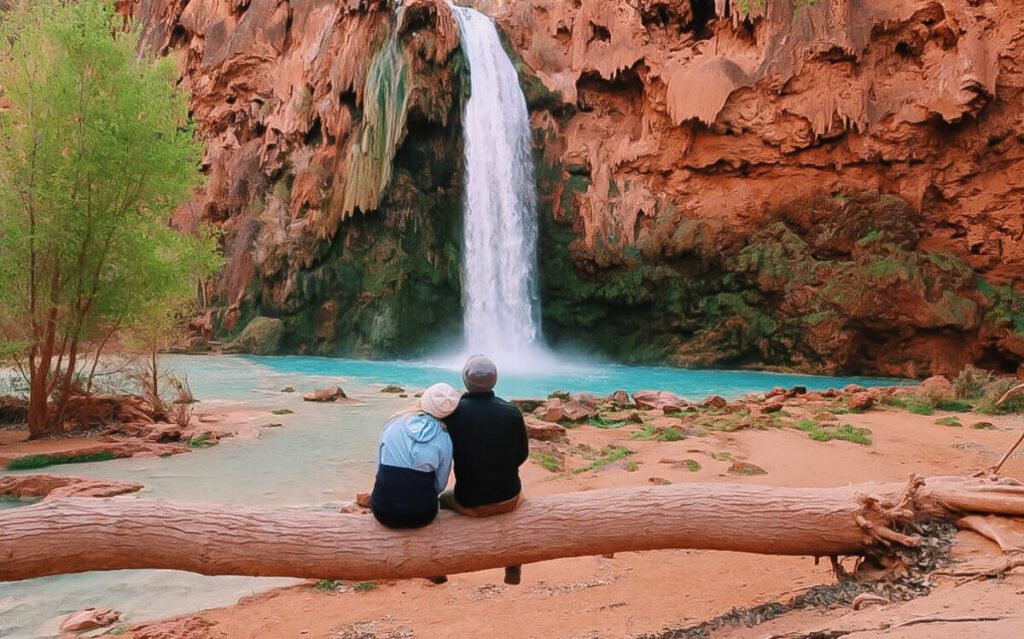 You can read a lot more on this site, in particular, over here. Note that the reservation and oasis have a permit system in place due to the sheer number of people visiting it.
Point Imperial
The highest point in the Canyon, and the northern boundary of the park, Point Imperial is one of the most impressive views you can get in the canyon. It's also somewhat less frequently visited due to how remote it is to reach.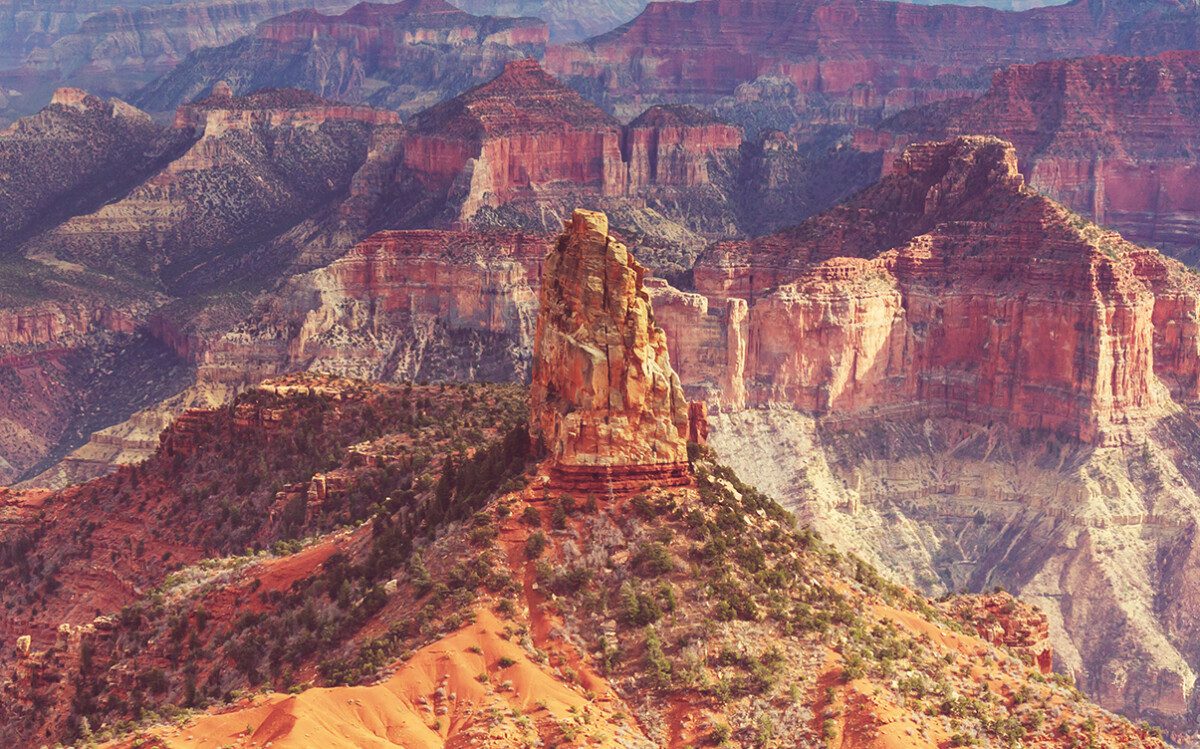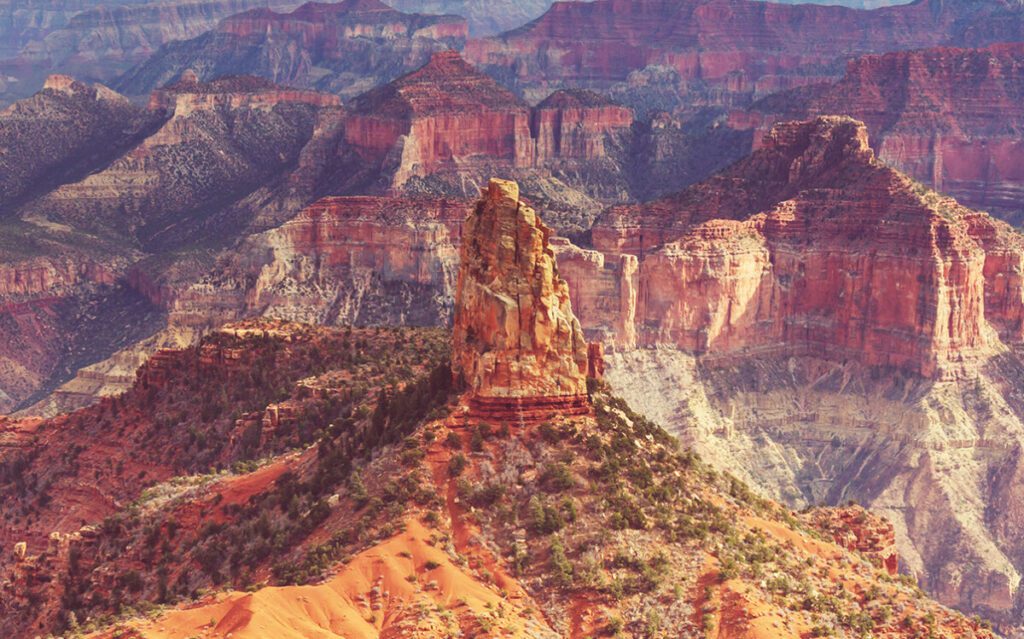 If you want to swing it, you can time a visit to watch the sun rise over the canyon for an unforgettable view. It's not exactly a hike, just a long drive, but it can be part of a more extensive North Rim journey.
Best Trails to Hike in the Grand Canyon
We've talked about some of the best sites, but what about the routes to get there? There are all sorts of different trails into, around, and through the Grand Canyon, so there's something available for hikers and adventurers of all sorts. Here are some of our favorites and, of course, the popular options as well.
Rim Trail Hike
The Rim Trail follows the south rim of the canyon for 13 miles, and it's one of the easiest hiking adventures you can possibly have. It's paved, it's smooth and level, and it's incredibly scenic; the best of all possible worlds.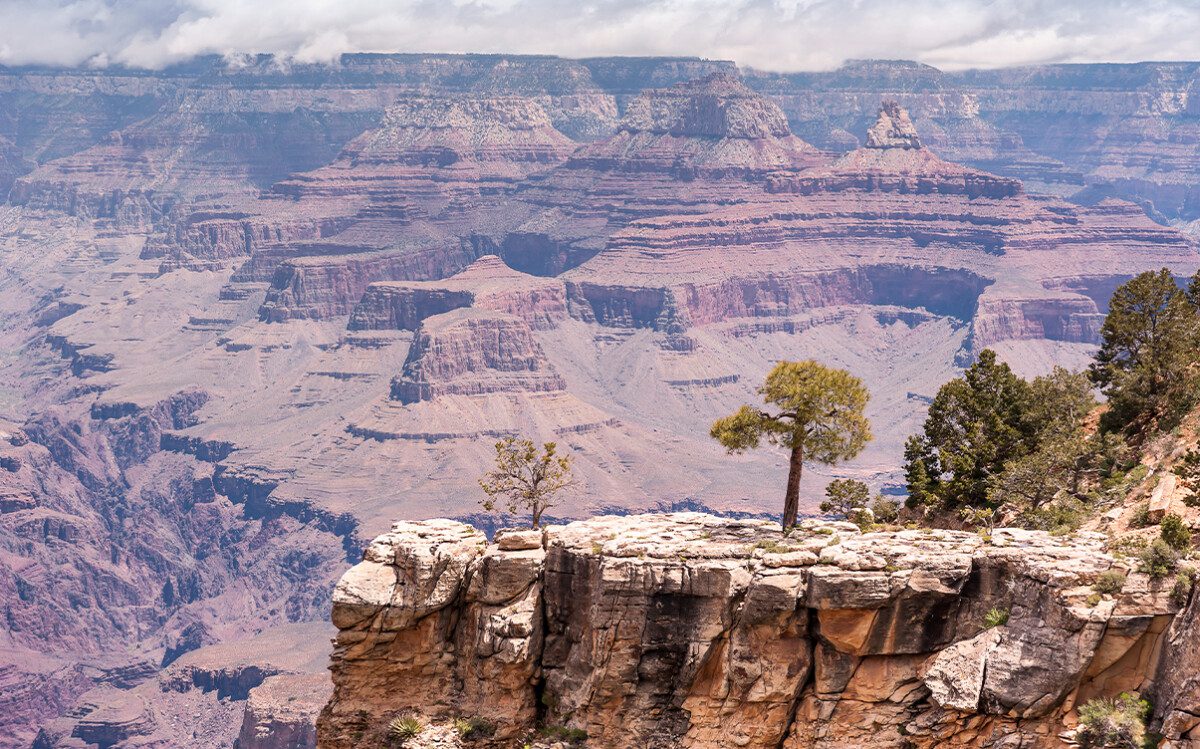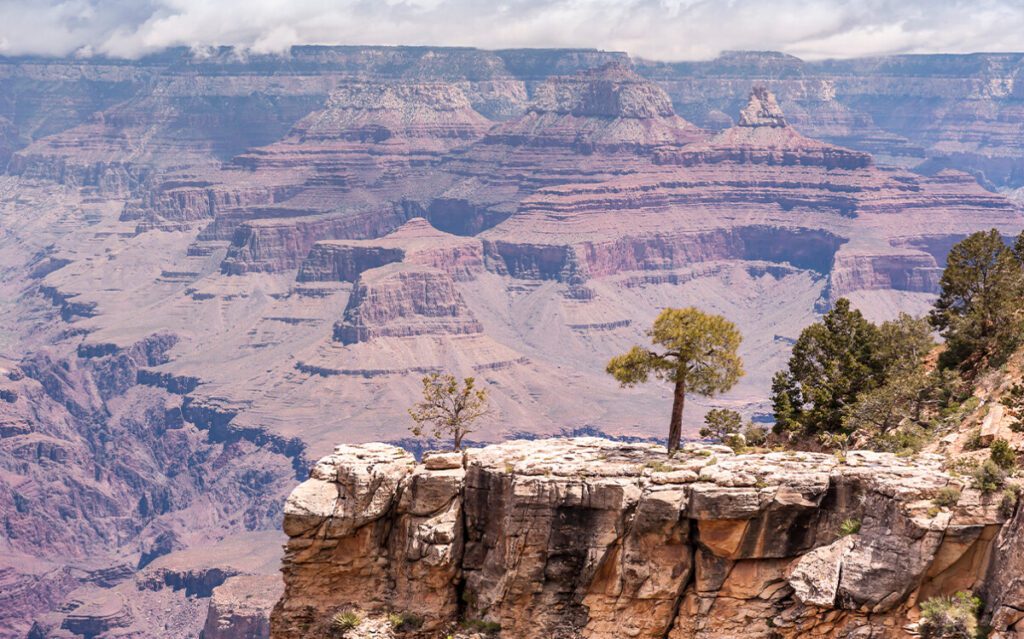 Some points of the trail are heavily populated, but others are much sparser since many tourists don't want to commit to more than a mile or two of hiking.
Bright Angel Hike
Bright Angel Trail is a somewhat lengthy trail that starts at the top of the canyon and winds its way down into the landmark itself. It's often called one of the most popular hikes in the park, but that really only applies to the first section. You can go quite a bit deeper than most people ever do, all the way down to the water.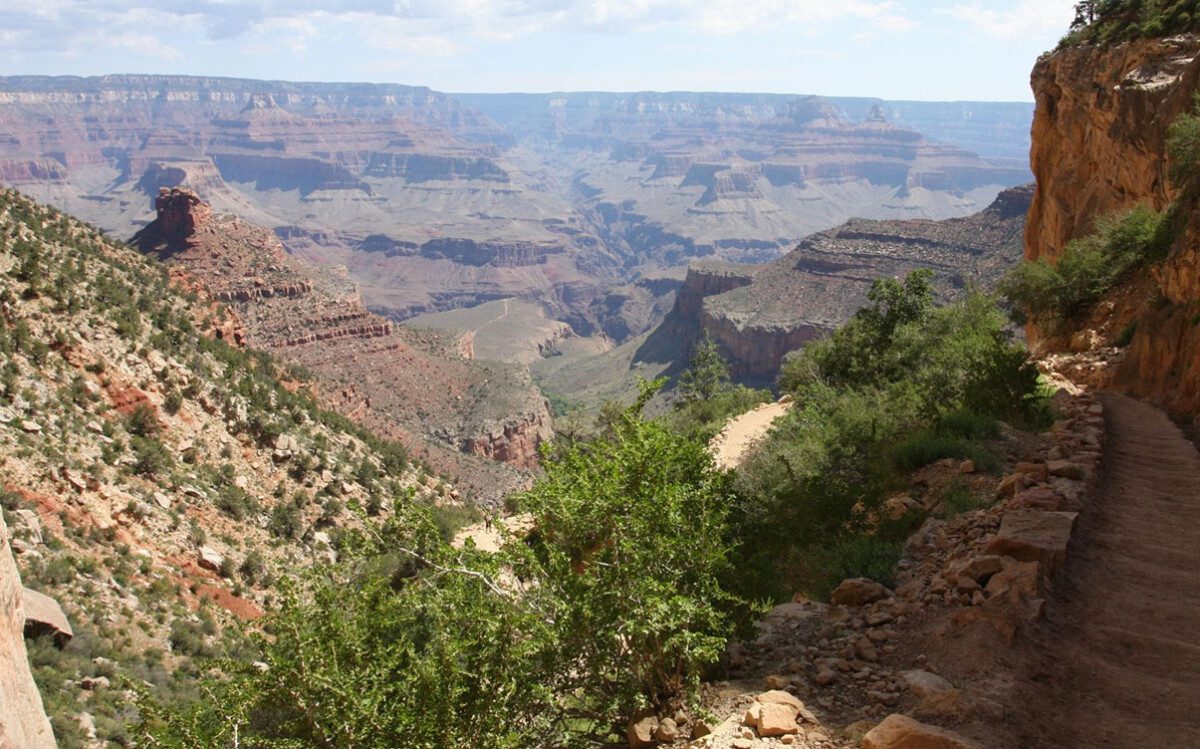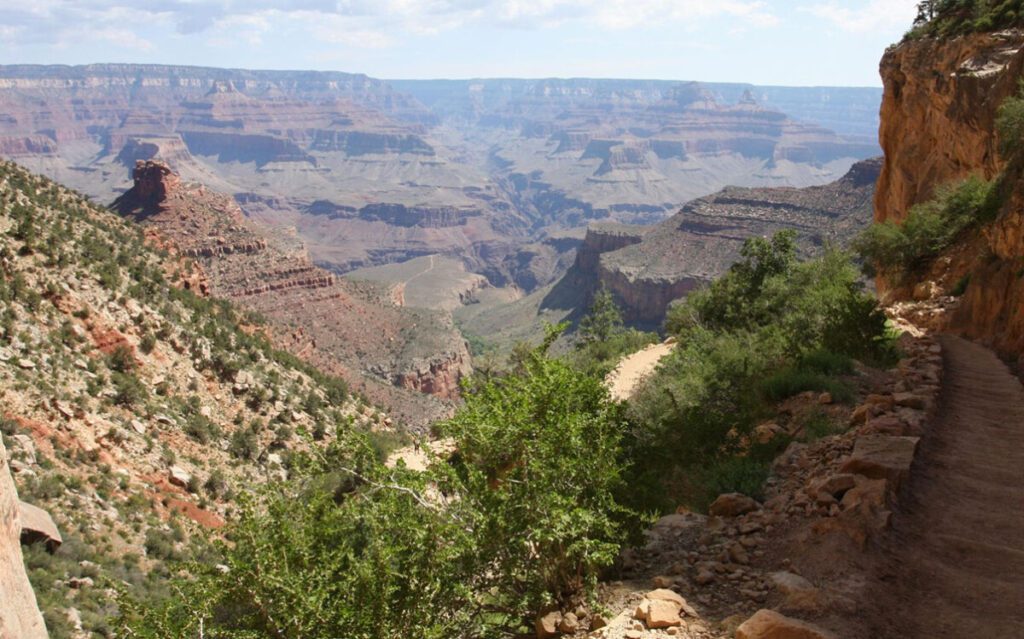 The full hike is at least two days, with the full descent down to Bright Angel Campground on the first day and another full day spent hiking back out. Keep in mind that the upwards hike is a lot harder than the downward trek, so be prepared.
Note: You need a backcountry camping pass to camp at the Bright Angel campground, so make sure you book it in advance.
Simple Hikes from 64
Highway 64, also known as Desert View Drive, follows along the canyon and sweeps by Grand Canyon Village. Using it as a base camp, you can head out for a drive and visit a variety of different, short hikes to the edge of the canyon to see various overlooks and views.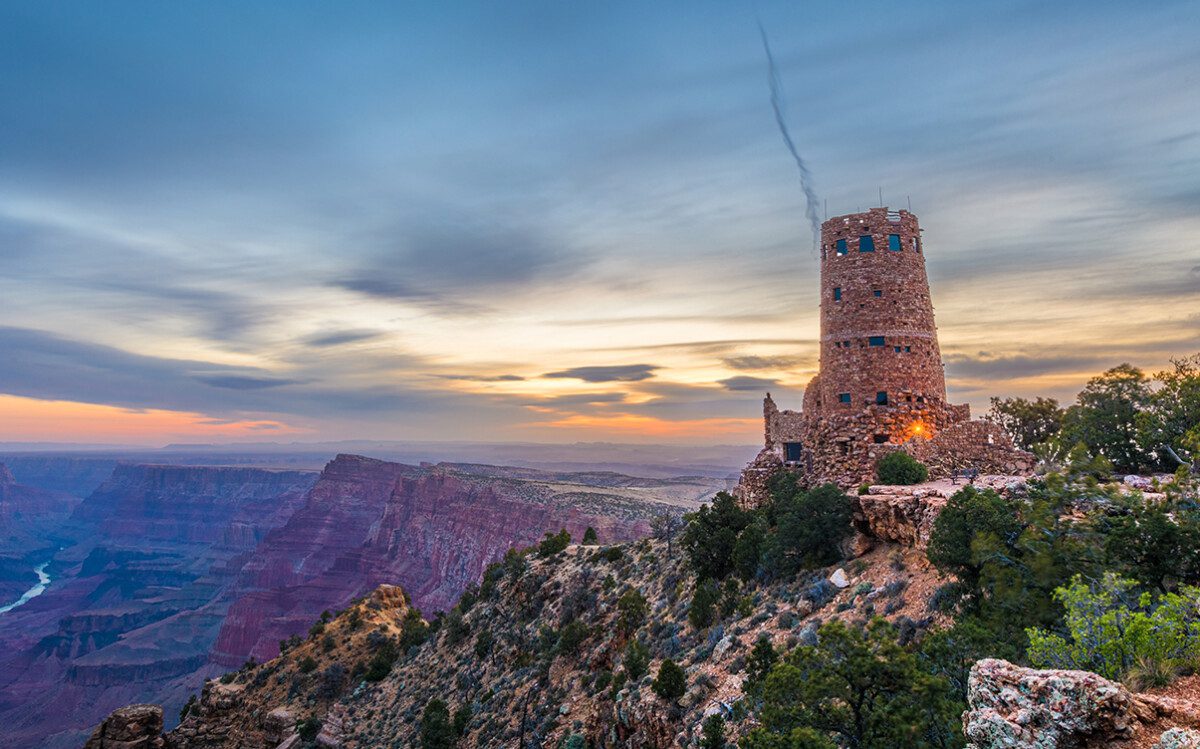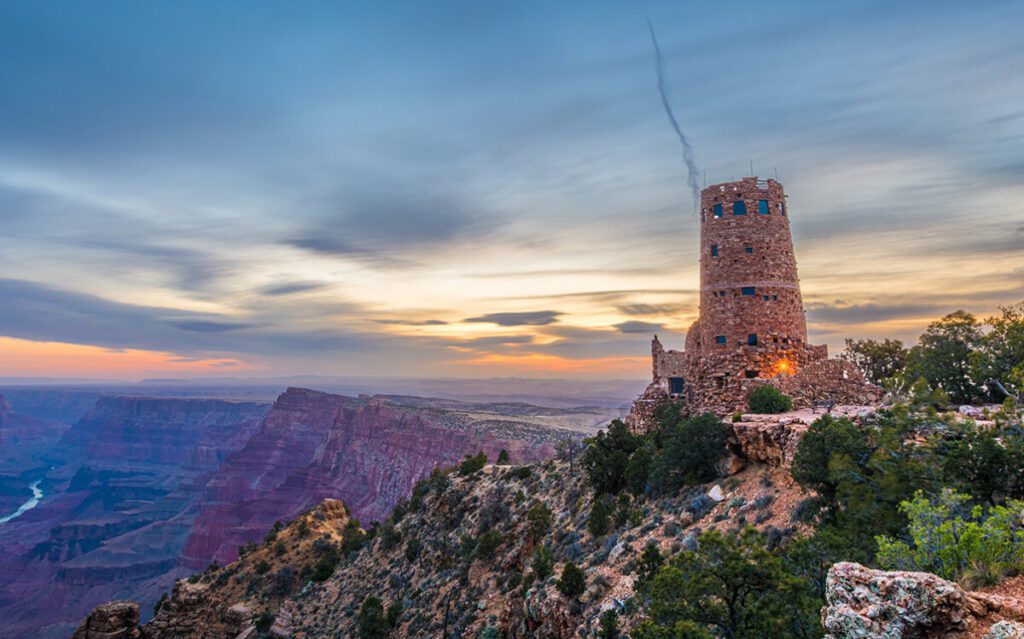 There are a bunch of different hikes, all around a mile or so, leading to places like Yaki Point, Shoshone Point, Grandview Point, and Moran Point. These hybrid driving and hiking tours are pretty popular, but for great reasons; they're simple and family-friendly.
North Kaibab Trail
North Kaibab trail is located on the north rim and is considered one of the more challenging trails maintained in the area. At first glance, you might not think a five-mile hike from the trailhead to Roaring Springs would be that bad, but when you remember that a lot of it is intensely vertical (with over 3,000 feet of elevation change), you realize just how tricky it can be.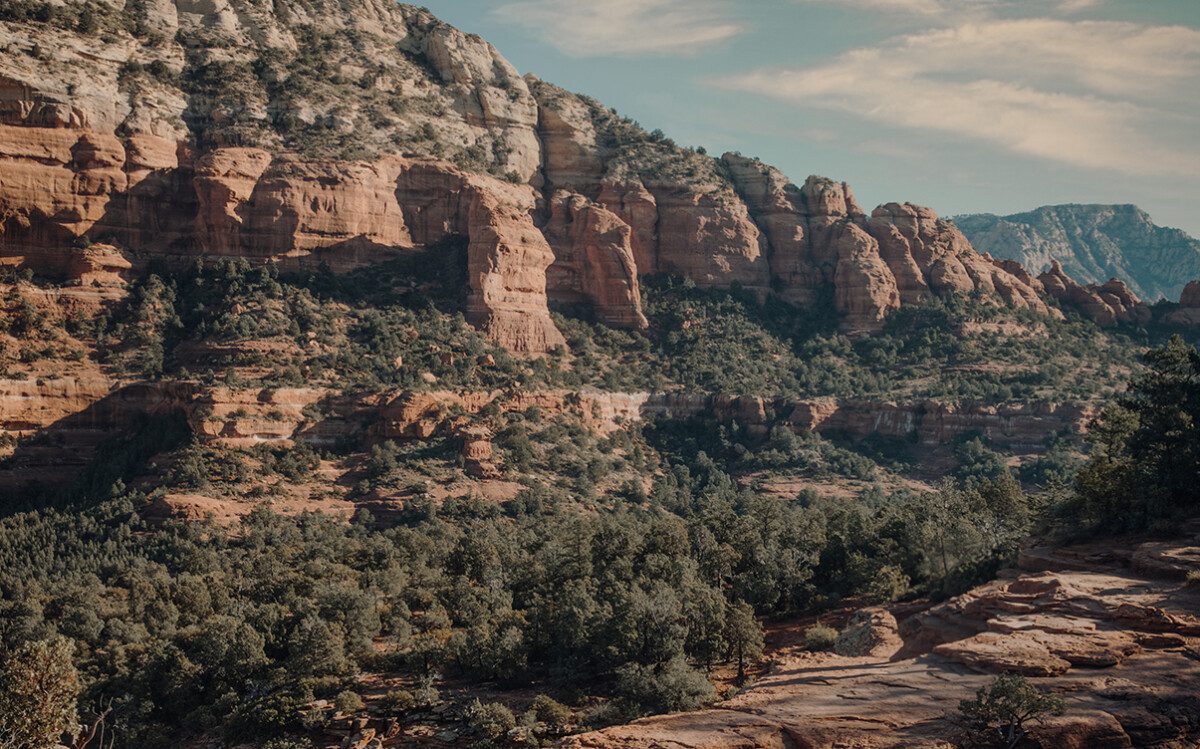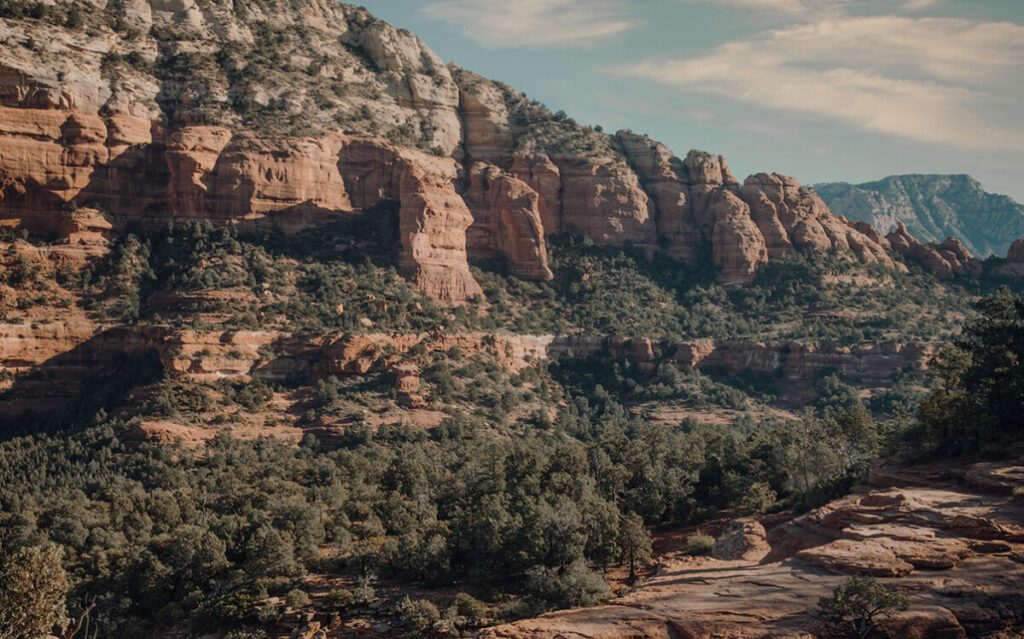 A great variety of ecologies and vistas gives you a complete overview of the canyon in miniature, so you get a little bit of everything on this challenging hike.
Rim to Rim
Down one side and up the other; the canyon hiker's dream. Normally, if you wanted to travel from the North Rim to the South Rim, you'd need to drive all the way around the canyon, a route that takes nearly four hours in ideal conditions. It's a lot for something you can mostly see across! Of course, going directly across is possible, if you can handle it.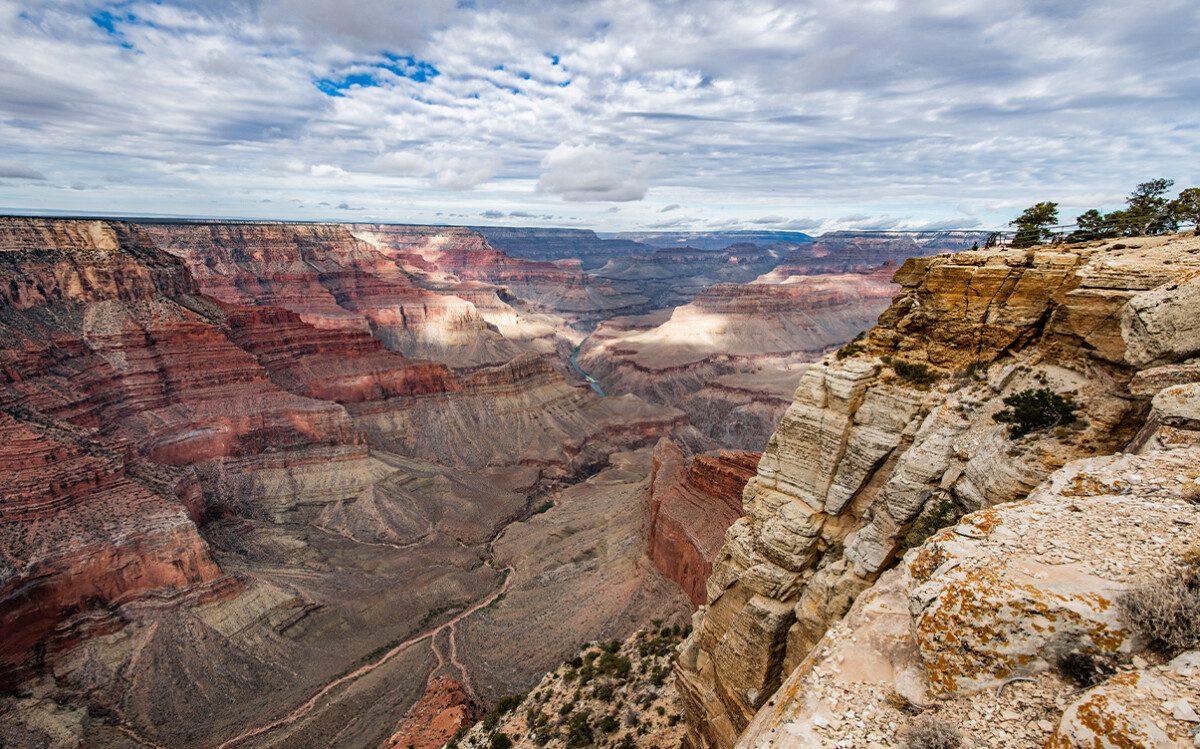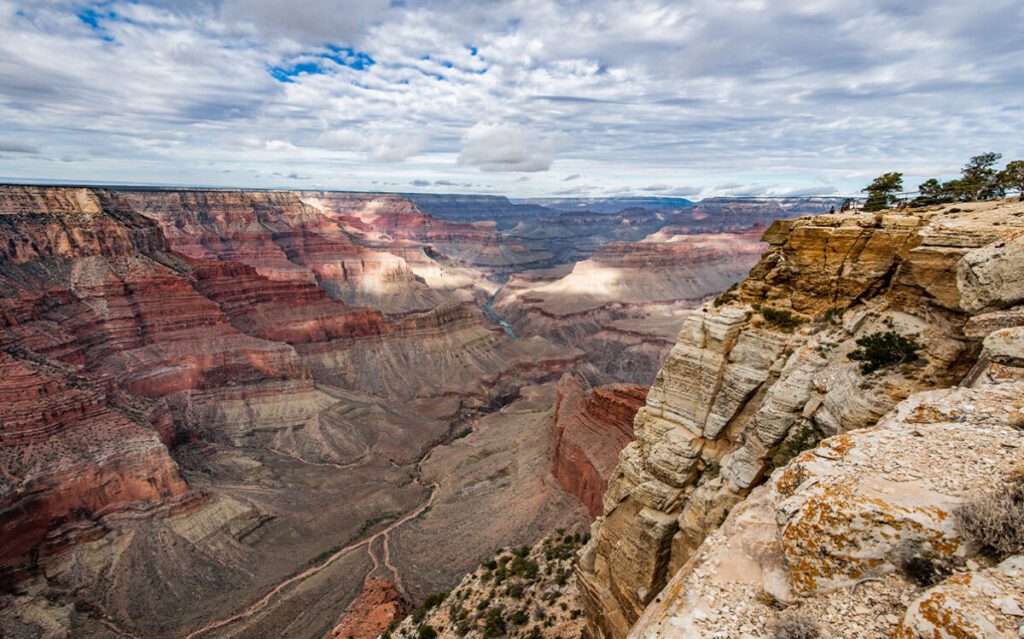 This difficult hiking route is the ultimate in Grand Canyon hiking, with a mile of elevation changes up and down, 24 miles across, and can take as long as five days of hiking, camping, and adventuring. If you can handle it, it's by far one of the most impressive experiences you can have in the Canyon.
Grand Canyon Tour Options
As fun as it is to take to a trail with nothing but your pack and your plan, some people prefer a more guided (and safer) adventure. There are quite a few companies offering guided tours and hikes throughout the Grand Canyon national park, so here are some of your best options.
Four Season Guides – Offering dozens of different multi-day routes, as well as a handful of day trips, there's something for everyone here. You can take backpacking routes, lodge-based excursions, or basecamp tours, all from this one company. Their guides are charming and experienced, so you're in great hands.
Wildland Trekking – From day tours to inn-based trips to backpacking, there's something for everyone with at least an intermediate skill level here. You can also get a mule-supported trip if the prosaic idea of traveling with a pack animal is one you find alluring. We're the kind of people who prefer being self-subsistent, but plenty of people want the charm of a more supported tour, and that's fine.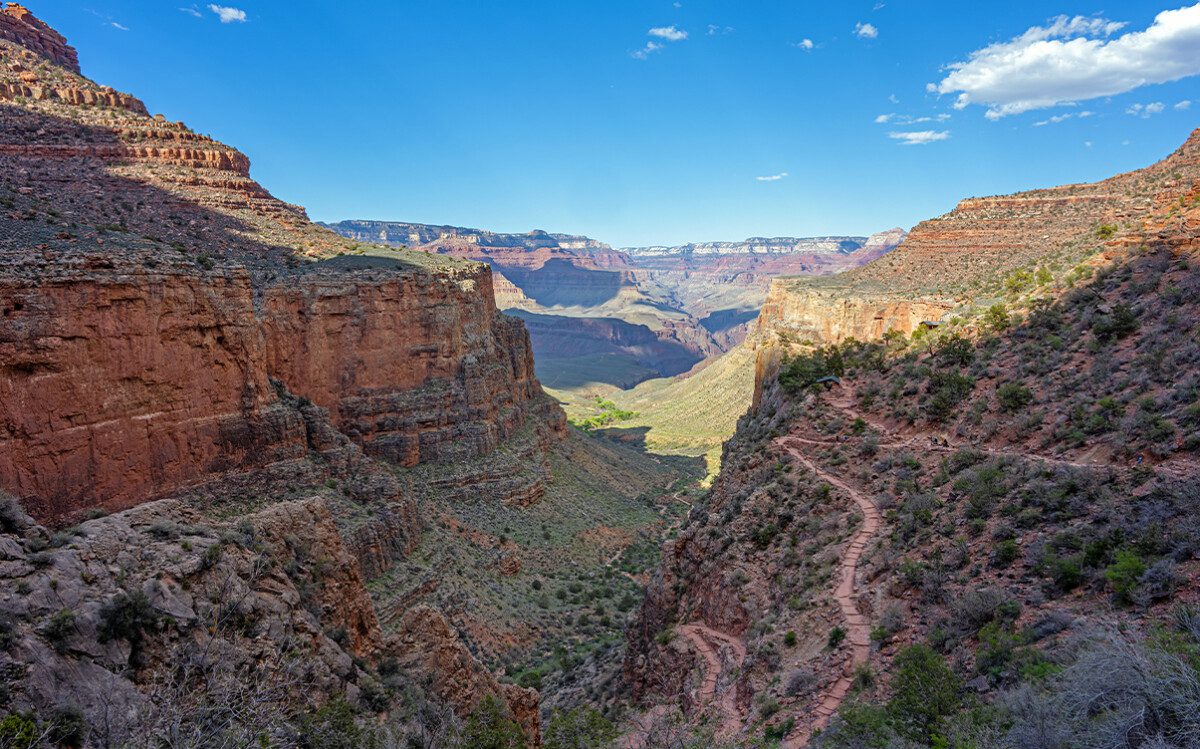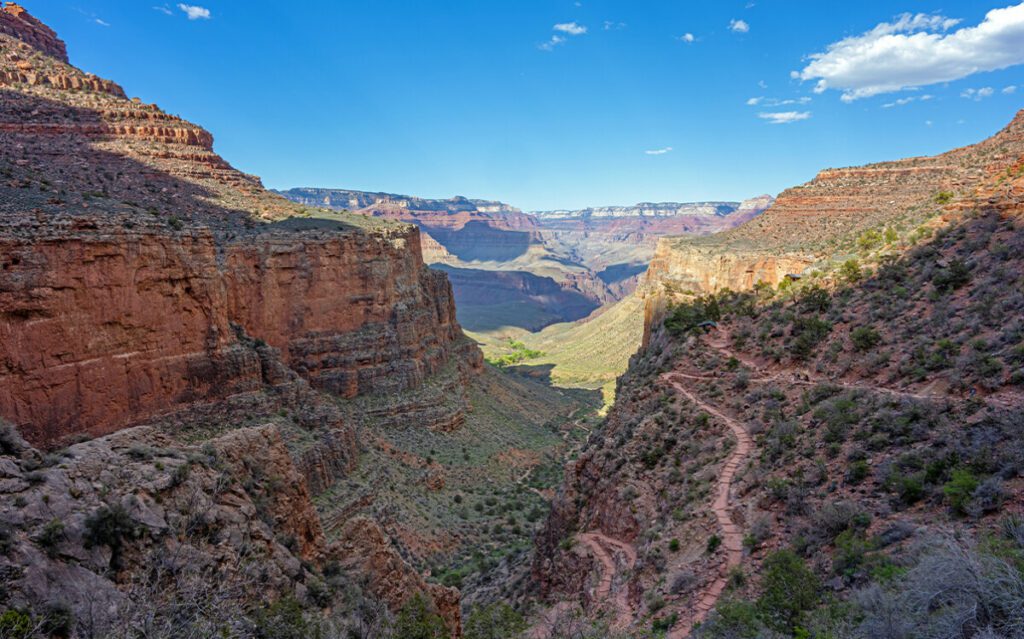 OARS – OARS started life as a small rafting company in the 70s and has grown into an international tour company with a wide range of adventures to be found. If you want backpacking and water adventures, including rafting along the Colorado River, this is the company to check.
All-Star – Based out of Flagstaff, All-Star is guide-owned and operated, meaning you always have a fully invested and experienced guide to lead you through their tours. You can book package tours with other folks or private tours if you prefer a more intimate and solo experience.
Grand Canyon Conservancy – Rather than a commercial tour group, the Grand Canyon Conservancy is an organization dedicated to conserving the land and educating the people who visit it. They do a ton of great work, and they provide tours both for educational purposes and to fund their conservation efforts. Really, who doesn't love a great guided hike with added educational experiences, all with a great cause to support?
Tips for Getting the Most Out of a Grand Canyon Adventure
Now that you have a good idea of where to go and what to do, let's talk about how to get the most out of your adventure in the safest way possible.
Consider your pass options. Entry into the Grand Canyon national park is $30 per vehicle. That's fine and easy if you're planning a once-in-a-lifetime trip or you only have room in your schedule for one or two adventures in a year. If you're considering visiting the Grand Canyon more than once a year, or if you have a variety of adventures planned in various national parks, though, you can consider getting an annual pass. The pass, which is $80 for a year, gives you access to over 2,000 different sites. It's definitely worth the value if you take frequent trips to national land. Plus, there are cheaper or free options for military families, families with disabilities, and others.
Know the weather. Grand Canyon weather can be wildly unforgiving. At the peak of summer, it can be over 100 degrees in the shade, with an overbearing sun beating down on you with every step. Sunscreen is an absolute requirement any time of year, even in the cooler months. Speaking of, monsoon conditions can spring up and cause both flash floods and intense lightning, so know the nearest place to take shelter at any given time; you don't want to be caught out in the open. The cooler months replace the heat risk with snow and ice that can make hiking treacherous, so be prepared for anything!
Practice Leave No Trace. Hiking and having adventures around the world is an incredible experience and lifestyle, and it's one we have a burden to keep pristine for those who would follow us. Read up on Leave No Trace, follow the seven principles, and make sure you leave the trails, campgrounds, and landmarks in as good or better condition than they were when you arrived.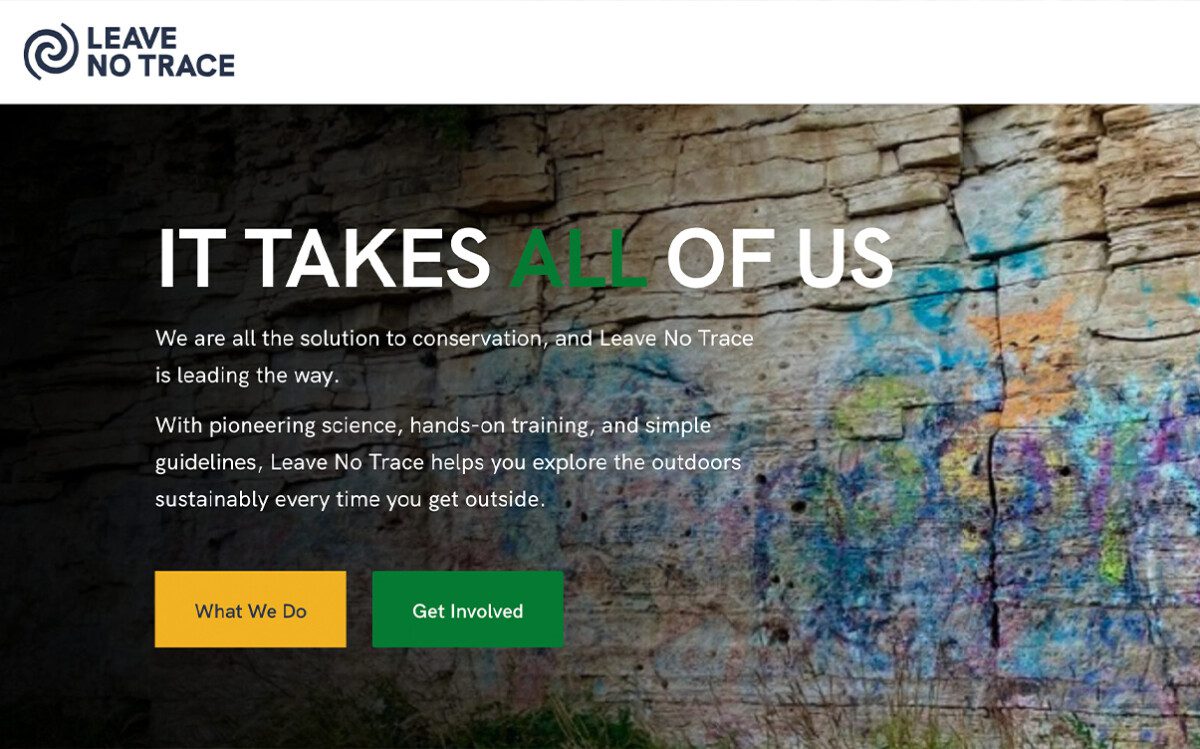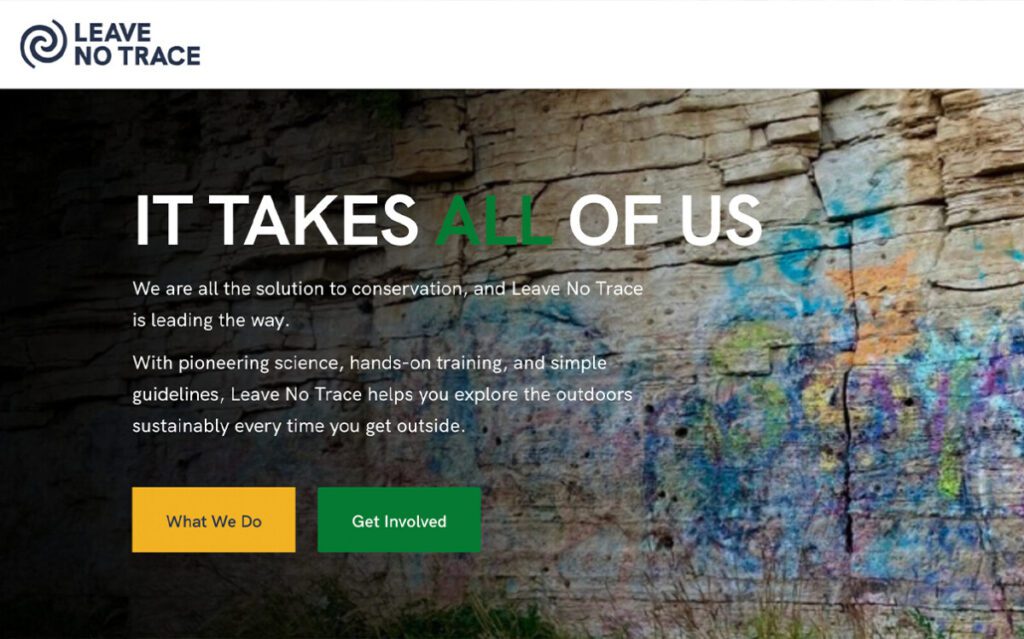 Check for closures before heading in. Conditions and damage can cause closures, partial closures, detours, and obstructions in your plans, and you don't want to discover that when you've hiked a few miles and are ready to go. For example, as of writing this post, summer droughts are closing some trails and tours, and wildfire warnings are in place. At the same time, a broken water main has caused partial closures of the north rim. You can still go in for a day trip, but overnight lodgings are closed. Here's the page for closures and alerts.
Be Prepared with the Right Gear. Hiking, backpacking, camping, and longer adventures all have their own unique challenges and requirements out of your apparel. While the guided tours tend to do a lot of the heavy lifting for you – both figuratively and literally – the self-guided tours and hikes require you to be prepared.
As frequent adventurers, we've hiked in all sorts of conditions and everything from easy jaunts to multi-day camping adventures. By putting our gear to the test along the way, we've seen first-hand what happens when you have bad gear and how much of a difference good gear makes.
Whether you need to pick a backpack and everything to fill it or just get recommendations for good hiking shoes and hot-weather gear, we've covered it all. Check out our couple's guide to backpacking here or any of the other gear posts in our archive. If you have any questions, feel free to leave a comment as well!