Top Things to Do in Each California National Park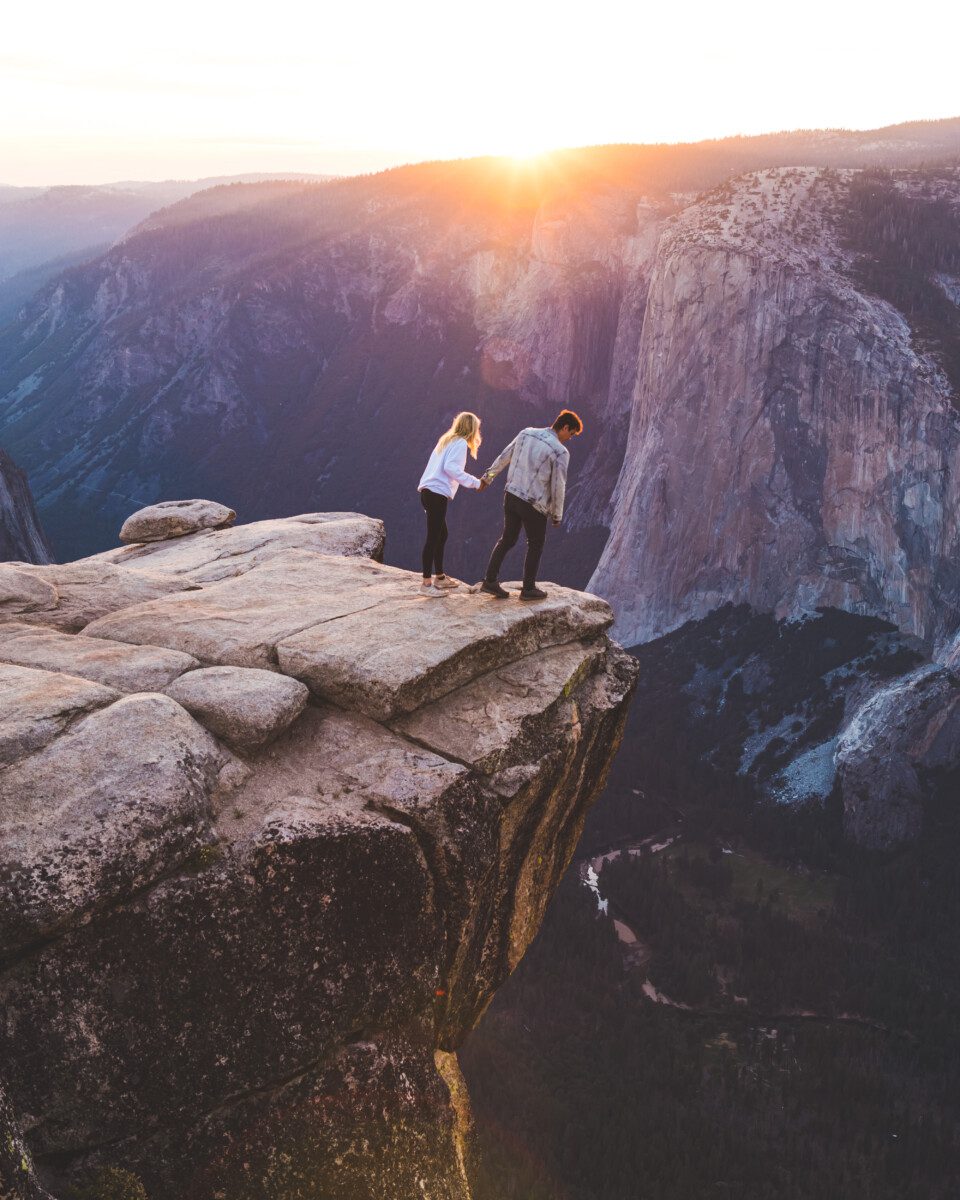 California is 163,696 square miles of unbelievably beautiful landscape. California's nature is arguably some of the most diverse in the USA, making the state a must visit for any adventure lover. You have everything from the beach, to the mountains, to the desert. California is home to nine of the National Parks in the U.S. and each California National Park has its own scenery and a multitude of stunning hikes and viewpoints. 
After visiting each California National Park, we've prepared this ultimate guide to help you accomplish all of the top things to do in each California National Park.
California's National Parks
Yosemite National Park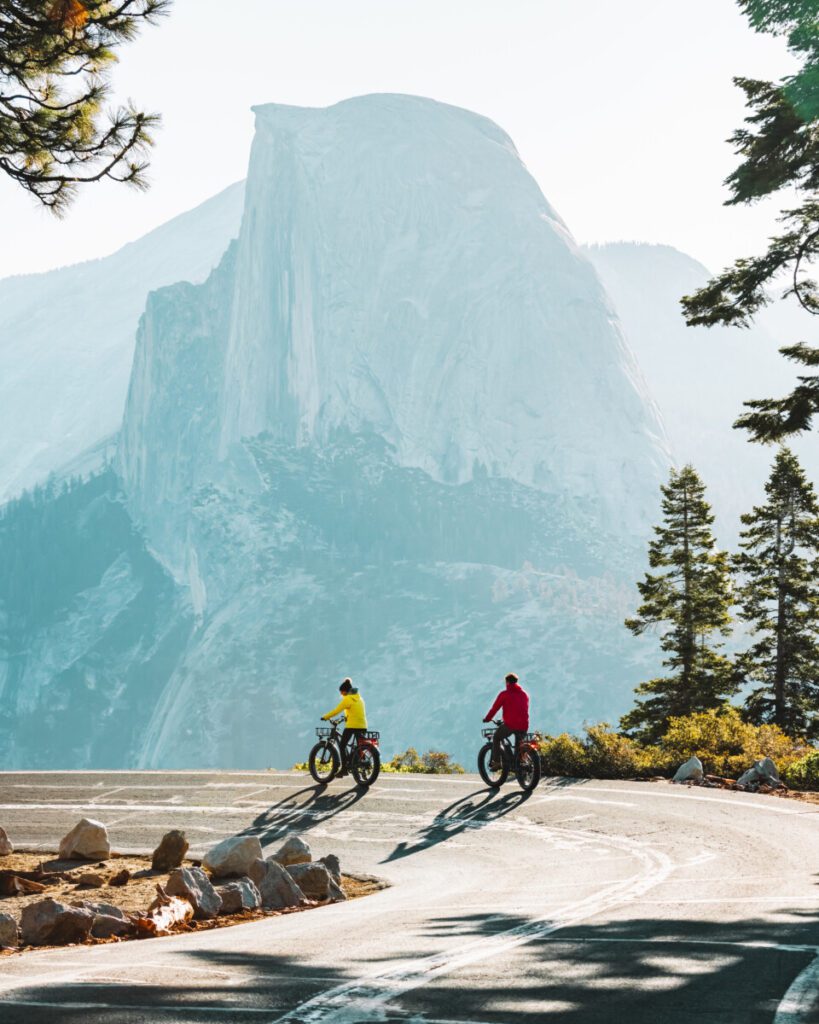 Yosemite is one of the top visited National Parks in the U.S. and for good reason. The glacier carved valley is absolutely breathtaking and should be on every adventure lover's bucket list. This park is our personal favorite of California's landscapes.
Top Things to Do in Yosemite National Park
Tunnel View
We always recommend starting your Yosemite trip with visiting Tunnel View. This lookout is the first glimpse you get of the valley once exiting the tunnel and it's a beautiful introduction to this California National Park.
It's one of the most iconic spots in the park and although it's great for sunrise or sunset, we personally love going for sunrise. It gives you a stunning view that overlooks all of Yosemite Valley from El Capitan to Bridal Veil Falls. If you choose to go during golden hour you can witness the lovely glow on El Capitan.
Because this area is popular, make sure to get there early to beat the crowds and secure yourself a nice seat.
Glacier Point
Glacier Point is a perfect spot for National Park photography and another one of our favorite areas to watch the sunrise. This viewpoint gives you a stunning look at Half Dome up close.
The road to this spot does close for the winter so be sure to check road conditions before going. You can check out the current conditions here.
Mist Trail Hike
The Mist Trail is one of Yosemite's busier hikes but we believe it's a must-do. We recommend getting there earlier in the day to try and avoid the crowds. If you're looking for a shorter hike, you can go up to Vernal Falls and back, which is about 3 miles total.
But if you have extra time, we suggest continuing past Vernal Falls and going up to Nevada Falls as well. The trek to Nevada Falls is close to 7 miles round trip, but the views are definitely worth it and there are less crowds. If you go on this hike around May, you'll be able to see gorgeous rainbows coming off the water falls due to the abundance of snowmelt.
These hikes are all uphill so make sure to bring lots of water and snacks. We also recommend bringing a rain shell because the hike lives up to its name and you will get wet. For more on what we pack on our day hikes, check out our hiking gear guide.
Taft Point
Taft Point is known for its incredible view of El Capitan, which is one of the reasons we love it so much. It's a 2.2 mile hike along the upper elevations of Yosemite National Park and brings you to a 3,000 ft drop. There are lots of fissures in the ground to explore and seeing the valley floor from up above is unreal.
Yosemite Falls
Yosemite Falls is the tallest waterfall in this California National Park. It's 2,425 ft from top to bottom and adds so much beauty to the valley. You can hike up to the falls two different ways. The first is Lower Yosemite Falls, which is about a mile round trip with hardly any elevation gain. This trail is great for families with young kids or anyone who wants to see the waterfall up close with minimal work.
The second hike is Upper Yosemite Falls and is the hardest hike in the park. This strenuous trail is 7.6 miles round trip and takes you up 3,218 ft in elevation. Although it's challenging, the views are insane and worth it. We suggest bringing waterproof shoes and a rain shell on the hike because it does get very misty.
Sentinel/Cook's Meadow
If you're looking to see another perspective of Yosemite Falls we recommend checking out Sentinel/Cooks Meadow. This area has a 2.2 mile loop that takes you around the meadow to see great views of not only Yosemite Falls but also Half Dome, Sentinel Rock, and Glacier Point.
Sentinel/Cook's Meadow is also great for more National Park photography, and we recommend making this a sunrise hike.
Sentinel Dome
To get to Sentinel Dome, you can park in the same area as you would for Taft Point. After hiking a mile out, you get rewarded with a 360 degree view of the entire valley. You can see everything from Half Dome, Yosemite Falls, El Capitan, and the Sierra's. In our opinion, this is the best view in the whole park.
For more detailed information on planning a trip to Yosemite National Park, check out our weekend trip recommendations here.
Sequoia National Park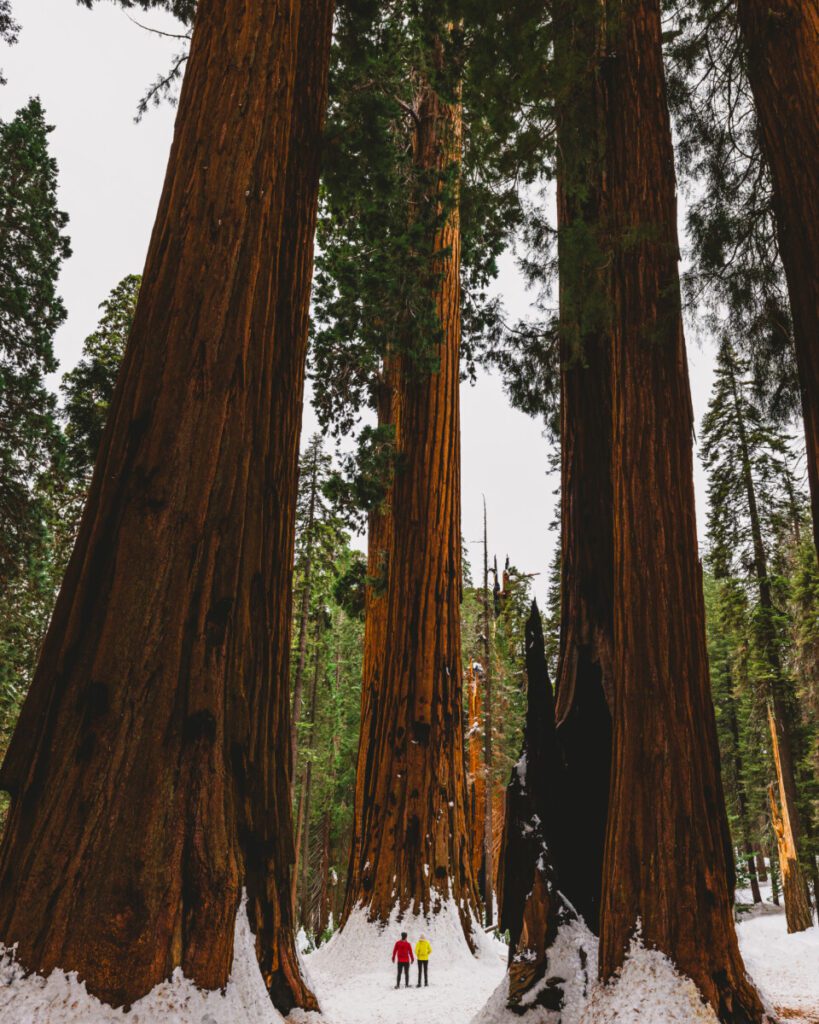 This California National Park is one of our favorite places to visit in the winter. It's 1 of 3 National Parks in the Fresno County area and home to some of the most beautiful sequoia trees. We believe the best time to visit this park is right before a huge snowfall so that the roads and trails are easily accessible. 
It's important to note that not all trails are open in the winter, so we suggest researching which ones are open before you go. Sequoia National Park can be dangerous in the snow so make sure to check out NPS.gov to look at the road conditions before driving to the park.
Here are our top six must see spots in the park.
Congress Trail
The Congress Trail is a 2.9 mile paved loop that takes you to the General Sherman Tree, the McKinley Tree, the House Grove, and the Senate Grove. Our two favorite sections of the trail are the House and Senate Groves. We loved the multitude of giant trees so close together in the House Grove and the bright red bark on the trees in the Senate Grove. We believe these two groves are the prettiest in this California National Park.
Our favorite time to hike the Congress Trail is during the winter season. For our full recommendations, check out our ultimate guide to visiting Sequoia National Park in the winter.
General Sherman Tree
While on the Congress Trail, we highly recommend checking out the General Sherman Tree. This tree is around 2,200 years old and is the biggest sequoia on planet earth. There are other trees that are wider or taller than the General Sherman, but this tree is considered the biggest due to the amount of volume it encompasses.
Big Trees Trail
Our favorite trail in Sequoia National Park is the Big Trees Trail. It's a short 1 mile loop on a boardwalk surrounded by some of the most giant trees in the whole park. There are multiple educational opportunities on this trail concerning the sequoia ecosystem. We suggest popping into the Giant Forest Museum on your way through the trees to learn even more about the sequoia's.
Alta Trail
The Alta Trail is a 13.4 out and back trail that takes you up 3,208 ft in elevation. It's a great hike if you're wanting to see as much of the park as you can in a day. You'll get to see tons of the big trees and even views from up above the park. You can also connect to the Congress Trail from the Alta Trail.
If you're planning on visiting Sequoia National Park in the winter time, check out our ultimate guide on how to plan your trip here.
Kings Canyon National Park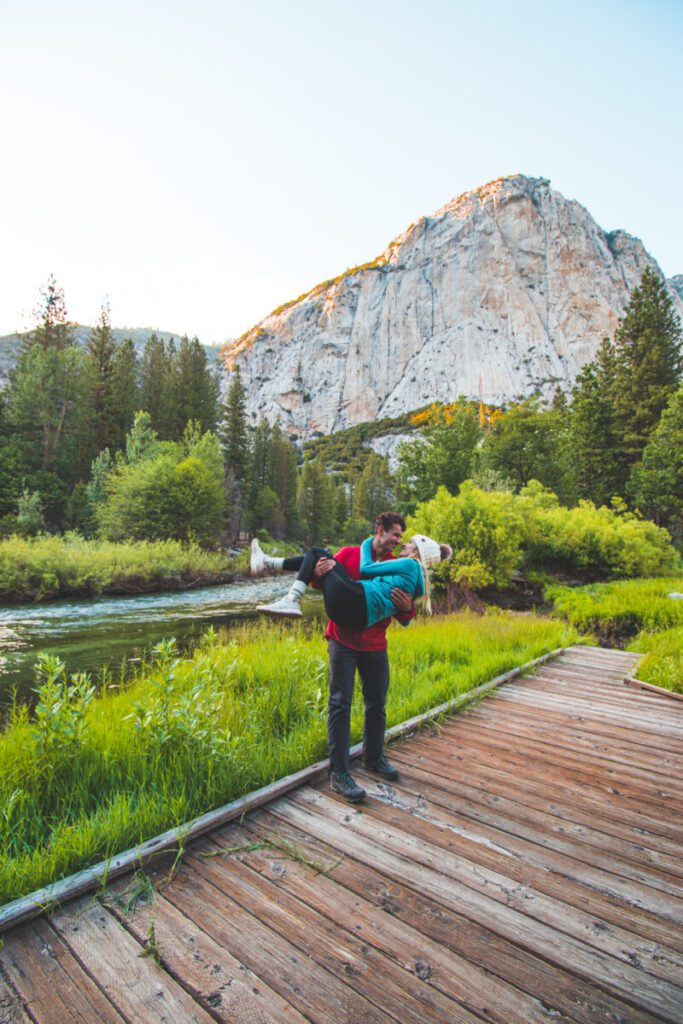 Just an hour and a half away from Sequoia National Park is Kings Canyon National Park. This was one of the first National Parks to protect sequoia trees. We visited this California National Park in winter as well, but since it's smaller than Sequoia National Park and the main road is closed in the winter, there are fewer hike options.
If you're wanting to explore as much of this National Park as you can, we suggest going in the summer. With that said, there are still lots of hidden gems in Kings Canyon.
Grant Grove
If you are looking to see some gorgeous sequoia trees here in the winter, look no further than Grant Grove. On this fun and educational trail, you can see some really cool burn scars on the bark and learn about the history of the General Grant tree. The General Grant tree is known for being the nation's first Christmas tree and one of the biggest sequoias in the whole park.
Walking through this grove, you can stroll down a fallen sequoia tree that is hollowed out and see the massiveness of it from the inside. We loved this part of Grant Grove and thought it was such a cool experience.
Panoramic Point
We suggest making your visit to Panoramic Point a sunrise hike. It's about a half mile round trip and offers beautiful mountain views of the park. Make sure to bring your camera so you can capture the beauty of Kings Canyon from up above.
Kings Canyon Generals Scenic Highway
While driving Generals Highway, which connects Kings Canyon and Sequoia National Park, we stopped at Vista Point. We had read that it was called little Yosemite and wow did it live up to that. This lookout shows you the beautiful trees and mountains from above and also many granite cliffs. It was absolutely stunning.
Zumwalt Meadows
Zumwalt Meadows is perfect if you're looking for a beautiful sunset spot. It has a running stream alongside it with remarkable views of the mountains. We highly suggest visiting this meadow for great National Park photography.
Roaring River Falls
Roaring River Falls is a short 5 min walk from the parking lot and is one of the most popular spots in the park. At the end of the trail, you'll see the ravishing waterfall surrounded by beautiful granite rocks.
Grizzly Falls
If you're coming back from Zumwalt Meadows, we suggest stopping at Grizzly Falls. You can drive up to this waterfall and see all 75 feet of its beauty without having to walk more than 2 minutes.
Hume Lake
Hume Lake is a small mountain town in Kings Canyon that is home to a gorgeous lake. In the winter, it resembles a ghost town, but the frozen lake and snow-covered buildings are still breathtaking. If you're visiting in the summer, we suggest walking the 2-3 mile trail around the lake and then getting yourself an old-fashioned milk shake at the Hume Lake Snack Shop.
Boole Tree Trail
This 2 mile loop takes you to the Boole Tree which is the Nation's largest tree due to its massive volume. There is a little bit of elevation gain on this trail, but it's not too challenging.
Stump Meadow
In Stump Meadow you will see a bunch of old tree stumps that were logged around 1918. These stumps are huge and so fun to explore in the gorgeous green meadow. In order to get to this trail, we suggest driving a vehicle that has 4-wheel drive since the road isn't the greatest.
Death Valley National Park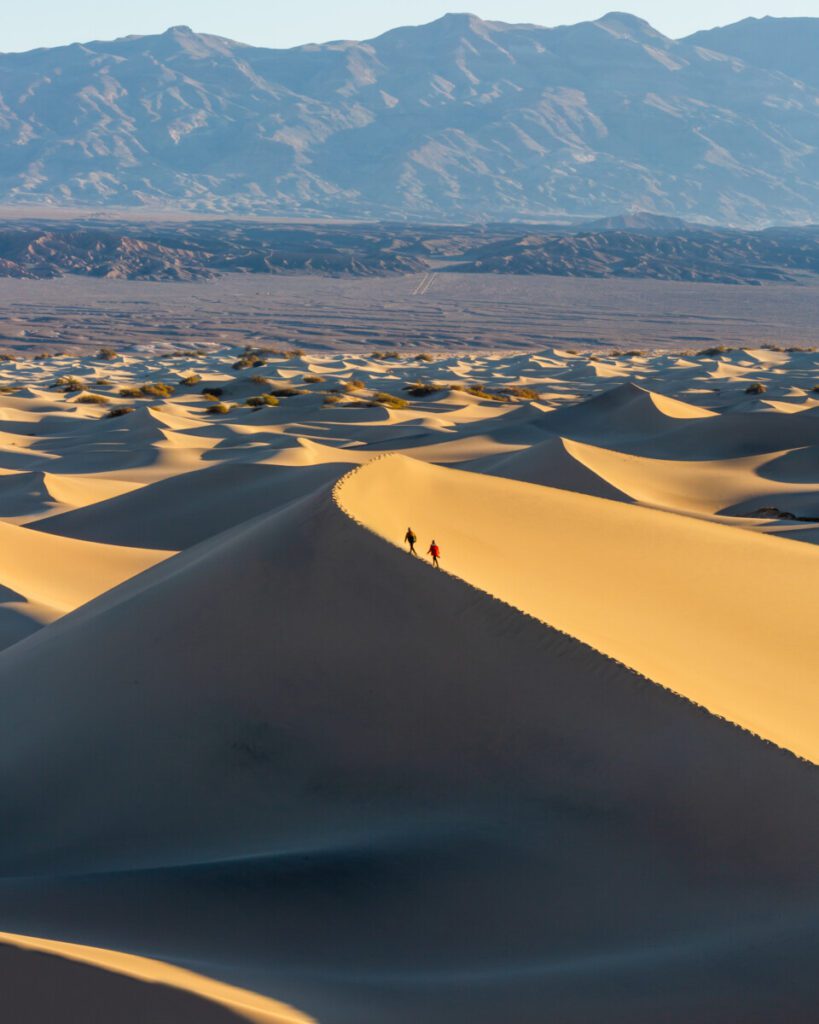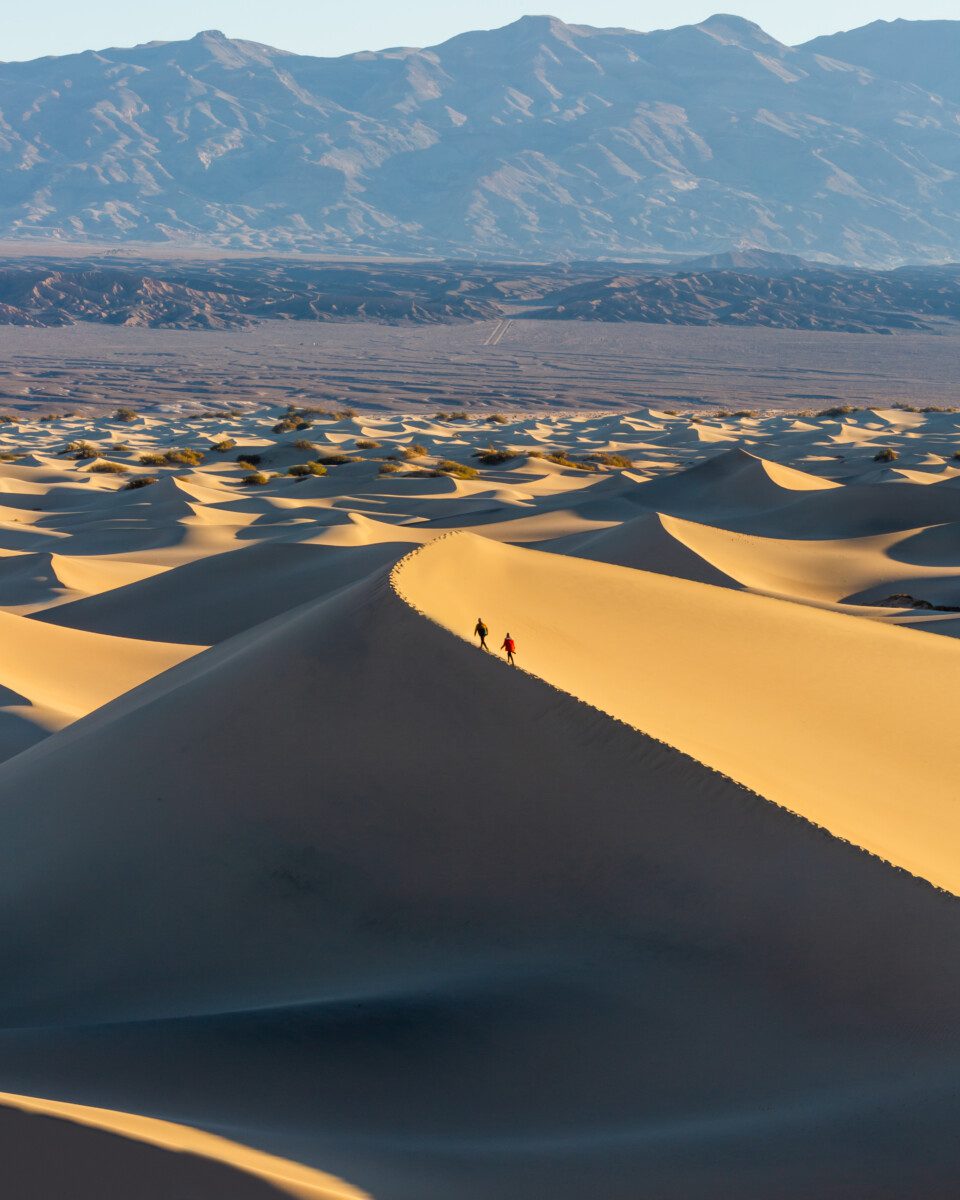 A cool fact about Death Valley is that it's home to the lowest point in North America. This extremely dry desert of a National Park is the biggest in the U.S. and unlike any other park. One of its main attractions is that it's an international dark sky park, which means the stars are absolutely insane. We love this California National Park and below are our top seven favorite hikes and viewpoints.
Mesquite Sand Dunes
This 2.8 mile hike takes you to the beautiful sand dunes. There isn't a defined trail once you reach the dunes so you can walk out as far as you'd like. If you're looking for great National Park photography, this is the place. Sunrise offers gorgeous lighting, and the night sky offers unbelievable views of the stars. Coming to the dunes in the afternoon is great as well if you want to capture the sun touching the sand.
Badwater Basin Salt Flats
If you're looking for stunning views of the salt flats and mountains, this spot is for you. Totaling 1.9 miles round trip, this trail allows you to walk out on the salt flats and take in the breathtaking views all around you.
Golden Canyon
Golden Canyon is one of the hottest places in the world. Because of this, we recommend visiting between October and March. The hike is 0.8 miles and offers a fun walk through the canyon and remarkable rock formations.
Zabriskie Point
As one of the park's most famous spots, Zabriskie Point shows off the colorful and eroded badlands. A total of 0.4 miles round trip, this point is great for sunrise and sunset and is beautiful all year round.
Artist's Palette
Artist's Palette has an overlook that's 0.3 miles total and shows magnificent views of the colored canyon. This area is also popular if you're looking to do a scenic drive as it offers many spots to pull off and capture photos.
Dante's View
Being 5,000 ft above the inferno of Death Valley, Dante's View is the best viewpoint in this California National Park. Totaling 1 mile of hiking, this spot is perfect for a sunrise hike or sunset hike. It does get a little crowded, but you can usually still find an area to yourself.
Sidewinder Canyon
This 3.9 mile trail is filled with lots of unique canyons to walk through. The hike is great for photography during the day as the lighting is beautiful inside the canyons.
For a full in-depth weekend guide to exploring Death Valley National Park, check out our Death Valley series on Youtube.
Pinnacles National Park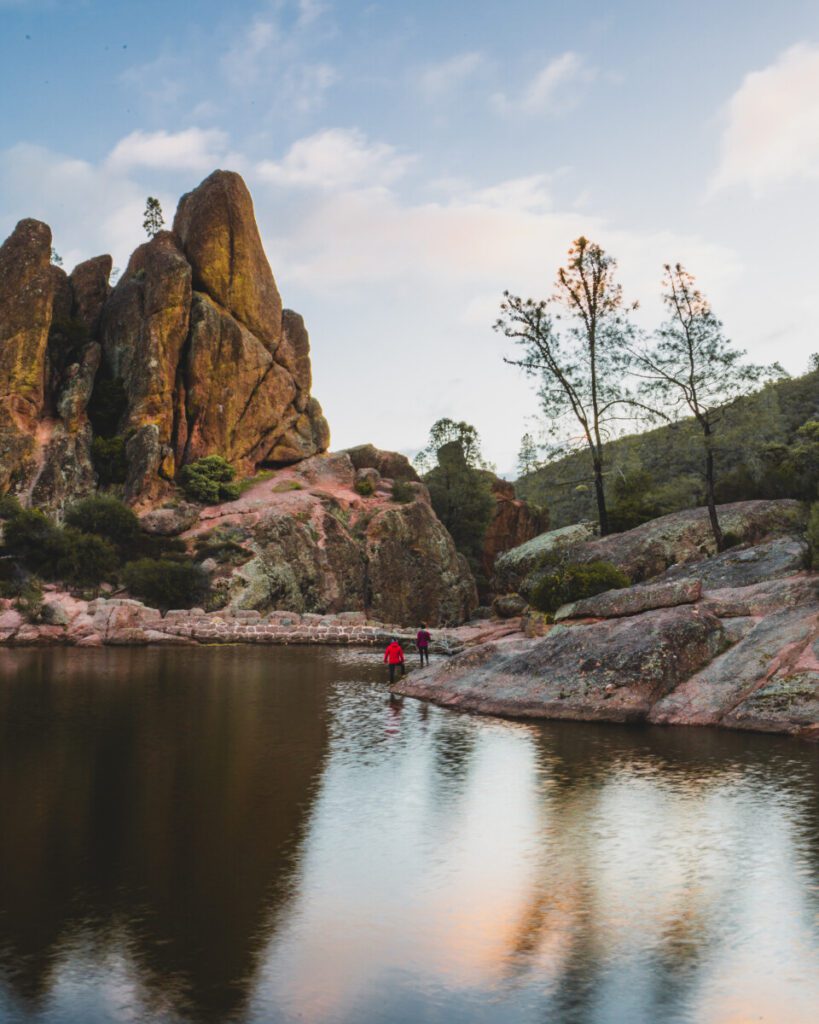 In our opinion, Pinnacles National Park is a smaller and greener Joshua Tree. It's about an hour and a half from San Jose and around 4 hours from outside LA. This is California's newest National Park and was formed from old volcanic eruptions.
We suggest spending 1-2 days here to get the full experience of the park as there are not too many hiking trails. If you are coming to Pinnacles to climb, you might want to plan a longer trip because there are tons of fun climbing routes. 
We came to this National Park in the spring, and it was a perfect time to visit. Due to the park being small, the parking lots fill up quickly so make sure you get there early.
Although it's small, there is still a ton of beauty in this park, and we have six must see spots for you to learn about and explore.
Moses Spring Trail via the Bear Gulch Loop
We chose to hike this trail for sunrise, and it was absolutely beautiful. The .9 mile trail took us up to the reservoir where we got the whole place to ourselves.
Bench Trail
Although this hike is 4.8 miles, it has little to no elevation gain and is a great way to see the high peaks of the park. The Bench Trail is beautiful all year round and is a must do while at Pinnacles.
Old Pinnacles Trail Loop
If you want to hike the entire Old Pinnacles Trail Loop, it's 9.5 miles. Although great for hiking, this trail is also home to many climbing routes. On the trail you'll get to experience the many rock formations Pinnacles has to offer.
High Peaks Trail
The High Peaks Trail is a 6.4 mile loop that takes you up 1,840 ft in elevation and allows you to overlook the park. We personally started the trail from Bear Gulch and went up to High Peaks and then the Steep and Narrow and back around. This was such a fun and beautiful hike, and we loved the amazing views it gave us. We recommend this trail as a sunset hike but make sure to stick to the High Peaks side of the trail and not the Steep and Narrow section as that is more of a sunrise spot.
Personally, the Steep and Narrow section of this trail was our absolute favorite because we got to overlook the rolling mountains and all the pinnacles. Since this California National Park lies on a fault line, this part of the trail shows the volcanic rock on one side and the sedimentary rock on the other. It was such a beautiful view.
There is railing and steps for this section, but we would not recommend it to anyone who is afraid of heights. If you want to avoid the Steep and Narrow part of the trail, you can just head back down the way you came up on the High Peaks Trail and not do the full loop.
Condor Gulch Trail
We recommend the Condor Gulch loop as a sunrise hike to see a nice golden glow in the park. On this trail, there is a viewpoint about a mile up that we loved for capturing photos. If you're a photographer, we highly suggest stopping at this spot on your way up.
Caves
Pinnacles is home to talus caves, which are unlike most caves in the world. These caves were formed from streams eroding at the rocks and from boulders collapsing creating what we see today. There are two different areas of caves in Pinnacles, and they are the Balconies Caves and the Bear Gulch Caves. If you come during winter the caves are closed due to the bats hibernating so, make sure you plan your trip accordingly if you want to hike through the caves.
You can see the Balconies Caves by hiking a 2.6 mile trail and the Bear Gulch Caves are about a 2.2 mile trail. These caves are dark so make sure to bring a flashlight or headlamp.
For more on planning your trip to Pinnacles National Park, check out our vlog from our experience here.
Joshua Tree National Park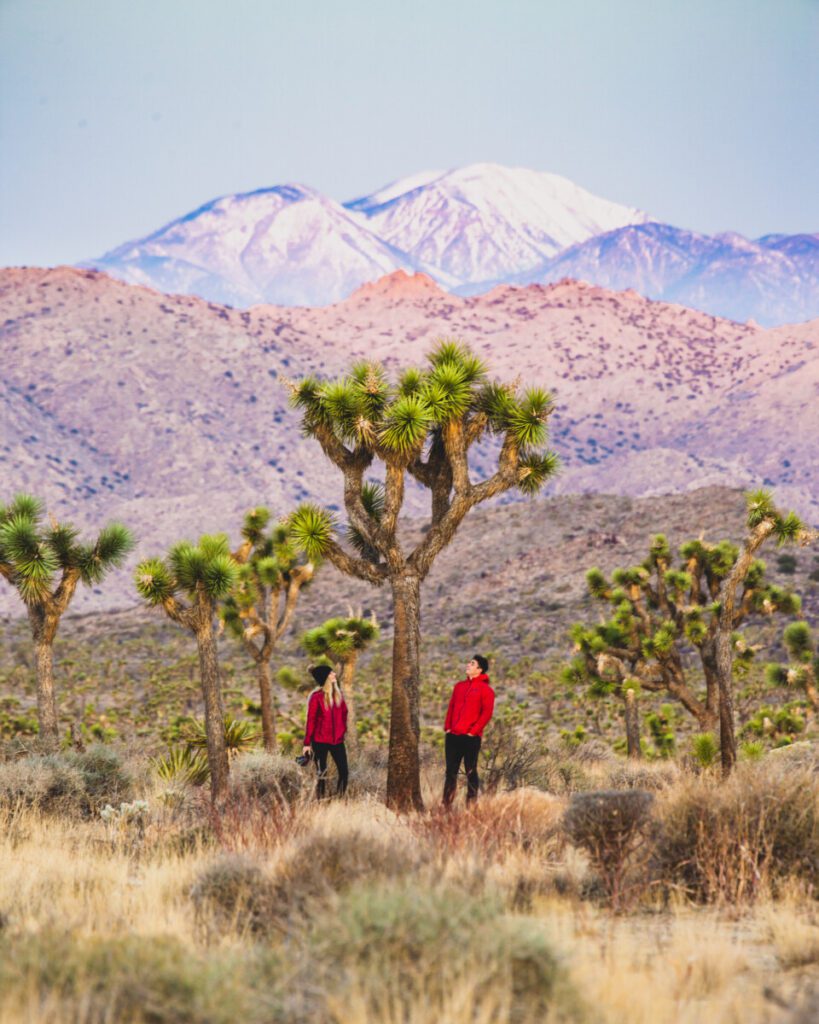 Located in the Mojave Desert, Joshua Tree National Park is full of stunning views and amazing rock climbing. One thing we learned about this park is that the Joshua Tree isn't actually a tree, it's a yucca plant, which is similar to flowering grasses and orchids. Who knew? Either way, the Joshua Trees are scattered all over the park and add a unique beauty to the desert around them.
Here are some of our favorite things to do in this California National Park. 
Hidden Valley Loop
This 1 mile hike is great for beginners, and we highly recommend going for sunrise. We love this trail because it shows some of the best Joshua Tree has to offer. You won't want to miss seeing the beautiful golden rock formations in this California National Park.
Rock Climbing & Bouldering
We highly recommend starting your time in Joshua Tree with what it's known for. Rock climbing. If you're new to the rock climbing/bouldering scene you should check out Trash Can Rock or other spots in Quail Springs so you can access some easier routes and start practicing your skills.
Boy Scout Trail
If you're looking for a nice long day hike among the beautiful rocks, this trail is for you. It's a point-point trail and 8 miles one way. We highly recommend saving this hike for the cooler months as it can get extremely hot during the summer. If you choose to do this trail, make sure to pack tons of water, sunscreen, and snacks.
Arch Rock
We recommend this hike as a nighttime activity so make sure to bring a headlamp or flashlight. Here you'll find stunning views of the Milky Way and so many stars to capture with your camera. It's a dream land for anyone into astrophotography.
Cholla Cactus Garden
This loop trail takes you through the cacti filled garden and provides insane views during sunset. The golden glow on the cacti was one of our favorite views in the park.
Keys View Lookout
As the highest point in Joshua Tree, Keys View Lookout is perfect for capturing the sunset over the park. You can see everything from the surrounding mountains to the San Andreas Fault to the Salton Sea.
Redwood National and State Parks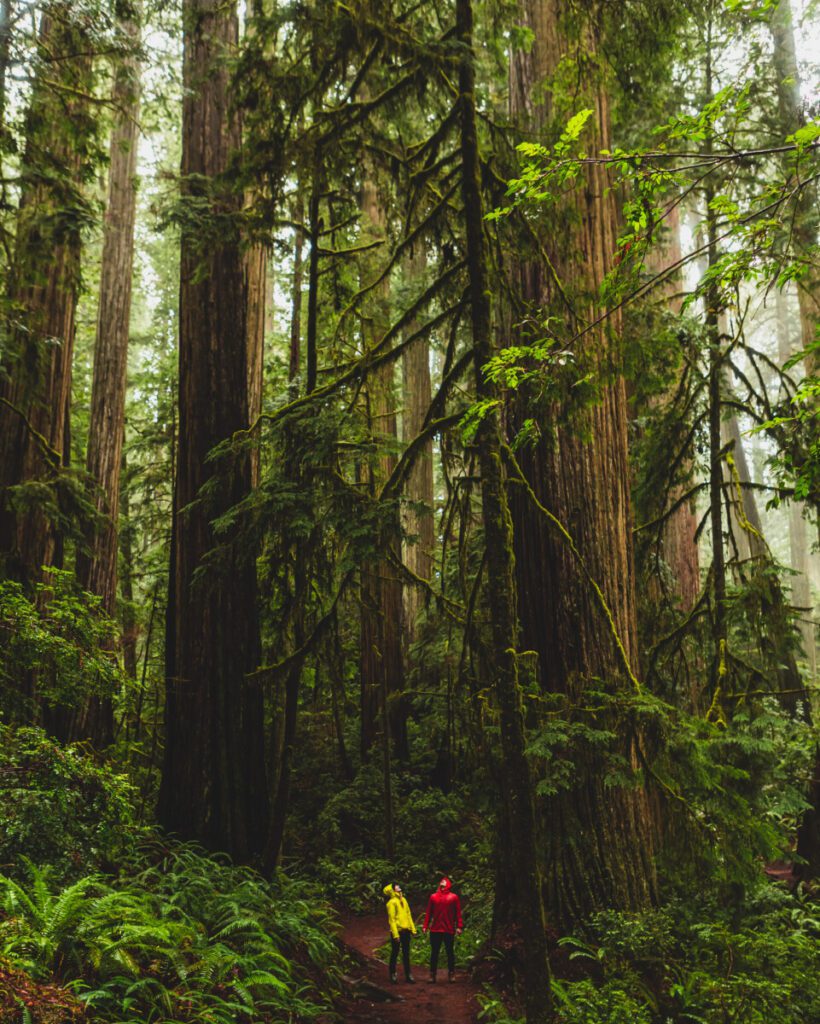 Redwood National and State Parks is a unique National Park in the sense that it is four parks all in one. Housing almost half of all redwood trees in the world, this California National Park and surrounding state parks are absolutely gorgeous. We loved being amongst such giant trees along with the beautiful red and green colors.
Here are our must-see spots throughout the Redwoods region.
Jedediah Smith Redwoods State Park
In Jedediah State Park, we recommend checking out the Boy Scout Trail. It's about 5 miles long and takes you up 750 ft in elevation. Throughout the trail you'll see some of the best redwood scenery in the northernmost part of the National and State Parks. We found that the road to get there is a little sketchy and full of potholes so make sure you have a vehicle that has four-wheel drive to get to the trailhead.
Redwood National Park
Here in the Redwood National Park proper, we suggest checking out the Tall Trees Trail Loop. For this specific hike, you need to apply for a permit 2-7 days before you come. It's a free permit but they only let 50 vehicles in per day so make sure to not forget to apply when planning your trip. This was one of our favorite trails in the park and it felt like we were walking through a magical forest. It totals out to 4 miles from start to finish and is a must do in this California National Park.
The next hike we recommend is the Lady Bird Trail. This 1.5 mile loop is perfect if you have children or are looking for a short and flat hike. Although it was our least favorite of the hikes we did there, we still thought it had really gorgeous views of the redwoods and was a nice enjoyable stroll.
Prairie Creek Redwoods State Park
The Prairie Creek Trail is a 4.3 mile point to point trail and is home to some beautiful redwood trees. Along the trail you'll get to see a stream and possibly some trout as well. About halfway down the path you'll come to a tree called Corkscrew, which has four intertwined trunks and is unlike any tree we had seen before.
Avenue of the Giants
Avenue of The Giants is a 31 mile stretch of the Humboldt Redwoods State Park with gorgeous views of the redwoods. It was insane and so beautiful. While driving, we pulled off to take in the views at least 5 times but could have stopped every mile. The most scenic part for us was starting from the south most point on Avenue of The Giants towards Eureka and then driving up about 15 or 20 miles. This drive is a must do if you're in the Redwood National Park area.
Channel Islands National Park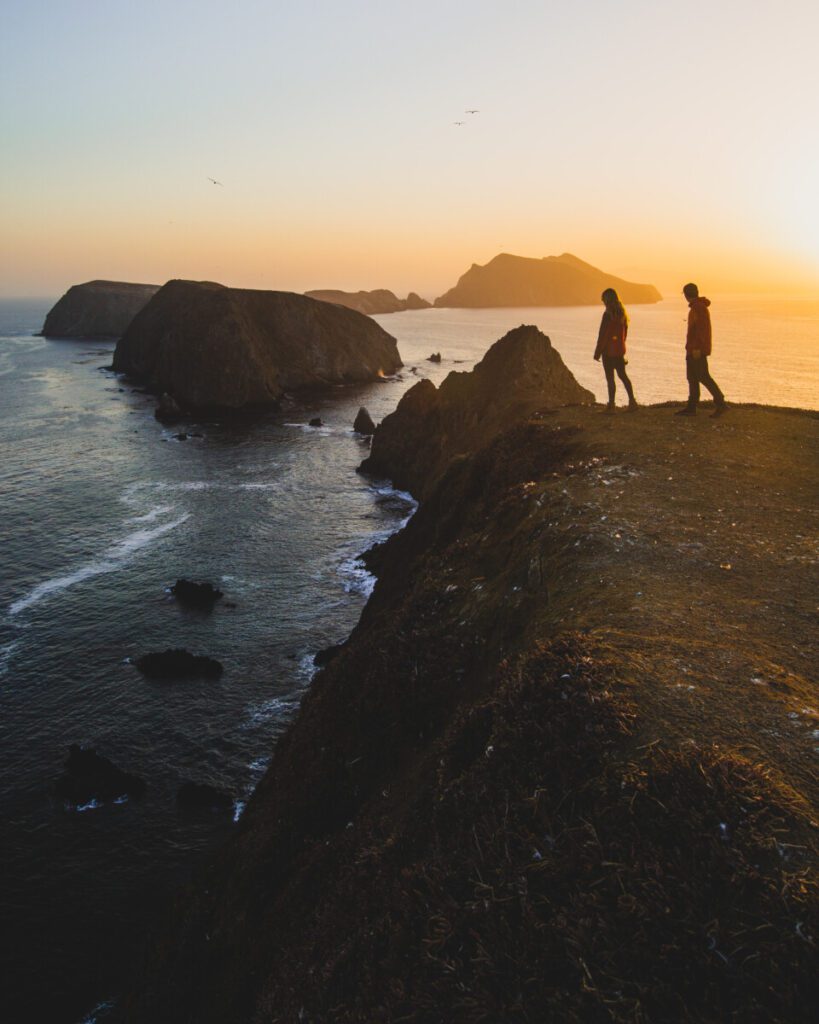 This California National Park is off the coast of Southern California and is made up of five islands. The two most visited are Santa Cruz and Anacapa. Channel Islands is very different from the other eight National Parks in California, but that doesn't mean it lacks in beauty or activities. Here are some of the fun activities you can expect to do on the islands.
Anacapa Island
This island is really small, smallest of the five Channel Islands. In order to get to Anacapa Island, you have to arrange boat transportation. We used Island Packers as they are the designated ferry in the area. It's important that you secure camping permits and also make sure there is an available spot on a boat in order to visit. The boat ride was about an hour and a half and was very relaxing. We saw tons of dolphins jumping in the water. We highly recommend bringing sunscreen and protective clothing as getting sunburnt is very likely.
Between April-August it's bird breeding season and madness on the island. We visited in May and there were easily 1-2 thousand seagulls in view at all times. If you're not a bird person, we suggest choosing a different island or making it a quick day trip.
Inspiration Point 
This lookout is about 1.5 miles round trip from the visitor center. We highly suggest making this a sunset hike as the views of the Channel Island coastlines are incredible.
Cathedral Cove 
Cathedral Cove is .6 miles from the visitor center and offers a bunch of different activities.
Here you can take in the beautiful ocean views, snorkel, and kayak. We saw tons of seals swimming around the cove when we visited. You can kayak from the landing dock to Cathedral Cove, and we definitely suggest anyone with a kayak to do the same. From here, you'll be able to see views of sea caves and Santa Cruz Island.
Sunrise on Anacapa
There is a beautiful sunrise spot facing the lighthouse on the island. When we were there, the sky was cloudy, which was a bummer, but the sunrise was still pretty.
Pinniped Point
Pinniped Point is on the opposite side of Cathedral Cove, and it offers a rockier coastline similar to Big Sur. We suggest heading out to this lookout during the day to catch the stunning blue ocean colors.
Things to Know About Visiting Anacapa Island
Since the island is so small, we don't think you'd need to stay longer than one night.
The ferries arrive at 10 am and leave each afternoon between 2-3pm.
Bring earplugs cause the horn on the lighthouse goes off all night and the seagulls are very loud.
You have to bring all of your own water on this island as it doesn't have any water filling facilities. We brought 6 liters for cooking, hydrating, and coffee, and found that was plenty.
Santa Cruz Island
Santa Cruz is the most visited of the islands and is pretty hard to get a permit for. We haven't personally been to this island yet, but we know it's best known for hiking, swimming, snorkeling, diving, kayaking, and wildlife/wildflower viewing.
There are around 600 plant species, 140 land birds, 11 land mammals, and a handful of amphibians and reptiles on the island.
Del Norte Camping
Del Norte backcountry camping is very remote and is the only backcountry camping on the island.
From Prisoner's Harbor you will need to hike 3.5 miles along the Del Norte Trail, which takes you through canyons and ridges. The campsite itself is a vista that's 700 ft above sea level and houses 4 campsites with a maximum of 4 people per site. Here you can find a shaded oak grove and beautiful views of the coastline.
Scorpion Canyon Camping
This family friendly campsite is on the eastern part of the island and contains 25 individual campsites at a max of 6 per site and then 6 group sites at a max of 15 per site. Scorpion Canyon is perfect for ocean views and beach days.
The hike from the pier to the campground is about half a mile and is relatively flat. You can access the visitor center and a number of trails from here.
Two of the most popular hikes on Santa Cruz are Cavern Point Loop, which is 2 miles long showcasing the California coastline and the peaks of the surrounding islands, and Smuggler's Cove which is more advanced hiking at 7.5 miles.
Lassen Volcanic National Park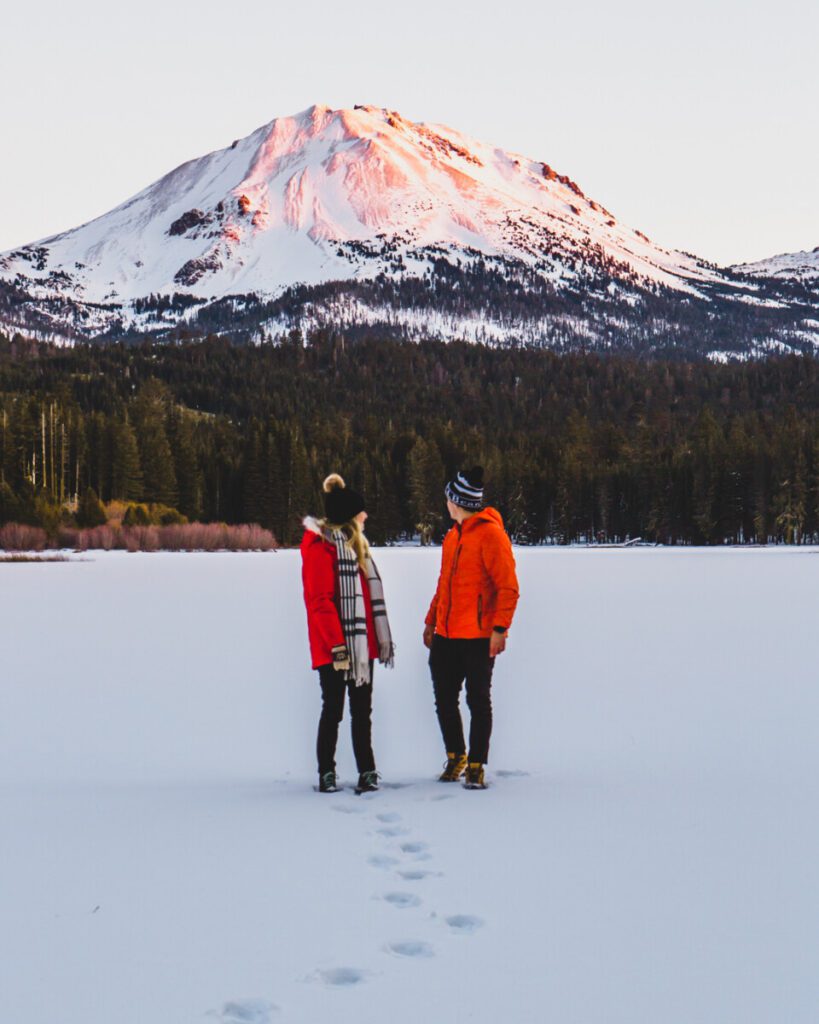 This beautiful national park is full of bubbling mud pots, lava rocks, and forests. We visited the park during the winter, and it was beautiful. If you choose to visit at this same time, make sure to bring snowshoes or skis in order to access the trails. 
It's important to know that the 30 mile park highway shuts down from November-April due to snow so make sure to check the NPS website for road conditions before going.
These are our top winter hikes in this California National Park.
Sulphur Works
This is a paved hike that shows off volcanic peaks, boiling mud pots, and steam vents in just 0.4 miles. We recommend this trail as a nice introduction to the park.
Manzanita Lake Loop
At Manzanita Lake, you can see stunning views of Lassen Peak. We suggest walking the short and easy 2 mile loop to see all this beautiful lake has to offer. Being one of the best areas in the park, it's great for not only hiking and photography, but also fishing. This lake is home to rainbow, brown, and brook trout.
Cinder Cone Trail
This is an incredibly cool hike as it takes you on the rim of a cinder cone. Although it's considered a challenging hike at 4 miles roundtrip, the breathtaking views of Lassen's volcanic landscape are very much worth it.
Bumpass Hell Trail
The Bumpass Hell Trail is 2.7 miles of sulfur vents, scorching pools, and bubbling mud pots. This trail is full of colorful landscape and in the winter the snow adds even more beauty.
Thank you for reading our ultimate guide to each California National Park with us. We hope it was fun and helpful for planning your next trip. Let us know below which National Park is your personal favorite in California.