Everything You Need to Know About Visiting Death Valley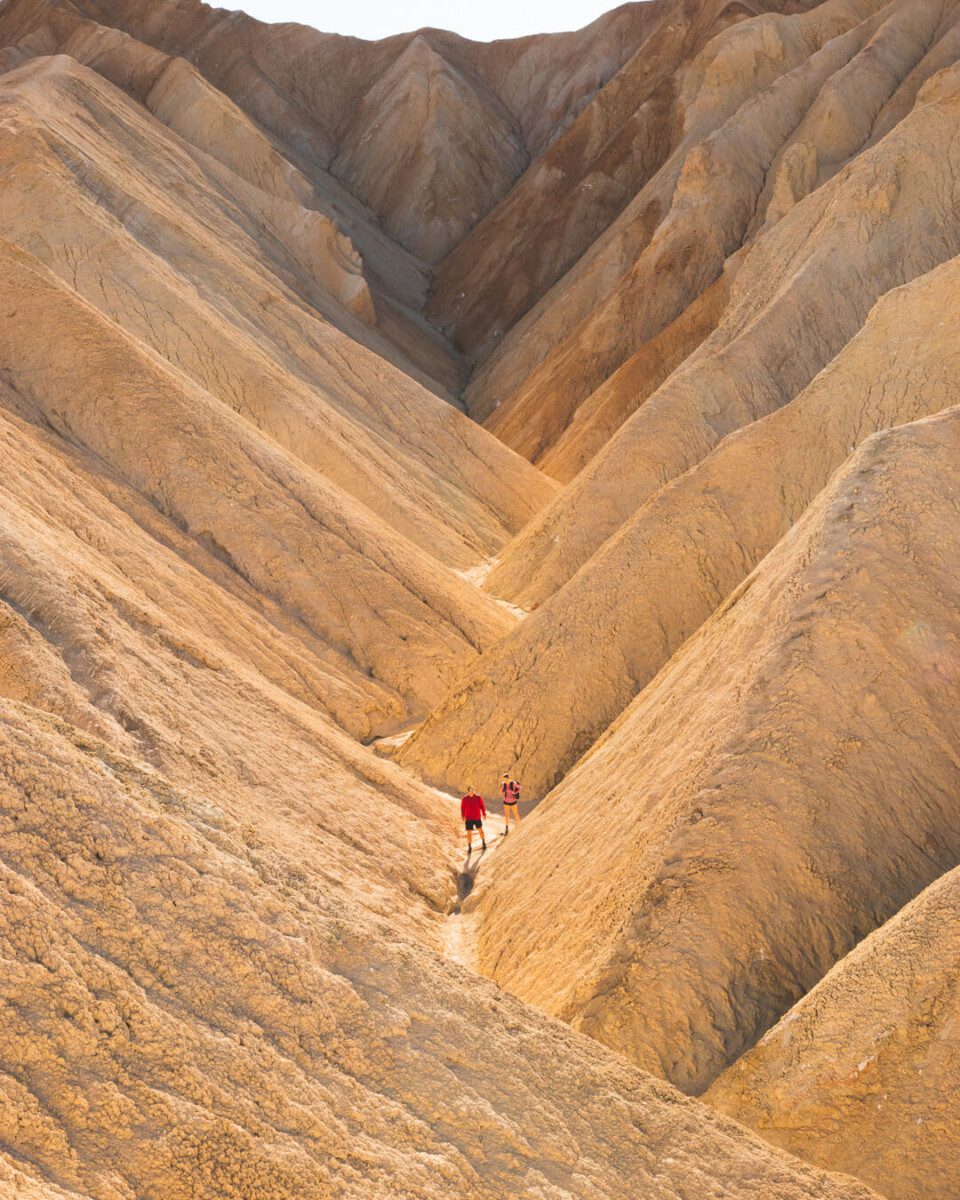 Death Valley National Park is the lowest point in North America and is also the biggest National Park in the United States. We love coming here because the landscape is stunning and unlike any other park. Just about 4 hours from Los Angeles, Death Valley is a great getaway for all the adventure lovers and weekend warriors out there.
If you're looking to plan a trip to Death Valley, we have you covered with our ultimate guide to this National Park. We've been here several different times and consider it one of the best National Parks in the USA for its beautiful diversity and things to do. We'll go over what things you should know before your trip, what you should bring, where to stay, and what hikes and lookouts are the best. 
What to Know Before Going to Death Valley National Park
Best Time to Visit Death Valley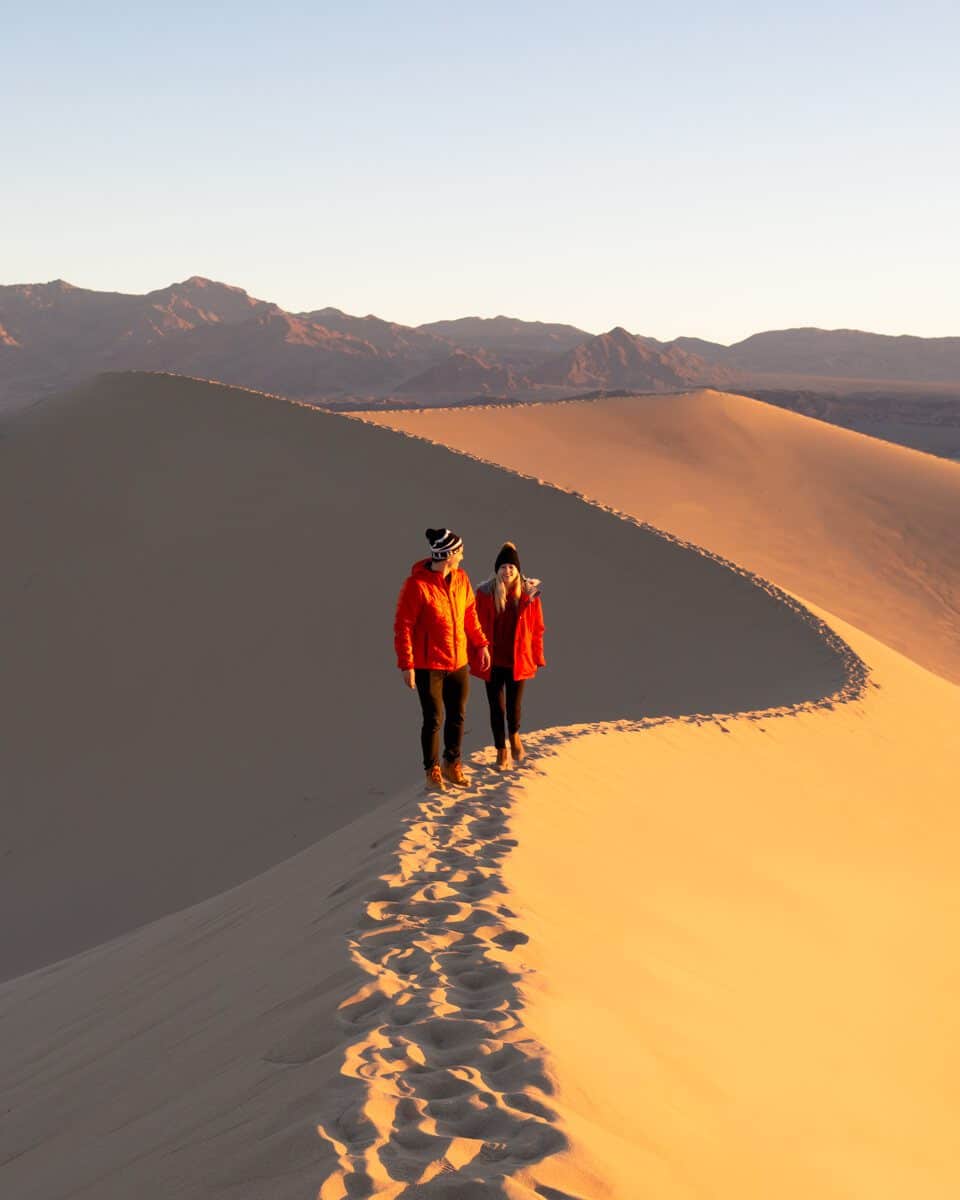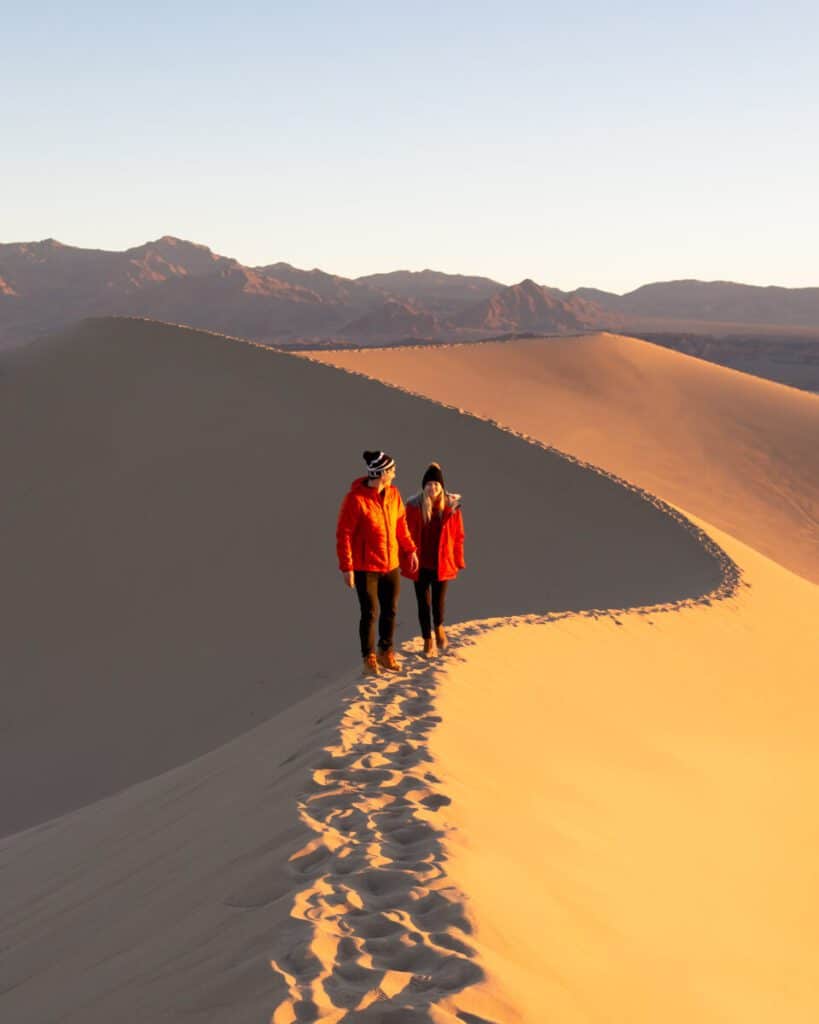 Death Valley is known for being the hottest place on earth. Because of this, we highly recommend visiting in the cooler months like October-April. The temperatures in the summer average 120 during the days and high 90s in the evenings. It gets very very hot.
If you do choose to come in the summertime, we suggest just driving through the park and avoiding hiking at all cost. It's not worth getting dehydrated or experiencing a heat stroke. Even so, the ground is so hot that people are prone to getting flat tires from just driving through. The summer months also are known for having a good amount of rattlesnakes so make sure you're always alert when getting out of your car.
We came to Death Valley in December and the weather was really nice. The highs are around 50 and the lows average about 38 degrees. If you do come in the winter months like we did, remember that the sun sets around 4:30 pm due to daylight savings, so be sure to get to your sunset hikes earlier so you won't miss them.
Driving Around Death Valley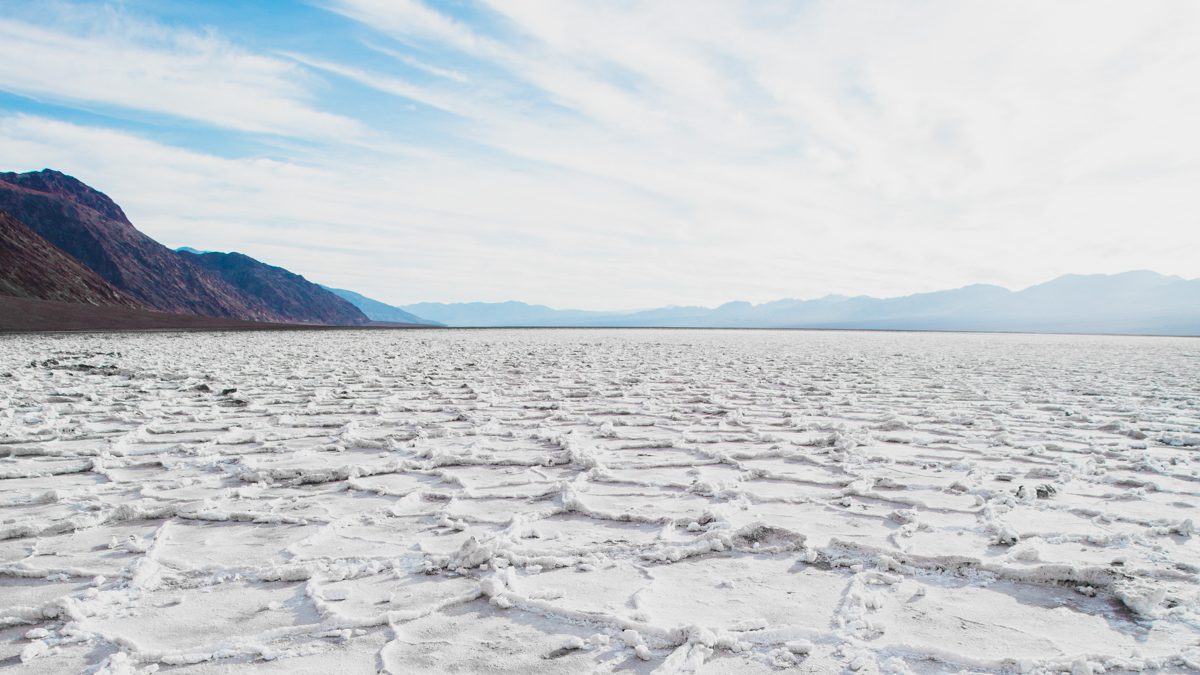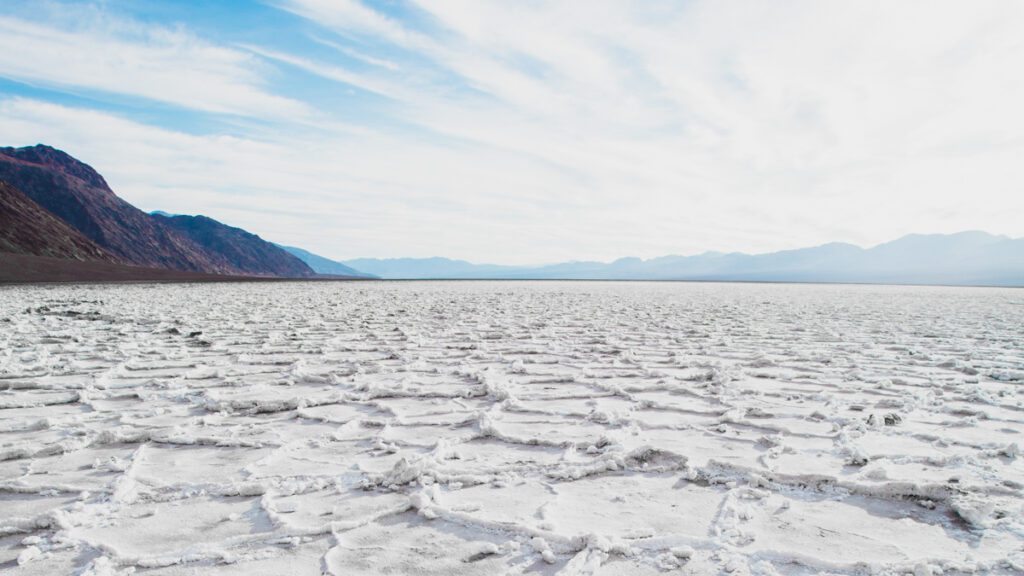 Death Valley National Park is massive. Whereas in some other national parks it takes a short time to commute to all of its attractions, driving around Death Valley can take hours to bounce between trailheads. Allot yourself enough time in your itinerary for driving so you don't have to rush your trip.
Additionally, gas stations are hard to come by in this remote area of California. We always recommend filling up your gas tank before the last major city you pass when driving into the park. There are gas stations in the vicinity of the park, but they will be the most expensive gas prices you can imagine. They are also far away from most things to do in the park.
We always recommend using apps like Gas Buddy to find the cheapest gas in the area before entering into any national park.
What to Bring to Death Valley National Park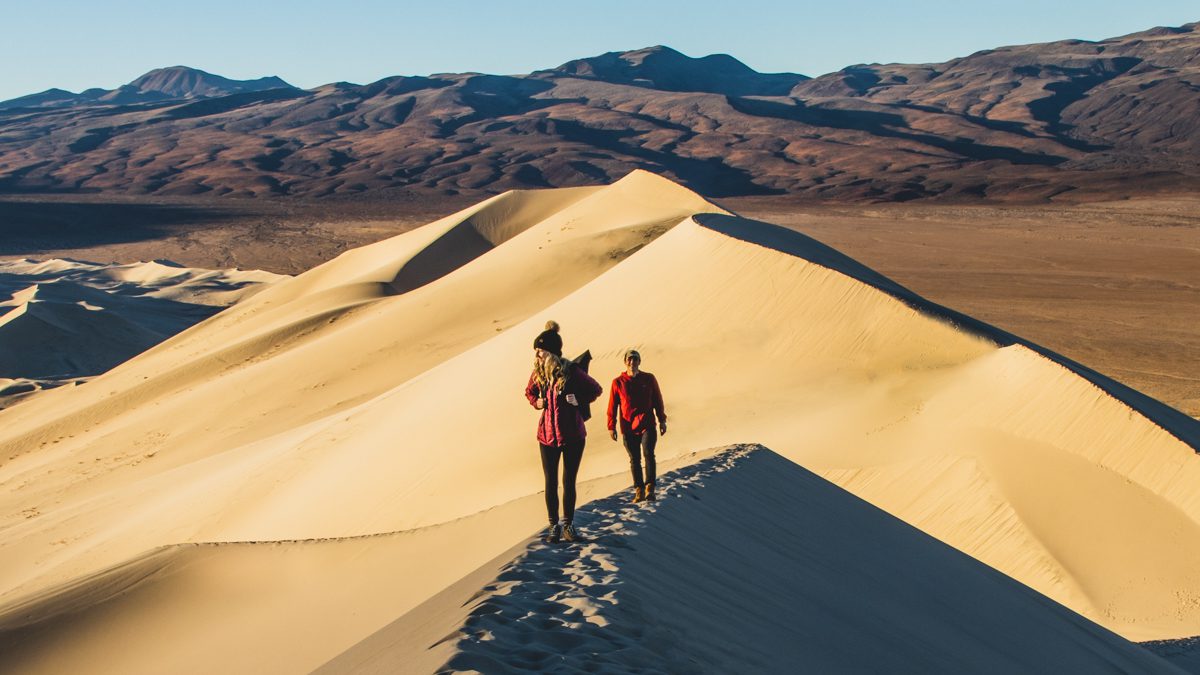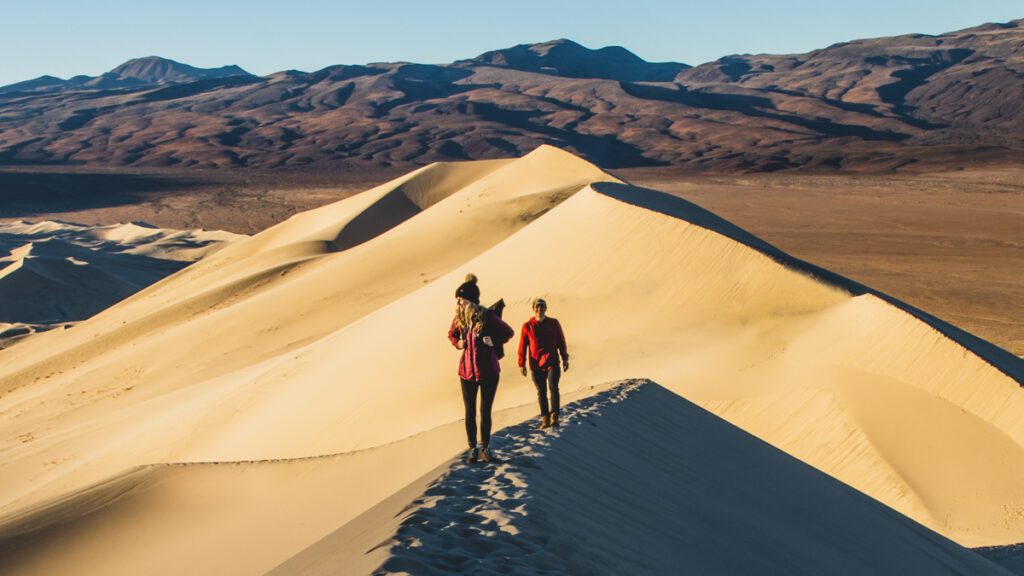 No matter what time of year you visit Death Valley National Park, always bring lots of sun protection such as sunscreen, hats, and sunglasses. Even in the winter months, the sun is still powerful and getting sunburnt is never fun.
We recommend packing all your own food for each meal while in the park because Death Valley doesn't have any restaurants. Plus, you'll save money because any local grocery stores outside of the park usually have higher prices.
You will definitely want to pack a lot of layers such as warm socks, base layers, puffer jackets, and beanies. The winter months do get cold and it's always best to have layers to peel off than not have enough to stay warm. Also make sure to bring a headlamp for your sunrise or sunset hikes. You can check out our gift guide to find all these essential items.
We recommend bringing some form of hiking shoes that have a lot of traction so you can hike with ease and avoid slipping on the trails.
Water, water, water. Death Valley is extremely dry and your body will feel it especially if you're hiking a lot each day. Bring tons of water and make sure to stay as hydrated as you can throughout the day.
Where to stay in Death Valley National Park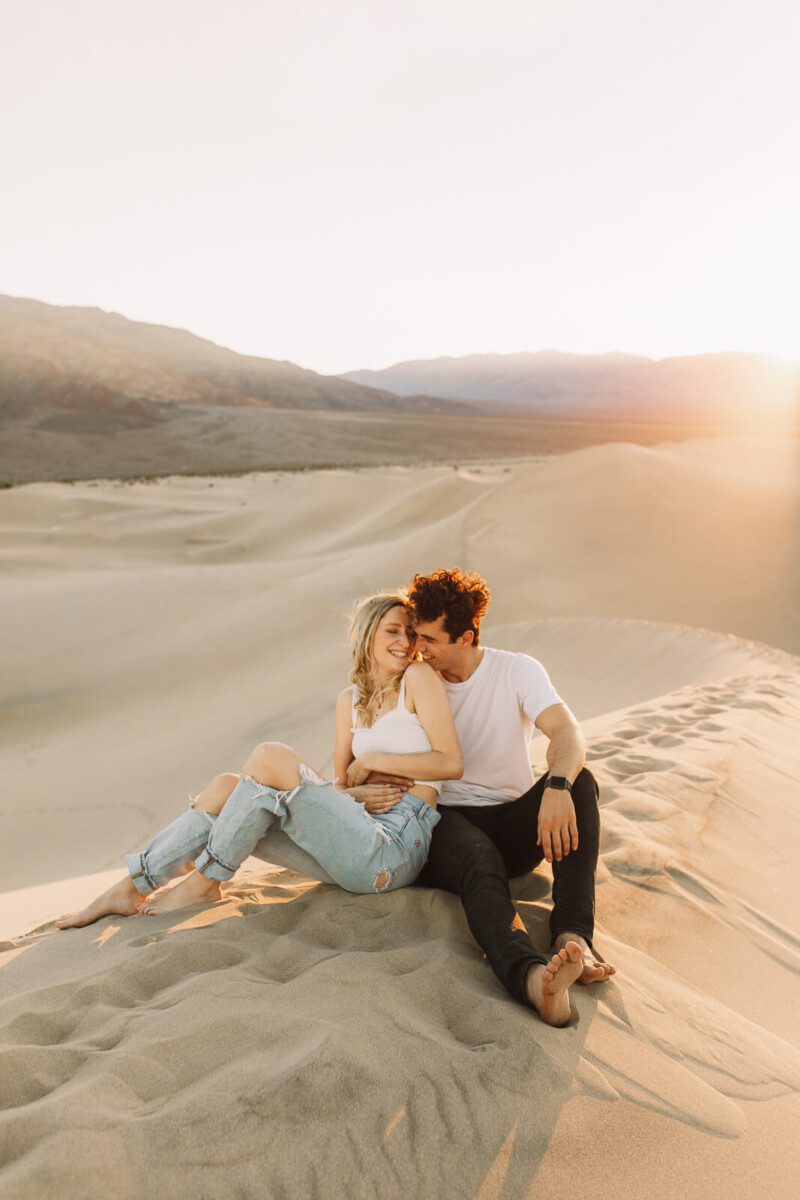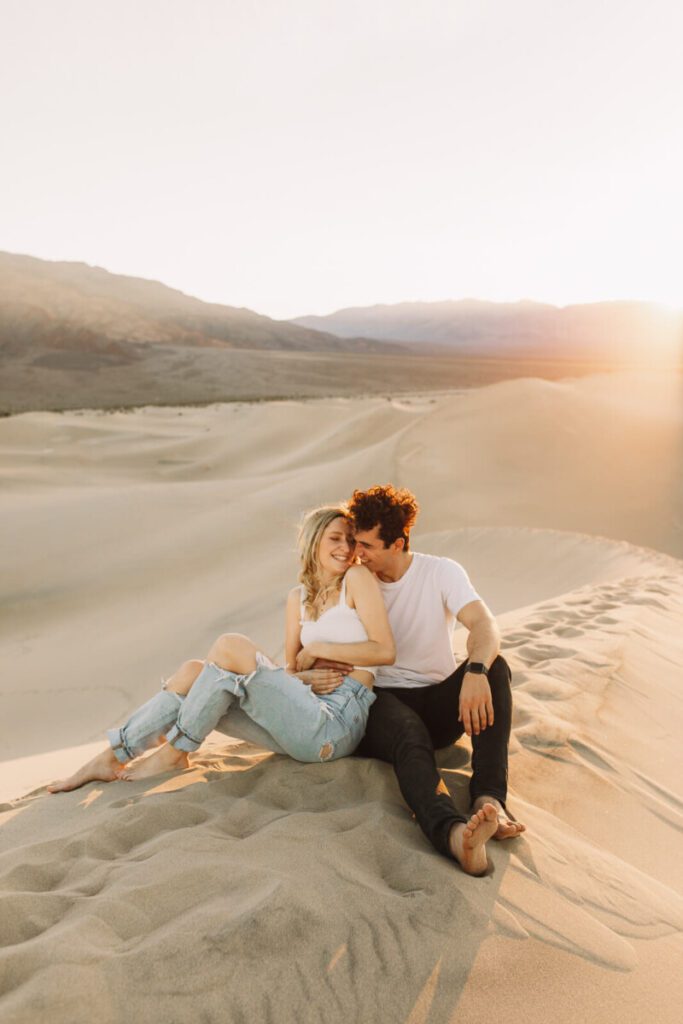 Backcountry Camping
Camping in Death Valley National Park is super easy. While in the park, you can camp off any dirt road as long as it is 1 mile off the main highway. This makes your visit very convenient because you can camp close to the hikes and viewpoints your wanting to explore the following day. It's also more cost efficient if you're trying to visit Death Valley on a budget.
However, if you choose to camp in the backcountry, be aware you will likely need a 4×4 or high clearance vehicle as the roads can get rocky and rough. You'll want to make sure you are fully self sustained and have all the necessary car camping gear and cooking supplies.
National Park Campgrounds
If you'd rather camp in a more established campground, Death Valley has quite a few developed campground options for you to choose from! Furnace Creek Campground is going to be your best bet if you are looking for more amenities like a camp store, bathrooms, and electrical plugins. As a reminder, this campsite is open for reservations six months in advance, so make sure to set a notification on your calendars as campsites can go quickly once released.
If Furnace Creek Campground is full at the time of making your reservations, check out one of the several other developed campgrounds as they are all on a first come, first serve basis.
Astrophotography in Death Valley
Death Valley is an International Dark Sky Park, which means the stars are beautiful. We highly recommend setting time aside during your visit to soak up the views and stargaze.
Due to its remote location, it has very minimal light pollution making Death Valley's dark sky perfect for taking pristine photos of the stars. In fact, they even have the Death Valley Dark Sky Festival every year where you can do this with others!
If you'd like more information on how to take the best photos of the stars and milky way, check out our travel photography guide. You'll definitely want to have a tripod, a remote, and layers to stay warm.
Know Before You Go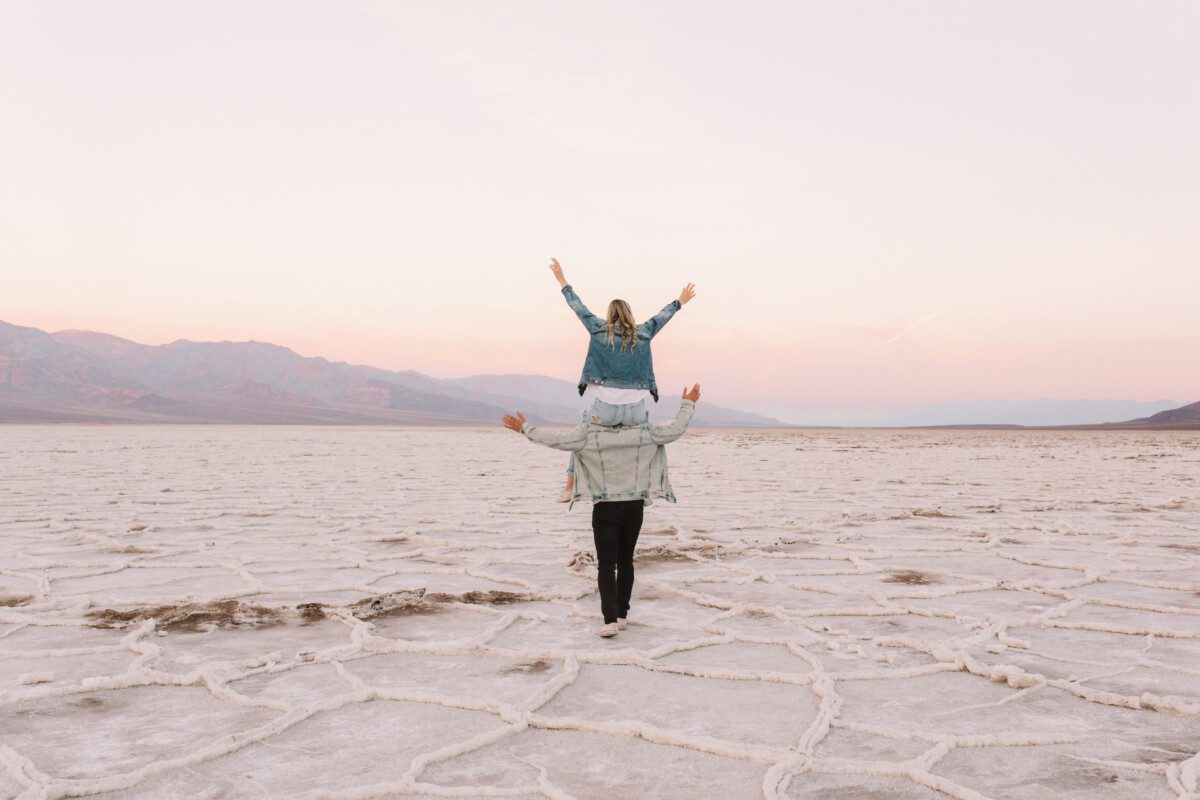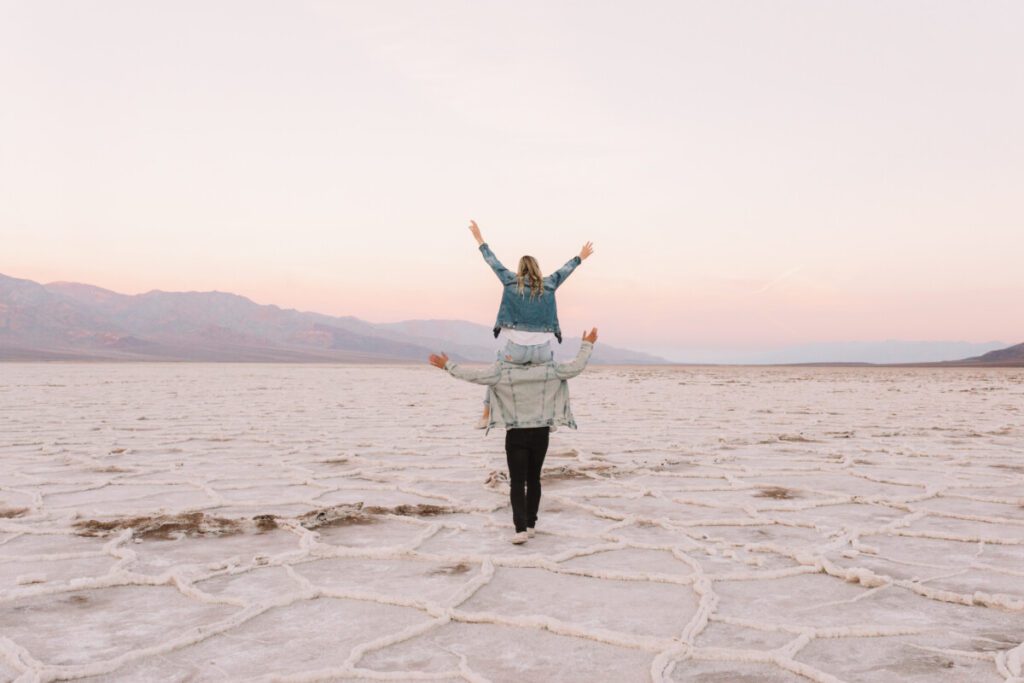 Besides the insane temperatures in Death Valley, you're going to want to make sure you're aware of the other hazardous conditions before visiting the park.
Death Valley is prone to getting flash floods, which means you will not want to venture into a canyon if there's even a slightest chance of rain.
There is not much cell reception throughout the park, so you'll want to make sure you have Google Maps downloaded, along with any other trail data you need for hiking. For this reason, we also highly recommend having an emergency device on you such as a Garmin In Reach or Spot Unit.
Hiking in Death Valley National Park
When hiking in Death Valley National Park, always bring enough water and snacks for you and your group and always practice Leave No Trace. There is a vast variety of options for hiking in Death Valley – from sand dunes, to canyons, to salt flats.
Mesquite Sand Dunes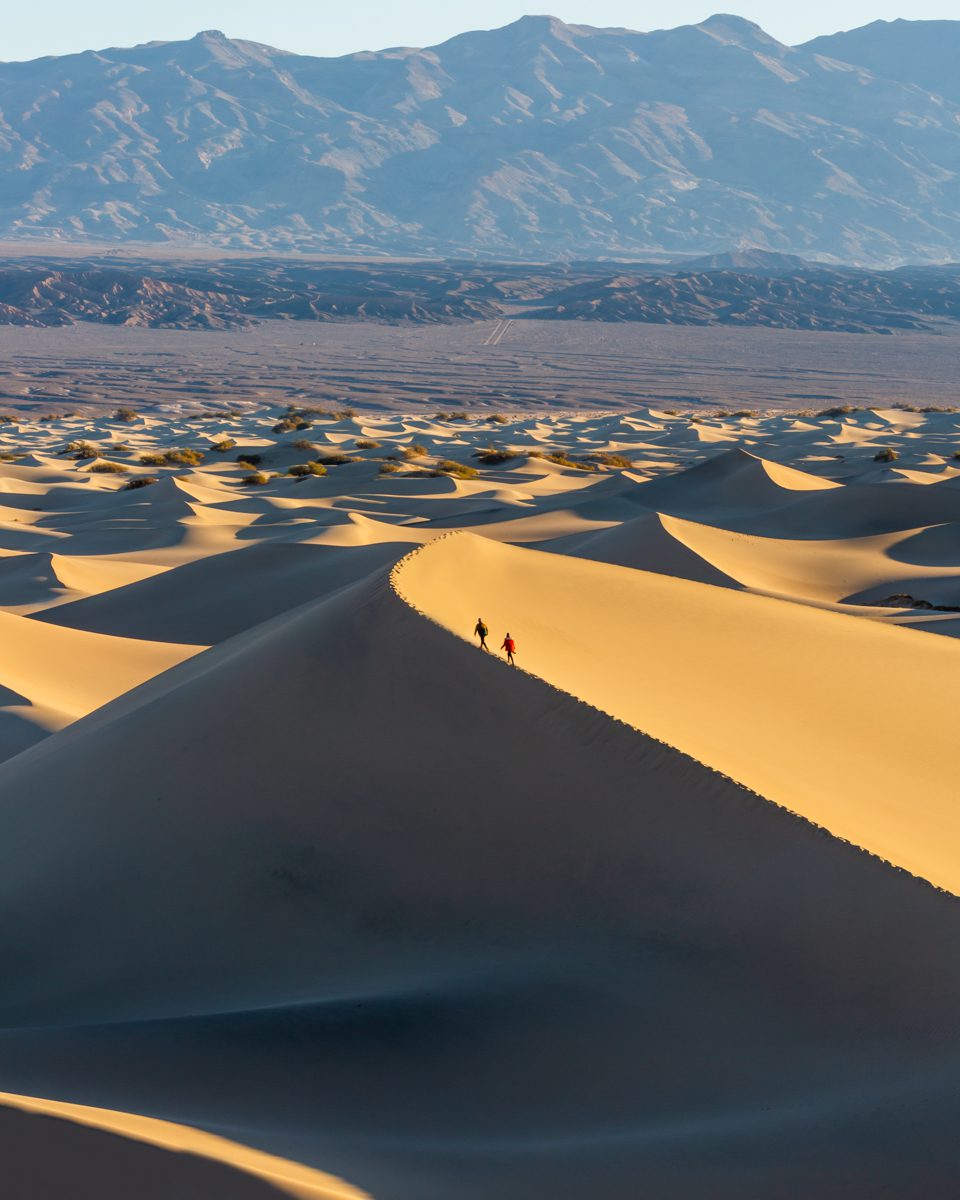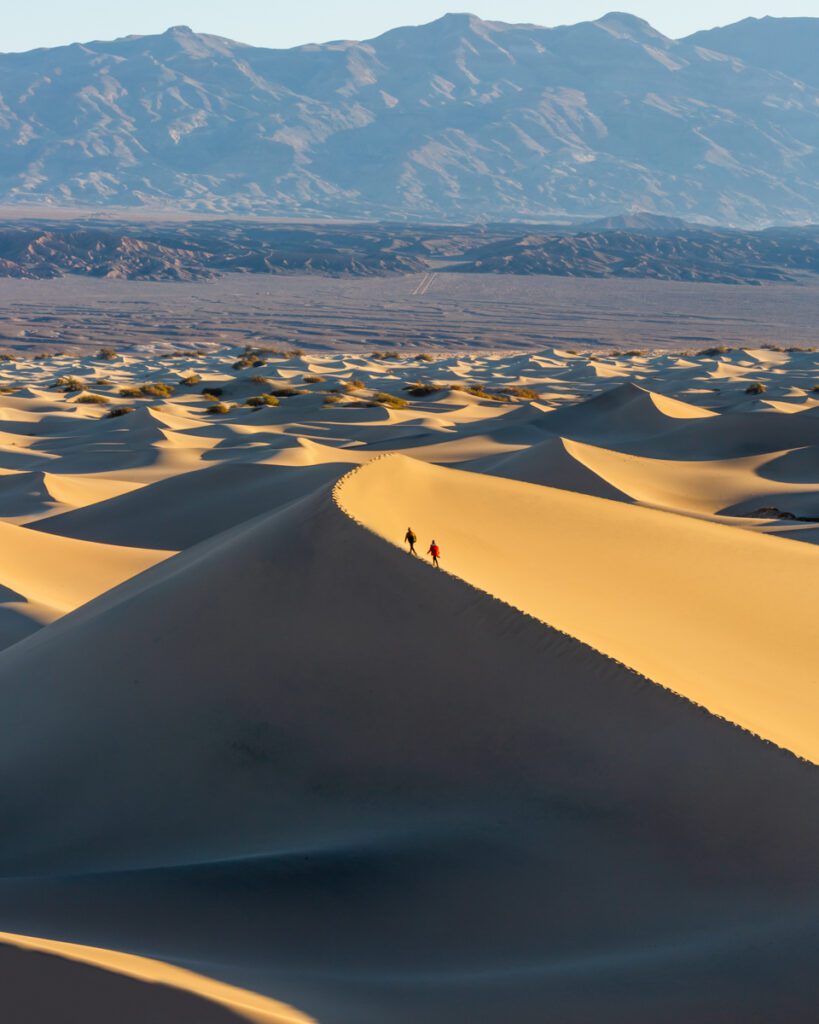 We recommend going to the sand dunes for sunrise. Sunset has amazing views as well, but we personally like sunrise better because there are less people and it's nicer light. There isn't a defined trail so you're free to walk out as far as you'd like. 
We like to walk about an hour out into the sand dunes and for sunrise we usually leave at about 6am to get there on time. To be honest, the hike up the sand takes a lot of effort, but it's 100% worth it. 
If you're looking for a nice spot for photography, we highly recommend coming here. Sunrise is beautiful, the night sky is stunning, and the mid afternoon sun touching the sand is breathtaking.
Mosaic Canyon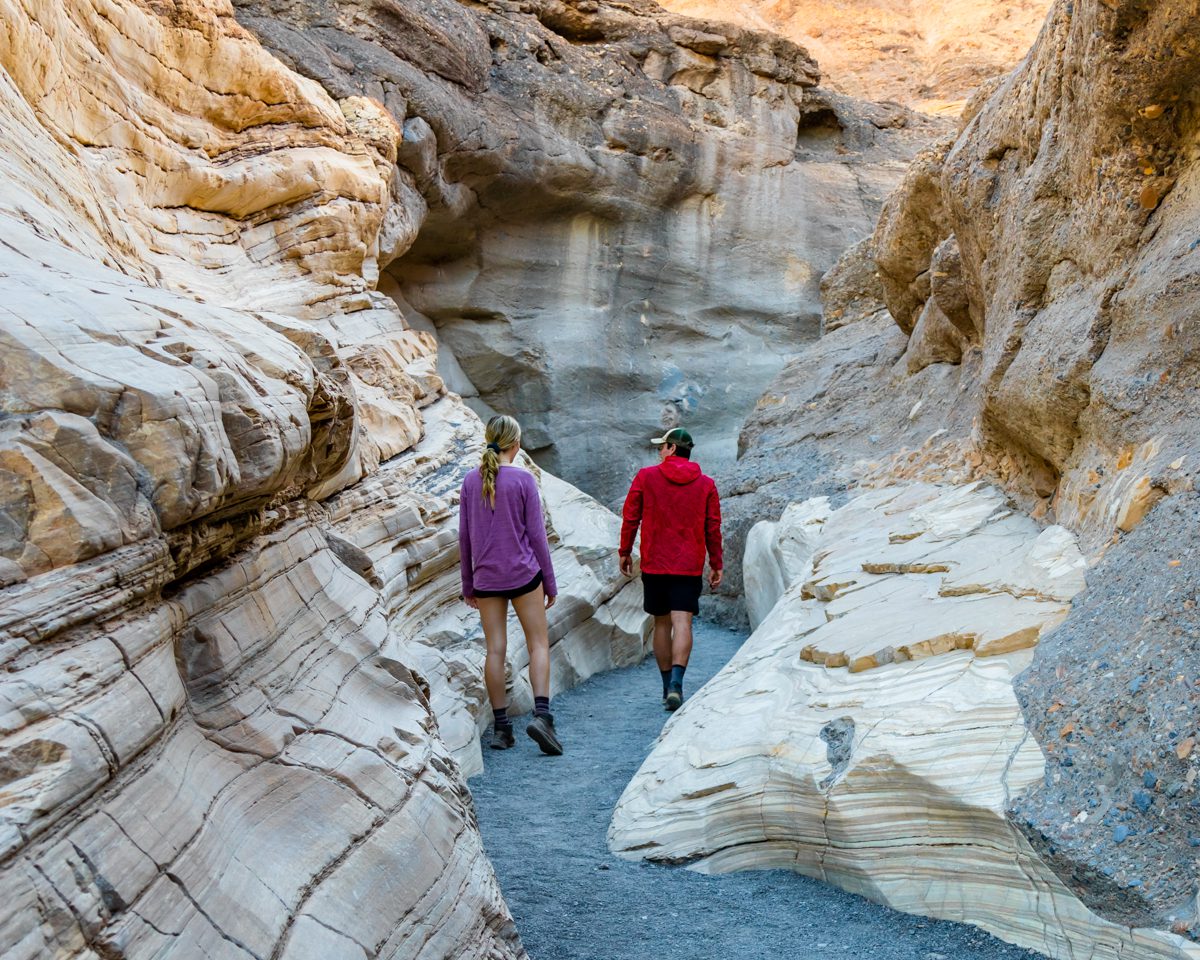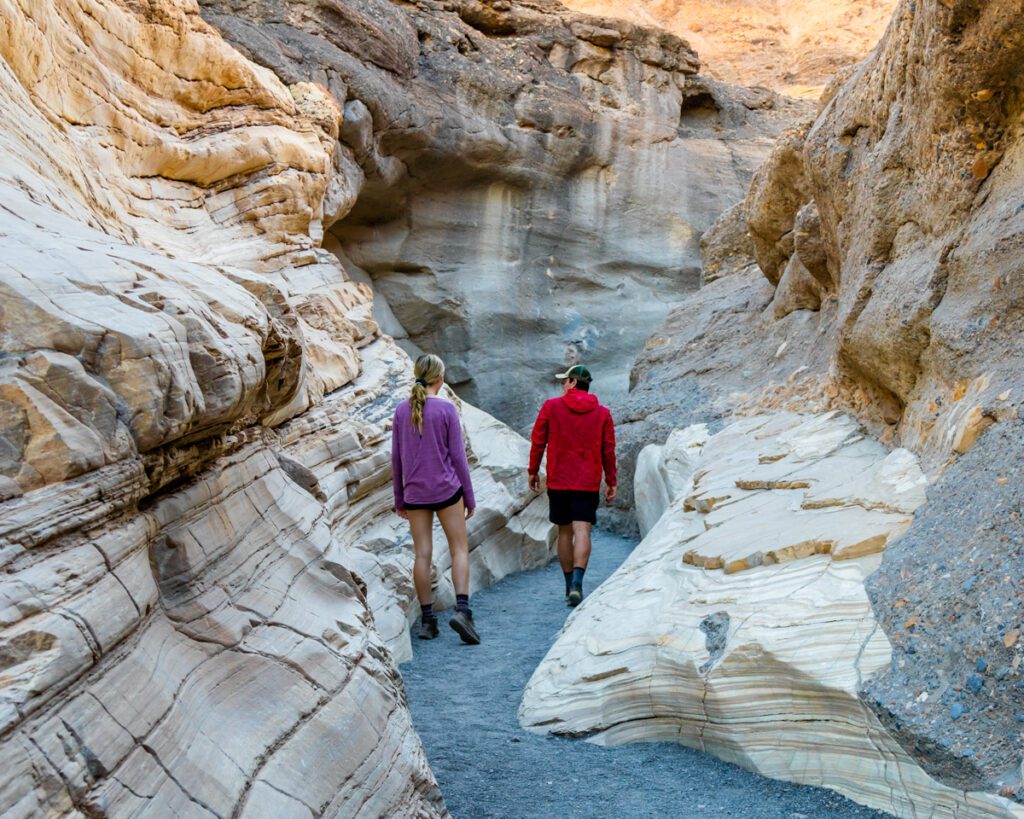 We were told that Mosaic Canyon was a slot canyon, but compared to the ones we've seen in Utah, it didn't quite feel like a slot canyon. With that said, this is still a really cool spot and the rock formations were awesome to walk through. The hike itself is 4 miles out and back and is rated moderate to difficult. Star Trek lovers might recognize this area from the TV show.
Golden Canyon to Red Cathedral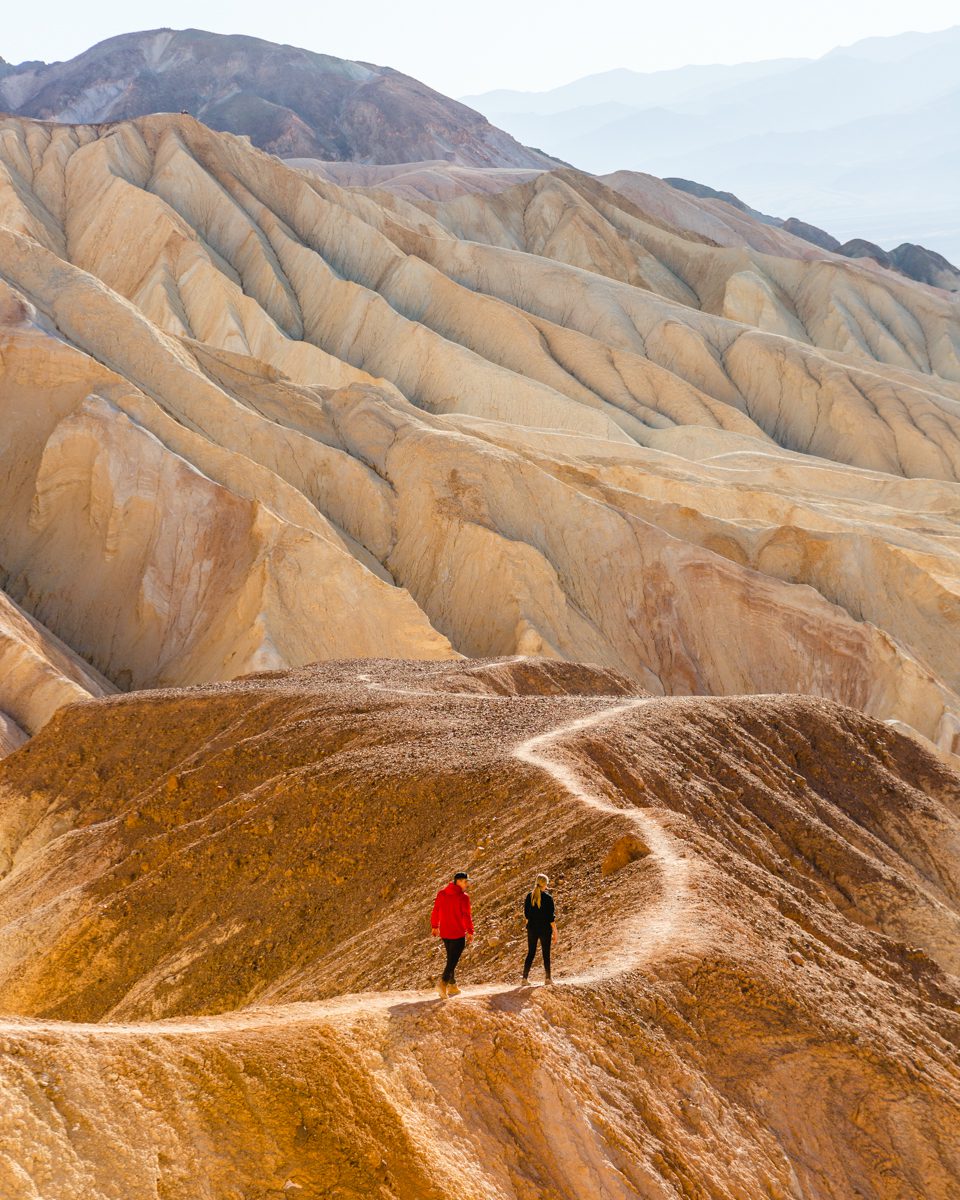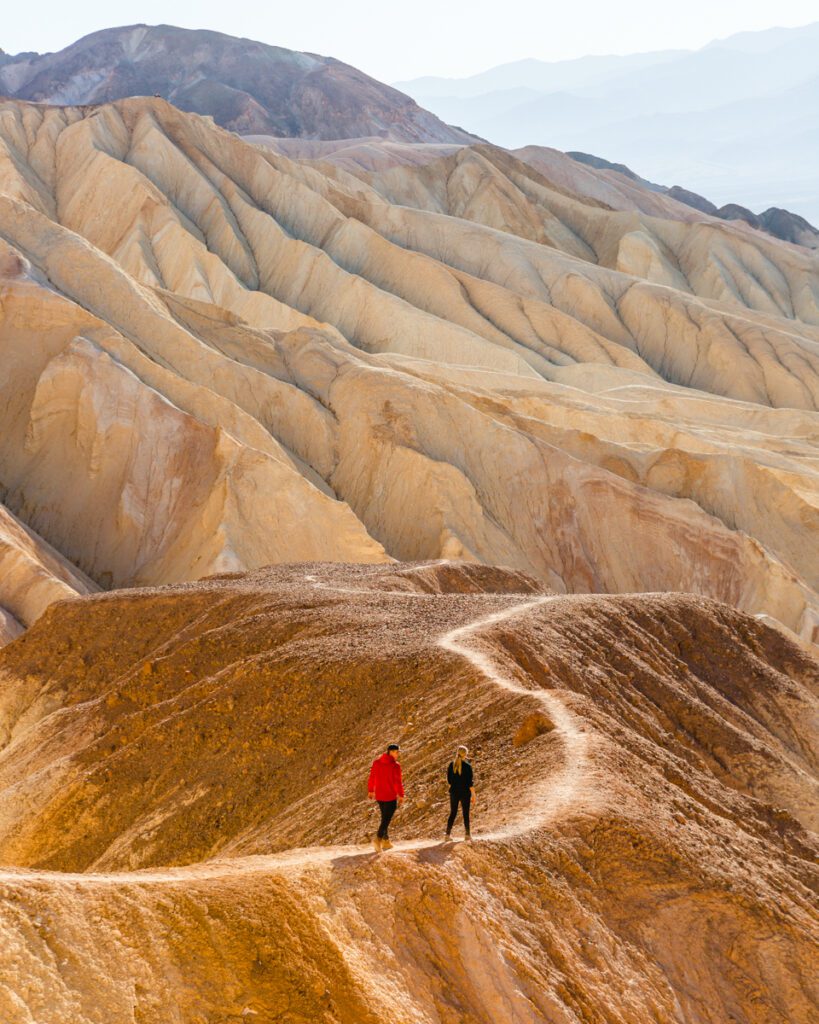 The Golden Canyon hike to Red Cathedral is 3.5 miles out and back. Many people hike Golden Canyon and skip going up to Red Cathedral, but if you have proper hiking shoes, we highly recommend going the extra .5 miles to Red Cathedral. There is a little scrambling that last .5 miles, but the views of the red rock formations are definitely worth it.
We suggest doing this hike earlier in the day to avoid the sun being right in front of you. This is such a beautiful spot in Death Valley National Park and a must see for every visitor.
Artist's Palette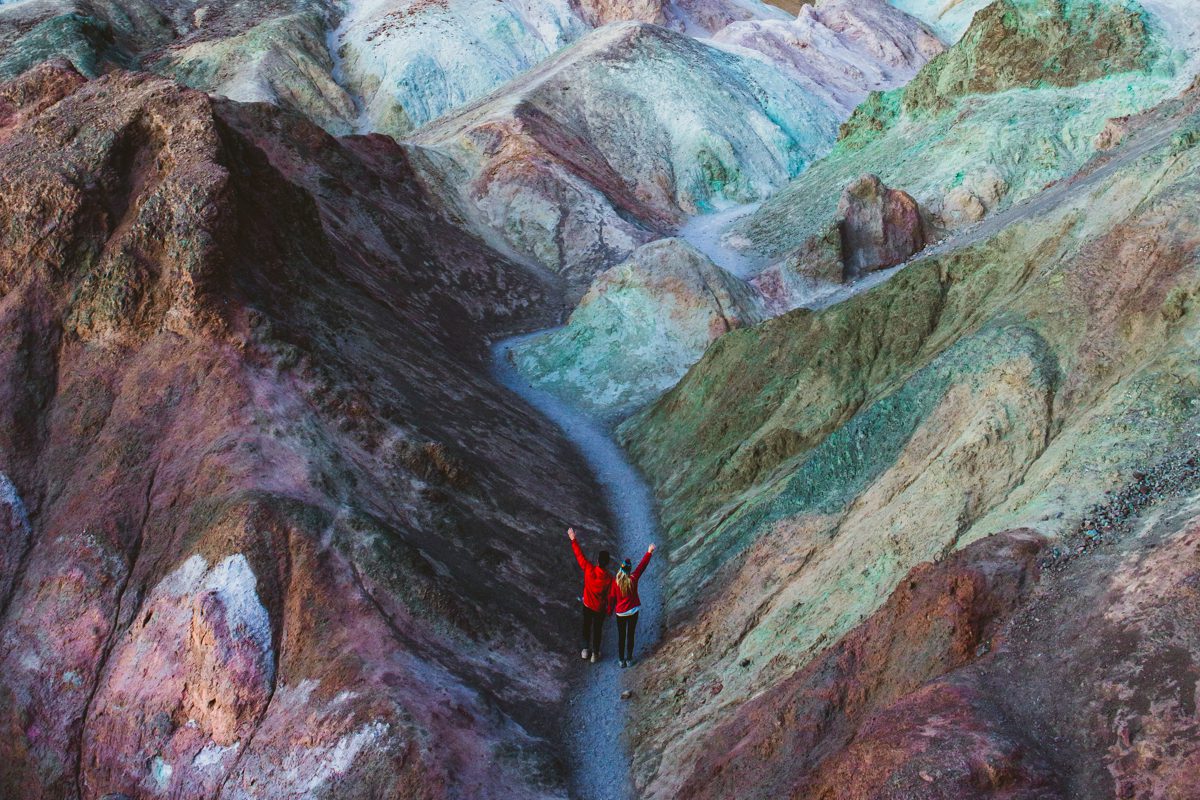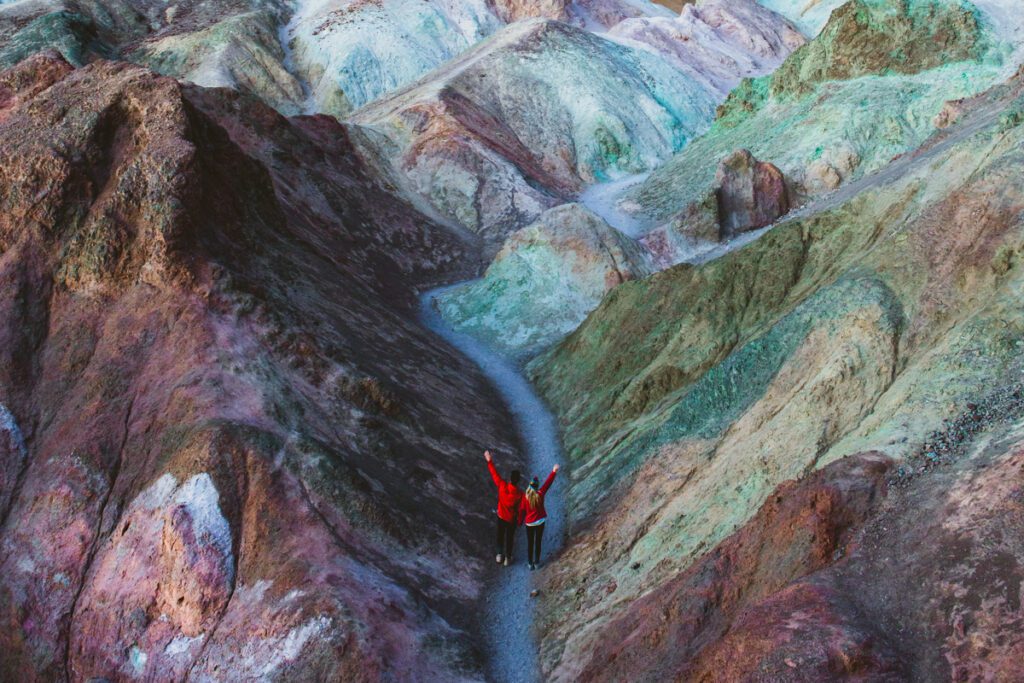 We highly recommend heading to Artist's Palette for sunset. Blue hour is definitely the best time to shoot this location for the colors to pop in your photos. The walk to the overlook is just 0.3 miles and shows stunning views of the blue, brown, white, and red colored canyon. You can also go for a scenic drive in this area and enjoy the multiple pull off spots and photo opportunities.
Zabriskie Point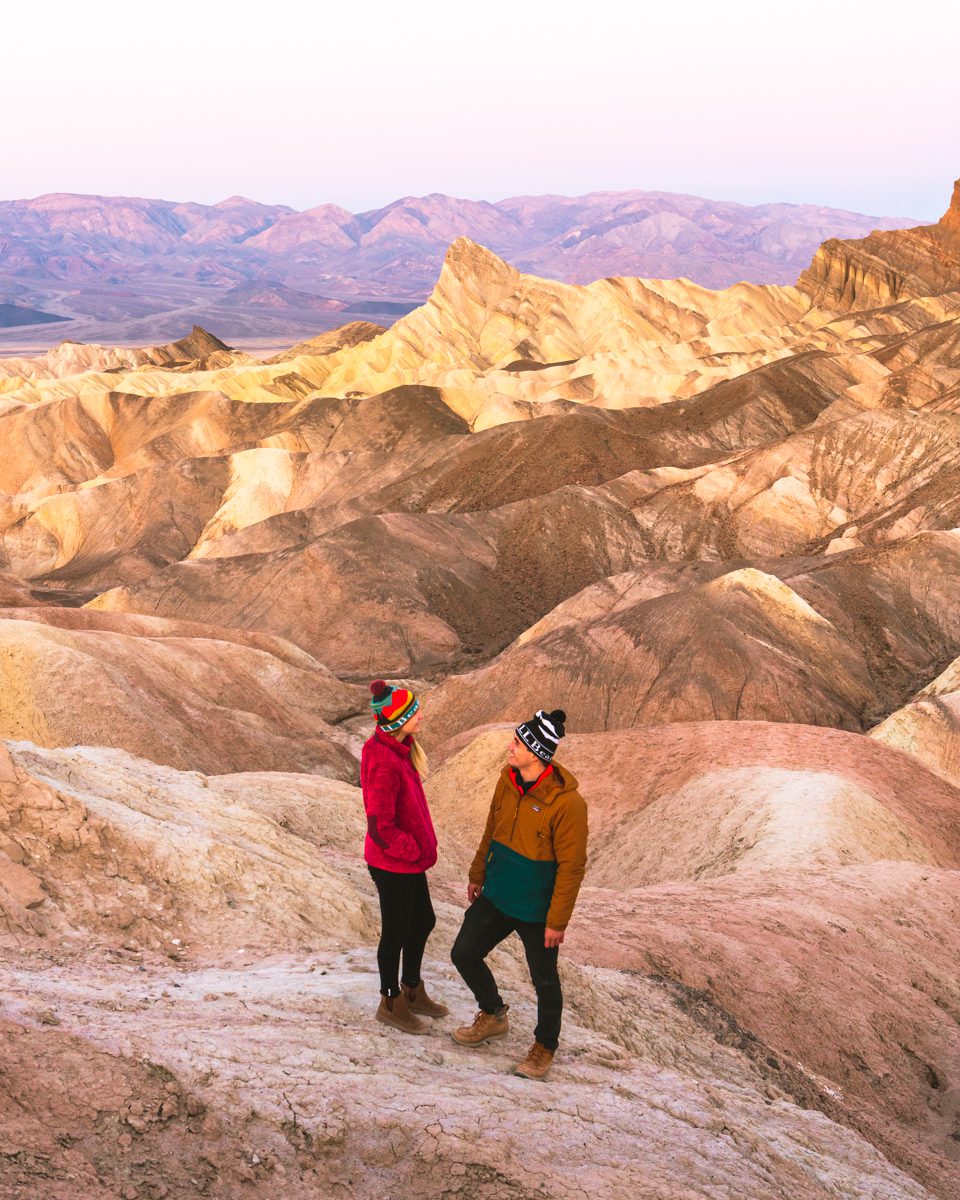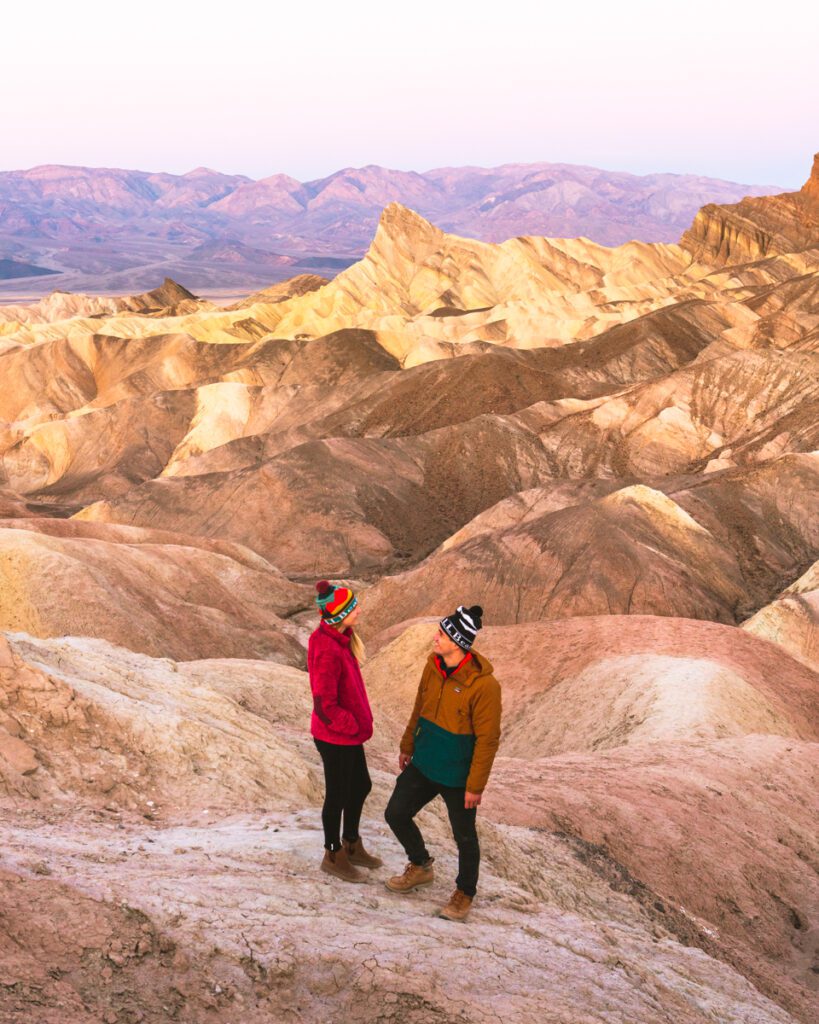 Zabriskie Point is a very popular spot in Death Valley National Park so we suggest getting there earlier to secure a parking spot. We went for sunrise and the views of the colorful and eroded badlands were breathtaking. The hike is a total of 0.4 miles and is a great spot for sunset as well.
Sidewinder Canyon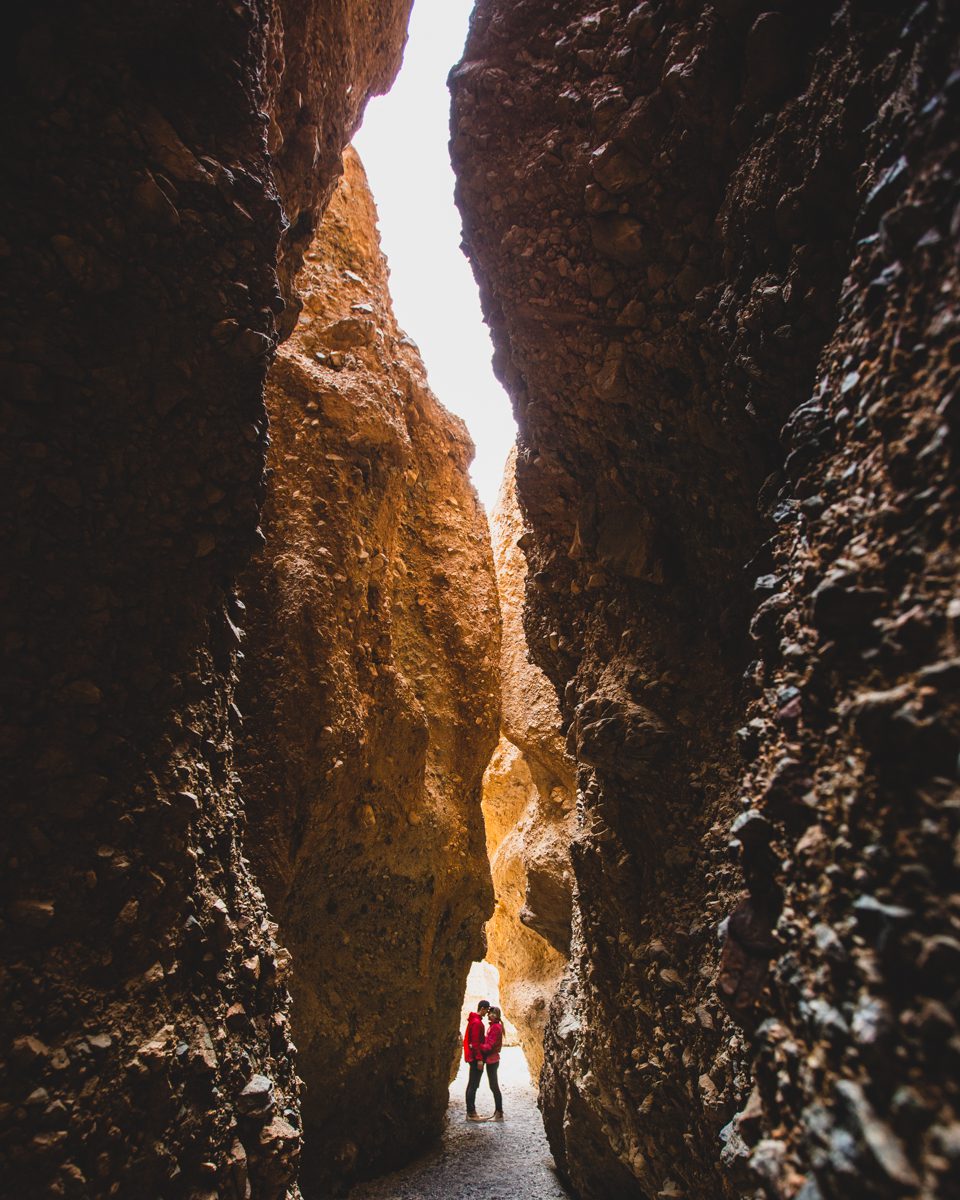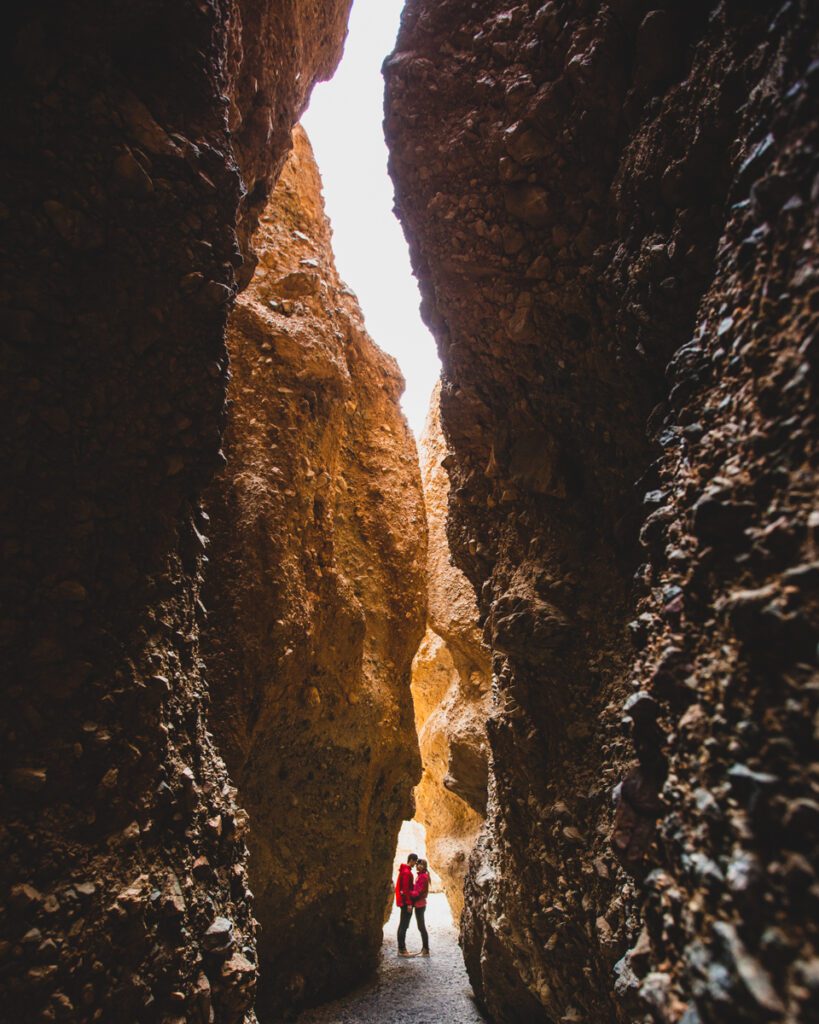 This 3.9 mile trail is one of our favorite spots to see slot canyons in the park. There are about 5 in total along the trail, but we only went to 3 of them because we were tight on time. We suggest doing this hike during the day if you want to capture the beautiful lighting inside the canyons. These slot canyons were more similar to the ones we've seen in Utah, unlike the slot canyons on the Mosaic Canyon Trail. 
If you're looking for a hike in Death Valley that has fewer crowds than the rest, this is it!
22 Mule Drive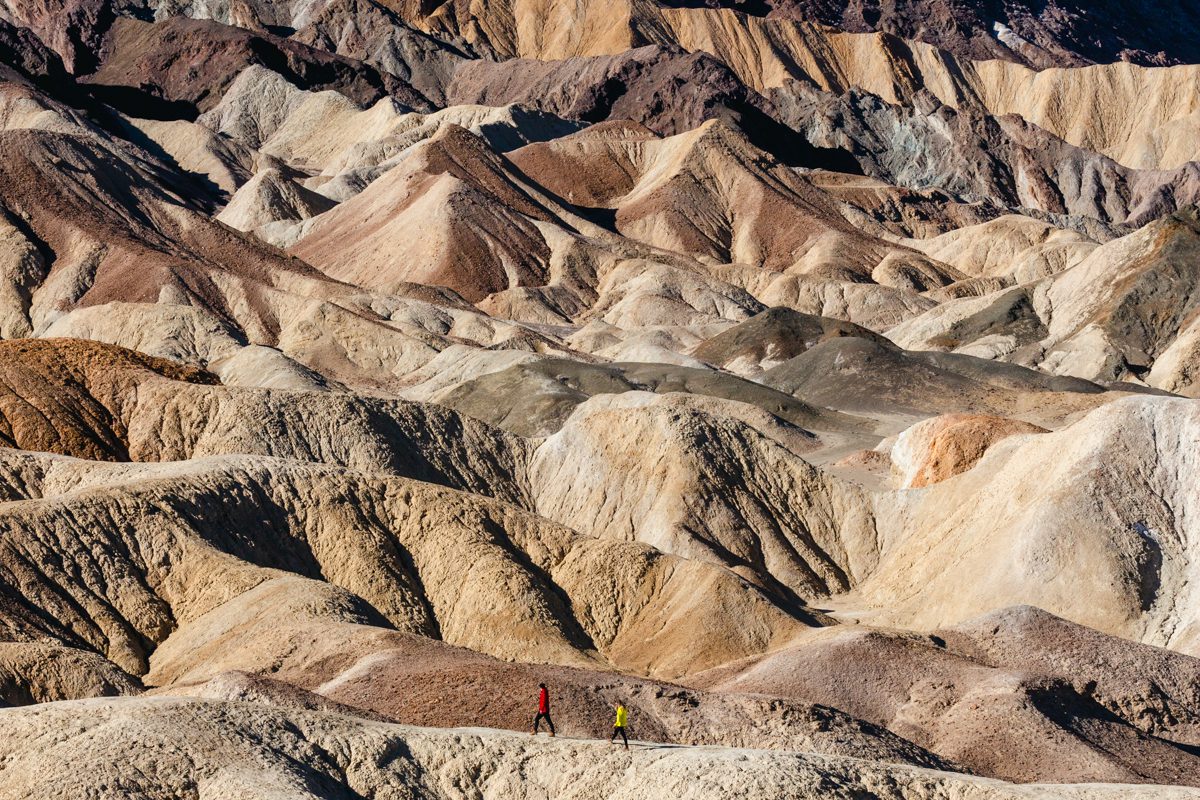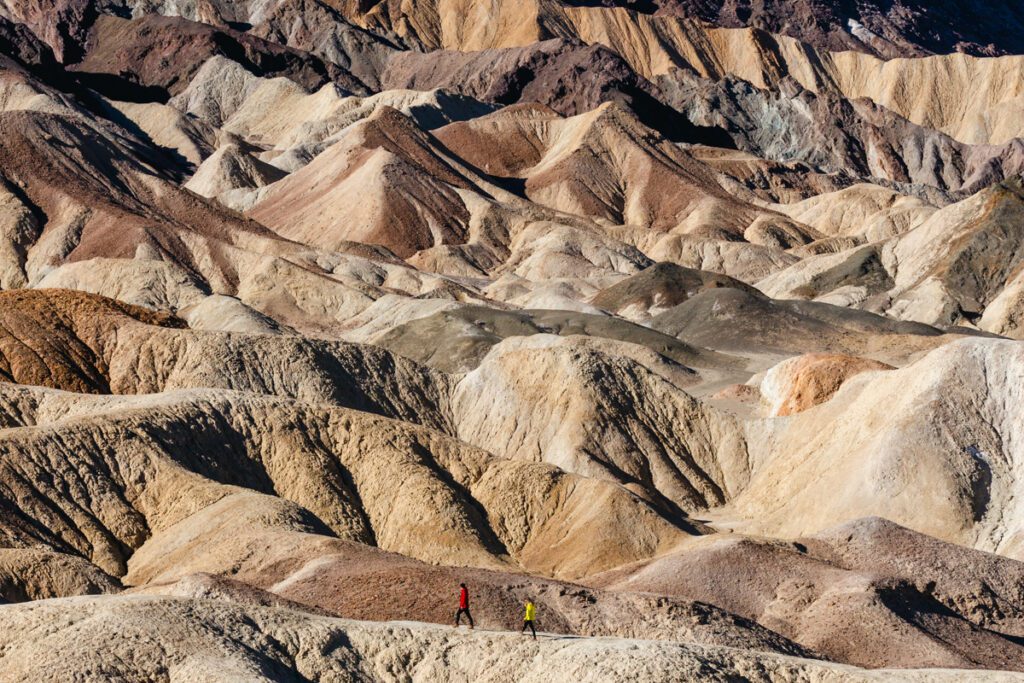 On this drive, you'll see tons of badlands. We recommend taking some time to park and crawl up to the top of them to capture fun photos and see some nice views. If you're looking for the best time to take photos here, we suggest going for sunrise or earlier in the day to avoid your pictures being backlit looking washed out.
Badwater Basin Salt Flats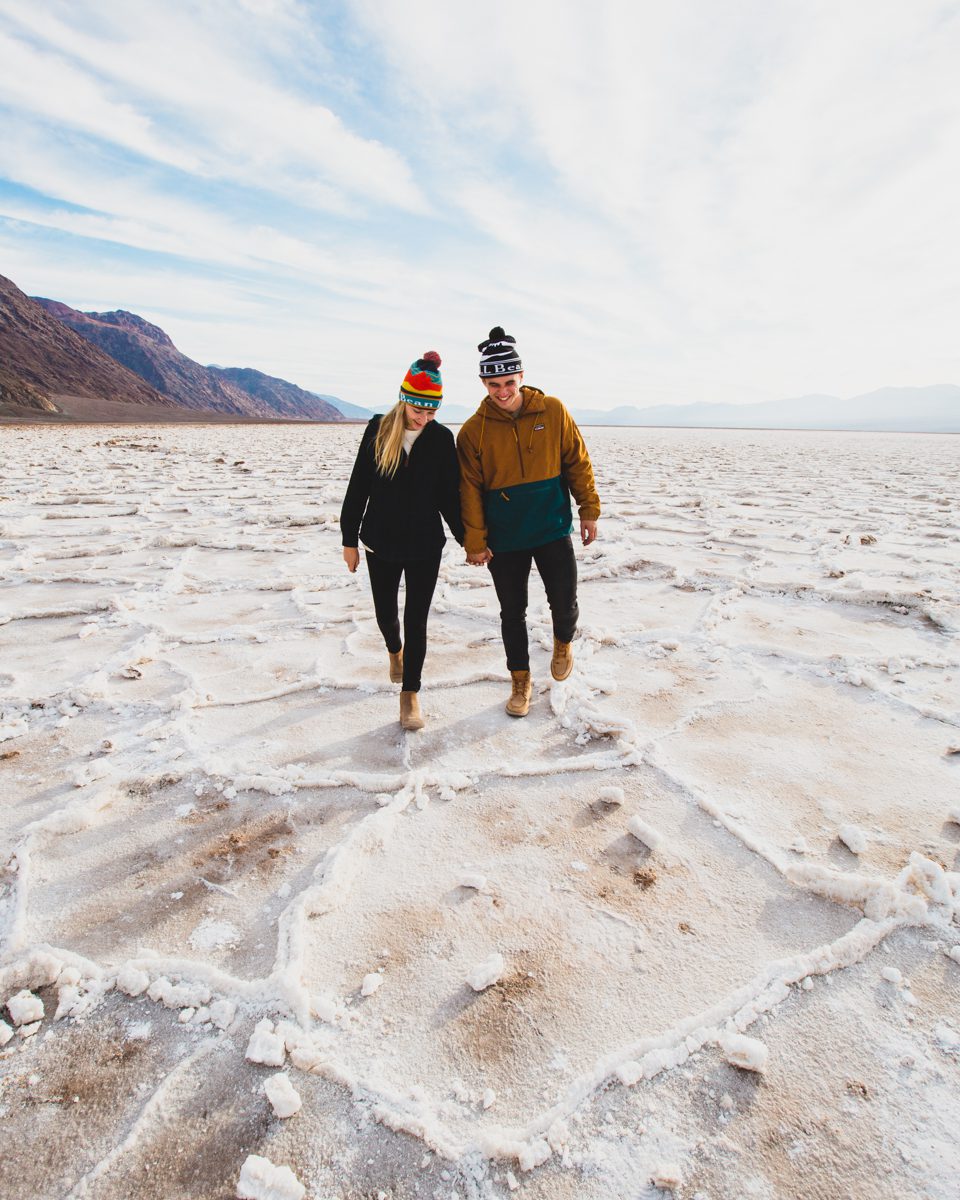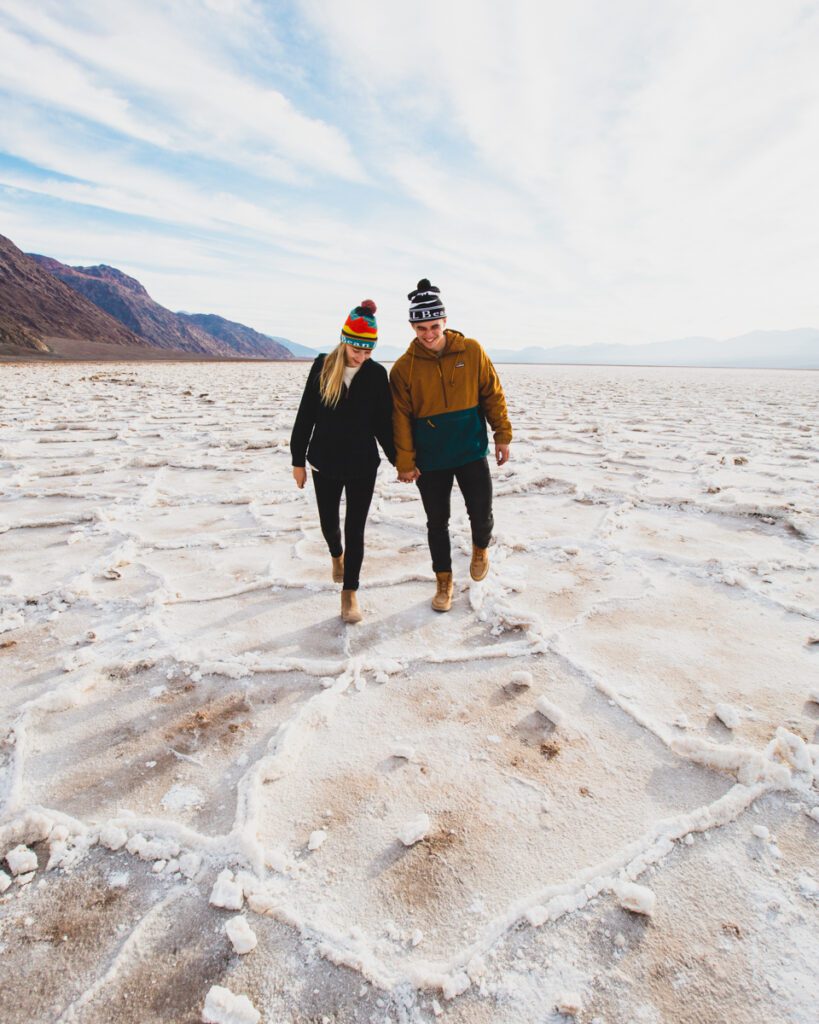 If you're looking for stunning views of the salt flats and mountains, this spot is for you. Badwater Basin Salt Flats is 262 ft below sea level and is super rare. The trail allows you to walk out on the salt flats and take in the breathtaking views all around you. Definitely bring your camera along because you won't want to miss capturing the beautiful salt flats.
Dante's View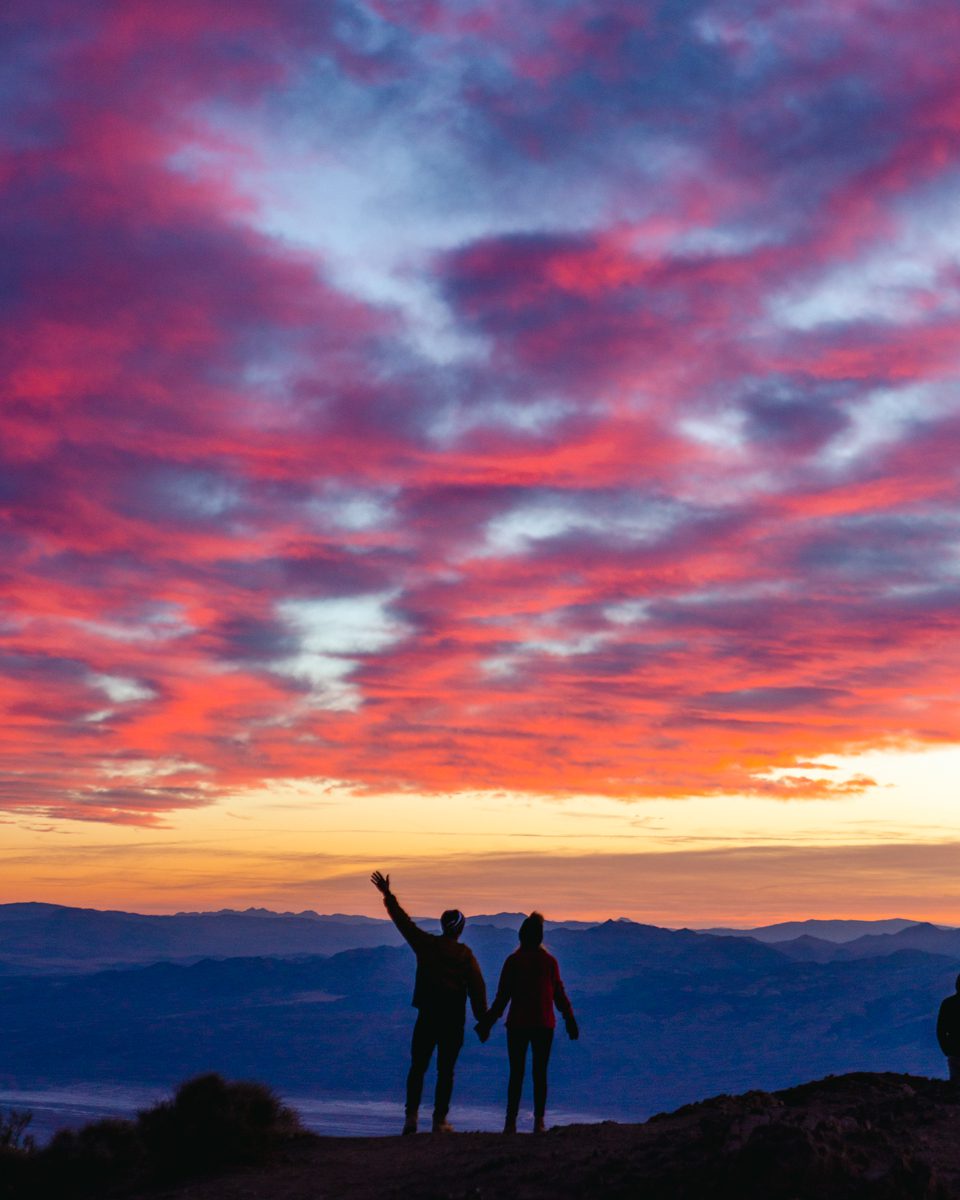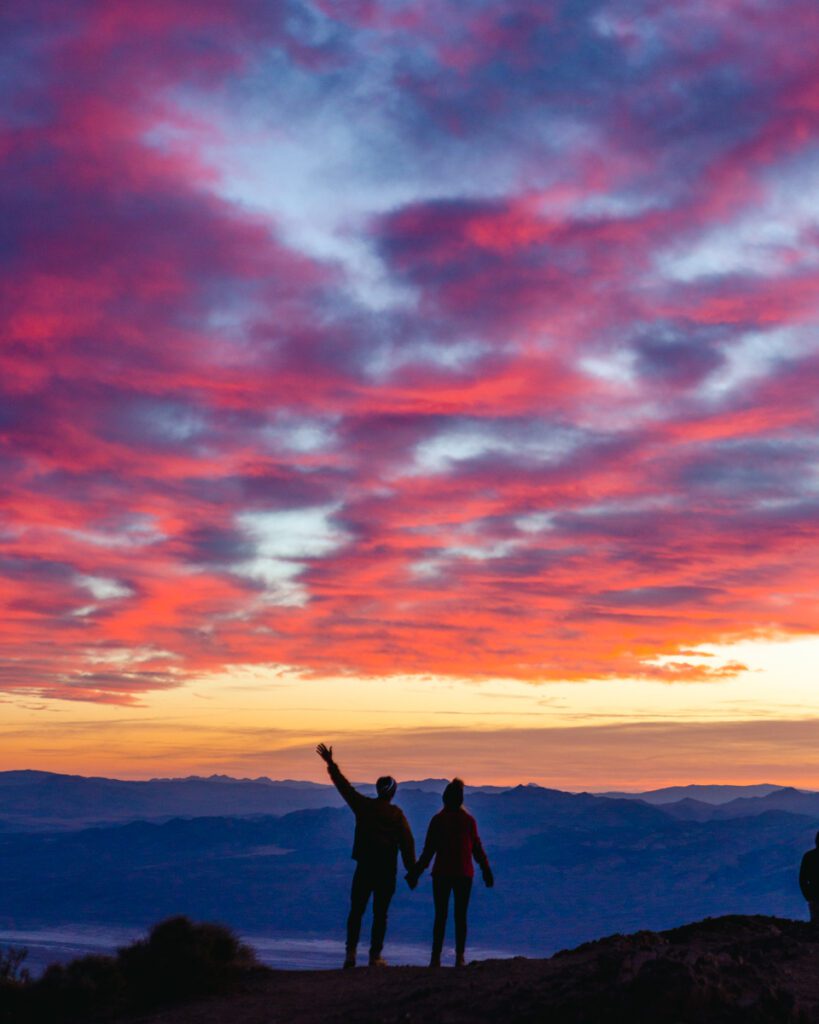 Being 5,000 feet above the inferno of Death Valley, Dante's View is the best viewpoint in the park. We came here for sunset and we were amazed at how beautiful it was. Seeing the pink cloud covered sky with Telescope Peak directly across from us was one of our favorite moments in Death Valley. This hike is a total of 1 mile and it does get a little crowded so we recommend getting there a little early whether that be for sunrise or sunset. 
Eureka Sand Dunes
Whereas Mesquite Flat Sand Dunes are more centrally located in the park, the Eureka Sand Dunes are pretty remote. It will take about a two hour drive from the Death Valley Visitor Center in order to reach these dunes, but it is absolutely worth the drive.
The Eureka Sand Dunes are the largest sand dunes in all of California. These dunes are significantly less busy and much more epic than Mesquite Flats. If you have extra time, we'd highly suggest adding these dunes onto your Death Valley hiking itinerary.
It will take about an hour of hiking to reach the very top of the tallest dune, so make sure to give yourself enough time in the morning if you want to catch sunrise or sunset from the top.
Feeling Prepared for your Death Valley Road Trip?
We hope our ultimate guide to Death Valley National Park helps you plan your next visit. We truly love exploring this park and hope each of you get a chance to see all its beauty. If you want to learn more about California's other 8 National Park's and what the best hikes are in each, check out our other blog Top Things to Do in Each California National Park.