The Best Hiking Trails in Santa Barbara
Published on January 17, 2023
|
Hiking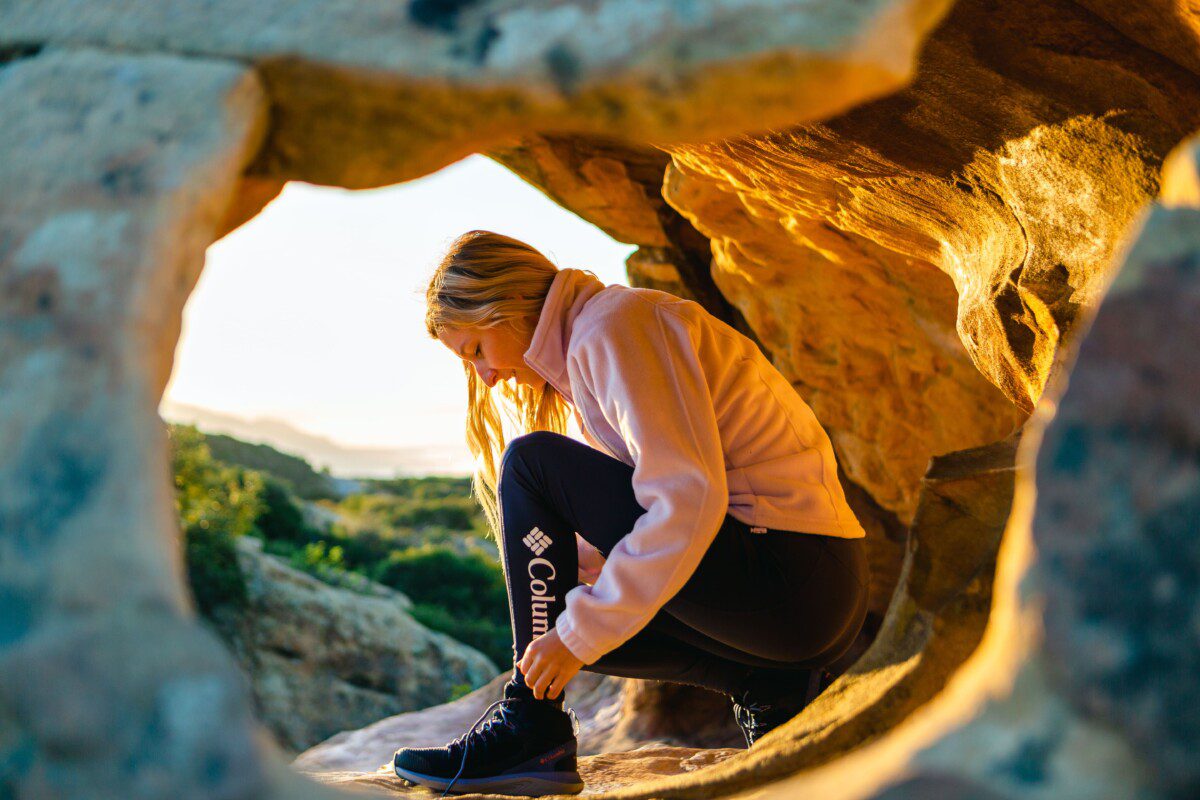 Although we live in Southern California, we aren't being biased when we say Santa Barbara is absolutely stunning. The city is brimming with gorgeous beaches, amazing food, and stunning hikes that will take your breath away. Santa Barbara hiking isn't what most people would imagine it to be. While the hikes do offer splendid views of the Southern California coastline, there's so much more to explore – from beautiful waterfalls and hot springs to pristine rock climbing and scrambling areas.
Santa Barbara is an outdoor enthusiast's dream getaway. A hiker's paradise, if you will! With miles of trails, fresh ocean air and stunningly beautiful terrain, this area is very popular with hikers of all ages and skills. Whether you're looking to just stretch your legs on a summer day or commit to a more challenging hike, there's a trail in Santa Barbara for everyone.
Because we live in the area, Santa Barbara hiking is easily accessible for us. We've been able to explore so much of the city and find our favorite trails. In this Santa Barbara hiking trails guide, we're going to share our top seven hikes and what you can expect from each of them. We know you'll fall in love with all seven trails!
How to Prepare for Hiking in Santa Barbara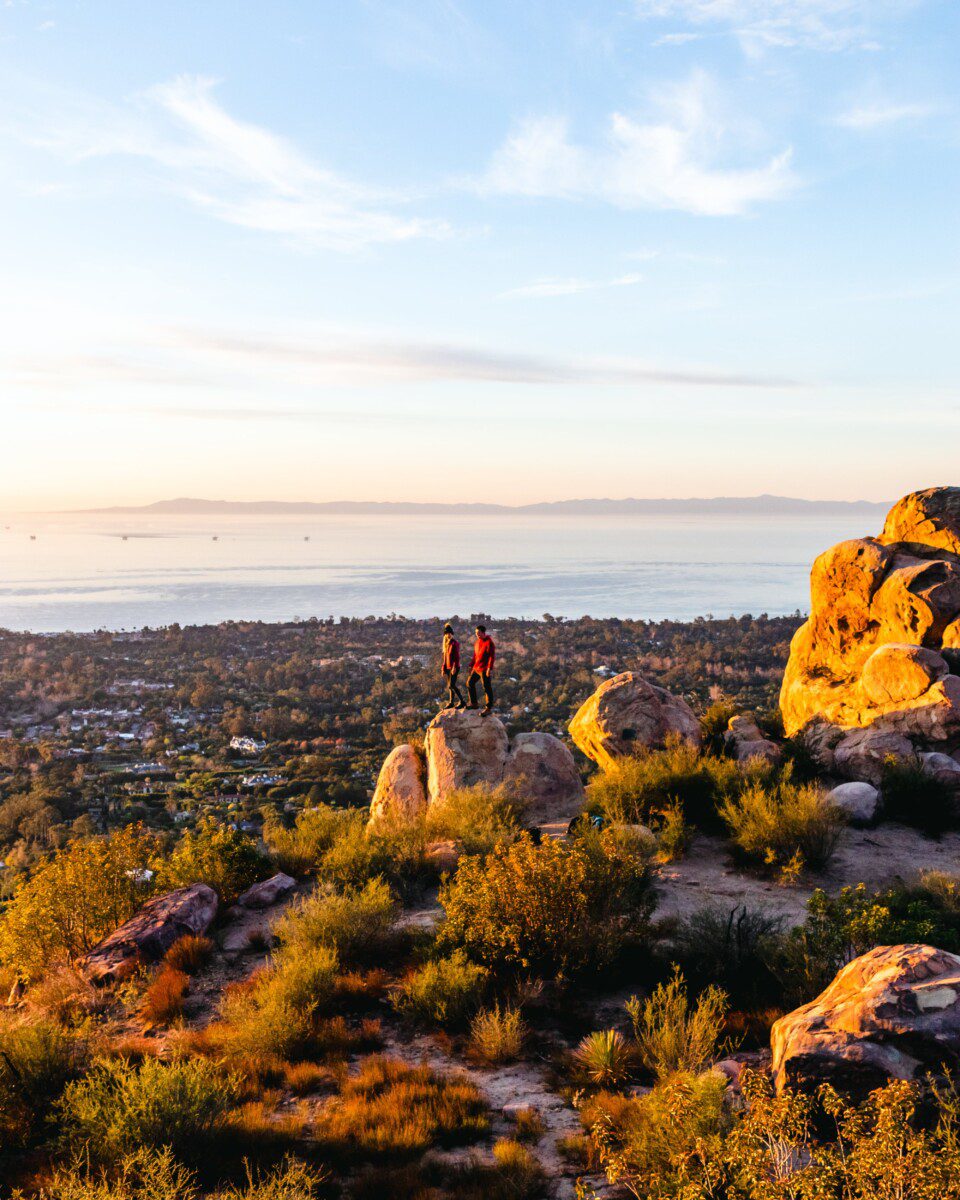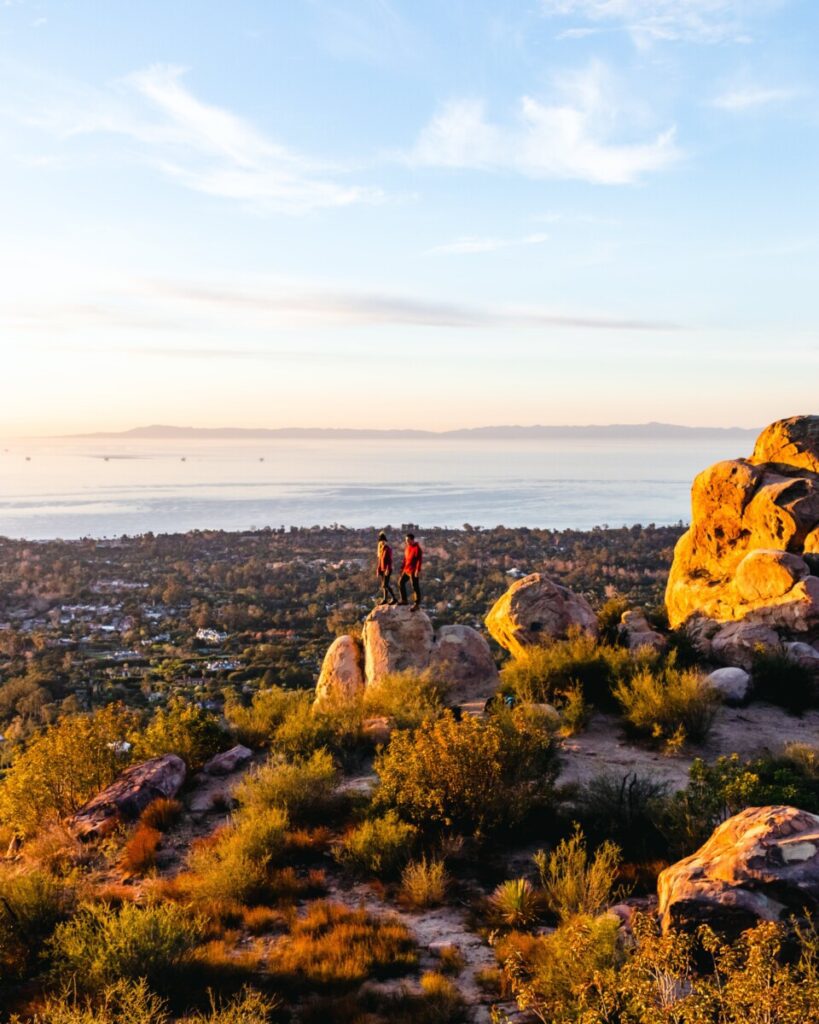 Safety Tips for Hiking in Santa Barbara
Before heading out on any Santa Barbara hiking trails, here are some safety tips that should be followed:
A lot of the hikes in this area include rock scrambling and loose terrain so bringing high quality hiking shoes is a must. Having good shoes will make the hike easier and also keep you from slipping or injuring yourself.
Let someone know where you're going and when you expect to return. It's important to always let a family member or friend know when you will be back — just in case an emergency arises.
Carry a fully stocked first aid kit. You never know when an injury might occur, so it's important to be prepared with a comprehensive first aid kit that includes bandages, antiseptic wipes, and other medical supplies.
Bring plenty of water and snacks. It's essential to stay hydrated and fueled while hiking — bring at least one liter of water per person for every two hours you expect to be on the trail.
Be aware of your surroundings. Hiking in Santa Barbara is an incredible experience, but it can also be dangerous if you're not paying attention to what's going on around you. Always watch out for wildlife or potential hazards like slippery rocks, snakes, or slippery trails.
Stay on the trail and follow the markers. Make sure you download the trail to your phone before starting. This will help you to stay on course and avoid getting lost.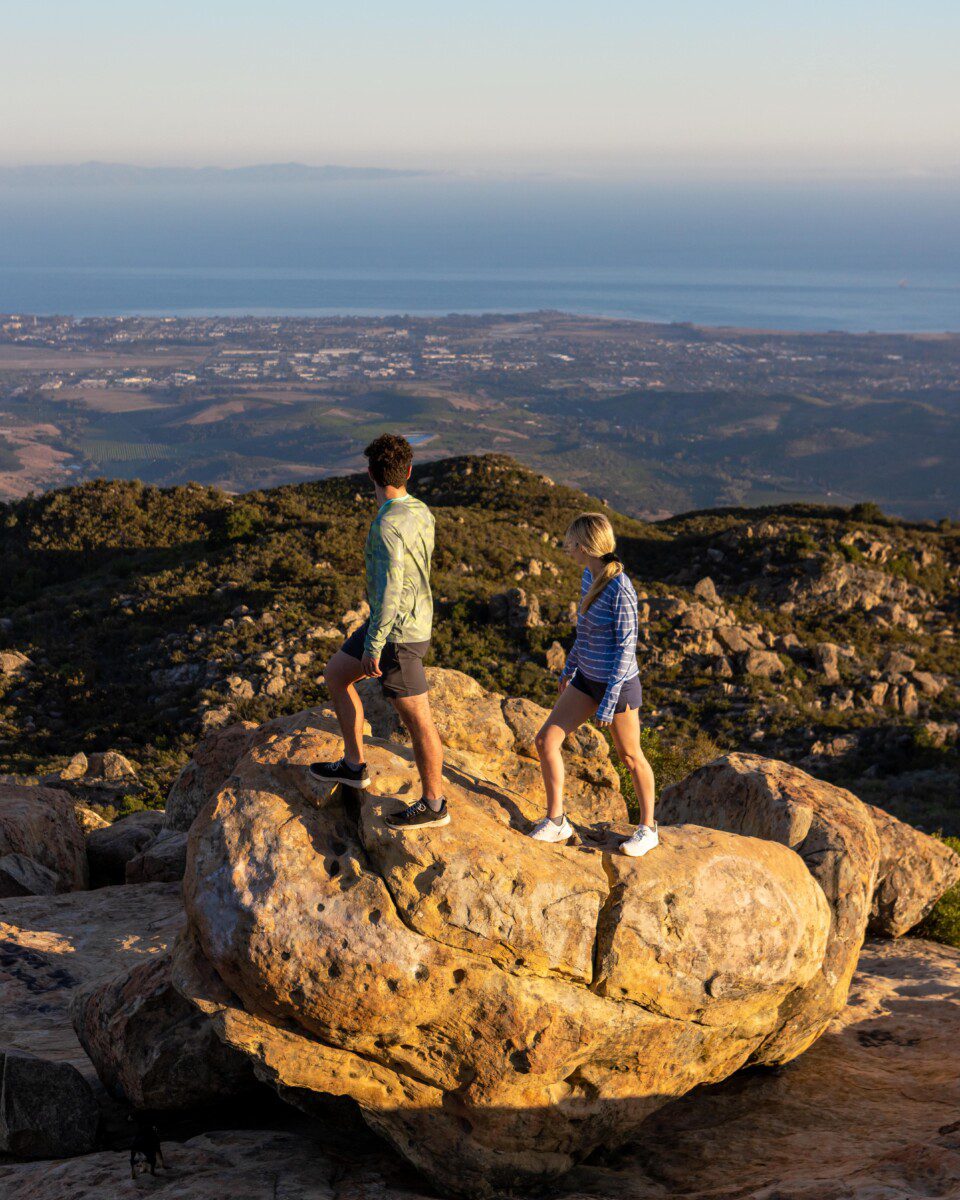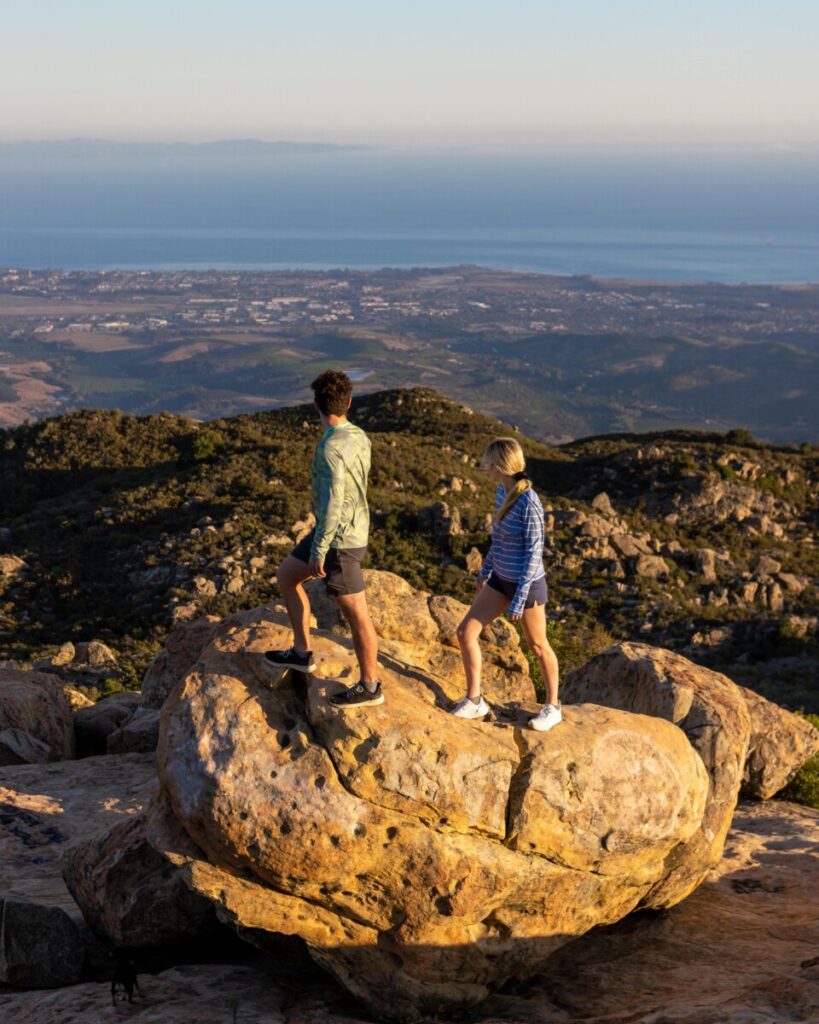 Practice Leave No Trace
Plan ahead and prepare.
Travel and camp on durable surfaces.
Dispose of waste properly.
Leave what you find.
Minimize campfire impacts.
Respect wildlife.
Be considerate of others.
For more on the Leave No Trace Principles, click here.
Weather in Santa Barbara
Santa Barbara is known for its stunningly beautiful weather, and it certainly lives up to its reputation. With an average of over 300 days of sunshine a year, Santa Barbara provides the perfect climate for outdoor activities such as hiking, surfing, and swimming. Summers are warm and sunny, with temperatures ranging from the mid-60s to the low 80s during the day and a cool ocean breeze at night.
Even during winter months, the temperature rarely dips below freezing and often remains mild throughout the season. However, be sure to bring a light jacket or sweater just in case.
Regardless of what time of year you visit, you can usually count on clear skies and sunny days in Santa Barbara!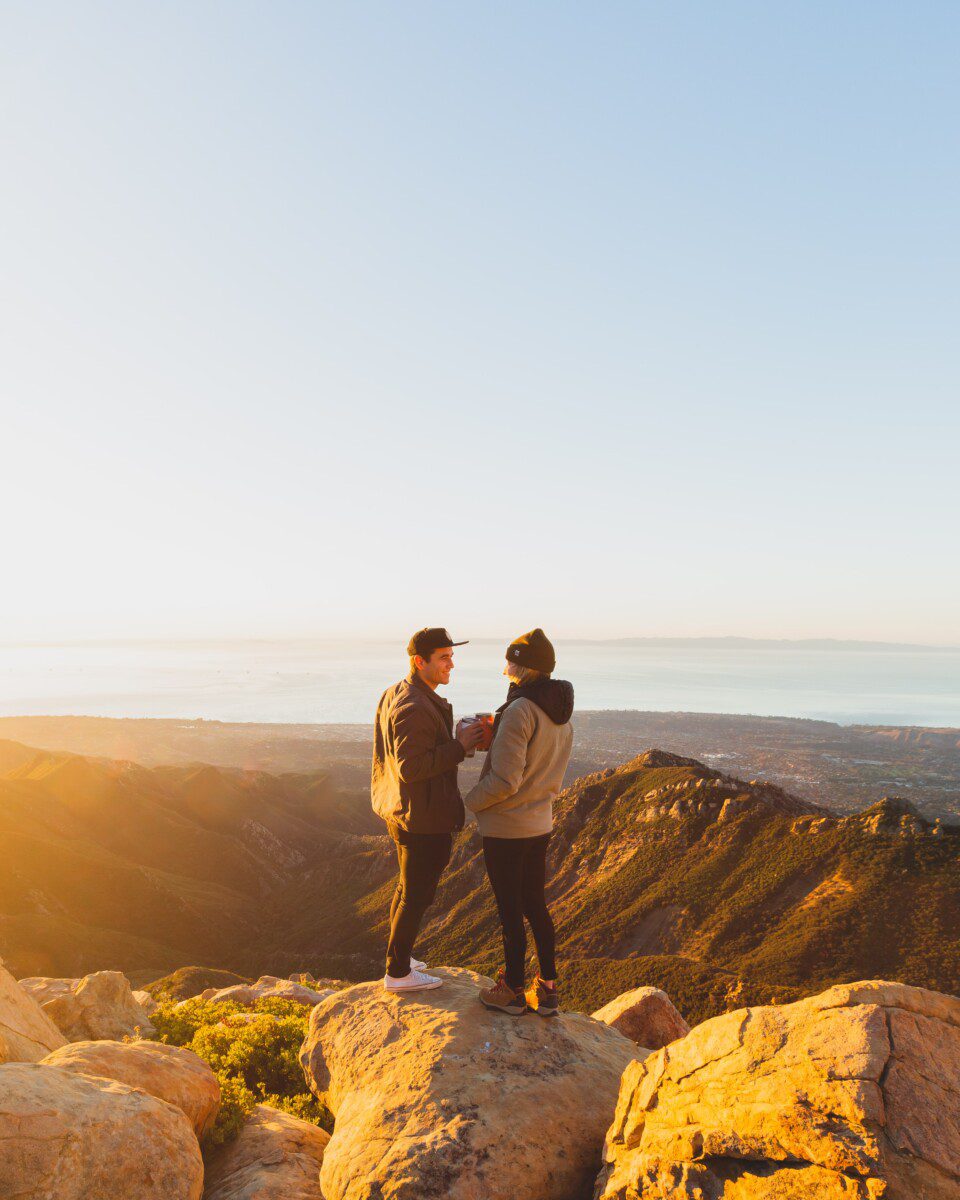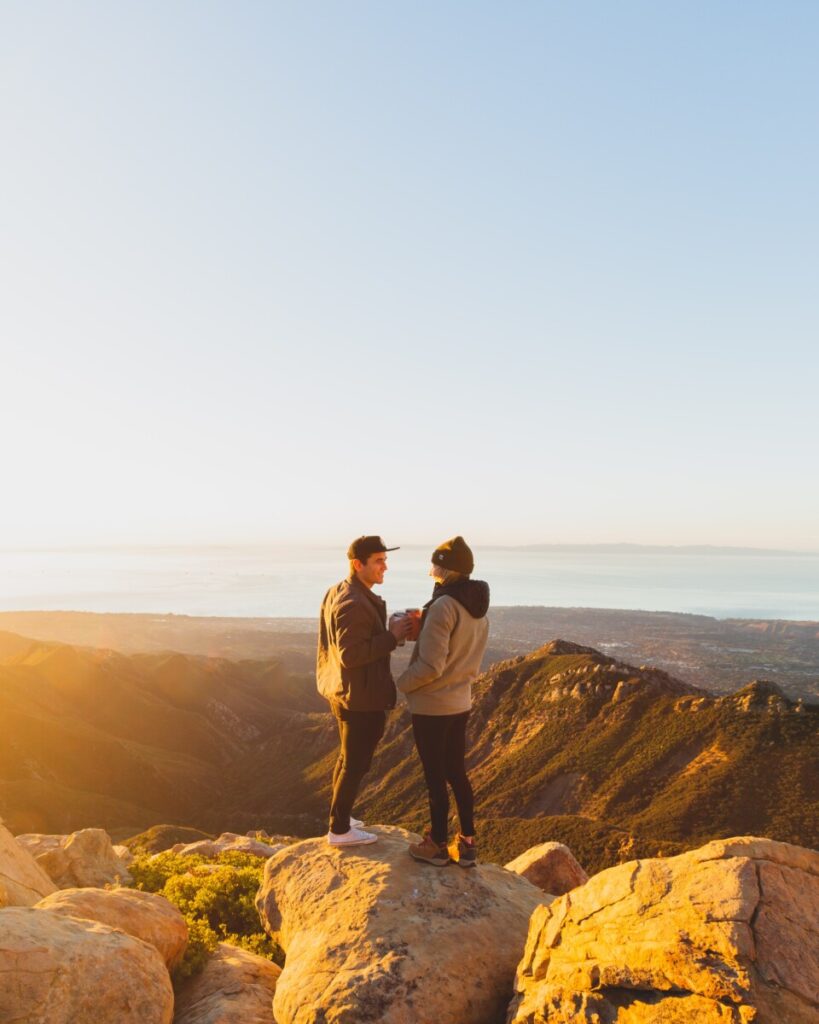 Best Time of Year to Hike in Santa Barbara
Although the weather is almost always perfect for hiking, there are still certain months that are best for hiking in Santa Barbara. In our opinion, the best time to go is during the spring and fall months. This is because the temperatures tend to be milder and there are fewer crowds. During these months, you can explore the stunning coastal trails or take to the mountainside for a challenging trek. From April through June, wildflower blooms create a beautiful backdrop to your hikes, while autumn brings cooler weather that is perfect for exploring nature's beauty.
Where to Stay in Santa Barbara
Santa Barbara has some great areas to stay in. Whether you're looking for a beachfront spot, a peaceful mountain retreat, or something in-between, Santa Barbara has it all.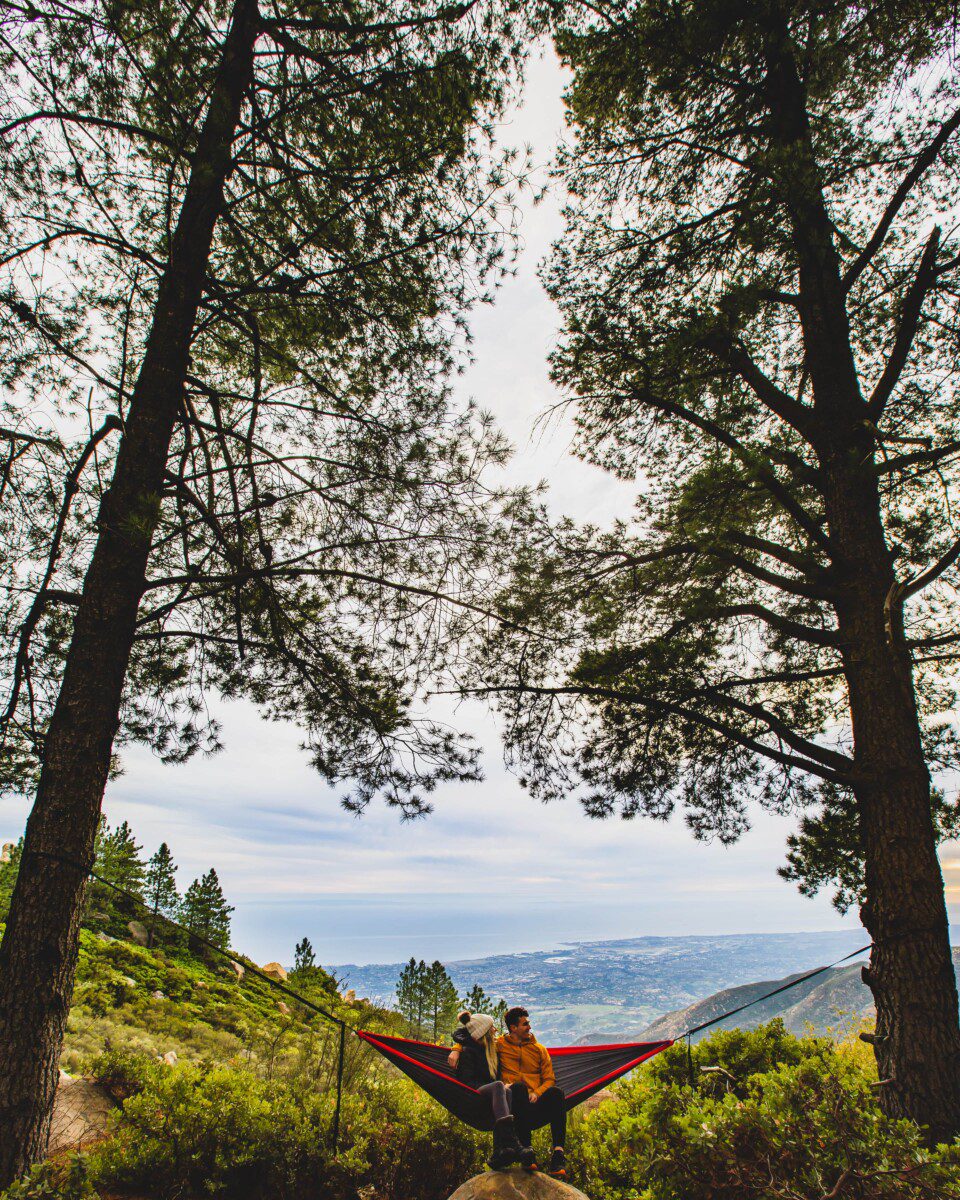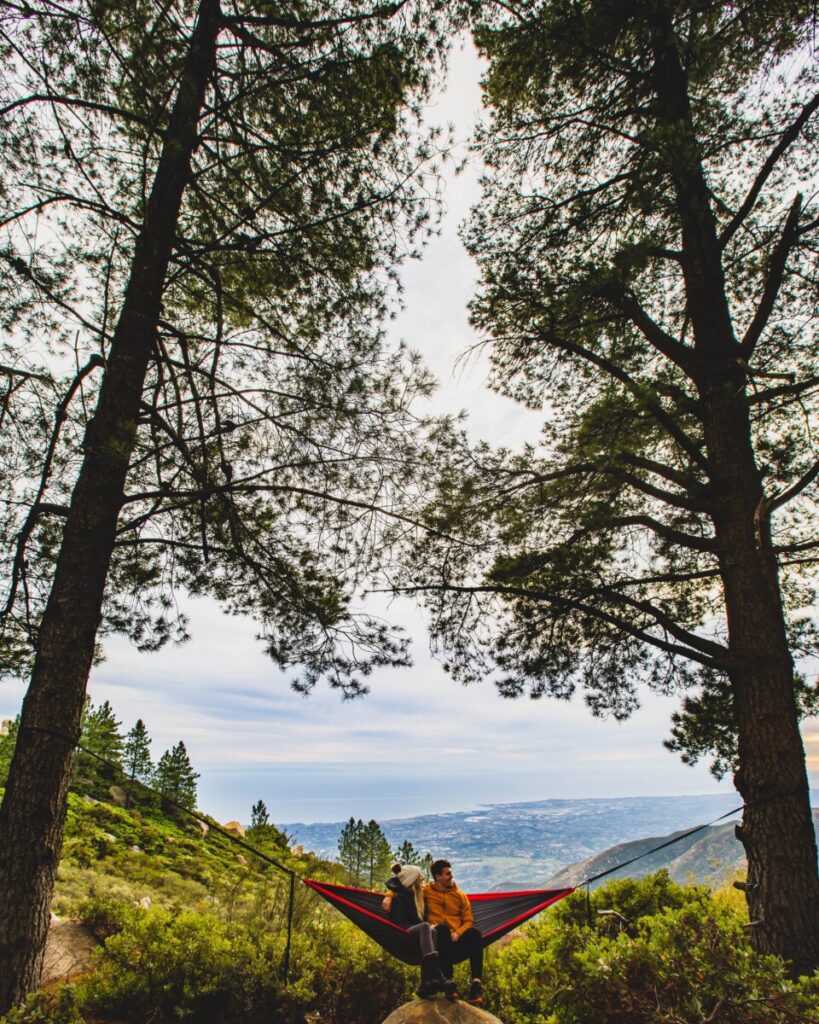 Camping in Santa Barbara
For those of you who want to experience nature while still staying close to the city, El Capitan Canyon Campground is a great option. Located just 10 miles north of downtown Santa Barbara, this campground offers easy access to hiking trails and beaches as well as modern amenities like showers and laundry facilities. The nearby Refugio State Beach is also worth checking out—it's known for its incredible views of the Pacific Ocean and Channel Islands National Park.
If you're looking for a true wilderness experience, there are plenty of camping opportunities in the Los Padres National Forest. This vast area is home to some of the most beautiful scenery and wildlife in all of California. From car camping sites to backcountry hikes, you'll be able to find a great spot here.
Hotels in Santa Barbara
If you're wanting a more luxurious stay when hiking in Santa Barbara, we recommend checking out the city's hotels. Whether you're looking for something luxurious and historic or modern and chic – Santa Barbara has accommodation options that will meet all your needs. Some of the most popular options include the Ritz Carlton's Bacara, Hotel Californian, Belmond, Rosewood Miramar, and the Hilton Beachfront Resort.
Top 7 Hikes in Santa Barbara
Saddle Rock Trail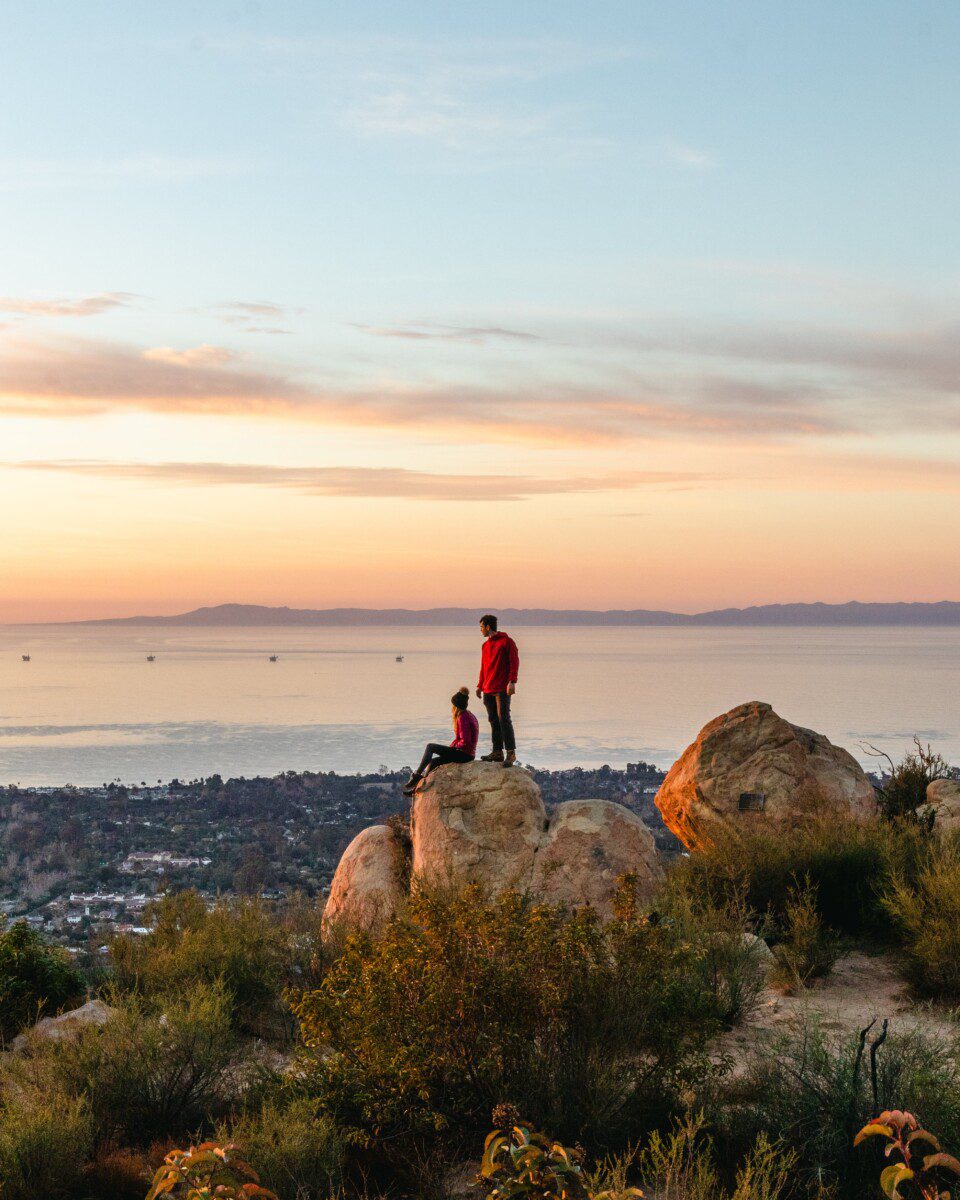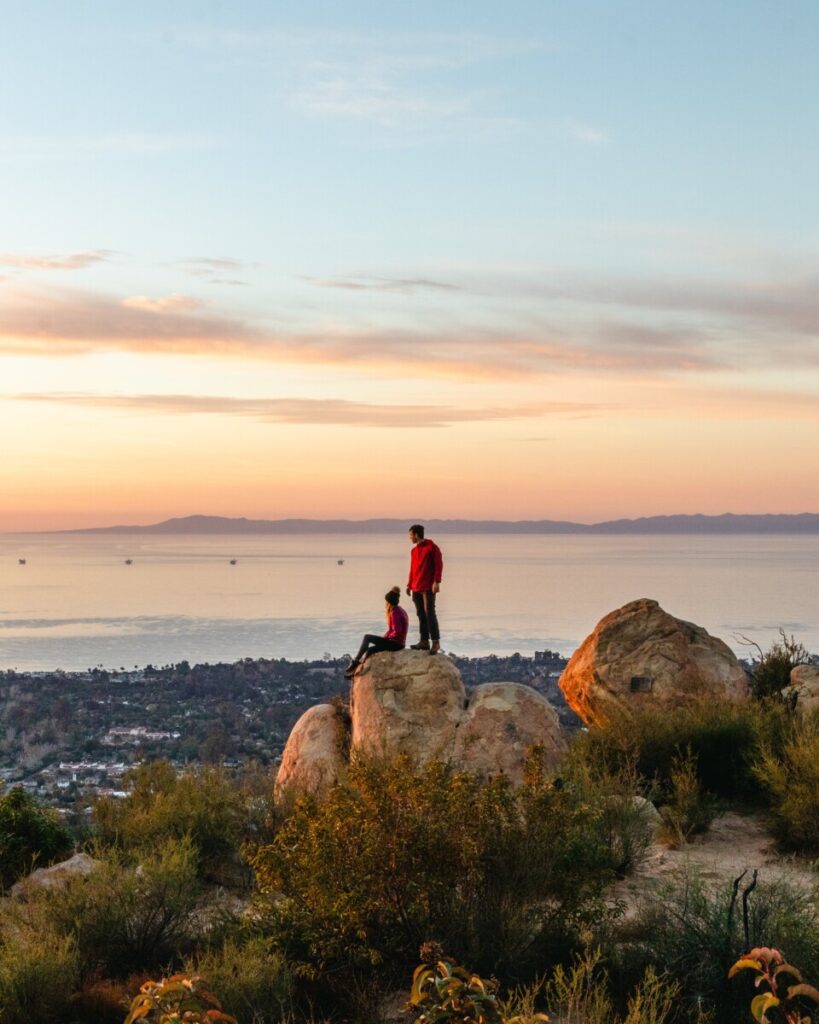 The Saddle Rock Trail is about 3.4 miles out and back, takes you up 1,030 ft in elevation, and is dog friendly. This Santa Barbara hiking trail offers gorgeous views overlooking all of of the city and takes you to a scenic lookout with a heart made out of rocks at the top. We love stopping at the cool rock formations to take in the stunning views. This is considered a challenging route so if you don't want to or don't have time to make it to the top, don't worry, you can still enjoy great views from any point. On a clear day you can see the Channel Islands from here and they are breathtaking.
Most recommend hiking it counter clockwise depending on how you like to tackle elevation gain. Like most of the other hikes on this list, parking is pretty limited so it's best to start hiking early.
If you're wanting to add on a little more mileage or a soak in the Montecito Hot Springs, you can also add that trail on to this one via a trail connector along the way. They are located right next to each other!
Hot Springs Canyon Trail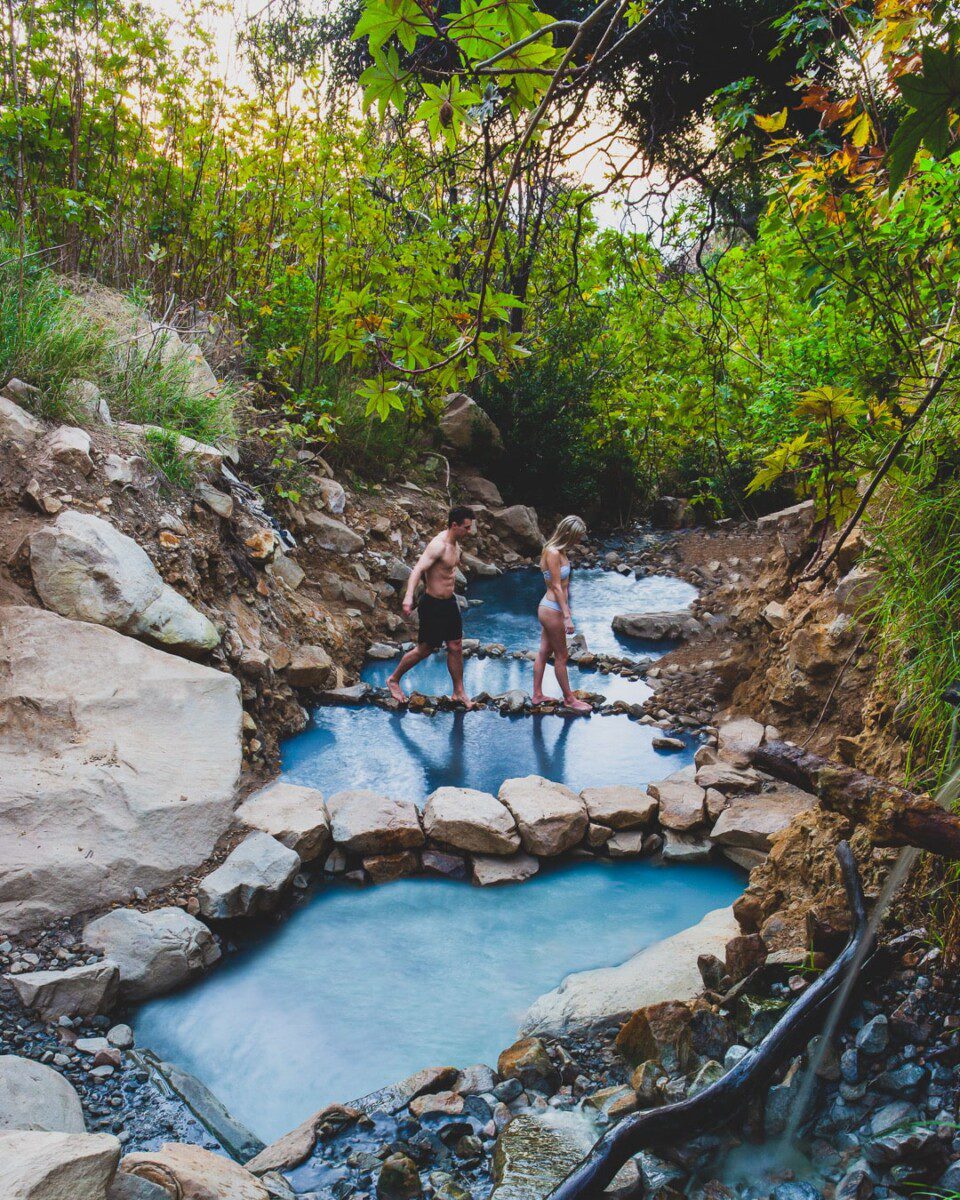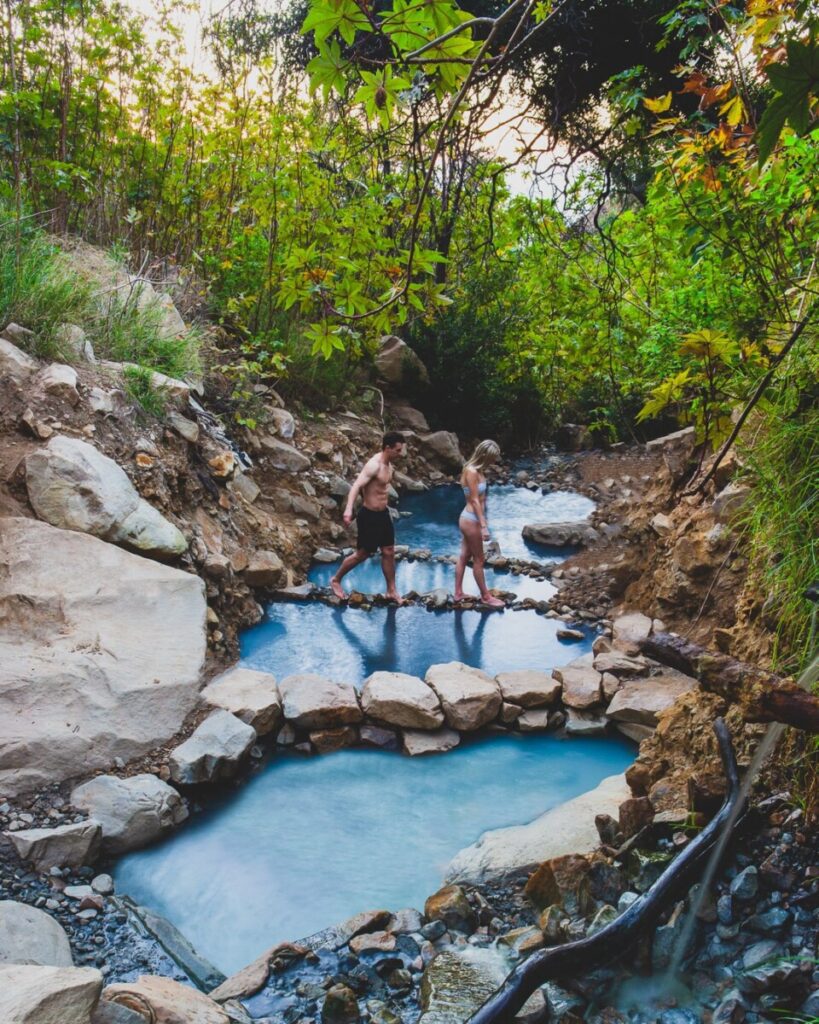 The next must do Santa Barbara hiking trail is Hot Springs Canyon Trail. There are 5-6 different pools at the top, and you'll want to get there early to snag a spot. The pools fill up pretty quickly, so we suggest getting there any time before 8:30 am. The earlier, the better. This dog friendly trail is 3.7 miles out and back and is about 1,177 ft in elevation gain. This is an incredibly easy hike and is well marked. We love that there are so many tubs to choose from and our personal favorites are the middle ones. The top pool is the hottest and the bottom pool is the coolest so of course the middle ones are the perfect temperature. 
Remember to pack a towel and maybe a pair of sandals that you don't mind getting wet. The pools are muddy and a little rocky so having some protection on your feet might make you more comfortable. This is a great hike for enjoying the beautiful blue water and relaxing in the pools.
This location in particular is especially sacred to locals in Santa Barbara, so PLEASE do your part and leave no trace. The group of volunteers have also explicitly mentioned that they'd appreciate no geotagging on Instagram or Tik Tok this spot since it's more of a sensitive location.
Seven Falls Hike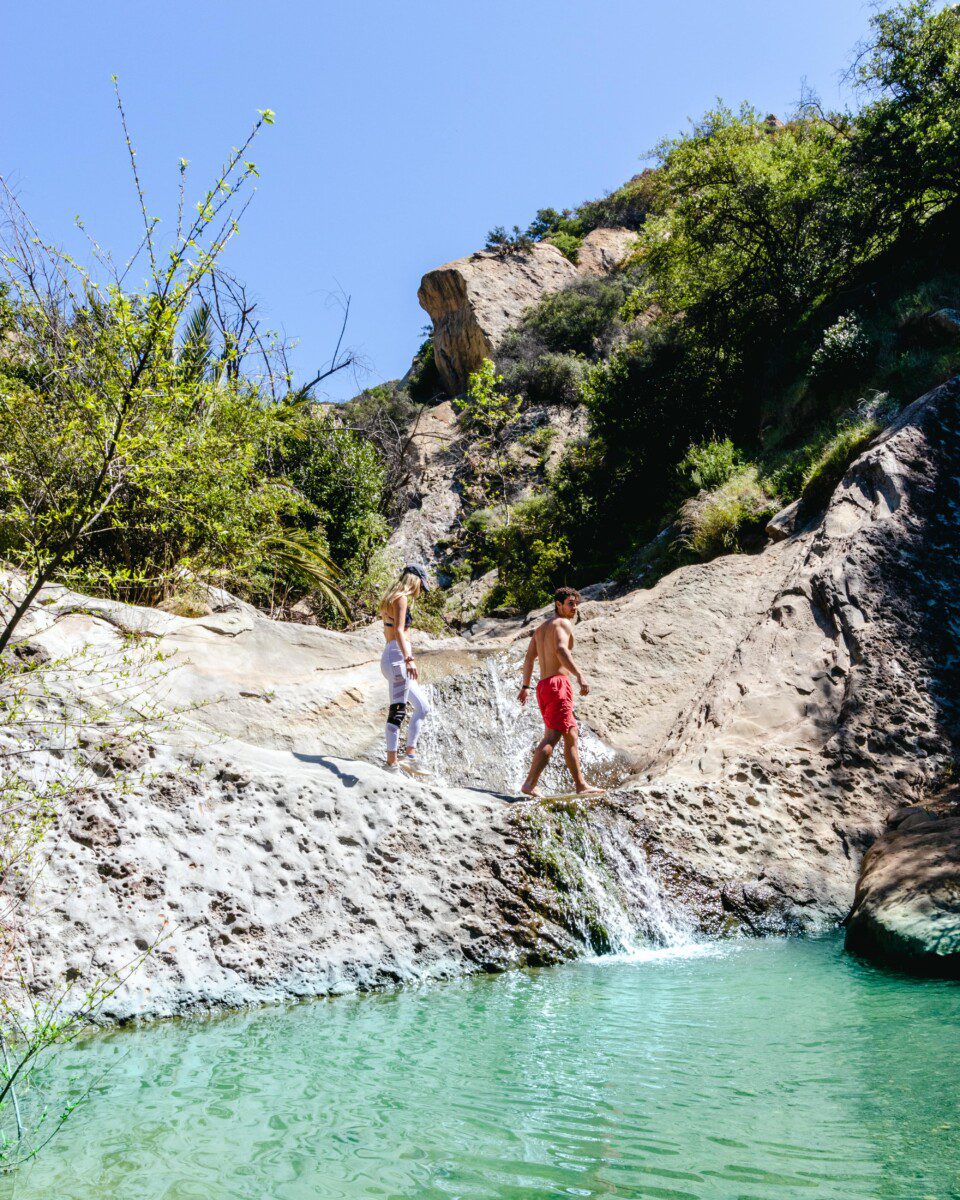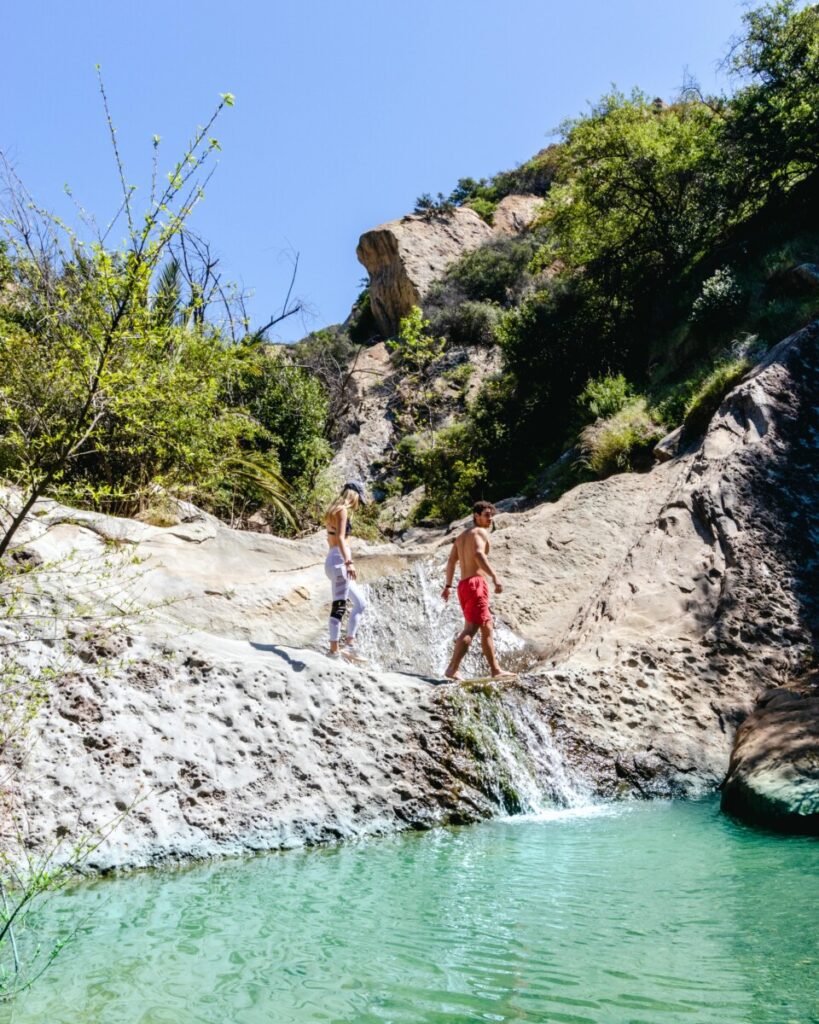 If you enjoy dog friendly hikes that include rock scrambling and a little climbing, we recommend checking out the Seven Falls Trail. A lot of this Santa Barbara hike is pretty steep so definitely bring good quality shoes. It's about 3.2 miles out and back and is 803 ft in elevation gain. As long as the falls aren't dry, bring a bathing suit along with you so you can enjoy a nice dip in the water. We recommend going when there is a lot of water so be sure to research the levels before you go. The path can get confusing at times. We recommend downloading the trail to your phone beforehand so you don't get lost. This is such a fun summer hike, and the waterfalls are beautiful.
This trail and the Inspiration Point Trail share initial trailheads, so make sure to get here early to park if you are planning on hiking on the weekend. Otherwise, you have to add on additional mileage for parking farther away since there's no designated parking lot – it's just street side parking.
Inspiration Point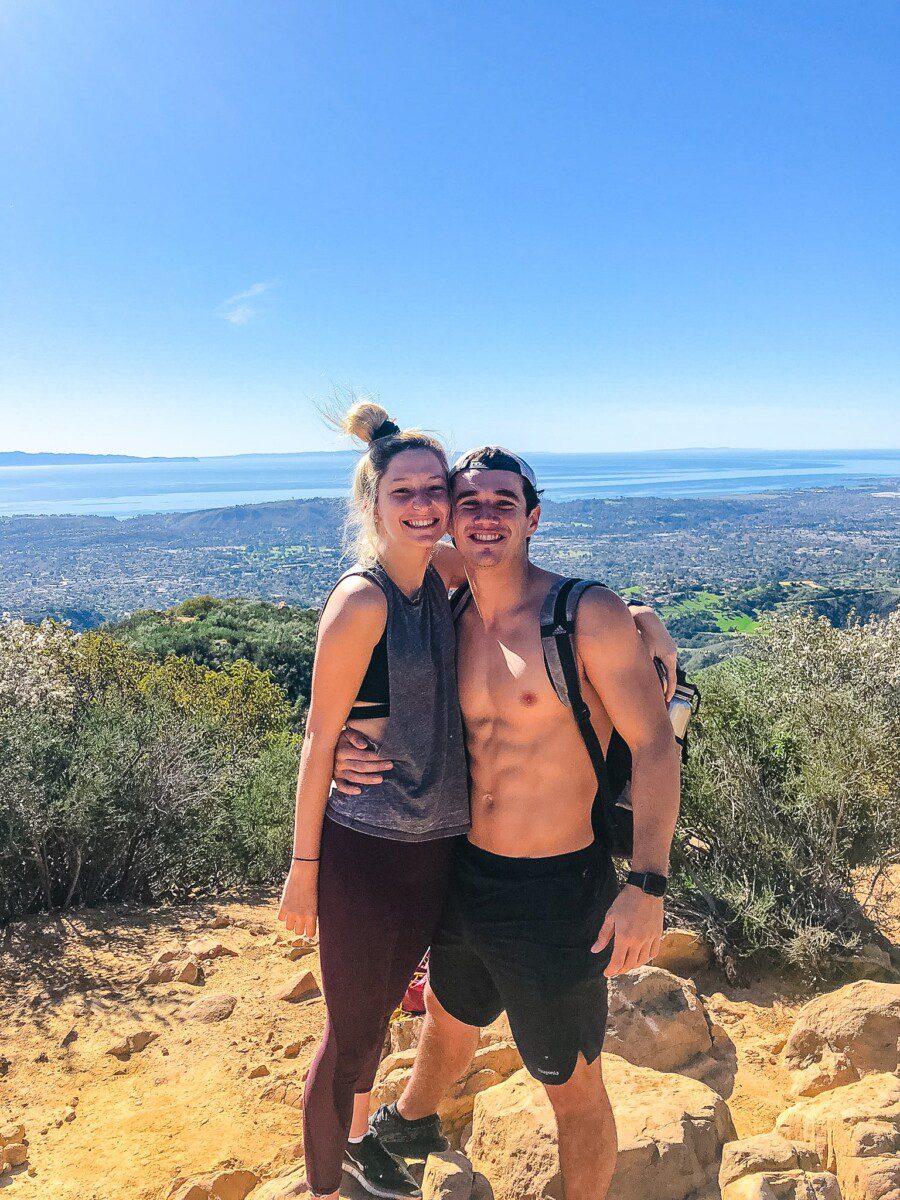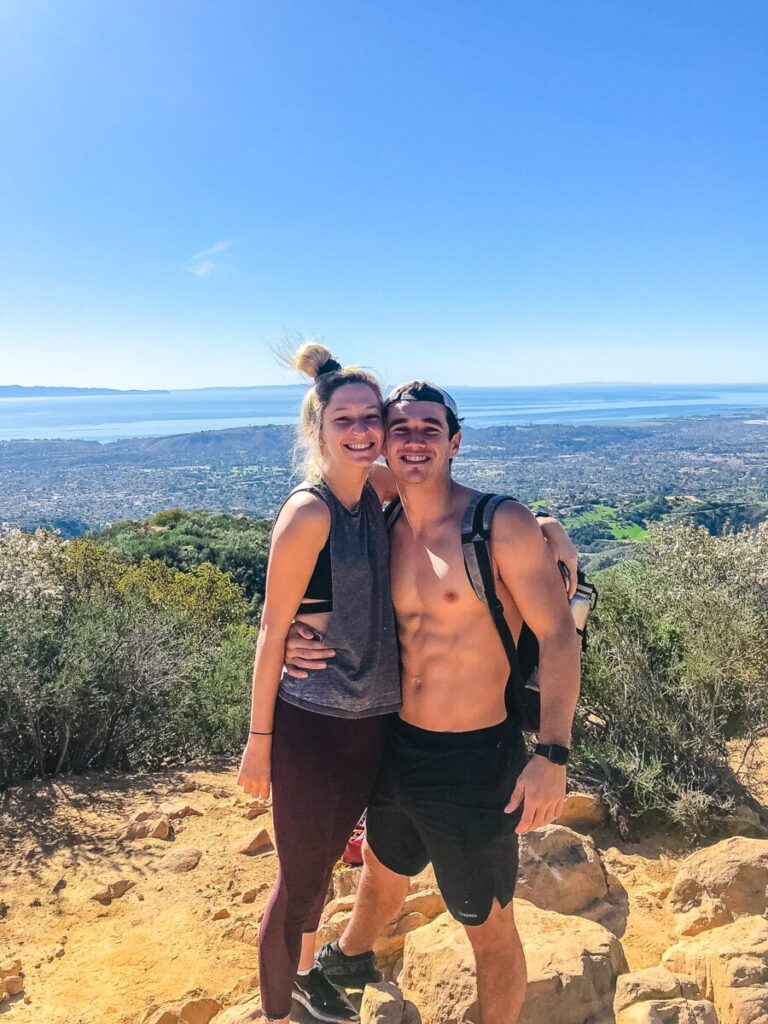 We always say if you only have time for one hike and want a quintessential Santa Barbara hike, the Inspiration Point trail is the one to do. At just 3.4 miles out and back, Inspiration Point is a must do for any hiking skill level when visiting Santa Barbara. Dogs are welcome on this trail but need to stay on their leash. It takes you up 934 ft in elevation and shows off stunning views of Santa Barbara from up above and the beautiful Southern California coastline.
The trail itself is pretty exposed so make sure to be wearing plenty of sun protection.
La Cumbre Vista Point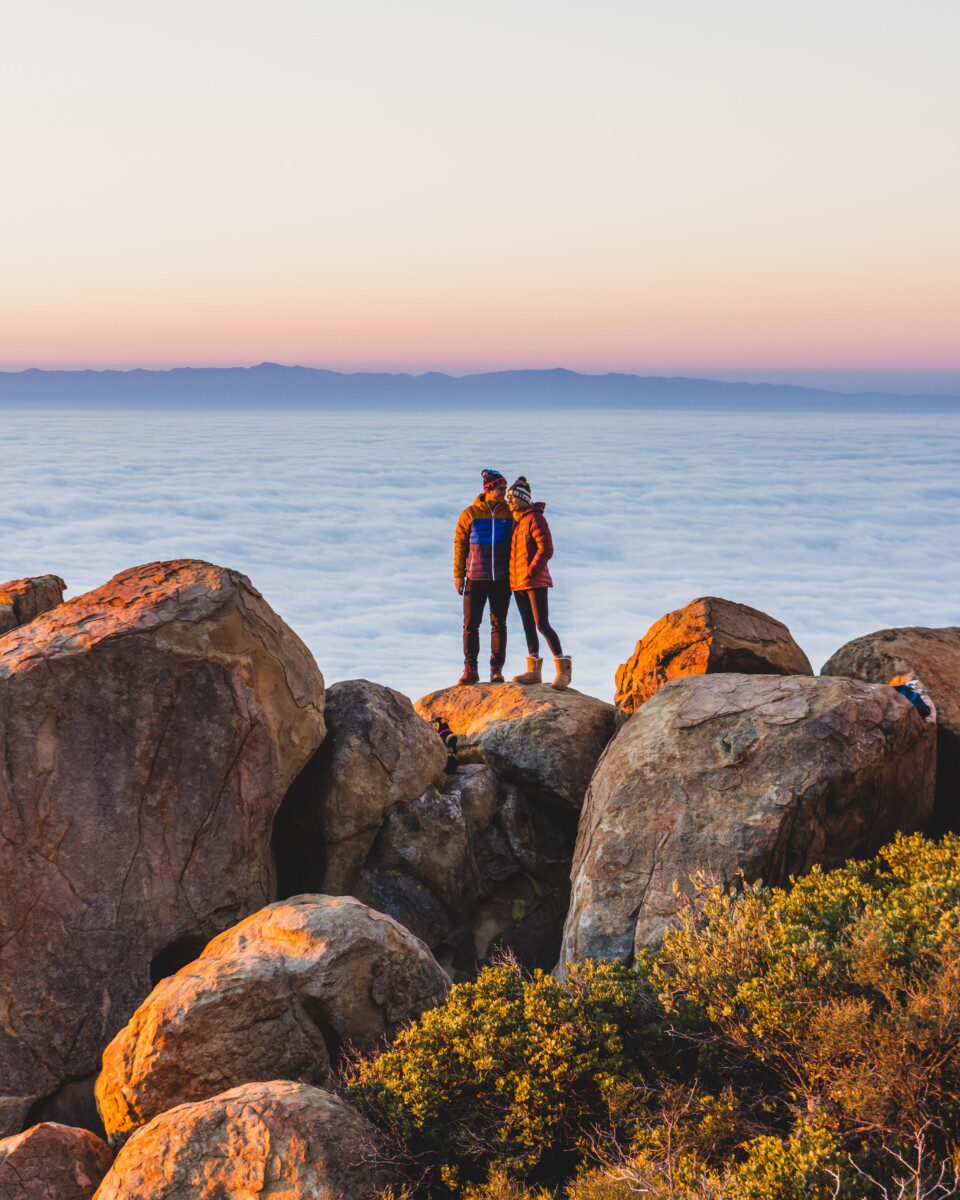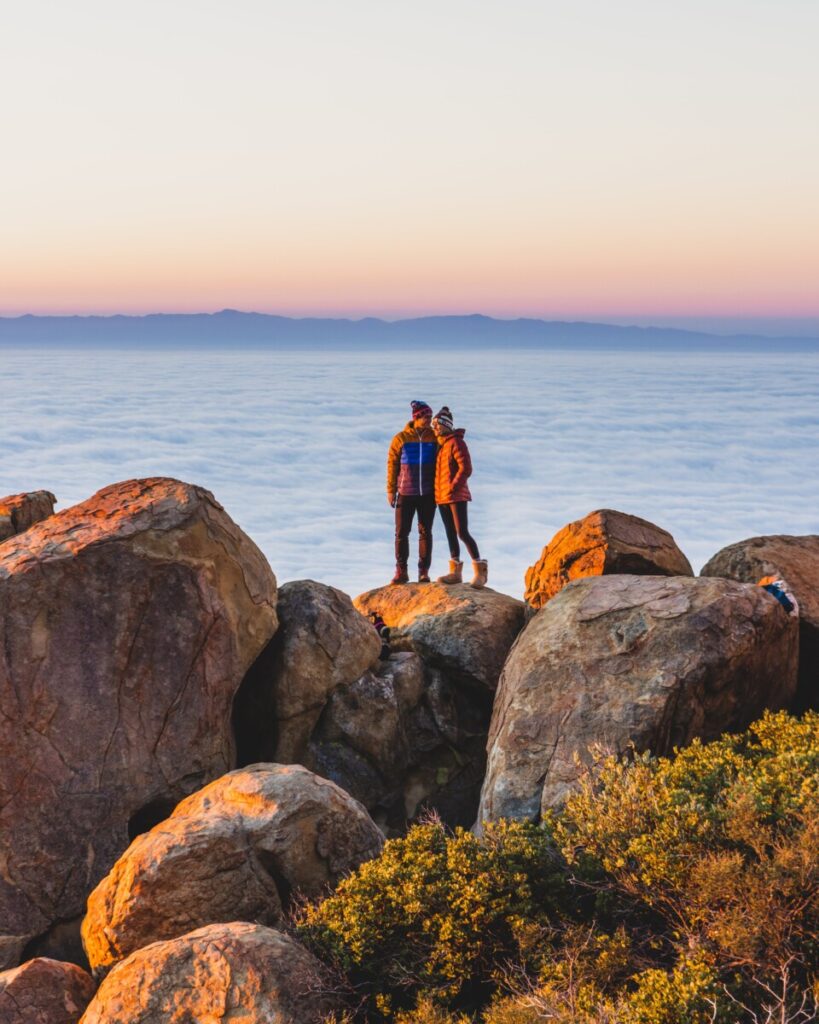 If you're looking for a short dog friendly hike in Santa Barbara to watch the sunrise, check out La Cumbre Vista Point. This trail is about 0.3 miles out and back and is only 72 ft of elevation gain. Here you'll get to see beautiful views of the Santa Barbara coastline. If it's a clear day, you might even get to see the Channel Islands as well.
The middle difficulty option of this trail takes you through a 8.4 mile round trip hike with 2,947 ft of elevation gain via the Tunnel Loop. We'd allot 3-4 hours for this option.
If you're looking for a real challenge, this trail actually connects to the Inspiration Point trail and hits the other peaks in the area as well. Combining the two makes this hike a 16.2 mile loop with 4,852 ft of elevation gain. If doing this option, bring at LEAST 2.5 liters of water with you per person. This will take at least 5-6 hours to do.
Lizard's Mouth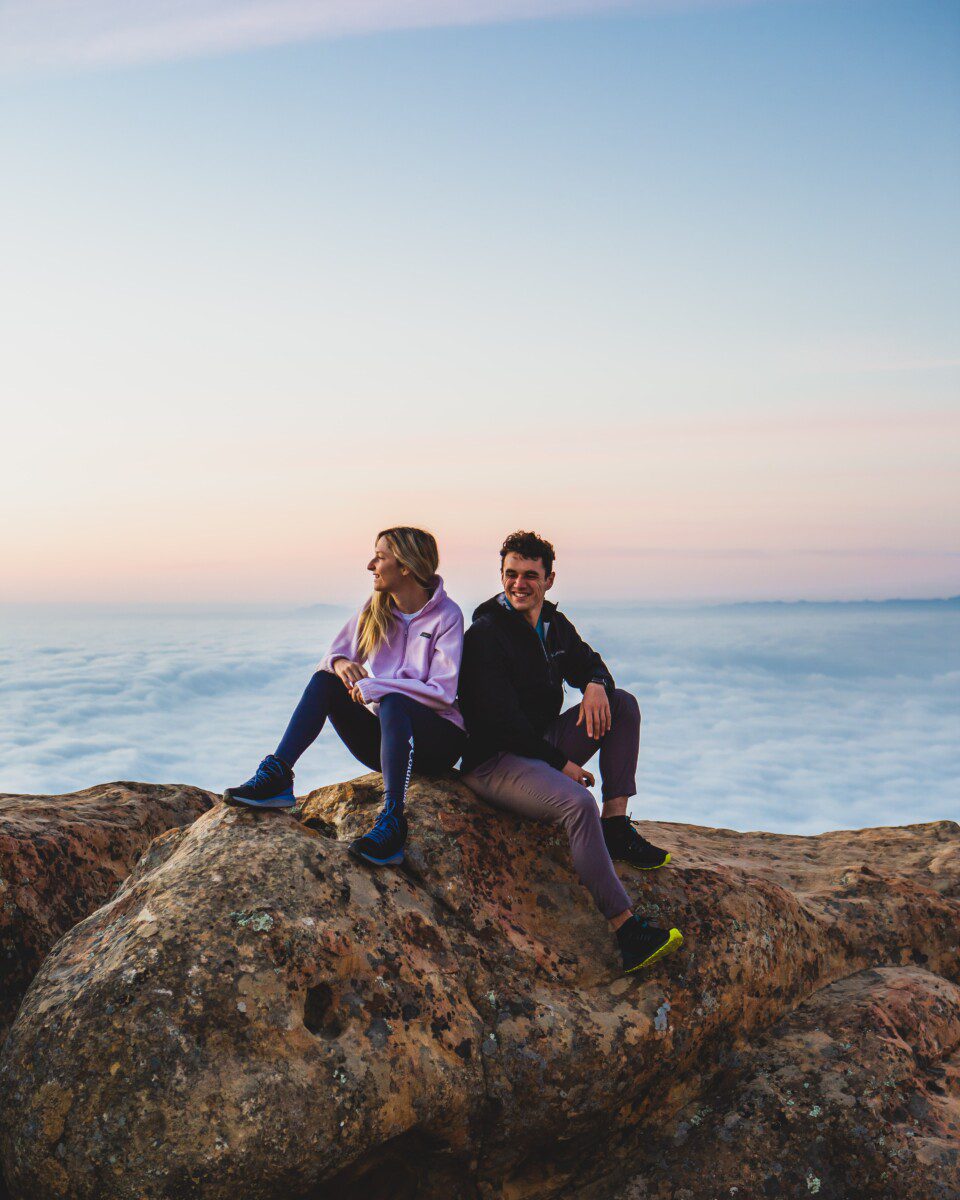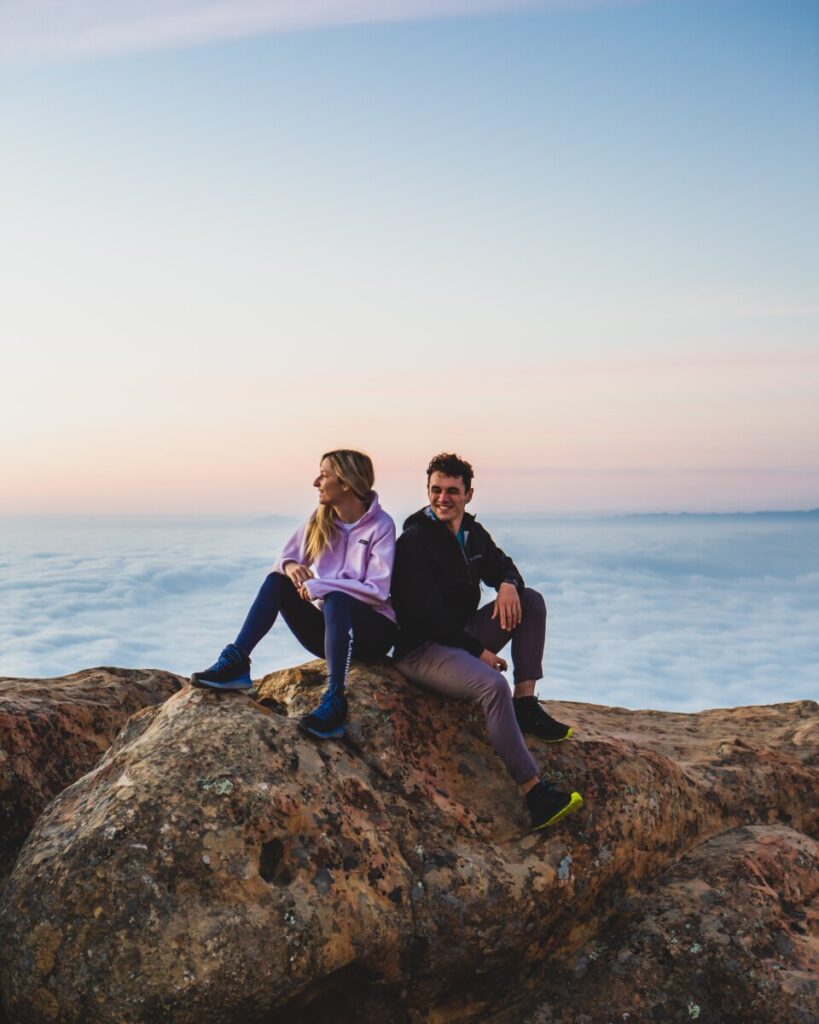 Another option for a short sunrise hike is Lizard's Mouth. This Santa Barbara hike is also 0.3 miles but is only 49 ft in elevation gain. The trail can be tricky to follow as the majority of it is rock scrambling. We recommend downloading the trail on AllTrails to help you stay on course. However, there are also a ton of spray painted arrows on the rocks to keep you headed in the right direction if you were to get off route. We love this hike for its amazing views and fun rock formations to explore.
If you are into rock climbing or bouldering, Lizard's Mouth is a climber's paradise! Bring your harness, ropes, racks, shoes, and bouldering pad and have some fun!
Tangerine Falls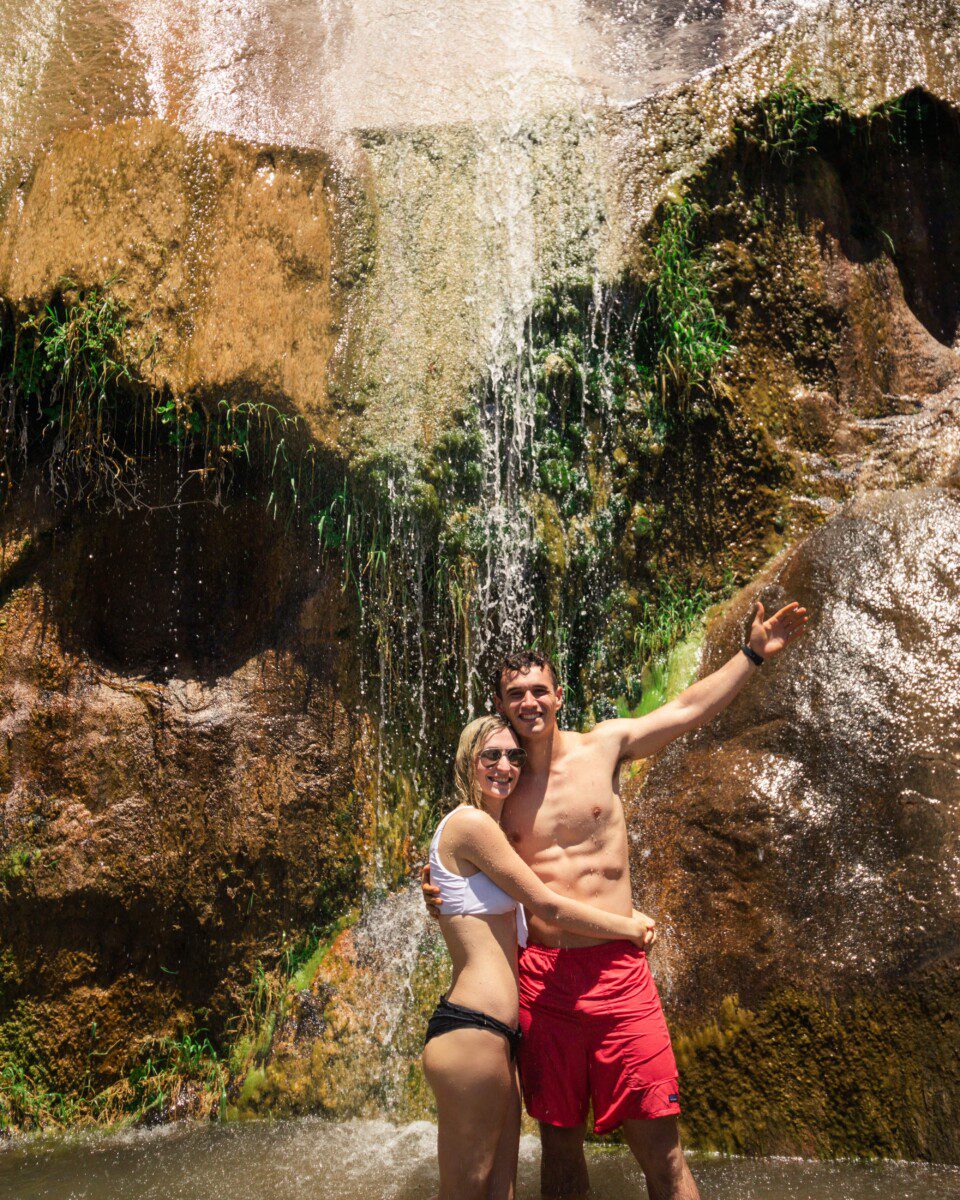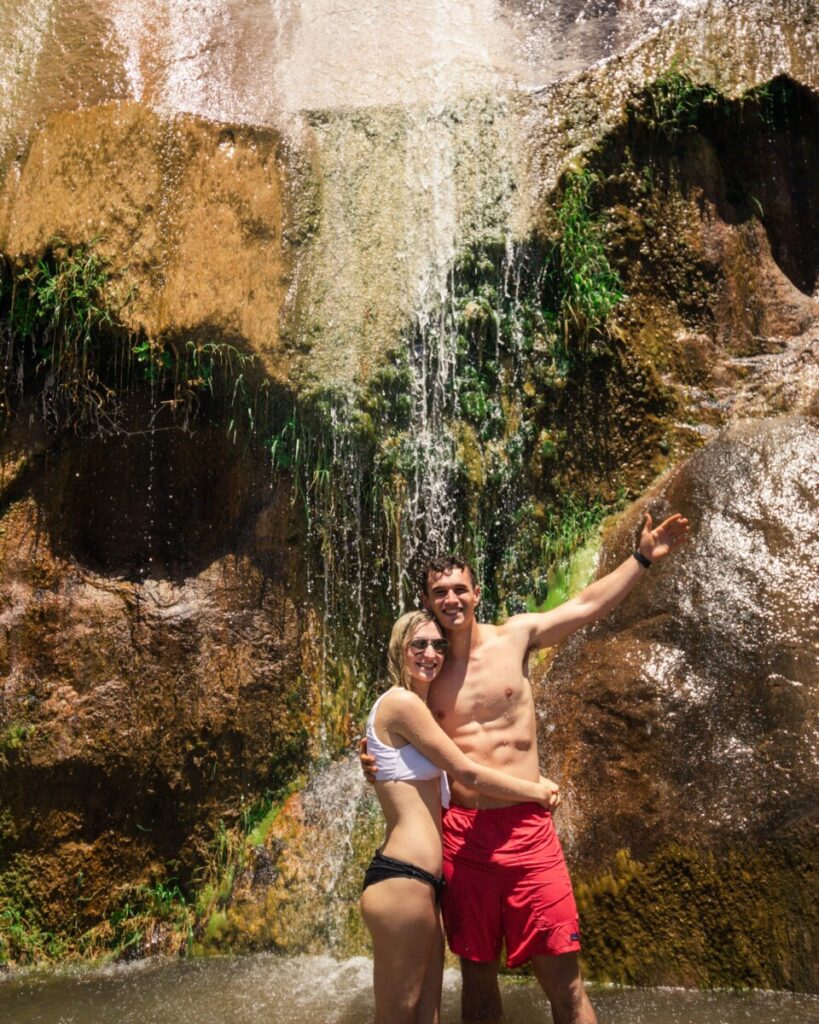 Being the largest waterfall in the area, Tangerine Falls is nothing short of amazing. This 2.2 mile out and back trail takes you 895 ft up in elevation to a stunning 100 ft waterfall. This is definitely a challenging route when it comes to Santa Barbara hiking. It does require moderate rock climbing, but no special equipment is required. The rocks are a little wet and the terrain can be unsteady at times. Because of this, we highly recommend wearing good hiking shoes. 
This trail is especially hard to follow compared to the other hikes on this list since it is so much rock scrambling versus following an actual trail. Definitely download your trail data ahead of time to make sure you don't get off route. Because this hike is challenging and it's very easy to accidentally get off the trail, we don't recommend doing it if you're new to hiking.
Bring along sunscreen and a bathing suit as well so you can enjoy swimming in the bottom of the falls. If you want to beat the crowds, try and go early in the morning and you might even have the place to yourself. You can bring your dogs along on this trail if you want, but they need to be on a leash at all times and it would be more difficult if they aren't used to hopping around on rocks.
Ready to Hike in Santa Barbara?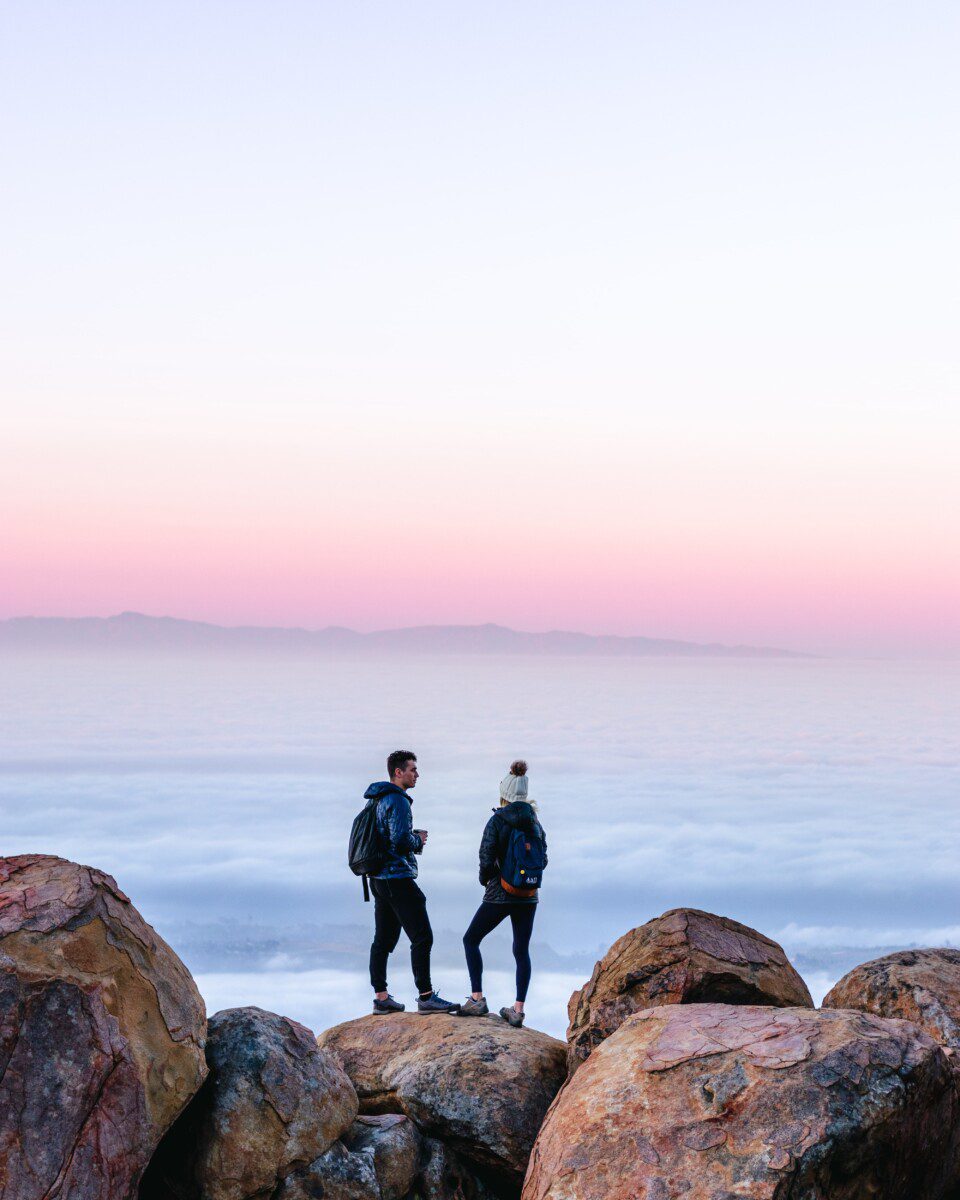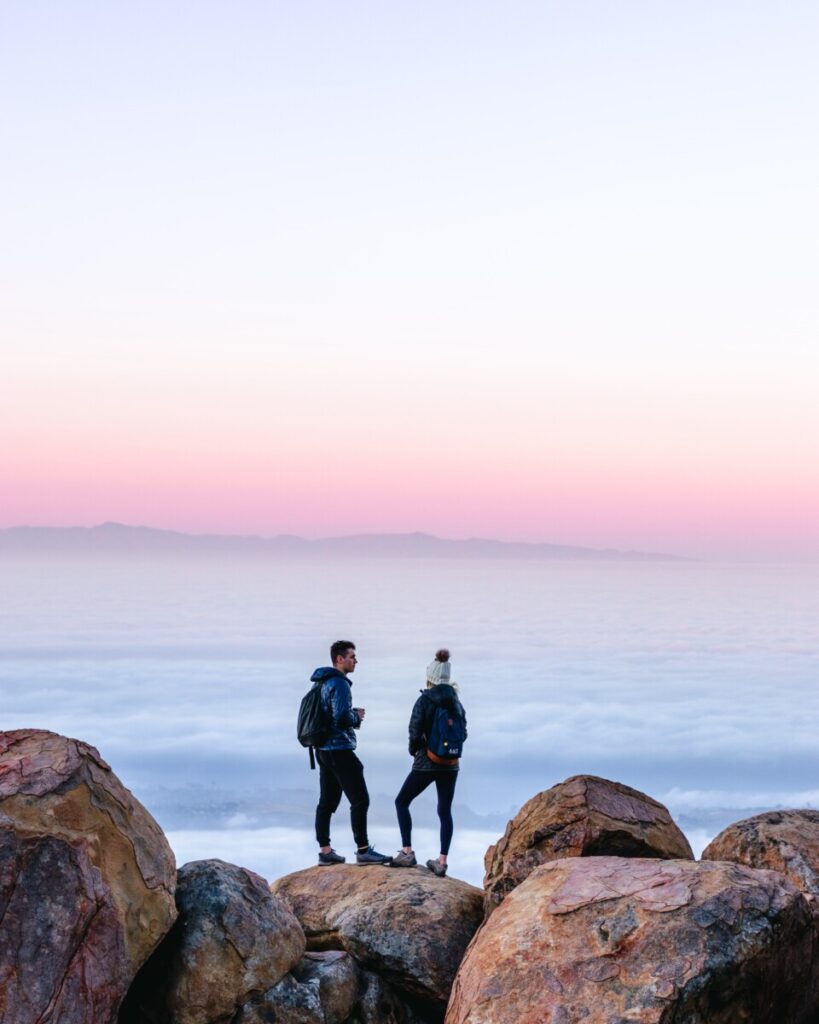 We hope this blog inspires you to book a trip to Santa Barbara as soon as possible. There is so much beauty in Santa Barbara no matter where you go or what you do. This area is very special to us, and we love being able to share all of the best spots with each of you. Let us know what your favorite spots/hikes in Santa Barbara are.