How to Visit Badlands National Park in One Weekend
Published on March 20, 2023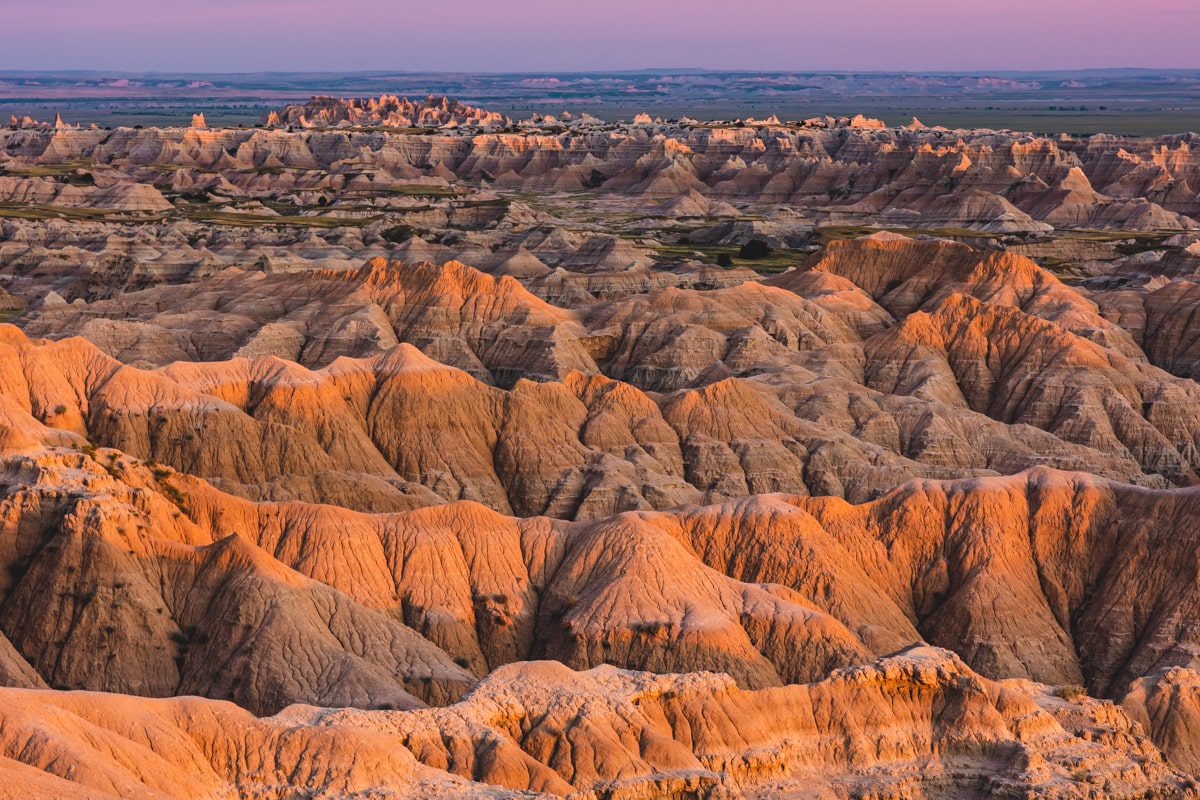 If you're looking for a unique and majestic landscape to explore, look no further than Badlands National Park. This 244,000-acre park located in the southwestern region of South Dakota is home to stunning rock formations, rugged terrain, and an abundance of wildlife.
The dramatic landscapes are composed of mixed grassland savannas, a variety of sedimentary layers, canyons carved by ancient rivers, and strange hills known as buttes. You'll be able to spot the white spires of the Badland's formations jutting up from the horizon, and in some areas, they reach up to 300 feet.
We believe that Badlands National Park is one of the most underrated National Parks we've ever been to. We've been to a third of all the National Parks in the US with the majority of them being on the western side of the country. Badlands is truly a unique park to visit – there's no other National Park like it. The sheer amount of badlands is simply incredible. 
This ultimate guide to Badlands National Park in one weekend will cover everything from how to get there, where to stay, and what to explore. If you're looking for a unique adventurous experience, look no further than Badlands National Park – it's sure to be a trip you won't soon forget.
Best Time to Visit Badlands National Park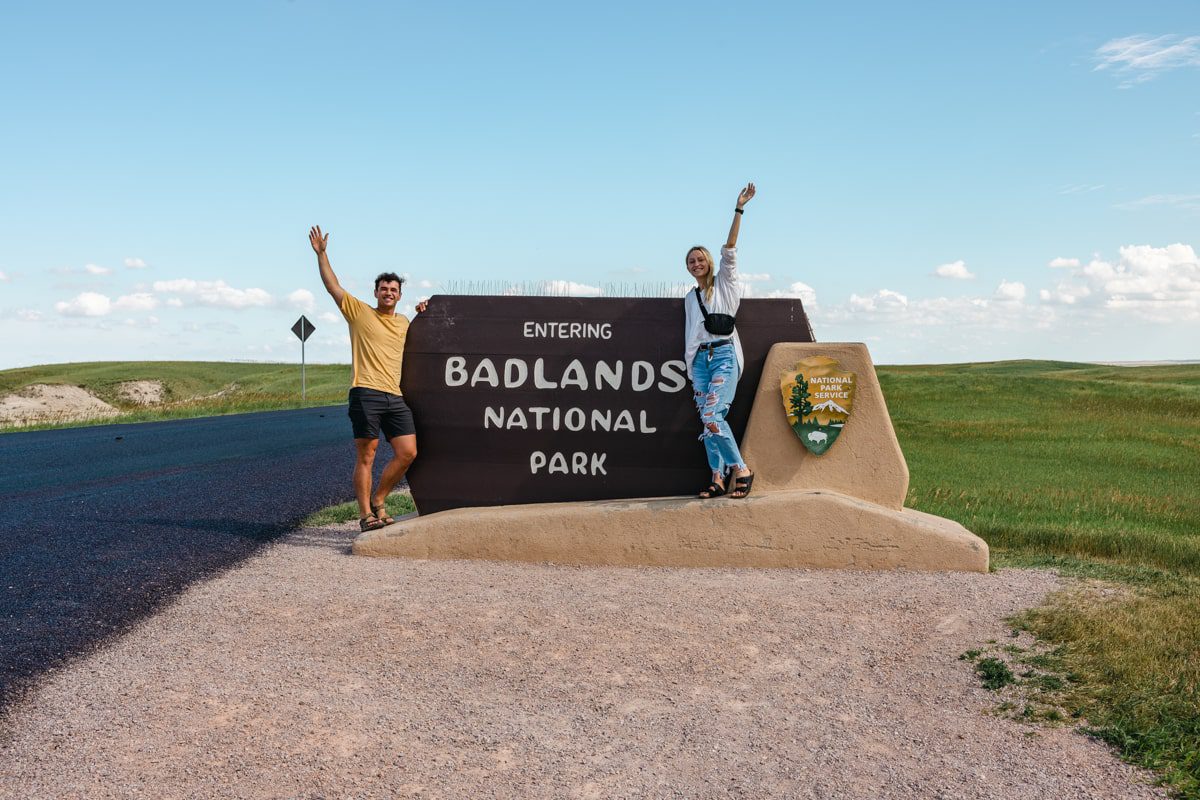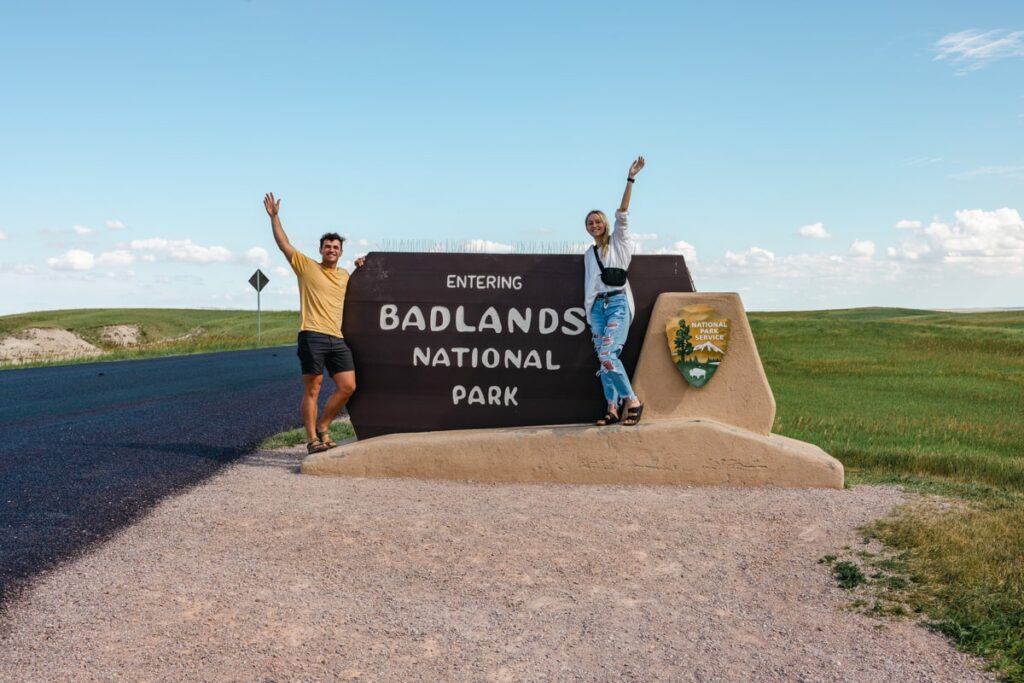 The best time of year to visit Badlands National Park is either in the spring or fall. These time frames are going to offer the best options for outdoor recreation activities. We especially recommend visiting anytime in April or May or later in the season during September or October for the best weather and experience.
If summer is the only time you're able to visit, don't worry, you can still plan a trip to Badlands. Just keep in mind, though, that the summers do get extremely hot during the days with temperatures pushing 100 degrees Fahrenheit. You'll want to make sure to plan your hikes and exploring for the early mornings and later in the evenings so you're not out during those really hot peak hours. There are also crazy thunderstorms that come out of nowhere some days so make sure to keep an eye on the weather forecast.
How to Get to Badlands National Park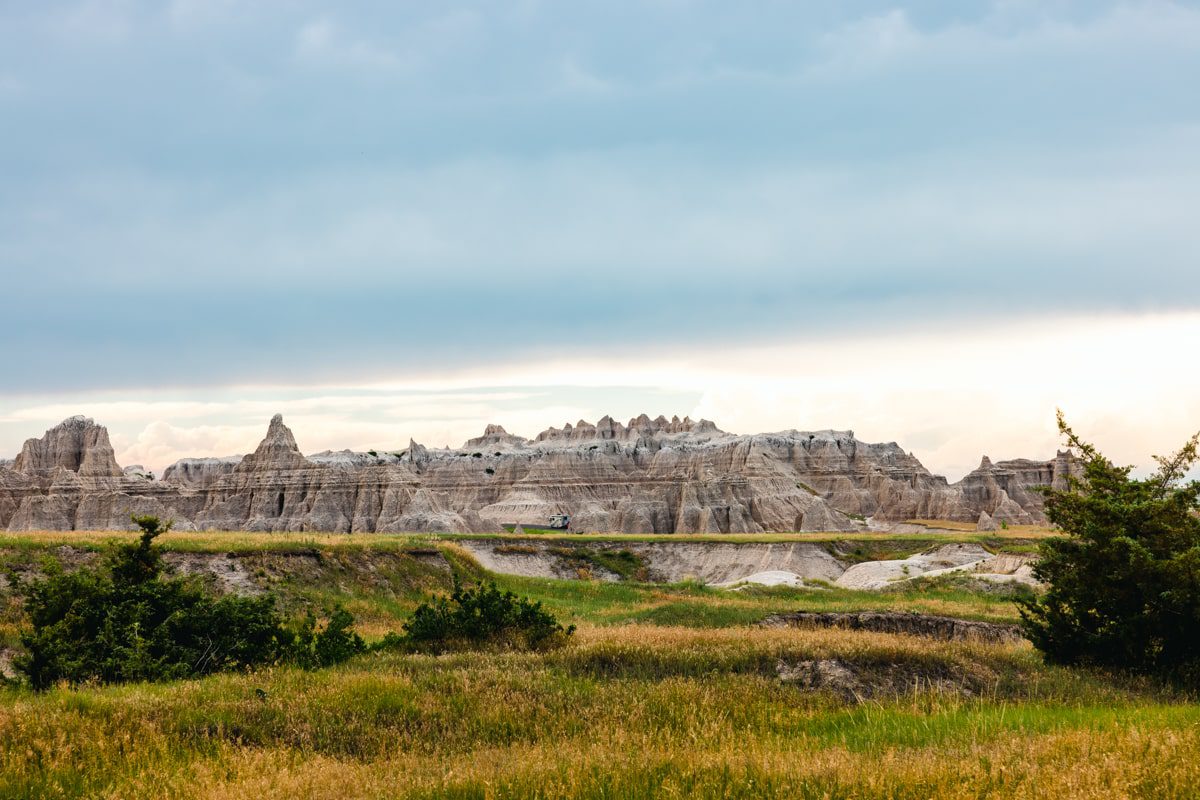 There are two different ways you can get to Badlands National Park:
You can fly into Rapid City, which is about an hour away from Badlands.
You can fly into Sioux Falls and do the 4-hour road trip through South Dakota to Badlands.
We personally did the drive from Sioux Falls to Badlands because we wanted to explore as much of South Dakota as we could on a full South Dakota Road Trip. We loved this road trip and highly recommend it to anyone who is looking to see all of South Dakota and do a longer trip outside of just Badlands. 
If you're tight on time and only have a weekend to explore, we suggest flying into Rapid City. The areas around Rapid City are full of adventurous areas to see such as the Black Hills, Mount Rushmore, and Custer State Park. 
How Long Do You Need to Visit Badlands?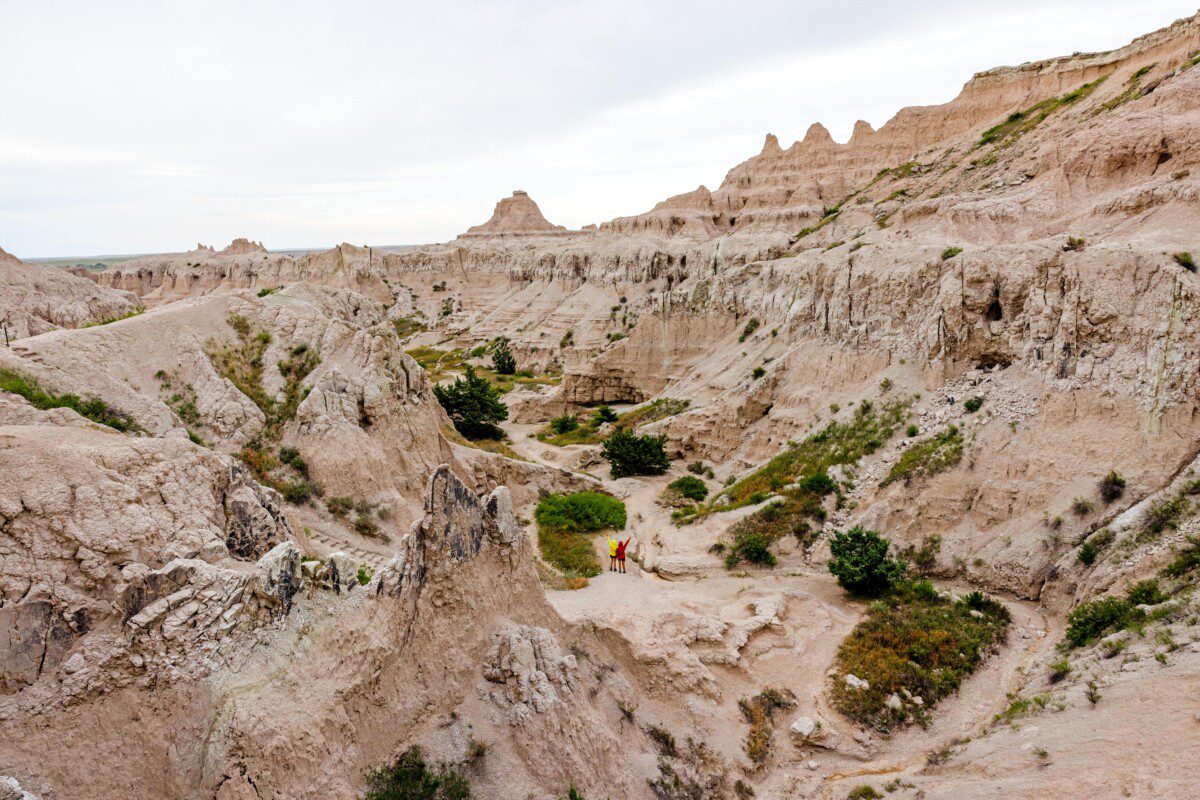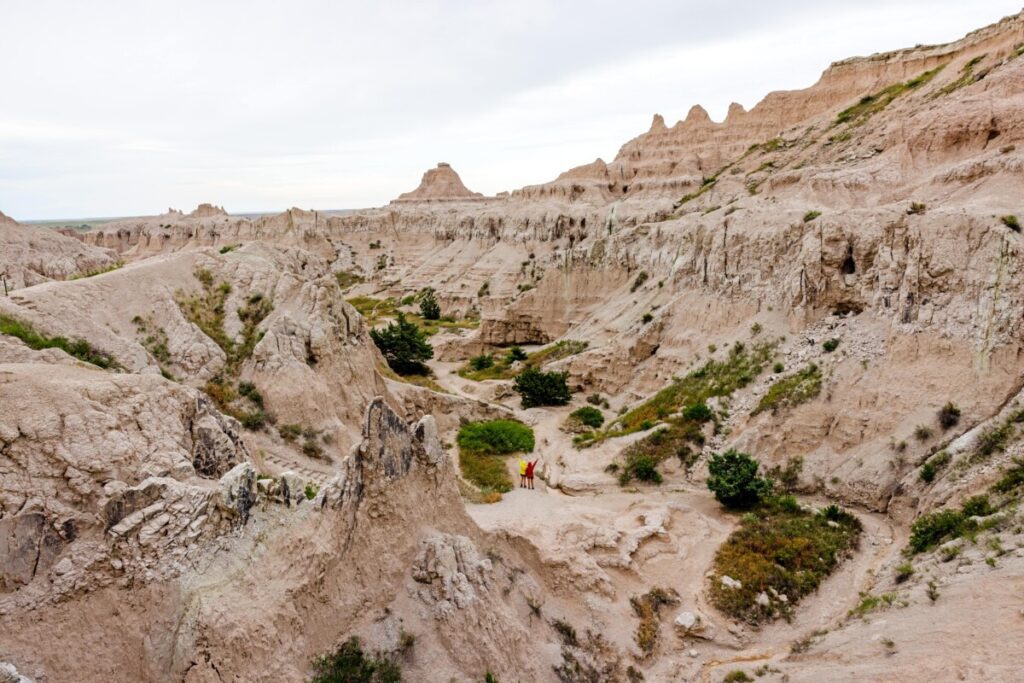 When it comes to exploring Badlands National Park, we recommend giving yourself two to three days if you really want to see everything the park has to offer. The park itself is big, but in terms of exploration, there isn't much for you to see or do for longer than three days.
There are two different sections of Badlands National Park and only one has a ton of things to do. The Northern side is the most visited part of the park. This is where you will find all of the most popular attractions like Badlands Loop Road and the top hikes and scenic viewpoints we have recommended in this itinerary for the park. 
The South Unit is not as visited because it used to be a Cold War training ground and there are potentially a lot of pieces of hidden military equipment as they used to train out there. So, because of this, they recommend people to not explore out in that section of the park.
Overall, if you're just stopping through South Dakota, you really only need one day to see all the highlights in Badlands. But if you want to hit every single thing possible in the park you want to give yourself two days minimum. 
Do You Need a 4×4 Vehicle?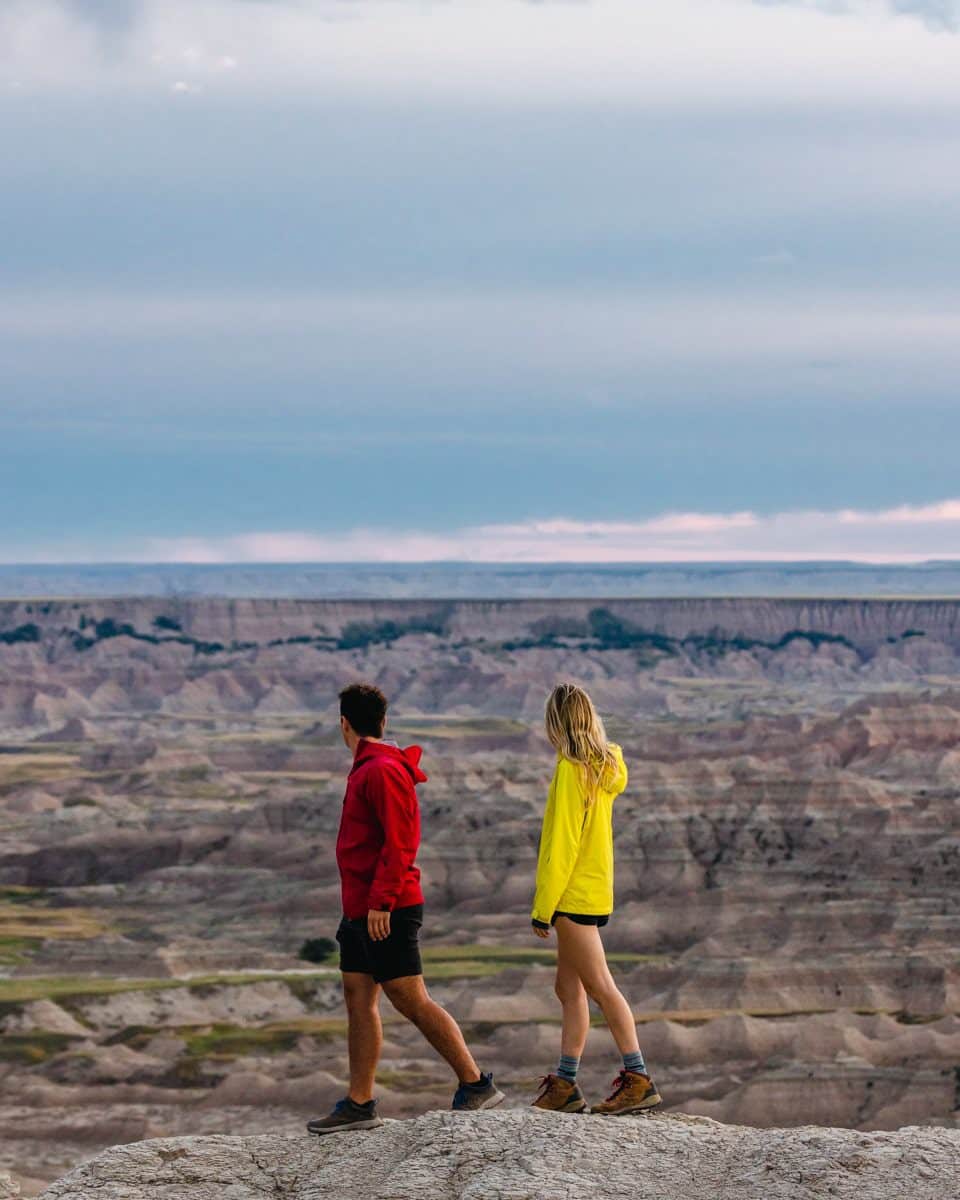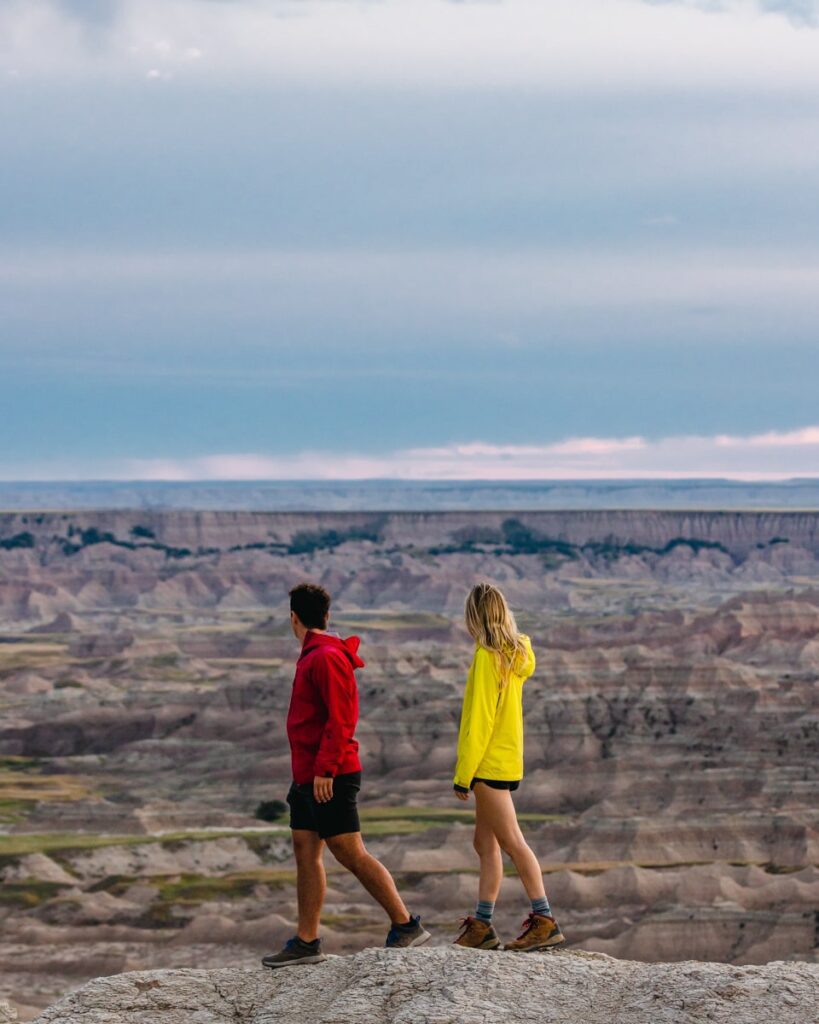 If you're flying in and getting a rental car, there's no need for a 4×4 vehicle. Badlands National Park doesn't have major off-roading or rough roads. There's really only one paved road that takes you through the entire park and it's very well kept.
There's one section of the park that has a gravel/dirt road but even then, a 4×4 is not needed. It's the road you'll take to go to Hay Butte but that's the only section of the park that is gravel. There's not much to see on that road except Hay Butte and Prairie dogs so besides that, you'll be on paved roads the whole time.
Where to Stay in Badlands National Park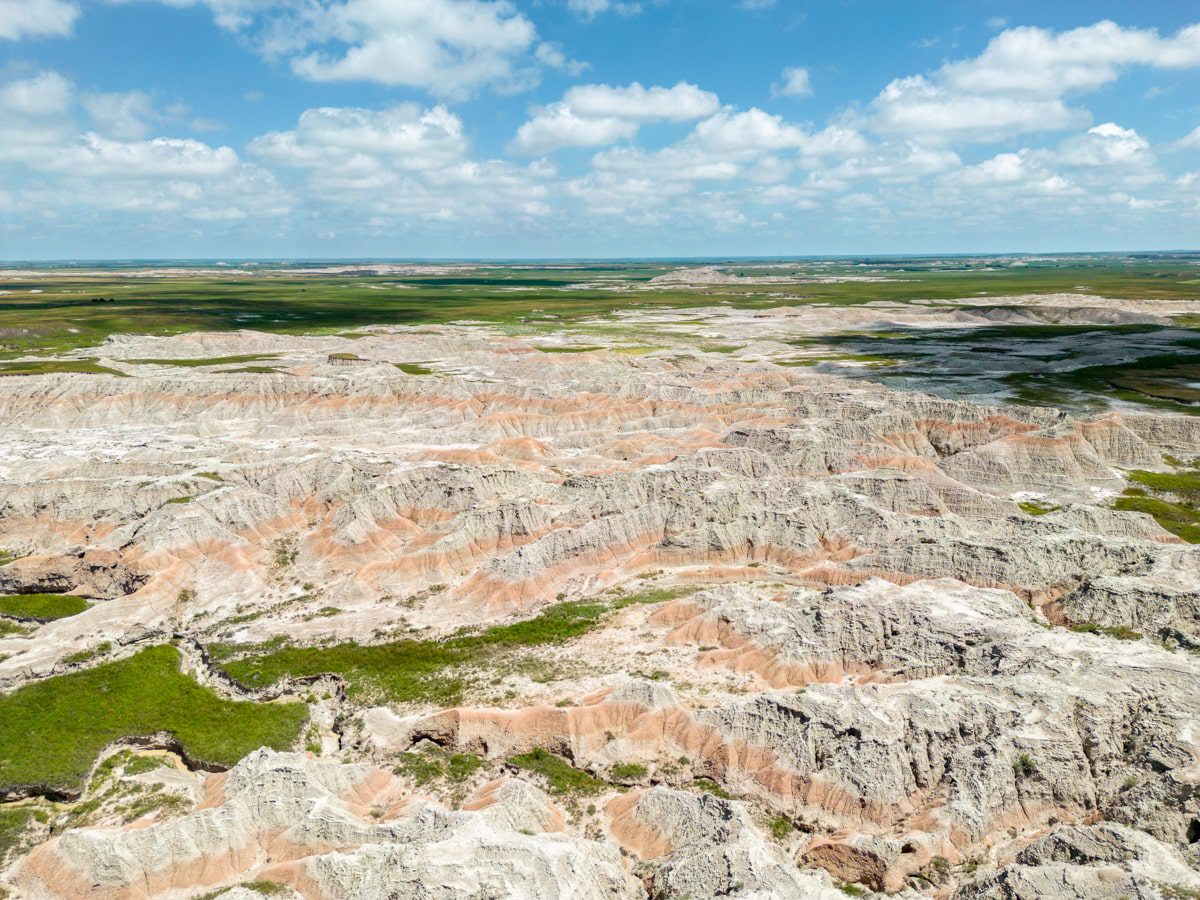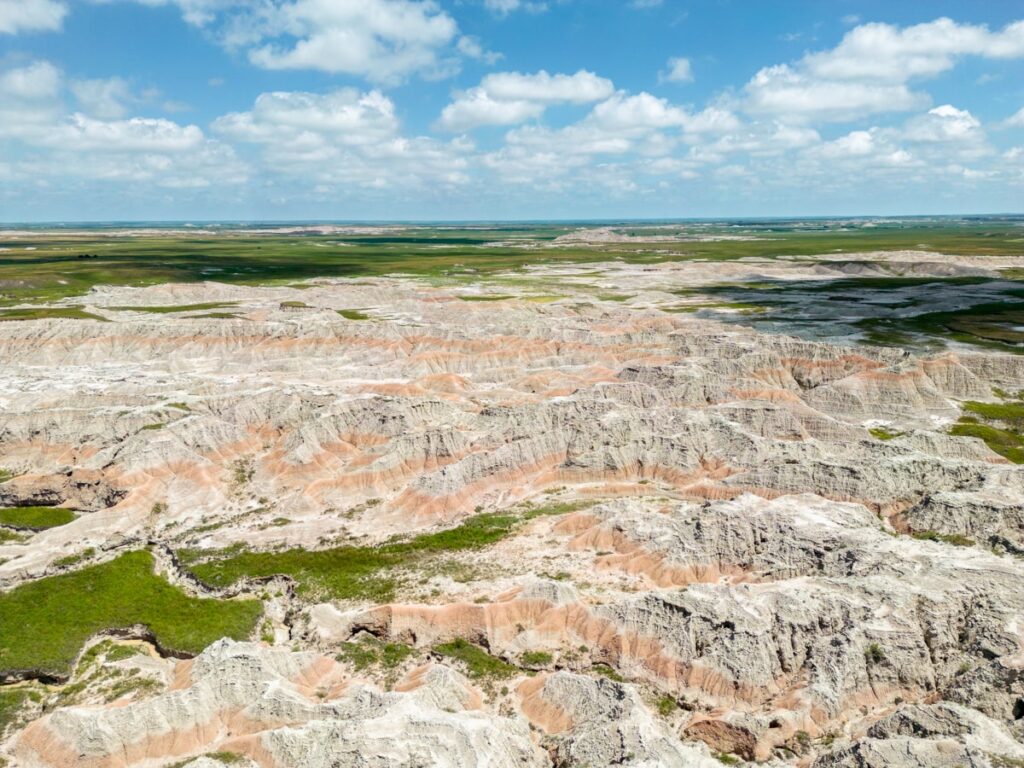 Within the park, you can camp for free at Sage Creek Campground. It's a free tent campground with 22 first come-first-serve sites. If you want to stay here, we recommend getting there early to secure yourself a spot. Recreational vehicles longer than 18 feet aren't allowed but, for a small fee, you can RV Camp nearby at the Cedar Pass Campground.
Back-country camping is also allowed in the park.
Badlands Boondocking
Badlands boondocking is a place outside of Badlands National Park where you can camp for free. There are tons of spots to set up camp with amazing views overlooking the park.
Just outside of the National Park is one of the most epic free camping sites in the United States. Nomad View and Steer Pasture Overlook both won the 2020 Campers Choice Awards for best free camping.
Whether you're looking to stay inside or outside the park, there are tons of beautiful locations in the area.
Hotels Near Badlands
There are also a few hotels and inns located near Badlands National Park. If you'd rather book an actual hotel style accommodation for the night, we'd recommend staying at the Badlands Frontier Cabins. It is less than a 10 minutes drive from the park entrance. It had the cutest cabins and was in a super central area near lots of restaurants and the famous Wall Drug.
What to Bring to Badlands National Park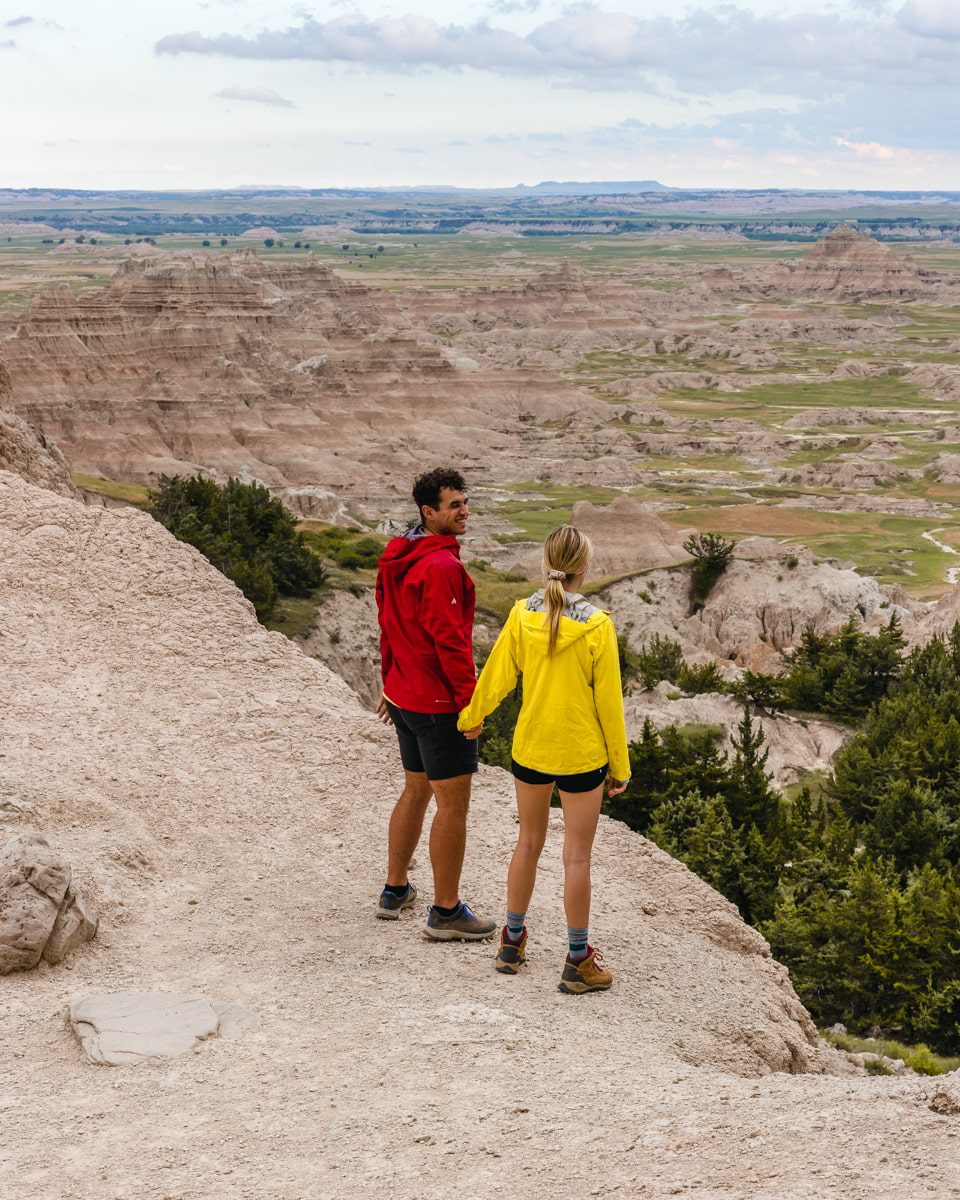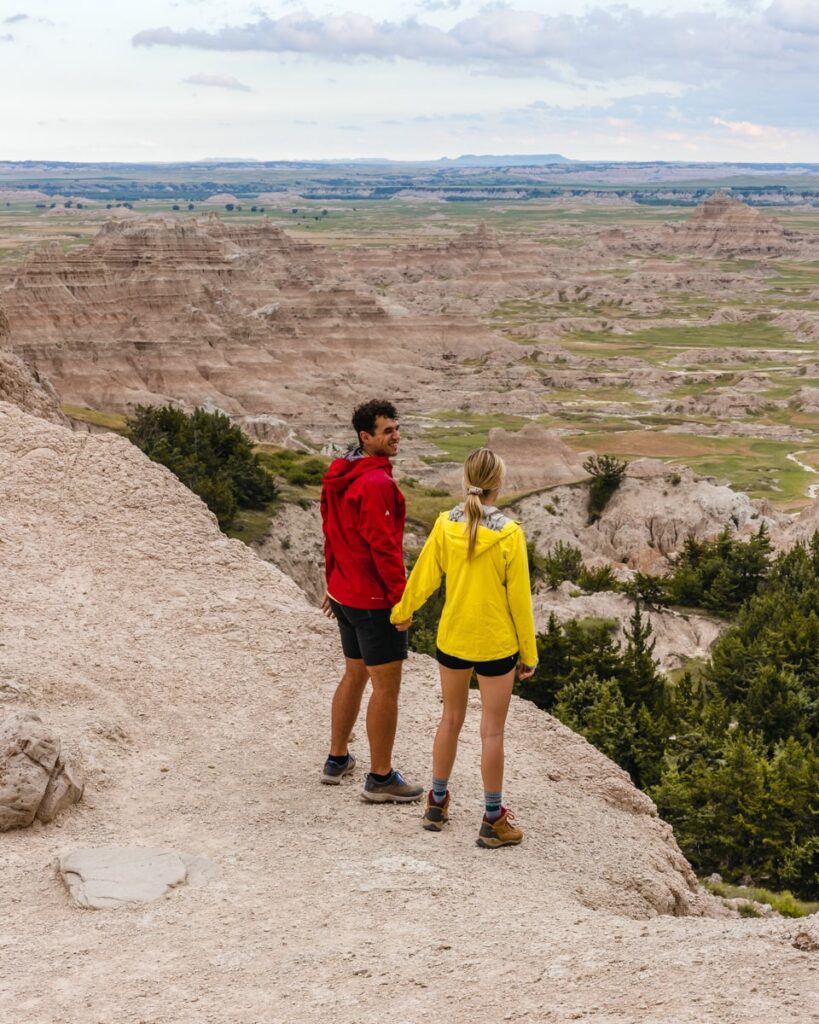 Make sure to bring lots of water. The summer months can get pretty humid so having lots of water to replenish your body is essential.
Wear sturdy hiking shoes. The trails in Badlands can be quite slippery so having solid shoes will help you from slipping or injuring yourself.
Bring lots of sunscreen and sun protection. The sun is powerful and bringing sun protection will help you to avoid annoying sunburns.
Download your maps of the trails you are hiking on All Trails or GAIA beforehand. Getting lost in this National Park is easy to do as the hikes aren't heavily marked so having a map to your trail will help you to avoid that.
If you come during the summertime, bring along a rain jacket to keep you dry during any thunder/rainstorms.
Sunrise Spots in Badlands National Park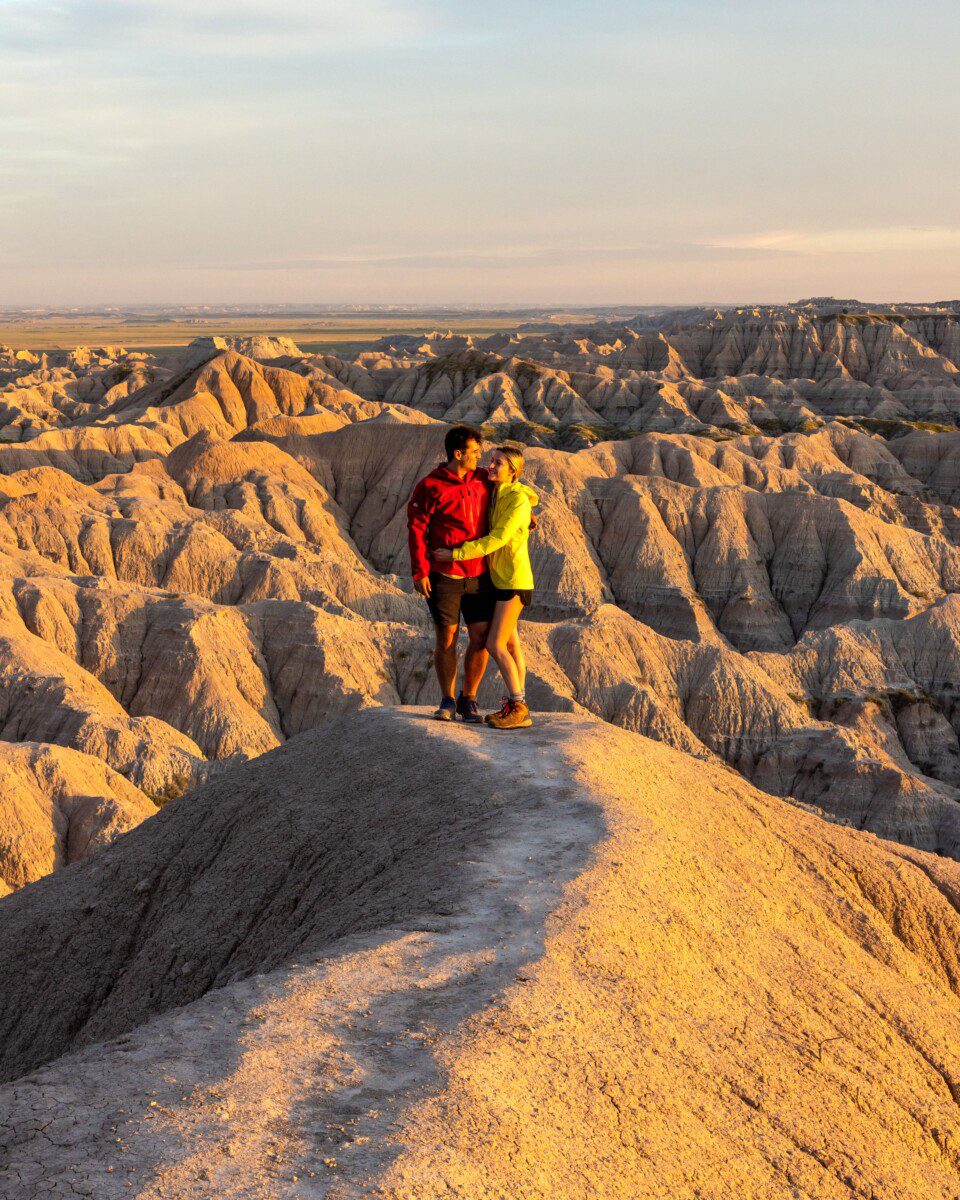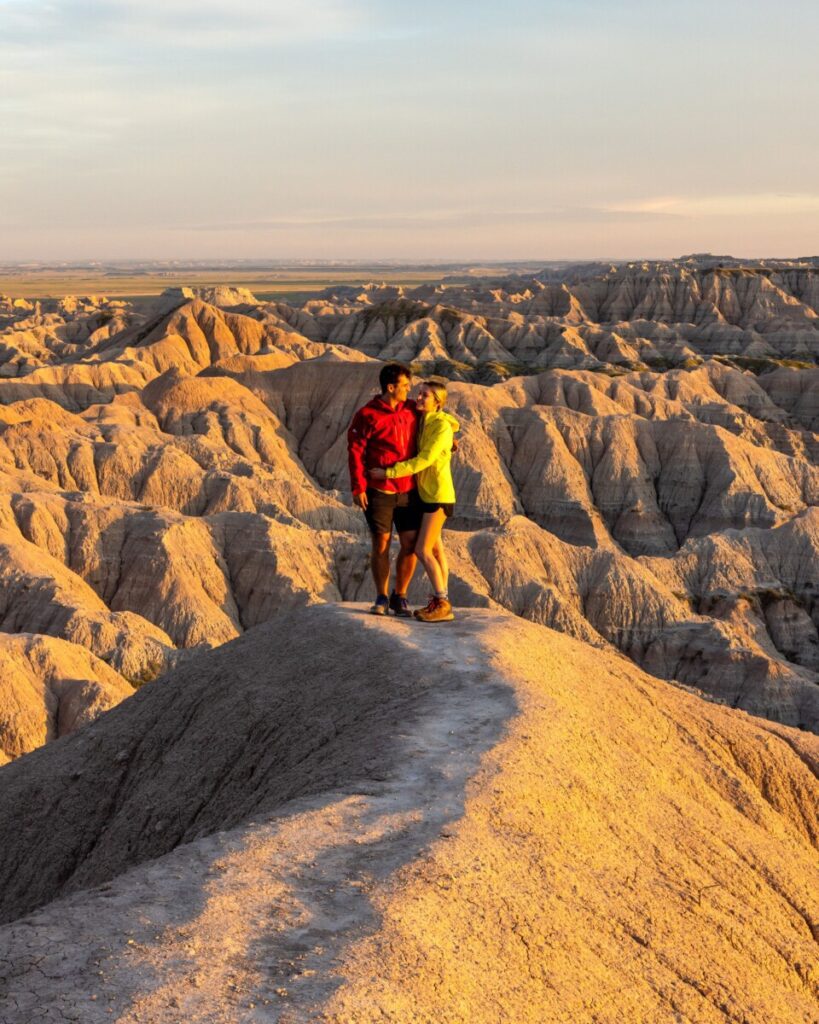 One of the main attractions in Badlands National Park is its sunrises and sunsets. They are absolutely stunning and golden hour is by far the best time to experience the park. Here are a few of our favorite locations to watch the sunrise.
Big Badlands Overlook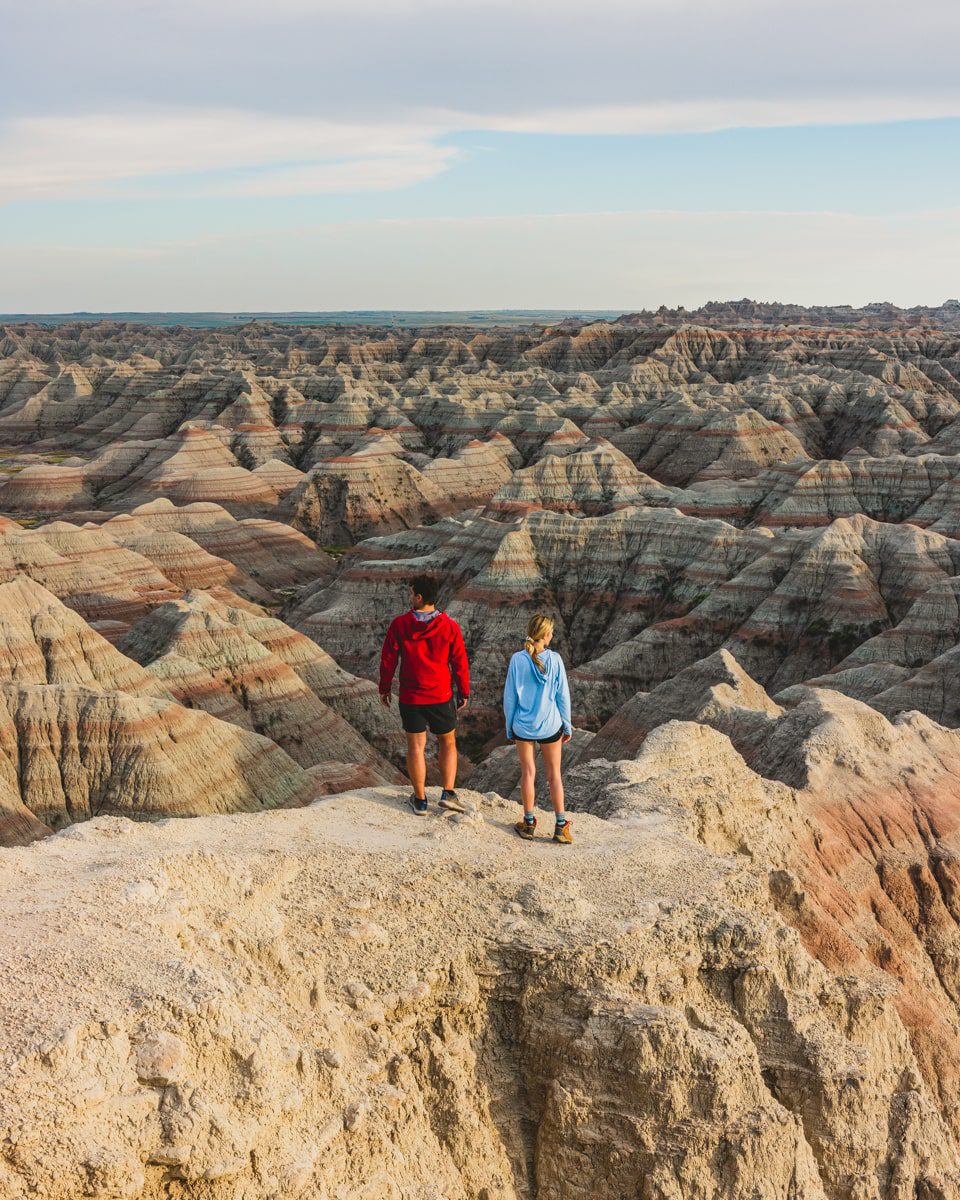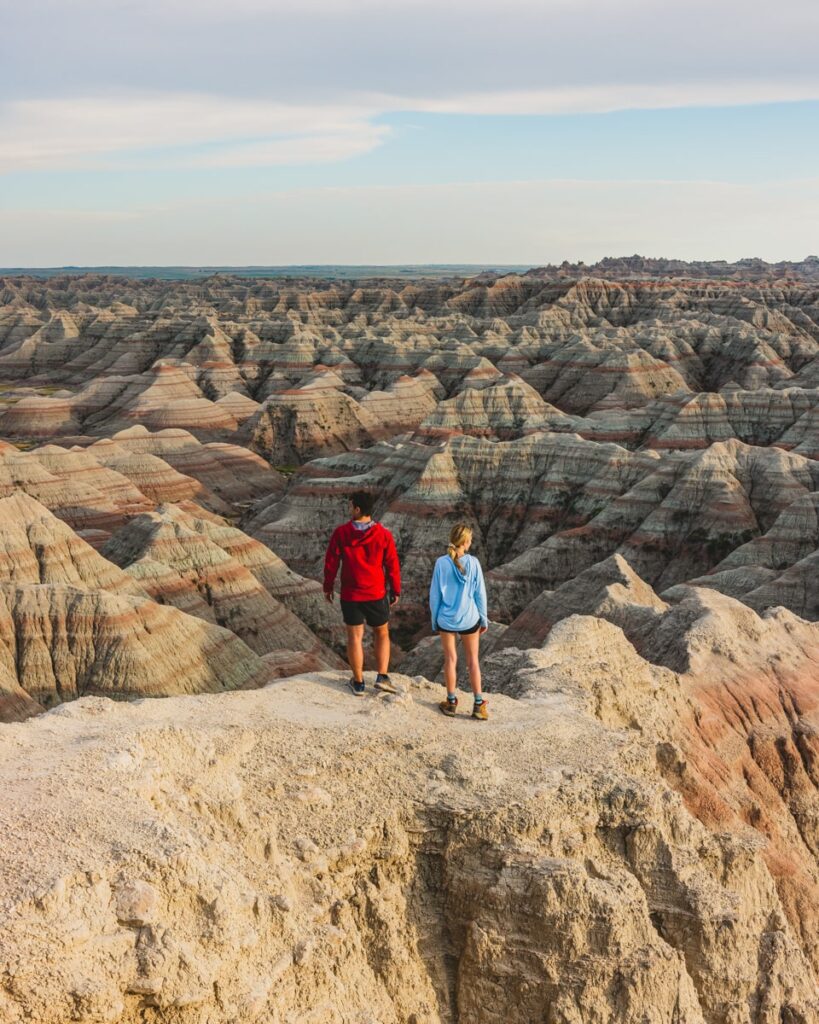 One of the top spots for sunrise in all of the park is Big Badlands Overlook. This spot is perfect when it's an overcast sky, so you don't get all the harsh shadows and highlights down on the badlands. It's absolutely stunning and is right next to the visitor center when you drive into the park, which makes it easy for a quick sunrise.
This overlook has vast views of the badlands with no obstructed views. It's a great area if you're really looking to see what the Badlands are all about. It's only 0.2 miles out and back and goes up just 3 feet in elevation. 
Panoramic Point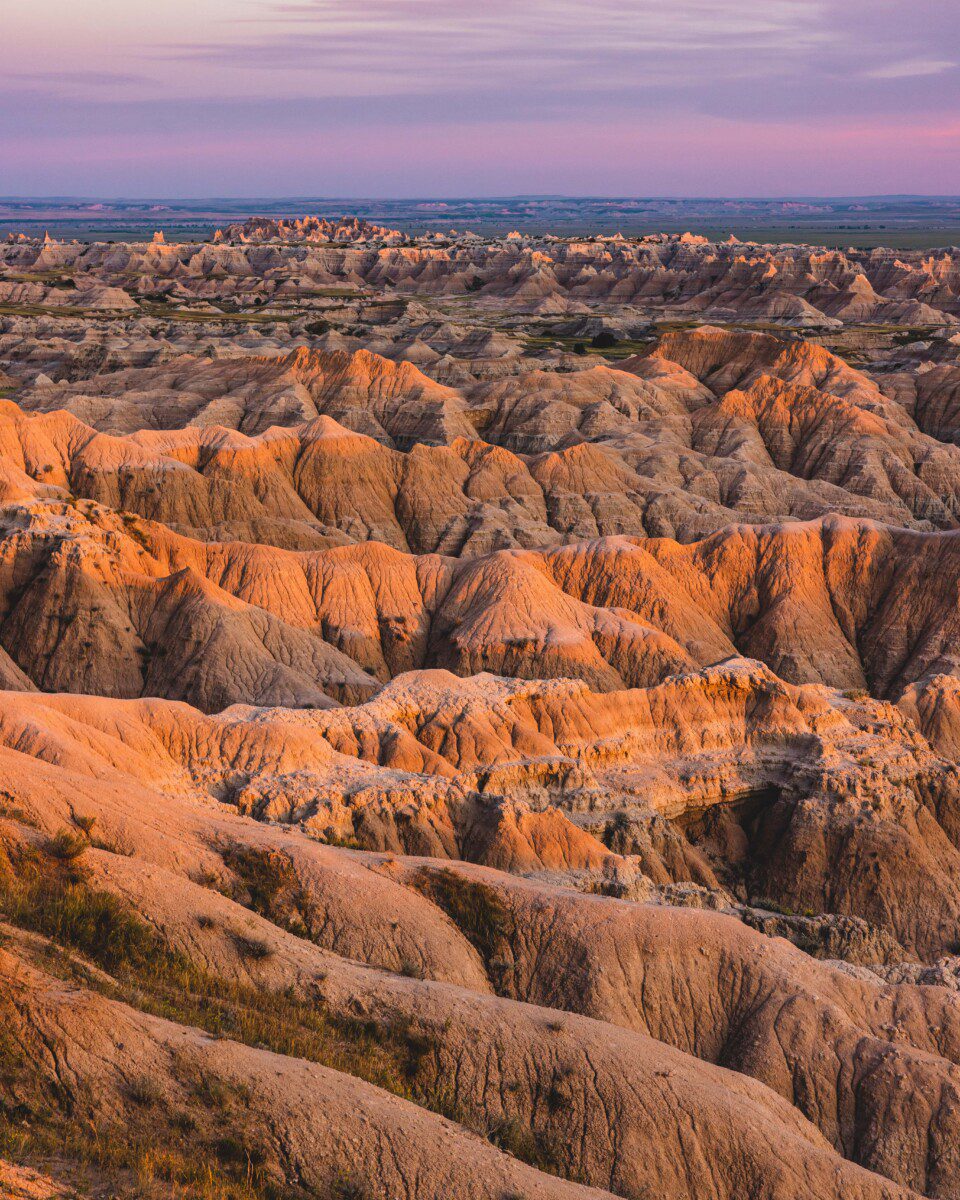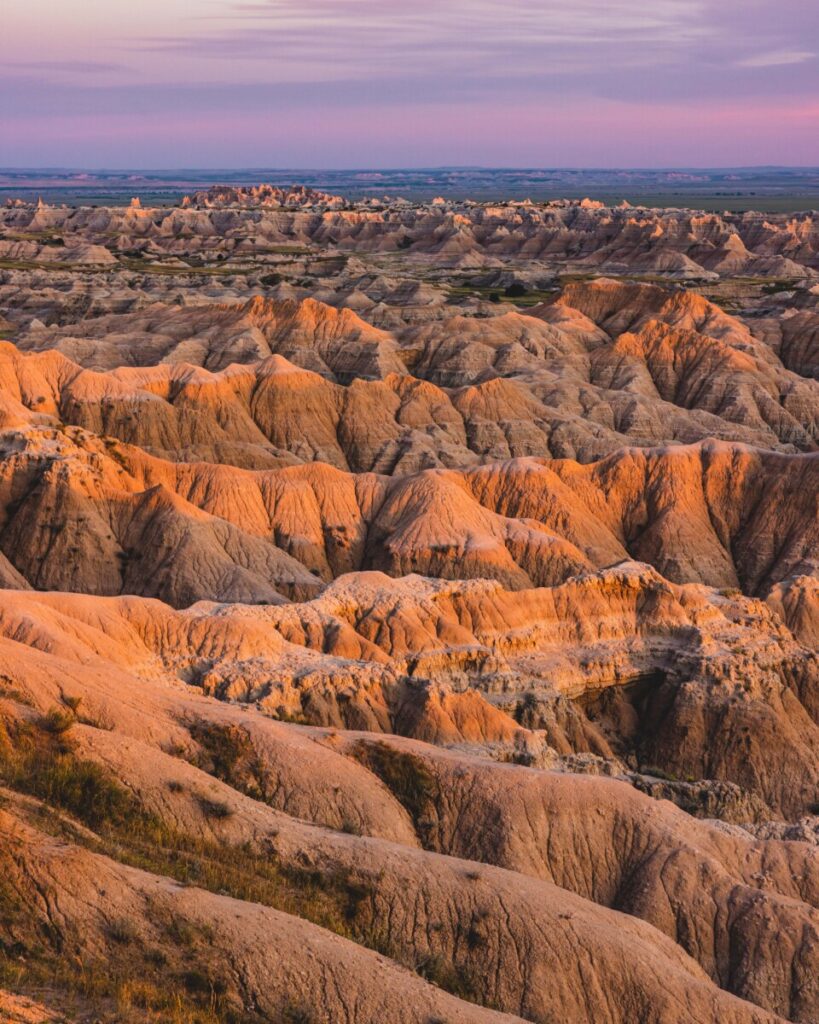 Another top sunrise spot is Panoramic Point. Here you can see a full 180-degree view of the badlands. This one is a little further into the National Park so if you're up for driving the windy road all the way in, we recommend checking it out. 
Sunset Spots in Badlands National Park
The best sunset locations are going to be on the opposite side of where you'll watch sunrise. There are only two spots that you're going to want to see and they're about a 5 min drive away from each other.
Pinnacles Overlook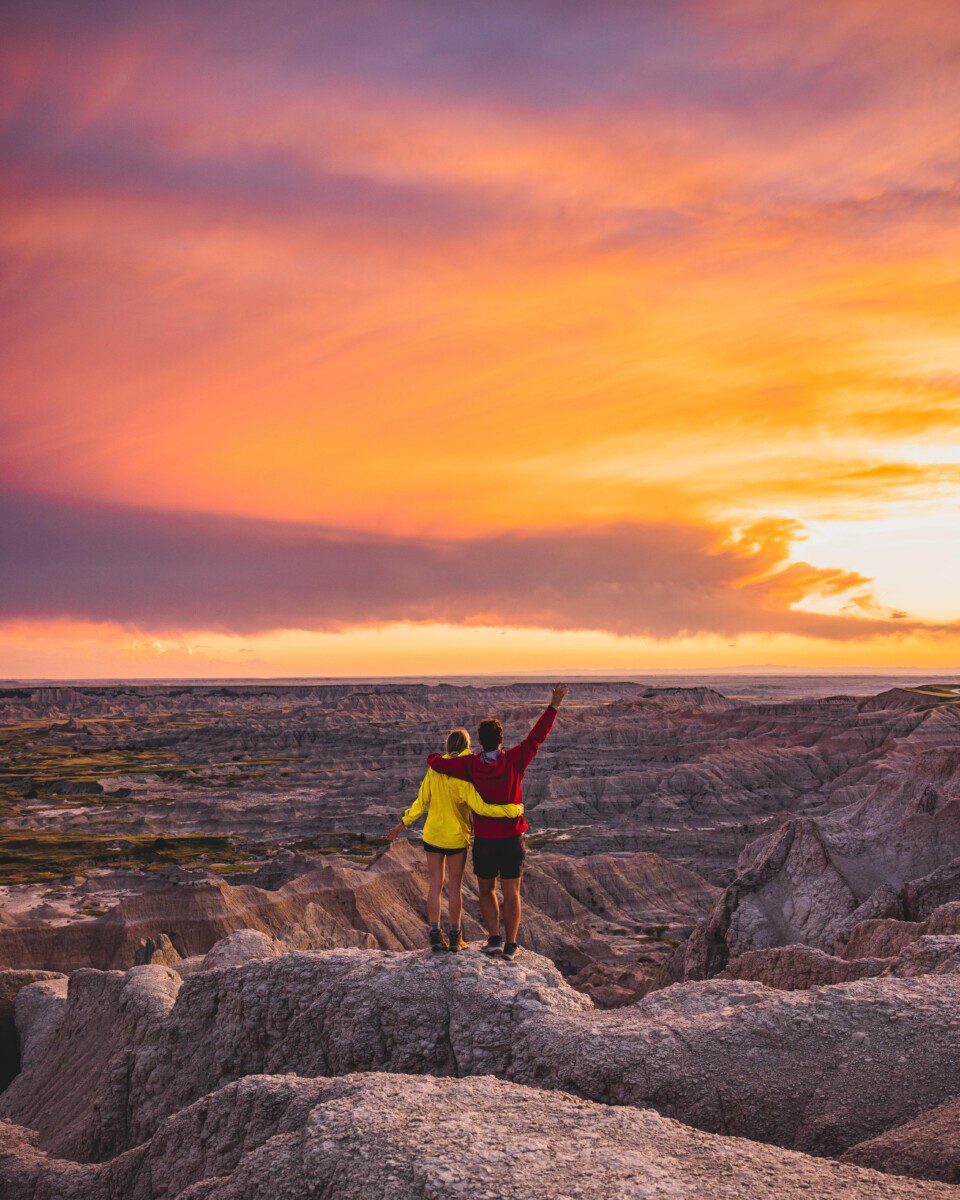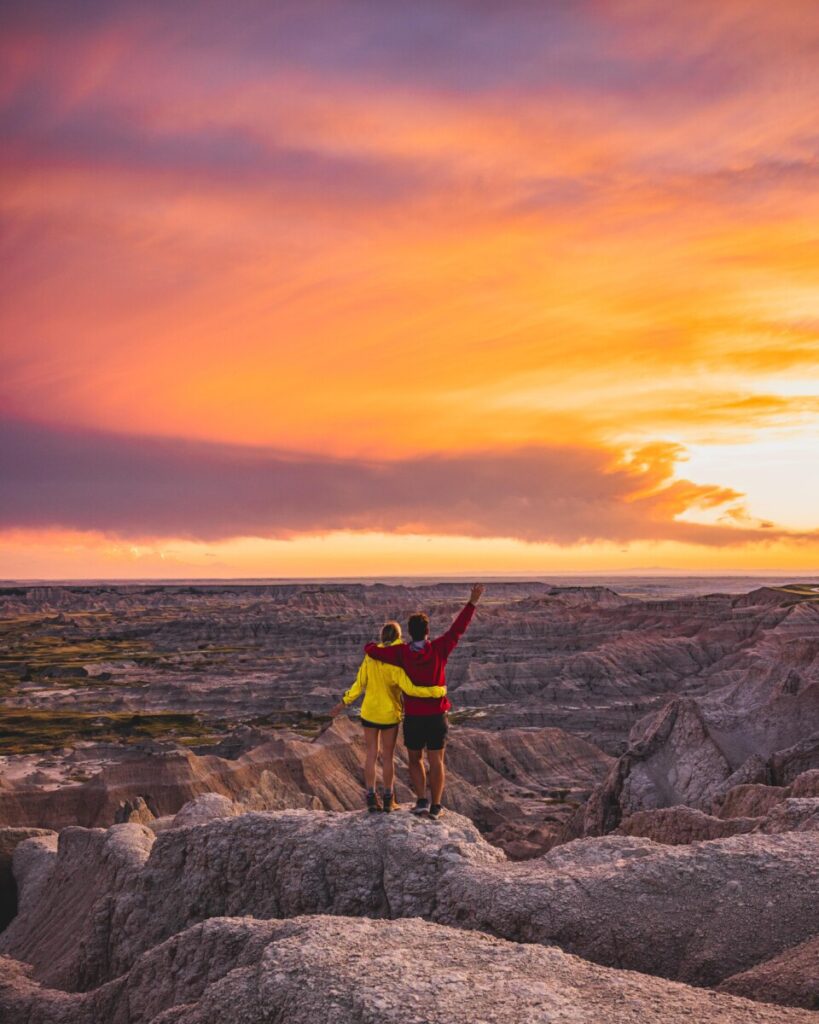 This is the most popular sunset location and the one we recommend the most. There's a massive parking lot, which is very helpful because it gets really busy. This is probably the busiest part of the park. Here you can see some really cool wildlife and the badlands go on for days. This spot is also amazing because you get to see the sunset directly over the horizon. The Pinnacles Overlook looks directly at the sun and the views are breathtaking. It's about 0.4 miles out and back and goes up 39 feet in elevation.
Hay Butte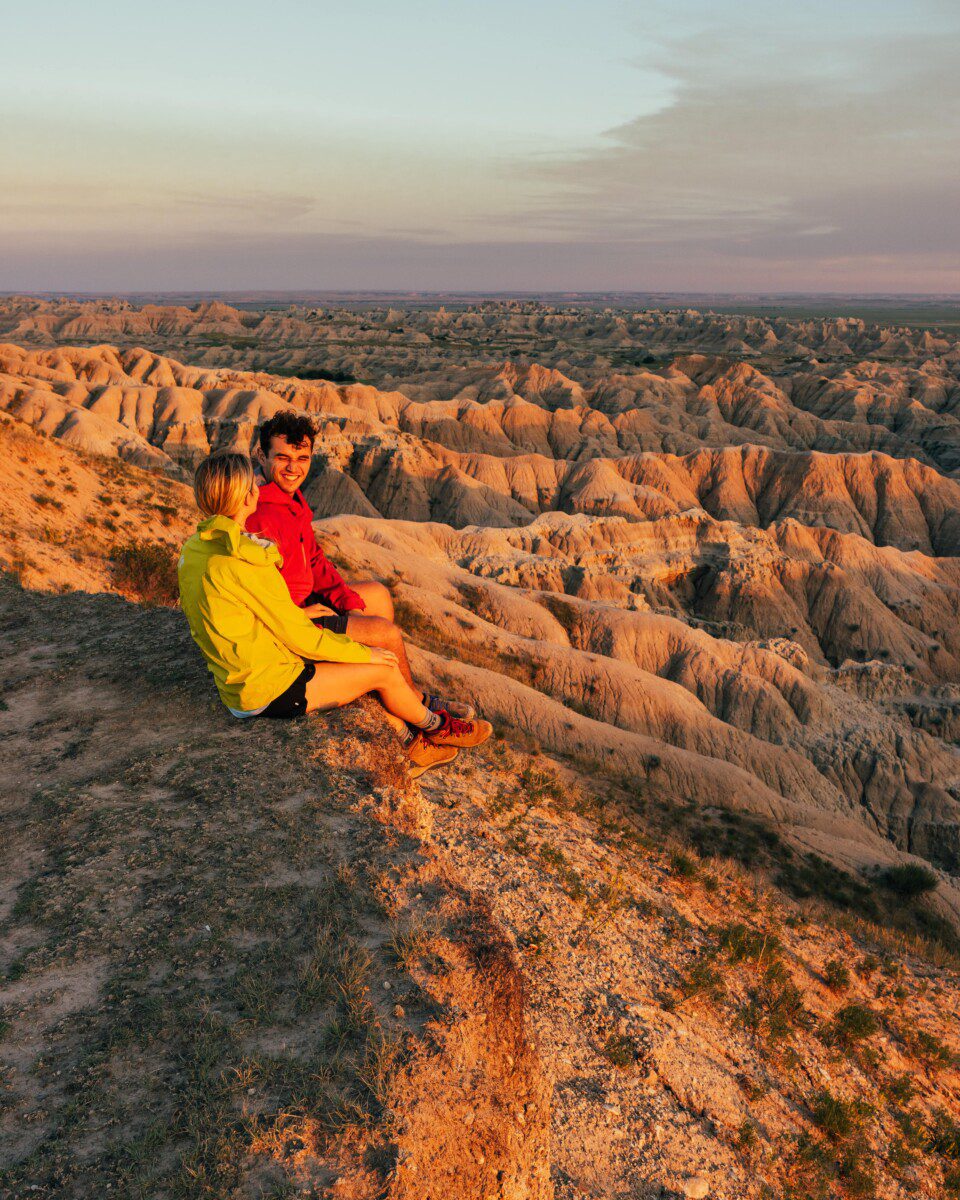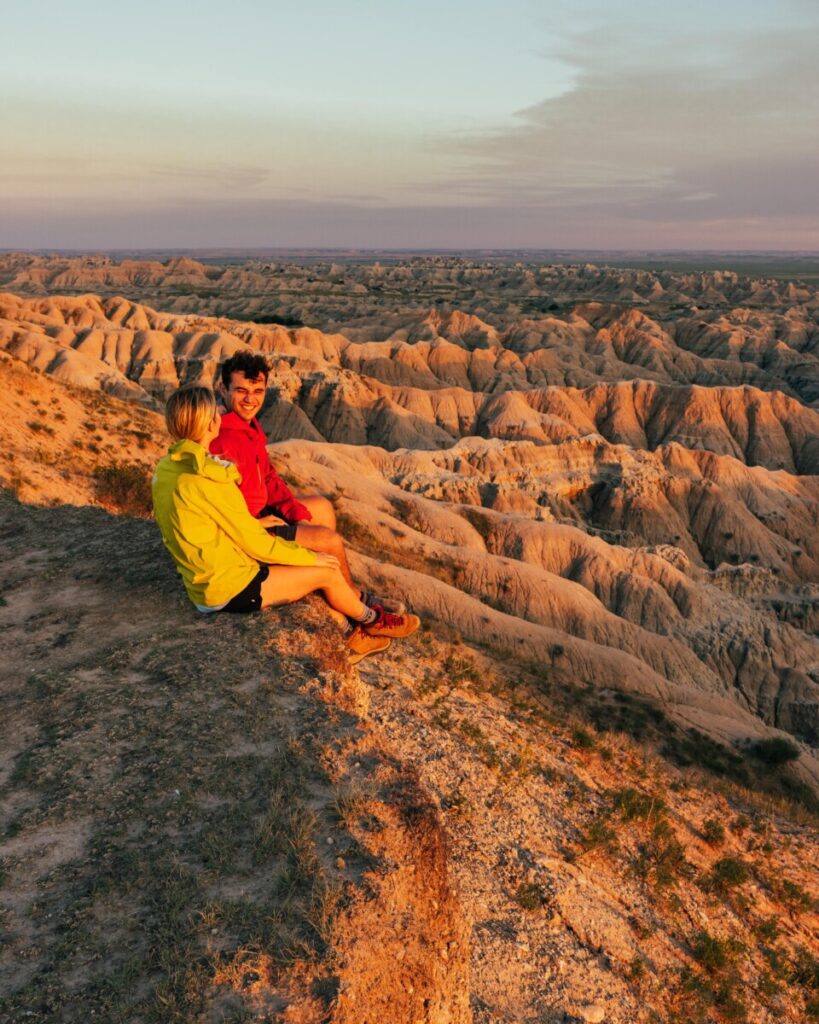 Right next to Pinnacles Overlook, you will find another gorgeous overlook called Hay Butte. This is another area we absolutely love for sunset. Hay Butte's view of the sun is at a completely different angle which offers different lighting on the badlands.
You really can't go wrong with any of these sunrise or sunset spots. They're all absolutely amazing.
Hiking Trails in Badlands National Park
When arriving at Badlands National Park these are the two trails we recommend doing first.
The Door Trail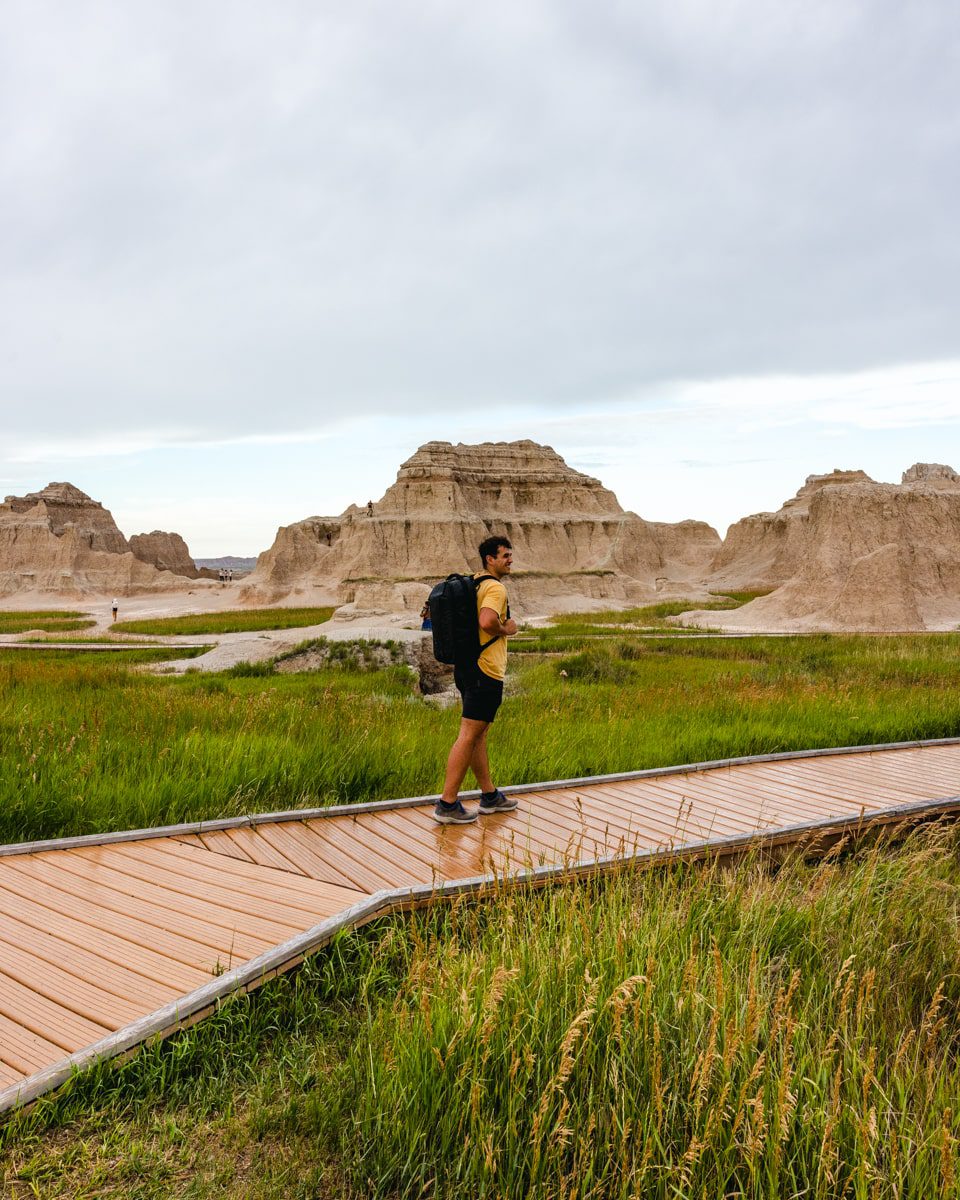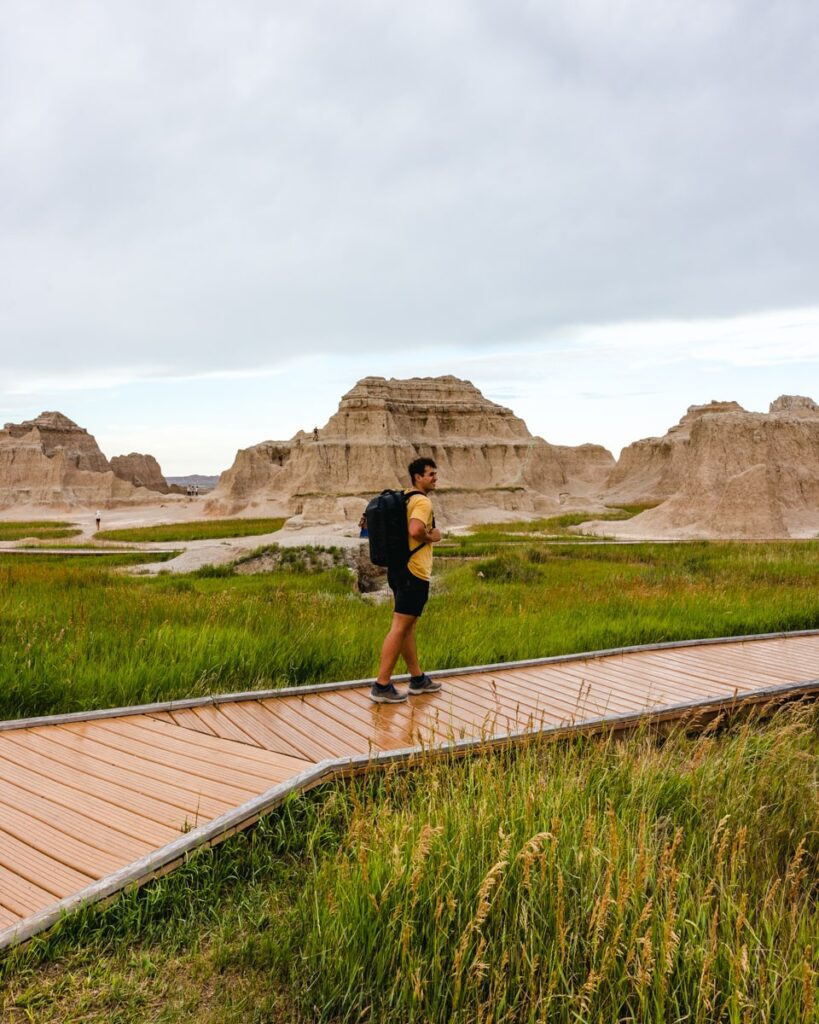 The Door Trail is 0.9 miles out and back and is only 22 feet of elevation gain. This area has a beautiful boardwalk, and you can actually go climb on the massive features that make up the badlands. They are kind of slippery, so we only recommend doing it if you know what you're doing and are wearing proper shoes.
The Notch Trail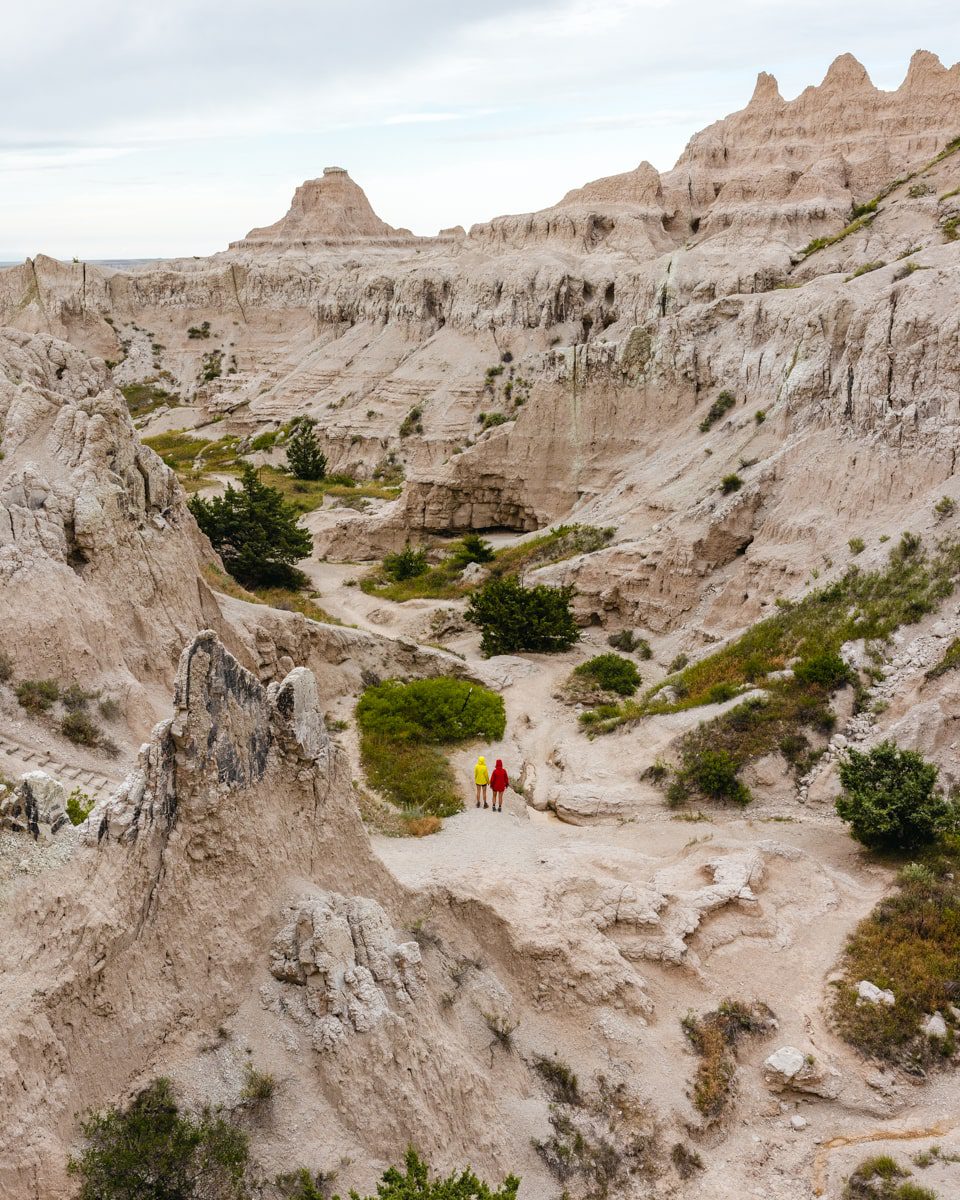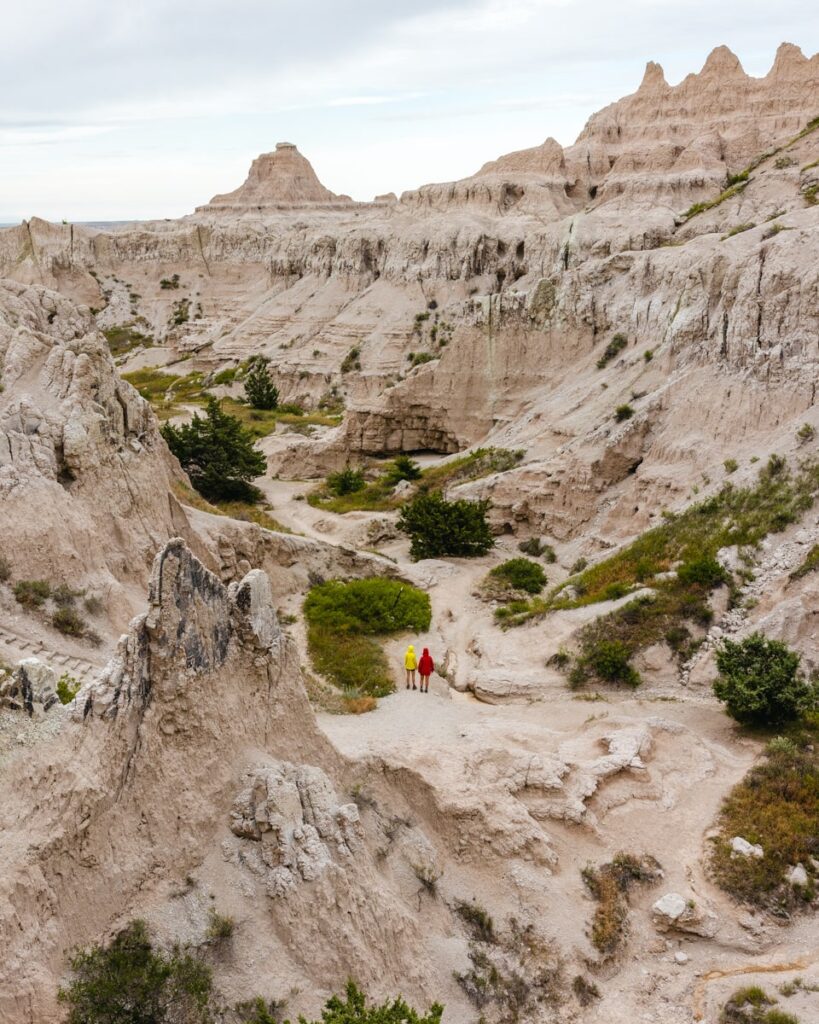 The Notch Trail was our favorite of the two hikes. It's about a 1.5-mile trail in the park that takes you up 127 feet in elevation. It's apparently the best trail to do especially if you only have one day in Badlands National Park. It takes you up through a little canyon and you get to go up a fun little rope ladder. There are beautiful views throughout the whole hike.
Badlands Scenic Drive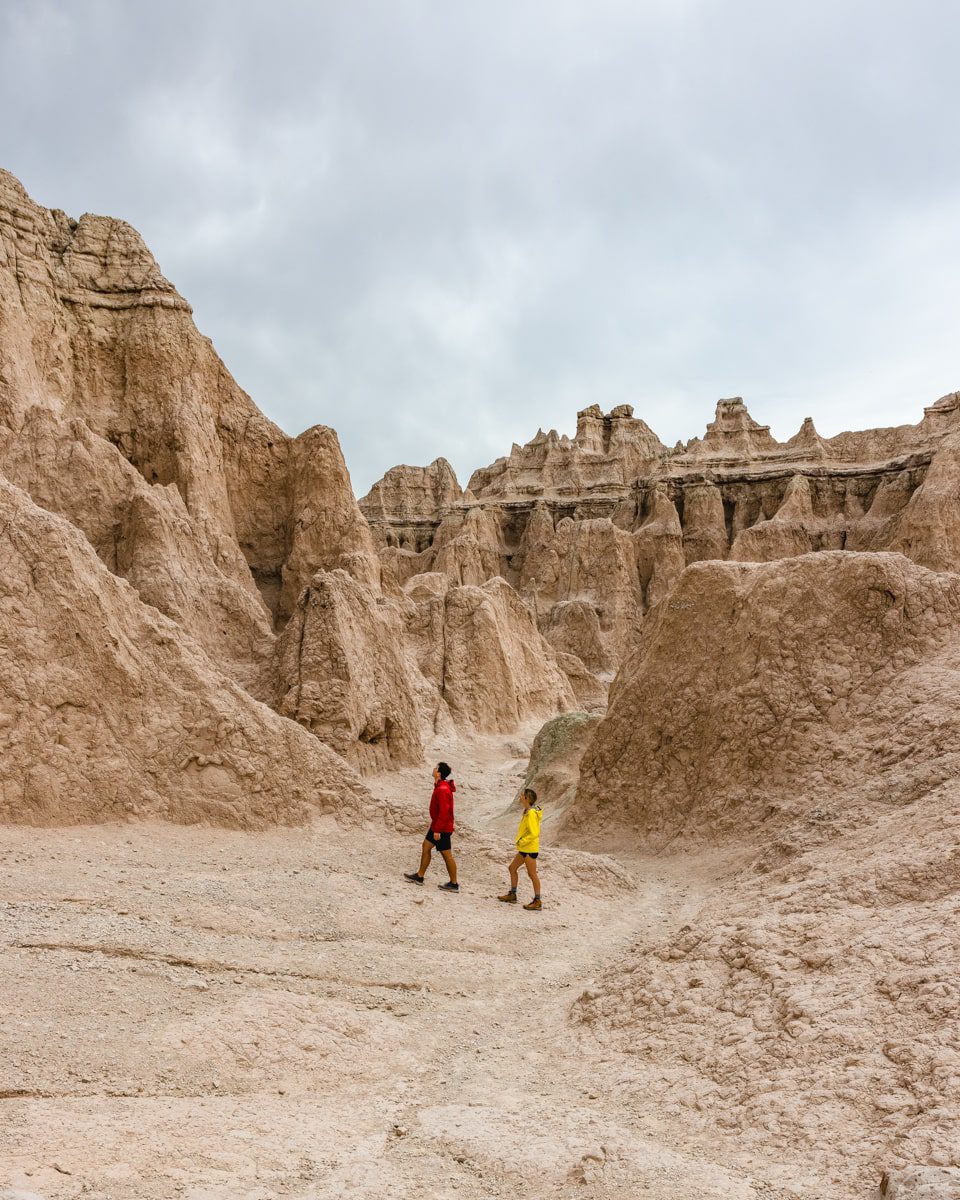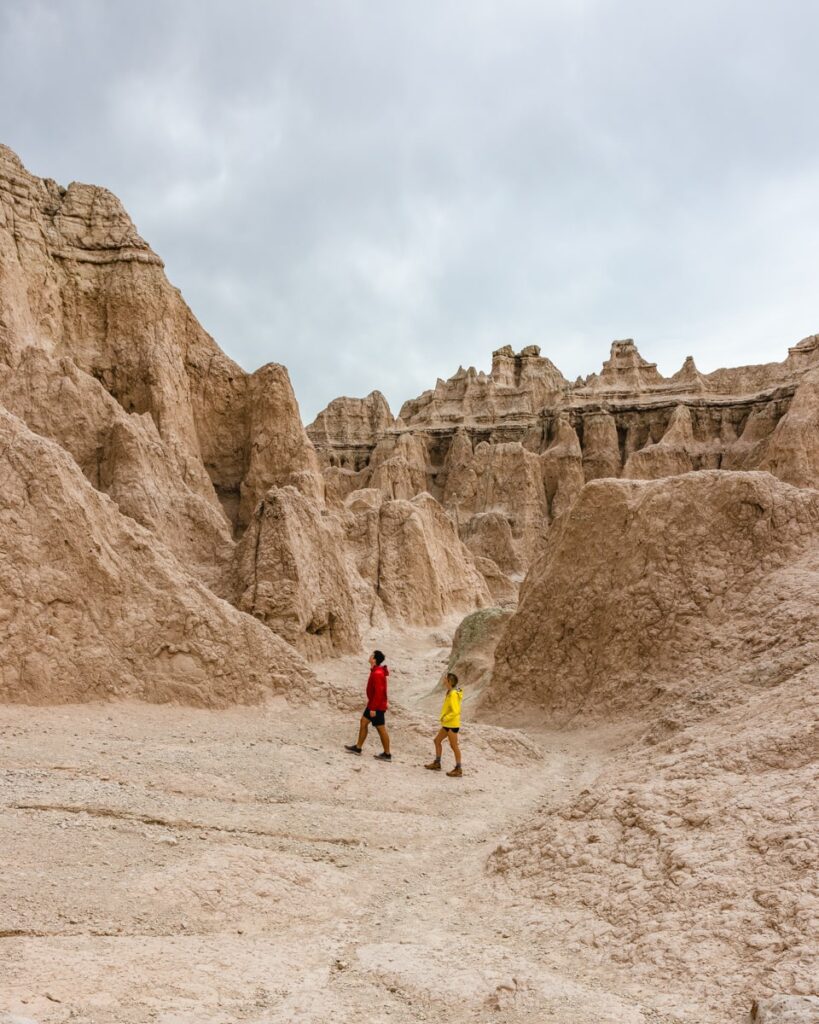 When driving around Badlands, this is the main road you'll be on. We highly recommend taking a long time to drive it. It took us about an hour to make it from one end of the park all the way to the opposite side. It's a pretty windy road and there's lots of wildlife out especially if you're driving around sunrise or sunset. Take your time driving and enjoying the scenery and take as many stops along the way as you can. The views and landscapes are stunning.
Yellow Mounds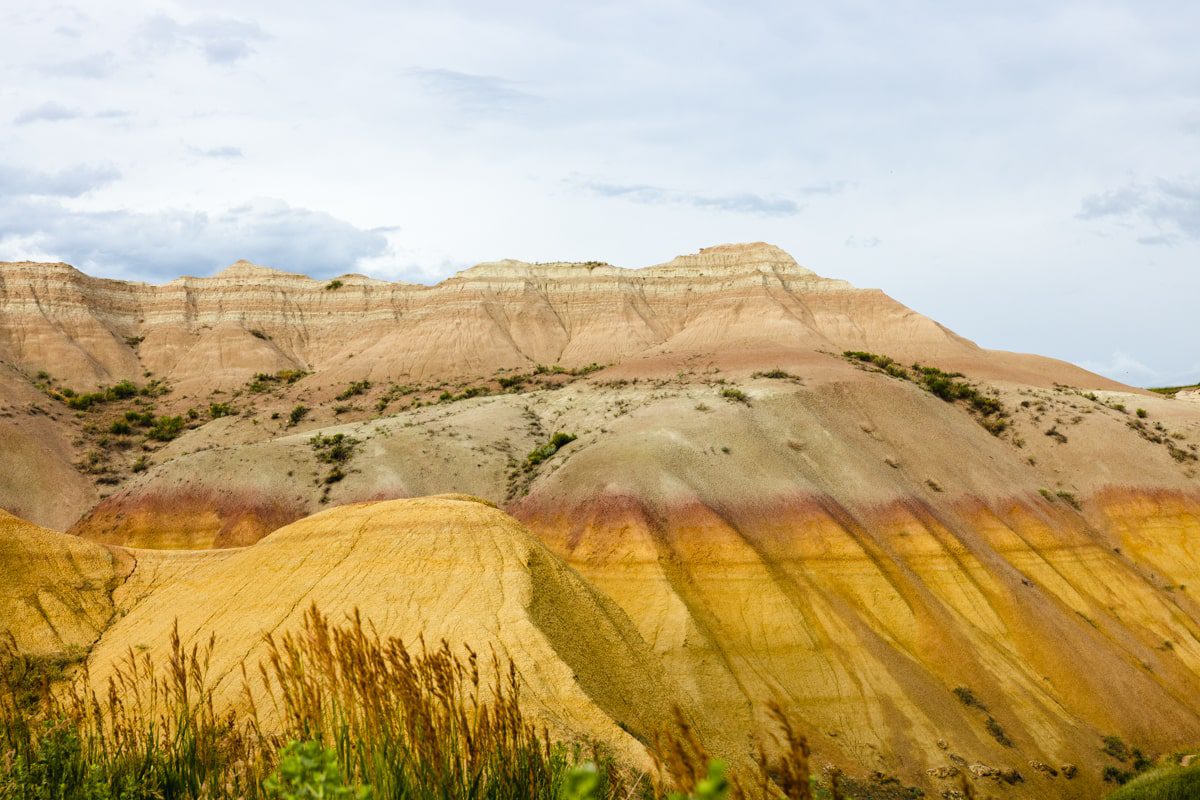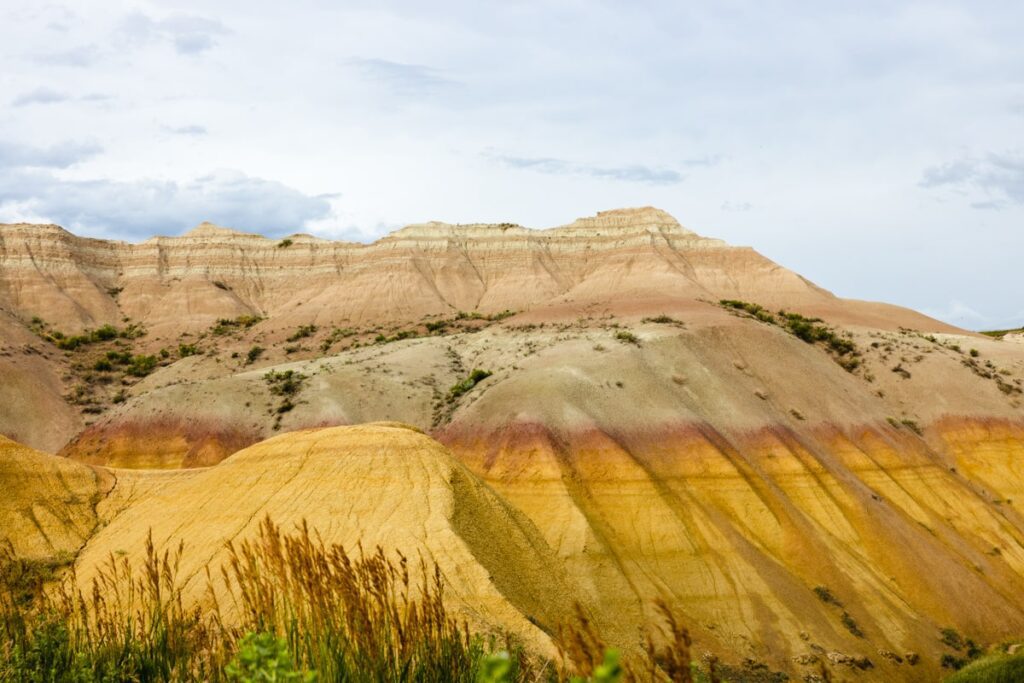 One of our favorite little roadside stops on the Badlands Scenic Drive is the Yellow Mounds. They're a very mustard yellow color and are so different from the rest of the badlands. It's definitely a nice place to stop and check out while you're driving through the scenic areas of the park.
Wildlife in Badlands National Park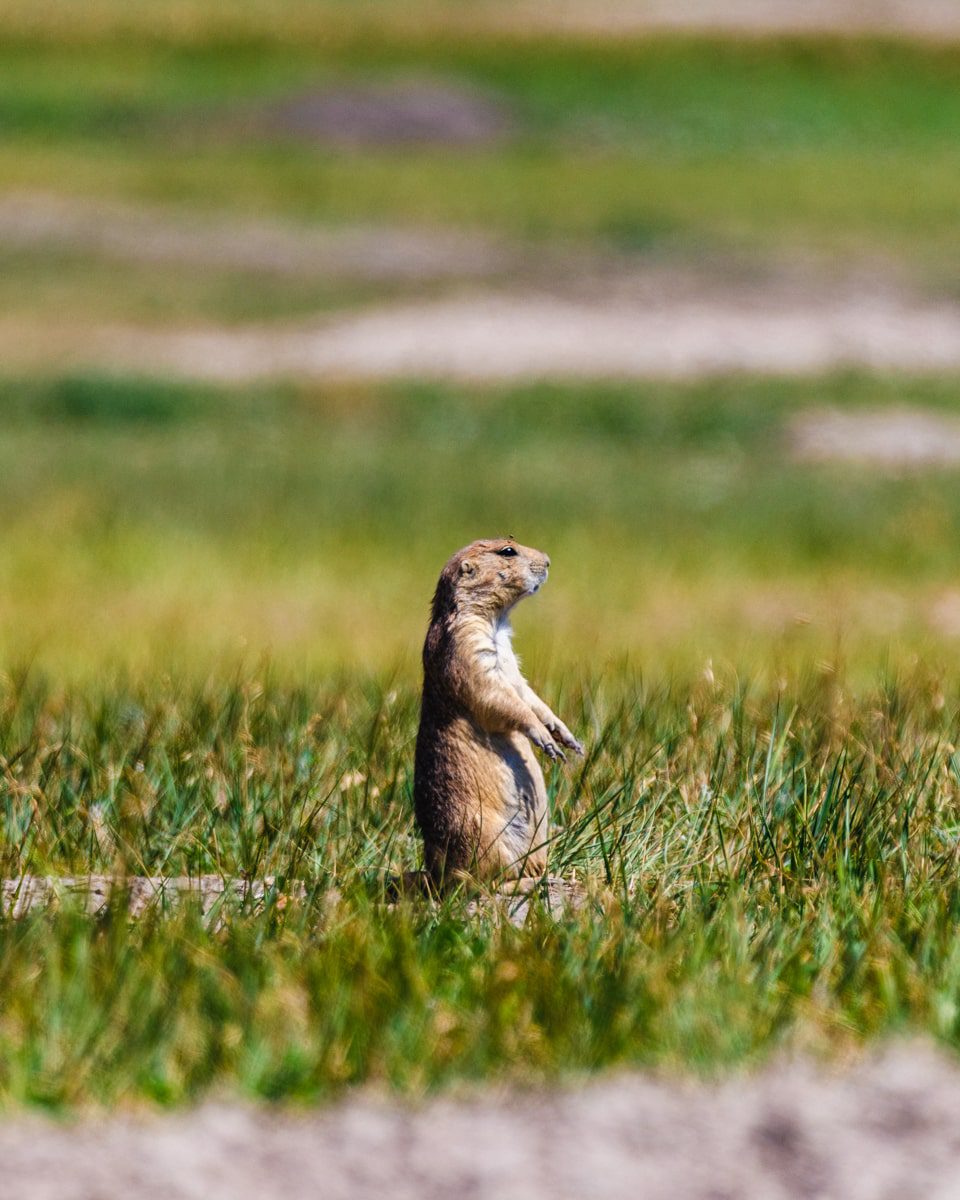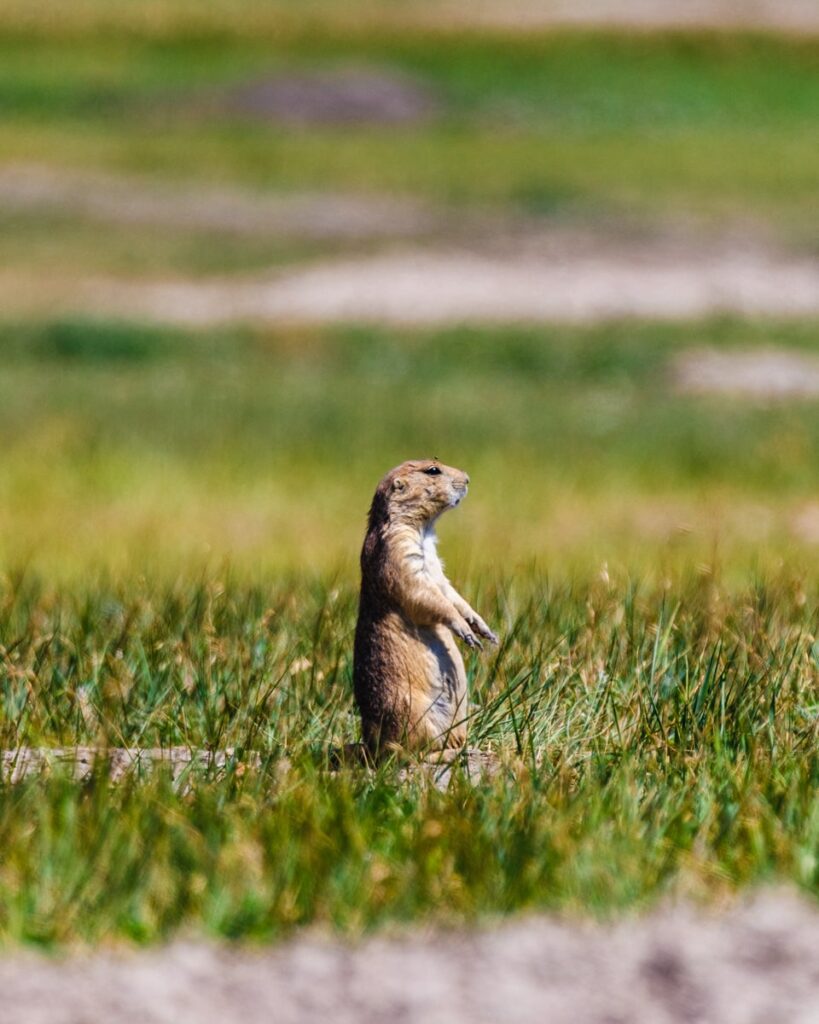 If you're into wildlife viewing, there are a ton of different species in this National Park. We saw everything from bison, coyotes, bighorn sheep, to prairie dogs. If you think prairie dogs are cute, definitely check out the prairie dog area of the park. There are so many, and you can just watch them all day.
But please don't feed the prairie dogs! We saw some people feeding them Doritos and it's not good to feed any type of wildlife. You don't want them to become food conditioned, and following Leave No Trace principles includes not feeding the wildlife in the park.
The park also contains four different ecosystems including mixed grass prairies, ponderosa pine forests, riparian wetlands and Badlands formations which are perfect for exploring. Visitors can observe abundant wildlife of all kinds at Badlands.
Astrophotography in Badlands National Park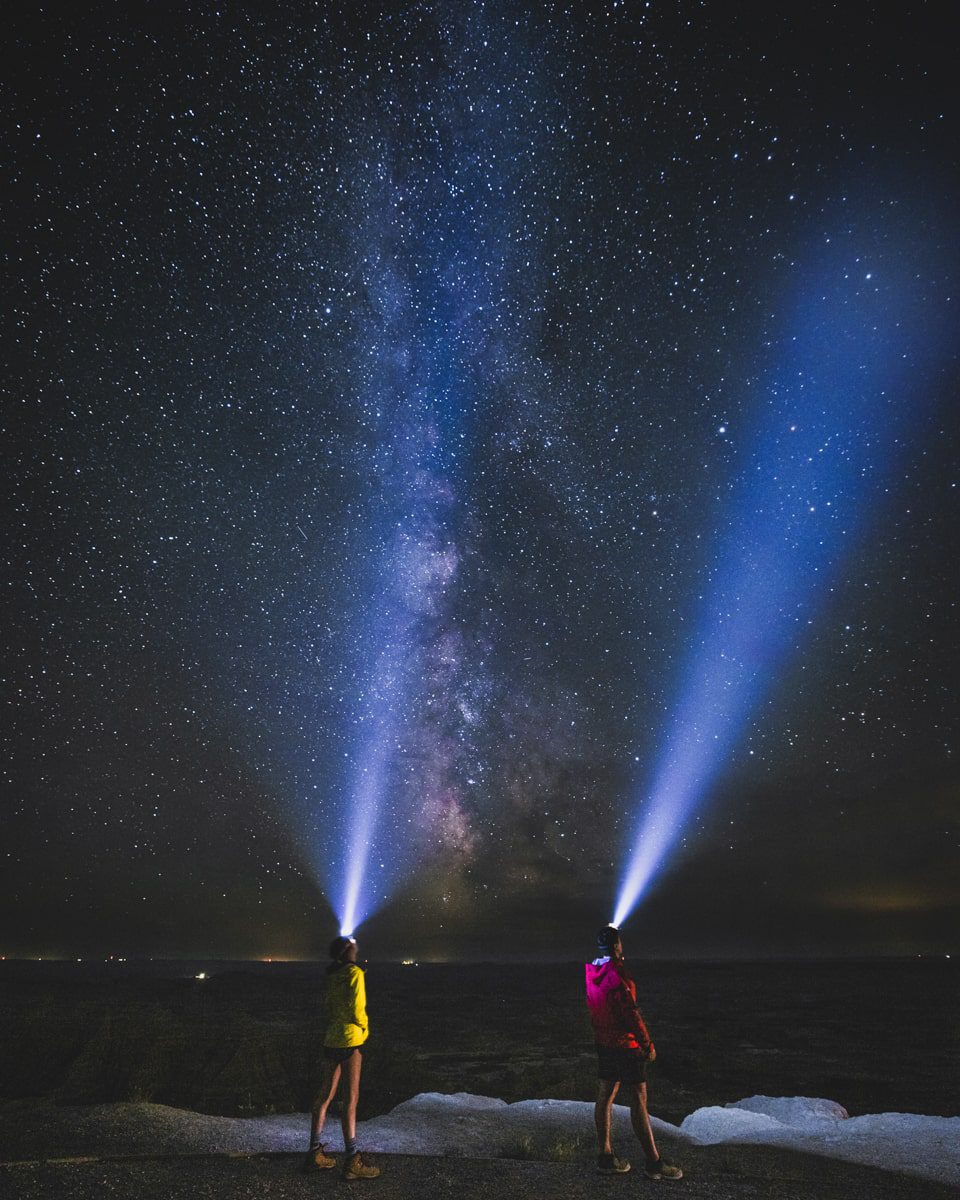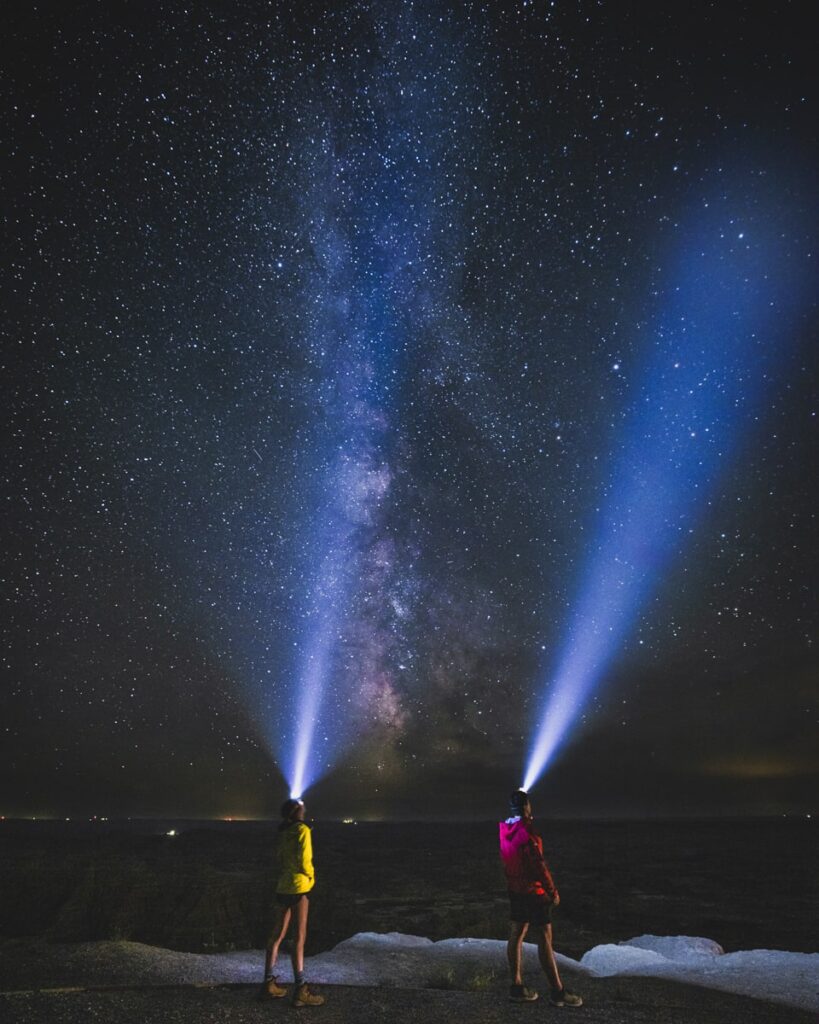 The night sky in Badlands National Park is particularly stunning due to its minimal light pollution. Many visitors often take advantage of star gazing events hosted by the park rangers or set up a telescope themselves.
Because this National Park has such dark skies, you can shoot astrophotography out there. We actually got up at about 2 am to shoot the Milky Way over at the Pinnacles Overlook when we were there. It was absolutely beautiful. If you're into astrophotography, we definitely recommend bringing your tripod and some layers and taking yourself out there to capture the beautiful evening sky.
If you want to learn more about astrophotography, check out our photography e-Book. We teach you about phone astrophotography, camera astrophotography and shooting in manual mode on your camera.
Ready to Explore Badlands National Park?
We hope that after reading this guide, you understand why we say this is one of the most underrated National Parks. We absolutely loved our visit to Badlands National Park and getting to see a different side of the USA. Let us know what your favorite spots are in Badlands!