Camping Cooking Supplies: Ultimate Checklist You Need Now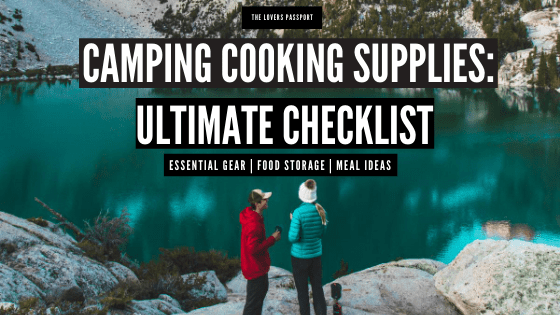 Essential Food & Drink Guide for Cooking While Camping
After years of camping, mountaineering, backpacking, and outdoor adventure experience, we have compiled the best camping cooking supplies checklist we could think of. Packing for a weekend camping trip can be stressful, especially when you have to account for sleeping gear, clothes, and meals for you and your group. For tips on packing other types of gear, make sure to check out our ultimate outdoor gear guide! When planning out camping food, we like to break it down into a very simple checklist to make sure we don't forget anything important. The big three categories are camp kitchen equipment, the food itself, and storage. Here are our camping cooking essentials.
For us, the best camping cooking supplies gets the tick of approval if it actually does its marketing claims, is quality and lasts a long time, is lightweight and easy to pack, and for the food & drinks, tastes good. When it comes to cooking essentials, we like to separate it out into two types of camping: drive-up camping and backcountry camping. The main difference in gear for both categories of camping comes down to weight. When backcountry camping you want to make sure to invest in the best camping cooking supplies that are lightweight.
Best Drive Up Camping Kitchen Supplies
The nice thing about drive up camping is that you don't often have to carry your supplies very far. We use the Coleman Camping Stove as it's pretty inexpensive and gets the job done. We always make sure to pack a few cans of propane for our stove depending on the length of our trip. To figure out how much you may need for your adventure, check out REI's fuel guide here. We like to play it on the safe side and bring more than enough just in case of an emergency. Make sure to bring a lighter, as this is probably one of the few items we have forgotten before. Luckily, you'll often find someone else with one in a popular campsite, but now we always bring extras.
In terms of actual cooking equipment, we like to bring a cast iron pan and dutch oven so we can cook some fresh recipes that we love instead of relying on dehydrated food. If you need some cooking inspiration, we love the recipes we have found on Eureka Camping and Country Living. To keep our perishable food fresh and to keep our drinks cool, we also always bring a cooler. As much as we'd love a Yeti Cooler (if you have the budget we hear they are amazing), we use a Coleman right now. It has been getting the job done well. Make sure to pack a can opener and bottle opener as well if you are planning on bringing any beverages or cans.
Make sure to bring plates and bowls, silverware (we like to just bring sporks), spatula, tongs, mugs and pot scrapers to make cleaning up easier. For cleaning, we also make sure to bring a collapsible dish rack, trash can/bags, microfiber towels, biodegradable and environmentally friendly soap. As a pro tip for doing dishes, we also find that rubbing dirt in your cast iron can help get any grease or oil out of your equipment easier. We usually bring a 5 Gallon bucket of water with us to make sure we have enough for washing dishes & drinking. NEVER wash your dishes in a natural body of water. You don't want to contaminate that source.
One of our favorite parts about drive-up camping is the ability to (usually) have a campfire! Always make sure to check the current information based on your location to make sure that they are allowed. You will likely need to have a fire permit as well. It's always important to educate yourself on fire safety and how to safely maintain and put out a fire. Once all these steps are taken care of, make sure to pack some marshmallow roaster sticks with your marshmallows, graham crackers, and chocolate to enjoy around the fire.
Best Backcountry Camping Kitchen Supplies
Our checklist of best camping cooking supplies definitely varies when it comes to backcountry camping. Usually, you will be carrying everything you need in your backpack, so weight really comes into play. Rather than lugging a full camp stove with you, we like to bring our portable MSR Pocket Rocket with us. This stove is seriously a beast. It is perfect for ultralight backpacking, as it only weighs 2.6oz. It's also incredibly fast at camp, boiling 1 liter of water in 3.5 minutes. We also bring our fuel canisters along with us for this but bring smaller canister sizes.
Speaking of water, we recommend bringing 2L water bottles per person with you along with water purification to cook and drink with. We have used a few forms of water purification in the past. Boiling it should make the water fine for cooking, but we also like to treat it just in case. We have used everything from purifying tablets, to portable pumps, to the life straw. Ultimately, choosing the right filtration just comes down to preference! We liked having a pump because it was more convenient and didn't taste funky like the tablets; however, it is more of an investment.
Alternatively to dragging a cast iron out into nature with you (that would be awful), we bring our stove kit along with our pocket rocket and fuel. The kit basically consists of a packable pot, sporks, and camping cups that can be doubled as bowls to eat out of!
Camping Food Storage
This aspect of camping cooking is so important and often overlooked by people who are new to camping. You have to store your food properly to make sure it will still be there in the morning! In terms of food storage, you have a few options. First, and our most recommended way of keeping your food secure, is by carrying a Bear Canister! Not only does it keep other critters away from your food, but it also organizes your food nicely if you're backcountry camping so it doesn't spill in your backpack. If you are camping at an established site, you can also tie up your food in a bear bag using a rope or bungee cord. We find this method to be pretty outdated and not quite foolproof though. So if you can get your hands on a Bear Canister, that's still the preferred method. 
Some camp spots will also have bear lockers. So, if you don't have a bear canister, we also recommend storing your food in them for the night. Most people are very respectable and will not take your stuff, just make sure to be smart. Don't put anything too valuable in there. If you are car camping and don't have a bear canister, make sure to store your food in your trunk or in bins. This way, animals can't see it, and this makes it a lower risk for animals potentially coming after your food. But, overall, Bear Canisters are definitely essentials on our best camping cooking supplies checklist.
As always, make sure to bring trash bags with you as well to dispose of your food wrappers and scraps that cannot be broken down naturally. Pack out what you pack in. Many dehydrated meals often come with a bit of trash to take out. Always follow the Leave No Trace principles, and recreate responsibly by leaving nothing but footprints.
Essential Food & Drink Guide
Best Camping Breakfast Ideas
Now that you have all the camping kitchen essentials off your cooking checklist, you can get to prepping your food and drinks! Along with breakfast, caffeine is always an essential for us whether we bring tea or coffee. Our favorite camping coffees right now are the blends from Kuju Coffee! They have a Medium Blend, Dark Roast, Light Roast and specialty blends like their Ethiopian Blend! We also just got introduced to Dripkit Coffee which offers specialty blends as well and are quite tasty!
When we are ultralight backpacking and camping, we often decide on a breakfast of oatmeal or granola bars. We also love the Mountain House Granola with Milk and Blueberries.
Our best camping cooking supplies checklist alters a bit when we are car camping or drive up camping. We like to go a little more crazy since we aren't worrying about carrying everything. Often we will cook up eggs, bacon, pancakes, corn beef hash (so good), and other meals like that since we have more options in terms of food weight and space on our stove! When packing, we also like to bring some fresh fruit with us to keep our stomachs regular.
Camping Snacks & Lunch Ideas for Camping
For making lunch in the backcountry while camping, we try to keep it pretty simple and light. Lunch will often consist of trail mix, beef jerky or hard boiled eggs, fruit pouches, and dehydrated fruit. Pro tip is to bring salt & pepper packets to spice up your eggs.
If we are car camping, we either make sandwiches (PB&Js usually) if we're ballin on a budget. However, if we're feeling like splurging a bit more, we like to get some inspiration for recipes from REI or make dehydrated meals from Mountain House or Backpackers Pantry. If you're really ambitious too, we also recommend meal prepping your own dehydrated meals! You can learn how to do that here.
Best Camping Dinner and Dessert Ideas
Our three favorite dehydrated dinner meals for backcountry camping are Spaghetti & Meatballs, Chili Mac, and Beef Stroganoff. They are delicious and the cleanup is minimal which makes it so nice after a long day of adventuring.
Dessert is always a must in our book. We usually pack in candy with us, or we discovered that there's even dehydrated Neapolitan Ice Cream! We like to treat ourselves when we work hard hiking outdoors. In terms of dessert drinks, there's nothing like some good hot chocolate around the fire.
What are some of your favorite camping recipes or essentials? Do you have something that you absolutely always bring with you when you cook at camp? Let us know down below in the comments!
As always, happy adventuring!
Disclaimer: All opinions are honest and our own. This post contains some affiliate links, which means if you buy something we will receive a small commission at no extra cost to you.