Ultimate Guide to Visiting Bend, Oregon in the Spring
Published on June 14, 2022
|
Hiking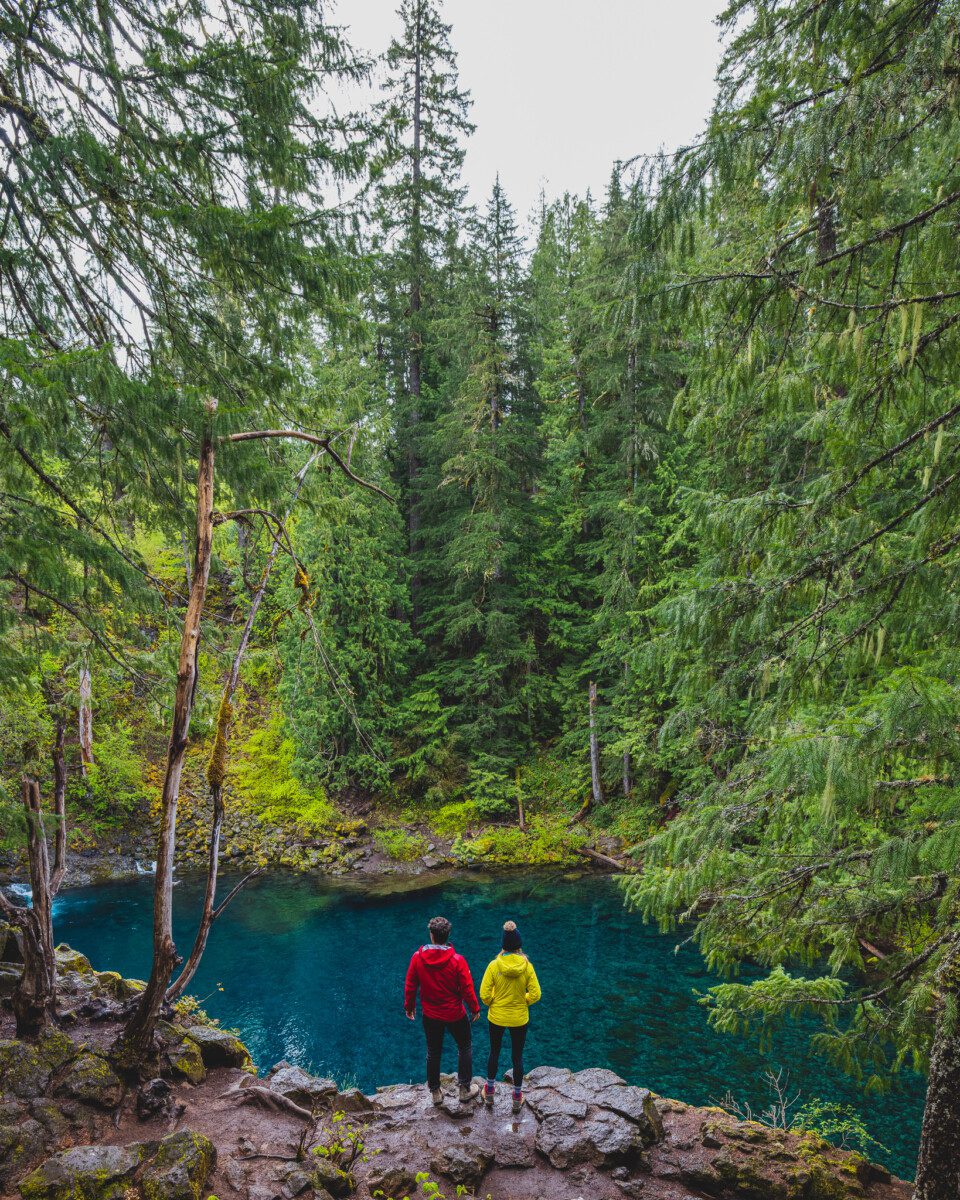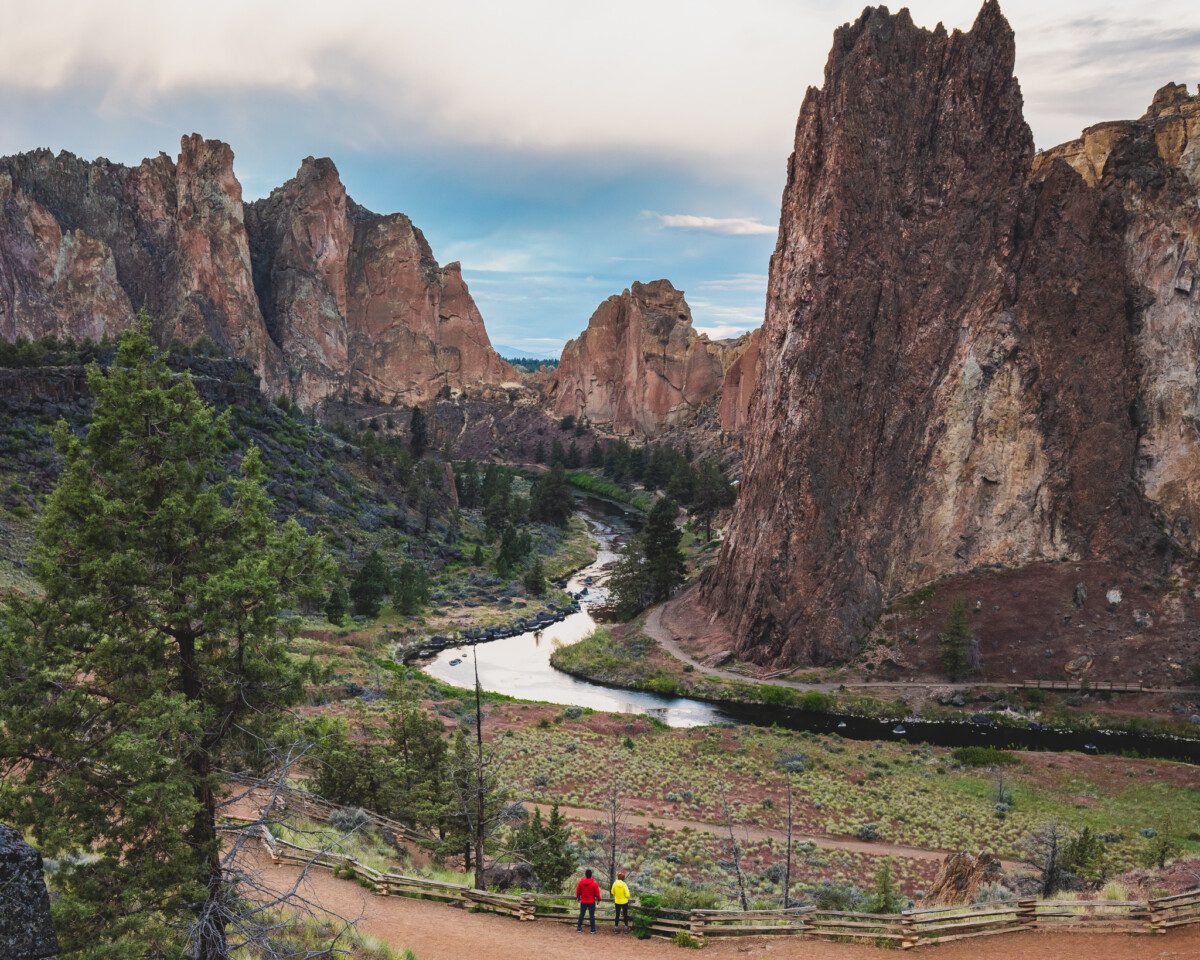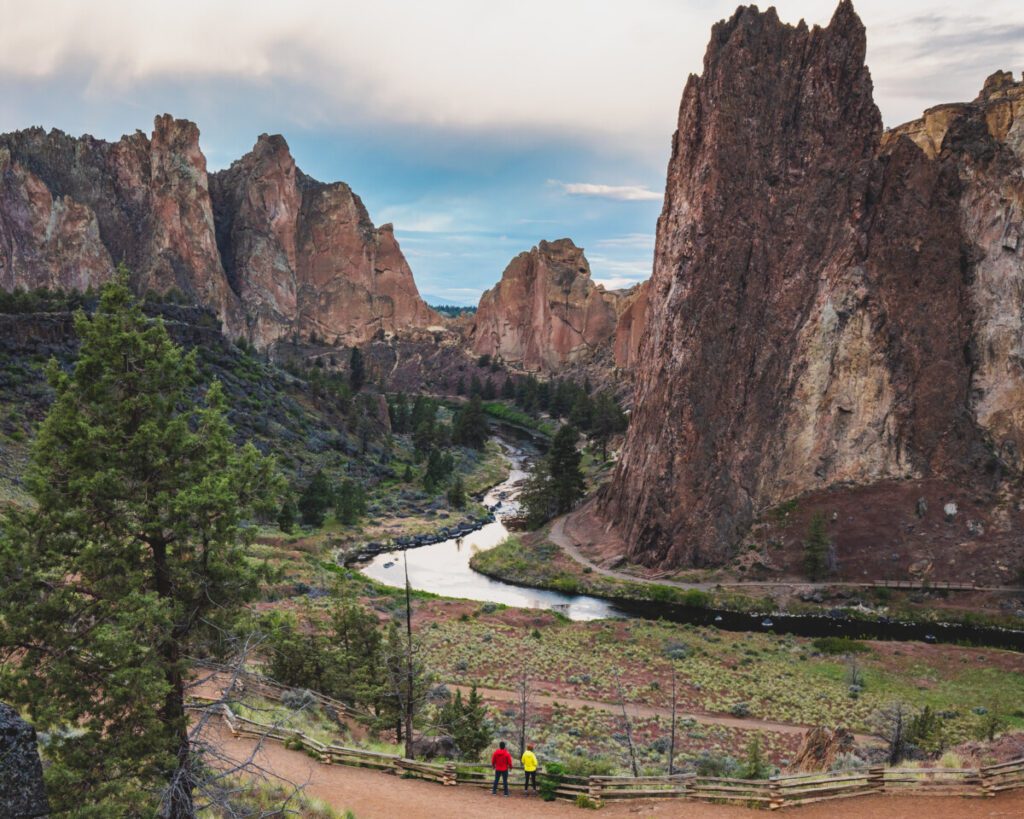 Planning your first trip to Bend?
We've got you covered! In this ultimate guide to visiting Bend, Oregon, we'll go over all of our top recommendations on what to see, do, hike, and more during the Spring and Summer months. Bend is an up and coming city in central Oregon known for its incredible array of outdoor adventure activities and its popular micro-brewery scene. We'd recommend any nature lover to add Bend to their future travel itineraries!
Disclaimer: This blog post is in collaboration with Visit Bend. Some parts of the article also feature affiliate links, which means we get a small commission if you make a purchase (at no extra cost to you). It's one of the ways we can keep producing free guides and resources for our readers. Thank you for the support!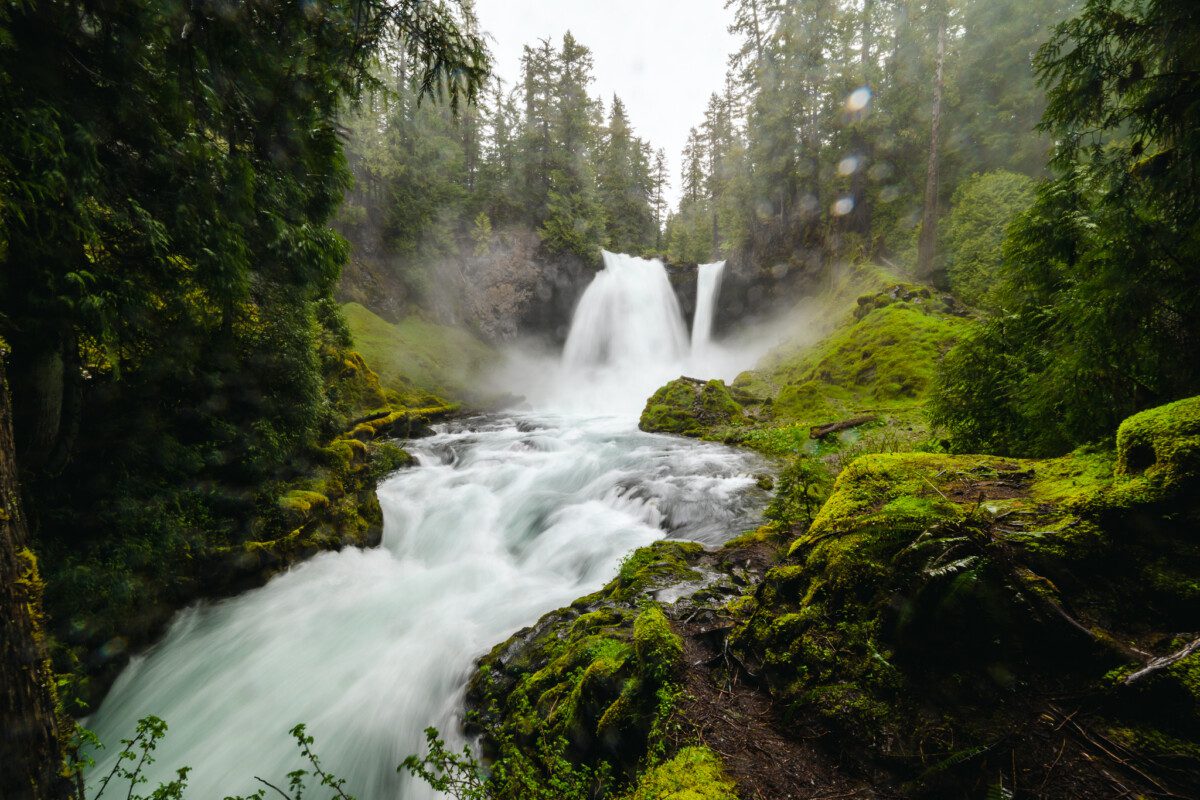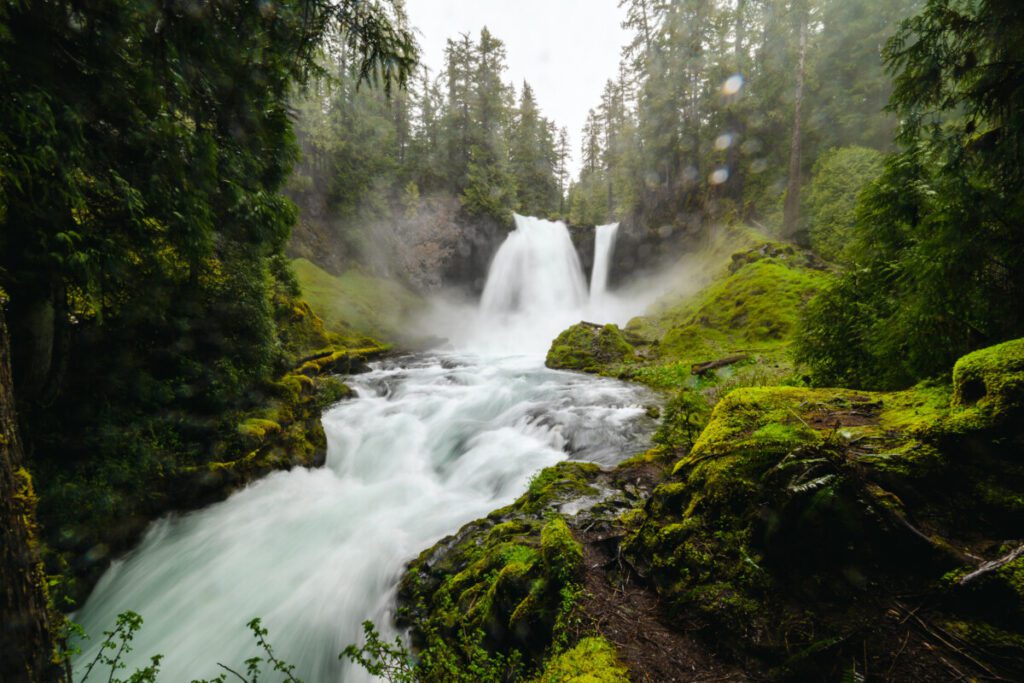 What to Pack for Spring Time Weather in Bend
Springtime in Bend can make for unpredictable weather. Over Memorial Day weekend in 2021, people were out tubing down the river in 80 degree heat; whereas in 2022, it was raining and hailing on and off all weekend.
That being said, make sure to pack for all kinds of weather! As the saying goes, there's no bad weather, just bad clothing. We'd recommend bringing a variety of warm base layers, a waterproof rain jacket, and cold weather accessories including gloves and beanies. Our biggest piece of advice is to make sure you check the weather forecast before making your way into Bend when packing.
If you're looking to do any hiking up in the mountains, plan on snow still being up there, so make sure to pack your crampons, snowshoes, and/or microspikes. You can also rent snowshoes in town if you don't want to bring your own.
As always, if you are planning on heading outdoors for an adventure around Bend, pack the 10 Essentials in your daypack. For more on our favorite things to pack, check out our full gear guide here.
Best Places to Stay in Bend
During our trip to Bend, we made our home base at Loge Camps. It's located right outside of downtown Bend and is a perfect location for those wanting to spend a lot of time up in the mountains. There are food trucks outside and it's conveniently located next to Cog Wild if you are planning on doing a lot of mountain biking.
There's even a hammock that hangs up in the middle of the room, as well as a Yeti Cooler and bike racks as other amenities to take advantage of. It's also pet friendly too – in fact, Bend is one of the most pet friendly cities in the USA!
Other great lodging options nearby:
Best Guided Activities to Do in Bend
Whether you want to get out on the rivers, head up into the mountains, or explore through the forests, Bend has an exciting adventure for everyone. Here are our top recommendations for guided activities around the Bend area.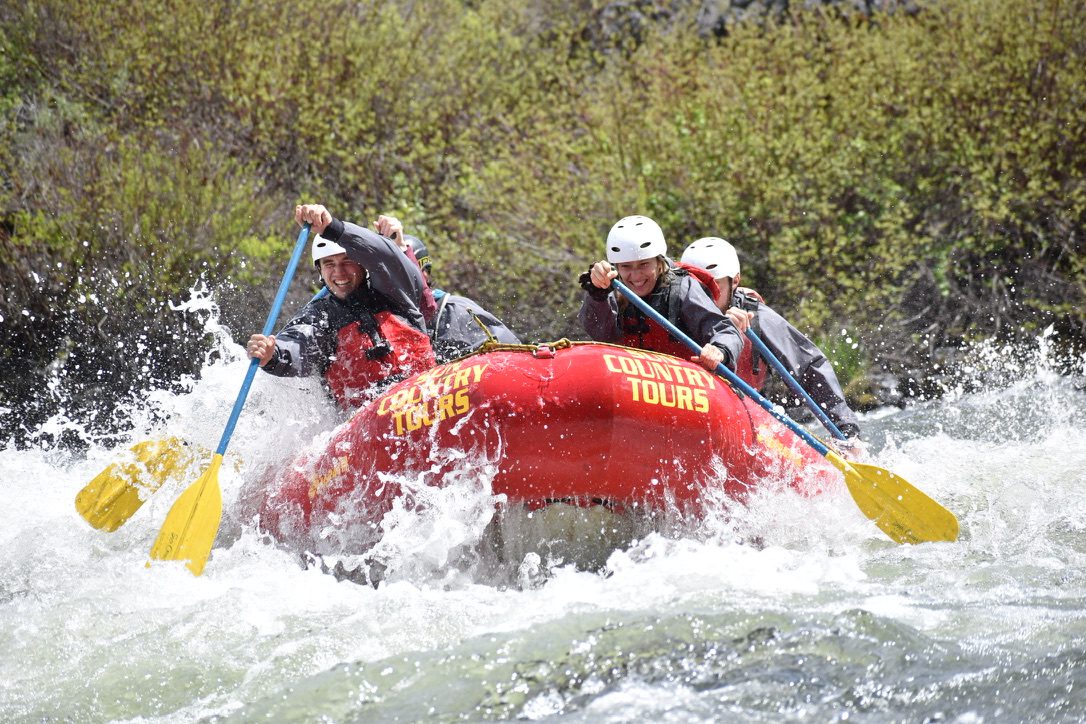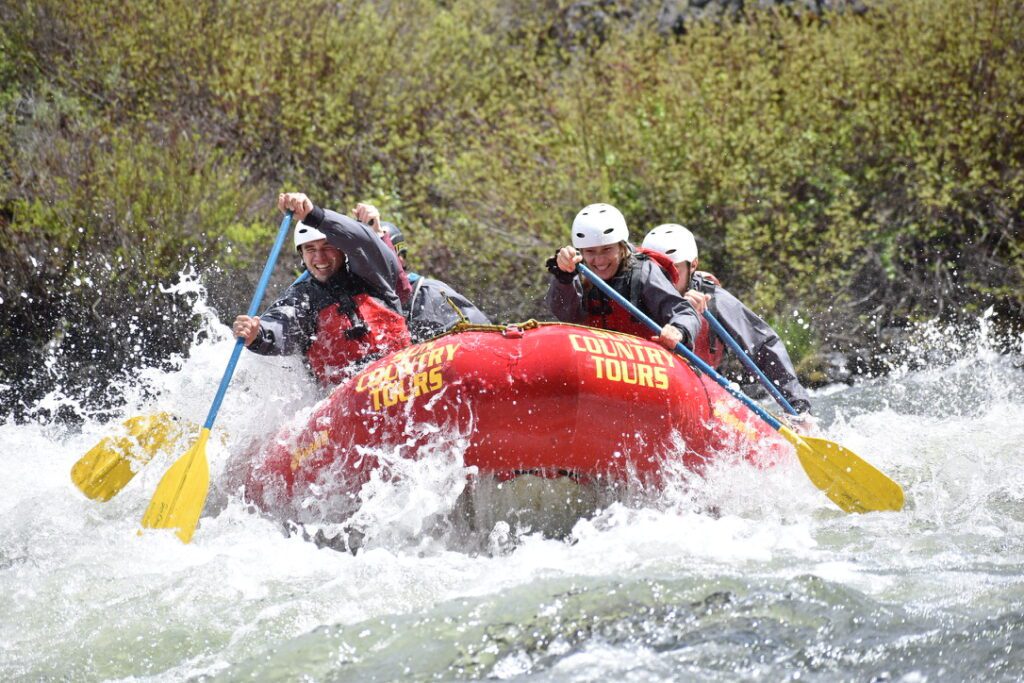 White Water Rafting with Sun Country
This was probably our favorite thing we did while we were in Bend! We had never gone white water rafting before and the folks at Sun Country tours were so much fun. Once you meet at their office, they'll shuttle you on over to the river where you'll be rafting.
The tour we did lasted about two hours and we made our way through an array of Class 2 and 3 rapids. Whether you're totally new to rafting or very experienced, you're bound to have a blast going out with Sun Country. Our guide Evan was such a hoot and we can't recommend booking with these guys enough.
Book Your White Water Rafting Adventure Here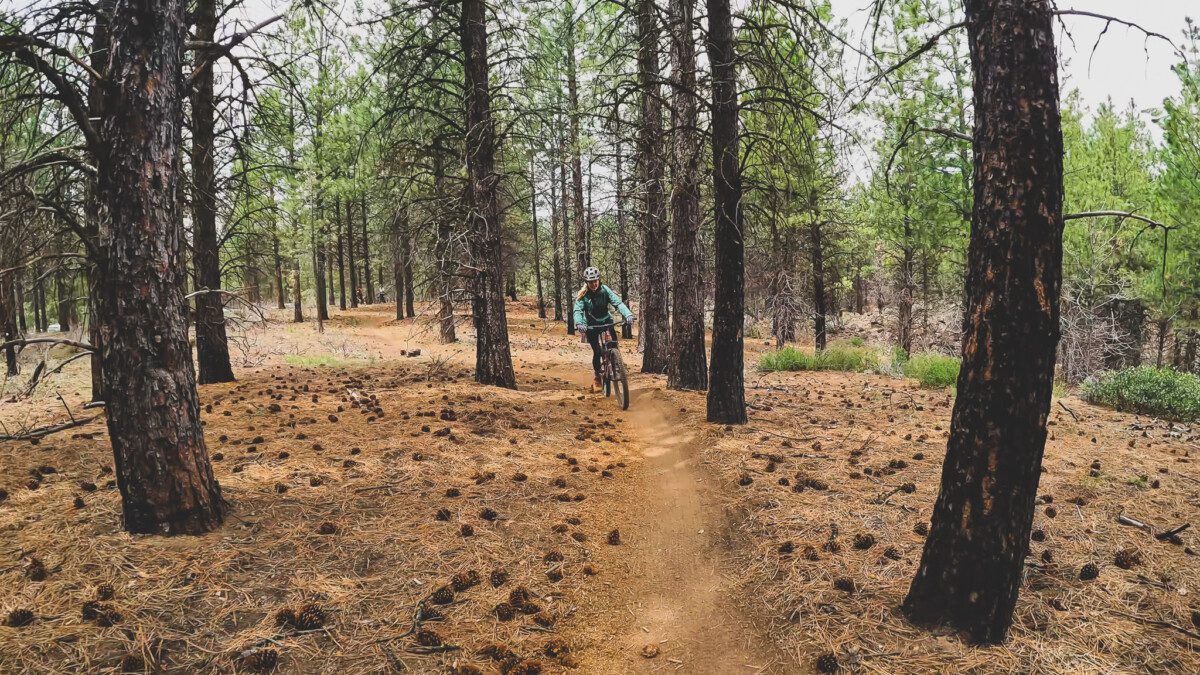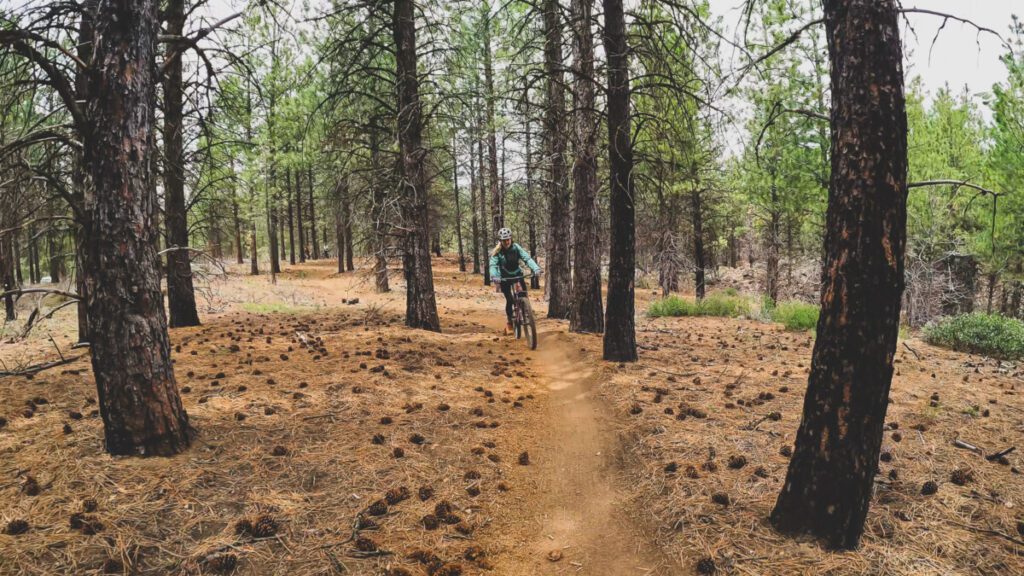 Go Mountain Biking with Cog Wild
Both Stephen and I have never been mountain biking before this trip, although we have plenty of experience biking on the road.
Our guide Pia made us feel super comfortable the whole ride and took us around to see some of the best views along the trails. She's so knowledgeable and worked with the company for 13 years so we felt well trained and safe heading out on the trails with her.
It's basically impossible to not have a smile on your face while you are biking through these gorgeous forests around Bend. This is a great activity for all experience levels, and for families traveling with kids!
You can either take a guided ride with one of the amazing bikers at Cog Wild, or you can take advantage of their shuttle service where you can get dropped off and bike back to their base camp without any hassle. They also have bike and helmet rentals available during your tour.
Go for an Epic Bike Ride with Cog Wild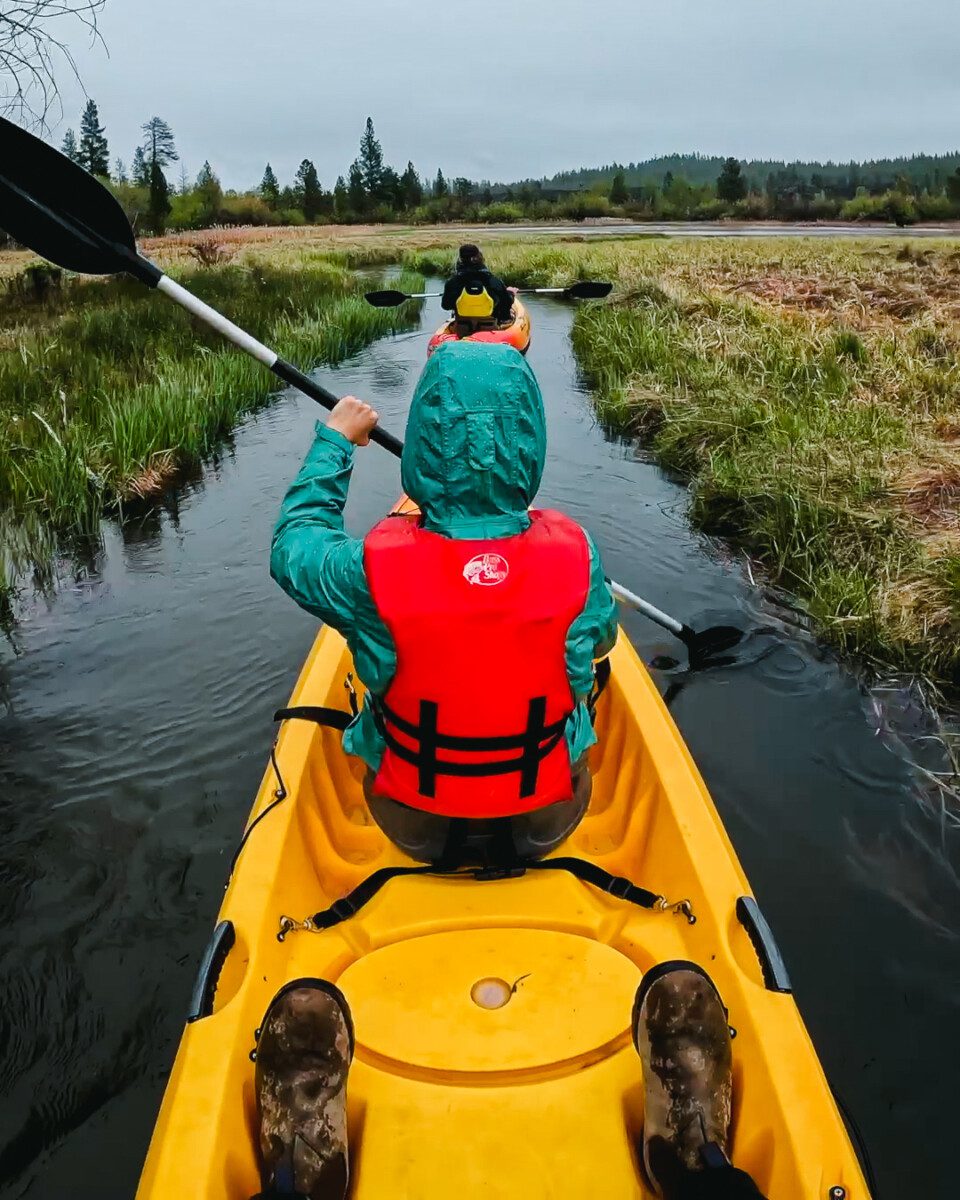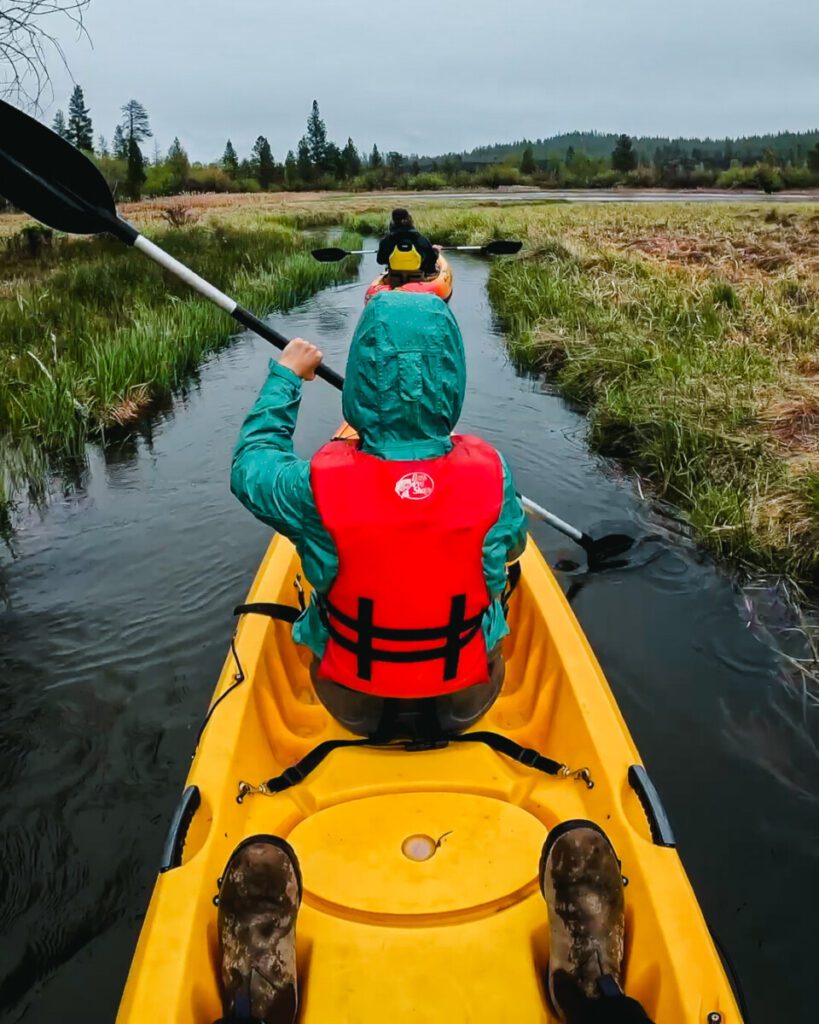 Kayaking or Canoeing with Wanderlust Tours
One of the best ways to experience Bend, Oregon in the spring time is by heading out on the water via a kayak or canoe!
Now, depending on the snow levels, you might not be able to do the incredible Starlight Canoe Tour that Wanderlust Tours offers; however, they have a super fun kayaking tour along the Deschutes River that operates in the spring at a lower elevation level that is accessible.
Kayak past some gorgeous plains and lush ecosystems next to the Deschutes Bike Trail. If you're lucky, you can encounter some incredible wildlife as well! We were able to see some ospreys.
Our favorite part of the tour afterwards was when we headed over to a local waterfall and went to enjoy the views with some brews. Our guide Chris was equally knowledgeable in kayaking and wildlife as he was in local microbreweries! We got to sample 4 different local beers before heading back into town.
Book your Brews & Views Kayaking Tour here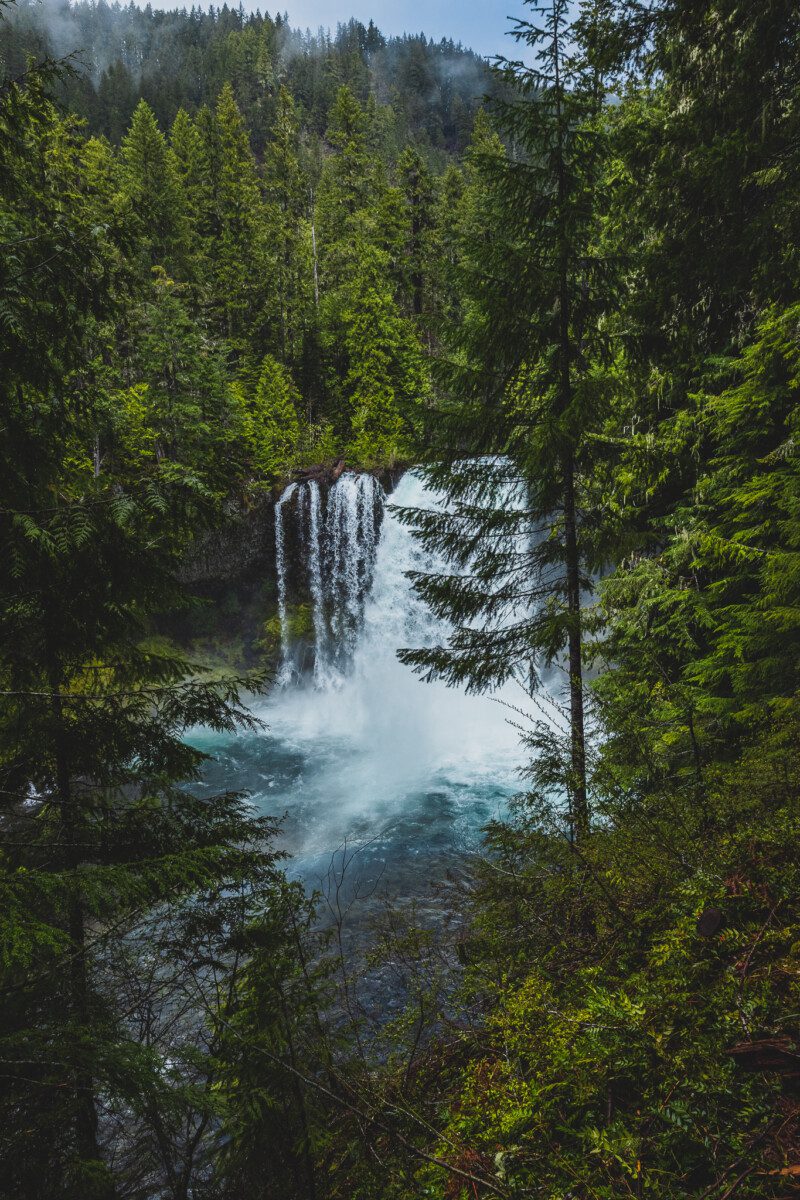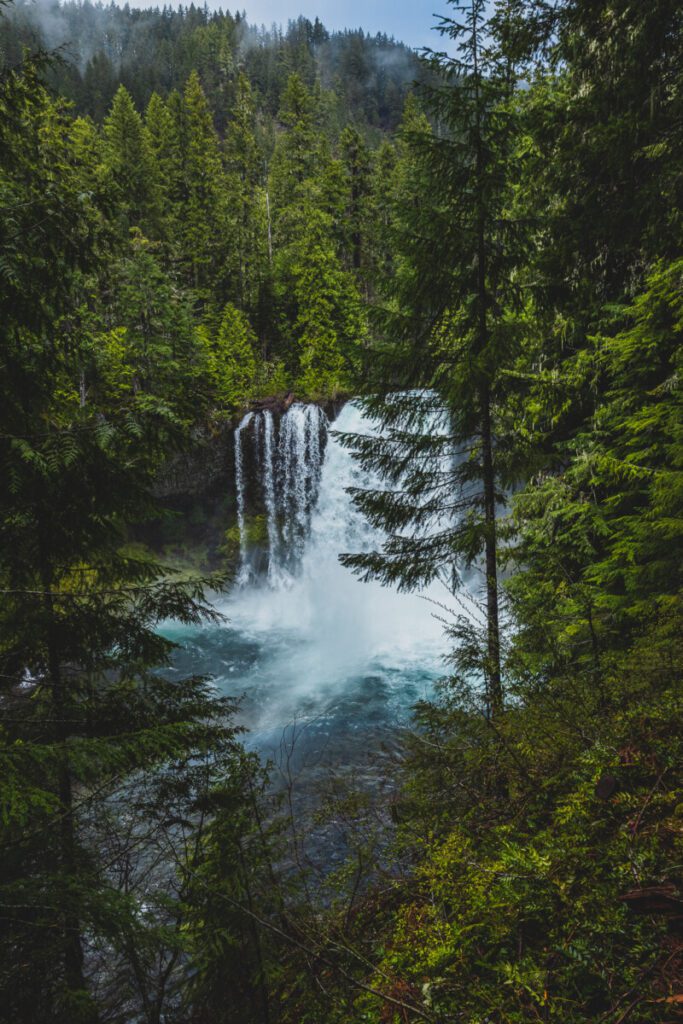 Best Hikes & Waterfalls in Bend
Before getting into all of our favorite hikes around Bend, Oregon, make sure to touch up on the Leave No Trace principles. Make sure to pack out your trash, stay on trails, and respect the wildlife. 
We highly recommend investing in the Northwest Forest Passes or Interagency Passes to save you money throughout your recreating in Oregon.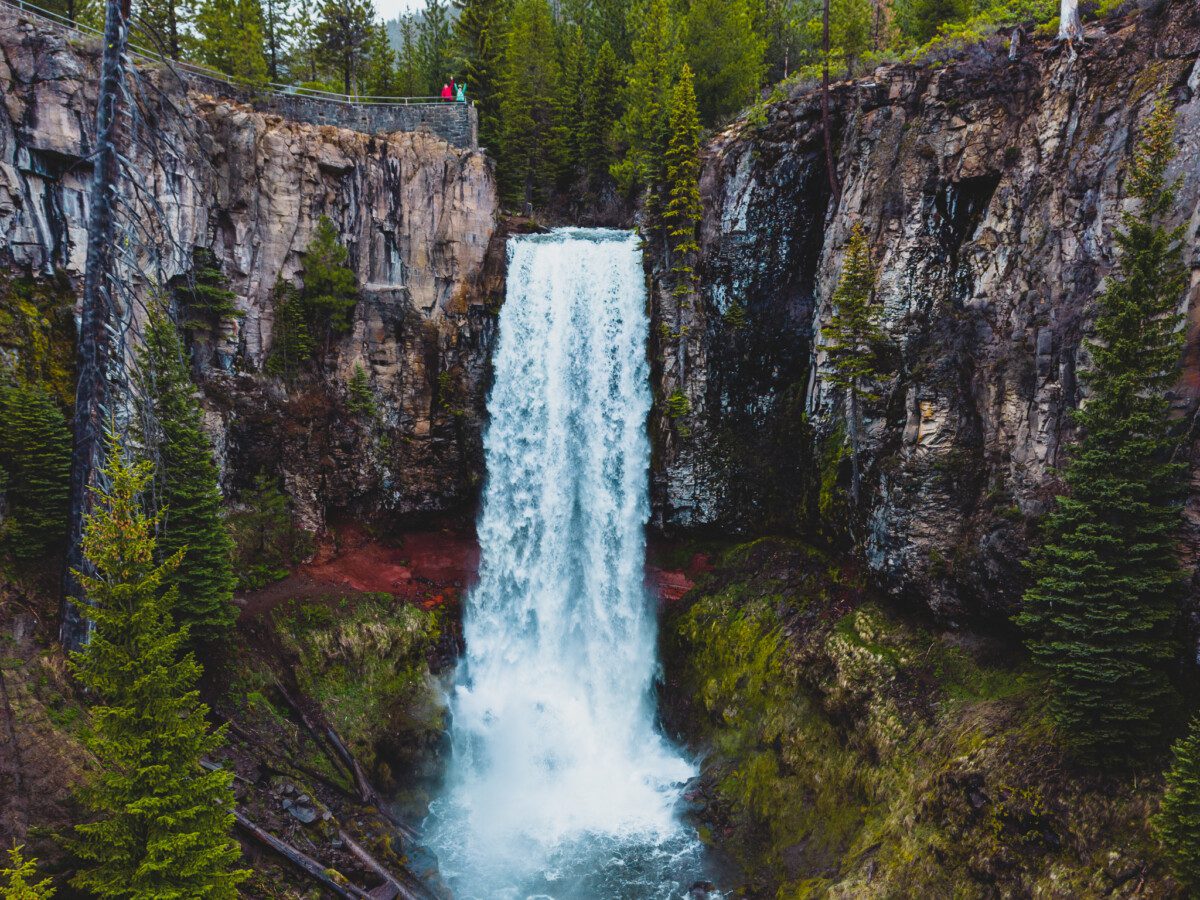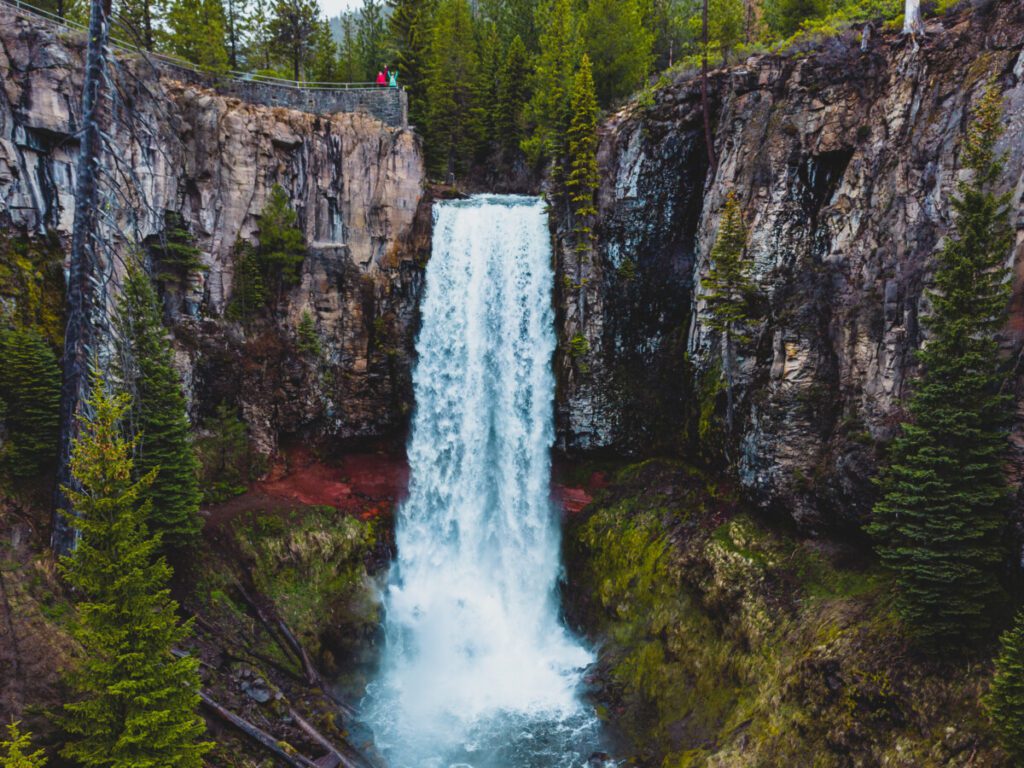 Tumalo Falls
Tumalo Falls is the beloved gem of the Deschutes National Forest. In order to visit, you do need a forest service pass for Oregon, or you can pay $5/per vehicle at the parking lot. You can either see the falls from its lookout next to the parking lot, or you can continue on up a short side trail uphill to the overlook at the top of Tumalo falls.
There's also a separate mountain biking trail that starts next to the short hiking trail if you want to bike around this area.
Since it is such a beautiful view and a short walk to see the falls, the parking lot fills up early and can often remain at overflow capacity on busy days. So just keep that in mind when you are planning your visit here!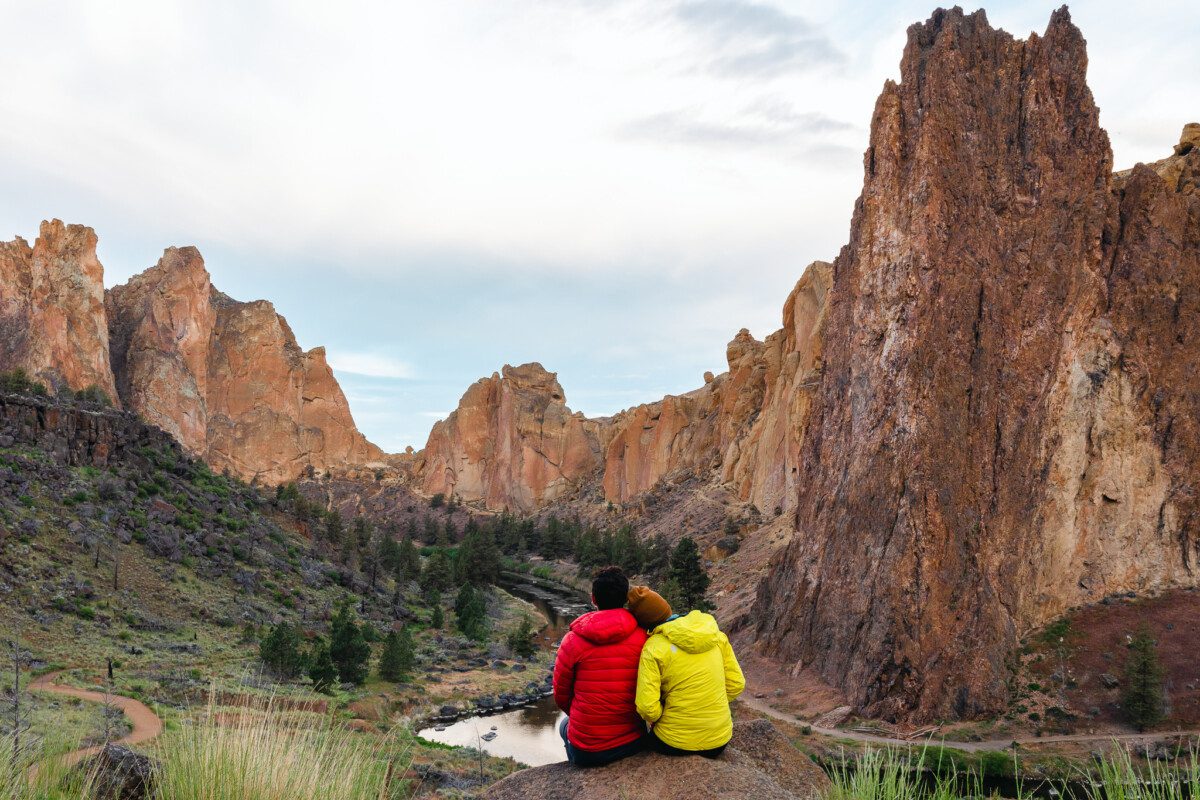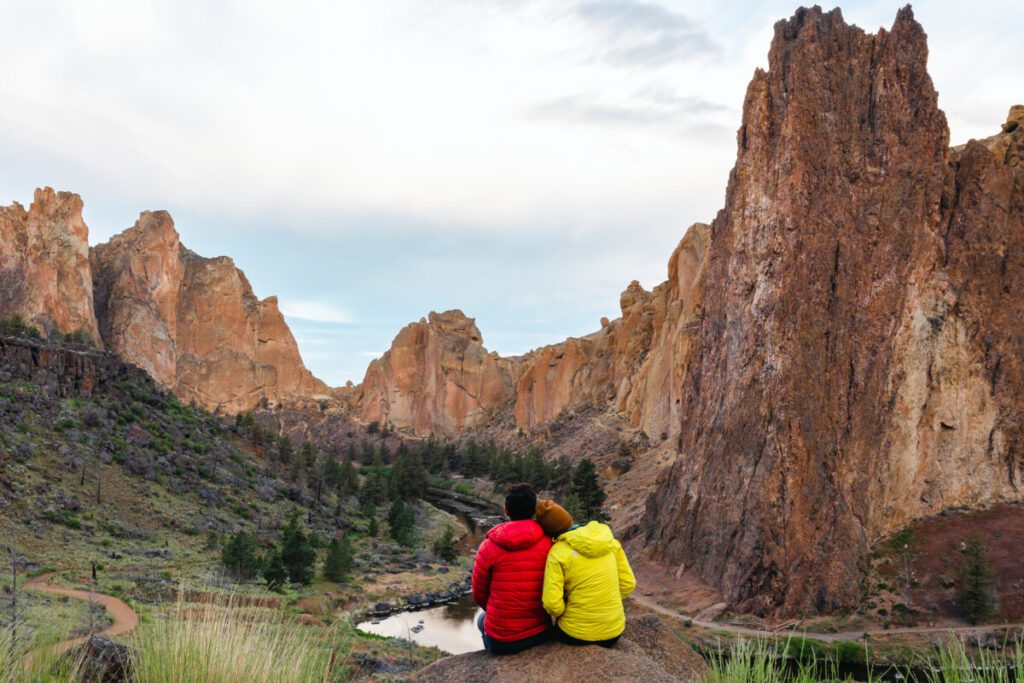 Smith Rock State Park
Smith Rock State Park is home to some of the best hiking and rock climbing in all of central Oregon. We'd recommend visiting for sunrise or sunset when the crowds aren't as busy. This is another spot where there is a recreation fee.
Our favorite trail here was the Misery Ridge Trail. Before hiking, make sure to spend some time at the bottom of the trail as some of the best views are actually looking up at the ridge. This is more of an intermediate to advanced trail but it comes with some of the best views in the whole state park.
Another great option is the Canyon Trail down to the River Trail or Wolf Tree Trail. This is also a beautiful option if you are looking for a hike with gorgeous views without the crazy elevation gain that comes with Misery Ridge.
Pilot Butte
Pilot Butte is the best sunset hike inside the city of Bend. It offers full circle views of the town, with the famous sisters mountains off in the distance on a clear day, as well as views for miles of the old volcanic craters surrounding the city.
Note: the parking lot has a strict time you have to exit by. Don't stay past this time or you can get a ticket and your car will be locked in the parking lot.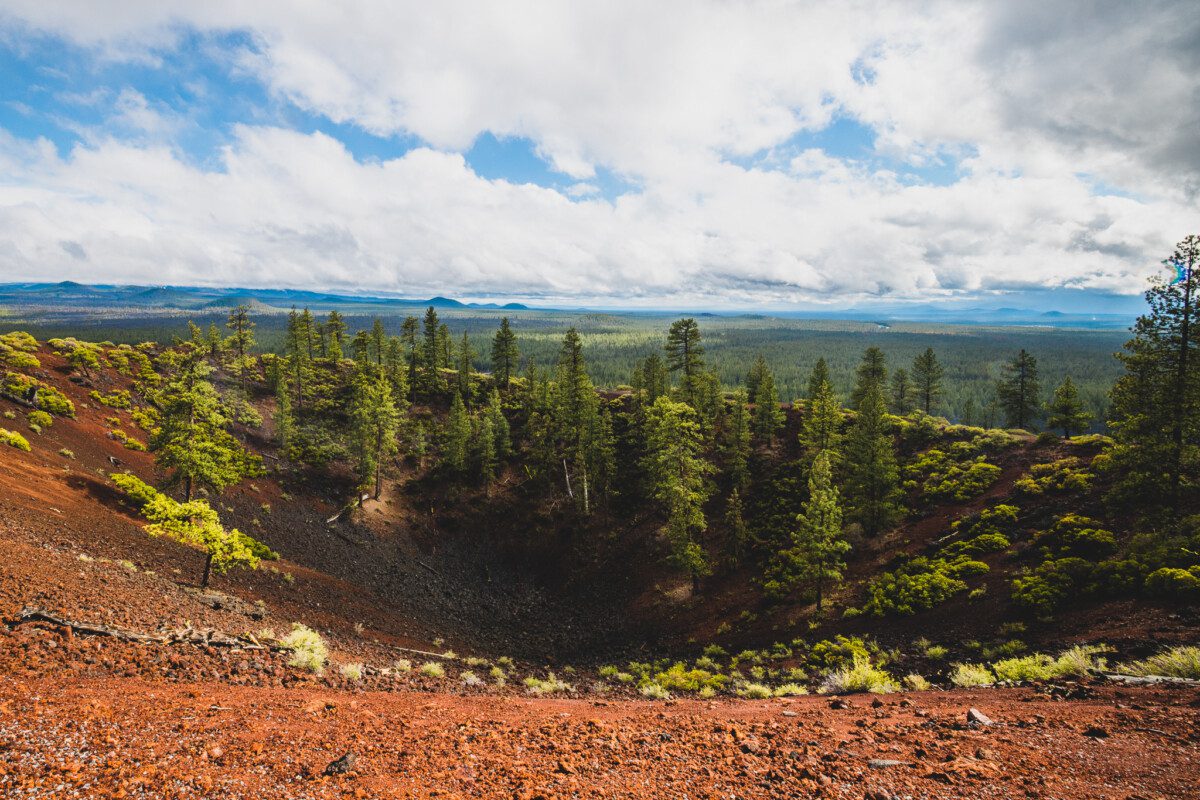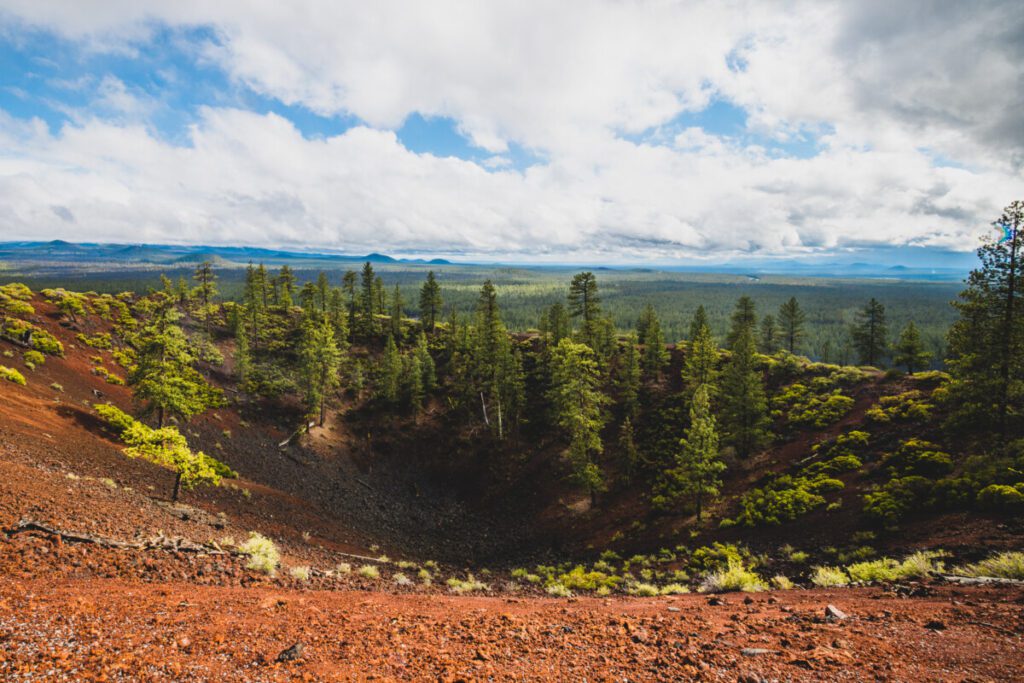 Newberry Volcanic National Monument
If you're looking to explore Bend's volcanic history, there is no better place to visit than the Newberry Volcanic National Monument.
Do note that parking at the Lava Lands Visitor Center requires a $5/vehicle payment or a valid recreation pass. Here are some of our favorite attractions within the monument:
Lava Butte
Lava Butte is probably the most popular thing to do in Newberry Volcanic National Monument in Oregon. However, it does now require timed entry passes in order to be able to get up to the top of the Butte in the spring. Once it hits peak season in the summer, you'll only be able to access the Butte via shuttle.
Once you're at the top, enjoy 360 degree panoramic views of the old lava flow that once flowed through Bend and the surrounding area. You can walk around the full rim of the crater in a pretty short amount of time. We'd allot 10-20 minutes to experience the whole thing.
Lava Tube
Explore Oregon's longest lava tube at the Newberry Volcanic National Monument. The Lava River Cave is one of the most popular attractions in this state park and for good reason. You can hike one mile into the tube after you head down about 55 stairs. Make sure to bring a headlamp or a light to guide your way through the cave.
We'd recommend bringing layers with you as you hike since the cave remains pretty cold year round, as well as wear closed-toed hiking shoes to protect your feet.
Make sure to keep an eye out for the bats that reside in the cave as well!
Benham Falls
Benham Falls is a fairly easy 1.5 mile round trip hike to a gorgeous waterfall along the Deschutes River in central Oregon. There are two different ways you can do this route as there are two different parking lots on opposite sides of the river. We opted to park on the East Side and hike to the overlook on the West Side.
This rapids section is actually a Class 5 rated area for kayakers and rafters as they're pretty dangerous, but it is stunning to look at from the overlook.
Koosah Falls & Sahalie Falls
If you make your way out past Bend and Sisters, Oregon, you'll eventually hit Koosah and Sahalie Falls after about an hour or so. These waterfalls are stunning and are right down the road from each other. Our personal favorite of the two was Sahalie Falls – we were able to see a rainbow over the falls and it really reminded us of the Mist Trail in Yosemite National Park. 
This is another one of the spots that can get incredibly crowded in the parking lot, so make sure to get there early. If you can't find parking in Koosah Falls, try going down to Sahalie first!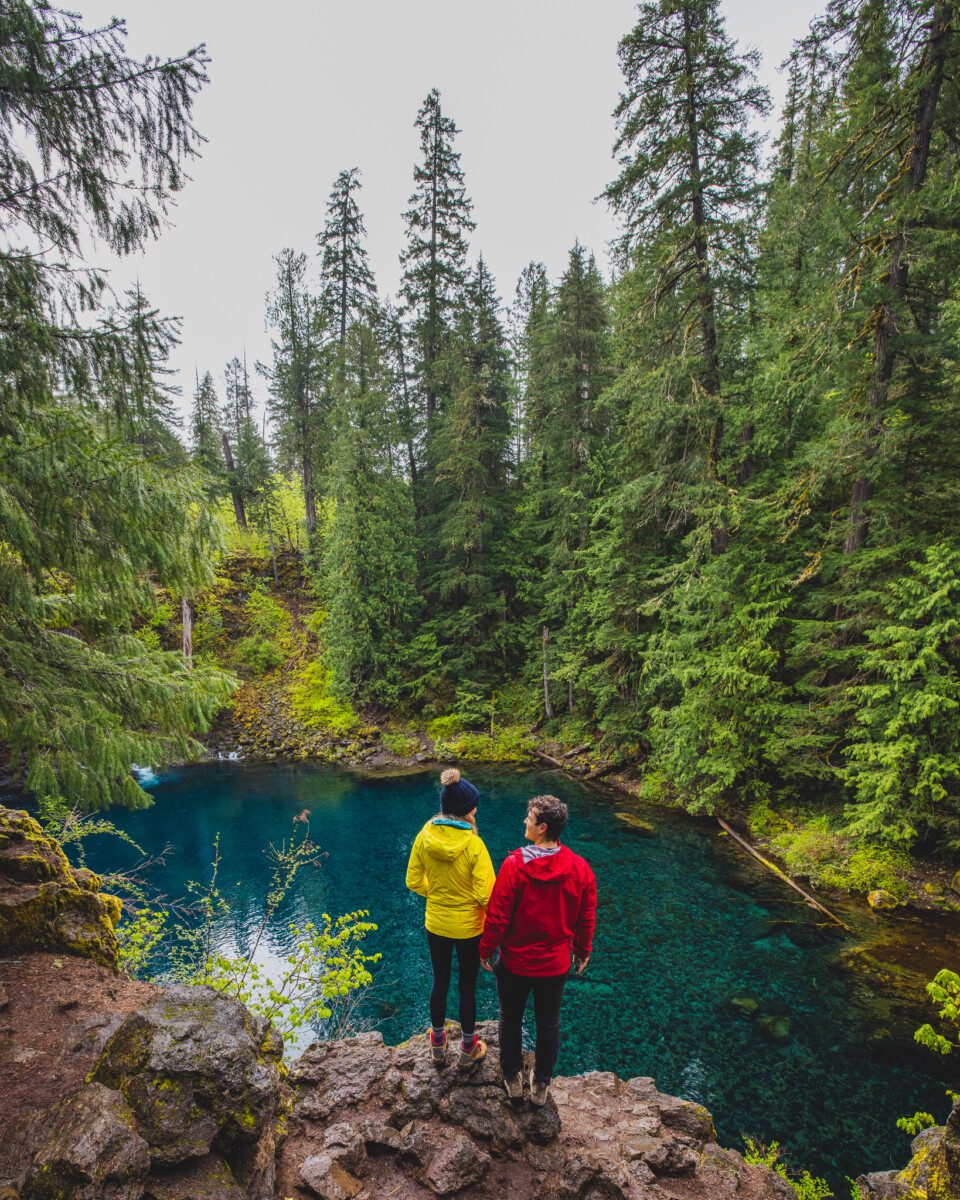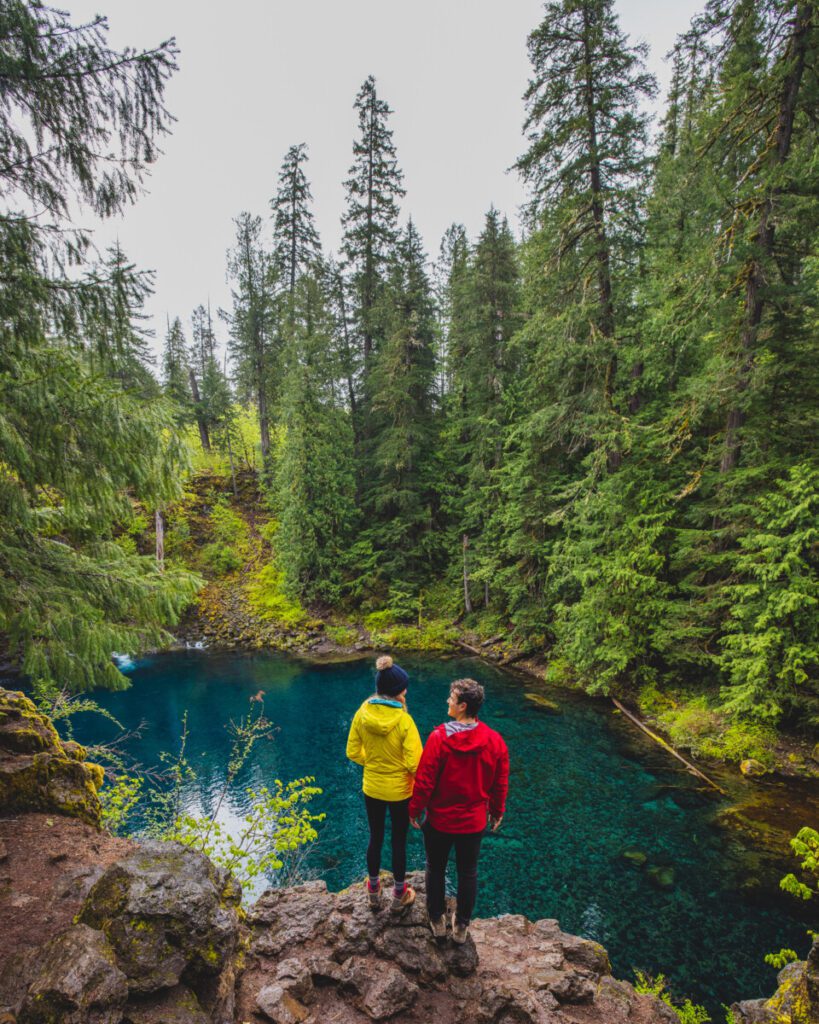 Tamolitch Blue Pools
Tamolitch Blue Pool was an incredible 4 mile round trip hike about an hour and a half outside of Bend. Even in the shoulder season, this hike is still incredibly popular. If you arrive anytime after 9am, expect no parking to be available and for the trail to be pretty crowded.
We opted to hike this trail starting around 7am and had it completely to ourselves right after the sunrise until we were back at the trailhead.
Make sure to have the trail data downloaded ahead of time since you don't get any service out in this area. Also, we wouldn't recommend jumping in the water here as it stays a ripe 38 degrees year round and people have died from hypothermia.
It's absolutely beautiful from above and makes for incredible photos with how blue the water is! Stay safe and enjoy!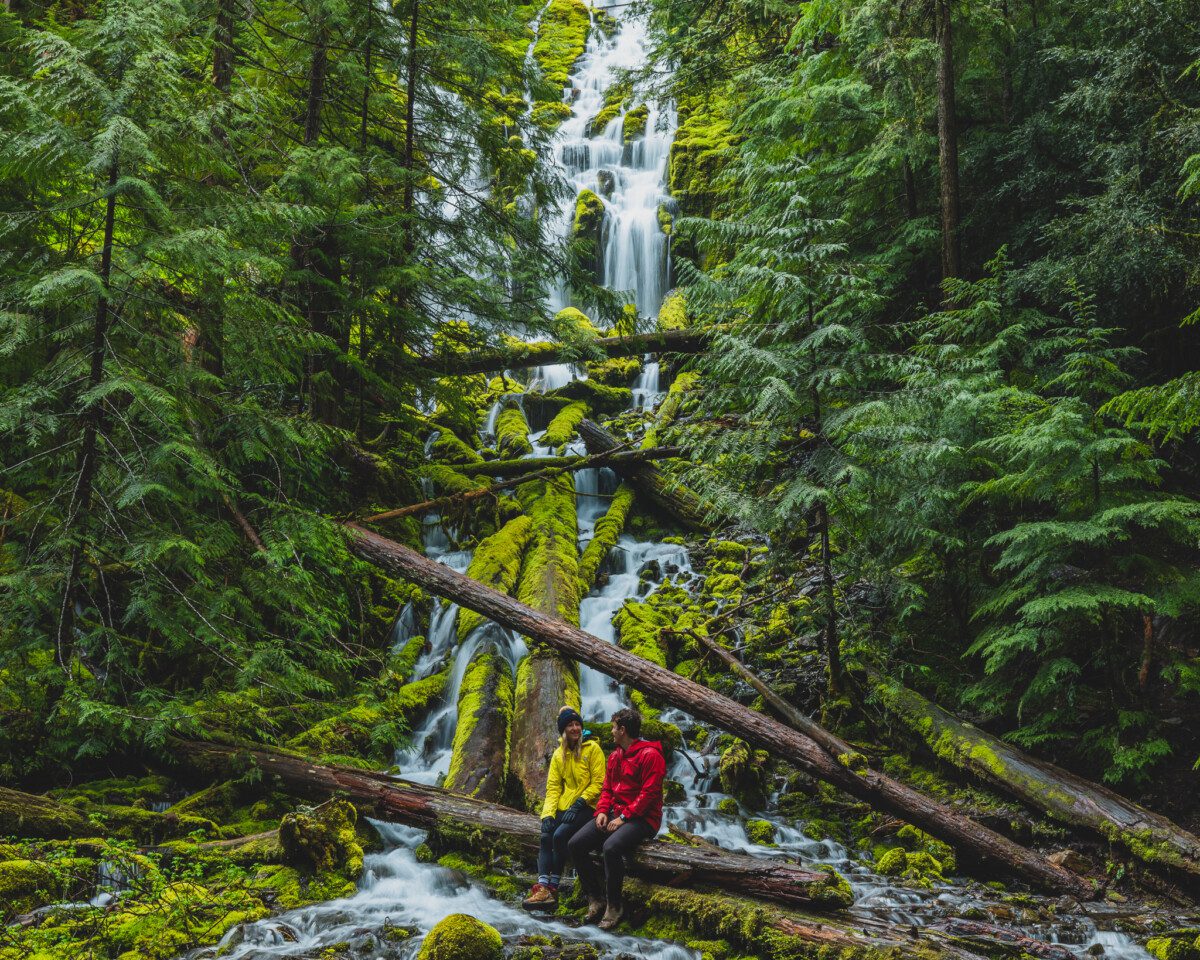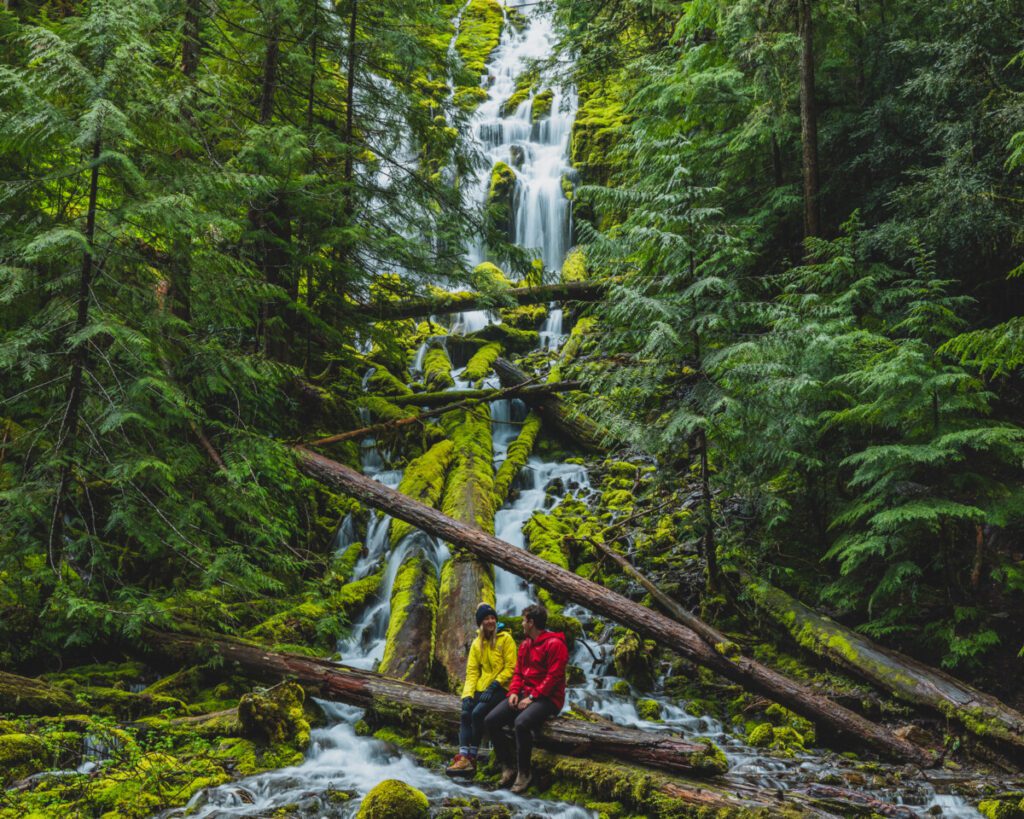 Proxy Falls
Proxy Falls is the farthest hike we did from our home base in Bend, but it is definitely worth a spot on your itinerary when visiting the area. The hike leads to a beautiful cascading waterfall surrounded by lush greenery and the best kind of PNW vibes straight out of Twilight.
It's a simple one mile loop hike out in the forest, but make sure to note that there are often road closures up here during the spring. We were able to see it on the first day that the highway had opened over Memorial Day weekend and there was no snow blocking any portion of the road. You can check road conditions on the Willamette website here.
Best Restaurants & Breweries in Bend
One of the most popular things to do in Bend, Oregon in the spring is the The Bend Ale Trail Craft Beer Tour. Bend is known for having one of the highest ratios of microbreweries per capita in the whole USA.
Our Favorite Breweries in Bend
10 Barrel Brewing
This is definitely the most popping spot in town that we went to. Locals and visitors alike love coming here for their wide variety on tap and their nice array of bar food. It gets pretty chilly outside, but they do have quite a few fire pit seats available.
The Good Life
Our favorite beer here was the Beach Life Pineapple Ale. This spot had some delicious food – from their tacos, to sandwiches, to mac n cheese grilled cheese. Overall great vibes, great food and beer, and great service.
Crux Fermentation
The vibes at Crux Fermentation were immaculate. Not only are there incredible food trucks like our favorite, El Sancho Tacos, outside, but there's a fire pit, lots of space outside to enjoy, and a ton of space inside for when it's cold as well. We would say if you only had time for one brewery in Bend, this would be our top choice.
We had a private tour of the facility with our new friend Jason, who showed us all around the tanks and gave us a fantastic tasting. The sours here are incredible, Stephen loved the Hazy IPAs, and the beer that we ended up both loving the most (which rarely happens with our different palettes) was the Tangy Boomerang, a creamsicle sour.
Overall, we hope you enjoyed this ultimate guide to visiting Bend, Oregon! If you're an adventure and/or beer lover you should definitely add Bend to your travel bucket list. For more information on planning your trip to Bend, check out Visit Bend's website for more resources.