Ultimate Hiking Guide to Conejo Valley
Published on June 27, 2022
|
Hiking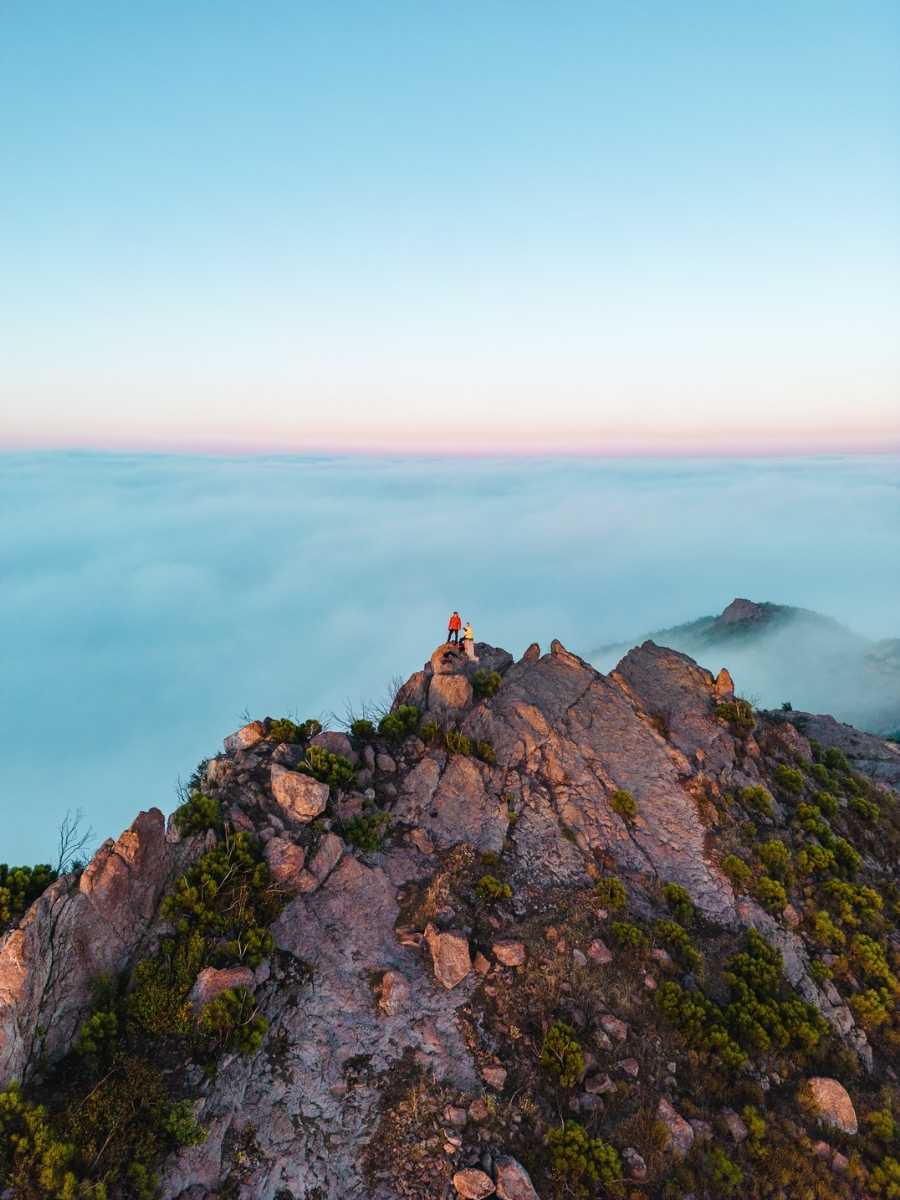 Finding hikes with beautiful views that are great for various hiking levels can occasionally be a challenge. Luckily, there's no shortage of stunning scenic hikes surrounding Conejo Valley that are easily accessible. If you are looking for a workout, epic peaks, serene sunrises and sunsets, and/or beautiful landscapes to photograph, this hiking guide to Conejo Valley is for you!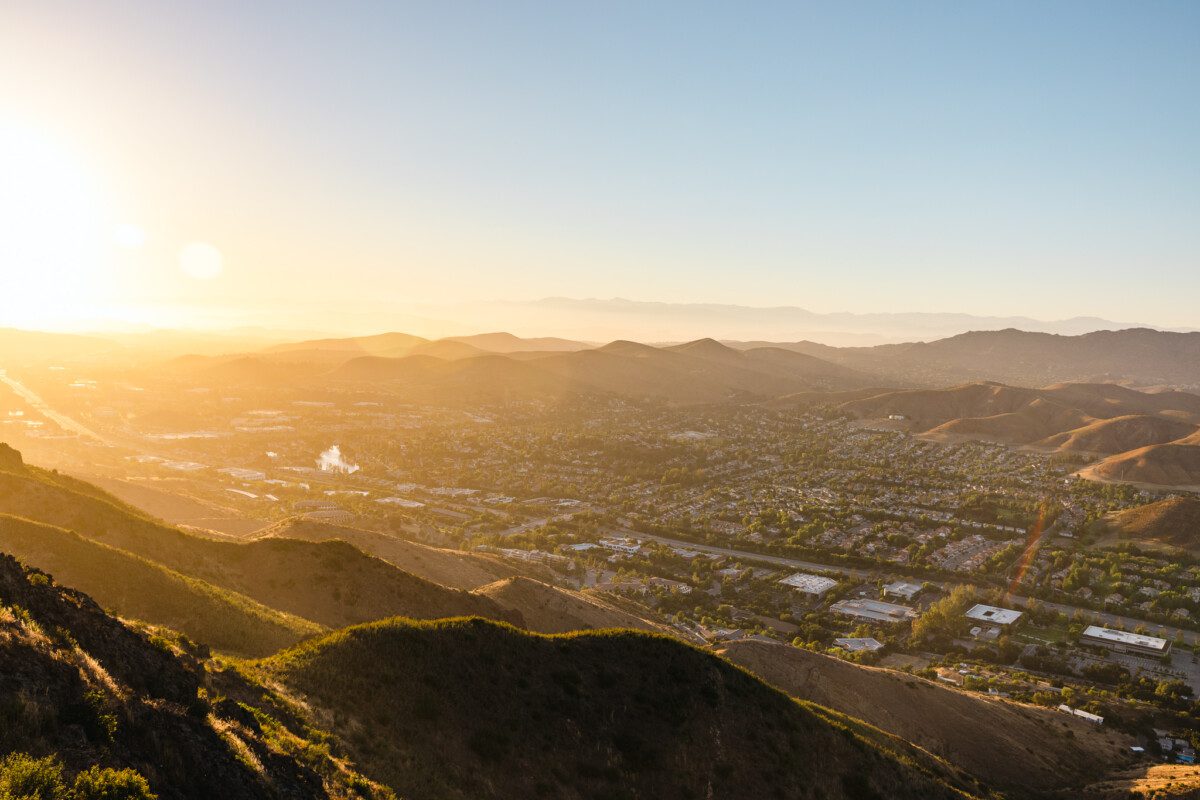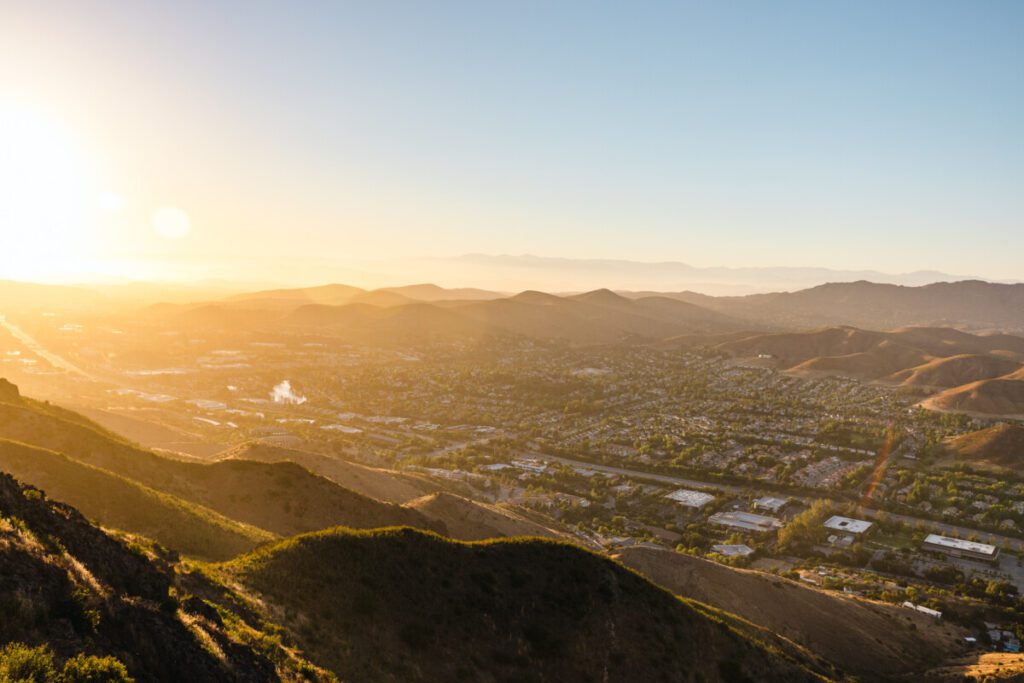 Disclaimer: This blog post is in collaboration with Visit Conejo Valley. Some parts of the article also feature affiliate links, which means we get a small commission if you make a purchase (at no extra cost to you). It's one of the ways we can keep producing free guides and resources for our readers. Thank you for the support!
Prepping for your Conejo Valley Hikes: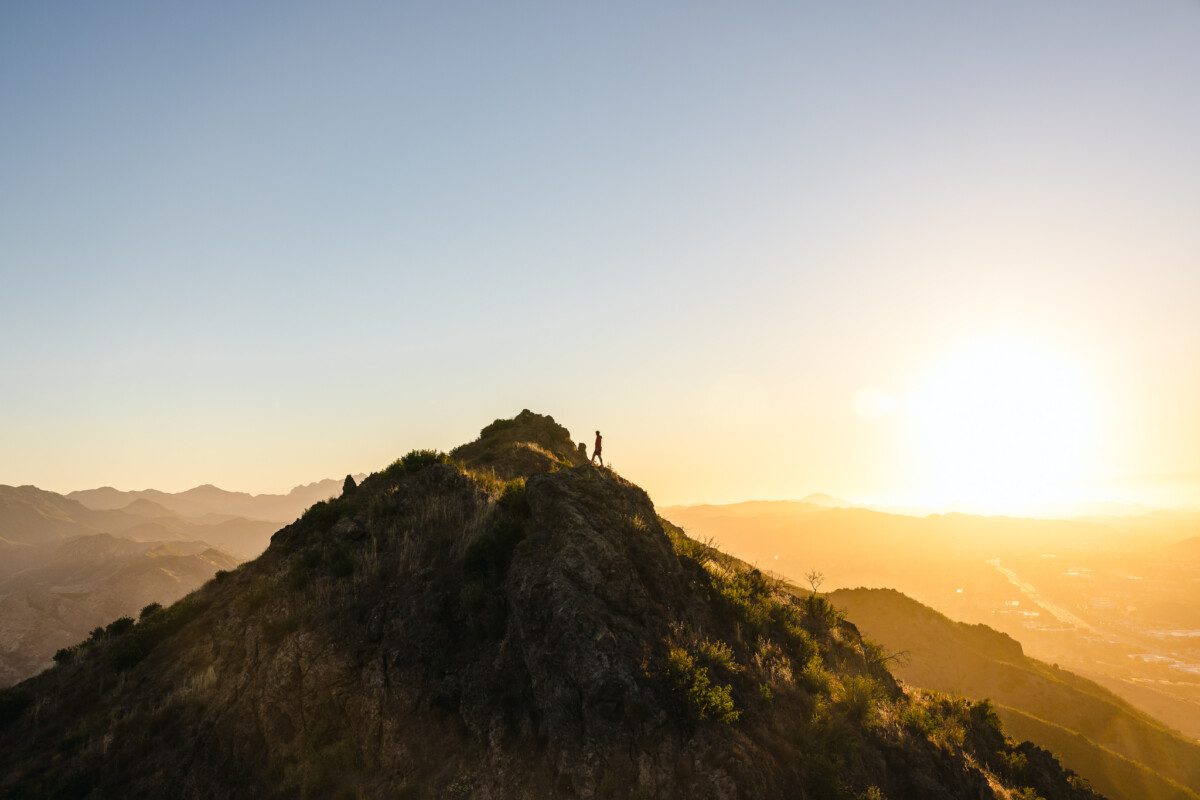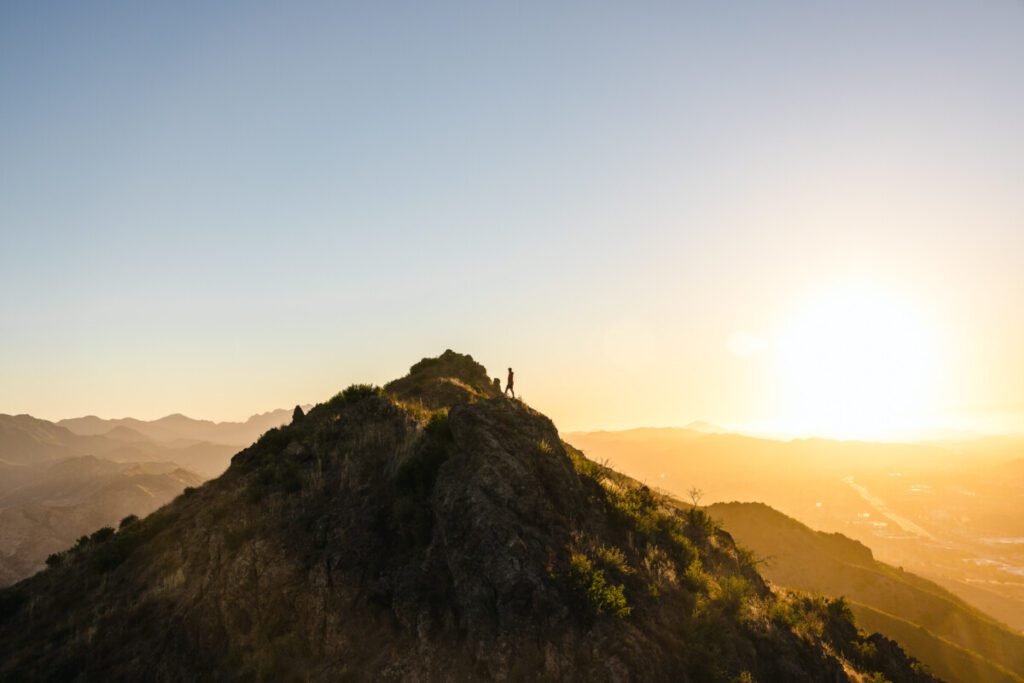 What to Pack:
Before embarking on any hike, always make sure to pack extra layers, a headlamp, water and snacks, and the rest of the ten essentials when prepping! It's best to be prepared for the worst in terms of outdoor activities. 
Research the typical weather and trail conditions for the hike during the time you'd like to complete it ahead of time to get a better idea of what to expect on any of these hikes. When visiting Conejo Valley, you'll want to keep your eyes on the weather for the cities of Agoura Hills and Thousand Oaks.
All of the following hikes around Conejo Valley have trails that do contain a bit of loose gravel. To make the most out of your hike and remain comfortable throughout, make sure to invest in hiking shoes, hiking boots, or trail runners with grip and traction.
Always make sure to break in your hiking shoes before heading out on your actual hike to prevent blisters and discomfort as well. For some of the following hikes, we'd recommend bringing trekking poles along for some ease on your joints; however, they are definitely not necessary for everyone, especially if you are a more advanced hiker.
During the spring and summer, you'll want to hike in UPF sun shirts and shorts as it gets quite hot. We also highly recommend packing lots of water, a hat, sunglasses, and sunscreen.
During the fall and winter, you will definitely want to pack jacket and sweater layers. The coastal wind along some of these hikes can get strong and come out of nowhere, so it is always best to overpack and be prepared. For more on our favorite hiking apparel, checkout our recommendations here.
Trail Data & Hike Safety: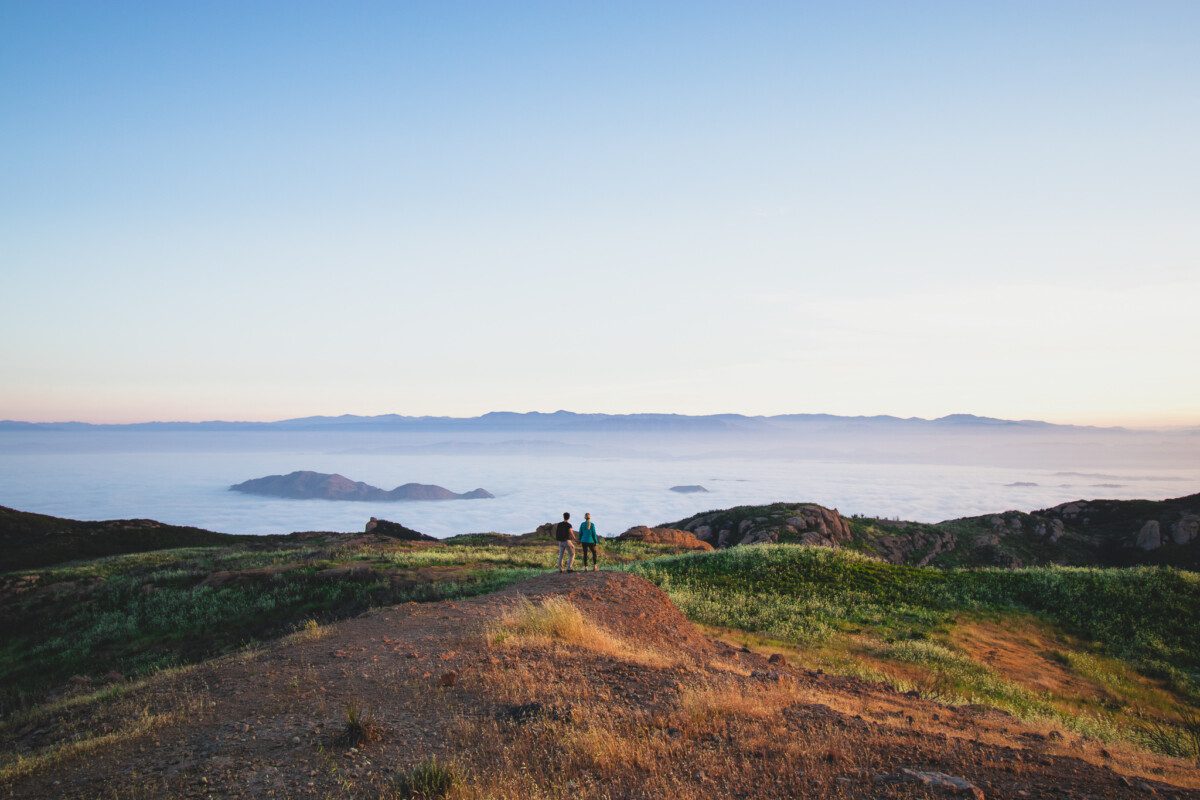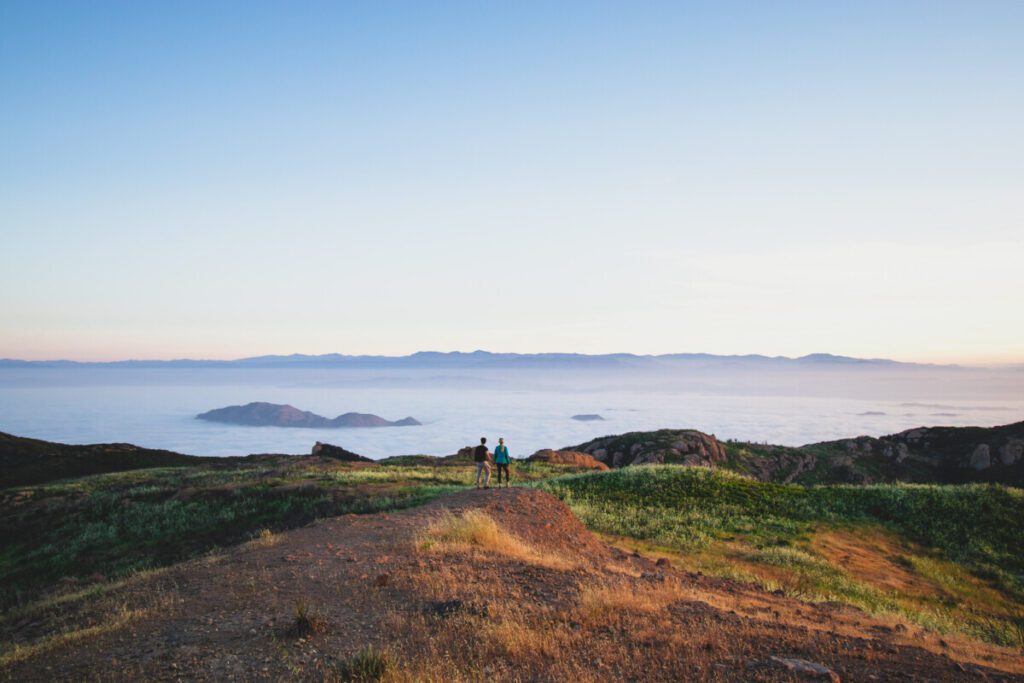 When planning out your routes for the recommended hikes, we recommend downloading an app like All Trails or GAIA to make sure you are headed in the right direction. Or, if you are more old school, taking a paper map is always a great resource to have. Since many of the trails in the Santa Monica Mountains recreational area connect with each other, it can be a little easier to get lost so make sure to do your research on your trail data ahead of time. 
Before embarking on any adventure in Conejo Valley, make sure to tell someone where you will be hiking and when you expect to be back, and to bring a first aid kit in the case of an emergency.
Hiking Etiquette:
According to the National Park Service, the hiker heading uphill actually has the right of way. Most of the beautiful hikes in Conejo Valley have some sort of elevation gain, so this is imperative to know before heading out.
Bikes should yield to hikers, and both hikers and cyclists should yield to horses in terms of right of way. When you pass other hikers and people using the trail, say hello or let them know that you are there, especially if you are coming from behind so you don't frighten anyone and to be polite!
Before embarking on your hike, make sure you are familiar with Leave No Trace principles as well to make sure you are recreating responsibly. In short, that means packing out what you pack in and not leaving any trash, planning ahead and preparing, staying on the designated trails, leaving any wildlife you find, respecting wildlife, and respecting other visitors.
One of the best things about hiking in Conejo Valley is that a ton of the trails are dog friendly as long as they are on a leash! If you are hiking with dogs, make sure to pick up after them and dispose of waste bags properly.
Fellow hikers, particularly in this area, also tend to frown upon bringing loud bluetooth speakers and blaring music along the trails, so just be mindful of others on the trail by bringing headphones if you'd like to listen to music.
Conejo Valley Hike Information & Trail Data: 
Sandstone Peak
Trail Length: 3.0 Miles Out & Back
Elevation Gain: 997 Feet
Rating: Easy-Intermediate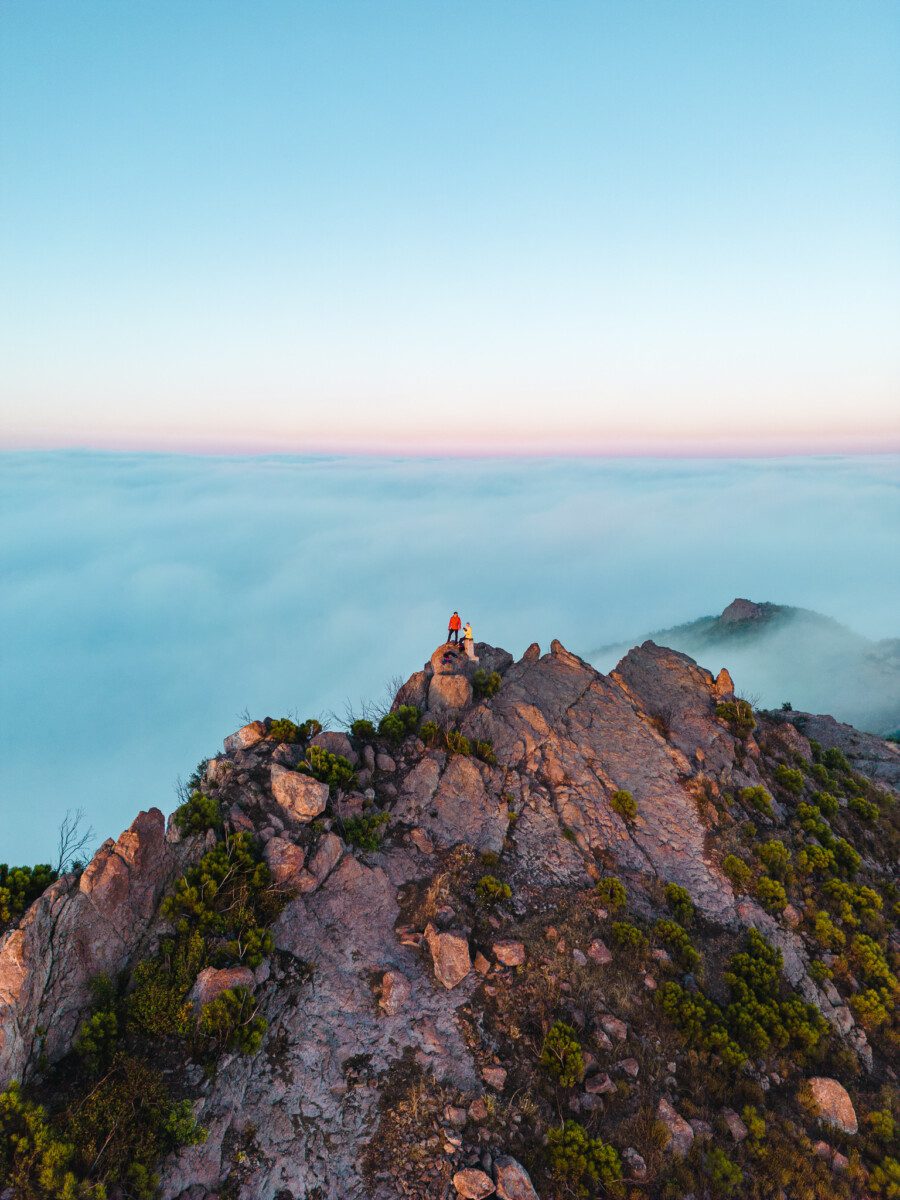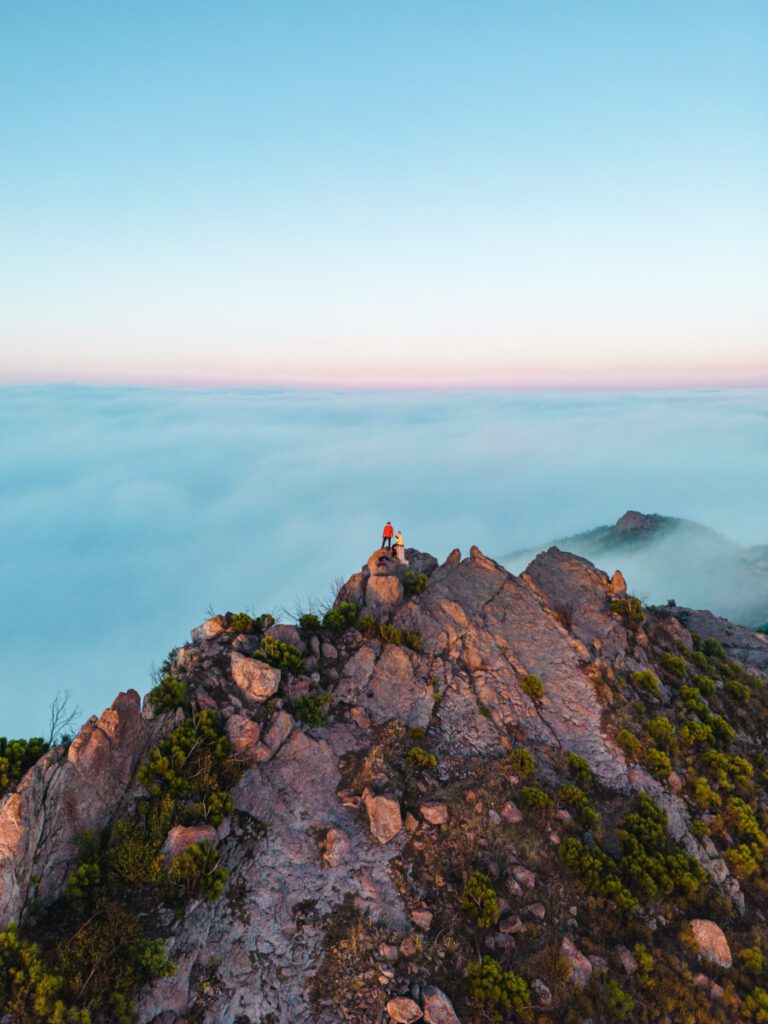 Sandstone Peak is one of the best hikes in the Santa Monica mountains and is a short drive away for anyone staying in the Conejo Valley. Not only is it the tallest point in the recreational area, but it is the perfect hike for beginners-advanced hikers. 
Sandstone Peak offers views of the ocean, mountains, and, if you are lucky, cloud inversions. This hike is filled with beautiful views and flowers basically year round. If you are trying to witness a cloud inversion, where you can literally hike above the clouds, try researching the cloud elevation level on air traffic condition reports to see if Sandstone's highest elevation will be above any layers of clouds.
Tips for Hiking Sandstone Peak
Sandstone Peak's trailhead parking lot fills up rather quickly, so if you are planning on hiking it in the AM, make sure to get there early. Not only do hikers park here, but there is quite a bit of mountain biking and rock climbing in the area which is why we recommend securing your spot as early as possible. Further down the road, there are other parking lots if there is no more parking when you arrive; it just adds on to your hike by a little bit.
There is a restroom and some picnic tables with shade available at the trailhead which are quite nice. In terms of time of day to hike Sandstone Peak, sunrises up at the top of the peak are stunning; although the sunsets are also fantastic.
We would not recommend doing this trail after 10am during the summer time as it gets hot and crowded. Depending on your hiking skill level, the hike usually takes about 45 minutes to 1.5 hours to reach the summit.
The trail is fairly wide and very well maintained, so it makes social distancing very easy. Trekking poles wouldn't be necessary for this hiking trail, unless you like them for comfort. For hikers desiring more of a workout, this trail connects the Backbone Trail and the Mishe Mokwa trail to further destinations.
This is also a great trail to train for longer backpacking trips. We have seen several groups of people doing Sandstone with full packs to prepare for the Trans-Catalina Trail before.
Sandstone Peak Optional Add Ons: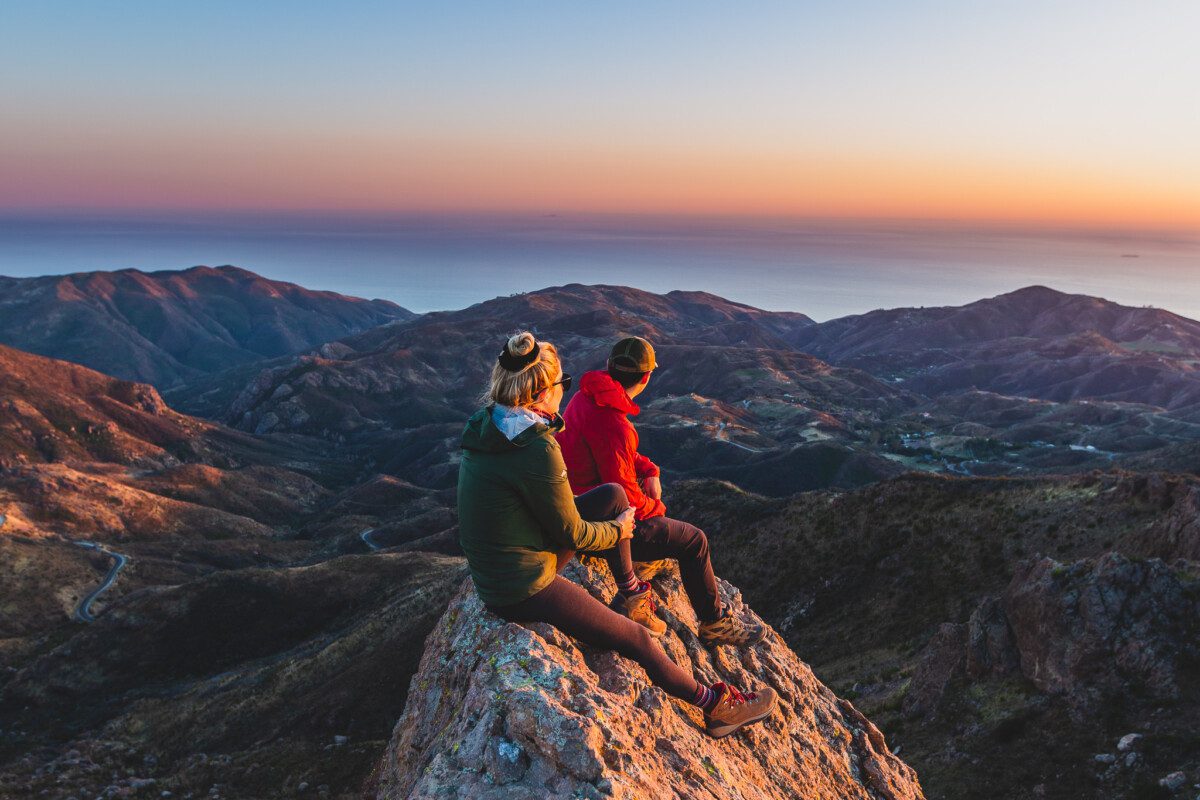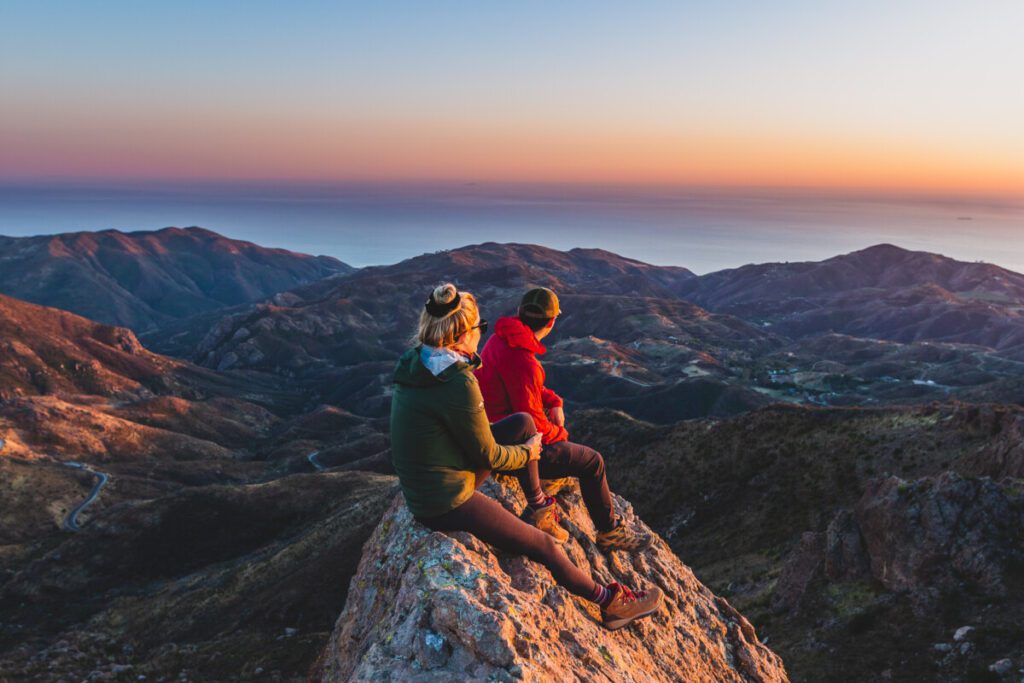 The hike above is 3 miles, however, if you'd like to make it longer, the Sandstone Peak Loop Trail comes out to about 7.5 miles. The Loop combines the Backbone and Mishe Mokwa Trails together. Once you reach the summit of Sandstone Peak, you can continue along the Backbone Trail until you pass Inspiration Point Lookout and turn toward a junction that will take you to Tri Peaks for another gorgeous lookout of the Santa Monica area. 
If you continue along the loop trail, rather than the out and back trail, you also have the opportunity to hike over to the Split Rock Picnic Area, where you might see some outdoor rock climbers over by Echo Cliffs and Balanced Rock.
Ladyface Peak
Trail Length: 2 Miles Out and Back
Elevation Gain: 1,177 Feet
Rating: Hard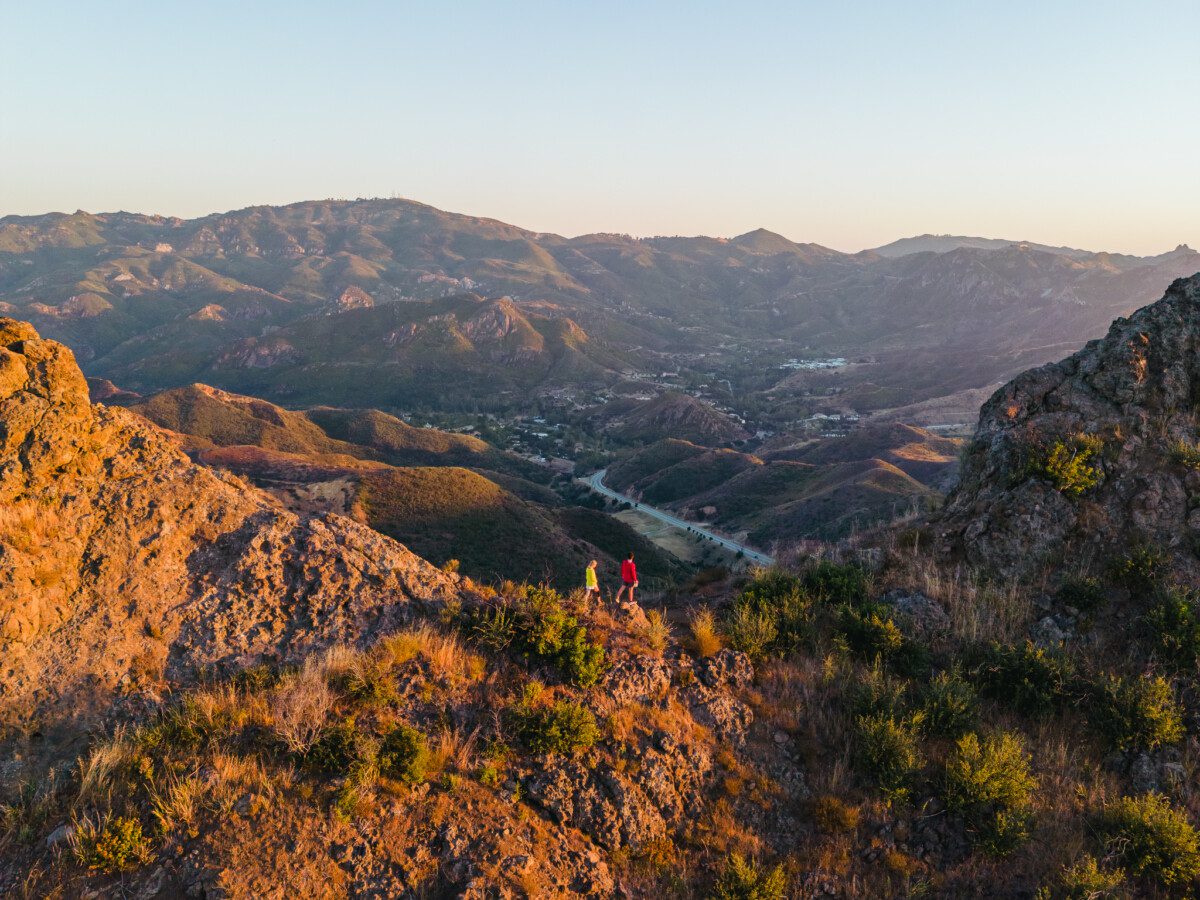 Sitting right off of the 101 Freeway, Ladyface Peak is a commonly overlooked trail in Agoura Hills, CA. Trailhead parking is 0.7 miles from the Agoura/Kanan Road intersection. There is no official parking lot, but you can pull onto the dirt shoulder before you get to the sign for Silver Creek Road and park your car there before beginning your hike. 
Depending on the season, you will want to wear pants as this trail often has overgrown bushes that can cut up your legs if you aren't careful. Since this is a more strenuous hike than the others, try to avoid doing it during the middle of the day to avoid overheating.
This trail has a steeper incline in the first half of the trail and with some rock scrambling toward the top of the ridge near the summit. If you are afraid of heights, we would not recommend hiking up this ridge.
Once you reach the summit, you'll encounter a flag pole at which you will be greeted with sweeping views of the Conejo Valley and the adjacent Santa Monica Mountains.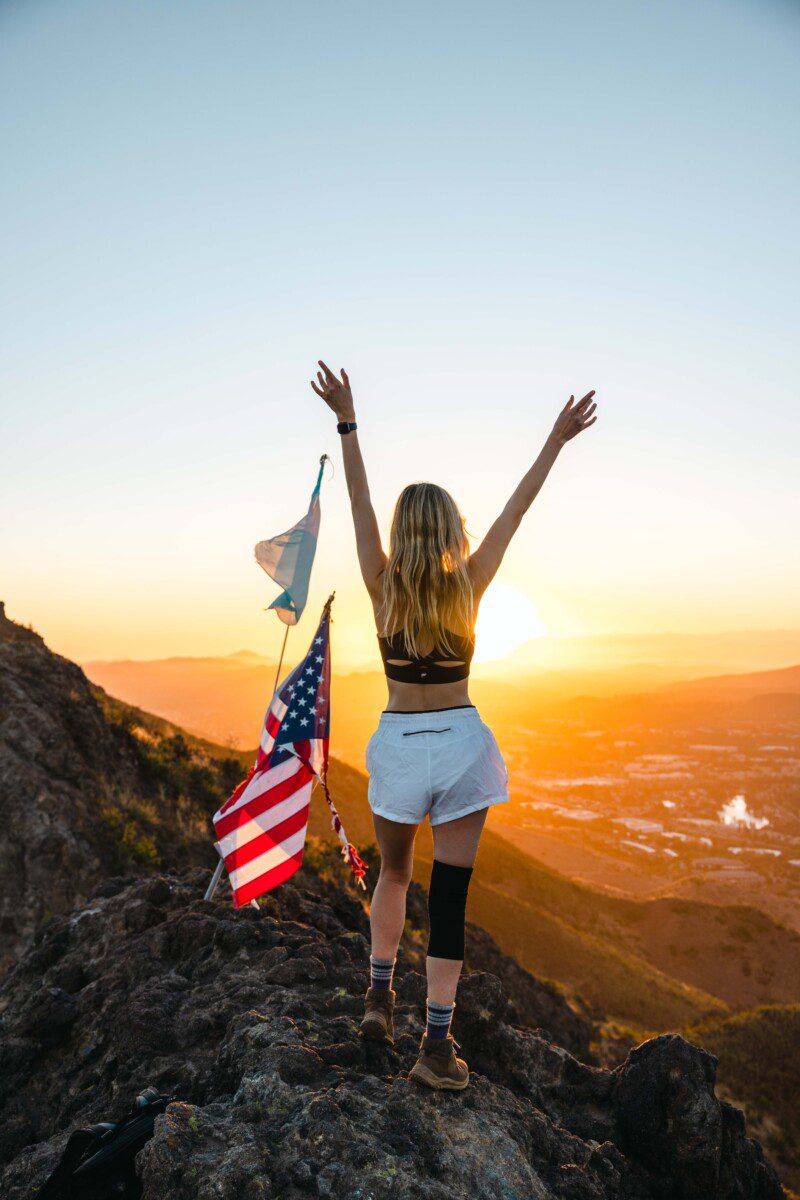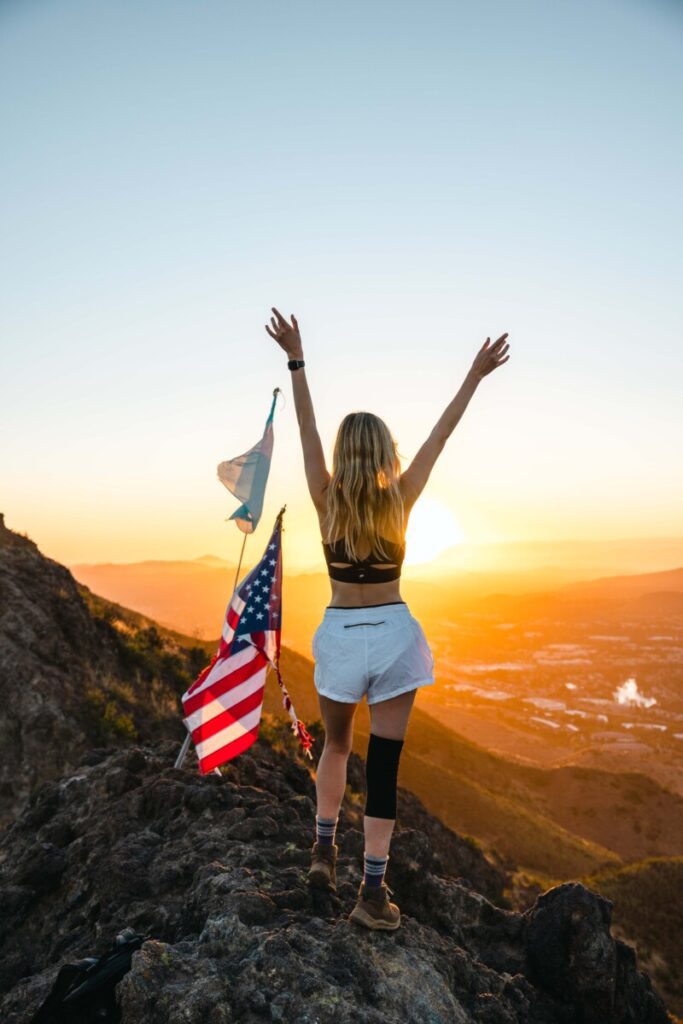 If you like hikes with a little bit more exposure, height, and rock scrambling, then this is a great hike for you. We would not recommend it for children or inexperienced hikers, and probably not for most dogs either if they have a tendency to not stay on the trail since it's quite narrow the entire ascent up.
When coming down the trail, the dirt and loose gravel can be incredibly slippery so make sure to wear proper hiking shoes, and if you like hiking with trekking poles, this would be a hike to bring them on.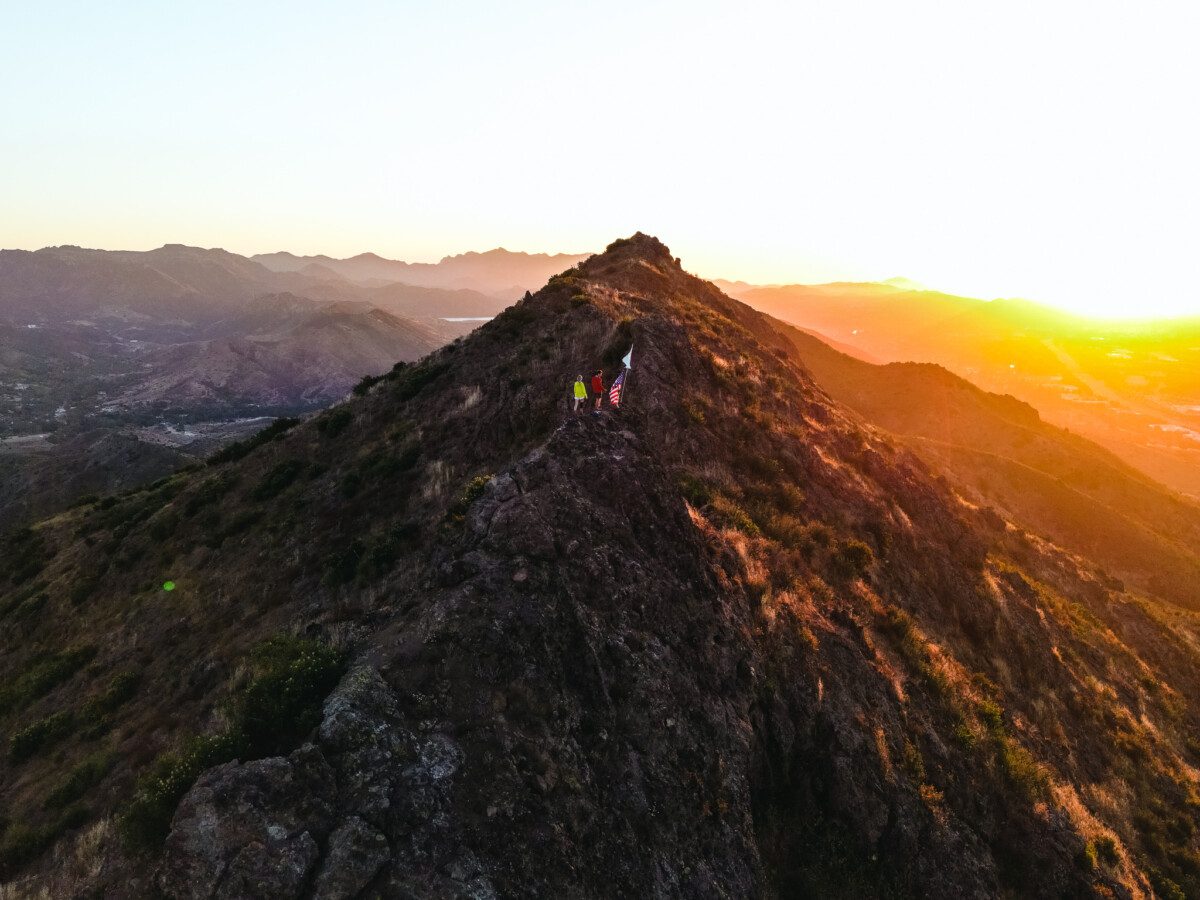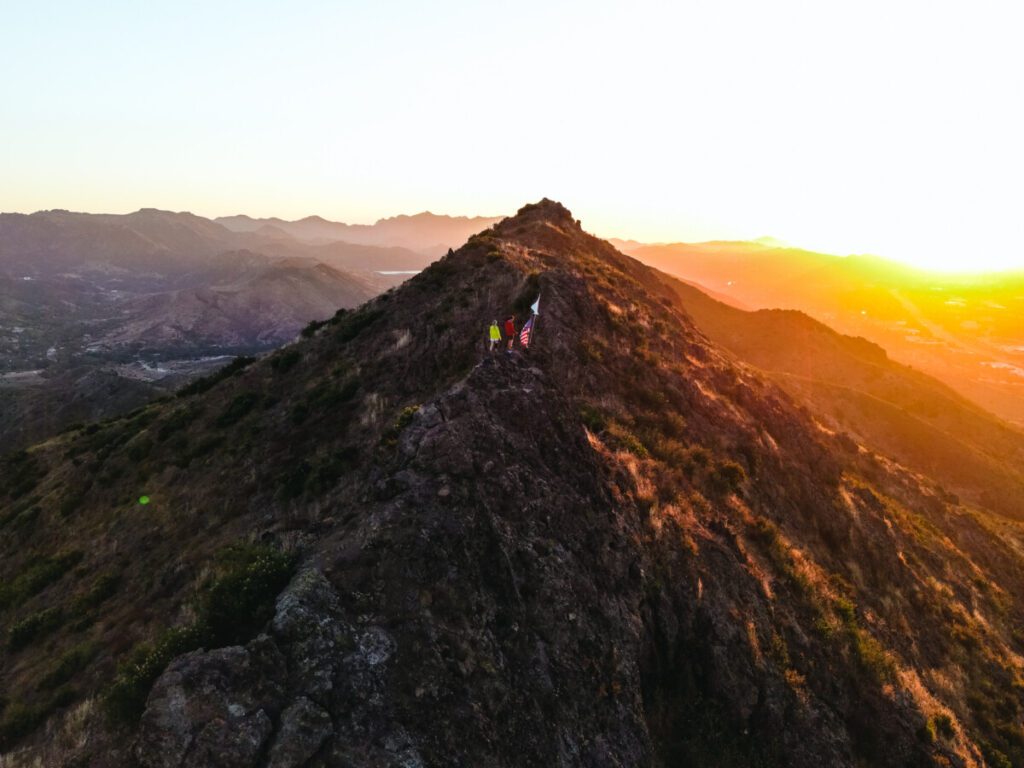 Lang Ranch / Woodridge Open Space trail
Trail Length: 4.6 Mile Loop
Elevation Gain: 849 Feet
Rating: Easy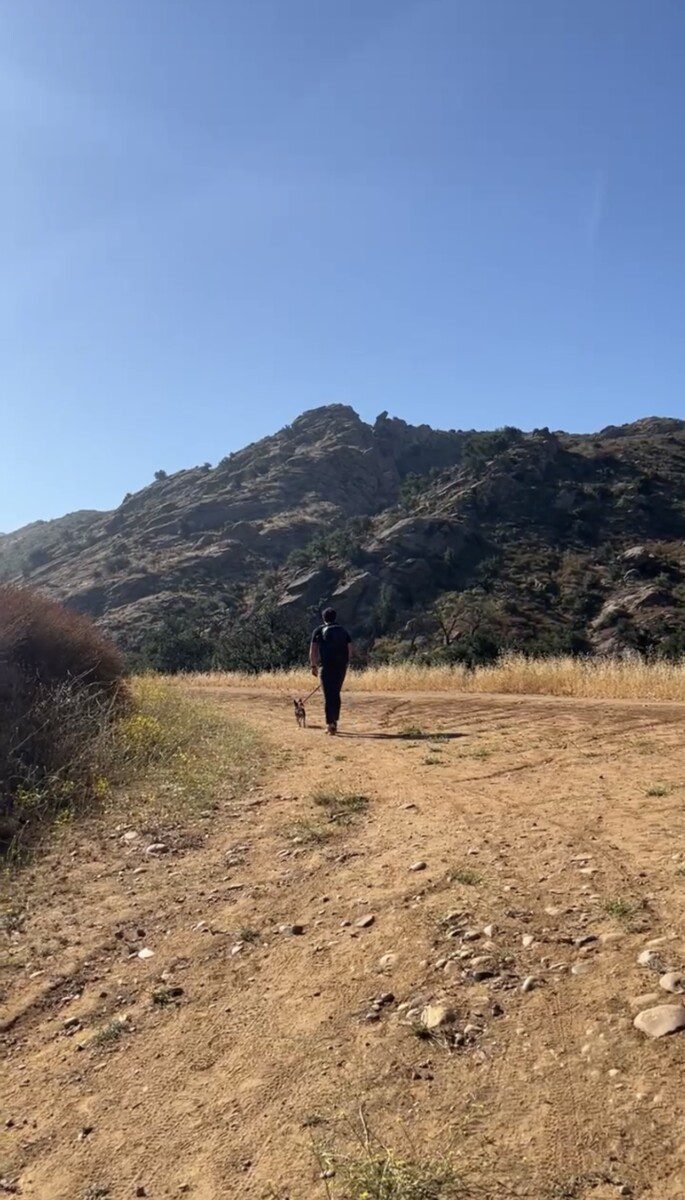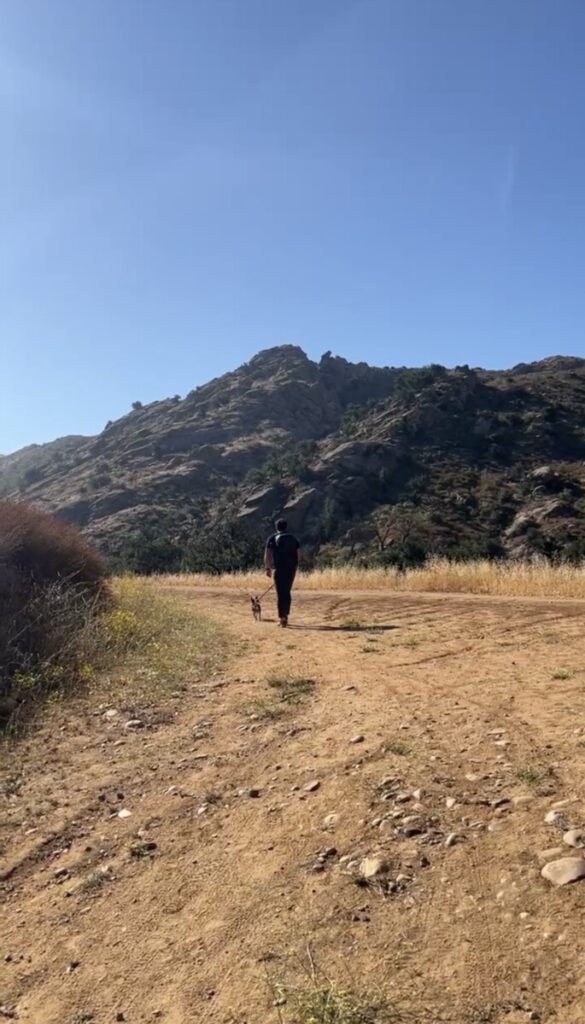 The Woodridge Open Space area is full of fantastic hikes through the mountains of Conejo Valley. The Lang Ranch trail is a pretty popular trail for hiking, horseback riding, and mountain biking. Dogs are welcome, but must be on a leash.
You can find the trailhead parking over in a residential neighborhood – there is not a particular lot. From there, you'll see a gate and a sign for the trailhead once you start walking along the dirt road adjacent to the gate.
The trail itself is pretty mellow in terms of elevation gain – all the elevation is pretty gradual throughout your hike. Expect to hike over rolling hills and get some beautiful scenic views of the surrounding peaks.
It should be noted that the trail doesn't offer much shade. It's very exposed and can get quite hot in the spring and summer time, so we'd recommend hiking this trail only earlier in the morning or around sunset. There are also lots of wildflowers, which typically comes with bees, so if you are allergic make sure to prepare in advance.
Paramount Ranch
Trail Length: 2.1 Mile Loop
Elevation Gain: 203 Feet
Rating: Easy
Paramount Ranch is famous for being heavily used in Hollywood as a scenic backdrop and set for movies and television shows. Unfortunately, the Woolsey Fire in 2018 did destroy a lot of the area, however, you can still see remnants of sets from famous shows like HBO's Westworld! 
The hike out to Paramount Ranch is probably the most family friendly and easy hikes in the Conejo Valley. On average it can take about 30 minutes to 1 hour to complete.
There are ample parking spots and restrooms available, and this area is also dog friendly. The hike out here is great for those looking for wildlife sightings and those looking for a cool behind the scenes look at old Hollywood sets.
Make sure to bring your cameras as you can look for red-tailed hawks, acorn woodpeckers, coyotes, and deer. If you are looking to better your hiking photography, make sure to check out our photography ebook or our camera gear recommendations. 
Enjoy Hiking Around the Conejo Valley
We hope you enjoyed this hiking guide to Conejo Valley. Enjoy exploring around the gorgeous trails along the mountains and valleys. As always, make sure to Leave No Trace and recreate responsibly while you are out exploring.