Published on December 8, 2022
|
Hiking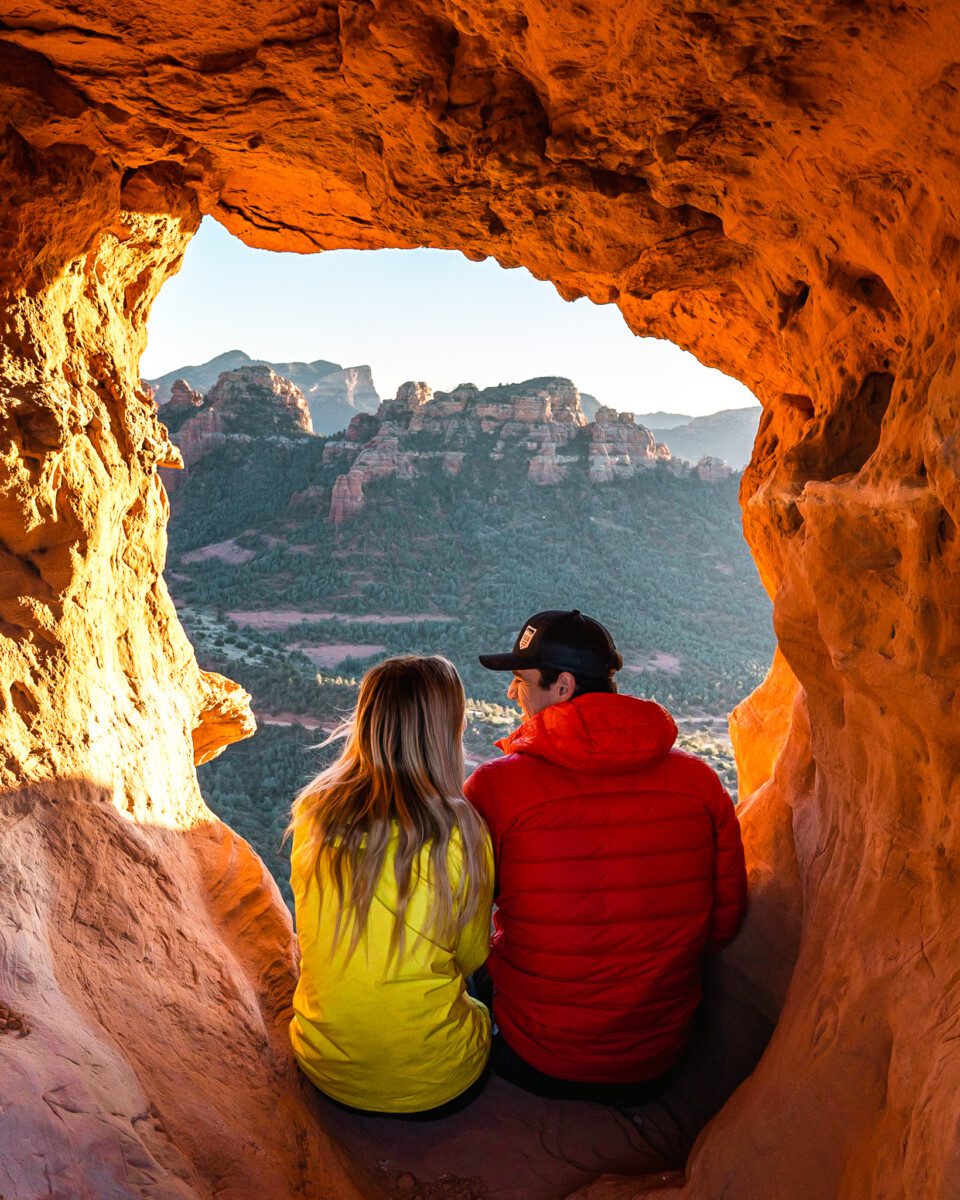 Sedona, Arizona is absolutely magical. From the beautiful red rock formations to the incredible caves, this area is an adventure lover's wonderland. If you're planning a trip to Arizona soon and you're looking for the best hikes in Sedona, touristy or hidden, you've come to the right place.
We've visited Sedona a few times now and have been able to do different hikes every trip. All adventures in Sedona were amazing and we were able to explore so many trails and viewpoints. The hikes in Sedona are extremely dog friendly and even the restaurants around the city are very accommodating.
What to Know Before Hiking in Sedona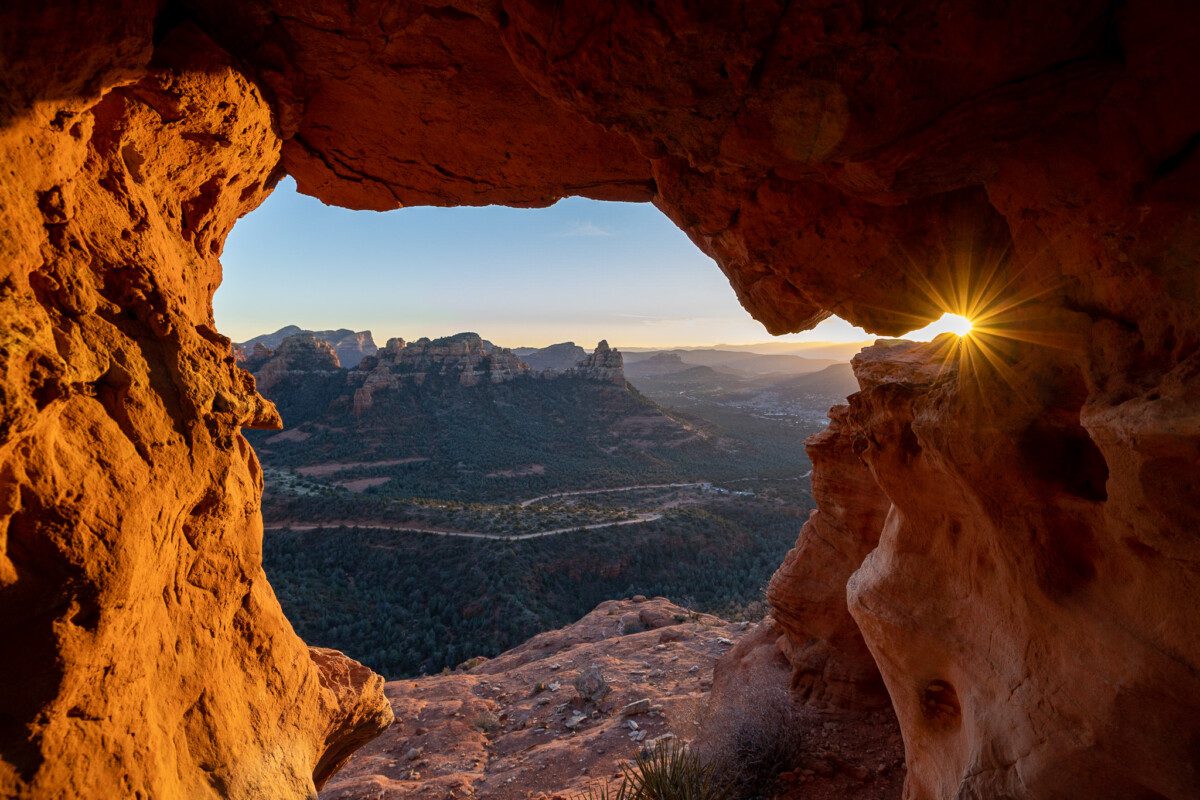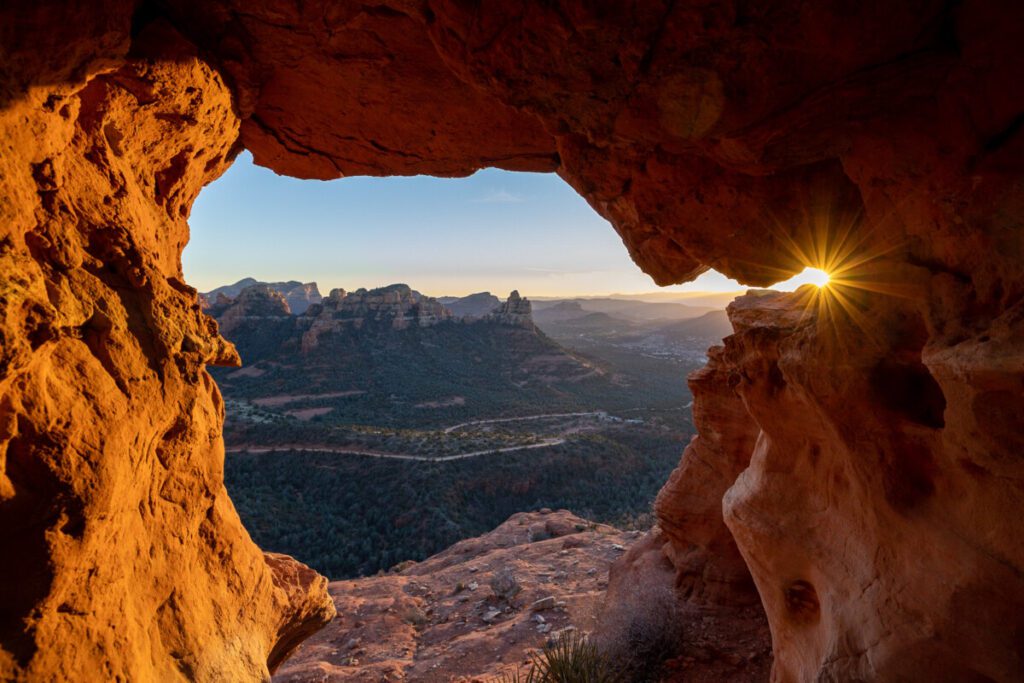 Best Time to Hike in Sedona
Despite the insane crowds, we were so impressed with Sedona's most popular hikes and understood why so many people wanted to experience them as well. We highly suggest that if you want to hike in these locations, that you get there as early as you can. If you can possibly plan your hikes during a weekday or a non-holiday weekend, you'll hopefully encounter fewer crowds.
We personally would recommend trying to do most hikes at sunrise. Not every hike can be a sunrise hike, so make sure to do your research and plan out your days beforehand. Just allow yourself ample time for parking and transportation because for the traffic Sedona receives, parking is very obsolete. In fact, there are now shuttle systems in place for very popular hikes to help alleviate traffic.
The peak season to visit Sedona is in the Spring time from March to May as temperatures are ideal for outdoor adventures. However, we love visiting in the winter time from November to January since there is typically nice weather and fewer crowds as well.
What to bring on your Sedona Hikes:
Make sure you have proper shoes with lots of traction.
Bring plenty of water and trail snacks.
Bring lots of sunscreen and protective clothing.
If you bring your dog, make sure to bring along anything they'd need from food, water, bowls, leash, poop bags, etc. 
For more information on our go to hiking gear, check out our hiking gear guide before your next trip to Sedona.
Hiking Etiquette in Sedona
Make sure to practice Leave No Trace when out on the trails in Sedona. Since it encounters quite a bit of foot traffic, we all need to do our part in keeping mother nature clean. This includes not building cairns when they aren't necessary as these can confuse hikers relying on them for directions.
Touristy Hikes in Sedona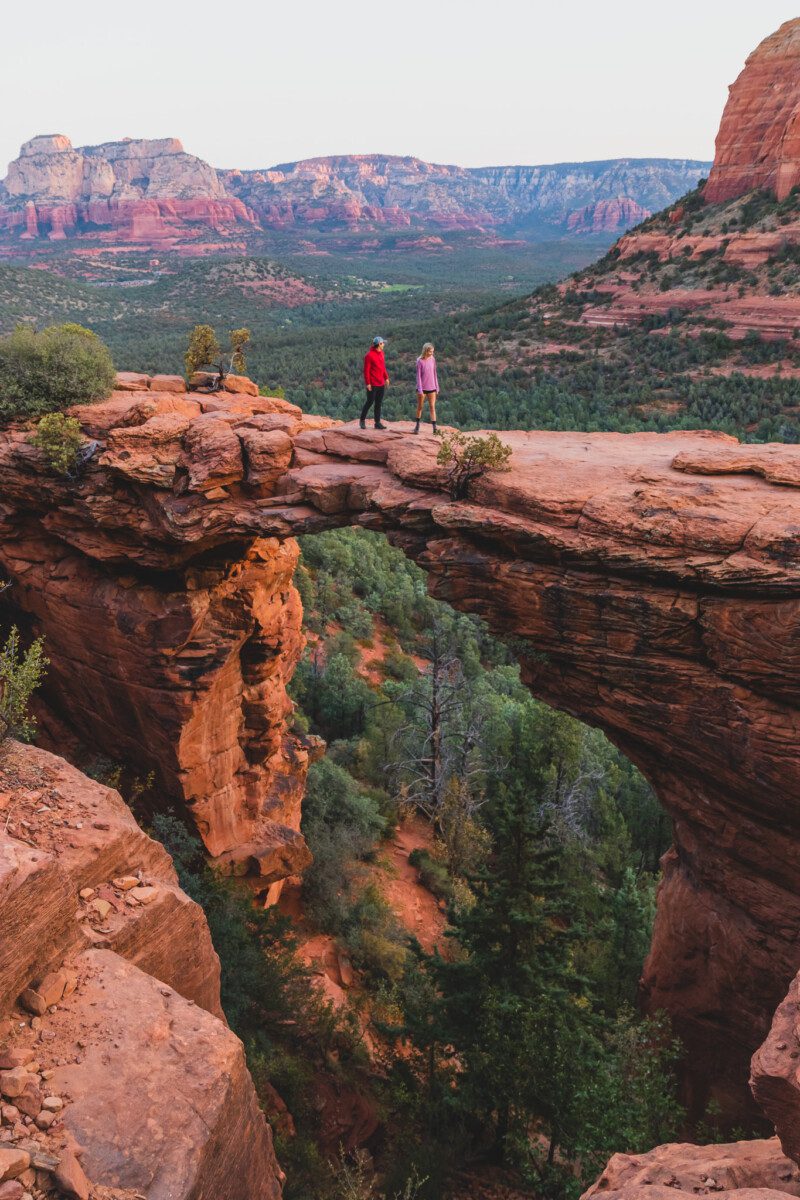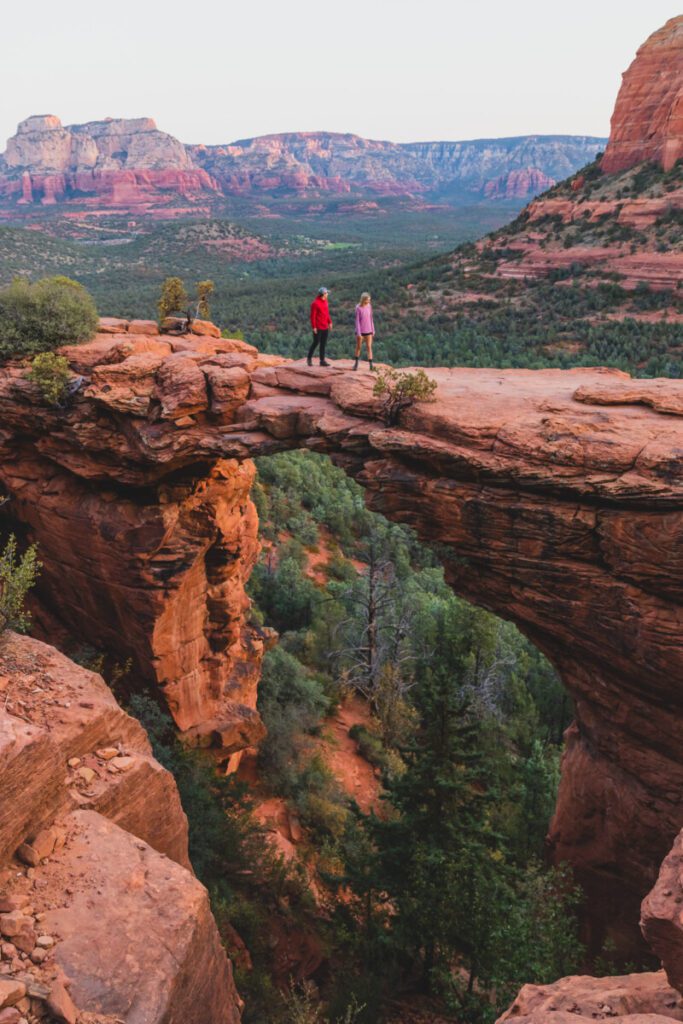 Devil's Bridge Trail
We chose to do this off roading trail as a sunrise hike and we highly recommend it to anyone wanting to avoid the crowds. Being the first people there gave us the advantage of having the place to ourselves and getting all our desired shots in without having to wait in a line. We started in the dark with our headlamps and got there for blue hour.
The trail itself is about half a mile each way if you have a high clearance vehicle. There are lots of high boulders on the dirt road so if you don't have a high clearance car, we suggest parking at the beginning of Dry Creek Road and walking the extra mile and a half to the trail head. This does change your hike from 1 mile to 4 miles, but we believe the views at the end are worth it.
For this hike in particular, if you don't get there early, it will be nearly impossible to find parking and you'll have to wait in line for a photo. Do yourself a favor and make the early wake up call for the best hiking experience possible!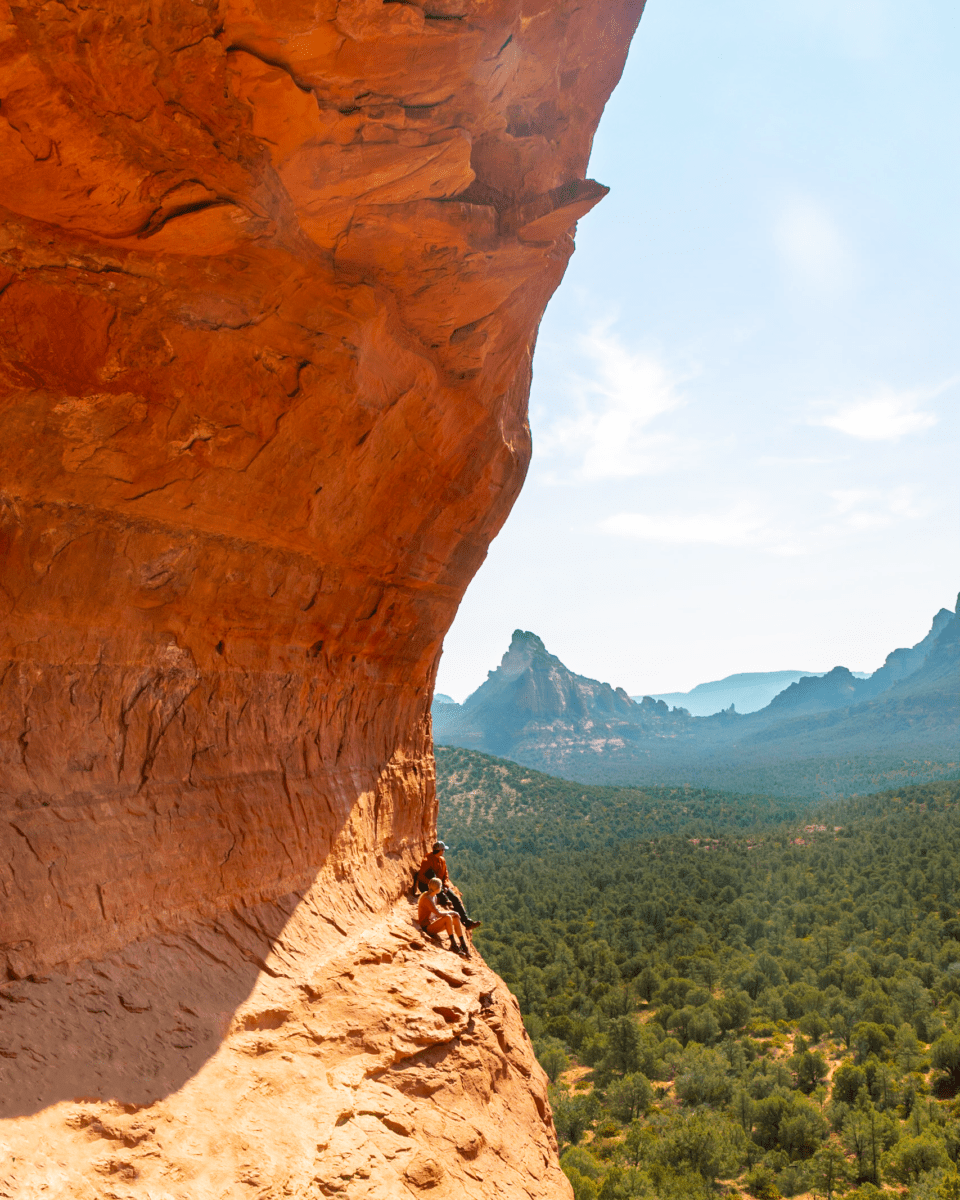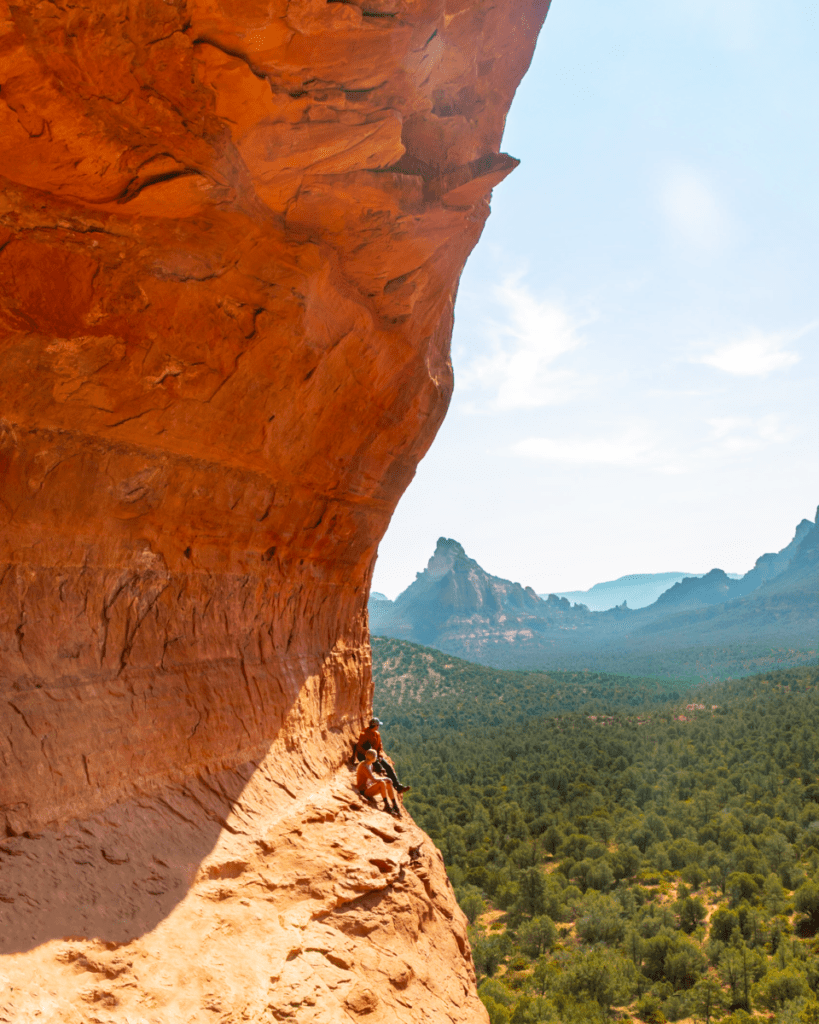 Long Canyon Birthing Caves
Although this Sedona hike is an easy 2 miles out and back, this spot is tricky for photographers. We came around 8 am and quickly realized that was a mistake. The sun comes up on the east and the Birthing Caves are looking directly at it, which gives off a really harsh shadow.
If you're a photographer or just want to capture good quality photos here, we suggest this hike as either a super early sunrise spot, after 12 pm when the sun is behind the caves, or at sunset. The caves are stunning and are a must-see when hiking in Sedona.
This spot is very sacred for some people, and there may be fertility ceremonies occurring while you visit on your hike. Make sure to be respectful.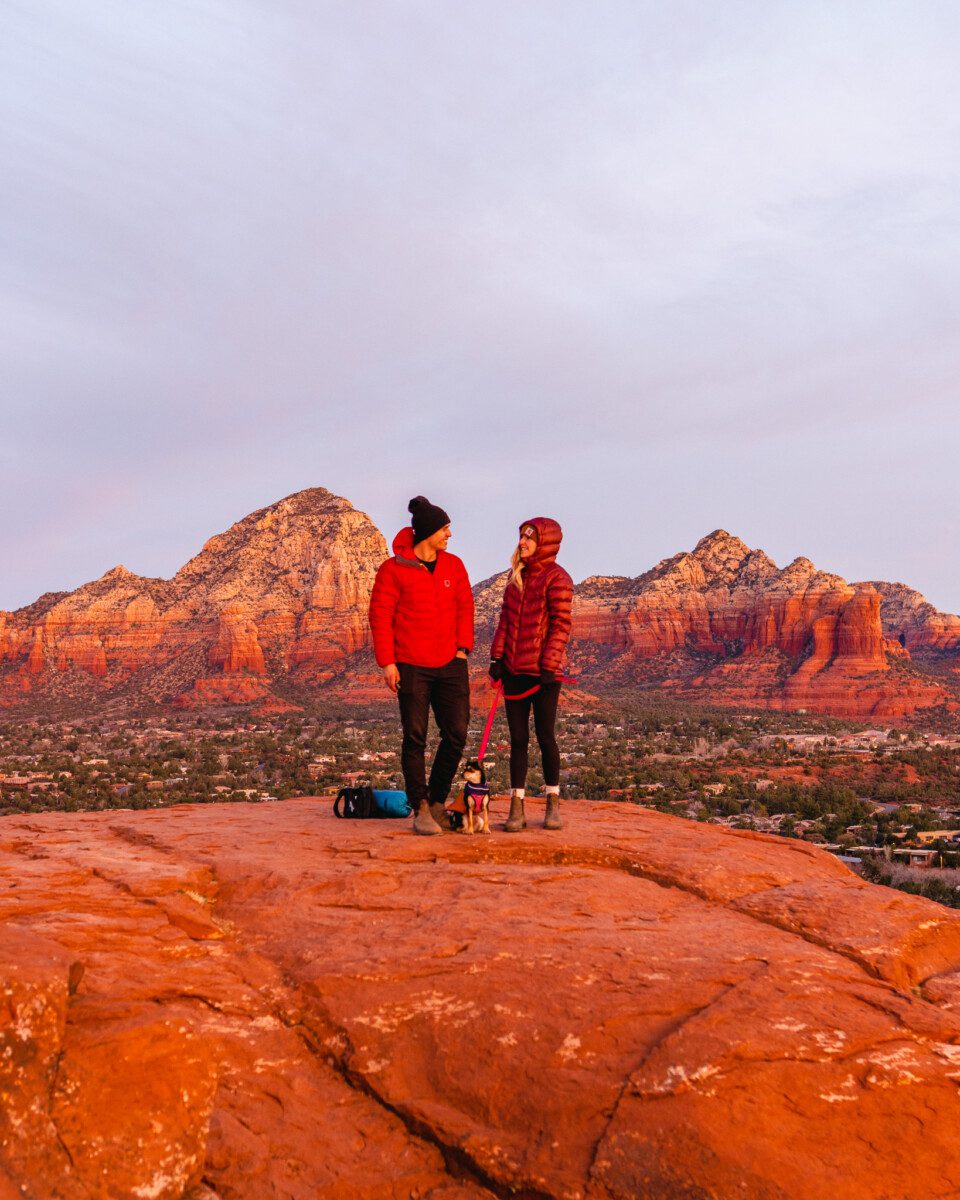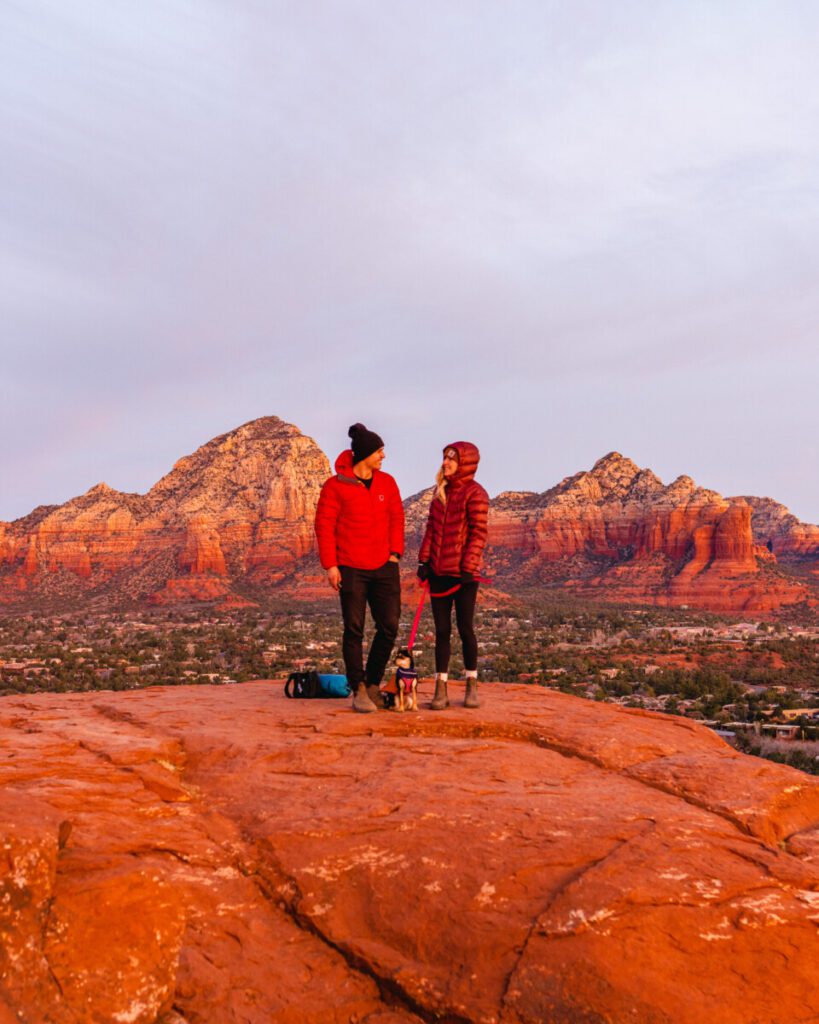 Airport Mesa
We've been to Airport Mesa a few times, all at different times of the day. Our first visit here, we did the Airport Loop Trail, which was about 4 miles roundtrip. For this hike, we recommend either just going to the viewpoint and back or doing the backwards way up the loop. There were lots of airplanes and helicopters flying overhead, which was cool to see. Although it wasn't one of our favorite hikes in Sedona, it still had nice views.
Our 2nd time here we did the East Summit Trail for sunset, but unfortunately it was too cloudy and windy to see much or capture the sunset. However, we were determined to capture the beauty of Airport Mesa, so we went back to the same area for sunrise the next day and quickly realized how amazing of a spot it was. The way the sun came up and over the rocks was so gorgeous and one of our favorite sunrise spots we had seen in Sedona.
This hike in Sedona is dog friendly as long as you keep your pup on a leash.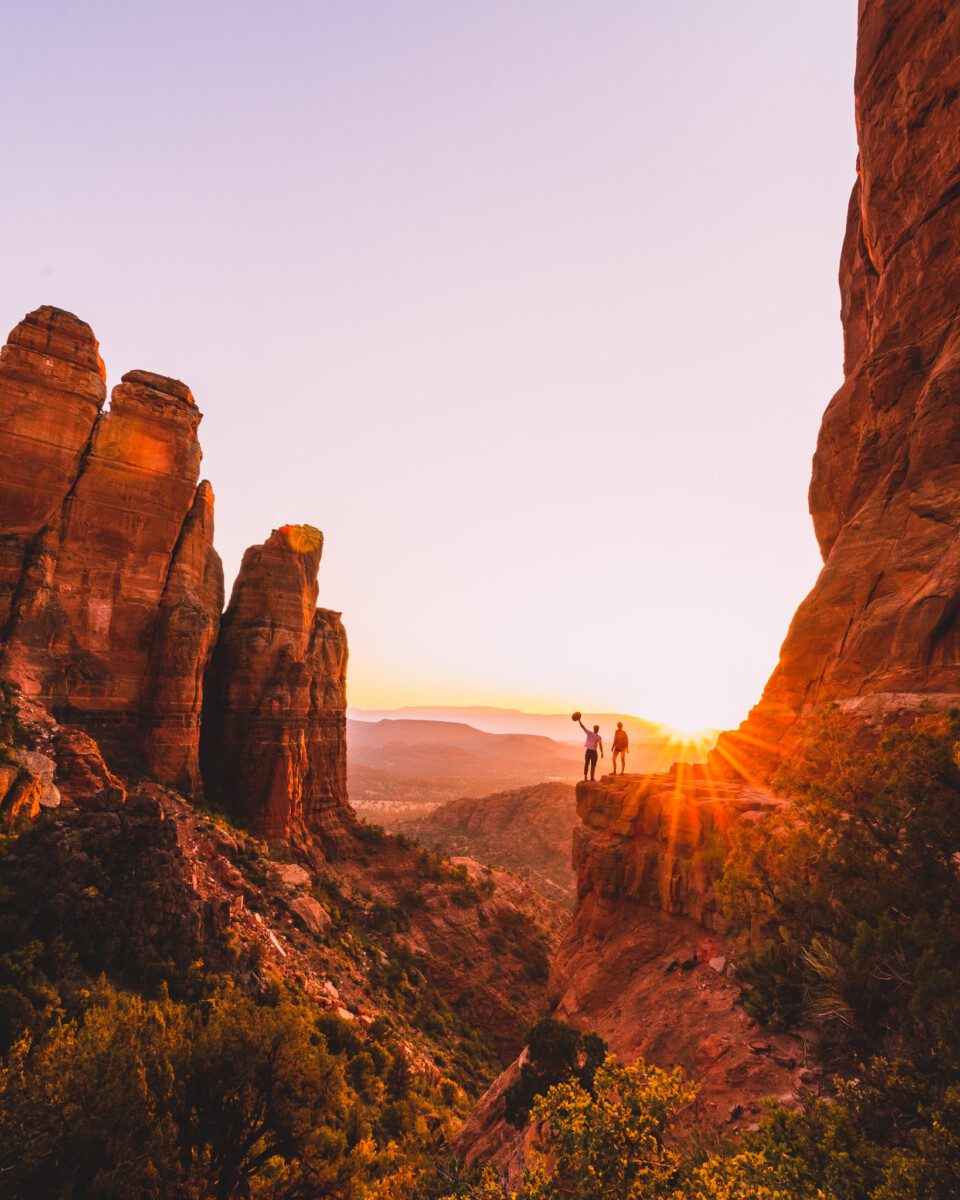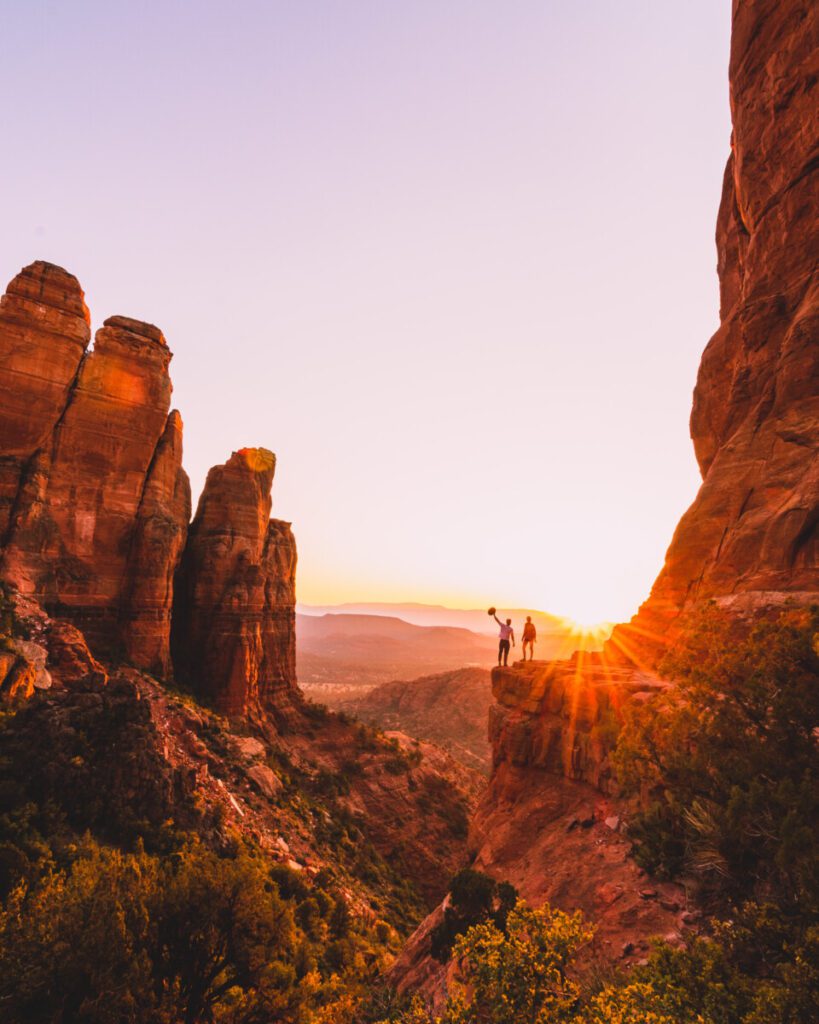 Cathedral Rock Trail
We absolutely loved Cathedral Rock. It was a pretty strenuous uphill hike, but we highly recommend it. The hike is on smooth sandstone so make sure to bring proper shoes, so you don't slip at all.
If you're a photographer, we suggest going between 9 and 10 am in order to catch a sun flare on one of the pillars. However, if you want the classic iconic shot of the red rocks glowing, this is 100% a sunset spot.
Pack your patience as this is one of the most popular hikes in Sedona so it will likely be crowded. Every time we went, there were tons of wedding and engagement shoots happening simultaneously. As of 2022, the city of Sedona has implemented a shuttle system here so parking at the trailhead isn't available. Allow yourself some extra time to catch a shuttle bus to the trail.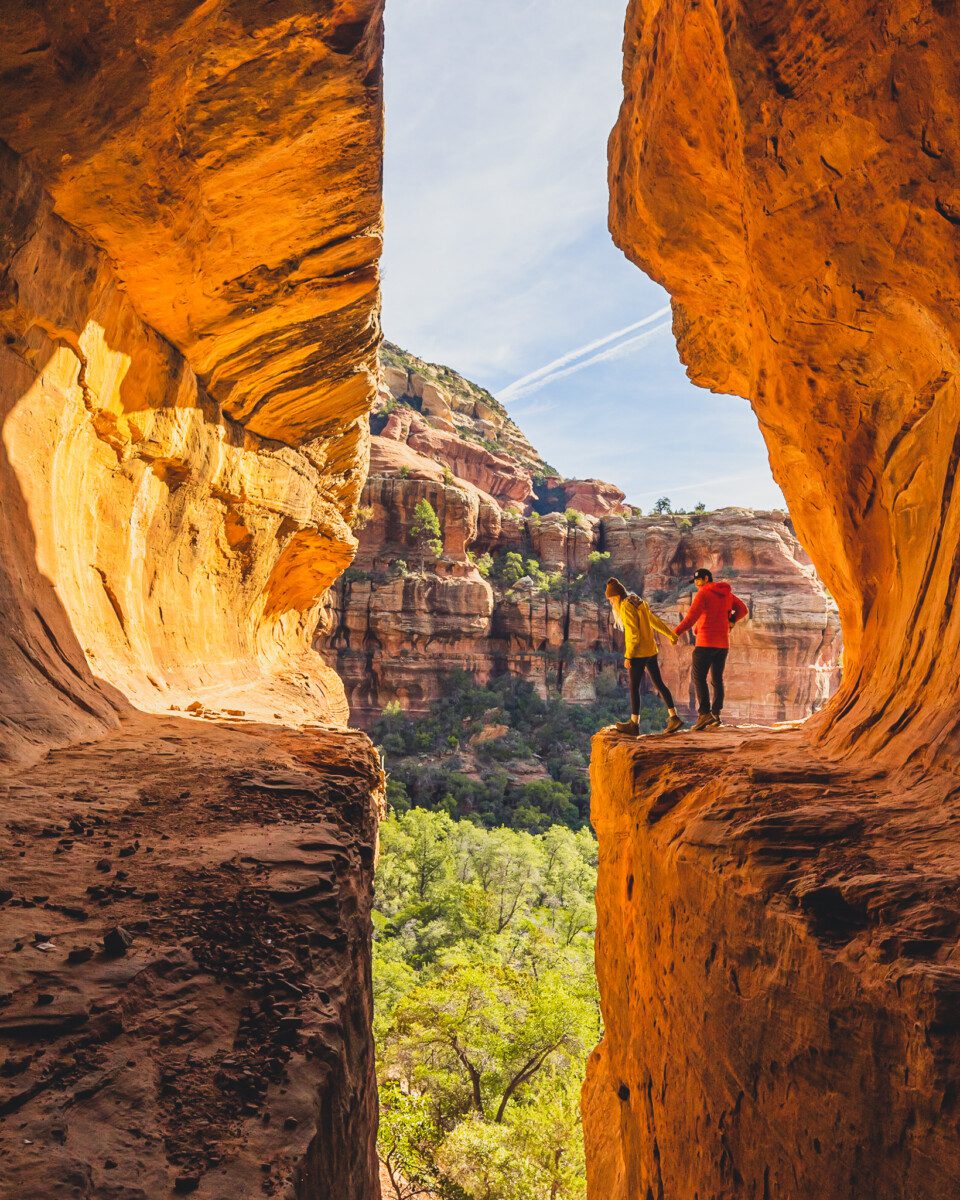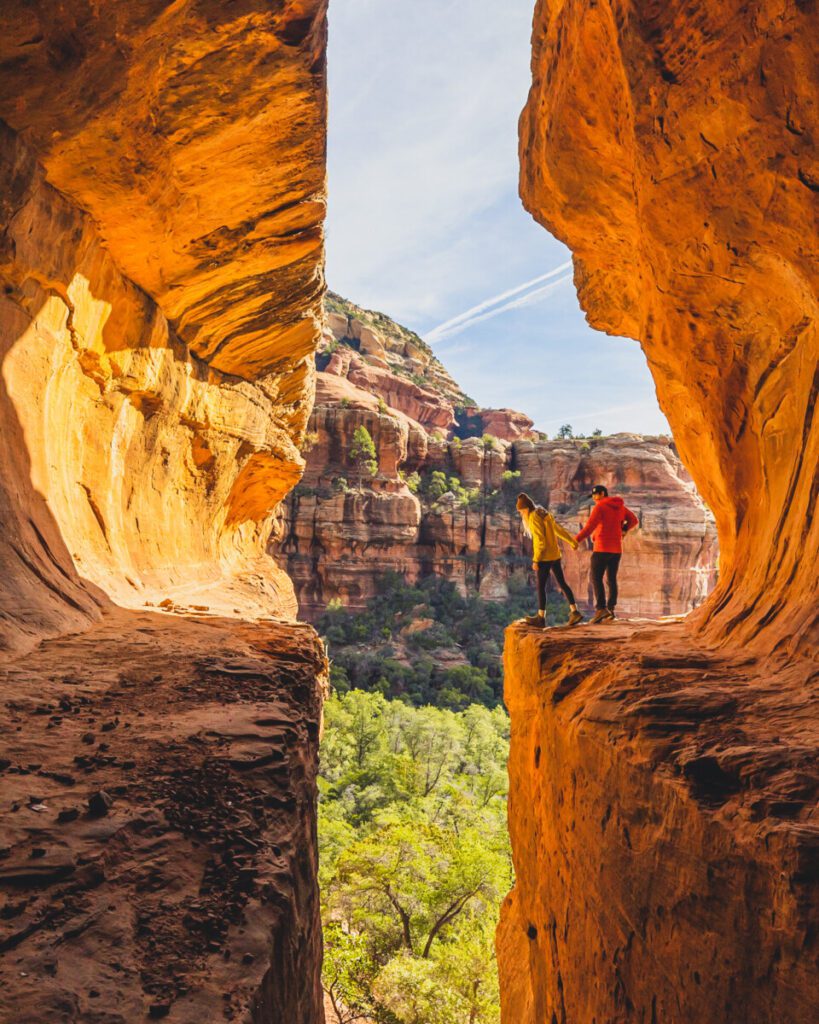 Boynton Canyon Trail
This is one of the most famous spots in Sedona. It was about 6 miles roundtrip and led you to views of caves in the mountains, and amazing rock formations.
Things to know:
This area is very busy so try to get there early or later in the day.
There is a little bit of route finding to be sure to download the trail on GAIA or AllTrails before going.
There is a section that gets a little sketchy so definitely wear good shoes with traction.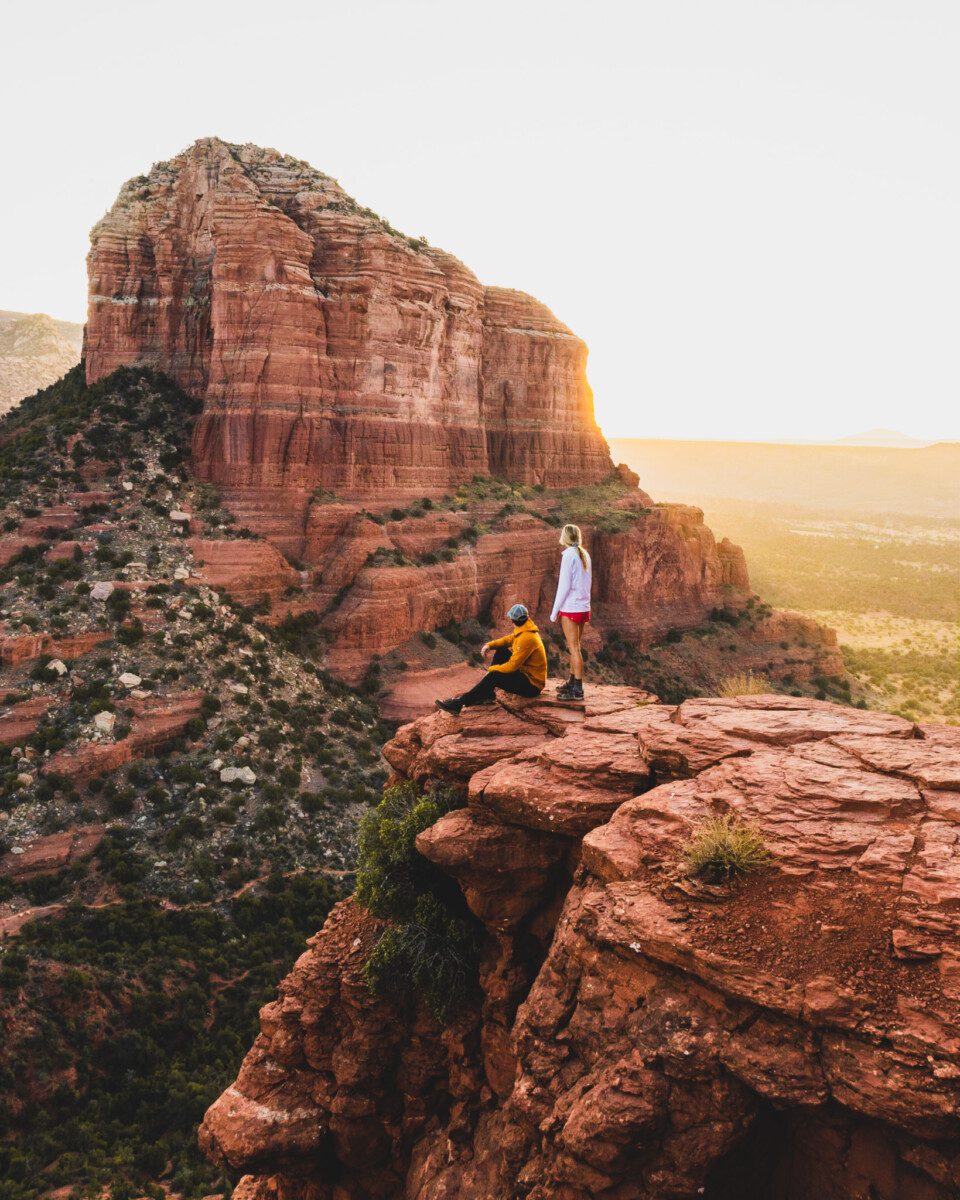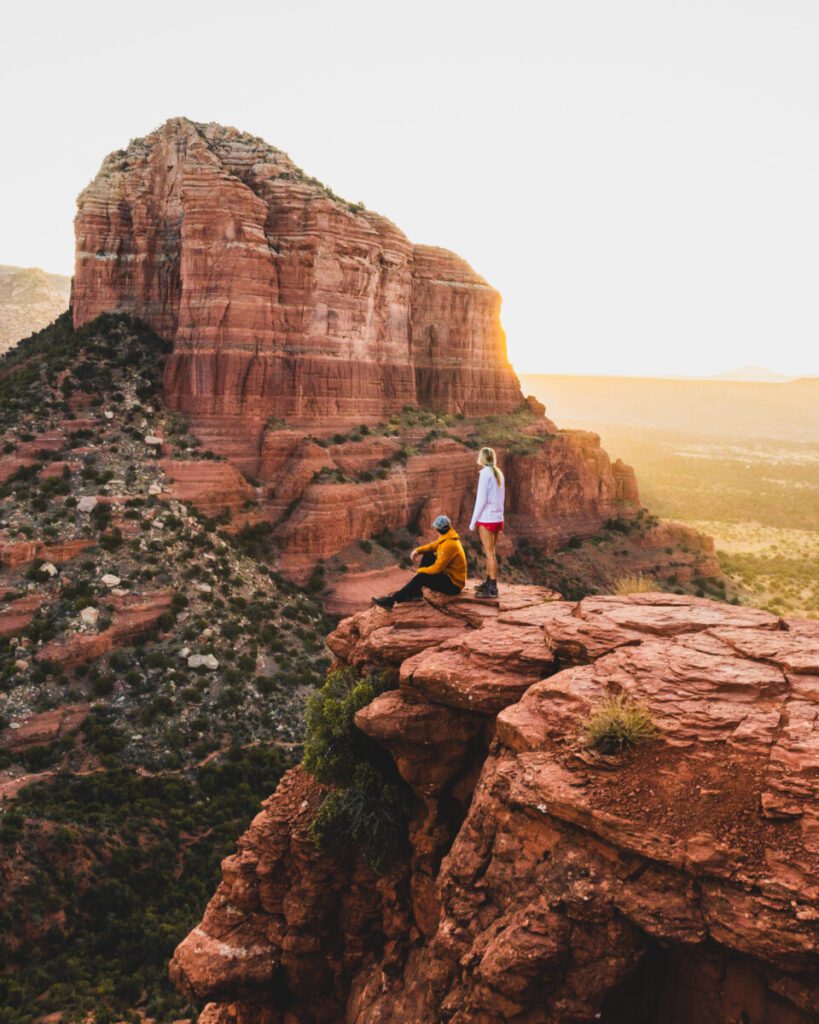 Bell Rock Trail
This hike was not what we expected when we came for sunrise. It was a lot more of a climb than a hike and there was a lot of route finding. We had our AllTrails app open the whole hike and it was still pretty hard to track where the trail was. 
We didn't end up making it to the absolute top due to not feeling comfortable climbing with exposure, but the hike itself still offered amazing views from where we were. If you want to do this hike, we suggest researching it before you and make sure you are prepared for a lot of climbing. There are quite a few alternative trail options in the area that take you around Bell Rock as well for a more leisurely hike!
West Fork Trail
West Fork is a great place for families to explore. This hike is entirely flat and has an $11 entrance fee for vehicles and $2 per person fee for individuals who are walking in.
We recommend coming here in late October when the fall leaves are at their peak for beautiful fall colors. The 13 river crossings provide great views for the whole 6.6 miles roundtrip. We hope to come back when the leaves are peaking so we can capture all the beauty.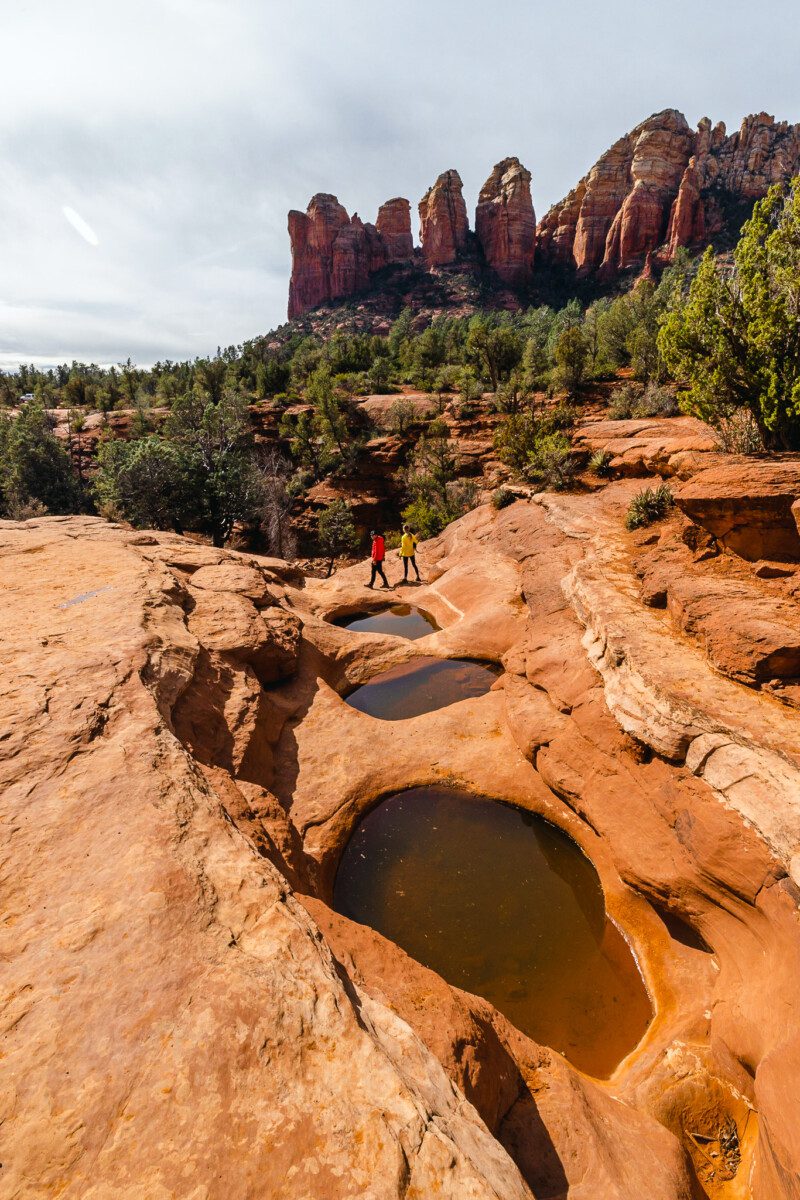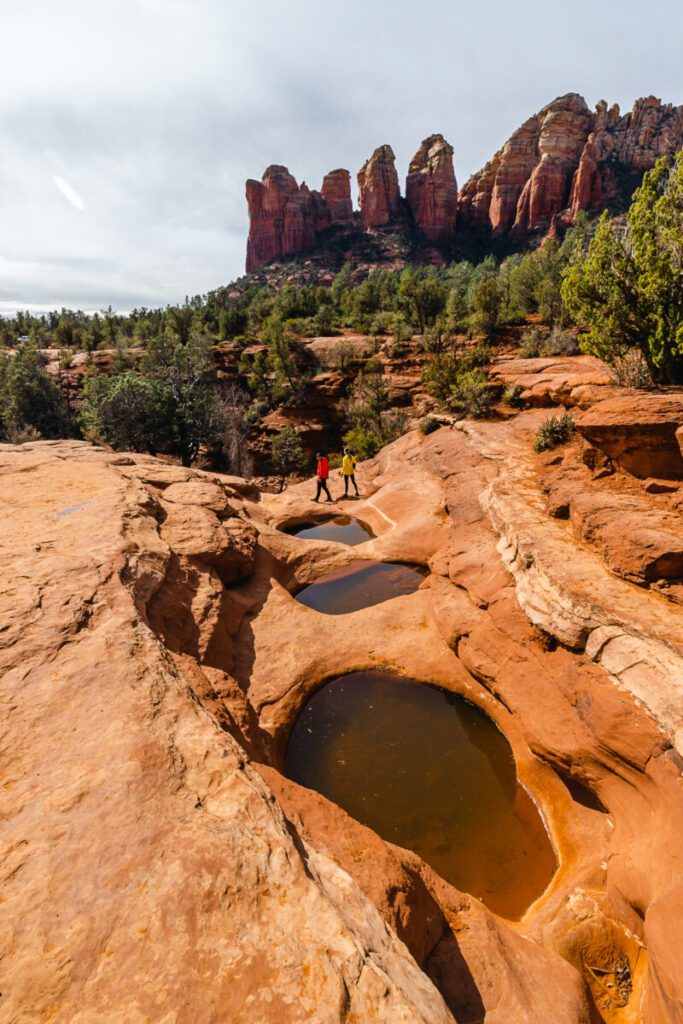 Soldier's Pass Trail
Soldier's Pass is very popular and because of that, the parking is tricky.
Things to know about the Soldier's Pass Hike in Sedona:
The gate to Soldier's Pass doesn't open until 8 am.
There are only about 10-15 parking spots at the trailhead, so you need to get there early if you want a spot.
If you can't park at the trailhead, there are spots at the Posse Ground Park lot and from there you'll see a 1.6 mile (one way) hike to the trailhead.
We had to park and walk the extra 1.6 miles on the gravel road, and we personally didn't think the trail was worth the additional miles. We highly suggest arriving maybe 15 minutes before 8 am and waiting for the gates to open to snag a parking spot.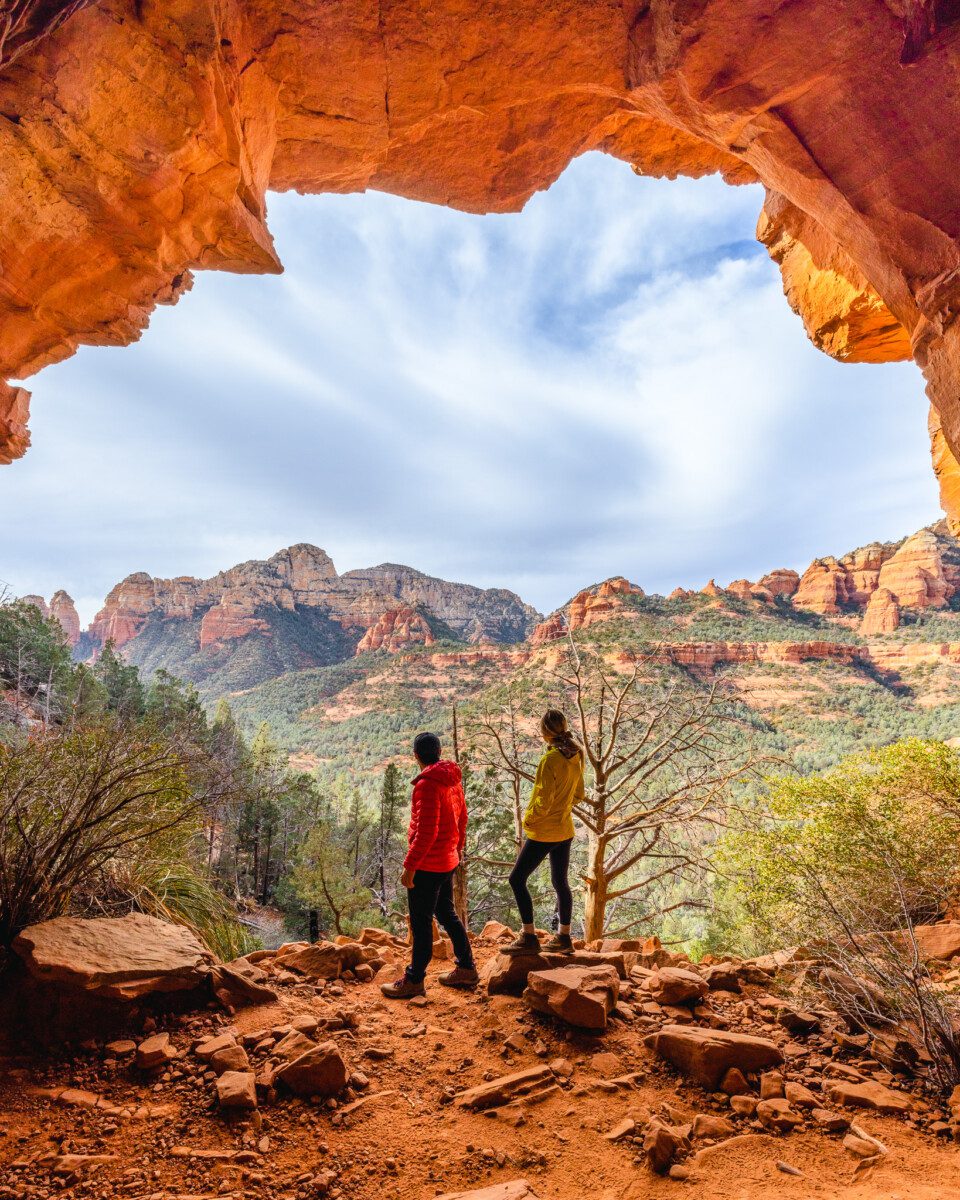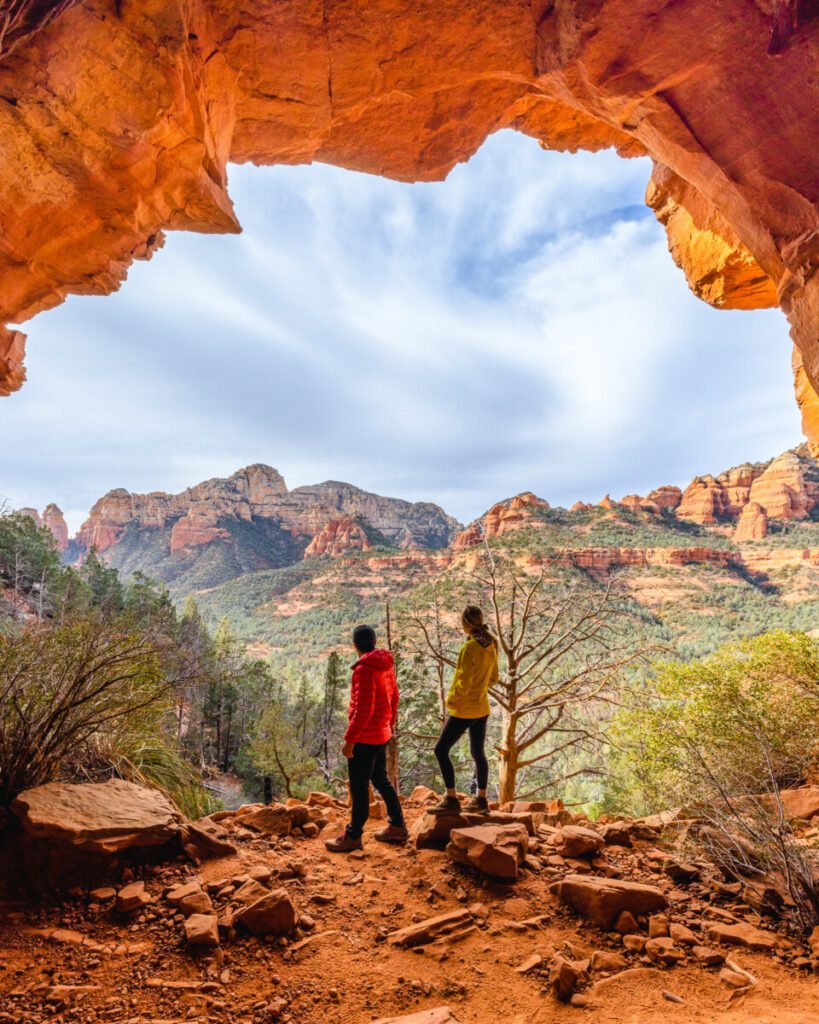 Soldier's Pass: 7 Sacred Pools & Secret Cave
You have the option of hiking the traditional Soldier's Pass trail, which we chose not to do because it was really crowded. The alternative is that you can hike along a parallel off-roading trail, which we loved since there were far fewer people with the same views.
Along the route, you'll get to see the famous 7 Sacred Pools. The pools do dry up in the summertime so be sure to check recent AllTrails reviews before going to make sure they have water. 
Lastly, you can check out the "Secret" Cave along the trail, which we discovered was not so secret. There were lots of people, but if you're down for a little rock scrambling, you can hike to the top of the cave and enjoy some gorgeous views.
If you want to off road this specific trail instead of hiking it, you'll need to get a permit because they only let 12 cars in per day. This route allows you to drive the entire trail.
Although the touristy hikes in Sedona are stunning, we also wanted to try and avoid the crowds and check out locations that most people don't know about. We quickly found that all of the hikes in Sedona and even the ones surrounding it, are gorgeous. You can't go wrong with where you choose to go in this magical city.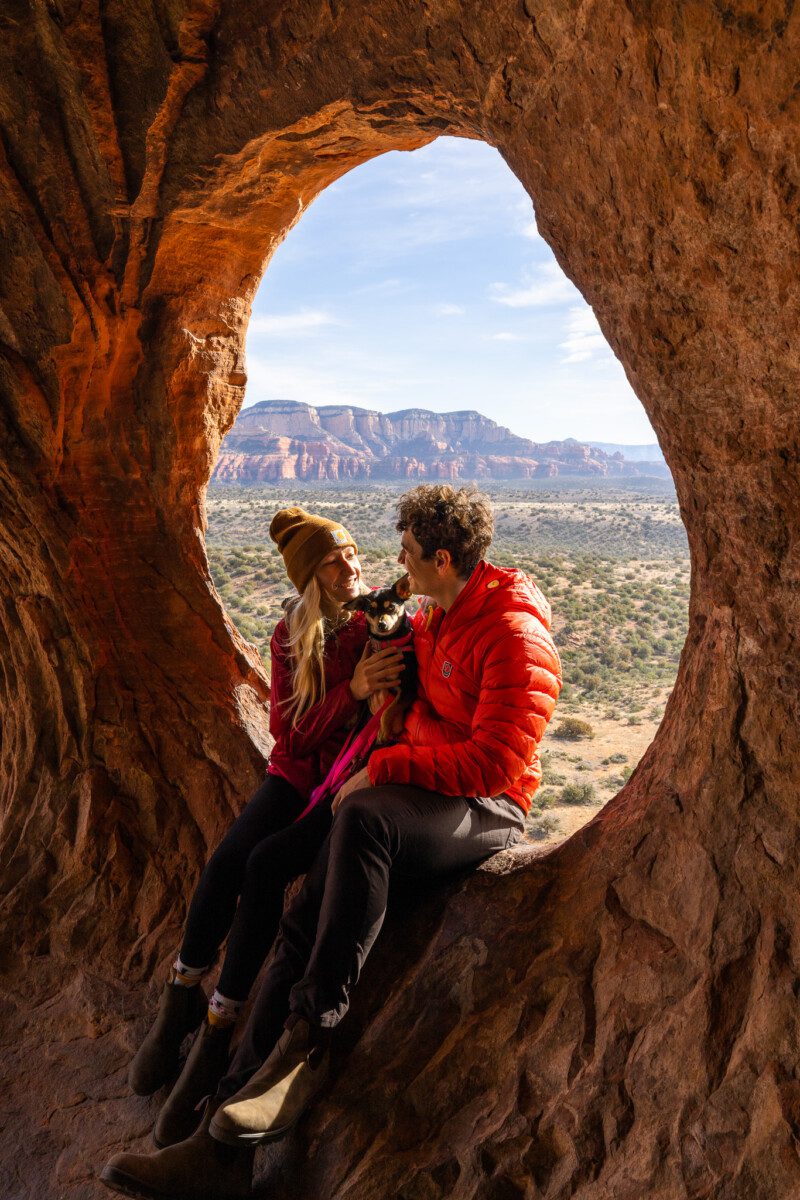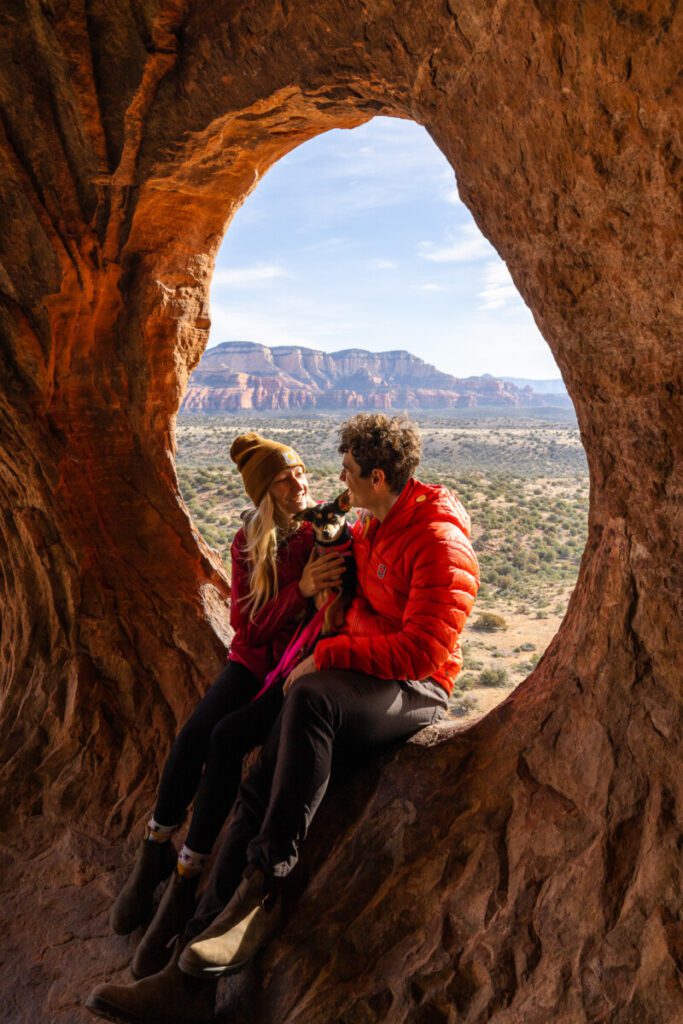 Robber's Roost
This spot is sacred to the history of Sedona. If you choose to go, please practice Leave No Trace to make sure it remains beautiful. There are ancient ruins here, so make sure not to touch them.
We recommend driving a 4-wheel-drive vehicle to the trail head due to the bumpy, gravel road you have to drive on. If you don't have a good off roading car, you can still go, you just have to park in the first parking lot and hike your way to the trail. 
Once we hiked in, there were only a handful of people, which made it an even better experience. The 1 mile round trip takes you to a beautiful viewpoint to see all the cool rock formations around you. This location is about an hour outside of proper Sedona, but the trek is definitely worth it, in our opinion.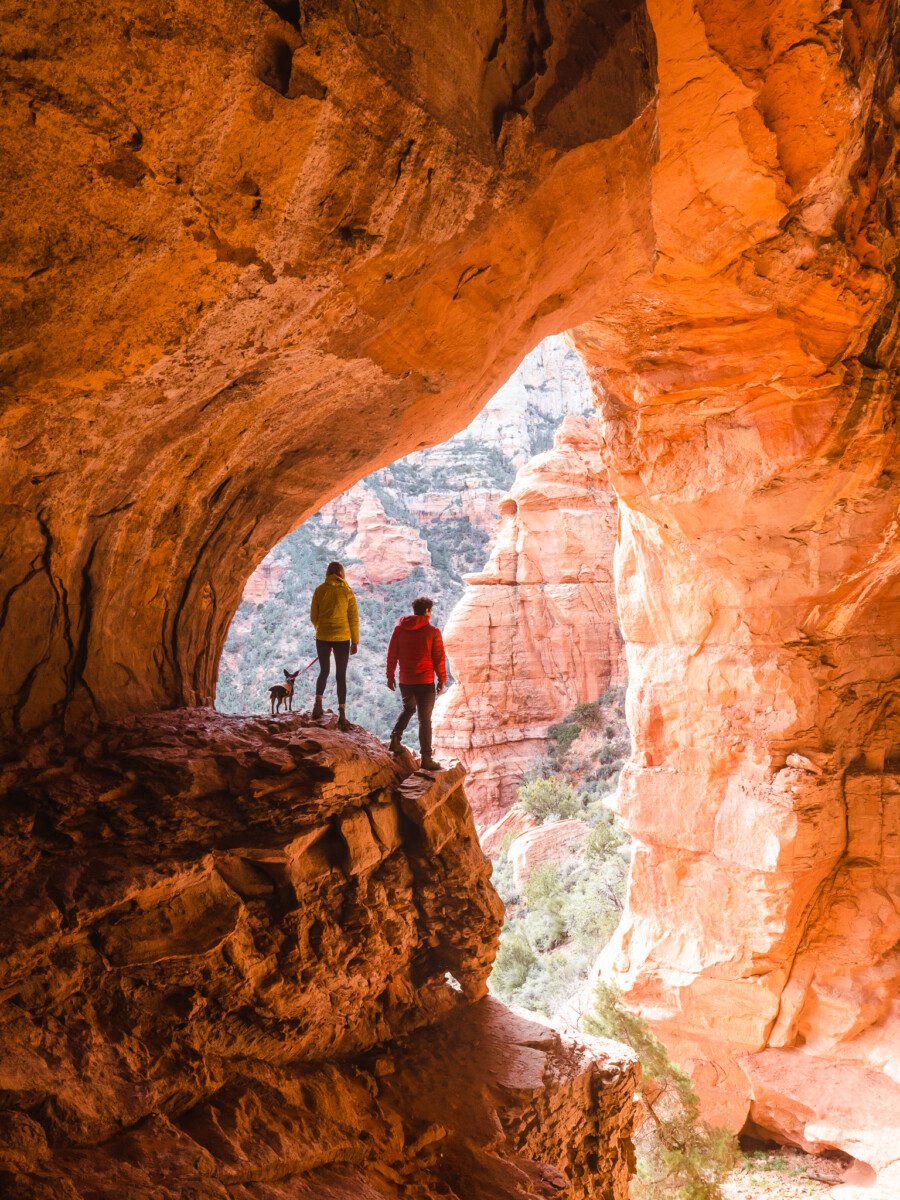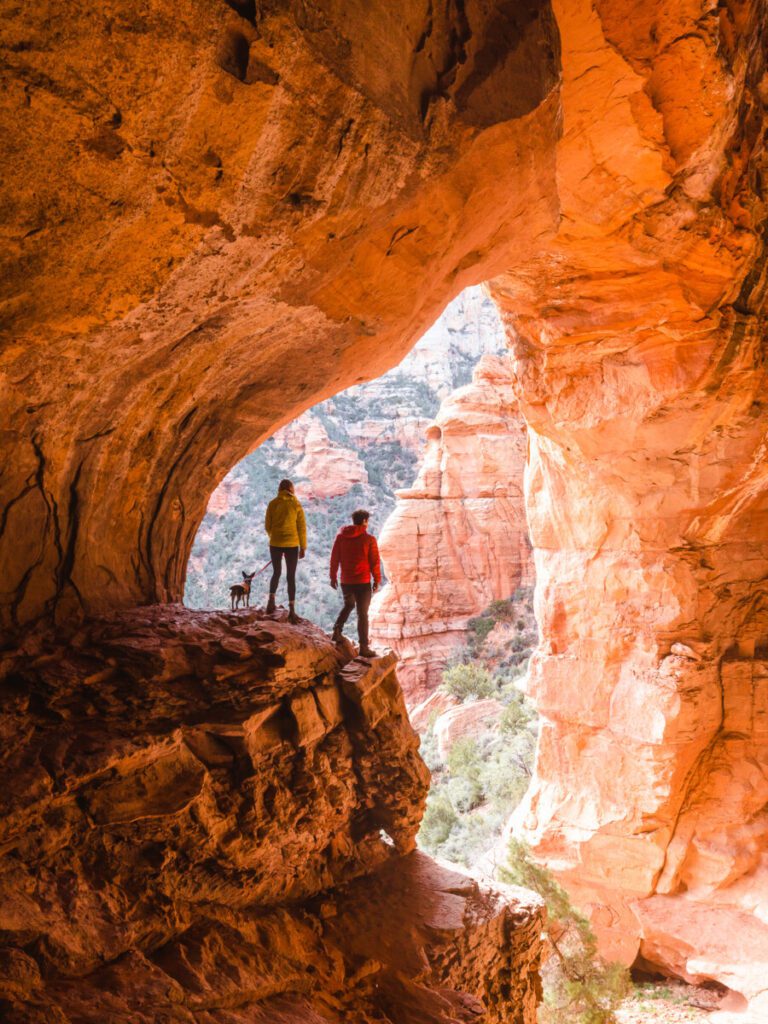 Keyhole Cave
To begin this hike, we started on the Sugarloaf Trail and took it up to Keyhole Cave. 
Things to know:
This is a little more of a rock scramble than a normal hike, so bring good shoes for extra traction.
If you bring your dog, you'll have to carry them or at least help them up part of the way.
Once you get to Keyhole Cave, there are two parts that you can hang out in.
You can chill at the bottom of it, which has a nice tree for shade and beautiful layouts of the town and rocks in Sedona.
If you're up for a little more rock scrambling, you can go to the very top of the cave and get even better views. This spot shows you why it's called Keyhole, due to the cave's layout.
Overall, this cave was insane and so big compared to the others in Sedona that we visited. We highly suggest this spot to anyone looking to explore an awesome cave in Sedona.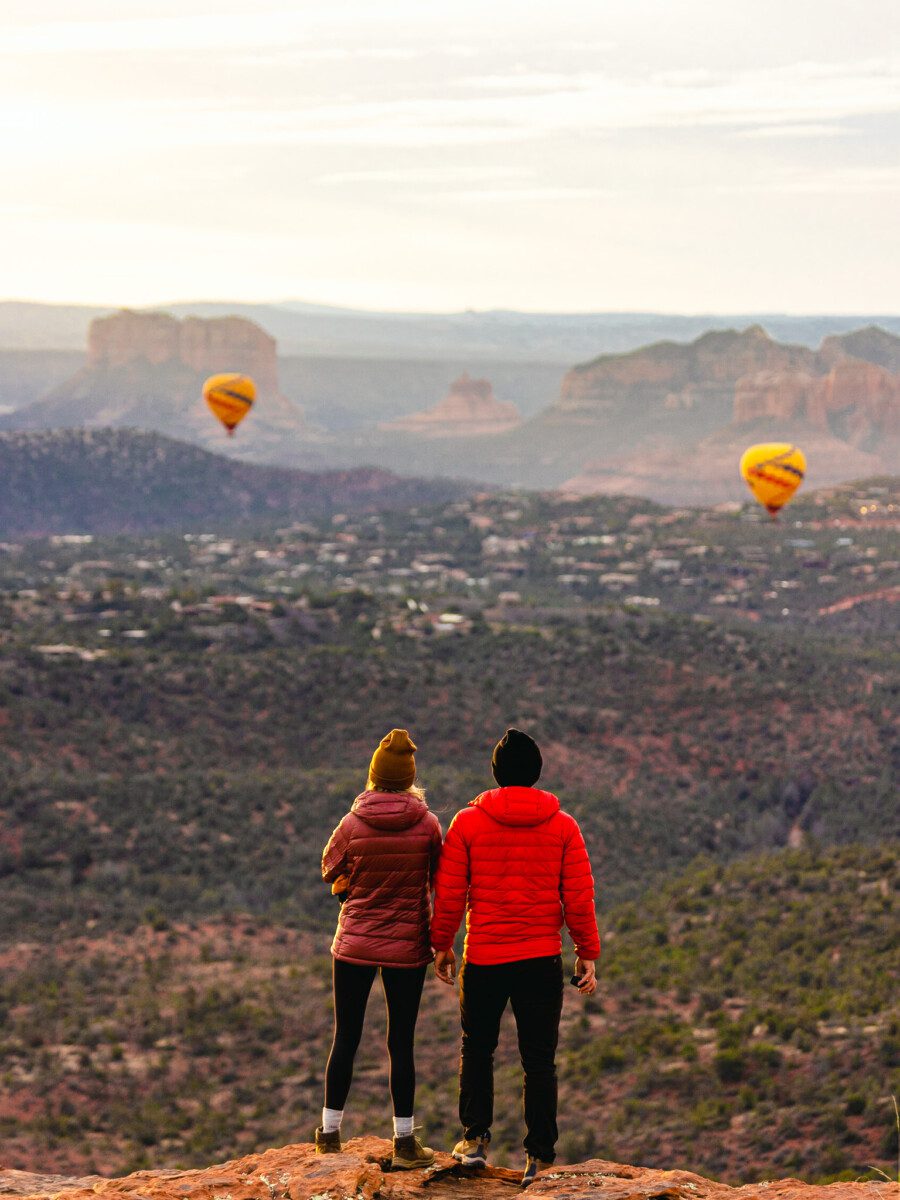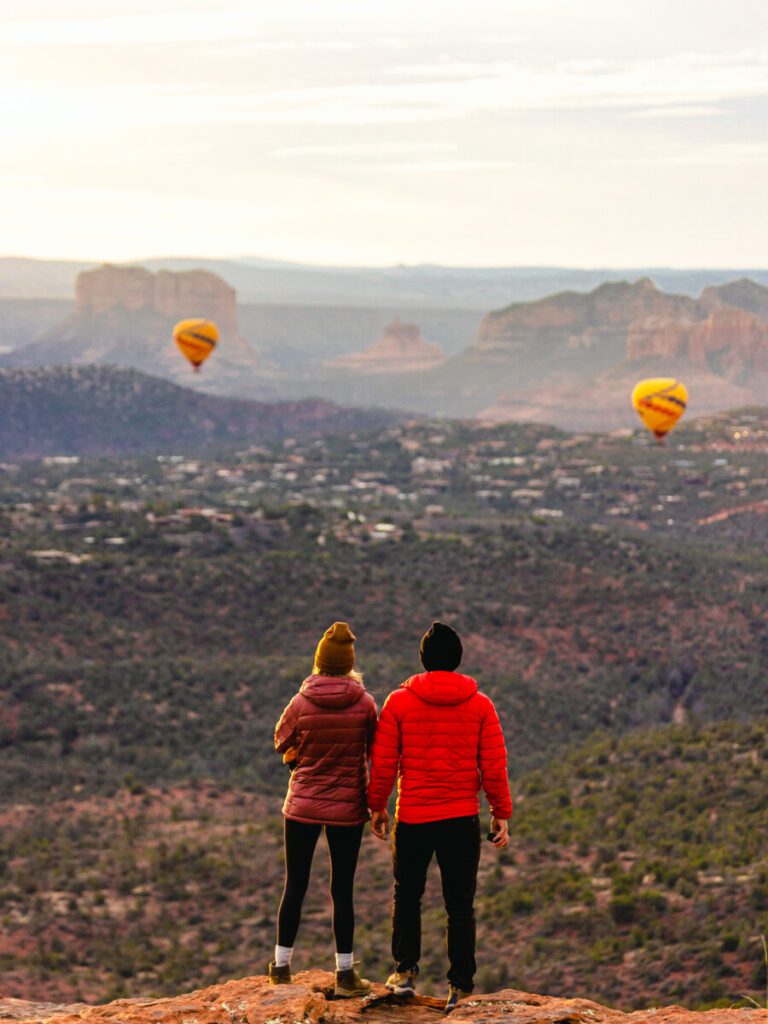 Doe Mountain Trail
We went to Doe Mountain for sunrise, and we definitely recommend going at that time. It's about 1.4 miles roundtrip and only 450 ft in elevation gain. The elevation gain is gradual, and this hike has a lot of switchbacks.
Once at the top, you can see the sunrise over the buttes and get a perfect 360-degree view of everything around you. This location also has hot air balloons in the distance that you can see rising up along with the sun. It was an incredibly magical experience and a great way to start your day.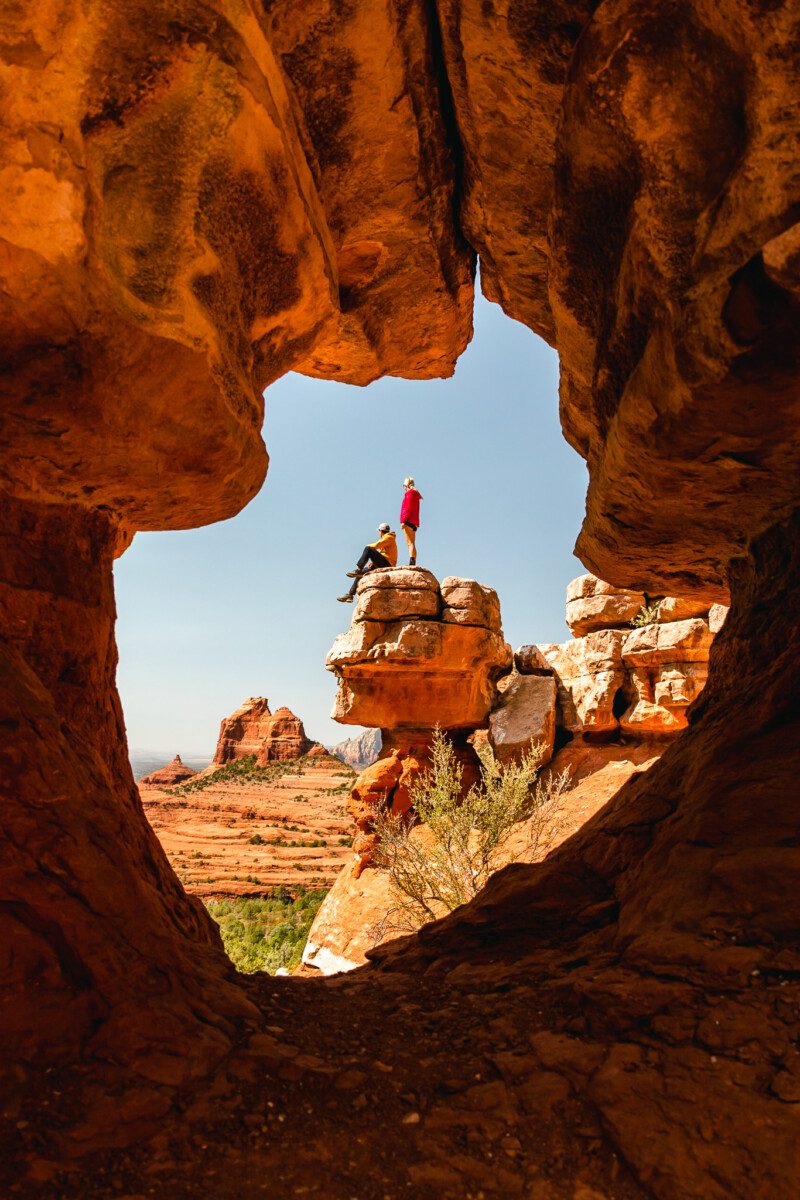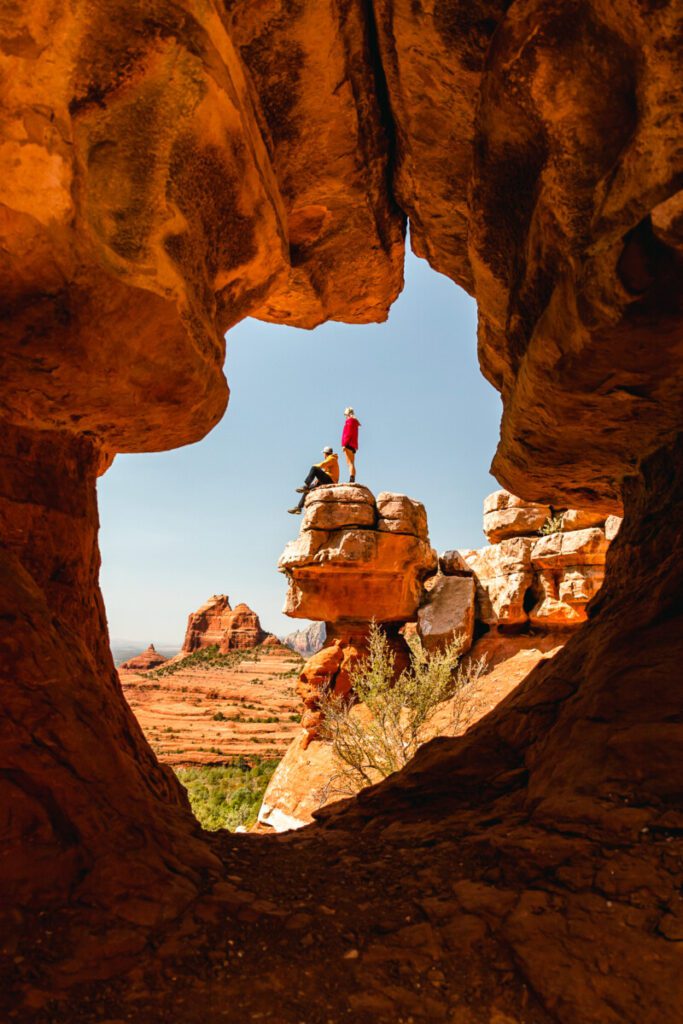 Munds Wagon Off-Roading Trail
This is another off-roading road with several trails stemming off of it where you will definitely need a high clearance vehicle that also has 4-wheel-drive. There were lots of 1-2 ft tall boulders all along the trail. Give yourself about 40 minutes to an hour to get up the off roading trail. If you are able to access a high clearance car, we highly recommend making the trek to this spot.
We came for sunset and the scenery was so beautiful. We've done the Windows Hike as well as a short hike to Merry Go Round Rock. You can't go wrong with any hike options in this area.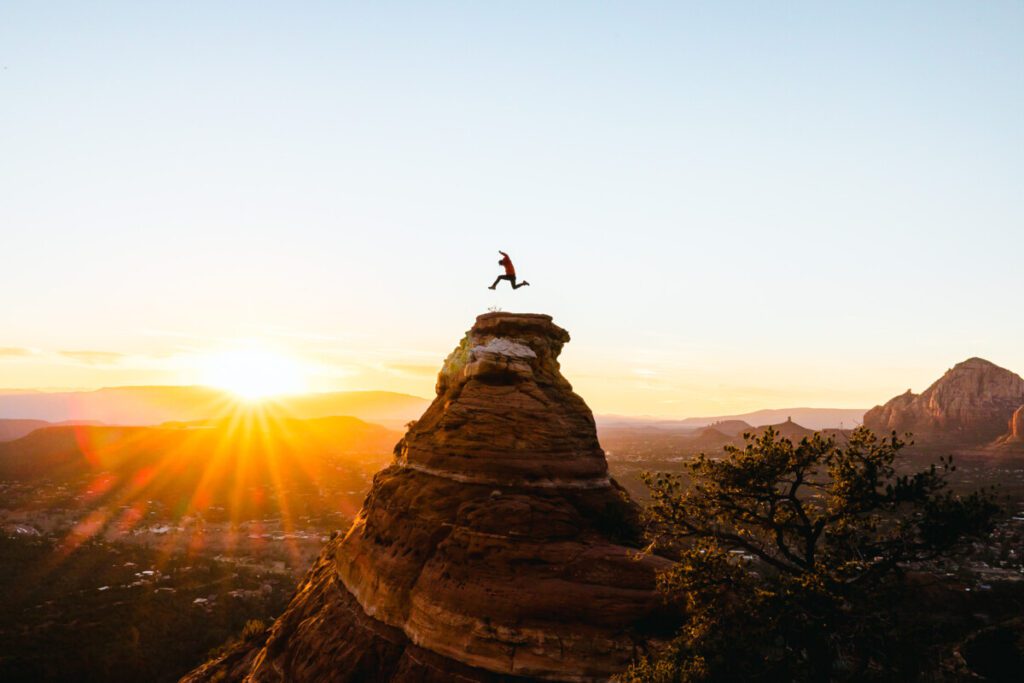 Thank you for joining us on our adventures through Sedona and we hope this helped you in planning your next visit. Whether you choose to check out the touristy hikes, the hidden gem hikes, or a mixture of both, you'll experience stunning views all around. Let us know what your favorite hikes in Sedona are.