[Guide] What Are the Best Utah National Parks to Visit?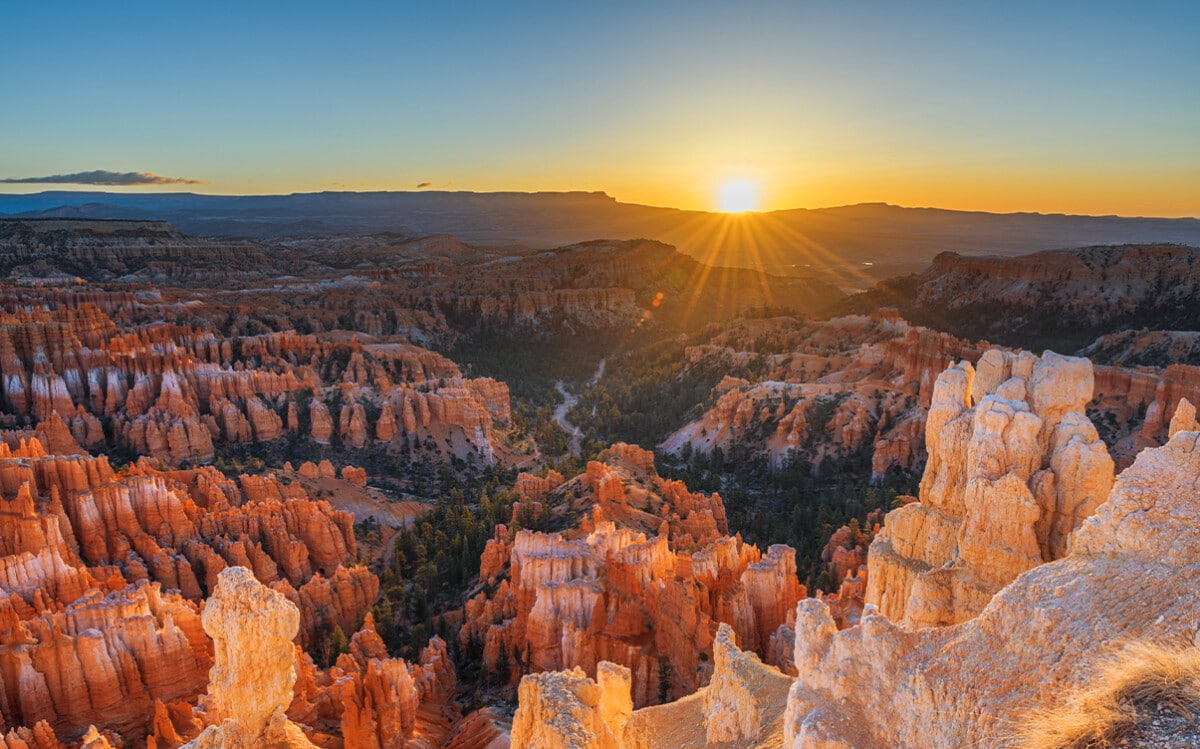 The United States National Parks System has over 400 different parks listed in its roster, but only 63 of them are official National Parks. The rest – monuments, heritage sites, recreation areas, and others – are all nice to visit, but they tend to lack some of the immense splendor and beauty of the true national parks.
Utah is famous for several national parks, as well as a few trails, heritage sites, and other locations that are fantastic to visit as well. Let's run down the list and see what the best ones to visit are! Of course, these are just our opinions; if you disagree, that's perfectly fine! In fact, we'd love to hear what your favorite places to visit in Utah are, so let us know where and why in the comments.
What Utah Has to Offer
According to the National Parks Service, there are 17 places in Utah in the national parks database, including both actual national parks and a variety of other national designated areas.
Here's the full list:
National Parks:
Arches
Bryce Canyon
Canyonlands
Capitol Reef
Zion
National Historic Trails:
California
Mormon Pioneer
Old Spanish
Pony Express
National Monuments:
Cedar Breaks
Dinosaur
Hovenweep
Natural Bridges
Rainbow Bridge
Timpanogos Cave
National Recreation Areas:
National Historic Parks:
Today, we want to talk about six of these. Five of them are known collectively as the Utah Mighty Five, while the sixth – a recreation area – is still incredible to visit in a different way. All of them can be visited in just a week or two of driving, or you can spend that same amount of time just digging deep into one of them and enjoying everything it has to offer.
Preparing for Utah's National Parks
Before digging in, let's talk about ground rules. All of Utah's national parks are stark and arid, which means you're going to need to prepare for the weather. If you're visiting in summer, be aware that it can get very, very hot out, and the weather is unforgiving. Make sure you have plenty of water and sunscreen. Winter visits are great if you can tolerate the cold – and they're less crowded – but the best times to visit are the transitional seasons where the weather may be a little worse, but the temperatures a lot better.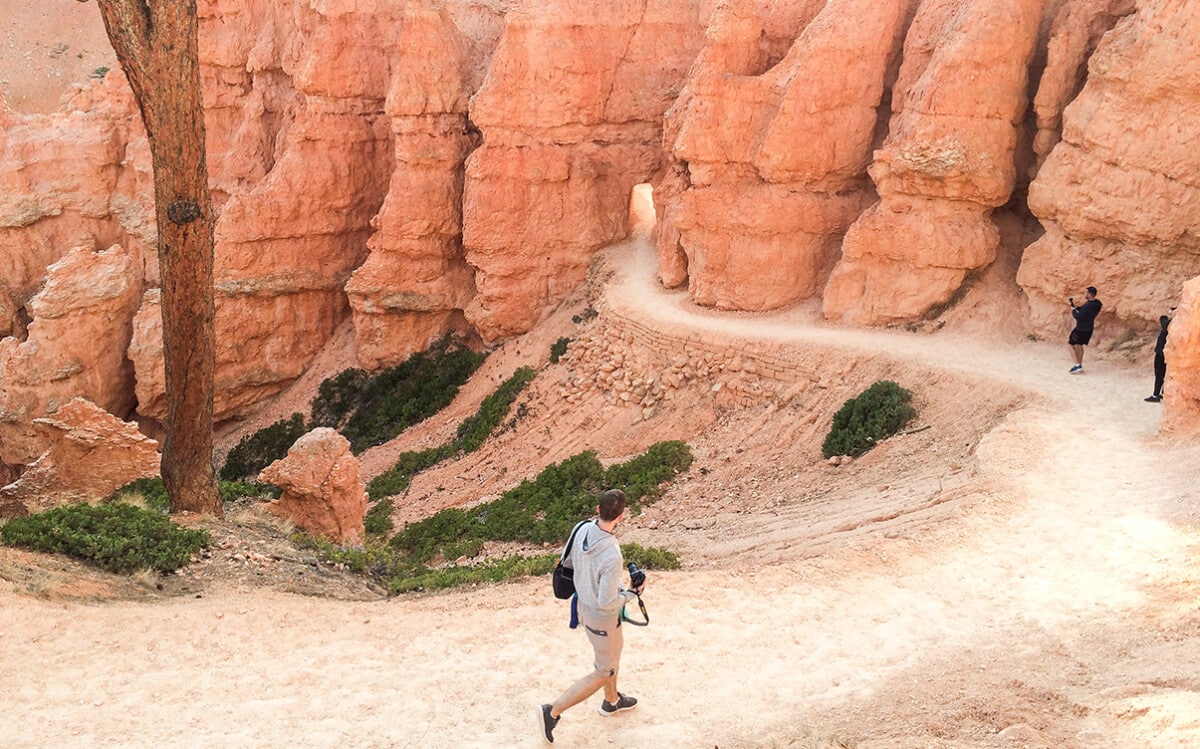 As always, of course, practice Leave No Trace, make sure you have all of the gear you need for a successful trip, and plan your visit well enough in advance to have your tickets ready. If you're visiting more than one, consider the National Parks Pass, too; it'll save you money over individual admission.
Arches National Park
First on the list, Arches National Park is located in Moab, and it's actually the one we recommend that you visit last if you're on a trip to visit all of the parks in Utah. The ideal route for a road trip hitting all five just ends up working that way, at least the way we planned it. Don't let that stop you, though! Arches is a fantastic national park with a ton to see and do.
Arches is only a 30-minute drive from Canyonlands, and it's full of exactly what you'd expect: weathered sandstone arches eroded from the rocks, standing free for all to see. Some of these arches are delicate and fragile-looking; others have collapsed long ago, and still others are tough chunks of rock that will be standing long after we've all left.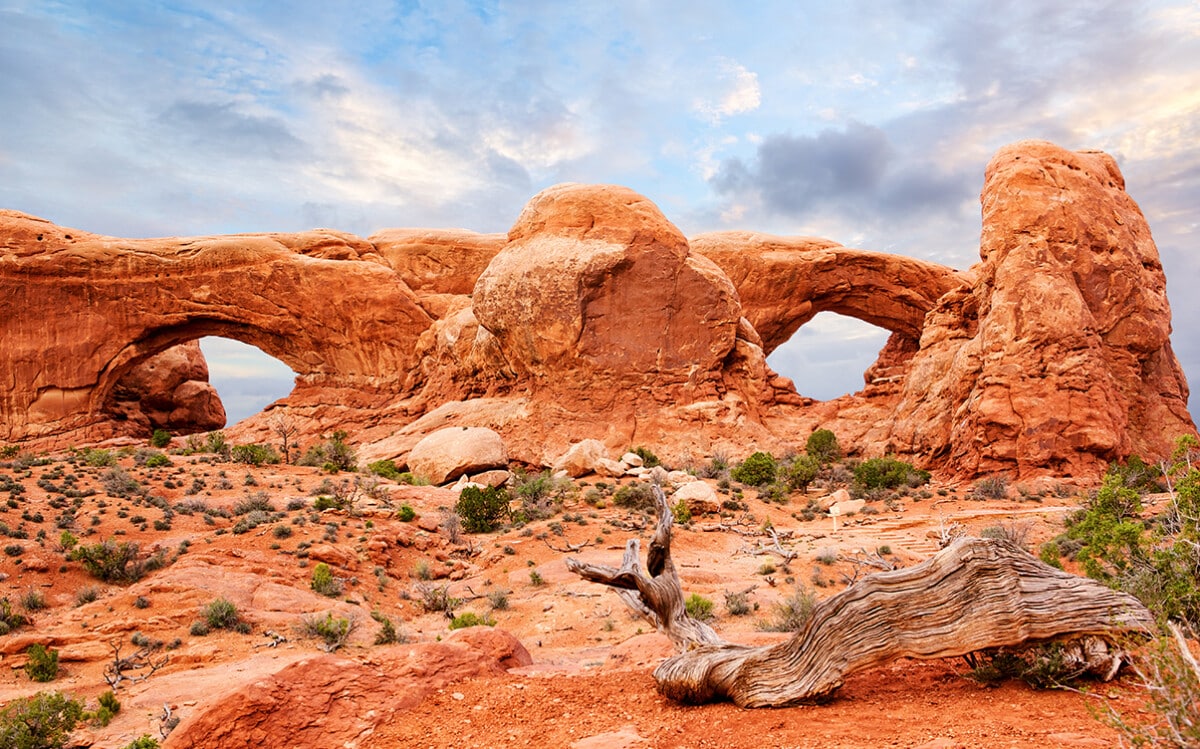 The entire place is covered in arches and trails that take you under, in, around, and through them. From Park Avenue to the Window Trail to the Double Arch, there are a ton of different routes you can take through the park.
This is also known as a climber's paradise because a good number of arches, monoliths, and cliff faces are climbable if you have the right permits to do it. As always, though, be respectful of the scenery and don't climb things you shouldn't.
Bryce Canyon National Park
Bryce Canyon is a smaller park than it seems because there's so much verticality to it. There's a lot to see – especially if you hike the rim trail – but it's almost all doable in a single day if you're experienced enough to make good time. If you plan ahead and know what you're doing, you can see all the highlights in the park in about five or six hours. Of course, if you set yourself up for an overnight stay, you can be a lot more leisurely about it and spend the time truly absorbing the natural beauty unique to the canyons.
Note for the more adventurous of our readers: the cliffside views are incredible but very dangerous. The rocks along the edges here crumble very easily, and while we're not ones to shy away from danger, these are too dangerous. Stay well back from the cliff edges.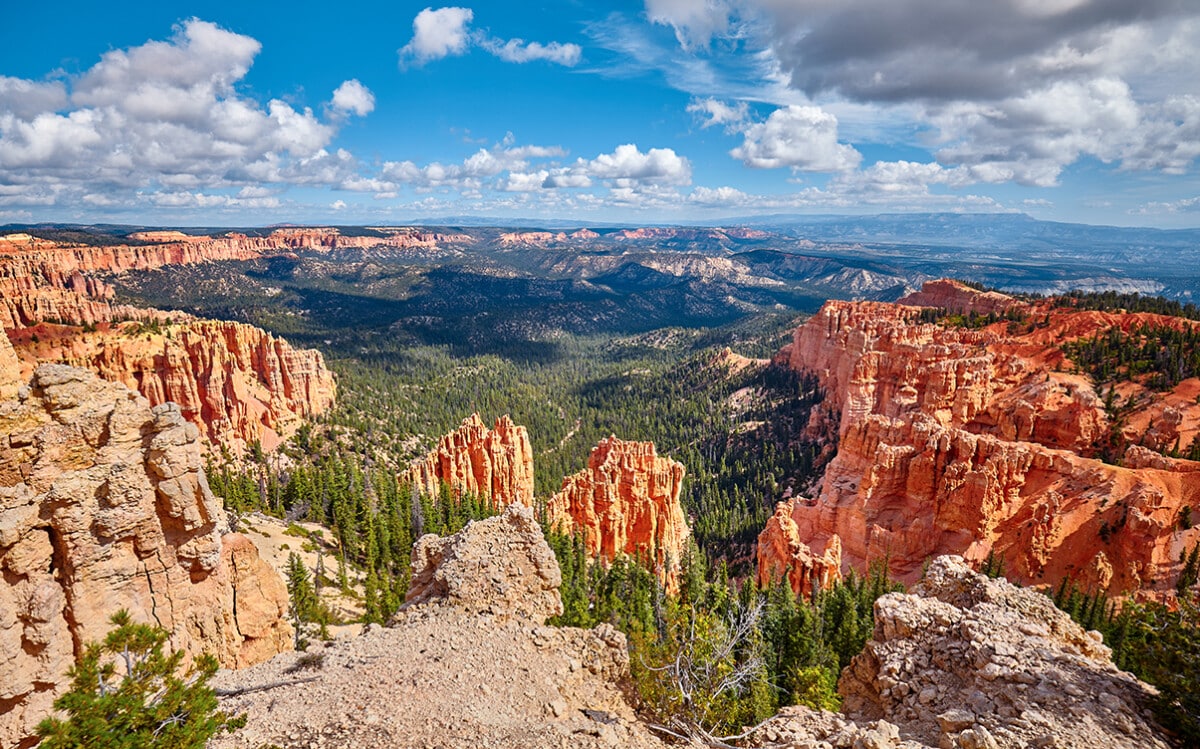 Our number one recommendation is to make sure you do the Navajo Loop trail. It's a relatively easy trail, but the sights are out of this world beautiful.
You can also make sure to see some of the more interesting landmarks along the way, like Wall Street, Switchback City, and Thor's Hammer. There's also a lot to do within an hour's drive from the park, so your trip has plenty to do before and after visiting as well.
We highly recommend winter months for a visit, as long as you don't mind colder hiking. Unlike Zion, you aren't really going to be hiking through water, and avoiding the heat (and the summer crowds) can be a great idea. If you're uncomfortable with a cold hike, though, at least aim for spring or fall when the weather isn't peaking hot.
For more information and our guide to traveling through Bryce Canyon, check out our trip report.
Canyonlands National Park
Canyonlands is an incredible park for many reasons, and only some of those reasons are at eye level. In addition to the rugged canyon-laced landscape that gives it an otherworldly beauty, Canyonlands is also a gorgeous Dark Sky Park you can stick around in overnight for some stargazing. If you've never seen the Milky Way outside of media, definitely put something like this on your bucket list.
Probably the biggest downside to this park is that some of the more incredible vistas, like the Mesa Arch, are absolutely packed on all but the worst weather days. If you're used to showing up early and seeing the sunrise from these vistas with only a handful of fellow visitors, you're probably going to be disappointed by the crowds. That said, if you go a bit off the beaten path (and the oft-republished itineraries), you're a lot more likely to have landmarks to yourself, even if the timing isn't the quote-unquote ideal.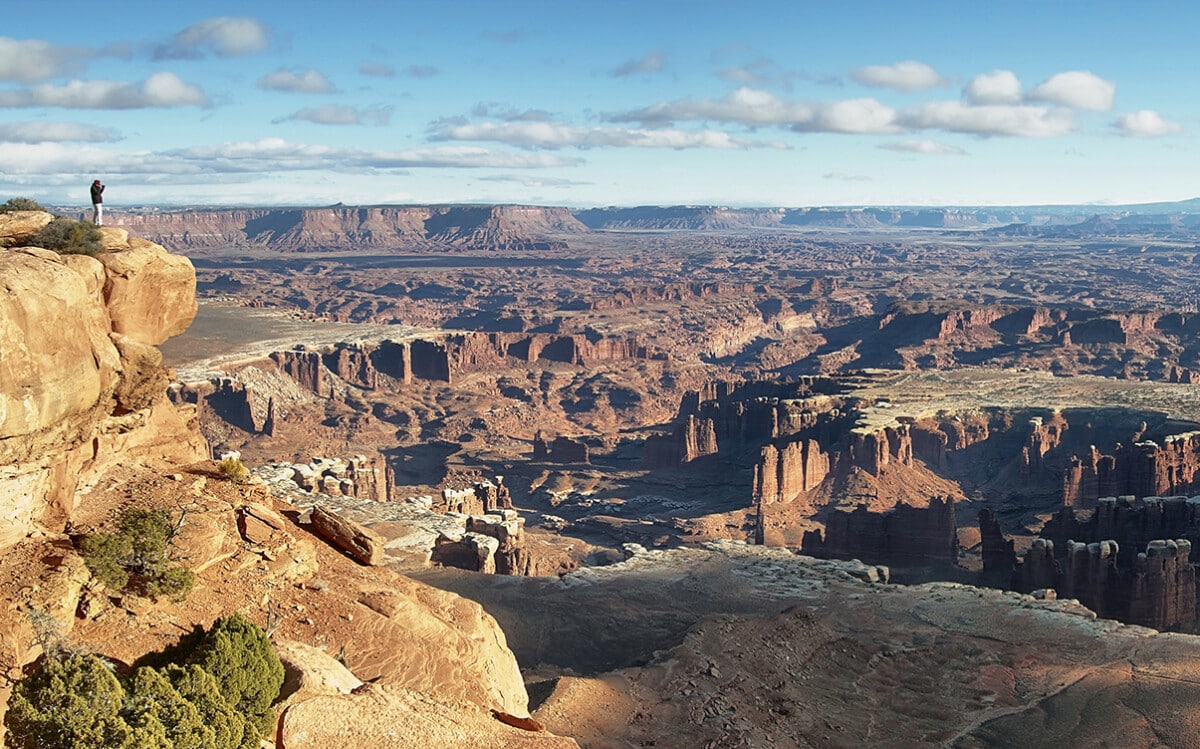 Some of the other places to visit include the Grand View Point overlook, just a tenth of a mile from the road and a great place for a few photos. You can also take Shafer Trail, a scenic two-hour drive for those with off-roading vehicles. The switchbacks are incredible but tight and a little dangerous if you've never done something like this before, so make sure you know what you're getting into.
Alternatively, you can hire a tour guide and make your way through the canyons with an experienced guide at the lead. It's not quite the same experience as a do-it-yourself adventure, but it's definitely still a great time, especially for the less experienced adventurers.
Capitol Reef National Park
If someone put it to a vote and demanded that the Mighty Five be made into the Mighty Four by removing one of the parks from the list, we're sad to say it would probably be this one. Capitol Reef is a 250,000-acre park with stunning views and incredible hikes… but it's still a pale shadow of the giants like Zion.
There's nothing wrong with Capitol Reef. In fact, if you're looking for a chill experience with easier hikes, fewer crowds, and relatively less obstructed views, Capitol Reef is a great place to visit. Since it's the least popular of the five, you're more likely to have whole areas to yourself, especially if you're visiting outside of peak times.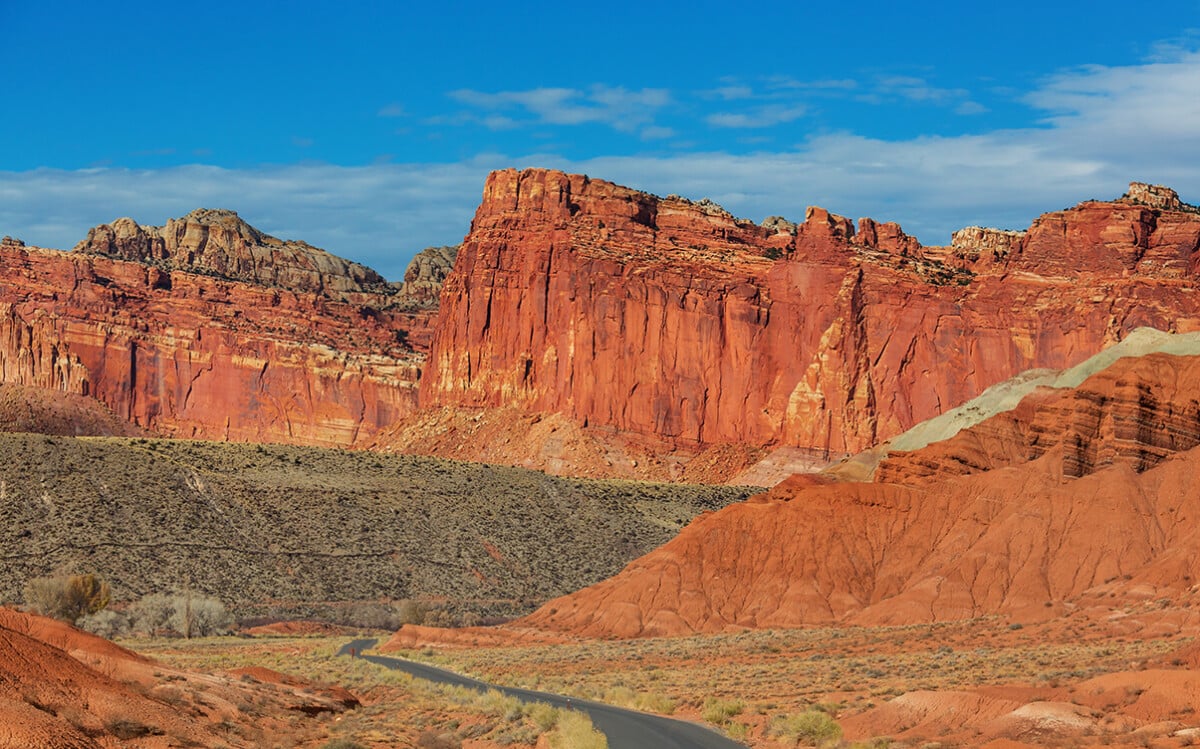 Chimney Rock is one of the first major sights you see when you enter the park, and it's looped by the Chimney Rock Loop Trail, a 3.3-mile trail of easy hiking to see the rock formations. Hickman Bridge is also a great little spot with educational signs and a super easy hike for families.
Cathedral Valley is perhaps the most impressive area of the park. There are a bunch of cool landmarks along the way, but it's definitely much more of a driving trail than a hiking one; at 58 miles, it's not a single-day experience unless you have an off-roading vehicle to take. This is also pretty isolated, and you can camp on your own out there as long as you're not near the landmarks.
Zion National Park
Last of the five alphabetically, but far from least, Zion is perhaps one of the most impressive national parks in the country, not just Utah. The hikes are incredible, the views are breathtaking, and it's easy to spend days (if not weeks) exploring. Of course, it's also quite popular, so you won't likely be alone in your endeavors.
Truth be told, Zion is one of our favorite national parks. We just keep going back! We highly recommend making sure you get reservations ahead of time because it's a popular park, and the availability can fill up pretty fast, especially during peak times of the year.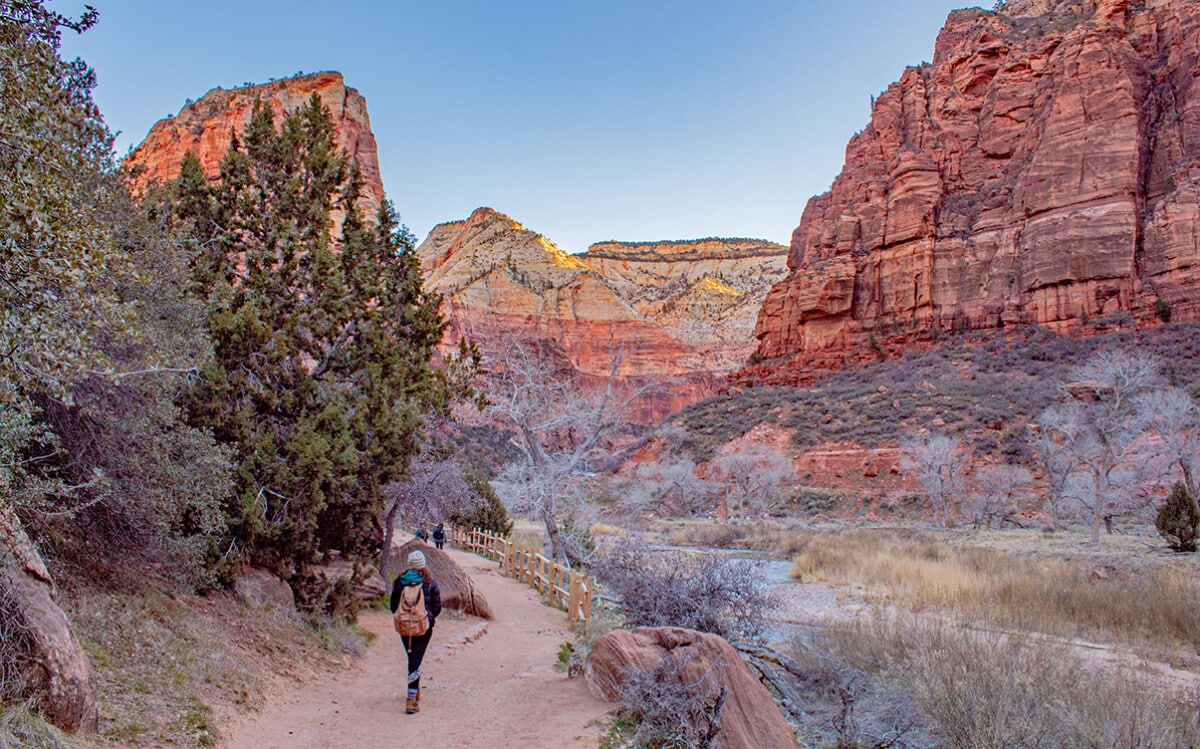 What is there to do in Zion? It'd be easier to tell you what isn't available, honestly. There's climbing, kayaking, hiking, biking, and pretty much every outdoor adventure you could possibly want. There are three campgrounds – South, Watchman, and Lava Point – and backcountry camping permits available. Even if you don't want to camp, the campgrounds offer their own unique vistas and can be fun to visit along the way.
Hiking offers a bunch of very, very cool trails with incredible scenery to see along the way. Angel's Landing is widely known as perhaps the scariest hike in the country because of the high elevations and steep falls, but the views are worth it. The Narrows is also an incredible hike that takes you through the water, so make sure you're prepared for wet feet. Canyon Overlook is stunning, especially if you time it around sunset.
Our Guides:
Glen Canyon National Recreation Area
So, what's the difference between a national park and a national recreation area? Not a lot, really. The key is that they tend to be around large bodies of water like lakes because they're available for more than just hiking, but also a variety of water sports and other outdoor activities. The conservation rules are a little more lax, and the designations aren't quite as strict, but they're largely the same: a vast area of protected wilderness where you can visit and have an adventure.
Glen Canyon is a vast area with over 1.25 million acres of land. The famous Horseshoe Bend in the river and Lake Powell are both popular water-based attractions. It's also home to the Rainbow Bridge National Monument.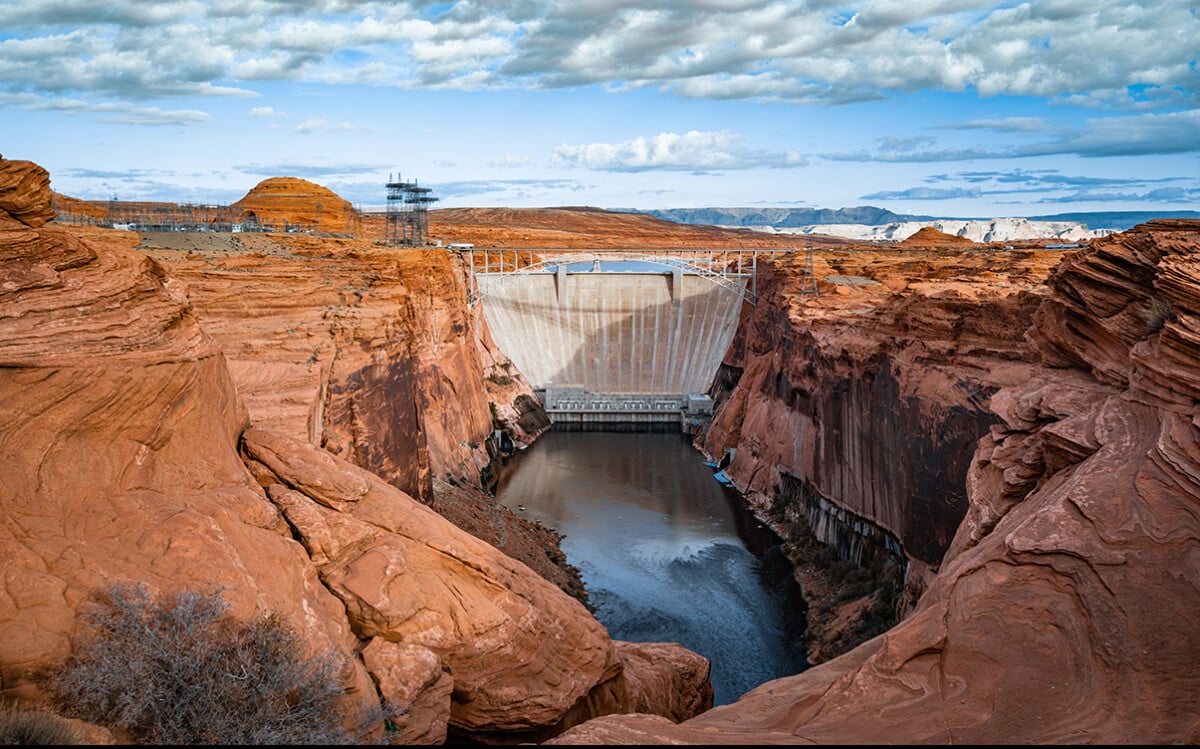 You can easily spend a whole week hanging out, camping, and enjoying Glen Canyon. There's a lot to know, though, so make sure to read up on the park before you visit.
One thing to note is that Lake Powell has been suffering from climate change and has had low water levels for several years. Just a few weeks ago (as of this writing), they were given a grant to help with water-level infrastructure improvements. It might be a busy time for the next few years, but you can bet the improvements will be extensive when they're complete.
Which Park is the Best in Utah?
This isn't a question we can answer. You're going to have to visit them all and make the choice for yourself.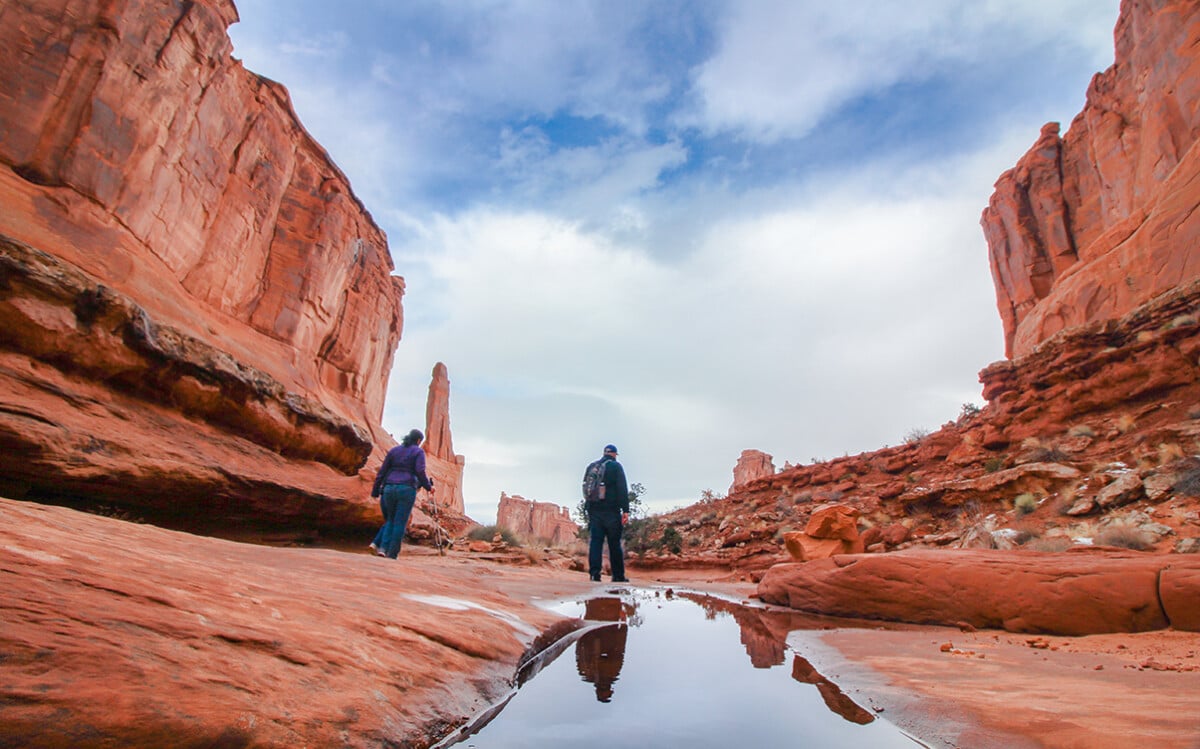 Personally, we're huge fans of Zion. It's one of the few non-local parks that we keep coming back to, and for good reason. It has a great mix of everything we love about outdoor adventuring, from photography spots to great hikes to scenic drives to excellent camping.
Which one is your favorite? Let us know!