Visiting Mount Rainier: Best Time to Visit, Weather, Tips & More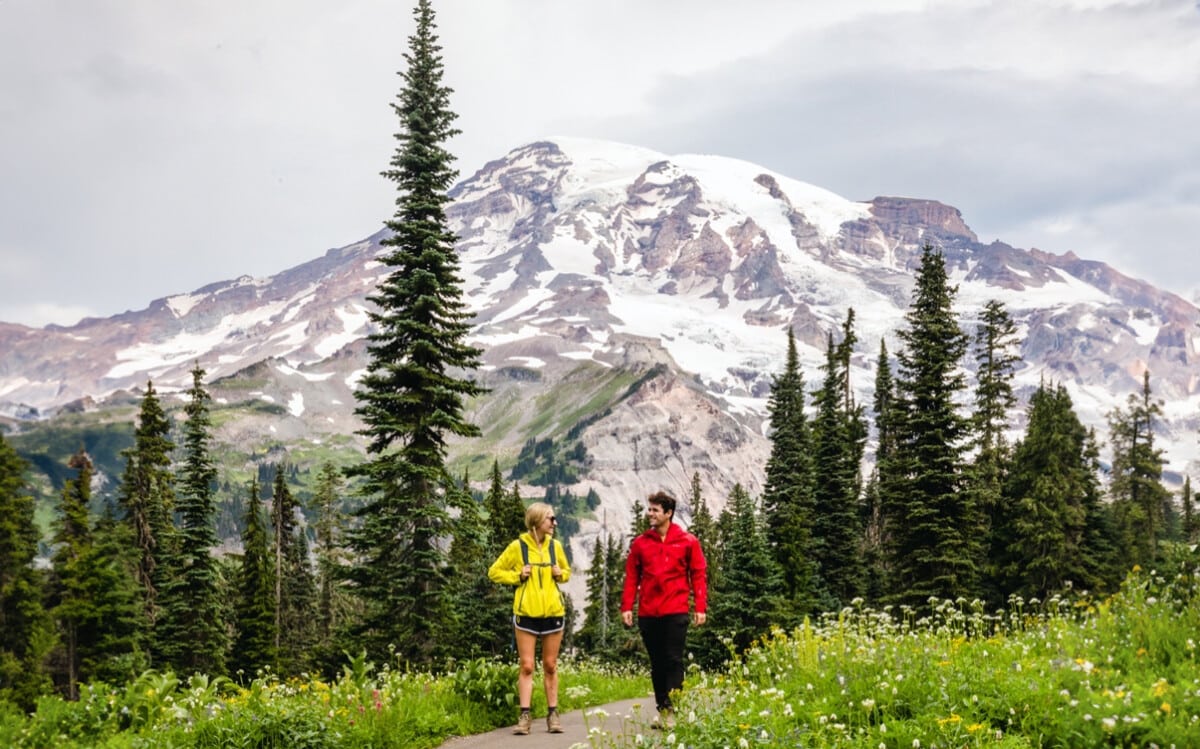 Mount Rainier is an icon of the Pacific Northwest. Whether you're a world traveler or a local looking for an adventure, if you haven't been to Mount Rainier National Park, you owe it to yourself to plan a trip.
There's a little of everything there, including simple drive tours, a wildlife park, 130 different trails, and, of course, the mountain itself.
So, what do you need to know to plan a trip and make sure it's a success? Let's get into it!
Where to Start
Unless you're local to the area, chances are you're going to be flying in (or taking a nice scenic road trip up the coast), so where do you start?
You generally have two options: you can start in Seattle, or you can start in Portland.
It's a shorter distance from Seattle (only about two hours instead of Portland's three), and the drive into the park is incredible. Even the land that isn't parkland is beautiful!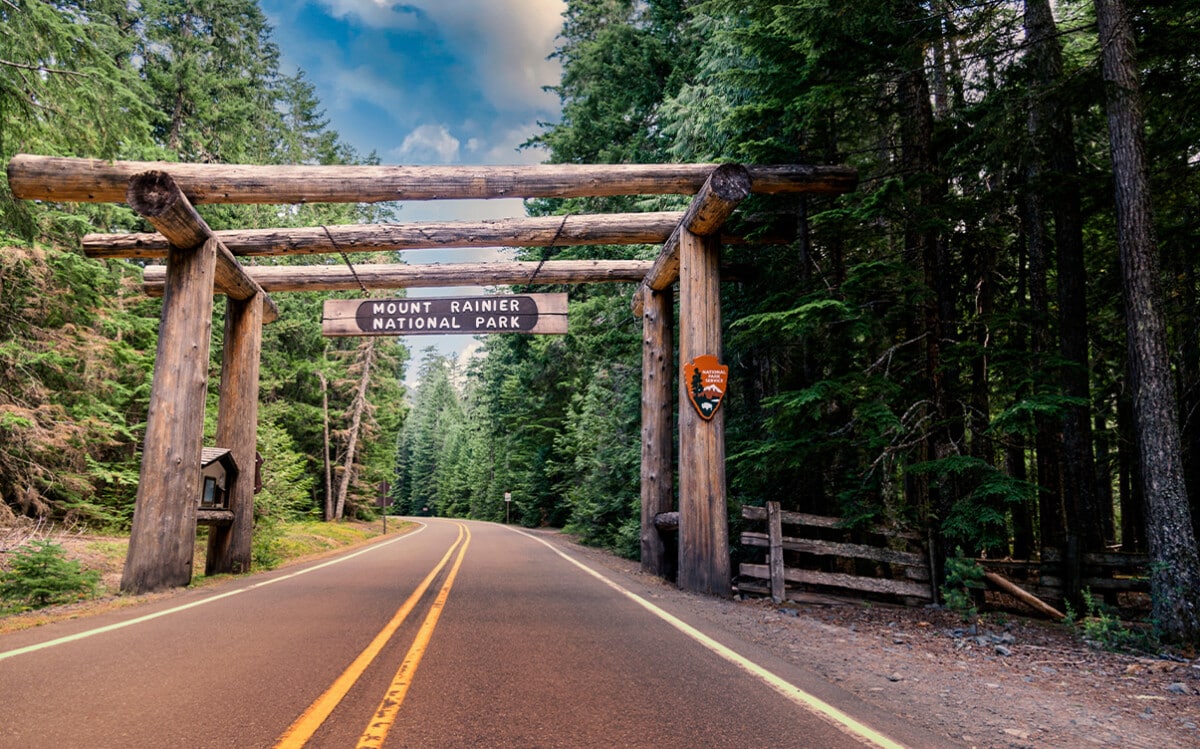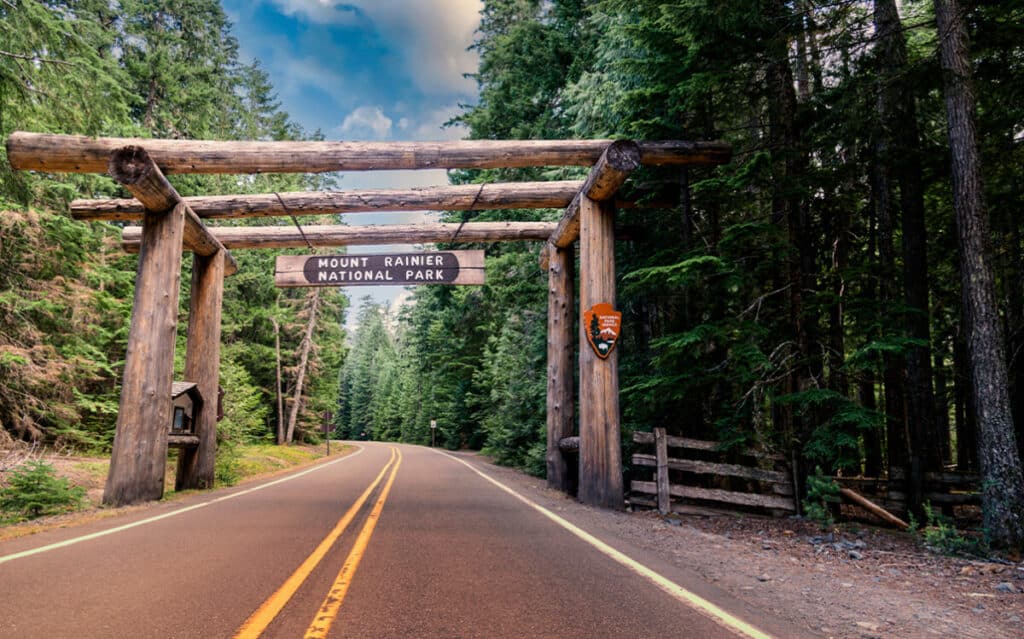 Mount Rainier National Park has four entrances. Nisqually to the southwest is the most popular, with easy highway access and faster access to Paradise. Carbon River to the northwest is closer to Seattle and Tacoma.
White River and Sunrise are to the northeast, and finally, you have Stevens Canyon to the southeast. For a first-time visitor, the Nisqually and Paradise entrance is your best bet.
There are a few small towns and bases scattered around the outskirts of Mount Rainier, including Longmire and Sunrise, but your eventual destination will probably be Paradise. Located 5,400 feet above sea level on the slope of the mountain, it's a base camp and starting place for any adventurer looking to explore the mountain and its surroundings.
When is the Best Time to Visit Mount Rainier?
Mount Rainier National Park is open all year round, but the conditions for a visit aren't always that great. Weather and climate can make a pretty big difference, and there's a whole universe between the experiences you have on a dreary, foggy day or a bright, sunny day.
If you're interested in winter hiking and exploration, you can feel free to visit in the winter months when there's going to be more snow on the ground.
Most people, though, want to see the peaks and valleys in bright summer colors, autumn wildflower blooms, or fall leaf colors. 
For the best summer climate, visit in late June through mid-August.
For wildflower blooms, visit in early August, but be sure to check the Discover Wildflowers page to make sure you have this year's blooming season right.
For great weather, color, and a wonderful trip without too many crowds, visit in September and early October.
Weather changes from year to year and even from day to day, so when your trip is coming up, make sure to check forecasts and have some idea of what to expect. Don't be afraid to delay a trip if you can to take better advantage of the weather.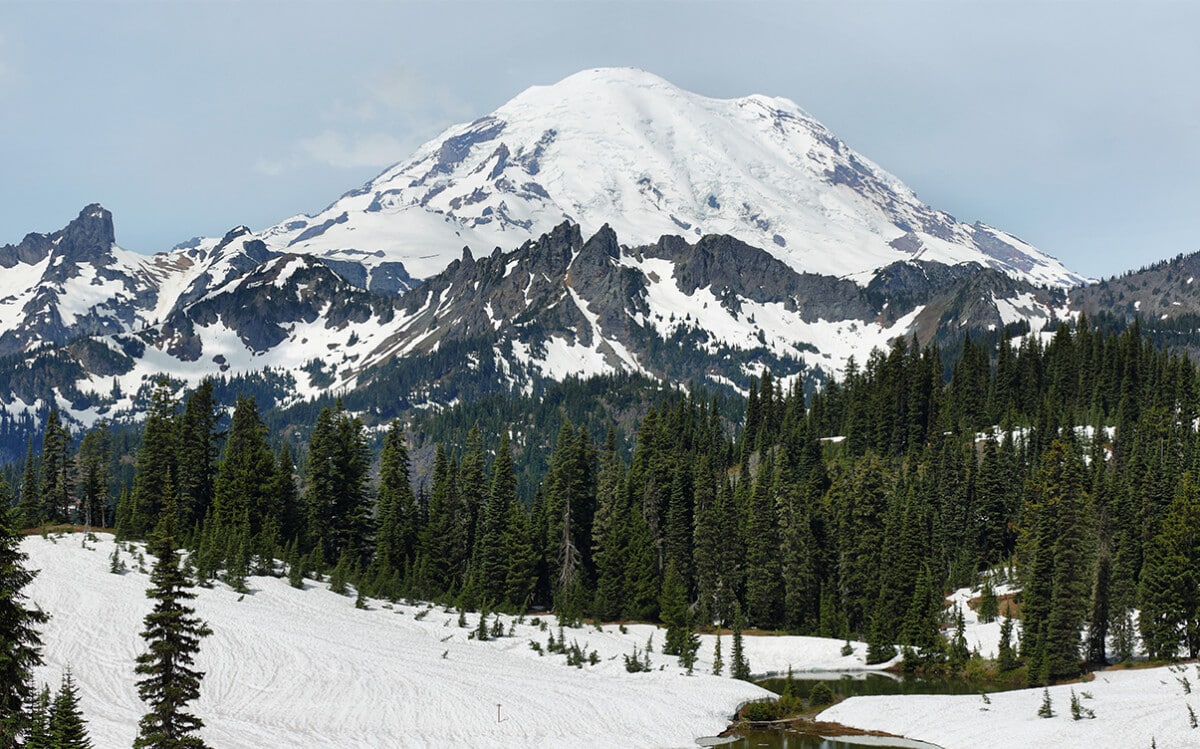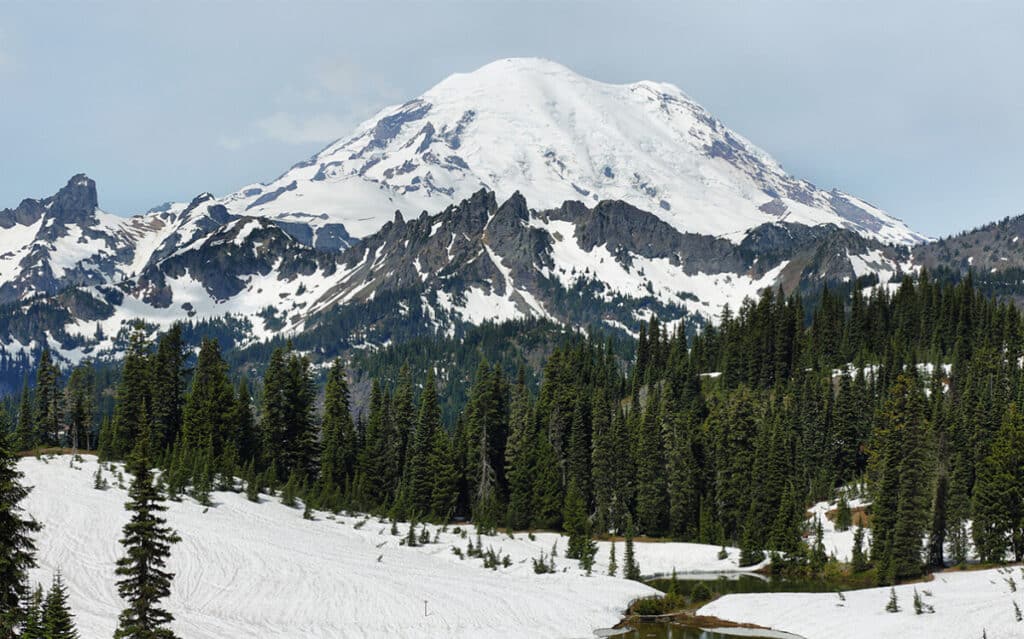 Pro tip: Avoid the holiday weeks and weekends! Major holidays like the 4th of July and Labor Day can be incredibly packed with tourists, weekend warriors, and other folks looking to escape the city for a weekend, and fighting those crowds is always best avoided if you can.
Time of day can also be somewhat important depending on what you're there to do and when you're visiting. Try to get there before 10 am to avoid the worst of the crowds, or if you plan to camp, arrive after 3 pm for your check-in.
How Much Does It Cost to Visit Mount Rainier?
Mount Rainier National Park is one of the parks that has an entry fee, which you need to purchase to gain entrance to the park. There are four different kinds of passes available, which you can view and purchase here.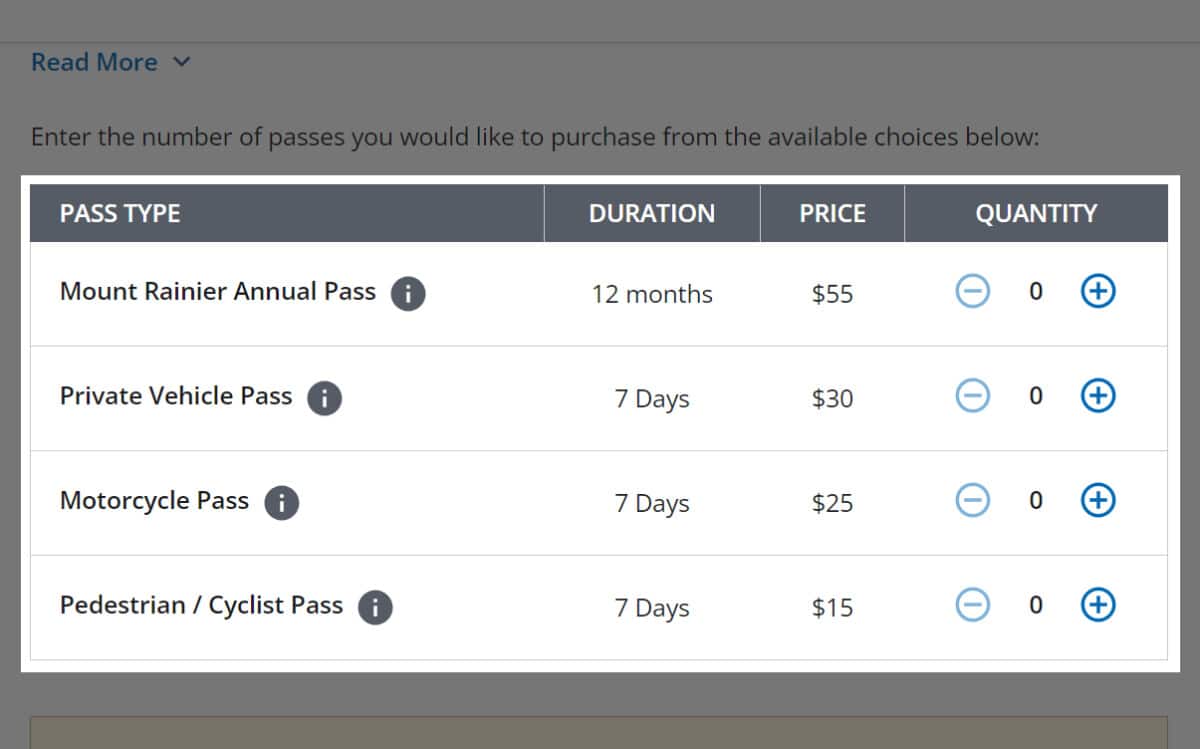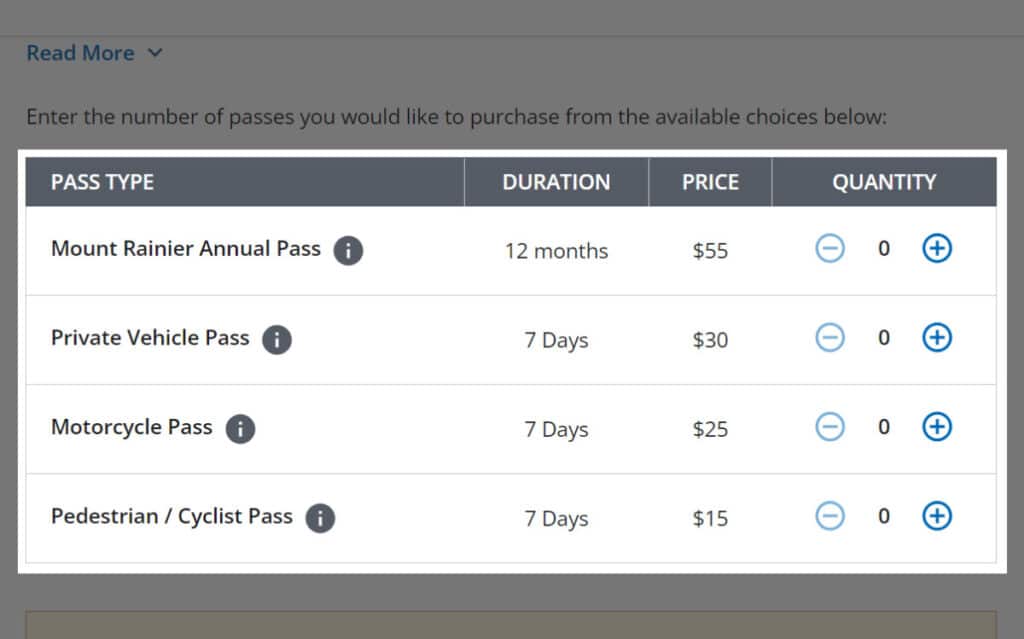 Here's a quick rundown of each pass option:
Pedestrian. This allows access for a single hiker, cyclist, or pedestrian without a motor vehicle. It costs $15 for seven days of access.
Motorcycle. This allows access for one motorcycle with up to two people, the driver and passenger. It's $25 for seven days of access.
Private Vehicle. This is one car, truck, van, SUV, or other vehicle larger than a motorcycle but smaller than a tour bus or commercial vehicle. It's valid for up to 15 people and costs $30 for seven days of access.
Annual. This is a private vehicle pass (valid for up to 15 people in a single vehicle) for a full 12 months and costs $55.
The annual pass is by far the best value if you plan to visit more than a couple of times per year; otherwise, it's up to how you plan to arrive.
Note that there are five days of the year where the entrance fee is waived: Birthday of Martin Luther King Jr. Day, First Day of National Park Week, Anniversary of the Great American Outdoors Act, National Public Lands Day, and Veterans Day. Additionally, if you have national parks access from another source, like an interagency pass or military pass, you don't need a separate Mount Rainier pass.
What is the Weather Like on Mount Rainier?
Weather can be a big deal on a trip to a major park like Mount Rainier, and that's before you even get to the point of climbing the mountain. Remember, the higher up you go, the more you'll need to prepare for the cold; as the most glaciated peak in the US, Mount Rainier can be pretty cold even in the middle of summer.
Average temperatures are at their lowest in December and January, with highs around 35 and lows around 20. Conversely, the summer peaks, during July and August, have lows in the 40s and highs in the 60s. Obviously, day-to-day temperatures can vary a lot, so again, check the weather.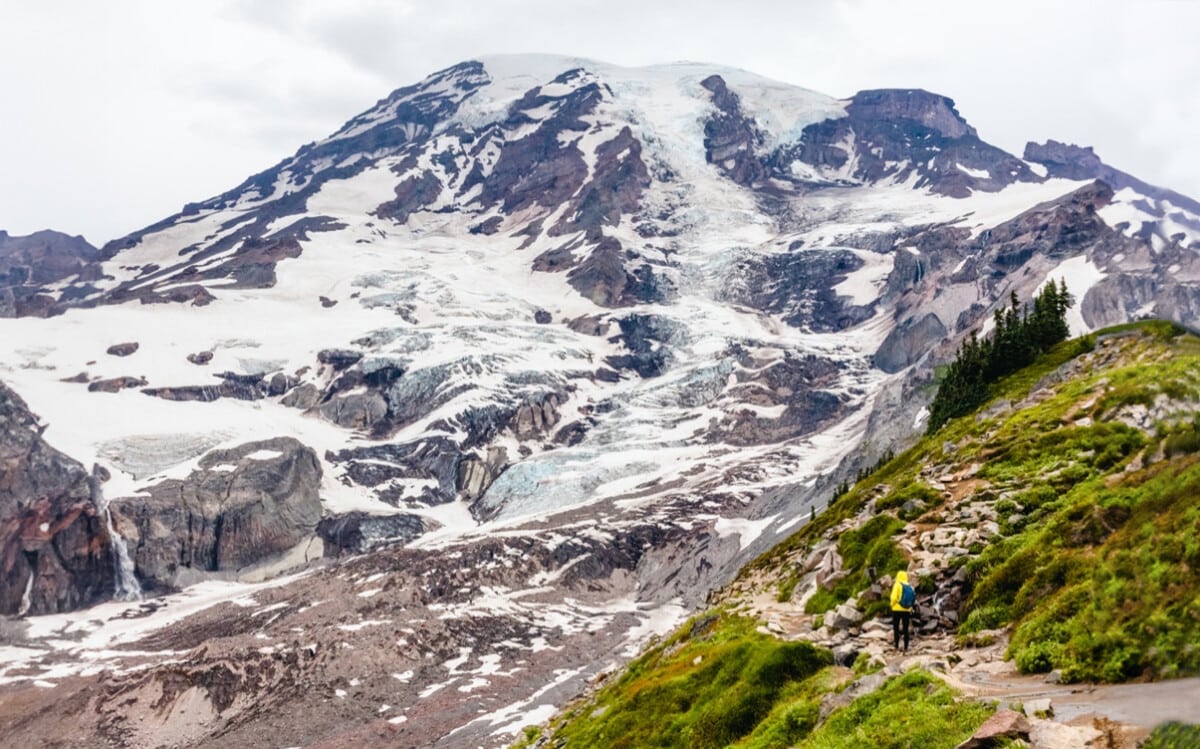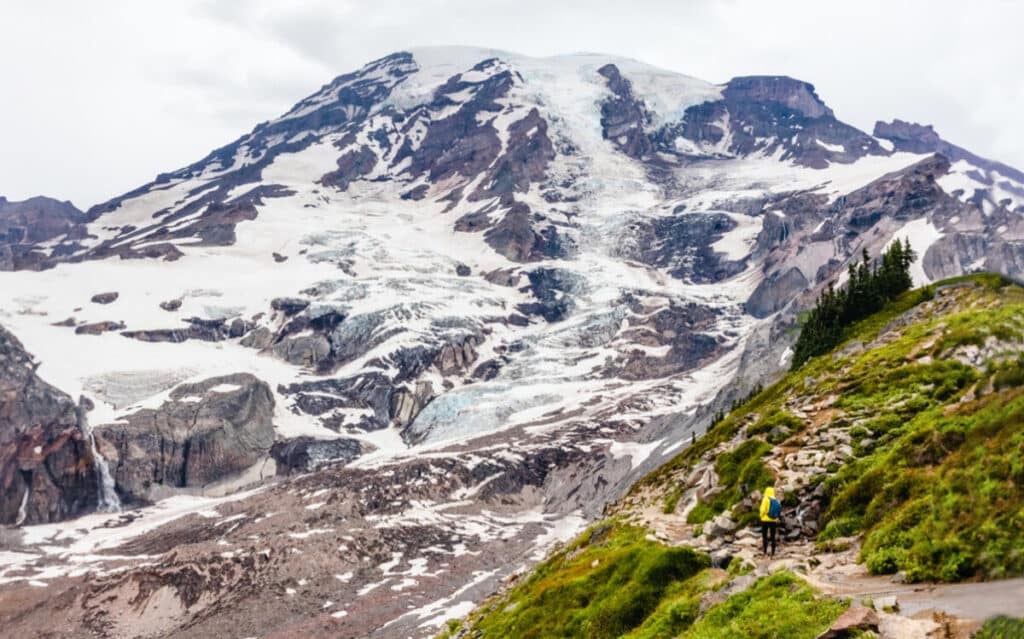 As part of the general Pacific Northwest rainforest, Mount Rainier gets a decent amount of rain for most of the year. The wettest months are November, December, and January, with as much as 20 inches of precipitation, mostly snow, on average. Meanwhile, July and August average just two inches of rain each month, making them the most likely to be clear and pleasant.
You're never going to reach the highs you will in more southerly national parks, so you're more likely to be packing for cold and snow than you are for heat, but don't forget that even when it's cold out, the sun can be brutal.
Snow can often sweep in as early as October, so be prepared for snowfall, including the prospect of closed roads due to snow the previous night. Trail and park roads can be closed, so plan accordingly.
What Does Mount Rainier Have to Offer?
Mount Rainier can be broadly divided into five different sections, each of which has its own set of charms.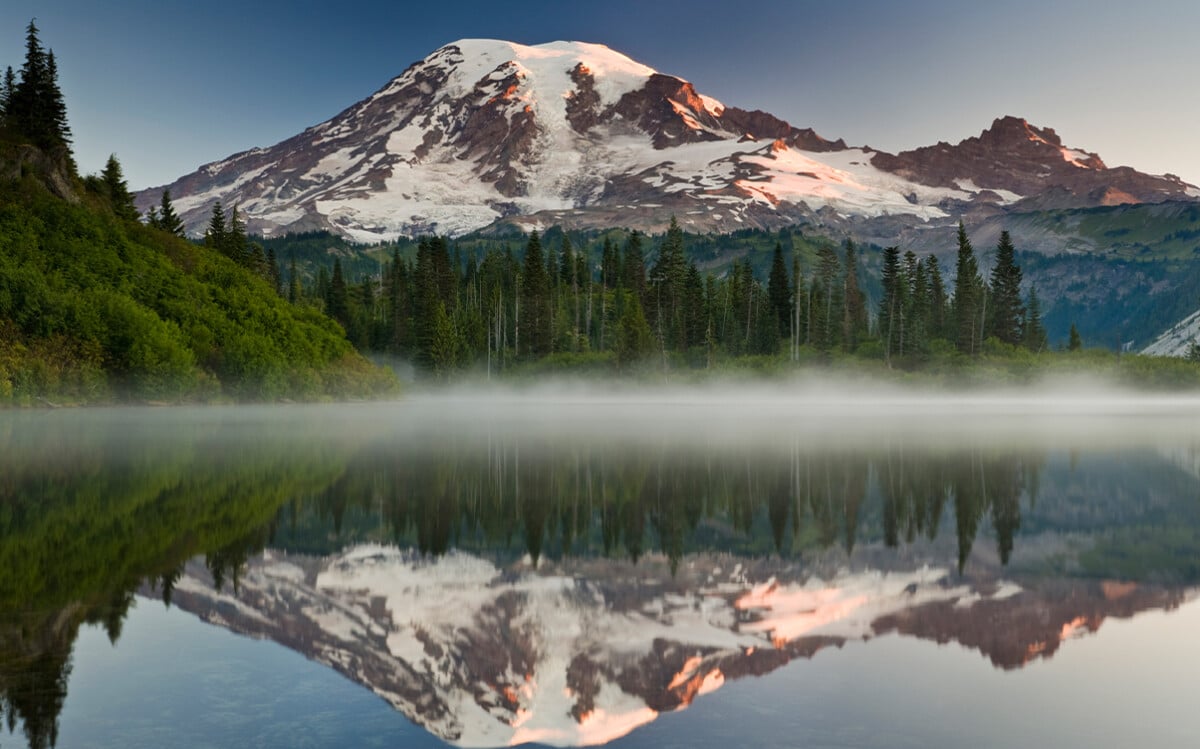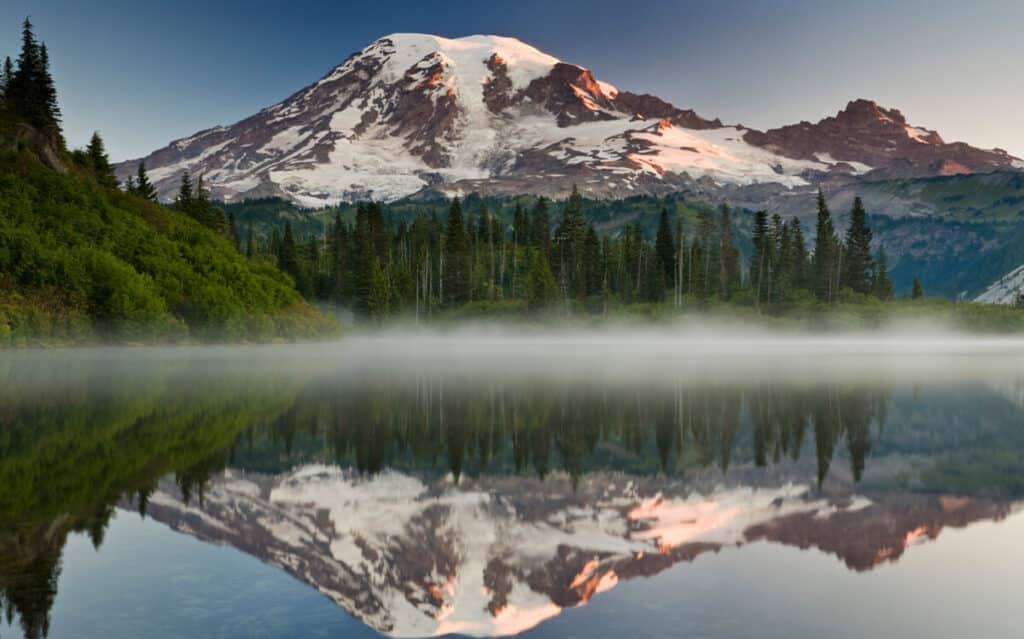 These five sections are:
Carbon River. This is the area best known for its hiking trails and campgrounds, and it's a beautiful place to visit.
Sunrise. This is your go-to spot for wildflower meadows and gorgeous views of the mountain, with camping, a lodge, and a visitor center all located in the area.
Ohanapecosh. Do you love enormous trees and old-growth forests? If so, this is the place to go for you.
Paradise. The most popular of the areas, you get a little bit of everything here, but the wildflowers are the biggest draw.
Longmire. This is the historic district, with an information center, museum, and a ton of history packed into a small area.
Anywhere you go in Mount Rainier National Park, remember that amenities and facilities are generally limited. WiFi is available around certain facilities, but the park is going to be spotty with cell service. The main hubs have some food available, but you're mostly limited to the lodges, so bringing your own food and water is a must.
There are also no gas stations in the park, and it's quite a drive from the nearest fill-up, so make sure you're topped up before you drive in.
Should You Book a Tour of Mount Rainier?
Now, this one is up to you.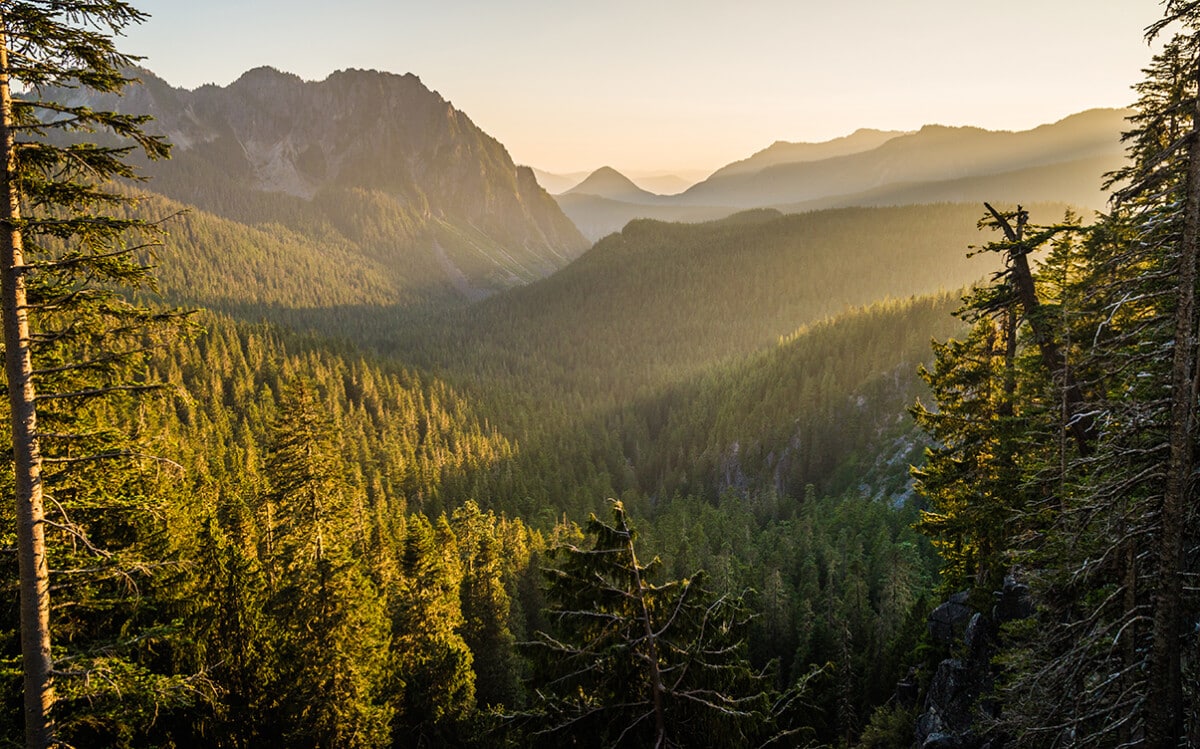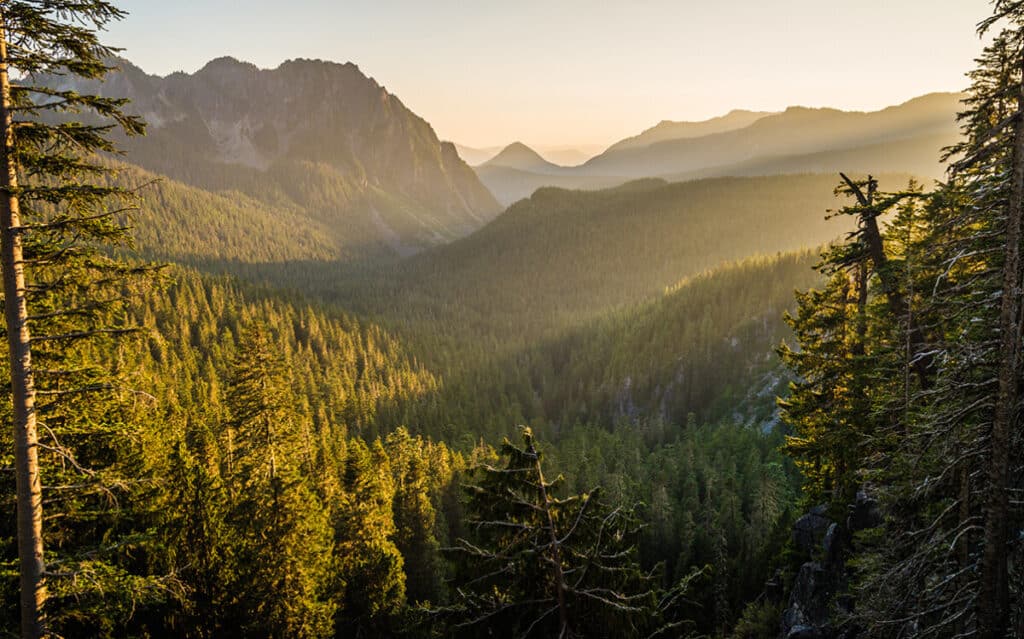 There are tours, largely out of Seattle, giving you a lot of distinct adventures throughout the park. However, if you like a more free-form experience, there's so much to do and so many sights to see that limiting yourself to a tour group can feel like you're just scratching the surface.
Can You Camp on Mount Rainier?
Camping is allowed with the right permits and in the right places.
There are four campgrounds in Mount Rainier National Park, one in each of the diagonal directions.
Cougar Rock in the southwest.
Ohanapecosh in the southeast.
White River in the northeast.
Mowich Lake in the northwest.
Of these, the first three have a $20 pass to camp, while Mowich Lake requires a check-in but doesn't require a pass. Mowich is very much your rustic campground; they only have vault toilets and no potable water access, fires are prohibited, and it's limited to primitive camping. The other three all have RV access, water, and plumbing.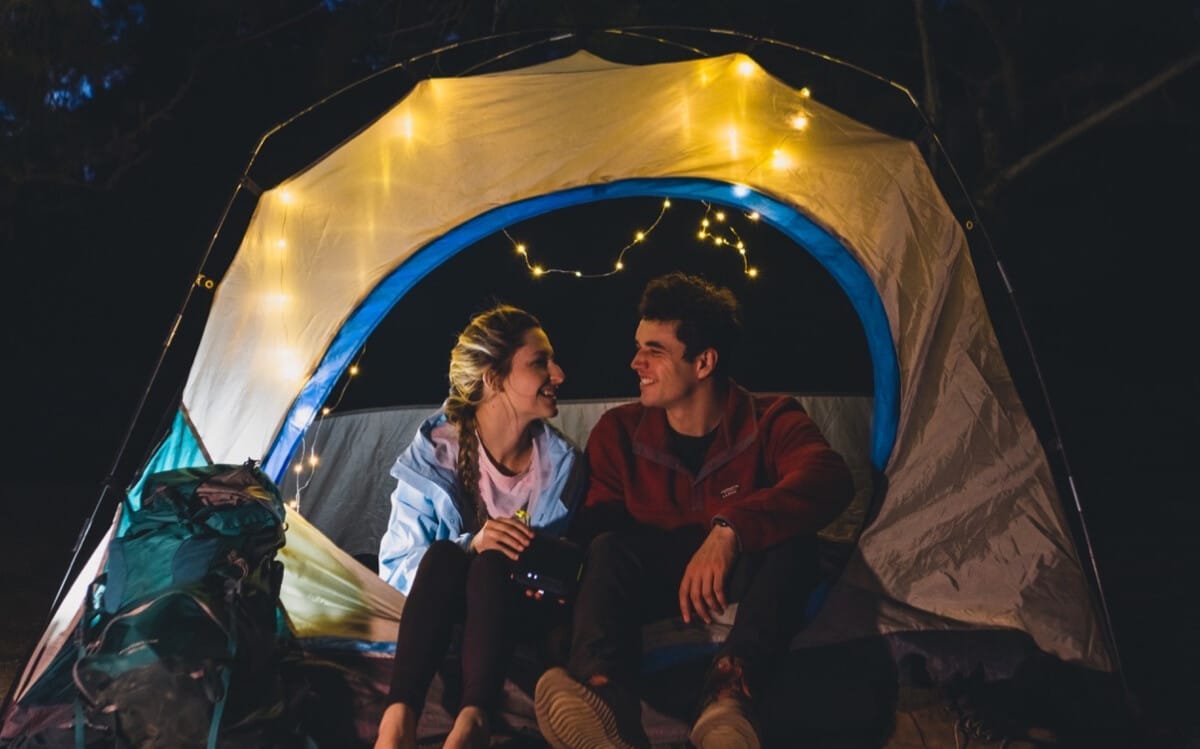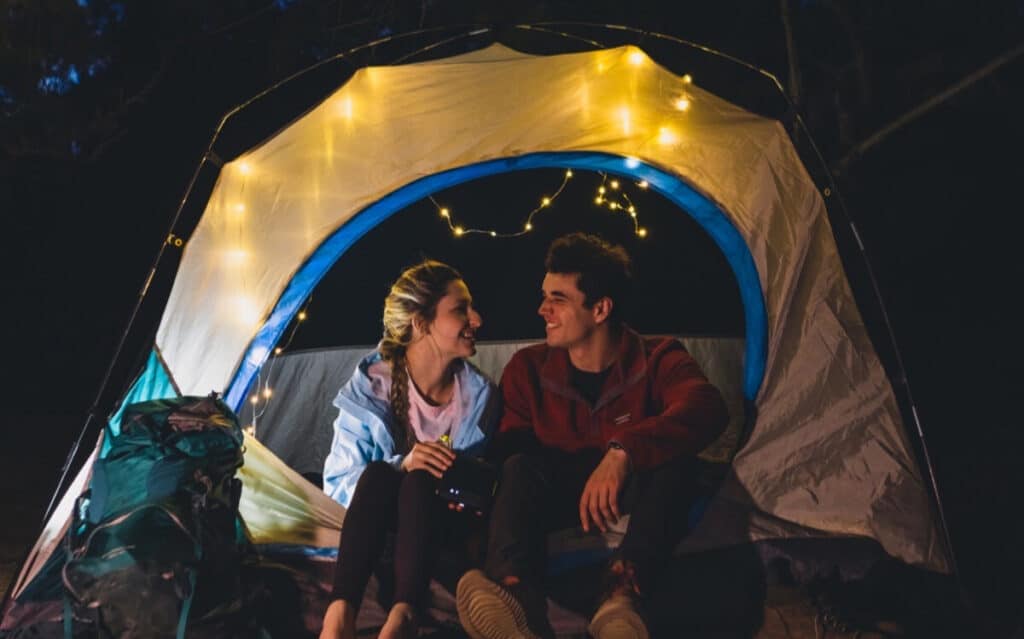 Each of these campgrounds requires some form of reservation, and they have particular seasons of availability. You can learn all about it and check their seasons here.
As for backcountry and wilderness camping, you're allowed to do so, but you need a wilderness permit. Permits can be a surprisingly complex issue, with lotteries and reservations filling up fast, so check out their dedicated page to learn everything you need to know.
What Should You Bring on a Trip to Mount Rainier?
Packing well is the key to success for any adventure to a place like Mount Rainier. Now, if you're planning to aim for the summit, that's one thing, and if you mostly want a driving tour, that's quite another. We're going to give you a packing list for something in the middle: a 2-3 day hiking and camping adventure.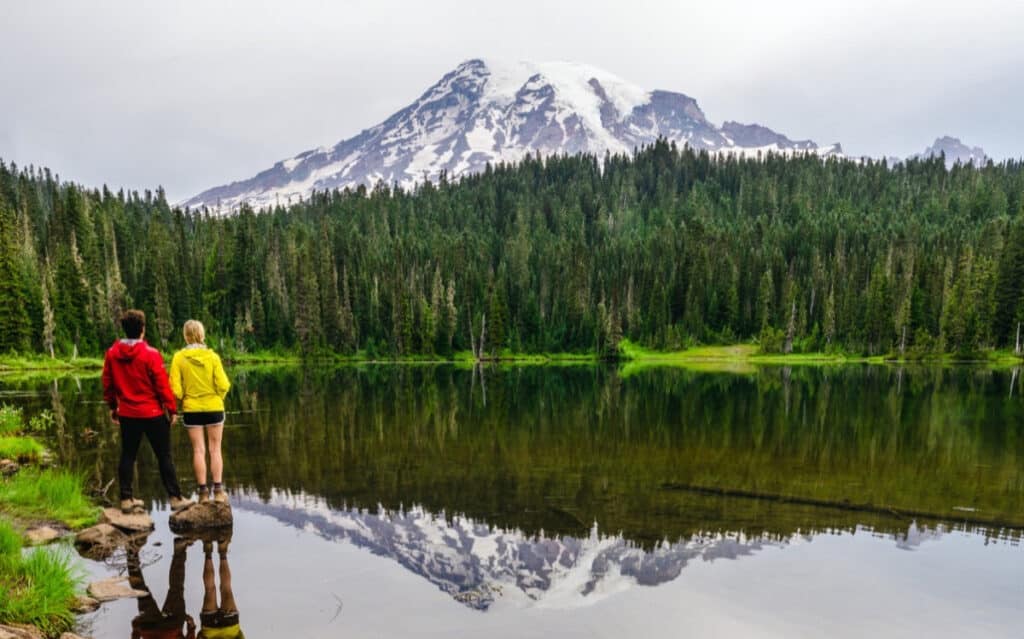 So, what should you bring?
Good hiking shoes. Always invest in what goes between you and the ground. On an outdoor adventure, shoes are just about the most important thing you can invest in. Read our complete guide here.
Clothing. Good, breathable socks, pants, shorts, leggings, and shirts with both long and short sleeves can all be important parts of your pack. Since it can be quite cold when you start a day and quite warm when the sun heats up, you'll want layers and the option to change throughout the day.
Rain gear. Unexpected rain can spring up out of nowhere, so having some kind of protection – usually a rain jacket – can be very useful.
Navigation tools. While Google Maps will work for a lot of the park, you still could benefit from having a map and compass with the knowledge of how to use them.
Emergency gear. Lights, a beacon, batteries, and other supplies can help keep you secure in the event of the worst happening.
Water and food. Having an adequate supply of water is essential, and food, of course, is almost as important. Bring enough for your trip, plus some extra in case of wildlife, loss, or other issues.
Sun protection. Sunscreen, sunglasses, and a sunhat can all help protect you from painful sunburns and the effects of heat.
There's always more, of course. How much you pack and how extensively will depend on how intense your trip will be. A short weekend warrior visit doesn't need a ton, and you can keep a lot of it in your car while you're out hiking. On the other hand, a climbing-focused, winter-timed, or rustic camping adventure has different needs, and you need to prepare accordingly.
Have you visited Mount Rainier? If not, we really do recommend it. It's one of our favorite places in the Pacific Northwest, and there's enough to see and do that it's well worth several trips throughout the year. Give it a try! We promise you won't be disappointed. If you have any questions about it, be sure to let us know! We'd be more than happy to help however we can!