Ultimate 5 Day Florida Keys Adventure Itinerary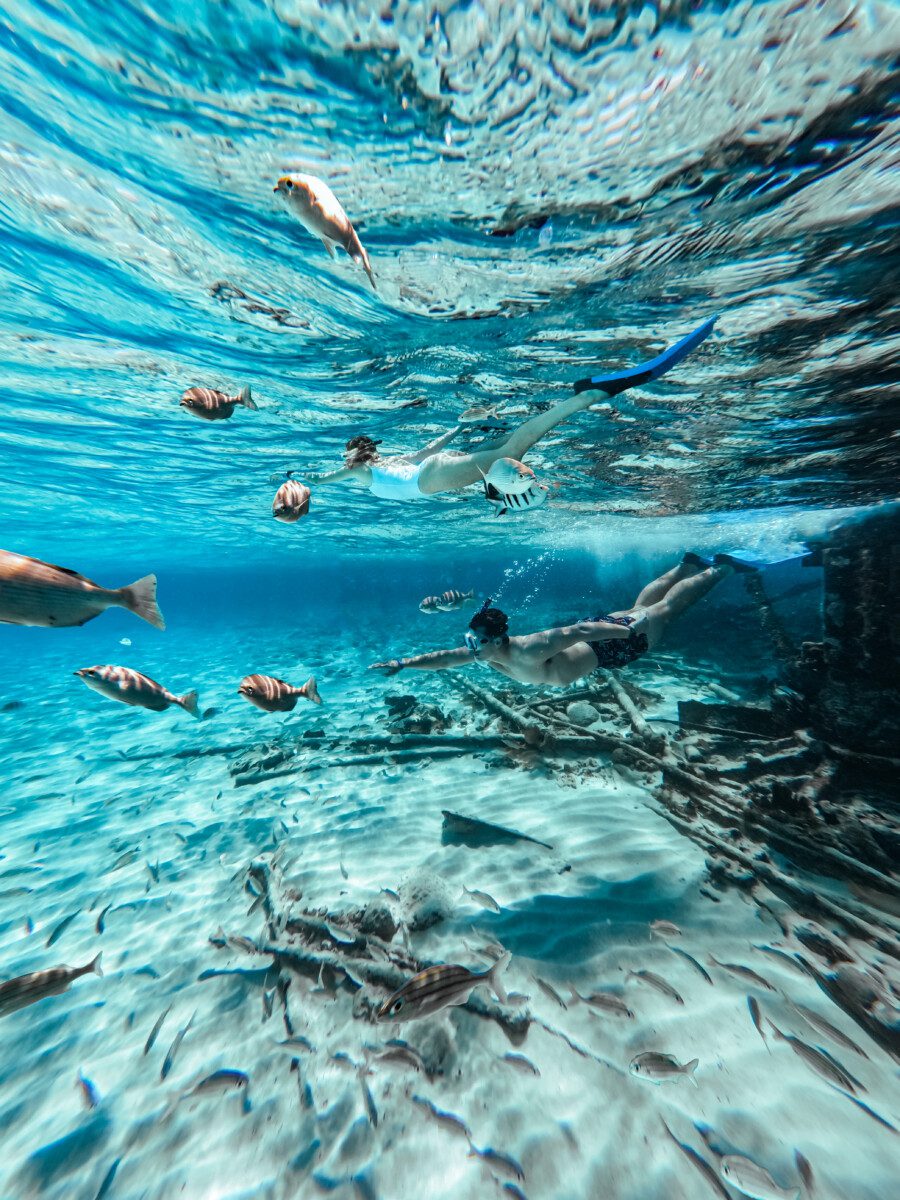 If you are looking for gorgeous turquoise blue water, tropical temperatures, and one of the top water sport meccas in the world, you need to add a Florida Keys adventure road trip to your travel bucket list. Along the southernmost point of the USA, the Florida Keys region offers tons of opportunities for epic adventure both on and off the stunning azure water.
We have crafted an ultimate Florida Keys road trip guide for adventure lovers that want to maximize fun activities in five days. Although this is based on our own personal experiences, feel free to customize your road trip to make it work for your travel style.
This Florida Keys adventure itinerary begins in Miami and takes you all the way down to Key West. However, you can also choose to complete it in the opposite direction and add additional day trips as well.
Disclaimer: This Florida Keys 5 Day Adventure itinerary and road trip was done in partnership with the Florida Keys tourism board. However, as always, all opinions and experiences are our own.
What You Need to Know Before Traveling to the Florida Keys
Best Time To Visit the Florida Keys
The Florida Keys are blessed with consistently warm weather year round, typically around 70-80 degrees on average. To avoid rainy and windy weather, we'd recommend planning your road trip in the Florida Keys during the spring and summer. During March to early June, you'll have beautiful weather without the summer crowds.
However, you should try to avoid visiting during popular spring break weeks as the Keys can get very crowded with college students and families alike. Peak season is typically around December-February as the Florida Keys region is a popular destination for snowbirds.
You can typically get cheaper accommodations during the rainy hurricane season. This usually runs from June 1 through November 30, with September and October typically being the most active. Although, if you're looking to have a ton of adventure in your Florida Keys itinerary, then we wouldn't recommend visiting during this time! Wind and rain can cause terrible visibility for water activities and lead to activity cancellations.
Activity Reservations During Your Road Trip
The biggest issue you will run into when booking out the activities on your Florida Keys adventure itinerary is that spots are very limited and sell out quickly. The earlier you can be when it comes to booking your activities, the better; especially when visiting during popular times like spring break.
If you are looking to cross the very popular Dry Tortugas National Park off of your list, keep in mind that there is only one ferry and one seaplane company that takes visitors out there and that spots fill up as much as six months in advance.
Typically, you won't have to worry as much when it comes to booking dinner reservations; however, if you want to eat at higher end restaurants like Latitudes in Key West, plan on making reservations at least 1-2 months prior to your trip.
Car Rentals
When planning your road trip, we would suggest booking a rental car in advance to make sure there's availability. In our experience, renting a car at the Miami Airport and dropping it off at the Key West Airport was a seamless way to get around during your Florida Keys road trip. You can also check out Turo for more personalized car rentals if you can't find a rental vehicle that fits your liking. Uber and Lyft also operate around the keys.
What To Pack
We would highly recommend bringing your own snorkel gear with you when visiting the Florida Keys. Since the prices of rental equipment per hour can add up, you might as well just invest in a quality set off of Amazon that will last you longer for the same prices as a few hours of rentals. This way you can take it with you throughout the whole trip as well instead of based on the tour company's availability of equipment.
Since your adventure itinerary for the Florida Keys involves a lot of water sports, you will definitely want to pack a ton of reef safe broad spectrum sunscreen with an SPF 30+ rating. We'd also recommend bringing lightweight towels, a waterproof phone case, a dry bag, and any other sun protection like sunglasses, a hat, and a UPF sun shirt.
Parking
Parking in Key West especially is incredibly expensive. If you can take advantage of local transport or shuttles, we would highly recommend doing so. It's not as much of an issue in the other keys though.
5 Day Adventure Itinerary: Things to See & Do on a Florida Keys Road Trip
Day 1: Miami to Key Largo & Islamorada
What to Do Around Key Largo
On your first day on the drive from Miami to Key West, we would recommend you making your first stop at Key Largo. However, if you have more time, a day trip out to the Everglades or Biscayne National Park are also great options to begin your trip around the Florida Keys.
The drive from Miami airport to Key Largo will take about 1 hour 15 minutes depending on traffic. For lunch, we'd suggest stopping at the backyard cafe at Key Largo Fisheries. There's incredible seafood and a great outdoor seating area with live music. Make sure to try their famous Lobster BLT or their delicious blackened Mahi Mahi Fish Tacos.
John Pennekamp Coral Reef State Park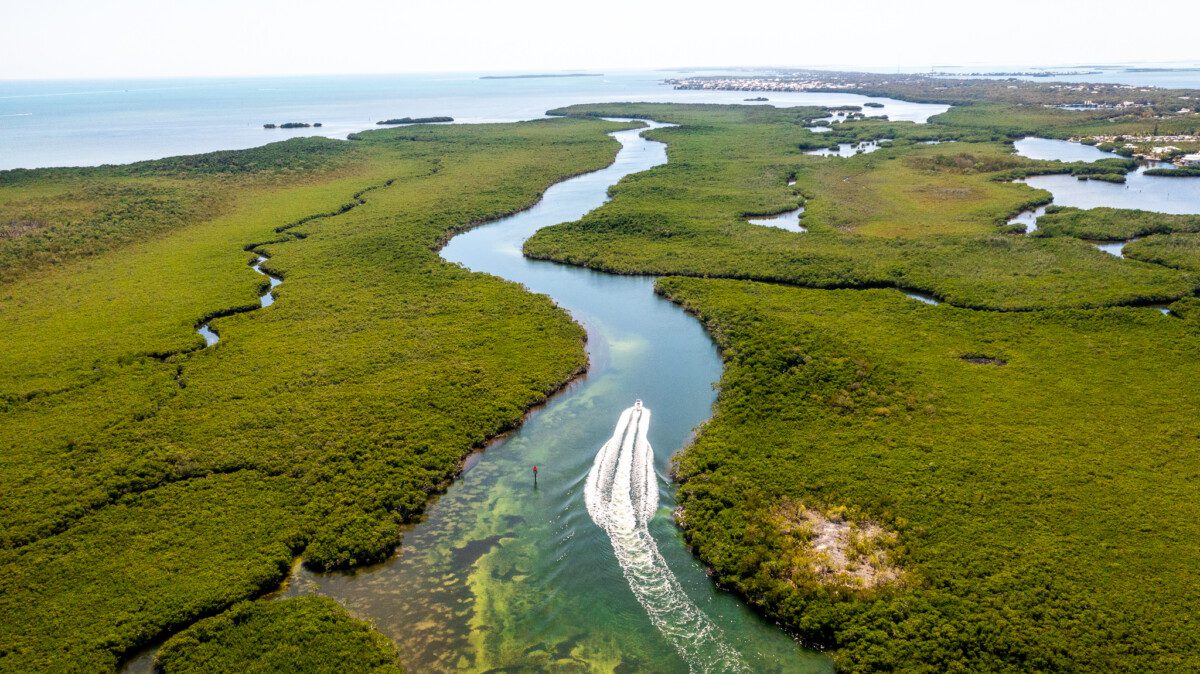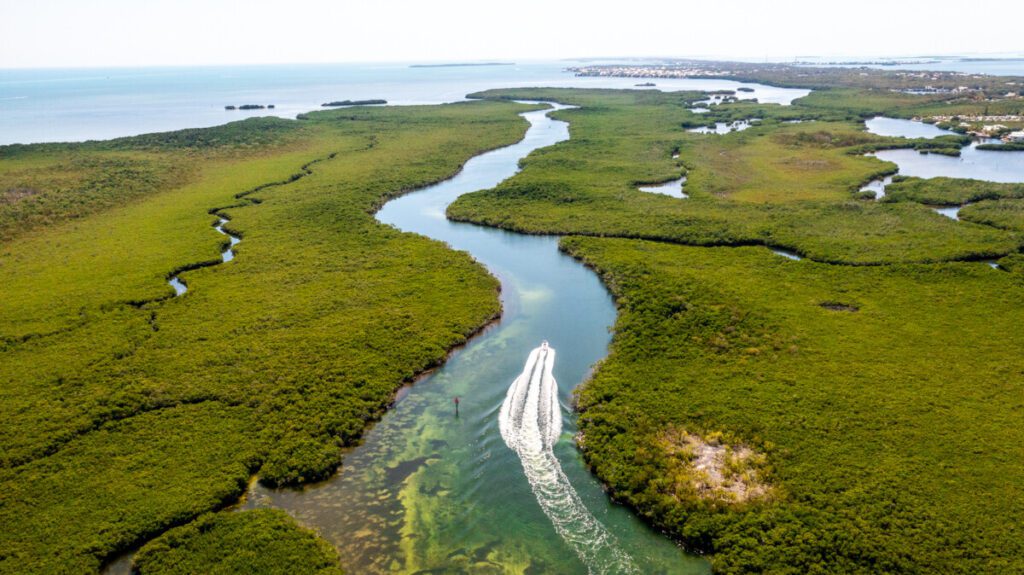 Once you're all energized, take a short drive over to John Pennekamp Coral Reef State Park. The best activities at this state park are all out on the water. There are incredible mangroves that you can kayak through, beaches to relax on, and lots of options to witness the incredible coral reefs out in the state park via the water. The Christ of the Abyss Statue is also a famous snorkel and diving spot you can access from John Pennekamp State park if there are good visibility conditions.
The park itself offers tours from kayaking, snorkeling, and glass bottom boat rides. However, these do fill up in advance so make sure to book them ahead of time. If for some reason you can't get reservations, don't fret, there are tons of other local tour companies that can get you out on a boat for a sunset sail or snorkel during the day. Once you're all done exploring John Pennekamp State Park, you can check into your hotel.
Where to Stay & Eat in Islamorada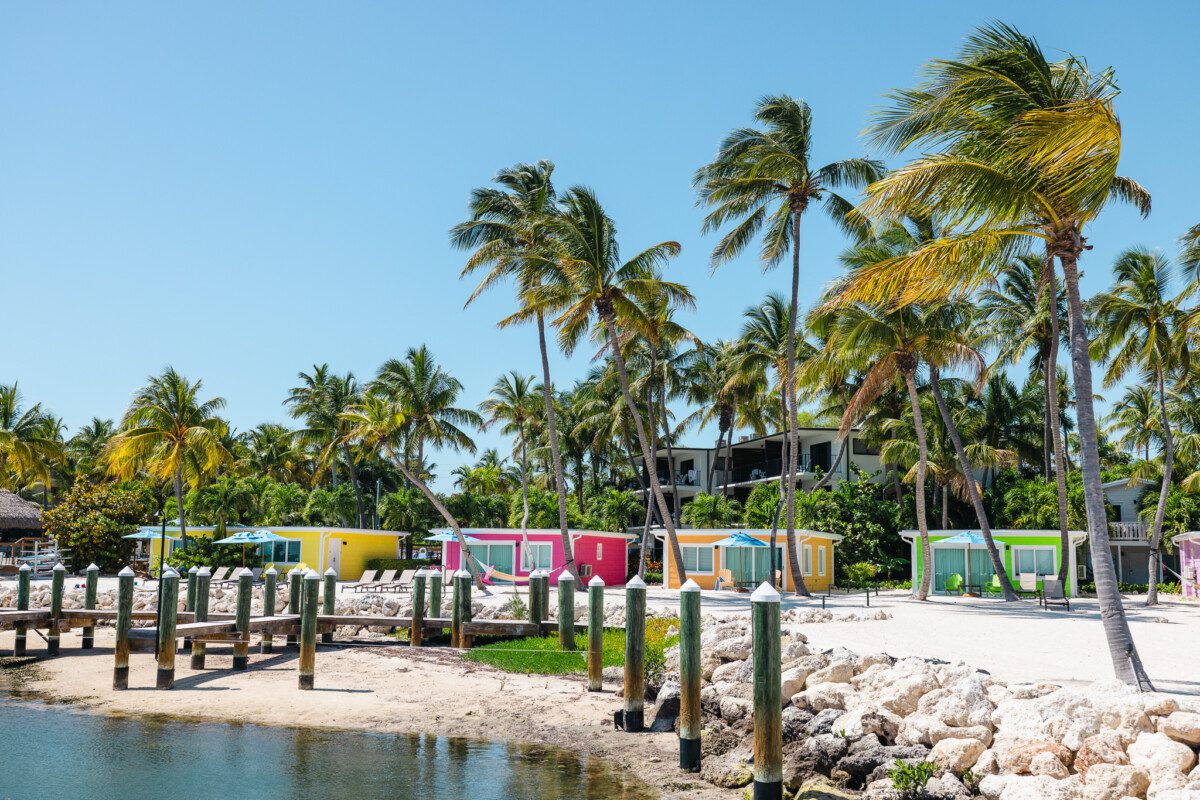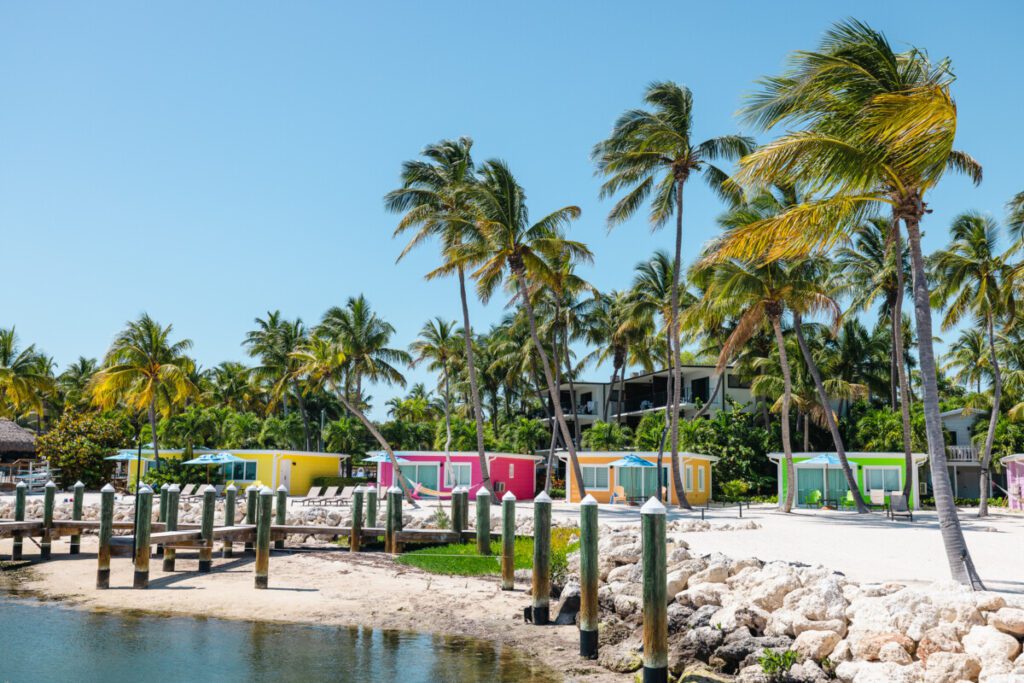 We stayed at the La Siesta Resort and Villas in Islamorada and absolutely loved our stay there. We would recommend using this resort as your base for the next two nights as we explore our days 1 & 2 Florida Keys itinerary attractions. It's the perfect location to start your Florida Keys adventure itinerary as it is a great central location for water sports while also being a great option for rest and relaxation right on the waterfront.
It has its own private beach with kayaking, bike, and SUP rentals included in your stay. It also had a very relaxing and chill atmosphere for those looking for a serene escape. The resort comes with a pool and poolside Tiki Bar, as well as a hot tub to decompress after your long days of exploration. You can find lots of hammocks under palm trees to relax, a cabana to enjoy the sunshine, and Cornhole to add some fun to your time outside.
Take in the sunset at the Holiday Isle Tiki Bar, just a short 5 minute drive from La Siesta Resort. Since it's a sister property of the hotel, you can also take a free shuttle to and from the property. You have to try the original Rum Runner cocktail. This is the tiki bar that created the famous concoction. We tried both the frozen and on the rocks versions, and they were delicious! This spot is a great option for sunset as well for great seaside views as the sun goes down.
For dinner, grab dinner at Lorelai's in Islamorada. Lorelai's is especially famous for their frozen key lime pie, which is to die for. It's a convenient 4-5 minute drive from the resort as well.
Day 2: Explore Islamorada
For Day 2 of our time on our Florida Keys adventure road trip, we'd recommend spending the day around Islamorada and Key Largo so you can have enough time to get out and enjoy some of the bluest water in the world.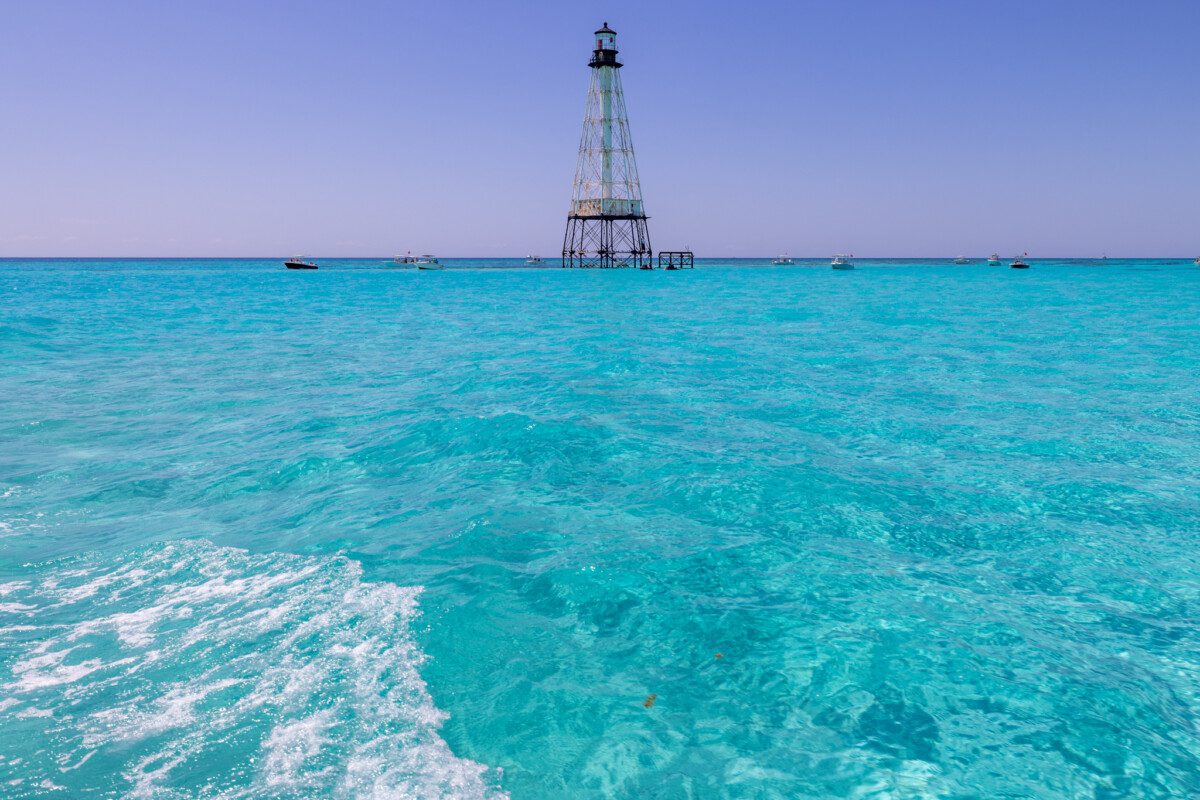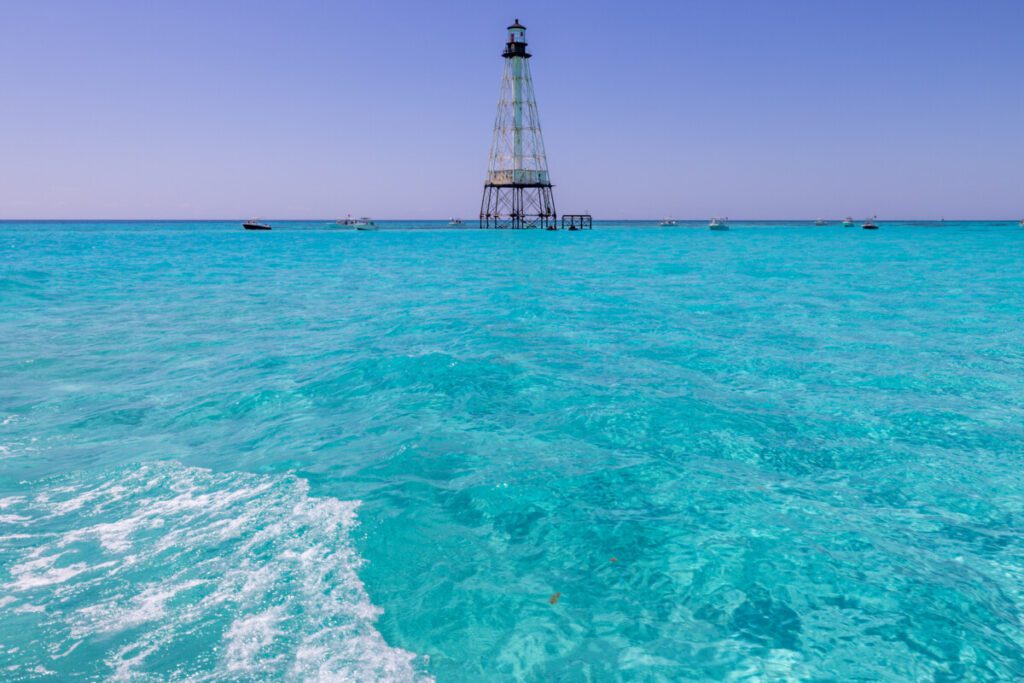 Snorkel, SNUBA, or Dive at Alligator Reef
If there's one thing we recommend doing on your whole adventure itinerary around the Florida Keys, it's getting to snorkel out at Alligator Reef from Islamorada. This was by far our favorite activity of our whole trip. We took a morning snorkeling tour with Sundance Water Sports and had an absolutely incredible experience. The water was crystal clear and there was so much wildlife to see while exploring the turquoise blue water. You can also do SNUBA if you'd rather take a deeper dive into the water.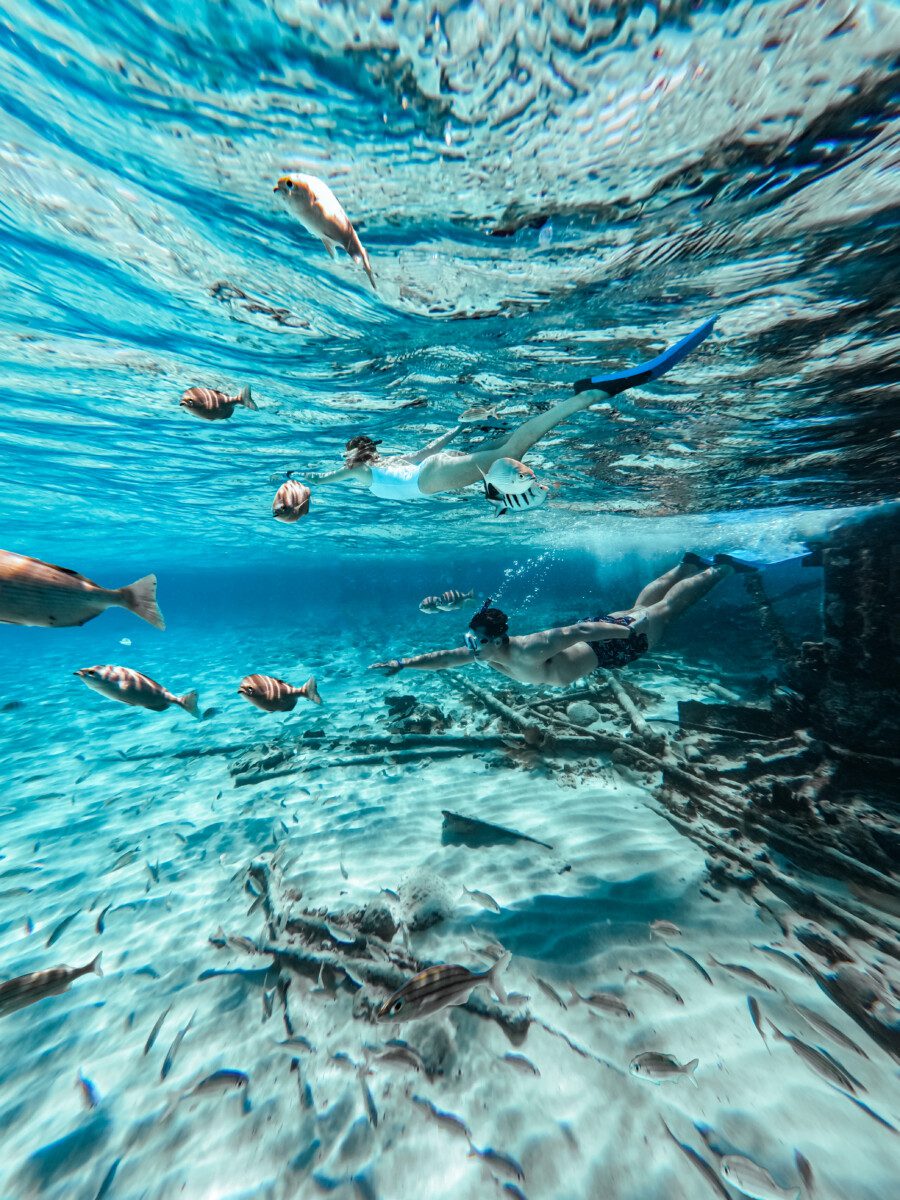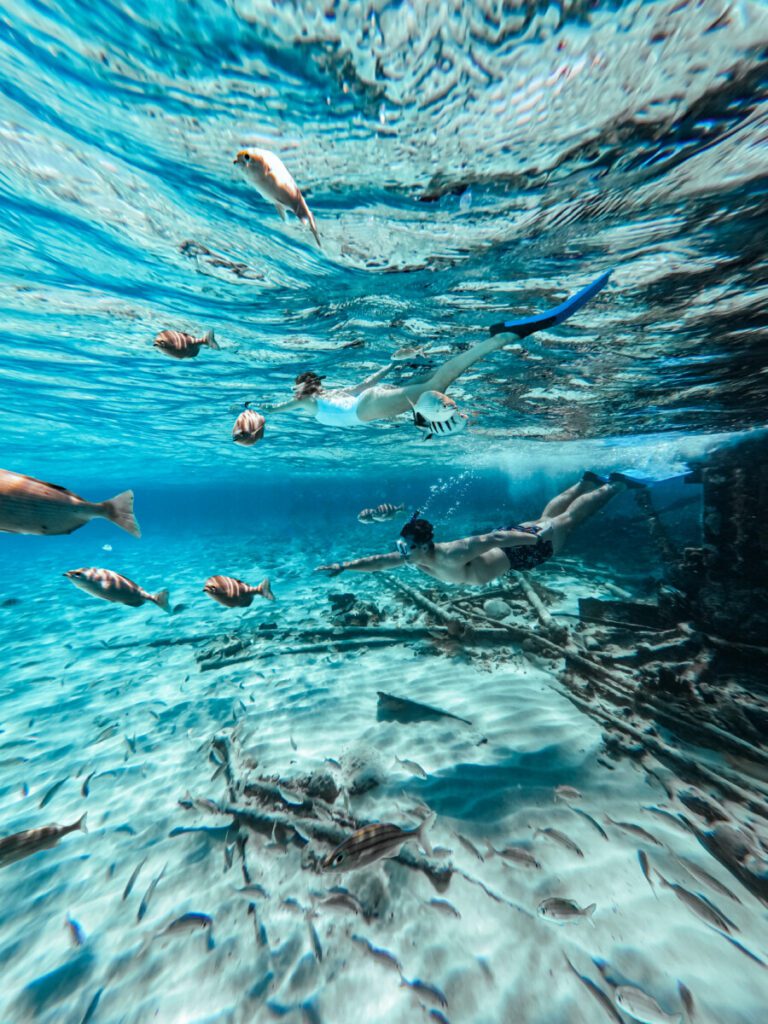 Check Out Robbie's Marina
Now that you've worked up an appetite, walk along Robbie's Marina, where you land after your snorkel tour, to The Hungry Tarpon for lunch. Since this spot is pretty popular, know that you might have a small wait before getting a table. It's all good vibes and beautiful beach side views from this restaurant. Make sure to also feed the tarpon fish right next to the restaurant. It's the thing that every local told us to go do! You can buy a bucket of fish and see these giant fish jump out of the water and it's quite an experience.
If you're still craving something adventurous to do after your morning, you can head back over toward Lorelai's and rent a clear kayak out on the water for some afternoon exploration on the water.
Where to Eat in Key Largo
Our last stop of our Florida Keys adventure road trip today is at the Fish House in Key Largo. Finish off the day by trying some world famous local fish, including yellowtail snapper, Mahi Mahi, grouper, Florida lobster and stone crab, as featured on Diners, Drive-Ins, and Dives. Make sure to try their Matecumbe style fish, it's their house specialty! This spot had our favorite key lime pie and such a fun atmosphere! We'd 100% recommend it for a nice dinner out on the town.
Day 3: Islamorada to Key West
After spending a few fun days of exploring in Key Largo and Islamorada, we recommend making a few stops on your way to Key West on your Florida Keys road trip itinerary before arriving in Key West.
Before heading out on your drive to Key West, grab some breakfast next to your hotel at the Midway Cafe. It's the official halfway point between Miami and Key West and has great coffee and breakfast selections. Once you check out, you'll be heading south to the city of Marathon.
Marathon's Turtle Hospital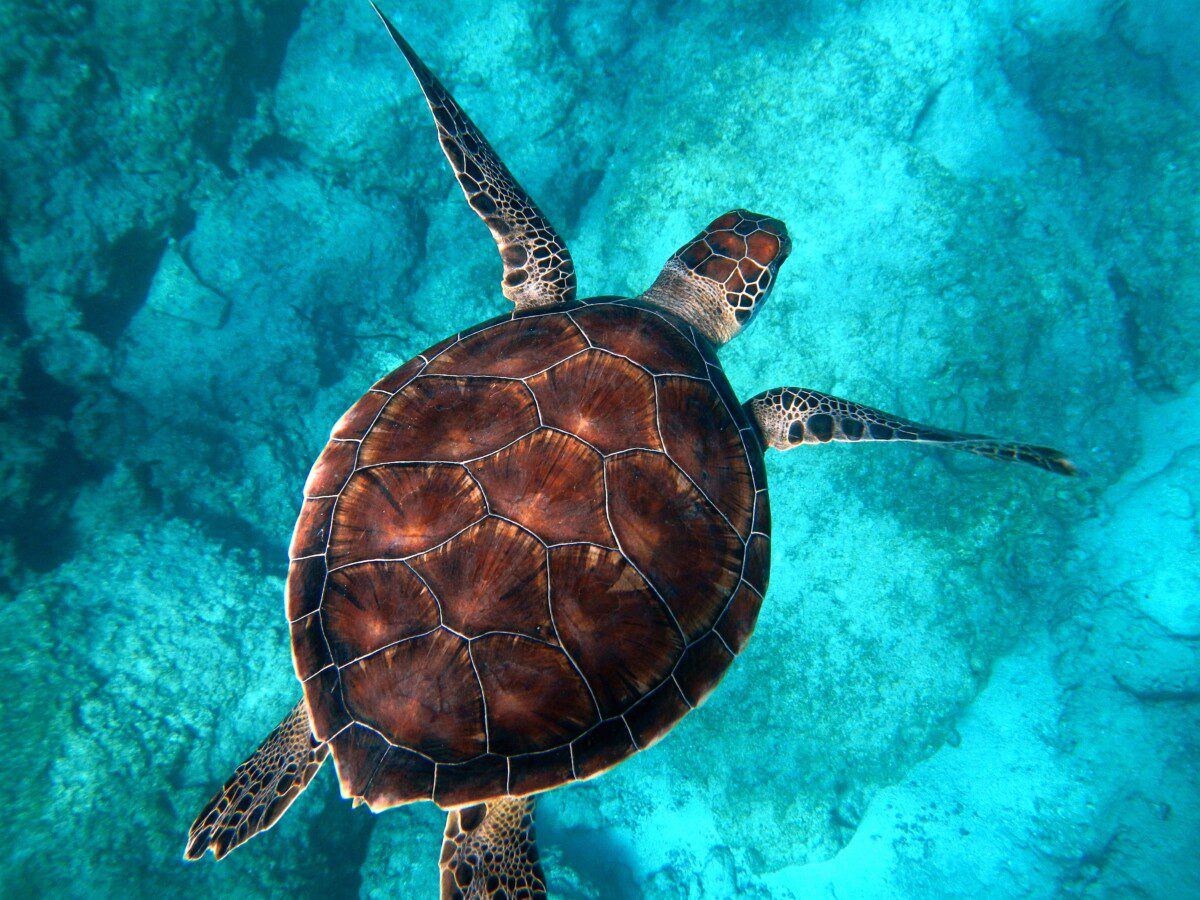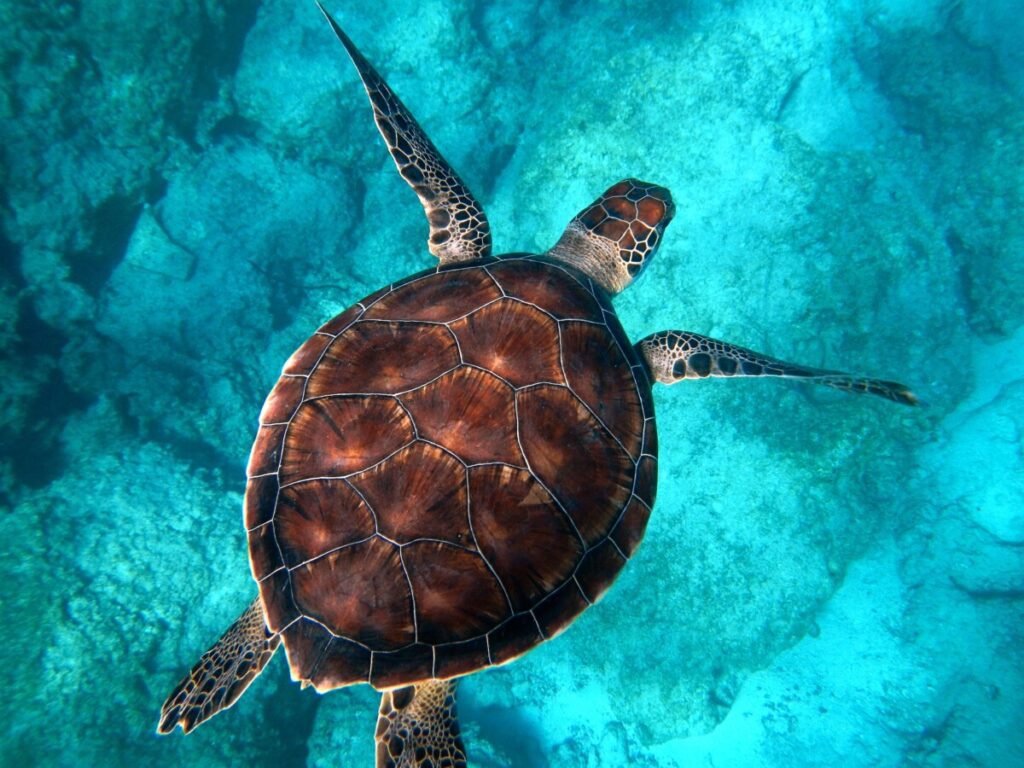 Here, you'll start off your day visiting the Turtle Hospital. The Turtle Hospital is a fully functioning veterinary hospital for sick and injured sea turtles. It rescues, rehabilitates, and releases sea turtles in the Florida Keys. You can schedule a tour in advance (which we highly recommend) to learn all about the kinds of sea turtles, common problems they face in today's day and age, and even get to meet some of the turtles that are in the hospital's care.
This hospital and rehabilitation program is a completely nonprofit organization. They keep helping turtles from tours, donations, and purchases from visitors. You can even "adopt" a turtle to help support the mission of the Turtle Hospital.
If you're really lucky, you might be able to catch a release day in which they are able to release their rehabilitated patients back into the ocean at a nearby beach. Afterwards, you can grab a bite to eat at Keys Fisheries for lunch before continuing to your next road trip stop.
Big Pine Key to Key West
For your next adventure on your Florida Keys road trip itinerary, you'll drive south toward Bahia Honda State Park in Big Pine Key. There is a small entrance fee to enter. On a non-windy day, this area has some of the most beautiful water in all of the Florida Keys and overlooks the old 7-Mile Bridge.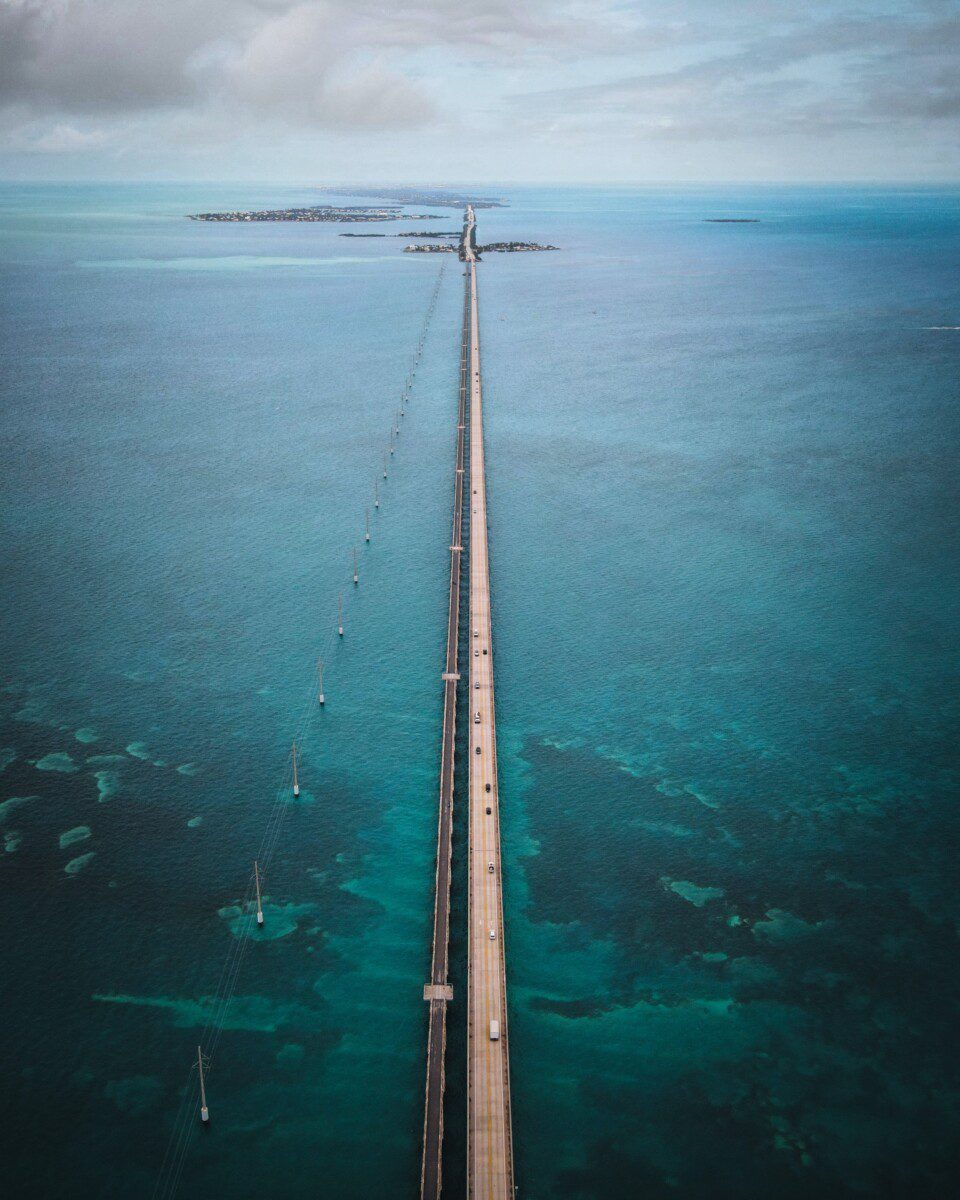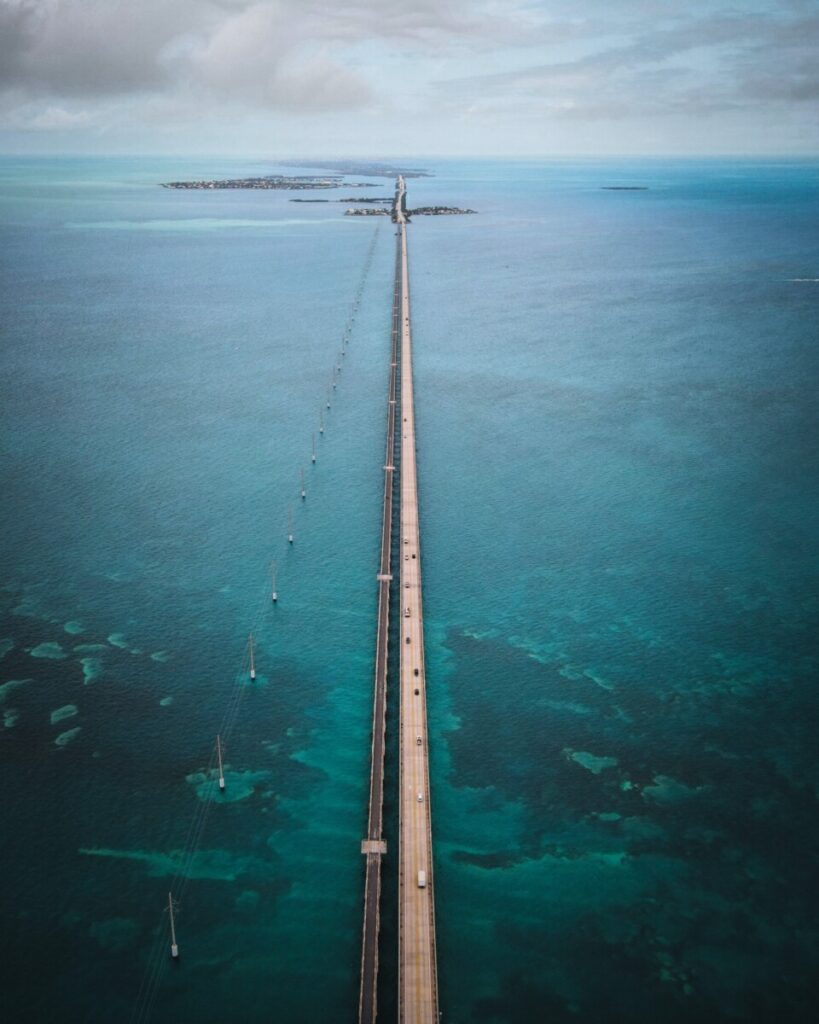 The park concession offers chairs, snorkeling equipment, kayak rentals, and a variety of snacks and lunches for purchase. They also offer kayaking and snorkeling tours, but make sure to call ahead to make a reservation. The park gets pretty popular, especially in peak season. This is also a fantastic sunset spot in the Keys. This is your last stop before you arrive in Key West.
You'll also drive across the famous Seven Mile Bridge, which was known for being one of the sketchiest drives over water in the USA.
Where to Stay In Key West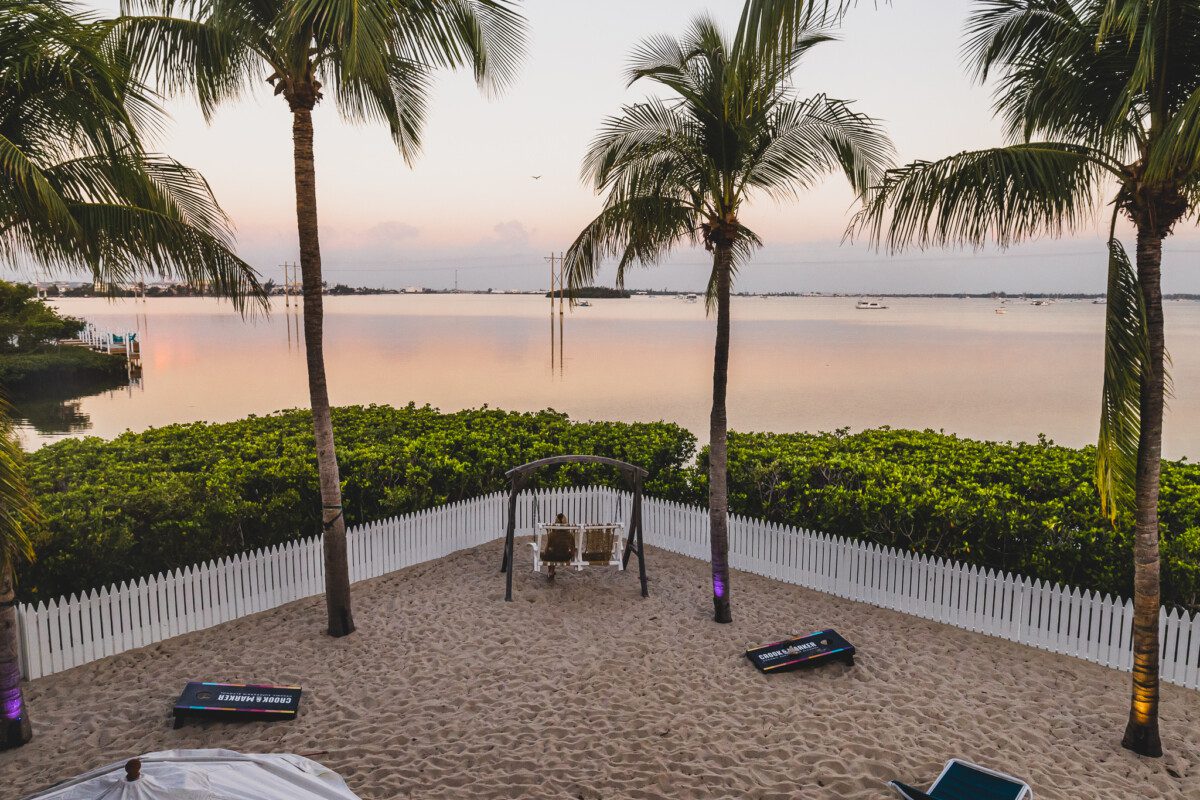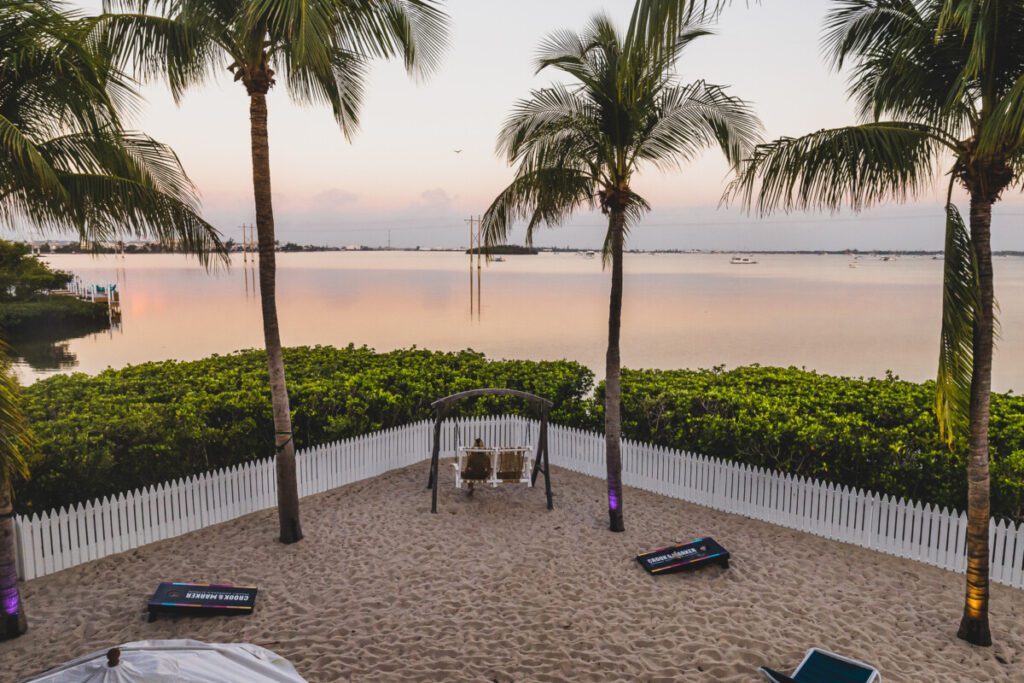 Depending on what time you arrive in Key West, we recommend checking in to your hotel. We stayed at the Parrot Key Hotel & Villas and loved our stay there. It was right outside of the downtown area of Key West so it was much more laid back and relaxed than what Key West is typically known for. The hotel has their own private beach area and 4 pools to choose from.
They offer shuttles going downtown and to Smathers Beach as well to avoid having to deal with the crazy parking situation downtown as well. The hotel also partners with Sunset Water Sports, so once you check in, you can head out on a water activity of your choice: whether it's kayaking or paddle boarding through mangroves, snorkeling, or sailing!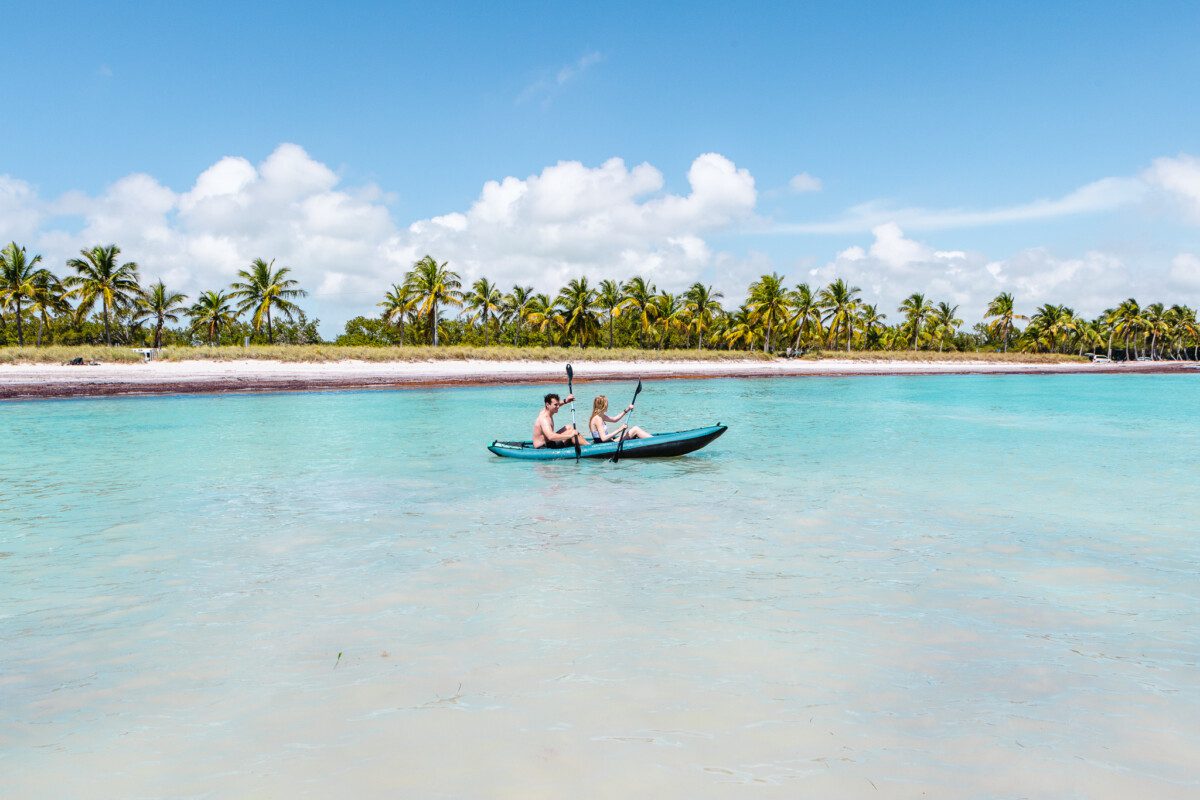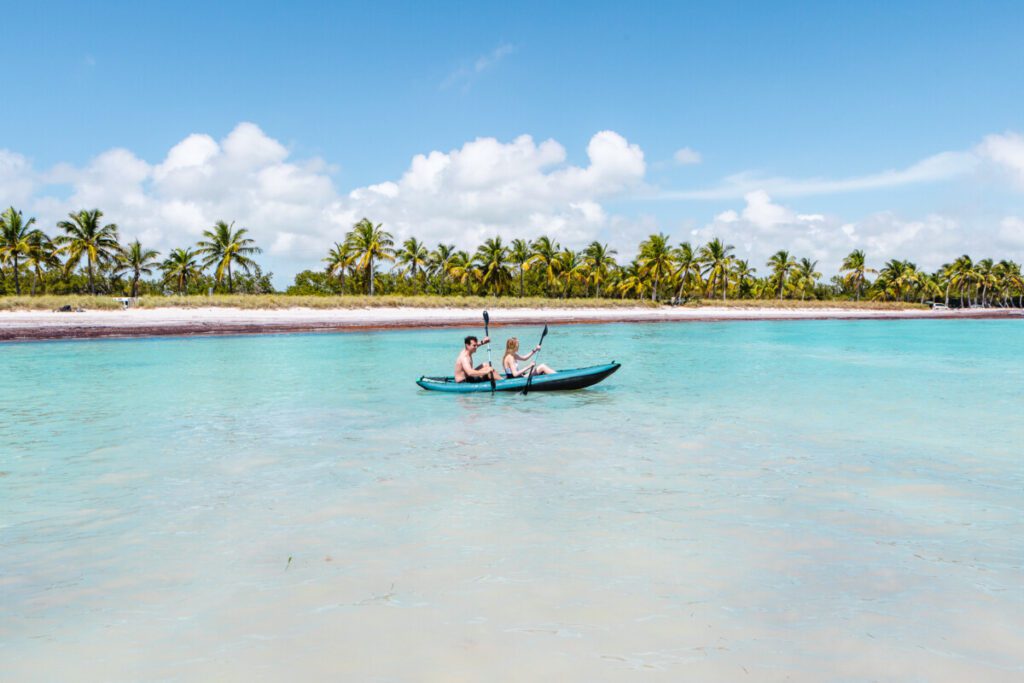 Check out Downtown & Local Key West State Parks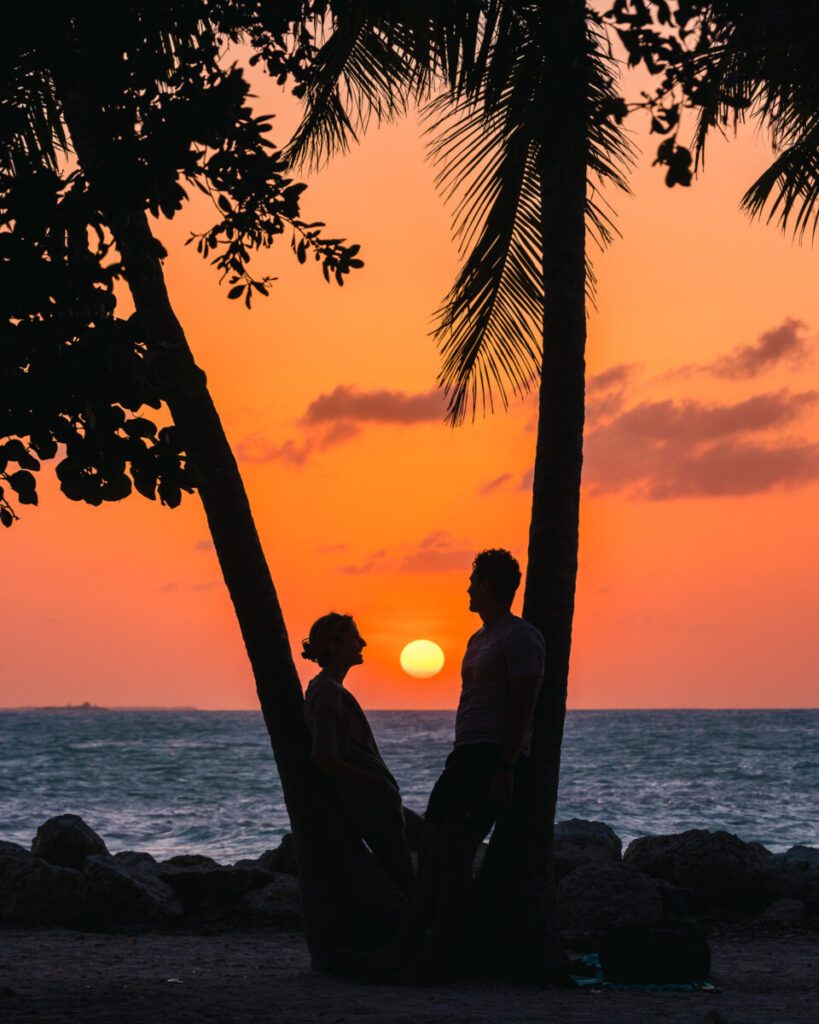 Key West is known for some of the best sunsets in the USA, and so we'd highly suggest trying to get outside for sunset. For your first sunset in Key West, head on over to Fort Zachary Taylor Historic State Park. Or, if you'd prefer the more touristy option, you can also head over to Mallory Square. Both spots offer beautiful views of the Key West harbor and passing sailboats as the sun goes down.
Finish off the day by grabbing dinner at a local favorite spot Lost & Found. They are known for their insanely delicious comfort food, especially their tater tots! You have to try their Key Lime Cider as well. If you are looking for some fun live music, head next door to the Green Parrot before heading back to your hotel.
Day 4: Intro to Key West
For your full day exploring around Key West, you'll want to start by enjoying a hearty breakfast to keep you fueled. Check out The Breakfast Club, Too or Banana Cafe before heading out on the water for a full day of adventure in the Florida Keys! The Breakfast Club is especially known for their wide selection of Bloody Mary's and the Banana Cafe is popular for their crepes.
Get Out on the Water Around Key West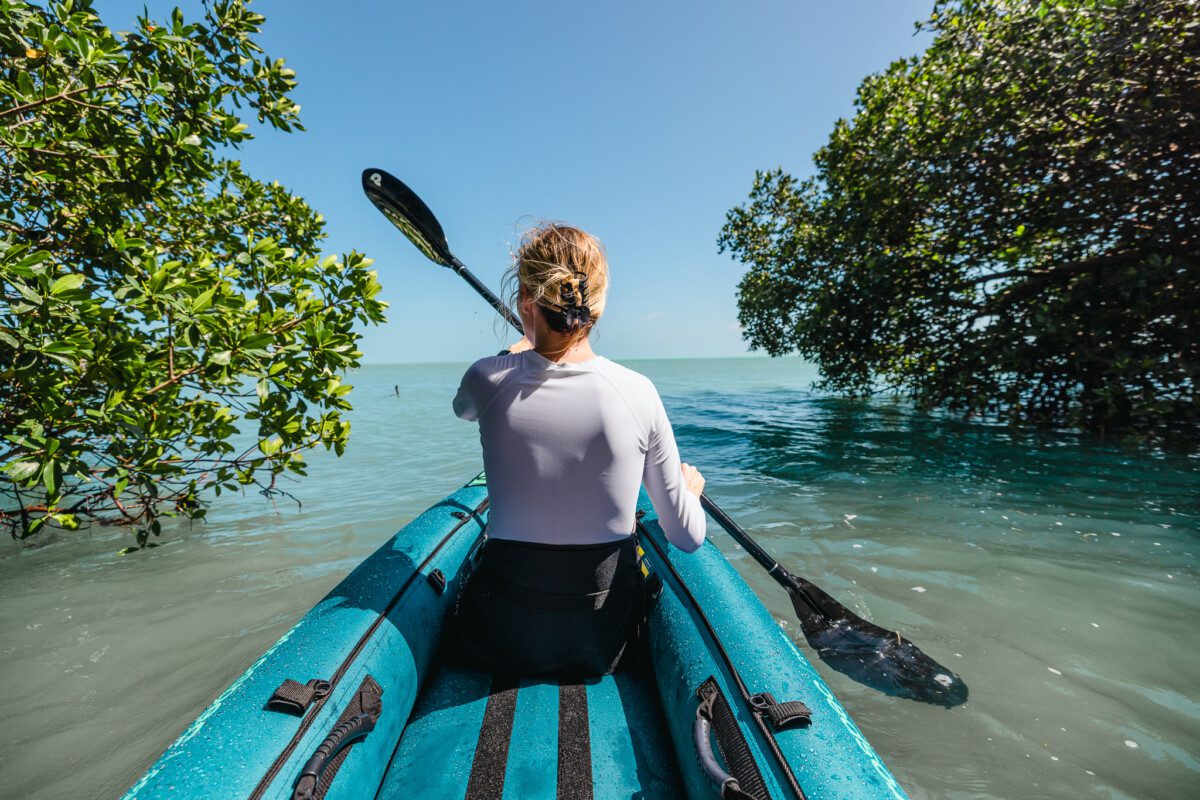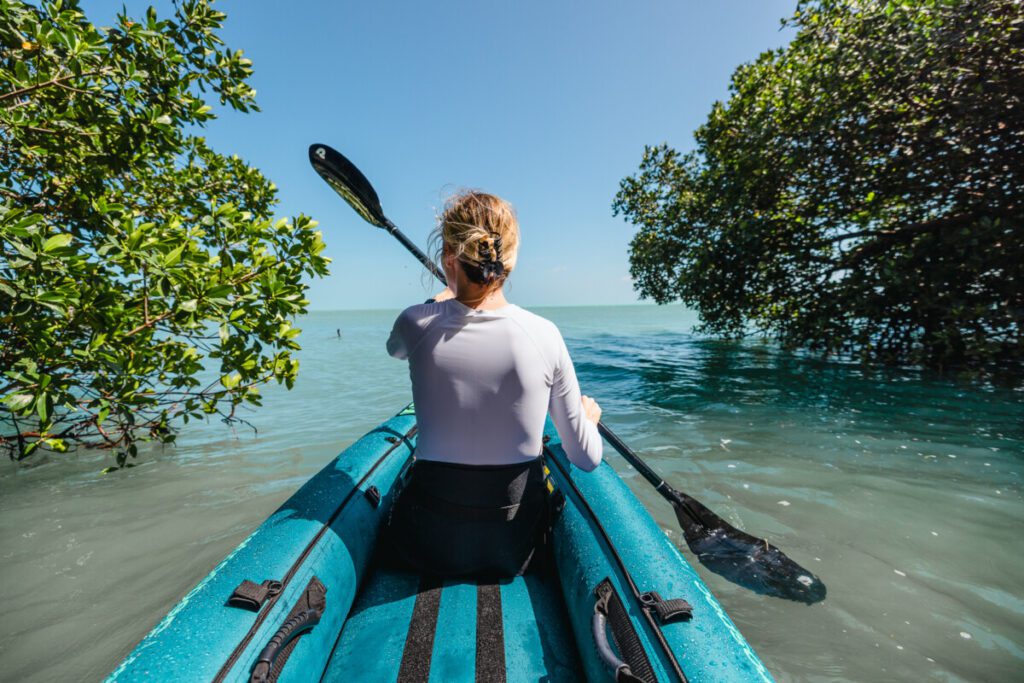 Today, you'll set out on the All of the Above Tour with Honest Eco tours. The amazing thing about this tour is that you'll get a taste of every adventure out on the water: kayaking, dolphin watching, sailing, and snorkeling all in one tour. The guides are especially knowledgeable in the history and geology of the Florida Keys, providing a unique educational perspective while having fun out on the water.
Make sure to pack lots of reef-safe sunscreen, swimsuits, towels, and a jacket for the tour. They provide an all organic, local lunch and snacks that were all delicious.
After your tour, head back to your hotel to clean up before dinner. Then take a drive downtown to check out Duval Street and walk around the bustling streets.
Take in the Sunset at Sunset Key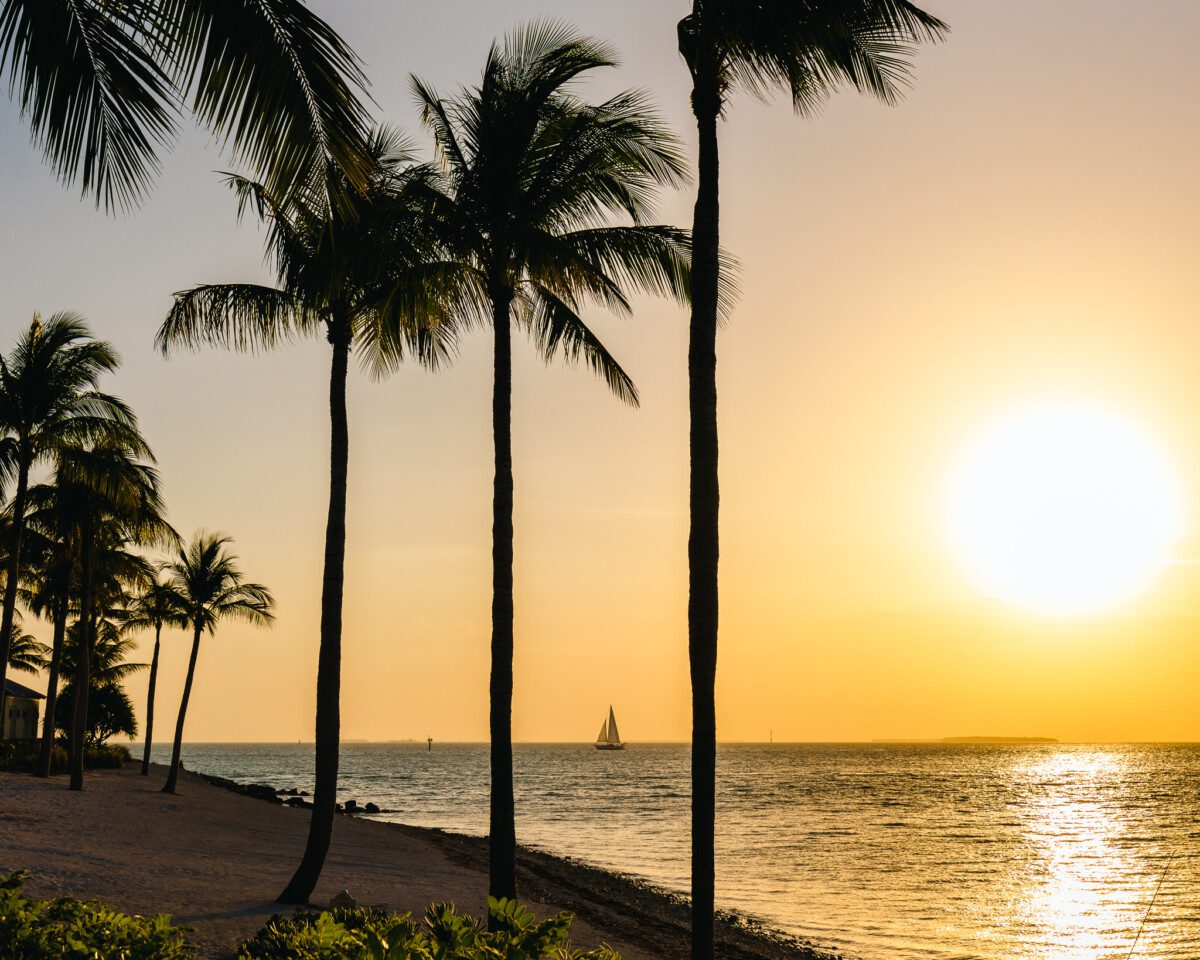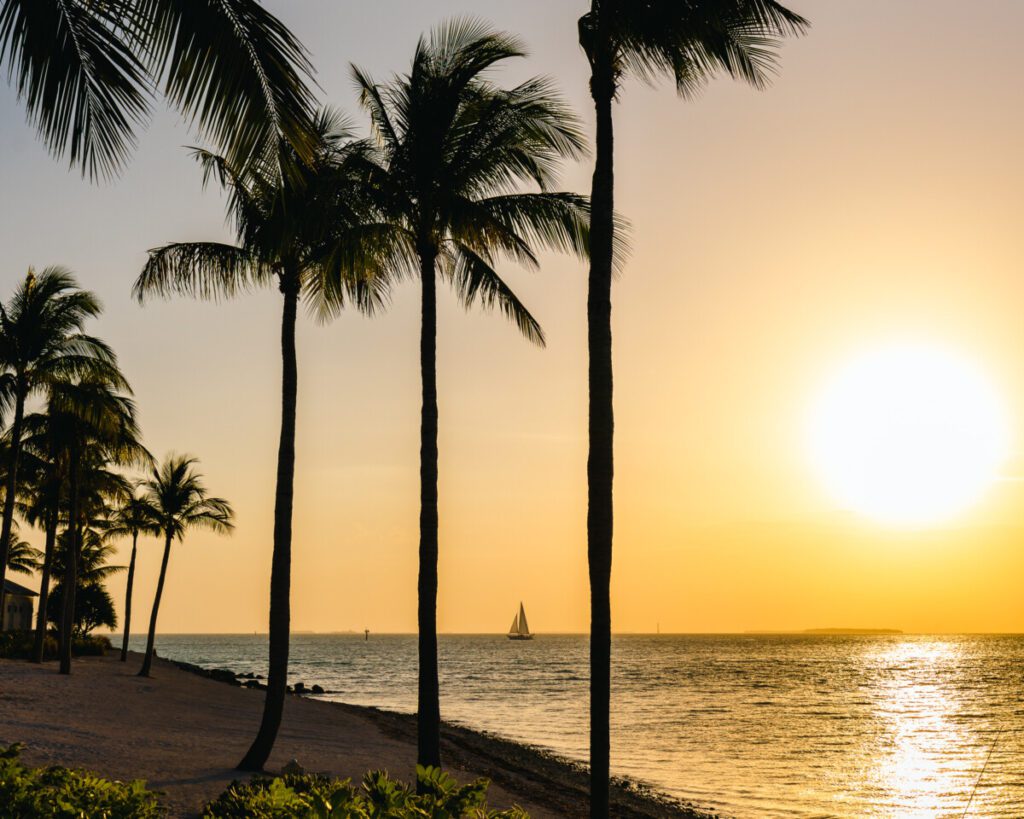 If you made reservations in advance, meet at the ferry for Sunset Key, where you'll be escorted to the gorgeous Latitudes Restaurant for dinner. If you couldn't snag reservations, you can also watch the sunset at Mallory Square and grab a bite to eat downtown.
Sunset Key is a more exclusive private island and lives up to its name as being one of the best spots for sunsets in the Florida Keys. Latitudes is a higher scale restaurant on Sunset Key that is phenomenal, especially for special occasions as it is a bit pricier. The ambience was lovely, the service was outstanding, and the food, of course, was delicious. This spot had Stephen's favorite key lime pie.
Day 5: Explore Key West & Head to the Airport
For your last morning during your Florida Keys adventure itinerary, head over to the harbor and have breakfast at Kermit's Key Lime Cafe and Shop. This shop is famous for having all the key lime options you could ask for. We ordered the pancakes with key lime syrup and they were fantastic.
Parasail above the Keys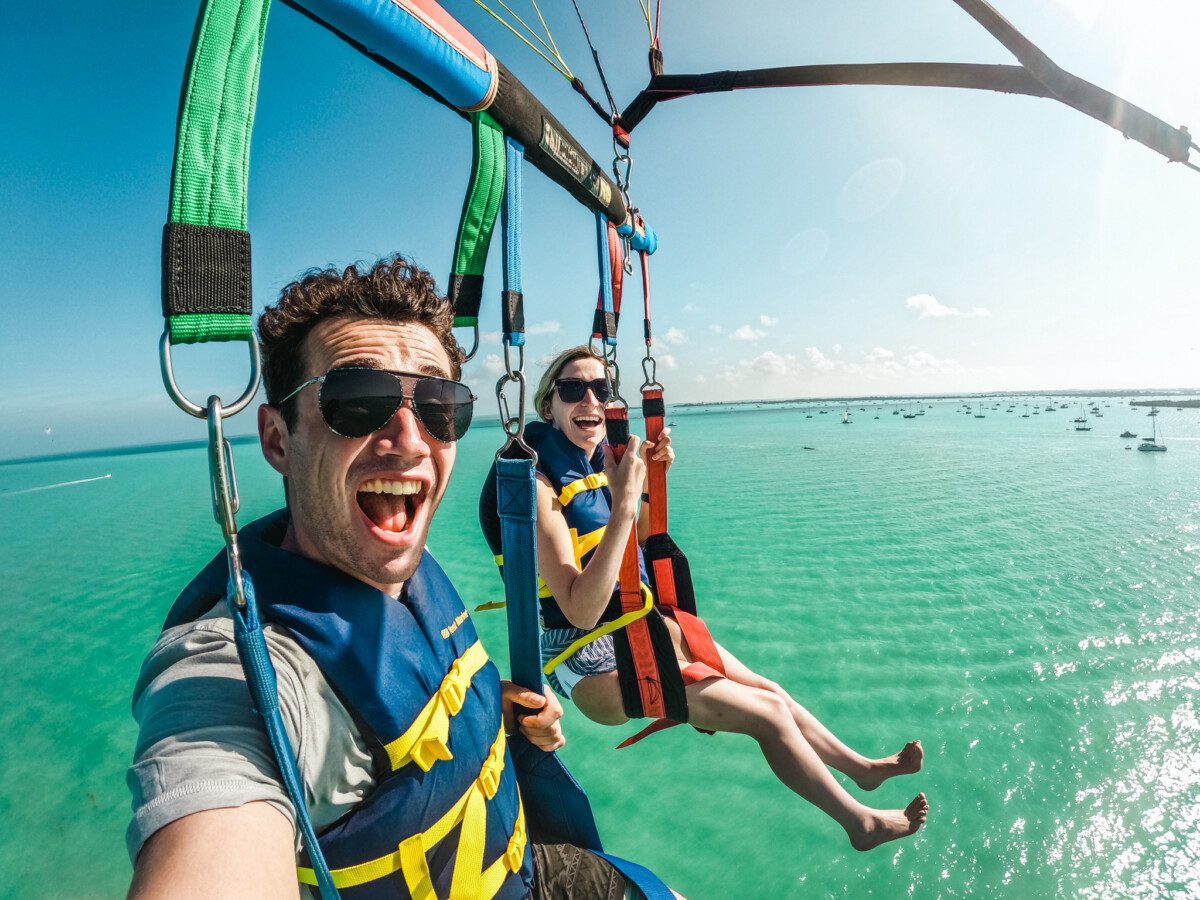 Once you finish, you can walk across the street to Sebago Watersports. From the dock, you'll hop on the boat to head out parasailing. The boat ride lasts about an hour out on the water. Everyone in the group got about a 10-minute slot up in the air. This is a great activity for those looking for a more relaxing adventure.
Go Jet Skiing around All of Key West
For one final adventure before you head out and complete your Florida Keys road trip is to head over to Barefoot Billy's Water Sports for an exhilarating jet ski ride around all of Key West. You will need to have a temporary Florida Boaters License in order to be able to drive a Jet Ski in Florida, but you can take a test beforehand to get certified. The tour lasts about 2 hours and is so much fun. This was our favorite water activity that we did the whole entire trip in the Keys.
The guides were hilarious and educational, and you had some free time to race the jet skis around which was a ton of fun. Make sure to wear lots of sunscreen, swimwear, and have a waterproof phone case. They have lockers for rent at the store if you need to store anything as well.
Optional Add On: Dry Tortugas National Park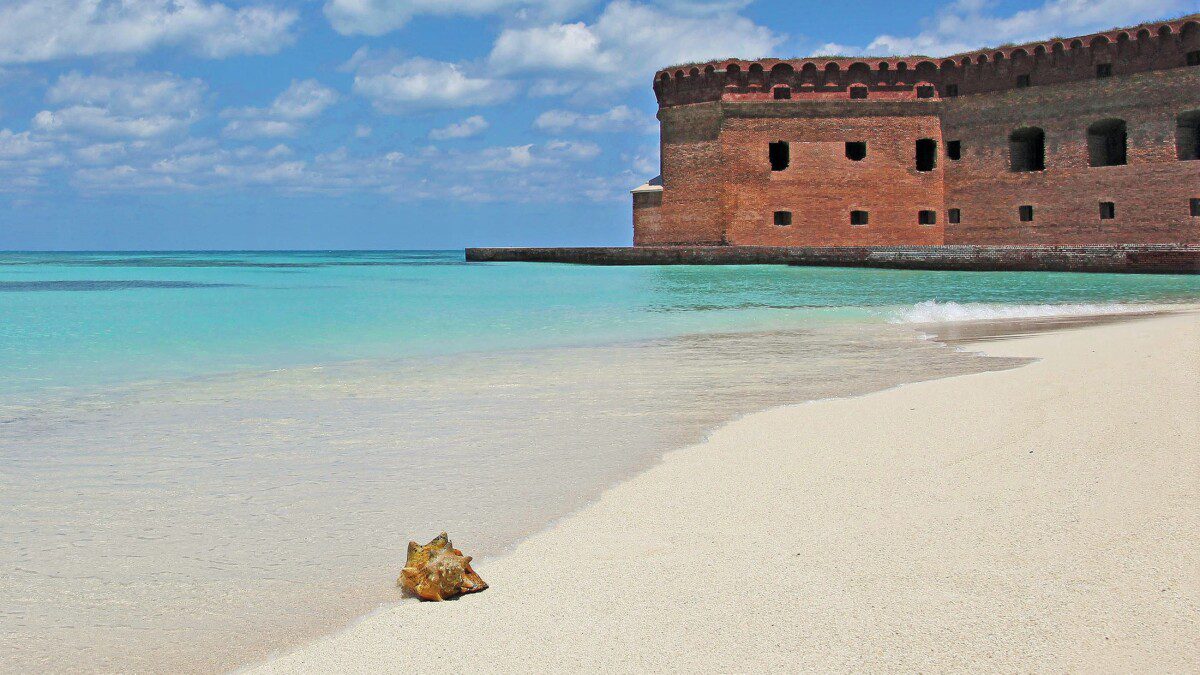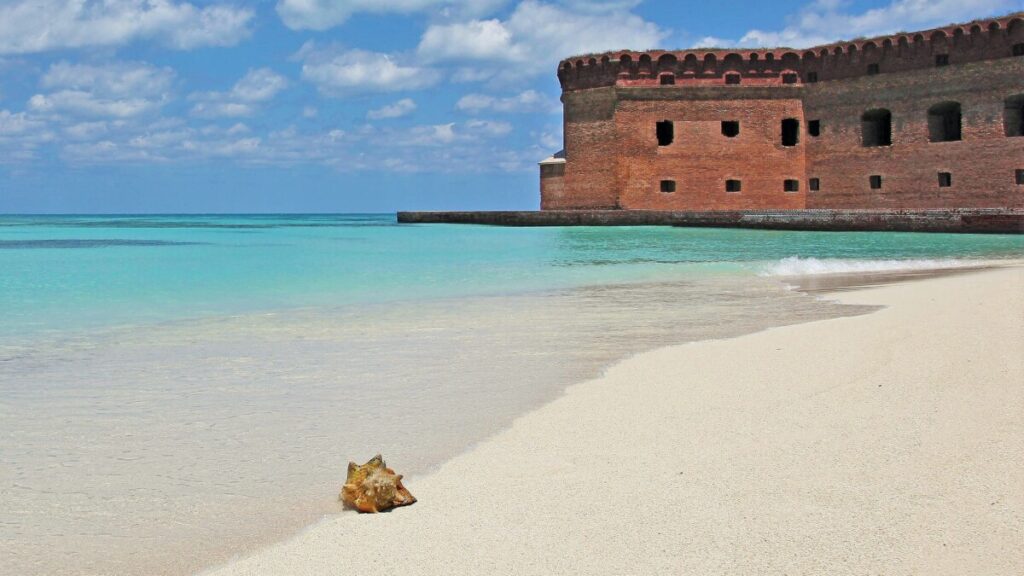 That's the final stop on our adventure itinerary for the Florida Keys! Once you return back from jet skiing, stop by your hotel to rinse off and clean up before heading to the airport. If you have an extra day or two to spare, make sure to check out Dry Tortugas National Park via ferry or seaplane from Key West.
We hope you enjoyed our 5 day Florida Keys adventure road trip itinerary from Miami to Key West! For more epic adventures from Florida, check out our Caribbean Cruise itinerary!