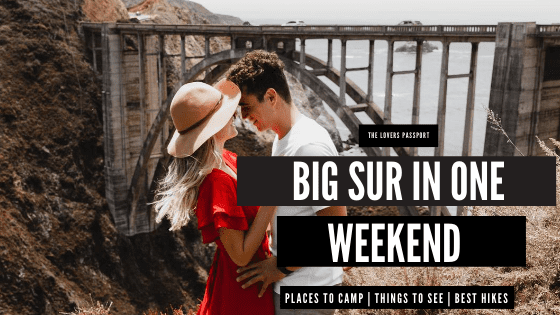 Big Sur is a magical city along the California coastline featuring stark cliffs, endless oceans, beautiful bridges, and gorgeous greenery. We highly recommend taking the road trip up the CA Highway 1 to take in the beauty of the ocean and surrounding mountains. For a full road trip itinerary from Los Angeles to Big Sur, check out our blog post on our favorite places to stop!
What To Pack:
For more information on what to pack for your trip to Big Sur, head on over to our Camping Gear Guide!
Places to Stay in Big Sur:
Campgrounds:
There are several campgrounds throughout the entire area. We usually do not make reservations at them because they are usually at capacity due to high demand. However, if you're lucky enough to score a spot, we recommend checking the following ones out! We usually stay off either a dirt road by Plasket Creek Campground or off of a pull out along Nacimiento Ferguson road.
Andrew Molera State Park: offers 24 tent sites, picnic tables, and good surfing!
Big Sur Campground & Cabins: Year-round family camping in the redwood trees along the Big Sur River! It offers both tent camping and RV camping with water and electric hookups as well as a dump station
Riverside Campground & Cabins: One of the dog-friendly campgrounds that offers both RV & tent camping as well as limited cabins.
cozy cabins nestled in majestic redwoods along the Big Sur River.
Fernwood Campground: One of the less primitive campgrounds. It offers Tent and RV camping on both sides of the Big Sur River as well as forest cabins with kitchens. It has WiFi and restaurants nearby.
Plaskett Creek Campground: Open seasonally in winter and summer, and has 44 sites!
Kirk Creek Campground: Offers 34 campsites where you can hike and bike! It is first-come, first-served, and reserved.
Julia Pfeiffer Burns State Park: Has very limited, but popular campgrounds that require early reservations.
Limekiln State Park: Offers 33 campsites featuring amazing views of the Big Sur coastline.
Pfeiffer Big Sur State Park: Offers 169 campsites with no hookups available; however, there are picnic tables.
Ponderosa Campground: Great for fishing! Enjoy mountain trout stream located under a canopy of trees. Open year-round. Bring water in winter.
Treebones Resort: Less of a campground per se, offering 16 yurts and 5 campsites with amenities including gas fireplaces, swimming pool, hot tub, massage services, gift shop, and restaurants
Ventana Campground: A Tent Only Campground! Each campsite has a picnic table and a fire ring with water faucets a short walk away.
"Attractions" To Visit:
Bixsby Bridge: One of the most photographed areas of Big Sur, and it's easy to see why. It's one of the highest concrete bridges in the world and one of the most picturesque along the ocean.
Pfeiffer Beach: If you are going to attempt hitting this beach in Big Sur, make sure to get here EARLY to reserve a parking spot, especially in the restricted times of COVID-19. By 11-12pm, they hardly have any spots left and they open around sunrise. So, definitely recommend getting there right after sunrise or in the early morning to enjoy the beautiful views.
Henry Miller Library: It's a little library that occasionally has some live music along Highway 1. Occasionally kind of creepy, but also a really cool spot to check out! There's some very interesting books available and some interesting art pieces around the area.
McWay Falls: It is definitely one of the most beautiful coastal waterfalls, and the only fresh water one that flows straight into salt water!
Elephant Seals: If you are driving up from Southern California to Big Sur, you have to stop to see the Elephant Seals along the coastal side of Highway 1. Stephen almost lost it of how funny they are to watch when they move. Even if it's for a couple minutes, they offer some comic relief. It's also amazing to realize the sheer size of these creatures.
Ragged Point: The perfect first stop to see the stunning Big Sur Coastline along the way up to Big Sur proper. Ragged Point is a perfect place to grab a coffee or a bite to eat and take a walk to stretch your legs! They have a very nice view of the coast and a super peaceful vibe to take in nature's beauty.
Hikes to Do Around Big Sur
Buzzard's Roost: This as about a 4 mile hike round trip and super manageable up some switchbacks! Unfortunately, it was cloudy when we reached the top, but on a sunny day, it could make for some insane views!
Partington Cove: Our favorite short little hike, probably around a mile down to one of the Big Sur beaches. We love coming down here and enjoying a drink or snack to watch the waves. The water here is SO blue and stunning as well.
Valley View: We didn't actually do this hike, but the Park Rangers said that they definitely recommended checking this out. However, it's apparently one of the top 2 most trafficked trails. Both Valley View and Buzzard's Roost start out of Pfeiffer Big Sur State Park.
Best Time To Visit Big Sur:
Year-Round Big Sur is absolutely lovely, whether it's sunny or cloudy. During the winter, you'll likely have the best photo lighting and optimal positions of the sun for shooting sunrise/sunset if you're a photographer! Otherwise, we love going in the summer just to go and relax in the nice warm weather! Usually, the peak season is April-October, so you might have a better shot at getting a campground reservation on the off-months!